! >
Broadway To Vegas
  
 SHOW REVIEWS CELEBRITY INTERVIEWS GOSSIP NEWS

| | |
| --- | --- |
| | |
WEST SIDE STORY RECORDS BROADWAY CAST ALBUM - - DICKENS' BLEAK HOUSE FOR SALE - - MERCE CUNNINGHAM AT 90 - - DAYS OF OUR LIVES RAISES MONEY FOR RETINOBLASTOMA INTERNATIONAL - - THE SHAWSHANK REDEMPTION BECOMES STAGE PLAY STARRING KEVIN ANDERSON AND REG CATHEY - - ED ASNER IN HARRY & EDDIE - - THE INTIMATE PORTRAIT - - JOHN LITHGOW RETURNS TO BROADWAY WITH STORIES - - DONATE . . . Scroll Down


Copyright: April 12, 2009
By: Laura Deni

CLICK HERE FOR COMMENT SECTION
BROADWAY'S WEST SIDE STORY RECORDS CAST ALBUM
Producer David Caddick preparing for the session. Caddick also produced the cast recording of South Pacific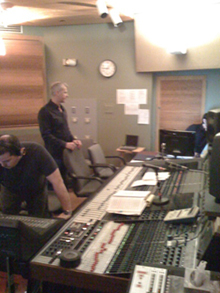 On Monday April 6th the cast of the Broadway revival of West Side Story, currently in performances at the Palace Theatre in New York City, went into a recording studio to lay down tracks for an original cast album.

The session was directed by multiple Tony Award winner and author of the musical Arthur Laurents, and Stephen Sondheim who wrote the lyrics for the music composed by Leonard Bernstein.

The cast of 46 stars Matt Cavenaugh as Tony, Karen Olivo as Anita, Cody Green as Riff and George Akram as Bernardo.

The role of Maria is played by Broadway newcomer Josefina Scaglione. The 21-year-old actress comes directly, by special arrangement with Actors' Equity Association, from Buenos Aires after an exhaustive international search for the role.



West Side Story class photo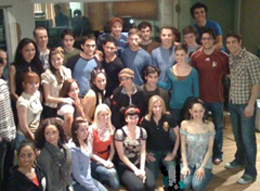 West Side Story also features Steve Bassett as Lt. Schrank, Mike Cannon as Snowboy, Kyle Coffman as A-Rab, Joey Haro as Chino, Eric Hatch as Big Deal, Curtis Holbrook as Action, Michael Mastro as Glad Hand, Lee Sellars as Krupke, Tro Shaw as Anybodys, Ryan Steele as Baby John and Greg Vinkler as Doc along with Nicholas Barasch, Kyle Brenn, Joshua Buscher, Isaac Calpito, Haley Carlucci, Peter Chursin, Madeline Cintron, Lindsay Dunn, Yurel Echezarreta, John Arthur Greene, Manuel Herrera, Matthew Hydzik, Marina Lazzaretto, Chase Madigan, Yanira Marin, Mileyka Mateo, Kaitlin Mesh, Angelina Mullins, Kat Nejat, Christian Elán Ortiz, Pamela Otterson, Danielle Polanco, Sam Rogers, Michael Rosen, Amy Ryerson, Jennifer Sanchez, Manuel Santos, Michaeljon Slinger, Tanairi Sade Vazquez and Mark Zimmerman.



Jennifer Sanchez recording America while a lively game of Hacky Sack is taking place in the break room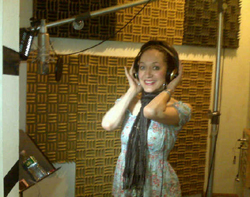 Girls recording American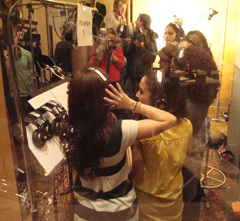 At 8:02 AM David Caddick has a pep talk with the Jets.

At 9:01 AM Arthur Laurents and Steven Sondheim are in the recording booth discussing the volume of the snaps for the recording.

At 9:02 AM Stephen Sondheim glances at the front page of the NY Times.

At 9:08 AM the cast is recording Cool. Sondheim asked them to think of the Y in Boy as a consonant to make it sharp.

Gee Officer Krupke got banged out at 10:26 AM.



The Jets getting ready to record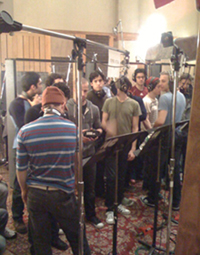 The Sharks recording The Dance At The Gym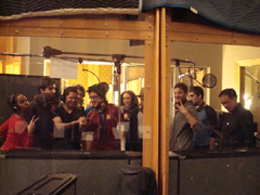 Gee Officer Krupke mocks the police and blames a variety of sources for delinquency. The song ends with one of the most famous lines to ever circumvent a censor.

(Riff) I'm no good
(Jets) We're no good, we're no good, we're no earthly good
Like the best of us is no damn good
The trouble is he's lazy, the trouble is he drinks
The trouble is he's crazy, the trouble is he stinks
The trouble is he's growing, the trouble is he's grown
Krupke, we've got troubles of our own
Officer Krupke, we're down on our knees
(Riff) 'Cause no one wants a fella with a social disease
(Jets) Dear Officer Krupke, what are we to do?
Gee, Officer Krupke, Krup you!

At 10:29 AM the shark girls are recording America!



Michael Cavenaugh, who stars as Tony, recording Tonight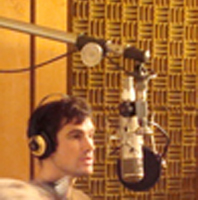 David Caddick and Michael Cavenaugh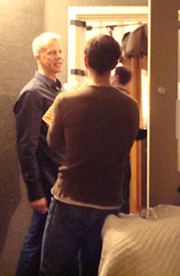 While Jennifer Sanchez records America, a lively game of Hacky Sack is taking place in the breakroom.

Hacky Sack - the footbag circle kick game - in which players stand in a circle and do tricks with the Hacky Sack (bean bag) are executed while passing it around the circle

Josefina Scaglione says hello to Arthur Laurents at 11:04 AM.

Although Scaglione is Argentine, she and the all-Hispanic Sharks, had to work on their Spanish accents nonetheless.

In doing an NPR radio interview she explained: "I speak Spanish, but I had to learn to speak it the way a Puerto Rican would speak it. So, for example, I say shhevar" - for the verb llevar, to take something - and Puerto Ricans would say jehvar."

For the parts of the Sharks and their girlfriends, Laurents insisted on casting people who are of a Latino background, or who are from Latin America having been quoted as saying: "They can sing it, they can act it, and they can dance it. They also know prejudice, what it feels like."



Arthur Laurents with Mike Cannon who is Snowboy in West Side Story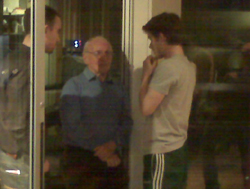 Arthur Laurents watches a Hacky Sack game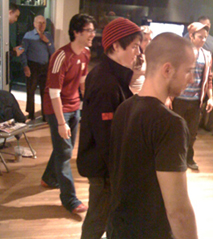 At 11:05 AM Arthur Laurents watches the cast play Hackey Sack!

Two minutes later he confers with Mike Cannon.

Josefina joins Hackey Sack at 11:07 AM.

At 11:14 Matt Cavenaugh arrives and gets ready by stretching.

At the same time the orchestra is playing America, the cast in the break room engages in a sing-along.

Jets head up to the studio for The Jet Song at 11:20 AM. That song has solo lines by the characters; Riff, Gee-Tar, Baby John, A-Rab, Bernardo, Action, Snowboy and Diesel.

At 11:29 AM Stephen Sondheim went into the booth to give notes on The Jet Song.

Nick recording Somewhere at 12:06 PM.



The Jet boys during break time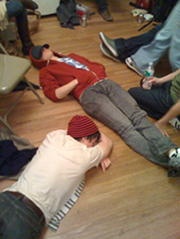 Stage Manager Joshua Halperin juggles a clipboard and a sandwich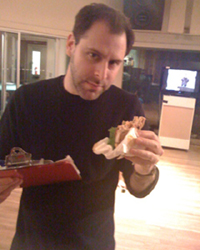 At 1:30 PM the crew went on a break and discussed one of their favorite topics - food.

Karen and Josephina recorded A Boy Like That at 2:25 PM.

The lyrics;
A Boy like that who'd kill your brother
Forget That boy and find another
One of your own kind —
Stick to your own kind!
are now sung in Spanish. The only other song in which Spanish has completely replaced English is the waltz Siento Hermosa aka I Feel Pretty.

Doing double duty, at 2:30 PM Arthur Laurents briefly left the recording session to prepare for a 6 PM event.

Laurents, was participating in the Let Her Entertain You; The Many Faces of Gypsy Rose Lee series at the New York Public Library for the Performing Arts.

Laurents who wrote the libretto for the 1959 musical Gypsy and directed the recent Broadway revival, talked about the show and his other work. His new book, Mainly on Directing: Gypsy, West Side Story, and Other Musicals was published by Knopf in March 2009.



Dana Saltzman from Sony Masterworks with Stephen Sondheim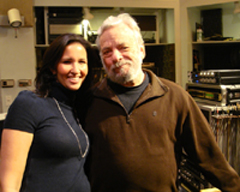 Call it either Winston Churchill's sign for Victory or the hippie sign for Peace - Karen Oliva demonstrates her opinion of the recording session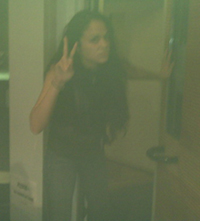 The girls were singing America, Part 2 at 2:32 PM.

Matt Cavenaugh recording Tonight at 2:34 PM.

The bilingual cast recorded the back-up vocals for A Boy Like That in both Spanish and English at 2:37 PM.

At 3:24 PM the songs left to record: I Feel Pretty, Something's Coming, Maria, and The Somewhere Ballet.

In addition to the New Broadway Cast Recording Masterworks Broadway, a subsidiary of Sony Masterworks, owns both the Original Broadway Cast and Original Motion Picture Soundtrack recordings of West Side Story as well as the definitive Bernstein and Sondheim catalogs.

The New Broadway Cast Recording of West Side Story will be released on June 2nd. All photographs courtesy of Sony.



Broadway To Vegas is supported through advertising and donations. Priority consideration is given to interview suggestions, news, press releases, etc from paid supporters. However, no paid supporters control, alter, edit, or in any way manipulate the content of this site. Your donation is appreciated. We accept PAYPAL. Thank you for your interest.


ART AND ABOUT


THE INTIMATE PORTRAIT the first ever major UK exhibition to examine a fascinating but relatively unknown aspect of British portraiture. The Intimate Portrait explores the period between the 1730s and the 1830s - the heyday of British portraiture - when some of the country's greatest artists produced beautifully worked portraits in pencil, chalks, watercolors and pastels that were often exhibited, sold and displayed as finished works of art.

Jointly organized by the National Galleries of Scotland and the British Museum, this exhibition of 180 works highlights masterpieces by Allan Ramsay, Thomas Lawrence, David Wilkie, Henry Fuseli, John Downman, Richard Cosway John Hoppner, the architect George Dance and the Irish artist Hugh Douglas Hamilton. Two Scottish artists, John Brown and Archibald Skirving, will be a revelation to audiences and of particular note will be two masterly self-portrait drawings by the young rivals Joshua Reynolds and Thomas Gainsborough.

While oil paintings and sculpture dominated the very public art of portraiture which flourished in Georgian and Regency Britain, many artists were simultaneously involved in creating more private portraits for domestic consumption and display. Portrait miniatures painted in watercolor on ivory were worn as jewelry or displayed as treasures in cabinets; pastels with their fragile but brilliant surfaces were protected under glass and hung within gilt frames; while drawings were either framed and hung in family groups or kept in albums or portfolios to be shown to friends and family.

Until now, there has never been a serious investigation of these captivating modes of portraiture, and it has largely been forgotten that these smaller, more intimate portraits were also enjoyed by a wider public, and were exhibited in their hundreds at the Royal Academy in London and other public exhibition spaces in Britain. Sir Thomas Lawrence's magnificent portrait drawing of Mary Hamilton, which will feature in the exhibition, was one of a dozen pastel and chalk drawings he showed at the Royal Academy in 1789.

The exhibition is arranged thematically to look at artists' self-portraits and images of their families and friends, as well as their portrayal of the rising middle classes and the celebrities of the day. Well-known sitters include Prince Charles, Edward Stuart, Robert Burns, Walter Scott, Lady Hamilton, the Duke of Wellington and the young Queen Victoria. Intimate portraits are revealed to be important indicators of contemporary taste and ideas of 'sentiment', particularly through the many portraits of women and of children. The exhibition explores how and why they were made, where they were displayed and, above all, their qualities as portraits that are 'intimate' in the multiple senses of the word.

Through May 31 at the British Museum in London.




SPREADING THE WORD


ED ASNER STARS IN HARRY AND EDDIE by Mark Weston . A staged reading of this play about the friendship between Harry S. Truman and Eddie Jacobson.

Asner has performed this play five times in readings across the country. Performances tonight Sunday, April 12, 2009 and tomorrow night at the Jewish Community Center of Greater Kansas City, Kansas.

Asner plays Jacobson. Gary Neal Johnson, who played Truman in a Kansas City Repertory Theatre production of Give 'em Hell, Harry, revisits the character this show.

The six-character piece traces the friendship from their service together in World War I, their business partnership in a haberdashery in downtown Kansas City and Jacobson's influence on Truman to recognize the newly created state of Israel in 1948. Born and raised in Kansas City, Kansas, Asner decided to enter show business after taking a radio class while attending Wyandotte High School . Each week the class project would be to write and perform a 15-minute play for broadcast on KCKN. The students also created music and sound effects. Asner returned to his hometown to specifically appear in this staged reading.

ART by Yasmina Reza. Bob Balaban, Brian Cox - here reprising the role he played on Broadway - and Jeff Perry of Broadway's August: Osage County, and co-creator of Steppenwolf Theatre, star when L.A. Theatre Works records Yasmina Reza's Olivier and Tony Award-winning comedy Art for broadcast on LATW's nationally syndicated public radio theater series, The Play's The Thing.

Emmy nominated Peter Levin directs five performances at the Skirball Cultural Center April 15 - 19. Art is a heady and hilarious look at the bonds of male friendship, viewed through the prism of modern art. Three old friends square off over the merits of a recently purchased painting. Their friendship is put to the test as the arguments quickly go from theoretical, to personal, to confrontational. With relationships hanging in the balance, the question becomes: how much is a painting worth?

For three decades, L.A. Theatre Works has been the leading radio theater company in the United States, committed to using innovative technologies to preserve and promote significant works of dramatic literature and bringing live theater into the homes of millions. Selected programs from LATW are also heard internationally over BBC World Service, Canadian Broadcasting Corporation, Australian Broadcasting Corporation, Radio Telefis Eirann (Ireland), Radio Hong Kong, and Radio New Zealand.

L.A. Theatre Works at the Skirball Cultural Center, Los Angeles.

A FREE READING OF SIR PATIENT FANCY by Aphra Behn. Directed by Alan Paul. Generations collide in this smart and sexy Restoration comedy by England's first professional female writer. Monday, April 20, at the Lansburgh Theatre in Washington, DC.

DAVID SEDARIS a master of satire and the closest thing the literary world has to a rock star - his readings are consistently standing-room only. At this sold out event, Sedaris will read from new and unpublished material, Part of the Dallas Museum of Art Arts & Letters Live 2009 Season. April 19 at Southern Methodist University, McFarlin Memorial Auditorium in Dallas, TX.


SWEET CHARITY


MERCE CUNNINGHAM AT 90 This spring, the incomparable Merce Cunningham will turn 90. To mark the occasion, the Brooklyn Academy of Music and the Merce Cunningham Dance Company will be presenting a joint Spring Gala on Thursday, April 16, 2009 – Merce's actual birthday.

For over half a century, Merce Cunningham has been reinventing dance and his work remains at the forefront of contemporary performing arts. Now, on his 90th birthday, BAM will present the world premiere of a 90-minute work of unsurpassed scope and imagination. Renowned for his collaboration with leading visual artists and musicians, Merce joins forces with three celebrated and distinct composers: American rock/punk band Sonic Youth, former Led Zeppelin member John Paul Jones, and Cunningham music director Takehisa Kosugi. World-renowned architect Benedetta Tagliabue will create the décor with costumes by Romeo Gigli.

The Gala evening kicks off with a cocktail reception. Following the performance, the festivities culminate with a special birthday dinner with Merce and the artists.

Spring Gala Co-Chairs are Judith and Alan H. Fishman and Patsy and Jeff Tarr. Hosts are Alan H. Fishman BAM Chairman of the Board; Karen Brooks Hopkins BAM President and Joseph V. Melillo BAM Executive Producer.

Proceeds to benefit BAM and Merce Cunningham Dance Company.

DAYS OF OUR LIVES RAISES MONEY FOR RETINOBLASTOMA INTERNATIONAL current and former stars of Days of Our Lives will participate in a Q&A session, followed by a meet and greet. There's a cocktail reception where attendees can mingle with the stars over cocktails and hors d'oeuvres. Days of Our Lives cast members taking part include: Matthew Ashford, Darrin Brooks, Bryan Dattilo, Eric Martsolf, James Scott and Arianne Zucker.

April 18, 2009 at the Hartford Marriott Downtown in Hartford, CT.

WOOLLY MAMMOTH'S 2009 BOLLYWOOD BASH a dazzling cocktail reception and an enticing silent auction, a savory dinner with an incredible live auction, and fantastic entertainment surprises throughout.

All proceeds benefit Woolly Mammoth Theatre Company's artistic and community education programs.

Attire is Spicy. Glamorous. Fabulous. Saturday, April 18, 2009 at the Mandarin Oriental, Washington D.C.


DICKEN'S BLEAK HOUSE FOR SALE - PRISON CELLS INCLUDED
Dickens planned Bleak House in this 6-bedroom property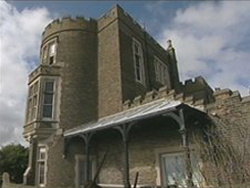 For a little under $3 million you can own the former seaside home of Charles Dickens, where the author wrote part of his novel David Copperfield. The house includes a museum and jail cells. The six-bedroom property in Broadstairs, England was built in 1801.

Dickens is said to have used the house as his summer home and planned Bleak House there.

Terence Painter Properties who is handling the sale, said the building had undergone extensive renovation - including a Dickens museum on the lower ground floor, with prison cells. It said the property, now called Bleak House, was originally known as Fort House and was constructed as the residence of the fort captain during the Napoleonic Wars.

Located on a cliff top the fort-like building commands one of the most prominent views.

Bleak House underwent a 40,000-pound restoration after being damaged by fire in 2006.

While it has yet to be determined why the house has been put up for sale, the Telegraph newspaper suggested that the family business of its current owner, jewelry tycoon Richard Hilton, has legal problems for mislabeling goods.

His daughter Kelly is awaiting sentencing after admitting offences under the Hallmark Act before local magistrates last month.

Steeped in history, Broadstairs still retains most of the idyllic charm that gave inspiration to Charles Dickens, one of the towns' most famous former residents. Positioned right on the top of the South East's coast, Broadstairs forms part of the isle of Thanet, Steeped in maritime history with 26 miles of fascinating coastline waiting to be explored. A wealth of outdoor activities are catered for and include sailing, golf, tennis, cricket and rugby. There are also romantic narrow streets with antique shops, cafe bars, pubs and restaurants.



THE SHAWSHANK REDEMPTION

Kevin Anderson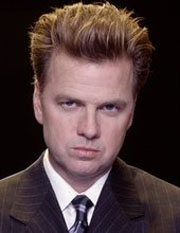 Reg Cathey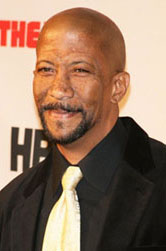 a stage version of the movie by the same name, will have its world premiere next month at Gaiety Theatre in Dublin, Ireland.

Adapted for the stage by Owen O'Neill and Dave Johns from Stephen King's short story Rita Hayworth and The Shawshank Redemption. It was John who had the original idea to turn this into a stage play. Rights were obtained from King estate, which controls the intellectual property rights to the original story.

The production will be directed by Peter Sheridan.

Set design by Ferdia Murphy.

Andy Dufresne is convicted of murdering his wife and her lover and sent to the notorious Shawshank Prison to serve two life sentences. Stripped of his life, family and freedom, Andy is forced to endure a spirit-crushing routine. But with his quiet strength and inner courage there is one thing that Andy never loses – and that is hope.

The movie version starred Morgan Freeman and Tim Robbins and is widely regarded as one of the greatest films of all time.

The stage production stars Kevin Anderson, a member of Chicago's Steppenwolf Theatre Company will portray Andy Dufresne.

Anderson's Broadway credits include Come Back, Little Sheba; Brooklyn: the musical; Death of a Salesman and Orpheus Descending. In London he appeared in Sunset Boulevard. He was awarded an Outer Critics Circle Award, a Drama Desk Award and a Tony Award Nomination for Death of a Salesman.

Reg Cathey, who gained fame as star of the acclaimed television dramas Oz and as Tommy Carcetti's deputy campaign manager Norman Wilson in David Simon's The Wire, will play Red.

Expect the stage version to heavily lean more toward the novella rather than the celluloid.

It is being brought to the stage by Lane Productions, the company behind previous plays including Twelve Angry Men; Alone it Stands and I, Keano.

Low priced previews begin May 14 with the official opening set for May 19 in a run that continues until June 20.

THE CAPULETS AND THE MONTAGUES by Vincenzo Bellini.

Giulietta Capulet and Romeo Montague are in love, and their families are at war. It is an age-old story, which has inspired many – from Shakespeare to Leonard Bernstein and beyond – but one version stands apart from the crowd. Bellini's The Capulets and the Montagues is, above all, about the thrill of the voice.

Opera Australia's first ever production of this rare masterpiece brings together two magnificent artists: soprano Hye Seoung Kwon and mezzo soprano Catherine Carby. They are the heroes of this vocal extravaganza, scaling the heights of Bellini's spectacular arias and quintets.

Aldo Di Toro, Gennadi Dubinsky and Shane Lowrencev complete this outstanding cast, conducted by Brad Cohen and staged from a biting twenty-first century perspective by Irish director Orpha Phelan.

Performed in Italian with surtitles.

A co-production with Opera North (UK) and Opera Ireland. Opening April 14 at the Arts Centre, Melbourne, Australia.

RIGOLETTO Verdi's setting of Francesco's libretti based on the play Le roi s'amuse by Victor Hugo.

San Francisco Lyric Opera Artistic Director Barnaby Palmer conducts.

It was first performed at LaFenice in Venice on March 11, 1851. It is considered by many to be the first of the operatic masterpieces of Verdi's middle-to-late career.

Stage director Attila Béres has set this production in Gangster Era 1920's Chicago. Heather Carolo is the resident stage director. Dean G. Loumbas is the Choreographer.

Starring David Cox, baritone, as Rigoletto; Rebecca Sjöwall, soprano, as Gilda; Jesús León, tenor, as Duke of Mantua; the powerful bass, Sergey Zadvorny as Sparafucili; Kindra Scharich, mezzo-soprano, as Maddalena; and Corrine Wallace, mezzo-soprano, as Giovanna. Marullo is played by Martin Bell. Jeff Bennett is cast as Count Ceprano; Sarah-Nicole Ruddy-Carter is Countess Ceprano.

Kristen Brown serves as Stage Manager. E.E. "Chip" Grant IV is the Chorusmaster. Scenic design by Jean-Francois Revon. Lena Toney is the Make-up Artist. David Ransom is the Lighting Designer & Technical Coordinator; Meghan Muser is the Costumer; Paul Lorton, Jr. Property Manager.

April 17-26 at the Cowell Theater in San Francisco.

THE PHILANTHROPIST by Christopher Hampton. Directed by David Grindley.

Two-time Tony Award winner Matthew Broderick stars in this biting comedy that turns Molieré's The Misanthrope on its cynical ear. Set at an elite British university, The Philanthropist is about nice-guy professor Philip (Broderick), who – in refusing to succumb to his colleagues' excessively critical ways – winds up destroying his own credibility in the twisted world of academia...and in the bedroom!

In addition to Broderick the production features Jonathan Cake as Braham; Anna Madeley as Celia; Steven Weber portrays Don; Tate Ellington as John; Jennifer Mudge as Araminta and Samantha Soule as Liz;

The design team includes Tim Shortall (Sets), Tobin Ost (Costumes), Rick Fisher (Lights) and Gregory Clarke (Sound).

Previews begin April 10 with the official opening set for April 26. Performances continue through June 28, 2009 at the American Airlines Theatre, NYC.

MARY STUART a new version of Friedrich Schiller's classic play by Peter Oswald and directed by Phyllida Lloyd.

The first Broadway revival of Mary Stuart in almost 40 years.

Starring Janet McTeer as Mary, Queen of Scots and Harriet Walter as Queen Elizabeth, Joining Ms. McTeer and Ms. Walter, will be Michael Countryman as Sir Amias Paulet; Adam Greer as O'Kelly; John Benjamin Hickey as Earl of Leicester; Michael Rudko as Count Aubespine/Melvil; Robert Stanton as William Davison; Maria Tucci as Hanna Kennedy; Chandler Williams as Mortimer; Nicholas Woodeson as Lord Burleigh and Brian Murray as Earl of Shrewsbury. The company also features Jacqueline Antaramian, Tony Carlin, Monique Fowler and Guy Paul.

The production is designed by Anthony Ward, with lighting by Hugh Vanstone and sound by Paul Arditti.

The London Donmar Warehouse production opens at the Broadhurst Theatre in NYC on Sunday, April 19.

HAPPINESS a new musical about a disparate group of New Yorkers caught on a subway train under unusual circumstances, was commissioned and developed by Lincoln Center Theater. The production reunites director-choreographer Susan Stroman and book writer John Weidman, whose last LCT collaboration was the Tony Award winning Best Musical Contact and marks the LCT debuts of composer Scott Frankel and lyricist Michael Korie.

Happiness unfolds the stories of a dozen or so New Yorkers stuck in the morning rush of a stalled subway car and required by the spectral trainman to recall and re-enact the happiest moment in their lives before they can continue their travels... and travails.

Happiness celebrates those fleeting moments in everyday lives -- typically unanticipated, largely overlooked, always ephemeral -- that upon reflection become people's fondest memories.

The cast includes: Ana Maria Andricain, Fred Applegate, Sebastian Arcelus, Holly Ann Butler, Miguel Cervantes, Patrick Cummings, Janet Dickinson, Hunter Foster, Joanna Gleason, Alan H. Green, Samantha Maza, James Moye, Alessa Neeck, Ken Page, Robert Petkoff, Jenny Powers, Eric Santagata, Robb Sapp, Alexander Scheitinger, Lina Silver, Phyllis Somerville, Pearl Sun, Idara Victor and Matt Wall.

Sets by Thomas Lynch. Costumes by William Ivey Long. Lighting by Donald Holder. Sound by Scott Lehrer. Orchestrations by Bruce Coughlin. Music Direction by Eric Stern.

At the Mitzi E. Newhouse Theater, NYC.

JOHN LITHGOW last spring took over the Newhouse on Sundays and Mondays to share his delightful Stories By Heart. The tour-de-force was such a hit with audiences that Lincoln Center Theater has brought it back for an encore season. This time around Lithgow will perform two stories in repertory on Sundays and Mondays when the Newhouse Theatre is not filled with Happiness.

The first story is Ring Lardner's Haircut which takes a wry look at Midwestern implacability in the tale told by a Michigan barber who's seen it all, or so he believes.

The second story is the reprise of last season's favorite, P.G. Wodehouse's Uncle Fred Flits By in which a skeptical nephew is taken on a very funny journey by his unstoppable uncle.

Lithgow doesn't just tell his stories: he invokes memories of his grandmother and father before him - tracing his own history as an actor and storyteller, a history that spans three generations. Interspersed with stories from his own life are these stories that were told to him and his siblings when they were children.

The stories are performed in repertory as follows: April 12-13-19-20-26. May 3-10-17-24 Haircut. April 27: May 4-11-18 Uncle Fred Flits By. On Monday, May 25 Haircut and Uncle Fred Flits By share a special double performance evening with intermission on the final night of the run. The Newhouse Theatre in NYC.

ACCENT ON YOUTH by Samson Raphaelson. Directed by Daniel Sullivan.

Featuring Lisa Banes, Rosie Benton, Curt Bouril, David Furr, Mary Catherine Garrison, Byron Jennings, Charles Kimbrough, David Hyde Pierce, and John Wernke.

Accent On Youth is a salute to love's possibilities, both on stage and off. Successful playwright Steven Gaye (Pierce) is about to abandon his latest script, when his young secretary (Garrison) offers him new inspiration. With her as his muse, he stages the show on Broadway, only to learn, to his dismay, that the show's young leading man (Furr) is being inspired by her too.

The creative team includes John Lee Beatty (scenic design), Jane Greenwood (costume design), Brian MacDevitt (lighting design), Obadiah Eaves (original music & sound design), and Tom Watson (hair & wig design).

Previews began Tuesday, April 7, 2009 and officially opens on Wednesday, April 29, 2009 in a limited engagement through Sunday, June 28 at the Manhattan Theatre Club in NYC.

EQUIVOCATION by Bill Cain. A world premiere directed by Bill Rauch.

This smart, complex, engaging play involves Shakespeare (spelled Shagspeare or Shag in the play) and his company of players in 1606 during the reign of King James I. Robert Cecil, minister to King James I, commissions Shakespeare to write a play about the Gunpowder Plot of 1605 - telling him to add some dialogue complimentary to the king and witches. The king wants witches.

The King's Men, Shag's theatre company, play about 20 roles: conspirators, executioners, priests, jailers, court officials and characters in two unnamed plays that we now know as King Lear and Macbeth. Their verbal acuity adds a dark humor to leaven the potentially perilous task before them.

The play explores Shakespeare's struggle to write a play that will please - or at least not offend - the king, and what it means to tell the truth, to equivocate - and to lie - in politics, art and life.

The cast features Anthony Heald as Shag, Richard Elmore as Richard, Jonathan Haugen as Nate, John Tufts as Sharpe, Gregory Linington as Armin, and Christine Albright as Shag's daughter Judith.

Associate Artistic Director and scenic designer Christopher Acebo has created a space reminiscent of Shakespeare's Globe Theatre that serves varied settings, including court, prison and rehearsal stage. The many costumes for the numerous roles are designed by Resident Costume Designer Deborah M. Dryden. Lighting is by Christopher Akerlind; music and sound by Andre Pluess. Lue Morgan Douthit and Barry Kraft are dramaturgs on the project, and Shana Cooper is assistant director and the Phil Killian Directing Fellow.

Equivocation was developed at the Ojai Playwrights Conference, Robert Egan, Artistic Director/Producers, as part of the New Works Festival at TheatreWorks, Palo Alto, CA, Robert Kelley, Artistic Director, Phil Santora, Managing Director. Equivocation is the recipient of The Edgerton Foundation 2008 New American Plays Award.

Opening April 18 in the Angus Bowmer Theatre, with performances through October 31. Ashland, OR.




WHO'S WHERE


CHUCK MAGIONE Grammy-winning jazz great, whose hit Feels so Good was listed in Current Biography as one of the most recognizable melodies since the Beatles' Michelle, brings the feeling back to Parker Playhouse, Friday, April 17, 2009 in Fort Lauderdale, FL.

LONDON SYMPHONY ORCHESTRA WITH LANG LANG performing Bartók Piano Concerto No 2 and Bruckner Symphony No 5. Daniel Harding conducts the London Symphony Orchestra with Lang Lang at the piano. April 20, Barbican in London.

BIG BAD VOODOO DADDY opens a two night stand at Woodruff Arts Center in Atlanta, GA on Friday, April 17.

CHRIS BOTTI appearing as part of the Daytona Beach International Festival at the Peabody Auditorium on April 16.

JIMMY BUFFETT entertains Thursday, April 16, at Lakewood Amphitheatre in Atlanta, GA. On Saturday the party is at the Pizza Hut Park in Frisco, TX.

DAVE MATTHEWS BAND performs Tuesday, April 14, at Madison Square Garden in NYC. On Wednesday the show is at the Izod Center in East Rutherford, NJ. On Friday they open a two night gig at John Paul Jones Arena in Charlottesville, VA.

JOHN PIZZARELLI on stage Friday, April 17, at the UCO Jazz Lab in Edmond, OK. On Saturday the show is at the Touhill Performing Arts Center in St. Louis, MO.

PHILADELPHIA ORCHESTRA Kurt Masur, conductor with Sergey Khachatryan performing on the violin. Thursday, April 16, 2009 at the State Theatre in New Brunswick, NJ.

TOM JONES brings his wiggle to Ruth Eckerd Hall in Clearwater, FL on Friday, April 17. Next Sunday, April 19, he's at Hard Rock Live in Orlando, FL.

LAMB OF GOD have a busy week. On Monday they are in the spotlight at the Winnipeg Convention Center. Tuesday finds them at the Thunder Bay Community Auditorium in Thunder Bay, Ontario. On Thursday they perform at Ricoh Coliseum in Toronto. Friday the show is at the University of Montreal and on Saturday they back in the states at The Palladium in Worchester, MA.

CELTIC WOMAN on stage Thursday, April 16, at the River Center in Baton Rouge, LA. On Friday they perform at the Toyota Center in Houston. On Saturday the show is at the Nokia Theatre in Grand Prairie, TX.

INDIA.ARIE in the spotlight at Club Nokia in Los Angeles on Wednesday, April 15. Saturday finds her at the House of Blues in San Diego.

JERRY SEINFELD making people laugh in a double date Friday and Saturday at Massey Hall in Toronto, Ontario.

DIANA KRALL entertains this week in Canada. On Wednesday she can be enjoyed at the Jubilee Auditorium in Southern Alberta, Calgary. On Friday she moves to another Jubilee Auditorium, this one in Northern Alberta in Edmonton, Alberta. Saturday finds her at the Conexus Arts Centre in Regina, SK.

WILLIE NELSON AND FAMILY that would be Ray Price Billy Bob Thornton and the Boxmasters. They'll be delighting fans April 14 at the Palace Theatre in Stamford, CT.

KENNY CHESNEY opens a two night gig Friday, April 17, at the Mohegan Sun Arena in Uncasville, CT.

BRUCE SPRINGSTEEN has a two night stand Wednesday and Thursday at the Memorial Sports Arena in Los Angeles.

FLEETWOOD MAC perform April 15 at The Wachovia Center in Philadelphia. On Friday they are on stage at the Quicken Loans Arena in Cleveland. Saturday the show is at the Nationwide Arena in Columbus, OH.

BRITNEY SPEARS entertains Tuesday, April 14, at the Energy Solutions Arena in Salt Lake City. On Thursday she's opens a two night engagement at the Staples Center in Los Angeles.

NICKELBACK is center stage Monday at the Century Tel Center in Bossier City, LA. On Tuesday the show is at the AT&T Center in San Antonio. Thursday they perform at the Toyota Center in Houston. On Friday they are in spotlight at the New Orleans Arena in New Orleans.




FINAL OVATION


JACK WRANGLER the actor and writer who lamented that he would forever been known as a former porn star, died Tuesday, April 7, 2009 from complications of a lung disease. He was 62.

Born John Stillman June 11, 1946 in Los Angeles, his father was Hollywood film and television producer Robert Stillman (Boots and Saddles; Second Chorus; Home of the Brace) and his mother was a former dancer in Busby Berkeley musicals. His paternal grandfather made a fortune in the garment industry.

At the age of nine, the young Stillman starred with Eleanor Powell in the television series Faith of Our Children, a religious family show that ran for three years and won five Emmy Awards. Following college, he had some early work on the stage and as a model and dancer, as well as bit parts on television Finally, he appeared in a male strip show in the mid-1970s under the name "Jack Wrangler". A career in gay pornographic films soon followed, and he rapidly became one of the first performers in gay porn to achieve star status and a cult following.

During his career as a porn star, Wrangler appeared in over 85 films. In the early 1980s, Wrangler began appearing in straight porn films, most notably The Devil in Miss Jones II He told The Advocate that his first sexual encounter with a woman was on screen, in the movie China Sisters.

In 1976, Wrangler met celebrated pop singer and film actress Margaret Whiting when she attended one of his one-man erotic shows in New York City. More than 22-years her junior, their 1994 marriage made international headlines.

Wrangler then retired from the adult movie business and devoted his time to musical theater.. A fan of the composer Johnny Mercer, he was one of the co-producers of the 1997 cabaret show Dream, which featured songs by the Mercer and included Whiting in the cast. Other performances he wrote and produced include Midnight in the Garden of Good and Evil: the Jazz Concert (inspired by the Mercer music used in the film version of the book) The Valentine Touch; The First Lady and Other Stories of Our Times; and Irina Abroad!.

In 2008, a feature-length documentary film about the life of Wrangler called Wrangler: Anatomy of an Icon was had its premiere at the 2008 NewFest: The New York Lesbian, Gay, Bisexual, Transgender Film Festival where it won the GayVN Award For Best Alternative Release.

PETER F. DONNELLY called by the Seattle Times "one of the most important figures in Seattle's arts community over the past 45 years," died Saturday, March 28, 2009. The former head of Arts Fund and first managing director of the Seattle Repertory Theater, died only a week or so after the accidental discovery of his advanced pancreatic cancer. He was 70.

"I don't think there's anyone who did more for the arts scene in the whole Puget Sound area than Peter Donnelly," said Seattle Opera general director Speight Jenkins.

During Mr. Donnelly's tenure as head of ArtsFund, from 1989 to 2005, the nonprofit that raises money for the arts in Western Washington more than doubled the money it gave each year. It also raised more than $10 million for an endowment fund.

Having been raised in Boston, Donnelly arrived in Seattle in 1964 as a management fellow at the then-fledgling Seattle Repertory Theatre. Shortly after, the Rep's board chose him to be its first managing director and later, producing director.

He was instrumental in the development of a Building for the Arts state program that has delivered more than $57 million in state funds to more than 150 arts facilities.

Over the years, Mr. Donnelly also served as president of the Frye Art Museum and as vice chairman of the Washington, D.C. based Americans for the Arts. He was on the boards of classical KING-FM 98.1, the U.S. Bank Washington State Advisory Board, the Seattle Art Museum, the 5th Avenue Theatre, and the Kreielsheimer Remainder Foundation. A celebration of his life will be held April 20 at Seattle Repertory Theatre's Bagley Wright Theatre, in Seattle. Donations in Mr. Donnelly's memory may be made to ArtsFund.

Next Column: April 19, 2009
Copyright: April 12, 2009. All Rights Reserved. Reviews, Interviews, Commentary, Photographs or Graphics from any Broadway To Vegas (TM) columns may not be published, broadcast, rewritten, utilized as leads, or used in any manner without permission, compensation and/or credit.
Link to Main Page
---
Laura Deni


CLICK HERE FOR COMMENT SECTION