! >
Broadway To Vegas
  
 SHOW REVIEWS CELEBRITY INTERVIEWS GOSSIP NEWS

| | |
| --- | --- |
| | |
GHOSTLY MASTERPIECES IN NEVADA OPEN AIR MUSEUM - - CABARET: ECONOMICAL LAUNCHING PAD FOR NEW WORK? - - FILM SOCIETY OF LINCOLN CENTER HONORS TOM HANKS - - SCI-FI SPECTACULAR - - PAULA PRENTISS AND SON ROSS BENJAMIN CO-STAR IN PLAY - - MARILYN CHAMBERS WAS MORE THAN JUST A PORN STAR - - EQUALITY FORUM 2009 SHOWCASES FIRST RICHARD AMSEL RETROSPECTIVE - - SIGNATURE THEATRE'S FIRST ANNUAL SONDHEIM AWARD GALA - - DONATE . . . Scroll Down


Copyright: April 19, 2009
By: Laura Deni

CLICK HERE FOR COMMENT SECTION
UNIQUE GOLDWELL OPEN AIR MUSEUM HOUSES SZUKALSKI MASTERPIECES
Located in the middle of almost nowhere, over 200,000 people annually visit the Goldwell Open Air Museum in Death Valley. Museum director and artist Suzanne Hackett-Morgan spoke with Broadway To Vegas about one of the most unique outdoor art exhibits in America, which has received funding from the National Endowment for the Arts and the Nevada Arts Council.

The Goldwell Open Air Museum is a 7.8 acre outdoor sculpture site near the ghost town of Rhyolite, Nevada, approximately 115 miles north of Las Vegas. It began in 1984 with the creation and installation of a major sculpture, The Last Supper, by Belgian artist Albert Szukalski, which is a ghostly interpretation Leonardo DaVinci's masterpiece of the same name, sited against the backdrop of the expansive Amargosa Valley.

"Basically, we were friends with the artist and when he died in 2000 we were asked to do something to preserve the site. So, my husband and I set up the non-profit," related Suzanne who, with a background in art, has been in the non-profit culture field for 23 years in both California and Nevada. Her husband is photographer Charles Morgan.

Hackett-Morgan and her husband first discovered the collection near Rhyolite in 1994, while cataloging outdoor artwork across Southern Nevada as part of the national Save Our Sculpture! project sponsored by the Nevada Arts Council, the Smithsonian Institution, and the National Institute for the Conservation of Cultural property.

Among the sagebrush and the bushes they found:

-A 'Ghostly' life size rendition on Leonardo Da Vinci's Last Supper, by Albert Szukalski.

-A 25 foot pink Lady Desert, The Venus of Nevada by Hugo Heyrman.

-A Ghost Rider, by Albert Szukaski

-and Icara by Andre Peeters, representing the female counterpart to the Greek myth of Icarus, the boy who tried to fly to the sun.

"We maintain the sculptures and we have a conservation plan. One of the first federal grants we got was a survey to bring a couple of professionals out to teach us how to care for these things," she explained.

Charles Albert Szukalski was born on April 4, 1945 in Furthim Wald, Belgium. As a young man he moved to Antwerp where he studied at the Art Academy.

In 1971 he began taking plaster nose imprints of famous artists. His Nose Project attracted attention and he was invited to exhibit in Paris. Salvador Dali was afraid that taking an imprint of his nose would damage his moustache, so Szukalski acquiesced and took an imprint of Dali's finger instead.

After the Nose Project Szukalski started his Ghosts Project.



The Last Supper Albert Szukalski. (1984) Photo: Goldwell Open Air Museum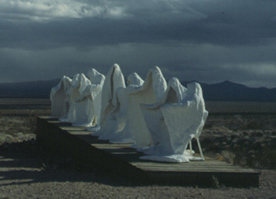 Known in Europe as the sculptor of "ghosts" and a situation maker, he visited Death Valley while in the United States to see his mother, who lived in Northern California. He fell in love with the Death Valley area.

In Death Valley during 1984 he created what is perhaps the most unique piece of his career - The Last Supper.

To create this project, Szukalski coated local residents in hundreds of pounds of wet plaster and posed them in different positions. When the plaster set, the models slipped out leaving the rigid shroud. The sculptures were then coated in fiberglass.

Originally designed to endure a mere two years, the sculpture has not only stood the test of time, but has lived on to become the genesis piece of the Goldwell Open Air Museum.

In subsequent years, six additional pieces were added to the site by three other Belgian artists who, like Szukalski, were major figures in European art with extensive exhibition records, but who chose to create in relative obscurity in the Nevada desert in the early 1990s. All of the artworks have a contextual relationship to this specific environment. They are meant to be viewed within this particular landscape.



Ghost Rider by Albert Szukalski. Photo: Goldwell Open Air Museum
Albert Szukalski followed up The Last Supper with two other pieces at the site, Ghost Rider in 1984 and Dessert Flower in 1989.

"Szukalski was known for doing that kind of work in Antwerp. They are all over Antwerp. It is kind of interesting to have them here," added Hackett-Morgan.

Albert Szukalski made Beatty, Nevada his second home.

The other prominent Belgian artists added their own creations to the desert air Mecca, including a carved, winged woman atop a wooden pillar and a 24-foot-tall, rusted steel rendering of a prospector and a penguin.



Tribute to Shorty by Fred Bervoets. Photo Goldwell Open Air Museum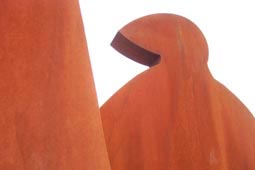 That piece was created in 1994 by arguably the collection's most famous artist, Fred Bervoets, appointed a Knight of the Order of Leopold II by the King in 1988. He was also the artist who felt most out of place in the desert.

His "portrait" sculpture of Shorty Harris - an early miner in Death Valley and its environs - and a penguin has elicited countless questions. The miner makes sense, but why the Antarctic bird? Word has it that Bervoets wanted to include in his sculpture an indication of how alien he felt in the Nevada desert. The penguin was the most out of place entity the artist could think of to represent his own feelings of displacement under the Mojave sun, a self-portrait then as a penguin in the desert.

The Mohave Desert is bone melting hot and Nevada winds - especially in March and April - can whipsaw. While other areas of the country can refer to similar breezes as approaching Hurricane I status, Las Vegas locals just call the sustained gusts - another breezy day. Visitors can be caught off guard.

"Actually, it's a pretty good environment for a sculpture, because it's not very wet," Hackett-Morgan declared about the dry heat.

"We have lost a couple of sculptures. We lost two sculptures last year to wind. That was pretty amazing after that many years. One was called Desert Flower and made out of car parts. It basically was blown over. We moved it down to our Red Barn arts center. We need to re-site it, but we haven't done that, yet. The other one, Chained to the Earth, was made out of Ignimbrite, which was a rather porous stone. Over time it just developed a really severe crack and we felt it had to come down, so we took it down."

Colors do fade.



Lady Desert: The Venus of Nevada aka The Pink Lady. Photo Goldwell Open Air Museum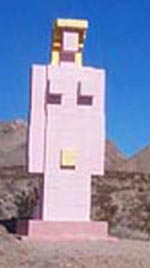 "We did a conservation on The Pink Lady in 2005. It was repainted here," she said of the 25-foot tall cinder block woman whose proper title is Lady Desert: The Venus of Nevada. She was created in 1992 by Hugo Heyrman, a Belgian artist who specializes in two-dimensional work, much of it made on computers.

The two-story nude has been described as looking "like a large and voluptuous set of Legos."

Using cinderblocks to represent in a real 3-D sculpture the pixels he uses in his virtual 2-D computer work, Dr. Heyrman created a sculpture which at once refers back to classical Greek sculpture while maintaining a firm presence in the highly technological/pixilated world of the 21st century.

Referring to the new paint job she exclaimed; "That was really a blast! We had a Pink Lady Paint Party."

The coveted volunteer participation invite was extended to ladies only, because Hackett-Morgan didn't think it seemly that men should be crawling all over the naked lady.

The female volunteers, their hair protected under pink bandanas, first gave her a bath. That was followed by two fresh coats of Sinclair latex house paint based upon the original mix from 13 years ago - bright pink for her skin, yellow for her hair, red for the pedestal on which she kneels.

To reach the sculpture's rectangular head, Hackett-Morgan had to climb a ladder, shimmy out onto Lady Desert's shoulder and lean into the wind with a paintbrush.

Amy Noel, who was standing on the ground holding the ladder, encouraged Hackett-Morgan by singing the Commodore's Brick House song.

"Other than that, the sculptures are doing pretty good," stressed Hackett-Morgan. "Allowing that we would like to do a full conservation on The Last Supper. It needs to have a new base put underneath it. The current base is made out of wood, which is not a good material for it. We'd like to put it on a concrete slab."

Hackett-Morgan reported that the salamander climate doesn't deter visitors.

"You'd be amazed how many people come - especially in the summer," she insisted. "They are all coming from Europe and Japan primarily in the summer. We're getting like 200,000 people a year. If I had $1.00 from every one of them our program would be funded. It is a little bit difficult to police admissions out there. We do it by donations, when we are able to have somebody on site. During last year's wind storm we had some damage to our visitor's center, which used to be staffed. We are hoping to re-do that this year if some of our other funding comes through."

"Financially, it is tough for everybody right now," she conceded. "We've always said - we don't have rent to pay and some of the other things that other people do - so we take what we are able to get and make do. "

"The Western Europeans love to come to Death Valley during the summer," emphasized Hackett-Morgan. "They just love it. Believe it or not we get at least 75 to 100 cars a week-end."

"There are a lot of nice things to see in Death Valley and there is a loop that people can make traveling to and from Los Angeles/Las Vegas," she added.

Nearby is Rhyolite, a mining community, once was a booming town of 10,000. The town was founded in 1904 and by 1907 even had electricity. The financial panic of 1907 took its toll on the town and businesses started to shut down. Then, the mines started to play out and by 1916 the power and light company had shut down and the people had moved on.

Today, it is one of the West's most spectacular ghost towns with magnificent stone ruins well worth the visit. A mission-style railroad station still stands, as does the remains of the three-story Cook's Bank building and a bottle house constructed from 50,000 liquor and beer bottles by a miner, Tom Kelly.

Four miles from the Goldwell Open Air Museum is Beatty, the closest town to Goldwell, Rhyolite and Death Valley National Park and only a half-hour's drive from the valley floor. Beatty's history is related to that of the Bullfrog Mining District.

"We've got monthly opportunities for people to experience the work of artists who are in residence here," she said referring to the Artists in Resident Program.



Evil Eye (Gris-Gris for Louisiana) Scott Ludwig, 2006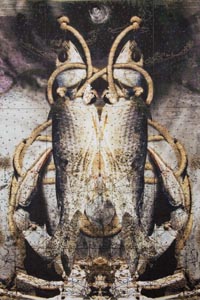 On stage this week-end at the Red Barn Art Center Gallery is resident artist Scott Ludwig, conducting a Hybrid Printmaking Workshop, April 25 and 26.

Scott Ludwig received his B.A. in Fine Art from the University of Wisconsin-Parkside and his MFA in Printmaking from Ohio University. He has exhibited his work throughout the United States and in Canada, Turkey, and Cuba. Ludwig received a Fulbright-Hays Scholarship to Turkey in 1999. During 2005 and 2006, he was awarded a series of grants that funded travel and research to Havana, Cuba and to Bosphorus University in Istanbul. In the spring of 2007, he was awarded a visiting artist residency at the Malaspina Printmaker's Society in Vancouver, British Columbia. Ludwig is currently an Associate Professor of Art at Appalachian State University in Boone, North Carolina.

"He applied to our residency program," said Hackett-Morgan in explaining how he got to Nevada. "He's really an amazing artist. He's having a wonderful experience. He's out there right now as we speak. His biggest surprise was that the weather - the environment - is so extreme out here. He's happy that he has the barn to work in because it would be really a drag to work outside," she laughed referring to the blowing wind.

Goldwell Open Air Museum seeks to continue Albert Szukalski's art making vision in the area by offering Artist Residency and Workspace Programs to challenge and support the creative growth of artists from a variety of disciplines.

All artists work primarily out of the Red Barn Art Center donated by the Barrick Gold Corp. The Center houses a large 1,125 square foot sculpture and painting studio, a gallery and performance space, and a non-toxic intaglio printmaking studio. Writers can be accommodated in the Goldwell House in Beatty.

The Museum provides support for six or more Artist Residencies each year, which are awarded through a rigorous juring process. Supported residencies receive a stipend, housing plus per diem/travel support. Artists receive 24-hour studio access and technical and production assistance. Artists are responsible for providing their own supplies, materials and personal tools.

"A lot of people know were are here," Hackett-Morgan stated. "The most important thing, we think, is that we are continuing the founder's vision - not only by taking care of the stuff that he did, but by continuing the residency program that brings great artists out to the area to make work that teaches us all something new about art."

Goldwell Open Air Museum is a free admission facility open 24 hours, 7 days a week. Parking is available onsite. There are seven outdoor sculptures to enjoy.



Broadway To Vegas is supported through advertising and donations. Priority consideration is given to interview suggestions, news, press releases, etc from paid supporters. However, no paid supporters control, alter, edit, or in any way manipulate the content of this site. Your donation is appreciated. We accept PAYPAL. Thank you for your interest.


ART AND ABOUT


EQUALITY FORUM 2009 is showcasing the first Richard Amsel Retrospective exhibition, featuring artwork by one of Hollywood's most highly-acclaimed illustrators. The exhibition runs at the Rosenwald-Wolf Gallery at The University of the Arts in Philadelphia through May 14, 2009. The exhibit, which includes over 50 pieces, is the first major exhibition of Amsel's work since his death in 1985. Richard Amsel created illustrations for major Hollywood movies including Raiders of the Lost Arc; Hello Dolly! and The Sting, illustrations for Bette Midler's album covers including The Divine Miss M, and 37 TV Guide covers including portraits of Elvis Presley, Lucille Ball, Prince Charles and Katherine Hepburn.

Amsel, a native of Philadelphia, began his career when he won a national competition at art schools to create a poster design for the movie Hello Dolly! He was a student at Philadelphia College of Art and Design - now The University of the Arts. Later in his career, Amsel won a Grammy Award and the Key Arts Award from the Hollywood Reporter.

A close friend of Amsel's and the director of Late Night Programming at CBS Television in Los Angeles for 15 years, Dorian Hannaway donated the collection and designated it as a teaching resource for the university.

"I believe University of the Arts students will be inspired by seeing Richard's original work," Hannaway said. "My hope is that it will educate future generations of artists. I'm grateful that the university is preserving his art as well as maintaining the legacy of one of its famous alumni."

Once catalogued and conserved, the collection will be made available to scholars and researchers of illustration, film, television and American pop culture of the 1970s and '80s. Ultimately, the retrospective will be made available to travel to other universities, libraries and museums.

The staging of the retrospective is a collaborative effort among University of the Arts Museum Studies students and faculty and entertainment business professionals. Joe Stewart of the Emmy Award-winning Shaffner/Stewart team, set designer for Friends; Two and a Half Men and Rachael Ray, designed the multimedia environment housing the exhibit.

The University of the Arts is the nation's first and only university dedicated to the visual, performing and communication arts.

The 10th annual Art Exhibit, a collaboration between Equality Forum and The University of the Arts, will be held at the Rosenwald-Wolf Gallery. A curator-led tour conducted by Sid Sachs, Director of the Rosenwald-Wolf Gallery, will be held at the gallery on Friday, May 1.

Equality Forum 2009, the largest annual national and international GLBT civil rights forum, will be held April 27 to May 3 in Philadelphia.




SWEET CHARITY


SIGNATURE THEATRE'S FIRST ANNUAL SONDHEIM AWARD GALA

Stephen Sondheim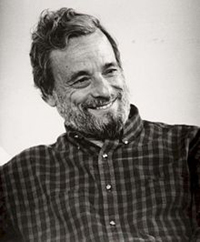 will take place April 27 when the Tony Award-winning, Pulitzer Prize-honored musical theatre composer is celebrated at the Embassy of Italy in Washington, DC.

Tony Award winners Bernadette Peters and Michael Cerveris, and Washington-area stars Will Gartshore and Eleasha Gamble will headline the event.

"Recognizing musical theatre's great debt to the influential composer," Signature is establishing The Sondheim Award to be presented in the future to individuals "for their career contributions to interpreting, supporting, and collaborating on Sondheim's musical works."

The black-tie dinner is being chaired by Signature board member Bonnie Feld and her husband Kenneth, with Honorary Hosts His Excellency and Mrs. Giovanni Castellaneta. Proceeds from the Sondheim Gala will benefit the non-profit Signature Theatre, based in Arlington, VA.

PLAYWRIGHTS HORIZONS ANNUAL SPRING GALA BENEFIT I can see so far… will feature Tony Award winners Victoria Clark, LaChanze and BD Wong and Tony Award nominee Jonathan Groff who are all artistic alumni of the theater company.

"I can see so far…" is the final, haunting lyric from the musical Floyd Collins by Adam Guettel and Tina Landau. It also captures the essence of the theater company's institutional mission of discovering, developing and producing the new work of American playwrights and musical theater composers. Ever forward-thinking, Playwrights Horizons produced its first musical In Trousers by then-newcomer William Finn in 1979, beginning a three decade-long love affair with the American musical.

Since then, the company's artistic output has been prolific in scope and far-sighted in its ambition. They've worked with hundreds of musical theater artists and developed dozens of unique and ground-breaking new musicals including Grey Gardens, James Joyce's The Dead, Assassins and Sunday in the Park with George. They also established one of the country's first Musical Theater development departments.

Mr. Finn, whose illustrious musical theater career was launched on the stages of Playwrights Horizons, and James Lapine, the celebrated writer, director and long-time Playwrights Horizons collaborator serve as Honorary Artistic Co-Chairs of the evening.

Playwrights Horizons' recently-appointed Director of Musical Theater, Kent Nicholson, will direct the entertainment portion of the evening. Nicholson recently joined the staff of the theater company, following serving as Director of New Works for TheatreWorks in California.

Trustees Lawrence B. Buttenwieser and Rachel Wilder serve as Gala Benefit Board Co-Chairs. Carole Schwartz, David Skovron and Dr. Jeff Rubin are the Gala Benefit Patron Co-Chairs.

Monday evening, April 27, at Guastavino's in NYC.

2009 POINT HONORS BENEFIT staged by the Point Foundation - the nation's largest scholarship-granting organization for lesbian, gay, bisexual and transgender (LGBT) students of merit - takes place April 27, 2009 at the Roosevelt Hotel, in New York City.

The evening's festivities will be hosted by Susan Lucci and Cameron Mathison from the ABC daytime' soap All My Children.

America Ferrera, Angela Lansbury, Ana Ortiz, Thomas Roberts, Leslie Uggams and Michael Urie are scheduled to appear. Plus: scheduled performances by Vanessa Williams and West Side Story stars Matthew Cavenaugh and Josephina Scaglione.

Silvio Horta, Creator and Executive Producer of the ABC-TV series, Ugly Betty, will receive the Point Courage Award; PricewaterhouseCoopers LLP will receive the Point Inspiration Award; and the inaugural Point Legend Award will be presented to play writer, librettist, screen writer, novelist and director, Arthur Laurents.

The Point Courage Award recognizes an individual who has advocated for the future of the LGBT community and lives with the vision that investing in today's potential will produce a brighter tomorrow.

The Point Inspiration Award recognizes a corporation that champions respect and inclusion of the LGBT community, and operates with the vision that the success achieved by talented young people is limited only by the resources and opportunities they are given to help them fulfill their potential.

The Point Legend Award is presented to an individual who has, through the course of their lifetime, achieved greatness in their professional career and unapologetically supported the LGBT community.

Students who are awarded the organization's prestigious scholarships, known as Point Scholars, are selected through a rigorous and highly competitive process that requires a record of demonstrated academic excellence, leadership skills and financial need. A number of these Point Scholars will attend the benefit.

FILM SOCIETY OF LINCOLN CENTER 2008 ANNUAL TRIBUTE GALA HONORING TOM HANKS

Tom Hanks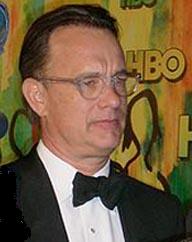 Monday, April 27, 2009 at the newly renovated Alice Tully Hall in New York City.

The star-studded event will feature remarks by many of Hanks' friends and collaborators, as well as film clips commemorating his lauded career. The evening will culminate in the presentation of the Gala Tribute award with tributes by writer/director Nora Ephron, actress Sally Field, director Ron Howard, writer/director Mike Nichols, actress Julia Roberts, writer/director John Patrick Shanley, director Robert Zemeckis, and others.

This year's Gala Co-Chairs are Liz Swig, Kent Swig, Ann Tenenbaum and Thomas H. Lee. The Tribute Chairs are Irene and Bernard Schwartz.

Cocktails, dinner, tribute and champagne reception.

The Film Society's Annual Gala Tribute began in 1972 and honored Charles Chaplin – who returned to the US from exile to accept the commendation. Since then, the award has honored many of film's visionary talents, including Alfred Hitchcock, Billy Wilder, Laurence Olivier, Federico Fellini, Elizabeth Taylor, Bette Davis, James Stewart, Robert Altman, Martin Scorsese, Diane Keaton and, most recently, Meryl Streep.

NEW YORK PHILHARMONIC SPRING GALA Pulitzer Prize-winning composer Marvin Hamlisch will lead the New York Philharmonic in New York Moments, a concert featuring iconic musical moments from Broadway and film, with stars from the stage and screen: Ashley Brown, who originated the title role in Mary Poppins on Broadway; Maria Friedman, who played Mrs. Lovett in Sweeney Todd and Marian in The Woman in White in London; Joel Grey, whose numerous starring roles have included the famous M.C. in Cabaret, on Broadway and in the film; Jennifer Holliday, one of the original Dreamgirls; Liza Minnelli, last seen on Broadway in Liza's at The Palace; Kelli O'Hara and Paulo Szot, stars of the current Lincoln Center Theater production of South Pacific; and 15-year-old up-and-coming singer, Nikki Yanofsky.

April 20, 2009 at Avery Fisher Hall in New York City.

ROCK OF AGES TO BENEFIT JACOB'S CURE - CANAVAN DISEASE takes place Tuesday, April 28, 2009 at the Brooks Atkinson Theatre in New York City.

Guests attending the performance of Rock of Ages will enjoy a spectacular evening with orchestra seats, a complimentary drink and a special auction hosted by the cast after the show.

Rock of Ages takes audiences on a musical joyride set to blazing hits from iconic rockers such as Journey, Bon Jovi, Styx, Reo Speedwagon, Pat Benatar, Twisted Sister, Poison, Asia, Whitesnake and many more.

Canavan disease is a fatal genetic neurological disorder that deteriorates the white matter (myelin) in the brain. The white matter forms a protective coating around every nerve in the brain and spinal cord, to ensure that nerve impulses are properly transmitted from one part of the body to another.

In children afflicted with Canavan Disease, a gene mutation prevents the production of a critical enzyme called Apartoacyclase. Without this enzyme, an acid called NAA or N-acetylaspartate is not broken down, thereby accumulating to dangerous levels in the brain. This is thought to cause catastrophic effects to the normal formation of the white matter.

It is the lack of white matter that leaves Canavan children incapable of performing the simplest functions. Even if they live to their full life expectancy - three to ten years - they become blind, paralyzed, prone to seizures...and increasingly lost to the world around them.


SPREADING THE WORD


IN PERSON: KENNETH BRANAGH AND REBECCA EATON Executive Producer of Masterpiece. Join celebrated British actor Kenneth Branagh - a four-time Oscar nominee - for the LA premiere screening of one of three upcoming installments of Wallander, a new Masterpiece Mystery! series based on the popular crime novels by Swedish author Henning Mankell.

Branagh, who limns the juicy role of tortured sleuth Kurt Wallander, and Masterpiece executive producer Rebecca Eaton will discuss the screening and answer audience questions.

Wednesday, April 29, 2009 at the Arclight Cinerama Dome in Hollywood, California. Presented by the Paley Center, Masterpiece, and BAFTA LA.

INDUSTRY PANEL ON CABARET: ECONOMICAL LAUNCHING PAD FOR NEW WORK? takes place on Wednesday, April 22 at The Players Theatre in NYC.

The panel will be co-moderated by Sherry Eaker, editor-at-large of Back Stage.

Panelists will include Suzanne Adams, Opening Door Theatre Company; Sharon Carr, producer; Bill Daugherty, self-producing artist; Kevin Kennedy, managing director, The Peccadillo Theatre; Richard Skipper, self-producing artist; and Lee Sommers, General Manager/Booker, Triad Theatre.

In the current economy, more than ever before, producers (and writers) need economic ways of getting work up on its feet. Cabaret rooms have long been used for more than solo sing-a-thons, and long-run legends like Nunsense and Forbidden Broadway have been born there. These clubs provide affordable venues to develop new works, and an intimacy that works well for certain shows. With audience expectations so different, can production values be modest? At what point does the Equity Cabaret contract come into play, and how does it compare to the Showcase Code? Can runs be extended so word of mouth can be built? Are the limitations of the space worth the budgetary savings? And just how much does it cost to produce a full-fledged show in a cabaret, compared to a showcase?


CURTAIN DOWN


ELTON JOHN plays his Red Piano Show for the last time on April 22 at Caesars Palace in Las Vegas.

The show made its debut in February 2004 at the hotel's Colosseum Theater. After initially signing on for 75 shows, John's engagement was extended.

The closing show will be John's 241st performance in a show which combined the singer's top hits with over-the-top video montages created by photographer and director David LaChappelle.



THE GLASS MENAGERIE by Tennessee Williams. Starring Paula Prentiss and her son Ross Benjamin.

Paula Prentiss likes to keep acting in the family. Prentiss was last seen at BoarsHead in the 2007 production of Mrs. Warren's Profession, which co-starred her daughter Prentiss Benjamin and drew some of the largest audiences in the theater's history. ( See Broadway To Vegas column of September 2, 2007 ) This time the co-star role is her son Ross Benjamin.

This play follows Tom Wingfield, son to an overbearing mother and brother to a shy sister, who wavers between his consuming desire to escape and his obligation to his family. In this riveting play, Tom takes the audience with him to revisit the persistent memories of his family's past.

Playing Tom Wingfield is Prentiss' real son Ross Benjamin, an accomplished actor who graduated from Harvard University and studied with the British American Drama Academy. He played Peter Goldsmith in Mike Nichols' Primary Colors and had a recurring role on Tracy Ullman's HBO comedy Tracy Takes On. He most recently shared the stage with his mother in the West Coast Jewish Theatre's production of A Majority of One.

Appearing as Laura is Charlyn Swarthout, associate artist at The Purple Rose Theatre, which was created by Jeff Daniels, who is currently winning rave reviews for his starring role in God of Carnage. Daryl Thompson, co-founder of Icarus Falling Theatre, rounds out the cast as Jim O'Connor, the gentleman caller. Thompson currently teaches acting at Olivet College.

Directing the play is John Neville-Andrews who has more than 40 years of experience in theater. He has directed or acted for numerous theaters including Yale Repertory Theatre, the Tony Award-winning Utah Shakespearean Festival and the Broadway production of The Elephant Man (Tony Award-Best Play). He is currently the Artistic Producer of the Michigan Shakespeare Festival.

Original glass artwork by Lansing artist Craig Mitchell Smith will be featured on stage and original music by Lansing resident Sergei Kvitko will be used.

This production includes scenic design by Tim Stapleton, lighting design by Michael Beyer, costume design by Holly Speers, sound design by Sergei Kvitko and property design by Patricia A. York. Stage manager of this production is Karen Doyle with Lara Bidus as assistant stage manager.

Founded in 1966, BoarsHead Theater is mid-Michigan's longest continually running professional theater. BoarsHead Theater attracts artists from Chicago, New York, Detroit and around the nation. BoarsHead Theater is under the leadership of Executive Director John Dale Smith and Artistic Director Kristine Thatcher. Performances Wednesday through Sunday from May 6 to May 31 at the BoarsHead Theater in Lansing, Michigan.

PEEPSHOW conceived, created and directed by Tony-winning choreographer and director Jerry Mitchell who calls the show "an extravagant new production that brings back the art of the tease."

Original music and arrangements by Andrew Lippa who brought Broadway The Wild Party; john & jen, and the upcoming The Addams Family.

Starring Original Spice Girl Mel B. (a.k.a. Melanie Brown) as The Peep Diva, who serves as the evening's emcee, and guides Bo Peep portrayed by General Hospital's and Dancing with the Stars first season champion Kelly Monaco, on her search for love. Peepshow also stars American Idol contestant and star of Broadway's Tarzan, Josh Strickland, as the male vocalist.

Mel B and Kelly Monaco are billed as "the first in a series of sexy and exciting stars," in what is expected to be a rotation of recognizable names per Chicago or The Vagina Monologues.

Peepshow is described as "a modern burlesque show created specifically for the dynamic, glamorous audience that exists only in the adult playground of Las Vegas. A highly stylized, full-throttle production show that combines sexy striptease and celebrity with high-level production values and a dash of passion."

"A bold, sexy journey through fables and fantasy as the Peep Diva (Mel B) helps a timid office worker, Bo (Kelly Monaco), discover her own power and sexuality. Bo's playful and humorous expedition winds through the fantastical world of make-believe as production numbers re-introduce the audience to familiar faces from popular fairy tales, with a naughty, playful twist. Peepshow is most definitely a tale with a tease."

The Peepshow girls are Lena Blake, Olivia Cipolla, Keltie Colleen, Kristin Rose DeCesare, Renay Herter, Monica Klus, Emily Loftiss (Dirty Rotten Scoundrels), Michele Martinez, Allie Meixner, Marielys Molina, Leah O'Donnell, Carolyn Pace, Jessica Press, Jennifer Quinlan, Katie Webber (Wicked), Adar Wellington and Kaci R. Wilson. Ensemble members include Albert Blaise Cattafi, Jason Davies (Wicked), Nick Kenkel (Legally Blonde), Stoyan Metchkarov and Timber.

The production is backed by an all-female rock band playing today's best-known hits by Madonna, Christina Aguilera, Aerosmith, Michael Buble and Kylie Minogue, among others - and original songs created specially for Peepshow.

Jerry Mitchell knows and understand both Broadway and Las Vegas. The allure of sex, liquor and chocolate are all virtually recession proof. We're not too sure about chocolate, but sex and liquor have always done well in Sin City.

This show isn't going to be for everybody, but it wasn't designed as a one-shoe-fits-all commodity.

Co-Choreographer Nick Kenkel joins acclaimed set designer David Rockwell (Phantom) and Tony Award-winning costume designer Gregg Barnes work their magic. Josh Marquette is in charge of hair design; Chris Lee is the lighting designer; Zachary Borovay is the video designer and ACME Sound Partners handled the sound design - all of whom are well known and respected on Broadway.

Performances at Planet Hollywood in Las Vegas.

THE NORMAN CONQUESTS comprises three full length plays - Table Manners, Living Together and Round and Round the Garden. Each individual play offers a view of one comically catastrophic weekend, shared by six spouses and in-laws, at the family house in the country. And while each play is complete on its own terms, by viewing all three plays (in any order), the audience is able, detective-like, to piece together all of the hidden secrets and lies, the outrageous, hilarious and shocking interactions, which occurred over the weekend. The production promises some wonderful and brilliant surprises.

The production is directed by Matthew Warchus.

The first Broadway revival of The Norman Conquests features the cast from The Old Vic's recent acclaimed production: Amelia Bullmore (Ruth), Jessica Hynes (Annie), Stephen Mangan (Norman), Ben Miles (Tom), Paul Ritter (Reg) and Amanda Root (Sarah).

The Norman Conquests is designed by Rob Howell, with lighting by David Howe, music by Gary Yershon and sound by Simon Baker for Autograph. Officially opens April 23 at Circle in the Square, NYC.

THE SLEEPING BEAUTY presented by the Russian National Ballet Theatre. Founded in Moscow by legendary Bolshoi Ballet principal dancer Sergei Radchenko in 1989 - during the transitional Perestroika era - the Russian National Ballet Theatre upholds the grand Ballet Russes tradition and performs a repertory of virtually all the great works of Marius Petipa.

The Sleeping Beauty, the crowning jewel of Petipa's career, merges traditional ballet and mime, expressive pas d'action, and Tchaikovsky's lush score, all set in a lavish theatrical setting. The enchanting fairytale is replete with courtly splendor, fairies both good and evil, a beautiful princess and handsome prince, and magical stage effects.

In addition to the performance, there will be a Ballet Masterclass in which Intermediate/Advanced Teens and Adults will have the special opportunity to learn about the grand tradition of Russian ballet in this one-of-a-kind masterclass with members of the Russian National Ballet Theatre Company.

The performance takes place on Thursday, April 23 and the Masterclass will be held on Friday, April 24. Flynn Center for the Performing Arts in Burlington, Vermont.

HAPPINESS IS A STATE OF MIND by John Kolvenbach. Director Kim Hardwick.

It is the duty of brothers and sisters to drive each other crazy. Joan loves her brother very much, but Beane has always been a little, well… peculiar. He's a loner who isn't great with social interactions. That is until Beane meets Molly and love launches him back into the real world.

Joan and her husband, Harry, are astounded by his transformation; Beane is suddenly vibrant and has found a new enthusiasm for everything around him. His joie de vivre proves contagious and soon Joan and Harry are acting like a couple of love sick teenagers too.

A whimsical, touching and humorous play that shows us sometimes you have to throw all rationale to the wind to fully embrace love, life and happiness. Love Song is the heartwarming story of when Beane met Molly.

Featuring Jonathan Gavin, Drayton Morley, Di Smith and Sarah-Jane St. Clair.

Set and Costume Design by Claire Moloney. Lighting Design by Martin Kinnane. Composer is Phil Scott. Sound Design by Michael Huzley. Photography by Tom Evangelidis. Graphic design by Dial Nine For An Outside Line.

Previews April 22 and 23 with the official opening taking place April 24. Performances run through May 16 at Darlinghurst Theatre in Kings Cross, NSW Australia.

LANTERN by Renee Liang. Directed by Tony Forster.

Two actors. Nine characters. 85 luminescent minutes.Light your way home.

Chinese New Year's Eve is when families get together, eat like gluttons and sweep the house clean of any bad-luck issues before the New Year. Unfortunately for the Chen family, there are a lot of issues.

Henry is a broken man, consumed by memories of war and immigration. His children Jen and Ken are still struggling to figure out who they are. And his wife Rose, who walked out of their lives a year ago, reappears just in time for dinner…

Written by emerging NZ-Chinese playwright Renee Liang and featuring an all-Chinese cast, Lantern is not a play about being Asian, or even about being Kiwi-Asian. It's a play about what it means to be family.

Starring Li-Ming Hu and Andy Wong.

April 21 - May 2, 2009 at the Bats Theatre in Wellington, New Zealand.




WHO'S WHERE


GLEN PHILLIPS is performing his first string of solo gigs since sustaining serious arm injuries when, on Oct. 8, 2008 - while at a friend's house - the glass coffee table he was sitting on collapsed. Phillips had surgery to repair a damaged ulnar nerve and muscle in his left arm. His ability to play guitar has been hampered during his recovery.

In a medical update to his fans, Phillips wrote: "The initial trauma to the unsevered parts of the ulnar nerve (it was sliced about 70% through) has gone away, so I have a certain amount of movement back, but there's still the lion's share which has to slowly regenerate (at about 1/2 inch a month, from just below my elbow to the tips of my fingers) and won't be back for at least a year, more likely two."

The current state of affairs is as follows: The outer side of my palm, pinky and the outer half of my ring finger are numb, with a serious sensitivity to cold and exciting random flashes of burning/itching/tingling. My grasping strength is about 70% of what it was, and my lateral/stretching strength is 10-20%, depending on the finger. I can move the pinky, but I can't control it very accurately."

"I've relearned most of my songs on the guitar. There's a few that haven't been as easy to remap, but I've been able to work most things out. Some songs have lost subtle harmonic or countermelodic parts, some have had to be capoed up the neck so I can use chord shapes I'm better able to play. My hand won't do barre chords and can't stretch further than a couple frets. It's been interesting to simplify voicings and satisfying to see that most things come across just fine."

Mentally? Usually I'm pretty good. Considering I was sitting on a glass table, I am lucky to have not been castrated or have my guts impaled. It's given me some good perspective and a healthy dose of gratitude. I'd been wanting to have new challenges and a reason to play more music with other people - this wasn't quite how I imagined it happening, but it is exactly what I had wanted. Be careful what you wish for…"

He performs Friday, April 24, at Y1 Studios in San Diego. On Saturday he's at Hotel Cafe in Los Angeles and next Sunday, April 25, he performs at Zoey's Cafe and Loft in Ventura, CA.

BARBARA COOK in her cabaret show Here's to Life through May 2 at Feinstein's at Loews Regency in NYC. The Tony Award winning Broadway legend performs selections from the worlds of theater, swing, pop and jazz. Songs include What A Wonderful World; Written In The Stars; I Want To Be Happy and numbers from her newest CD, Rainbow 'Round My Shoulder. The show features Lee Musiker heading an all-star quintet.

SCI-FI SPECTACULAR Conductor Jack Everly and George Takei (aka Star Trek's Mr. Sulu) boldly take you to where no orchestra has gone before - with John Williams' film music from Star Wars'; Superman; E.T., and Harry Potter & the Sorcerer's Stone, plus great sci-fi and fantasy movie soundtracks including the main theme from 2001: A Space Odyssey.

Featuring soprano Kristen Plumley; vocalist Mike Eldred, The Ewashko Singers directed by Laurence Ewashko. April 23-25, 2009 at the National Arts Centre in Ottawa, Canada.

MARVIN HAMLISCH will deliver an elegant evening of unforgettable music on Saturday, April 25, 2009 at the Brooklyn Center for the Performing Arts at Brooklyn College. The legendary composer/performer and 2008 Theater Hall of Fame inductee holds the distinction of being one of only twelve people to win all four major US performing awards - Emmy, Grammy, Oscar and Tony - and one of only two to have won all four of those plus a Pulitzer Prize - the other being Richard Rogers.

PRESERVATION JAZZ HALL BAND AND THE BLIND BOYS OF ALABAMA perform Friday, April 24, at the Pinnacle Entertainment Center in Clarksville, TN. On Saturday they are on stage at the Cannon Center for the Performing Arts in Memphis. Next Sunday, April 26, finds them at Tipitina's Uptown in New Orleans.

BRUCE SPRINGSTEEN open a two night stand Tuesday, April 21, at Banknorth Garden in Boston. On Friday they are on stage at the CTXL Center in Hartford, CT. Next Sunday they can be enjoyed at Philips Arena in Atlanta.

NEIL YOUNG performs in Canada this week. On Monday, April 20, he's on stage at the Credit Union Centre in Saskatoon. Wednesday finds him at Prospera Place in Jelowna. On Thursday the show is at Rexall Place in Edmonton and on Saturday he's in the spotlight at the ENMAX Centre in Lethbridge.

NICKELBACK brings the tour to the Jacksonville Veterans Memorial Arena in Hacksonville, FL on Wednesday, April 22. Thursday the show is at Lakewood Amphitheatre in Atlanta. On Saturday the performance is at the Cruzan Amphitheatre in West Palm Beach, FL.

BRITNEY SPEARS has a busy week. Tonight, Sunday, April 19, she opens up a two night gig at the Honda Center in Anaheim, CA. On Wednesday she brings her tour to the Oracle Arena in Oakland. Friday finds her at Jobing.comArena in Glendale, AZ and on Saturday she comes to Las Vegas for a show at the MGM Grand Garden Arena.

FLEETWOOD MAC takes to the stage at the Amway Arena in Orlando, FL on Monday, April 20. On Wednesday the show is at St. Pete Times Forum in Tampa, FL. On Thursday the performance is at Bank Atlantic Center in Sunrise, FL. The tour then moves to North Carolina for shows Saturday at the Time Warner Cable Arena and next Sunday at the Greensboro Coliseum in Greensboro.

DAVE MATTHEWS BAND performs Monday, April 20, at the Verizon Wireless Center Birmingham in Pelham, AL. On Wednesday the show is at the Time Warner Cable Music Pavilion in Raleigh, NC. On Friday the tour stops at the Verizon Wireless Amphitheatre in Charlotte, NC. Saturday they are on sage at Vanderbilt Stadium in Nashville.

DIANA KRALL brings her wonderful voice to the MTS Centre in Winnipeg, Canada on Wednesday, April 22. She then moves to Ontario for shows Saturday at The John Labatt Centre in London and next Sunday at the Centre in the Square in Kitchener.


FINAL OVATION


MARILYN CHAMBERS

Marilyn Chambers at the 2005 FOXE Awards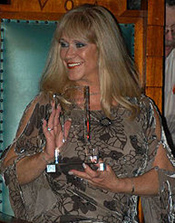 who went from the model posing as a wholesome mother of a newborn on the Ivory Snow laundry soap package, to becoming a pornographic movie superstar by starring in the explicit 1972 movie Behind the Green Door - with stops in Las Vegas along the way - was found dead on Sunday, April 12, 2009 in her home on the outskirts of Santa Clarita, Calif. She was 56.

Initial autopsy reports were inconclusive as to the cause of death. Ed Winter, assistant chief of the Los Angeles County coroner's office, said that the death was being investigated but that foul play was not suspected.

In Las Vegas she made her first legitimate stage appearance opposite Phil Ford and Jane Kean in Jules Tasca's comedy Mind with The Dirty Man at the Union Plaza Hotel. (She would later return to the Union Plaza opening Friday, October 14, 1977 in Neil Simon's Last of the Red hot Loves.)

During that time I was booked a television talk show called The Reed Farrell Show, which was syndicated out of KSD-TV St. Louis, and regularly came to Las Vegas to tape a week of shows at a time. (Videocassette interviews of The Reed Farrell Show taped in Las Vegas with Milton Berle, John Davidson, Robert Goulet, the Lennon Sisters, Cloris Leachman, Minnie Pearl, Louie Prima, and others are part of the St. Louis Media Archives.) We were headquartered at Caesars Palace and I booked both Phil Ford and Marilyn Chambers as guests on the same show.

At a production meeting I announced the guest roster. When I said the name Marilyn Chambers you could feel the air being sucked out of the room. Booking a porn star, who said she wanted to become a legitimate stage actress, was deemed too racy for mid-American. Censors went ballistic - my job was on the line. I was instructed to drop her - using the common ruse; "Sorry, we're overbooked. We'll use you another time." I refused. I held to the position that - if it was wonderful that I had booked Phil Ford, then it was discriminatory to drop one of his co-stars. I had only hours to find something for her to do on camera, that used up the allotted time, but didn't involve her speaking more than a sentence or two about Mind With the Dirty Man and would play well in Peoria - as the old phrase goes.

In talking to her, I discovered that she had been a teen diving champion. We were shooting poolside and the sun was brutal. There wasn't a hat made with a brim wide enough to keep me anything except totally miserable. Chambers was poised.

With no notice and no rehearsal, Marilyn Chambers put on a Midwest proper bathing suit, took to the high spring board and executed some dives that would have been applauded by Olympic athletics.

Acknowledging that her life contained some serious problems and that people view her as only a porn star, Marilyn Chambers was one of the most cooperative, unassuming and polite guests that I ever booked on a television show. After the show aired I was told that the next time we taped, if she was in town, to book her again.

She is survived by a brother, Bill Briggs; a sister, Jann Smith and her daughter McKenna Marie Taylor ,who is the one who found her mother's body.

Next Column: April 26, 2009
Copyright: April 19, 2009. All Rights Reserved. Reviews, Interviews, Commentary, Photographs or Graphics from any Broadway To Vegas (TM) columns may not be published, broadcast, rewritten, utilized as leads, or used in any manner without permission, compensation and/or credit.
Link to Main Page
---
Laura Deni


CLICK HERE FOR COMMENT SECTION