! >
Broadway To Vegas
  
 SHOW REVIEWS CELEBRITY INTERVIEWS GOSSIP NEWS

| | |
| --- | --- |
| | |




ROBERT REDFORD'S SUNDANCE OF SIGNIFICANT IMPORTANCE TO BROADWAY - -BROADWAY ORIGINAL CAST JIMMY AND LET IT RIDE! REMASTERED CD RELEASES - - JOHN JAY COLLEGE ART OF JUSTICE SERIES - - KILLINGS SHOCK GEORGIA COMMUNITY THEATER - - TONY WINNERS BEA ARTHUR AND MARILYN COOPER DIE - - DEATH OF A SALESMAN STARS CHARLES S. DUTTON - - SPORTS HEROES DAVID BECKHAM, ANDY MURRAY AND DENISE LEWIS AIM TO WIPE OUT MALARIA - - DREAM STREET BY DOUGLAS McCULLOH AT RIVERSIDE ART MUSEUM - - DONATE . . . Scroll Down



BREAKING NEWS POSTED ON MAY 1, 2009 - DANNY GANS DIES the talented, well liked and respected performer died in his sleep on Friday, May 1, 2009. The Las Vegas entertainment community is in a state of shock at his untimely death. He is reported to have had no health problems.


ROBERT REDFORD'S SUNDANCE ISN'T JUST FOR FILM - THEATRE INSTITUTE LAUNCHES BROADWAY HITS
Robert Redford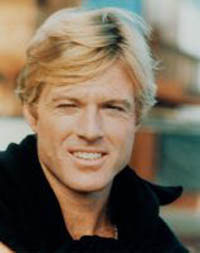 Does Robert Redford view The Sundance Theatre Institute as nothing more than a step-child to his world famous Sundance Film Festival? In a down economy is the Sundance Theatre Institute spreading itself too thin? How has the theatre division been "burned" by playwrights? There are plenty of American playwrights. Does courting playwrights from other countries harm the home grown variety?

Christopher Hibma, the Associate Director Sundance Institute Theatre Program, spoke with Broadway To Vegas about this division of Sundance.

The Sundance Film Festival is synonymous with Robert Redford, mega-stars wearing black and a bevy of expensive goody bags.

In 1959 Redford made his Broadway debut with a small role in Tall Story. Bigger and better parts in productions including The Highest Tree; Little Moon of Alban and Sunday in New York. It was a leading role in the 1963 Broadway production of Barefoot in the Park which launched Redford to prominence and opened the door to Hollywood.

Having founded Sundance in 1981 Redford in many ways has been a hands-on participant in the annual event, which can launch mega hit movies. Few in the public know that a branch of Sundance, the Sundance Institute's Theatre Program, is responsible for creating major Broadway productions.



Philip Himberg, producing director, S.I.T.P. and, at microphone, Christopher Hibma, associate director. Photo; Sundance.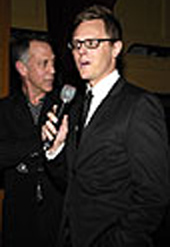 Robert Redford is a formable presence at the Sundance Film Festival. He's served as a keynote speaker, attended functions and presented awards. Does Robert Redford view the theater section of Sundance as a stepchild?

Hibma's response was quick.

"The Sundance Institute started with a Playwrights Retreat 30 years ago - before film even came into the picture. I know that theatre has and does remain very important to Robert Redford. The theater program enjoys a lot of anonymity in the world, in that we don't have public performances of anything - in contrast to the film festival where the world convenes in Park City, Utah for 18 days every January. So, the opportunity for publicity as it relates to Robert Redford being the spokesperson for theater isn't really there. A model of development doesn't really value his celebrity as much as we value the experience we're giving the playwright. And, that is really a quiet focused, centered, supported experience away from the pressures of daily life."

"But, Robert attends our labs on the mountain," Hibma emphasized. "He greets all of our playwrights and all of the actors that are there. And, he is around for conversations."

The latest Sundance foray is into Africa. To speak with Broadway To Vegas on April 20, Hibma had to take time away from travel preparations.

"Well, you know, its been a crazy day. We leave on Friday for Africa," he began.

Sundance East Africa activities in Rwanda and Tanzania began yesterday and last through May 5th.



Philip Himberg is always on the lookout for new talent. Photo: Sundance.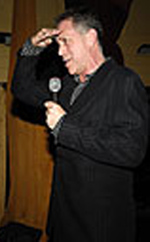 Sundance East Africa is a program of artistic exposure and exchange between US and East African theatre artists. Sundance is in Year Two of a five-year initiative with theatre artists in the region. Last spring events took place in Kenya and Uganda; this fall they were in Ethiopia. Now Sundance is in Rwanda and Tanzania. Making the trek are five representatives including: Sundance Theatre Producing Director Philip Himberg; Roberta Levitow, Sundance East Africa Associate Artist; Christopher Hibma; Kenneth Kimuli, a Sundance Theatre Lab Alumni from Kampala, Uganda and Rebecca Taichman a Theatre Director and Sundance Theatre Lab Alumna from New York City.

Does Sundance show favortism towards foreign playwrights?

"For several years Sundance has had a large mandate to work internationally. Our colleagues in the film program as well as in the film festival have done a little bit more than we have in the past," conceded Hibma who joined the Sundance Institute Theatre Program in 2005, and since arriving, has produced Labs in Florida, Wyoming and Utah and helped to create programs in Chicago, New York and East Africa. He negotiated Sundance's first Actors' Equity contract and administered its new commissioning program.

"The theatre program has sort of dipped it toes - as it were - in international work - bringing I Am My Own Wife to Poland. Philip Himberg the producing director at the Theatre Program has made a number of trips to East Africa. There seems to be a ground swell of interesting artists coming out of the post colonial era in East Africa. Coupled with a bunch of people in the US who want to support them. In that group of people who wish to support, there was a missing link and that's what Sundance does, which is development of new work."

"There are people over there who are interested in training, publishing, academic pursues, producing - none of which Sundance does. We develop new plays," he stressed. "So, we became excited that that's a part of the world that not only needs our attention but - demands it."



Tony nominee Charlayne Woodard participated in the May, 2008 Sundance Institute Theatre Program in Africa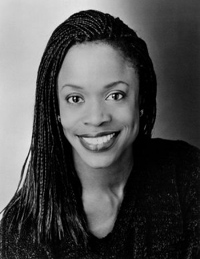 In May, 2008 artists from the Sundance Institute Theatre Program made an exploratory visit to meet East African theatre artistes and to explore a potential relationship of exchange between Sundance and East Africa. Interactions included a public meeting; intimate artistic presentation exchange opportunities; individual meetings with interested artists; and selected professional interactions with Sundance guest artistes.

Presentations by American performer Charlayne Woodard, Rwanda artiste Carole Karemera and Odile Gakire Katese, Ugandan actors/directors Kenneth Kimuli aka Pablo and Philip Luswata, and a reading of a new play by American playwright Noah Haidle were part of the day's menu.

Do they write plays the same way as Americans and Europeans?

"We have found that our colleagues over there are writing in a way that is most familiar to them, which is not the way that we in Western culture prefer - at this point - to write. We tend to write personal stories. Something has happened to me. Or, I have something on my heart that I need to share with others. There, it seems to be a lot of teaching lessons kind of drama."

"There are a lot of national NGOs hiring artists to create works about AIDS, clean water or domestic violence. And, while we want to support what they are familiar with, we also are interested in challenging them, to deepen their craft and think - what are the stories that they particularly need to tell?"

"This summer coming to Utah with us is an amazing woman from a little town in Southern Rwanda called Butare and she is responding - with art - to the horrible genocide that happened in Rwanda 15-years-ago this month," he said referring to actress/playwright Odile Gakire Katese, who trained at the acclaimed Lecoq school for physical theatre in France.

"She wants to help her countrymen to dream good dreams again. The name of her piece Ngwino Ubeho literally translates to Come and Be Alive. Taking this horrible, tragic inexpressible horror of the genocide which 15 years later is still so raw and emotionally for everyone in Rwanda, and translating this into a piece of positive beauty that our friend Odile wants to bring to her countrymen. We are actually bringing that project out to the mountains in Utah this summer. We are so very excited about that."

"Right now we are in year two of our five year plan in East Africa. Up until now, we have not had a specific lab like we have in Utah. Our hope is that a year from now, there will be a location where we can bring artists from all the five East African countries to, like we do in Utah - away from their lives, away from their cities and into our environment."



Carlos Murillo is a playwright, director and Assistant Professor at The Theatre School of DePaul University. From 1993-1995, Carlos was the Associate Literary Manager at The Public Theatre in NY.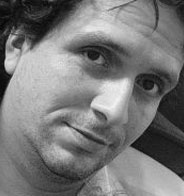 Under the Artistic Supervision of Philip Himberg and produced by Christopher Hibma, the Utah three-week Lab offers playwrights, directors, choreographers, composers, solo performers, and ensembles the time, space, and support to develop new plays and musicals or to explore new approaches to existing scripts. The Lab provides a protected environment, without the pressure of production, and an ensemble of professional actors, dramaturges, and mentors to help shape work. Process is tailored to the project's individual needs and stage of development, including readings, text analysis, blocking rehearsals, music rehearsals, meetings with artistic staff, and private presentations to the assembled artistic community.

The five projects chosen for the 2009 Sundance Institute Theatre Lab to be held July 7 -22 at the Sundance Resort in Utah are: Diagram of a Paper Airplane by Carlos Murillo; An Iliad by Denis O'Hare and Lisa Peterson; The Lily's Revenge by Taylor Mac; Ngwino Ubeho (Come and Be Alive) by Odile Gakire Gatire; and Palomino by David Cale.

Sometimes a Sundance Theatre Institute creates something beyond the realm of a stage play. For instance - ice cream.

Because of the Sundance Theatre Institute, Brooklyn based Blue Marble Ice Cream opened up a Rwanda location. Blue Marble Co-Proprietress Jennie Dundas attended last summer's theatre workshop in Utah where she met Odile Gakire Katese, who found out that Jennie owned an ice cream shop. Odile approached Jennie with the idea of branching out to Rwanda.

"The first thing she said was that Rwanda is a country of milk - so the base ingredient is already there, local. As for the ice cream, Odile said that it would be a wonderful resource for her community because, even though they have other more pressing physical needs (clean water, food, healthcare, electricity), there is a spiritual need for joy, leisure, and laughter that she feels is not being fully met by other philanthropic/development initiatives."

According to Blue Marble Ice Cream, Odile's "philosophy is that in order to create a possibility for joy in the future, it is imperative that children both experience joy and witness their parents or other adults experiencing it, even if it is for a brief moment. These moments, she charges, are just too few and far between right now. Ice cream is more than just a commodity; it is a symbol of these moments of happiness, when you can let your cares go and indulge."

The Sundance Theatre Institute is not an unlimited flavors operation, which accommodates all playwrights. Hibma reports that in the past there have been some instances where they were "burned" by playwrights.

"There are a couple of movements in the world of playwriting," he reasoned. "There is a movement that says; I need a whole village to help make my play come to life. And, then there is another movement that says; I prefer to work in solitude from any input."

"I think Sundance's rule is to really know what a particular playwright needs in order to deeper their work. But, I think the over all art theme that needs to constantly be there - the quality that we look for - is curiosity. Curiosity about the world around them to ask us about their own work. We want them to want to make their own work better. If they feel settled. If they feel done. If they feel that they have accomplished everything, then that's not particularly interesting to us. We want the playwrights to stay curious about their own work."

If respecting nature and customs can help fuel curiosity, Sundance does its best to respect native culture. In Utah it can be an Indian blessing.

"Our blessing on the mountain in Utah from the Ute Indian chief grew out of our response to being in that place. For instance, if we are going to be in a Swahili culture in Kenya, I would really hope that we could find a way to honor their traditions and their spiritual practice that connects to the earth, space, land and maybe the ocean, if we are around it at all. That will be a very interesting thing to discover - what that tradition is that we want to bring into our community there."

Hibma came from the community of Iowa.

"I was born and raised in Iowa on a farm in the middle of nowhere. Where Minnesota, Iowa, Nebraska and South Dakota all converge. That corner. I grew up on a 1,500 acre farm where we raised corn, soy beans, cows and pigs."

If you are downwind from a soybean field, it stinks worse than a pig farm.

"That's a matter of perspective," he answered. "My Dad always said it smelled like money."

Touché.

Hibma's reach for something other than a corn stalk is credited to his mother.

"When I was 8-years-old my mother forced me to go to piano lessons. As I grew up, I was the only guy in my corner of the state of Iowa who played the piano. That set me apart. Then when I went to college - my first year of college - I had the great fortune of being cast as Romeo in Romeo and Juliet. I had no idea what I was doing. It was Shakespearean language. But, it transformed me. I continued acting though college and then turned to directing. Now I have found my life's work as a producer and helping other people realize their dreams."



Jane Fonda stars in Moisés Kaufman's 33 Variations. Fonda has said that the quality of the script is what convinced her to return to Broadway after an absence of 46 years.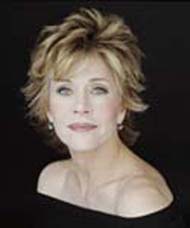 The public doesn't realize how many Broadway plays got their start at Sundance.

"It often seems that Sundance Institute's Theatre Program has been a closely guarded secret," he admitted.

"Now we're determined to let the secret out of the bag. Our Theatre Labs have helped develop plays like The Laramie Project, Angels in America, and Passing Strange and we have currently shows in New York: 33 Variations with Jane Fonda on Broadway, and off-Broadway productions of The Good Negro, and This Beautiful City."

Other award-winning works which benefited from Sundance Theatre Institute developmental resources include Grey Gardens and The Light in the Piazza.

"That's an interesting dilemma for me," said Hibma admitting to convoluted feelings regarding recognition. "I spent a number of years trying to figure out why that was. More than why it was - should I be doing something differently to make sure that the public knew. And, there is always going to be a part of me and Philip as well - that would like the recognition that comes along with the funds we've given to make interesting new work come to Broadway - and our talent and our time. But, it does take a whole village people, especially in this economic climate - to even have any modicum of success - even by the time it reaches Broadway."

"But, it's become less important to me that we are heralded as the bearers of good taste on Broadway. I am happy when our name is mentioned in the program or at the Tony Awards when they say our name from the stage," he laughed. "And, that the funders continue to believe in the product. That's the biggest reason why I would like people to know about the Theatrical Program."

By branching out to far flung locations in difficult economic times, are you running the risk of spreading the program too thin?

"I think it is the nature of theater people to want to do more - and more and more and more. To create, to give experience, to shares stories. I think that is true for myself and it is true for Phillip Himberg. When we see an opportunity, we want to jump at it."



Ignacia Delgado and Christopher Hibma - two side of the triangle (Philip Himberg is the third side) each supporting the other and holding up the Sundance Theatre Program.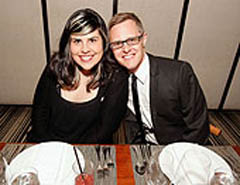 "Phillip and I are pretty good at strategic planning. We try to take into account all of the factors that relate to staffing and capacity of what we can handle. As of right now, we are doing it. There are only three of us in the theater program. Ignacia Delgado - is the coordinator for the program, so she keeps Phillip and I in line. She gets us where we need to be on time. She is also quite stellar at managing our whole scripts submission process. She does all of the intake and all of the management of the 600 plus scripts that we receive each year for out lab. That number has pretty much stayed the same over the last number of years. It's a big task and it takes a number of months for us to process them. But, we love our jobs," he emphasized.

"The theatre program just recently moved to New York to continue our work from this side of the world," Hibma divulged. "Phillip Himburg and myself live here and Ignacia remains in LA, at least for the next few months. It's been fantastic to be here where our colleagues live and work."

"We think that the work is really, really good. It's at a high level and it speaks to people. We're so proud that so many of the projects that we support find a life after they leave the mountain."

That life can take many forms including director creativity.

"In Eastern Europe for the people who produce plays - it's all about the director. The director gets to kind of mess with the play. Even though I Am My Own Wife was written as a one person show, in Romania and Poland they would do it with 24 people."



Born Lothar Berfelde on March 18, 1928 in Germany, Charlotte von Mahlsdorf is pictured at the 1994 Berlin Gay Pride Parade.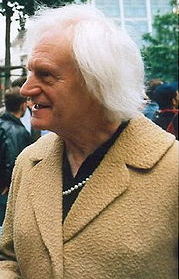 "I know that Doug Wright, the Pulitzer Prize playwright, was absolutely giddy about it. He thought it was hilarious. He loved it. So, he was happy," responded Hibma about a playwright's opinion towards a director who dared to re-write a script based upon Wright's conversations with German transvestite Charlotte von Mahlsdorf.

During the Krakow, Poland mounting April 14-16, 2005, The Sundance Institute also presented a series of laboratory workshops for Polish theatre artists at the Stary Theatre in Krakow.

The Krakow Sundance Theatre Laboratory was supported, in part, through a grant from The Trust for Mutual Understanding and was a pilot project based on the international exchange of concepts and working models between American theatre artists and their Polish counterparts, as a key to fostering mutual artistic growth and experimentation.

The play's arrival in Krakow found the city still in mourning for Pope John Paul II. Two posters were hung throughout the predominantly Roman Catholic country - one of the hunched, elderly, beloved pope and the other poster showed a nude male body hovering on a field of tiny red polka dots. Superimposed over it, a translucent pink dress. In black boldface type, the title of the play: I Am My Own Wife.



Duncan Sheik won two Tony Awards for Spring Awakening - Best Orchestrations and Best Original Score.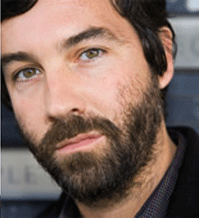 Steven Sater won two Tony Awards for Spring Awakening - Best Book and Best Original Score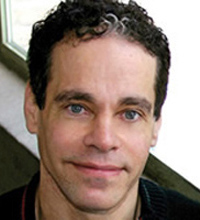 "Quietly, behind the scenes, the Sundance Theatre program has seeded some of the most interesting work that has hit Broadway in recent years," Hibma declared.

"From German transvestites in I Am My Own Wife, to teens singing about sex in Spring Awakening, to a black man struggling with his identity in Passing Strange, to Jane Fonda's return to the stage in 33 Variations. All of those have had their start - or stopped somewhere along their journey - at Sundance. "

The Sundance Theatre Lab in Africa on Wednesday, April 29, 2009 is at the Ishyo Arts Center in Kigali, Rwanda. Friday's events are at the Université Nationale du Rwanda in Butare, Rwanda. On Sunday, May 3, 2009 the action moves to the Tanzania Theatre Centre ub Dar es Salaam, Tanzania.



Broadway To Vegas is supported through advertising and donations. Priority consideration is given to interview suggestions, news, press releases, etc from paid supporters. However, no paid supporters control, alter, edit, or in any way manipulate the content of this site. Your donation is appreciated. We accept PAYPAL. Thank you for your interest.


THE MUSIC GOES ROUND AND ROUND


Masterworks Broadway continues to explore the rich history of its unequaled Broadway and Off-Broadway catalogue with the release of eight new digital-only editions of classic cast recordings. For the first time in authorized versions – using the original masters as sources – DisinHAIRited; Hazel Flagg; Jimmy, The Last Sweet Days of Isaac; Let It Ride!; New Faces of 1952; New Faces of '56 and The Threepenny Opera have been released - with each album's original cover art and liner notes.

Five of these titles have been unavailable complete since their LP release. Hazel Flagg; New Faces of 1952 and New Faces of '56 were released previously in unauthorized versions, but these Masterworks Broadway editions are the definitive, with each having been transferred and remastered from the original sources under the direction of reissue producer Didier Deutsch. New Faces of '56 includes six recently rediscovered bonus tracks of numbers from the revue that were recorded but never issued in the original LP release.

Broadway To Vegas was offered the opportunity to select four to review. We selected Jimmy; Let It Ride!; New Faces of 1952 and New Faces of '56

In this column we'll discuss Jimmy and Let It Ride! plus two lucky readers will be able to win a copy of each CD. Next week' we'll concentrate on New Faces of 1952 and New Faces of '56

JIMMY with a score by Bill and Patti Jacob, a rare husband-and-wife songwriting team, which was their only venture on Broadway.

Broadway To Vegas first obtained Jimmy as an 8-Tract and cherished it ever since. Thrilled that Broadway Masterworks has chosen to release this beautifully remastered edition.

This CD can be your yours - FREE. See details below.

This is a totally underrated production which was a victim of the times. It followed the Pulitzer Prize and Tony Award-winning musical Fiorello!, about the legendary New York mayor Fiorello H. LaGuardia - much the same way in which Dirty Rotten Scoundrels followed The Drowsy Chaperone and didn't receive nearly the praise that it deserved. Jimmy looked for musical-comedy gold in the life of "Gentleman Jimmy" Walker, (June 19,1991-November 18, 1946), who was LaGuardia's flamboyant predecessor, serving as major of New York City during the Jazz Age. Before entering politics, the young Jimmy Walker worked as a songwriter, his most popular composition being Will You Love Me in December (as You Do in May)?

Walker's term was known for its public works projects and the proliferation of speakeasies during the Prohibition era. His affairs with chorus girls were widely known, and he left his wife, for showgirl Betty Compton without impairing his popularity. He managed to maintain the five-cent subway fare despite a threatened strike.

He won re-election by an overwhelming margin in 1929, defeating Republican Fiorello H. La Guardia and Socialist Norman Thomas. Walker's fortunes turned downward with the economy (due to the stock-market crash of 1929. Patrick Cardinal Haues denounced him, implying that the immorality of the mayor, both personal and political in tolerating "girlie magazines" and casinos, was a cause of the economic downturn.

The meat on the bones of this cast of characters is a gourmet treat for the actors.

Comedian/impressionist Frank Gorshin took the title role in the 1969 show, produced by movie mogul Jack L. Warner; it featured the irrepressible Anita Gillette as the girl who loved him and cabaret legend Julie Wilson as the wife who stood by him - until ...

Jimmy arrived on Broadway just as tradition-bound musicals were temporarily losing their appeal to the audience, and it sadly vanished after 84 performances, leaving only the original cast recording to keep its memory alive. By the time the Tony Awards arrived in the spring of 1970, Jimmy inspired only a single nomination, for its lavish costumes. It's a tragedy that the score, arrangements and three stars didn't receive a nod.

A 1957 non-musical film Beau James starring Bob Hope, Vera Miles and Alexis Smith was based on a biography of Walker, also titled Beau James, written by Gene Fowler. This same book was also the basis for Jimmy.

With this release of Jimmy perhaps the public will now be able to appreciate the enormous talents of Bill and Patti Jacobs. Jazzy, bouncy, dramatic, well constructed tunes with pithy, poetic, prophetic, insightful lyrics. Gorshin, who gained headline status as an impersonator, is fabulous as Walker - the Mayor who viewed life as a one way street - yet always afraid that he'd crash into his past. Gorshin's singing voice delivers the persona of the New York City loving, politically savvy lothario that was Jimmy Walker.

All three stars wrap their talents around the lyrics. Clever lyrics - as when an exasperated at waiting Betty Compton in The Squabble Song tells Walker to "get you pants and zip yourself right out the door." Beautifully romantic songs in You're One In a Million and the insightful words sung by Walker's wife to his mistress in That Charmin' Son-Of-A-Bitch. Rousing toe-tapping offerings with The Darlin' Of New York; It's A Nice Place To Visit; The Walker Walk and That's Our Jimmy.

The Little Woman is as politically relevant today as it was in the 1920's. Romantic maneuvering is ably presented by Gorshin and Gillette in Oh, Gee. There is the heart-breaking emotional Jimmy effectively offered by Anita Gillette and the poignant I Only Want To Laugh sung by Julie Wilson. Gorshin's rendition of Five Lovely Ladies and Riverside Drive are love songs to neither his wife nor mistress, but perhaps to his only real love - New York City. In a questioning mood Gorshin's delivery of What's Out There For Me? is spot on. Life Is a One Way Street delivered by Gorshin punches out the Walker philosophy.

A must have CD for anyone who loves Broadway musicals, politics, New York City, the Roaring 20's, history, great music, fabulous arrangements, or excellent performances.

Win this CD. E-mail

1) That you are entering to win the JIMMY CD. 2) Provide your name and complete mailing address. 3) In 25 words or less explain why you want to win the Jimmy CD.

All entries must be received by Saturday, May 2, 11:59 PM EST. One entry per person. Only humans allowed to enter. No animals, stuffed or otherwise, robots or other mechanical devices permitted. The one lucky winner will be mailed a copy of the Jimmy CD, courtesy of Sony Music. The winner's name and state/country (no addresses) will be announced in the Broadway To Vegas column of May 10, 2009.

LET IT RIDE! is a gem of a CD. A seriously underrated, clever musical version of the hit 1935 Broadway farce Three Men on a Horse, by George Abbott. Unfortunately, it had the misfortune of opening on Broadway at the Eugene O'Neill Theater on October 12, 1961, two nights before How to Succeed in Business Without Really Trying dazzled everyone and stole the spotlight.

Let It Ride! about horse players, a greeting card writer and the women who love them, closed after only 68 performances. Why this show's failure was so immediate is up for speculation - including under-funded investors. One thing can be said for fact; the failure wasn't because of the music, lyrics, orchestrations or execution - and that is what any CD is about. All of the songs in Let It Ride have merit but listening to the timely, brilliantly clever title song should be enough to entice the listener into making Let It Ride! a CD purchase.


This CD can be your yours - FREE. See details below.

The CD features a deliciously lively score by Oscar-winning songwriters Jay Livingston and Ray Evans, performed by a cast led by Emmy Award winning George Gobel as Erwin. The soft-spoken, folksy, self-effacing bristle-haired entertainer enjoyed a 60-year career which encompassed singing on the radio, his own television show and regular appearances as a panelist on the Hollywood Squares game show. The cast also included Broadway veteran Sam Levene, Barbara Nichols and Paula Stewart. Levene was in the original version of Three Men On a Horse Jan 30, 1935-- Jan 9, 1937 for 835 performances and the second revival Oct 16, 1969- Jan 10, 1970 for 100 Performances. In both of those shows he played the character of Patsy - the role he reprised in this musical version.

Despite folding on Broadway the score boasts a wealth of delightful and snappy tunes - and one song that should be required listening for anyone who has ever met a child. The original play Three Men On a Horse was first mounted - no pun intended - in 1935. The arrangements and styling of this musical version aptly reflect the style of that era - bustle and bounce - and a so outrageously Runyonesque - especially in the political incorrect ditties Broads Ain't People; There's Something About A Horse and I'll Learn Ya. A happy score - songs about betting on horse racing before words like gambling addiction became a part of our dialogue.

In light of today's stock market, there is something prophetic in Let It Ride when - musically discussing betting on horses versus stock market investments - the lines sung include; What's the condition of the track? Does the horse like mud? Has the horse got good blood? Now, these questions we can answer. Let us suppose you are thinking making a small investment in AT&T..... How can you figure the odds? Who's the chairman of the board? Would you bet on the kind of guy he is? Tell me how the hell can you ever tell what the future of AT&T is? But you know with horses..... The son of Man of War must be as good as they come, but the son of a big executive can turn out to be a bum. There is something about a horse that you can trust. You can feel a horse's leg, look behind and underneath. But, you can't walk into Westinghouse and count the boss's teeth..... There is something about a horse you can trust. They say the market is going up - that is, if it don't go down, down, down.....

A stripper beat to Happy Birthday, Erwin, and I Wouldn't Have Had To, in which Mabel portrayed by Barbara Nichols laments that, if she had only met someone like Erwin, she could have been a debutant, making dinner parties, dancing ballet and wouldn't have had to shake it.....grind it.....razzle, dazzle...fling it, wearing just a little pastie ..... shaking my caboose off.

There is the sad His Own Little Island, while romantic declarations are espoused in Everything Beautiful and the melodic Love, Yet Me Know a charming duet with Paula Stewart as the perplexed Audrey and Stanley Grover who plays the character Carver. The hilarious and infectious Just An Honest Mistake is about police who make "just a little tiny, teeny weenie - should have skipped that last martini - honest mistake.

But, if for no other reason, get this CD for the song Hey, Jimmy Joe John Jim Jack (The Limelighters recorded this song on their album Through Children's Eyes ) wonderfully delivered by George Gobel's character, Erwin. A marvelous self esteem and empowerment song with a catchy melody, easy for anyone to learn. Pass the song along to a parent, teacher, child or reflect on it yourself and behave accordingly when you next meet a child.

"Quiet. Quiet, not so much noise. That's what I heard at the age of 10. And, I've been too quiet ever since then. Unhappy children of the world, unite and turn the tables. I won't quote what Aesop wrote. But here is some wisdom from Erwin's fables."

There once was a tiger, tiny little tiger
Playing with his tiger toys
But his nursemaid made him so afraid
He didn't dare make a noise.
What happened to the tiger, tiny little tiger
Who never learned to roar
He's just a mat, stretched out flat
On somebody's bedroom floor.

What I'm saying is:
Hey Jimmy Joe John Jim Jack
Even little tigers lose their knack
When somebody twice their size
Can't see the world through children's eyes

There once was a beagle, happy little beagle
Following his tail around
But his mother said "Go straight to bed,
And don't make a single sound"
What happened to the beagle, happy little beagle
Who never learned to bay -
Some burglars came, and to his shame
He turned tail and ran away

What I'm saying is:
Hey, Jimmy Joe John Jim Jack
Even little beagles lose their knack
When somebody twice their size
Can't see the world through children's eyes

There once was a bunny, fluffy little bunny
Through the piney woods he'd roam
But his father cried "Get back inside
A bunny belongs at home."
What happened to the bunny, fluffy little bunny
Who never learned to hop
Because that bunny couldn't run
He hangs in the butcher shop

What I'm saying is:
Hey Jimmy Joe John Jim Jack
Even little bunnies lose their knack
When somebody twice their size
Can't see the world through children's eyes

Don't do this, don't do that,
You might as well just be a statue
That's how children lose their spark
But if grownups would take part in
Things that children have their heart in,
We'd never end up hiding in the dark.
What I'm saying is:
Hey Jimmy Jack John Jim Joe
When you have your own kids let them know
Though you may be twice their size
You see the world through children's eyes

Win this CD. E-mail

1) That you are entering to win the LET IT RIDE! CD. 2) Provide your name and complete mailing address. 3) In 25 words or less explain why you want to win the Let It Ride! CD.

All entries must be received by Saturday, May 2, 11:59 PM EST. One entry per person. Only humans allowed to enter. No animals, stuffed or otherwise, robots or other mechanical devices permitted. The lucky winner will be mailed a copy of the Let It Ride! CD, courtesy of Sony Music. The winner's name and state/country (no addresses) will be announced in the Broadway To Vegas column of May 10, 2009.


KILLINGS SHOCK GEORGIA COMMUNITY THEATER
Holmes (Rick Bedell-Right); femme fatale Irene Adler (Kris Schultz-Left), and Watson (Tom Tanner-Center) in the Town & Gown Players' Sherlock Holmes:The Final Adventure. Promotional photo by Leara Rhodes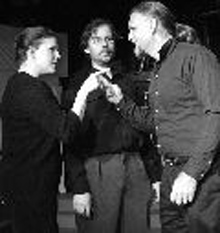 Current and formers members of Town and Gown Players, an Athens community theater group formed in 1974, are in a state of shock after witnesses say University of Georgia marketing professor George Zinkhan, 56, shot and killed three people at a theater group gathering early in the afternoon of Saturday, April 25, 2009.

The theater members had gathered for an annual reunion, when "Zinkhan started arguing with someone, left briefly and returned with two handguns," the Athens Banner Herald quoted Athens-Clarke police Capt. Clarence Holeman.

He fired several shots, Holeman said, killing three. Three others were injured.

Witnesses told the newspaper the victims were Zinkhan's wife, Marie Bruce, and two men, Tom Tanner and Ben Teague.

Zinkhan appeared to specifically target Tanner and Teague in addition to Bruce, said Rick Bedell, an actor with the Town and Gown Players, who told the newspaper that he "did not know why." "It was deliberate," Bedell said. "He shot these three people specifically and walked out. "They were good people, and I have no idea why (Zinkhan) went nuts."

Zinkhan has taught marketing and distribution at UGA's Terry College of Business since 1994. Bruce was an Athens criminal defense lawyer.

Teague was a translator who has offered specialist translation services to business, industry, government and the law since 1972. He moved to Athens in 1977 and said he loved the theater.

According to his website:

"I'm a confirmed theater bum. For over 17 years I've spent most of my weekends (and a lot of evenings) working with a community theater company here in Athens. He directed Tom Stoppard's Arcadia which Town and Gown staged last December. Teague's website posted meticulous notes regarding each production.

The Town and Gown Players even honored Teague by naming an award after him. Town and Gown Players brag that; "Long time member Ben Teague has been involved in nearly every aspect of putting a show together over the years. He's particularly revered for his technical expertise in set construction, so much so that our annual Technical Achievement Award is called The Teaggie."

Tom Tanner was playing the role of Doc Watson in the Town and Gown Players' production of Sherlock Holmes: The Final Adventure, which had opened April 17.

According to the Town and Gown Players' website: "All Remaining Performances of Sherlock Holmes: The Final Adventure Have Been Canceled. The Town & Gown family is in shock and mourning over the events at our playhouse on April 25th, 2009. Thank you for your condolences. We'll have further announcements, including those regarding future shows, at a later time."

I Love You, You're Perfect, Now Change had been scheduled to open May 1.


ART AND ABOUT


DREAM STREET by Douglas McCulloh. April 27-June 13, 2009 with the opening reception set for Saturday, May 30, 2009 at the Riverside Art Museum in Riverside, CA.

"I won the right to name a street in southern California," writes author and photographer Douglas McCulloh. The chance win at a charity event launched McCulloh into an obsessive relationship with a 134-home subdivision just commencing in Southern California's Inland Empire . Increasingly captivated with the creation of this new neighborhood, he haunted the place he named Dream Street , vividly chronicling the lives of builders, workers, and prospective homebuyers with his camera and tape recorder.

In Dream Street, as the tract of land progresses from an abandoned strawberry field to a jumble of framed houses to a typical suburban neighborhood, McCulloh puts a human face on the process that has shaped so much of America. The name Dream Street, he soon discovers, belies reality for those building the homes - most of whom are poorly trained and paid - and for those flocking to open house events hoping to buy. McCulloh's timely and captivating work illuminates the history and fate of Dream Streets everywhere.




SPREADING THE WORD


KILLADELPHIA The Gerald W. Lynch Theater at John Jay College presents the New York Premiere of Killadelphia, as part of their Art of Justice Series.

Commissioned by the Mural Arts Project of Philadelphia and InterAct Theatre, Killadelphia is the latest work from award-winning playwright and solo performer Sean Christopher Lewis, the inaugural recipient of the Rosa Parks Award for Social Justice in Playwriting from the Kennedy Center.

In the summer of 2008, the city of Philadelphia was in the midst of a murder epidemic on par with those of some third world countries. In Killadelphia, Lewis takes an unflinching look at the causes of the increased crime rate and the effect on the community. Using hip hop and documentary theatre techniques, he interweaves the story of murdered teaching fellow Beau Zabel with interviews from inmates at Graterford Prison employed to beautify the city with more than 3,000 murals while serving out life sentences. Directed by Matt Slaybaugh.

A panel discussion will precede the performance on April 29, 2009. Panelists include Sean Christopher Lewis; Todd Clear, distinguished professor of criminal justice, John Jay College; Peter Moskos, associate professor of law, police science and criminal justice administration, John Jay College; and Robyn Buseman, program manager for the Mural Arts Restorative Justice in Philadelphia. P.J. Gibson, professor of English, John Jay College, will serve as moderator for the panel.

Killadelphia will be performed from April 29 - May 1, 2009 at the Gerald W. Lynch Theater at John Jay College, NYC.

CELEBRATING SHAKESPEARE'S BIRTHDAY The Shakespeare Society's free celebration of the Bard's birthday returns to the Peter Norton Symphony Space in New York City today, April 26, with some of NYC's most talented actors, singers, scholars, and schoolchildren.

Marathon 2009 will be a celebration of Shakespeare in New York , and many of the city's theaters, theater training programs, academic departments, and city schools will participate, including Classic Stage Company's Young Company, Theater for a New Audience, The Public Theater's Shakespeare Lab, The Hunts Point Children's Shakespeare Ensemble, The Pearl Theater, The Epic Theater Ensemble, NYU's Graduate Acting Program, NYU's Gallatin School and many of the Shakespeare Society's partner schools.

Participating this year will be Rebecca Brooksher, Christian Carmago, Michael Cerveris, David Costabile, Veanne Cox, Michael Cumpsty, Barry Edelstein, Stephen DeRosa, Ned Eisenberg, Kate Forbes, Jason Butler Harner, Hamish Linklater, Roberta Maxwell, Sean McNall, Denis O'Hare, Martha Plimpton, Steven Rattazzi, Laila Robins, Juliet Rylance, Elizabeth Shepherd, Michael Stuhlbarg, John Douglas Thompson, Tony Torn, Elisabeth Waterston and many others.

This event is free and open to the public. General seating. People are welcome to come at any time and stay for as long as you like.



PULITZER PRIZE WINNERS 2009 were announced on Monday, April 20, 2009. They include:

Foe Public Service - Awarded to the Las Vegas Sun, and notably the courageous reporting by Alexandra Berzon, for the exposure of the high death rate among construction workers on the Las Vegas Strip amid lax enforcement of regulations, leading to changes in policy and improved safety conditions.

Letters, Drama, and Music

Fiction - Olive Kitteridge by Elizabeth Strout (Random House).
Drama - Ruined by Lynn Nottage.
History - The Hemingses of Monticello: An American Family by Annette Gordon-Reed (W.W. Norton & Company)
Biography or Autobiography - American Lion: Andrew Jackson in the White House by Jon Meacham (Random House)
Poetry - The Shadow of Sirius by W.S. Merwin (Copper Canyon Press)
General Nonfiction - Slavery by Another Name: The Re-Enslavement of Black Americans from the Civil War to World War II by Douglas A. Blackmon (Doubleday)
Music - Double Sextet by Steve Reich (Boosey & Hawkes)

OUTER CRITICS CIRCLE the organization of writers and commentators covering New York theater for out-of-town newspapers, national publications and other media beyond Broadway, announced on April 20, 2009 its nominees for the 2008-09 season in 23 categories. Broadway stars and former Outer Critics Circle Award honorees Rebecca Luker and Danny Burstein presided over the announcement ceremony at Manhattan's historic Algonquin Hotel.

The winners of each category will be announced on Monday, May 11th and the annual awards ceremony will be held on Thursday, May 21st at the legendary Sardi's Restaurant in New York City.

FOR A LIST OF NOMINEES CLICK HERE

DRAMA LEAGUE AWARDS 2008-2009 NOMINEES were announced April 21, 2009 by Bobby Cannavale, Cheyenne Jackson and Rosie Perez.

Tony Award winners Jeremy Irons and Cynthia Nixon will co-host the 75th Annual Drama League Awards Ceremony and Luncheon May 15 at the Marriott Marquis Hotel in New York City.

FOR A LIST OF NOMINEES CLICK HERE


SWEET CHARITY


THE COLLEGIATE CHORALE SPRING BENEFIT Sing Happy celebrating The Great White Way with Tony Award winners Roger Rees and Victoria Clark who last month starred in The Chorale's highly praised concert revival of Kurt Weill & Ira Gershwin's Firebrand of Florence. The festivities will begin with cocktails and a light buffet supper, followed by a champagne toast and exclusive performance featuring Mr. Rees and Ms. Clark, who will lighten hearts and lift spirits with only the happiest of songs and soliloquies from Broadway and The American Songbook. The program will be capped by a live auction of items generously donated by The Chorale's many friends from the stage, screen, and literary worlds. Guests will be invited to a coffee and dessert reception after the performance.

Wednesday, April 29, at the historic Hudson Theatre in the Millennium Hotel, NYC.

SPORTS HEROES DAVID BECKHAM, ANDY MURRAY AND DENISE LEWIS

Andy Murray, David Beckham, Prime Minister Gordon Brown and Denise Lewis at the door of Number 10 Downing Street - covered to a mosquito net - to announce charity launch. Photo: Crown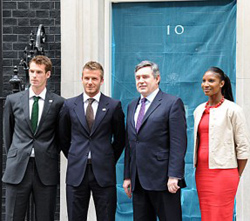 have launched an organization that aims to wipe out malaria.

Malaria No More UK, a not-for-profit organization, will campaign to raise awareness about malaria.

The organization will urge world leaders - including those who will be attending the G8 meeting in the summer - to provide African families with mosquito nets.

One million people die from malaria each year.

Mosquito nets are one of the most simple and effective ways to help prevent the spread of the disease.

Last April, PM Brown pledged that the UK would deliver 20 million bed nets to Africa by 2010. During the announcement of the formation of Malaria No More he announced the UK has delivered almost half this total and another 1.9 million nets are on order.


OTHER PEOPLE'S MONEY


THE RODGERS AND HAMMERSTEIN ORGANIZATION has sold their musical theater catalog to the Dutch firm Imagem Music Group, a music-publishing investment fund, it was announced on April 21, 2009.

In September, 2008 The Rodgers & Hammerstein Organization disclosed that they were in negotiations to sell its music catalog of Broadway show tunes and standards, At that time reports indicated that the company was seeking more than $250 million for the catalog. No purchase rice was given although The Wall Street Journal, citing "people familiar with the music publishing business," said the sale could bring in as much as $200 million..

Imagem Music Group beat out EMI Music Publishing, Sony/ATV Music Publishing, Universal Music Publishing, Warner/Chappell Music Publishing, and select private equity companies which were reported to be among those who showed interest, but felt the catalog of Broadway show tunes was overpriced. The catalog features more than 3,000 Richard Rodgers/Oscar Hammerstein II compositions, in addition to 12,000 songs by more than 200 writers such as Irving Berlin, Jerome Kern, Marvin Hamlisch, and Lorenz Hart among others. Imagem is owned the large Dutch civil-service pension fund Algemeen Burgerlijk Pensioenfonds, known as ABP, and is managed by CP Masters BV, an independent European music publisher.

SEVERAL LAS VEGAS SHOWS in management/union meetings discussing the feasibility of reducing salaries of performing artists. Cost cutting measures are crucial if some productions are to stay open.



DEATH OF A SALESMAN

Charles Dutton in Death of a Salesman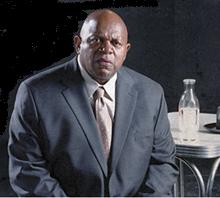 by Arthur Miller. Directed by James Bundy.

Yale Rep brings Arthur Miller's Pulitzer Prize and Tony Award-winning masterpiece to its stage for the first time in a brand new production featuring three-time Emmy Award winner and two-time Tony Award nominee Charles S. Dutton as Willy Loman.

The cast also features Christina Maria Acosta as Miss Forsythe, Starla Benford as the Woman, La Tonya Borsay as Jenny, Austin Durant as Bernard, Mark Sage Hamilton as the Waiter, Stephen McKinley Henderson as Charley, Stanley Wayne Mathis as Stanley, Howard Overshown as Howard and Tijuana Ricks as Letta.

"An air of the dream clings to the place," Miller wrote describing the Loman family house - a house one mortgage payment away from finally being paid off. For Willy Loman, there is only one dream: the American Dream. After 36 years on the road in its pursuit, the traveling salesman, haunted by missed opportunities and an uncertain future, must come to terms with a lifetime of self-deception that has distorted his dream into an American tragedy.

The creative team includes; composer Dwight Andrews, scenic designer Scott Dougan, costume designer Katherine O'Neill, lighting designer Stephen Strawbridge, sound designer Sarah Pickett and fight director Rick Sordelet.

Performances through May 23, 2009 at Yale Repertory Theatre in New Haven, CT.

THE MARRIAGE OF FIGARO by Wolfgang Amadeus Mozart.

Conducted by Dean Williamson.

Charming, lighthearted and endlessly enjoyable, Mozart's most popular opera is a perpetual motion machine that sparkles with genius. There's never a dull moment for a lascivious Count and his entourage as they navigate the ups and downs of preparing a wedding—or two! Vivid characters, glowing wit, dizzying ensembles, mistaken identities, and carefully constructed intrigue make for a miraculous marriage of music and drama in this sublime comedy of manners as touching as it is funny.

In Italian with English Captions by Jonathan Dean.

Starring Oren Gradus and Nicolas Cavallier as Figaro. Count Almaviva is played by Manusz Kwiecien and Johannes Mannov. Twyla Robinson and Jessica Jones are cast as Countess Almaviva. Susanna is played by Christine Brandes and Elizabeth Caballero. Cherubino is played by Daniela Sindram and Sarah Castle. Others in the cast include Joyce Castle Arthur Woodley, Ted Schmitz, Barry Johnson and Leena Chopra.

Stage Director is Peter Kazaras. Set Design by Susan Benson. Costume Design by Deborah Trout. Lighting Design by Connie Yun. Sets by Banff Centre. Costumes by Seattle Opera.

May 2-16 Seattle Opera in Seattle, WA.

SHEILA'S DAY By Duma Ndlovu with additional material by Ebony Jo-Ann.

Accompanied by gospel music and Zulu chants, an ensemble of women portraying domestic workers use words, music and dance to bring to life extraordinary stories from the 1960s civil rights movement in the US, and the anti-apartheid movement in South Africa.

Now through May 3 at the Crossroads Theatre Company in New Brunswick, NJ.

OUR TOWN by Thornton Wilder. Directed by Justin Zsebe.

Our Town explores the poignancy of everyday life in a quiet New England village in the early years of the 20th century. Its simplicity begins with its set - nothing but the raw stage, a few ladders, some lights, things you normally think nothing of. This timeless play is told through the eyes of the Stage Manager, who allows a girl named Emily to relive a day in her life, then stands back and watches. After exploring her town of Grover's Corners for its daily life, love and marriage, and finally life and death, Emily is left to ask, "Doesn't anyone ever realize life while they live it?"

The Pulitzer-Prize winning Our Town has become an American stage treasure and is Wilder's most renowned and frequently performed play.

Steven M. Porter heads the ensemble as the Stage Manager; Vanessa Mizzone is Emily Webb; Chris Schultz is George Gibbs; Nathan Kornelis is Dr. Gibbs; Annemette Andersen is Mrs. Gibbs; Katie Malia is Rebecca Gibbs; Lindsley Allen is Mrs. Webb; Andrew E. Wheeler is Mr. Webb; Pierre Adeli is Howie Newsome; Brian Kimmet is Simon Stimsom; and April Fitzsimmons is Mrs. Soames. Rounding out the cast in a variety of roles are Seth Compton; Scott Harris and Barry O'Neil.

Set design is by Will Pellegrini; Lighting Design is by Jacqueline Reid; and Suzanne Scott designs the costumes.

Wilder's evocative play with its timeless themes of love and loss officially opens on Saturday, April 25 with performances continuing through May 30 at The Actors' Gang in Culver City, CA.

MONDAY EVENING 1942 Written and Directed by Steve LaRocque.

A father's painful good-bye with his only daughter before she leaves home to join the Army in World War II is the focus of this World Premiere drama. The farewell takes place against the backdrop of the 1942 baseball All-Star Game at the Polo Grounds and a city-wide air raid drill that included a complete blackout of New York City.

Featuring: Lisa Hawkins, Sue Holliday and Ted Schneider.

Performances through May 17, 2009 presented by the Quotidian Theatre Company performing at The Writer's Center in Bethesda, MD.




WHO'S WHERE


LEA SALONGA the Tony, Olivier, Outer Critics Circle and Drama Desk Award winner brings her talent, beauty and charm to the Art Ham Concert Hall In Las Vegas on May 1.

BIG BAD VOODOO DADDY at Storm Stadium in Lake Elsinore, CA on Saturday, May 2.

CHRIS BOTTI hitting all the right notes on Tuesday, April 28, at Ruth Eckerd Hall in Clearwater, FL. On Wednesday he'll be blowing is own horn at the Carolina Theatre in Durham, SC. Thursday finds him at the Blumenthal Performing Arts Center in Charlotte, NC. On Saturday the show is at the Ohio Theatre in Columbus, Ohio.

DAVE MATTHEWS BAND open a two nighter on Tuesday, April 28, at the Verizon Wireless Encore Park in Alpharetta, GA. On Friday they are on stage at the Cynthia Woods Mitchell Pavilion in The Woodlands, TX. On Saturday the show is at Superpages.com Center in Dallas.

MICHAEL FEINSTEIN has a two night stand at Copley Symphony Hall in San Diego on Friday and Saturday.

JARS OF CLAY entertains at Toad Suck Daze tonight, next Sunday, May 3, in Conway, AZ.

LAMB OF GOD has a busy schedule this week. On Tuesday, April 28, they are at the Fillmore Auditorium in Denver. On Wednesday the show is at the Uptown Theater in Kansas City. Thursday finds them at Myth in Saint Paul. Friday they are on stage at Congress Theater in Chicago and on Saturday they are in the spotlight at The Pageant in St. Louis, MO.

JERRY SEINFELD telling funny stories Saturday, May 2, at Caesars in Atlantic City.

DIANA KRALL performs in Ontario, Canada this week. On Tuesday, April 28, she can be enjoyed at the Hamilton place Theatre in Hamilton. On Thursday she beings a two night gig at Massey Hall in Toronto. On Saturday she opens up another two nighter - this one at the National Arts Centre in Ottawa.

KENNY CHESNEY performs Friday, May 1, at the AT&T Center in San Antonio. On Saturday he's at Pizza Hut Park in Frisco, Texas.

BRUCE SPRINGSTEEN has a two-nighter Tuesday and Wednesday at The Wachovia Spectrum in Philadelphia. On Saturday they'll be playing the hits at Greensboro Coliseum in Greensboro, NC.




FINAL OVATION


BEA ARTHUR

Bear Arthur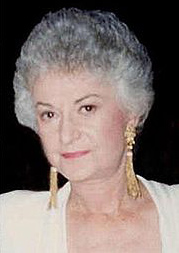 the Emmy and Tony Award winning actress, died at her home in Los Angles on Saturday, April 25, 2009. The cause of death was cancer. She was 86.

In a career spanning seven decades, Arthur achieved success as the title character, Maude Findlay, on the groundbreaking 1970's sitcom Maude, and as Dorothy Zbornak on the 1980's sitcom The Golden Girls. Arthur won an Emmy for each of those roles.

Arthur was born Bernice Frankel in New York City on May 13 1922. She hated the name Bernice and adopted her mother's nickname of Bea, attended the now-defunct Blackstone College in Blackstone, Virginia where she was active in drama productions. She became a medical technologist before World War II, but had stated she "loathed" doing lab work at a hospital.

She enrolled in a drama course at the New School of Social Research in New York City. To support herself, she sang in a night spot that required her to push drinks on customers. During this period she married Robert Alan Aurthur, a screenwriter, television, and film producer and director, whose surname she took and kept though with a modified spelling.

Arthur began her acting career as a member of an Off-Broadway theater group at the Cherry Lane Theatre in New York City in the late 1940's. On stage, her roles included Lucy Brown in the 1954 Off-Broadway premiere of Marc Blitzstein's English-language adaptation of Kirk Weill's Threepenny Opera. In 2008, when Arthur was inducted in the TV Academy Hall of Fame, Arthur pointed to that role as the highlight of her long career.

In 1964, Harold Prince cast her as Yente the Matchmaker in the 1964 Broadway premiere of Fiddler on the Roof.

In 1966 she delivered a Tony Award-winning portrayal of Vera Charles to Angela Lansbury's Mame, in a production directed by Tony-winning Gene Saks, whom Arthur had married in 1950. She reprised the role in the 1973 film version, also directed by Saks, opposite Lucille Ball. In 1981, Arthur would play a variation of Vera Charles in Maude and The Golden Girls.

In 2002, she returned to Broadway starring in Bea Arthur on Broadway: Just Between Friends, a collection of stories and songs -with musician Billy Goldenberg - based on her life and career. The show was nominated for a Tony Award for Best Special Theatrical Event, but lost to Elaine Stritch: At Liberty.

Between her hit television series, Arthur remained active in films and theater. Among the movies: That Kind of Woman (1959), Lovers and Other Strangers (1970), Mel Brooks' The History of the World: Part I (1981), For Better or Worse (1995).

The plays included Woody Allen's The Floating Light Bulb and The Bermuda Avenue Triangle, written by and costarring Renee Taylor and Joseph Bologna. During 2001 and 2002 she toured the country in her one-woman show of songs and stories, ... And Then There's Bea.

Arthur was inducted into Academy of Television Arts & Sciences Hall of Fame in 2008. On June 8, 2008, The Golden Girls was awarded the Pop Culture award at the Sixth Annual TV Land Awards. Bea accepted the award with co-stars Rue McClanahan and Betty White.

Arthur was chairwoman of the Art Attack Foundation, a non-profit performing arts scholarship organization.

Her marriage to Gene Saks lasted for 28-years, ending in divorce in 1978. They adopted two sons, Matthew, an actor, and Daniel, a set designer. Arthur is survived by her sons, two granddaughters and a sister who lives in Montreal, Quebec. No funeral services are planned.

MARILYN COOPER who won a Tony Award in 1981 for her comedic performance as Jan Donovon in Kander and Ebb musical Woman of the Year, died April 23 at the Actors Fund Home in New Jersey, following a long illness. She was 75.

Born in New York City on December 14, 1936, Cooper made her Broadway debut in 1956 in the chorus of Mr. Wonderful. Next she was in the chorus of a revival of Brigadoon. In 1957, she played Rosalia, a Sharks girl who wants to go back to Puerto Rico, in the original Broadway production of West Side Story. In 1959, she went on to create the ensemble role of Agnes, the leader of the Hollywood Blondes, in the original Broadway production Gypsy. In 1962, she graduated to a leading role, playing the ingénue in I Can Get it for You Wholesale, opposite Elliott Gould and Sheree North (the show marked Barbra Streisand's Broadway debut at age 19).

Cooper enjoyed a long and nearly unrivaled career in New York, appearing on Broadway in Hallelujah, Baby!; The Golden Rainbow (understudying Eydie Gorme); Mame (succeeding Jane Connell as Agnes Gooch towards the end of the original Broadway run); Two by Two, starring Danny Kaye and Madeline Kahn; the 1971 revival of On The Town as Lucy Schmeeler, the blind date; and in Michael Bennett's Ballroom, starring Dorothy Loudon.

In 1981, Cooper created the supporting role of Jan Donovan, Sam Craig's ex-wife, in the Lauren Bacall vehicle Woman of the Year. Although she sang only one song, The Grass Is Always Greener, a duet with star Lauren Bacall, Cooper stole the scene and stopped the show cold.

She won a Tony Award and a Drama Desk Award for performance by a featured actress in a musical. Cooper toured the United States with Bacall in the national tour of Woman of the Year that followed its successful Broadway run. She also reprised her role of Jan Donovan in the national touring production of Woman of the Year, starring Barbara Eden, from April 3, 1984 until September 16, 1984. In 1985, Cooper appeared in Neil Simon's female version of The Odd Couple. The following season she had a memorable vocal cameo as a nagging telephone voice in Simon's Broadway Bound.

Cooper can be heard on the original Broadway cast recordings of West Side Story; I Can Get it for You Wholesale; Two by Two and Woman of the Year. Additionally she appeared in Fiorello; One Touch of Venus, and Do, Re, Mi at New York City Center's Encores! series.

Next Column: May 3, 2009
Copyright: April 26, 2009. All Rights Reserved. Reviews, Interviews, Commentary, Photographs or Graphics from any Broadway To Vegas (TM) columns may not be published, broadcast, rewritten, utilized as leads, or used in any manner without permission, compensation and/or credit.
Link to Main Page
---
Laura Deni


CLICK HERE FOR COMMENT SECTION