! >
Broadway To Vegas
  
 SHOW REVIEWS CELEBRITY INTERVIEWS GOSSIP NEWS

| | |
| --- | --- |
| | |
HEIRESS PRODUCTIONS ENTERTAIN AND MAKE A DIFFERENCE - - ARTIST PATRICK DUEGAW EXHIBITION; STILL PLAY - - BRIAN STOKES MITCHELL AND MELISSA ERRICO - - DAVE BRUBECK ILL CANCELS EVENT - - V&A'S NEW THEATRE AND PERFORMANCE GALLERIES - - MAURITIUS AT PASADENA PLAYHOUSE STAGES STAMP COLLECTORS DAY - - DON'T MISS GOD OF CARNAGE AND HAIR - - CARLOS SANTANA IN LONG TERM VEGAS DEAL - - DONATE . . . Scroll Down


Copyright: April 5, 2009
By: Laura Deni

CLICK HERE FOR COMMENT SECTION
LEAP OF FAITH HEIRESS PRODUCTIONS STAGE PROJECTS: CANCER ORGANIZATIONS PROFIT
Laura Faith and Mary Willis White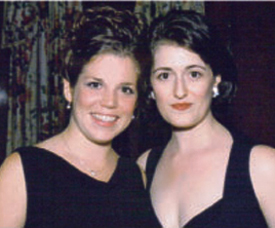 It's amazing what you can do if you don't realize you can't do it.

Enter Heiress Productions - the only theatrical company in the US whose purpose is to help cancer survivors, patients and their families.

These are not productions which tell the stories of patients or their families or address social ills. Rather, the productions are mainstream and patrons may not even realize how the profits are being spent.

Laura Faith and Mary Willis White are two young, bright New Yorkers who are in the entertainment community. Mary has spent years teaching tap dancing. Laura is an actress. They spoke with Broadway To Vegas about their leap of faith.

"As far as we know, we are the only organization whose mission to reach out to cancer patients and their families," said Mary. "Initially when Laura and I sat down and decided that we wanted to do some good work with our passions and our skills for acting and theater, we thought about doing one show - a benefit night. The more we began to look at our business plan and figure out what it was going to take to put on that benefit and decide what organization we would want to benefit, we decided why not dream big. Go ahead and file for articles of incorporation and become a non profit, so that we could serve a whole host of different cancer non-profit organizations."

"I think we would both like to say that if we had known what it was going to take to make it happen, we may not have," she laughed.

"If we had known how difficult it would be, we never would have tried to attempt it. Fortunately, we had no idea so we just went for it," confessed Mary.

The partnership of Laura and Mary was serendipity.

"We met in an acting for film class," recalled Mary. "We got partnered up randomly by the instructor for a theme that we were working on. Then I was an audition that required team work. I asked Laura to come in and audition with me. So, we got to spend some more time working together. And, we found that our lives had very much been changed by our family's battles with cancer. We truly bonded over that. "

In January of 2002 Laura's mother died after a nine month battle with stage IV melanoma. Almost four years to the day, her younger sister was diagnosed with stage III melanoma. After undergoing complicated surgeries, she is, astonishingly, now cancer free.

Both of Mary's parents are cancer survivors.

Starting Heiress Productions has been their coping mechanism.

"It's be a huge way to use my hurt and grief from the past and propel something hopeful in helping other people while doing something that I love," explained Laura. "To put something like cancer and theater together - two things that you usually don't have pared up - to put my passion towards something that has been a big heartache for me has been incredibly healing. There isn't a night that I don't step on stage, or go to one of our shows, that I don't think - Oh, Mom I wish you were here to see this - but you're not here, so that is why I am doing this."

"My sister who is survivor is the reason why I keep on, as well," she added. "They both had melanoma. My mom wasn't discovered until it was Stage 4, so there were no treatment options left. My sister was in Stage 3 and it is a miracle that she has been several years cancer free."

"Both of my parents are cancer survivors," related Mary. "My dad from prostate and my mother from breast. They attend the shows and are major supporters. I can't imagine going through this without them. They provide emotional and some financial support. They have really gotten to know a lot of the people who work with us and just think it is fantastic."

Their supporters agree.

Each season productions are mounted at the 88-seat Lion Theatre on New York's Theatre Row, which is a collection of newly renovated historic theaters in Times Square. Those include; The Acorn Theatre, The Beckett Theatre, The Clurman Theatre, The Kirk Theatre, The Lion Theatre, and The Studio Theatre. Theatre Row is owned and operated by the 32nd Street Development Corporation.

"We have a Board of Directors who are not paid," Mary said referring to Amanda Axelrod, Christina Lenord, and Barbara Paxton.

"We have no paid staff. The actors and our production staff are always paid. It's all non-Equity," she explained. "We rent the theater and that is quite expensive. We have a very loyal donor base and we are in the process of really ramping up our grant writing efforts and utilizing some of those matching donations, which are still out there. from companies where our constituents work."

"Our clientele is really a cross section of people in the New York area," she continued. "We have a lot of supporters who are from the tri-state area."

Patrons also include cancer partner organizations and their clients.

"Because Theater Row is such a great avenue and there are six theaters in the complex, we also get built in marketing of people who come to Theatre Row and see our signs."

Heiress Productions has partnered with; Us TOO International Prostate Cancer Network; Gilda's Club, Miracle House, Esophageal Cancer Awareness Association, Kids Konnected, Leukemia Research Foundation, Fertile Hope, Hope & Heroes Children's Cancer Fund, Cure Search National Childhood Cancer Foundation, Ulman Cancer Fund for Young Adults, SHARE and I[2]y (I'm Too Young For This!).

Which organizations are invited to partner and which group receives the profits of a particular show become a judgment call.

"They don't apply. We approach them. We approach the organization. "We don't get the organizations together and battle out who gets a show," she stressed. "We have selected every organization."

"It is a relationship built with each of them. That has been very important to us," she emphasized. "In being small and wanting to grow ourselves, we wanted to find organizations that - whatever we could give them and the publicity we could provide - would make a big impact for them. We wanted to go with organizations where we could really help."



Morgan Baker and Laura Faith in Lunch Hour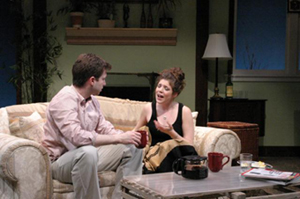 The current production Belles benefits Joe's House, a non-profit organization, which serves cancer patients, their advocates, and social workers by providing hundreds of different types of lodging facilities near hospitals and cancer treatment centers. Profits from Three Movements by Martin Zimmerman, which is a play based on the life of the famed ballet choreographer George Balanchine, went to Us TOO, which provides educational materials and peer-to-peer support for prostate cancer patients and their loved ones through 325 support group chapters in the U.S. and abroad.

As with any other theatrical company, deciding what to produce is on top of the to-do list.

"We do a lot of reading," laughed Laura. "We get recommendations from a lot of people. We read and read and hope that something hits us that we can do. We are not competing with a past production that has been big - or something that has been done a lot. We look for something that has a general appeal, not only to our theater goers but to people who are charity supporters and might not be as into theater. So we try to find a balance."

Productions have included Lunch Hour by Jean Kerr and the farce Affluenza! by James Sherman, which was seen in regional theatres around the nation following its debut in Chicago. Affluenza! made its New York City premiere in the Heiress Productions mounting at the Lion Theatre. Maura Farver directed a cast which included Nancy Evans, Paul Herbig, Philipe D. Preston, Michael Saenz, Stephen Squibb and Mary Willis White.

"Three Movements was the first time we had done an Equity Showcase and that was a brand new script, so we were really excited to present that", Mary related. "Belles is dynamite," she said of the current offering, penned by Mark Dunn, who is currently playwright-in-residence with the New Jersey Repertory Company and the Community Theatre League in Williamsport, Pennsylvania.

"A wonderful script," declared Mary. "We had the amazing fortune to be able to talk to the playwright. He allowed us to update the script and take it from the 1980's piece that it was - take the 45 phone calls that are in this show and make it a little more up to date with the use of cell phones."

"We are in the process of figuring out what is going up next fall."

Both Mary and Laura hold down day jobs while running Heiress Productions. They've turned their personal juggling acts into audience recruitment.

"I do several things," added Laura. "Right now I work for a financial trading company, which is not really how my brain works, but I fell into that as a really flexible position. And, I do some acting which throws some money my way."

Financial trading company? Do you stand on a corner wearing a Will Trade Stocks For Food sign?

"The financial community finds it really fascinating that I do this other thing," she answered. "They don't know how to understand the arts. A lot of people that I work with come to the shows, because they are just fascinated to see this other thing that I do."

As with all theatrical companies the money situation is an ugly headed beast.

"Like any non-profit our biggest problem is financial," admitted Laura. "In New York there are always fantastic people to hire and work with, and great theatrical opportunities. The problems are financial. Part of healing for me is to use my personal skills and passions to make a difference for cancer awareness and research through Heiress Productions"

As for what is important to Mary, she responded: "I hope this doesn't sound trite, but it's the journey. Finding a script that we love. Then taking it from let's do a first reading and casting, getting a production team together and seeing it in an amazing space on 42nd Street in New York City. And, knowing it isn't just about the production - but there are any number of people who are being helped by this one little show and what we can do."

Belles runs through April 12 at the Lion Theatre on Theatre Row, NYC.



Broadway To Vegas is supported through advertising and donations. Priority consideration is given to interview suggestions, news, press releases, etc from paid supporters. However, no paid supporters control, alter, edit, or in any way manipulate the content of this site. Your donation is appreciated. We accept PAYPAL. Thank you for your interest.


ART AND ABOUT


ARTIST PATRICK DUEGAW EXHIBITION; STILL PLAY

Self portrait with Lungs and Wings on sheetrock.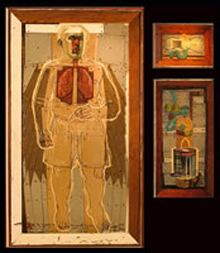 is currently being featured at the Wichita Art Museum.

The exhibition features paintings on sheetrock, and drawings over obsolete architectural drawings and on various salvaged materials.

"Individually, these paintings are studies in both process and narration: paint is layered over previous working sketches and random notes on sheetrock substrates," explained the artist in a statement. "I fabricate these fragmented painting surfaces from salvaged sheetrock, which, in some cases, is actually cut from the walls of my studio. As alternating coats of thin paint and drawing are repeated, a palimpsestic image emerges, simultaneously suggesting elapsed time and movement. Combined with adjoining elements and accompanying text, these pieces become integral components of an on-going installation Painted Theater," with the latest scene called Still Play.

"My current body of work centers around the Still Play: a documentary that is part installation, part theater production, where, in place of thespians, objects, and a stage, it instead features painted characters, props, and set. Likewise, the action taking place is rendered to imply movement, rather than actually performed. These static-theater productions have grown out of my present living and working environments in both the Fisch Haus, located in Wichita, and in Montréal, where I live part of the year. I design and build these studios myself, and then record the resultant spaces and the people and events that animate them."

The most recent Still Play 'performance' introduces The Builder, a creator who has fashioned a multi-faceted interior environment with a series of specific tools. The exhibition focuses on the metaphorical construction of the lives, and subsequent interaction, of a series of individuals, and the resultant process that becomes inherent in their co-existence.

The installation, where everything from the use of theatrical lighting to the hanging system were both invented and built at the Fisch Haus, exemplifies such a process. Similarly, I fabricate all my own frames, a sort of collage of reclaimed moldings and boards from old houses and our warehouse itself. Each one is distinctive, mixing various finishes to create references to light and depth; ultimately becoming an integral part of the piece.



Swimming Through Interiors, is a portrait of his wife, Elizabeth Stevenson, painted in mixed media on a substrate composed of salvaged sheetrock. "I tried to paint a portrait of Elizabeth that would somehow breathe with a life that is sometimes lost in the physical imprinting of painted portraits. She is a beautiful swimmer, and I have often thought she is more than human when in water. As Elizabeth is also an architect and an artist, I painted her in the kitchen that we designed and built together in the Fisch Haus."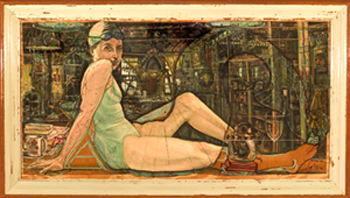 Patrick Duegaw was born in New York in 1966. He received a degree in Architecture at Kansas State University in 1989, and co-founded Fisch Haus Studios in 1990. He is married to artist Elizabeth Stevenson.

A multi-disciplinary art facility, located in the Commerce St. Art District of Wichita, Fisch Haus Studios currently accommodates five full-time local artists as well as a steady stream of artists and musicians, both regional and international. Since 1993 the artist cooperative has operated out of a three story warehouse that contains studio and gallery space, a full wood and metal shop and a graphic design studio.

The Fisch Haus produces several large-scale shows annually, and hosts numerous community art events, ranging from visiting artist exhibitions and performances, to lectures, classes, benefits, readings, and music festivals throughout the rest of the year; most all of which are offered free of charge and are open to all ages.

Referring to Fisch Haus Studios which contains living, studio and gallery space, Duegaw added: "I have spent these years focusing wholly on my artwork and the evolution of the cooperative. Much of my work over the last eleven years has been in direct response to my experiences in the development of Fisch Haus; in its design, construction and influence within the art community in Wichita. In addition to my individual endeavors, the building today hosts music festivals, theater performances, resident and guest artist exhibitions, lecture series, and a wide variety of other cultural events."

"When the Fisch Haus collaborative began showing work in various abandoned buildings and empty spaces fourteen years ago, Wichita was decidedly not a sympathetic audience for these kind of activities," he admitted. "However, through persistence, the city now embraces this thriving and vibrant forum of artists, musicians and performers. I firmly believe that Fisch Haus is making a rather unusual but significant contribution to contemporary American art, and I look forward to continuing my own unconventional pursuit of artistic fulfillment through my documentation of new experiences and spaces within this dynamic."

Duegaw was featured in the Portrait of an Artist campaign at the Smithsonian Portrait Gallery in 2005. His work was also included in the Kansas Masters Exhibition and Kansas Inauguration Exhibition at the Governor's Ball, both in 2007.

The Wichita Art Museum exhibition continues through April 26, 2009.

THEATRE COLLECTIONS

Entrance to the Performance Galleries Room 103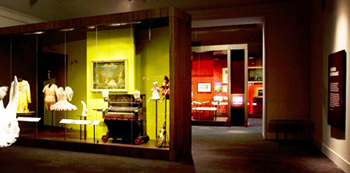 Discover the magic and mystery of the very best of performance through the ages at the Victoria & Albert Museum in London. Their new Theatre & Performance Galleries display a major collection of objects and memorabilia representing live performance in Britain over the last 350 years.

Exhibits include a first folio of Shakespeare's plays compiled in 1623, a sound system invented by Pink Floyd, the score for Jesus Christ Superstar (1971), Pete Townshend's smashed guitar from his performance with The Who and theatrical costume by Christian Dior.

The V&A's Theatre Collections cover drama, dance, musical theatre, circus, music hall, rock and pop, and other forms of live entertainment.

The recently opened Theatre and Performance galleries are dedicated to the performing arts, displaying works of art, costumes, ephemera, video recordings, puppets, posters and photographs.

Among the Theatre Collection's treasures are over 3,500 stage costumes and accessories - ranging from complete outfits to individual headdresses. All are a tribute to the creativity and skills of designers and costume makers from the mid 18th century to today, in every kind of live performance. This feature celebrates the imagination, knowledge, skill and ingenuity of the designers, and the makers who translate their two-dimensional designs into three-dimensional forms.



Theatrical performance costume room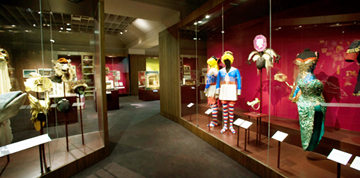 A much-repeated cliché is that theatre costumes are badly made, tawdry, unfinished and don't bear close inspection. Yet only in close-up can the inventiveness and resourcefulness of designer and maker be really appreciated. What at first glance seems crude is actually boldness, as a costume has to 'read' as well from the back of the auditorium as close up to the stage. Colors which seem garish in daylight soften under strong stage light.

Costumes also have to be extremely well constructed to survive the strains of performance and many costumes bear the scars of a long life. Fashionable clothes may only be worn a few times, but in a successful stage production a costume is worn every night for months or years. The clothes must stand up to robust handling, quick changes, theatre grime and the sweat generated by nerves and the incredible heat of the stage light. Pristine costumes are therefore likely to come from productions that failed, though they can still be superb examples of a designer and maker's art.

In this resource the V&A looks at how stage costumes are created, constructed and performed in, with details and examples.




SPREADING THE WORD


DUKE JAZZ TALKS

Dave Brubeck
One-on-one conversation between Dave Brubeck and music curator and scholar Bob Santelli, Executive Director of The Grammy Museum. Dave Brubeck was designated a Living Legend by the Library of Congress in 2003. With a career that spans over six decades, his experiments in odd time signatures, improvised counterpoint, polyrhythm and polytonality remain hallmarks of innovation. Throughout his long career, Dave Brubeck has received national and international honors, including the National Medal of the Arts from President Clinton, a Lifetime Achievement Award from the National Academy of Recording Arts and Sciences, the Smithsonian Medal, and a star on the Hollywood Walk of Fame.

Dialogue and Performance Wednesday, April 15, 2009 Bruno Walter Auditorium at The New York Public Library for the Performing Arts at Lincoln Center Dorothy and Lewis B. Cullman Center, NYC.

NOTE On Wednesday, April 8, 2009 The New York Public Library for the Performing Arts, announced that this event "has been cancelled, due to unforeseen circumstances related to Mr. Brubeck's health - no further date for Mr. Brubeck has been scheduled at this time."

According to a press release from the University of the Pacific, which houses Brubeck's archives, Brubeck, 88, was hospitalized late last week with a viral infection. He currently is under observation at Norwalk Hospital in Norwalk, Conn., and has been ordered by doctors not to travel.

SAN JOSE JAZZ AND THE TECH MUSEUM are teaming up to create an enriching series of events in honor of Jazz Appreciation Month.

Every Tuesday in April, a panel discussion on a different aspect of jazz will be presented. These lectures are absolutely free, and cover a variety of topics. The line-up is as follows:

April 7 Music and Technology: the Intersection and the Impact

In recent decades, technology has had a considerable impact on music, opening the way for new sounds and genres. Technology nurtures music's evolution; music fosters technical breakthroughs in return. Composer and guitarist Roger Linn perhaps best known as the inventor of the LM-1 Drum Computer and Dave Smith, who designed the Prophet-5, the world's first polyphonic and programmable synth, will give an insider's look at this evolution.

April 14 Listening to Jazz: How Music is Selected for The San Jose Jazz Festival

Speakers will be Geoff Roach, the Executive and Artistic Director of San Jose Jazz, and Bruce Labadle, the Executive Producer of the San Jose Jazz Festival.

April 21 Jazz Outside the United States

It is a known fact that jazz originated in the US and then spread around the globe. Today, there is a rich "conversation" between jazz in the US and jazz from the rest of the world, with each influencing the other. Panelists for this session - Production Manager for the San Jose Jazz Festival Dennis Broughton; three time Grammy nominee Paul van Wageningen and trumpet and flugelhorn artist John Worley - will share their views and experience of jazz in Brazil, the Netherlands, Japan, and elsewhere around the world.

April 28 How did you take that picture? Insight from the photographers

For the final presentation in the Jazz Appreciation Month lecture series, two Bay Area jazz photographers, Andy Nozaka and Walter Wagner, will talk about their love of music and discuss the way they express that passion through photography. Listening to these veteran photographers of the jazz world will provide a deeper understanding of the photographer's vision. They will also be sharing some behind-the-scenes stories of great moments in jazz.

Lectures will be held every Tuesday in April, at the Tech Museum in downtown San Jose, CA.

ENGLISH THEATRE: CELEBRITY SPEAKERS SERIES FEATURING ROBERT LEPAGE the multiple award winner and internationally acclaimed director, scenic artist, playwright, actor and film director, joins Laurie Brown, host of CBS Radio's The Signal for a lunchtime chat in which she discusses his career. Wednesday, April 8 at NAC Studio in Ottawa, Canada.


SWEET CHARITY


TAKE ME BACK TO MANHATTAN Roundabout Theatre Company's 2009 Spring Gala, hosted by Tony Award winner Nathan Lane takes place Monday, April 6, 2009 at Roseland Ballroom in NYC.

It's a trip back in time to the heyday of big bands and classic songs - recreated in a swanky nightclub - circa 1940 - featuring the music of the day's great composers: Rodgers, Porter, Arlen, Berlin, Ellington, Gershwin and more. The golden age will be recaptured as guests are treated to a gourmet dinner, live auction and the highlight of the evening, an original musical revue created by Tony Award winner Kathleen Marshall.

The musical revue includes performances by Brooke Shields, Jane Krakowski, Martha Plimpton, Kelli O'Hara, Audra McDonald, Mario Cantone, Boyd Gaines, Denis O'Hara and Katie Finneram. Special guest artists include: Alec Baldwin, Matthew Broderick, Cynthia Nixon, Michael Cerveris, Margaret Colin. Bill Irwin and Richard Thomas. The Gala chairman is Lois Robbins-Zaro.

All proceeds from this event benefit Roundabout Theatre Company's Musical Theatre Fund.

ONE NIGHT ONLY the casts of San Francisco's two hottest shows in this one-time, one-night only performance hosted by Academy Award winner Patty Duke. Cast members from Wicked, currently at the Orpheum, in which Duke plays Madame Morrible, will participate along with cast members of the national tours of Grease plus dancers from Burn the Floor. The night of outrageous song, dance and comedy benefits The Richmond/Ermet AIDS Foundation and Broadway Cares/Equity Fights AIDS and will be held at Club Fugazi, on Monday, April 13. A dessert party with the cast following the show takes place at Joey & Eddie's Italian Restaurant

As an aside, Patty Duke's new movie, Love Finds a Home, will air on the Hallmark Channel on Saturday, April 11.

LAS VEGAS EASTER BONNET COMPETITION inspired by the legendary New York event and given the same name. While both support charities - from an entertainment standpoint the Las Vegas version has some major differences. The Big Apple shindig is composed of show biz people and supported by the same. The skits are inventive, take-no-prisoners edgy, outrageous, campy and sassy. What springboarded the Broadway version into a not-to-be-missed, standing room only party is the use of the First Amendment as a defense in pillorying, insider dialogue laced with rapid fire get-even-with-the-producers witticisms.

Las Vegas will never have enough Broadway shows to stage the New York version of an Easter Bonnet competition. Thus, to get the Las Vegas project staged, corporations had to be invited to participate. The co-mingling of Broadway and main stream corporate in an event open to the public - of all ages - features outrageous hats, but puts a stranglehold on the sass.

The Las Vegas Easter bonnet event is staged as a benefit for the worthwhile St. Therese Center HIV Outreach program and takes place today, April 5, at the Rio Hotel.

Broadway's 23rd Annual Easter Bonnet Competition takes place April 27-28 at the Minskoff Theater in NYC. Since 1987, 22 editions of The Easter Bonnet Competition have raised over $35 million for BC/EFA which, in turn, has supported programs at The Actors Fund including The AIDS Initiative, The Phyllis Newman Women's Health Initiative, as well as over 400 AIDS and family service organizations across the country.

AN EVENING WITH LUCILLE BALL with Arnaz Family friend, Lucy impersonator, Suzanne LaRusch. A benefit for non-profit Boulder City Ballet Company which is run by Desi's wife, Amy. This event is produced by Lucie Arnaz and Suzanne LaRusch.

Lucille Ball's children, Desi Arnaz Jr. and his sister, Lucie Arnaz, will both be in attendance at both shows. Friday, April 10 and Saturday, April 11, 2009 at the Historic Boulder Theatre in Boulder City, NV.


OTHER PEOPLE'S MONEY


WAX WORKS UP FOR BID

This figure features Marilyn Monroe in a white dress and white heels with a wax head sculpted by Logan Fleming and portrait painted in oil. It stands 5 ft. 8 in. tall and can be yours for the expected bid range of $2000 - $3000. Photo: Profiles in History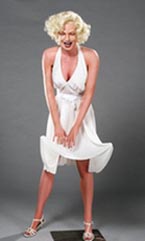 It's an honor to have your image on display at the Hollywood Wax Museum. So, what is the status when that wax image goes up for bid on the auction block? Instead of being in star status are you now redundant, a has-been, flash-in-the pan? Or, is your effigy so valuable that money gleaned from being gaveled down will help preserve an institution?

Over 200 celebrities or their estates and fan bases can ponder that on May 1 when the Hollywood Wax Museum stages their first auction in its 44-year history.

Offered up in the life size candle collection - wick not included - Bill Clinton, Tiger Woods, Michael Jordon, Cher, Stevie Wonder, Will Smith, James Dean, Marilyn Monroe, Lucille Ball and Charlie Chaplin.

Or, how about the cast of M*A*S*H TV series? This group of figures includes the principal cast of M*A*S*H including Capt. B.J. Hunnicutt, Cpl. Maxwell Klinger, Lt. Father Francis Mulcahy, Capt. Benjamin Franklin Pierce, Maj. Margaret 'Hot Lips' Houlihan, Col. Sherman T. Potter, Cpl. Walter Eugene 'Radar' O'Reilly, Maj. Charles Emerson Winchester III. All of the figures feature wax heads sculpted by Logan Fleming. They each stand approximately 5 ft. 10 in. tall and wear Army fatigues and dog tags. The set is expected to fetch between $8000 - $10000.

Christopher Reeve from Superman (Warner Bros., 1978) has Reeve in his trademark role as The Man of Steel is constructed entirely of fiberglass with his costume faithfully painted on the figure. It is designed to be hung in a flying position and measures approx. 8 ft. long. $2000 - $3000 is the expected bid.

The auction will be administered by Profiles in History and a portion of the profits will support efforts to preserve Hollywood's historic Walk of Fame.

PEABODY AWARDS recognize achievement and public service by TV and radio stations, networks, producing organizations, individuals and the World Wide Web. Three dozen 2008 winners - including one from Las Vegas - were announced Wednesday, April 1.

Brian Williams, the award-winning anchor of NBC Nightly News, will be the host of the 68th Annual George Foster Peabody Awards ceremony on Monday, May 18, at the Waldorf-Astoria in New York City.

Peabody Director Horace Newcomb said this year's winners reflect new ways to distribute information, as well as diversity of content and genre.

"The list of winners this year clearly indicates a changing media environment that will continue to require judgment and evaluation through the Peabody Awards," he said.

The Peabodys, the oldest awards in broadcasting, are considered among the most prestigious and selective prizes in electronic media. The Peabody Awards recognize excellence and meritorious work by radio and television stations, networks, Webcasters, producing organizations and individuals. The 16-member Peabody Board is a distinguished panel of television critics, industry practitioners and experts in culture and the arts. Selection is made by the Board following review by special screening committees of University of Georgia faculty, students, and staff.

The University of Georgia's Grady College of Journalism and Mass Communication has administered the Peabodys in Athens since the program's inception in 1940.

( For a complete list of winners click here )

2009 LUCILLE LORTEL AWARDS which honor Off-Broadway achievements will take place Sunday, May 3, at the Marriott Marquis Hotel in a ceremony benefiting The Actors' Fund.

The Awards are named for Lucille Lortel, an actress and theater producer, and have been awarded since 1986. They are produced by the League of Off-Broadway Theatres and Producers.

( For a complete list of nominees click here )

SHOWEST presented their annual awards during various luncheons and banquets held during their convention, which took place at Bally's and Paris Hotels in Las Vegas March 30-April.

Two-time Academy Award winner Michael Caine was presented with the ShoWest 2009 Lifetime Achievement Award. Academy Award nominated and Emmy winning actress Patricia Clarkson received the ShoWest Independent Award for Excellence in Acting.

Zack Snyder received Director of the Year honors for Watchmen. Bradley Cooper won Comedy Star of the Year. Sienna Miller won Supporting Actress of the Year. Chris Pine who stars as Capt. James T. Kirk in J.J. Abrams' Star Trek won the Male Star of Tomorrow award. Michael Bay, who helms this summer's Transformers: Revenge of the Fallen received the Vanguard Award for Excellence in Filmmaking. Dennis Quaid took home the statuette for Male Star of the Year. Rachel McAdams, won Female Star of the Year award for Sherlock Holmes and The Time Traveler's Wife. Zac Efron was ShoWest's Breakthrough Performer of the Year. Receiving Female Stars of Tomorrow awards were Sorority Row cast members Briana Evigan, Leah Pipes, Rumer Willis, Jamie Chung, Audrina Patridge and Margo Harshman. The Career Achievement in Journalism Award went to Roger Ebert. The Triumph Award for Outstanding direction was taken home by Kathryn Bigelow.

ShoWest is the largest annual convention for the motion picture industry. The 2009 edition was attended by more than 5,000 members of the motion picture industry.

CARBONELL AWARDS one of the nation's senior regional arts awards - a celebration of the South Florida theater community - presents the 33rd Annual Carbonell Awards on Monday, April 6, in the Amaturo Theater at the Broward Center for the Performing Arts.

Producer Amy London directs the ceremonies which will feature performances from the five productions nominated for Best Musical and a Who's Who of South Florida's finest actors and musicians including a dozen nominees for this year's awards.

Sixteen regional theater companies have received nominations for 30 productions which were presented during 2008. Broadway road shows and stock productions will also be honored.

The evening will recognize two leaders of the arts community. David Arisco, artistic director of the Actors' Playhouse at the Miracle Theater will receive the Carbonell Award's highest honor: the George Abbott Award for Outstanding Achievement in the Arts, presented for significant contributions to the artistic and cultural development of the region. A special tribute will be presented honoring the Carbonell Awards co-founder and executive director Jack Zink who covered the arts for all of the region's major newspapers for nearly 40 years before his death last summer.

In a nod to the realities of the current economy, recipients will not receive a solid bronze statute by sculptor Manuel Carbonell, although the awards that are bestowed will still bear his name.

The annual awards ceremony raises scholarships for South Florida arts students. Since the first, single $500 scholarship was given in 1978, dozens of students in Miami-Dade, Broward and Palm Beach counties have received a total of approximately $100,000.

( For a complete list of nominees click here )


GET WELL SOON TO ....


MATHEW HORNE AND IMELDA STAUNTON both taken ill during the April 2 matinee performance of Entertaining Mr. Sloane at Trafalgar Studios in London. Horne collapsed on stage near the beginning of the second act. The audience assumed it was part of the show until actor Simon Paisley Day announced: "I think something has gone wrong. Is there a doctor in the house?"

Horne was later treated on stage by an ambulance crew before he was taken to hospital for tests.

He was taken to the hospital where he was seen by a doctor, then discharged with advice to rest. His co-star, Imelda Staunton, who was also feeling unwell, did not appear at the evening performance on April 2.

The theatre confirmed that both actors had been diagnosed with a virus by doctors.

Entertaining Mr Sloane opened in January and is due to run until April 11.



MAURITIUS by Theresa Rebeck. Directed by Jessica Kubzansky.

A new mystery by one of America's most prolific playwrights.

Filled with scams and double-crosses, two half-sisters vie for the rights to a recently inherited - and dazzlingly valuable- stamp collection.

Throughout their farcical escapades, the pair come face-to-face with a couple of machine-gun mouthed con artists who ensnare them in their own brand of beguiling trickery.

Starring: Ray Abruzzo, John Billingsley, Kirsten Kollender, Monette Magrath and Chris L. McKenna.

Performances through April 26, 2009 at the Pasadena Playhouse in Pasadena, CA.

The Mauritius "Post Office" stamps are among the rarest postage stamps in the world, and are of legendary status in the world of philately. These are the first stamps of the British Empire produced outside of Grant Britain. Two stamps were issued, an orange-red one penny and a deep blue two pence. They were engraved by Joseph Osmond Barnard, born in England on August 10, 1816, who stowed away on a ship to Mauritius in 1838. The designs were based on the then current issue of Great Britain stamps (first released in 1841), bearing the profile head of Queen Victoria. Although these locally-produced stamps have a distinct primitive character, they made Barnard's "name immortal in the postal history of Mauritius".

Five hundred of each value were printed from a single plate bearing both values and issued on September 21, 1847, many of which were used on invitations sent out by the wife of the Governor of Mauritius for a ball she was holding that weekend

The estimated value is $4 million both on cover with the last sale taking place in 1993.

In conjunction with this production the Pasadena Playhouse is staging Stamp Collectors Day: A Celebration of the Stamp on Saturday, April 11, on the Playhouse Courtyard. There will be a Special Pasadena Playhouse Pictorial Postmark, USPS Exhibition and presentation by fine artist Synthia Saint James. Attendees will also have the opportunity to mingle with philatelists, trade stamps, visit the Celebration of the Stamp Exhibit, and enjoy live music provided by the Instrumental Women Project.

GOD OF CARNAGE one of the brightest hits of the current season is a new play by Yasmine Reza who lives in Paris and writes her award-winning plays in French.

Starring Jeff Daniels, Hope Davis, James Gandolfini, Marcia Gay Harden who show what performance miracles can actually take place when four mega stars perform as an ensemble - rather than one trying to upstage the other.

Two ostensibly civilized married couples meet up to sort out a playground fight.

The son of one couple (Jeff Daniels and Hope Davis) has broken two of the teeth of the son of another (James Gandolfini and Marcia Gay Harden). At first diplomatic niceties are observed, but as the meeting progresses and the rum flows, huge tensions emerge and the gloves come off, leaving more than just their liberal principles in tatters.

The opening night show was attended by Elaine Stritch, Tommy Tune, Rachel York, Martha Stewart, Edie Falco, Bobby Cannavale, Alan Alda, Fran Drescher, Christopher Meloni, John Lithgow, Hugh Jackman, Jeremy Irons, David Hyde Pierce, America Ferrara and numerous other bright lights. This not to be missed show is at the Bernard Jacobs Theatre, NYC.

AT HOME AT THE ZOO by Edward Albee. Directed by Mary B. Robinson.

This riveting new full-length play pairs Edward Albee's landmark 1959 play, The Zoo Story, with its recently penned prequel, Homelife. The complete story, At Home at the Zoo (formerly Peter and Jerry), first examines the deliciously revealing and nuanced relationship between uptown publisher Peter and his wife, and then catapults him into a life-changing encounter on that infamous Central Park bench with Jerry, a desperate outcast.

Starring T. Scott Cunningham, Susan McKey and Andrew Polk.

Set design by James Noone. Millie Hiibel is the costume designer. Michael Lincoln in charge of lighting design. Daniel A. Little is the sound designer.

Presented by Philadelphia Theatre Company with performances through April 19, 2009. Philadelphia, PA.

WAITING FOR GODOT by Samuel Beckett. Directed by Tony Award winner Anthony Page.

Starring Two-time Tony Award winner Nathan Lane, Tony Award winner Bill Irwin, Golden Globe winner John Goodman and Tony Award winner John Glover.

Samuel Beckett's cryptic and comical play is considered one of the greatest masterpieces and greatest mysteries of 20th century theatre.

Waiting for Godot centers around two men waiting for someone (or something) named Godot, and having a raucous adventure in the process. Will he ever appear? Why are they waiting? What does it matter? In Beckett's most magical and absurdly funny allegory, the action is all in the passing time.

The design team includes Santo Loquasto (Sets), Jane Greenwood (Costumes) and Peter Kaczorowski (Lights).

Officially opened April 3 with performances through July 5, 2009 at Studio 54, NYC.

THE TOXIC AVENGER based on the 1984 film of the same name by Lloyd Kaufman, features music and lyrics by David Bryan - keyboardist and founding member of Bon Jovi, book and lyrics by Joe DiPietro and is directed by Tony-winner John Rando.

Set in the mythical town of Tromaville - New Jersey's first superhero takes to the stage in this rock 'n roll monster of a comedy. Thrown into a vat of toxic goo by two bullies, mild-mannered science student Melvin Ferd III is reborn as a seven-foot, one-of-a-kind environmental crusader, The Toxic Avenger. Armed with superhuman strength and a heart as big as Newark, he's out to save New Jersey, end global warming and woo the prettiest, blindest librarian in town.

Starring Tony nominated Nancy Opel, Sara Chase, Nick Cordero, Demond Green and Matt Saldivar.

Opel, Cordero and Green all starred in the George Street Playhouse production of the show, while Chase appeared in the initial workshop production.

The production team is: Beowolf Borritt (Scenic Design), David C. Woolard (Costume Design), Ken Posner (Lighting Design), Kurt Fischer (Sound Design), Mark Adam Rampmeyer (Hair and Make-Up Design), Rick Sordelet (Fight Direction) and Doug Katsaros (Music Director).

Officially opens April 6 at New World Stages in NYC.

HAIR

Gavin Creel and Will Swenson in Hair. Photo by Joan Marcus.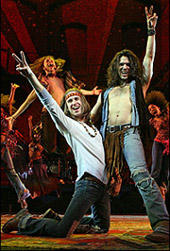 a spectacular revival of the 1960's romp. Low bows to director Diane Paulus who pulled off what could have been a disaster. It's not all that easy to transfer 1960 to 2009 and perhaps even harder, to take what played well out doors last summer in Central Park as a 40th anniversary concert to the Al Hirschfeld Theatre.

The songs by lyricists Gerome Ragni and James Rado and composer Galt MacDermot remain in tact - Age of Aquarius; Easy to Be Hard; Good Morning Starshine, as well as the title song - remain in tact and relevant.

The nudity is there and so is the energy and talent.

Starring Will Swenson as Berger, Tony nominee Gavin Creel as Claude, Sasha Allen as Dionne, Caissie Levy as Sheila, Allison Case as Crissy, Kacie Sheik as Jeanie, Bryce Ryness as Woof, Darius Nichols as Hud, Megan Lawrence as Mother and Andrew Kober as Margaret Mead/Dad.

Tribe members also include Steel Burkhardt, Lauren Elder, Allison Guinn, Anthony Hollock, John Moauro, Ato Blankson-Wood, Brandon Pearson, Paris Remillard, Maya Sharpe, Theo Stockman, Tommar Wilson, Jackie Burns, Kaitlin Kiyan, Nicole Lewis, Megan Reinking and Saycon Sengbloh.

The creative team includes set designer Scott Pask, costume designer Michael McDonald, lighting designer Kevin Adams, sound designer Acme Sound Partners and choreographer Karole Armitage.

Those walking the opening night red carpet included Tim Robbins, Rosie O'Donnell, Tommy Tune, Harvey Fierstein.

Let the Sun Shine In on this triumphant revival at the Al Hirschfeld Theatre in NYC.




WHO'S WHERE


BRIAN STOKES MITCHELL AND MELISSA ERRICO entertain at the Kravis Center in West Palm Beach, FL on April 9. This should be a don't miss show. Broadway To Vegas first became enthralled with Mitchell when viewing him in Oh, Kay and in every subsequent Broadway show in which he's appeared. His rendition, with Audra McDonald, of Wheels of a Dream in Ragtime was a showstopper, as was his solo Make Them Hear You. His singing of This Nearly Was Mine, from the concert version of South Pacific, in which he co-starred with Reba McEntire, was the best delivery of that song - ever. Melissa Errico charmed Broadway To Vegas when first seen in High Society and continues to delight in all of her stage performances. Last November she gave birth to twins who join older sister Victoria. Two fabulous talents in a performance sure to be a highlight of this or any season.

CARLOS SANTANA puts down some semi-permanent performance roots at The Joynt in Las Vegas. He'll perform 36 shows at the expanded 4,200-seat venue that's part of the Hard Rock Hotel & Casino's $750 million renovation. Supernatural Santana: A Trip Through the Hits will be staged much the same way in which Celine Dion, Elton John, Cher, Bette Midler and Barry Manilow have performed in Sin City. Santana's first show is May 27. Tickets are $79-$299.

CELTIC WOMAN Isle of Hope tour will be landing at The Orpheum in Memphis, TN for two nights on April 8 and 9. On Friday they begin another two night gig - this one at the Fox Theatre in St. Louis. Named the #1 Top World Music Artist by Billboard, Celtic Woman albums - Celtic Woman, A Christmas Celebration, and A New Journey have held the #1 position on the magazine's World Music chart for 90 consecutive weeks.

BIG BAD VOODOO DADDY down under with a show Wednesday, April 4, at The Gaelic in Surry Hills, Australia. On Thursday they open a three night stand at Belongil Fields as part of the East Coast Blues and Roots Music Festival in Byron Bay, Australia.

CHRIS BOTTI on stage Wednesday, April 8, at the Whitaker Center in Harrisburg, PA. On Saturday he can be enjoyed at the State Center for the Arts in Easton, PA.

ELTON JOHN returns to Caesars Palace in Las Vegas on Tuesday, April 7 with performances through April 22.

LAMB OF GOD on stage at the Paramount Theatre in Seattle on Tuesday, April 7. On Wednesday the show is at the Thunderbird Arena in Vancouver, BC. Friday finds the group at the Shaw Conference Centre in Edmonton, Alberta and on Saturday they are in the spotlight at the Stampede Corral in Calgary.

BRUCE SPRINGSTEEN headlines the BOK Center in Tulsa, OK on Tuesday, April 7. On Wednesday they take to the stage at the Toyota Center in Houston and on Friday they'll be thrilling the crowd at the Pepsi Center in Denver.

BRITNEY SPEARS has gotten her act together and is taking it on the road - to Rexall Place in Edmonton, Alberta on Monday, April 4. On Wednesday she is performing at General Motor Place in Vancouver, BC. Thursday finds her at Tacoma Dome in Tacoma and on Saturday the show is at the ARCO Arena in Sacramento.

NICKELBACK stars at the Target Center in Minneapolis on Tuesday, April 7. On Wednesday they are in the spotlight at the Sprint Center in Kansas City. On Friday they perform at the BOK Center in Tulsa.




FINAL OVATION


ELAINE CANCILLA ORBACH Broadway actress/dancer and widow of actor Jerry Orbach died April 1, 2009. She was 69.

The entertainer passed away Wednesday morning, April 1, at a Manhattan hospital after suddenly coming down with pneumonia.

Born January 19th, 1940 in Pittsfield, Massachusetts, she made her Broadway debut in the musical, Fiorello!, at age nineteen. She also appeared in the Broadway productions of How to Succeed...; Here's Love; Flora, the Red Menace; Sweet Charity and Cry for Us All.

Elaine met Jerry when they were working on the original production of Kander and Ebb's Chicago, where Jerry played lawyer Billy Flynn and Elaine was a replacement for Velma Kelly. They later co-starred in a tour of Neil Simon's Chapter Two and married in 1979.

Since her husband's death of cancer in 2004, Elaine Orbach fought to have a portion of 53rd Street at Eighth Avenue renamed Jerry Orbach Way. The street was rechristened in 2007.

Elaine Orbach became entangled in a legal battle with Jerry Orbach's son from his first marriage to Marta Curro. Orbach's widow received a scathing letter from the actor's son, Chris, calling her a "disgusting, double-dealing, miserable fool." Orbach's son accused her of manipulating his father into setting up his will so that Chris would get nothing until Elaine Orbach died. Chris Orbach contended that he only received a couple of old sweaters and a few CDs from his dad's estimated $10 million estate.

Elaine Orbach had vehemently denied the charges. She contended that when she met Jerry he had nothing and that they built his wealth together.

According to accounts, the will set aside funds from Orbach's $10 million estate for his children, but the money was to be held in trust until Cancilla-Orbach died.

Chris Orbach also attacked Elaine Orbach for donating Jerry's eyes at his death. That letter was first obtain and published by the New York Post. Chris said he was asked to leave his father's deathbed so, "some guy with an ice box could shuck his eyes out while they were still fresh."

After the letter was published Chris Orbach told Inside Edition that he never intended the letter to be made public, and said it was leaked without his permission.

Funeral arrangements are private. A memorial services for Elaine Cancilla-Orbach will be held at the Jerry Orbach Theatre in Manhattan. Elaine recently completed a memoir of her marriage to Jerry Orback, Remember How I Love You: Ordinary Moments in an Extraordinary Marriage, with co-author Ken Bloom. It is slated for publication this fall by Simon & Schuster's Touchstone imprint.

Donations can be made to The Elaine and Jerry Orbach Musical Theatre Fellowship through the Theatre Hall of Fame or the Jerry Orbach Fund for Prostate Research at Sloan-Kettering Hospital.



Next Column: April 12, 2009
Copyright: April 5, 2009. All Rights Reserved. Reviews, Interviews, Commentary, Photographs or Graphics from any Broadway To Vegas (TM) columns may not be published, broadcast, rewritten, utilized as leads, or used in any manner without permission, compensation and/or credit.
Link to Main Page
---
Laura Deni


CLICK HERE FOR COMMENT SECTION