! >
Broadway To Vegas
  
 SHOW REVIEWS CELEBRITY INTERVIEWS GOSSIP NEWS

| | |
| --- | --- |
| | |
TITANIC NAVIGATES THE LAS VEGAS STRIP; VOYAGE RECREATION PLANNED - - PHOTOMOSAICS BY ROBERT SILVERS - - JOAN BAEZ IN CONVERSATION - - WEST END STAGING OF RAINMAN - - MICHAEL FEINSTEIN CELEBRATES 10th ANNIVERSARY - - LEGAL BATTLE ENDS WITH MIRVISH BUYING THEATRES - - NYC OPERA'S MORTIER IN FIGHT FOR FESTIVAL POSITION - - CLASS ACT NEIL DIAMOND - - DONATE . . . Scroll Down


Copyright: August 31, 2008
By: Laura Deni

CLICK HERE FOR COMMENT SECTION
TITANIC NAVIGATES THE LAS VEGAS STRIP; VOYAGE RECREATION PLANNED
The Titanic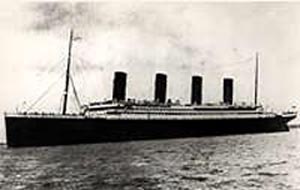 The Titanic has always had navigation problems. First it was hitting that pesky iceberg. On Tuesday it was literally stopped - when it hit a speed bump - as the 15-ton, 15-by-30 foot portion of the ship's hull attempted to cross the Las Vegas Strip, from the Tropicana Hotel to the Luxor.

What was hoped to have been a quiet, in the middle of the night sail from one venue port to the next, turned into a sight seeing spectator sport, as people lined the streets and hotel entryways to watch the inch-by-inch crossing.

Just like the original voyage, this one was treacherous and complicated.

Exhibitions Project Director Allison Worrall spoke with Broadway To Vegas about the move.

"Lochsa engineered the system and method," she said referring to an engineering firm which is a major player in the structural integrity of Las Vegas. Lochsa then worked with a crane and rigging company and a general contractor - all Las Vegas companies.

With floodlights serving as lighthouse beacons, the largest piece ever recovered from the Titanic, inched it's way towards it's new dock - finally navigating the speed bump thanks to two forks lifts - only to be stopped again by the concrete edifice known as the doors to the pyramid shaped Luxor Hotel.

Sort of like trying to get a piano through a doggy door.

"Exactly," said Worrall. "Lochsa determined the angle that the piece needed to be to go through the door."

Iron workers Craig Pilley, Brandon Splinter, Matt Kane and Curt Parish were seen pushing and welding the support. Not just your ordinary support for weight, but a support that would also angle the hull piece because - in a standing position - which is 13 feet tall - it was too tall to get through the doors and too wide to lay down and come straight through.

As dawn approached the venture was over two hours behind schedule.



Titanic's bow as seen from the Russian MIR I submersible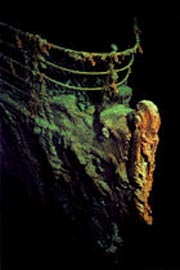 The problem child is a chunk of the hull of the storied British luxury liner that sank in the freezing North Atlantic on April 15, 1912, after hitting an iceberg. More than 1,500 people perished. Salvaged in 1998 from the wreck site 2 1/2 miles below the ocean surface, the bent hull piece is the centerpiece of Titanic: The Artifact Exhibition, which re-opens at the Luxor after being forced to sail away from the Tropicana because of financial issues facing that resort.

Owner of the Tropicana Columbia Sussex was forced to sell the Tropicana in Atlantic City after losing their casino license for not meeting regulatory compliance. The Luxor, which is owned by MGM Mirage, picked up on two of the Trop's popular exhibits. Bodies... the Exhibition and Titanic: The Artifact Exhibition will both move over to Luxor later this year. Contracts for both exhibitions has been continually renewed at the Tropicana. At the Luxor each will enjoy a 10-year stay with an option to renew again for another 10 years.

Both exhibits should be must-see stops on a Vegas vacation. ( See Broadway To Vegas column of July 30, 2006 )

In a marriage of something akin to greasing a pig while threading a needle, the hull finally slipped into the Luxor.

That was only the entrance problem. The artifact then had to be transferred from the first to the second floor where the exhibits will be located - upstairs in the atrium.

"Lochsa had the structural capacity of the floor and the gantry system we had used to rig it," continued Worrall. "They did all of the structural calculations to make sure it was safe and would fit into the building. We actually had to shore up the floor from the basement, so that the piece wouldn't fall through to the basement."

As Worrell explained, the reinforcement was required because "we had to lift it overhead to get it in. Once it got to the Atrium level, the piece was set right onto structural beams. Lochsa showed us the actual spaces within our exhibition space where the piece could be set permanently. There are a lot of different beams that go through the exhibition space. Lochsa gave us the options of where we would be allowed to put the piece - where it would be structurally solid. But when we moved the piece, obviously, we had to move it across different things - doors, the casino. So, we had to reinforce the floor in places along the path."

"Luxor shut the down the gambling area for a short period of time while we were moving the piece just an extra safety measure, because the piece was going to be moving above the tables. The casino floor is right underneath the attraction level. While it didn't go through the actual gaming area, it was overhead. So, as an extra precaution, that portion of the casino was closed while the piece moved overhead," she reiterated.

"It was obviously a very challenging move and it took a lot of research, coordination and hard work by the whole group of people to execute the most complicated move we have ever had of this piece. "We've moved this piece multiple times but we've never had to move it into a small, confined area," she said referring to getting the hull through the Luxor doors.



The Titanic staircase is always a popular section of the exhibit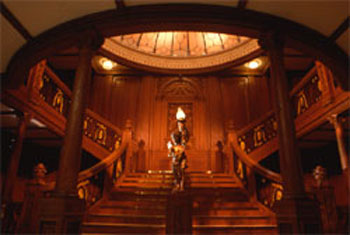 The complex will include almost 50,000 square feet.

"The Titanic Exhibition will include everything you have seen on display plus more," emphasized Worrall. "More artifacts and new exhibitions. There are also a lot of new concepts that are being thrown around and we're really excited."

RMS Titanic Inc. is the publicly traded Atlanta company - Premier Exhibitions, Inc (NASDAQ: PRXI). In 1994 a U.S. federal court granted the company Salvor-in-Possession rights to the Titanic wreck. The company - founded by a group of investors two years after a joint U.S.-French team found the wreck site in 1985 at the bottom of the ocean 453 miles southeast off the Newfoundland coast - was given the exclusive right to recover Titanic artifacts, and the responsibility of conserving them. None of the objects can be sold.

The money to cover the cost of recovering and conserving the objects - each expedition costs between $1 million and $3 million - comes from tickets sales to the exhibition.

The big piece as the hull fragment is called is considered the show's star attraction.

Covered with rivets the size of big walnuts and containing all or part of six portholes, three with glass still in them, the dark hull fragment was desalinized after its recovery and has been treated with an acid-resistant coating to arrest rust and erosion.

The piece was first spotted in 1994, on the third of seven expeditions made jointly by RMS Titanic, the French Oceanographic Institute and Russia's P.P. Shirshov Institute of Oceanology. A 1996 attempt to recover it failed when a cable snapped and the piece plummeted back down 12,500 feet. It was successfully brought up two years later.

Those wanting to participate in more than a walk through Titanic exhibition can get on board for the Titanic's Centenary Commemorative Voyage - organized by a company called Titanic Voyages - which will launch April 10, 2012 from Southampton, England and sail to the Titanic's wreck site before docking in New York.



Peter Lamont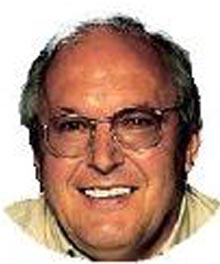 Oscar Award winning Peter Lamont and Princess Marconi will be on board.

The ship will follow the exact same route that the Titanic did heading out into the Atlantic passing Cherbourg and Cobh to arrive at the wreck site in the early evening of April 14th. Dinner will be followed by "The Final Hours" which will relate what happened on the Titanic from 11:40 pm on the 14th April to 2:20 am on the 15th when she sank. Following a memorial service the ship heads on to Halifax in Newfoundland, which is where the nearest rescue boats departed from and also where most of the Titanic graves are located.

Lamont is one of Hollywood's most respected production designers and art directors. He has art directed 16 of the James Bond 007 films including 1999´s The World is Not Enough. In 1997, he won the U.S. Academy Award for Art Direction and Set Design and a Los Angeles Film Critics Association Award for Titanic. Lamont has three additional Academy Award nominations.



Guglielmo Marconi shared the 1909 Nobel Prize in Physics with Karl Ferdinand Braun, "in recognition of their contributions to the development of wireless telegraphy"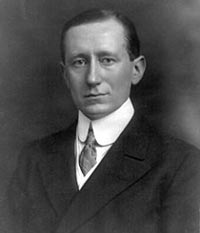 Princess Marconi is the daughter of Guglielmo Marconi who invented the wireless that was used on the Titanic. On the night of April 12, 1912, on her maiden voyage to New York, the liner, SS Titanic, deemed unsinkable, struck an iceberg and sank, with the loss of some 1,500 lives. Among them was one of the two Marconi wireless operators, whose distress signals nevertheless brought rescue to over 700 survivors.

"Those who have been saved," said the British Postmaster-General, "have been saved through one man, Mr Marconi ... and his wonderful invention."

But for his luck, Marconi and his wife would have been on board. Marconi changed his passage to an earlier sailing on the SS Lusitania, and Marconi's wife also cancelled her journey when, at the last minute, one of children became unwell."

The passengers on the commemorative voyage will also include relatives of those on the original voyage.

On route lectures will be given by experts and historians.


ART AND ABOUT


PHOTOMOSAICS BY ROBERT SILVERS

Marilyn Quad Photomosaic on aluminum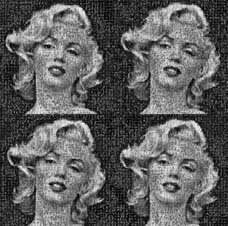 Combining groundbreaking digital technology with photography, fine art and a keen imagination, Robert Silvers developed Photomosaic, his "pointillism for the digital age."

A classic example of the artist's iconic imagery, each work in the exhibition is composed of over a thousand smaller photographic images that relate in both a pictorial and conceptual sense to the subject.

Produced in small numbered editions of various sizes the photomontages are printed on archival photographic paper and mounted on aluminum. The exhibition at Scott Richards Contemporary Art introduces three new works:

With a nod to Andy Warhol, Marilyn Quad presents the iconic black-and-white image of Marilyn Monroe repeated in four squares. On first glance, the four portraits are identical; on closer scrutiny, each differs slightly from the others, made up of an entirely different set of smaller photographs.



Girl with the Pearl Earring, 2008 Photomosaic on aluminum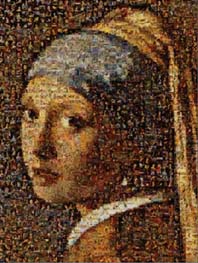 The chiaroscuro effect in Girl with a Pearl Earring brings to mind the rich paintings of Renaissance and Baroque Europe. As a Photomosaic, Vermeer's famous portrait is composed of multiple images of famous Renaissance paintings from the Metropolitan Museum of Art, New York, and the Louvre in Paris.

Fusing images of currency from around the world, the British £20 note is elegantly presented as an object of art, inviting the viewer to reconsider an everyday utilitarian object of exchange.

Silvers invented the unique technology of Photomosaics at the age of 26 while studying at the MIT Media Lab. In San Francisco, he is perhaps best known for the large-scale photographic montage he created for the Museum of the African Diaspora. His distinctive large scale projects have been commissioned by for Fortune, IBM, Lucasfilm Ltd., Mastercard International, Disney and Paramount Pictures, as well as covers for LIFE, Sports Illustrated, Newsweek, GEO, WIRED and Playboy.

September 4–30, 2008 at Contemporary Art in San Francisco.



Broadway To Vegas is supported through advertising and donations. Priority consideration is given to interview suggestions, news, press releases, etc from paid supporters. However, no paid supporters control, alter, edit, or in any way manipulate the content of this site. Your donation is appreciated. We accept PAYPAL. Thank you for your interest.


SPREADING THE WORD


JOAN BAEZ IN CONVERSATION WITH ANTHONY DeCURTIS Legendary folk singer and political activist Joan Baez made her first New York concert appearance at the 92nd Street Y in 1960. She now returns for an in-depth interview that explores her extraordinary musical career and her longstanding commitment to non-violence. Baez's new album, Day After Tomorrow, is produced by Steve Earle.

Anthony DeCurtis is a contributing editor at Rolling Stone and the author of In Other Words: Artists Talk About Life and Work.

Thursday, September 4, 2008 at the Kaufmann Concert Hall in NYC.

WHAT'S WRONG WITH TIMON OF ATHENS? with John Wolfson who is the Curator of Rare Books, Globe Education at Shakespeare's Globe Theatre in London.

In his 11th annual Perspective talk, John Wolfson will explore who wrote Timon, why it was so popular in the Restoration and why it is so rarely performed today. John Wolfson will be assisted by two Globe actors. Thursday September 4 at the Globe Education Centre Theatre in London.

BRIDGES: INFORMANCE SERIES kicks off their "informance" series with renowned solo theatre artist Fred Curchack who will share some of his inventive one man adaptations of Shakespeare's work.

A reception following the performance will allow audience interaction with the Guggenheim Fellow and Gold Medalist at the International Festival of Solo Theatre. Friday, September 5, 2008 at the Bristol Riverside Theatre in Bristol, PA.



THE AMERICAN THEATRE WING has announced the addition of four new members of its Board of Directors. They are: the Tony nominated actress Kate Burton; James Higgins, Chief Administrative Officer, New Vernon Capital; Bruce Redditt, Executive Vice President, Omnicom and Sally Susman, Senior Vice President of Worldwide Communications, Pfizer.

URBAN STAGES in New York City has announced that Sonia Kozlova will step down from her post as Managing Director to pursue her MFA in Theater Management and Producing at Columbia University School of the Arts. Lauren Schmiedel, a producer and theatre manager, will take on the role of Managing Director as of September 1st. Roger Danforth will come on as consulting Associate Artistic Director.

Prior to Urban Stages, Schmiedel worked with Tony Randall's National Actors Theatre and for the entertainment law firm Brooks & Distler. Schmiedel will receive her M.F.A. in Theatre Management and Producing from Columbia University School of the Arts in May, 2009.

Roger Danforth spent seven years (1988-94) at The Cleveland Play House as Associate Producer and as Acting Artistic Director. He is currently the Co-Executive Director of the Drama League and Artistic Director of the Drama League Directors Project.


WOLFGANG WAGNER STEPS DOWN; FIGHT FOR FESTIVAL POSITION INVOLVES NEW ARTISTIC DIRECTOR OF NEW YORK CITY OPERA
The tears had barely dried before the fight broke out.



Gérard Mortier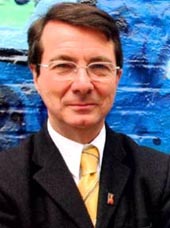 Wolfgang Wagner, the 77-year-old grandson of composer Richard Wagner, had tears in his eyes when he bid farewell to the Bayreuth Opera Festival in Germany after 57 years at the helm. The festival was founded by his grandfather.

The festival came to a close last Thursday and Wagner's tenure officially came to an end yesterday, August 31.

The battle for his successor to the prestigious music festival has taken on more drama than a Wagnerian opera.

Wolfgang and his brother Wieland took charge of the festival in 1951, but following the death of his brother, Wolfgang became the sole director in 1967 - leading the festival single-handedly for more than 40 years.

In 2001, the festival's board of directors, which includes Bavarian federal and state government, tried to force the ageing Wolfgang to step down by naming his daughter from his first marriage, 63-year-old Eva Wagner-Pasquier, to take over.

Wolfgang wouldn't have it - refused to quit the post, dismissed Eva as incompetent and claiming his tenure was for life.

However, following the death of his second wife and longtime assistant, Gudrun, Wolfgang relented.

Earlier this year, he approved a joint application to run the festival by Katharina Wagner, his 30-year-old daughter with Gudrun, and Eva, who is currently artistic consultant at the Aix-en-Provence Festival in France.

Katharina organized the first live web broadcast and public viewing of an opera from Bayreuth this year - and has been credited with opening up the festival to new audiences.

Just when everyone thought the matter settled, Wolfgang's 63-year-old niece, Nike Wagner - who runs her the Perelinages festival in nearby Weimar - submitted an unexpected application with renowned Belgian director Gérard Mortier.

Mortier, who helped bring about a successful resurgence of the Salzburg Festival, is to become general manager and artistic director of the New York City Opera in autumn 2009.

Mortier has stated that his application to run the will not alter his plans to run the New York City Opera. The terms of the festival state that control must remain in the hands of the Wagner family, unless there are no suitable candidates.

The festival's ruling body, the Stiftunsgrat, will convene this week to name the successor.

The first Bayreuth Festival, directed by Richard Wagner himself, was held in 1876.

UPDATE - On Monday, September 1, it was announced that Wolfgang's daughters, who have different mothers: Katharina Wagner, 30, and Eva Wagner-Pasquier, 63, will take the reins.


OTHER PEOPLE'S MONEY


NEIL DIAMOND

Neil Diamond
has always been a class act. At his August 25 concert in Columbus, the songwriter/singer attempted to deliver but vocal problems got the best of the show.

If a performer is having a problem, they usually just go on their way conning themselves and manipulating fans into thinking ticketholders got their money's worth just to have seen them in person - albeit through field glasses.

Many times getting a refund is a long, demeaning process. In an unusual move, Diamond is offering refunds to all ticketholders.

In a message on his website Diamonds wrote:

Dear Fans in Columbus,
Please give me a few days to figure out a way to make it up to you. I haven't let you down before and I wont let you down now. Until you hear from me again remember, You are the sun. I am the moon. You are the words. I am the tune. Forgive me. I love you. Neil.

Diamond's spokeswoman said in a statement that Columbus fans who attended the show have until September 5 to seek a refund for their tickets.

Diamond was also forced to reschedule his Wednesday, August 27 Green Bay Resch Center and Friday, August 29 Scottrade Center St. Louis concerts due to doctor's orders to rest his voice as he has been diagnosed with acute laryngitis. The new Scottrade Center date is September 10 and the rescheduled Green Bay Resch Center date is September 12.

PROTRACTED LEGAL BATTLE ENDS WITH MIRVISH BUY

Canon Theatre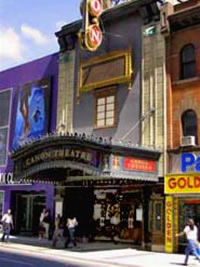 Key Brand Entertainment CEO John Gore announced Aug. 26 the sale of two major downtown Toronto theatres - the 2,300-seat Canon Theatre and the 700-seat Panasonic Theatre - to Mirvish Productions. The prolonged civic case had pitted Dancap Productions, a relative newcomer to the city's theatre scene, against veteran Mirvish and U.S.-based Key Brand Entertainment, which owned the Canon and Panasonic, both on Yonge St.

A day long hearing took place on July 11 in which Justice Geoffrey Morawetz of the Ontario Superior Court was asked to grant an injunction sought by Dancap to block the sale of those two theatres to Mirvish.

Mirvish Productions had a co-presenting agreement for the Canon Theatre that allowed it to book shows in "mutual agreement" with Key Brand Entertainment, the owner of the property. However, it did not have a management agreement with the Panasonic Theatre, which was an important bone of contention.


"Mirvish Productions knowingly induced Key Brand to enter into a secret and illegitimate course of action ... a deliberate and knowing breach of contract," Jonathan Stainsby, representing Dancap, told the court.

"There is not one scintilla of evidence ... that there was any kind of conspiracy whatsoever," retorted John Kelly, acting for Mirvish Productions.

At the time of the hearing the Toronto Star opined: "The stakes in the live theatre game are high for both players. A hit show at a large theatre can be immensely profitable: During a 10-year run at the former Pantages Theatre (now the Canon), The Phantom of the Opera grossed $464.8 million." Handcart after handcart rolled into the courthouse containing bulging files with emails and other documents detailing the struggle between Dancap and Mirvish. Most of the files were sealed.

Facts not disputed:

In late 2007, Dancap invested $12.5 million ($5 million in cash, $7.5 million in letters of credit) for a 12.5 per cent stake in Key Brand. In exchange, Key Brand made Dancap chair of Broadway Across Canada, a division of the larger Broadway Across America, which produces Broadway-style theatre.

Dancap also believed that it would acquire control over the Canon and Panasonic to stage its own live theatre shows – in direct competition with Mirvish.

Key Brand – at the time of Dancap's investment – was negotiating to acquire the assets of Live Nation, a deal that concluded in January of this year that includes the Canon and Panasonic.

Besides owning the Royal Alex and Princess of Wales theatres on King St. W., Mirvish Productions also has a 15-year lease (with Live Nation's predecessor, SFX Theatrical Group) to manage and control booking for the Canon and the Panasonic, which will expire in 2016. The agreement also gave Mirvish first option to purchase the Canon if it came up for sale. In February, Mirvish Productions began negotiations to buy the Canon and Panasonic outright for $35 million. Aubrey Dan, president of Dancap Productions, as a member of Key Brand, withdrew from a critical meeting that approved the sale because of a potential conflict of interest.

In April, the deal between Mirvish and Key Brand was sealed.

Dan quickly filed suit for an injunction to block the sale, believing that giving Mirvish control of the two theatres would freeze him out of the downtown core.

Dan's lawyer, Stainsby, argued Dancap's investment in Key Brand was intended to be a "springboard" aimed at "expanding significantly its presence and stature in live theatre."

Mirvish Productions has had a virtual monopoly on the high-end theatre scene, Stainsby said. Allowing Mirvish to buy the theatres would be devastating to Dancap's future, he argued.

The sale agreement means that , in accordance with Key Brand's loan agreements entered into at the time of Key Brand's acquisition of Broadway Across America, "the proceeds are being used to retire term loans from JP Morgan and subordinated notes from Aramid Entertainment Fund."

"This is a great moment for the company and its shareholders," stated Gore. "The sale of these two venues and the payback of these loans allow Key Brand Entertainment to now focus exclusively on our main priorities — programming and production."

The sale of the two theatres to Mirvish Productions was led by Key Brand Entertainment chairman Thomas B. McGrath and David B. Stern, Key Brand's EVP and general counsel, who headed the transaction team, which included Thomas MacDonald and Ken Herlin from the Goodmans law firm in Toronto, as well as Fred Gartside and Ken Bovard from Los Angeles-based Jeffer Mangels Butler & Marmaro. Mirvish was represented by Howard Drabinsky and William Rowlands of Lang Michener LLP.

OFF-BROADWAY TICKETS can be purchased for only $20. For the two weeks of September 2-September 14, theatergoers can get the bargains 20 minutes before showtime



PERMANENT COLLECTION

Thomas Gibbons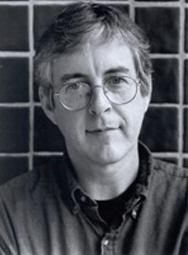 by Thomas Gibbons. BoarsHead Artistic Director Kristine Thatcher will direct the production.

Questions of race, representation and art are raised in Permanent Collection which opens the BoarsHead Theater 2008-2009 season.

Can Art ever be free from Politics? Can Politics in America ever be free from Race? And can any of them transcend the powerful, alluring taint of Money?

Set in an art museum in a predominantly white suburb, tensions arise when the new director of the museum, African-American Sterling North, discovers important pieces of African art in the basement and wishes to integrate them among the Cézannes and Renoirs.

Gibbons loosely based Permanent Collection on the Barnes Foundation, which was established in 1922 outside of Philadelphia by Dr. Albert C. Barnes, a somewhat eccentric self-made millionaire who amassed an incredible collection of impressionist and post-impressionist art in the early part of the twentieth century.The mission of the foundation is to "promote the advancement of education and the appreciation of the fine arts." The Foundation houses one of the world's largest collections of Impressionist, Post-Impressionist and early Modern paintings, as well as important examples of African sculpture.

Barnes helped to amend bylaws of the Foundation in 1950 to enable the Board of Trustees of Lincoln University, a historically African-American university, to nominate four of the five trustees for the Barnes Foundation. He later died in a car accident in 1951.

The production stars: Alan Bomar Jones, Michael Joseph Mitchell, Valerie Jemerson, Monica Sanders, Dana Brazil and Gary Houston.

The production staff includes; Michelle Raymond serves as Technical Director. Katie Doyle is the Stage Manager. Scenic Design by Kirk Domer. Lighting Design by Ted Rhyner. Holly Speers in charge of Costume Design Property Design by Patricia A York. Sergei Kvitko is in charge of Sound Design.

BoarsHead's production of Permanent Collection is part of the third annual Stages of the Law series sponsored by Cooley Law School. ( See Broadway To Vegas column of October 21,2007 ) The three-part series is a collaboration between each of the downtown Lansing theaters - BoarsHead, Riverwalk and Lansing Community College - to produce a play with a theme involving an aspect of the law.

Talk Backs will take place following Sunday, September 7, and Wednesday, September 17, performances. The Stages of the Law Forum will be held Saturday, September 13 with Charles Palmer speaking.

Originally produced by InterAct Theatre Company in association with the National New Play Network. Permanent Collection is staged September 3-28 at the BoarsHead Theater in Lansing, Michigan.

THE MARVELOUS WONDERETTES written and directed by Roger Bean. The cast features Farah Alvin as Missy, Beth Malone as Betty Jean, Bets Malone as Suzy (she originated this role at Milwaukee Repertory Theatre) and Victoria Matlock as Cindy Lou.

The production is billed as featuring " the iconic sounds of the fifties and sixties in a journey back to the 1958 Springfield High School prom where the Wonderettes - Betty Jean, Cindy Lou, Missy and Suzy - are four young girls with hopes and dreams as big as their crinoline skirts." Songs included in the new show are Lollipop; Dream Lover; Stupid Cupid; Lipstick on Your Collar; Hold Me, Thrill Me, Kiss Me; It's My Party and It's in His Kiss.

The creative team also includes set designer Mike Carnahan, costume and wig designer Bobby Pearce, lighting designer Jeremy Pivnick, sound designer Cricket S. Myers, musical director Brian William Baker and choreographer Janet Miller. The cotton-candy colored non-stop pop musical makes its Off-Broadway debut at The Westside Theatre following an award-winning run at Los Angeles' El Portal Theatre.

David Elzer, Peter Schneider and Marvelous Dreams, NYC are producing the Off-Broadway run. For this to transfer to The Big Apple hats have to be tipped to David Elzer, president of Demand PR, who has been non-stop championing this effort since day one.

Elzer won the 2007 Ovation Award for this 19-month run off The Marvelous Wonderettes and Winter Wonderettes at the El Portal Forum Theatre, He is also a producer on Sister Act: The Musical, opening in London's West End in 2009. He also was a producer on Jewtopia, Off Broadway (also at the Westside Theatre), The Laramie Project at the Laguna Playhouse and Catalpa and Shyness is Nice at the Alliance Theatre. He is also developing an original musical, Justin Love, with Lori Scarlett and David Manning.

The Marvelous Wonderettes began previews August 29 and officially opens on September 14 at The Westside Theatre in Manhattan.

CLAY a new musical written and performed by Matt Sax. Developed in Collaboration with and Directed by Eric Rosen.

Kansas City audiences will have the amazing opportunity to experience this explosive new hip hop musical – one of new Artistic Director Eric Rosen's biggest successes – just prior to its New York premiere.

Created by a phenomenal young artist named Matt Sax in collaboration with Rosen, Clay is a coming-of-age story told with the great humor, intensity, and lyricism of contemporary hip hop music. The story follows Clifford, a boy from the suburbs who escapes the dissolution of his family and comes under the tutelage of Sir John, a Falstaff-like master of the spoken word.

As Clifford ascends to stardom as the rap-star Clay, his world is turned upside down as his past comes back to haunt him. Matt's solo tour-de-force performance won him Chicago's prestigious Joseph Jefferson Award and critical acclaim for its recent Los Angeles run. This award-winning musical will have a limited three week run at Copaken Stage before moving to Lincoln Center Theater in New York.

September 6-28 at Kansas City Rep.

EMMA a new musical by with music, lyrics and book by Paul Gordon.

Emma firmly believes herself to be a most talented matchmaker and chooses her hapless and easily influenced friend Harriet as her next endeavor. Yet despite Emma's obsession with romance, she remains clueless about her own feelings and the true desires of those around her. Her matchmaking mischief leads to countless comic complications and a little heartache but ultimately ends in true love. Robert Kelley directed the show's world premiere at TheatreWorks in Palo Alto where he is Artistic Director and will direct at the Cincinnati Playhouse as well. Previews begin September 2 with the official opening set for September 4. Performances through October 3, 2008.

Set against the colorful backdrop of an American heartland tradition, Rodgers & Hammerstein's State Fair opens the Walnut Street Theater's historic 200th season. Performances September 2 – October 19 in Philadelphia.

POOL (NO WATER) by Mark Ravenhill. Directed by Anthony Skuse.

"Whenever a friend succeeds, a little something in me dies" - Gore Vidal

Bitchy, funny and to the point, pool (no water) is an unraveling of the ties that bind: a visceral and compelling play about the fragility of friendship, the morality of art and the jealousy and resentment inspired by success.

A famous artist invites her old friends out to her luxurious home and, for one night, the group is back together. Having lived in each other's pockets at art school, they have shared exhibitions, drugs and lovers. But fame and fortune is a difficult course to negotiate.

Featuring Angela Bauer, Guy Edmonds, Lisa Griffiths, and Sam Haft Costumes by Rita Carmody; Set and Lights by Verity Hampson. Sound by Jeremy Silver. Production Manager is Karo Robson. Graphic Design by Andy Wallace. Movement by Sam Chester. Production Photography by Alex Craig

Presented by Darlinghurst Theatre Company & square the circle with performances through September 20. New South Wales, Australia.

STATE FAIR Music by Richard Rodgers. Lyrics by Oscar Hammerstein II, Tom Briggs and Louis Mattioli. Based on the screenplay by Oscar Hammerstein II and the novel by Phil Stong.

Leave the farm in Iowa and head off to the State Fair for blue ribbons and dreams of success. Find romance and adventure on the Midway. Wonderful surprises await you in this Broadway musical based on the classic Academy Award-winning film. The sumptuous score includes It Might As Well Be Spring; You Never Had it So Good, and It's a Grand Night for Singing.

State Fair was the first Rodgers & Hammerstein musical to start off as a film before being adapted to the Broadway stage in 1996. The first film version in 1946 starred Jeanne Craine, Dana Andrews and Vivian Blaine. In 1962, State Fair was remade with Pat Boone, Bobby Darin, Alice Faye and Ann-Margret. Now the Walnut Street Theatre brings State Fair to their stage starring Tony nominees Mark Jacoby and Dee Hoty. Also featured are Cary Michele Miller and David Elder.

Presented by Darlinghurst Theatre Company & square the circle. Previews begin September 3 with an official opening on September 5. Performances through September 20. Darlinghurst Theatre in Kings Cross, Australia.

LIBERTY a new play by Glyn Maxwell. Directed by Guy Retallack.

April 1793, the French Revolution is four years old and the Committee of Public Safety under Robespierre finds threats to national liberty at home and abroad. When Gamelin, an ambitious and idealistic young magistrate, joins a group of old friends for a picnic outside Paris, the ties of love and affection can take the strain. But how strong will they prove when Gamelin is given power over life and death, and the new republic plunges from high idealism to mob rule and state terror?

Private jealousies and public fears, old alliances and new ideologies, panic legislation and political correctness all combine in this thrilling adaptation of Anatole France's 1912 novel Les Dieux ont Soif.

Starring Kirsty Besterman, John Bett, Gregory Gudgeon, Belinda Lang, Edward Macliam, Ellie Piercy, Jonty Stephens, David Sturzaker.

The musicians are: Jon Banks, William Lyons and Clare Salaman.

Designed by Ti Green. Composed by William Lyons. Choreographed by Paul Harris.

A co-production with Lifeblood Theatre Company. Opens August 31 with performances through October 4 at Shakespeare's Globe Theatre in London.

SA KA LA

(L to R): Frank Harts, Mike Caban, Anna Gutto and Raymond McNally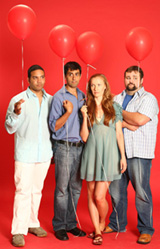 by Norwegian playwright JON FOSSE. Directed and translated by Sarah Cameron Sunde.

Sa Ka La takes place in a moment of crisis within a family when some of its members know a piece of bad news while the others have yet to hear about it. A mother has fallen victim to a stroke, on her 60th birthday, and it takes her three grown children, Nora, Hilde, and Ola completely by surprise.

Meanwhile, the rest of the family can't be reached as they wait for her party to begin. Sa Ka La is not a Norwegian phrase. It's some of the unformed words the Mother makes after suffering her stroke.

Director/translator Sunde says: "Sa Ka La represents a side of Mr. Fosse that American audiences have yet to see. This play is poignant and funny at the same time. It's about family dynamics and how quickly time flies. Mr. Fosse writes about something that everyone can relate to, which rounds out the body of work Oslo Elsewhere is creating in American-English, both in production and in published form."

The nine-member cast will include: Noel Joseph Allain, Jacqueline Antaramian, Mike Caban, Anna Gutto, Frank Harts, Marielle Heller, Birgit Huppuch, Kathryn Kates and Raymond McAnally.

The set design will be by Jo Winiarski; the costume design by Jennifer Caprio; the lighting design by Paul Hudson; and the sound design by David Margolin Lawson. The production stage manager will be Ryan Raduechel.

This world premiere presented by Oslo Elsewhere at The Green Room/The Theatres at 45 Bleecker, beginning on September 6, and the official Opening Night will be Monday, September 8. Performances will run through September 27.

RAINMAN based on Barry Morrow's original Oscar winning screenplay and re-imagined for the stage by Dan Gordon and director David Grindley, the play examines the nature of love, understanding and connection. Leading the cast in this funny, heart-warming and touching contemporary story is Hollywood movie actor, Josh Hartnett in his West End debut as Charlie and Olivier nominated actor, Adam Godley as Raymond. The cast also features Mary Stockley, Colin Stinton, Charles Daish and Tilly Blackwood.

"I didn't take Raymond. I took half the money"

When 16 year old Charlie Babbit borrows his dad's car, his father calls the cops. Determined to make it on his own, Charlie leaves.

When his dad dies, Charlie - an L.A.- based automobile dealer and hustler - gets the car and some rose bushes - but not the money. Hot on the trail of the cash Charlie discovers an unknown autistic brother, Raymond, who has been hidden in an institution for most of his adult life and is dysfunctional in many senses, but is also touched with a kind of stellar genius, an extraordinary talent for numbers. Intent on saving his business, Charlie takes Raymond on a rollercoaster journey involving Las Vegas, gambling, learning to dance, kissing. Raymond discovers a world beyond the hospital gates and Charlie, the meaning of unconditional love.

Previews began Aug. 28 with an official opening scheduled for Sept. 9. at the Apollo theatre in London.




WHO'S WHERE


MICHAEL FEINSTEIN celebrates Feinstein's at Loews Regency's 10th anniversary season with a new show by the club's founder, Michael Feinstein. From September 2 - 6 he'll be performing his new show The Sinatra Project which will feature New York's Finest swinging 17-piece Big Band. Feinstein's longtime musical director John Oddo will lead the 17-piece band featuring Bucky Pizzarelli on guitar, Jim Saporito on drums, and David Finck on bass. Feinstein's at Loews Regency in NYC.

BACKSTREET BOYS on stage Tuesday, September 2, at Pengrowth Saddledome in Calgary, Alberta. On Thursday they perform at General Motors Place in Vancouver. Friday finds them at the Memorial Centre in Victoria, BC and on Saturday the show is at Marymoor Amphitheatre in Redmond, WA.

EAGLES fly into the BOK Center in Tulsa, OK on Saturday, September 6.

BOB DYLAN is in Las Vegas performing at The Joint on Monday, September 1. On Thursday he can be enjoyed at the Pechanga Resort in Temecula, CA. On Saturday the show is at the Qualcomm Stadium in San Diego. Next Sunday he is at the Santa Barbara Bowl in Santa Barbara, CA.

BIG BAD VOODOO DADDY participates in the Taste of Colorado in Denver in Monday, September 1.

JIMMY BUFFET brings his sounds to the Nissan Pavilion At Stone Ridge in Bristow, VA on Monday, September 1. On Thursday he'll get people in a good mood at the Tweeter Center in Mansfield, MA and do it again - same place - on Saturday, September 6.

RYAN ADAMS on stage September 1 at the MTS Centre in Winnipeg, MA. On September 4 he's in the spotlight at Scotiabank Place in Ottawa, ON. Friday finds him at the Bell Centre in Montreal, and next Sunday, September 7, he performs at the Bank of American Pavilion in Boston.

JONAS BROTHERS the male tween-pop phenomenon bring their act to Bryce Joran Center at University Park, PA on Tuesday, September 2. On Thursday they are on stage at the Ford Amphitheatre in Tamps, FL, Friday finds them at the Cruzan Amphitheatre in West Palm Beach.


FINAL OVATION


RALPH YOUNG

Ralph Young, right, with his singing partner, Tony Sandler.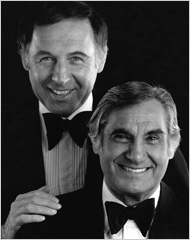 the English singing half of the English/French singing-duo Sandler and Young died August 22, 2008 at his home in Palm Springs, CA. He was 90.

for over a decade Sandler and Young starred on the Las Vegas Strip. They met in 1963 when they both appeared at the Dunes Hotel in Las Vegas in Casino de Paris, revue imported from France. Sandler, a Belgian who had come from Europe with the show immediately became friends with Young. They developed a unique formula where Young's English lyrics to a song would blend with Sandler's version in the original language. They also worked out routines in which Mr. Sandler sang one song in one language and Mr. Young sang a different song in another language as a countermelody. Sandler & Young turned a gimmick into a trademark, applying it often to romantic and inspirational material like Dominique; For All We Know; C'est Si Bon and a combination of I Believe and Ave Maria.

In their first engagement in a Las Vegas lounge, they were discovered by the comedian Phil Silvers, who urged the singer Polly Bergen to use them in her act at the Thunderbird Hotel. They were an immediate success and became one of the most popular nightclub acts in show business.

They were among the performers on the very last Ed Sullivan show to be televised by CBS, on June 6, 1971 - which was a rerun of a show originally broadcast on Feb. 7 that year.

Young retired from the act in 1983, when he was 65. He wanted to spend more time with his family in Palm Springs and Los Angeles. In 2003 Sandler & Young did re-team for a concert in Palm Springs to commemorate the 9/11 attacks. Mr. Sandler, two decades younger, is still active, singing American and European repertory in an act called Chevalier: Maurice & Me.

Born Ralph Israel in the Bronx in 1918, Ralph Young he sang in local clubs. After military service in World War II he moved up to the big bands, singing with, among others, Tommy Reynolds, Shep Fields and Les Brown. He later worked in nightclubs as a solo vocalist and in 1958 appeared in the short-lived Broadway musical Whoop-Up. He is survived by his wife, Arlene; six children, Dr. Neil Young, Arleen Young, Ron Young, Guy Goldstein, Lauren Goldstein and Rachel Diaz; and eight grandchildren.

Next Column: September 7, 2008
Copyright: August 31, 2008. All Rights Reserved. Reviews, Interviews, Commentary, Photographs or Graphics from any Broadway To Vegas (TM) columns may not be published, broadcast, rewritten, utilized as leads, or used in any manner without permission, compensation/credit.
Link to Main Page
---
Laura Deni


CLICK HERE FOR COMMENT SECTION