! >
Broadway To Vegas
  
 SHOW REVIEWS CELEBRITY INTERVIEWS GOSSIP NEWS

| | |
| --- | --- |
| | |
ABRAHAM LINCOLN BICENTENNIAL - - NOMINATIONS FOR THE 32nd ANNUAL OLIVIER AWARDS - - EUROPEAN DEBUT FOR TENNESSEE WILLIAMS' THE NOTEBOOK OF TRIGORIN - - FREE TO SING: THE STORY OF THE FIRST AFRICAN-AMERICAN OPERA COMPANY - - AN EVENING WITH GARY DAVID GOLDBERG AND FRIENDS - - KENNEDY CENTER TO STAGE AUGUST WILSON'S 20th CENTURY - - TONY AWARD WINNER TO STAR IN PALM SPRINGS FOLLIES - - GROUP THEATRE TOO NEEDS A HOME - - DONATE . . . Scroll Down


Copyright: February 10, 2008
By: Laura Deni

CLICK HERE FOR COMMENT SECTION
FLOATING GROUP THEATRE TOO NEEDS A VENUE
Justin Boccitto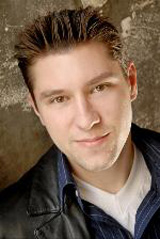 In Guys and Dolls Nathan Detroit and Sky Masterson chase their floating crap game around New York City. Most crap games now are staged in elegant casinos. Today in The Big Apple there is a floating theater with dreams of a venue - if not an elegant one - at least one with a stage that will permit musicals.

Michael Blevins and Justin Boccitto, the legitimate theatrical clone of crap shooters Detroit and Masterson, have the talent, energy and tenacity - all of which they need. They also need a home for their Group Theatre Too.

Boccitto grew up in New Jersey and trained under Blevins' Young Performer's Workshop in Hackettstown, New Jersey, at Centenary College. The two are now business partners. Boccitto, 26, spoke with Broadway To Vegas about his unusual theater.

"After I moved to New York I went to Circle in the Square Theatre School for Performers for Musical Theatre. I became very interested in how these productions that I was working on came to be. At Circle in the Square I studied the original group theater of the 30's. Michael and I were very interested in that kind of theater, which is really the ensemble approach to the art form."

"We thought - let's create our own kind of group theater. We called it Group Theatre Too because we are also a group theater," he laughed. Blevins serves as the Artistic Director.



Michael Blevins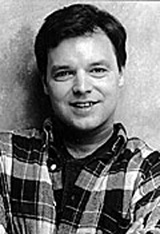 "We'll invited all of these artists to come work with us on different projects. That's how it started."

It helped that they had numerous bold faced friends and associates.

Justin tips his hat to Michael on reeling in star power.

"Michael had a fantastic career as a Broadway performer and was also in a film version of A Chorus Line. He played Mark. He had the opportunity to work a lot of these people and they were very interested in our group. We thought we needed some support. I asked management at Circle in the Square and they were great! I always say go ahead and ask. The worst thing they can do is say 'no.'"

Their Board of Artistic Advisors includes; Mercedes Ellington, Nicole Fosse, Mallory Graham, Maurice Hines, Bernard Kaplan, Theordore Mann, Chita Rivera, Bettye Morrow and Sue Samuels.

"It was very helpful to have them involved," he emphasized.

Blevins is originally from East Tennessee. He attended the University of North Carolina, majoring in Acting and Dance and continued his studies in the performing arts at New York University's Tisch School of the Arts. He has appeared in several Broadway productions including, Bring Back Birdie, Neil Simon's Little Me, and the Tony Winning Tap Dance Kid in which he created the role of Winslow. Major film roles include a supporting role in the screen biography Chaplin.

Along with Gwen Verdon, Blevins co-founded the MTW Academy, the only young people's musical theatre program run by a professional Off-Broadway theatre company. Former students include Broadway and film actress Melissa Errico, Fresh Prince of Bel-Air's Alfonso Ribeiro and Tony Award-winner Savion Glover. He has taught for NYU's Tisch School of the Arts' exclusive studio program, Broadway Dance Center, Summerfest Ballet Conservatory, public school systems in NY and NJ, the Tennessee Association of Dance, Georgia State University, Nebraska Dance Teachers Association and the Folkuniversitete Balettakademien in Sweden, under the artistic direction of Lia Schubert.

Group Theatre Too was formed under an umbrella of the organization The Field. "We do get some benefits of a non profit but we are not an actually 501(c)(3), but The Field does sponsor us," Justin explained.

"Our biggest problem right now is - we don't have a space. We don't have a theater of our own. That really is our biggest problem," Justin stressed.



Brian Merker as Madoc Dean in Count To Ten Michael Blevins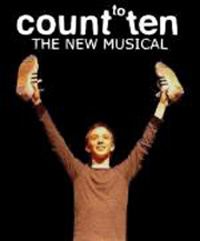 "We are a floating theater company. We did some performances at the 14th Street Theatre. We are doing a production at the Connolly Theatre, Count To Ten, which is a new musical which Michael wrote."

Count to Ten is a tap your feet to the beat original family musical. Book by Michael Blevins. Lyrics by Michael Blevins & Beth Clary. Music by Michael Blevins, Scott Knipe, Bruce Sacks & David Wollenberger. It's a timeless tale of friendship, romance and growth told through dance, song and scene. Group Theatre Too plays that show at The Connelly Theater February 29 - March 16.

"Then we do See Saw which is one of the first revivals of the production in about a decade which is really exciting. The people at Samuel French have been great with us and allowed us the opportunity to put on this piece. We have some great performers involved with that. Michael is also directing and choreographing that."

Two for the Seesaw is the 1974 two-time Tony winning musical with book by Michael Bennett, music by Cy Coleman, and lyrics by Dorothy Fields. Based on the William Gibson Tony Nominated play Two for the Seesaw focuses on a brief affair between Jerry Ryan, a young mid-west lawyer who's recently separated from his wife, and Gittel Mosca, a gallant and goofy streetwise dancer from the Bronx who wins at life but loses at love. That production will be performed at The Connelly Theater for a limited run from March 9-15.

Are you forced to go begging for venues for each production?

"Pretty much," Justin conceded.

"We are very focused on musicals. That's a hard aspect to find for a venue - whether it's right for your production. We are always looking for venues that can allow a musical - to have musicians. And, they usually have large casts."

"We usually use live musicians. A lot of the time we are doing Equity showcases production, so we have to find volunteers."

"We absolutely need a theater," he reiterated. "It's gone from a want to a need."

"As artists all of us really enjoy being able to do the work that we do. That is what keeps us going through the hard times when there is no money or no budget. We really do enjoy working as a group. We have a lot strong bonds. Michael is really into loyalty. He enjoys working with the same people."

"Our focus is on a showcase for new works as well as staging revivals and being out in the community."

Dear to the hearts of both Justin and Michael are educational programs.



From last year's production of Tom Sawyer Michael Blevins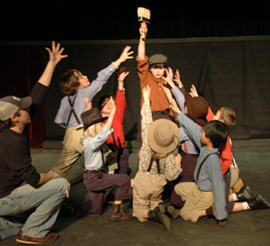 "We are very community oriented. We have big educational programs. We have an after school program called The Performers Playground. That is usually at elementary schools. We're doing a new program at PS 75, the Emily Dickinson Elementary School, on 96th Street and West End. We're doing a program called One Act Junior where the students - 3rd through 5th graders - rehearse and then perform one-act plays," he said about the program which last year staged Tom Sawyer.

"We usually do a musical every year. But, we've chosen to do these one-acts this time around. The kids are really being exposed to some new work and plays that haven't been seen or heard in probably over a hundred years."

"We are very adamant about performing arts really changing lives," stressed Justin about involving students. "They learn something about themselves - self discovery that will help them in whatever career go into."

"It gets harder and harder for us each year," he complained.

"For example, there is no funding for the high-schools. They are the hardest because their funding will go directly to sports. The elementary schools have a little bit more of a budget for art and performing arts in schools. But, it is pretty much unheard of in high schools and that is very sad."

"You get something out of it," he said referring to arts and commenting that sports is not the be-all and end-all. "There is something about theater. There is a self discovery that you get in performing arts that I don't think you really get in any other activity - especially as a young person. It helps in self confidence and ability to deal with other people and social skills. These are things that should be taught in schools and performing arts is a way to do it. But, people just don't see that."


ALL THINGS ABE
Abraham Lincoln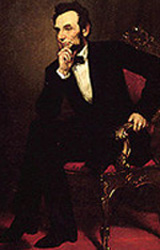 If all eyes are on presidential hopefuls, there is a group hoping those blinkers will give a peek at a president for yore.

That would be President Abraham Lincoln and the launch of a two-year celebration of his Bicentennial. President Bush will launch the nation's two-year celebration of Abraham Lincoln's Bicentennial, capping two days of festivities and tributes in Louisville and Hodgenville February 11 and 12, according to the national Abraham Lincoln Bicentennial Commission.

Best selling author Linda Bruckheimer and Hollywood blockbuster filmmaker Jerry Bruckheimer are honorary co-chairs of the Bicentennial Inaugural Committee.

"The eyes of the world will be focused on Kentucky as we kick off a series of events during 2008 and 2009 honoring our greatest president," said LaRue County Judge Tommy Turner, a member of the national ALBC and chair of the Bicentennial Inaugural Committee.

"It is 'fitting and proper' that the celebrations begin here, as Lincoln himself was proud to be a Kentuckian. We hope to capture the American spirit and invigorate their thoughts about this great man's living legacy," Turner said.



Sam Waterston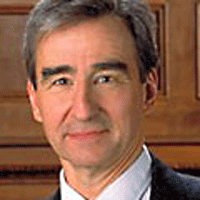 President Bush is slated to launch the Bicentennial formally with a keynote address at the Abraham Lincoln Birthplace National Historic Site in Hodgenville on February 12. The American Spiritual Ensemble and Saxton's Cornet Band will provide music. Award-winning actor Sam Waterston, best known for his television role as assistant district attorney on Law and Order, will deliver a dramatic presentation of Lincoln's words.

Celebrations begin the day before in Louisville. A champagne reception at the Kentucky Center for the Arts on the evening of February 11 will lead into a musical and dramatic tribute to the 16th president.
The Louisville Orchestra will perform with guest soloist soprano Angela Brown, including the premiere of a new Lincoln work composed by Peter Schickele. Brown will also perform Marian Anderson's 1939 rendition of My Country 'Tis of Thee. Artists from the Kentucky Opera will accompany Brown. Waterston and Lincoln scholar Harold Holzer will cap the evening with a performance of Lincoln Seen and Heard, a dramatic presentation of Lincoln speeches and photographs.

Award-winning journalist and Louisville native Bob Edwards will host the celebration.

Pulitzer Prize and Lincoln Prize winner Doris Kearns Goodwin will headline a public symposium, Lincoln on Leadership, on the afternoon of February 11, at the Frazier International History Museum in downtown Louisville. Co-sponsored by the University of Louisville's McConnell Center, the symposium will also include Richard Goodwin, an advisor to Presidents Kennedy and Johnson and to U.S. Senator Robert F. Kennedy.

In coordination with statewide celebration of Abraham Lincoln's birth in Kentucky, the Museum of American Quilter's Society in Paducah, Kentucky, will host the exhibition Log Cabins and Lincoln, from February 8 - April 9, 2008.

The exhibit will include a display of quilts in Log Cabin, Lincoln Platform, and related patterns, featuring interpretive panels demonstrating the influence of politics on quilting and quilt patterns in the mid-19th century. Interactive activities and materials for youth and school groups will also be offered.



Tony Award winner Bill T. Jones. Photo by Kevin Fitzsimon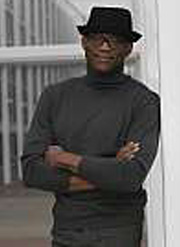 The Ravinia Festival has commissioned Tony Award-winning choreographer Bill T. Jones to create a new work inspired by Abraham Lincoln and celebrating the late president's 2009 bicentennial. The announcement of the new work, which is currently titled A Good Man, was made by Jones and Ravinia Festival President Welz Kauffman at the Chicago History Museum, which houses the Lincoln death bed. A Good Man will be performed by the Bill T. Jones/Arnie Zane Dance Company. In a statement Jones said, "The image of Abraham Lincoln's long, broken body stretched across what was to become his death bed will be at the heart of the work. I wonder about the paradise our country could have been if Lincoln had lived to complete the reconstruction of America, but which we are only left to imagine. I would like to share that vision with audiences and then remove it in order to expose that great distance between what is and what could have been."

CEO Kauffman added, "Bicentennial celebrations by their very definition are about a single moment in time, but any artistic celebration of the great Abraham Lincoln requires something truly timeless. That's why we sought out Bill T. Jones. Bill is emblematic of Ravinia as he, too, thrives on music, dance, theatre, community development and reaching out to diverse audiences. There's also a bit of Lincoln in him - not just his charisma but also his respect of the past and demands of the future. He and the Bill T. Jones/Arnie Zane Dance Company enjoy international acclaim, and I would love to see his view of Lincoln shared on distant shores. I can't wait to experience Lincoln through his eyes."

Jones' A Good Man will be at the center of the Ravinia's 2009 celebration of Lincoln's life and legacy, which is titled Mystic Chords of Memory. Ravinia also plans to commission as many as 10 chamber music compositions, financed partly by a $70,000 grant from the Illinois Abraham Lincoln Bicentennial Commission. Related programs will examine composers from Lincoln's era, Walt Whitman's legacy and American musical traditions like jazz and gospel.

Abraham Lincoln was born in Kentucky, spent his youth in Indiana, and made Illinois his home. The State of Illinois captured this special relationship with Lincoln with its slogan "Land of Lincoln".

Illinois communities have a significant connection to the Lincoln story since he lived in and traversed the state from 1830 until his departure on February 11, 1861. His most endearing relationship was with the town of Springfield where he departed with these words: "To this place, and the kindness of these people, I owe every thing. Here I have lived for a quarter of a century, and have passed from a young to an old man."

The state has something planned almost every day.

For instance;

Yesterday, February 9, a Bicentennial Period Formal Ball in honor of Abraham Lincoln's 200th Birthday was held at the Executive Mansion in Springfield. Attendees were requested to don period attire.

Today, February 10, there will be a Lincoln-Thornton Debate Re-Enactment. Based upon Robert M. Root's 6' x 8' oil painting of the August 9, 1856 Debate in Shelbyville between Abraham Lincoln and local attorney Anthony Thornton. Local citizens portray Root, Lincoln, Thornton, and prominent persons in the painting, among them a soldier in the Civil War, the "father of free education" in Illinois, the first citizen of Shelby County, inventor of the dishwasher, a local physician, and a citizen who survived the 1855 cholera epidemic, known as "the town drunk".

The Memoirs of Abraham Lincoln, a Presidential comedy written by Peter King Beach original direction by Academy Award winner Delbert Mann with Falcon staging by Jenny Sullivan starring Granville Van Dusen as Lincoln, is playing at the Falcon Theatre in Burbank, CA through March 2.

The Memoirs of Abraham Lincoln is a refreshing portrait of one of our country's most beloved presidents; spanning his early years as a country bumpkin to the troubling times of the Civil War.

It is a vibrant mix of fact and personality which gives the voice and spirit of our sixteenth president a second chance to tell his side of the story.

Yes, they could kill him - but they couldn't shut him up.

On Wednesday, Feb. 13, patrons are invited to join the cast for cake to celebrate Honest Abe's birthday after the show!



Broadway To Vegas is supported through advertising and donations. Priority consideration is given to interview suggestions, news, press releases, etc from paid supporters. However, no paid supporters control, alter, edit, or in any way manipulate the content of this site. Your donation is appreciated. We accept PAYPAL. Thank you for your interest.



NOMINATIONS FOR THE 32nd ANNUAL OLIVIER AWARDS were announced with the London production of Hairspray establishing a record-breaking 22 nominations for the prestigious Laurence Olivier Awards, which recognizes excellence on the London stage. The awards will be presented by actor Richard E. Grant on March 9 in London. ( LIST OF NOMINATIONS )

RUBY DEE will receive the NAACP Chairman's Award at the 39th Image Awards, which will be presented February 14.

A two-time Emmy Award winner, Dee is also an Image nominee for Outstanding Supporting Actress for her work in American Gangster. She was selected by NAACP Board chairman Julian Bond as the 2008 Chairman's Award honoree. The special award is presented in recognition of an individual's special achievements and distinguished public service.

The Image Awards, which honor diversity within the arts, will be aired Feb. 14 at 8 PM ET on the FOX network. ( LIST OF NOMINEES AND WINNERS )


SPREADING THE WORD


KATHLEEN TURNER talks about her extraordinary life, career, activism and passions with activist and author Gloria Feldt.

Turner is a longtime advocate for women's health care and has been outspoken about her struggle with rheumatoid arthritis. She won a Golden Globe award for Best Actress for Prizzi's Honor and Romancing the Stone and nominated for The War of the Roses, Body Heat and Peggy Sue Got Married, for which she also received an Academy Award nomination for Best Actress.

Turner received Tony Award nominations for Best Actress for her performances in Cat on a Hot Tin Roof and Who's Afraid of Virginia Woolf?. Her forthcoming memoir, written in collaboration with Feldt, is Send Yourself Roses: Thoughts on My Life, Love, and Leading Roles.

Feldt is the author of The War on Choice and Behind Every Choice is a Story, and the former president of Planned Parenthood Federation of America. She was named Glamour's Woman of the Year and one of Vanity Fair's Top 200 Women Legends, Leaders and Trailblazers.

Thursday, February 14 at the 92nd Street Y in Manhattan.

JIM DALE whose screen credits include Pete's Dragon and Digby, has recorded a number of audio books for children, including the entire Harry Potter series. The Poetry Center at the 92nd Street Y in Manhattan presents a new children's reading series, featuring classic literature for children, read by actors and writers. On Saturday, February 16, Dale kicks off this series at the Weill Art Gallery, NYC.

AN EVENING WITH GARY DAVID GOLDBERG AND FRIENDS With Special Guests: Gary David Goldberg, Justine Bateman, Meredith Baxter, Barry Bostwick, Michael Gross, Marion Ross, Alan Ruck, Tina Yothers, Brad Hall, Bill Lawrence.

Join Gary David Goldberg—creator of Family Ties, Brooklyn Bridge, and Spin City - for a celebration of his new memoir, tracing his evolution from Brooklyn jock to Hollywood player. Gary will read from his book titled Sit, Ubu, Sit, after his late, beloved Labrador and share memories with the actors who have interpreted his vision, bringing laughter and insight to so many viewers over the years. Monday, February 11, at The Paley Center for Media, Beverly Hills, CA.


SWEET CHARITY


MACBETH THE BENEFIT The Chichester Festival Theatre production directed by Rupert Goold. The production at the Brooklyn Academy of Music with a run through March 22 is sold out. The only chance to see this splendid production is to attend the February 12 Macbeth The Benefit which supports BAM.

An extravagant evening of cocktails and dinner on the BAM Howard Gilman Opera House Stage, followed by the opening night performance of Macbeth starring Patrick Stewart, and concluding with a dessert reception with the cast back on the Opera House stage.

This unforgettable evening will celebrate the opening of a month-long, award-winning engagement of Macbeth, directed by Rupert Goold. Patrick Stewart, one of the greatest Shakespearean actors of our time, stars as the lead in William Shakespeare's classic play.

Fresh from their landmark UK production of The Tempest, Stewart reunites with rising star director Rupert Goold in the harrowing study of the seductive nature of power that was the sold-out, must-see event of the summer in its Chichester Festival Theatre debut.

Design by Anthony Ward. Lighting design by Howard Harrison. Composed and sound design by Adam Cork. Video and projection design by Lorna Heavey. Movement director Georgina Lamb. Fight director Terry King.

Set in an industrial chamber that is equally military hospital ward, kitchen, torture chamber, and abattoir, Goold's eerily modern Macbeth rings with the echoes of Stalinist terror. Macbeth is a decorated and loyal war hero, but loyalty only goes so far when greatness and history beckon and murder is only a matter of military coups and secret assassinations. Stewart's genius is to reveal Macbeth as a moral man turned ruthless paranoid, one who understands exactly what he's gaining - and what he's losing - as he coldly disposes of the friends and family who stand in the way of his irrepressible ambition.


CURTAIN DOWN


THE PRODUCERS brought down the curtain in Las Vegas on February 9. The cropped 90-minute version opened at Paris Las Vegas on Feb. 9, 2007, after previews from Jan. 31, 2007 with David Hasselhoff getting his name above the title playing flamboyant Roger De Bris and closed with Tony Danza starring as Max Bialystock.



THE BLIND Based on the Play by Maurice Maeterlinck. Reworked and Directed by Jack McNamara.

Cast: Margo Cargill, Amelia Cavalho, Tim Gebbels, Andrew Hodgson, Karina Jones and Gerard McDermott

Waiting for a guide who, unseen, lies dead among them, the blind sit out their fate. Blurring the line between fact and fiction, this unique reworking of the 19th century masterpiece about blind patients lost in a forest is presented here in a stunning new version with a cast of blind and partially-sighted actors.

Set Design by Vali Mahlouji. Produced by Kat Hodgkinson. Lighting Design by Michael Nabarro. Sound Design by Shervin Sheari.

Performances through March 1 at the Arcola Theatre in London.

SOME THINGS ARE PRIVATE created by Deborah Salem Smith and Laura Kepley. Written by Deborah Salem Smith. Directed by Laura Kepley.

Private moments, public images: When an artist photographs her family, are the images intimate or indecent? -- exploitation or expressions of love? Sally Mann's photographs are at the center of this new docudrama - a provocative look at who determines "what is art?"

Starring Janice Duclos, Richard Donnelly, Anne Scurria, Stephen Thorne and Rachel Watten.

Set Design by Wilson Chin. Lighting Design by Brian Lilienthal. Costume Design by William Lane. Sound Designv by Peter Sasha Hurowitz.

February 15 - March 23 at Trinity Repertory Company in Providence, RI.

PROPOSALS by Neil Simon. Starring Steve Shaffer. The Old Log Theater in Minnesota invites sweethearts of all ages to a special Valentine's Day performance of Neil Simon's romantic comedy, Proposals, on Thursday, February 14th.

The evening begins with free champagne at dinner, table-side entertainment by Track 29, a nostalgic a cappella singing quartet, followed by Neil Simon's acclaimed Broadway comedy.

Simon's play was inspired by how he met his first wife, Joan, when he was an aspiring comedy writer working at a summer resort. The result is a gentle memory piece with all Simon's expected comic complications, recalling an idyllic weekend in the summer of 1953, the last time the Hines family gathers at its cabin in the Pocono Mountains in Pennsylvania, where nine befuddled souls find themselves thrown together as they struggle to sort out their various romantic entanglements. Closing February 16th. Old Log Theater in Excelsior, MN.

FREE TO SING: THE STORY OF THE FIRST AFRICAN-AMERICAN OPERA COMPANY Written by Michael Rosenberg and Shelley Brown. Scot Reese director. Angel Gil-Ordóñez, music director. Post-Classical Ensemble featuring the Morgan State University Choir, Eric Conway, director.

Strathmore presents a new stage piece detailing the history of Washington's Colored American Opera of the 1870s, the first black opera company in the United States. This world premiere, a Strathmore original production, tells the heroic story of the Colored American Opera Company, who set out to raise funds for a new church (St. Augustine) by producing and touring the 1879 operetta, The Doctor of Alcantara.

Blending historical narrative and song, the concert ends with a concert performance of the operetta. Saturday, February 16 at The Music Center at Strathmore in North Bethesda, MD.

IOLANTHE by Gilbert & Sullivan. Directed & Designed by Peter Mulloy.

Starring Maria Ewing as Fairy Queen. Featuring; Steven Page, Bruce Graham , Barry Clark, Donald Maxwell/Gareth Jones, Karl Daymond, Charlotte Page, Sophie-Louise Dann and Victoria Ward.

The whimsical story of Parliament, where Peers and fairies are locked in legislative combat, gave Gilbert a perfect canvas on which to draw his topsy turvy world and allowed Sullivan to write some of his sublime music.

Iolanthe, a fairy is banished for marrying a mortal and having his son but, when the young man wishes to marry, his fairy queen aunt storms Westminster to make him a Member of Parliament so he can win the girl with chaotic consequences! With hits such as the Lord Chancellor's Nightmare Song, the Wagnerian Queen of the Fairies and a chorus of fairies and members of the House of Lords, this is one of the sharpest and most cutting of the Savoy operas.

Lighting Designer is Mark Doubleday. Conductor Richard Balcombe. Choreographer Steve Elias.

February 11-16 at the Gielgud Theatre, London.

THE NOTEBOOK OF TRIGORIN a free adaptation by Tennessee Williams of The Seagull by Anton Chekhov. Northcott's Artistic Director Ben Crocker helms this production. This English premiere is presented through special arrangement with the University of the South Sewanee, Tennessee.

Anton Chekhov changed the face of European theatre. Half a century later, Tennessee Williams did the same for theatre in America. This combination of two such immense talents is unmissable.

The Notebook of Trigorin is billed as Two great playwrights - one great story.

At the heart of Chekhov's The Seagull are the timeless dramatic triangles of love, hate and jealousy – of son, mother and lover. Williams takes this great play of human emotion, of the impossibility of people ever understanding each other, and makes it truly accessible for a modern audience. Buried conflicts are brought to the surface in a vigorous theatrical story, injected with visual magic and deliberate comedy.

Here Trigorin's story comes to the fore. In Mme Arkadina we have a classic Williams' damaged older woman – below the comedy we feel her desperation as she must finally face her part in her son's tragedy.

Starring Mary Tamm, Philip Cumbus, and James Wallace.

Designed by Philip Whitcomb. Lighting by Matthew Eagland.

The Notebook of Trigorin was first performed in 1981, at the University of British Columbia, in Vancouver, where Williams was teaching. Not pleased with the results, Williams continued rewriting the play until his death, two years later. His literary executor, Williams's long-time friend Russian actress Maria St Just, disapproved of the play because she revered Chekhov and considered Notebook a desecration.

After St Just died, in 1994, Williams's estate rediscovered the play and revoked the production ban placed by St Just. The play received its US premiere two years later, at the Cincinnati Playhouse in the Park, with Lynn Redgrave in the role of Arkadina.

At the time Williams penned Notebook he admitted that in using one of Chekov's greatest works he was merging opposites. "Chekhov," he wrote, "was a quiet and delicate writer whose huge power was always held in restraint. I know that in a way this may disqualify me as 'interpreter' of this first and greatest of modern plays." But, said Williams, "our theatre has to cry out to be heard at all."

The Chekov piece is considered restrained and dry by comparison to the intensely expressed anguish, scorn and the sexual feelings of Williams' Notebook.

While the plot remains the same, the characters' motives and personalities have been heightened and the length shortened by about a half hour. Williams trimmed the long speeches down to a few lines and eliminated the play's most famous line of all: "I am in mourning for my life."

Presented February 14 - March 1 at Northcott Theatre, Exeter England.

DIRTY ROTTEN SCOUNDRELS with a book by Jeffrey Lane. David Yazbek is composer/lyricist. Directed by Philip Wm. McKinley. Choreographed by Vince Pesce. Musical Director is Ted Sperling.

Set on the glorious, glamorous Riviera, Dirty Rotten Scoundrels is a deliciously delightful comedy that follows two con artists as they take on the lifestyles of the rich and shameless - and end up with a lot more than they bargain for.

Starring Jamie Jackson as Lawrence Jameson, Doug Thompson as Freddy Benson, Jenny Gulley as Christine Colgate, Suzanne Sole as Muriel Eubanks and Jeff Essex as Andre Thibault.

Scenic Design by David Rockwell. Costumes by Gregg Barnes. Lighting design by Philip Watson. Sound design by Philip Watson.

February 12-13 at the Custis M. Phillips Center in Gainesville, FL.

ROBOTS vs FAKE ROBOTS

Robots vs Fake Robots photo by Brian Jordon Alvarez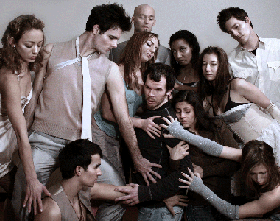 Dark sci-fi comedy imagines a world in which people long to be robots by David Largman Murray.

Imagine a world where deadly gases have destroyed nearly all organic life leaving only Robots who look like people and people who long to be Robots. It's the year 6000. Robots rule the world, and humans are despised second-class citizens. A young man named Joe abandons his human world in a quest to transform himself into a robot. A dark comedy that asks the question: What does it mean to be human? And what are you willing to sacrifice to fulfill your deepest desire?

Push to Talk artistic director Emily Weisberg directs the ensemble cast, including Steve Connell, Greg Crooks, Ida Darvish, Andy Fitzgerald, Taleia Gilliam, Daniel Vincent Gordh, Briana Louis, Elizabeth Maxwell, Xander Saide, Sarah Scott, Devin Sidell, Sarah Sido and Damien Wigfall.

"I was inspired by the fast and loose, very messed-up partying lifestyle when I was at school at UCSB," says the 22-year old playwright. "The robots are a metaphor for the false image so many young people strive for, the one put forth by Hollywood and the media. The robots are beautiful and hip with an almost European sensibility, but they are soulless and empty."

Robots vs. Fake Robots was workshopped at the UCSB New Plays Festival, where it was directed by Weisberg and produced by Naomi Iizuka, and again last fall at the Playwright's Center in Minneapolis. It was a finalist for the Kennedy Center American College Theater Festival in the Best Play and Best Director categories.

Choreography by Jennifer Li. Set Design is by Levi Brewster. Lighting Design by Jake Mitchell. Costume Design by Leah Piehl. Sound Design is by Rani de Leon.

Push to Talk Theatre Company is dedicated to producing new work by emerging playwrights. The Powerhouse Theatre Company, which makes its home at the Powerhouse, a historical building originally erected in 1910 to house the Southern California Edison Electrical Plant for the city of Santa Monica, is committed to nurturing innovative new work. Robots vs. Fake Robots runs Fridays, Saturdays and Sundays February 16 through March 15, Previews are February 14 and February 15.

HELLO AGAIN a musical adaptation of La Ronde by composer and lyricist Michael John LaChiusa. The first production of La Ronde, written by Arthur Schnitzler in 1900, sparked riots resulting in obscenity charges for its frank depiction of sex.

Attempting to ease their loneliness, ten characters mistake sex for intimacy in various decade of the twentieth century. In a dizzying array of music from each era, the bruising effects of reckless passion are chronicled in a daisy chain of sexual encounters.

Directed and Choreographed by Stephen Colyer. The cast features: Lisa Callingham, Nathan Carter, Zack Curran, Keane Fletcher, Vincent Hooper, Gareth Keegan, Sigrid Langford-Scherf, Katrina Retallick, Liz Stiles and Matt Young.

Musical Director Geoffrey Castles. Set Design Iona McAuley. Costume Design Kate Williams. Lighting Design Gavan Swift. Sound Design Brooke Trezise. Assistant Director Bec Martin. Associate Choreographer Gretel Scarlet.

Performances through February 23 at Darling Hurst Theatre Co in Sydney, Australia.

AUGUST WILSON'S 20th CENTURY will be presented by The John F. Kennedy Center for the Performing Arts. This complex project will present the playwright's complete ten-play cycle – as staged readings with costumes, lighting, and scenery in the Center's Terrace Theater March 4 – April 6.

Broadway director and longtime Wilson friend, Kenny Leon, will serve as the event's Artistic Director and will direct three plays. Other directors will include Lou Bellamy, Gordon Davidson, Israel Hicks, Todd Kreidler, Derrick Sanders and Ruben Santiago-Hudson.

The company for August Wilson's 20th Century will consist of stars from stage and screen including longtime Wilson veterans who have performed in many of the playwright's works on Broadway and in theaters across the country. Among those scheduled to appear are:

Jeff Allin, John Beasley, Eric Berryman, Cherise Boothe, Paul Butler, Vanessa Bell Calloway, Anthony Chisholm, Rosalyn Coleman, Keith David, Jason Dirden, Hassan El-Amin, Crystal Fox, Lynda Gravátt, Stephen McKinley Henderson, Russell Hornsby, John Earl Jelks, Ebony Jo-Ann, Eugene Lee, Harry Lennix, Anthony Mackie, Autumn Malhotra, Bill Nunn, Afemo Omilami, Alexandra Brooke Perrin, LaTanya Richardson Jackson, Roger Robinson, Dominique Ross, Roslyn Ruff, Montae Russell, Ruben Santiago-Hudson, Raynor Scheine, Michele Shay, Heather Alicia Simms, Terrance Thomas, Tamara Tunie, Glynn Turman, Jerry Whiddon, Michole Briana White and James A. Williams.

Born Frederick August Kittel in Pittsburgh's Hill District in 1945, August Wilson is the most awarded African-American playwright in history. He won two Pulitzer Prizes, a Tony Award®, two Drama Desk Awards, three American Theatre Critics Awards, seven New York Drama Critics Circle Awards, and numerous nominations before succumbing to liver cancer in October 2005 at age 60.

Seven directors spanning the spectrum of Wilson history have been tapped to helm the ten plays. Artistic Director of Atlanta's True Colors Theater Company, Kenny Leon serves as the event's Artistic Director and will also direct Gem of the Ocean, Fences, and The Piano Lesson.

Lou Bellamy, currently the Artistic Director of Penumbra Theatre in Minneapolis, will direct Ma Rainey's Black Bottom. Multiple Tony Award winner, producer, presenter, and director Gordon Davidson, will helm Jitney. Todd Kreidler, the Associate Artistic Director for Atlanta's True Colors Theater Company as well as the Associate Artistic Director for August Wilson's 20th Century, will direct Joe Turner's Come and Gone. Derrick Sanders will direct Seven Guitars and King Hedley II. Sanders is the Artistic Director of Chicago's Congo Square Theatre. Ruben Santiago-Hudson will direct Wilson's final play, Radio Golf, and will act in two of the plays. As an actor, he was awarded the 1996 Tony Award for Best Featured Actor in a Play for the role of Canewell in Seven Guitars and also appeared in the original Broadway productions of Gem of the Ocean and Jelly's Last Jam. Israel Hicks will direct Two Trains Running. He is the Chairman of the Theater Arts program at Rutgers University and has been an Associate Artist of the Denver Center Theater Company for the past 14 years.


PALM SPRINGS FOLLIES

Melba Moore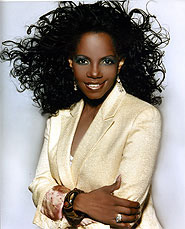 welcomes Tony award winner Melba Moore to the cast beginning February 12 and continuing for only six weeks, through March 22. Born in the heart of New York City, Moore first attracted notice in the landmark musical Hair and won a Tony Award for her second musical, Purlie. She later headlined on the Great White Way in Timbuktu! and Inacent Black for which she also wrote both music and lyrics. In the mid-1990s she starred as Fantine in Les Misérables. Most recently, she has toured extensively in her one-woman musical autobiography, Sweet Songs of the Soul.

The all-new 17th edition of the Palm Springs Follies entitled Tin Pan Alley after the New York street where new songs were published and then spread around the globe. The new Follies showcases the songs played while people worked, loved, went to war and came home again, but most of all danced. And all performed by a cast old enough to remember The Way It Really Was! To show that 60 is the new 40 Tin Pan Alley also featured a number of songs from the 1950s, when a backbeat replaced syncopation as the new "cool" sound.

The new Follies still affords longtime fans what they return to see year after year: the world-famous line of Long-Legged Lovelies and Follies Gentleman (all 59 to 84 years young), and, of course, that elegant and shameless "Follies Man" himself, impresario and master of ceremonies Riff Markowitz, who hasn't missed a performance in 16 years. Palm Springs Follies in Palm Springs, CA.


| | | |
| --- | --- | --- |
| | | |
WHO'S WHERE


TOBY KEITH delivers his Valentine offering Tuesday, February 14, at the Cumberland County Civic Center in Portland, ME. On Friday he can be enjoyed at the Izod Center in East Rutherford, NJ. Saturday finds him at the Verizon Wireless Arena in Manchester, NH.

REBA McENTIRE AND KELLY CLARKSON bring the tour to the Bancorp South Arena in Tupelo, MS on Thursday, February 14. Friday they will be delighting fans at the ASU Convocation Center in Jonesboro, AR. On Saturday they are in the spotlight at the Spring Center in Kansas City, MO.

ALANIS MORISSETTE entertains Tuesday, February 12, at Turning Stone Resort in Verona, NY. On Valentine's Day she offers her show at Madison Square Garden in NYC. Friday the performance is at the Borgata Hotel in Atlantic City. On Saturday she can be enjoyed at the Seneca Niagara Casino in Niagara Falls, NY.

CELTIC WOMAN deliver a Valentine's Day performance on Thursday at the Nokia Theatre at Grand Prairie, TX. On Saturday the show is at the Century Tel Center in Bossier City, LA. Next Sunday, February 17, finds the group at Jones Hall in Houston.

BARRY MANILOW has a Valentine's show Thursday, February 14, at the Staples Center in Los Angeles. On Friday he can be enjoyed at the HP Pavilion in San Jose, CA.

THE SPICE GIRLS close out a two nighter Monday, February 11, at the Prudential Center in Newark, NJ. ON Wednesday they perform at the Izod Center in East Rutherford, NJ. Friday finds them at the United Center in Chicago. On Saturday they are on stage at the Palace of Auburn Hills in Auburn Hills, MI.

WESLA WHITFIELD On Valentine's Day Wesla offers a romantic program with musical director Mike Greensill. St Helena Meadowood Resort in Napa Valley, CA.

UTE LEMPER in her Angels Over Berlin, Paris and The World presentation. The journey starts in Berlin with her root repertoire of Weill, Brecht, the Kabarett Songs and a song cycle in Yiddish. It continues into the poetic and cinematic universe of the French chansons realists by Piaf, Brel, Ferre. Thursday, February 14 to Friday February 15 at Feinstein's at Shaw in London.

DAVID BERRY best selling American author, Pulitzer Prize winning humorist, and national syndicated columnist, will on February 17, bring his act to the Stamford Center for the Arts' Palace Theatre in Stamford, CT.

BIG BAD VOODOO DADDY delivers lovers a two night stand on Valentine's Day and the night thereafter at the Twin River Casino in Lincoln, RI.

BURT BACHARACH brings his show to Japan performing February 16-17 at the Tokyo International Forum Hall.




PIFFLE AND PROFUNDITIES


EAT UP THE PLACE it's the ultimate chocoholic living experience - an all chocolate room. Created by Los Angeles designer Larry Abel, the chocolate room was unveiled last Tuesday in Manhattan on the sixth floor of an East Village building. The 2008 Godiva Decadence Suite is a pre-Valentine's Day creation complete with furniture and artwork made of the sweet stuff.

There is a chocolate-decorated chandelier hanging over a dining table made of stars, truffles and crescents, all chocolate and under glass. Hanging in the "living room" was a painting built entirely of multicolored chocolate pieces inspired by Gustav Klimt's painting The Kiss. Above the dining table is a "canvas" dripping with brown and white chocolate — a takeoff on Jackson Pollock's signature "drip" paintings. There's also a fireplace, with chocolate logs and a chocolate mantel, as well as all-chocolate candles. Lighting, of course, isn't encouraged.

The room can be yours - It is to be re-created in a suite of Manhattan's Bryant Park Hotel for a pampered getaway weekend for the winner of a Godiva promotion.

Next Column: February 17, 2008
Copyright: February 10, 2008. All Rights Reserved. Reviews, Interviews, Commentary, Photographs or Graphics from any Broadway To Vegas (TM) columns may not be published, broadcast, rewritten, utilized as leads, or used in any manner without permission, compensation and/or credit.
Link to Main Page
---
Laura Deni


CLICK HERE FOR COMMENT SECTION