! >
Broadway To Vegas
  
  REVIEWS INTERVIEWS COMMENTARY NEWS

| | |
| --- | --- |
| | |
ACTS OF FAITH THEATRE FESTIVAL HAS AN ECUMENICAL APPROACH - - CIRQUE DU SOLEIL STARTS THEATRICAL DIVISION - - ROUNDHOUSE SET FALLS ONTO AUDIENCE - - LI'L ABNER MASTERWORKS BROADWAY CD REVIEW - - ROBERT REDFORD CELEBRATES THE 30th ANNIVERSARY OF SUNDANCE - - THE JUNIOR THEATRE FESTIVAL - - LOVE & PLAY: A PAIR OF PAINTINGS BY FRAGONARD - - 56th ANNUAL GRAMMY AWARDS WILL HAVE STAR PERFORMERS - - DONATE . . . Scroll Down




Copyright: January 19, 2014
By: Laura Deni
CLICK HERE FOR COMMENT SECTION


ACTS OF FAITH THEATRE FESTIVAL HAS AN ECUMENICAL APPROACH


What part does faith play in theatrical productions?

Shake

Jeff Gallagher the former managing director of the Williamstown Theatre Festival in Massachusetts received his undergraduate degree from Harvard University, his J.D. from the University of Wisconsin-Madison School of Law and holds a LL.M. (Master of Laws degree) from the University of Virginia. He's served as VP and General Counsel for Lyotropic Therapeutics, Inc., a developmental stage specialty pharmaceutical company. From 1993 to 2001, as a partner in the Richmond law firm McCandlish Kaine PC, he specialized in corporate, international and intellectual property law, counseling advanced technology and biotech start-ups, as well as managing the firm's China practice, supervising lawyers and paralegals in Richmond and Guangzhou. The Virginia Biotechnology Association, the statewide trade association for the $13 billion life sciences industry, appointed Gallagher Interim Executive Director. Photo: Virginia Biotech.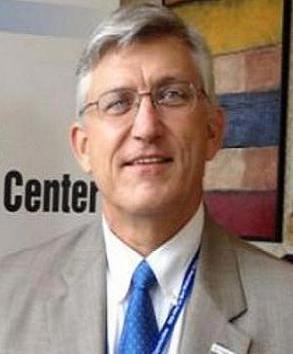 Bruce Miller artistic director of Virginia Repertory Theatre co-produced the world premieres of Rules of the Lake by Irene Ziegler, Four Part Harmony by Marcus Fisk and Douglas Minerd, War Story by Bo Wilson and Songs from Bedlam by Douglas Jones. His work as a director has been seen around the country at prominent theatres including the Kennedy Center and the Paper Mill Playhouse. He directed The Ugly Duckling released nationally by PBS, and a production of folk stories broadcast internationally over Radio Free Europe. Bruce is co-author of Hugs and Kisses, the child sexual abuse prevention play that will soon begin the 25th year of its record-breaking run. His play Buffalo Soldier was selected by the Pentagon as a morale booster after 9/11, becoming the first professional play in history to be performed within the Pentagon's walls. Photo: Virginia Rep.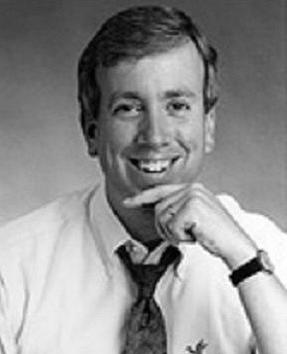 speare to Mamet. "From Mormon call-boys to cursing nuns to Hindu pro-wrestlers," faith is a one syllable word denoting a multitude of beliefs.

The Acts of Faith Theatre Festival, the largest faith-based theater festival in the nation, shines a spotlight on that most intersting and powerful of words.

The Richmond, Virginia based festival opened their 10th season last Sunday, January 12, 2014.

The festival is the brainchild of Bruce Miller and Jeff Gallagher.

In 2005, both Gallagher and Miller saw a need to provide opportunities for respectful, civil discourse about faith, doubt and the large questions of life.

Both men have a long relationship with theater: Miller is the artistic director of Virginia Repertory Theatre and Gallagher, a prominent Richmond lawyer, was the former managing director of the Williamstown Theatre Festival in Massachusetts.

The Rev. Terry Menefee Gau, Coordinating Manager for the Acts of Faith Festival, is also the Communications Manager for St. Thomas Episcopal Church in Richmond, Virginia. She received her ordination in the Baptist tradition, having earned her Masters of Divinity and Masters of Arts in Christian Education at Union Theological Seminary and Presbyterian School of Christian Education.

When not wearing her clerical collar, she might be found memorizing a script. Her acting credits include voice overs, commercials, theatrical and television/movies including: Evan Almighty for Universal Studios, The New World, for New Line Cinema, The Billy Bean Story and Gateway to Hell on the Discovery Channel and A Mother's Heartbreak on The Learning Channel.

Gau answered some questions for Broadway To Vegas including whether this festival is really ecumenical, or if there are hidden conversion messages.

"First - this is truly and ecumenical event," she stressed. "We invite our theaters to present plays that they choose having to do with faith in whatever way they deem it. It could be questions regarding organized religion, doubt in the face of loss and pain, or ethical dilemmas. Many are comedies - some very dark - about unquestioned faith and where that leads. Most deal with unanswerable questions.



The Rev. Terry Gau has a theatrical background.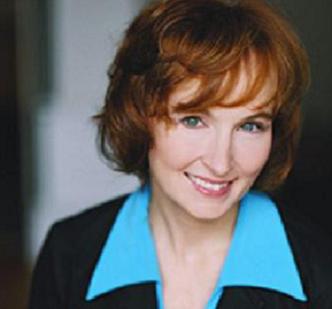 "We have Christian theaters, Islamic theaters, and Jewish theaters involved in our associated and fringe festivals," she continued. "The other theaters we have involved are professional theaters that produce everything from drawing-room comedies to edgier stuff like Mamet. They are generally not affiliated with any faith tradition, and they are invited to choose a show that has strong faith themes, and they are asked to put some of those themes into discussion questions for the programs to urge discussion not just in the theatre but outside of it as well.

"The Acts of Faith Festival is not interested in converting anyone," she reiterated. "Our interest is in promoting respectful civil discourse in a safe space so people can openly and honestly express their faith and their doubts without retribution. I can't say that the plays that come out of our faith communities are not in any way persuasive toward one tradition, however, the festival itself is not a tool for conversion. We hope our audiences' experience with the stories our theaters present and the ensuing discussion will deepen their own faith and/or broaden their points of view while a the same time learning tolerance for folks who believe differently than they do."

"The festival has evolved by growing and growing, Gau emphasized. "Truly it started out with just a handful - maybe 6 professional theaters. Then they created the Associate Theatre category, so we could include non-professional theaters that provided the diversity we needed for strong dialogue. Then, when we had so many asking to be Associated, we opened the Fringe Festival for other non-professional venues offering plays that deal with faith."

The post performance discussions are as important as the productions. It's an opportunity to express an opinion in a civilized manner.

"We've not had the occasion to need a professional support system for our talk backs," she commented. "They have, by in large, been civil discussions. No yelling. No punching. No name calling. We have a moderator to keep emotions in check, and we always have a leader in the faith community present to give a theological point of view. Depending on the show, that could be from any tradition or faith."

Out of the discourse comes tolerance and understanding.

"There are many stories - but the one that comes to mind is the story of our Richmond Triangle Player theatre in Richmond. They are a theatre that produces works in support of the Lesbian, Gay, Bisexual, and Transgendered population in our city. Prior to Acts of Faith, they rarely had the church-going crew as patrons of their shows. RTP has always very conscientiously chosen exceptional plays for this festival, and it has attracted the church crowd. RTP now has regular patrons of their theatre from the Christian church tradition that had previously not attended their shows because it was a "gay theatre." This is a huge step toward tolerance and bridging gaps in our town that have desperately needed mending."

Getting the schools on board is a different issue - the separation of church and state.

"We have no primary schools involved in Acts of Faith, encouraging kids to see shows," she admitted. "Most public schools are wary of presenting anything to their students that has anything to do with faith - separation of church and state and all. However, we are now part of the curriculum for a Religious Studies class at Virginia Commonwealth University and several members of the faculty at Union Theological Seminary are moderators. We are looking to partner further with VCU and UTSem at a deeper level in the future."

The festival organizers do not control the productions.

"The theaters have complete control over which shows they choose," continued Gau. "We do not in any way contribute to their artistic choices - nor do we want to. All we ask is that they pick out the faith themes, put discussion questions in their program, have talk backs, and be available to meet with faith groups to talk about the shows, should they ask them to.

"The rules for our professional theaters is that they be a professional theatre in good standing with our local critics and theatre community for at least 3 years," she added.

"New professional theaters can partner and collaborate with more established ones to meet this rule," she elaborated. "We ask that they be a 501c3 corporation. We ask that they have a full season of shows. What we want is excellence in the art, a good story, and a chance to talk about it. And we've been doing that for 10 seasons. And no - there are no topics off limits. We've had all kinds of topics put out there - from Mormon call-boys to cursing nuns to Hindu pro-wrestlers. We've dealt with abortion, murder, rape, molestation, eating disorders, autism - you name it. If it has to do with the human condition, and why we are who we are, then it's about how we deal with that - and really that's about faith, too."

Faith is great, but it's not bankable. Just like any theatrical festival, everything comes with a price tag.

"Our convening sponsor is 2nd Presbyterian Church, and they are our chief financial sponsor," stated Gau. "Also, several churches and synagogues in town send donations in support of our effort. We have a grant from the Huntly Foundation - a private donor. And we have media sponsors. We are toying with the idea of more grant writing - but we aren't there yet."

The festival, which runs through April 19, will present productions which "address issues of loss, forgiveness and redemption."

During the Acts of Festival season 15 area theatres will offer 18 wife ranging productions - from the award winning Clybourne Park by Bruce Norris, written in response to Lorraine Hansberry's play A Raisin in the Sun, presented March 2nd and 9th with post-show discussions, to the newly crafted The Joshua Plant written by Amy Berlin, a Richmond lawyer, and Ann Bucci, a former local playwright. The story of an autistic teenager unable to communicate with the world at large yet struggling to connect with his mother, will have its world premiere presented by the Chamberlayne Actors Theatre (CAT).

The Joshua Plant was the winner of CAT's 50th Anniversary Original Play contest. The Joshua Plant began as a ten-minute play that was a finalist in the 2005 Chicago Dramatist Fall Ten Minute Workshop. Since then, it has had developmental readings with Phoenix Theatre and a staged reading at the Pandora Festival. CAT Theatre will bring the full production of The Joshua Plant to the stage for the first time.

Directed by Laura Follmer, the cast includes Rebekah Spence, Tim Gettemy, Kathy Parker, Diego Salinas and Aaron Orensky.

Productions include:

High, from Richmond Triangle Players, examines how a Catholic nun's faith and perseverance is tested by a 19-year-old meth-addicted hustler. The Quality of Life, the Acts of Faith entry from HATTheatre, introduces us to distant relatives who come together to find comfort and companionship in the face of grief and illness. In Grace, from TheatreLab in collaboration with Henley Street Theatre Company and Richmond Shakespeare, dreams of redemption in sunny Florida are undercut by tragedy and disappointment for four characters whose lives intersect.

As in past years, the Acts of Faith Theatre Festival also offers productions from several nonprofessional "associate" theater companies to foster understanding of diversity in faith and spirituality. Faith-based associate shows include productions from the Jewish Family Theatre, the Islamic Theatre Company and the Islamic Center of Virginia.

The festival also offers a roster of diverse "fringe" shows that include shorter-run productions, staged readings and other cutting-edge offerings from area congregations and other nonprofessional arts and culture organizations.

This year there are also some uproarious comedies in the mix. The Elaborate Entrance of Chad Diety from Firehouse Theatre Project, Wittenburg from Henley Street Theatre Company and Richmond Shakespeare, and the classic farce Tartuffe from Virginia Repertory Theatre at Sara Belle and Neil November Theatre offer a much more irreverent look at faith and established religion. VA Rep's Barksdale Season at Hanover Tavern is also offering the musical farce Olympus on my Mind, a look at ancient Greek mythology set in contemporary times.

For those who want a traditional Biblical story, there is Noye's Fludde, a children's opera performed by the Richmond Children's Choir in cooperation with Capital Opera Richmond and River Road Church, Baptist. For those looking for a heartwarming family story of faith and perspective, there is From Door to Door performed by the Jewish Family Theatre. And Stephen Fales is back at Richmond Triangle Players with The Mormon Boy Trilogy, a one-man trilogy of shows showing his the journey of self-discovery as a gay man in the Mormon tradition.

Says Phil Crosby, Managing Director of RTP, "Richmond Triangle Players has proudly participated in the Acts of Faith festival because it opens discussions about diversity, inclusion and forgiveness, and how faith and being LGBTQ are not mutually exclusive."

For an exploration of the African-American experience and the impact of racism on our community, check out The Brothers Size from Stage B in collaboration with Firehouse Theatre Company, Harriet Tubman and the Underground Railroad from VA Rep's Children's Theatre of Virginia at Willow Lawn, The Shootout from For Our Children Productions, and 15 and Navigating through Stoneland by Mahasin D. Shamsid-Deen, who is a member of the International Centre of Women Playwrights, African Women in Theater, African American Female Playwriters and a longtime board member of the Islamic Writers Alliance. Her production is staged by the Islamic Theatre Company.

Recent Co-sponsoring Faith communities have included: Second Presbyterian Church (convening sponsor), Bon Air Presbyterian Church, Centenary United Methodist Church, Congregation Beth Ahabah, First Presbyterian Church, Gayton Kirk Presbyterian Church, St. Bridget's Catholic Church, St. James's Episcopal Church, St. John's United Church of Christ, St. Stephen's Episcopal Church, St. Thomas Episcopal Church, Tabernacle Baptist Church.

Participating professional theaters include Virginia Repertory Theatre at Willow Lawn, the November Theatre, and the Hanover Tavern; Cadence Theatre in partnership with Virginia Repertory; Chamberlayne Actors Theatre; Firehouse Theatre Project; Greater Richmond Children's Choir in cooperation with Capitol Opera Richmond and River Road Church, Baptist, HATTheatre; Henley Street Theatre and Richmond Shakespeare; Richmond Triangle Players; Stage B Theatre Company in collaboration with Firehouse Theatre Company, and Theatre Lab in partnership with Henley Street Theatre and Richmond Shakespeare. Associate theatres include: For Our Children Productions, The Islamic Theatre Company, and Jewish Family Theatre.





Broadway To Vegas is supported through advertising and donations. Priority consideration is given to interview suggestions, news, press releases, etc from paid supporters. However, no paid supporters control, alter, edit, or in any way manipulate the content of this site. Your donation is appreciated. We accept PAYPAL. Thank you for your interest.





ART AND ABOUT


LOVE & PLAY: A PAIR OF PAINTINGS BY FRAGONARD

Jean-Honoré Fragonard (French, 1732–1806), Blind-Man's Buff. about 1750–55. Oil on canvas, 46 in. x 36 in. (116.8 cm x 91.4 cm.) Purchased with funds from the Libbey Endowment, Gift of Edward Drummond Libbey, 1954.43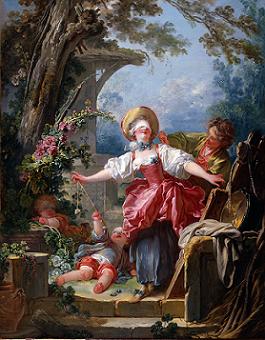 Jean-Honoré Fragonard's playfully sensual companion paintings, the Toledo Museum of Art's Blind-Man's Buff and the Thyssen-Bornemisza Museum, Madrid's The See-Saw, are reunited for the first time in 25 years.

The original wardrobe malfunction might have originated more than 250 years ago, at the hands of a 20-something Frenchman named Jean-Honoré Fragonard.

Fragonard was only beginning to discover his niche as a portrayer of thinly veiled eroticism when he painted an errant body part peeking out from his subject's frilly 18th-century dress. The resulting work of art, Blind Man's Buff, and its companion, The See-Saw, comprised a pair of paintings that must have delighted his patron with symbolic depictions of seduction.

This reuiniting of the two paintings is the first in the Museum's Encounters series, concentrated shows and installations that pair exceptional works of art in new or interesting ways.

Blind Man's Buff, part of the Museum's collection, and The See-Saw, on loan from the Thyssen-Bornemisza Museum, Madrid, will be displayed alongside two engraved copies of the paintings, a terracotta sculpture by Clodion and a small selection of French decorative arts of the period.

"They're risqué, they're provocative - and the artist intended these canvases to be seen together," said Lawrence W. Nichols, William Hutton senior curator of European and American painting and sculpture before 1900. "So to reunite these two very important paintings by one of the most significant French artists of the 18th century is quite an exciting opportunity."

Painted in Paris in the first years of the 1750s, they were likely commissioned by Baron Baillet de Saint-Julien and subsequently passed through the hands of private 18th-century collectors, a Parisian comte and a Rothschild. When they came onto the open market in 1954, they were finally separated.



Jean-Honoré Fragonard (French, 1732–1806), The See-Saw. about 1750–55. Oil on canvas, 47 in. x 37 in. (120 cm x 94.5 cm.) Thysen-Bornemisza Museum, Madrid. 1956.13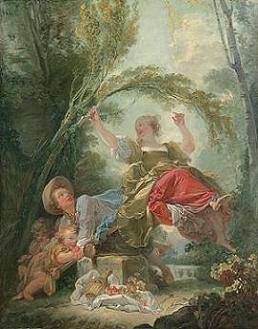 The companion works were later brought together in temporary exhibitions held in London in 1968 and both Paris and New York in 1987 and 1988.

Fragonard (1732–1806) was one of the premier artists of the 18th-century Rococo era of French painting, along with Jean-Antoine Watteau, Jean-Baptiste-Siméon Chardin and François Boucher (all represented in the Museum's galleries). The son of a glove maker, Fragonard was born in Grasse in the south of France and came to Paris with his family as a young boy. His talent was recognized early on and, following an initial apprenticeship with Chardin at 18, he entered the studio of Boucher. Boucher's art, both in subject matter and style, became a great influence on the younger artist. Fragonard's depictions of love and courtship, which in those times could have been deemed explicit, were well-received by his clientele, who were members of the French aristocracy and the royal court. Blind Man's Buff and The See-Saw, executed with his characteristically fluid and effortless handling of paint, epitomized the hedonistic themes that attracted his patrons.

"His art really embodied the court's penchant for indulgence, but it wasn't intended to be controversial," Nichols said. "There was a sexual symbolism that would have been obvious to 18th-century viewers."

Though the paintings will appear as companion works as Fragonard intended, there will be one unalterable change: the canvases are now smaller than when they were originally painted.

"Though both are extremely well-preserved works of art, we do know that they have been cut down," Nichols said. "We're going to examine the original format of the paintings and help the viewer reconstruct how they were first meant to appear."

Admission to the exhibition is free. On February 7, 2014 , Nichols will give a free gallery talk on the featured works.

January 24–May 4, 2014 at the Toledo Museum of Art in Toledo, Ohio.

CARRIE MAE WEEMS: THREE DECADES OF PHOTOGRAPHY AND VIDEO Carrie Mae Weems is a socially motivated artist whose works invite contemplation on race, gender, and class. Increasingly, she has broadened her view to include global struggles for equality and justice.

Comprehensive in scope, this retrospective features photographs, including the groundbreaking Kitchen Table Series (1990), but also presents written texts, audio recordings, and videos.

The exhibition traces the evolution of Weems's career over the last thirty years, from her early documentary and autobiographical photographic series to the more conceptual and philosophically complex works that have placed her at the forefront of contemporary practice.

Although Weems employs a variety of means to address an array of issues, all of her work displays an overarching commitment to better understanding the present by closely examining history and identity. It also contains a desire for universality: while African-Americans are typically her primary subjects, Weems wants "people of color to stand for the human multitudes" and for her art to resonate with all audiences.

Carrie Mae Weems: Three Decades of Photography and Video is organized by the Frist Center for the Visual Arts, Nashville.

January 24–May 14, 2014 at the Guggenheim in New York City.

THE SCOTTSDALE MUSEUM OF CONTEMPORARY ART (SMoCA) has announce that Sara Cochran Ph.D., has accepted the position of Associate Director, Curator and Educator at SMoCA.

Dr. Cochran most recently served as Curator of Modern and Contemporary Art at the Phoenix Art Museum. She earned her Doctorate at the Courtauld Institute of Art, London, and her Masters from the Université de la Sorbonne, Paris.

Prior to arriving in Arizona, Cochran served at prestigious art institutions including the Los Angeles County Museum of Art (LACMA), J. P. Getty Trust, and Solomon R. Guggenheim Musem.


SWEET CHARITY


THE ELTON JOHN AIDS FOUNDATION (EJAF) has announced its third round of grants which reflected the final grants for calendar year 2013.

The final 2013 section of funding amounts to $4,381,580, bringing EJAF's total grant investments for 2013 to more than $7.3 million.

The 21 new and 35 renewal grants support organizations working to address some of the most critical challenges presented by the HIV/AIDS epidemic in the United States and the Caribbean.

This grant cycle targets populations that include gay and bisexual men, prison inmates, injection drug users, Black Americans, and young people. Grantee activities include: HIV prevention; testing, treatment, and care services; legal services; organization development; and policy and advocacy.


THE MUSIC GOES ROUND AND ROUND


LI'L ABNER the original motion picture soundtrack is now available on CD for the first time, released by Sony/Masterworks Broadway.

About time! Wonderful! Delightful! Rollicking! If listening to this CD doesn't perk up your spirits - you're probably beyond help.

In what became their final collaboration after Seven Brides for Seven Brothers, the music is by Gene dePaul with lyrics by Johnny Mercer.

Music scored and conducted by Nelson Riddle and Joseph J. Lilley.

Starring Peter Palmer, Leslie Parrish, Stubby Kaye, Howard St. John, Julie Newmar and Stella Stevens.

By the way, in the film version Valerie Harper has the uncredited part as "Luke's Wife." Jerry Lewis appeared in the flick in the uncredited role of "Itchy McRabbit." Donna Douglas, who would go on to become Elly May Clampett on The Beverly Hillbillies, appeared as an uncredited chorus dancer. Paul Frees was an uncredited radio announcer and Beth Howland, who became known for her role in Alice, was uncredited as "Clem's wife."

As the Masterworks Broadway press release explained: "Like most hit Broadway musicals of its time, the rollicking Li'l Abner – inspired by Al Capp's blockbuster comic strip – got the full Hollywood treatment in 1959. Most of the Broadway cast was retained, Peter Palmer reprised his portrayal of Li'l Abner, and the stage veterans included Stubby Kaye, Julie Newmar, Joe E. Marks and a number of ensemble performers. The soundtrack music was adapted from the Broadway version by Nelson Riddle who also conducts."

Broadway to Vegas simple calls it - perfectly wonderful, a delight.

As Sadie Hawkins Day approaches, Daisy Mae hopes to win the hand of Li'l Abner by catching him in the traditional race. A senator comes to visit to tell the residents of Dogpatch that their town is to be used as an atomic bomb testing ground, unless they can find something necessary about the town. Could Mammy Yokum's Yokumberry tonic (which Abner has taken every day since he was a baby) be the key?

Baritone Peter Palmer as Li'l Abner has a clear, beautiful voice. Palmer studied voice under Bruce Footer at the University of Illinois. With Super Bowl Sunday approaching, football fans may find it interesting that Palmer was the first music major to letter in football at the university. While at Illinois his team won the Big Ten championships in 1951 and 1953 and the Rose Bowl in 1952. Palmer sang the national anthem at every home game in 1953 before taking the field.

In addition to knowing how to carry a football, Palmer could hold his own in a show. In addition to Li'l Abner, he appeared on Broadway with Carol Channing in Lorelei in 1974.

Mercer's masterfully funny lyrics will have you laughing through The Country's in The Very Best of Hands which is as timely today as it was when it was written. So is I'm Past My Prime with Daisy Mae (Leslie Parrish) and Marryin' Sam (Stubby Kaye).

From the poignant Unnecessary Town sung by Li'l Abner, Daisy Mae and the chorus, to the clever musical plea Put 'Em Back as They Was, sung by the Dogpatch wives, this is Mercer at his best.

Just as Stubby Kaye delivered the stand out Sit Down You're Rockin' The Boat in Guys and Dolls, he does the same show stopping performances with his renditions of Jubilation T. Cornpone, The Country's in the Very Best of Hands and The Matrimonial Stomp.

Leslie Parrish's two most significant roles are opposites; lithe Daisy Mae in Li'l Abner and as the doomed Jocelyn Jordan in The Manchurian Candidate.

Prior to those roles the actress/singer/model worked for NBC-TV, who had hired her in 1954 to be employed as their "human test pattern'' in regard to color tones. She sat for hours on a stool in front of closed-circuit color television cameras, while engineers adjusted the tints and the lighting, and worked with costumes in different tints.

Howard St. John was a Chicago-born character actor who specialized in unsympathetic roles. St. John's most high profile role was that of General Bullmoose in Li'l Abner. As Bullmoose on Broadway he introduced the song Progress is the Root of All Evil, which was cut from the film, and thus not included on this CD.

Tony Award winner Julie Newmar, now best known for playing Catwoman in the 1960s Batman television series, was perfectly cast in this musical as the long legged, beautiful Stupefyin' Jones. In real life Newmar's legs were insured "for $10 million (except in the event of theft)."

Stella Stevens whose great-grandfather Henry Clay Tyler, an early settler from Boston and a jeweler, is the person who gave the Yazoo City courthouse cupola its clock. Stevens has spent decades giving timeless performances. After winning the role of Appassionata Von Climax in the musical, she signed a contract with Paramount Pictures.



Peter Palmer and Stubby Kaye. Photo Credit: Bob Henriques - Masterworks Broadway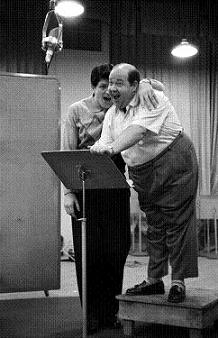 Li'l Abner is a fun show. That mirth and delight is transferred to this CD. Buy and enjoy your aural vacation in Dogpatch.

Recorded in stero on October 14 & 15, 1959.

"Sound recordist" on the movie listed as: Chales Grenzbach, Harold Lewis and Jim Miller.

As Masterworks Broadway's press release points out: "The "soundtrack" album (in stereo, while the Broadway recording was available only in mono) is actually a re-recording (or re-editing) of the songs for the soundtrack's commercial LP release, a common practice that promised a smoother listening experience on the home hi-fi."

Li'l Abner was the last Broadway cast LP recorded by Columbia in mono. When the film soundtrack was released it was reported that "eager stereophile engineers mulitracked some of the Abner tracks. Wisely the numbers with vocals, recorded with orchestra on one channel and vocals on the other."

In the three short years from the time the Broadway album was released (November 26, 1956) to the release of the film's soundtrack (1959) a technical revolution had swept through American homes - mono records which were recorded on shellec and, depending upon their composition, could break before you got them home, were replaced by difficult to break vinyl Stereo records.

This CD is not a technically re-done recording of the film's soundtrack album, to make the CD sound better than the film's LP. There is absolutely nothing wrong with the sound on either the Broadway or the original film soundtrack releases. Some might even view them as collector's items. If you can locate a copy, buy them both. The Broadway and film version records are different. Both are enjoyable.

By today's standards recordings made in the 1920-1940s sound tinny. Pops and hisses could be heard on shellac recordings as they aged and the shellac began to deteriorate. Li'l Abner was released on vinyl, not shellac. Thus, pops or hisses wouldn't have occurred over time.

Some of the best Broadway recordings were recorded by Columbia's Goddard Lieberson in the 1950-1960s and Grammy nominated Didier Deutsch beginning in the 1970s. Those two men set the listening performance gold standard. While neither are credited on Li'l Abner, when you see either of their names on a recording, you can be assured that it's sound perfection.

A vinyl record is an analog recording, and CDs and DVDs are digital recordings. The sound quality of digital depends upon the sample rate. "Original sound is analog by definition. A digital recording takes snapshots of the analog signal at a certain rate (for CDs it is 44,100 times per second) and measures each snapshot with a certain accuracy (for CDs it is 16-bit, which means the value must be one of 65,536 possible values).

"This means that, by definition, a digital recording is not capturing the complete sound wave. It is approximating it with a series of steps. Some sounds that have very quick transitions, such as a drum beat or a trumpet's tone, will be distorted because they change too quickly for the sample rate."

That is why- even going back to the 1920s - if placed properly and prepared-for, drums could be effectively used and heard on even the earliest jazz and military band recordings.

Beginning in 1939, Dr. Peter Goldmark and his staff at Columbia Records undertook efforts to address problems of recording and playing back narrow grooves and developing an inexpensive, reliable consumer playback system. The 12-inch (30 cm) Long Play (LP) 33 rpm microgroove record album was introduced by the Columbia Record Company at a New York press conference on June 18, 1948.

If a vinyl LP has a hiss or pop sound it's because there is dust on the record, the needle is damaged or the record is scratched. There is nothing the matter with the actual recording.

If a listener wonders why, at times on this Li'l Abner CD, the soprano section is more pronounced that the lower vocal range and vise versa - that's because this is stereo.

Hi-fi and then stereo revolutionized the at home listening experience.

Stereophonic sound recordings attempts to provide a more natural listening experience by reproducing the spatial locations of sound sources in the horizontal plane.

"In this system, each of two stereo channels is carried independently by a separate groove wall, each wall face moving at 45 degrees to the plane of the record surface (hence the system's name) in correspondence with the signal level of that channel. By convention, the inner wall carries the left-hand channel and the outer wall carries the right-hand channel," according to Standards for Stereophonic Disc Records.

The stereo record player was either a console model with two speakers built in on either side; or a player which was then attached to two speakers. Out of one speaker came the bass while the other speaker emitted the treble. Stand in the middle and you'd hear balanced sound. Move one side to the other and you'd hear the different sections. Families were mesmerized by the listening possibilities. Keeping Up With The Joneses meant owning one of the stereo contraptions, with family members standing around as a male in the household tried to connect the speakers to the turntable. Then the family would hold their collective breath in anticipation of hearing such a monumental musical experience. Why, it was almost like being at a concert.

Enjoy Li'l Abner. If this CD doesn't make you think you're in Dogpatch, it will make you wish you were.


THEATRICAL SET FALLS ON THE AUDIENCE
A scene from Fuerza Bruta Photo: Production.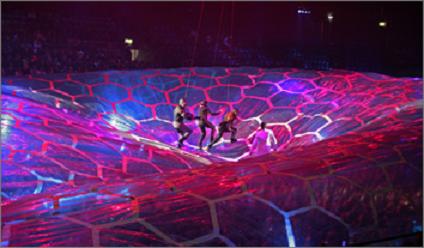 It's enough to make London audiences nervous.

A month ago part of the Apollo theatre ceiling fell onto the audience. Now, part of a set - a giant metal sail - collapsed on the audience during the Fuerza Bruta acrobatic show at the Roundhouse in Camden, north London on Friday evening, January 17, 2014.

Three people in the audience were hurt. They suffered minor injuries and were taken by London Ambulance to the Royal Free Hospital. London Ambulance said it treated one person for a facial injury, one for an ankle injury and one for concussion.

Audience members called it a "heart-pounding experience." A Roundhouse spokesman said the incident was "extremely regrettable"

Saturday's performances were cancelled.

The Argentine acrobatic show, the latest creation from the Argentine creators of De La Guarda, premiered in Buenos Aires in 2005 and has since been staged across the world without incident. On January 5, 2014 Fuerza Bruta closed in New York City after six years in The Big Apple. The production opened in October 2007 and played over 2,000 performances at the Daryl Roth Theatre in Union Square. Fruza Bruta returned to London in December and is due to run until March 2, 2014.

The Roundhouse touted the return: "Due to phenomenal demand, the fastest-selling show in Roundhouse history, Fuerza Bruta, returns for 100 performances from December 2013. Thousands were left disappointed earlier this year as tickets sold out weeks in advance, so don't miss your chance to experience this electrifying show once more.

"Fuerza Bruta is an event where worlds collide, where dreams are real and reality takes a back seat. Give in to it, let go and enjoy the spectacular ride."

A spokeswoman for the Roundhouse said it was investigating what caused the collapse.

Fuerza Bruta's website describes the show as a "mind-blowing, heart-pounding international theatrical experience". It is described as a standing show where the audience are encouraged to move around the venue as acrobats leap and perform on moving set pieces spinning above the crowd.

A Roundhouse spokesman said "a piece of moving stage equipment on which two artists were performing suffered a technical failure and fell slowly into an area where audience members were standing. The equipment was brought in for the production and was not part of the Roundhouse structure. The show was stopped and the performance space was cleared immediately."

"The spokesman added: "The Roundhouse is committed to the safety and wellbeing of its audiences and undertakes rigorous risk assessments for all of the shows that take place here."

Members of the audience were offered reimbursement or the chance to see another show.


56th ANNUAL GRAMMY AWARDS WILL HAVE STAR PERFORMERS
Nine time Grammy Award winner John Legend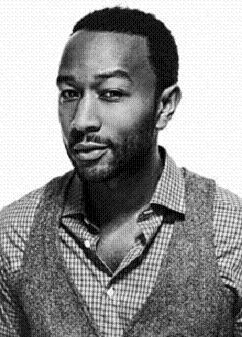 If we counted up all of the Grammy awards those performing at this year's Grammy Awards have amassed it would be - a lot.

Current Grammy nominees John Legend is a nine-time Grammy winner, Macklemore & Ryan Lewis, Kacey Musgraves, Taylor Swift is a seven-time Grammy winner and four-time Grammy winner Keith Urban, as well as 16-time Grammy winner and current nominee Sir Paul McCartney and Ringo Starr - who as members of the Beatles will receive the 2014 Recording Academy Lifetime Achievement Award - will be entertaining.

Other special performances include nominee Sara Bareilles together with four-time Grammy winner and 2014 MusiCares Person of the Year Carole King.

Also performing will be current nominees Daft Punk with nominee Nile Rodgers (of Chic), nominee Pharrell Williams, and 25-time Grammy winner Stevie Wonder; nominee Kendrick Lamar joined by nominees Imagine Dragons; nominee Lorde; eight-time Grammy-winning group Metallica and Grammy Cultural Ambassador to China Lang Lang performing together; nominee Katy Perry; nominees P!nk and Nate Ruess (of FUN.); nominee Robin Thicke and Grammy-winning group Chicago, whose debut album was inducted into the Grammy Hall Of Fame this year; and a special performance featuring Merle Haggard, 2014 Recording Academy Lifetime Achievement Award recipient Kris Kristofferson, Willie Nelson, and nominee Blake Shelton.
Taking to the stage to perform with Daft Punk are the RAM (Random Access Memories) session players: Chris Caswell, Nathan East, Omar Hakim, and Paul Jackson Jr.

This will be the first performance on the Grammy Awards telecast for Sara Bareilles, Macklemore & Ryan Lewis, Kacey Musgraves, and Ringo Starr.

Two-time Grammy winner LL Cool J returns as host of Music's Biggest Night. The music industry's premier event will take place live on Sunday, January 26, 2014, at the Staples Center in Los Angeles and will be broadcast over CBS.

In a related event, The Recording Academy Producers & Engineers Wing will honor two time Grammy winner Neil Young in a ceremony Tuesday, January 21, at The Village Recording Studios in West Los Angeles.

Aattendees who will be honoring Young include include 13-time Grammy winner T-Bone Burnett, two-time Grammy winner Colbie Caillat, two-time Grammy winner Andrew Dost (of fun), Grammy winner Jakob Dylan, singer and percussionist Sheila E., singer/songwriter Louise Goffin, singer/songwriter Kaz (of Redlight King), three-time Grammy winner Kris Kristofferson, singer/songwriter Liz Phair, eight-time Grammy winner Rick Rubin, six-time Grammy winner Chad Smith (of The Red Hot Chili Peppers), nine-time Grammy winner Ringo Starr, six-time Grammy winner Joe Walsh, Ann and Nancy Wilson (of Heart), Recording Academy President/CEO Neil Portnow, Recording Academy Chair Christine Albert, LA Chapter President Mindi Abair and members of The Recording Academy Producers & Engineers Wing, along with musical artists, producers, and other prominent music industry figures.

The Producers & Engineers Wing of The Recording Academy will celebrate its seventh annual Grammy Week event honoring Young for his commitment to excellence and ongoing support for the art and craft of recorded music. With a music career spanning more than four decades, Young has set a standard of artistic integrity and iconoclastic creativity. From his solo endeavors to his work with Buffalo Springfield; Crosby, Stills, Nash & Young and Neil Young With Crazy Horse, he was inducted into the Canadian Music Hall of Fame and has twice been inducted into the Rock and Roll Hall of Fame. Ever the visionary, Young will soon debut his new highly anticipated, high-fidelity audio service Pono.








SPREADING THE WORD


THE JUNIOR THEATRE FESTIVAL which opened last Friday and wraps up today has had an impressive list of participants.

Tony-nominated composers Benj Pasek and Justin Paul, Andy Jones (Rodgers and Hammerstein's Cinderella), Heidi Blickenstaff (The Little Mermaid), Ashley Brown (the original Mary Poppins), Merle Dandridge (Tarzan, Aida), Josh Strickland (the original Tarzan), Andrew Keenan-Bolger (Newsies), and Alton Fitzgerald White (The Lion King), joined 4,500 students and teachers representing 93 groups from 26 states and the District of Columbia at the 2014 Junior Theater Festival, which took place at the Cobb Galleria in Atlanta.

Additional Junior Theater Festival celebrity guests included 2012 Tony Honor recipient for Excellence in the Theatre and Music Theatre International (MTI) CEO Freddie Gershon; Jenifer Foote (Follies, Rock of Ages); young performer Henry Hodges (Broadway's Disney's Beauty and the Beast, Broadway's Chitty Chitty Bang Bang and author of How to Act Like a Kid); Broadway's Carrie Manolakos (Mamma Mia!); Jacob Brent (Cats); Mike Spee, Julie Briskman, Richard Gray, Diana Huey, Kendra Kassebaum, Greg McCormick Allen, Jayne Muirhead and Heath Saunders from the Seattle Children's Theatre production of Roald Dahl's James and the Giant Peach, performer and author Tim Federle (The Little Mermaid, Better Nate Than Ever, Five, Six, Seven, Nate!); Mary Pope Osborne, author of the New York Times best-selling Magic Tree House Series; Tony award–winning lighting designer Ken Billington, designer Theresa Squire, and artistic directors from three of the leading children's theaters: Michael Bobbitt of the Adventure Theatre, Rosemary Newcott of the Alliance Theatre, and Linda Hartzell of the Seattle Children's Theatre.

Produced by the Junior Theater group in partnership with leading arts education consultancy firm, iTheatrics, the Junior Theater Festival is the world's largest musical theater festival celebrating young people and the transformative power of musical theater.

BOSTON UNIVERSITY COLLEGE OF FINE ARTS welcomes CEPROMUSIC (Center of Experimentation and Production Music Contemporary) as guest artist-in-residence. Introduced to Boston University via College of Fine Arts' Dean Benjamín Juárez, the Mexican ensemble will be in-residence in BU Center of New Music in late January.

"CEPROMUSIC is the first world-class group dedicated to contemporary music in Mexico. Their visit will offer a rare window on contemporary works, not by Mexican expats, but by the vibrant community of composers that lives and works in Mexico," explains Joshua Fineberg, Boston University School of Music Professor and Director of the Boston University Center for New Music.

The group's residency at Boston University marks their first outside of Mexico.

KRISTIN CHENOWETH could use some good thoughts sent her way. A devoted pet parent, the Emmy and Tony Award winner is distraught over the declining health of her beloved dog Maddie, who has heart disease, a cough and a bad leg.


ROBERT REDFORD KICKS OFF THE 30th ANNIVERSARY OF SUNDANCE
Star of Whiplash Miles Teller. Photo: Sundance.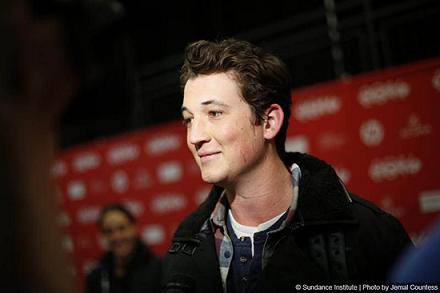 It seems hard to believe but the Sundance Film Festival in Park City, Utah has been around for 30 years.

The first day coincided with the day nominees for the Academy Awards were announced. Redford's starring role in All Is Lost was ignored by the Academy.

That void was something the actor/director/Sundance founder addressed during the first day's press conference.

"First of all," began Redford, "I don't want that to get in the way of why we're here. Would it have been wonderful to be nominated? Of course. But I'm not disturbed by it or upset by it."

Redford appeared at the press conference with Sundance Institute Executive Director Keri Putnam and Festival Director John Cooper.

Commenting on the 30th anniversary of Sundance, Reford stated: "Change is inevitable. You either resist it - we know who those people are - or you go with it. We want to ride with that wave."

"I don't think the mission has really changed at all in the last 30 years," added Putnam. "We have seen a really remarkable evolution of the programs in terms of finding different types of storytellers to support."

This year Sundance includes 18 Labs and 400 artists supported annually by the Institute.

A few hours after their annual press conference officially opened this year's Festival, both Redford and Cooper were on hand at the Eccles Theater to introduce the world premiere of the Dramatic Competition film Whiplash.

The pair arrived accompanied by a sense of humor.

Redford said he'd proposed starting the night in anniversary style. "Oh I got an idea - how about we roll a big cake onto the stage, and the I jump out of it?" he said. "But that got shot down pretty fast."

Cooper has his own version. "Just for the record I did not veto the cake. I was into it," he said.

Referring to the opening nightscreening which is based on an award-winning short that screened at the Festival just last year Cooper called it "the fastest turnaround we've ever had for a short to a feature."

Given the status position of opening night offering, Whiplash didn't diappoint, earning rave reviews, with the general concensus that this is the flick which will will make Miles Teller a star.

Whiplash centers on a student-mentor relationship that gets out of hand. Miles Teller plays Andrew Neiman , a brilliant freshman and aspiring jazz drummer at the fictional Shaffer Conservatory of Music in Manhattan, consisered one of the finest music schools in the country.

He finds himself under the tutelege of the forbidding but legendary Mr. Terence Fletcher, played by J.K. Simmons.

Fletcher is a fearsome, intimidating, exacting maestro of jazz.

What happens between the two is hailed as "both exhilarating and terrifying."

A Celebration of Music in Film Event takes place today, January 19. Headlined by Talent from Low Down: A tribute to jazz legend Joe Albany featuring Red Hot Chili Peppers' Flea, composer Ohad Talmor with a reading by Elle Fanning; The Fela! Band and Rae Spoon also will perform.

Belle & Sebastian are set for Festival's Music Café on January 20.


OTHER PEOPLE'S MONEY


$116,000 AWARDED FOR 26 ARTS BUILD COMMUNITIES GRANTS from the Oregon Arts Commission (OAC).

The largest grant - $7,000 - went to the Oregon Shakespeare Festival to support the development of Community Conversations, part of the Oregon Shakespeare Festival's new engagement model with Latino communities in Portland. The project will include community dialogue with artist and activist Luis Alfaro; an improved Spanish open-captioning technology at the Festival's home to increase the number of accessible performances; and establishing baseline metrics for program evaluation.

Two grants went to agencies using arts to help seniors with memory problems. The Geezer Gallery, Portland received a grant to support Vibrant Elders/Capturing Time, a program to provide six months of therapeutic art programming to 45 cognitively impaired elders in affordable housing. The project will evaluate the efficacy of art therapy for elders with and without cognitive impairment by measuring changes associated with depression, anxiety, loneliness and social engagement during and after art therapy.

The John G. Shedd Institute for the Arts, Eugene, received a grant to support Unforgettable, a weekly group song session for seniors living in area memory care facilities to provide sustained engagement in music making in the company of others. These seniors become increasingly isolated, both physically and socially, as their dementia progresses and mobility and communication skills decline. Yet, the ability to sing along with songs learned in their youth is often retained.

Arts Action Alliance Foundation, Oregon City, was given financial support to enable expansion of Youth Arts for Change a graphic art and theatre diversion program that gives youth in the County Juvenile Department and Parrott Creek residential facility a unique way to fulfill parole/treatment requirements.

Two agencies which focus on children are on the grant list. Children's Healing Art Project, Portland, will receive a grant to support Art Club, which brings the healing power of art to critically or chronically ill and disabled children and their families after or between hospitalizations. Oregon Children's Theatre, Portland, was named a recipient to support the Bully Project to engage middle school students in the creation and performance of short plays addressing the issue of bullying. Students will submit original scripts, selected finalists will be mentored by professional playwrights and the final scripts will be performed by fellow students at a culminating community performance. The project will build connection between students and spark conversation to curb the epidemic of bullying.

Another of the many worthwhile agencies singled out was the Artula Institute for Arts & Environmental Education, Bandon. Their grant will be used to support the creation of six large mosaic panels and 150 marine debris masks for three environmental art fairs and associated workshops held in recognition of Earth Day, World Ocean Day, and International Coastal Cleanup Day. The project is intended to broaden arts audiences and attract new artists.

CIRQUE DU SOLEIL has announced that it's creating a new theatrical division, Cirque du Soleil Theatrical, to diversify into Broadway, London's West End and theatrical touring productions mounted in Broadway-sized venues.

Heading up the new division is Scott Zeiger, whose Base Entertainment brought the Broadway hits Jersey Boys, Rock of Ages, and Phantom - The Las Vegas Spectacular to Sin City.

It's a risky venture. Previous attempts at Cirque offering a Broadway style production, such as Banana Shpeel, weren't successful

The Montreal-based Cirque said that productions from the new division will include the company's signature style and aesthetic, but will offer a "very different experience" from what customers have come to expect from Cirque du Soleil shows.

Cirque du Soleil Theatrical will be based in New York, with Zeiger expected transferring his offices from Las Vegas to The Big Apple on March 3. BASE co-founder Brian Becker will run the organization after Zeiger exits.


STORK REPORT


ZARA PHILLIPS Olympic Silver Medal winner in the 2012 Olympics, gave birth to a baby girl on Friday, January 17, 2014.

The 32-year-old Phillips, daughter of Anne the Princess Royal and her former husband, Capt. Mark Phillips, she is the granddaughter of Queen Elizabeth and Prince Philip.

The new baby is 16th in line to the throne.

The little girl was born at Gloucestershire Royal Hospital in western England and weighed 7 pounds, 12 ounces. Within hours the new mother, proud father and their baby had headed to their home on the Princess Royal's Gatcombe Park estate.

This is the first child for Phillips and her husband, rugby player Mike Tindall, and a fourth great-grandchild for the Queen and Prince Philip. The palace said Tindall was present at the birth.

In a statement, the palace said the Queen, her husband Prince Philip and the baby's grandparents "are delighted with the news."

The Queen's other great-grandchildren are six-month-old Prince George, son of Prince William and his wife Kate; and Savannah who turned three on December 29. and Isla, who will be two on July lst, the two daughters of Zara's brother Peter Phillips and his wife Autumn.

Zara won a silver medal at London 2012 with eventing equestrian teammates William Fox-Pitt, Mary King, Tina Cook and Nicola Wilson, and is planning to take part in the Rio de Janeiro Games in 2016.



BETHANY

Author Laura Marks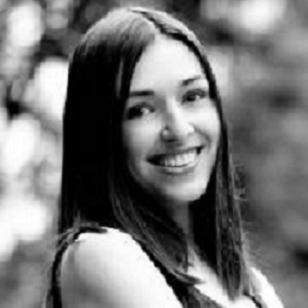 by Laura Marks.

The West Coast premiere of this powerful new play will be directed by Gaye Taylor Upchurch.

In Bethany, Crystal and Gary live in a nice home in the suburbs. Only it's not theirs. In fact, they didn't know each other before they moved in, and the story of how they got there is the beginning of Crystal's plan to get her life back on track. Between her job at the Saturn dealership, her new housemate's conspiracy theories, and the motivational speaker who just might buy that sports car, this new drama is bill ed "taking you on the ride of your life, with a woman willing to take on anything and everything...all for someone named Bethany."

Two time Emmy nominee Jennifer Ferrin makes her Globe debut as Crystal. The cast also features Carlo Albán (Gary), DeAnna Driscoll (Shannon), Amanda Naughton (Patricia), James Shanklin (Charlie), and Sylvia M'Lafi Thompson (Toni).

The creative team includes Lauren Helpern (Scenic Design), Sarah J. Holden (Costume Design), Japhy Weideman (Lighting Design), Leon Rothenberg (Original Music and Sound Design), J. David Brimmer (Fight Director), Caparelliotis Casting (Casting), and Diana Moser (Stage Manager).

Bethany will run January 25 – February 23, 2014 in the Sheryl and Harvey White Theatre, part of the Globe's Conrad Prebys Theatre Center, San Diego, CA.

On Monday, February 3 the Globe will present a special forum discussion, "At Home in San Diego? The Question of Affordable Housing," that will explore some of the issues raised in Bethany as they pertain to San Diego County. Panelists Todd Gloria, Interim Mayor of the City of San Diego, and Susan Riggs, Executive Director of the San Diego Housing Federation, will discuss housing affordability and affordable housing, and how the issue of housing has impacted the community of San Diego on all levels, from homelessness to the housing market. Richard C. Gentry, President and Chief Executive Officer of the San Diego Housing Commission, will moderate. Although the event is free, reservations are required.

Artistic Director Barry Edelstein said, "Laura Marks's Bethany uses the theater to examine an important national issue: the crisis in affordable housing. We're thrilled to host a special forum on that topic in conjunction with the show, and we're honored to welcome Interim Mayor Todd Gloria and other leaders on the housing issue to the Globe to help our audience learn more, and to better serve our community through our art."

MAN IN A CASE adapted from two stories by Anton Chekhov.

Adapted and Directed by Annie-B Parson and Paul Lazar/Big Dance Theater.

Choreographed by Annie-B Parson in a fusion of theater, dance, music and video.

Featuring Mikhail Baryshnikov as Belikov with Jess Barbagallo as Hunter/Burkin as Jess Barbagallo, Tymberly Canale as Barbara , Chris Giarmo as Hunter/Ivan, and Aaron Mattocks as Kovalenko.

In Chekhov's brilliant tale of humor and despair, a pair of hunters talk late into the night. They share stories: one of an officious, anti-social man and his involvement with an aggressively extroverted woman. The second, a tale of moral ambiguity in which the protagonist forgoes his love for a married woman. Though seemingly different, both are tales of fear trumping the pursuit of life's most promising possibilities. Drawing from material as varied as surveillance footage, folk dance, instructional hunting videos, and interviews with the cast, Man in a Case creates a bridge between our time and that of these two 19th-century anti-love stories.

Man in a Case is billed as an inviting, innovative take on two of Anton Chekhov's 1898 short stories: one about a reclusive man who falls for a cheerful, extroverted woman; the other about a fellow who relives the story of lost love. Garnering rave reviews and featuring Baryshnikov and a stellar ensemble of artists, the show is a high-tech fusion of theatre, movement, music, and video that illuminates those rare occasions when we're offered life-changing possibilities.

Set Designer Peter Ksander. Costume Designer Oana Botez. Lighting Designer Jennifer Tipton. Sound Designer Tei Blow. Video Designer Jeff Larson. Music Director Chris Giarmo. Production Supervisor Jenni Bowman. Associate Video Designer Keith Skretch.

Opens January 25, 2014 for 20 performances at Berkeley Rep in Berkeley, CA.

The production then moves to Hartford Stage in Hartford, CT with performances February 21 – March 24, 2014.

LET'S MISBEHAVE: THE MUSIC AND LYRICS OF COLE PORTER conceived by Karin Bowersock and Patrick Young. Book by Karin Bowersock. Musical arrangements by Patrick Young. Directed and Choreographed by Todd Nielsen. Musical Director Darryl Archibald.

In the California premiere of this de-lovely musical, over 30 classic songs by Cole Porter are woven together to tell the story of three single friends in 1930s New York who make a pact to find true love. Their quest is all in good fun - until the two women, Alice and Dorothy, find they both have eyes for Walter. It's clever, funny, and irresistibly romantic, featuring songs like Night and Day, Begin the Beguine and Anything Goes from one of America's most beloved and prolific musical theater composers.

Starring Lindsey Alley, Marc Ginsburg and Jennifer Shelton.

Set design is by JR Bruce; lighting design is by Donna Ruzika; costume design is by Kim DeShazo; sound design is by Dave Mickey; props are by Patty and Gordon Briles; wigs are by Anthony Gagliardi; production stage manager is Henry Fernandez; and casting is by Michael Donovan Casting.

Previews: January 22-23 with the official opening nigt set for January 24, 2014. Performance continue through February 16, 2014 at the International City Theatre in Long Beach, CA.

RIDING THE MIDNIGHT EXPRESS WITH BILLY HAYES a one man show directed by John Gould Rubin.

First he wrote the best-selling book. Then came the Oscar winning movie. Now Billy Hayes comes to the New York stage with his powerful one-man show.

For the first time on the live stage, Hayes recounts the five years he spent in a Turkish prison and his brazen escape. He reveals aspects of his adventures never before told, elaborates on many instances portrayed in the film version, and corrects some of the plot-lines and scenes that were fictionalized for the movie – especially the actual, true story of his harrowing, white-knuckle escape. Since Billy escaped in 1975, he has spoken about his ordeal on television, in classrooms and lecture halls, even back in Turkey. But he has never spoken about it in a theatrical setting, until now. Riding the Midnight Express with Billy Hayes was originally presented at the 2013 Edinburgh Fringe Festival.

Billy Hayes was a middle class kid growing up in a suburb on Long Island in the Sixties (yes, those Sixties: Free Love. Political Protests. Sex, Drugs and Rock 'n Roll) when he went off to college to study journalism. While at Marquette University, Billy realized that the best inspiration for a writer is to experience what he writes about first hand. So he decided to follow the advice of the ultimate guru of the time, Timothy Leary, to "turn on, tune in and drop out".

Billy rode motorcycles across Europe and ran with the bulls in Pamplona. And he made a decision that would change his life in ways he never imagined. He began to smuggle hashish from Turkey, selling it to his friends back in the United States. Until he was arrested at the Istanbul airport in October 1970 with two kilos of the stuff taped to his body. Whoops! Hayes was sentenced by the Turkish court to 30 years in prison. Not exactly the experience he was looking for.

Five years later, in October 1975, Billy Hayes escaped from Imrali Island Prison in a daring effort that began by rowing 17 miles across the Sea of Marmara in a raging storm. On returning home, he finally got his chance to become a writer. In 1976 Hayes' best-selling book chronicling his time in prison and his escape, Midnight Express, was published and translated into 18 languages. In 1978 it was made into an Oscar winning motion picture starring Brad Davis as Billy. Billy Hayes became an iconic figure in American culture and his name became etched in media lore. Since then Hayes has had an extensive career as an actor, director, screenwriter and public speaker and continues to write in a variety of media and formats. In early 2013 Hayes published The Midnight Express Letters: From a Turkish Prison 1970-1975. The third book in his trilogy, Midnight Return, which explores his life after prison and the parallel lives of those he left behind, has just been released.

Hayes credits the Yoga he practiced every day while he was incarcerated with getting him through the hard times and keeping him centered. He frequently advocates for prison Yoga programs throughout the country.

Hayes met his wife, Wendy West, at the Cannes Film Festival when Midnight Express premiered there in 1978. They have been married since 1980 and live in Los Angeles.

Hayes will appear in a limited run at the St. Luke's Theatre in New York City from January 22 to March 23, before heading back to the British Isles for a special engagement at London's Soho Theater.

PASSION PLAY written by Sarah Ruhl.

Directed Bart DeLorenzo.

Religion, politics and theater collide in a wildly ambitious triptych that follows three acting troupes as they stage a classical passion play at three different moments in history: Elizabethan England, Nazi Germany and Reagan-Era America.

Starring Tobias Baker, Dorie Barton, Daniel Bess, Bill Brochtrup, Shannon Holt, Dylan Kenin, Christian Leffler, Jason Liska, Beth Mack, John Charles Meyer, John Prosky, Brittany Slattery, and Amanda Troop.

Set design is by Frederica Nascimento, lighting design is by Michael Gend, original music and sound design is by John Ballinger, and costume design is by Raquel Barreto.

The Los Angeles premiere of Passion Play begins January 25, 2014 at the Odyssey Theatre in West L.A. and continues through March 16, 2014.

WEISENTHAL written by and starring Tom Dugan.

Directed by Jenny Sullivan.

The Extraordinary Story of Simon Wiesenthal which is filled with hope, humanity and humor as told by actor and master storyteller, Tom Dugan.

You will be introduced to Wiesenthal on the day before his retirement as he welcomes his final group of Americans to his office in The Jewish Documentation Center in Vienna. The show recounts how Wiesenthal escaped death at the hands of Hitler's S.S. before devoting his life to bringing 1,100 war criminals to justice. It is a remarkable performance that gives equal weight to Simon Wiesenthal's humor, wisdom and wit during his long and purposeful life.

Winner of the Los Angeles Drama Critics Circle Award and Nominated for numerous Ovation Awards.

January 22, 2014 - March 16, 2014 Theater 1 at the Stage Door Theater in Broward, FL.


WHO'S WHERE


WINNIPEG SYMPHONY ORCHESTRA PRESENTS: RITUAL MASS Artists: Julian Pellicano, conductor The University of Manitoba Wind Ensemble; Richard Gillis, conductor The University of Manitoba Flute Ensemble; Layla Roberts & Laurel Ridd, co-directors The Winnipeg Wind Ensemble; Jacqueline Dawson, conductor Brandon University New Music Ensemble, Megumi Masaki, conductor. A program of works for winds, brass, and percussion include the beginnings of minimalism with Colin McPhee, new classics by Frank Zappa and Owen Pallett, and a ritual antiphonal Mass by Canadian maverick Henry Brant. David Maslanka explores the spiritual element as an integral part of the planet's possible future. January 27 at the Pantages Playhouse in Winnipeg, Canada.

BILLY JOEL entertains Wednesday, January 22, at the Veterans Memorial Arena in Jacksonville, FL.

MARIYLN MAYE AND HOUSTON PERSON as part of the Perfect Pairs at the Palace series. Cabaret legend Marilyn Maye returns to the Harman Stage with world-renowned tenor saxophonist Houston Person mixing the best in Broadway, Cabaret, and Jazz. Wednesday, January 22, at the Palace Theatre in Stamfort, CT.

GYPSY KINGS perform Monday, January 20, at Birchmere inAlexandria, VA. On Wednesday the show is at the Calvin Theater in Northampton, MA. Thursday their tour stops at The Lynn Memorial Auditorium in Lynn, MA. Friday they open a two night stand at the City Winery in New York City.

LADY ANTEBELLUM in the spotlight Thursday, January 23, at the Pepsi Center in Denver. Friday's show is at the Energy Solutions Arena in Salt Lake City. Saturday the group can be found at the Brick Breeden Fieldhouse in Bozeman. MT.

THE EAGLES have a two night stand at the Forum in Ingelwood, CA on Friday, January 24 and Saturday.

KEITH URBAN continues his tour in Canada this week with a show Monday, January 20, at the MTS Centre in Winnipeg. Thursday's gig is at the Budweiser Gardens in London, Ontario. On Friday he's at the Air Canada Centre in Toronto.

MICHAEL BUBLE stars at the 02 World in Berlin, Germany on Tuesday, January 21. On Wednesday he performs at the 02 World in Hamburg. Saturday's gig is at the Wiener Stadthalle in Vienna, Australia.




FINAL OVATION


SCOTT LEWIS a stage hypnotist who appeared at the Riviera Hotel in Las Vegas for 9 years, plunged to his death from the balcony of a Sydney, Australia apartment on Saturday, January 11, 2014.

According to his website, Lewis was a licensed chiropractor and clinical hypnotherapist. He wrote two books and was a motivational speaker and consultant as well as entertainer. The website states he first realized the "power of hypnosis to help people achieve their health and wellness goals" more than 25 years ago when he used self-hypnosis techniques to lose weight.

"It's also tremendous fun to demonstrate in a stage setting, where you can clearly see people's imaginative process at work," he said on his website.

Lewis was in Sydney performing his hypnosis act along with six other performers in the show The illusionists 2.0, which had opened at the Sydney Opera House on Thursday, January 9, 2014.

Media reports said Lewis had fallen from an 11th floor balcony to the fourth floor. Lewis was staying with other performers at the building, which is a short drive from the opera house.

His body was found after he failed to board a bus to take him and the other six members of The Illusionists 2.0 to the Opera House for a matinee performance.

Following the discovery, the Opera House cancelled the matinee performance due to "unforeseen circumstances".

It later released a statement confirming his death and expressing its sympathies to his family, friends and colleagues. "Dr Lewis was a wonderful performer and he will be greatly missed," the Opera House said.

Show co-producer Tim Lawson said the company was "deeply saddened by the sudden loss of Dr Lewis".

"The entire company has decided to continue the show in his honor, and send our heartfelt condolences to his family and friends," he said in a statement.

Police are not treating the death as suspicious and are investigating "whether Dr Lewis died from misadventure or self-harm."













Next Column: January 26, 2014
Copyright: January 19, 2014. All Rights Reserved. Reviews, Interviews, Commentary, Photographs or Graphics from any Broadway To Vegas (TM) columns may not be published, broadcast, rewritten, utilized as leads, or used in any manner without permission, compensation and/or credit.
Link to Main Page
---
Laura Deni



For the snail mail address, please E-mail your request.
CLICK HERE FOR COMMENT SECTION