! >
Broadway To Vegas
  SHOW REVIEWS     CELEBRITY	INTERVIEWS     GOSSIP     NEWS 
GADGETS AND ROBIN WILLIAMS

The 33rd annual Consumer Electronics Show, the trade show that touts high end tech thingumajigs that separate the men from the boys by the price of their toys, puts the lid on the box today in Las Vegas.



ROBIN WILLIAMS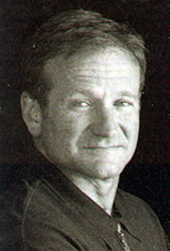 Robin Williams made an appearance on Thursday to announced that he has entered into an agreement with Audible Inc. to produce a weekly, half-hour humor segment for Audible.com. The show, which debuts in April, will contain segments of his live performances as well as individual prerecorded skits. Williams has not yet determined if those will be recorded in a home based studio or in a San Francisco comedy club.

Other celebrities in attendance included Barbara Eden hawking CyberGenie and Pamela Anderson Lee.

Also showcased at the convention that drew 90,000 attendees and 1,500 exhibitors were; a Marilyn Monroe telephone. When the phone rings she starts singing I Want To Be Loved By You and then her skirt billows up ala The Seven Year Itch subway grate scene. That will be on the market in May for about $100.

DigiScents markets a device that is attached to your PC. Vola or phew - you can smell - good to gross - what you're viewing. Visit a website and sniff their product; 3-D televisions, gizmos that look like a wrist watch but is really a lap top, which I guess should be called a wrist top. Casio has a wrist camera that stores 120 B/W pictures.

Anything hand held is big or with the initials DVD. It's the hottest format around. A DVD recorder which stores up to four hours with direct access to specific scenes is due out soon. Save your money now. This is what you're going to be buying next Christmas.


STREISAND AND PILLARS OF SALT

A lot of celebrities travel with their own toilet seats - from Queen Elizabeth II to Joan Rivers. Even more stars cart along their own blankets - especially in the wake of news reports exposing that even high end hotels don't change the blankets with each new guest.



BARBRA STREISAND Are you looking at me? Don't!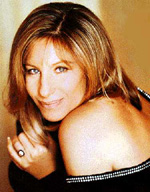 We understand not wanting to co-mingle with strange germs.

We also can sympathize with celebrities who are bothered by autograph seekers who interrupt while the celebrity is trying to eat. The sincere fan has long ago been supplanted by the guy who is trying to make a dollar off of somebody else's signature.

We're going to acknowledge that being a filthy rich marquee person can have a downside.

What we don't grasp are celebrities who order people not to look at them. Barbra Streisand being the latest on a short list of entertainers who - in writing - instruct the high-ups that word is to filter down that nobody is suppose to catch a glimpse, much less look them in the eye.

People who were in the publicly traded MGM Grand Hotel when Streisand was going from her suite to the stage were instructed that she was coming - so they were to turn around or bow their heads.

We scoured the place looking for pillars of salt. We don't know if any offenders were immediately turned into Morton's Iodized or if there is a Tower or Dungeon somewhere crammed with offending eyeballs.

The high ticket - up to $2,500 per seat - New Years' Eve and New Year's Day performances were filled but not sold out. There is a difference. At the last minute some of the best - translated most expensive - seats were given to hotel employees and their friends because the tickets didn't sell. Streisand was taping her shows and didn't want any empty seats to be seen. There is nothing unusual about that. Many TV shows use plants or "seat warmers" to fill vacant spaces.

What is a little disconcerting is that many of those receiving the free tickets didn't want them and either gave them away or sold them - at a fraction of the original asking price.


ANNETTE BENING AND MILOS FORMAN HONORED

Academy Award nominee Annette Bening and Milos Forman, the Academy Award winning director of One Flew Over The Cuckoo's Nest and Amadeus will be honored during the 11th Annual Nortel Networks Palm Springs International Film Festival Jan. 13-24.



ANNETTE BENING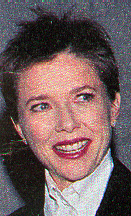 Bening, who is expecting her fourth - and she says last - child by husband Warren Beatty, will receive the Charles A. Crain Desert Pine Award. Previous recipients have included: Sophia Loren, Jimmy Stewart, Frank Sinatra, Tony Curtis, Sylvester Stallone, Richard Dreyfuss, Susan Saradon and John Travolta.

Forman will be honored with the Director's Achievement Award. His current release is Man on the Moon about the life of comedian Andy Kaufman.

180 films from 40 nations will be screened at theaters throughout Palm Springs. Among them will be a record number of 30 Academy Awards submissions for best foreign language films, plus movies by such legendary directors as England's Lord Richard Attenborough, Italy's Ettore Scola, Australia's Jame Campion, Spain's Pedro Almodovar, Argentina's Hector Babenco and China's Jhang Yimou. The latter three are scheduled to attend their screenings.

The opening night film will be the star-speckled Walking Across Egypt, a story about a 72-year-old woman and a 17-year-old orphan boy who share a need to be needed. The film, directed by four-time Emmy Award-winner Arthur Allan Seidelman, stars Oscar winner Ellen Burstyn and Jonathan Taylor Thomas with Mark Hamill, Kevin Pollak and Gail O'Grady.


ECLECTIC GROUP GETS GRAMMY NOMINATIONS

Marc Anthony, who starred on Broadway in Paul Simon's ill-fated Capeman has been nominated for Best Male Pop Vocal Performance in the 42nd Annual Grammy Awards.


MARC ANTHONY in Capeman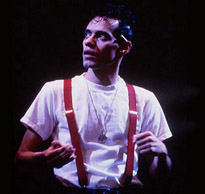 Other artists in the category are Lou Bega, Andrea Bocelli, Ricky Martin and Sting. Anthony still keeps in touch with Simon and has expressed interest in "someday" returning to Broadway - if that singing career of his ever cools off enough to permit him to devote two years to a stage endeavor.

Marc kicks off a 23 city North American tour in New York. His February 10 performance at Madison Square Garden will include his English-language hits, along with smashes from his three Spanish-language salsa albums. The performance will be shot live at Madison Square Garden for an HBO airing Feb. 12 Tickets for his Feb. 13 appearance at the Metropolis, Montreal, Canada go on sale at noon on Monday Jan. 10. $32.50 plus tax and service

The folks associated with Anne Get Your Gun are downright jubilant. Stephen Ferrera and John McDaniel - he's got a day job as Rosie O'Donnell's musical right arm and friendly sidekick - copped a nomination for Irving Berlin's Annie Get Your Gun in the Best Musical Show Album division. Others in the category are; Tommy Krasker and Tom Snow for Footloose, Jay David Sakes for Fosse, Brad Wood as producer for Hedwig & the Angry Itch, and Andrew Lipps for You're A Good Man, Charlie Brown.

Etta James, who earned a nomination for Heart of a Woman, stars Jan. 16 at the House of Blues, Mandalay Bay Resort, Las Vegas. Other nominees in her category of Best Jazz Vocal Performance are; Carla Cook, Diana Krall, Dianne Reeves and Cassandra Wilson.

Pieree Boulez, this season's resident composer at Carnegie Hall, received five Grammy nominations, topped only by Santana who raked in 10.

Bill Cosby, Laurence Fishburne, Spike Lee, and Ken Burns were at the Village Vanguard, that great New York City jazz club, to celebrate the release of Wynton Marsallis' new seven-CD boxed set, Live at the Village Vanguard. Marsalis closes there tonight. In the Best Instrumental Arrangement division, a Grammy nomination went to Jorge Calandrelli for Chelsea Bridge which featured Tony Bennett and Marsalis.


THE KING OF ROCK AND ROLL

Last Saturday would have been Elvis Presley's 65h birthday. The King of Rock and Roll would have been old enough for Medicare. We examine the guy who forever changed music and put a permanent stamp on Las Vegas in this - the second of a three-part series.

When Presley was discharged from the Army Frank Sinatra came up with an idea to welcome him home on his own May 12 ABC-TV show. Sinatra agreed to pay Elvis $125,000 for about six minutes work. It was no secret that Sinatra was galled by the price the Colonel demanded. The Sinatra show was built around a home-coming-for-Elvis theme.



FRANK SINATRA and ELVIS PRESLEY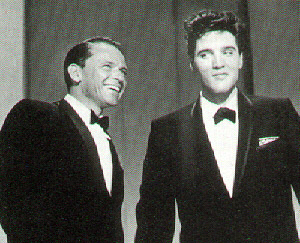 Elvis joined Sinatra in Miami, Florida where Frank was performing.had a nightclub gig. The Colonel put Presley on a train. All along the way, in every little town, the tracks were lined with fans, press and photographers. The Colonel had Elvis stand on the train's rear platform, as if he were running for president, waving and signing a few autographs.

During the show - which was the first time Sinatra and Presley had met - Elvis sang his latest hit, Fame and Fortune, and Stuck On You. Presley and Sinatra also played turn around with Elvis singing Sinatra's hit Witchcraft, complete with the snapping fingers and the classic Sinatra crooning style. Sinatra sang Presley's Love Me Tender. Also giving him his television welcome home were Joey Bishop, Frank's daughter, Nancy, and Sammy Davis, Jr. On May 12, the Welcome Elvis special got a rating of 41.5, stomping all competition.

Towards the end of the year he sent for Priscilla, asking her folks to allow her to spend Christmas with him. Then he asked if Priscilla could remain. Then a Catholic, she finished her senior year of high school at the Immaculate Conception High School in Memphis.

She lived with Vernon and Dee ( who had since married) and Dee's three young sons, in the east wing of Graceland.

In March, 1961, Elvis flew to Hawaii for his last public appearance until 1969. This was a benefit, to raise money for the Memorial Fund of the U.S.S. Arizona.

The show was in the 4,000-seat Block Arena in Pearl Harbor, not far from where the sunken battleship lay. Ticket prices were scaled, rising to $100 for a ringside seat.

Elvis bought his own ticket to the show, the first of the hundred dollar seats. He and the Colonel also absorbed the cost of transportation and paying all of the musicians and backup acts. They had read about the memorial committee's need for help in raising money and volunteered to stage the benefit only if every penny taken in at the box office actually went to the building fund. As a result, the committee received $47,000, to which Elvis and the Colonel added another $5,000.



CAPES became an Elvis trademark. His Burning Love cape sold at auction for $40,000.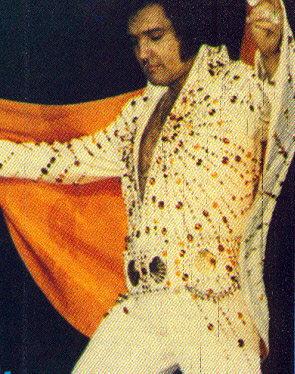 At 30 in 1965 his skin tight jeans were replaced with somewhat wider slacks. His sideburns were shortened one-and-one-half inches. And his gyrations calmed down. His gross for the year was five million.

No personal appearances, no television; a few records and three movies a year. He completed Harem Holiday in 18 days from start to finish and was paid one million dollars. He also got 50% of the movie profits.

He collected cars and once spray painted a Cadillac with 40 coats of crushed diamonds. Deemed a little flashy for grocery shopping, RCA took it on promotional tours.

When ABC celebrated Elvis' tenth anniversary on their Shindig show, Elvis didn't watch. "I don't regard money or position as important. But I can never forget the longing to be someone. I guess if you are poor, you always think bigger and want more than those who have everything when they are born," he said in explaining to Time magazine as to why he missed the anniversary celebration. Graceland became his hideaway and haven. "I withdraw not from my fans, but from myself," he drawled.

He surrounded himself with an impressive entourage, a group of seven to twelve men approximately Presley's age. All were on salary, earning $150 to $250 a week. Except for two he had met in the Army, all were from Memphis, leading newsmen to dub them "The Memphis Mafia." They went everywhere with him. They gave him security, comfort and companionship. They earned their pay by keeping everyone else away.

But they began to complain about Presley's moods. At first they said the mood swings were brought on by dieting. "He always had the weirdest eating habits I ever saw," a friend was quoted as saying at the time. "Burnt bacon, olives, vegetable soup and peanut-butter-and-banana sandwiches." He'd wash all this down with Pepsi or Nesbitt's orange-soda.

He worried about his weigh and his hair. He started dying it black then double black.

"The temper was the hardest thing to take," continued the former Memphis Mafia member. "One day he'd be the sweetest person in the world, the next day he'd burn holes in you with his eyes. It was hard on the guys."

He'd keep the boys up all night and sleep all day while they ran errands. Once, according to the former Memphis Mafia man, he refused to leave his room; even his food was placed outside the door, and if anyone had anything to say, they said it in notes shoved under the door.

By this time his father, stepmother and stepbrothers had moved into a house of their own in the same neighborhood. But his aunt and grandmother continued to live in Graceland's east wing, along with Priscilla.



ANN-MARGRET AND ELVIS PRESLEY IN VIVA LAS VEGAS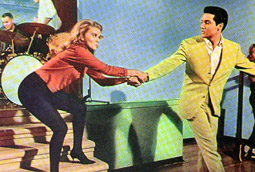 She and Elvis saw each other romantically but it was, according to associates, a fiery off-and-on-relationship, as Elvis also dated most of his Hollywood leading ladies - bragging that he had bedded all but one. Priscilla even joined her parents at Major Beaulieu's new post, Travis Air Force Base, near San Francisco. That was during the period when Elvis and Ann-Margret made Viva Las Vegas. afterwards Priscilla returned to Graceland.

By 1966 Elvis had put on more weight and his dyed hair was sprayed with so much lacquer you could bounce rocks off it.

He also began to wonder about the products he was turning out. From the spring of 1961 to the summer of 1968, Elvis starred in 21 films, an average of three a year. Essentially they were all the same. "They don't need titles," said an MGM studio man who worked on five of them. "They could be numbered. They would still sell."

Many felt Elvis was talented. As directed Gene Nelson put it, "He could handle more than he ever took on." Elvis didn't agree. Nelson recalled that after they had finished Harum Scarum, Elvis came to him and said, "Maybe one day we'll do one right."



IT WAS A DOUBLE RING CEREMONY, but Elvis lost his wedding ring horseback riding on their ranch in Mississippi.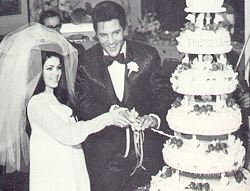 Then in an overnight decision Elvis Aron Presley and Priscilla Ann Beaulieu got married. At the time of the wedding Presley was earning $4,000,000. They arrived at the Las Vegas airport in a Lear jet at 3 a.m. It was May 1, 1967. Friends drove them immediately to the Clark Country Courthouse, where Elvis paid $15 for the marriage license. He was 32, she 21. Both gave Memphis as their legal residence. They were driven to the Aladdin Hotel where the double ring ceremony began at 9:41 a.m. in the second floor private suite of Milton Prell, a longtime friend of the Colonel's and owner of the hotel.

Her wedding-engagement ring was a three-carat diamond surrounded by 20 smaller diamonds. Priscilla's only sister, Michelle, was maid of honor. Fourteen guests attended the ceremony including Dee and Vernon and the Beaulieus.

A reception was held in the Aladdin Room where there was a five-foot-high, six-tiered wedding cake decorated with pink-and-white frosting roses, and a breakfast for 100 that reportedly cost $10,000.

After a two-month honeymoon in Palm Springs they returned to the $400,000 mansion in Trousdale Estates. Presley had just finished shooting Double Trouble and was to start another film on location.

At the time of the marriage Elvis neither drank nor smoked. The bar in the Lincoln Continental was stocked with only soft drinks.

The first problem in their marriage was trouble with the Memphis Mafia. Priscilla had come between Elvis and his buddies. There were fights. When the dust settled only two of the original "Mafia" members remained on the payroll.

Almost immediately the rumors began - the Presley mood changes were said to be caused, not by his strange diets, but because of narcotics.

That June Elvis started work on Speedway. The movie was uninspired, but Presley was in a good mood because Priscilla was pregnant. According to co-stars on the movie Presley wore his wedding ring right up to a take, placing it in his pocket and then immediately replacing it on his finger.



A HAPPY FAMILY Elvis adored Lisa Marie.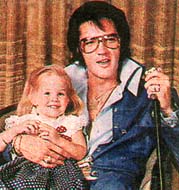 On February 1, 1968, the couple had their only child, Lisa Marie, born in Memphis. They had decided upon the name John Barron had they had a boy. No name was selected for a daughter. Following the birth they selected Liza Marie, because it "sounded feminine."

From the moment Lisa Marie was born she had her father under her control. She is the only person the Memphis Mafia was afraid to cross. All she had to do go to her father who would obey her every whim. When she was nine Elvis gave her a mink coat. Priscilla told the child it was fake because she didn't want Lisa Marie to grow up spoiled.

Earlier that year, the Colonel had announced that NBC-TV would finance and produce a one-hour Christmas special and later a film. Elvis' films had been dropping in both profit and popularity. The tie-in between a Christmas special and a movie was one of the most astute moves made by the Colonel. It started Elvis' come back. The rebirth proved to be hard labor.

Colonel Parker wanted a traditional Christmas show with Presley warbling 26 Christmas songs while clad in a traditional tuxedo. The show's producers, the legendary Steve Binder and Bones Howe, had a different plan. Both Andy Williams and Perry Como did highly rated Christmas specials and Binder and Howe knew that to compete they needed to break tradition.

They held their ground against the Colonel and presented Presley at his raunchy best. Always pushing the envelope, it was Binder who had produced a Petula Clark special in which - during the segregated 60s - guest Harry Belafonte dared to touch Clark's arm.



ELVIS PRESLEY in the whorehouse scene. Cut from the original TV special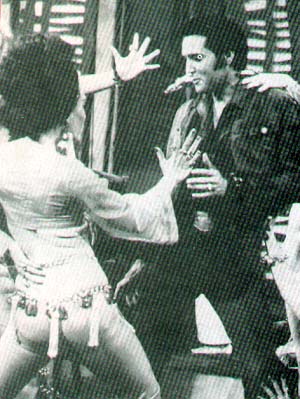 Binder would serve as both director and producer of the Presley special. The show originally included a segment with Presley retracing his musical roots, including entering a bordello and "saving" Purity, the new girl on the whorehouse block.

The special was sponsored by the wholesome Singer Sewing Machine Company and the executives almost dropped a stitch when they learned of the bordello scene. Guys in suits got out the shears and cut the scene.

That remained on the cutting room floor until what would have been Presley's 50th birthday. At the request of the Presley estate the entire, unedited version aired in January, 1985 entitled One Night With You. Later it was released as a video.

The highly rated special gave Presley new emotional life. In January, 1969, Elvis bounced back into Memphis recording studio for the first time in 14 years. He booked the American Recording Studio for ten days and had laryngitis for four of those days. The sessions began at eight at night and lasted until morning. In what amounted to one of his most productive recording sessions, he cut 36 songs, including the hit In The Ghetto.

At the end of May Elvis supervised the transfer of some horses from his ranch to Graceland. His father had sold the ranch for $440,100. Elvis started to ride. In the afternoon he would arise, and with Priscilla, go for a swim, eat breakfast, and at about five-thirty they would ride to the front gate. Elvis would sign autographs and talk to the fans.

On July 5, Elvis left Graceland to begin a week of rehearsals in Las Vegas for his first public appearance in over eight years. The setting was the International Hotel. NEXT WEEK the third and final part.



Broadway To Vegas is supported through advertising and donations. Priority consideration is given to interview suggestions, news, press releases, etc from paid supporters. However, no paid supporters control, alter, edit, or in any way manipulate the content of this site. Your donation is appreciated. We accept PAYPAL. Thank you for your interest.


CURTAIN DOWN


SMOKEY JOE'S CAFE closes January 16 at the Virginia Theater, NYC.

RAGTIME closes January 16 at the Ford Center of Performing Arts, NYC after a run of 861 performances. The Ragtime tour is booked through 2001.

PUTTING IT TOGETHER the Stephen Sondheim revue which stars Carol Burnett, with Kathie Lee Gifford substituting on Tuesdays, will close on Feb 20. Burnett's contract ends at that time and the multi-talented star declines to extend her run.

MARIE CHRISTINE closes tonight, Jan 9, at the Vivian Beaumont Theratre, NYC.



SHADOWLANDS by William Nicholson.

C.S. Lewis, scholar and author of the Chronicles of Narnia, discovers love against all odds in this powerful true story.

What begins as a wary relationship between Lewis and the much younger American poet Joy Davidman becomes a deep affair of the heart and mind.

Alliance Theater Co. Atlanta, GA January 13-February 6, 2000

PETER PAN starring Kathy Rigby opens January 11 at the Buell Theatre, Denver Center for the Performing Arts. Production runs through January 23.

ROMEO AND JULIET presented by the French company Ballet De L'Opera De Bordeaux at the Brooklyn Center for the Performing Arts on Sunday, January 16.


WHO'S WHERE

MARILYN HORNE FOUNDATION CONCERT features vocalists: Renee Fleming, Jerry Hadley, Marilyn Horne, Bryn Terfel; Pianists: Warren Jones, Martin Katz, Brian Zeger. Presented by the Marilyn Horne Foundation Carnegie Hall Sunday, Jan. 16. Tickets are free.

BEBE WINANS joins the national touring production of Frank Wildhorn's The Civic War.Winans, winner of four Grammy Awards, is best known as the male half of Bebe & CeCe Winans.

GEORGE CARLIN who has been nominated for a Grammy brings his forbidden words to Caesars Tahoe, NV Jan. 14-15

WERNER KLEMPERER who gained famed as one of the stars of Hogan's Heroes will talk about his film career and his own experiences of WWII as a child of a Holocaust survivor. Wednesday, Jan. 12 Emerlin Theatre Library Lane in Mamaroneck, NY.


THIS AND THAT

CARTIER

CARTIER LOVE BRACELET You could win it for your sweetheart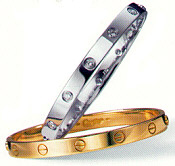 wants to know if you believe in love at first sight. If it happened to you Cartier wants your story.
Two grand prize winners will be selected based on originality and sentimentality. The lucky lovebirds will receive a pair of signature 18k gold Cartier Love bracelets.That was created in 1969 by New York designer Aldo Cipullo. The bracelet is a symbol of passionate and faithful love. It fastens with its own screwdriver onto a lover's wrist with two golden screws. Only the giver can retain this screwdriver to undo the locks of love. Sort of a symbolic chastity belt. Complete list of rules in any Cartier store in North America. Entries must be received by Jan. 24th.

SUPER BOWL PREGAME will be hosted by the Smothers Brothers and feature Tina Turner, Madonna and Travis Tritt. Madonna will perform the 1971 Don McLean anthem, American Pie which just happens to be her latest single, recorded for the movie The Next Best Thing, in which she happens to star with Rupert Everett. Reportedly, Madonna is excited to be performing before Tina Turner, one of The Material Girl's favorites. The original Chevy-to-the-levee rendition by McLean was eight-and-a-half minutes, and tells the history of rock-and-roll. Madonna's is just under five.

SIEGFRIED AND ROY will celebrate 10 years of sold-out performances at the Mirage Hotel, Las Vegas on Feb. 1.

DONNA HANOVER

DONNA HANOVER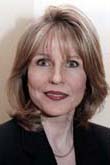 the legal wife of New York City's Mayor Rudolph Giuliani has a personal life that makes any soap opera plot seem flat.

Donna and Rudy once made headlines when they got close enough to dance with each other.

Even though it's less colorful than her own life, Donna is joining the cast of One Life to Live playing Dr. Hanson, a cancer specialist.

She currently hosts her own show on the Food Channel and is a correspondent on the New York City Fox affiliate. She's previously had small parts on Another World and Guiding Light.


ED KOCH former mayor of New York City did a review of the movie Topsy-Turvy which was printed in The Spirit. Koch wrote: "Topsy-Turvy is a bore. The coming attractions for this film were really wonderful and made me want to get in line for tickets. But the clips and the various reviews were all hype. This could have been a marvelous movie. Instead, it had me teetering back and forth, dozing off, and thinking about the restaurant we would be going to after the film would finally end. The movie is 2 hours and 40 minutes long and every minute enraged my prostate."



Mention BROADWAY TO VEGAS for Special Consideration
Call (800) 942-9027









Next Column: January 16, 2000
Copyright: January 9, 2000. All Rights Reserved. Reviews, Interviews, Commentary, Photographs or Graphics from any Broadway To Vegas (TM) columns may not be published, broadcast, rewritten, utilized as leads, or used in any manner without permission, compensation and/or credit.
Link to Main Page
---

CLICK HERE FOR COMMENT SECTION