,<! >
Broadway To Vegas
  
 SHOW REVIEWS CELEBRITY INTERVIEWS GOSSIP NEWS

| | |
| --- | --- |
| | |
NEW PLAYWRIGHTS HORIZON RESIDENT DIRECTOR LEARNS BENEFITS OF PR - - SLOVENIAN CINEMA CELEBRATED AT LINCOLN CENTER - - PASSING STRANGE RECORDED BY SPIKE LEE - - EDDY ARNOLD WILL CONTESTED BY MAN WHO CLAIMS TO BE SON - - SIOUX FALL JAZZ & BLUES FESTIVAL - - SOUTHEAST SYMPHONY ASSOCIATION'S 60th ANNIVERSARY - - DAME KIRI TE KANAWA HEADLINING RAVINIA GALA - - OFF-OFF BROADWAY SHORT PLAY FESTIVAL - - DONATE . . . Scroll Down


Copyright: July 13, 2008
By: Laura Deni

CLICK HERE FOR COMMENT SECTION
DIRECTOR LEARNS BENEFITS OF PR
Adam Fitzgerald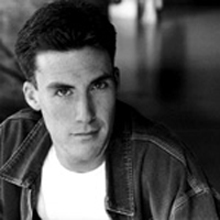 It's not very often that you find a director sitting in a PR office touting productions that aren't his. Enter director Adam Fitzgerald, recently named to one of two directing residency fellowships with the prestigious Playwrights Horizon in The Big Apple.

So, why is he serving as the new flack for the York Theater Company?

"I am kind of just here temporarily," Fitzgerald told Broadway To Vegas. "Unfortunately, Playhouse West is no more. They couldn't sustain financially," reported the former artistic director of the San Francisco based theatrical company. ( See Broadway To Vegas column of December 9, 2007 )

"I came back to New York and I'm going to be doing a residency at Playwrights Horizons," said Fitzgerald who was born in Maine and grew up in New Hampshire where his family still lives.

"It's just awesome! I am just thrilled about it," he exclaimed about his association with Playwrights.

Fitzgerald found himself with a free month before starting at Playwrights.

"The York lost their marketing person, so they asked me to come on for the month. It worked out beautifully. So, I am helping out here until I start over at Playwrights, while the York is in the process of hiring someone permanent."

Under the guidance of Artistic Director James Morgan, the York Theatre Company continues it's unique status as the only theater in New York City - and one of very few in the world - dedicated to developing and fully producing new musicals, as well as preserving gems from the past.

First day on the job Fitzgerald was cranking out press releases for the York's New2NY series, which will present staged concerts of musicals in their NYC premieres.

"The York does the Musicals in Multi series. Now this one is new to the York, but it is the same format. It's a live concert reading."

The first thing Fitzgerald learned sitting in that PR chair was that hitting the send button with really large pictures attached to an E-mail can lock up the receiving computer. Especially if that send button is hit more than once.

"I'm still learning the ropes," he laughed. "I now have a list of people who want small photos only!"

Sticking his toe in the profession of another has been an eye opener.

"So many people have to eventually self produce. Just to know what these deadlines are and how far in advance these people are actually turning out articles. That can be really helpful to realize that you need to get this stuff in people's hands well in advance of when you will see it in print. Absolutely, you need good relationships with the press."

"Anything you can learn in how things happen when producing theater can make you a better person to work with Whether or not it will make you a better director, I don't know. Understanding what other people's jobs are certainly is something that will make you a better person to work with," he reiterated.

"I will know now what every marketing person I ever work with has to go through. The hoops they have to jump through and the deadlines that they are on - what problems I cause for them if I don't have my current bio for them. And, be more aware of that. Directors never have head shots and everyone wants one. One of the things I've learned is to have every possible angle available, because it is not up to you to decide what other people find interesting. If somebody wants a story, you get them the story. That is called free press."



Larry with the cast of Compose Yourself! L to R Liz Larsen, Howard McGillin, Nikki Renee Daniels, Darius de Haas, Lorna Luft and Jason Graae. Photo by York Theatre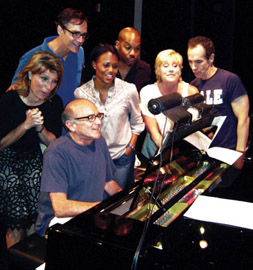 First of the three offerings for the York's new series is Compose Yourself! which is a charming revue by six time Emmy winner and two time Tony nominee Larry Grossman.

Grossman reached into his trunk for songs never heard on a New York stage, which included numbers he created for Broadway, television, revues, cabaret acts and even a presidential inauguration.

The cast features; Nikki Renee Daniels, Darius de Haas, Jason Graae, Tony Nominee Liz Larsen, Lorna Luft and Howard McGillin.

Stuart Ross the creator of Forever Plaid directs the production with music direction by David Snyder.

Award-winning composer Grossman is featured at the piano.

That effort opened Friday and has its final presentation today.

Up next is Lady in Penthouse B July 25-27. "It's a brand new musical but very much in the old school comedy style," Fitzgerald reported. "We just learned that Nancy Dusault is playing the lady. This just happened yesterday," he reported on Tuesday.



Nancy Dusault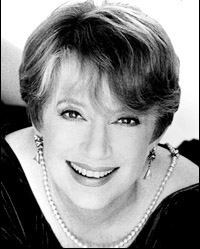 The Lady in Penthouse B is the musical comedy story of gossip columnist Lady Susan, the aging, raging boss from hell, and struggling actress Mel Mitchell, her downtrodden assistant, who engage in a comic war of wills surrounded by a friendly choreographer, a vicious male columnist, an evil cat, a faithful dog and Mel's dead Aunt Maida.

"The Devil Wears Prada meets The Producers," promised Fitzgerald. The show has book and lyrics by Peter Napolitano, music by Matthew Ward. Mark Hartman is the musical director and Pamela Hunt directs.

From that point on Fitzgerald will be at Playwrights Horizon.

"They offer two residencies for directing every year," explained Fitzgerald who attended Syracuse University, then spent three years in Atlanta as an actor. He moved to NYC in November of 2001 and was doing both acting and directing at the time, but soon focused on directing.

"Playwrights Horizons put up the applications and people apply, so I sent them my stuff. Then I went in and interviewed. They offered it to me three days after the interview. When they called me I was so shocked that it happened to quickly that I said - 'I don't know.' They said - 'Is that a Yes?'"

It was.

"It is absolutely terrific. I am going to be assisting Wilson Milam on the new Nicky Silver play Three Changes, and then Bart Sher on the new Craig Lucas play Prayer For My Enemy."

That New York Premiere will feature Cassie Beck, Victoria Clark, Jonathan Groff and Skipp Sudduth. Previews Friday, November 14, 2008 with the opening set for Tuesday, December 9, with performances through Sunday, December 21, at Playwrights Horizons Mainstage Theater.

"They asked me which of the two tracts I would prefer," he explained. "But, they match you up to where they think you are best suited. I was thrilled with what they ended up offering me. My function is as assistant director, which actually means my duties are up to each individual director."

"I was in New York for six years before I went to San Francisco, so I went back to my own neighborhood in Astoria," he said conceding that "New York is expensive, it really is. But, I got lucky. I was able to come back to a job helping out on The Bully Pulpit. It was terrific - a terrific run. And, Michael Smith who wrote the script and performed in it, is one of the most lovely people you would ever hope to meet. He was such a joy to work with."

"The first show I am working on is a brand new play called Inked Baby. On July 26 I am going in to help with a workshop of that. Inked Baby is a brand new play by Christina Anderson and that's going to be in their studio. That is one of their emerging writer plays."

Inked Baby has a storyline described as - Stuck for money and unable to conceive, Gloria enlists the aid of her sister to make the child that she and her husband can't. As they uneasily await the baby's arrival, a mysterious contamination spreads outside. But consumed by their own struggles, is anyone paying attention? In this imaginative, other-worldly new drama, one family fights to find its place in a neglected neighborhood.

"That is not happening until the Spring but we are work-shopping that this month," Fitzgerald added about the Kate Whoriskey directed production slated for a March 5 - April 13, 2009 mounting at the Peter Jay Sharp Theater.

From a workshop to the stage can be 90 percent different and that is normal.

"That is the point of a workshop," he stressed. "That's what Playwrights does. They develop new work. They've done this show in a reading. She is in the process of doing some re-writes now. They are going to put it in a workshop and present it that Monday the 28th, then she still has several months before it actually goes into rehearsal. That is part of the development of this script."

"Then on the 29th I start rehearsals for Three Changes by Nicky Silver."

The cast a includes Golden Globe winner and Emmy Award nominee Dylan McDermott, Emmy Award nominee Maura Tierney, Aya Cash, Brian J. Smith and Scott Cohen.

The World Premiere will be the first of the season and begins previews on Friday, August 22, 2008 at Playwrights Horizons' Mainstage Theater.

"Playwrights previews longer than the show actually runs," Fitzgerald explained. "They do three-and-a-half-weeks of previews and two-and-a-half-weeks of actual runs. For the whole preview period, there is a potential for development."

Playwrights Horizons is a writer's theater dedicated to the support and development of contemporary American playwrights, composers and lyricists, and to the production of their new work.

Under the leadership of Artistic Director Tim Sanford and Managing Director Leslie Marcus, Playwrights Horizons continues to encourage the new work of veteran writers while nurturing an emerging generation of theater artists. Writers are supported through every stage of their growth with a series of development programs: script and score evaluations, commissions, readings, musical theater workshops, Studio and Mainstage productions.

In its 37 years, Playwrights Horizons has presented over 350 writers and is the recipient of numerous awards and honors.

"My whole thing has always been working on new works," Fitzgerald emphasized. As to the new directing fellowship he exclaimed; "I'm kind of over the moon about it!"


33rd ANNUAL SAMUEL FRENCH OFF-OFF BROADWAY SHORT PLAY FESTIVAL
A selection of 40 short plays, chosen from over 450 submissions by playwriting workshops, university theatre programs, and professional companies nationwide will be presented at the 33rd Annual Samuel French Inc. Off-Off Broadway Short Play Festival on July 15th at the Peter Jay Sharp Theatre in The Big Apple

The festival, which runs through July 20, features a full program of the selected plays performed for audiences and a panel of judges comprised of the following playwrights: Thomas Bradshaw, Kathleen Clark, Israel Horovitz, Shirley Lauro, Eduardo Machado and Jane Milmore. In addition, theatrical agents representing the following agencies: Beacon Artists Agency, The Gersh Agency, Bret Adams, Ltd., William Morris Agency, Abrams Artists Agency and International Creative Management as well as and Samuel French editorial staff will also serve on the judging committee. Six finalists will be chosen to have their plays licensed and published by Samuel French, Inc.

The 40 plays being presented this year are: (W)hole by Lane Bernes; 40 Stat. 76 by Arlene Hutton; A Chicken Goes to Broadway by Kate Louise Sugarcane Marks; A Dark Wood by Rob Cardazone; A New Shade of Red by Jessica Hinds; Ayravana Flies or A Pretty Dish by Sheila Callaghan; Balls by George Cameron Grant; Blind Date by Don Creedon; Checkpoint by Jason Platt; DNA by Christina Gorman; Evenstar Ellesar by Forrest Stone; Falutin by C.S. Hanson; Friendly Fire by T.E. Abrams; F**king Art by Bekah Brunstetter; Good Enough by Kitt Lavoie;Harborside by Tom Matthew Wolfe; Juniper; Jubilee by Janine Nabers; Kiss and Tell by Steven Yockey; Kissing Will by Virginia Reynolds; Marginalia by Kendall Rileigh; Marked by Cassandra Lewis; Molly Finn RIP we love you by Cary Gitter; Muffin by Jennifer Brown; Pi Yao and the Farmers' Daughters by Maurice Martin; Seal Song by Jennifer Fell Hayes; Sex and Money and Money and Sex by Jack Karp; The Adventures of… by Kathleen Warnock; The Art Lady by Justin Deabler; The Cherry Sisters by Sean O'Donnell; The Club by James Christy; The Dying Breed by Thomas Higgins; The Grave by Gabe McKinley; The Queen is Dead by Casey Wimpee; The Thread Men by Thomas Dunn; The Visit by Delorah Whitney; Twilight's Child by Mark Borkowski; Underneath it All by Tom Rushen; When Rodney Met the Vikings by Pamela Robbins; Wild Follows the Queen by Matthew Paul Olmos; and Yog Sothoth by Lia Romeo.

The Off-Off Broadway Festival started in 1975 and is Manhattan's oldest continuous short play festival. Over 390 theatre companies and schools have participated in the Festival's first thirty years, including companies from coast to coast as well as abroad from Canada and England. This festival has served as a doorway to future success for many aspiring writers. Over the years, 175 submitted plays have been published, and many of the participants have become established, award-winning playwrights. By requiring authors to collaborate with a producing organization and present their work in performance, Samuel French seeks to encourage the collaborative and creative process of playwriting.

Samuel French Inc. was founded in 1830 with offices in New York City, Los Angeles, Toronto and London, and retail bookstores in Hollywood and Studio City making it the oldest and largest publisher and licensor of plays in the world.



Broadway To Vegas is supported through advertising and donations. Priority consideration is given to interview suggestions, news, press releases, etc from paid supporters. However, no paid supporters control, alter, edit, or in any way manipulate the content of this site. Your donation is appreciated. We accept PAYPAL. Thank you for your interest.


SWEET CHARITY


DAME KIRI TE KANAWA HEADLINING RAVINIA FESTIVAL'S 2008 GALA Ravinia Music Director James Conlon will conduct the Chicago Symphony Orchestra in the festival's annual fund-raiser in which superstar soprano Kiri Te Kanawa will give her final concert in the Chicago region as Ravinia Festival's 2008 Gala Benefit Evening on Saturday, July 19.

The annual gala, hosted by the Women's Board of Ravinia Festival, is the only performance fund-raiser staged by the not-for-profit festival, which has presented the CSO in its summer residency since 1936.

The black-tie Women's Board Gala dinner and concert takes place July 19 in Chicago.

SOUTHEAST SYMPHONY ASSOCIATION'S 60th ANNIVERSARY BENEFIT CONCERT: AN AFTERNOON WITH MR. GERSHWIN One of the oldest primarily African-American orchestras in America performs An American in Paris, Rhapsody in Blue with pianist Althea Waites, Cuban Overture, and Porgy and Bess with Victoria Burnett and Cedric Berry. Sunday, July 20, at Walt Disney Concert Hall in Los Angeles.


OTHER PEOPLE'S MONEY


DAVID H. KOCH 68, will have his name is lights when Lincoln Center renames the New York State Theater – home of New York City Ballet and New York City Opera - in his honor. It's a thank you for his gift of $100 million towards the renovation of the New York State Theater. Considered the wealthiest resident of New York City with a net worth of $17 billion, his gift will be the largest private capital donation in Lincoln Center's history. Koch is executive vice president of Kansas-based Koch Industries, Inc. which is known for Stainmaster carpet, Lycra spandex, among other products.

THE WILL OF SINGER EDDY ARNOLD filed May 19 in Davidson County Probate Court, TN named his grandson, Shannon Pollard, as the trustee of the Richard Edward Arnold Revocable Trust and his daughter and son as the heirs of an estate estimated to be worth more than $40 million.

Richard E. Arnold Jr., and his sister, Jo Ann Arnold Pollard are listed as the heirs.

The will made no mention of an illegitimate son.

Christopher Edward Tanner, 47, of Anaheim, CA claims to be Arnold's illegitimate son and recently filed a petition in Davidson County Chancery Court requesting DNA testing to establish paternity.

Arnold, who died at age 89 on May 8, was a member of the Country Music Hall of Fame who sold more than 85 million records. ( See Broadway To Vegas column of May 17, 1999 )

Tanner's mother, Arlene Tanner-Glynn, said she met Arnold in the 1950s while working in the music industry. Arnold's attorney has said that the singer denied to his family the claims that he fathered Tanner.


SPREADING THE WORD


AT THE CROSSROADS is a festival of more than a dozen classic and contemporary films charting Slovenian cinema's uplifting success story. This event is presented by the Film Society of Lincoln Center in collaboration with and with major support from the Slovenian Film Fund.

On Wednesday, July 16, a screening of Rooster's Breakfast at the Walter Reade Theatre in NYC will be followed by a Q & A with director Marko Nabersnik.

Laid off in his hometown, Djuro thinks his new job in the country means a tranquil, easy-going life- until he catches sign of Bronja, a stauesque beatuy who clearly has eyes for him. Too bad she's married to Lepec, the local mob boss. Always on the verge of becoming a kind of thriller, Rooster's Breakfast is packed with eccentric characters and subplots. It went on to win national awards for best director, screenplay, and actor.

Director Marko Nabersnik and author, film writer, and Slovenian scholar Joseph Valencic to introduce screenings throughout the series which takes place July 16-22.


CURTAIN DOWN


PASSING STRANGE plays its final performance at the Belasco Theatre in NYC on July 20. The new musical began Broadway previews February 8 and officially opened on February 28. When it closes, the production will have played a total of 20 previews and 165 regular performances. Spike Lee will film both the matinee and evening performances on July 19.

MONTY PYTHON'S SPAMALOT the Las Vegas version, starring John O'Hurley - which is better than the Broadway version - will delight Sin City audiences for the last time tonight, Sunday, July 13, 2008. The production ran for 509 performances at Wynn Las Vegas. If you prefer to "always look on the bright side " Spamalot is dishing out it's special brand of laughs in London, Broadway and is on a North American tour.



THE NEXT BIG THING with book by Jeff Favre and music and lyrics by Breech's Missy Gibson and Mike Flanagan.

It's 1983, and Chip and his budding garage band are looking for the new sound that will take them to the next level - much to the dismay of Chip's mom, Melissa - a singer-songwriter from the '60s with a checkered past and a belief that good music is more than a simple hook.

"When Jeff first approached me, it was just to write the music," laughed Gibson, who also plays the role of Melissa. "As I was reading the script, I recognized some of the dialogue and incidents. That's when he said, 'Oh, yeah, I kind of based the character on you - I hope you're okay with that.' " "I've always loved the '80s and never understood why there are no musicals about that period that really click," said Favre. "I'm a writer - and I knew that if I could collaborate with professional songwriters who could tell a good story with their songs, we'd be on to something. Then, an incident in Missy's life sparked an idea for that story - and here we are." The Next Big Thing is unique in that it blends two distinct musical styles to tell its story. The songs performed by Chip's band are straight 80s retro pop dominated by the DX7 - the first commercially successful digital synthesizer that was so ubiquitous in the music of that era. The rest of the songs reflect the versatility of Gibson and Flanagan's writing that is only hinted at in the edgy sound of their acclaimed band, Breech.

Favre co-directs with Rachel Maize, and musical direction is by Breech's Mike Flanagan. In addition to Gibson - who as an actress studied with Uta Hagen and as a musician was dubbed "the best independent singer/songwriter in the country" by the Detroit Metro Times, the cast features Brandon Ruckdashel, Matisha Baldwin, Jason Director, and Michael Thompson.

Also in the cast are Heather Belling, Curt Bonnem and Ellen D. Williams KROQ's Lisa May of the Kevin and Bean Show makes a cameo appearance on Friday nights.

Opens on Saturday, July 19 and continues through August 16 at art/works Theatre in Los Angeles.

CLEOPATRA - A LIFE UNPARALLELED Book, music, lyrics by Cheryl E. Kemeny. Musical director and co-director: Cheryl Kemeny Choreographer & co-director: Char Fromentin.

In the entire world, few names can conjure up powerful images of beauty and sensuality as Cleopatra. Now, her timeless story is brought musically to life in this new musical as part of the Ninth Annual Midtown International Theatre Festival in Manhattan.

Most well known today as the lover of Julius Caesar and Marc Antony, Cleopatra was far more than just a royal consort. Born into a country rife with intrigue and suspicion, Cleopatra quickly lost the bloom of youthful ignorance, learning the importance of duty and the mantra of the ruling class to "kill or be killed." Ascending to the throne upon the death of her weak-willed father, her attempts to rule were undermined by her ambitious younger brother, whose efforts only succeeded in plunging the country into a civil war.

Then there was the matter of Rome. Although many in Egypt wanted to fight these invaders until the streets ran red with blood, Cleopatra realized the futility of such an action. Rather she wanted Egypt to become part of the Roman Empire, enjoying its protection, while remaining a power in its own right. This required her to form an alliance with Julius Caesar - using her own body as collateral, an act which was not well received back in Rome and which may have led to Caesar's final downfall. Soon after Cleopatra saw her protector cruelly snatched away, she found new opportunities and love in the arms of Marc Antony.

Whether thought of as a beloved Queen or disparagingly referred to as "that woman", through it all, Cleopatra wanted only one thing - a strong Egypt. But while she made great strides to that end, she could never win over her detractors, always having to deal with gossip, second-guessing (as portrayed here in the classic Greek chorus manner), and predictions of doom which foreshadowed her final downfall and descent into legend.

Told with musical styles which include sensual romantic melodies, blues-rock rhythms, Latin and reggae, Cleopatra - A Life Unparalleled transports the audience to a time where the major form of news was gossip and innuendo; where centers of power were hotbeds of jealousy and death; where marriages were often mere things of convenience; and where nations made war against their neighbor simply because they could.

The cast in this Equity approved showcase features Matthew Surapine, Melissa Labbadia, Jessica Labbadia, Gregory Kisken, Kyle Alexander Brenn, Samantha Kulish, Jennifer Van Buskirk, Daniel Hague, David Vogel, Joe Santaniello, Cidalia Alves and Laura Piacenza.

Presented by Crystal Theatre Part of the Ninth Annual Midtown International Theatre Festival July 16th - August 3rd at the June Havoc Theatre Abington Arts Complex, NYC.

COURTING MAE WEST: SEX, CENSORSHIP AND SECRETS written by LindaAnn Loschiavo. Directed by Louis Lopardi.

Courting Mae West is based on true events happened in New York City 1926-1932, when, according to playwright LindaAnn Loschiavo, "Verdi worthy-villains" rose up against the tough talking, liberal minded actress/playwright Mae West. Fighting for the freedom to talk about sex in the Prohibition Era, Mae West faces off with her critics.

"Act I begins on December 1926; final act is set in December 1932 as Mae West is filming She Done Him Wrong in Hollywood," Loschiavo told Broadway To Vegas.

Performances July 19-23 at The Kaufman Theater at the Algonquin Theater Company, NYC.

HALF A SIXPENCE Music and Lyrics by David Heneker. Book by Beverley Cross. Based on the Novel by H. G. Wells. Choreographed by Patti Colombo. Directed by Gordon Greenberg.

A bouncy, romantic musical that will leave you laughing and wanting more Enjoy the antics of young Arthur Kipps - a Cockney shop clerk who inherits a fortune, flirts with society, loses his money and winds up happier without it.

Chock full of lively dancing and memorable tunes: Party's on the House; If the Rain's Got to Falll; Flash Bang Wallop and more.

Starring Donna English, Jon Peterson, Sara Gettelfinger, James Judy, JeffSkowrow, Julia Osborne, Carrington Vilmont, Adriene Couvillion, Cameron Henderson, Elise Kinnon, Desiree Davar, Danny Gardner, Peter Leskowicz, Kate Marilley, West Hart, Caroline Massagee. Cheryl McMahon, Colby Q. Lindeman, Michael P. Price, Rod Roberts, Bob Alwine, Eric Shorey and Kate Warner Johnson.

The creative team includes set designer Rob Bissinger, costume designer David C. Woolard, lighting designer Jeff Croiter, music director Michael O'Flaherty, assistant music director F. Wade Russo, orchestrator Dan DeLange, dance arranger Gregory M. Brown, Jay Hilton sound; Mark Adam Rampmeyer hair and wig design.

A lively post show audience discussion with the cast is offered on Thursday, August 7, August 21, and September 4.

Through September 17 at Goodspeed Opera House in East Haddam, CT.




WHO'S WHERE


BROADWAY BOYS Six of the hottest male voices from such Broadway hits as Mamma Mia, Mary Poppins and The 25th Annual Putnam County Spelling Bee sing fresh close-harmony arrangements of classic pop and show tunes, backed by a 4-man band. Don't miss this dynamic group in their first appearance outside New York City Monday, July 16, at the Weston Playhouse in Weston, VT.

SMITHSONIAN JAZZ MASTERWORKS SEPTET Ken Kimery, Charlie Young, Scott Silbert, and Tom Williams will pay tribute to the man whose smooth alto sax sound was the signature of the Duke Ellington Orchestra - Johnny Hodges. This year marks the centennial of Johnny Hodges, the saxaphone player who Benny Goodman called "the greatest man on alto sax I've ever heard." Johnny Hodges was best known for his long association with the Duke Ellington Orchestra as a much-featured soloist on many of the classic Ellington recordings in the 1940s. In March 1951 Johnny Hodges left the Ellington Orchestra, taking with him Lawrence Brown and Sonny Greer to form his own small group. The success of this small group produced many wonderful recordings and even a hit record, "Castle Rock." In the Jazz session for the Lincoln Park Music Festival, the SJMO will delve into the late Johnny Hodges' brief but important artistic period from 1951 up until his rejoined the Ellington Orchestra in 1955. Now in its 17th year and the third in its series with The Smithsonian Associates, the Smithsonian Jazz Masterworks Orchestra re-creates big band jazz as its composers and arrangers intended it to be played, stripping away intervening changes and alterations. Saturday, July 19, at the Shenandoah Valley Music Featival in Orkney Springs, VA.

SIOUX FALL JAZZ & BLUES FESTIVAL takes place July 18-19 at Yankton Trail Park in Sioux Falls, SD. On board are; Joyce Cooling, Tab Benoit, Taj Mahal, Blues Bashers, Slim Man, Jonah Smith, Simone who is the daughter of musical legend Nina Simone, four-time Grammy nominee Robben Ford, Ivan Neville's Dumpstaphunk and Grammy winner Jonny Lang. Now in its 17th year, the event is free.

COLDPLAY opens a two night stand Monday, July 14, at The Forum in Los Angeles. On Friday they are at the HP Pavilion in San Jose, CA and on Saturday the show shifts to the MGM Grand in Las Vegas.

THE EAGLES entertain Monday, July 14, at The Wachovia Center in Philadelphia. On Thursday they are on stage at the Borgata Hotel in Atlantic City.

GEORGE MICHAEL performs Monday, July 14, at the Toyota Center in Houston, TX. On Thursday the performance is at the Air Canada Centre in Toronto, Ontario. On Friday the show moves to the Bell Centre in Montreal, Quebec.

BRUCE SPRINGSTEEN on stage Tuesday, July 15, at the Estadio de Anoeta in San Sebastian, Spain. On Thursday the performance is at Estadio Santiago Bernabeu in Madrid. On Saturday Bruce and the gang open a two nigh tgig at Camp Nou in Barcelona.

GOOD CHARLOTTE brings the show to Showbox SoDo in Seattle, WA on Monday, July 14. On Tuesday the performance is at Roseland Theater in Portland, OR. Thursday the act is at the Berkeley Community Theatre in Berkeley, CA. On Friday the place is the Gove of Anaheim in Anaheim, CA and on Saturday they are on stage at The Wiltern in Los Angeles.

EMMY LOU HARRIS is in the spotlight Thursday, July 17, at the Vilar Center for the Arts in Beaver Creek, CO. On Saturday she performs at the Grand Targhee Festival in Alta, NY.

NEIL DIAMOND opens a two night stand at the Xcel Energy Center in Saint Paul, MN on Saturday, July 19.

THE POLICE on stage Monday, July 14, at the Shoreline Amphitheatre in Mountain View, CA. On Wednesday they perform at Sleep Train Pavilion at Concord, CA. On Thursday, they can be enjoyed at the Sleep Train Amphitheatre in Marysville, CA. Saturday finds them at the Usana Amphitheatre in Salt Lake City.

Next Column: July 20, 2008
Copyright: July 13, 2008. All Rights Reserved. Reviews, Interviews, Commentary, Photographs or Graphics from any Broadway To Vegas (TM) columns may not be published, broadcast, rewritten, utilized as leads, or used in any manner without permission, compensation/credit.
Link to Main Page
---
Laura Deni


CLICK HERE FOR COMMENT SECTION