! >
Broadway To Vegas
  
 SHOW REVIEWS CELEBRITY INTERVIEWS GOSSIP NEWS

| | |
| --- | --- |
| | |
THEATRE ON THE ORIENT EXPRESS - -SPORTS VERSION OF SWAN LAKE AT THE WATER CUBE IN BEIJING - - QUEEN ELIZABETH AND MARILYN MONROE COULD WEAR EACH OTHER'S CLOTHES - - MICHAEL JACKSON BUTTER IDEA TURNS RANCID - - LIMP BIZKIT PERFORMS FIRST U.S. SHOW IN 8 YEARS IN LAS VEGAS AND IT WAS FREE - - MADONNA'S STAGE DISASTER - - PRESS GIVEN THE HOOK AS TONY VOTERS - - MOVIE CATCH ME IF YOUR CAN TURNED INTO A STAGE MUSICAL - - DONATE . . . Scroll Down


Copyright: July 19, 2009
By: Laura Deni
CLICK HERE FOR COMMENT SECTION

A SPORTS VERSION OF THE BALLET SWAN LAKE STAGED IN BEIJING'S WATER CUBE


The two main swimming pools, where athletes from around the world competed during the 2008 Beijing Olympics, are part of the stage as the swan lake. Photo: China Agencies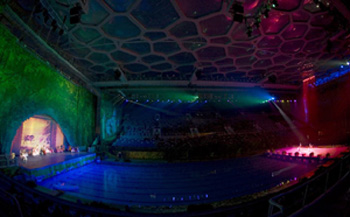 Not since Matthew Bourne put the guys in tutus for his all male version of Swan Lake has a production of the quintessential Russian work by Pyotr Tchaikovsky drawn so much attention. A classical ballet or a sports extravaganza? Both. Swan Lake has undergone a serious revamp. For the first time ever the Russian Imperial Ballet Company has teamed up with none other than Chinese divers to present a brand-new version of Swan Lake at National Aquatics Centre - AKA - The Water Cube in Beijing. That's the swimming hole where Michael Phelps earned 8 gold medals.

Through the end of August Russian dancers are performing on a specially constructed stage akin to an island built in the middle of the swimming pool, where more than 60 artists and sportsmen from Russia, as well as several wushu masters from China present this magnificent theatrical event specifically produced for the venue.

Artists from the Royal Russian Ballet Troupe and world famous Russian water ballerinas perform as swans in the water, while well-known Chinese divers acted as the devils. The main villain of the ballet is played by famed Chinese diver Yang Guang who jumps from a 10-meter-high board.

The teaming is China and Russian is not so unusual as Russia borders part of China. In that locale Russian visitors are so numerous that signs are printed in Chinese, Russian and English. A Chinese shop clerk greeting somebody who is Anglo-Saxton looking will begin the conversation in Russian.

Produced by Beijing Artists Managementcorp. Ltd. & Beijing International Culture & Arts Corp. Ltd. this is a heavily invested full-vision ballet, boasting that it breaks up the limit of the one-dimensional space of the conventional stage. The two main swimming pools, where athletes from around the world competed during the 2008 Beijing Olympics, are part of the stage as the swan lake. The 70-minute ballet is also peppered by a laser show.



Royal Russian Ballet Troupe and world famous Russian water ballerinas perform as swans in the water, while well-known Chinese divers acted as the devils, Photo; China Agencies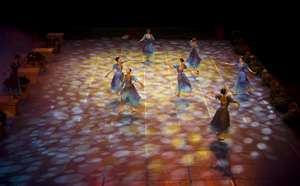 Cleverly, Swan Lake uses the complete space of the venue, according to RIA Novosti. A full stage is suspended over the far side of the racing pool, providing a traditional point of focus; the main racing pool is transformed into the beautiful lake, the home of Princess Odette; a secondary stage is positioned between the diving pools and racing pools, and even the diving platforms are utilized, adding a sense of drama and danger to the story.

This gives Beijing the wonderful opportunity to once again bridge across cultures using dance and sports; two entertainment types that do not require the use of language.

There is also speculations that this sports version may encourage men to not be so grumpy when agreeing to accompany their wives to a ballet.

While Beijing is capitalizing on utilizing the power of the arts to cross cultural boundaries while experimenting with dual functions of The Water Cube - the significant reason for tackling this venture is - money. If venue events like this are successful Beijing may not have to sell off the naming rights to the Water Cube. The money issue is an issue plaguing all Olympic venues

Turning the elaborate venue into a desirable location for broad based entertainment is a strategy to keep the Bird's Nest and the Water Cube from becoming white elephants, sucking in millions for maintenance. People breathed easier after officials lined up an array of events and attractions to keep the iconic venues alive and active - without having to resort to selling name space.

The post-Olympic use of Beijing's venues was hotly debate even before the Olympic Games began last August. The Bird's Nest cost about $425 million and the annual operation and maintenance bill is estimated to be almost $25 million.



The main racing pool is transformed into the beautiful lake, the home of Princess Odette. Photo; China Agencies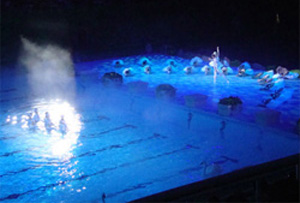 Turning the stadium into a commercially successful venue for major sports events, high-profile performances and other long-term needs of the community was seen as a challenge.

Naming rights or a lucrative corporate sponsorship would have been easy options. Insiders revealed that Adidas had offered over $10 million to name the stadium after the sports goods giant, but Yang Weiying, deputy general manager of Beijing CITIC Consortium Stadium Operation Co Ltd, which has a 42-percent stake in the venue and management rights for 30 years, said: "We are not going to sell the right to name the Bird's Nest now."

"The Bird's Nest is a symbol of national pride. It showcased Chinese people's dreams and achievements during the Olympic Games. People may feel uncomfortable seeing a company label attached to the venue." Yang said the Olympic venues have been developed on several fronts: Tourist attractions, hosts of high-profile sports and entertainment events and commercial services.

After the Olympic Park opened to the public last October, the Bird's Nest and the Water Cube have become huge draws. Wang Chun, deputy director of the managing committee of the Olympic Park, told China Daily that the Bird's Nest has received more than 4 million tourists and earned almost $31 million, while the Water Cube has been visited by more than 2 million and raked in almost $12 million.

"It's amazing for any single destination in the world to receive so many tourists in such a short time. But we are still thinking of ways to develop it into a more friendly multi-functional park. During the National holiday, some 80,000 tourists visited the Bird's Nest but now the number has declined to 5,000 to 6,000 per day. So we must improve the facilities and create new attractions."
Zhang Hengli, deputy general manger of National Stadium Co Ltd, said the Bird's Nest will present carnivals and demonstration of breath-taking adventure sports in the day while hosting mega sports events or blockbuster shows after dark.

"We will carefully select the events and make it a world-class arena hosting high-profile national and international events," said Zhang.

Sandwiched between a Jackie Chan gig last May 1 and Zhang Yimou's arena production of the opera Turandot in October, Chinese soprano Song Zuying and pop star Jay Chou appeared with star pianist Lang Lang and great tenor Placido Domingo last June 30 for Charm of China - Bird's Nest Summer Concert.

"We not only rent out the venue but are also involved in producing and organizing events. We are co-organizers of Charm of China - the Bird's Nest Summer Concert and will make it an annual highlight event in Beijing's culture calendar. In addition to Turandot in October, we will produce other shows to mark New China's 60th anniversary," Zhang stated.

The Bird's Nest and Water Cube will be redeveloped after the National Day holiday in October. Restaurants will open on the second and third floors of the Bird's Nest stadium while the Water Cube will be turned into an entertainment complex with cinemas and restaurants.

Swan Lake runs nightly through August


DRAMA ON THE ORIENT EXPRESS

The biggest mystery may be how they were able to pull this off - staging 6 productions in 6 languages during a two month trip on the famed Orient Express - the train made famous by author Agatha Christie.

Under the umbrella of the European Theatre Convention (ETC) six nation-wide renowned ETC partner theatres spent a year-and-a-half planning this unique, collaborative, artistic Theatre Orient Express project that left Istanbul last May 14 and headed towards the west.

Under the direction of Project Manager Christian Holtzhauer from Schauspiel Stuttgart Theatre in Germany, which also was responsible for the artistic concept, the theatres embarked on a journey that lead them far away from any knowledge, routine or expertise which they could normally rely on when mounting theater productions for their own venues and their local audiences. They worried that the project was going to become more of a railway tour than a theater production. Until the very start of the journey it was not known what exactly the different stations and venues would look like, how different audiences would react to performances in languages they cannot understand, and what would happen during the journey from one performance locale to the next.



A crowd gathers at a train station to attend the performance. Photo: All People Pool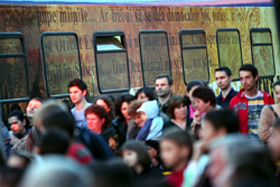 Train stations in countries throughout Europe were filled with theatre and cultural activities. Six new plays, one from each participating ETC partner theatre, were commissioned for the project and were performed on the train. The theatre project examines European identity, expectations of and past experience with the European unification process, and issues like escape, expulsion, mobility and settling down.

The aim of the Orient Express project is to let the train be a moving theatre lab for young artists, a place of theatrical exploration of 'otherness' and identity along the route from Istanbul through South-Eastern Europe to Germany, from east to west.

The train stopped at the stations of each participating theatre's city and one of the train cars was be transformed into a full functioning theatre stage. The theatre car was constructed as a collaboration project between the Turkish State Theaters and the Turkish State Railway Company.

How to deal with the unexpected and to anticipate the unknown was therefore the most important lesson each of the partners had to learn.

Theatre officials called the railway staff "the real heroes of the Orient Express Theatre. This project just wouldn't be possible without the enormous effort of the Turkish and local train crews."

Participating theatre included; Turkish State Theatres, Ankara (Turkey); Teatrul National 'Marin Sorescu' Craiova (Romania); Zagreb Youth Theatre (Croatia;) Serbian National Theatre Novi Sad (Serbia); Slovenian National Theatre Nova Gorica (Slovenia); State Theatre Stuttgart (Germany) and with the participation of Theater Freiburg (Germany), a project developed under the patronage of the European Theatre Convention.
Each ETC partner theatre selected its artistic team. Those included some of Europe's most critically acclaimed authors of contemporary drama such as Matei Visniec (Romania), Tena Štivicic (Croatia) and Soeren Voima (Germany).



A performance of Seven Days in Zagreb by Tena Štivicic, directed by Tijana Zinajic by the Teatrul National Theatre of Craiova Romania. Photo; All People Pool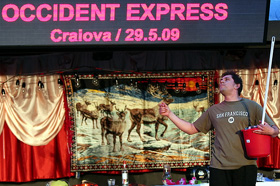 The plays were performed in the country of its origin and then followed the train to the next country to be performed there. Because of this chain system, and since the Turkish production followed the train all the way was performed in all the different countries, there were always actors from three different countries present on the train.

The plays included; Ex-Press by Sirin Aktemur, directed by Mustafa and Övül Avkiran from Turkey. Occident Express by Matéi Visniec, directed by Alexandru Boureanu of Romania. As If by Branko Dimitrijevi, directed by Predrag Štrbac of Serbia. Seven Days in Zagreb by Tena Štivicic, directed by Tijana Zinajic of Croatia. Titanic Orchestra by Christo Bojcev, directed by Matjaz Latin of Slovania and 80 Days and 80 Nights by Soeren Voima, directed by Christian Tschirner of Germany.

In cooperation with the ZDF Theaterkanal and the Filmakademie Ludwigsburg a film crew, led by director Christian Müller and cameramen Martin Andersson and Steffen Düvel, accompanied the artistic teams on the train and documented the project.

For the last 200 years European identity has been defining itself as 'occidental' in opposition to the 'oriental' culture and identity. The orient, as a Western or European projection of a geographical, political and cultural sphere, served as the 'other'. It was a mirror for Western political and colonial interests. At the same time, the orient was a place of dreams and imaginations, of desire and sexuality, of spirituality and miracles. When the great railways were built in the nineteenth century, the orient became accessible to European businessmen and tourists.

The Orient-Express itself connected Western Europe (London and Paris) with South-Eastern Europe and finally Turkey. Istanbul, the former Constantinople was the final destination of the legendary and luxury train. During World War I the route altered, but the Orient-Express remained to be a symbol of conquering space and time and reaching out to the Near East.

Theatre Orient Express began its journey in Ankara stopping for performances in Istanbul Turkey, then in Bukarest, Craiova followed by Temeswar, Romania and on to Novi Sad, Serbia, followed by Zagreb, Croatia, moving on to a stop in Ljubljana and Nova Gorica in Slovenia and then to Freiburg, Germany on its way to the final destination of Stuttgart, Germany. The final production will be staged today, July 19, during which time all the participants will be united during the Orient Express Festival and perform the six plays on the rolling stage.



Broadway To Vegas is supported through advertising and donations. Priority consideration is given to interview suggestions, news, press releases, etc from paid supporters. However, no paid supporters control, alter, edit, or in any way manipulate the content of this site. Your donation is appreciated. We accept PAYPAL. Thank you for your interest.


ART AND ABOUT


QUEEN AND COMMONWEALTH: THE ROYAL TOUR

The Duke of Edinburgh, Jacqueline Kennedy, Queen Elizabeth II and President Kennedy at Buckingham Palace in June 1961. Both Jacqueline Kennedy and Queen Elizabeth were considered two of the most beautiful women in the world.
a special exhibit to mark the United Kingdom's 60th anniversary brings together twenty-seven dresses worn by Queen Elizabeth II on Commonwealth visits over the past six decades, including evening gowns and daywear by the royal couturiers Norman Hartnell, Hardy Amies and Ian Thomas.

Still a magnificently well groomed and stylish woman, upon her ascension to the thrown Elizabeth and Marilyn Monroe could have worn the same gowns.

The young Queen Elizabeth's dressmaker measurements were listed as; 36B-22 1/2-35 while Marilyn Monroe's dressmaker listed her measurements as 35-22-35 while her studio claimed they were 37-23-36 (inches). (NOTE) St. James Palace has indicated that no royal dressmaker has ever divulged the Queen's measurements.)

Both women had gorgeous figures that women envied and men drooled over. Despite possessing everyone's ideal figure, Elizabeth's station in life required that modesty and comfort trump sexy.



This elegant blue and white gown showed off the Queen's tiny waist in a dignified yet glam design.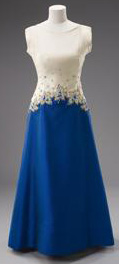 Worn 1963 in New Zealand. The oyster-colored duchesse-satin skirt cut into a scissor-style shape, manages to be both architectural and fluid. The heavier fabric provided a backdrop for an embroidered diamond patterned panel decorated with pearls, diamanté and sequins.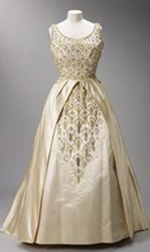 This exhibition is both a fascinating look at fashion and the surprising attention to the sensitivity of others that Her Majesty displays in her wardrobe.

There is also a tremendous similarity in many of the outfits worn by Michelle Obama and the Queen of England. No wonder the women talked about shoes when they had tea.

Her first tour as Queen was begun in 1953, lasted six months and required 100 new outfits.

Elizabeth immediately put her trust in Norman Hartnell, the couturier who designed both her wedding and Coronation dresses.

Few designers have ever undertaken such an enormous challenge. There were climate conditions - from the sticky heat of the West Indies to the chill of north Asia. The monarch's stature also needed to be considered - only 5 feet 4 inches - she needed to stand out but not have the clothes wear her.

Getting in and out of automobiles, standing and sitting, walking up and down stairs - in front of the prying eyes of cameras and people.



For a 1961 state dinner in Lahore, this gown combined a full-length ivory dress with an extraordinary train of emerald green, representing the national colors of Pakistan.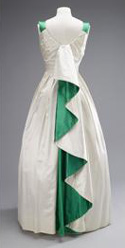 For a visit to Australia the Queen wore this bright yellow gown which was accessorized by the yellow-diamond wattle brooch she was given by the Australian people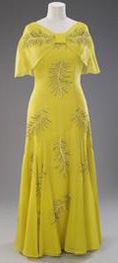 Duchesse satin came to the rescue. More traditional satin would crease and heavier materials were too hot.

Almost immediately after her Coronation, the new Queen informed her designers that she had some rules when she went on tours - as a compliment to the host nation, her evening clothes should pay homage to the host country in some way - by the use of national colors, design or emblems.

Her evening clothes must complement the host country. Who knew?

At a State Dinner in Lahore during the 1961 tour of India and Pakistan, Hartnell designed a magnificent duchesse-satin gown in ivory and emerald green, the national colors of the Pakistan.

For the 1974 tour of Australia, the designer Ian Thomas created a dress and cape that would showcase a diamond wattle brooch that the Government and People of Australia had given to The Queen in 1954, during her first visit to Australia. The dress created was of bright yellow silk-chiffon, embroidered with sprays of wattle, the national flower of Australia.

Another time, on a visit to Montreal in 1976 for the opening of the Olympic Games, there was a subtle pattern of Olympic rings incorporated into a dress of blue silk.



For the 1970 tour of Australia, Norman Hartnell created a day dress and jacket of mimosa-yellow fine wool crępe.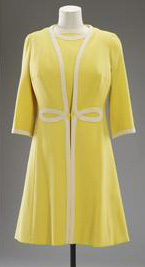 On a visit to Montreal in 1976 for the opening of the Olympic Games, the Queen's gown contained a subtle pattern of Olympic rings incorporated into a dress of blue silk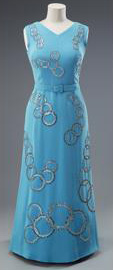 For the 1970 tour of Australia, Norman Hartnell created a day dress and jacket of mimosa-yellow fine wool crępe.

The outfit was accompanied by a striking straw hat, designed by Simone Mirman, who had been head milliner to Schiaparelli.

This outfit is similar to the inaugural dress and jacket that Michelle Obama wore to the swearing in and parade.

The majority of Elizabeth's daytime wardrobe was placed in the hands of Hardy Amies who began designing for her when she was Princess Elizabeth and continue to do so until he retired a year before his death, at the age of 93 in 2003.

A master of tailoring, Amies eased the Queen towards the sharper silhouettes of the 1960s, 1970s and even the 1980s.

Yet he remained mindful that there were limits to how faithfully the Queen would be permitted to follow fashion.

This summer 28 key dresses from the Queen's wardrobe archive go on display - along with jewelry and millinery - as part of Queen and Commonwealth: the Royal Tour.

At Buckingham Palace, London from July 26 to September 30, 2009




VOTING RULES CHANGED FOR TONY AWARDS


The opinion of the press doesn't count - at least when it comes to voting. It was a surprise decision which sent shock waves reverberating around Broadway, while egos tried to cope with an identity crisis. Last Tuesday the Tony Management Committee announced that about 100 theater critics, journalists and some in the television/radio industry were no longer Tony voters due to a conflict of interest.

During a mysterious meeting the committee decided that members of first-night press list - journalists who are invited to Broadway shows prior to the official opening for the purpose of reviews and feature articles - had conflicts of interest because they vote on Tony contenders at the same time they have the opportunity to favorably report on a show.

Several of the journalists snapped back that they had less of a bias and conflict of interest than the Broadway producers, actors, publicists, designers and others who, as Tony voters, were voting for their own shows or for those of their friends and business associates.

Some producers and publicists immediately declared that members of the press were valuable to the Tony awards.

Peter Cromarty heads the Cromarty Agency which handles a variety of clients, including representing Liza Minnelli's show, Liza's At The Palace, which was honored with a Tony this year. Peter is the man Liza thanked on stage for his PR work. Never a self serving, attention seeking flack, the day after the awards he told Broadway To Vegas. "WOW, what a night! I almost fell out of my chair when I heard it myself!," he said referring to Minnelli's public 'thank you.' "Liza's show was a lot of hard work, but the results have been amazing."

As a PR firm which constantly works with the press, his reaction to the first night list being denied voting rights was - "I don't know of a more qualified and seasoned body of men and women to be included as Tony voters."

"Losing 100 voters who are basically unbiased threatens to increase the influence of the biased producers," Jeffrey Seller, the Broadway producer and a Tony voter who took home the statue for best musical for In the Heights; Avenue Q, and Rent, told the New York Times. "The fact is, the press is potentially an unencumbered pool of voters, and I'm not sure we really want to leave the Tonys in the hands of encumbered producers."

An official speaking on a condition of anonymity, told the New York Times that the committee had chosen to adopt an approach followed by The Gray Lady which, in its ethics policy for journalists prohibits its critics and writers from voting in awards competitions like the Tonys because doing so might call the paper's independence into question.

The change begins with the upcoming 2009-10 theater season and means the total number of Tony voters will decrease from approximately 800 to 700. However, the first night press list will remain the same - only the voting status has been changed. The remaining Tony voters will predominantly be theater producers, owners, publicists, actors, writers, designers and members of various Broadway theater unions and committees.

Richard Kornberg, a veteran Broadway press agent, complained to the New York Times that the decision "weakens the ability of publicists like himself to urge journalists on the first night press list to see a show and possibly write about it - since some journalists might not no longer see all Tony-eligible shows because they will not be voting for the Tonys."

Time Out New York's Adam Feldman, president of the New York Drama Critics Circle, wrote that this "represents another regrettable step toward the marginalization of critics within the New York theatrical community."

The change was announced in a memo that was sent by email to Tony voters Tuesday evening.

TONY AWARD PRODUCTIONS
1650 Broadway, Suite 800
New York, NY 10019

Dear Tony Voter,
After careful consideration, the Tony Awards Management Committee has determined that Tony-voting privileges will no longer be extended to members of the First Night Press List, commencing with the 2009-2010 season.

Please note that this change in no way affects your inclusion on the First Night Press List. As you know, a committee of Broadway press agents develops and administers the First Night Press List, and it does not fall under the purview of Tony Award Productions, The Broadway League, or the American Theatre Wing.

In making this decision, the Tony Management Committee took into account that members of the First Night Press List will of course continue to have the opportunity to express their critical opinions in reviews and other coverage of the theatre season. In addition, the Management Committee took into consideration the fact that certain publications and individual critics have historically pursued a policy of abstaining from voting on entertainment awards in general, to avoid any possible conflicts of interest in fulfilling their primary responsibilities as journalists.

Should you have any questions concerning this policy, please do not hesitate to contact Shawn Purdy at PMK

Sincerely,
Tony Award Productions


MICHAEL JACKSON SCULPTURES; WAX IS OKAY - BUTTER IS NOT
Michael Jackson has repeatedly been recreated in wax. Not a word of complaint from candle makers. Not so with butter. The Iowa State Fair is noted for its butter sculptures. See Broadway To Vegas column of August 10, 2003

On June 30 officials announced they would include a life sized butter sculpture of Jackson next to their famous "butter cow."

Controversy erupted - from PETA.

Broadway To Vegas hadn't been aware that PETA was against milk and butter. One then assumes they are also opposed to heavy cream, whipped or otherwise. PETA voiced the opinion that The King of Pop should be crafted out of Earth Balance, a non-dairy spread.

Others thought the idea was rancid because of Jackson's controversial past, feeling that sculpting him in butter was demeaning to cows. Officials replied that they were trying to honor Jackson's history with the fair, not his "character." The Jackson five performed at the fair back in 1971.

No cows moooed in on the subject.

Fair officials determined that the public should decide. An unscientific online poll was created on the Iowa State Fair website that ran from July 9th until 3 pm Friday, July 17. The poll asked voters for their email and zip code to separate fair-goers from others.

Saturday morning, the Iowa State Fair released the results from over one hundred thousand votes. Neil Armstrong got the green light to do the moon walk in butter. No so with The Gloved One. 65.24% of voters voted Jackson out of the churn.

Fair CEO Gary Slater said, "While we know some people will be disappointed, we believe the vote was the only way to let fairgoers voice their opinion in a meaningful way." With all of the butter sculpture scrutiny now over Slater says, "…we are pleased to now move on with final preparations for all the events at the Fair."

In addition to the butter Jersey cow, a separate sculpture will celebrate the 40th anniversary of Neil Armstrong's moonwalk on July 20, 1969. In honor of Armstrong's "giant leap for mankind," this year's sculpture will include an astronaut, an American flag and a buttery rendition of the surface of the moon. The butter sculptures will be on display in a 40-degree cooler in the Fair's Agriculture Building.

The Iowa State Fair takes place August 13-23 in Des Moines, Iowa.


OTHER PEOPLE'S MONEY


BLITHE SPIRIT featuring five-time Tony Award winner Angela Lansbury, has recouped its initial investment of $2.68 million. The production, which ends its limited run today, July 19, has grossed approximately $10.9 million.

LIMP BIZKIT performed their first US show in 8 years by staging a free performance last night at The Palms in Las Vegas. 4,000 tickets were handled out on a first come - first served basis. Admitted fans were also given a free exclusive T-shirt created for this show only.

Opening the show was Fred Durst's life-long friend DJ Boney B, who hails from North Carolina and has pioneered his own brand of lifestyle in music

The band - Fred Durst, Wes Borland, Sam Rivers, John Otto and DJ Lethal - is slated to play a one night sold out UK gig the London HMV Forum on August 1st as part of Kerrang's Week of Rock. The band have also been confirmed to play at the inaugural Sonisphere festival on August 2, currently playing in between nine Inch Nails and Lamb of Gob.


SWEET CHARITY


TICKETS TO FARM AID go on sale July 25 to the general public. The concert will take place on October 4 at the Verizon Wireless Amphitheater in Maryland Heights, Missouri. The annual event is set to include Neil Young, Willie Nelson, Dave Matthews and John Mellencamp, with more acts to be announced soon. Now entering its 24th year, Farm Aid has raised more than $23 million for family farms and organic agricultural initiatives since the first concert in 1985.



CATCH ME IF YOU CAN Book by four-time Tony Award-winner Terrence McNally. Music and Lyrics by the Tony Award-winning composing team of Marc Shaiman and Scott Wittman. Five-time Tony Award-winner Jack O'Brien directs.

As a teenage runaway from a broken home, Frank ditches high school in pursuit of the American dream. To survive, he masquerades as a Pan Am pilot, a doctor and a lawyer (and cashes millions of dollars in bad checks!) all before the age of 19.

Based on a true story, Frank's high-flying adventure of luxury and beautiful women won't cover the bill to put his family back together, and as his schemes become more fantastic he begins to lose himself in his own game. With each con he pulls off, a dedicated FBI agent named Carl Hanratty is one step closer to the ultimate catch: the real Frank Abagnale, Jr.

This remarkably true story, based on the DreamWorks motion picture, now comes to life on the stage.

In the film, Leonardo DiCaprio played Frank, a young con-man who posed as a doctor, lawyer and Pan Am pilot before he was 21. Tom Hanks played an FBI agent who travels across several continents in pursuit of Frank. Playing Hanks' role of FBI agent Carl Hanratty is Tony award winning Norbert Leo Butz. And playing DiCaprio's role of con-man Frank is Aaron Tveit. Finally, Tony nominated Tom Wopat will play Christopher Walken's role of Frank's father, Frank Abagnale.

Choreography by Tony Award-winner Jerry Mitchell.

Previews begin at the 5th Avenue Theater in Seattle on July 23.

AUGUST: OSAGE COUNTY by Tracy Letts. Directed by Anna D. Shapiro. Winner of the 2008 Pulitzer Prize for Drama and Tony Award for Best Play.

Starring Academy Award-winner Estelle Parsons in the role of the family matriarch, Violet, Ms. Parsons reprises her unforgettable Broadway role for San Francisco audiences. Estelle is joined by notables Elizabeth Ashley as Mattie Fae, Guy Boyd as Charlie, John Cullum as Beverly Weston, Johanna Day as Barbara Fordham, Brian Kerwin as Steve Heidebrecht, Michael Milligan as Little Charles, Sally Murphy as Ivy Weston, Kimberly Guerrero as Johnna Monevata, Mariann Mayberry as Karen Weston, Troy West as Sheriff Deon Gilbeau, Frank Wood as Bill Fordham, Anne Berkowitz as Jean Fordham with Frank Deal, Susanne Marley, Stephen Payne, Dee Pelletier, Aaron Serotsky and Kristina Valadaviars.

Set design by Todd Rosenthal. Costume design by Ana Kuzmanic. Ann G. Wrightson. Sound design by Richard Woodbury. Music composition by David Singer. Chuch Coyl is the flight choreographer.

August 11 through September 6 at the Curran Theatre in San Francisco.

July 24 through August 8 at the Denver Center for the Performing Arts' Ellie Caulkins Opera House in Denver, CO.

CYMBERLINE THE PUPPET KING Freely adapted from Shakespeare by Angela Berliner. Directed by Will Pellegrini.

The Actors' Gang's 4th Annual Free Summer-in-the-Park production is an hilarious, kid-friendly re-imagining of Shakespeare's Cymbeline.

The Romans have taken over Britain, and British King Cymbeline is now known as the Puppet King. And the puppe tmaster? - his Roman wife! The wicked queen wants her stepdaughter, Imogen, to marry her son - "Cloten the Rotten" as he's known in some circles - so that he will become king. The princess disguises herself as a boy and runs away to the wilderness, where she befriends a mysterious old man and a boy raised by wolves. With these newfound friends, Imogen battles the Roman army, escapes marriage from the silly Cloten, and is reunited in the end with her father and... a twin brother? Music, merriment, and madcap adventures are in store. Not to mention a whole slew of puppets! It's fun for the whole family.

Presented by The Actors' Gang July 25 through August 30. Media Park in Culver City, CA.

CLICK, CLACK, MOO Theatreworks USA's 21st Annual Free Summer Theatre production of the new musical based on the Caldecott Honor children's book by Doreen Cronin and Betsy Lewin.

Directed by Tony Award winner John Rando and choreographed by Wendy Seyb Click, Clack, Moo features a book by Billy Aronson, lyrics by Kevin Del Aguila and music by Rodgers Award-winning composer Brad Alexander.

All day long Farmer Brown hears "click clack moo, clickety clackety moo..." The cows are typing and protesting their working conditions! Recommended for children ages four and up, Click, Clark, Moo is hilariously "moo-ving" new musical about compromise, based on the acclaimed 2005 children's book Click, Clack, Moo: Cows That Type.

Starring Gretchen Bieber as Darlene (a cow), Kristy Cates as Maddy (another cow), Sarah Katherine Gee as Jenny/Chicken, Michael Thomas Holmes as Loretta (another cow), Drew McVety as Farmer Brown and DeMond B. Nason as Duck.

Scenic design by Beowulf Boritt, costume design by Lora LaVon, lighting design by Matthew Richards and sound design by Jeremy Wilson.

Launched in 1989, the mission of Theatreworks USA's Free Summer Theatre Program is to provide New York City youth with their own free theatre tradition that not only entertains, but also educates and fosters positive values and an appreciation for theatre. More than 20,000 free tickets will be distributed for Click, Clack, Moo.

Performance begin Tuesday, July 21 at Off-Broadway's Lucille Lortel Theatre and continues through Friday, August 28.

HONEST by Steppenwolf ensemble member Eric Simonson who also directs.

Guy, author of a best-selling memoir about his downward spiral into drug addiction and homelessness, comes face-to-face with a prying reporter, snooping for a scandal. Their tense showdown over truth versus creative license leads to shocking revelations that could jeopardize both their livelihoods.

Featuring Katherine Cunningham, Erik Hellman, Martin McClendon, Lucas Neff and Kelly O'Sullivan.

In the Garage Theatre of the Steppenwolf Theatre in Chicago from July 22, 2009 - August 9, 2009.

THE FIRST WIVES CLUB a new musical based on the Olivia Goldsmith's best-selling novel and Hollywood film of the same name, this musical features a book by Tony winner Rupert Holmes and a score by Brian Holland, Lamont Dozier and Eddie Holland. The production will be directed by 3 time Olivier Award winning opera and theatrical director Francesca Zambello, who currently serves as the Artistic Director of the San Francisco Opera.

Starring Tony winner Karen Ziema as Annie and Tony nominees Sheryl Lee Ralph as Elyse and Barbara Walsh as Brenda, Tony nominee John Dossett as Aaron, Kevyn Morrow as Bill, Tony nominee Brad Oscar as Morty, Sara Chase as Trophy Wife and Tony nominee Sam Harris as Duane with Ari Lerner and Austyn Myers alternating as Jason. The cast also includes Michelle Aravena, Mark Campbell, Thursday Farrar, Jenifer Foote, Bob Gaynor, Matthew LaBanca, Victoria Matlock, Kat Palardy, Martin Samuel and Richard Waits.

Former college friends reunite at middle-age and soon discover they share the same unhappy story - their ungrateful husbands careened into midlife by dumping them for younger women. Inspired by their renewed friendship, the three women band together and take back their lives in style!

The creative team includes Tony nominated scenic designer Peter J. Davison, Tony nominated costume designer Paul Tazewell, lighting designer Mark McCullough, sound designer Jon Weston, choreographer Lisa Stevens, music supervisor Ron Melrose, conductor John Gentry Tennyson and orchestrator Harold Wheeler.

Previews began July 17 at The Old Globe in San Diego. The Old Globe has sent over 20 productions on to Broadway. This Broadway bound musical will be produced on The Great White Way by Paul Lambert and Jonas Neilson.




WHO'S WHERE


MADONNA concert in Marseille, Frence, has been canceled. The roof of a stage being built at the Stade Velodrome for the concert collapsed Thursday, leaving two workers dead and five injured - one in very serious condition - Maurice Di Nocera, Marseille city councilor in charge of major events, announced on France-Info radio. The cause of the roof collapse was not clear. Madonna's Sticky & Sweet tour was due to arrive in Marseille today, July 19, but the concert was canceled because "rebuilding a stage, it's not possible," Di Nocera said.

Madonna is still set to perform this week in Spain. On Tuesday, July 21, the show is at the Olympic Stadium in Barcelona. On Thursday the tour stops at the Estadio Vicente Calderon in Madrid. On Saturday she is on stage at the Recinto Feral in Zaragoza.

ELTON JOHN AND BILLY JOEL return to Wrigley Field in Chicago for another performance on Tuesday, July 21. On Friday the duo id at the HSBC Arena in Buffalo.

JOY BEHAR telling funny stories at The Wilbur Theatre in Boston on July 24. On July 25 she'll be getting laughs at The Cape Cod Melody Tent in Hyannis, MA.

EDEN ESPINOSA starring in Me with musical direction by James Sampliner and Chris Bratten. Directed by Upright Cabaret Artistic Director Billy Porter and performing on, Friday, July 24 at the Ford Amphitheatre, in Hollywood, CA.

TORI AMOS has a full schedule. On Monday, July 20 she is at Abravanel Hall in Salt Lake City. Tuesday finds her at the Paramount Theatre in Denver. On Thursday the show is at the Nokia Theatre in Grand Prairie, TX and on Saturday she's on stage at The Long Center for the Performing Arts in Austin, TX.

U2 opens a two night stand at the Amsterdam Arena on Monday, July 20. The group then travels to Ireland for Friday and Saturday performances at Croke Park in Dublin.

THE MUSIC OF JOHN WILLIAMS The National Symphony Orchestra conducted by Erich Kunzel. Saturday, July 25 at the Filene Center in Vienna, VA.

BRAD PAISLEY performs Friday, July 24, at the Virginia Beach Amphitheater in Virginia Beach, VA. On Saturday the show is at the Nissan Pavilion in Bristow, VA.

PATTI LUPONE AND MANDY PATINKIN with Paul Ford as musical director. They performs at Hamer Hall in Melbourne, Australia on July 21.

BOB DYLAN AND WILLIE NELSON on stage Tuesday, July 21 at the McCoy Stadium in Pawtucket, RI. ON Thursday the show is at First Energy Park in Lakewood, NJ. Friday finds them at Ripken Stadium in Aberdeen, MD and on Saturday the tour stops at Harbor Park in Norfolk, VA.

KLEA BLACKHURST performing her Ethel Merman tribute, Everything the Traffic Will Allow: The Songs and Sass of Ethel Merman, every Saturday through September 5 at The Snapple Theater Center in Manhattan. She will be accompanied by the Pocket Change Trio.




FINAL OVATION


WALTER CRONKITE considered The Most Trusted Man in America, died July 17, 2009. He was 92.

Everyone over the age of 10 knows his history as an award winning journalist. He was a man who decided at age twelve that he wanted to be a reporter and brilliantly conquered the worlds of both print and broadcast journalism.

He raced cars, sailed boats, drank beer with Clyde Barrow - that's the Clyde of Bonnie and Clyde bank robbing fame. But, there was something that he desperately wanted that he never conquered. He wanted to be a Broadway star like Jerry Orbach, describing himself as a "frustrated song and dance man."

In 1976 Texas Monthly referred to him as; "An inveterate dancer, with a reputation as the fastest floor-man since Caesar Romero, he's been known to entertain friends with a makeshift striptease, and his wife Betsy once referred to him as a 'thwarted cruise director.'"

He was preceded in death by his wife and is survived by his son, Walter Cronkite III, who is known as Chip; his daughters, Kathy and Nancy; and four grandsons.

Next Column: July 26, 2009
Copyright: July 19, 2009. All Rights Reserved. Reviews, Interviews, Commentary, Photographs or Graphics from any Broadway To Vegas (TM) columns may not be published, broadcast, rewritten, utilized as leads, or used in any manner without permission, compensation and/or credit.
Link to Main Page
---
Laura Deni



U.S. Postal Address: Post Office Box 60538, Las Vegas, NV 89160
CLICK HERE FOR COMMENT SECTION