! >
Broadway To Vegas
  
 SHOW REVIEWS CELEBRITY INTERVIEWS GOSSIP NEWS

| | |
| --- | --- |
| | |
THE EXPLODING GIRL - -OREGON SHAKESPEARE FESTIVAL LAUNCHES BLACK SWAN LAB - - MASTERFUL NEW CD OF THE KING AND I - - JAMIE FARR GOLF TOURNAMENT CELEBRATES 25th ANNIVERSARY - - LEONARD NIMOY AND JEFFREY KATZENBERG HONORED - - JANE FONDA HAS KNEE REPLACEMENT SURGERY - - BRITNEY SPEARS TICKETS CAN TOP $500 - - NT LIVE SERIES BEAMS HELEN MIRREN IN PHEDRE AROUND THE WORLD - - DONATE . . . Scroll Down


THE MUSIC GOES ROUND AND ROUND


THE KING AND I The original cast recording of Rodgers and Hammerstein's The King and I, on the Decca label, was recorded in mono in 1951, with cuts to the score. When Richard Rodgers agreed to serve as producing director of a musical-theatre company at the newly opened Lincoln Center in the mid -1960s, he seized the opportunity to see the show recorded in stereo with a more complete representation of the score of The King and I.

This long-unavailable 1964 recording, with strikingly different interpretations of the leading roles by opera legend Risë Stevens and actor Darren McGavin..

Listening to this CD affords the opportunity to be re-introduced to Darren McGavin, who died at the age of 83 in 2006. The Emmy Award winner's illustrious stage career was overshadowed by the superstardom he achieve on television - as Mike Hammer, and Grey Holden, a free wheeling captain from the Riverboat series as well as starring in the ABC 1974-75 series, The Night Stalker, with McGavin playing a reporter who discovers the activities of a modern-day vampire on the loose in Las Vegas. And, of course, as the husband/father in A Christmas Story. opposite Melinda Dillon. McGavin allegedly received a fee of $2 million to play the role (according to the IMDB) making him one of the highest paid actors of the time. To look at his film television and stage credits you wonder if the man ever had a day off.



Darren McGavin as The King of Siam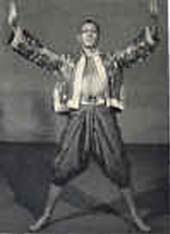 Darren's first appearance on stage was a 1941 college production of Lady Windermere's Fan. McGavin studied at the Neighborhood Playhouse and the Actors Studio in New York under the famous teacher Sanford Meisner and began working in live TV drama and on Broadway. A few of the plays in which he starred included The Rainmaker where he created the title role on Broadway.

McGavin arrived at the first rehearsal of The Rainmaker directly from Venice, Italy, where he spent the summer appearing with Katherine Hepburn in the film version of Arthur Laurent's play, The Time of the Cuckoo, which would bear the screen title, Summertime. The previous season and much of the season before, McGavin was Alfred, the youngest of the light-footed convicts with Walter Slezak in, My Three Angels, In Beginning in 1949 McGavin spent 18 months touring as Happy in the national road company of Death of a Salesman and later succeeded Cameron Mitchell in this role at the Morosco Theatre in NYC.

He began his association with The King and I in a 1955 production at the St. Louis Municipal Opera Summer Theatre where he played the King. In 1964 he reprised the role in the Lincoln Center production playing the King of Siam with Metropolitan Opera prima donna Risë Stevens as Anna. That opened July 6, 1964 in the New York state Theatre for a limited engagement . It closed on August 8, 1964. It is a recording from that engagement that the listener enjoys on this CD. From the Lincoln Center production McGavin repeated the role in a 1965 production at Melodyland Theatre, California, with Celeste Holm as Anna. McGavin and Holm than took the production to the Circle Star Theatre San Carlo, California.



Risë Stevens and Darren McGavin recording The King and I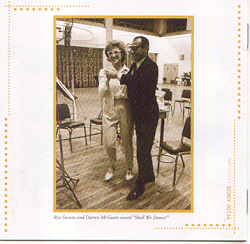 This CD also features the glorious voices of Patricia Neway, Lee Venora, Frank Poretta, Fred Miller, James Harvey, Rudy Vejar, Michael Kermoyan, Stuart Mann, Barry Robins, Gina Kaye, and Eric Brotherson.

For this exclusive edition, five bonus tracks have been added. Three are from a studio recording of the score, made around the time of the show's Broadway premiere - an all-star event for 1951, featuring pop diva Dinah Shore (I Whistle a Happy Tune) and opera star Robert Merrill (A Puzzlement), as well as duet version of I Have Dreamed with operatic soprano Patrice Munsel and pop star Tony Martin. Two-time Tony winner Richard Kiley is also heard in studio recordings of Getting to Know You and Hello, Young Lovers.

Masterworks Broadway is offering this expanded version in special digital-only editions. These digital download versions will also be made available in CD format, with each album's original cover art and liner notes, from ArkivMusic.com.



Broadway To Vegas is supported through advertising and donations. Priority consideration is given to interview suggestions, news, press releases, etc from paid supporters. However, no paid supporters control, alter, edit, or in any way manipulate the content of this site. Your donation is appreciated. We accept PAYPAL. Thank you for your interest.


ART AND ABOUT


PHILADELPHIA'S MUSIC LEGENDS

Hall and Oates with Buddy Greco, 1993 induction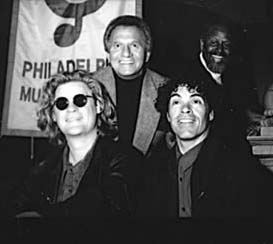 Philadelphia is home to many legendary musicians, singers, and entertainers. It is a vibrant musical city that has made lasting contributions to the music world. To celebrate and preserve this cultural legacy, the city has immortalized many of its music greats on The Walk of Fame, composed of 107 bronze plaques on the Avenue of the Arts on Broad Street between Walnut and Pine.

The first inductees on the Walk of Fame, founded by the Philadelphia Music Alliance, were named in 1987 and included Marian Anderson, Mario Lanza, John Coltrane, Dizzy Gillespie, Bessie Smith, Pearl Bailey, Chubby Checker, Bill Haley, Bobby Rydell, and Leopold Stokowski.

Over the years, more artists have been inducted: Boyz II Men, Kenny Gamble and Leon Huff, Billy Joel, Peter Nero, Joan Jett, Patti LaBelle, Eugene Ormandy, Teddy Pendergrass, Nina Simone, Dick Clark and Grover Washington, Jr. These are just some of the artists represented on The Walk of Fame. Each has made tremendous contributions, both past and present, to an array of musical genres spanning jazz, blues, gospel, and opera to rock, funk, pop, and hip-hop.

Philadelphia's musical diversity and its musical legacy continues with highly recognized contemporary artists such as The Hooters, Amos Lee, Christian McBride, Pink, and Jill Scott - artists who might some day be future inductees on The Walk of Fame.

Walk. Stroll. Meander. Or, if you're feeling fancy, strut. No matter what your style, you can relive nine decades of Philadelphia's contributions to the world of music.




SPREADING THE WORD


OREGON SHAKESPEARE FESTIVAL LAUNCHES BLACK SWAN LAB

Dr. Polly Carl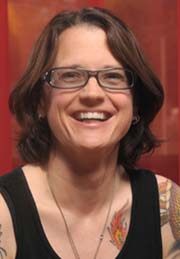 for New Work on July 7, 2009, running through October 31. The Lab will provide approximately 390 hours of development time in 2009 and offer a shifting menu of developmental activities, including actor-driven work, work that may include on-going development but no audience component, and work that is shared in-house. The Lab provides an opportunity to support commissioned projects as well as to serve as an incubator for new ideas. Key to its operation is integration with current programming and scheduling.

OSF approached Polly K. Carl, Ph.D., Producing Artistic Director of the Playwrights' Center in Minneapolis (who recently announced she will move to Steppenwolf Theatre in Chicago) and one of the nation's foremost experts in the field of new play development, about three years ago to create a model on how best to develop new work at OSF.

Carl and OSF performed an in-depth study, evaluating previous models used at OSF in the development of OSF's Huck Finn Project, an adaptation by Head of Company Development Scott Kaiser for the School Visit Program, and playwright Octavio Solis' Gibraltar. Both processes used the repertory schedule and the OSF acting ensemble to create new work.



Catherine E. Coulson (as Mrs. Gottlieb) in Dead Man's Cell Phone Coulson is park of the acting pool which will launch the Black Swan Lab. Photo by Jenny Graham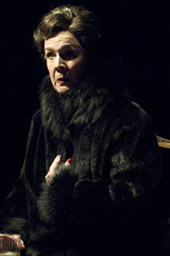 Tyrone Wilson, left, and Derrick Lee Weeden (as Sands and Lord Chamberlain) in Henru VIII, two of the 10 actors that will participate in the Black Swan Lab. Photos are by Jenny Graham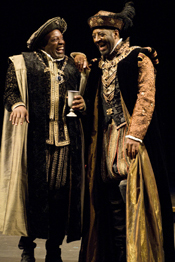 The Lab will be cast from the existing actor pool and will launch with 10 actors. The participating 2009 actors are Richard Howard, Jeffrey King, Gregory Linington, Derrick Lee Weeden, Terri McMahon, Vilma Silva, Catherine E. Coulson, Miriam A. Laube, Ryan Anderson and Tyrone Wilson. The Black Swan Lab parallels the schedule of All's Well that Ends Well (playing in the New Theatre), so actors in the Lab are also performing in shows that may include Death and the King's Horseman; Equivocation, The Servant of two Masters; Henry VIII, and Dead Man's Cell Phone. The ensemble will help to create the structure of the Lab, and will have the opportunity to contribute actor-generated projects.

Other projects may include development of an on-site project by Michael Rohd; workshopping of American Night, a commission of the American Revolutions: the United States History Project for the 2010 season; future American Revolutions projects; work on Ping Chong's adaptation of Kurosawa's Throne of Blood for the 2010 season; original plays by Melanie Marnich and Lisa Loomer; and further development of Mixing Texts/Nexthetics work that began in 2007 at OSF.

The name of the Lab refers to the Black Swan, a third theatre space at OSF that opened in 1977 under the leadership of then Artistic Director Jerry Turner. The venue offered the opportunity to produce riskier work than was produced on the Angus Bowmer and Elizabethan stages. Prior to its opening as a theatre space, it was used by company artists to develop new and unfamiliar work that was produced largely for in-house audiences. Since the opening of the New Theatre in 2002, the Black Swan has been used for rehearsals and education events.

The Playwrights' Center was founded in 1971 by five writers seeking artistic and professional support and is now the largest and most innovative playwriting center in the country. The Center is nationally recognized as the leader in the cultivation and promotion of playwrights and their work.

THE EXPLODING GIRL a Q&A with director Bradley Rust Gray and actress Zoe Kazan.

This moving new work by Bradley Rust Gray is billed as a quiet masterpiece - a delicate portrait of body language and things left unsaid. Zoe Kazan plays the cherubic Ivy, a young woman spending a college break at home in Brooklyn. Throughout the week she struggles to connect with her boyfriend through awkward cell phone conversations while deepening her intimacy with childhood friend Al. Abetted by Eric Lin's gorgeous cinematography, Gray incisively details romantic awakening not by crafting a conventional love story, but by focusing on the richness of his characters and the subtleties of emotional communication. Courtesy of Memento Films.

Part of BAMcinemaFEST Thu, June 25, 2009, at the Brooklyn Academy of Music in Brooklyn, NY.

AMERICAN THEATRE WING stages a Press and Publicity panel discussion geared towards theatre interns. Participants include Heath Schwartz of Boneau/Bryan-Brown and Joe Trentacosta of Springer Associates PR. Tuesday, June 23, 2009 the Manhattan Theatre Club in NYC. The panel discussion will be followed by pizza.

PHEDRE BROADCAST the first broadcast in the National Theater of London's NT Live series, at which live performances from the theater will be shown on movie screens around the world, takes place June 25.

Phèdre, by Jean Racine, in a version by Ted Hughes, stars Helen Mirren and Dominic Cooper and is directed by Nicholas Hyter.

Those in attendance at the London production are advised that:

The production is broadcast live with several cameras in the auditorium and views of the stage may be blocked at any time during the performance.
Please note:
This is a studio performance
The light and sound will be adjusted for broadcast
There will be 360 degree filming – resulting in audience members being filmed
Everyone must be seated by 6.45pm. No latecomers will be admitted

NT Live is an exciting new initiative to broadcast live performances of plays onto cinema screens worldwide. The pilot season will launch with Phèdre June 25, when the performance will be filmed in high definition and broadcast via satellite to approximately 50 cinemas, reaching a widespread audience live across the UK.

In the United States, 17 states and the District of Columbia will have screenings. California locations include Larkspur, Hollywood, Santa Rosa and Berkeley. New York locations include Potsdam, Hudson, Brooklyn, the Directors Guild Theater in Midtown Manhattan and Walter Reade Theater/The Film Society of Lincoln Center in NYC.


SWEET CHARITY


JAMIE FARR GOLF TOURNAMENT CELEBRATES ITS 25th ANNIVERSARY when the greatest lady golfers in the world compete for a purse of $1.4M.

Paula Creamer will defend her title against Lorena Ochoa, Natalie Gulbis, Michelle Wie, Morgan Pressel, Angela Stanford, Brittany Lincicome and all the top LPGA players.

The tournament has become a highlighted stop on the LPGA tour. It was voted 5th favorite of all the stops.

Since 1984, the tournament has donated over $6.2 million to more than 110 children's charities in Northwest Ohio.

Over 70,000 people attend the event each year.

June 29-July 5 at Highland Meadows Golf Club in Sylvania, Ohio

NELSON SARDELLI the singer who fondly calls Las Vegas home, continues a marvelous tradition today that he began four years ago. Sardelli, who is a veteran, gathers together Vegas entertainers and, on Father's Day, goes to the Nevada Veterans Home in Boulder City and spends four hours entertaining the heroes who reside there.

"It is the least we can do for those who have given so much. And for those of you who have taken part in any of our prior visits I do not need to tell you what it means to all the residents there," wrote Sardelli in an E-mail message encouraging performers to participate. Back up music will be provided by drummer Gary Olds, former Frank Sinatra pianist/conductor Vince Falcone. Bob Sachs will be on bass, along with legendary jazz pianist Tommy Deering and sax/keyboardist Dr. George Ritter.

In addition to the above mentioned - over 30 performers signed up including comedian and musician Peter Anthony; comedian Cork Proctor who joined the Peace Corps at age 66; former semi-pro baseball player/comedic imitator Babe Pier, who recently starred in The Fabulous Palm Springs Follies in Palm Springs, CA; Paul Campanella, who appears as Anthony Nunzio Sr. in the Las Vegas production of Tony 'N' Tina's Wedding and Felix Silla, an Italian film and television actor and stuntman, best known for his role as Cousin Itt on television's The Addams Family.

The 82,000-square-foot, state-owned and–operated vets home at Boulder City provides housing for 180 former members of the military.


OTHER PEOPLE'S MONEY


BLUE MAN GROUP is offering free tickets to their show at the Venetian Hotel in Las Vegas. Purchase an adult ticket and receive a child's ticket - free. The offer is good for children ages 3-12 and won't last forever.

BRITNEY SPEARS' TICKETS are the opposite of free. The performer brings her 2009 Circus Tour to Mandalay Bay Resort in Las Vegas for two performances September 26-27. Ticket prices go up to $578.00 per ticket. Her next performance is a three nighter beginning July 4 in Paris.



LEONARD NIMOY AND JEFFREY KATZENBERG to be honored at the 35th Annual Saturn Awards, which are given out by the Academy of Science Fiction, Fantasy and Horror Films. They will take place on June 24 at the Castaway in Burbank, CA. Comedian Jeff Ross will host this year's festivities.

Nimoy, 78, will receive a lifetime achievement award, in recognition of his work as an actor and director. Nimoy is best known for playing Spock in the original Star Trek for which he earned three Emmy nods for the role.

DreamWorks Animation CEO, Jeffrey Katzenberg, will be presented The Visionary Award for spearheading the 3D film presentation which is currently the newest frontier in film production. The Academy of Science Fiction, Fantasy & Horror Films was founded in 1972 by film historian, Dr. Donald A. Reed. The non-profit organization is devoted to honoring and recognizing the best in genre entertainment. Some of the talent who have been honored over the years include: Rod Serling, Boris Karloff, Fritz Lang, Peter Jackson, James Cameron, Guillermo del Toro, and Steven Spielberg.


GET WELL SOON TO . . . .


JANE FONDA who underwent left knee replacement surgery. You would never have guessed it from her Tony nominated performance in 33 Variations and her energetic appearances promoting that Broadway show, but Fonda, 71, was suffering - and also a little scared. A prolific blogger, the Oscar winning Fonda wrote on her blog that, at the Tony Awards two weeks ago, she had seen Liza Minnelli's prominent scar, which caused her to worry that she, too, would be left with a noticeable reminder.


CURTAIN DOWN


THE TONY AWARDS announced in a June 18 press release that they will retire the Special Theatrical Event category beginning with the 2009-2010 season.

The Administration Committee will "retain its ability to award a Special Tony Award to productions or any element thereof, worthy of extraordinary recognition. Additionally, by eliminating the category of Special Theatrical Event, all elements of all productions will now be eligible for nomination in all the other creative categories, which was precluded for productions eligible as Special Theatrical Events under the prior rules," according to the statement.

The award category was created in 2001 for a live theatrical production that is not a play or a musical. Two weeks ago Liza's at the Palace . . .!, starring Liza Minnelli, won the 2009 Tony Award for Best Special Theatrical Event.



BLUFF

John Astin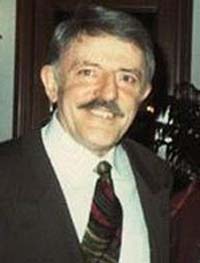 by Jeffrey Sweet. Directed by James Glossman.

Starring Oscar and Emmy nominee John Astin as Gene, Prentiss Benjamin as Emily, Max Shulman as Neal, Linda Setzer as Georgia, Anthony Blaha as Loring and Fred, and Julie Sihilling as Bonnie and Marta.

Thrown together accidentally by a moment of shared heroism and compassion, Neal and Emily seem made for each other. Quick, smart, and funny; decent and good-hearted; their bantering friendship quickly deepens into something that feels a whole lot like love, that old Tracy-and-Hepburn, Nick-and-Nora kind of love it seems like they don't make anymore. Then Gene, Emily's successful salesman stepfather, comes to visit and all their shared stories start to spin out of control.

Astin is well known for his role as Gomez Addams on the sitcom The Addams Family. He has made numerous appearances on television including a recurring role on Night Court as the eccentric former mental patient and stepfather to lead character Harry. Astin currently teaches method acting and directing in the Writing Seminars Department at Johns Hopkins University, his alma mater.

Appearing as Emily is Prentiss Benjamin, daughter to Paula Prentiss who just finished a successful run of The Glass Menagerie at BoarsHead this May. Benjamin was last seen at BoarsHead alongside her mother in Mrs. Warren's Profession.

This production includes scenic design by Gordon Phetteplace, lighting design by Tim Jacobs, costume design by Holly Speers, sound design by Sergei Kvitko and property design by Patricia A. York. Production manager and technical director is Michelle Raymond with Karen Doyle as stage manager.

This fast-paced comedy-drama about romance, taking chances and unexpected lives can be seen Wednesday through Thursday from July 8 to July 26 at BoardHead Theater in Lansing, Michigan.

THE MUSICAL OF MUSICALS by Joanne Bogart and Eric Rockwell. Directed and Choreographed by Pam Hunt. Musical Direction by Matt Castle.

Featuring Joanne Bogart, Kristen Maloney, Brent Schindele and Matt Castle.

Set Design by James Morgan. Costumes by John Sullivan. June 22-July 4 at the Cape Playhouse in Dennis Village, MA.

KNICKERBOCKER HOLIDAY the 75th staged concert in the history of the Musicals in Mufti series. from the York Theatre Company in NYC. This concert will feature Cyrilla Baer as Mistress Schermerhorn, Kelli Barrett as Tina Tienhoven, Walter Charles as Tienhoven, Josh Grisetti as Washington Irving, William Parry as Roosevelt, Bobby Steggert as Brom Broeck and Martin Vidnovic as Pieter Stuyvesant. The cast will also include John O'Creagh, Ronica Reddick, Roland Rusinekm, Lucia Spina and Jendi Tarde. The concert will be directed by Michael Unger with music direction by John Bell.

Knickerbocker Holiday is a witty yet caustic musical comedy about a man who "cannot take orders from anybody." This cult classic (which went on to inspire the Oscar-nominated film of the same name) opened on Broadway in 1938 and imaginatively used the setting of New York City on the eve of the American Revolution to create a farcical response to President Roosevelt's New Deal. Based on Father Knickerbocker's History by American master Washington Irving with music by Kurt Weill and book and lyrics by Maxwell Anderson, The score includes How Can You Tell an American?; It Never Was You and September Song.

Written by Kurt Weill (music) and Maxwell Anderson (book and lyrics); the Broadway mounting was directed by Joshua Logan. It opened at the Ethel Barrymore Theatre on October 19, 1938 and closed on March 11, 1939 after 168 performances. The original production starred Walter Huston, Jeanne Madden, and Ray Middleton.

All performances will be presented at the Theatre at Saint Peter's Five performances June 26-28. Audience talkbacks will follow both matinees. 'Mufti' (pronounced MUFF' tee) means "in street clothes; without the usual trappings" and each show in the Series is presented script-in-hand, with minimal staging.

Knickerbocker Holiday made its Canadian premiere on February 20, 2009 at the Jane Mallet Theatre, St. Lawrence Centre for the Arts in Toronto, Ontario. It was produced by the Toronto Operetta Theatre, under the direction for Guillermo Silva-Marin.

PEEPSHOW the adult-themed show created by Tony-winning choreographer Jerry Mitchell at Planet Hollywood in Las Vegas, welcomes Wicked's Shoshana Bean to the cast as the Mistress of Ceremonies. She replaces former Spice Girl Mel B. (Melanie Brown) who departs the show June 21. Former Girl Next Door Holly Madison assumes the role of Bo Peep which has been performed by Kelly Monaco, who also makes her exit on June 21. The two new cast members assume their roles on June 22.

FARRAGUT NORTH written by Beau Willimon. Directed by Doug Hughes.

Featuring: Mia Barron, Dan Bittner, Justin Huen, Chris Noth, Chris Pine, Olivia Thirlby and Isiah Whitlock, Jr.

Set against the backdrop of a close presidential race, Stephen (Star Trek's Chris Pine) is a young press secretary working for a fast-rising candidate. With confidence and power beyond his years, he's convinced that he and seasoned campaign manager, Paul (Sex & the City's Chris Noth), can steer their team into the west wing without breaking a sweat. But before the polls close at the primaries, Stephen's perceived invincibility is shattered as he falls prey to backroom politics, the manipulations of veteran operatives and the wiles of a seductive young intern (Juno's Olivia Thirlby). With quick-witted banter and an inside look into the world of politics, Farragut North is a timely tale of hubris, loyalty and the lust for power.

Farragut North, which is a 2007 recipient for an Edgerton Foundation grant for New American Plays, originally opened at New York's Atlantic Theater Company in the fall of 2008.

This West Coast Premiere is in previews with an official opening of : June 24, 2009 at the Geffen Playhouse in Los Angeles. Performances through July 26 with a second show added on July 4.




WHO'S WHERE


AN EVENING WITH PATTI LuPONE AND MANDY PATINKIN reunites these Tony Award-winning virtuosos (and lifelong friends) for the first time since Evita. Much more than a concert, this is a unique musical love story told entirely through a masterful selection of the greatest songs ever written for the stage. Performances are June 23-29 at the Ahmanson Theatre in Los Angeles. LuPone is in the final night of a two night gig, on stage this evening at the University of Nevada in Las Vegas. Joe Thalken is musical director.

NEW KIDS ON THE BLOCK who have canceled their forthcoming Australian tour, blaming the economic downturn, have a busy American tour schedule. The group which has reformed after 15 years apart performs Tuesday, June 23, at the Blossom Music Center in Cuyahoga Falls, OH. On Thursday the show is at the Energy Music Theatre in Clarkston, MI. On Friday they are on stage at the First Midwest Bank Amphitheatre in Tinley Park, IL. Saturday finds them at the Riverbend Music Center in Cincinnati and next Sunday they are on stage at the Verizon Wireless Center in Noblesville, IN.

DIANA KRALL opens a two night gig Tuesday, June 23, at Carnegie Hall. She'll be appearing at the Ann Arbor Summer Festival on Friday in Ann Arbor, Michigan and on Saturday she'll be pleasing the audience at the Ravinia Festival in Highland Park, IL.

CHRIS BOTTI appearing at the Britt Festival on Friday, June 26, at the Britt Pavilion in Jacksonville, OR.

MICHAEL McDONALD AND BOZ SCAGGS perform Tuesday, June 23 at the Filene Center Wolf Trap in Vienna, VA. On Thursday they are at the Bank of American Pavilion in Boston. Friday the show is at the Mann Center in Philadelphia.

MELISSA ETHERIDGE on stage Wednesday, June 24, at the New Jersey Performing Arts Center in Newark, NJ. On Friday she's in the spotlight at the Motor City Casino in Detroit. Saturday she performs at Harrah's Casino Tunica in Robinsonville, MS.

ERIC CLAPTON & STEVE WINWOOD Clapton and Winwood both have long and prestigious musical careers with countless honors and awards to their names. Their musical paths connected in 1969 with the formation of Blind Faith, a group that pioneered the fusion of rock and blues into tremendous studio and stage success. Despite critical and popular acclaim, the band was short-lived with only one album and a brief 1969 tour that debuted July 12 and ended August 24. Since that final show, Clapton and Winwood have remained friends, but have performed together only a few times for an occasional song at a charity event. The 2008 Madison Square Garden shows were the first full Clapton-Winwood concerts in 40 years. June 27, 2009 at the MGM-Grand Garden Arena in Las Vegas, NV.



Next Column: June 28, 2009
Copyright: June 21, 2009. All Rights Reserved. Reviews, Interviews, Commentary, Photographs or Graphics from any Broadway To Vegas (TM) columns may not be published, broadcast, rewritten, utilized as leads, or used in any manner without permission, compensation and/or credit.
Link to Main Page
---
Laura Deni


CLICK HERE FOR COMMENT SECTION