! >
Broadway To Vegas
  
 SHOW REVIEWS CELEBRITY INTERVIEWS GOSSIP NEWS

| | |
| --- | --- |
| | |
A DIFFERENT DON'T TELL MAMA OPENS IN LAS VEGAS - - ED McMAHON GRAVELY ILL - - TAVERN ON THE GREEN CUTS BACK - - 33RD ANNUAL HUMANA FESTIVAL OF NEW AMERICAN PLAYS - - THREEPENNY OPERA IMPACTS SOUTHERN CALIFORNIA - - ACADEMY AWARD WINNING COSTUMES SHOWCASED - - GUYS AND DOLLS OPENS TONIGHT STARRING GILMORE GIRLS' LAUREN GRAHAM - - 2009 SUSAN SMITH BLACKBURN PRIZE - - DONATE . . . Scroll Down


DON'T TELL MAMA OPENS IN LAS VEGAS - NOT A BRANCH OF THE FAMOUS NEW YORK CITY HOT SPOT


Recently Broadway To Vegas has been inundated with E-mails from cabaret artists who thought that Manhattan's Don't Tell Mama was opening a branch in Las Vegas and could we get them a booking.

No and no.

The Vegas version of Don't Tell Mama is neither a branch of the New York institution nor a cabaret and no, we can't get anyone a booking.

The misleading publicity may have started when several scribes reported that the new venture was a branch of The Big Apple institution and a cabaret. Later some re-wrote their jabberings while others did not. It can be confusing, after all it's the same name and logo.



Multiple MAC Award winner Sidney Myer is an outstanding musical comedy performer, as well as a veteran Don't Tell Mama booking agent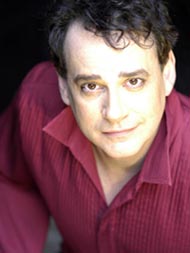 Sidney Myer, who has been booking New York's Don't Tell Mama for twenty years, spoke with Broadway To Vegas and explained the situation.

"Yes, it's misleading. The Las Vegas Don't Tell Mama is a piano bar not a cabaret and it is not affiliated with the New York Don't Tell Mama. What they are saying about the Las Vegas Don't Tell Mama is somewhat the truth," clarified Myer. "It is owned by people who owned the New York Don't Tell Mama for almost two decades and some of the people working the Las Vegas piano bar will have worked in the New York Don't Tell Mama. It is not a part of the New York Don't Tell Mama. It is not owned by the people who now own the New York Don't Tell Mama. There is no sharing of profits and no joint bookings. The former owner and the current owner both have the right to use the name," he said referring to a most unusual sale in which neither side obtained exclusive rights to the name and logo.

"I think the Las Vegas piano bar is going for the feel of the New York Don't Tell Mama," Myer speculated. "They are trying to replicate the Don't Tell Mama piano bar, but the piano bar is only one aspect of New York's Don't Tell Mama," he pointed out.

Don't Tell Mama in New York City has a long and colorful history. So does the Pham family, former owner of the New York venue and current owner of the Las Vegas spot.



Piano bar at Don't Tell Mama in New York City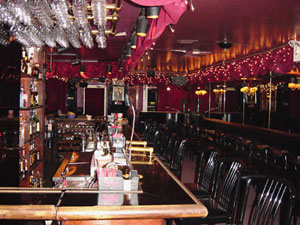 The Pham family - son Minh owns the Las Vegas piano bar - has been involved in the cabaret/piano bar business since moving to New York.

According to the NY Times Quynhi (Rose) Pham and her six children fled Vietnam in 1975 and languished in a refugee camp on Guam. They left there for Wichita, Kan., then San Francisco, and then Rose and her two sons, Henry and Minh, settled in Manhattan, while the remainder of the family stayed in California.

Pooling their money, the Pham family leased a bar on West 43rd Street called Rose of Saigon, which later closed.

"Don't Tell Mama in New York first went into business in 1982," continued Myer. "The owners sold that to Pham in 1989 which is when I came in. Then Don't Tell Mama was sold in 2007. So, Don't Tell Mama is now on its third set of owners."

In February 1990, the Pham family also took over the former Duplex cabaret in Greenwich Village, first leasing the building and later buying it. The family wanted to continue in piano bars. "We loved the concept, the atmosphere," Henry Pham told the NY Times. They turned that cabaret into Rose's Turn, a piano bar. The place was promoted as having strong drinks and above average singers.

In July 2007 Rose's Turn closed. That sent shock waves around Manhattan because for 56 years, that spot at 55 Grove Street in the West Village had been either a piano bar, a cabaret or a comedy club.

Henry Pham who was the bar's general manager told the NY Times that "the establishment's peak years were from 1995 to 2000. Business has dropped more than 20 percent since then."

"It's partly 9/11," Henry Pham said, "but mostly things changed. Young people, they don't appreciate this type of music, standards and pop. We don't have many people here, 25 to 30."

The closing of Rose's Turn was so abrupt that the staff didn't have time to look for jobs. "I'll probably wind up singing in the subway," the NY Times quoted Terri White as saying. White had once worked an understudy to Nell Carter in Ain't Misbehavin' and had worked as a singing bartender at Rose's Turn for 14 years.

Don't Tell Mama in New York was still operating but an entertainment insider, who asked to go nameless, said: "It was kind of being allowed to get run down - kind of considered a dump as compared to other places. But they have revamped Don't Tell Mama, really spruced it up, so that should help."



The newly renovated cabaret room at Don't Tell Mama in New York City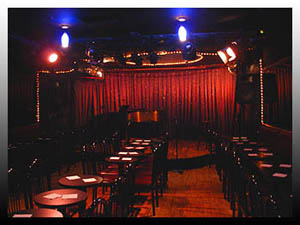 "Two-thirds of Don't Tell Mama has already been totally transformed," Myer emphasized. "And the new owners are still creating. For the first time we have a full kitchen."

As a general rule, piano bars serve bar snacks or finger foods. Cabarets offer meals.

"We are know equally for our cabaret as well as our piano bar. The two co-exist. We have four rooms including the cabaret, a piano bar, restaurant and a lounge," continued Myer.

The renovations include a total over haul of the cabaret which has been created with exposed brick walls and the intimacy of a living room.

"The new owners are Israelis," Myer continued. "They were and are in real estate. This is the first business of this kind that they have ever owned. When they came to look at the building when it was for sale, they said they fell in love with it."

The new owners apparently are business savvy enough to get the place spiffed up and yet wise enough not to try to tell Myer how to book the place.

For instance, there is a difference between a cabaret and a piano bar - a big difference.

In a cabaret, the performer is delivering a structured show, where the songs have been picked generally to coincide with a theme. The show is well rehearsed and timed. No surprises. The audience has little if any part in the performance.

In a piano bar the purpose is to entertain to the spontaneity of the crowd. Most of the time it's the audience who picks the songs. The same is true for the singing waiters and bartenders. If they want the tips they play to the crowd. They may not even be singing songs they want to do or even like. Doesn't matter, their income depends upon the customer buying drinks.

A cousin to the piano bar is karaoke.

"In a cabaret everyone is sitting in a quiet room watching a full show," explained Myer. "It's not like a lounge where people are coming or going or carousing. A piano bar is more like a Mardi Gras - not that people can't listen, but it's more like a beer hall atmosphere, whereas a cabaret is a structured show and people are all there to watch, be quiet and listen."

During the 1960s and 70s piano bars prospered in Sin City as they did elsewhere. Then they went out of favor and closed as did many of the cabarets in New York City, though the piano bar scene in The Big Apple stayed strong.

In Las Vegas the Don't Tell Mama piano bar is located in downtown Glitter Gulch about 7 miles from the center of the Las Vegas Strip. At busy times it can take an hour just to transverse the length of the Strip.

"If all they have is a piano bar, that is potentially a money maker," said the New York entertainment insider regarding the Las Vegas effort. "Whether it will actually be a money maker in Las Vegas, who knows? But, in New York that's where they made their money - at the piano bar, not the cabaret - not at all!"

"It's not a secret that's how they made their money - at the piano bar, rather than the cabaret," was the reiterated comment.



Jenifer Kruskamp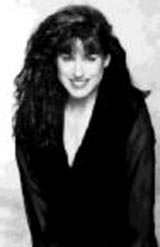 The 1,750-square-foot Las Vegas venue seats under a hundred. The newly renovated establishment will have rotating piano players and a variety of performers including comedian Colette Hawley, singer Thom Culcasi, Debbie Reynolds' music director Joey Singer. Stage actor/recording artist Phillip Officer will sing and wait tables, and bar manager is MAC nominated singer Jenifer Kruskamp who belts a song. ( See Broadway To Vegas columns of April 1, 2001 and February 9, 2003 )

"She is an awarding winning singer. She worked as a singing bartender here in our piano bar for many years. She was one of our main attractions until she relocated to Las Vegas. She had won awards for her singing. For instance, when she worked here and Rosie O'Donnell had her TV show, Rosie came in one night heard her singing. A few days later she put her on her national television show," recalled Myer.

"Same thing happened a few years ago when Dawson's Creek was a very popular TV show. The producer came in heard her singing. They wrote a part just for her and she sang on that show," related Myer about Kruskamp being written into two 1999 episodes.



This album is derived from a show with the same title that Phillip Officer had critical success with in New York City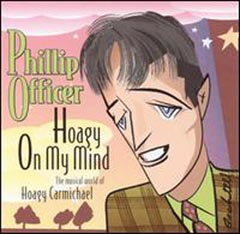 "Phillip Officer is great, stressed Myer. "He's been on Broadway and he used to do his shows here." ( See Broadway To Vegas columns of June 4, 2000 and August 20, 2000 )

"The Vegas location sounds like a piano bar - rotating pianists, singing waiters. And, they make more money doing that than being a cabaret performer," emphasized the anonymous insider.

"The only down side to that is that I always thought these people - especially the better ones - were always trying to do their act - better themselves."

"I can't speak for any of them," opined Myer, "but I will say anybody in show business views all jobs as temporary. Another piano bar, not related to us but owned by people who used to frequent Don't Tell Mama, has opened in Key West. A number of our performers are going down there to perform. Some people just say; 'You know, at this point in my life I want a change; I want a different experience. I might do this for six months or a year. It might be a nice side trip. Nothing is happening for me in New York. It may not be forever or it may be fine, but it's not the last word.' So they might be saying - 'Let's try this for awhile in Las Vegas. It might be fun. It might be a different thing to do.' The truth is, while many of these people are gifted and talented they may not be getting work in New York, either - not even as singing waiters."

"I have not been to Las Vegas in many years," continued Myer, "but what I heard originally was a lot of the show people in Las Vegas know Don't Tell Mama from New York. The piano bar singing environment - not karaoke - but live singing, might hold an attraction for them. They were hoping that the Las Vegas show people might hang out there."

If the Las Vegas show biz types are actually employed, it begs the question of how much time does the person have to just hang out? If the tourist lure is to come in and mingle with the stars, then you need A-list, bold faced names in the joint. Granted, alcohol is recession proof and there has always been a high profit margin of laying a drink on the table. Never-the-less, with a venue holding less than a hundred, there needs to be a four times nightly turnover - that's a lot of people to stumble in six nights a week. Pham has a big wad of dough from selling the New York Don't Tell Mama. Not sure how much of that he wants to list as a new business loss. After the new-kid-on-the-block glow wears off, a couple of nights each week the paying customers will barely exceed much more than counting on both fingers and toes. If the game plan is to serve five drinks a night to the same 80, then cordon off a corner for AA recruitment.

"The bottom line is that the rent is cheaper than it would be elsewhere is Las Vegas," speculated the anonymous Manhattan insider. Minh is hard working and very hands on. He was always at the club and any time I went there, he greeted me. The Phams are not stupid people," emphasized the person who then commented about their history in Asia and their ability to succeed with all types of people, personalities and economic conditions.

"They make sound economic decisions. Now, with the economic downturn, who knows how that may have screwed up their original plan," was the comment.

"We all want cabarets and piano bars to work. People are in need of entertainment now more than ever," Myer stressed.

Along those lines last Monday, February 23, Myer participated in a cabaret round table discussing on the Art and Business of Cabaret called Get Your Cabaret Act Together at Teachers College of Columbia University. In addition to Myer the panel included; James Gavin historian, author and NY Times critic James Gavin, lyricist Marcy Heisler, cabaret singer Baby Jane Dexter, and Donald Smith who is head of the Mabel Mercer Foundation. Stephanie Samaras served as host and moderator.

"It was very well received," related Myer. "The seminar was sponsored by the New York Singing Teachers Association, but it really wasn't precisely about singing. It was about the art of cabaret - the business of it; how do you put on a cabaret show; where do you do it - we touched on all of those things - publicity, the history of cabaret, what makes a good performance."

Referring back to the Las Vegas and the New York Don't Tell Mama he said; "I hope it works for them. We love and wish all of their performers the best. But they are not a part of Don't Tell Mama in New York and what they are opening up is a piano bar, not a cabaret."

Don't Tell Mama in Las Vegas had their "soft opening" on Wednesday, February 18th. The official opening is set for Monday, March 9th.



Broadway To Vegas is supported through advertising and donations. Priority consideration is given to interview suggestions, news, press releases, etc from paid supporters. However, no paid supporters control, alter, edit, or in any way manipulate the content of this site. Your donation is appreciated. We accept PAYPAL. Thank you for your interest.


ART AND ABOUT


AWARD WINNING COSTUMES

Wedding woes: Keira Knightley and Ralph Fiennes wear Georgian attire designed by BAFTA and Academy Award winning costume designer Michael O'Connor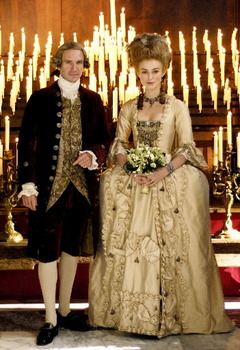 featured in the lavish 18th century period drama – The Duchess – will be spotlighted in a new display showcasing the starring role the Palace of the Peak has played in television and film. The beautiful wedding clothes worn by Keira Knightley and Ralph Fiennes in the film about the fascinating Duchess of Devonshire, who scandalized Georgian society with a very public ménage a trios, will be on show when Chatsworth House in England re-opens on March 11.

Chatsworth's exhibition includes five other costumes created by the costume designer Michael O'Connor, who won a BAFTA last month and is nominated for an Oscar for his work on The Duchess.

Scenes from the film, including previously unseen footage filmed on location at Chatsworth, will be shown alongside a remarkable collection of personal objects illuminating Georgiana's addictive personality. A letter in Georgiana's own blood, written to her six year old son, and a lock of her hair are amongst the treasures which survive to tell the story of her turbulent life.

Georgiana Cavendish, Duchess of Devonshire (7 June 1757 – 30 March 1806), born Georgiana Spencer, was the first wife of William Cavendish, 5th Duke of Davonshire and mother of William George Spencer Cavendish, 6th Duke of Devonshire. Her father, John Spencer, 1st Earl of Spencer, was a great-grandson of john Churchill, 1st Duke Marlborough. Diana, Princess of Wales (born Lady Diana Spencer), who was descended from Georgiana's brother, the 2nd Earl Spencer.

Visitors will also get an early glimpse behind the scenes of the blockbuster horror movie due for release in November. Wolfman, starring Benicio del Toro and Sir Anthony Hopkins, is the third feature-length film to be shot at Chatsworth in the last four years. Chatsworth was transformed into a gothic horror for the shoot, the biggest production at the stately home to date and the second biggest ever to be filmed in the UK. The 2005 film Pride and Prejudice completes the big screen display with behind the scenes details and a bust of its star, Matthew MacFadyen. A gallery of well-known faces from TV who have filmed at Chatsworth from the Hairy Bikers to Griff Rhys Jones make up this new exhibition.

For this year only, the Sabine Room – a beautiful early 18th century painted room, previously used as a private guest bedroom - will be open to visitors for the first time in 20 years. Also new for 2009 is the family Discovery Room where visitors can experience Chatsworth in an interactive way. Imagine how Georgiana would have felt in her elaborate 18th century dresses with the help of wigs and costumes to try on; play games or read books relating to the TV and Film display. Chatsworth is one of Britain's best loved historic houses and estates encompassing a 1000 acre park. The home of the Duke and Duchess of Devonshire is set in the magnificent landscape of Derbyshire's Peak District National Park.




SWEET CHARITY


THE PRINCE'S TRUST SPRING BALL

Will Young rose to fame in 2002 after winning the inaugural Pop Idol contest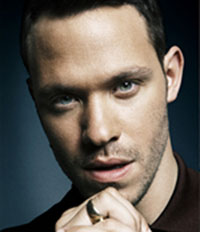 with a dress code of Black tie and Denim takes place Thursday, March 5 at the Hurlingham Club, an exclusive sports club on 42-acres bordering the Thames in Fulham, West London Join singer-songwriter Will Young at

Singer-songwriter Will Young plays host to Britain's glitterati who will come together with Claudia Winkleman, Jemma Kidd and a host of Prince's Trust Ambassadors to enjoy a sumptuous three-course meal. Entertainment will be provided by Will Young and his band with a performance by Escala, Simon Cowell's glamorous electric string quartet. Strictly Come Dancing stars, Flavia Cacace and Vincent Simone will also be performing their now legendary Argentine Tango.

Billed as "a night of pure indulgence surrounded by magnificent Swarovski crystals at London's most exclusive member's club." All proceeds benefit The Prince's Trust charities. The Prince's Trust is a charity in the United Kingdom founded by Prince Charles, The Prince of Wales to help young people who are the long-term unemployed, people who have been in trouble with the law, people who are in difficulty at school, and people who have been in care. These young people are considered by the Prince's Trust to have a "disadvantaged background.

BENEFIT CONCERT in support of Perry-Mansfield Art of Cabaret scholarship fund will be staged Monday, March 9, at The Metropolitan Room in NYC. March is Cabaret Month.
Hosted by Andrea Marcovicci and Karen Mason, the evening also features performances by Master Teachers Barry Kleinbort and Terri Ralston, and Musical Directors Christopher Denny, Shelly Markham, and David Gaines. The show also features special appearances by Perry-Mansfield Art of Cabaret alumni, including Francesca Amari and Margy Siedes, and others.

MIKE NICHOLS in an evening to benefit Riverspace in Nyack, NY. An extraordinary evening with director Mike Nichols, the winner of Oscar, Tony, Emmy and Grammy Awards and a Kennedy Center honoree, as he shares stories, film clips, insights and laughs from his illustrious career with Riverspace Co-Artistic Director, Elliott Forrest. Friday, Mar. 6, 2009.



2009 SUSAN SMITH BLACKBURN PRIZE

Original lithograph created for Susan Smith Blackburn Prize by Willem De Kooning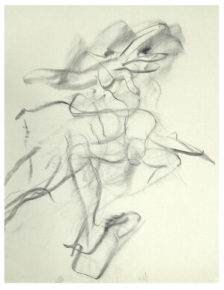 has been awarded to British playwright Chloë Moss for This Wide Night. A sympathetic portrait of imprisoned women, their friendships formed in confinement and their struggles to start life anew upon release, the play premiered at London's Soho Theatre and toured regionally in the United Kingdom - including performances at four women's prisons.

At a private reception in London on February 25, the prize was presented to Moss by stage and screen star Sigourney Weaver, one of this year's judges.

The Susan Smith Blackburn Prize, established in 1978, is given annually to a woman who deserves recognition for having written a work of outstanding quality for the English-speaking theatre. The Prize is administered in Houston, London and New York by a board of directors who choose six judges each year, three in the United States and three in Britain. The presentation ceremonies, which honor all finalists, are held in London, New York or Houston.

The Prize currently awards $35,000 annually to the Finalists. The Winner is given $20,000, and also receives a signed and numbered Willem de Kooning print made especially for the award. A Special Commendation of $5,000 may be given at the discretion of the Judges. Each of the other Finalists receives $1,000

This year the Blackburn Prize this year bestowed the $5,000 Special Commendation award to British playwright Lucinda Coxon for Happy Now?

Happy Now? is a wise, witty, and observant play about a woman's struggle to have it all - family, personal freedom, fidelity and career. Happy Now? dares to ask just that, in this painfully truthful, darkly comic take on contemporary life and how to survive it. The play enjoyed a sold-out run in its acclaimed premiere at the Royal National Theatre, and received its U.S. premiere at Yale Repertory Theater. It was accorded the Writer's Guild of Great Britain 2008 Best Play Award. The play will receive its NY premiere at Primary Stages in January 2010.

Other 2009 finalists were:Free Outgoing, by Anupama Chandrasekhar (India); What Once We Felt, by Ann Marie Healy (U.S.); Inana, by Michele Lowe (U.S.); Oliver!, by Elizabeth Meriwether (U.S.); Ruined, by Lynn Nottage (U.S.); The Almond and the Seahorse, by Kaite O'Reilly (Wales); On the Rocks, by Amy Rosenthal (England); and Ten Tiny Toes, by Esther Wilson (England). Each received $1,000.

More than 100 scripts were submitted for this year's prize.

In addition to Weaver, this year's judges were: Edward Albee; British playwright and director Peter Gill; British actress Jenny Jules; playwright and McCarter Theatre artistic director Emily Mann; and Genista McIntosh, former executive director of the Royal National Theatre.

Created to encourage women playwrights, the Blackburn Prize reflects the values of Houston-born actress and writer Susan Smith Blackburn, who died in 1977. The prize is administered by co-founder and chairman Emilie Killgore, Blackburn's sister, of Houston and New York, and its president, actor-director Alex Killgore, of New York.

Past recipients of the Susan Smith Blackburn Prize include Judith Thompson's Palace of the End, Gurpreet Kaur Bhatti's Behzti (Dishonour), Sarah Ruhl's The Clean House, Dael Orlandersmith's Yellowman, Susan Miller's A Map of Doubt and Rescue, Gina Gionfriddo's U.S. Drag, Bridget Carpenter's Fall, Charlotte Jones' Humble Boy, Naomi Wallace's One Flea Spare, Jessica Goldberg's Refuge, Paula Vogel's How I Learned to Drive, Moira Buffini's Silence and Caryl Churchill's Serious Money.


OTHER PEOPLE'S MONEY


TAVERN ON THE GREEN

Tavern on the Green is an almost magical forest experience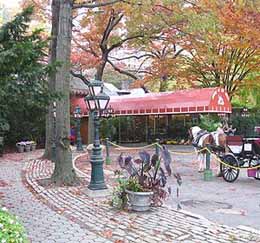 the New York City landmark restaurant isn't recession proof. Always priding itself on being open seven days a week, the high class eatery will now be open Wednesday through Sunday through spring, serving lunch and dinner. Last month they stopped serving breakfast.

With 2007 gross revenues of $38 million, from more than 500,000 visitors, it is the second highest-grossing independently-owned restaurant in the United States behind The Venetian's Tao restaurant in Las Vegas, at $67 million.

Tavern on the Green is where many Broadway shows have held their opening night festivities. The Tavern had also made several movie appearances, including Ghostbusters; Made; Only When I Laugh; Stella; The Out-of-Towners and Wall Street, and in television shows such as elimiDATE and Live with Regis and Kelly

The restaurant is cited in at least three popular songs. The Broadway musical title of show includes a line in the song Part of it All: "Ducking out of the theatre before the show's finale to get to the opening night at Tavern on the Green!"

Built in 1870, the rural Victorian Gothic structure now known as Tavern on the Green was designed by Jacob Wrey Mould as a sheepfold The first incarnation of Tavern on the Green - the restaurant - was launched on October 20, 1934, with a coachman in full regalia at the door. Mayor Fiorello LaGuardia opened the restaurant with a brass key and, in the company of a proud Moses, took a tour of the facility. After chatting with the chef and sampling a breakfast sausage, Fiorello and Moses pronounced their satisfaction with Central Park's newest attraction.

Embraced by New Yorkers as a gathering place and Tavern on the Green quickly became an integral part of the city's summer social life.

A succession of management companies operated the restaurant until 1962 when Restaurant Associates took it over. By the early '70s, Tavern on the Green was a restaurant no longer in sync with the times, and Restaurant Associates shuttered it in 1974.

Rather than signaling the end of an era, however, its closing was the beginning of an exciting new one for the venerable edifice. Warner LeRoy, the creator of the wildly popular Maxwell's Plum, acquired the lease and embarked upon a spectacular $10 million renovation. Then an unheard of sum to spend on a restaurant. With LeRoy's addition of the glass enclosed Crystal and Terrace Rooms, his lavish use of brass, stained glass, etched mirrors, original paintings, antique prints and, above all, chandeliers, Tavern was reincarnated. It became a glittering palace, Central Park's most spectacular structure.

Hand-hewn rafters re-emerged and the soaring vaulted ceilings above them reappeared after being hidden for decades by pedestrian plaster. The Elm, Rafters, and Chestnut Rooms were paneled in exceedingly rare wormy chestnut. In the Crystal and Terrace Rooms, rustic baroque gave way to flights of rococo fancy.

The reincarnated Tavern on the Green took New York by storm from the moment it re-opened on August 31, 1976. It dazzled the city with its decorative whimsy, its eclectic menu and its playfulness. Tavern, once so "out" that it had to close, was now very "in" indeed. Celebrities flocked to the restaurant to see and be seen. Tavern's size, spectacular setting and radiant charm quickly made it "the" place for New York's most prestigious events - charity and political functions, Broadway openings and international film premieres.

And, in 1993, a celebrated Menagerie of Topiaries, created by the Hollywood wizards who fashioned the fantastic greenery for the hit film Edward Scizzorhands, took up residence in Tavern's gardens.

Three years later, during the summer of 1996, Tavern's treasured topiaries were given another Crystal Garden attraction to keep watch over, a 40-foot bar fashioned from trees harvested from New York City parks. Tavern's Garden Bar gives new life to trees that have died or been cut down for safety or landscaping purposes.

Since LeRoy's death in 2001, Tavern on the Green has continued to thrive under the direction of his daughter Jennifer LeRoy, who addresses customer's palates with new menus by Executive Chef John Milito whom LeRoy recruited in October 2003.


33RD ANNUAL HUMANA FESTIVAL OF NEW AMERICAN PLAYS
poster design by Julien Pacaud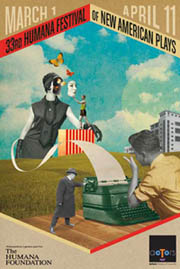 Beginning today, March 1, and continuing through April 11, the Actors Theatre of Louisville's Humana Festival of New American Plays hosts its annual pilgrimage, where theatre lovers from around the world converge to get the first look at the future of the American theatre.

Over 350 plays have been produced in the internationally acclaimed Humana Festival, representing the work of over 200 playwrights.

Productions include;

Ameriville by UNIVERSES composed of Gamal Abdel Chasten, Mildred Ruiz, William Ruiz aka Ninja and Steven Sapp. Directed by Chay Yew. March 1 - April 5.

Slasher by Allison Moore. Directed by Josh Hecht. March 6 - April 5.

Absalom by Zoe Kazan. Directed by Giovanna Sardelli ( See Broadway To Vegas column of February 27, 2005 ). March 14 - April 4

The Hard Weather Boating Party by Naomi Wallace. Directed by Jo Bonney. March 10 - April 11.

Under Construction by Charles L. Mee. Directed by Anne Bogart. Created and performed by SITI Company. March 17 - April 5.

Wild Blessings: A Celebration of Wendell Berry adapted for the stage by Marc Masterson and Adrien-Alice Hansel from the writing of Wendell Berry. Directed by Marc Masterson. Part of the Brown-Forman Mainstage Series March 26 - April 26.


THREEPENNY OPERA IMPACTS SOUTHERN CALIFORNIA


The trailblazing musical by Bertolt Brecht and Kurt Weill that became one of the most influential plays of the 20th Century - Threepenny Opera is being staged at two venues in southern California - The International City Theatre at the Long Beach Performing Arts Center in Long Beach and at San Diego Rep which is also staging a series of free surround events.

First performed in 1928, Brecht and Weill's The Threepenny Opera was a revolutionary musical theater masterpiece that mocked the bourgeois political movement of pre-Hitler Germany. Brecht's brittle, sardonic tale of beggars, thieves and prostitutes, adapted from the 1728 play The Beggar's Opera by John Gay, was a fierce social and political critique, and Weill's innovative score that fused American jazz with German cabaret captured the ironic tone of the lyrics. Part acid social criticism, part bittersweet romance, the now eighty-year old saga of "Mack the Knife" and his entourage of criminals and whores has never lost its theatrical punch.

Originally presented in Berlin in 1928 as Die Dreigroschenoper, caused a sensation in Berlin when it opened. Audiences couldn't get enough, and it launched Brecht and Weill to immediate success. The show saw an amazing 130 productions on the Continent over the next four years.

An adaptation by Gifford Cochran and Jerrold Krimsky failed on Broadway in 1933. A second adaptation, this time by Marc Blitzstein, was offered Off Broadway at the Theatre de Lys in 1954. When this acclaimed production closed after a limited engagement of 95 performances, the critical cry for its return was such that it was revived six months later at the same theatre and ran for 2,611 performances, an Off-Broadway record at the time. The cast included Lotte Lenya, Weill's wife, as the prostitute Jenny, in a role she had created in the original German production; as well as Scott Merrill as Macheath; Jo Sullivan as Polly Peachum; and Beatrice Arthur as Lucy Brown. The action was transferred from the 18th century to Victorian times. This production helped rekindle an interest in the works of both Weill and Brecht.

The Threepenny Opera has been translated into 18 languages and performed more than 10,000 times including Broadway productions in 1989 in which Sting played Mack the Knife and another production in 2006 in 2006 at Studio 54. That mounting ran for two months and starred Wallace Shawn. Alan Cumming and Cyndi Lauper.

The Surround Events with the San Diego Rep offering include; Celebrating San Diego's Social Safety Net on Tuesday, March 3: "We all are running after luck and luck is running last," says "The Song of the Futility of Human Endeavor" from The Threepenny Opera. What happens when life circumstances get beyond our control? Those who keep their hands on San Diego's social safety net—helping neighbors in times of need - Anahid Brakke, Director of Health & Human Services for The San Diego Foundation, hosts a discussion with leaders from The San Diego Food Bank, Volunteer San Diego and Dress for Success, sharing their personal stories and info on how people can join the front lines and get involved.

Talkin' Theatre with Todd on Thursday, March 5: Threepenny hasn't been produced in San Diego in 25 years! REP Associate Artistic Director Todd Salovey goes behind the-scenes in a revealing interview with three key REP artists. Hear firsthand about the music, acting, and script choices that have brought the REP's show to life. Music Director Mark Danisovszky talks about what makes Kurt Weill special and difficult, Assistant Director Stephanie French talks about staging, and San Diego actress Amy Biedel reveals her process of creating a character in this classic work.

So (Kurt) Weill: The Music of Kurt Weill Saturday, March 7 and Sunday, March 8: A free concert! Enjoy a live cabaret of songs and commentary from the genius Threepenny composer Kurt Weill and his contemporaries from Germany's cabaret scene from 1918 to 1933. Nationally acclaimed songstress and film actress Wyn Wilson has toured the U.S. and Europe singing unforgettable and rarely heard songs of the period. Ms. Wilson is accompanied by composer and master pianist Billy Wolfe, currently Music Director for Ballet Austin in Texas.

Defanging Capitalism Wednesday, March 11: David Bainbridge, Associate Professor at the Marshall Goldsmith School of Management at Alliant International University and author and consultant in sustainable management, is joined by David Felson, Professor of International Relations at Alliant, in a surprising talk about some of the very issues on capitalism that Brecht raises in his work.

The "Moment" of The Threepenny Opera Thursday, March 12: Germany 1928—The Weimar Republic was in full flower and flame: Gangsters, political cabaret, The Bauhuas architectural revolution, Albert Einstein, irreverent jazz and corruption in the highest of places. Artistic Director Sam Woodhouse hosts a lively conversation about the Berlin cultural explosion of new artistic dreams and possibilities that gave birth to The Threepenny Opera. Sam's guests are Arthur Wagner, founder of the UCSD Department of Theatre and the director of a 1982 production of the play at UCSD, and Brecht and German Theatre expert John Rouse, who teaches in the Ph.D. program at UCSD and is a past Vice-President of the International Brecht Society.

Ballad of the Prisoner of Sexuality - A Real Conversation About Sexual Addiction and Compulsivity on Friday, March 13: Inspired by a famous song from Threepenny and the habits of Mack the Knife, join a conversation about sexual addiction and compulsivity. Hear real facts and testimony from two who know the territory well: Dr. Samadhi Longo-Disse, a Certified Sexuality Counselor who writes and speaks publicly about her own professional and personal experience in the sex industry, and Dr. Charles Nelson, a licensed Psychologist and M.F.T. with 35 years of experience, specializing in substance and behavioral addictions and "men's issues."

German Choir in Concert Sunday, March 15: The popular and entertaining Heimatklang Choir of San Diego is a 20-member chorus that sings throughout California to promote German culture and the House of Hospitality Germany House in Balboa Park. Discover the passion and joy of German music from a choir that sings an eclectic repertoire from Mendelsohn to Schumann to operettas and even the Berlin Cabaret!

Weimar Culture: Crisis and Creativity on Friday, March 20: The German Weimar Republic (1918–1933)was a restless and extroverted age of great experimentation and hope that failed diplomatically, economically, and politically. The Nazi movement rose side by side an extraordinary outpouring of artistic, cinematic, literary, musical, and theatrical creativity. Sharing photos and insights into this turbulent time is distinguished scholar Lawrence Baron, professor of modern German and Jewish history at San Diego State University, who has published over 60 articles on film and the Holocaust.



Shannon Warne as Polly Peachum and Jeff Griggs as Macheath in the International City Theatre presentation. Photo by Shasin Desai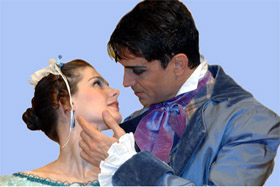 The Threepenny Opera in Long Beach is helmed by Jules Aaron. Michael Feingold's translation has chorography by Kay Cole and musical direction by Darryl Archibald.

The ICT production stars Jeff Griggs as Macheath and Shannon Warne as Polly Peachum. Mr. and Mrs. Peachum are played by Tom Shelton and Eileen T'Kaye. Paul Zegler is Tiger Brown. Rachel Genevieve is Lucy Brown and Zarah Mahler is Jenny Diver. Also in the cast are Ceasar F. Barajas, Julie Carrillo, Gabriel Corbin, Daniel Vincent Gordh, Brian Crawford Scott, Jake Wesley Stewart and Michael Uribes.

The set designer is John Iacovelli; lighting designer is Jared Sayeg; costume designer is Shon LeBlanc; sound design is by Paul Fabre; property designers are Patty and Gordon Briles; casting is by Michael Donovan Casting; and Shashin Desai produces for International City Theatre. The Threepenny Opera runs through March 22 at the International City Theatre at the Long Beach Performing Arts Center in Long Beach, CA.

The San Diego Rep production is directed by Sam Woodhouse and is in previews with an official opening slated for March 6 with performances through March 29 in San Diego, CA.



HEROES Gérald Sibleyras's French comedy, translated by Tom Stoppard. Presented by The Keen Company whose artistic director Carl Forsman directs. Heros received London Olivier Award for Best New Comedy in 2006.

The cast comprises two-time Tony Award winner John Cullum who is also appearing in August: Osage County, in which he plays the opening scene's disappearing dad. The energetic Cullum will then disappear from the Broadway house on West 45th Street and race to the Off Broadway Clurman Theater just in time for its curtain. ( See Broadway To Vegas column of August 8, 2004 )

Joining Cullum in Heroes is Tony Award winner Ron Holgate and Tony nominee Jonathan Hogan. Holgate replaced the previously announced Tony Roberts, who withdrew from the production "to attend to family matters," according to a recent press release. Heroes is about "three former World War I soldiers living in a Paris veterans' home in 1959 and hatching a plan to sneak out and visit a stand of trees in the distance. But should they bring the stone dog with them?"

In his description about his comedy, Gérald Sibleyras said it was; "about the universal desire to escape the confines of life."

The production features scenic design by Beowulf Boritt, costume design by Theresa Squire, lighting design by Josh Bradford and sound design by Will Pickens.

The Keen Company's production of Heroes began previews Feb. 24 and officially opens on March 8 at the Cluman Theatre. Performances continue through April 11.

GUYS AND DOLLS the revival of Frank Loesser's 1950 musical with a book by Abe Burrows.

Des McAnuff directs and Sergio Trujillo serves as choreographer.

Frank Loesser's hilarious musical tale of two New York couples betting on love despite the odds. With its score of unforgettable songs including Luck Be a Lady and Sit Down, You're Rockin' the Boat, - Guys and Dolls is viewed as the quintessential Broadway experience.

Tony nominated Oliver Platt plays Nathan Detroit, and, in her Broadway debut, Lauren Graham of Gilmore Girls fame portrays his fiancée, Miss Adelaide. Kate Jennings Grant who can currently be seen as Diane Sawyer in Ron Howard's Frost/Nixon is Sarah Brown and Tony-nominee Craig Bierko is Sky Masterson. Tituss Burgess is Nicely-Nicely Johnson,Glenn Fleshler is Big Jule, Adam LeFevre plays Lt. Brannigan, Jim Ortlieb as Arvide Abernathy, Steve Rosen as Benny Southstreet, Tony nominee Mary Testa plays General Cartwright.

Others include; Nick Adams as Liver Lips Louie, Andrea Chamberlain as Agatha, Raymond Del Barrio as Damon, James Harkness as Society Max, Joseph Medeiros as The Greek, Brian Shepard as Joey Biltmore, Ron Todorowski as Brandy Bottle Bates, John Selya as Scranton Slim, William Ryall as Calvin, Spencer Moses as Rusty Charlie, Lorin Latarro as Mimi, Kearran Giovanni as Carmen, Andrea Chamberlain as Agatha, Graham Rowat as Angie the Ox, Jessica Rush as Martha; Hot Box Girls Brooke Wendle, Jennifer Savelli, Rhea Patterson. The swings are Melissa Fagan and Benjamin Magnuson. Dance captain is Marcos Santana.

Opens March 1 at the Nederlander Theater, NYC.

LAST DAYS OF DESMOND 'NANI' REESE A Stripper's History of the World. Directed by Abigail Deser. Written and performed by Heather Woodbury.

In the year 2014, a young "ethno-femino-dance anthropologist" travels to post-quake, post-drought Los Angeles to research her 10,000 page dissertation on The History of the World, as Told by Loose Women. Her final subject: the half-mad, 108 year-old legendary stripper Desmond "Nani" Reese, who is holed up in a bramble-covered shack with 27 cats. Woodbury channels the voices of these two unlikely heroines, illuminating the lives of outlaw women through the ages.

Playwright and solo performer Heather Woodbury is the recipient of a 2007 Obie, the inaugural Spalding Gray Award and other honors. Tuesday, March 3, 2009 Downstairs Theatre - Steppenwolf in Chicago.

PETER AND THE STARCATCHERS Written by Rick Elice. Lyrics by Rick Elice. Music by Wayne Barker. Directed by Roger Rees & Alex Timbers. Based on the Book by Dave Barry & Ridley Pearson.

Peter and the Starcatchers reveals the wonderful story that precedes J. M. Barrie's beloved Peter Pan. Young orphan Peter and his mates sail aboard the Never Land in a high seas adventure, battling pirates to keep secret a mysterious and dangerous cargo.

A Page To Stage Workshop Production, by special arrangement of Disney Theatrical Productions continues through March 8, 2009 at the Sheila and Hughes Potiker Theatre, La Jolla Playhouse in La Jolla, CA.

INKED BABY The World Premiere of a new play by Christina Anderson. Directed by Kate Whoriskey.

"Man, is it hard love or tough love I'm tryin' to do?" Stuck for money and unable to conceive, Gloria enlists the aid of her sister to make the child that she and her husband can't. As they uneasily await the baby's arrival, a mysterious contamination spreads outside. But consumed by their own struggles, is anyone paying attention? In this imaginative, other-worldly new drama, one family fights to find its place in a neglected neighborhood.

Featuring; Che Ayende, Michael Genet, Damon Gupton, LaChanze, Angela Lewis, Nana Mensah and Nikkole Salter.

Scenic Design by Andromache Chalfant. Costume Design by Kaye Voyce. Lighting Design by Jason Lyons. Sound Design by Rob Milburn and Michael Bodeen. Production Stage Manager is Kasey Ostopchuck.

March 5 - April 5, 2009 Peter Jay Sharp Theater, NYC.

THE SAVANNAH DISPUTATION by Evan Smith. Tony Award winner Walter Bobbie directs.

Tony Award nominee Dana Ivey Reed Birney, Kellie Overbey and Marylouise Burke star.

"It's a lot easier to destroy someone's faith than to build it up."

Resurrect this! When susceptible Catholic spinster Margaret politely admits door-to-door Pentacostal missionary Melissa into her home, her seemingly-solid faith starts to waver - much to the chagrin of her feisty sister Mary. But who's the blasphemer and who's the believer? Before long, the God-fearing sisters have ambushed their steadfast "guest" with the aid of an unsuspecting local priest, setting the scene for a smackdown of truly biblical proportions.

Scenic Design John Lee Beatty. Costume Design David C. Woolard. Lighting Design Kenneth Posner. Sound Design Tony Meola. Production Stage Manager Robyn Henry. Officially opens March 3 with performances through March 15 at Playwrights Horizons Mainstage Theater, NYC.




WHO'S WHERE


ELAINE PAIGE appearing in a special 40th Anniversary celebration show. Considered the first lady of British musical theatre, she revisits her award-winning roles as she recaptures her performances in the shows she made famous including Evita; Cats; Chessl Piaf and Sunset Boulevard during the journey through her career since 1968. Sunday, March 8, at the Royal Drury Lane Theatre in London.

JEFF HARNAR in the London debut of a new show based on his most recent recording, Dancing In The Dark from March 3rd through 10th - at Pizza On The Park - with a with a black tie gala on opening night. Dancing in The Dark is a musical potpourri from the Great American Songbook. Broadway To Vegas first enjoyed his smooth, baritone voice years ago in New York City, during one of his gigs at The Algonquin. Jeff will be joined by his UK trio: PIANO: Nathan Martin; BASS: David Blythe Johnson; DRUMS: Matt Skelton.

ROY ROGERS JR. & THE HIGH RIDERS Dom Calvano, Kirstien Renna, Sean Clavin and Phillip E. Conti - performing authentic western cowboy music. Dustin Roy Rogers rejoins his Dad in the show 2009 as a guest star. Performances resume March 5 and are on going at the Circle B Dinner Theatre in Branson, MO.

JOAN BAEZ who is marking 50 years since she began her legendary residency at Boston's famed Club 47 performs at the State Theatre in Ithaca, NY on Friday, March 6.

BORDERFEST takes place March 6-8 at The Dodge Arena, in Hildago, TX. Trace Adkins with special guests Mark Chestnutt and Jack Ingram perform Friday. Performing Saturday will be New Kids on the Block. On Sunday Newsboys perform.

MOTLEY CRUE take to the stage Tuesday, March 3, at the Seminole Hard Rock in Hollywood, FL. On Wednesday they are on stage at the UCL Arena in Orlando, FL. Friday finds them at the Borgata Hotel in Atlantic City. On Saturday the show is at the Erie Events Center in Erie, PA. Next Sunday they star at the Giant Center in Hershey, PA.

NICKELBACK in the spotlight Monday, March 3, at Air Canada Centre in Toronto. Tuesday finds them at the Copps Coliseum in Hamilton, Ontario. On Thursday they headline the DCU Center in Worcester, MA. On Friday the show is at the Izod Center in East Rutherford, NJ. Next Sunday they take to the stage at the Mohegan Sun Arena in Uncasville, CT.

CELTIC WOMAN open a two night gig Tuesday, March 3 at the Benedum Center in Pittsburgh, PA. On Friday the show is at Proctor's Theatre in Schenectady, NY. Saturday's show is at the Mohegan Sun Arena in Uncasville, CT. Next Sunday they perform at the Verizon Wireless Arena in Manchester, NH.

JERRY SEINFELD telling funny stories Friday, March 6, 2009 at the Arlington Theatre in Santa Barbara, CA.

ROBIN WILLIAMS has a busy week. in Florida. On Wednesday he opens a two night stand at the Seminole Hard Rock in Hollywood, FL. On Friday he'll be getting laughs at the UCF Arena in Orlando. On Saturday he'll bring his multi-talented self to the USF Sun Dome in Tampa.


GET WELL SOON TO ...


ED McMAHON 85, in intensive care listed in serious condition at a Los Angeles hospital, suffering from pneumonia and "other conditions." The AP reported that "other condition" to be bone cancer.

McMahon broke his neck in a 2007 fall and underwent several surgical procedures.

McMahon began his career as a bingo caller in Maine when he was 15 and rose to fame as the Johnny Carson's announcer on Who Do You Trust from 1957 to 1962 and on the Tonight Show from 1962 to 1992, and as the host of the talent show Star Search 1983-1995. He spent decades as the spokesperson for Budweiser and had starring in Las Vegas at the Tropicana Hotel - singing, dancing and telling stories in what was a most entertaining performance.

He also co-hosts the Jerry Lewis Labor Day Telethon.

On April 20, 2002, McMahon sued his insurance company for more than $20 million, alleging that he was sickened by toxic mold that spread through his Beverly Hills house after contractors cleaning up water damage from a broken pipe botched the job.

McMahon and his wife, Pamela, became ill from the mold, as did members of their household staff, according to the Los Angeles County Superior Court suit. The McMahons also blame the mold for the death of the family dog, Muffin.

On March 21, 2003, Ed McMahon was awarded $7 million from what was later discovered to be several companies who were negligent for allowing mold into his home. Their dog's death was confirmed to be caused by mold.

If McMahon is suffering from bone cancer, the issue of whether the toxic mold may have caused or acerbated an existing condition has not been addressed.




FINAL OVATION


WENDY RICHARD 65, British television star, died of Breast cancer at the Harley Street Clinic in London with her fourth husband John Burns by her side. She had endured two battles with breast cancer in the mid-1990s and then in 2002. The cancer went into remission after years of treatment, but last year it was discovered that the disease had returned in an aggressive form, attacking her kidneys, bones and spine. ( See Broadway To Vegas column of October 12, 2008 )

Her breakthrough television role was in 1970s sitcom Are You Being Served?, in which she played Cockney sales girl Shirley Brahms. She was most famous for her portrayal of Pauline Fowler in the hit soap opera EastEnders. She joined EastEnders when the BBC program began in 1985 and remained until 2006, when her character died. Richard said that her departure was over objections to the storyline.. Richard's Mark Thompson, director general of the BBC, said: "Wendy Richard is going to be incredibly missed by the BBC and by our audiences."

Veteran actress Mollie Sugden who appeared in Are You Being Served? with Richard described her as "a daughter I never had and I shall never stop missing her".


THE MOON AND VENUS
The Moon and Venus. Photo by Laura Deni
It's not exactly 'when the moon is in the seventh house' - leading into a burst of song - however - it's not every night that you can casually walk out into your own backyard and snap a picture of the Moon and planet Venus.

That's what happened Friday evening, February 26, and we took advantage of the situation.

Next Column: March 8 , 2009
Copyright: March 1 , 2009. All Rights Reserved. Reviews, Interviews, Commentary, Photographs or Graphics from any Broadway To Vegas (TM) columns may not be published, broadcast, rewritten, utilized as leads, or used in any manner without permission, compensation and/or credit.
Link to Main Page
---
Laura Deni


CLICK HERE FOR COMMENT SECTION