! >
Broadway To Vegas
  
 SHOW REVIEWS CELEBRITY INTERVIEWS GOSSIP NEWS

| | |
| --- | --- |
| | |
CHRISTIAN McBRIDE ON TOUR WITH CHICK COREA AND JOHN McLAUGHLIN - - BOUQUETS TO ART 2009 - - STEVE MARTIN OFFERS TO PAY TO STAGE BANNED PLAY - - PRESIDENT OBAMA CELEBRATES ST. PATRICK'S DAY - - PAUL McCARTNEY SETS RECORD - - LAS VEGAS LION KING PROMOTION A ROARING HIT - - KIRK DOUGLAS SELLS OUT - - OREGON SHAKESPEARE FESTIVAL ANNOUNCES 75th ANNIVERSARY 2010 SEASON - - DONATE . . . Scroll Down


Copyright: March 15, 2009
By: Laura Deni

CLICK HERE FOR COMMENT SECTION
LAS VEGAS LION KING PROMOTION A ROARING SUCCESS
Line to buy Lion King tickets trails into the Events Center. Photo by Laura Deni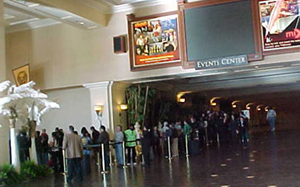 Customers inch closer to the Lion King ticket booth. Photo by Laura Deni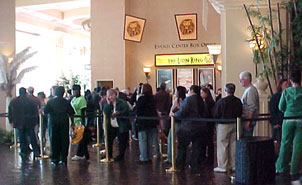 People always love a gift with purchase. For decades cosmetics companies have used that ploy to attract new customers while keeping their current buyers loyal.

One of the best planned and well orchestrated Las Vegas showroom promotional gimmicks, that has been pulled off in decades, took place yesterday, March 14, at Mandalay Bay Resorts. From the patron's point of view, the gift with a purchase come-on was fun, interesting and turned out to be better than promised.

The Tony-award winning The Lion King opens at that hotel on May 15. Tickets went on sale Saturday at 7 AM.

To lure buyers, the hotel/production heavily promoted that the first 100 ticket buyers would receive a free Lion King CD. All other ticket buyers would receive an exclusive Lion King mug. There would be coffee and breakfast treats served at the Box Office until 10AM.

The tickets were full price - $53.00 to $165.00.

So, who is going to show up before dawn to pay full price for a ticket just to get a free show souvenir?

Everybody.

Long lines wrapped around the box office and snaked into the convention hall. Well groomed men and women of all races and ages. Roped areas had one line for hotel employees and one line for non-employees, which were virtually all locals. The employees were being permitted to buy two tickets for the price of one. As a general rule all hotels treat employees well, many times offering them free entertainment events as well as discounted tickets.

The non-employee customer had a yellow band strapped to their wrist. The box office opened promptly at 7 AM. The line didn't move. Almost to the second - every 15 minutes everyone moved ahead five steps. Nobody complained.

Personable hotel staff came through the lines offering bottled water, coffee, peach, cherry and lime slushee type drinks and trays of cookies - which were even warm. When prospective ticket buyers were offered big sugar cookies decorated with the Lion King logo smiles appeared, clever comments were made and the non-moving troops were happy.

Oddly, when television camera crews arrived, the reporters headed to the closest line to them, which was the employee line. It looked like all of the interviews were done with hotel employees, many of whom had brought their children.



Lion King souvenir program book, shopping bag, 2 cookies, original Broadway cast CD and insulated logo mug. Photo by Laura Deni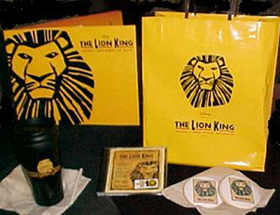 With paper and plastic cups plus napkins, the prospect for litter was non-stop. Not one person dropped anything. People were friendly, charming, polite. Strangers spoke to each other. Two older males both holding racing forms, introduced themselves to each other and struck up a conversation about which horses they were going to bet. Who would have thought the day would come when horse race betters would stand in line to buy tickets to an Elton John/Walt Disney musical.

After the ticket purchase the customer was pointed towards the gift table where an attendant cut off the wrist band, handed the person a Lion King shopping bag and offered more cookies.

Inside the bag was not just the promised Lion King CD but also an official insulated logo mug and the Lion King Souvenir Program Book. Those usually retail for respectively: $25.00, $15.00 and $20.00

If the up-beat attitude of the ticket buyers before they received their goodie bag is any indication of the audience reaction to this production - The Lion King will be a winner. After seeing the unexpected goodies doled out and the remarkable attitude and service of the hotel employees - the word of mouth from locals should propel interest in this production - which is what the producers of this promotion were gambling on in the first place.

Previews begin May 5 with the official opening slated for May 15, 2009 at Mandalay Bay Resort in Las Vegas.


CHRISTIAN McBRIDE HITS THE ROAD WITH CHICK COREA: HOPEFULLY THAT BASS ISN'T LOST LUGGAGE
Christian McBride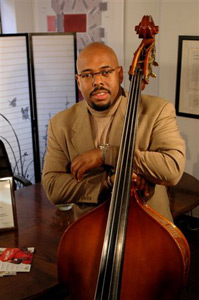 Christian McBride is widely recognized as one of the most important and original American musicians to emerge from the jazz and improvised music scene. A Grammy Award-winning virtuoso of the acoustic and electric bass, he is recognized as an accomplished composer and arranger, with a flair for spontaneous creation. His collaborations as a bassist read like a "who's who" of quintessential artists of our time, having been featured on more than 200 recordings over the past 17 years and composing nearly 40 musical works along with dozens of arrangements.

On Thursday McBride joins Chick Corea and John McLaughlin's supergroup Five Peace Band for the final leg of their world tour. The exuberant and electrifying 23-date run includes three evenings in New York at Jazz at Lincoln Center's Rose Hall and concludes on May 1 at the Flynn Center for the Performing Arts in Burlington, Vermont.

With McBride's pedigree, it's annoying to spend precious time trying to explain to airport security that a bass is not a cello.

There is always some problem," McBride told Broadway To Vegas as his full throated, dulcet voice took on a tinge of irritation. "Security, overweight, excess baggage and nobody knows what it is, so they think it is a weapon. There is a flight case that I buy for it and then I check it with the luggage. There are all kinds of idiotic, absurd airline rules when you fly now. Mostly, it's that they don't know what it is. Every time I go to the airport I have to spent at least a couple of hours of downtime."

Seems that people who don't know anything about music want to demonstrate their authority to slap his bass.

"The first stage of my checking in to any airport is explaining to a ticket agent just what it is.

I say: 'It's a bass.'
They say: 'You mean, like a guitar?
'No.'
'You mean a cello?'
No, it's a bass.'

Christian McBride was born on May 31, 1972 in Philadelphia. Electric bass was Christian's first instrument, which he began playing at age 9, followed by acoustic bass two years later. His first mentors on the instrument were his father, Lee Smith - a renowned bassist in Philly and his great uncle, Howard Cooper who is a disciple of the jazz avant-garde.

Upon his 1989 graduation from Philadelphia's High School for the Creative and Performing Arts (C.A.P.A.), Christian was awarded a partial scholarship to attend the Juilliard School in New York City to study with the legendary bassist, Homer Mensch. That summer, before making the move to the Big Apple, the already in-demand bassist got his first taste of touring going to Europe with the Philadelphia Youth Orchestra, and traveling the U.S. with the classical jazz fusion group, Free Flight.

Within the first two weeks of his first semester at Julliard, he joined saxophonist Bobby Watson's band, Horizon. After one year at Juilliard, McBride made a critical decision to leave school to tour with trumpeter Roy Hargrove's first band, electing "experience with as many musicians as possible" as the best teacher. In August of 1990, he landed a coveted position in trumpeter Freddie Hubbard's band until January of 1993.

McBride is proud of his year at Julliard and is a promoter of that world-renowned institution as well as education in general. It's just that jazz musicians are different.

"There is a tradition with jazz musicians that go to Julliard. None of us have ever stayed past a year," explained McBride. "Chick Corea, Winton Marsalis, Miles Davis - a whole lot of people - and none of us stayed more than a year," indicating that music structure, important to any musician, is taught within the first year.

Jazz is also a unique vibe - offering a sturdy foundation for playing any type of music.

"Absolutely," answered McBride. "The finest musicians to spring from the world of jazz have clearly had an advantage when it comes to branching into other genres of music. Their mastery of composition, arranging and sight reading coupled with their flair for improvisation and spontaneous creation make them possibly the most seasoned and adaptable musicians in the art."

Children used to be taught that they needed to master serious classical music playing the piano. Kids hated to practice, didn't enjoy the music and if they did manage to branch out to anything other than the three Bs, the performances tended towards rigid and uninspired.

"Exactly," continued McBride. "And, they completely miss the meaning of what music is suppose to be and what that does to a listener."

McBride first met Corea when they were both performing in Japan.

"I first met Chick in 1992 at the old Mount Fuji Jazz Festival," recalled McBride about the legendary annual jazz festival which was held from 1986 through 1996.

"I was playing with the pianist Benny Green and Chick was playing with the second version of his electric band. Chick has always been one of those musicians who has always kept his ears to the ground as to who are the new, up-and-coming young guys on the scene. He's always been very diligent about seeking out opportunities to work with some of the up-and-comers. So, at that time I had an opportunity to meet him. I was a huge fan of all of his work. We kept in tough for a number of years. In 1995 he agreed to be a special guest on my second CD which was called Number Two Express," recalled McBride about the 1996 CD in which he performed in various combinations with either Kenny Garrett or Gary Bartz on alto, Chick Corea or Kenny Barron on keyboards, vibraphonist Steve Nelson, drummer Jack DeJohnette and percussionist Mino Cinelu.

"The following year Chick asked me to go out on tour with him on his Remembering Bud Powell (1997) Tribute Band," continued McBride. The CD of the same name was nominated for a 1998 Grammy Award for Best Jazz Instrumental Performance, Individual or Group. "That also featured Wallace Roney (trumpet), Kenny Garrett (saxophone), Joshua Edmund (saxophone) and Roy Haynes (drums)."

"That was the first time I got to tour with Chick. It was a highlight of my life," he exclaimed.

There have been a lot of highlights in McBride's career.

Before he turned 20 he was featured on both the Freddie Hubbard/Joe Henderson Big Band and John Coltrane evenings of Classical Jazz at Lincoln Center, as well as on a special segment of The Edge PBS Television series. After being hailed Hot Jazz Artist of 1992 by Rolling Stone, Christian continued to prove it as a member of guitarist Pat Metheny's Special Quartet, which included drum master Billy Higgins and saxophonist Joshua Redman. While recording and touring with Redman the following year, McBride signed to Verve Records in the summer of 1994, recording his first CD as a leader, Gettin' to It.

He also graced the big screen playing bass in director Robert Altman's 1940's period piece movie, Kansas City (1996).

In 1998, the Portland (ME) Arts Society and the National Endowment for the Arts awarded McBride with a commission to write The Movement, Revisited, McBride's dramatic musical portrait of the civil rights struggle of the 1960's written and arranged for quartet and a 30-piece gospel choir.

Over the years, McBride has been featured on hundreds of albums, touring and/or recording with artists such as David Sanborn, Chaka Khan, Natalie Cole, George Benson, and the late greats Joe Henderson, Betty Carter and Milt Jackson. He also undertook his first pop Musical Directorship at the helm of a Christmas show featuring gospel royalty BeBe Winans and pop star Carly Simon. The event marked stage-shy Simon' first New York concert appearance in a decade and she expressly insisted that only McBride could be her musical director. He's commanded the stage with such peers as Roy Hargrove, Brad Mehldau and Brian Blade - and been first-call-requested to record with an impressive array from McCoy Tyner, Diana Krall, Kathleen Battle to Sting.

"I have millions of funny and unusual stories about most of the people I have played with," he divulged.

Okay, how about pop star Sting, who invited McBride to become a key figure in his 2001 All This Time CD, DVD and tour.

"My fondest memory of him - that I can share - was my first rehearsal with the band. Originally he asked me to play both the acoustic and the electric bass," stated McKnight. "I said, fine, that's what I do. I guess at the time he had heard that I played the electric bass, but he hadn't actually heard me play it. When we got to the first rehearsal I was playing songs on my acoustic bass and everything was great. He said - 'Okay, play electric bass on this song,' and gave me his guitar to play. So, I played his electric bass. I don't remember what I did - just some warm up run. I guess it was fast. He came over and stared at me - and said; 'Give me that back.You're not going to play electric bass in this band.'"

"All of the guys in the band started laughing. When we went on break the guys in the band said; 'Are you crazy? You can't do that to him,'" referring to playing better than the star.

McBride's own Christian McBride Band features saxophonist Ron Blake, keyboardist Geoffrey Keezer, and drummer Terreon Gully.

What does McBride look for when he hires musicians for his own band?

"It might sound a little simplistic, but it is much harder to find than you would think - guys who are really able to listen well and able to scope the terrain with their ears. Sometimes guys get a little too aggressive. They want to take the initiative because jazz is always based upon bring your own personality into the music. Every now and then some guys can take that too far. They don't take the time to listen to what's going on around them before they determine how to make their personality fit in. I like guys who are good listeners," he said referring to the individual musical temperaments needing to co-exist.

"I can say that Chick is one of the greatest musicians ever, he said of Corea."He is always listening and watching the rest of the band. His antenna is always up. He is always open to suggestions."

"This is the third and finally stage of our tour. We toured Europe in October and November of last year. We just completed a tour of Asia, Australia and New Zealand. The first month of the tour in Europe is when we worked out all of the music we had and decided which were the strongest pieces. We kind of stuck with different variations of those particular songs."

McBride reported no differences between European, Asia or American audiences.

"If you play hard and play well - the audience will respond."

The Corea-McLaughlin group and tour is called Five Peace Band - featuring: Kenny Garrett on sax, Christian McBride on bass and Vinnie Colaiuta on drums in Europe while Brian Blade took over the drum chair in Asia and on select dates in U.S.

Why the spelling; p-e-a-c-e?

"I know John McLaughin has a song that he wrote called Four Peace Band - the number four and the same spelling peace - like for peace," he answered. "So, John being clever in his inimitable British way, just changed it to five instead of four."

When not on tour McBride is juggling a three time zone lifestyle.

McBride carved out time to speak at former President Clinton's town hall meeting on Racism in the Performing Arts. He holds Artistic Director posts at the Jazz Aspen Snowmass summer program and the Dave Brubeck Institute at the University of the Pacific in Stockton, CA. McBride participated in a Stanford University panel on Black Performing Arts in Mainstream America. He's hosted insightful one-on-one jazz chats in Cyberspace. He also scribed the foreword for pianist Jonny King's book, What Jazz Is (Walker & Co., New York).

2005 witnessed his adding two more prestigious appointments to his resume. He was named co-director of The Jazz Museum in Harlem. While assisting Leonard Garment and Loren Schoenberg in obtaining government grants and the participation of top flight historians/musicians, he focuses on a longtime concern: exposing jazz to young people.



On March 26 Phoebe Jacobs will participate in Harlem Speaks, a series to honor persons keeping the flame of jazz alive in Harlem. The series, co-produced by the Jazz Museum in Harlem and consultant Greg Thomas, is free to the public. Jacobs, born in 1918 in the Bronx, began her career in jazz as the hat check girl at her uncle's club, where she met and worked with jazz greats such as Sarah Vaughan, Eubie Blake, Duke Ellington, Benny Goodman, and Ella Fitzgerald. "Sarah would say to me, 'Gee, do you know where I can get my dress shortened' or where can I have my nails done?' They use to ask me things and I would do them for them. Then over the years they began to count on me." Jacobs worked in public relations for various jazz record labels and clubs, and became Louis Armstrong's publicist, and, eventually, the Executive Vice President of the Louis Armstrong Educational Foundation, Inc. The photo of Phoebe Jacobs was taken at the Lincoln Center 2005 Fall Gala,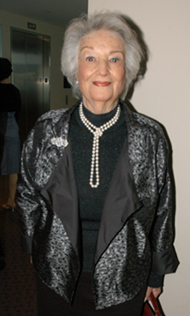 While working for the museum in Harlem, McBride racks up frequent flyer miles as Creative Chair for the Los Angeles Philharmonic, giving him a degree of influence over commercial and educational programs at the Hollywood Bowl and Disney Hall. The position was passed on to him by singer Dianne Reeves who held it for three years.

How did this merry-go-round get started?

"I think at some point, probably in the around the mid 90's, I was asked to do a series of six classes that I taught at the Berklee College of Music. I was quite surprised and flattered that they would ask me. At the time I was only 24 and they were asking me to come up there and teach. I was thinking what do I know? I need to be a student not the teacher," related the multi-dimensional performer.

"They had me come up there and apparently liked what they saw. Word started getting spread around and then I started getting more opportunities to do a lot of different things involving jazz education. Things snowballed. Around the end of the 90's the University of Richmond had a summer jazz series and they asked me to be their Artistic Director, which was basically a programming job. My band was the resident band. We were to bring in special guests to work with my band every summer."

Experience and a good track record counts. McBride attributes his positions with the Jazz Museum and the Los Angeles Philharmonic as "coming out of what happened in the mid and late 90's."

"To a degree, jazz is non-existent in most major urban communities, which deeply saddens me," McBride states. "Kids don't understand who our jazz greats were. My contribution towards rectifying this will be getting them to check out free events at the Jazz Museum by inviting jazz and non-jazz musicians, athletes and speakers that they can relate to."

"Since we are still in the early stages of the Jazz Museum organization, everybody who works here does everything - programming, going out and beating the drums, teaching, performing of course. Because I'm not in New York that often I am more or less the ambassador, spreading the word nationally."

Fortunately McBride is married to a woman who shares his passions and lifestyle - jazz singer Melissa Walker, a graduate of Brown University.

"She understands very well. She's a pretty busy beaver between singing and running her own organization - Jazz House Kids and I'm involved with that," he related about the acclaimed not-for-profit organization Melissa created, which provides jazz enrichment programs for kids.

Christian and Melissa are pet parents to two. "We have a Bichon Frise, a little guy named Jessie, and a Beagle named Ella."

Celebrating his 39th birthday in a couple of months, McBride expects the next half of his life to be as exciting as the first.

"It's really been a fun ride and the ride is only going to get faster."



Broadway To Vegas is supported through advertising and donations. Priority consideration is given to interview suggestions, news, press releases, etc from paid supporters. However, no paid supporters control, alter, edit, or in any way manipulate the content of this site. Your donation is appreciated. We accept PAYPAL. Thank you for your interest.


STEVE MARTIN OFFERS TO PAY TO STAGE HIS PLAY THAT HIGH SCHOOL BANNED
Steve Martin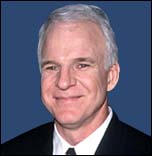 Steve Martin's award-winning 1993 play Picasso at the Lapin Agile depicts a meeting between a young Pablo Picasso and Albert Einstein in a Parisian bar in which they get into a discussions on the superior merits of art or science. The play has been performed all over the world without incident - until now.

Rehearsals for the production were stopped at La Grande High School in Oregon when teacher and play director Kevin Cahill received a letter from one parent which contained a petition signed by 137 people against the staging of the play.

Picasso at the Lapin Agile' was banned from the LHS campus Feb. 20 by La Grande School District Superintendent Larry Glaze because of its adult content. The La Grande Observer, is running poll asking reading if the school board did the right thing. (http://www.lagrandeobserver.com/) Martin wrote a letter to the La Grande Observer which states:

Written by Steve Martin March 13, 2009
To the citizens of La Grande:

It has come to my attention that there is a controversy regarding my play, "Picasso at the Lapin Agile," which was to be produced at your local high school.

First let me compliment Mr. Kevin Cahill, the teacher who selected the play, on his excellent taste! The play has been performed, without incident, all over the world by professional and amateur companies, including many high schools.

Because I don't know the standards of your community or the life experience of your students, it is impossible for me to address whether my play is appropriate to be performed on campus, although in the limited web exchanges I have read, the students, and the eloquent Mr. Cahill, seem to understand the play and can discern that the questionable behavior sometimes evident in the play is not endorsed.

I have heard that some in your community have characterized the play as "people drinking in bars, and treating women as sex objects." With apologies to William Shakespeare, this is like calling Hamlet a play about a castle. This play is set in an actual bar in Paris that was frequented by Picasso, a historical site that still exists today.

Focusing on Einstein's Special Theory of Relativity and Picasso's master painting, "Les Demoiselles d'Avignon," the play attempts to explain, in a light-hearted way, the similarity of the creative process involved in great leaps of imagination in art and science. Pablo Picasso, as a historical figure, does not come gift-wrapped for the sensitive. He lived as he painted, fully sexual and fully daring, and in the play he is chastised by a sage bartendress for his cavalier behavior toward women.

Because of the controversy, I recently reread the play, and, frankly, I could understand how some parents might object to certain lines if they were to be delivered by a 16- or 17-year-old. Yet I do believe that the spirit of the play and its endorsement of the arts and sciences are appropriate for young eyes and minds.

So while the question of whether students should perform the play at their high school remains something to be determined by the community, I firmly believe that seeing the play will bring no harm to them and might well uplift them — and acting in the play, if they are permitted by their parents, would also bring them no harm, and may help them to understand the potency, power and beauty of the arts and sciences.

I suspect that the signers of the petition against the production read excerpts only, and were not shown the more delicate and inspirational parts of the script.

To prevent the play from acquiring a reputation it does not deserve, I would like to offer this proposal: I will finance a non-profit, off-high school campus production (low-budget, I hope!), supervised and/or directed by Mr. Cahill and cast at his discretion, so that individuals, outside the jurisdiction of the school board but within the guarantees of freedom of expression provided by the Constitution of the United States, can determine whether they will or will not see the play, even if they are under 18.

I predict that the experience will not be damaging, but meaningful.


ART AND ABOUT


BOUQUETS TO ART 2009 San Francisco Fine Arts Museums' largest annual fundraiser, celebrates its 25th anniversary in 2009 and runs March 17–21. The de Young will be filled with 150 floral designs in homage to art in its permanent collection. Events include an Opening Night Preview and Gala, daily lectures by noted floral design experts, seated luncheons and teas, and the ever-popular Hat Attack!

Organized and produced by the volunteer members of the San Francisco Auxiliary of the Fine Arts Museums, and with generous support by community donors and museum staff, Bouquets to Art raises funds for special exhibitions, acquisitions, and education programs.

Opening Night Gala and Preview takes place Monday, March 16. Guests can view the spectacular floral designs mere hours after their creation and enjoy mouth-watering culinary creations by Dan McCall Associates, full bars, and the sensational sounds of Lavay Smith and Her Red Hot Skillet Lickers.

In addition, Bay Area students of floristry and fashion, inspired by the current Yves St. Laurent exhibition, will design couture wear and accessories crafted from flowers, which will be modeled and judged during the gala preview party.

Lunches and Teas at the Piazzoni Murals Room take place Tuesday, Wednesday, and Thursday, March 17, 18, and 19. The always popular Hat Attack! is slated for Friday, March 20. Festive headwear will be on parade Friday as participants celebrate Hat Day at the de Young. Wear your most stunning, artistic, or simply outrageous hat (with a floral theme, of course) and stroll among the blossoms in style. At noon be sure to be in the Piazzoni Murals Room for the hat judging contest. Jan Wahl of KRON-TV will be head judge, and prizes will be awarded for Best Botanical Theme; Most Creative; Cutest Kids; and Best Couple or Group.

The Speakers' Programs take place in the Koret Auditorium on Tuesday, Wednesday, Thursday, and Friday, March 17, 18, 19, and 20 Six of the world's most prestigious floral design experts will create arrangements on stage while discussing style, trends, and tricks of the trade. Special Friday programming includes a lifestyle presentation by Miranda Jones, style editor for Sunset Magazine, and a lecture on flowers in film by noted critic/personality Jan Wahl.

Please note: To keep their flowers as fresh as possible, the temperature of the Koret Auditorium will be cooler than usual. Please dress accordingly.

The speakers include; Ron Morgan on

Ron Morgan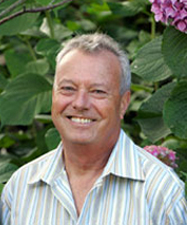 Tuesday, March 17, with a topic of In the Company of Flowers In 1985, Ron Morgan became what was to be one of the "founding" designers of the Fine Arts Museums' Bouquets to Art. For the next 25 years. A highly respected floral lecturer, Ron continuing to charm and surprise his audiences with his imaginative use of flowers, fruits, vegetables, and striking containers from his exceptional collection. Ron transforms the ordinary into the extraordinary as he creates exquisitely astonishing arrangements.

Mark Held speaks about Fabulous Parties from Mark's Garden on Tuesday, March 17. When Hollywood plans events, Mark's garden is often at the helm. In this unique floral design studio, partners Mark Held and Richard David create total décor for events, including flowers, furniture, custom linens, and lighting. Dubbed "the celebrity florist" by Entertainment Tonight, Mark has crafted the floral arts for high-profile weddings such as those of Ellen Degeneres and Jennifer Lopez. For 14 years, he has been the exclusive florist for the Academy Awards Governors Ball. Elizabeth Taylor calls Mark's Garden a "haven of beauty."

Paige Dixon takes to the stage on Wednesday, March 18 with her program - A "Wynn"-ing Way with Vegas Florals. Native Australian Paige Dixon originally pursued a career in fashion that morphed into floral design. Now the floral design director at Wynn Las Vegas and Encore Resorts both in Las Vegas. Her work reflects a European influence which has been an integral part of the Floral Art styling, reminiscent of Neo Baroque Floral Theater.



Reverend Mac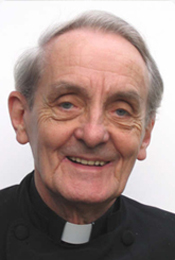 The Rev.William McMillan, M.B.E. presents Celebrating Flowers the Celtic Way on Wednesday, March 18. Since 1970, Reverend McMillan - known to all as Reverend Mac - has been pastor of a Presbyterian church near Belfast, Ireland. When he mastered floral decoration for his church, he found his second calling, a blessing to us all.

Word spread about Reverend Mac's extraordinary floral talents, and now he is known the world over for his remarkable combination of floral art, poetry, and wit. In recognition for his charity work, Queen Elizabeth honored him with the prestigious Member of the Most Honorable Order of the British Empire (M.B.E.).

This year Reverend Mac will be part of an international team of floral artists who will decorate London's Westminster Abbey.

Nico De Swert is in the spotlight Thursday, March 19, with The Birth of Spring. After his training at Antwerp's Academy of Fine Arts in his native Belgium, Nico de Swert moved to New York, where he has created a sensation and is praised as a sought-after trendsetter and tastemaker. Nico began his career in New York as senior style editor for Martha Stewart Living Television. Last fall Pottery Barn launched a new video series, Living Arrangements with Nico de Swert. This spring Nico opens a floral boutique and school in New York, one of the largest floral retail spaces in the United States.



Paula Pryke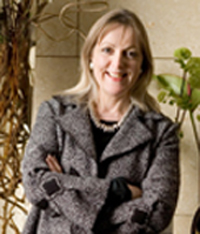 Classic Paula Pryke is presented by Paula Pryke on Thursday, March 19. Featured in such publications as Vogue and The Evening Standard, for the past 20 years Paula Pryke has been known as one of London's most respected florists and lecturers.

Her cutting-edge, innovative floral designs make her the choice of many celebrity clients, such as Derek Jacobi, Michael Caine and Emma Thompson. Last year was commissioned by the Royal Horticultural Society and Liberty of London to create a floral design for the prestigious Chelsea Flower Show.

KRON 3 film critic Jan Wahl presents Flowers in the Movies: From Please Don't Eat the Daisies to My Fair Lady to Steel Magnolias on Friday, March 20.

Bouquets To Art takes place March 17-21 at the de Young in San Francisco.





THE LAURENCE OLIVIER AWARDS

Laurence Olivier Award, designed by the sculptor Harry Franchetti. It depicts Sir Lawurence Olivier as Henry V at the Old Vic in 1937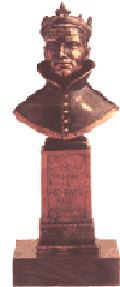 regarded as the most prestigious award in British theatre - equivalent of Broadway's Tonys - honor achievements in London theater, musicals, dance and opera. Winners are chosen by a panel of theater professionals and members of the public and were presented March 8 in a ceremony at London's Grosvenor House.

No single show dominated the 33rd annual awards.

The awards were first established in 1976 as The Society of West End Theatre Awards, however in 1984, the renowned British actor Sir Laurence Olivier gave consent for the awards to be renamed in his honor and they became known as the Laurence Olivier Awards. The awards are managed and financed by The Society of London Theatre and the awards ceremony is produced by West End producer Adam Spiegel.

The Olivier ceremony was hosted by James Nesbit, with other awards being presented by Imelda Staunton, Ian Lavender, Andrea Corr, Sadie Frost, Dominic Cooper, Sheridan Smith, David Hare, Pete Postlethwaite, Jason Donovan, Tom Chambers, Gareth Gates, Anton du Beke, Kevin Spacey, Jodie Prenger, Sian Phillips, Gillian Anderson, Rosalind Plowright and David Morrissey.

In between the award presentations, there were live performances from the companies of Sunset Boulevard, La Cage aux Folles, Piaf, Zorro, The Lion King, West Side Story, La Clique, Jersey Boys and Mamma Mia! There was also a tribute to Harold Pinter, presented by David Hare.

This year's winners are;

Best Lighting Design: The Chalk Garden designed by Paule Constable at the Donmar Warehouse.

Best Sound Design: Black Watch designed by Gareth Fry at the Barbican.

Best Costume Design: The Histories designed by Tom Piper and Emma Williams at the Roundhouse.

Best New Dance Production: Pina Bausch Tanztheater Wuppertal's Café Muller/ The Rite Of Spring at Sadler's Wells.

Outstanding Achievement in Dance: The company of the Royal Ballet of Flanders for their performances in Impressing The Czar at Sadler's Wells.

Best New Comedy: God Of Carnage by Yasmina Reza, translated by Christopher Hampton at the Gielgud Theatre.

Best Set Design: August: Osage County designed by Todd Rosenthal at the National Theatre.

Best Performance in a Supporting Role in a Musical: Lesli Margherita for Zorro at the Garrick Theatre.

Outstanding Achievement in an Affiliate Theatre: The Royal Court theatre's production of The Pride, Jenwood Theatre Upstairs.

Best Performance in a Supporting Role: Patrick Stewart for Hamlet at the Novello Theatre.

Best Actress: Margaret Tyzack for The Chalk Garden at the Donmnar Warehouse.

Best Actor: Derek Jacobi for Twelfth Night, Donmar West End at the Wyndham's Theatre.

Best Company Performance: The Histories directed by Michael Boyd at the Roundhouse.

Best Theatre Choreographer: Steven Hoggett for Black Watch at the Barbican.

Best Revival: The Histories directed by Michael Boyd at the Roundhouse.

Best New Opera Production: English National Opera's Partenope at the London Coliseum.

Outstanding Achievement in Opera: Edward Gardner for conducting English National Opera's Boris Goduinov, Cavalliera Rusticana, Der Rosenkavalier, I Pagliacci, Riders To The Sea at the London Coliseum and Punch And Judy at the Young Vic.

Best Actress in a Musical: Elena Roger for Piaf at the Donmar Warehouse and Vaudeville Theatre.

Best Actor in a Musical: Douglas Hodge for La Cage Aux Folles at the Playhouse Theatre.

Best Entertainment: La Clique at the Hippodrome.

Best Musical Revival: La Cage Aux Folles, music and lyrics by Jerry Herman, book by Harvey Fierstein, based on the play La Cage Aux Folles by Jean Poiret, at the Playhouse Theatre.

Best New Play: National Theatre of Scotland's Black Watch by Gregory Burke at the Barbican.

Best Director: John Tiffany for Black Watch at the Barbican.

Best New Musical: Jersey Boys The Story Of Frankie Valli And The Four Seasons book by Marshall Brickman & Rick Elice, music by Bob Gaudio, lyrics by Bob Crewe at the Prince Edward Theatre.

The Society's Special Award went to Sir Alan Ayckbourn, the 79 year old playwright, who has delighted audiences for four decades. He was given this special award for contribution to theater, in a presentation from Kevin Spacey and Liza Goddard.





ST. PATRICK'S DAY AT THE JFK LIBRARY John F. Kennedy, 35th president, may well be the most famous Irish American. March is a perfect time to visit the John F. Kennedy Library and Museum in Boston, which is open daily from 9 a.m. to 5 p.m. Two special exhibits are currently on view: The Making of a President, which runs through September 1, 2009, and Poetry and Power - The Inaugural Address of John F. Kennedy, which runs through January 30, 2010. Yesterday the Kieran Jordan Dancers, accompanied by the Matt and Shannon Heaton Band, performed at the Presidential Library.

THE SECOND MOST FAMOUS IRISH PRESIDENT that would be Barack Obama who admits with a straight face that he always thought he was Irish - just a Scribner's Error - all you have to do is add the apostrophe - will celebrate his first St. Patrick's Day at the White House with Northern Ireland's first minister Peter Robinson and deputy leader Martin McGuinness. They say they are looking forward to joining the St. Patrick's Day celebrations, March 17, at the White House as well as holding economic investments talks with President Obama. Also on board the St. Pat party program is Irish Taoiseach Brian Cowen - the Irish taoiseach being the equivalent to the prime minister in other parliamentary governments. During a press briefing White House press secretary Robert Gibbs stated: "The president also looks forward to commemorating with the taoiseach his first St. Patrick's Day in the White House, a celebration which serves as a reminder of the rich history and friendship that our two countries share."

Gibbs also admitted that the White House still has some of the famous O'Bama is Irish T-shirts that were popular during the presidential election.




SWEET CHARITY


LEGENDS! One Night Only staged reading benefit of the infamous Broadway-play-that-wasn't, Legends!. Charles Busch, Whoopi Goldberg and Lypsinka will star in the first-ever New York presentation of the play by Pulitzer Prize and Tony Award winner James Kirkwood, which will be presented on Monday evening, March 23 at Town Hall.

Directed by Mark Waldrop, the presentation will feature a script that has been adapted for this reading by John Epperson. Also starring Bryan Batt of Mad Men fame, with narration by humorist Fran Lebowitz. A hilarious comedy about two glamorous, Hollywood has-beens and arch-rivals forced to consider working together on a new project to resuscitate their careers, Legends! is one of the most notorious theatrical properties ever written – notably for what happened behind-the-scenes.

Originally presented in a 1986 year-long, pre-Broadway tour starring Carol Channing and Mary Martin, it closed on the road before making it to New York. The juicy on and off-stage antics were chronicled and immortalized in playwright James Kirkwood's own non-fiction account, Diary of a Mad Playwright: Perilous Adventures on the Road with Mary Martin and Carol Channing. In 2007, the play was again presented as a pre-Broadway national tour, this time helmed by Dynasty co-stars Joan Collins and Linda Evans. Also failing to make it to New York, the production had its backstage wars chronicled in lurid detail by Ms. Collins in a two-part series in London's Daily Mail.

The special event is a benefit for Friends In Deed - The Crisis Center for Life-Threatening Illness.

JAY'S COMEDY STIMULUS PLAN starring Jay Leno will be a welcome laugh to the desperate Michigan unemployment scene. The NBC Tonight Show has announced that his April 7 performance at The Palace of Auburn Hills.will be for "anybody out of work in Detroit."

People only have to say they're unemployed to get tickets with a limit of four per person.

Expect a ling around the block.

Michigan's unemployment rate is one of the highest in the nation topping 11.6 percent in January.


SPREADING THE WORD


THEATRE ROCKS! The New Jersey Theatre Alliance, the statewide consortium of professional, not-for-profit theatres, offers up two great spring selections in their successful Theatre ROCKS! series – a program specifically designed for the young working professional. For just $25, participants attend a production packaged with a post-performance reception that includes live music, food and drinks. Attendees mingle with the cast and crew, and their peers who also enjoy the arts. Theatre ROCKS! this spring with two edgy comedies about the trials and tribulations of being a young professional.

The first event takes place on Thursday, March 13th at George Street Playhouse in New Brunswick with their presentation of The Scene, a new comedy by Omnium Gatherum playwright Theresa Rebeck.

Sexy, racy and irresistibly funny, Rebeck's sharp-witted comedy is about four New Yorkers making it big - or trying to - in the entertainment industry. Life is just one dull party after another until Clea, a hungry young starlet, enters the picture. With an eye-popping figure, a dangerous wardrobe and an insatiable appetite for men and money, she'll shake up the lives of one couple and their best friend, and leave you gasping in disbelief and roaring with laughter. This production is recommended for mature audiences due to sexual situations and profanity.

The after-party will be a scene unto itself when Theatre Rockers will groove to The Parasite Single. "I couldn't be happier to be associated with Theatre ROCKS! event," says The Parasite Single's - and regular attendee of Theatre ROCKS! - John Landers, "Theatre ROCKS! opens doors for artists in the Garden State, spicing up traditional theatre events with local musicians and social gatherings...this is not your parents' night out!" The reception will include complimentary appetizers and drinks, and there will be raffle prizes as well.


OTHER PEOPLE'S MONEY


STORMY WEATHER starring Leslie Uggams as Lena Horne has surpassed Sister Act the Musical as the top selling production in both dollars and tickets at the Pasadena Playhouse.

Total single ticket sales for Stormy Weather came in at $816,308.45.

Pasadena Playhouse Interim Marketing Director, Jonathan Josephson, stated:

"This record is especially impressive considering that the average ticket price for Stormy Weather was 23% less than the average ticket price for Sister Act."

"Stormy Weather is also by far the number one selling musical in Playhouse in terms of total paid single tickets at 16,209, besting Sister Act by over 3,000 tickets or a near full-week of sold out performances."

PAUL McCARTNEY sold out his upcoming opening night performance April 18 at the New Joint at the Hard Rock Hotel in Las Vegas in seven seconds. With 4,000 tickets going on sale February 14, that would tip the scales are over 600 seats a second, bragged promoter Concerts West. They are waiting to hear if Guinness Book of World Records will verify that the McCartney ticket rush beat the current music tour record set by Take That last year when 600,000 tickets for their Circus tour sold out in four-and-a-half hours,

The newly renovated $60 million Joint is double the size of its predecessor, where bands including Oasis, The Killers, Linkin Park and Bon Jovi performed. The day before appearing in Vegas Sir Paul is set to headline the opening day of the He is set to headline the opening day of the Coachella Music Festival in the California town of the same name on Friday, April 17, which also will have performances by Morrissey, Franz Ferdinand and 42 other groups. Amy Winehouse has cancelled her Saturday, April 18 appearance. That date will also feature The Killers, Thievery Corporation and another group of 42 performers. The Coachella Music Festival wraps up on Sunday, April 19 with headliners The Cure and a different set of 42 groups.


STARS IN THE AUDIENCE
Kirk Douglas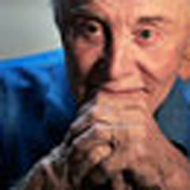 Hollywood legend and born storyteller Kirk Douglas stepped onto the stage of the Culver City,CA theatre named after him to reflect on his remarkable life and career. Before I Forget, the one-man show written and performed by 92-year-old actors, is an intimate evening with one of the most affable, talented and mesmerizing icons of the screen.

Not surprisingly, the four performances were sold out and the audience was dusted with stars.

Among those enjoying Douglas recalling his life and career were; Michael Douglas and wife Catherine Zeta-Jones, director Oliver Stone, writer Larry Gelbart, Universal Studios chieftain Ron Meyer, actress Constance Towers and actor John Gavin who was Caesar in Spartacus, actress Nancy Olson Livingston, actress Neile Adams who is always mentioned as being the former wife of Steve McQueen, Before I Forget director Jeff Kanew and more.

Jane Fonda starring on Broadway in 33 Variations received a standing ovation from an opening night crowd which included Renee Zellweger, Dolly Parton, Geoffrey Rush and Rosie O'Donnell.



RIDERS TO THE SEA Staged reading of the play by J.M. Synge. Directed by Charlotte Moore, Artistic Director of the Irish Repertory Theatre. The role of Maurya will be read by Frances Sternhagen. A reading of In the Shadow of the Glen will follow the reading of Riders to the Sea. Both are one-act plays. Monday, March 23, 2009, at the New York Public Library for the Performing Arts, NYC.

DIMETOS Athol Fugard's powerful and deeply moving story about love, guilt and retribution explores faith in a modern world of moral decay. Directed by Douglas Hodge.

Exhausted by life in the city as a highly skilled engineer, Dimetos escapes to a remote coastal village with his niece and housekeeper in search of a simpler existence. Five years on, a stranger from the metropolis arrives to tempt him back with devastating consequences.

Starring Holliday Grainger, Alex Lanipekun, Jonathan Pryce and Anne Reid.

Designer - Bunny Christie; Lighting Designer - Ben Ormerod; Sound Designer - Carolyn Downing.

March 19-May 8 at Donmar Warehouse in London.

PHANTOM OF THE OPERA has announced some cast changes in the Broadway production.

Ryan Silverman, who previously starred as 'Raoul' in the Las Vegas production, will take over the role on Broadway starting Friday evening, April 24. He succeeds current and long-time star Tim Martin Gleason, whose final performance will be Thursday evening, April 23.

Silverman recently left the Vegas production, having played Raoul from August 20, 2007 to February 10, 2008. He's one of three stars of the Vegas production to join the Broadway Company, following Tim Martin Gleason - who created the role of Raoul in the Vegas production at the Venetian Hotel and who Silverman replaced - and Elizabeth Loyacano who created the role of Christine in the Sin City version and who has been the Christine Alternate on Broadway since December 2007.

In the Broadway production's more than 21 years, Mr. Silverman becomes only the thirteenth actor to be cast as Raoul (not including alternates and understudies). He follows, in order: Steve Barton, Kevin Gray, Davis Gaines, Hugh Panaro, Keith Buterbaugh, Ciaran Sheehan, Brad Little, Gary Mauer, Jim Weitzer, Michael Shawn Lewis, John Cudia and Tim Martin Gleason.

FIDDLER ON THE ROOF Based on the stories of Sholom Aleichem. Chaim Topol, star of the 1971 motion picture Fiddler on the Roof, will be reprising his role as Tevye at the Orpheum Theater in Memphis from May 5 - 10. This is Topo's farewell tour.

Topol was on active duty in the Israeli army when he was nominated for an Oscar for his performance in Fiddler. He was granted leave so he could attend the ceremony.

The name Fiddler On The Roof comes from a Marc Chagall painting.

All told, Fiddler has been nominated for nineteen Tony Awards and has won ten times. Topol himself was nominated for best actor for his portrayal of Tevye in the 1990 Revival of the show.

THE OVERCOAT Inspired by Gogol's legendary short story of the same name. Directed by Amit Lahav.

Celebrating the 200th anniversary of Nikolai Gogol, physical theatre pioneers Gecko create an intoxicating imaginative world where a man's secret thoughts and dreams spill out into his everyday life

Get the coat, get the girl, change the world.

Capturing the unruly spirit of Gogol's irreverent masterpiece, this award-winning company celebrates the birth of this revolutionary Russian writer, with a riotous blend of physical comedy, movement, cinematic images and evocative music.

Cast includes: Natalie Ayton, Amit Lahav, Robert Luckay, Dave Price, Francois Testory, Sirena Tocco and Tom Wu.

Design by Ti Green. Lighting by James Farncombe. Original Music by Dave Price. Sound by Dan Steele.

March 20 - April 11, 2009 at the Lyric Hammersmith Theatre in London which is celebrating 30 years of international theatre at the heart of Notting Hill.

ROCK OF AGES by Chris D'Arienzo. Directed by Kristin Hanggi. Choreography by Kelly Devine.

Promoted as: "Rock of Ages takes audiences on a musical joyride set to blazing hits from iconic rockers such as Journey, Bon Jovi, Styx, Reo Speedwagon, Pat Benatar, Twisted Sister, Poison, Asia, Whitesnake and many more. In 1987 on the Sunset Strip, a small town girl met a big city rocker and in LA's most famous rock club, they fell in love to the greatest songs of the 80s. An arena-rock love story told through the mind-blowing, face-melting hits of Journey, Bon Jovi, Foreigner and many more. Don't miss this awesomely good time about dreaming big, playing loud and partying on."

Starring American Idol finalist Constantine Maroulis, who will reprise the role of Drew that he performed when this production has a successful run Off-Broadway at New World Stages. Joining him are Amy Spanger as Sherrie and James Carpinello as Stacee Jaxx.

The company will also feature Adam Dannheisser, Mitchell Jarvis, Michele Mais, Lauren Molina, Paul Schoeffler, Wesley Taylor, Ericka Hunter, Jeremy Jordan, Michael Minarik, Angel Reed, Bahiyah Sayyed-Gaines, Katherine Tokarz, Andre Ward, Savannah Wise, Tad Wilson and Jeremy Woodard.

The onstage band, Arsenal is comprised of music director/ keyboardist Henry Aronson, lead guitarist Joel Hoekstra, drummer Jon Weber, bassist Winston Roye and guitar player David Gibbs.

Scenic designer is Beowulf Boritt, costume design by Gregory Gale, lighting designer is Jason Lyons, sound designer is Peter Hylenski and projection design by Zachary Borovay with music supervision, arrangements and orchestrations by Ethan Popp.

Producers of the show encourage patrons to: "Dress to excess, baby, it's the 80s all over again!" Previews begin March 17 at The Brooks Atkinson Theatre in NYC.

OREGON SHAKESPEARE FESTIVAL Artistic Director Bill Rauch has unveiled the 2010 75th anniversary season, which will be anchored by four plays by William Shakespeare, and in a nod to OSF's first season, the two plays produced by Angus Bowmer in 1935 will be staged on the Elizabethan.

The Merchant of Venice, directed by Rauch, and Twelfth Night will open in June. Also playing in repertory outside is Henry IV, Part One, directed by Penny Metropulos, a longtime veteran with OSF, former associate artistic director, and the first woman to direct this play at OSF. Hamlet, directed by Rauch, will open at the top of the season in the Angus Bowmer Theatre and run throughout the season.

Also opening in February in the Angus Bowmer Theatre is Pride and Prejudice. Artistic Director Emerita Libby Appel will direct. Alongside this great British classic, OSF, after 26 years, will bring back Tennessee Williams's great American classic Cat on a Hot Tin Roof, staged by Christopher Liam Moore. The fourth show to enter the repertory in the Angus Bowmer Theatre will be the musical She Loves Me with music by Jerry Bock, lyrics by Sheldon Harnick, book by Joe Masteroff. The production will be directed by award-winning artist Rebecca Bayla Taichman, winner of the Harold Prince Award for Outstanding Direction of a Musical.

Staying true to his mission of bringing world classics to OSF stages, Rauch commissioned internationally recognized director and writer Ping Chong to adapt Throne of Blood, Akira Kurosawa's 1957 film, for the stage. The film is an adaptation of Shakespeare's Macbeth set in feudal Japan. Ping Chong will also direct.

The 2010 season will begin previews on February 19 and close on October 24. The season will be two weeks shorter than in 2009, but only one week shorter than in 2007. Depending on the impact of the economy and on audience response, it is possible the season would be extended for one week in October. A decision on this will be made early in summer 2010.

JENUFA by Janáek. Directed by David Alden.

Jenùfa receives its first revival since winning two Olivier Awards in 2007, including one for Outstanding Achievement in Opera for Amanda Roocroft, who returns in the title role. Jenùfa is Janáek's most popular work. Ostensibly bleak - a stepmother commits an unspeakable act of cruelty - this nonetheless remains an opera where love and forgiveness triumph.

After her success in Philip Glass's Satyagraha at the Metropolitan Opera, New York, Michaela Martens plays the role of the Stepmother, while the outstanding Norwegian Eivind Gullberg Jensen conducts what is undoubtedly one of the greatest operatic scores of the 20th century.

The cast of character includes; Jenùfa- Amanda Roocroft; Kostelnika- Michaela Martens; Laca Klemen- Robert Brubaker; Števa Buryja- Tom Randle; Grandmother -Susan Gorton; Foreman- Iain Paterson; Karolka- Mairéad Buicke.

The creative team is composed of; Conductor Eivind Gullberg Jensen; Set Designer Charles Edwards; Associate Designer Jean-Marc Puissant; Costume Designer Jon Morrell; Original Lighting Designer Adam Silverman; Revival Lighting Designer Jon Clark; Choreographer Claire Glaskin; English Translation Otakar Kraus and Edward Downes.

Performances March 17, 19 and 21. English National Opera in London.




WHO'S WHERE


JAMES BARBOUR WITH GUEST ROBERT CUCCIOLI perform as part of Barbour's week-end cabaret series Love Songs. Jeremy Roberts serves as Musical Director. March 21 at Sardi's in New York City.

JAZZ AT LINCOLN CENTER WITH WYNTON MARSALIS performs Monday, March 16, at the Kennedy Center for the Performing Arts in Washington, DC. On Thursday they are on stage at the Bergen Performing Arts Center in Englewood, NJ. Friday the performance in at the Kimmel Center in Philadelphia.

MICHAEL FEINSTEIN performs Thursday, March 19 at the Philharmonic Center for the Arts in Naples, FL.

JOSE CARRERAS on stage Wednesday, March 18, at the Bergen Performing Arts Center in Englewood, NJ. On Friday he can be enjoyed at the Community Theatre at Mayto Center for the Performing Arts in Morristown, NJ.

JOHN PIZZARELLI in the spotlight Wednesday, March 18, at the Stewart Theatre in Raleigh, NC. On Friday he's on stage at the Lyric Theatre in Stuart, FL. Saturday finds him at the Ocean Reef Cultural Center in Key Largo, FL. Next Sunday he opens a six night engagement at the Hilton in Atlantic City, NJ.

TOM JONES opens an engagements on Thursday, March 19 at the MGM in Las Vegas. Jones will be swiveling his hips there through April 1.

SHAWN MILLER the Grammy-nominated singer-songwriter will perform at Cave Creek Coffee Company on Sat., March 21 in Cave Creek, Arizona. His song, All In My Head, was featured on the hit television sitcom Scrubs and Shimmer was included on the soundtrack for the popular TV show Dawson's Creek.


GET WELL SOON TO ...


1960's POP STAR FORMER MONKEE PETER TORK ANNOUNCES HE HAS CANCER the current bandleader of blues-rock band Shoe Suede Blues announced last Tuesday that he had recently been diagnosed with a rare form of cancer, Adenoid Cystic Carcinoma. This uncommon and generally slow-growing form of head and neck cancer is most frequently found in the salivary glands but in his case was discovered on the lower region of the tongue. He underwent cancer surgery on Wednesday, March 4, which was successful and he is reported to be recovering in good spirits.

"It's a bad news, good news situation," explained Tork on his website after being informed of the diagnosis, "It's so rare a combination(on the tongue) that there isn't a lot of experience among the medical community about this particular combination. On the other hand, the type of cancer it is, never mind the location, is somewhat well known, and the prognosis, I'm told, is good."

Tork, 67, will follow the extensive surgery with a round of radiation treatment. Preliminary findings from a biopsy show that the cancer has not spread beyond the initial site.

Peter's four-decade long career in the public eye started with the charming high energy made-for-TV band The Monkees and continues as the Emmy-winning television show from 1966-68 still shows in syndication around the world. The group has staged several highly successful reunion tours with three of the original members, Tork, Micky Dolenz and Davy Jones, fondly known by longtime fans as the "3kees".

Peter remains cheerful about his condition and hopeful abut the future. "I am extraordinarily grateful, amazed and humbled by the encouragement, affection and support I've received so far," Peter says of the reaction from friends and family to the news of his illness. "Barring any complications, I fully expect to honor a performance date I have this June with Shoe Suede Blues, "Tork states, "We're appearing in Manchester, Connecticut and I'm looking forward to that and all our tour dates."



TINA TURNER suffering from respiratory flue has been forced to reschedule some shows in England. The 69-year-old is performing across the pond for the first time since 2000/ but was ordered last Wednesday to rest for at least six days.

The shows she was to have performed last week at the O2 Arena and at the Sheffield Arena are being rescheduled for May.

Fans have been instructed to keep their tickets, as they will be valid for the rescheduled dates. Refunds are available for those who are unable to attend the new dates.


FINAL OVATION


ANNA MANAHAN the Tony Award winning actress has died. She was 84.

She was nominated for a Best Featured Actress in a Play Tony Award for her role in the Broadway 1968 production of Brian Friel's Lovers, and won a Tony in 1998 for her part as Mag in Martin McDonagh's The Beauty Queen of Leenane. In her 80s she continued to tour and perform.

Recently, she appeared in two off-Broadway productions. In 2002, Off-Broadway, she appeared The Machine Theatre Company production of John B. Keane's two-actor play The Matchmaker, presented by The Irish Repertory Theatre.

In 2006, she appeared Off-Broadway in Declan Hassett's Sisters, a new solo-actress play written specifically for Ms. Manahan in which she played two sisters.

She had recently spoken out on the rights of elderly people and was a patron of Active Retirement Ireland.

Born in Co Waterford, Anna Manahan trained at the Gaiety Theatre in Dublin and worked with many famous names, including Michael MacLiammoir and Hilton Edwards at The Gate.

Tragically widowed in her early 30s when her husband Colm O'Kelly, stage manager at Dublin's Gate Theatre, died of polio, in Egypt, at age 27. She never remarried, and had been living with her brothers in Co Waterford.

Minister for Arts, Sports and Tourism Martin Cullen expressed his sympathy on her death.

Minister Cullen said: 'When people talk about great influential Irish actresses they talk of Anna Manahan. That is a testament to her talent.

'The way she shared her talent and creative spirit with others was one of her greatest gifts to all of us during the course of her life.'

Chairman of the Arts Council Pat Moylan said: 'The Council is deeply saddened at the passing of Anna Manahan. Anna was a consummate professional, with the art of theatre acting in her bones.

'Her work brought pleasure to audiences throughout Ireland and the world, and she will be sadly missed by all of her colleagues and friends in Irish theatre.'

Next Column: March 22, 2009
Copyright: March 15, 2009. All Rights Reserved. Reviews, Interviews, Commentary, Photographs or Graphics from any Broadway To Vegas (TM) columns may not be published, broadcast, rewritten, utilized as leads, or used in any manner without permission, compensation and/or credit.
Link to Main Page
---
Laura Deni


CLICK HERE FOR COMMENT SECTION