! >
Broadway To Vegas
  
 SHOW REVIEWS CELEBRITY INTERVIEWS GOSSIP NEWS

| | |
| --- | --- |
| | |
NATASHA RICHARDSON DEATH GENERATES AWARENESS OF BRAIN INJURY - - WINNERS ANNOUNCED OF DUNCAN SHEIK'S WHISPER HOUSE CD - - ACADEMY AWARD WINNING DIRECTOR TAYLOR HACKFORD HELMS STAGE MUSICAL LOUIS & KELLY LIVE AT THE SAHARA - - LAS VEGAS CITY COUNCIL APPROVES FINANCIAL PLAN FOR SMITH CENTER FOR THE PERFORMING ARTS AND SYMPHONY PARK - - TOM JONES AND HARVEY SCHMIDT HONOREES OF THE 2009 WILLIAM INGE THEATRE FESTIVAL - - FROST/NIXON STAR STACY KEACH SUFFERS MILD STROKE - - BROADWAY SHOW LEAGUE PLAYS BASEBALL - - THE MUSEUM OF RUSSIAN ART - - DONATE . . . Scroll Down


Copyright: March 22, 2009
By: Laura Deni

CLICK HERE FOR COMMENT SECTION
TRAGIC DEATH OF NATASHA RICHARDSON RAISES HEAD TRAUMA AWARENESS
Natasha Richardson photo by Joan Marcus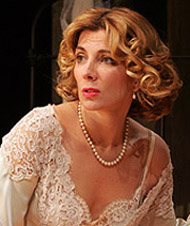 Her talent, beauty, pedigree, young age and sudden death from what amounted to a silly flop on a ski slope bunny hill stunned the Broadway community and brought attention to the potential dangers of even a minor head bump.

Every 21 seconds someone in the United States sustains a brain injury according to the Brain Injury Association of America. 50,000 people each year lose their lives because of a brain injury. The cost of traumatic brain injury in the United States is estimated to be $38.3 million annually. Hospitalization accounts for $31.7 million and fatal brain injuries cost the nation $16.6 million each year. Vehicle crashed are the leading cause of brain injury and falls the second leading cause.

On March 18 Richardson, 45, died at Lenox Hill Hospital after falling at the Mont Tremblant resort in Quebec on Monday. The New York City medical examiner's office ruled her death was an accident. A Tony Award winner for her performance in Cabaret and a member of Britain's most famous dynasty in show business, Natasha Richardson became a brain injury statistic.

Reports circulate that Richardson had been offered and refused a helmet, sparking calls for helmets to be compulsory in Canada. The NY Times had emergency call receipts pulled resulting in claims that Natasha did not reach a hospital for four hours - three hours longer than thought. And paramedics said they saw her sitting on a stretcher soon after her fall - not walking around laughing as first reported. It was also claimed that Quebec's lack of an air ambulance may have contributed to a fatal delay.

Although born and raised in England Natasha Richardson was a true New Yorker - she embraced the energy and the city returned the affection.

An excellent cook, she had the most wonderful, easy laugh. She adored her husband Liam Neeson whom she married in July 1994 and their two sons, Micheál Richard Antonio, 13, and Daniel Jack, 12.

She had some parenting tips that most families would find useful. When her boys were young, she never went anywhere without a wad of modeling clay. "All kids love to mold things. If they get fidgety or bored, give them some clay. It keeps them entertained and quiet."



Natasha Richardson with Liam Neeson in Anna Christie. Photo by Carol Rosegg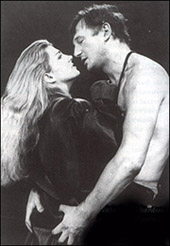 She met Neeson in 1993 when they both made their Broadway debuts, co-starring in Anna Christie, Eugene O'Neill's drama about a former prostitute and the sailor who falls in love with her. Their performance was electrifying - both on-stage and off. Not since Richard Burton and Elizabeth Taylor fell in love on the set of Cleopatra has a romance garnered such audience awareness.

I had a peripheral view of two Anna Christie events. One time Richardson entered her dressing room followed by Neeson. Shortly thereafter they left her dressing room only - she had been wearing lipstick when she entered and now she wasn't, but there was an unusual blush of color on his lips. People were milling about, some of whom could talk too much. Venturing outside of my instructed "wait there" spot, I quickly told her - "You need lipstick and tell him to wipe yours off." She looked startled and then started to laugh.

Anna Christie was the performance that launched not just their romance but Neeson into superstardom. That role, as seaman Mat Burke, earned him a Tony Award nomination and landed him the role Oskar Schindler in Steven Spielberg's Schindler's List, for which he was nominated for an Academy Award.

Invitations to a special Anna Christie closing party hosted by Neeson had gone out. My RSVP was yes and I hopped a plane for New York for that specific purpose. In the meantime, Neeson was tapped for the Schindler's List part and had to rush from Anna Christie to Poland where the production was being filmed. I arrived at the New York theatre only to be informed that the party had been canceled because Neeson had left 'to do a movie, Shin-something-or-other. The script is suppose to be good.'



Liam Neeson Natasha Richardson. The blonde head in the foreground is that of Lauren Bacall, one of only a handful of close family friends permitted to visit Natasha in the hospital. Liam and Natasha enjoyed going to restaurants. Although he had already proposed and she had accepted, he surprised her with an engagement ring while they were eating at a Chinese restaurant. Photo by Laura Deni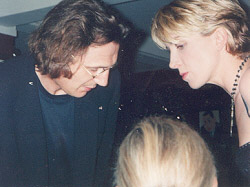 Natasha Richardson whispering in the ear of her husband Liam Neeson. She is wearing a Gucci dress and a necklace Liam and Natasha bought for $2.00 at a swap meet. Photo by Laura Deni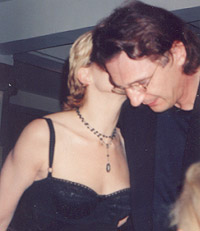 Years later I recalled the incident to Natasha concluding; 'The way I got it figured - your husband owes me a party.' She laughed until her eyes watered.

Natasha Jane Richardson was born on 11 May 1963, the eldest daughter of the actress Oscar-winning actress Vanessa Redgrave and the late director, Tony Richardson who won Oscars for best picture and best director for 1963's Tom Jones. Her grandparents were Michael Redgrave and Rachel Kempson. She was the niece of Corin and Lynn Redgrave and sister to Joely Richardson, from TV's Nip/Tuck.

Natasha made her show business debut at the age of four, playing a flower girl in her father's 1968 film The Charge of the Light Brigade, which also featured her mother Vanessa and uncle Corin Redgrave.

She was educated at St Paul's Girls' School before going on to train at the Central School of Speech and Drama in London. Natasha began acting at the West Yorkshire Playhouse in Leeds before making her professional West End debut in a 1985 revival of Anton Chekhov's The Seagull, winning the London Drama Critics' most promising newcomer award for her performance as Nina.



Natasha Richardson won a Tony Award for her role in Cabaret. Photo by Joan Marcus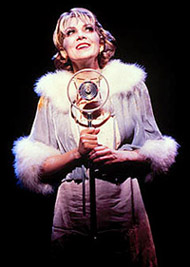 Natasha returned to the Broadway stage in 1998 where she won a Tony for her portrayal of Sally Bowles in a New York stage revival of the musical Cabaret. She appeared in a number of films between 2000 and 2005 including Blow Dry; Maid in Manhattan and Asylum.

In 2005 she again appeared in a New York theatrical revival, this time as Blanche Dubois in A Streetcar Named Desire. In January 2009 she starred with her mother in a benefit concert of the Stephen Sondheim musical A Little Night Music. The tragic accident dashed hopes that they might have transferred the show to Broadway next year.

Visiting her at Lenox Hill hospital were extremely close, long time family friends Meryl Streep and Lauren Bacall. Reports from Europe indicate that nurses had to assist Vanessa Redgrave who briefly fainted after her daughter was removed from life support and stopped breathing on her own.

Broadway theaters dimmed their lights for one minute last Thursday. Neeson and her mother were among those who gathered at the tribute. Also present were Richardson's sister, Joely, and actors Matthew Broderick, Sarah Jessica Parker and Ron Rifkin.

A wake was held Friday at the American Irish Historical Society located in Manhattan across the street from the Metropolitan Museum of Art. Her husband, mother, sister and sons were among those in attendance. Also invited to the private viewing were Ralph Fiennes, Uma Thurman, Lauren Bacall, Mike Nichols, Diane Sawyer, Rupert Everett, Matthew Modine, designer Kenneth Cole and Mathilde Krim of the American Foundation of AIDS Research - amfAR.

Funeral services will be held today, Sunday March 22, in upstate Millbrook New York, which is also where the actress will be interred. Instead of flowers, the family asked that donations be made to the amfAR foundation for AIDS research, said Alan Nierob, a family spokesman. Richardson, whose father died of complications from the disease in 1991, was a longtime supporter of the charity and served on its board of trustees since 2006.

At the time of the accident Neeson had been in Toronto filming a movie. He immediately left the set to fly to his wife's side. It is not known when or if he will return to that production.

When he does return to acting the performance will be for Natasha.

Years ago Neeson gave an interview to a religious publication in which he discussed acting and his religious faith.

"I found out acting could be a form of prayer," he said. "It helped me knowing that. It was like a little godsend message." Now he uses that form of prayer for others. "I offer my performance as prayer for someone I've worked with as an actor or someone who has died. The image that comes into my head as I walk to the stage, I offer that performance up for that person."



Broadway To Vegas is supported through advertising and donations. Priority consideration is given to interview suggestions, news, press releases, etc from paid supporters. However, no paid supporters control, alter, edit, or in any way manipulate the content of this site. Your donation is appreciated. We accept PAYPAL. Thank you for your interest.


SPORTS REPORT - TAKE ME OUT TO THE BALL GAME


The Broadway Show League is gearing up for the 2009 baseball season season.

For 54 years Broadway show folk have been playing organized baseball.

In the early 1950's the casts and crews of Broadway shows got into the habit of walking up to Central Park on Wednesdays for informal picnics and softball games before they returned to the Theatre for the evening performance.

In early 1955, John Effrat, an employee of the Actors Fund, established a more formal league with several associates that would play on Thursday afternoons and called it the Broadway Show League.

The League is comprised of groups of people who work on Broadway and Off Broadway shows, as well as Union teams and Theatrical organizations. The League constantly features celebrities that are currently on the boards in shows, as well as the members of the cast, crews and musicians that work on the shows. The League usually plays a 9 or 10 game regular season schedule, followed by playoffs to determine the champions in various categories, as well as special games for charity, All Stars and Old Timers.

The League is co-ed, two women must bat and play the field at all times, and is an embedded part of the tradition of Central Park and the New York Theatre.

The players not only know Broadway, they also know one end of the bat from the other.

"We have had former minor-leaguers play, as well as at least one NBA star, and two or three ex-NFLers," actor Tom Godfrey, Commissioner of the Broadway Show League told Broadway To Vegas.

"In a league with perhaps 500 players, many of us played HS baseball plus other sports. In my case I played two sports in college, but, oddly, not baseball," related the Long Island native who lettered in Varsity Soccer & Lacrosse at Tufts and played two years on the Cosmopolitan League semi-pro soccer team, Little 3 Manhattan. He also plays golf, tennis, ice hockey, skis, swims, rides, skates and has run the New York City Marathon over 10 times.

"I'd certainly say the majority of our folks didn't spend a lot of time being jocks. On the other hand, we don't exactly play picnic-level ball either."

"This is the BSL's 55th season. Our first day out is scheduled for April 9th."

Games are played at Heckscher Fields in Central Park on Thursdays at 11:30 AM - 1:30 and 3:30 PM. Batter up!

Congratulations to the winning teams and 2008 season awards' honorees.

11:30/1:30 pm Playoffs/Season Champions: ACTORS FUND
3:30 pm Playoffs/Season co-Champions: JUJAMCYN/NEDERLANDER
11:30 am Regular Season Champs: MARY POPPINS
1:30 pm Regular Season Champions: ACTORS FUND
3:30 pm Regular Season Champions: NEDERLANDER
11:30/1:30 pm MVP: Jimmy Maresca, Actors Fund
3:30 pm MVP: Kenny McDonough, Jujamcyn
11:30/1:30 pm Women's MVP - Katy Lathan, Young Frankenstein
3:30 pm Women's MVP - Cathy Tomlin, Equity
11:30/1:30 pm Division Manager of the Year: Paul Uricoli, Atlantic Theater Company
3:30 pm Division Manager of the Year: Victor Hawks, South Pacific
Broadway Show League Spirit Award: Fran & Dick Connors
Broadway Show League Spirit Award: David Zuckerman, Photographer


ART AND ABOUT


THE MUSEUM OF RUSSIAN ART

Milkmaids, Novella by Nikolai N. Baskakov 1962 Oil on Canvas 47" x 90"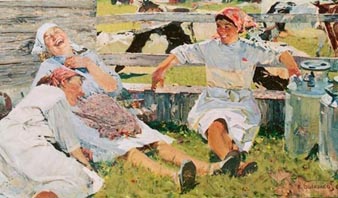 (TMORA) in Minneapolis, MN is presently the only non-profit museum in North America dedicated solely to the preservation and presentation of educational exhibitions and related events pertaining to Russian art and artifacts.

Current exhibit Russian Salon allows art-lovers the opportunity to reacquaint themselves with the familiar masterpieces.

Approximately 54 paintings will be on view including works such as the beloved Milkmaids, Novella, by Nikolai N. Baskakov, the dramatic and evocative Unmade Bed by Mai Dantsig, and many other outstanding works of 20th century Russian art.

Nikolai Baskakov (1917-1993) was a member of Leningrad Chapter-Russian Artists Union, having won the Kirk Factory Prize three times. At attended the Astrakhan Art College and The Repin Institute. His works are located in Museums in Moscow, St. Petersburg, Aloma-Ata, Astrakhan, Kazan and Yaroslavl.



First of May by Yuri Pimenov 1950 Oil on Canvas 101" x 43"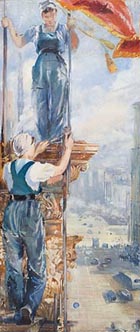 Mai Volfovich Dantsig, born April 27, 1930 in Minsk, is a Belarusian artist active during the Soviet era and independence of Belarus. He is considered to be one of the founders of the contemporary Belarusian art. Dantzig graduated from Minsk Art School in 1952. From 1952 to 1958 Mai studied in the Surikov Art Institute in Moscow, under Mickhail Kurilko and Victor Tsyplakov. From 1958 he has been teaching at the Belarusian Academy of Arts. From 2001 he has been the chairman of the Department of Painting there. In 1995 he became a People's Artist of Belarus. In 2005 he was awarded the Order of Francysk Skaryna.

The exhibition will also include pieces that have not been previously displayed. Among them is an epic work by the eminent Soviet artist Yuri Pimenov First of May Celebration.

This piece is part of TMORA's permanent collection, and will be on display for the first time in the US.

Pimenov was born in Moscow in 1903. He died in the same city in 1977. During the 1920-1925, Pimenov studied under S.V. Malyutin and V.A. Favorskiy at the Higher State Artistic and Technical Workshops Vkhutemas.

In 1925, he became one of the founders of the Society of Easel Painters (1925-1932). His earlier works, with their at times grotesque characters, were reminiscent of German Expressionism. During the 1930s, Pimenov began to create paintings in which everyday scenes unfolded on the background of recognizable urban landscapes. Built on principles similar to cinematographic ones, these dynamic works were full of life's optimism. Portraying Moscow, Pimenov depicted its changes from the 1930s to the 1960s.

Besides easel paintings, the artist worked as a theatrical decorator, and taught at the Institute of Cinematography from 1945 to 1972.

Through Sunday, August 30, 2009 at The Museum of Russian Art in Minneapolis.

CLASSIC BRONZE BUST OF KATHERINE HEPBURN DONATED TO THE IVORYTON PLAYHOUSE IN IVORYTON, CT

From Left - Kara Joan Knobelsdorff and Nila Plocha. Photo Ivoryton Playhouse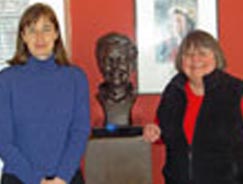 In the summer of 1931, a very young and ambitious actress appeared at the box office of the Ivoryton Playhouse and demanded to play the lead roles in the summer shows. She lived close by and she promised much publicity and increased audiences. The producer, Milton Stiefel, said no. But Katharine Hepburn was not about to take no for an answer. After much discussion, they struck a deal. If she was as good as she said she was, one leading role.

Katharine was a woman of her word – she was even better than she said and ended up playing two leading roles that summer, the last one opposite theatre legend Henry Hull. Broadway producer Gilbert Miller was in the audience that summer and from Ivoryton, Katharine went to Broadway and then to Hollywood. The rest, as they say, is history.

Reading about Katharine's early years in Ivoryton inspired local resident Nila Plocha to make a phone call. She owned a beautiful bronze bust of Katharine Hepburn and she knew she had found a home for it. "When I read about Katharine's summer in Ivoryton and the fact that she lived just down the road, I knew that she belonged here. I discovered that in later years she used to attend shows here and so the connection lasted throughout her lifetime."

The bronze sculpture was created by Old Saybrook artist Kara Joan Knobelsdorff. Kara studied classical sculpture at the Lyme Academy. She was the youngest sculptor ever to be awarded first place in the National Sculpture Society's Young Sculptors Competition and she has pieces in public and private collections. Kara has been a fan of Katharine Hepburn's since she was a child. "I watched all of her movies and always admired her character and independence. As a sculptor it was a treat to take on that wonderful bone structure, though she obviously had a preferred side as there are certain angles that are rarely shown in any of her movies."

The bust is a limited edition, the first of five, created in 2005 and now stands in the lobby of the Ivoryton Playhouse. The Ivoryton Playhouse is one of the oldest continually operating, self-supporting theatres in the nation. ( See Broadway To Vegas column of June 10, 2007 )




TOM JONES AND HARVEY SCHMIDT HONOREES OF THE 2009 WILLIAM INGE THEATRE FESTIVAL
Tom Jones and Harvey Schmidt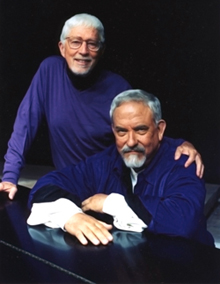 Tom Jones and Harvey Schmidt, two Texans who have fashioned American musical history, are the Honorees of the 28th annual William Inge Theatre Festival in Independence, Kansas.

The legendary creators of the longest-running musical in American history, The Fantasticks, as well as I Do! I Do!, 110 in the Shade, Celebration, and many other shows will receive the Inge Festival's Distinguished Achievement in the American Theatre Award at the festival's Tribute finale, Saturday, April 25.

"This legendary writing team is bold and adventurous in their work; funny and touching, enormously romantic and sentimental without being cloying," said Inge Center Artistic Director Peter Ellenstein. "They have a long line of marvelous, innovative musicals, and I'm excited to have the public gain greater knowledge of the breadth of shows by these phenomenal talents."

Jones and Schmidt have been inducted into the Broadway Hall of Fame, received the ASCAP-Richard Rodgers Award, and a Special Tony.

The Honorees will be joined at the festival by actors and directors from New York and Hollywood throughout the four-day event. The guests will perform and also conduct public panels and workshops, a unique opportunity for the general public to directly learn from professionals in the field.

Taking part will be Rita Gardner and Tony Award nominee Susan Watson Gardner who played the female lead of Luisa in The Fantasticks, a signature role that launched both into acclaimed stage and film careers. They will perform excerpts from Jones and Schmidt musicals. The Tribute is titled Celebrate and Remember and is a multi-media extravaganza featuring more than two dozen professional performers from both coasts. Tom Jones will be present all four days of the festival.

Since its founding in 1981, the Inge Festival has brought to America's heartland some of the world's most beloved playwrights. Past Inge Festival Honorees include Arthur Miller, August Wilson, Wendy Wasserstein, Stephen Sondheim, Neil Simon, and Edward Albee.

The Inge Festival is named for the late Pulitzer Prize (Picnic) and Oscar-winning writer William Inge, a native of Independence, Kansas.
INVASION OF THE IRISH DANCERS: FOR THE FIRST TIME, WORLD IRISH DANCING CHAMPIONSHIPS WILL BE HELD IN AMERICA


St. Patrick's Day was last week, but come April over 5,000 Irish dance competitors from around the world will descend on Philadelphia April 5 through 12 for the World Irish Dancing Championships. This will mark only the third time that the competition will be hosted outside of Ireland and U.K.

The Championships will take place at the Kimmel Center as well as the Marriott Downtown Philadelphia Hotel.

The 2009 championships will feature, among others, Ceili Dance, Dance Drama and Figure Dance.

Known formally as the Oireachtas Rince Nu Cruinne, the event is considered the most prestigious of all the Feis Competitions. Accompanying the 5,000 competitors will be their teachers, family members and friends - a crowd estimated around 12,000.

Competitors are expected from Ireland, England, Canada, South Africa, New Zealand, Europe and Australia.

The final night of judgment, where contestants learn their fate, known as the Heaven or Hell party - where attendees must be over the age of 21 - takes place April 6 at the Marriott, as well as the semi-formal attire Graham Award Ceremony and Graduation Dinner on April 11.

The Graham Award Ceremony will also honor volunteers who have dedicated their life to Irish dance.


SWEET CHARITY


WEST COAST ENSEMBLE THEATRE one of Los Angeles' longest running 99-seat theatre companies, celebrates its 27th year by hosting an evening of its greatest hits - songs and performances from musicals the Ensemble has presented over the past 5 to 10 seasons.

The evening is an annual fundraising event for West Coast Ensemble, and will be held at the Colony Theatre in downtown Burbank. The evening will begin with a light reception, featuring a Vodka tasting. The entertainment will feature performers presenting songs from the company's their most popular productions including Cabaret; Sunday In The Park With George; A New Brain; Floyd Collins and the upcoming 2009 production of the Big! The musical. The show will be hosted by actor, singer and Broadway performer Sam Harris on Monday evening, March 23rd at The Colony Theatre, Burbank.


OTHER PEOPLE'S MONEY


MUSIC CENTER OF LOS ANGELES RECEIVES $20 MILLION GIFT FROM GLORYA KAUFMAN DANCE FOUNDATION

Glorya Kaufman photo by Michele Mattei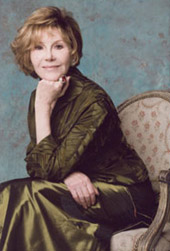 Local officials and leaders of Los Angeles' arts community joined to celebrate the $20 million gift to the Music Center of Los Angeles County by the Glorya Kaufman Dance Foundation. Named in honor of Kaufman, Glorya Kaufman Presents Dance at the Music Center will allow the Center to continue to present internationally renown dance companies, engage new audiences and enhance outreach programs.

Attending the presentation were premier dance philanthropist Glorya Kaufman, Executive Director of the Glorya Kaufman Dance Foundation, Carolyn Baker, County Supervisor Zev Yaroslavsky, Los Angeles Mayor Antonio Villariagosa, Alvin Ailey American Dance Theater Artistic Director Judith Jamison, Alvin Ailey dancer Linda Celeste Sims, Music Center Chairman John Emerson and Music Center President Stephen Rountree.

Support will begin with the 2009/2010 season and continue annually. The Glorya Kaufman Dance Foundation has fueled the growth of numerous other dance programs, including UCLA, The Juilliard School and Alvin Ailey American Dance Theater.

UNION PARK

Artist's rendering of the future Smith Center for the Performing Arts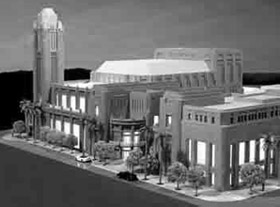 a 61-acre mixed-use urban community located in the heart of downtown Las Vegas which includes The Smith Center for the Performing Arts and Symphony Park received some help last Wednesday from the Las Vegas City Council, which approved a financing plan for the project. Under the deal, the city would sell $105 million in bonds backed by a 2 percent tax on rental cars, and another $85 million in bonds backed by city redevelopment revenues.

In addition The Smith Center for the Performing Arts board chairman Don Snyder says backers also have $200 million in private commitments, and fundraising is continuing.

Las Vegas donated the 4.77-acre site for The Smith Center, a planned multi-theatre complex with a main theatre seating more than 2,000 audience members. The center will offer a blend of performances by local arts groups as well as first-run touring attractions. It will feature music, theatre and dance companies from all over the world, and will be home to the Las Vegas Philharmonic and Nevada Ballet Theatre. Upon completion, this facility will be the first regional performing arts center in the Las Vegas Valley.

The proposed center, which recently cut its project expenses to $325 million from $475 million, was to have started construction by this month. However, a recent attempt to obtain federal stimulus money to finance it was unsuccessful, as Congress refused to use funds in the legislation to back museums and related projects. But the Center's organization, which started in 1994, did receive $409,000 from the recently-passed national stimulus package for "K-12 education," funds that could be used to pay for artists to perform in local schools.

The Wednesday vote means that construction could begin this spring.


SPREADING THE WORD


UNEASY PARTNERS: LINCOLN AND FREDERICK DOUGLASS, LBJ AND MARTIN LUTHER KING, JR Juan Williams of National Public Radio moderates a discussion of the relationships between Presidents Abraham Lincoln and Lyndon Baines

John Stauffer of Harvard University and author of Giants: The Parallel Lives of Frederick Douglass and Abraham Lincoln and Nick Kotz, author of Judgment Days: Lyndon Baines Johnson, Martin Luther King, Jr., and the Laws that Changed America are featured. Thursday, March 26, First Floor, Carmichael Auditorium at the National Museum of American History in Washington, DC.



CHICAGO On Tuesday, March 24th CHICAGO will become the 7th longest-running musical in Broadway history on Tuesday, March 24, breaking Rent's record with 5,125 performances.

WE HAVE WINNERS Congratulations to the three winners of Whisper House CD - the latest recording from Tony Award winner Duncan Sheik courtesy of Sony Music. ( See Broadway To Vegas column of March 8, 2009 ) The winners are; William Hong of California; Gabriel Finn of Wisconsin and Judith Fitzgerald of New York.



THE BLUE DRAGON

Tai Wei Foo in The Blue Dragon. Photo: Érick Labbé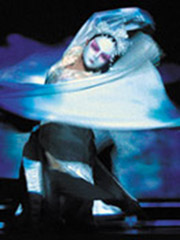 by Marie Michaud and Robert Lepage. Directed by Robert Lepage. Assistant Director, Félix Dagenais.

Starring Marie Michaud, Robert Lepage, and Tai Wei Foo.

Canadian director, playwright, actor, Robert Lepage has been called Canada's Renaissance Man. His resume lists five and half pages of international awards honoring both the impact of his work across the globe, and his contribution to Canadian theatre.

Now, from his creation studios, comes a new piece of work that revisits the tale that started it all.

First devised in 1985 when he was just 27, The Dragons' Trilogy was to become the masterpiece of theatrical storytelling that launched Robert Lepage onto the world stage. Spanning seventy-five years, seven time zones, six hours and three intervals, this epic performance conjured up an orient invented in the minds of two young girls raised in the Chinese quarter of Québec City in the 1930s.

Twenty years later, Lepage revisits Pierre Lamontagne, the central figure of The Dragons' Trilogy who, at the end of that play, leaves to study art in China. Lamontagne surfaces in the heart of Moganshan 50, a Shanghai neighborhood known for experimental art. A stranger, Claire, a Montreal advertising executive, comes to find him. Years before, she had known Pierre at art school. After their reunion and then a confrontation, their common distant past opens for each an unexpected door to the future.

Set Design, Michel Gauthier. Properties Design, Jeanne Lapierre. Sound Design, Jean-Sébastien Côté. Lighting Design, Louis-Xavier Gagnon-Lebrun. Costume Design, François St-Aubin. Video Design, David Leclerc. Choreography, Tai Wei Foo.

English Theatre: Main Stage Series. March 25-April 11 at the National Arts Centre in Ottawa, Canada.

Co-presented by the NAC English Theatre and Le Théâtre français du CNA.

WEST SIDE STORY based on a conception by Jerome Robbins; book by Arthur Laurents; music by Leonard Bernstein; lyrics by Stephen Sondheim; original production directed and choreographed by Robbins; directed by Laurents; choreography reproduced by Joey McKneely.

With the exception of the film The Shop Around the Corner which spawned a 1949 musical remake, In the Good Old Summertime followed by one of the most delightful Broadway musicals ever mounted, She Loves Me and then re-done into the wonderful 1998 film remake, You've Got Mail, Broadway To Vegas isn't too keen about trying to re-invent the original. If it ain't broke - don't fix it.

West Side Story is classic perfection. On stage or in the movie, West Side Story is flawless. Why try to re-invent the gold standard? Enter Arthur Laurents who is noted for being abrasive, rude, and opinionated. He's 92 but he's been all of the aforementioned for decades. Maybe he was born that way. But, he is also a creative genius who isn't afraid of a challenge or taking a risk. He wrote the original book for West Side Story and if wants to re-write it - that's his shot to call. Stepping into the director's chair is daring.

This newly minted version is bi-linqual. You'll either like it or not. You'll understand it - or not. One reason to attend is Karen Olivo, who all but steals the show as Anita. Award time is approaching and she's certain to pick up some nominations.

The production stars Matt Cavenaugh (Tony), Josefina Scaglione (Maria), Karen Olivo (Anita), Cody Green (Riff), George Akram (Bernardo), Curtis Holbrook (Action) and Nicholas Barasch (Kiddo).

Music supervisor/director, Patrick Vaccariello; sets by James Youmans; costumes by David C. Woolard; lighting by Howell Binkley; sound by Dan Moses Schreier; wigs and hair design by Mark Adam Rampmeyer; makeup design by Angelina Avallone; associate director, David Saint; associate choreographer, Lori Werner; translations by Lin-Manuel Miranda; orchestrations by Bernstein with Sid Ramin and Irwin Kostal; music coordinator, Michael Keller; production stage manager, Joshua Halperin; technical supervisor, Brian Lynch.

At the Palace Theater in NYC.

NEW WORKS BY MURRAY MEDNICK

Kali Quinn, Bill Celentano and Daniel A. Stein in Clown Show for Bruno. Photo by Stacey Bode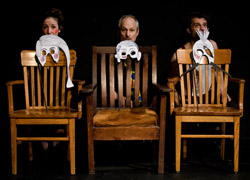 In a tribute to the legendary Los Angeles playwright, Padua Playwrights presents three full-length world premieres of his work - two plays and a film - in repertory. The common thread is Mednick's signature lyricism which he combines with vaudevillian wordplay to examine the relationship between the creative and destructive aspects of human existence.

In The Destruction of the Fourth World, the ancient Native American trickster, Coyote, makes ready for the end of the world with his only accomplice - a 13-year old boy from a dysfunctional Jewish family. Clown Show for Bruno is Mednick's homage, written in the fast-paced rhythms of the Yiddish theater and using clowning, masks, and mime, to the great Polish writer and artist Bruno Schulz who was murdered in 1941 in an act of revenge against the Nazi officer who "owned" him. Girl on a Bed is a new film, based on Mednick's critically acclaimed play, about the death of a high school girl who walks fearlessly into lethal realms of pornography and drugs.

Clown Show for Bruno: directed by Guy Zimmerman with Bill Celentano, Kali Quinn, Daniel A. Stein, Dana Wieluns. The Destruction of the Fourth World: directed by Kristi Schultz and Brian Frette with Kim Fitzgerald, Laura James, Mike Lion, Scott Victor Nelson, Kelly Van Kirk, Michael Shamus Wiles, Yvette Wulff. Girl on a Bed a film by Guy Zimmerman. Previews: March 19-22 Performances: March 26-April 19 at Art Shre in Los Angeles.

BLITHE SPIRIT the comic classic by Noel Coward. Directed by Michael Blakemore.

Starring a stage full of veteran performers - Rupert Everett (Charles), Christine Ebersole (Elvira), Jayne Atkinson (Ruth), Angela Lansbury (Madame Arcati), Simon Jones (Dr. Bradman), Deborah Rush (Mrs. Bradman) and Susan Louise O'Connor (Edith).

Sets by Peter J. Davison; costumes by Martin Pakledinaz; lighting by Brian MacDevitt; sound by Peter Fitzgerald; production supervisor, Steven Zweigbaum; wig and hair design by Paul Huntley; production manager, Aurora Productions; company manager, Bruce Klinger.

Expect Angela Lansbury to chalk up theatrical award nominations for her ditzy, delightful, show-stealing performance.

At the Shubert Theater in NYC.

THE TOXIC AVENGER new musical by Joe DiPietro (I Love You, You're Perfect, Now Change) and Bon Jovi keyboard player David Bryan, directed by Tony Award- winner John Rando.

Based on the classic 1985 cult film by Lloyd Kaufman, The Toxic Avenger is set in the mythical town of Tromaville, Exit 13B, off the New Jersey Turnpike. An aspiring earth scientist, Melvin Ferd the Third, is determined to clean up the town's burgeoning toxic waste, until he is tossed into a vat of radioactive goo and emerges as a seven-foot mutant freak and New Jersey's first superhero.

Armed with superhuman strength and a heart as big as Newark, he's out to save New Jersey, end global warming and woo Sarah, the prettiest, blindest librarian in town.

The production stars Nancy Opel, Sara Chase, Nick Cordero, Demond Green, and Matthew Saldivar.

The production team for The Toxic Avenger is: Beowolf Borritt (Scenic Design), David C. Woolard (Costume Design), Ken Posner (Lighting Design), Kurt Fischer (Sound Design), Mark Adam Rampmeyer (Hair and Make-Up Design), Rick Sordelet (Fight Direction) and Doug Katsaros (Music Director).

The Toxic Avenger began previews on March 18 at New World Stages in NYC with an official opening night set for April 6, 2009.

LOUIS & KEELY LIVE AT THE SAHARA Written and Performed by Vanessa Claire Smith as Keely Smith and Jake Broder as Louis Prima with Nick Cagle and Erin Matthews.

Directed by Taylor Hackford who won an Academy Award in 1979 for the short film Teenage Father. He received two Oscar nominations in 2004 for the Ray Charles biopic Ray. The director is almost as interesting as the subject matter of this production. Since 1997 he has been married to Oscar-winning actress Helen Mirren. And, he is personally bankrolling this entire production. His directing credits include An Officer and a Gentleman and he both directed and produced White Nights. He was awarded the 2005 Film Society Award for Lifetime Achievement in Directing.

Inspired by the birth of Las Vegas and the lounge acts that made the Strip a legendary breeding ground for entertainers, Louis & Keely is billed as a vintage love story set to the beat of jazz. Based on true events, Louis & Keely Live at the Sahara examines the hard-won career of 20th Century music icon Louis Prima and how he turned 16-year-old Keely Smith into a star. ( See Broadway To Vegas column of February 6, 2000 )

This original production was the Los Angeles Ovation Award Winner for Best Musical in an Intimate Theater 2008. Since it's Hollywood run, produced at Sacred Fools Theatre Company, there has been a new book, Hackford has come on board as director, several additional characters have been added, including Frank Sinatra in a major supporting role. With a live jazz band on stage directed by Dennis Kaye, the musical ensemble - Kaye, Colin Kupka, Paul Litteral, Richard Levinson, Jeff Markgraf, Michael J. Solomon and Brian Wallis offer up Louis & Kelly hits including That Old Black Magic; Hey Boy, Hey Girl; Just a Gigolo; I Wish You Love and Embraceable You.

The Geffen staged production has been nominated for five L.A. Weekly Awards and Jake Broder and Vanessa Claire Smith - in character as Louis and Keely - will host the 30th Annual L.A. Weekly Awards on March 30. 2009 at the El Rey Theatre.

Performances to April 26 at the Audrey Skirball Kenis Theater at the Geffen Playhouse, Los Angeles.

EXIT THE KING by Eugene Ionesco, translated by Neil Armfield and Geoffrey Rush.

Directed by Neil Armfield, Exit The King stars Geoffrey Rush, Susan Sarandon, Lauren Ambrose, Andrea Martin, William Sadler and Brian Hutchison.

Exit The King is billed as both a hilarious and poignant comedy about a megalomaniacal ruler, King Berenger (Rush) whose incompetence has left his country in near ruin. Despite the efforts of Queen Marguerite (Sarandon) and the other members of the court to convince the King he has only 90 minutes left to live, he refuses to relinquish any control.

The design team includes Dale Ferguson (Set & Costume), Damien Cooper (Lighting), Russell Goldsmith (Sound). John Rodgers is the Composer.

Officially opens on Thursday, March 26, 2009. at the Barrymore Theatre in NYC.

THE FABULOUS PALM SPRINGS FOLLIES has welcomed John Davidson into the star slot where he will reside through May 9. Davidson was introduced to Las Vegas audiences by Jack Benny in 1966, going on to headlined at the Las Vegas Hilton, the MGM Grand, Caesar's Palace, the Riviera, the Desert Inn, the Golden Nugget and Harrah's. On Broadway he starred on Broadway in a revival of Oklahoma and was the lead in Rodgers & Hammerstein's original State Fair. The Fabulous Palm Springs Follies in Palm, Springs, CA has been seen by nearly three million patrons, and celebrates the music and dance of the '40s, '50s and '60s with a cast ranging in age from 55 to 85 years young.

SMOKEY JOE'S CAFE: THE SONGS OF LEIBER AND STOLLER a theatrical musical revue featuring nine talented singers and dancers plus a zippy six-piece band showcasing 39 pop standards, including rock and roll, rhythm and blues songs written by songwriters Jerry Leiber and Mike Stoller.

The singers and dancers featured in Smokey Joe's Café at the Downtown Cabaret Theatre include Fredi (Sylk) Black, Kelley Bradshaw, Gnomiagre, Larry Stephen Hines, Pete Marshall, Scott Praefke, Rochelle Small, Allie Schauer and Jerrial T. Young along with choreographer Donna Daniels and musical director Michael McAssey.

Smokey Joe's Café originally played 2,036 performances on the Great White Way, making it the longest running musical revue in Broadway history Smokey Joe's Café continues Fridays, Saturdays and Sundays through Sunday, April 19, 2009. Downtown Cabaret Theatre in Bridgeport, CT.

THE LION KING Las Vegas cast has begun rehearsals for the production which will begin previews at the Mandalay Bay Theatre May 5 with an official opening May 15. The 80-member cast and crew began preparing for the show Monday, March 9, 2009, at the rehearsal hall appropriately named - the Safari Business Park - located on non other than Dean Martin Dr.

The cast features international performers who have appeared in productions of Lion King around the world, including New York, Taipei, South Africa, London, Los Angeles, Australia, Toronto, Shanghai, Paris and Holland. Nine of the performers were born in South Africa.

Thom Sesma will play the evil Scar with Alton F. White as Mufasa and Marvette Williams as Sarabi. South African native Buyi Zama will play Rafiki.

The cast will also feature Kissy Simmons (Nala), Clifton Oliver (Simba), Damian Baldet (Timon), Patrick Kerr (Zazu) and Adam Kozlowski (Pumbaa). The three hyenas will be played by Keith Bennett (Banzai), Jacquie Hodges (Shenzi) and Robbie Swift (Ed). Duane Ervin and Elijah Johnson will alternate in the role of Young Simba, and Ruby Crawford and Jade Nelson will alternate in the role of Young Nala.

Since its Broadway opening on Nov. 13, 1997, The Lion King has been seen by 45 million people worldwide. Directed by Julie Taymor - who became the first woman to ever receive a Tony Award for Best Director of a Musical - The Lion King has become an international hit with productions playing all around the globe. The Elton John-Tim Rice musical has won over 30 major awards. Those include six Tony Awards, including one for Best Musical; eight Drama Desk Awards; six Outer Critics Circle Awards; two Sir Laurence Oliviers; the Evening Standard Award for Best Theatrical Event; and three Los Angeles Drama Critics Circle Awards.

HOME SIEGE HOME

Cristel Joy Johnson as Elektra, Ronnie Clark as Orestes, and Brian Weir as Hermione
written and directed by Katharine Noon. Developed in workshop by The Ghost Road Company. Music composed by Caleb Terray. A disarmingly funny but ultimately heartbreaking trilogy of new plays based on Aeschylus' Oresteia. Devised by The Ghost Road Company, one of California's most ambitious theater ensembles, the three plays - Clytemnestra, Elektra and Orestes - use original music and songs, innovative text and arresting visual imagery to explore the intimate lives of one ancient and powerful family through our contemporary eyes.

Performed by Sarah Broyles, Ronnie Clark, Madelynn Fattibene, Mandy Freund, Christel Joy Johnson, Joanna Senatore, Trace Turville, Brian Weir and Ronald Wingate, Jr.

Set Design by Maureen Weiss. Lighting Design by Dan Weingarten. Costume Design by Pamela Shaw. Sound Design by Cricket S. Myers. Presented by The Ghost Road Company in cooperation with the Los Angeles County Arts Commission/Ford Theatres.

March 26 - May 3 at [Inside] the Ford in Hollywood, CA.




WHO'S WHERE


THE BLIND BOYS OF ALABAMA AND THE PRESERVATION HALL JAZZ BAND is an unprecedented collaboration featuring vocal legends The Blind Boys of Alabama and the ageless music of the Preservation Hall Jazz Band. Sharing the stage for the first time ever as they carry their proud musical traditions on into the future, two of America's great cultural ambassadors bring together the joy of Gospel with the soul of New Orleans and promise an unforgettable evening for audiences everywhere. Saturday, March 28, at The State Theatre in Ithaca, NY.

KEVIN THORNTON performs his Sex, Dreams, & Self Control, a fusion of music, spoken word, and standup comedy, with an original alternative folk rock score. March 27-28, 2009 at the Milwaukee Gay Arts Center.

JAMES BARBOUR WITH SPECIAL GUESTS continued with the Love Songs Concert Series at Sardi's in NYC. John Schuck and Jeff McCarthy will be the Special Guest Artists on Saturday, March 28th. Jeremy Roberts is the musical director.

MICHAEL FEINSTEIN entertains Monday, March 23, at the Kravis Center in Palm Beach, FL. On Thursday the show is at the Van Wezel Performing Arts Hall in Sarasota.

JOSE CARRERAS on stage Tuesday, March 24, at the Ferguson Center for the Performing Arts in Newport News, VA. On Saturday he's in the spotlight at the Marin Civic Center in Marin City, CA.

JOHN PIZZARELLI opens a six night engagement tonight, Sunday, March 22, at the Hilton Hotel in Atlantic City.

CELTIC WOMAN have a busy week. On Tuesday they open a two night gig at the Fox Theatre in Atlanta, GA. On Thursday they perform at the Charleston Coliseum in North Charleston, SC. Friday finds them at the BJCC Concert Hall in Birmingham, AL. On Saturday they can be enjoyed at the Tallahassee-Leon Co. Civic Center in Tallahassee, FL.

FLEETWOOD MAC on tour in Canada this week. Monday's show is at Scotiabank Place in Ottawa. On Wednesday the performance is at the Bell Centre in Montreal. On Thursday they are on stage at Air Canada Centre in Toronto.

BRITNEY SPEARS brings her new show to the Nassau Veterans Memorial Coliseum in Uniondale, NY on Monday, March 23. On Tuesday she is at the Verizon Center in Washington, DC. Thursday finds her at the Mohegan Sun Arena in Uncasville, CT and on Friday she's on stage at the Mellon Arena in Pittsburgh.

BEYONCE continues her tour this week in Canada. On Thursday, March 26, she entertains at the Rexall Place in Edmonton, Alberta. Friday the show is at the Credit Union Centre in Saskatoon and on Saturday she's in the spotlight at the MTS Centre in Winnipeg.




GET WELL SOON TO ...


STACY KEACH 67, the Tony-Award nominated actor suffered a mild stroke, but is expected to make a full recovery.



Stacy Keach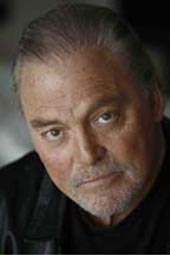 The initial announcement was made last Wednesday by Center Theatre Group which is presenting Frost/Nixon at the Ahmamson Theater in Los Angeles. Keach was playing former President Richard Nixon in the current national tour which is mounted at the Ahmanson through March 29. He remained in a Los Angeles hospital for routine observation.

During Keach's absence, his role will be played by his understudy, Bob Ari who also understudied Frank Langella, who created the role on Broadway and later re-created the part for the Frost/Nixon film.

Stacy Keach has appeared on Broadway in Danton's Death, The Country Wife, The Caucasian Chalk Circle, King Lear, Indians, Deathtrap, Solitary Confinement and The Kentucky Cycle.

He won a Golden Globe Award for his starring role in the TV miniseries Hemingway. Among his numerous television and movie credits was his portrayal of private detective Mike Hammer on the television series of the same name.

He's received a Best Actor Golden Globe, been nominated for Emmy and Tony awards, won three Obie's, three Vernon Rice awards, the Helen Hayes Award, and the Prestigious Millennium Recognition Award for his outstanding contribution to the classical theatre.


FINAL OVATION


RON SILVER Tony Award-winning actor and political activist died Sunday, March 15, 2009. He was 62. He had been fighting esophageal cancer for two years.

Silver won Broadway's 1988 Tony Award for his starring role of Charlie Fox in David Mamet's drama Speed the Plow. Born and raised in New York City, he graduated from New York State in Buffalo with a Bachelor of Arts in Spanish and Chinese studies. He also took a Master's Degree in Chinese History from St. John's University in New York and the College of Chinese Culture in Taiwan, and attended Columbia University's Graduate School of International Affairs.

A successful television and film actor, he studied drama at the Actors Studio. In 1984 he made his Broadway debut in David Rabe's Hurlyburly. He starred in the Broadway comedy Social Security, and Hunting Cockroaches at Manhattan Theatre Club Off-Broadway.

From 1991 to 2000, he served as president of the Actors' Equity Association.

Divorced from Lynne Miller, he is survived by a son and a daughter. On Wednesday the marquees of Broadway theaters were dinned for one minute in tribute.

ALTOVESE DAVIS dancer, actress and the widow of Sammy Davis Jr., died Saturday, March 14, 2009 has died. at Cedars-Sinai Medical Center in Los Angeles after suffering a stroke, She was 65. It was on Broadway that Altovese Gore met her future husband when they performed together in the musical Golden Boy in 1967.

She became his third wife when they wed in 1970. Davis was previously married to dancer Loray White and Swedish actress Mai Britt. They adopted a son and remained together until Davis died of throat cancer in 1990 at the age of 64.

Sammy Davis' death left an estate in chaos. Altovese was faced with a multimillion IRS tax debt. Last year, she sued two former business partners in federal court, claiming they tricked her into signing away the rights to the estate. The suit is pending.

Next Column: March 29, 2009
Copyright: March 22, 2009. All Rights Reserved. Reviews, Interviews, Commentary, Photographs or Graphics from any Broadway To Vegas (TM) columns may not be published, broadcast, rewritten, utilized as leads, or used in any manner without permission, compensation and/or credit.
Link to Main Page
---
Laura Deni


CLICK HERE FOR COMMENT SECTION