! >
Broadway To Vegas
  
 SHOW REVIEWS CELEBRITY INTERVIEWS GOSSIP NEWS

| | |
| --- | --- |
| | |
DYNAMITE JOBETH WILLIAMS IS FIRST A MOTHER - - WOLF TRAP'S 36th ANNIVERSARY GALA - - JIMMY STEWART FESTIVAL WEEK - - VOICES OF DARFUR - - MOTHER ON FIRE - - PRINCE TO PLAY LONDON - - DANCERS WITHOUT FRONTIERS - - AMERICAN PREMIERES OF RADIO PLAYS BY WILLIAM TREVOR - - DONATE . . . Scroll Down


Copyright: May 13, 2007
By: Laura Deni

CLICK HERE FOR COMMENT SECTION
ACADEMY AWARD NOMINATED JOBETH WILLIAMS SAYS MOTHERHOOD IS HER BEST ROLE
JoBeth Williams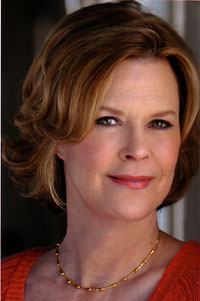 JoBeth Williams is intelligent, sensitive and charming. She's experienced success on the stage, in television and films. However, in speaking with Broadway To Vegas she indicated the role that tops the list is - being mother to her two sons, Nick and Will.

"I've played a lot of mothers. I'm probably the best known for the mother in Poltergeist. One of the things that I loved about playing that character was that she was committed to saving her daughter - basically went into the mouth of Hell to pull her daughter out."

"I worked very hard to become a mother," said the wife of television and film director John Pasquin, who actually got his start directing Broadway plays. "My husband and I went through infertility treatments for about seven years. I had a number of miscarriages. I really was so committed to being a mother."

"We now have our two sons. They are adopted. One is 19 and one is 16," she said. "The only thing I can say is, it's the best thing I've done in my life - to mother these two guys. It is certainly the thing that means the most."

"I've had a good career and I certainly enjoy my work. But, being a mom is far and away the most rewarding thing I've done," JoBeth stressed.



JoBeth Williams in Poltergeist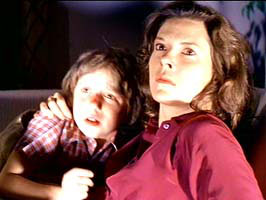 Fertility treatments have skyrocketed in popularity - almost tossed about as a routine option in the pregnancy process.

"They are very expensive and it's an emotional nightmare," emphasized JoBeth.

"I can't tell you what a nightmare it is, every time you go through this," she reiterated. "I used to give myself shots every day of various hormones - Clomidine - and all these things for ovulation. Then, in vitro fertilization."

"You get your hopes up. You've paid a lot of money. But, the worst thing is - if it doesn't take, then your hopes are crushed," she related as the tone of her voice expressed the agony of that horrible situation.

"What happened with us is they would take. Then I wouldn't carry the pregnancy at a certain point. It becomes that - it isn't the dream of that month to become pregnant, but it's the dream of all the years before that - that you've been trying. It was awful. People don't really understand the emotional toll that it takes. The emotional and physical toll is horrible!"

"I got very lucky. I adopted two boys that are just the best," boasted their mother.

"Our oldest was about two weeks old when we brought him home," she recalled.

"I was at the birth of our younger son. She was a 15-year-old farm girl from Missouri who just wanted to get back to her town and hoped nobody knew she had gotten pregnant," related JoBeth about the young birth mother.

"John and I were there at the birth. It was a miracle, truly a miracle," she said of the experience of watching her son being born.

"We cut the cord. We became quite close to the little girl. We still communicate with her. It was quite an extraordinary experience."

With the birth mother blessed that John and JoBeth came into her life, JoBeth is happy that the girl is "now married and has a little boy of her own, who is about three."

JoBeth called adoption "a fascinating, very interesting process."

"On the one hand, you really believe that these spirits have been brought to you for a reason. On the other hand, you have to know that they will have questions about their birth parents. They will have very specific issues that surround being adopted. That's not to say that it will be a problem, which it hasn't been for us. But, we all come into this world with certain baggage, so it is how you deal with it that becomes interesting."

Genetics aside, JoBeth's oldest son may have taken after his mother and grandfather, who was an opera singer.

"I'm afraid to say - sad to say - our older son wants to be an actor," she laughed. "He has a beautiful singing voice and he's been doing a lot of musicals. He's a freshman in college. He's leaning toward theater. My younger son likes doing plays at school, but I don't think it's something he's going to pursue."

"My dad, who died when I was 16, had also been a football player. My older son played football in high school and has this incredible voice. I thought, my dad would have been in heaven had he known this," she exclaimed.

The Houston born performer, who also has a beautiful singing voice, was headed toward a degree in psychology when she enrolled at Brown University. She denies published reports that she had taken lessons to lose her Texas twang.

"I didn't take lessons to lose my Texas accent. I went to Brown University and most of the kids there are from the East. The first semester people started to tease me about my accent, so I just started talking like my roommate, who was from Massachusetts."



Lorenzo Pisoni and JoBeth Williams in Marsha Norman's Last Dance. Photo by Joan Marcus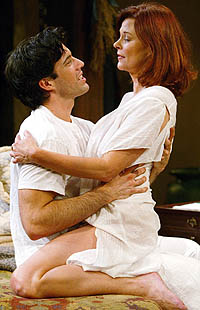 "Part of what attracted me to psychology was human behavior and that is what acting is - a study of human behavior. But, I think in my heart I always knew I wanted to become an actress."

JoBeth got her start on the stage.

"I loved it. I went back to New York about three years ago and did a play at the Manhattan Theater Club. It was a new Marsha Norman play called Last Dance."

"It was a four-character play and really, really fun. Lynn Meadow directed it. I was just so glad to be back in New York because that is where I started."

"We moved to California in the late 80's," she continued. "We started coming out when I started doing movies. We came out together and he started directing half hour and then he moved to hour and now he does movies, too," she said of her husband's success, which is a list as long as your arm that includes; directing 23 episodes of Home Improvement, 25 episodes of Rosanne, 16 episodes of George Lopez, 4 episodes of L.A. Law and coming to Las Vegas to direct Sandra Bullock in Miss Congeniality 2: Armed and Fabulous.

Now, his own wife has invaded his turf.

In 1995 JoBeth was nominated for an Academy Award for her 1994 live action short, On Hope. It was her debut as a director.

Her other half has never received an Academy Award nomination.

"I think it was a little hard on him," she laughed, "except the year I got nominated his first feature, which was The Santa Claus, made like $300 million or something, so he had his compensation," she said of the film which starred Tim Allen. "But, I think it was a little weird for him to have me suddenly enter his field," she conceded.

An Academy Award directing nomination for somebody who had never before directed.

"It was pretty much of a shock," she admitted. "But, I knew right away that I loved doing it."

JoBeth has recently wrapped up a remake of the Joanne Woodward/Sally Field film Sybil.

"It's with Jessica Lange who plays the part Joanne Woodward played. A wonderful actress named Tammy Blanchard plays Sybil and I play her horrible mother. From one extreme to another. The abusive monster. It was really weird for me. That's one of the reasons I took it, because it was so completely different from anything I've ever done."



JoBeth Williams recording for LA Theater Works' nationally syndicated The Play's The Thing. Photo courtesy LATheater Works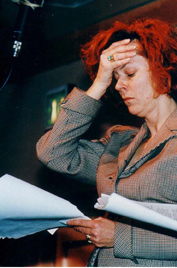 JoBeth indicated there are some changes in the remake.

"There is a little bit that is different, because the real woman that Sybil is based on died, maybe four or five years ago. In her estate they found all of these paintings that she had done in these various characters. You'll actually see those. It's amazing because they are all different styles. Each of the personalities had a different artistic style. I don't know what the estate has done with the paintings. I do know that we were able to photograph them."

"There were a lot of people who actually doubted she had all of those personalities. Once people see these, they will know absolutely that it was true."

Next up for the busy actress is The Allergist's Wife for LATheater Works, in which JoBeth will co-star with Richard Kind. They'll participate in five performances, May 16 through 20, at the Skirball Cultural Center in Los Angeles. All performances will be recorded to air on LATheatre Works' nationally-syndicated radio theater series, The Play's The Thing, which broadcasts weekly on public and satellite radio.

Re-enacting drama for radio has become increasingly popular.



LATheater Works uses a Foley artist to record live and digital sound for its live-in-performance radio theater series The Play's The Thing. Pictured is Tony Palermo. Photo by Geoffrey Wade.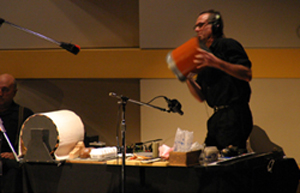 "I've done a lot over the years for LATheater Works," JoBeth continued. "We rehearse for usually three or four full days in front of a microphone, holding a script."

"Just as in the old-fashioned radio days, there is a sound effect's guy. It's really a lot of fun to watch. They sit at a table at the back of the stage," she explained. "They have little miniature, wooden doors with doorknobs to open and close. All kinds of strange things to make various noises. Then, of course, when they put the tape together for radio, they sweeten the sound."

"LA Theater Works usually does five performances in front of an audience. What they try to do is take as much of one show as they can. If there is a cough over lines or somebody messes up a line, they will be able to take segments from other shows," she elaborated.

"Charles Busch is actually coming out to direct," she said of the man who wrote the play. ( See Broadway To Vegas column of May 6, 2007 )

"And, I have a script that a wonderful actor named Sam Harris - who won Star Search the first time - has written about his life. It's called Collision. We think we have the money to make it and he wants me to direct it. So, I'm in preparation for that."

More directing. Is your husband going to be able to cope?

JoBeth laughed.


JIMMY STEWART FESTIVAL WEEK


This annual event takes place May 13-19 at the James Stewart Museum in Indiana, PA. Highlight of the week-long festivities include The Harvey Award dinner on May 18 at the Rustic Lodge during which time Kathryn Crosby, wife of legendary Bing Crosby receives the Harvey in honor of her husband and is honored herself with The George Bailey Award. The evening will be hosted by Rich Little and broadcaster Nick Clooney, father of actor George Clooney.

Little and Clooney, who frequently host Jimmy Stewart Museum events, are the only other recipients of the George Bailey Award, which is named after Stewart's character in It's a Wonderful Life and recognizes friends of the museum, according to Tim Harley, museum director.

This will be the second consecutive year that the museum issued the Harvey Award posthumously. In 2006, the grandchild of actor Spencer Tracy accepted the award on his late grandfather's behalf in May. Actor James Best visited Indiana in October and also received the Harvey Award. Harley said Bing Crosby was an ideal recipient for the award because of "his incredible career that parallels Mr. Stewart's timeframe."

By the way, Jimmy Stewart is the only actor to have a Boy Scout Award Badge. The James M. Stewart Good Citizenship Award. Recipients receive a four-inch full color embroidered patch featuring Brigadier General James Stewart.

This award was established by the James M. Stewart Museum Foundation with the consent and cooperation of the Boy Scouts of America, Penn's Woods Council and the family of James M. Stewart. The purpose of this award is to introduce Boy Scouts to the life of a great American, James Maitland Stewart. The Jimmy Stewart Museum offers this award to a Boy Scout or Scouter who has exemplified the characteristics necessary to live the life of a Good Citizen. To earn the award, Scouts are required to complete the Jimmy Stewart Museum quiz, write an essay of not less than 500 words, and do a good citizenship project in their community in honor of James M. Stewart.


ART AND ABOUT


TALK BY DAVID LINLEY

Tripod perfume burner.James Stuart,about 1760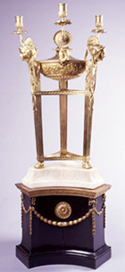 James 'Athenian' Stuart (1713-88) is a compelling figure in the history of British design.

Widely recognized for his central role in pioneering Neo-Classicism, Stuart developed his influential career across various fields: interior decoration, sculpture, furnishing, metalwork and architecture.

Stuart was an architect who designed and painted interiors that he completed with furniture, while David Linley has come to interior design via the discipline of furniture.

A selection of David Linley's current furniture pays homage to the Greek revival style pioneered by Stuart.

This talk will look at the development of Linley's furniture and interior design business.

Friday, May 18, in the Lecture Theatre, Victoria and Albert Museum, London.


SPREADING THE WORD


92nd STREET Y PRESENTS AMERICAN PREMIERES OF RADIO PLAYS BY WILLIAM TREVOR

William Trevor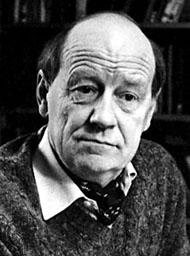 staged reading on Monday, May 12. Directed by Irish Rep's Ciarán O'Reilly. The cast includes Colin Lane, Paul Hecht, James Stevens, Terry Donnelly and J. Smith Cameron.

Hailed by The New Yorker as "probably the greatest living writer of short stories in the English language," William Trevor is also a bestselling novelist and, in England and Ireland, well known draftsman of radio plays, many of which he himself has adapted from his fiction. On Monday, May 12, the 92nd Street Y presents the American premiere of two of those plays: Going Home and Mr. McNamara based on short stories Trevor wrote in 1972 and 1976, respectively.

William Trevor's stories, most of which are set in Ireland and England, range from black comedies populated by eccentrics and outcasts to tales of Irish history and politics. O'Reilly, the producing director of New York's Irish Repertory Theatre and the director of these productions, says Trevor's story-writing abilities translate well into radio plays. "William Trevor is first and foremost a short-story writer, but the writing style and characterizations he employs in these plays show his ability to change seamlessly from medium to medium," O'Reilly says. "His dialogue flows so naturally that it's almost as if he can't stop himself." Trevor, who at 79 will be publishing a new collection of short stories, called Cheating at Canasta (Viking; October 2007) this fall, has himself commented on the similarities between writing stories and writing radio plays. "There is, in effective radio drama, a degree of reticence on the part of the writer," Trevor has said. "This is an element essential to the form that is found again among the subtleties of a successful short story. Radio is peopled by shadows; a woman's beauty suggested by a beautiful voice…Images are left to the listener. Without the restrictions of radio, the short story creates its own [images], making a virtue of its brevity… Art, in any form, thrives on drawbacks and limitations."

Going Home (1972) explores a tension-fraught train ride shared by an unruly prep school student and the school's assistant headmistress. The headmistress, Miss Fanshawe, is pushed to her limits by the student, Carruthers, who acts out because of problems at home. In the end, though, it is Carruthers who learns the limits of anger and frustration. Mr. McNamara (1976), originally conceived as a short story, is the tale of a boy named Michael who attempts to learn more about his father after his death. The dark family secret Michael uncovers turns his life upside down and forces him to re-examine everything he has known in a new light.

Monday, May 12, at the 92nd Street Y in New York City.

VOICES OF DARFUR Mia Farrow, Nick Clooney, and other activists will discuss the tragedy in Darfur as well as efforts to bring local news and humanitarian information to people living through this crisis. Radio recordings made by the people of Darfur will be included in the discussion. Presented in association with Internews, an organization committed to improving access to information for people around the world.

In Person: Nick Clooney, Journalist. Mia Farrow, UNICEF Goodwill Ambassador. George Papagiannis, VP, Dir. Darfuri Refugee Radio and Humanitarian Information Service, Internews. Gayle Smith, Senior Fellow, Center for American Progress. Moderated by Tara Sonenshine, Media Consultant, U.S. Institute for Peace, Internews.

Wednesday, May 16; at the Museum of Television and Radio in New York City.



Broadway To Vegas is supported through advertising and donations. Priority consideration is given to interview suggestions, news, press releases, etc from paid supporters. However, no paid supporters control, alter, edit, or in any way manipulate the content of this site. Your donation is appreciated. We accept PAYPAL. Thank you for your interest.


SWEET CHARITY


MOTHER ON FIRE Public Radio Commentator Sandra Tsing Loh takes to stage in a diatribe against the educational system.

Hell hath no fury like a Public Radio mom in search of a good school for her young. Sandra Tsing Loh - perhaps best known for her stint as commentator for Public Radio's Morning Edition, Ira Glass' This American Life and for her monthly reports The Loh Down on Marketplace - makes her San Francisco debut in Mother On Fire, the story of Sandra's year of spiraling, keening madness searching for a kindergarten for her daughter.

"I looked at public schools, private schools, parochial schools -- even Baptist school," says Loh. "It turns out tuition-wise, Creationism is cheap."

Produced by Frier McCollister and directed by Bart DeLorenzo (originally with David Schweizer) Mother on Fire ran to sold-out audiences in Los Angeles for seven months. Audiences – parents and non-parents-alike – have turned up in droves for this warts-and-all celebration of mothers.

"Actually," says Loh who is also a contributing editor for Atlantic Monthly. "In this show, Joan Crawford comes off surprisingly well."

The San Francisco run of Mother on Fire is a benefit for Mission High School and for the Women's Building. Public school teachers enjoying a discount, and parents score discounts for each child in public school.

May 11 - 20 at San Francisco's Women's Building.

WOLF TRAP'S 36th ANNIVERSARY GALA FOR ARTS AND EDUCATION featuring Mary Wilson of The Supremes.

The Wolf Trap Gala is an annual black-tie affair that is always a highlight of the Washington social scene. Experience an evening of elegance in the Lower Meadow of Wolf Trap National Park for the Performing Arts, beginning with a lavish cocktail reception and an exquisite dinner, and culminating with an exclusive performance by Mary Wilson, of the Supremes, and a night of dancing under the stars.

Chairs: Michael and Susan Harreld. Tuesday, May 22, in Vienna, Virginia.

LET US ENTERTAIN YOU: A JOURNEY THROUGH MODERN MUSIC MACHINES the 92nd Street Y's annual Gala Benefit. The legendary radio broadcaster "Cousin Brucie" Morrow hosts a show featuring performances by Ann Hampton Callaway, Sam Harris, Jessica Molaskey, the Bill Billig Orchestra, John Pizzarelli, Neil Sedaka, The Shirelles, and the Young People's Chorus of New York City.

Gala co-chairs Cathy & Marc Lasry and Carolyn & Curtis Schenker; Gala vice-chairs Stacey & Matthew Bronfman, Tami & Fredric Mack, and Caryn & Jeff Zucker; and Gala-journal chair Donny Deutsch.

The 92nd Street Y has been at the forefront of New York City's cultural scene since the organization's inception more than 130 years ago. Founded in 1874, the Y quickly established its place on the cultural landscape with concerts and salons featuring the greatest talents of the day. The Y had been going strong for a decade when the late-19th-century's great musical inventions, the piano roll and the cylinder phonograph, were invented. Through the years, the 92nd Street Y has kept pace with the technology that preserves the magic on stage. In fact, since 1947, and using progressively more sophisticated technology, the Y has recorded every concert, literary reading and lecture that has taken place in its concert hall. The archive now includes over 10,000 audio and video recordings of unique programming.

Cocktails and dinner followed by the show on Monday, May 21, at the 92nd Street Y in NYC.

THE OZDUST VARIETY SHOW The company of the national tour of Wicked, currently at Denver's Buell Theatre, will hold a benefit for Broadway Cares/Equity Fights AIDS and Denver's Project Angel Heart.

Dubbed The Ozdust Variety Show, the evening is a planned homage—with a twist—to the great variety shows of the 1950's, the Golden Age of Television. This event will take place on Monday, May 21, in the Garner Galleria Theatre. Denver, CO.


KICKING UP THEIR HEELS


PETER QUANZ

Peter Quanz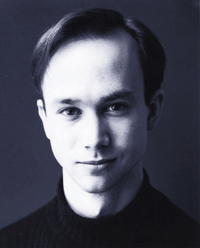 the talented and acclaimed young choreographer, has begun a two-month rehearsal period in St. Petersburg, Russia.

At the invitation of Valery Gergiev, Peter is creating a 30-minute ballet for the Kirov Ballet for their White Nights Festival.

The ballet Aria Suspended will use the music of Stravinsky's Symphony in C and will have a cast of 34 dancers - 3 Principal couples plus demi soloists and corps de ballet.

Holly Hynes will design the costumes. Valery Gergiev will conduct the premiere.

The World Premiere is July 7, on the Mariinsky stage.

Peter is the first Canadian to choreograph for the world famous Kirov Ballet.

DANCERS WITHOUT FRONTIERS takes place in Greence when Athens plays host to the 21st World Congress on Dance Research, September 5-9. With a theme of Dancers Without Frontiers, this year's event is expected to be the largest gathering of dance specialists world-wide, where participants showcase their work to an audience of practitioners, dance teachers, choreographers, researchers, journalists and organizers.

Last year, 700 specialists from 64 countries took part. 13 University professors from seven countries served as members of the Scientific Committee.

The International Dance Council (CID) is the official umbrella organization for all forms of dance in all countries of the world. It is a non-profit non-governmental organization founded in 1973 within the UNESCO headquarters in Paris. The worldwide forum brings together international, national and local organizations as well as select individuals active in dance. The organization represents the art of dance in general and advises the UNESCO, national and local government agencies, international organizations and institutions. UNESCO is the United Nations Educational, Scientific and Cultural Organization.

All forms of dance are represented. Strictly non-profit. Not to be confused with festivals, workshops, competitions or open conferences. The event takes place under the auspices of the Ministry of Culture, the Ministry of Education, the Municipality of Athens and the National UNESCO Commission.

The congress is organized by the Dora Stratou Dance Theater and the Greek Section IOFA, in collaboration with the International Dance Council CID. Its theme is in accordance with the Convention on the Protection and Promotion of the Diversity of Cultural Expressions adopted by the UNESCO General Conference.

The program includes: Presentation and discussion of original research reports (papers)
Classes, lecture-demonstrations, video projections
Performances by dance companies, duos or solos
Exhibitions and sale of books, records, pictures, costumes, accessories etc.
Visits to places of special interest, such as dance schools, museums, sites etc.

While intended primarily for professionals, it is at the same time a trade fair and a participatory event, facilitating contacts with colleagues, informal discussions and individual initiative.

Submitting a presentation - research report, lecture-demonstration, class, performance, exhibition, projection - is optional. For each presentation a text must be sent before July 30, 2007.



TONY AWARD NOMINATIONS On Tuesday, May 15, Broadway and television stars Taye Diggs and Jane Krakowski will be on hand at the New York Public Library for the Performing Arts in Lincoln Center for the 2007 Tony Nominations Announcement.

The 2007 Tony Awards ceremony takes place on Sunday, June 10th at Radio City Music Hall in New York City. The live telecast on CBS starts at 8:00 p.m./7c - repeated at 8:00 p.m. PT.

( For a list of the nominees click here )



YELLOW FACE

David Henry Huang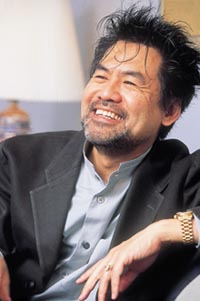 by Chinese-American playwright David Henry Hwang, his first original full-length play in 10 years. Directed by Leigh Silverman. Family politics, international intrigue and Senate investigators converge in this wild satire about cultural identity – all in pursuit of the ever-elusive truth. After inadvertently casting a white actor in the Asian lead role, the author finds himself in an embarrassing, ironic and hilarious position that takes the PC out of PC.

This energetic new play melds fiction with real-life events. Hwang writes himself into the middle of his play, which is launched with the backstage revelations of an earlier play he had written that flopped infamously on Broadway - the 1993 Broadway venture Face Value. It appears that a white actor had been unknowingly cast in the role of an Asian, which is especially embarrassing for Hwang who had led the Asian American uproar when a Welsh actor was cast as a Eurasian in the 1991 Broadway opening of Miss Saigon.

Los Angeles-born playwright David Henry Hwang received the Tony Award for his Broadway debut, M. Butterfly, co-wrote the book for Elton John and Tim Rice's musical Aida, and wrote the book for Disney's Broadway musical Tarzan. His adaptation of Rodgers and Hammerstein's Flower Drum Song premiered at the Mark Taper Forum in 2001.

A co-production of Center Theatre Group Mark Taper Forum and the Public Theater of New York in association with East West Players. American Sign Language-interpreted performance June 16. At the Mark Taper Forum in Los Angeles now through July 1.

13 RUE DE L'AMOUR translated by Mawby Green and Ed Feilbert. Based on a play by George Feydeau. Directed by John Going.

Full of laughs and intrigue, 13 Rue de L'Amour is a wacky, door-slamming bedroom farce with a true lunatic spirit. A philandering husband, a wife set on revenge, a love-starved countess-concierge, befuddled policemen, a saucy maid, and other plotting parties find their way to the same address and frolic through a maze of mistaken identities and false arrests. Reminiscent of a good Marx Brothers movie, this comedy's illogical logic is sublimely ridiculous. May 16 - June 10 at the Olney Theatre in Olney, MD.

REPRESENTA! think of it as bilingual theatre for the hip-hop generation. Representa! - commissioned by the San Francisco International Arts Festival and La Peña Cultural Center - brings together the vision of writer/performers Paul S. Flores and Julio Cardenas developed and directed by Danny Hoch in a fiercely incisive commentary on terrorism, immigration, Cuba, U.S. foreign policy, Bay Area lefty culture, New York after 9/11 and pan-Latino identity.

Setting itself apart from other spoken-word performance, Representa! is bilingual theatre which combines spoken-word poetry with character portrayals that are simultaneously hilariously entertaining and provocative. All performances are presented with super-title translation.

Representa! is a National Performance Network Creation Fund Project co-commissioned by La Peña Cultural Center in partnership with New Jersey Performing Arts Center and Gala Hispanic Theatre.

Performances May 18, 19, 20, 24, 25, 26 Mission Cultural Center Theater in San Francisco.

SINGIN' IN THE RAIN Based on the MGM Film which was originally choreographed by Gene Kelly and Stanley Donen. Screenplay by Betty Comden and Adolph Green. Songs by Nacio Herb Brown and Arthur Freed. Directed by Ray Roderick. Choreographed by Rick Conant.

Currently being stage at Goodspeed. A popular event, Backstage at Goodspeed, is an informal post-show discussion with the cast. Dates for Singin In The Rain to participate are Thursday evenings: May 17, May 31, June 14. Goodspeed Musicals in East Haddam, CT.

ON THE COUCH WITH NORA ARMANI Written and performed by Nora Armani. Directed by François Kergourlay. Part of the Summer Armenian Festival. Nora Armani has toured with the play internationally in its English and French versions winning critical accolades. The play was broadcast on Radio Aligre FM, filmed for CUNY-TV in New York, Don't miss this funny and touching world-eye view of life from this enchanting Armenian-Egyptian-American actress, poet and storyteller. A woman's journey of belonging and not belonging, of being and discovering. May 18 through Sunday, June 3 at The Fountain Theatre in Los Angeles.

CAROUSEL Music by Richard Rodgers Book and Lyrics by Oscar Hammerstein II. Based on Ferenc Molnar's play Liliom, as adapted by Benjamin F. Glazer. Original Dances by Agnes de Mille.

Carousel lyricist Oscar Hammerstein II is a local boy, having lived in Bucks County Pennsylvania from 1940 until his death in 1960. He owned Highland farm with his second wife and loved every bit of it. He chose to spend most of his time at the farm, away from the hustle and bustle of New York, and it served as inspiration for some of his greatest works, including Oh, What a Beautiful Morning from Oklahoma!

This farm still stands today. Hammerstein's connection to the local area has been documented in many books about Bucks County. He was proud to have been a resident and the locals were proud to have him.

Rodgers and Hammerstein acknowledged Carousel as the favorite of their works together. The magnificent score and the captivating storyline earned Carousel the title of Best Musical of the 20th Century from Time Magazine. This is the show whose songs include June is Bustin' Out All Over and If I Loved You. May 15 through July 15 at the Walnut Street Theatre in Philadelphia.

HEADLESS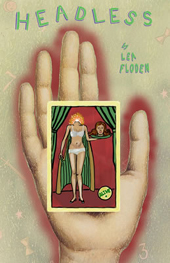 an erotically charged drama by Lea Floden about 1930s carnival life in the dustbowl plains of the Midwest.

Jon Beavers plays Frank, the eccentric son of a wealthy family who is drawn "like a moth to a flame" by the mysterious headless woman at a traveling carnival. The object of Frank's obsession is Net, portrayed by Salli Saffioti - once the carnival's headlining Tarot Card Reader, but now relegated to the "headless" woman booth.

Lauren Clinton is Net's 12-year old daughter, Crystal, a carnie kid who has seen too much in her short life, while eight-year old Kaylin Stewart plays younger sister China, a true clairvoyant wise beyond her years.

Dan Bonnell directs the cast which also includes; Patty Cornell, Natalie Floyd, Dean Gregory, Tony Pasqualini and Laura Jane Salvato.

Set Design: Laura Fine. Lighting Design: Chris Wojcieszyn. Sound Design and Original Music: Martin Carrillo Costume Design: Audrey Eisner.

The Ensemble Studio Theatre-LA production, which begins previews at the Electric Lodge May 17 with performances through June 24. Venice, CA.


| | | |
| --- | --- | --- |
| | | |
WHO'S WHERE


PRINCE formerly a Las Vegas resident, has announced that he will play an unprecedented 21 shows in London, starting with seven nights at the O2 Arena August 1. It's been over 10 years since The Purple Rain singer has performed in London. Ticket prices have been set his favorite set of numbers - £31.21 - a reference to the title of his last album - for which fans will also receive a copy of the 48-year-old singer's as-yet-untitled new studio LP. 3121 was also the name of the nightclub he had at the Rio Hotel in Las Vegas. Tickets for the London gig - billed as the Earth Tour - went on sale last Friday, May 11. Fans attending can expect to hear a variety of new songs. While in Las Vegas preparing for this tour, he claims to have rehearsed a total of 150 songs. Following the tour, published reports have stated Prince said he planned "to travel and study the Bible".

THE BACON BROTHERS open a two night stand on Thursday, May 17 at Rams Head on Stage in Annapolis, MD. Next Sunday, May 20, they perform at Sellersville Theater 1894 in Sellersville, PA.

BRANFORD MARSALIS performs Tuesday, May 15, at the Dakota Jazz Club and Restaurant in Minneapolis. On Wednesday he's at the Paramount Theatre in Saint Cloud, MN. On Thursday the show is at Detroit Orchestra Hall in Detroit. He stars Friday at the Wharton Center in East Lansing, MI.

BLIND BOYS OF ALABAMA perform Friday, May 18, at the Scottsdale Center for the Arts in Scottsdale, AZ. On Saturday they are in Las Vegas at the UNLV Performing Arts Center.

ITZHAK PERLMAN entertained Queen Elizabeth at the White House last Monday evening. If your invitation to that white tie event got lost in the mail, you can enjoy Perlman's talents on the violin with Rohan DeSilva on piano. Tuesday, May 15, Chrysler Hall, Norfolk, VA.

DIANA ROSS on stage Wednesday, May 16, at Metro Radio Arena in Newcastle, UK. Thursday finds her at the S.E.C.C. in Glasgow and on Saturday the show is at Ahoy' Rotterdam in Rotterdam, Netherlands.

LARRY GATLIN AND THE GATLIN BROTHERS in stage Saturday, May 19, at Turning Stone Casino in Verona, NY.

DOLLY PARTON entertain a week from today, Sunday, May 20, at the Tennessee Smokies Stadium in Sevierville, TN.

KEITH URBAN continues his Australian tour. On Tuesday, May 15, he stars at Acer Arena in Sydney. Friday finds him at the Rod Laver Arena in Melbourne and next Sunday, May 20, he'll be entertaining his fans at the Entertainment Centre in Adelaide.

JASON GRAAE – GRAAE'S ANATOMY with musical direction by Alex Rybek and direction by Heather Lee. Graae's Anatomy will perform four performances only , Monday, May 14, Tuesday, May 15, Monday, May 21, and Tuesday, May 22 at the El Portal Theatre, in North Hollywood. These performances will coincide with Jason's appearing in the L.A. Opera production of The Merry Widow.

PETER GALLAGHER performs from May 15 to June 2 at Feinstein's at the Regency, NYC.

GWEN STEFANI brings her tour to the Alltel Pavilion in Raleigh, NC on Monday, May 14. Tuesday finds her at the Verizon Center in Virginia Beach, VA. On Thursday she can be enjoyed at Nissan Pavilion at Bristow, VA. Friday the show is at the PNC Bank Arts Center in Holmdel, NJ.

BIG BAD VOODOO DADDY getting the beat going Thursday May 17 at the Century II PAC in Wichita, KA. On Friday they do the same at Green Valley Resort in Henderson, NV.

BILL COSBY telling funny stories Saturday, May 19, at the Warner Theatre in Torrington, CT.

RIDERS IN THE SKY two time Grammy Award winners, moseys in to the Celebrity Showroom at John Ascuaga's Nugget on May 18-19, Sparks, Nevada.

TONY BENNETT crooning Monday, May 14 at Heinz Hall in Pittsburgh, PA. Next Sunday he can be enjoyed at the Chevrolet Theatre in Wallingford, CT.

HARRY CONNICK, JR has a busy week. On Monday, May 14, he's on stage at Sandia Resort in Albuquerque, NM. On Tuesday he's performing at Dodge Theatre in Phoenix, AZ. Friday finds him at the Greek Theatre in Los Angeles. On Saturday he's center stage at the McCallum Theatre in Palm Desert, CA, Next Sunday he'll be delighting his fans at the Arlington Theatre in Santa Barbara ,CA.

PETER GALLAGHER makes his night club debut at Feinstein's in New York City. Gallagher will perform Songs and Stories showcasing musical numbers from his theatrical career, selections from 7 Days in Memphis his recent solo debut CD - and various other favorites. May 15 - June 2 Feinstein's at Lowe's Regency in Manhattan.




PIFFLE AND PROFUNDITIES


AL GORE'S FILM AN INCONVENIENT TRUTH will be sent to every secondary school in England.

British Environment Secretary David Miliband and Member of Parliament Alan Johnson announced plans earlier this year to send a DVD of the film to every school as part of a special climate change pack. Tony Blair told MPs during Prime Minister's Questions: "It's a very important film for people to see and I'm sure a lot of schools will enjoy seeing it. It's one of those films that is both entertaining and highly informative," said the Prime Minister.

The former US vice-president made the movie to highlight the problems facing the planet from climate change.

Next Column: May 20, 2007
Copyright: May 13, 2007. All Rights Reserved. Reviews, Interviews, Commentary, Photographs or Graphics from any Broadway To Vegas (TM) columns may not be published, broadcast, rewritten, utilized as leads, or used in any manner without permission, compensation and/or credit.
Link to Main Page
---
Laura Deni


CLICK HERE FOR COMMENT SECTION