! >
Broadway To Vegas
  
 SHOW REVIEWS CELEBRITY INTERVIEWS GOSSIP NEWS

| | |
| --- | --- |
| | |
FOUL PLAY NOT SUSPECTED IN DEATH OF ENTERTAINER DANNY GANS - - CD RELEASES OF NEW FACES OF '56 AND '52 - - FLU DOESN'T SCARE TOURISTS WHO PARTY IN LAS VEGAS - - EDNA FERBER'S GIANT MAKES DEBUT AS MUSICAL - - LIBERACE MUSEUM HAS PROBLEMS - - KANSAS CITY REP GALA FEATURES BARBARA COOK - - BUDDHIST SCULPTURE IN ASIA - - GOODSPEED HONORS WILLIAM IVEY LONG - - DONATE . . . Scroll Down


Copyright: May 3, 2009
By: Laura Deni
CLICK HERE FOR COMMENT SECTION

FLU CONCERNS DON'T STOP LAS VEGAS VISITORS FROM A PARTY HEARTY ATTITUDE

Tourists coming to Las Vegas aren't showing any particular concern about returning home with the flu as an unexpected souvenir.

Nevada is one of the areas with a confirmed case of H1N1 - previously known as the swine flu but now referred to under its scientific name - because pigs complained they were being given a bum rap.

Las Vegas Mayor Oscar Goodman has stressed that Las Vegas is prepared. Over the years this haven for tourists has seen isolated outbreaks of food poisoning and Legionnaire's Disease - all of which were quickly contained.

Hotels such as the Mirage-MGM announced that because of the spread of H1N1, all public areas are now being sanitized three times a day.

All hotels have disaster plans in effect - such as the ability to both evacuate and quarantine.

Vegas hotels also have excellent entertainment, an abundance of food and great bargains on rooms.

THE MUSIC GOES ROUND AND ROUND

Leonard Sillman was the name behind the New Faces series - shows which introduced new artists many of whom would achieve superstar status. Fortunately these productions have been recorded. They offer an insight into an era when the skit revue was a popular and respected art form. A precursor to the Forbidden Broadway and That Was The Week That Was type of presentations. Versions of New Faces were produced in 1934, 1936, 1943, 1952, 1956, 1962 and 1968.

The songs and sketches are self contained, so the musical numbers are to be enjoyed by themselves rather than linking any story line.

Songwriter Arthur Siegel, who contributed many songs to the New Faces series, described Sillman's philosophy: "He believed that a revue should be a potpourri, a bouillabaisse, in which there was something for everyone. Pace was very important. He didn't want to give an audience a chance to think about what it just saw. The music had to be nonstop."

Thus these CDs are not elevator music. If you want to put on a CD and have background music to take you through your day, these are not the CDs to slap on the player. These CD's are for people who aren't ignorant, appreciate satire and get a kick out of the type of musical skewering that lampoons.

This week Broadway To Vegas is looking at the 1952 and 1956 years, which are two of eight new CDs reissued by ArkivMusic/Sony.

These CDs can be your yours - FREE. See details below.

NEW FACES OF '56 If you have never heard of Katharine Hepburn or Tallulah Bankhead then let somebody other than yourself enjoy this CD. The LP release of the original cast recording did not include a number of tracks that were recorded at the original session, and this release introduces six of them – What Does That Dream Mean?; The Washingtons Are Doin' Okay; Girls 'n' Girls 'n' Girls; I Could Love Him; Rouge and She's Got Everything.

New Faces of '56, which enjoyed 220 performances at the Ethel Barrymore Theatre, is heavy on mocking and sass.

The opening remarks are by a man whom many consider to be that era's greatest female impersonator, San Francisco's T.C. Jones as Tallulah Bankhead, explains that - "They all ask me what is a star? Well, to me a star is astronomically beautifully, yet distance. Vanishes completely during the daytime, and then appears at night on the heavenly stage as the Big Dipper. Ah, but the young folks today are so full of Stanislavski, Eli Kazan and theater in the round. . . . . My point is, darling, nothing is new with theater in the round. Theater started in rings and is still going in circles."

This CD boasts an international cast of twenty new personalities, many of whom would soar to greatness including Jane Connell, John Reardon, Maggie Smith, Virginia Martin and Inga Swenson.

The opening introduction written by Ronny Graham, features Jones, delivering a send-up of Bankhead.

Most of New Faces of '56 has a satirical comedic nod.

Fans of Maggie Smith need this CD.

Maggie Smith - the Maggie Smith who would one day become Dame Maggie Smith, one of the world's most famous and distinguished actresses, earning five BAFTA Awards, two Academy Award, two Golden Globes, an Emmy Award and a Tony Award - made her Broadway debut in this show.

Her solo One Perfect Moment is introduced by T.C. Jones as Katharine Hepburn.

"Hello. This is Katharine. Miss Bankhead asked me to make this announcement for her. She is having zipper trouble. This scene is done inside a picture frame and looks like a picture. A festive picture. This scene shows a beautiful Victorian belle, Maggie Smith, standing at the head of a long table with her lover and a gypsy violinist. On this table is fruit, a bottle of wine, a roast fowl and service As she sings - it all slips away."

Maggie Smith then warbles One Perfect Moment, so devastatingly off-key that dogs might howl. Smith also leaves no doubt that her talents range from funny to dramatic; that she is game for just about anything, and in show business for the long haul.

Isn't She Lovely? with lyrics by Marshall Barer and music by Dean Fuller, also has an introduction by T.C. Jones as Bankhead and features the entire cast. John Reardon is the production singer and Maggie Smith is Miss Orange.

As a role of thumb, a CD should be judged only on singing, the music and lyrics, orchestrations, performance of the musicians and whether it is worth giving a listen - it's a CD after all not a DVD of the show. However, in the isolated instance of Isn't She Lovely - a spoof of the lavish old Bugsy Berkley style numbers - try to visualize Maggie Smith on stage as she performed this number.

This CD is an aural capture of Smith's performance, which ranks as one of the funniest to ever grace a Broadway stage. Maggie Smith's staircase descent as a Follies Girl draped in thousands of oranges.

Future Metropolitan Opera baritone and Broadway star John Reardon's gorgeous voice delights with his rendition of a lovely love song Tell Her. The song Don't Wait Until 'Til It's Too Late To See Paris, with lyrics by June Carroll and music by Arthur Siegel, is another romantic number that permits Reardon to use his voice to best advantage. The White Witch of Jamaica - again penned by Carroll and Siegel - allows Reardon to show off his ability to sing with a Jamaican accent about being captivated by a beautiful woman - bad as woman can be.

The Washingtons Are Doing Okay by Michael Brown, sung by Tiger Hayes, reassures anyone who frets that an ex-president might suffer financial hardship after leaving the White House.

April In Fairbanks with words and music by Murray Grand, delivered by the versatile Jane Connell - is a freeze your tail off take on April in Paris The stanzas include;

You've never known the charm of Spring
Until you hear a walrus sighing.
The air is perfumed with the smell of blubber frying.
April in Fairbanks;
You'll suddenly discover
A Polar Bear's your lover
In Fairbanks.

Subzero weather
Will turn your skin to leather
Your jaws will lock together
In April in Fairbanks.
North Polar breezes will sing you a cadenza
And bring you influenza
In April

I'll leave the Rivera to the fools who want a fancy palace.
Give me an igloo, the Aurora Borealis.
April in Fairbanks;
I really can't believe it.
I know I'll never leave it alive this April.

Girls 'N' Girls 'N Girls by Irvin Graham features parents Inga Swenson and John Reardon worried about their 16-year-old son, played by Johnny Laverty, who is suddenly acting different. The mother's take is that her son has a vitamin deficiency. Father has a different opinion;

When he's staring into space with that blank look on his face.
He's not dreaming of a baseball game.
but him in a scrimmage with girls, 'n' girls 'n girls.

What Does That Dream Mean? with lyrics by Matt Dubey, music by Harold Karrand is performed by Franca Baldwin, Suzanne Bernard, Dana Sosa, Johnny Laverty, Jimmy Sisco, Rod Strong, Johnny Haymer, Ann Henry, Tiger Haynes, Bill McCutcheon, Virginia Martin and Billie Hayes. With a variety of tempos and attitudes, each offers a different scenario; from a singer dreaming she got up to sing and had lost her voice, to "Baby" who had a dream that she asked her honey to be his wife "but he said not on your life, so I took your letters to a lawyer and called up your wife."

Talent with music and lyrics by Paul Nassau is a satire on studio acting, in which Virginia Martin explains why she is the greatest star of them all. "40-20-38 - that's me - that's my talent."

Scratch My Back with lyrics by Marshall Barer features Tiger Haynes and Ann Henry - Tiger wants to stay put and have his back scratched while Ann wants to get up and go out. They banter: I do declare the way you lay around - Let's go have a ball - Do I have to wear a tie? - Let's fly down to Natchez - Scratch my back.

When she turns the tables and wants her back scratched, all of a sudden he wants her to - boil him up some crawfish and complains - Girl, you hang around like Spanish moss.

Mustapha Abdullah Abu Ben Al Raajid is a clever ditty with lyrics by Marshall Barer and music by Dean Fuller. Perfectly performed by Amru Sani. It's about a woman who is married to a wealthy Arab.

In Xanadu, the Kublican a pleasure dome of decree. Ah, but it couldn't compare to the to luxurious lair that daddy has decreed for me. Yes, we're very, very rich. We're very, very basic. We're very close to the soil, close to that good Arabian soil that gives us that good Arabian oil. We're pumping, pumping, pumping.
I'm the wife of Mustapha Abdullah Abu Ben Al Raajid. And, my life is a thing of a thousand delights ..... For my lord can afford flights of fancy ..... Tiffany .... Van Cleef's ..... Standard Oil ..... And best of all, my wifely duties are reduced as a piece of the pie because daddy has other beauties and they are all as legal as I."

The Greatest Invention with Billie Hayes and Johnny Haymer declaring that, the greatest invention is a girl and boy in love - beating out a steamboat.

This final CD cut, She's Got Everything, is very inside Vegas. There was a time when anybody could be booked as a Las Vegas headliner, provided they were on a hit television series or had some other type of notoriety. Telly Savalas, who couldn't sing, not only was booked as a Sahara hotel headliner, but made an LP recorded live in the showroom. Various member of the M.A.S.H. series were separately booked onto Vegas stages - not to tell stories about working on the hit TV series - but to sing and dance.

She's Got Everything is about a big star - the lady has everything - who is playing Las Vegas and earning $30,000 a week. She has trouble singing on key - the piano player has to keep hitting middle C, to try to get her back on track. She speaks with a lisp. Her dancing leaves much to be desired - but because she's a big star elsewhere - she's booked into Vegas. Those who are familiar with how Vegas used to be booked will find this cut hilarious.

Recorded June 17, 1956 at Webster Hall, New York City. Conducted by Jay Blackton, with Orchestrations by Ted Royal, Albert Sendrey & Joe Glover. The CD includes 21 tracks. Music and lyrics "mostly" by June Carroll, Arthur Siegel, Marshall Barer, Dean Fuller, Murray Grand, Matt Dubey, Harold Karr, Irvin Graham, Ronny Graham, Paul Nassau, John Rox and Michael Brown. Sketches "mostly" by Paul Lynde, Richard Maury, Sidney Carroll and Louis Botto.

Win this CD. E-mail 1) That you are entering to win the New Faces Of '56 CD. 2) Provide your name and complete mailing address. 3) In 25 words or less explain why you want to win the New Faces Of '56 CD.

All entries must be received by Saturday, May 9, 11:59 PM EST. One entry per person. Only humans allowed to enter. No animals, stuffed or otherwise, robots or other mechanical devices permitted. The one lucky winner will be mailed a copy of the New Faces Of '56 CD, courtesy of Sony Music. The winner's name and state/country (no addresses) will be announced in the Broadway To Vegas column of May 17, 2009.

NEW FACES OF '52 delivers with an international flare. Directed by Harry Horner the CD features Ronny Graham, Robert Clary, Eartha Kitt, Alice Ghostley, Paul Lynde, Carol Lawrence, June Carroll, Joe Lautner, Bill Millikin, Michael Dominico, Patricia Hammerlee, Virginia Bosler, Rosemarie O'Reilly, Allen Conroy, Jimmy Russell, Virginia de Luca, and Carol Nelson.

This legendary revue was one of the surprise hits of the 1951-52 Broadway season. It opened May 16, 1952 at the Royale Theatre and stayed for 363 performances. The show's list of writers includes Sheldon Harnick, who won fame and fortune later writing songs with Jerry Bock.

This production not only was the vehicle that propelled Eartha Kitt into stardom, but gave the world such standards as the romantic ballad Guess Who I Saw Today? which was performed by June Carroll and later Eartha Kitt would turn into her own. Love Is a Simple Thing follows performed by; Virginia de Luce, Rosemary O'Reilly, Robert Clary, Eartha Kitt and June Carroll. This is the song that years later Nancy Wilson would vocalize into a stunning torch song.

Eartha Kitt's performance of Monotonous is priceless. Alice Ghostley is unforgettable singing The Boston Beguine

He Takes Me Off His Income Tax is a clever tidbit, performed by Virginia DeLuce. It may be short, but it's long on punch and ought to make a lot of men squirm.

He takes me off his income tax
But, when he buys my mink at Saks.
He has a very neat solution
He calls it a charitable contribution
He takes a trip to Cartier
I have a lovely holiday.
Instead of giving me compliments
He calls me his beautiful traveling expense
Our romance was destined to be
I'll love him until I die
His money doesn't count with me
I only like what it can buy
His great generously makes him very dear to me
Diamonds don't come in Cracker Jack
So, I'm glad he takes me off his income tax

When it comes to songs about death Lizzie Borden ranks right up there with Grandma Got Run Over by a Reindeer as top of the line funny. In fact, Lizzie Borden is the wittiest song ever penned about an actual homicide. Michael Brown created the number for New Faces of 1952 which is performed by Joe Lautner, Bill Millikin, Paul Lynde, Patricia Hammerlee, and Company. The number was turned into a 1961 chart topping hit by the Chad Mitchell Trio.

The hand-clapping, foot-stomping, boisterous - let's get up and have a Hoedown song - is based upon the famous trial of Lizzie Borden, a New England spinster who was the only suspect for the hatchet murders of her father and stepmother on August 4, 1892 in Fall River, Massachusetts.

Elizabeth Borden took an axe
And gave her Mother forty whacks
And when the job was nicely done
She gave her Father forty-one

Yesterday in old Fall River
Mr. Andrew Borden died
And he got his daughter Lizzie
On a charge of homicide
Some folks say she didn't do it
And others say of course she did
But they all agree Miss Lizzie B
Was a problem kind of kid

'Cause you can't chop your Papa up in Massachusetts
Not even if it's planned as a surprise
No, you can't chop your Papa up in Massachusetts
You know how neighbors love to criticize

She got him on the sofa
Where he'd gone to take a snooze
And I hope he went to heaven
'Cause he wasn't wearing shoes
Lizzie kinda rearranged him
With a hatchet so they say
Then she got her Mother
In that same old-fashioned way

But you can't chop your Mama up in Massachusetts
Not even if you're tired of her cuisine
No, you can't chop your Mama up in Massachusetts
You know it's almost sure to cause a scene


Lizzie Borden. The murders, courtroom trial, and trial by the media became a cause célèbre. The fame of the incident has endured in American pop culture and criminology. Although acquitted, Lizzie was at the time (and is to an extent today) widely believed to be guilty: no one else was ever arrested or tried, and she has remained notorious in American folklore. Dispute over the identity of the killer or killers continues to this day.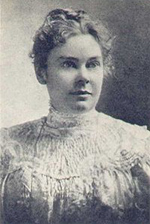 Well, they really kept her hoppin'
On that busy afternoon
With both down and up-stairs chopping
While she hummed a ragtime tune
They really made her hustle
And when all was said and done
She'd removed her Mother's bustle
When she wasn't wearing one

Oh, you can't chop your Mama up in Massachusetts
And then blame all the damage on the mice
No, you can't chop your Mama up in Massachusetts
That kind of thing just isn't very nice

Now, it wasn't done for pleasure
And it wasn't done for spite
And it wasn't done
Because the lady wasn't very bright
She'd always done the slightest thing
That Mom and Papa bid
They said, Lizzie, cut it out
So that's exactly what she did

But you can't chop your Papa up in Massachusetts
And then get dressed and go out for a walk
No, you can't chop your Papa up in Massachusetts
Massachusetts is a far cry from New York

No, you can't chop your Papa up in Massachusetts
Shut the door and lock and latch it
Here comes Lizzie with a brand new hatchet
Can't chop your papa up in Massachusetts
Such a snob, I've heard it said
She met her Pa and cut him dead
You can't chop your Papa up in Massachusetts
Jump like a fish, jump like a porpoise
All join hands and habeas corpus
Can't chop your Papa up in Massachusetts
Massachusetts is a far cry from New York

New Faces of 52 features a score by Ronny Graham, June Carroll, Arthur Siegel, Sheldon Harnick, and Michael Brown. Performed by Ronny Graham, Bill Mullikin, Rosemary O'Reilly, Robert Clary, Virginia De Luce, Patricia Hammerlee, June Carroll, Eartha Kitt, Alice Ghostley, Joe Lautner, Virginia Bosler, Allen Conroy and Paul Lynde.

Win this CD. E-mail

1) That you are entering to win the New Faces Of '52 CD. 2) Provide your name and complete mailing address. 3) In 25 words or less explain why you want to win the New Faces Of '52 CD.

All entries must be received by Saturday, May 9, 11:59 PM EST. One entry per person. Only humans allowed to enter. No animals, stuffed or otherwise, robots or other mechanical devices permitted. The one lucky winner will be mailed a copy of the New Face of '52 CD, courtesy of Sony Music. The winner's name and state/country (no addresses) will be announced in the Broadway To Vegas column of May 17, 2009.



Broadway To Vegas is supported through advertising and donations. Priority consideration is given to interview suggestions, news, press releases, etc from paid supporters. However, no paid supporters control, alter, edit, or in any way manipulate the content of this site. Your donation is appreciated. We accept PAYPAL. Thank you for your interest.


ART AND ABOUT


BUDDHIST SCULPTURE IN ASIA

Head of The Buddha, Bodhisattva © V&A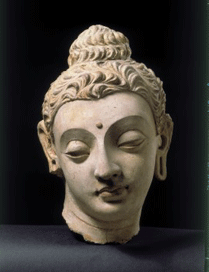 This new gallery demonstrates the many ways in which the Buddha has been represented in the arts of Asia.

Highlights include the majestic gilt bronze Bodhisattva Avalokitesvara from 14th century Nepal, a protective standing Buddha from Thailand and a sixth-century marble torso of the Buddha from Tang China.

The V&A's collections of sculpture from Asia are among its greatest treasures. This suite of four rooms explores the images of the Buddha Sakyamuni, together with associated images of Bodhisattvas, Guardians and monks.

The displays also explore the spread of Buddhism from India throughout Asia and encourages the visitor to learn about the iconography and conventions of Asian images and to compare outstanding sculpture in diverse styles. Opened April 28 at the Victoria & Albert Museum in London.

GILLIAN CHRISTY: INSIDE AND OUT

Gillian Christy; Spring Quilt. Steel and bronze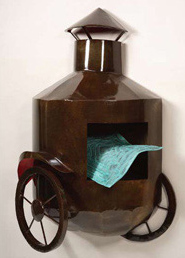 is one of three exhibitions which opened May 1, 2009 at the Appalachian State University's Turchin Center for the Visual Arts. These exhibitions are featured during the 25th Anniversary season of An Appalachian Summer Festival.

On display in the Mayer Gallery is Gillian Christy: Inside and Out. Christy graduated in May 2002 from the University of Northern Iowa. Earning a Bachelor of Fine Arts degree, she quickly set her sights toward the East Coast. Upon arriving in Providence, Rhode Island, Christy exhibited her public art in Convergence 2003, and then created three-dimensional commercial graphics for the hit reality show The Apprentice on NBC which were used in the opening and by NBC promotional purposes. She also created three-dimensional graphic images for Scott Duncan Films for CBS and Broadway Video for the NFL on CBS 2003-2005 Season NFL on CBS. She also created pieces for Gravity Games and HBO.

Christy has work in numerous outdoor collections and continually exhibits interior sculptural pieces in museums and galleries. In her sculpture she focuses on ideas and related images of home. Christy states, "Sculpting the surrounding environment is important to my work as I notice the diversity of urban and rural landscapes. Images of home first appeared in my early work in which I was taken by the architecture of mid-western Iowa. Presently, I am living in an urban neighborhood filled with architecture and industrial elements such as mills, vents, and rooftops that are new and different." By combining these forms in her sculpture she continues to find new and refreshing images of home, incorporating details into her work that tell a highly illustrative story.

On display through August 29, 2009 at the Mayer Gallery, Turchin Center for the Visual Arts in Boone, north Carolina.




SPREADING THE WORD


CELEBRITY SPEAKERS SERIES WITH GRAHAM GREENE the Academy Award nominated actor for Dances with Wolves joins Laurie Brown, host of CBC Radio's The Signal to discuss his prestigious stage and film career. May 11, 2009 at The National Arts Center in Ottawa, Canada.

THE SALON SERIES an affordable, fun and enlightening way to explore rarely produced, classic plays which are staged informally as readings by The Acting Company. These plays feature Acting Company Alumni and friends, many who are appearing on the Broadway stage. A reception with the cast and director follows each production and is a wonderful way to meet artists and discuss their work.

On May 11, 2009 Second Threshold by Philip Barry with James Naughton and Noah Bean, Cheryl Lynn Bowers, Xanthe Elbrick, Glenn Peters, Erik Steele will be directed by Justin Waldman.

At the Baruch Performing Arts Center in New York City.
SWEET CHARITY


2009 KANSAS CITY REP GALA FEATURES BARBARA COOK On Monday, May 11, a reception will be followed by Cook's performance. On Tuesday the Broadway legend and cabaret singer will deliver a Master Class.

COME TO THE CABARET a Kander and Ebb celebration to benefit The Acting Company of New York City.

Conceived and Directed by John Doyle, the performers include; Mary-Mitchell Campbell, Raúl Esparza, Terrence McNally, Liza Minnelli, Debra Monk, David Hyde Pierce, Chita Rivera, Tom Wopat, Karen Ziemba, and the Kit Kat Girls,

Guests include; Lisa Banes, Clive Davis, Harriet Harris, Edward Hibbert, John Kander, Angela Lansbury and Edgar Lansbury.

Monday, May 4 at the Gerald Schoenfeld Theatre, NYC.

Come to the Cabaret will benefit The Acting Company, the not-for-profit touring troupe founded in 1972 by John Houseman and current producing director Margot Harley. Honored by the Tony Awards for Excellence in Theater, The Acting Company has produced 35 national tours of 129 classic and new plays adapted from American literary masterpieces and performed in 48 states and ten foreign countries. Its current tour of Orson Welles' Moby Dick Rehearsed and Shakespeare's The Tempest arrives in New York for an Off-Broadway run this month. The Company gives young classically trained actors the opportunity to perform the classics while bringing theater into under-served communities and into disadvantaged school systems. Its alumni roster of over 300 includes Kevin Kline, Patti LuPone, Frances Conroy, Jesse L. Martin, Harriet Harris, Tom Hewitt, Keith David, Rainn Wilson and Jeffrey Wright.



WILLIAM IVEY LONG

William Ivey Long photo by Laura Deni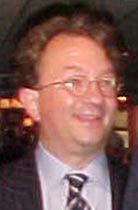 the five time Tony Award-winner, was honored last night, May 2, by Goodspeed Musicals. Long received The Goodspeed Award for Outstanding Contribution to Musical Theatre in recognition of his extraordinary career.

The Co-Chairs for this Gala event were longtime supporters Kiki and Ted Kennedy, Jr. of Branford. Conn. The Honorary Committee included Stockard Channing, Roger Horchow, Willa Kim, Carol Lawrence, Patti LuPone, Lynn Redgrave, Susan Stroman, Tommy Tune, Heather Watts, and David Zippel.

The evening's festivities, which were held at the elegant Riverhouse at Goodspeed Station in Haddam, Conn., included a cocktail hour and an exquisite dinner followed by a live auction and entertainment by some of Broadway's finest performers. Mr. Long will was honored by several of his peers including Lynn Redgrave and Susan Stroman. Guests had a marvelous evening, highlighted by an eclectic display of Mr. Long's most famous designs.

A revered designer, William Ivey Long has fifty-eight Broadway credits as well as many touring and international productions that have played and are playing in various cities around the world. His designs for theatre, opera, dance, television, movies, concerts, and special events have garnered numerous awards from across the nation.

Previous award recipients include Julie Andrews, Ira Gershwin, Jerry Herman, Stephen Schwartz, Tommy Tune, Susan Stroman, and Gerald Schoenfeld. Proceeds from the Gala will support Goodspeed Musicals' Education Programs.

Dedicated to the preservation and advancement of musical theatre, Goodspeed Musicals produces three musicals each season at the Goodspeed Opera House in East Haddam, Conn., and additional productions at The Norma Terris Theatre in Chester, Conn., which was opened in 1984 for the development of new musicals. The only regional theatre to receive two Tony Awards (for outstanding achievement), Goodspeed also maintains The Scherer Library of Musical Theatre and The Max Showalter Center for Education in the Musical Theater.

JERSEY BOYS is a documentary style musical based on the lives of one of the most successful 1960s rock 'n roll groups, Frankie Valli and The Four Seasons. Jersey Boys won four 2006 Tony Awards. Last year a production opened at the Palazzo Hotel in Las Vegas. Today, May 3, the production celebrates it's one year anniversary of Las Vegas performances.

The May 3rd date is also the birthday of Frankie Valli.

In addition to the Broadway and Las Vegas mountings, Jersey Boys has a national tour as well as mountings in Chicago, London and Toronto. A production is slated to be open in Melbourne, Australia.

THE TONY AWARDS will have the 2009 nominations announced on Tuesday, May 5th by Tony winners Lin-Manuel Miranda and Cynthia Nixon. We will post them at that time.

For a list of the nominations click here


OTHER PEOPLE'S MONEY


LIBERACE MUSEUM IN LAS VEGAS which was founded in 1979 with the stated mission being; "to help talented students pursue careers in the performing and creative arts through scholarship assistance" has problems. Last week Darin Hollingsworth, president of the foundation, left his post. Next year scholarships awarded by the non-profit foundation will be reduced to $100,000 - a substantial drop from the $200,000 awarded this year.



PETER GRIMES Conducted by 2009 Olivier Award-winner Edward Gardner. Directed David Alden.

The most significant British opera in over two centuries, Peter Grimes, is billed as a work of visceral and sustained beauty. Premiered by ENO - as Sadler's Wells Opera - in 1945, the masterwork astonished audiences from its first night and its grip on the repertoire has continued ever since.

Peter Grimes is the anti-hero outsider in a fishing village whose picture perfect façade conceals the paranoia of closed minds. David Alden's eagerly awaited new production follows his recent and unforgettable Jenùfa and Lucia di Lammermoor for ENO. Edward Gardner conducts this electrifying score. The cast is headed by Stuart Skelton with Amanda Roocroft, Gerald Finley and Felicity Palmer.

The cast and their characters include; Peter Grimes Stuart Skelton, John Daszak (May 28, 30); Ellen Orford Amanda Roocroft; Captain Balstrode Gerald Finley; Auntie Della Jones; Swallow Matthew Best; Ned Keene Leigh Melrose; Bob Boles Michael Colvin; Mrs. Sedley Felicity Palmer; First Niece Gillian Ramm; Second Niece Mairéad Buicke; Hobson Darren Jeffery; Reverend Horace Adams Stuart Kale.

The Creative Tram is: Designer Paul Steinberg; Costume Designer Brigitte Reiffenstuel; Lighting Designer Adam Silverman; Choreographer Claire Glaskin.

Nine performances only by the ENO May 9-28, London.

GIANT a world premiere musical with Music and Lyrics by Michael John LaChiusa, Book by Sybille Pearson. Based on the novel by Pulitzer Prize-winning author Edna Ferber, which also inspired the film starring James Dean, Elizabeth Taylor, and Rock Hudson

Giant has been one of the most anticipated contemporary theater debuts. Giant chronicles the life and times of cattleman Jordan Bick Benedict, his naïve young society wife, and their family in the sweeping panorama of Texas, the land that brings them together and almost splits them apart and is billed as a sensational story of power, love, lust, and bigotry among the wealthy Anglo cattle barons and oil tycoons, and the downtrodden Mexican-Americans who work for them.

Five-time Tony Award nominee LaChiusa is the first recipient of the American Musical Voices Project Award to present a new work on Signature's stage.

The 21-member cast is led by Helen Hayes Award winner Lewis Cleale as "Bick" Benedict. Betsy Morgan plays Leslie, Bick's wife. Ashley Robinson is Jett. Judy Blazer, is Luz. The Tony nominated John Dossett is Bawley.

The cast also includes; Enrique Acevedo (Ensemble), Raul Aranas (Polo), Marisa Echeverria (Juana), Jessica Grové (Lil Luz), Michael Thomas Holmes (Pinky), Jordon Nichols (Jordy), Andres Quintero (Angel, Sr. and Jr.), Michelle Rios (Lupe) Isabel Santiago (Angel Jr.'s mother), Paul A. Schaefer (Mike), Martin Sola (Dimodeo), Nick Spangler (Bob, Sr. and Jr., Lord Karfrey), Katie Thompson (Vashti), Julie Tolivar (Lady Karfrey), Mariand Torres (Analita) and Lori Wilner (Adarine).

The creative team is; set designer Dane Laffrey, costume designer Tony Award-winning Susan Hilferty, lighting designer Japhy Weideman, sound designer Matt Rowe. The music director is Chris Fenwick and orchestrations are by Bruce Coughlin.

Patrons are advised that "due to the Texas-size length of Giant, all matinee performances begin at 1pm and all evening performances begin at 7pm. Estimated running time is 3 hours 30 minutes, including two intermissions. Everything's bigger in Texas, y'all."

Officially opened April 28 with performances through May 31, 2009 at Signature Theatre in Arlington, VA.

GRASSES OF A THOUSAND COLORS by Wallace Shawn and presented as part of the Wallace Shawn Season staged by The Royal Court Theatre. Grasses of a Thousand Colors is Shawn's first full-length play in ten years.

"Cats like to tease mice. In other words, I'm saying, it's not something that happens by accident when they're pursuing some other more respectable purpose. No. They like to do it."

The scientist who tinkered with the universe tells us of his many loves. As his self-obsession literally consumes him, we listen to tales of food, sex and man's true best friend. An extreme, disturbing, and funny vision of the embattled relationship between man and beast.

Wallace Shawn's explicit new play receives its world premiere at the Royal Court, under the direction of his lifelong collaborator and My Dinner with Andre co-star, Andre Gregory. Wallace Shawn is featured in the cast.

Cast includes; Emily McDonnell, Miranda Richardson, Wallace Shawn and Jennifer Tilly.

Designer Eugene Lee. Video Bill Morrison. Lighting Howard Harrison. Sound Bruce Odland.

Produced in association with The New Group, New York May 12 - June 13, 2009 at the royal Court Theatre, London.

WAITING FOR GODOT by Samuel Beckett. Directed by Tony Award winner Anthony Page. Starring Two-time Tony Award winner Nathan Lane, Tony Award winner Bill Irwin, Golden Globe winner John Goodman and Tony Award winner John Glover.

Samuel Beckett's cryptic and comical play is considered one of the greatest masterpieces and greatest mysteries of 20th century theatre.

In a strong season for Broadway, Waiting For Godot is a winner. Lane once again proves that he is a master at either drama or comedy. Watching him execute his flawless sense of timing is like watching a diamond cutter create a gem, from what some might think is an awkward, old rock. Bill Irwin is Lane's equal and nobody should take John Glover or John Goodman for granted in this production which has been perfectly cast.

For those who aren't familiar with this classic, Waiting for Godot centers around two men waiting for someone (or something) named Godot, and having a raucous adventure in the process. Will he ever appear? Why are they waiting? What does it matter? In Beckett's most magical and absurdly funny allegory, the action is all in the passing time.

The design team includes Santo Loquasto (Sets), Jane Greenwood (Costumes) and Peter Kaczorowski (Lights).

Performances through July 5, 2009 at Studio 54, NYC.

9 TO 5: THE MUSICAL Music and lyrics by Dolly Parton. Book by Patricia Resnick, based on the 20th Century Fox film of the same name. Directed by Joe Mantello.

Starring Allison Janney (Violet Newstead), Stephanie J. Block (Judy Bernly), Megan Hilty (Doralee Rhodes), Kathy Fitzgerald (Roz Keith), Andy Karl (Joe) and Marc Kudisch (Franklin Hart Jr.).

This was first seen in Los Angeles. ( See Broadway To Vegas column of September 21, 2008 ) The concern in a Broadway transfer was the ability to get all of the technical gizmos to work. That accomplished - this is a production that may appeal more to women, but since women buy most of the Broadway tickets, that can be a plus. The show tackles an employment and social issue that has gotten better (by a little) since the movie premiered. This is a fun romp. A talented cast with standout Allison Janney only getting stronger. Kudisch is also turning the part into his own and seems to be having fun with the torture. If you want mind bending serious - then this show isn't going to help increase your Menza score. If you want to sit back and enjoy a lot of funny fluff, then this is a good way to reduce your stress level and have some laughs.

Choreography by Andy Blankenbuehler; music direction and vocal arrangements by Stephen Oremus; sets by Scott Pask; costumes by William Ivey Long; lighting by Jules Fisher and Kenneth Posner; sound by John H. Shivers; imaging by Peter Nigrini and Peggy Eisenhauer; hair design by Paul Huntley and Edward J. Wilson; makeup by Angelina Avallone; technical supervisor, Neil A. Mazzella; production supervisor, William Joseph Barnes; associate director, Dave Solomon; associate choreographer, Rachel Bress; general management by Nina Lannan Associates; music coordinator, Michael Keller; orchestrator, Bruce Coughlin; additional orchestrations/incidental music arrangements by Mr. Oremus and Alex Lacamoire; dance music arrangements by Mr. Lacamoire; additional music arrangements by Kevin Stites and Charles duChateau.

At the Marquis Theater in New York City.




WHO'S WHERE


BRUCE SPRINGSTEEN on stage Monday, May 4, at the Nassau Veterans Memorial Coliseum in Uniondale, NY. On Tues The Boss and his gang perform at the John Paul Jones Arena in Charlottesville, VA. On Thursday the show is at Air Canada Centre in Toronto and on Friday they are in the spotlight at the Bryce Jordan Center in University Park, PA.

THE JONAS BROTHERS on Saturday, May 9, return to the Paradise Island Resort in Nassau, Bahamas.

BILLY JOEL on stage May 5 at the Xcel Center in St. Paul, MN. He'll be singing his hits May 7 at the Kohl Center in Madison, WI.

BEYONCE continues her European tour Tuesday, May 5, with a performance at the Palais Omnisports de Paris-Bercy in Paris. On Wednesday she is on stage at the Zenith in Strasbourg, France. Thursday finds her in Belgium at the Sportpaleis Antwerpen in Merksem. Friday's show is at the 02 World in Berlin.

LESLEY GORE with musical director Louis St. Louis. Gore is the singer behind such iconic 1960s hits as It's My Party and You Don't Own Me. She will debut at Feinstein's at Loews Regency in New York City May 5-9.

PAUL ANKA who always delivers a great show brings his talents to The Orleans in Las Vegas May 8-10.

FLEETWOOD MAC takes to the stage of the Scottrade Center in St. Louis on Tuesday, May 5. The Thursday show is at the QWest Center in Omaha. Friday they perform at the Sprint Center in Kansas City.

DAVE MATTHEWS BAND entertains Tuesday, May 6, at the Journal Pavilion in Albuquerque. On Wednesday the show is at the Cricket Wireless Pavilion in Phoenix. On Friday they open a two night gig at the MGM Grand in Las Vegas.

KENNY CHESNEY performs Thursday, May 7 at the Wells Fargo Arena in Des Moines, IA. On Friday he at the Qwest Center in Omaha. On Saturday he's on stage at the Sprint Center in Kansas City.

DIANA KRALL is in the spotlight at the K-Rock Centre in Kingston, Ontario on Tuesday, May 6. On Wednesday she opens a two nighter at the Place des Arts in Montreal. On Saturday she's be delighting her fans at the Moncton Coliseum Complex in Moncton, NB.

JERRY SEINFELD in a two night stand Friday and Saturday at the MGM Grand Theater in Mashantucket, CT.

DAVID SPADE brings his sarcastic sense of humor to The Venetian Resort in Las Vegas on May 8.


FINAL OVATION


DANNY GANS named Las Vegas entertainer of the year 11 years in a row, died in his sleep on May 1, 2009 at his home in Henderson, Nevada. He was 52 and had no known health problems.

The performer never smoked, watched what he ate and exercised on a regular basis.

His only health issues were related to a 2003 auto accident in which he injured his neck and left hand, requiring neck surgery. In late 2005, he took a three-month hiatus from The Mirage for surgeries on his right rotator cuff and left hand. His associates report that during the 36-hours prior to his death he had complained of feeling tired.

Early last Friday his wife called 911 after she rolled over in bed and discovered her husband wasn't breathing and she couldn't wake him. Henderson police and paramedics were dispatched and arrived at 3:51 a.m. They pronounced Gans dead at the scene and he was not taken to a hospital.

A Clark County coroner's office spokesperson said an autopsy was performed on Gans' body Friday. The cause of death is unknown pending toxicology studies, which could take between two to four weeks.

Henderson police stress that the death investigation at the home Friday morning was the department following required procedure, and the investigators don't believe foul play was responsible for Gans' death.

Born October 25, 1956 in Los Angeles, Gans grew up in Torrance, Calif intending to become a professional baseball player. He realized that dream by playing for the Victoria Mussels, a Class A team in British Columbia. Later he would play a small role as a third baseman in the film Bull Durham. After a heel injury ended his sporting career, Gans turned to the entertainment industry. Gans began his career on the road, performing mostly at private corporate functions.

1992 he played Dean Martin in the CBS miniseries Sinatra.

He moved his act to Broadway performing a one-man show, Danny Gans on Broadway: The Man of Many Voices, at the Neil Simon Theatre from November 8-12, 1995, which is where Broadway To Vegas first caught him in his Plan B career choice. Although the show only lasted five nights, watching this unknown perform left no doubt that this was a superstar in the making. Word-of-mouth reached Las Vegas and he accepted an offer to bring his act to Sin City.

Gans started his Las Vegas showroom career at the Stratosphere Hotel in 1996. Following the May 16th opening night show there was a press/VIP party. It was obvious that other entertainers in the room knew that Danny Gans was now the competition. He moved his show to the Rio Hotel and then found a permanent home at The Mirage in 2000. He was such a success that The Danny Gans Theatre at The Mirage was built for him. In early 2009, Gans changed venues again, and on February 10, 2009 opened his new show at Encore, the sister property to Wynn Las Vegas.

Gans was active in a variety of charities, including organizing the Danny Gans Champion's Run for Life to benefit the Nevada Childhood Cancer Foundation.

Preceded in death by his parents, both of whom died in 2003, he is survived by Julie, his wife of 28-years, their children, Amy, Andrew and Emily and a sister, Peggy Gans of Los Alamitos, Calif. In his memory the family is asking that donations be sent to; Nevada Childhood Cancer Foundation 6070 S. Eastern Ave. #200 Las Vegas, NV 89119.



Next Column: May 10, 2009
Copyright: May 3, 2009. All Rights Reserved. Reviews, Interviews, Commentary, Photographs or Graphics from any Broadway To Vegas (TM) columns may not be published, broadcast, rewritten, utilized as leads, or used in any manner without permission, compensation and/or credit.
Link to Main Page
---
Laura Deni


CLICK HERE FOR COMMENT SECTION