! >
Broadway To Vegas
  
 SHOW REVIEWS CELEBRITY INTERVIEWS GOSSIP NEWS

| | |
| --- | --- |
| | |
THEATRICUM BOTANICUM'S NEW SEASON - -BROADWAY'S STARS IN THE ALLEY - - CAROL CHANNING & BOBBY SHORT HONORED - - LILLY TOMLIN AT GOODMAN GALA - - THE ECLECTIC SPOLETO FESTIVAL - -MITCH ALBOM JOINS PURPLE ROSE THEATRE - - PRESIDENTIAL POSSESSIONS - - GOLDIE HAWN AND LAUGHTER - - DONATE . . . Scroll Down


CHEERED AND JEERED: THE BURDENS OF THE AMERICAN PRESIDENCY
"Ike" print campaign dress worn by Eisenhower supporters during the 1956 campaign. Smithsonian Institution.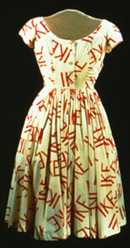 From an "I Like Ike" campaign dress to the autopsy tools used to examine Abraham Lincoln, it's a collection that causes giggles and gasps.

Last night the Smithsonian traveling exhibit, The American Presidency: A Glorious Burden, opened at the LBJ Library and Museum in Austin, Texas.

Cheered and jeered. Praised and roasted. Admired and ridiculed. The President of the United States has been at the focal point of American history - from George Washington to George W. Bush.

"The American Presidency: A Glorious Burden" draws from the vast Smithsonian collection of American history to tell the story of the men who have sat in this nation's highest office.

"The Presidency has made every man who occupied it, no matter how small, bigger than he was; and no matter how big, not big enough for its demands." Lyndon B. Johnson

Visitors can see how the Presidency affects the men in the Oval Office.

The exhibition, comprised of various objects related to the presidency, is a full-scale traveling version of the permanently installed exhibition of the same title at the Smithsonian's National Museum of American History, Behring Center.



Top hat worn by Grover Cleveland at his first inauguration on March 4, 1885. Smithsonian Institution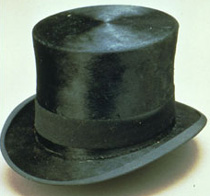 Among the exhibition's highlights are:

A surveyor's compass used by George Washington at Mount Vernon

The brass inkwell used by Abraham Lincoln while writing the first draft of the Emancipation Proclamation

A dispatch case used by George Washington in the revolutionary war

A CBS microphone used by Franklin D. Roosevelt during his "fireside chats"

A life preserver from John F. Kennedy's yacht, The Honey Fitz



Autopsy kit used on President Lincoln. Smithsonian Institution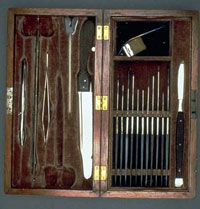 A formal gown worn by First Lady Jacqueline Kennedy

The gavel used during Bill Clinton's impeachment trial

Top hat and overcoat worn by Grover Cleveland at his First Inauguration on March 4, 1885

Silk pajamas worn by Warren G. Harding

The Founding Fathers knew nothing of the political campaigns we know today. Many warned against the rising dissension that parties reflected and helped to create. In those years it was even considered undignified for candidates to solicit votes from the people.



Silk pajamas belonging to President Harding. Smithsonian Institution
The campaign trail that we know today was a late nineteenth-century invention. Before then, most presidential hopefuls remained silent, or, like Benjamin Harrison, conducted "front porch campaigns" from which they made speeches and greeted visitors.

William Jennings Bryan inaugurated the first "whistle stop" campaign in 1896, a type of train tour made famous by Harry Truman in his dramatic election victory of 1948.

The nation's first presidential inauguration occurred on April 30, 1789, when George Washington took the oath of office at New York City's Federal Hall in front of a large crowd.

Inaugural addresses have varied. At 8,445 words, William Henry Harrison's 1841 speech was the longest in history, although, with his death a month later, his administration was the shortest.

By contrast, George Washington's second inaugural address in 1793 was the shortest on record, only 135 words. Lincoln's second inaugural speech ("With malice toward none, with charity for all . . ."); Franklin Delano Roosevelt's first ("The only thing we have to fear is fear itself."); and John F. Kennedy's ("Ask not what your country can do for you. Ask what you can do for your country.") rank among the most inspirational of inaugural addresses.



Sheet music for President Monroe's Inauguration in 1820. Smithsonian Institution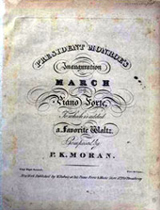 The current custom of having inaugural parades on Pennsylvania Avenue following presidential addresses began in 1889. Before then, parades started at the White House and escorted the president to the Capitol.

Occasionally, presidents simply opened the doors of the White House to the public, as in 1829, when a horde of 20,000 callers forced Andrew Jackson to flee to a nearby hotel.

Inaugural parades have included celebrities, bands, and floats of all types, while the tradition of inaugural balls has waxed and waned over the years. No official balls were held between 1913 and 1929 or during World War II, but they made a comeback after the war. Six balls were held for Richard Nixon's inauguration in 1969, and in 1981, for the first time, a ball was held overseas, honoring Ronald Reagan in Paris.

In describing the exhibit, Smithsonian Secretary Lawrence M. Small said, "We expect our president to be a diplomat, general economist, inspirational leader, and a dozen things more. There's not a tougher job in the world, and this timely traveling exhibition tells the inside story of this job. It's an excellent example of the Smithsonian's effort to reach out to all Americans with fascinating artifacts backed by authoritative scholarship."

This exhibition features themed sections such as Presidential Campaigns, Creating the Presidency, Presidential Roles and Assassination and Mourning.

To tell the story of the American Presidency, the exhibit will feature five audio-visual presentations and two interactive experiences. The key storytellers, however, are the more than 350 artifacts on view in The American Presidency, most drawn from the Smithsonian's holdings of more than 3 million objects, by far the largest collection of its kind in the nation.

The traveling exhibit will be on display through September 5.


ECLECTIC SPOLETO FESTIVAL


The 28th season of the world-renowned eclectic arts festival opened Friday in Charleston, South Carolina.

Spoleto Festival USA was founded in 1977 as the American counterpart to the Festival dei Due Mondi (Festival of Two Worlds) in Spoleto, Italy.

Pulitzer Prize-winning composer Gian Carlo Menotti began the Italian festival in 1958 as a forum for young American artists in Europe



Gian Carlo Menotti. Photo by; Derry Moore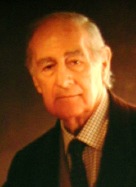 When Maestro Menotti planned an American festival, he searched for an American city that would offer the charm of Spoleto, Italy, and also its wealth of theaters, churches, and other performance spaces. Charleston, South Carolina was the choice.

A city that had been home to the first theater in America, the first ballet company in America, and is still home to the oldest musical organization in the country, Charleston is small enough to be dominated by non-stop arts events during the 17-day festival, but also large and sophisticated enough to provide a knowledgeable audience and appropriate theaters.

For 17 days each year, the arts become the most important activity in Charleston. 2,400 jobs are generated each year by the festival with $42 million influx of dollars into Charleston and $73 million into South Carolina annually. The event fills theaters, churches, and outdoor spaces with over 120 performances of opera, theater, dance, and music, as well as the visual arts.

Among the hot ticket events are:

A Large Attendance in the Antechamber conceived, written and performed by Brian Lipson.

Actor Brian Lipson impersonates the Victorian scientist Sir Francis Galton - eventually over the objections of Sir Francis Galton himself - in a piece of theater that is part lecture, part seance.

An eccentric genius boasting one of the highest IQ's ever recorded, Sir Francis Galton welcomes audiences to his ornately outfitted antechamber for a chat on his various theories ranging from brewing the perfect cup of tea to selective breeding, which he is believed to have pioneered. Both funny and sobering, Large Attendance examines this unconventional man and his complex legacy.

First performance tonight, May 30, with the final performance on June 8th.

The Doctor and the Patient, Rezo Gabriadze's new stage work, features fantastically colored flying scenery, transforms the tale of late-night sojourn by a doctor and his mentally ill patient into a moving and visually stunning theatrical experience. Part absurdist drama, part fantasy-allegory, the five-character ensemble work features Mikhail Baryshnikov, Jon DeVries, Luis Perez and Yvonne Woods. Last performance of this work on June 12th.

The ambitious task of staging the Tang Hsien-tsu (1550-1616) opera The Peony Pavilion - penned in 1598 - required a 1,800-gallon tank filled with plants, goldfish and ducks. Performed in 55 acts, the 18-hour event, directed by Chen Shi-Zheng, is being presented in six episodes, with two complete cycles during Spoleto's 17-day run. The opera, branded "feudal, superstitious and pornographic" in China, got its first full-length performance in nearly 400 years at Lincoln Center's 1999 arts festival.

That was a co-production of the Lincoln Center Festival, Festival D'Automme a Paris with Parc de la Villette and Theatre de Caen. The Hong Kong Arts Festival and the Sydney Festival.

Rebirth of a Nation, by DJ Spooky, who was born Paul Miller, incorporates footage from D.W. Griffith's 1915 silent film, which celebrates the Ku Klux Klan. This new creation mixes scenes from the film with new video and an audio mix of hip-hop music and original violin compositions to create his view of the United States and its history.

Conversation With, conducted by CBS News' Sunday Morning's Emmy Award-winning correspondent Martha Teichner, is a lively and stimulating series of dialogues with festival artists. Admission is free of charge and take place in the Recital Hall.

May 31; David Gordon, choreographer/director of The Chairs, and performer Valda Setterfield, Gordon's wife and artistic partner of 40 years, discuss their collaboration and the process of creating The Chairs.

June 5; Chen Shi-Zheng, director of The Peony Pavilion and Spoleto Festival USA General Director Nigel Redden discuss the process of bringing The Peony Pavilion to life.

June 7; DJ Spooky (Rebirth of a Nation) and Brian Lipson (A Large Attendance in the Antechamber) discuss the challenges of transforming controversial source material into art.

June 11; Chamber Music audience favorite, the St. Lawrence String Quartet talks about the process of making music together.

The festival runs through June 13.



Broadway To Vegas is supported through advertising and donations. Priority consideration is given to interview suggestions, news, press releases, etc from paid supporters. However, no paid supporters control, alter, edit, or in any way manipulate the content of this site. Your donation is appreciated. We accept PAYPAL. Thank you for your interest.


SPREADING THE WORD


A TRIBUTE TO CHOREOGRAPHER MARY ANTHONY a lady who inspired and enriched the lives of generations of dance artists. Her company, the Mary Anthony Dance Company, has performed her work for more than four decades, and her students have numbered among our most talented dancers and choreographers.

She will be honored by screening Tonia Shimin's new documentary film Mary Anthony: A Life in Modern Dance, followed by a discussion with Anthony and Shimin, led by Deborah Jowitt, chief dance critic for The Village Voice.

Monday, June 7 at the 92nd Street Y in NYC.

PETER FRAMPTON will be signing copies of his latest CD Now at one of the Las Vegas Borders book stores on June 5.

JOE TORRE IN CONVERSATION WITH BOB COSTAS The New York Yankees manager discusses his career, passions and causes with award-winning journalist, sports commentator and talk show host Bob Costas, whose HBO show On The Record is in its third season.

Thursday, June 10, at the 92nd Street Y in NYC.

GOLDIE HAWN discussing the importance of laughter June lst at Proctor & Gamble Hall in Cincinnati, Ohio.

THE JURY IS IN - PREMIERE OF THE NEW COURTROOM DRAMA Homicide: Life on the Street veterans Tom Fontana, Barry Levinson, James Yoshimura, and Jim Finnerty reunite for The Jury, a new episodic drama exploring criminal cases from the point of view of the jury, rather than police officers, judges, or attorneys. Reminiscent in concept of the classic television drama Twelve Angry Men, this new series is, in Fontana's words, "the opposite of Law & Order.... It's less about legal issues than it is about emotional, human issues."

The Museum will premiere the pilot episode of the Fox series, directed by Levinson - whose feature film credits include Diner; Rain Man, and Good Morning, Vietnam, followed by a discussion.

In Person: Tom Fontana, Writer/Executive Producer and Barry Levinson, Director/Executive Producer.

Thursday, June 3, at the Museum of Television & Radio in New York.

BIRTHDAY BOY former New York Mayor Rudy Giuliani spent his 60th birthday last Friday flying to Las Vegas.

He wasn't trying to delay hitting the big six-zero by three hours. Rather, with fresh breath and a bright smile, he needed to be in Sin City to deliver a keynote speech Saturday at 8 a.m., at the Paris Hotel, to the Discus Dental Convention - billed as America's leading manufacturer and distributor of tooth whitening, oral hygiene, and aesthetic dental products.

The day before, Hall of Fame quarterback Terry Bradshaw was the keynoter.

Both men were SRO.


SWEET CHARITY


25 ANNIVERSARY GOODMAN THEATRE GALA

Lily Tomlin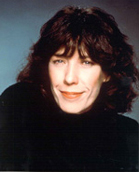 featuring Lily Tomlin. This special gala celebrating the 25th anniversary of the Goodman Theatre Women's Board will feature An Evening of Classic Lily Tomlin.

Tomlin was recently honored as the 2003 recipient of the prestigious Mark Twain Prize for American Humor in Washington DC.

Saturday, June 5th, at the Fairmont Hotel in Chicago. Entertainment, dinner, and dancing to the David Humphreys Orchestra.

Individual tickets are $500. Tables of ten are $5,000, $10,000, $15,000, and $25,000.

SIERRA ARTS BENEFIT John McEuen, founder of the Nitty Gritty Dirt Band, will headline a benefit concert for Sierra Arts at the Boomtown Convention Center in Reno, NV on Thursday, June 3.

A portion of concert proceeds will benefit Sierra Arts. The non-profit organization serves the northern Nevada arts community with the Sierra Arts gallery, financial and technical assistance programs, as well as art education and community efforts such as the after school YouthReach Nevada arts program.

BENEFIT CONCERT FOR THE FOLKSBIENE YIDDISH THEATER A Tribute to the Yiddish Song in an evening of Yiddish memories and classic hits.

Neil Sedaka, The Klezmatics, The New Yiddish Chorale with Zalmen Mlotek as Musical Director.

Isaac Stern Auditorium in Carnegie Hall, NYC. Thursday, June 3,



BOBBY SHORT who has been performing at the Cafe Carlyle for 36 years, becomes Dr. Bobby Short on June 3 when the City University of New York confers upon him a Doctorate of Music in ceremonies at Manhattan Center. Short, 79, in the middle of his spring engagement at Cafe Carlyle, through June 26, will end his long career at with the conclusion of his fall engagement, on Dec. 31.

THE OSACR HAMMERSTEIN AWARD HONORING CAROL CHANNING

Carol Channing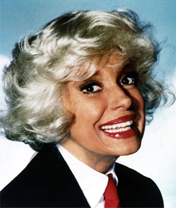 will be presented at an Award Gala June 7th by the York Theatre Company.

The Oscar Hammerstein Award is presented for lifetime achievement in musical theatre, and is named for the lyricist-librettist who helped to define the American musical theatre.

Composer Jerry Herman and gossip queen Liz Smith are the honorary chairpersons.

The award was created by the late Janet Hayes Walker, and is administered by The York Theatre Company with the endorsement of the Hammerstein family and the Rodgers & Hammerstein Organization.

The York Theatre Company has been a vital part of the New York theatre scene for 35 years. It is the only theatre in the city-and one of the few in the country-entirely dedicated to developing and fully producing new musicals and to the rediscovery of neglected musical gems of the past.

The June 7th event begins with cocktails followed by the performance at the Citigroup Executive Auditorium. The champagne dinner will be held at the University Club.



BROADWAY'S STARS IN THE ALLEY - an annual, free outdoor concert sponsored by Continental Airlines and produced by the League of American Theatres and Producers takes place June 2.

Performances from the following shows are slated to participate; A Raisin in the Sun, Assassins, Avenue Q, Bombay Dreams, Caroline, or Change, Chicago, Disney's Beauty and the Beast, Fiddler on the Roof, 42nd Street, Frozen, Golda's Balcony, Hairspray, I Am My Own Wife, Jumpers, Little Shop of Horrors, Mamma Mia!, Movin' Out, Rent, Sly Fox, The Boy From Oz, The Lion King, The Phantom of the Opera, The Producers, Thoroughly Modern Millie, Wicked, and Wonderful Town.

The free June 2 concert takes place in Shubert Alley, right at the epicenter of the Broadway Theatre District in Midtown Manhattan.

THE WINTER'S TALE by William Shakespeare opens the Theatricum Botanicum's 2004 summer repertory season beginning June 6th.

Celebrating the transformative power of storytelling, Theatricum Botanicum artistic director Ellen Geer has chosen a multicultural cast which includes Theatricum company members Ted Barton, Alan Blumenfeld, Willow Geer, Larry Gelman, Abner Genece, William Dennis Hunt, Jim LeFave, Melora Marshall, Earnestine Phillips, and Jeff Wiesen.

The Winter's Tale opens Sunday, June 6 and continues every Sunday afternoon through September 26 in the Theatricum's 299-seat outdoor amphitheater in the midst of the Santa Monica Mountains.

One of Shakespeare's last plays, The Winter's Tale was written about 1610, based on a novella by Shakespeare's enemy and arch rival Robert Greene. It was performed at the Globe Theatre and at court in 1611, and first published in 1623. Shakespeare's later plays - The Winter's Tale, Pericles, Cymbeline, and The Tempest - defy classification. Many scholars now regard these works as the culmination of his brilliance as he combined his mastery over many different genres into single works.

In 1979 Geer became artistic director of Theatricum Botanicum, her father's theater, and has acted in and directed over fifty of the theater's plays. She is currently on the faculty of the UCLA Theater Arts Department. The Theatricum Botanicum is a recipient of the prestigious Margaret Harford Award - the Los Angeles Drama Critics Circle's highest honor - for Sustained Excellence in Theater.

The beginnings of the Theatricum Botanicum can be traced to the early 1950s when Will Geer, a victim of the McCarthy era blacklist - before he became known as the beloved Grandpa on TV's The Waltons - opened a theater for blacklisted actors and folk singers on his property in Topanga.

Since 1973, the Theatricum has presented Shakespeare and the classics in repertory in its scenic, outdoor amphitheater in rustic Topanga Canyon; the 299-seat amphitheater is situated in a natural canyon ravine, where audiences are able to relax and enjoy the wilderness in and around the stage area during an afternoon or evening's performance.

Unlike most theaters in the Los Angeles area which stage continuous runs of a single play, the Theatricum, using a company of actors, performs four plays each season on a rotating basis. By the end of the summer, when all four plays are up and running, it is possible to see a performance of each in a single weekend.

IN THE BASIE MILLER MOOD celebrating 100 years of the music of Count Basie and Glenn Miller.

The musical celebration is directed and choreographed by Mercedes Ellington with Frank Owens as musical director. The best of music and swing will be performed by a talented company of singers and dancers. Produced by Vincent Curcio and Artistic Supervisor Donald Saddler, they are joined on the Artistic Advisory Board by Dr. Mary C. Henderson. At the White Barn Theatre in Manhattan by special arrangement with Lucille Lortel Theatre Foundation. June 4-26.

MRS. ROBINSON starring Kelly McGillis opens June lst in Detroit at the Fisher Theatre with shows through June 30.

LITTLE SHOP OF HORRORS bids farewell to Tony nominated Hunter Foster on June 6th - ironically the day of the Tony' awards. Joey Fatone, The 'N Sync guy, will begin performances as Seymour Krelbourn on June 24. Foster's understudy, Jonathan Rayson, takes over the part from June 8 through June 23.

HI-HAT-HATTIE

Gordon Twist and Karla Burns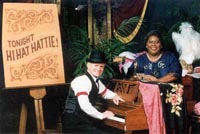 Tony nominee Karla Burns' one-woman musical show about Hattie McDaniel, written by Larry Parr, wraps up this evening at the Miller Concert Hall at Duerksen Fine Arts Center at Wichita State University in Wichita, Kansas.

Burns, a graduate of Wichita State University, with a major in opera, frequently returns to her hometown to visit her mother.

The soprano first performed Hi-Hat-Hattie in Wichita in 1994. She's brought it back for four performances this weekend - backed by Gordon Twist, her accompanist since 1991, who flew in from New York to be at the piano.

Playing Hattie McDaniel is a comfortable fit for Burns. Both Burns and McDaniel were born in Wichita and both played Queenie in Show Boat.

McDaniel was the first black actress to win an Oscar and Burns was the first black actress to win the coveted British Olivier award for supporting actress in Show Boat. Burns has performed with the Royal Shakespeare Company, the Metropolitan Opera and at Carnegie Hall. She won the Drama Desk Award for her role of Queenie in the Broadway revival of Show Boat in the 1982-83 season, was nominated for the Tony Award for that role.

She received the Kansas Governor's Arts Award in 1991.

Last year Burns returned to Wichita with her Boogie with Burns Broadway Revue, and then hosted her two-week workshop, Broadway Tunes with Tweenies for budding young musical theater performers, catering exclusively to children ages nine through 13. Classes focused on Broadway and Hollywood music, singing, and dancing, with enrollment limited to 25 children.

HATTIE by William Blinn. A play with music examines the life of Hattie McDaniel, America's first Black Oscar winner, during that time when she fought for the role of "Mammy" in Gone With The Wind and the subsequent turmoil this event brought into her life.

Hattie's story is that of a woman who sought only to entertain, but found her success thrust her into the role of flag bearer at the front of the parade of the newly emerging civil rights movement of the era. Though that role was not one she sought out, it was the one that ultimately brought her a deeper satisfaction than any attempted in front of the camera.

Playwright Blinn has worked the better part of the past three decades as a writer and producer in the television industry. He is the recipient of multiple Emmy, Golden Globe and Writers Guild Awards for such presentations as Brian's Song, Roots, and Fame, among others. Most recently Blinn produced the film version of Starsky & Hutch.

Spencer Scott directs the production that features Carl Crudup, Carla Drew, Alexis Elena, Maya D. Gilbert, Stephen Grove, Deizsa Jackson, Craig Johnson, Jacquelyn Levy, Valerie J. Ludwig, Larry J. Robinson and Ben Tyler.

Scenic design is by Vincent Roca. Sound Design by Ron Wyand. Costume Design by Donna Fritsche and Lighting Design is by John Lant.

Long Beach Playhouse Studio Theatre June 4-July 10, Long Beach, CA.

DUCK HUNTER SHOOTS ANGEL by Mitch Albom, the best-selling author of Tuesdays With Morrie and The Five People You Meet in Heaven, will have previews of his latest play begin June 24, with the show opening July 2, at the Purple Rose Theatre in Chelsea, Michigan.

Albom is now officially part of the Purple Rose family, writing plays for the Purple Rose Theatre to premiere. In addition to rehearsals currently taking place for Duck Hunter Shoots Angel, Albom has just sent the theatre the first draft of a new play schedule for production in 2005.

In Duck Hunter Shoots Angel Joseph Albright and Wayne David Parker play two Alabama swamp poachers who believe they shot a celestial being.

The cast also includes Wallace Bridges, Ryan Carlson, Jessica Cloud, Randolph Fitzpatrick, James Krag, Grant R. Krause, and Jenny McKnight.


| | | |
| --- | --- | --- |
| | | |
WHO'S WHERE


AUDRA McDONALD with Ted Sperling, Music Director and Pianist. This program will feature the world premiere of a song cycle commissioned by The Carnegie Hall Corporation, entitled The Seven Deadly Sins, comprising seven pieces for soprano and quintet.

The composers and lyricists who will contribute to the project are Jeff Blumenkrantz, Stephen Flaherty and Lynn Ahrens, Ricky Ian Gordon, Jake Heggie, Michael John LaChiusa, Steve Marzullo and Mark Campbell, and John Pizzarelli and Jessica Molaskey. The concert will also include works from the American songbook repertoire, including a piece from Adam Guettel's The Light in the Piazza. June 2, 4, 8 and 10 in Zankel Hall at Carnegie Hall in NYC.

FLEETWOOD MAC perform Tuesday, June l at the Montage Mountain Amphitheatre in Scranton, PA. On Thursday the show is at the Tweeter Center at the Waterfront in Camden, N.J. Saturday they are on stage at Hersheypark Stadium in Hershey, PA.

HUEY LEWIS AND THE NEWS open a three nighter Friday the Historic Mountain Winery in Saratoga, CA.

HOOTIE AND THE BLOWFISH on stage Thursday at the Wolf Trap Filene Center in Vienna, VA. On Friday the guys perform at the Mann Center in Philadelphia. Saturday the show is at Cape Cod Melody Tent in Hyannis, MA and next Sunday, June 6, they star at the South Shore Music Circus in Cohasset, MA.

FRANK SINATRA, JR singing Sinatra June 5th at The Museum of Flight in Seattle, WA.

DAVID BOWIE in the spotlight Tuesday at the Verizon Wireless Arena in Manchester, NH. On Wednesday the performer stars at the Mohegan Sun Casino in Uncasville, CT. Friday finds him at the Tommy Hilfiger at Jones Beach Theatre in Wantagh, New York and he closes out the week, Saturday, at the P.N.C. Bank Arts Center in Holmdel, N.J.

JOHN MICHAEL MONTGOMERY the Grammy award-winning country singer will perform on Saturday, June 5, at the Silver Legacy's Grand Exposition Hall in Reno, NV.

KD LANG at the Verizon Hall at Kimmel Center in Philadelphia on Friday, June 6.

JOHNNY MATHIS crooning Friday, June 6, at the Music Hall Center in Detroit.

AFRICAN CHILDREN'S CHOIR the internationally acclaimed and Grammy-nominated African Children's Choir will appear in concert June 6 at Presbyterian Church of the Cross, in Omaha, NE. Admission is free of charge. The African Children's Choir is a group of 26 African children, ages 5 through 12, who are selected from those most needy in Africa. They perform a wide variety of songs. Drums and ethnic instrumentation accompany African tunes. Also included in the program are well-loved children's songs, popular gospel tunes and lively spirituals.

MOODY BLUES with eighteen platinum albums under their belt, these classic rockers return to Wolf Trap to perform the songs that made them legends, including Nights in White Satin and Voices in The Sky. June lst at Wold Trap in Vienna, Virginia.

BARBARA COOK'S BROADWAY A Lincoln Center Theater Special Event. Barbara Cook, who captivated LCT audiences in her brilliant "Mostly Sondheim" concert two years ago, continues her run at LCT at the Mitzi E. Newhouse Theater beginning June 2nd. Accompanied by her longtime - 30 years - musical director Wally Harper, Ms. Cook will take audiences on a musical tour of the Golden Years of Broadway musicals.

For two decades, from 1951 to 1971, the talented lady was a leading star of several Broadway musicals, creating roles in such classics as Candide, The Music Man and She Loves Me. In Barbara Cook's Broadway, the legendary performer will share her favorite songs and reminisce about this magical period in the history of musical theater.

At the Mitzi E. Newhouse Theater in NYC. June 2-26.
















Next Column: June 6, 2004
Copyright: May 30, 2004. All Rights Reserved. Reviews, Interviews, Commentary, Photographs or Graphics from any Broadway To Vegas (TM) columns may not be published, broadcast, rewritten, utilized as leads, or used in any manner without permission, compensation/credit.
Link to Main Page
---
Laura Deni


CLICK HERE FOR COMMENT SECTION