! >
Broadway To Vegas
  SHOW REVIEWS CELEBRITY INTERVIEWS GOSSIP NEWS

| | |
| --- | --- |
| | |
ENCHANTED APRIL - - HAIRSPRAY REMEMBERED - - GOOD ENOUGH FOR MARILYN MONROE - - CAROLINE RHEA MAKES THEATRICAL DEBUT - - SAM WATTERSTON IN THE BLACK MONK - - AUGUST WILSON HONORED - - BERNADETTE PETERS IN GYPSY - - BEST REALITY SHOW ON TV - - DONATE . . . Scroll Down


ENCHANTED APRIL
Molly Ringwald. Photo by: Carol Rosegg.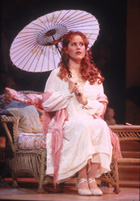 Enchanted April has long been considered one of the best character driven stories ever penned by a female.

While some might consider this Broadway play a woman's saga, it is so well acted that men ought to be able to comprehend the message.

There are no outrageous theatrical effects. The only shots fired are the emotional ones, muffled inside the women who are struggling with their reality - the gods have used them in life's game of bait and switch.

The location could be anywhere. This timeless book happens to be set in England moving to an Italian Villa during the 1920s. Lotty Wilson and Rose Arnott are two proper, middle-class Englishwomen resigned to their staid lives and passionless marriages. One day, Lotty sees an advertisement for the vacation of a lifetime; a month's stay at a villa overlooking the Italian Riviera.



Dagmara Dominczyk, Patricia Conolly, Daniel Geroll Photo by: Carol Rosegg.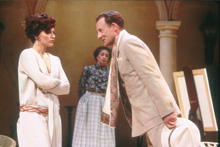 Lotty and Rose rent the villa. Strapped for money they decide to share expenses with two additional companions - an austere dowager and a titled socialite. At first the ladies are wary of each other and unsure of their roles at the villa. But the idyllic hideaway holds a special magic, and as friendships flourish and hopes reawaken the four discover romance, hope and, ultimately, liberation.



Elizabeth Ashley Photo by: Carol Rosegg.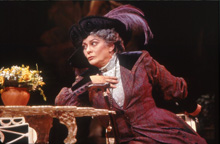 The excellent cast includes Jayne Atkinson, Molly Ringwald, Elizabeth Ashley, Michael Cumpsty, Patricia Connoly, Dagmara Dominczyk, Daniel Gerroll and Michael Hayden.

Atkinson, delivering what deserves to be an award winning performance, plays Lotty, the sheltered English housewife who, as the property of her attorney husband, brilliantly played by Michael Cumpsty, is used to benefit his career.

Ringwald is the ever hopeful Rose. While her strict moral code disapproves of her husband, played by Daniel Gerroll, writing naughty historical novels under a pseudonym, she manages to always see life's glass as half full. Dagmara Dominczyk is Lady Caroline Bramble, the gorgeous socialite who, in her need for love, has settled for sex. Ashley is Mrs. Graves, the prideful matron who is accustomed to ruling everyone's roost.



Molly Ringwald and Jayne Atkinson. Photo by: Carol Rosegg.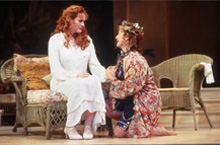 This Broadway show is the latest incarnation of what began as the 1921 novel Elizabeth by Elizabeth von Armin - one of the many lovers taken by author H.G. Wells.

There have been two movie versions. The first was released in March of 1935. It was adapted by Samuel Hoffman and Ray Harris from a radio dramatization by Kane Campbell, which in turn was adapted from the novel. The film was directed by Harry Beaumont and starred Ann Harding, Frank Morgan, Katherine Alexander, and Reginald Owen.

The 1992 movie starred Miranda Richardson, Joan Plowright, Polly Walker, Josie Lawrence, Alfred Molina and Jim Broadbent. The effort received Academy Award Nominations including a Best Supporting Actress for Joan Plowright's portrayal of Mrs. Graves.



Michael Cumpsty and Michael Hayden. Photo by: Carol Rosegg.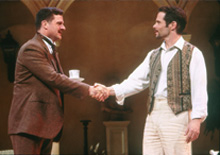 The original book and both movies were criticized for having too long of an English set-up before moving to the Villa. No doubt this play will receive the same criticism. This work - no matter what form taken - has never been a high speed car chase. It's about four women with drastically different lives who have the same emotional needs. Enchanted April speaks to all women. See the show, read the book or rent the movie. There is a reason this work has been popular for over eighty years.

Book by Matthew Barer. Directed by Michael Wilson. Tony Straiges sets. Jess Goldstein costumes. Rui Rita lighting design. John Gromada composer and sound designer.

Jeffrey Richards, Richard Gross, Ellen Berman, Irv Welzer and Fred Vogel produce.

Officially opened April 29 at the Belasco Theatre, NYC.


BERNADETTE PETERS STARS IN GYPSY
This eagerly anticipated revival with a book by Arthur Laurents, music by Jule Styne, lyrics by Stephen Sondheim, suggested by the memoirs of Gypsy Rose Lee starring Bernadette Peters officially opened May lst. As late as the afternoon of opening night officials were trying to fill the theater seats.

Hawking telecharge purchases official E-mail flyers stated:

"CELEBRATE THE OPENING WITH US! Curtain up on GYPSY tonight at 6:30 PM sharp! The highly anticipated revival of Gypsy - starring two-time Tony Award winner Bernadette Peters - opens TONIGHT at the Shubert Theatre and there a just few tickets left available for purchase!"

Tickets, by the way, are $100.

In a role that Ethel Merman carved in stone on stage and Rosaline Russell on film, Peters transforms into her own dimension. You either will or won't accept her in the role. That decision will be personal with each customer. The overwhelming majority should find Peters wears the part well. After all, real stagemothers come in all ages, coloring, sizes and voice pitches. If your blinders focus on Merman or Russell, then Peters isn't going to open a closed mind. If you are game to experience a revival and enjoy it on its own terms, then Peters paves her own road, hushing all who thought she might be wrong for the part. Virtually everyone knows the storyline, which hasn't changed. The Jule Style/Stephen Sondheim score is peerless. Seeing the show is one of the reasons to come to New York this summer.

Sam Mendes does an excellent job directing the cast which includes; Bernadette Peters (Rose), John Dossett (Herbie), Tammy Blanchard (Louise), Addison Timlin (Baby Louise), Heather Tepe (Baby June), Kate Reinders (June), William Parry (Pop and Kringelein), David Burtka (Tulsa), Julie Halston (Miss Cratchitt and Electra), Heather Lee (Tessie Tura), Kate Buddeke (Mazeppa), Michael McCormick (Uncle Jocko and Cigar) and Brooks Ashmanskas (Mr. Goldstone and Pastey).

Sets and costumes by Anthony Ward; lighting by Jules Fisher and Peggy Eisenhauer; musical supervisor, Patrick Vaccariello; choreography by Jerome Robbins; additional choreography by Jerry Mitchell; musical direction and additional dance music arrangements by Marvin Laird; sound by Acme Sound Partners; orchestrations by Sid Ramin and Robert Ginzler; dance arrangements, John Kander; music coordinator, Michael Keller; production supervisor, Arthur Siccardi; associate director, Peter Lawrence; associate choreographer, Jodi Moccia.


THIS MUSIC GOES ROUND AND ROUND


HAIRSPRAY Composed by Marc Shaiman with John Hill. Lyrics by Shaiman and Scott Wittman. Book by Mark O' Donnell and Thomas Meehan. Based upon the New Line Cinema film written and directed by John Waters, is running on Broadway and preserved on CD by Sony Classic. It's impossible to see the upbeat show or listen to the CD without being effused with a positive attitude.

One of the first productions to open on Broadway this season and with a CD released shortly thereafter, Hairspray will be up for a slew of theatrical awards. Officials are concerned that since the production opened at the beginning of the season, voters might overlook the show in favor of more recently mounted production. Delightful to remember, Hairspray is impossible to forget. The musical is infectious.

Larger than life - be it costumes, hair or songs - it's campy, zingy, upbeat.



Marissa Jaret Winokur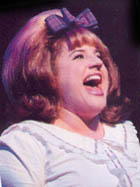 The production stars Tony winner Harvey Firestein. He will be in a neck to neck race for Best Actor in a Musical against Nine star Antonio Bandares.

Marissa Jaret Winokur, who plays Tracy Turnbiad, will walk away with her Tony this year. Jack O'Brien directs a cast that includes; Laura Bell Bundy, Mary Bond Davis, Kerry Butler, Linda Hart, Jackie Hoffman, Matthew Morrison, Corey Reynolds, Clarke Thorell, Joel Vig, Danelle Eugenia Wilson and Dick Latessa.



Harvey Fierstein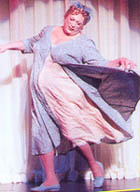 Your box of iridescent crayons is brought to life in this musical which is a Welcome To The 60s. That is also the name of a song which never fails to stop the show. If you lived through that era - or didn't and wondered why everyone had big hair - take a life affirming trip down memory lane with Hairspray.

With Orchestrations by Harold Wheeler, music direction by Lon Hoyt who also conducts. Associate conductor is Keith Cotton. Musicians; David Spinozza, Peter Calo, Lon Hoyt, Keith Cotton, Seth Farber, Francisco Centeno, Clint De Ganon, Walter Usiatynski, David Mann, Dave Niekenberg, Danny Cahn, Birch Johnson, Rob Shaw and Carolara Hewitt Roth. Addition musicians on the CD include Dale Stuckenbruck, Martin Agee, Rick Dolan, Laura Oatts, and Stephen Cummins.

The musical is at the Neil Simon Theatre in NYC. The CD is on the Sony Classical label.



Broadway To Vegas is supported through advertising and donations. Priority consideration is given to interview suggestions, news, press releases, etc from paid supporters. However, no paid supporters control, alter, edit, or in any way manipulate the content of this site. Your donation is appreciated. We accept PAYPAL. Thank you for your interest. Laura Deni


IT WAS GOOD ENOUGH FOR MARILYN MONROE
Marilyn Monroe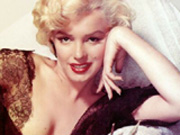 It's the 44th annual artichoke festival. The thistle is celebrated in all its many ways - deep fried, marinated, grilled, broiled, steamed - at this festival set in quaint Castroville, California.

Car show, 10K run and recipe contest are part of the day, as well as two days of entertainment. This festival has a bit of history. Norma Jean, who later became Marilyn Monroe, was the first Artichoke Queen in 1948. Get your picture taken with a look-alike.

Don't forget the AGROart competition. Turn your X rated mind into legitimate art. It's sculptures made of fresh fruits and vegetables. And it's not just their crazy idea. The first to do it - that they know of - was the 16th century Italian artist Giuseppe Arcimboldo, who created portraits using fruits and vegetables for different body parts. Just let your X-rated mind run wild.

Artists, culinary whizzes and school teams are invited to enter. All it takes is fresh produce and wild imaginations. No prior experience is required.

May 17 & 18. Downtown Castroville, California.


SPREADING THE WORD


TEA AT FIVE AN INTIMATE EVENING WITH KATHARINE HEPBURN Kate Mulgrew who is best-known as Captain Janeway on Star Trek: Voyager, is the legendary Katharine Hepburn in the wonderful production Tea at Five. Join her as she discusses this new play by Matthew Lombardo. Directed by John Tillinger, it is an unforgettable trip down Broadway, Hollywood Boulevard and Memory Lane. Anita Gates, culture editor for The New York Times, moderates. May 11th at the 92 Street Y in Manhattan.

AMERICAN SONGBOOK: A MASTER CLASS WITH ANN HAMPTON CALLAWAY the beloved diva of cabaret and jazz entertains and offers a unique behind-the-scenes view of the world of the performer. The Stanley H. Kaplan Penthouse at Lincoln Center; Thursday, May 8.


REASONS TO STAY AT HOME


MANOR HOUSE

Sir John and Lady Olliff-Cooper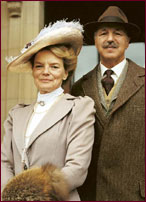 not just the best and classiest reality show on television - this series is some of the best television of this or any season. It premiered on PBS last Monday-Wednesday, April 28-30. It needs to be repeated and is available on video.

A fascinating look at the rigid social hierarchy of Edwardian Britain, this six-part cultural-reality series documents the experiences of real-life, modern people living in another historic time period that is authentically re-created.

The 19 British participants in Manor House, chosen from nearly 8,000 applicants, were each given rulebooks based on household manuals and etiquette guides of the day.

Twelve servants work around the clock to keep life in a rural Edwardian mansion running smoothly while tending to the five members of the "aristocratic" Olliff-Cooper family. Living in cramped quarters, the servants have no time off and are forbidden such basic freedoms as fraternizing or choosing when to take their weekly bath. When a member of the aristocratic family passes them, they must avert their eyes and do their best to become invisible. The experiment, representing the years 1905 to 1914, was conducted for three months.



Mr. Edgar serving Sir John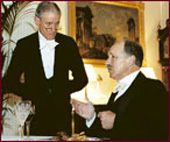 "The series is as much about social status, interaction and behavior as it is about leaving the modern world and all of its technological conveniences behind," said executive producer Beth Hoppe. "There are three distinct social classes in Manor House — the aristocratic family, the upper servants and the lower servants — all under one roof but living very separate and unequal lives. The house is like a microcosm of early 20th-century Britain, and it's fascinating to see what happens when the participants bring their modern ideas and identities into that situation."

In the role of Master of the House is Sir John Olliff-Cooper, a 56 year-old who, in real life, has run a successful flooring business for thirty years.

Anna Olliff-Cooper put aside her work as an emergency room doctor at Southampton General Hospital, to enjoy the life of mistress of the house - which required changing outfits six times a day and stressing over who would sit next to whom at banquet tables. In real life Anna has been married to John for eleven years and together they have a son, 10-year-old Guy, who quickly tired of his formal part in the production, Guy preferred being downstairs with the help. "I really don't want to be an Edwardian child," he says. "I've lived the experience. I'm getting quite fed up with it."

Winning the role as butler was Hugh Edgar, who delivered an outstanding performance. The 63 -year-old resident of Surrey, England is an architect who has worked all over the World as a Consultant Architect. The Hashemite Royal Family employed him for many years, building Royal residences and a mausoleum mosque for the wife of King Hussein of Jordan. He is currently working on archival buildings in the UK.

As a reality show the plotline experienced some re-writes. The scullery maid quit in a huff. The first footman and the hall boy were found passed out on the estate grounds, still drunk from an all-night bender. And just when it seems that things couldn't possibly get any worse, the hall boy, Kenny Skelton, and the new scullery maid, Ellen Beard, are caught doing more than the dishes. The temperamental French chef, Denis Dubiard, slaves over extravagant meals and works through illness. He calls Sir John a fake and in a snit refuses to shake his hand at a party for the servants.

It's hard to find good help, especially when the servants are attractive, 21st-century twenty-somethings accustomed to having their own way and answering to no one. But this is the lot in Edwardian life at Manderston, a 109-room Scottish mansion, which was the setting for this latest in the PBS "hands-on history" series.

Presiding over the young servants are the no-nonsense butler and the matronly housekeeper. And above them all, literally and figuratively, is the aristocratic family living a life of elaborate banquets, a charity bazaar, fox hunt and a big costume party celebrating the nations in the British Empire.

Reading the narration with impeccable flourish is Sir Derek Jacobi.

Next for PBS on the reality front: Colonial House will follow players living as 17th-century settlers over five months.

THE GIN GAME starring Mary Tyler Moore and Dick Van Dyke. This marks their first reunion as fictional characters since playing Rob and Laura Petrie on The Dick Van Dyke Show from 1961-66. For the production Van Dyke had to learn new skills - how to shuffle a deck of cards and how to swear.

The Gin Game on PBS Hollywood Presents this evening, May 4.


SWEET CHARITY


LA BOHEME special performance with all proceed to benefit the Actors' Fund's programs and services, helping everyone in the Entertainment Industry, nationwide. In New York City Baz Luhrmann's production of Puccini's La Boheme May 11 at The Broadway Theatre.

THE NANCY DAVIS FOUNDATION FOR MS the 10th annual Race to Erase MS Ball, in Los Angeles, at the Century Plaza Hotel on May 9th. In the past ten years Nancy Davis has raised more than $20 million dollars for MS research.



NEW DRAMATISTS TO HONOR AUGUST WILSON at the 2003 Anniversary Spring Luncheon. Seattle playwright August Wilson receives a New Dramatists' lifetime achievement award May 13 at the New York Marriott Marquis Hotel.

Whoopi Goldberg, who played the title role in this winter's Broadway revival of Wilson's Ma Rainey's Black Bottom, will present the award.

Each year, New Dramatists salutes an individual who has made an outstanding artistic contribution to the American theatre. Past honorees have included; Arthur Miller, Angela Lansbury, Julie Andrews, Glenn Close, John Kander and Fred Ebb, Neil Simon, Jerry Herman, Stephen Sondheim, Gwen Verdon, Terrence McNally and Barbara Cook.

Founded in 1949 by playwright Michaela O'Harra, New Dramatists is a unique service organization for the American Theatre, which has been providing development workshops for American playwrights. Membership has included Richard Rodgers, John Guare, Lanford Wilson and Horton Foote.

The company is dedicated to the playwright and serves as an artistic home, theatre research and development center, and writers colony for the national theatre just a few steps from Broadway. The company finds and nurtures new talent through a competitive, membership selection process and a seven-year playwright development program.

In 1987 and 1990, August Wilson won Pulitzer Prizes for, respectively, Fences and The Piano Lesson.

For the Seattle Repertory Theatre, Wilson will not only write but also perform a new autobiographical one-man show detailing his experiences as an artist straddling black and white cultures. His show, provisionally titled The August Wilson Project, runs from May 22 through June 1.

69th ANNUAL DRAMA LEAGUE AWARDS nominations have been announced.

The Drama League's Annual Awards Luncheon takes place May 9, at the Grand Hyatt. This is the nation's oldest acting honor, first presented in 1935, pre-dating the Tony Awards by 12 years.

Proceeds from the Annual Awards Luncheon support the training programs of The Drama League Directors Project. The Drama League is devoted to supporting and strengthening theatre in America "by broadening and stimulating the audience for quality theatre and by developing emerging talents for careers in the theatre." CLICK FOR THE NOMINEES

DRAMA DESK AWARDS have announced their nominations. Winners of the 48th annual event will be recognized in a May 18 ceremony at LaGuardia Concert Hall in Lincoln Center. Chita Rivera, a two-time Tony Award winner and current star of Nine, will host. The Drama Desk is an organization of theatre critics, editors and reporters. CLICK FOR THE LIST OF NOMINEES

OUTER CRITICS CIRCLE WINNERS will be announced Monday. We will designate the winners as soon as they are made official. The Outer Critics Circle is an organization of over 75 out-of-town critics and writers, whose annual Award nominations unofficially kick off New York's theatrical awards season. The annual Outer Critics Gala Awards Party takes place at Sardi's on Thursday, May 29. CLICK FOR NOMINEES AND WINNERS



THE BLACK MONK a new play by David Rabe, based on the novella by Anton Chekhov, directed by Daniel fish featuring Sam Watterston.

Monk is the story of Yegor Semyonitch Pesotsky, his daughter Tanya, and Andrei Vasilich Kovrin, the brilliant, but haunted, philosophy student who grew up with the Pesotsky family, and returns to live with them after completing his degree. In the orchards of the Pesotsky estate, romance and mysticism are at odds, and the fate of two families hangs in the balance.

May 9 to May 31 performed at the Yale Repertory Theatre in New Haven, Conn.

CALIGULA a 50-year-old French play by Albert Camus with a new translation by David Greig.

He was in love with his sister. Following her death, Emperor Caligula deserts the Roman Assembly for three days and three nights. He returns a changed man, determined to obtain the impossible: immortality, happiness, the moon itself, and defying the inevitable chaos that ensues.

In this powerfully poetic drama, full of dry humor and a certain vulgarity, Camus questions the nature of existence and the effect of power - both its concept and corruption.

Directed by Michael Grandage. The production stars Michael Sheen and features Ben Turner, Diana Kent, Jerome Willis, Jeff Diamond, Peter Gale, Jason Hughes, Ralph Bolland, Geff Francis, Olivia MacDonald, Raymond Coulthard and Bernard Gallagher. Lighting by Neil Austin. Music by Adam Cork. Designed by Christopher Orem. Sound by Fergus O'Hare. Officially opened April 30 running through June 14. Donmar Warehouse in London.

PITTSBURGH CLO has announced a wonderful summer lineup. Former Saturday Night Live star Ana Gasteyer who made us laugh as Martha Stewart, Celine Dion and Hillary Clinton will headline a cast starring in Pittsburgh CLO's dynamic 2003 Summer Season, June 6 - August 17. A talented array of television, film and stage favorites will create vibrant new productions of Miss Saigon, Annie, My Fair Lady, Funny Girl, She Loves Me and Thoroughly Modern Millie.

Among those cast for this season include London born television, film and stage veteran Charles Shaughnessy. Best remembered for his role as the charming Maxwell Sheffield in The Nanny starring Fran Drescher, Mr. Shaughnessy will take on the role of confirmed bachelor and phonetics professor Henry Higgins in My Fair Lady, July 8-20. Conrad John Schuck will star as Daddy Warbucks in Annie, June 24-July 3 - a role he performed in the 1997 Broadway revival as well as the national tour and Pittsburgh CLO's highly acclaimed 1996 production. Two-Time Emmy Award-winning actress Sally Struthers also joins the cast of Annie as Miss Hannigan, a role she performed during the 20th Anniversary national tour. Ms. Struthers is best known for her inspired portrayal of Gloria Stivic on the legendary television series All In The Family.

RAGTIME THE MUSICAL based on E.L. Doctrow's best-selling novel. The score features music by Stephen Flaherty and lyrics by Lynn Ahrens, built around Terrence McNally's script.

A cast of 30 is directed by Larry Carpenter, an Emmy-winning director of CBS's long-running As the World Turns. Choreography by Daniel Pelzig who also did The Adventures of Toad and Frog, which recently opened on Broadway. Scenery designed by James Leonard.

The production features Jonathan Hammond as Tateh, Alice Vienneau as Mother, Kenita Miller as Sarah, Duane Martin Foster as Coalhouse Walker Jr, Alison Fidel as Little Girl (Tateh's daughter), Bruce Bredson as J.P. Morgan, Robert Peterson as Grandfather and Max Robinson as Henry Ford. The actress playing Sarah's Friend - Sondra M. Bonitto - was in the original Broadway production. May 7-24 at the Simmons Pioneer Memorial Theatre in Salt Lake City, Utah. On May 17 a post-matinee discussion takes place.

JEWTOPIA is a World Premiere comedy by Bryan Fogel and Sam Wolfson. Directed by Ovation Award winner Andy Fickman. Executive Produced by Frank Yablans and WEJ Productions. Starring Lin Shaye, Alan Charof, Irina Pantaeva, Bryan Fogel, Sam Wolfson, Lorry Goldman and Jackie Tohn.

Jewtopia is the story of two 29 year-old single men, Chris O'Connell and Adam Lipschitz. Chris, a gentile is obsessed with dating Jewish women because he believes they will make all his decisions for him. Adam, a Jew, is obsessed with dating gentile girls because they don't remind him of his mother.

After meeting at a Jewish singles mixer, Chris hatches a plan – he promises that he will help Adam find the Jewish girl of his dreams and show him "Jewtopia" but only if Adam promises to help Chris shed his gentile upbringing by teaching him the Jewish culture. What follows is an absurd and hilarious romp through cultural stereotypes, family pressures and modern dating.

Set Design by Desma Murphy. Lighting Design will be by Rand Ryan. Sound Design by John Zalewski.

On Thursday night, June 5, the Young Leadership Division of the Jewish Federation of greater Los Angeles will attend the production. The evening will kick-off with a wine and cheese reception. Following the performance, a question and answer session with the writers and director of Jewtopia will take place.

The production opens May 8 running through June 15. The Coast Playhouse, Santa Monica, California.

MONDO DRAMA a comedy starring talk-show host Caroline Rhea, who will be making her New York theatrical debut. Written by Douglas Carter Beane. Directed by Christopher Ashley.

Set Design by Allen Moyer, Costume Design by Gregory A. Gale, Lighting Design by Kirk Bookman, Sound Design by Laura Grace Brown, Composer is Lewis Flinn and Video by Ben Odell & Jon Stern.

Performances begin May 9 with an Official Opening Night Benefit Performance and Party Sunday, May 18. Through June 14 at the Greenwich House Theatre, NYC.

COPACABANA Barry Manilow's Copacabana "Music and Passion were always the fashion". A tale of Love and romance set at the heart of the swinging nightclub scene of the 1940's. "Her Name was Lola..." the unforgettable opening line of Barry Manilow's Grammy award wining hit is the inspiration for this musical. May 8-9 at the Opera House in Newberry, South Carolina.

THE BOOK OF LIZ by Amy and David Sedaris. Mierka Girten as Sister Constance Butterworth and Maggie Carney as Sister Elizabeth Donderstock star. Sister Elizabeth Donderstock leaves the strict religious community of the Squeamish and ventures into the unknown outside world. She meets a Ukrainian immigrant with a Cockney accent dressed as Mr. Peanut, a slew of recovering alcoholic restaurant workers, and an unorthodox doctor in favor of leech treatments.

Roadworks production of The Book of Liz, playing at The Chopin Theatre in Chicago May 8 through June 29.


WHO'S WHERE


MOTHER'S DAY ON BROADWAY BOSTON POPS Bruce Hangen, conductor. An audience favorite since his debut in 1979, Principal Pops Guest Conductor Bruce Hangen leads the orchestra for Mother's Day in the Boston Pops On Broadway, a concert filled with favorite songs from American musical theatre. There's No Business Like Show Business to inspire you to Sing, Sing, Sing and Dance, Dance, Dance. Hear I'm Bewitched, Bothered and Bewildered, I Feel a Song Comin' On, and I'm in the Mood for Love, along with many other Broadway favorites May 11, Symphony Hall Boston, MA.

JOHNNY MATHIS performs Thursday May 8 at the Soaring Eagle Casino in Mt. Pleasant, Minn and on Saturday May 10 in Chicago at the Chicago Theatre.

AN EVENING WITH CAROL CHANNING STARRING RICHARD SKIPPER who performs his tribute to Carol Channing's amazing life and career with musical director John Bowen. Special guest- Quinn Lemley star of The Heat is On - A Tribute to Rita Hayworth. The Duplex in New York City on May 5. On May 9 Skipper will read the weather as Carol Channing on the WB Channel 11 Morning News. "Carol" will then schmooze with the news anchors.

DIANE SCHUUR on stage Saturday, May 10 in Mission Viejo, California at Saddleback College.

JOHN PIZZARELLI entertaining Saturday, May 10 at the BJCC Concert Hall in Birmingham, Alabama.

JOHN PRINE on stage Friday, May 9 in Cincinnati, Ohio Jammin' On Main and he'll be Jammin' On Jersey in Indianapolis, Indiana on Saturday, May 10.

GEORGE WINSTON performing tonight in Atlanta, Georgia at Symphony Hall and on Friday in Toledo, Ohio at the Valentine Theater.

VINCE GILL on stage tonight in Plant City, Florida at the Strawberry Festival. On Friday he is center stage at the Granada Theater in Dallas, Texas and on Saturday in Biloxi, Mississippi at the Beau Rivege.
















Next Column: May 11, 2003
Copyright: May 4, 2003. All Rights Reserved. Reviews, Interviews, Commentary, Photographs or Graphics from any Broadway To Vegas (TM) columns may not be published, broadcast, rewritten, utilized as leads, or used in any manner without permission, compensation and/or credit.
Link to Main Page
---
Laura Deni



U.S. Postal Address: Post Office Box 60538, Las Vegas, NV 89160
CLICK HERE FOR COMMENT SECTION