! >
Broadway To Vegas
  
 SHOW REVIEWS CELEBRITY INTERVIEWS GOSSIP NEWS

| | |
| --- | --- |
| | |
MARNI NIXON HAS A VOICE OF HER OWN - - WARHOL EXHIBITION INSPIRES CANNED FOOD DRIVE - - CY COLEMAN ESTATE SUES NEVADA POLITICIAN - - IDINA MENZEL IN BRIDGEPORT - - AHMANSON THEATER E-MAILS ECONOMY SURVEY - -LYNDA CARTER RECEIVES LIFETIME ACHIEVEMENT AWARD - - AIME MAEGHT AND HIS ARTISTS - - SHOGUN MACBETH - - DONATE . . . Scroll Down


Copyright: November 2, 2008
By: Laura Deni


CLICK HERE FOR COMMENT SECTION
MARNI NIXON HAS A VOICE OF HER OWN
Marni Nixon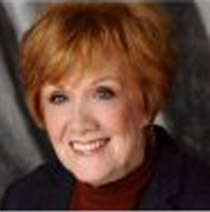 The American soprano Marni Nixon is famous for being invisible, earning the nickname "Ghostess with the Mostest." She is known as the singing voice behind the stars of West Side Story, The King and I and My Fair Lady. She was the singing voice of Audrey Hepburn, Deborah Kerr, Natalie Wood, Jeanne Crain and Marilyn Monroe, to name only a few. They, on the other hand, were her face. But Marni Nixon has a face - and a voice - all her own, as she has been demonstrating to audiences for five decades.

On Saturday October 25, 2008, Nixon whose illustrious career includes conquering virtually every area of the performing arts, was presented with the Singer Symposium's Distinguished Artist Award in New York City. The organization knows the collective knowledge of singers who actually work in the business is an important resource to be tapped, exchanged and handed down for the art form to continue to evolve. It is from this reality that the Singer Symposium was developed - grouping together successful singers of all types and experts in the field to share their knowledge.

Marni Nixon spoke with Broadway To Vegas about a career which defies categorization.



Marni Nixon helped Marilyn Monroe hits the notes in Gentlemen Prefer Blondes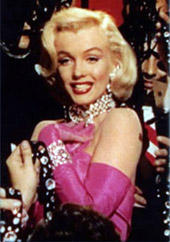 Nixon's soprano has been everything from voices of the angels heard by Ingrid Bergman in Joan of Arc (1948) to providing Marilyn Monroe with a few top notes in the line - "These rocks don't lose their shape" - for her performance of Diamonds Are a Girl's Best Friend in the 1953 flick Gentlemen Prefer Blondes. "That was just a day's work. I just listened to it and then recorded it right on the spot."

Usually the ghosting is far more involved that just one listen followed by the recording. While Marni has always had an exceptional ear for voices, accents and sounds, being the voice coming out of another's mouth is involved.

"It's not just walking into a studio and singing a song," exclaimed the California native. "You have to become that person's second ego. How long that takes depended upon the material. The King and I was about a week per song of practicing before going to record. It was about a six week job because there were six songs."

In that gig she was the voice of Deborah Kerr. It would be what put Marni on the fast track in a dark closet.

Twentieth Century Fox was so protective of Kerr that Nixon had to sign a contract saying she would never reveal the ghost-singing on The King and I.

An Affair to Remember followed. In that classic romantic tear jerker, Vic Damone sang the tile song. "I wanted to record the title song, too," admitted Marni. "He was a famous, popular recording artist. My name wasn't on that scale. Vic Damone's name was publishable and good publicity for the picture."

Marni has fond memories of Kerr.



Deborah Kerr and Marni Nixon on the set of An Affair to Remember.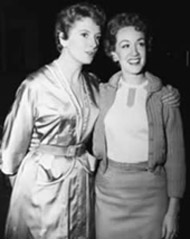 "By the time we did An Affair to Remember Deborah just said - 'You just sing it the way you think I would sing it. That's the way we worked together. I just sang it and she mouthed to the words. We had done so much work together that she knew the way I sounded and the way I would sing it. She was very gracious."

"In West Side Story I was being paid by the day. After I had finished the job I was very frightened, but I asked for royalties. They could have thrown out everything that had my voice. Then I realized they couldn't because she needed a voice," said Marni of Natalie Wood. In that job Marni also had to re-dub a small bit of Rita Moreno's part in Quintet resulting in the character of Maria singing a duet with herself.

"They were over a barrel," declared Marni. "I didn't know what they were going to do. They said all of the royalties have been given away. I said - you fix it. Without my knowing it, Leonard Bernstein offered part of his own," she recalled about Bernstein ceding one quarter of one per cent of his royalties to her - which was a significant gesture.

The standard agreement for dubbing was "no credit, no royalties."

"You just took it or left it," she said matter-of-factly. The executive position was that at least the singer had a job.

"I knew it was an injustice and I tried to get it changed. The union said that they had no power. If that is what is in the contract and you signed it, then that is the way it is. That they had no power to say that was illegal. They couldn't help me. So, I was on my own."

Considering the voice was such a crucial element of the musical, the pay rate was pitiful, but as Nixon sighed, "that is what the rate was."

As a day worker, many times contracts weren't even on the table.

"Sometimes I had no contract at all. They said it would be about this long and then you just trusted that it would go on for what time they said."

Eventually a seasoned dubber could venture an educated guess about how many days work to expect. "You just had to hang on, that's all," said Marni.

For those who needed vocal help, the use of a voice dubber was not an insult because the person didn't have a singing voice in the first place. For accomplished singer Ethel Waters to witness Marni Nixon dub her voice must have been a personal devastation.



Ethel Waters was once the highest paid performer on Broadway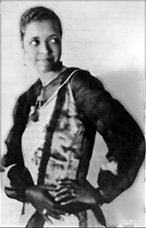 The second African American ever nominated for an Academy Award, Waters' best-known recording was the spiritual His Eye Is On The Sparrow. When Waters was cast in the Broadway musical revue As Thousands Cheer in 1933, she was the first black woman in an otherwise white show. She was also the highest paid performer on Broadway. In 1950, Waters starred in the television series Beulah but quit after complaining that the scripts' portrayal of African-Americans was "degrading."

Considering all that, disclosure that the African-American's voice was being dubbed by a white woman would have been an attention getting headline. Marni indicated that race was never mentioned.

Due to age Waters had lost some notes.

"For some legal reason they could not use her original recording of I'm Coming Virginia," remembered Marni about the tune composed by Donald Heywood with lyrics by Will Marion Cook. Waters had recorded the song on September 18, 1926. "I was just the hot person on the block who was hired to try to sound like her. She was very nice, but she was standing right behind me and coaching me. It was daunting."

Another point on Marni's multi-faceted star is the creation of a multiple Emmy Award winning children's show Boomerang, which aired during the 70's.

"The television show had 26 Emmy Awards and I have four of them personally as best actress," Marni related.

"I had moved to Seattle, singing with the opera company there and appearing around Seattle in various venues. KOMO wanted to develop a children's show," she said of the ABC affiliate.

"I think at the point you could only keep your license as a broadcaster if you did a certain amount of shows for children or public service. Everyone was racing around trying to do something. The station called me. I thought maybe they were on my side. I got miffed when I learned that legally they had to open the auditions up to everybody. So, obviously it wasn't a shoe in. They wanted everybody to give an example of what they would do in a children's show."

"My youngest daughter was still living with me in Seattle. She had several friends who had various puppets. I also had a vocal student who was a puppeteer."

Then Marni referred back to her upbringing. "My mother had written a lot of books for children. I was very aware of teaching, developing children and education." Marni's mother for whom she was named, Margaret McEathron, penned the respected text Your Child Can Learn To Read. Published by Grosset and Dunlap in 1952, there have been five editions.

"It was one of the first books on phonics. We were all into education. I decided that I would design a show, the concept of which would be: it doesn't matter how big you are, or how small you are, that you are all okay - just right the way you are," Marni said of the premise to empower children to feel good about themselves and make the correct decisions.

"It was a cute audition, maybe 15 minutes. I had my daughter operate one of the puppets and her friend operated the other hand puppet. The studio taped it and I got the job."

The half hour situation comedy was centered in a living room. "My adopted son, Norbert, was this little yellow terry cloth puppet with a red tuff in his hair. He was operated by a puppeteer who was behind the kitchen counter."

Melinda and Libby were Norbert's puppet friends. Libby has been called the goody-goody who often acted as a conscience to Norbert and Melinda. "Each puppet really represented some trait that kids have. It was for 2-to-6-year olds," continued Marni.

Topics were wide ranging and serious.

"One of our major segments was about the death of a gerbil. We had heavy subjects," said Marni concerning a child's reaction to the death of a pet. Another segment concerned selling out your principles. In that episode Marni was hired to do a commercial for some silver polish. After she tried the polish and it doesn't work very well, she decides to not do the commercial.

"The subjects were very important," Nixon reiterated.

During its heyday, Boomerang won over two dozen Emmys for Norbert and his buddies, among them puppeteers Lee Olson and Kathy Tolan; writer Nancy Schwedop; performer Marni Nixon; director Ken Schwedop, and producer Barbara Groce.

In September 2002 Boomerang puppeteer Kathy Tolan Schnuckel responded to an erroneous report that the puppets had been sold in a yard sale. She told The Seattle Times: "Please tell everyone that all the Boomerang gang members are safe, secure and enjoying their well-deserved retirement. Norbert still is not allowed to go near the No-No Tree, and both Melinda and Libby look just about the same, though if you look closely you can see laugh lines around their little terry-cloth mouths."

The paper reported that Schnuckel "now works for Bellevue-based Western Video Services doing captioning for the deaf. She keeps the puppets, which belong to KOMO, on a shelf in her Snohomish County home. She says that someday they'll go back to the station or to the Museum of History & Industry."

Schnuckel has fond memories of the more than 150 episodes of the Emmy-winning show. She reported that: "So low was the budget that there were no rehearsals. It was a challenge, especially for singer Marni Nixon, who appeared on camera with Norbert."

Nixon has a track record of being able to handle any situation.



Victor Borge stuck a banana in Marni's mouth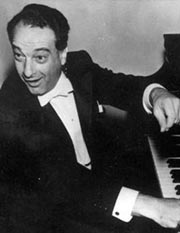 She toured the nightclub circuit with the Danish humorist and musician Victor Borge and the flamboyant showman Liberace.

Borge was extremely wealthy when he passed away December 23, 2000, the day after returning from a concert in Denmark. Born Børge Rosenbaum, he married American Elsie Chilton in 1933, the same year he debuted with his revue acts. Borge started touring extensively in Europe, where he began telling anti-Nazi jokes. This led to Adolph Hitler placing the outspoken Jew on his list of enemies to the Fatherland.

When the Nazis occupied Denmark during World War II, Borge was playing a concert in Sweden, and managed to escape to Finland. He traveled to America on the USS American Legion, the last passenger ship that made it out of Europe prior to the war. He arrived August 28, 1940 with only 20 dollars, three of which went to the customs fee. He didn't speak a word of English. Those traumatic times were emblazed into him and prevented him from ever enjoying his wealth.

"He was very frugal," Nixon commented. "His entire family traveled with him. It was a family thing," she said of the five children who occasionally performed with him. "I don't think he treated his wife very nicely. She was his secretary who became his second wife. I sort of kept out of that." Borge's marriage to Elsie Chilton in 1933 ended in divorce and in 1953 he married Sanna Roach. They remained wed until her death, three months before Borge.

"It was amazing," recalled Nixon about working with Borge. "They put me with him because he was usually doing the same thing, which was successful, but they wanted some new material. They wanted somebody who would force him to invent and create on the spot. I auditioned and they put me with him."

"They wanted to know that I was very loose - that it didn't have to be scripted, except for the music and the orchestrations, which were very good. I began throwing lines at him and he would have to think on his feet and, of course, he came through. He was terrific."

One famous segment involved Nixon attempting to sing an aria and Borge wanting her to stop.

"He stuck a banana in my mouth. He expected me to stop singing, but I didn't. I kept on singing with the banana in my mouth. It was really funny,"

A problem with Borge was no feedback.

"The thing with Victor is that he never said - Oh that is good. Keep that in. Or, don't do this again. We're going to do something else tomorrow night. Not a word. I had no clue except I was going to sing the same songs and I was going to come on the stage at a certain point. Otherwise, it was just a real improv. We were a good foil for each other. It was wonderful. He could make whatever I did come off well."



Liberace cried when Marni Nixon left the show
Liberace had a different style which included feedback.

"It was also improv, but Liberace told me what he wanted. I was never quite sure with Victor Borge whether what I was doing was okay, because you never knew afterwards whether it was good or not. At least Lee would come off stage and say - 'That's great. Now remember that and say that again.' So, we kind of wrote our script. You felt like you were a team. You weren't quite sure you were a team with Victor Borge. You just had to somehow survive. He was obviously appreciative, but he just didn't know how to express it."

When Nixon informed Liberace that she wouldn't sign on for another tour the showman broke down and cried.

Nixon has always loved the stage, having originated the roles of Sadie McKibben in Opal, Edna in Taking My Turn, and Aunt Kate in James Joyce's The Dead.



Kelli Martin and Marni Nixon starred in the revival of My Fair Lady - Kelli as Eliza and Marni as Professor Higgen's mother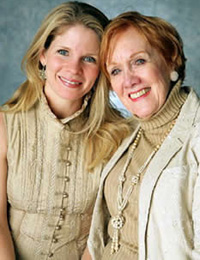 In 2001, she appeared as Heidi Schiller in the Broadway revival of Stephen Sondheim's Follies. In 2003, she returned to Broadway in the role of Guido's mother in the revival of Nine. In March 2007 she appeared in a concert version of My Fair Lady, in which she performed the role of Mrs. Higgins, Professor Higgins' mother. That led to Nixon reprising that part for the U.S. National Tour of the Cameron Mackintosh U.K. revival, which was on tour through July 2008.

A New York City resident, she has been happily married to her third husband, musician Al Block since 1983. Her three children are from her first marriage to Ernest Gold (1950-1969). He composed the theme song to the movie Exodus which he sold for a flat fee of $75. Nixon includes a moving rendition of that song in her nightclub act.

Her son Andrew Gold, is a Songwriter/Record Producer who penned Lonely Boy and Thank You For Being a Friend, which became the theme song for the television series The Golden Girls.

Recently Marni Nixon recorded a Christmas song, My Christmas Card to You. "Somebody wrote me and said we've written this and would like you to sing it. I corrected a few little phrases and change a few things and recorded it," she explained and yes, she has a portion of the copyright.

The key to Nixon's success seems to be one of sensible perseverance.

"You just have to be focused on what you want to do, and then see what you can do and make the best of it."


CY COLEMAN ESTATE SUES NEVADA POLITICIAN


Nevada Republican Rep. Dean Heller has been sued by the estate of the late Cy Coleman for using, in Heller campaign ads, the song Big Spender from the 1966 Broadway show Sweet Charity. Cy Coleman wrote the music with lyrics penned by Dorothy Fields.

The lawsuit was filed Monday in U.S. District Court in Carson City, NV by the estate, through its Notable Music Co., naming Heller and his media firm, Texas-based Weeks & Co. LLP. Prior to the filing a letter was sent from the estate demanding that Heller cease using the song in his advertisements.

Coleman's widow, Shelby Coleman, has said the estate turned down a request to use Big Spender as background music in the ads critical of travel expenses by Jill Derby during her 18 years as a state university-college system regent. Nevertheless, the ads were produced.

Damon Booth, vice president of the estate, said the estate denied the request because the authors never intended the composition for political use. Coleman family members who live in Northern Nevada were "shocked and appalled" to see the ads on TV, Booth said.

Cy Coleman was a Democrat who keenly followed local as well as national issues. ( See Broadway To Vegas column of December 12, 1999 )

Heller spokesman Stewart Bybee has said the ad is "entirely lawful and its content is protected as political speech and by the 'fair use' doctrine of copyright law."

Bybee also said the song is "an obvious parody," and there's "no rational likelihood that any reasonable person would mistake it for the original song or lyrics."

The question of parody versus satire may become a major issue, since satire is not covered by the Fair Use doctrine.

Derby spokeswoman Kristen Cullen has questioned why a request to use the music was made in the first place if there was no problem in using it without permission.

Bybee told the media that Weeks and Company cut a new recording of the song with new lyrics. Weeks spokeswoman Lindsay Robertson has told the press that the new recording was made by UAR Studios and Keith Harter Music in San Antonio.

The late Dorothy Fields had a long track record of refusing requests to alter the lyrics she created.



Broadway To Vegas is supported through advertising and donations. Priority consideration is given to interview suggestions, news, press releases etc from paid supporters. However, no paid supporters control, alter, edit, or in any way manipulate the content of this site. Your donation is appreciated. We accept PAYPAL. Thank you for your interest.


ART AND ABOUT


TURCHIN CENTER'S WARHOL EXHIBITION INSPIRES CANNED FOOD DRIVE

Campbell's Soup Cans was produced in 12962 by Warhol. It consists of thirty-two canvases, each measuring 20×16 inches and each consisting of a painting of a Campbell's Soup can - one of each of the canned soup varieties the company offered at the time. Museum of Modern Art, NY.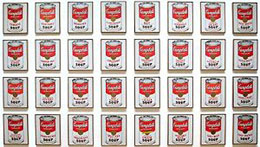 When most of us think of Andy Warhol, the first thing that comes to mind is an image of a Campbell's soup can. These works became his most enduring images and a symbol of the Pop Art movement in America. Throughout the Turchin Center for the Visual Arts exhibition Andy Warhol: A Photographic Legacy guests are invited to bring canned goods to provide much needed support for local families over the coming winter months. The food will be taken regularly to the Hunger and Health Coalition to help stock their pantry. The mission of the Hunger and Health Coalition is to relieve poverty and hunger in a compassionate manner for families and individuals who are experiencing economic hardship and food shortages.

Andy Warhol: A Photographic Legacy features recent Warhol works gifted to the center's permanent collection through The Andy Warhol Foundation For the Visual Arts' recent placement of works in museums around the country.

Created to celebrate the foundation's 20th anniversary, the Andy Warhol Photographic Legacy Program expands access to these lesser-known works by one of the 20th century's most important artist. The pieces exhibited will be Polaroid and black & white photographic works. The exhibition is designed as a fun way to learn more about the life and work of this artist.

The public Fall Exhibition Celebration on November 7, 2008 is part of the Boone Downtown Art Crawl. Live music from Vertigo Jazz Project fills the West Wing, and the East Wing will resound with 70s music in celebration of Warhol's heyday as part of art's social apex. 70s dress is not required but encouraged as an excellent way to experience the night. There is also a photo booth.

The Turchin Center supports the mission of Appalachian State University through regionally significant exhibition, education and collection programs. The exhibition is on display November 7, 2008 - February 7, 2009 at the Turchin Center for the Visual Arts in Boone, North Carolina.

JOAN MIRO: PAINTING AND ANTI-PAINTING 1917-1937

Joan Miró. Rope and People, I. 1935. Oil on cardboard mounted on wood, with coil of rope. 41 ¼ x 29 3/8" (104.8 x 74.6 cm). The Museum of Modern Art. Gift of the Pierre Matisse Gallery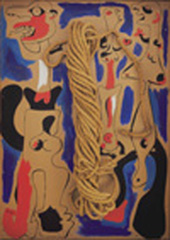 is the first major museum exhibition to identify the core practices and strategies Miró used to attack painting between 1927 and 1937, a transformative decade within his long career.

Taking his notorious claim - "I want to assassinate painting" - as its point of departure, the exhibition explores twelve of Miró's sustained series from this decade, beginning with a 1927 group of works on canvas that appears to be raw and concluding with 1937's singular, hallucinatory painting, Still Life with Old Shoe.

Acidic color, grotesque disfigurement, purposeful stylistic heterogeneity, and the use of collage and readymade materials are among the aggressive tactics that Miró used in pursuit of his goal. By assembling in unprecedented depth the interrelated series of paintings, collages, objects, and drawings of this decade, this exhibition repeatedly poses the question of what painting meant to Miró and what he proposed as its opposite, and in the process reveals the artist's paradoxical nature: an artist of violence and resistance who never ceased to be a painter, a creator of forms. Organized by Anne Umland, Curator, Department of Painting and Sculpture, The Museum of Modern Art, NYC November 2, 2008–January 12, 2009.

MIRO, CALDER, GIACOMETTI, BRAQUE: AIME MAEGHT AND HIS ARTISTS The Royal Academy presents an exhibition demonstrating the achievement of the famous Galerie Maeght. Founded by Aimé and Marguerite Maeght, the gallery opened in Paris in 1945 and was to become one of the most influential and creative galleries of the twentieth century. The artists it showed expressed a bold new spirit in art which exploded in France after the dark years of the war.

This exhibition presents Aimé Maeght's outstanding contributions to art in the mid-twentieth century – as an art dealer, exhibition maker and publisher – and focuses on the major artists he exhibited. The exhibition contains more than 140 paintings, sculptures, ceramics, prints and artists' books by Miró, Calder, Giacometti and Braque, as well as works by Bonnard and Matisse, from the extensive collection of the Fondation Maeght in Saint Paul de Vence.

Little known film footage of the artists at work and relaxing with their patron and his family is shown, revealing the remarkably close relationship that existed between Aimé Maeght and his artists.

Through January 2, 2009 in the Sackler Wing of Galleries, Royal Academy of Arts, London.




SPREADING THE WORD


BOTANICUM SEEDINGS continues its theatrical exploration by supporting new artistic voices through its this ongoing development series for playwrights. On November 9, Nude and Sunflower by Reba Waters Thomas takes the stage. This provocative new work investigates the shadowy nature of art and ownership, principles and power, history and family. When a prominent New York judge's obsession with acquiring a work of art raises the elusive ghosts of 1939 Vienna, what past and future crimes hang in the balance, and who will ultimately pay the price?

Playwright Reba Waters Thomas first played opposite Billie Burke in Mrs. McThing at the Pasadena Playhouse and went on to appear in dozens of television shows, plays and films as a juvenile performer. She acted with Stanford Repertory Theatre, taught theater at Pomona College, went to UCLA law school and practiced law in Los Angeles. This is her first full-length play. Julie Retzlaff, who has worked in NY (Ensemble Studio Theatre and Arclight Theatre Company) and CA (Pacific Repertory Theatre) directs a cast featuring Theatricum artistic director Ellen Geer, Barbara Tarbuck and Jennifer Taub.

Admission to the playreadings is free and open to the public. The Will Geer Theatricum Botanicum is located in Topanga, CA which is midway between Malibu and the San Fernando Valley.

RETURN OF THE PLAYWRIGHT presented by the Outer Critics Circle in partnership with The Samuel French Company. A panel discussion featuring Tina Howe, Leslie Lee, Adam Rapp, Joseph Stein and Michael Weller. Moderated by Mario Fratti and Rosalind Friedman.

The Co-chairs are Rosalind Friedman, Theatre Critic, WMNR Fine Arts Public Radio and Abbie Van Nostrand, Vice President, Samuel French, Inc. Wednesday, November 5, 2008 Sardi's Restaurant, NYC.

AN EVENING WITH [TITLE OF SHOW] Join This American Life's Ira Glass and the extraordinary company of Broadway's huge hit [title of show] for a lively conversation and performance in celebration of the little musical that could. With creators Hunter Bell and Jeff Bowen, their co-stars Heidi Blickenstaff and Susan Blackwell, Director Michael Berresse and Musical Director Larry Pressgrove. Part of 92YTribeca 18 Nights of Inspiration. Wed, Nov 5, 2008 at 92YTribeca Mainstage, NYC.


SWEET CHARITY


THE NATIONAL MUSEUM OF WOMEN IN THE ARTS ANNUAL FALL BENEFIT

Lynda Carter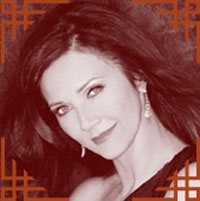 in Washington DC will honor Lynda Carter with a Lifetime Achievement Award on Friday, November 7, 2008.

Patti L. Sowalsky will event chair.

This year the Museum will honor Lynda Carter, well known for her role as Wonder Woman in the 1970s hit TV show of the same name. Carter will perform her renowned cabaret show for an audience of 300 guests in the Museums Great Hall. Guests will also enjoy a gourmet dinner and dancing.

The 2008 NMWA Annual Fall Benefit celebrates the 10th anniversary of its Shenson Chamber Music Series. A portion of proceeds from the benefit goes to fund the series, which offers concerts featuring emerging and established composers and musicians from around the world.

The previous recipients of the Lifetime Achievement Award were Roberts Peters in 2000 and Judy Collins in 2001.


OTHER PEOPLE'S MONEY


AHMANSON THEATRE ECONOMIC SURVEY is being E-mailed to theatre patrons. In an effort to get a read on a bad economy the venue is asking their customers the following:

Which of these conditions look likely concerning your personal non-business travel and vacations outside Southern California over the next six months to a year. You may choose more than one response.

My travel and vacation schedule will not change much - My travel and vacation costs will be cut up to 50% - My travel and vacation will be cut up to 75% - I/we are cutting travel and vacation costs 100% for the foreseeable future - Any travel or vacation will be limited to Southern California only - Will make more recreational day trips here and there, and closer to home - Other, please specify.

How do you believe your local entertainment spending will be affected? While many people may stay home more, do you believe going out for live or filmed entertainment is important when times are tough? Please rank the following statements. A scale of 1 to 5 is provided with 1 meaning Completely Agree and 5 signifying Completely Disagree. The statements are:

Will cut entertainment spending drastically.
My entertainment spending won't change much.
Will cut restaurant spending before entertainment spending.
Non-weekend ticket and restaurant discount deals will get my attention.
Will see more films than live entertainment.
Going out and being social with other people outside my home is important in tough times.
I will entertain my friends more frequently at home.
Being part of an audience at live events is essential to my Los Angeles lifestyle.



CHICAGO welcomes back two-time Tony Award nominee Charlotte d'Amboise as merry murderess Roxie Hart on Monday, November 3. d'Amboise made her debut as Roxie Hart in 1997 with the first national tour of Chicago. For that performance, she earned the Los Angeles Drama Critics Circle Award, the Los Angeles Ovation Award and the Bay Area Theatre Circle Award.

On the same night the production also welcomes Tony Award nominee Tom Hewitt in the role of "that silver-tongued prince of the courtroom," the slick criminal lawyer Billy Flynn. Chicago is the second longest-running production currently playing on Broadway, as well as Broadway's longest-running musical revival and can be enjoyed at the Ambassador Theatre in NYC.

SHOGUN MACBETH an adaptation by John R. Briggs from the play by William Shakespeare. Directed by Ernest Abuba with Japanese movement by Sachiyo Ito. Commendation) and fight choreography by Michael G. Chin.

A cultural transmutation, Shogun Macbeth channels Shakespeare's tragic tale of power and greed to the feudal military dictatorship of 12th century Japan (Kamakura Period), a time of warring clans. The three witches are "Yojo's," obaki creatures with spiritual and supernatural powers. While incorporating the classical Japanese art forms of Noh and Kyogen, Shogun Macbeth retains Shakespeare's language and historical medieval period.

The set design is by Charlie Corcoran with costumes by Carol Pelletier and lighting design by Victor En Yu Tan and stage managed by Elis C. Arroyo.

Shogun Macbeth begins performances in New York City at the Julia Miles Theatre on November 4 with opening night set for November 12.

SECRETS OF A SOCCER MOM the recent Off-Broadway hit by Kathleen Clark. Directed by Stratford Theatre's Tom Holehan.

Billed as a new delightful and insightful contemporary comedy which celebrates mothers as human beings and draws constant laughter in the process as it follows a trio of suburban moms who attend a Saturday soccer game that pits parents against their children.

"Three moms leave their traditional spots on the sidelines to play in the mother-son soccer game. An ordinary day becomes extraordinary as the competition ignites the women's fierce desire to recapture their spirit, humor and passion. It speaks to everyone, no matter age or gender, in attempting to answer that age old question: how in the world did I wind up here? Coping with kids and personal lives on and off the soccer field is handled with wit, style, crisp dialogue and wisdom."

The cast includes Danielle Sultini, Lillian Garcia and Michael Ann Pentz.

Playwright Kathleen Clark's other plays include Southern Comforts and Banner, both of which were developed at the Eugene O'Neill National Playwrights Conference in Waterford, Connecticut. Ms. Clark will attend the matinee performance of her comedy on Sunday, November 16 and participate in a post-performance discussion with the cast and audience.

Working behind the scenes are Cliff Fava, lighting designer, John Gallagher, set designer, Annette B. Versage-Salito and Judy Keegan, stage manager and costume coordinator, respectively. Secrets of a Soccer Mom opens Friday, November 7 and continues Fridays, Saturdays and Sundays through Saturday, November 22 at Square One Theatre in Stratford, Connecticut.

HAL HOLBROOK IN MARK TWAIN TONIGHT! The legendary Tony Award-winning actor, Hal Holbrook has captured the essence of Mark Twain using mannerisms, voice, and inflections for 49 years. On Friday, November 7, 2008 he brings his award winning performance to the State Theatre, New Brunswick, NJ.

DUBLIN CAROL By Conor McPherson. Directed by ensemble member Amy Morton. Featuring Stephen Louis Grush, William Petersen and Nicole Wiesner.

John, a man whose life was nearly destroyed by drinking, now holds down a steady job at a Dublin undertaker's office. When his estranged daughter appears on Christmas Eve with disturbing news, it sets off a series of painful confessions that ultimately offer John a chance to escape the burdens of his past.

Nov 6 - Dec 28, 2008 In the Steppenwolf Upstairs Theatre, Chicago.

THE TENDER TRAP by Max Shulman and Robert Paul Smith. Directed by David Storck.

For Charlie, life in early 50s New York City sure is swell, at least, that is how his old friend Joe sees it when he comes to visit. Charlie has a swinging bachelor pad, a good job, and more girls than he can handle. Before long at least one of those girls finds herself in a tug-of-war, and jealousy forces Charlie to choose… but will he choose the right girl?

The first New York revival of the 1954 Broadway comedy features: C. K. Allen, Heather E. Cunningham, Matilda Downey, Alex Herrald, Jim Kilkenny, Casendara Lollar, Elise Rovinsky, and Ric Sechrest.

Sets and Graphics by: Jack and Rebecca Cunningham. Costumes by: Ben Philipp. Lights by: Kerrie Lovercheck. Sound by: Bobby McGinnis. Properties by: Heather Cunningham. Stage Managed by: Larry Pease.

November 6 - 22, 2008 at The Spoon Theater in NYC.




WHO'S WHERE


SARAH BRIGHTMAN takes her beautiful voice to Mexico this week. On Tuesday, November 4, she performs at the Arena Monterrey in Monterrey. Thursday finds her at the Auditorio Telmex in Guadalajara. On Saturday she opens a two night engagement at the Auditorio Nacional in Mexico City.

CASSANDRA WILSON the Grammy Award-winner has established herself as one of today's great vocalists. Her voice is almost as visual as it is audible with velvet like vocals wrapped around her own jazzy blues compositions or inventive interpretations of jazz standards. Saturday, November 8, 2008 at The Warner Theatre in Washington, DC.

THE BACON BROTHERS Featuring: Michael Bacon – vocals, guitar, cello. Kevin Bacon – vocals, guitar, harmonica, percussion. The Bacon Brothers are backed by Paul Guzzone on bass/vocals, Marshal Rosenberg on percussion, Frank Vilardi on drums, and Ira Siegel on electric guitar. With special guest opener Mary McBride. November 6 at B.B. King Blues Club in NYC.

MADONNA is on stage Tuesday, November 4, at the Petco Park in San Diego. Thursday finds her at Dodger Stadium in Los Angeles. On Saturday she kicks off a two nighter at the MGM Grand Garden Arena in Las Vegas.

BOB DYLAN Tuesday, November 4 at the Northrop Auditorium in Minneapolis. On Wednesday the show is at La Crosse Center Arena in La Crosse, WI. Thursday's performance is at the Riverside Theatre in Milwaukee.

ROBIN WILLIAMS will no doubt be spewing forth insightful laugher getters Wednesday, November 5 at the Palace Theatre in Albany, NY. On Thursday he's be on stage at Casino Rama in Rama, ON.

TINA TURNER brings her boundless energy and talent to the Amway Arena in Orlando, FL on November 4. Next Sunday, November 9 she'll be on stage at the Philips Arena in Atlanta, GA.

CHAD AND JEREMY in the spotlight Saturday, November 8 at The colonial Theatre in Pittsburgh. Next Sunday, November 9, the show is at the Barns at Wolf Trap in Vienna, VA.

ALANIS MORISSETTE on stage Tuesday, November 4 at the Orpheum in Vancouver, BC. On Wednesday she performs at the Paramount Theatre in Seattle. Thursday finds her at the Arlene Schnitzer Concert Hall in Portland, OR.

CHRIS BOTTI opens a two night stand Friday, November 7, at the Ohio Theater in Columbus, OH.

KD LANG brings her talent to the Bass Performance Hall in Fort Worth, TX Wednesday, November 5. On Thursday she can be enjoyed at the Paramount Theatre in Austin, TX. Saturday finds her at Temple Hoyne Buell Theatre in Denver.

IDINA MENZEL the Tony Award winner with a soaring one-of-a-kind voice and heartfelt ballads, Menzel tours to promote her 2008 release I Stand filled with intimate yet universal stories of life, its challenges, relationships and of course - the subject of love. Tuesday, November 11 at The Klein Memorial Auditorium in Bridgeport, CT.


WE NEED YOUR HELP....


BROADWAY TO VEGAS, which has been in existence over 10 years, is not affiliated with any blog. A copyright clause is at the bottom of every Broadway To Vegas column. Recently, it has been brought to our attention that there is a Las Vegas based blog with an extraordinarily similar title. If you have provided that (or any) blog with: information, invitations, purchased anything through any link on that blog or transferred money, goods or services to anyone connected with that blog THINKING YOU WERE DOING BUSINESS WITH BROADWAY TO VEGAS - we want to hear from you. The more detail the better. Thank you. Next Column: November 9, 2008
Copyright: November 2, 2008. All Rights Reserved. Reviews, Interviews, Commentary, Photographs or Graphics from any Broadway To Vegas (TM) columns may not be published, broadcast, rewritten, utilized as leads, or used in any manner without permission, compensation and/or credit.
Link to Main Page
---
Laura Deni



U.S. Postal Address: Post Office Box 60538, Las Vegas, NV 89160
CLICK HERE FOR COMMENT SECTION