! >
Broadway To Vegas
  
 SHOW REVIEWS CELEBRITY INTERVIEWS GOSSIP NEWS

| | |
| --- | --- |
| | |
SINGER NELSON SARDELLI'S DAUGHTER GIOVANNA SARDELLI AWARDED DIRECTING HONOR - - BARBIE DOLL CELEBRATING 50 YEARS OF AN AMERICAN ICON - - JAMES BOND CAR UP FOR AUCTION - - OLD VIC'S 24 HOUR PLAYS CELEBRITY GALA - - A CIVIL WAR CHRISTMAS - - DAME EDNA BEGINS FIRST FAREWELL TOUR - - FIONA SHAW DIRECTS RIDERS TO THE SEA - - NEW MUSIC, SPORTS AND ENTERTAINMENT EXHIBIT AT NATIONAL MUSEUM OF AMERICAN HISTORY - - DONATE . . . Scroll Down


Copyright: November 23, 2008
By: Laura Deni

CLICK HERE FOR COMMENT SECTION
SINGER'S DAUGHTER IS ACCOMPLISHED DIRECTOR


If there is anything more difficult to accomplish that a singer who can spend 50 years still getting gigs, it's a female who succeeds as a director.

The Sardelli family is accomplished at both.

Born in Brazil from Italian heritage, after discharge from the U.S. Army, Nelson Sardelli moved to Las Vegas in 1965 with his wife and their first born daughter. He became a regular on the nightclub stages.

His daughter Giovanna Sardelli was born and raised in Las Vegas. After graduating from Western High School she was a theater major at the University of Nevada, Las Vegas. Her MFA is from the NYU Graduate Acting Program and she is a graduate of the NYU Acting Director's Lab.

As of last Monday she became a member of a very select club - receiving the prestigious Joe A. Callaway Award for directing, presented annually by the Actors' Equity Foundation.

Created in 1989, the Callaway Awards are named for actor/director/teacher Joe A. Callaway and are presented to recognize excellence in the craft of directing and/or choreography during the New York City theatre season. This is the only award given by professional directors and choreographers to their peers.

Since 1989 those who have received the award are: Thomas Kail, Peter DuBois, Doug Hughes, Daniel Sullivan, Bartlett Sher, Jack O'Brien, Gabriel Barre, Trevor Nunn, Frank Galati, Moises Kaufman, Julie Taymor, Scott Elliott, Gerald Gutierrez, Harold Prince, George C. Wolfe, Susan Stroman, Gloria Muzio and - Giovanna Sardelli.

The awards, which include a cash stipend, were presented Nov. 17 at Playwrights Horizons in New York City.

Broadway To Vegas spoke with both Giovanna Sardelli and her proud father.

"I have been glowing all day," Giovanna said the day after the event, which preceded an Actor's Equity meeting. She described the evening as; "So interesting and lovely. They just made you feel like a million dollars. They were so gracious in the introductions. I was so thrilled."

Ironically - for a group of show biz professionals - Giovanna was informed that none of their authorized photographs of her turned out. Thus, we'd like to report that Giovanna wore "a black skirt with black boots, then a really wonderful black, silk top with an animal print. I wanted it to be a little sexy and feisty. I directed three family dramas in a row and there is a war play I have been working on. So, I didn't want to show up blaa. I wanted to be a little feisty."



Nelson Sardelli flanked by his daughters Giovanna (L) and Pietra (R)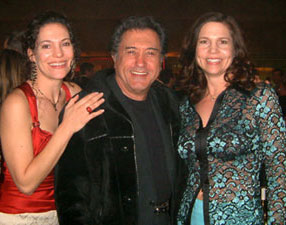 "We are all very proud of her," declared her adoring father who is on his way to Italy on family business. "This is a major achievement. The accomplishments of a local girl doing great in the Big Apple."

In a town not necessarily noted as the gold standard for child rearing, Sardelli and his wife made a traditional home in an unusual city.

"I loved raising children in Las Vegas. The kids grew up naturally," he said of his family which had included three daughters - Venetia, Giovanna and Pietra.

"When I was appearing at the Flamingo the kids came. Many times we'd act funny. We used to do bits. They were little! While we were waiting for the car from the valet, I'd give them this look and say - 'If I ever catch you on that crap table again, I am going to punish you.' And, my daughter would look at me and say - 'But them bones were hot!' You should have seen the expressions on people's faces," he laughed.

"We did that all the time," said Giovanna. "Las Vegas was completely different than today. There was actually desert in Las Vegas. There was another favorite thing he had us do when we were little. If we were out and had parked the car and there was a crowd of people, he'd look at us and say; 'Why did you let the snake out of the car?' Then we would pretend to look for a snake - just to scare the tourists."



Nelson Sardelli has appeared on stages ranging from Carnegie Hall in NYC to the Opera House in Sydney, Australia. For decades he was a mainstay on Las Vegas stages; Caesars Palace, Flamingo, Sahara, Aladdin and Rivera to name a few.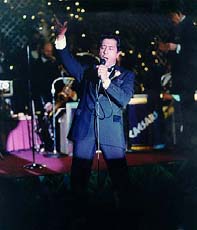 "That kind of stuff," Sardelli recalled about a different era in Las Vegas when residents didn't need to lock their car doors, the mob ran the town and hotel executives knew customers by both sight and name.

"We made a normal family life. When I was traveling, if the kids were on vacation, I always took them. They have been to Australia, Japan. Europe."

"He took me to Africa," injected Giovanna.

The entire family will be spending this Christmas in Las Vegas. "My brother is coming from Brazil with his wife. My sister is coming. The kids are coming from New York and Florida. It's good to have that," said Sardelli who credits his wife for family stability.

"I feel that their mother was more into their bringing up, because I was on the road most of the time," he said about Fledia, known affectionately as Micki. "She deserves most of the credit. I've always said that my wife is the intellectual part of the family. She made the kids love reading."

Sardelli has an accent that makes women swoon. His wife's doesn't.

"My wife is from Oklahoma. She speaks broadcast English - no accent of any kind. From the beginning we did very little gaa-gaa, goo-goo to the kids. We spoke to them using multi-syllable words - to give the kids a vocabulary."

"I liken my mother to Adicus Finch - the kind of perfect parent," continued Giovanna. "She has a wisdom of the earth. I have so many memories of my mother saying the wisest things, helping me navigate my childhood better than anybody."



Herbert, Donald and Harry - The Mills Brothers - were a major pop vocal group of the 20th century producing more than 2,000 recordings that sold more than 50 million copies and garnered at least three dozen gold records. The Mills Brothers were inducted into The Vocal Group Hall of Fame in 1998, the same year they were awarded a Grammy for Life-Time Achievement.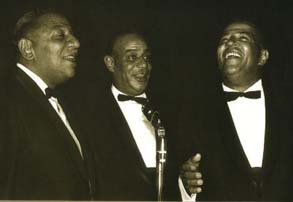 "I really credit my mother keeping our household normal, or as normal as it could be. Herb Mills, one of the Mills Brothers, lived right across the street from us. Vic Damone had lived in the neighborhood. I'd see these guys mowing their lawns and washing their cars. We lived in predominately a Mormon neighborhood and my father would mow the lawn in a Speedo. Oh, yeah! It took me forever to convince the kids that I was normal and it was okay to play with me."

"When I was younger I kinda thought that everybody worked on stage and then got applauded. I imagined that everyone's work day included applause."

"I thought Las Vegas was the most normal place in the world," she said.

Giovanna had lived at home while attending UNLV. Her move to New York was her first foray into a big city. From Sin City to the mean streets.

"I moved to New York in 1987 and I would very casually talk about my friends who were dealers. I said - this friend is a dealer and that friend is a dealer. I was a week into school and somebody pulled me aside and said - 'I don't understand this. You are far too nice to have friends who deal drugs.'"

"I thought - Oh, I guess other people don't have friends who actually deal . . . cards."

"When Giovanna went to New York to study at NYU, I was happy. I thought she would graduate and come back to Las Vegas. She stuck to New York like ducks do to water. I would have preferred that she be here," continued Sardelli who has a passion about Glitter Gulch. "I have been very happy in Las Vegas. I can't think of living in any other city."

After Giovanna received her MFA in Acting from NYU she worked as a professional actress for a decade in television and theater before returning to train in the department's Director's Lab.

"Directing wasn't always in the back of my mind," admitted Giovanna. "I was acting and earning a living but it was a lazy living. I was working on the soap opera Another World as an under-five," she said referring to the show business term of having a part with five lines or under.

"It was a small, reoccurring role. I was working three days a week. At first it was so great. I was on TV. But, it became a job to me. I played a nurse," she related about portrayed Nurse Claire, a role which became too much a part of her.

"I started to dress like a real nurse," she said of the over worked profession. "I didn't put on a lot of make up. I would do my hair kind of crappy. I remember one day the producer pulled me aside and said; 'Do you realize that you aren't really a nurse and that 8 million people watch you?'"

Spruce it up a bit.

"I remember sitting there thinking, if I had been a real nurse I would have been promoted by now. I had been showing up to the set for three years."

"I realized that I was making an effort, but that I was not fulfilled. I had a Masters Degree in Acting and I wasn't using any of it. I felt a little lost. The business of acting never made sense to me," repeated Giovanna about the non-structured profession.



Giovanna Sardelli received the Joe A. Callaway Award for directing Rajiv Joseph's play Animals out of Paper about what transpires "when a world renowned origami artist opens her studio to a teenage prodigy and his school teacher, she finds that life and love can't be neatly arranged in this drama about finding the perfect fold." Photo by: Amanda Embry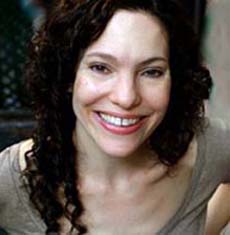 Receiving the choreographer award from the SSDC on Monday was Lynne Taylor-Corbett, a Tony nominee for her direction and choreography of Swing!. She is also credited with choreography for Titanic, Chess, the films Footloose and Bewitched, as well as My Vaudeville Man, which is currently playing the York Theatre in New York City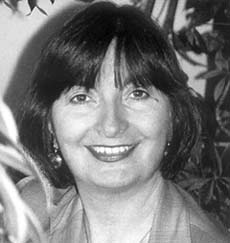 "Zelda Fichandler ran the NYU Graduate Acting program and created a Directing Lab. For five years, she would invite three students a year to enter the program. You had to have your Master's Degree in Acting from NYU. You went back to train for free for a year. It was a gift and a blessing."

Giovanna was encouraged to pursue directing.

"So, I did," said the actress turned director. "Directing was the perfect fit, even though I think it is more competitive to be a female director than it is to be an actress. The business end of directing makes sense to me."

"She was acting and teaching at New York University and I was happy that she was acting," continued her father. "A few years ago she said - 'Daddy, I'm directing a play.' When she said that, I got on a plane and went to New York and sat at the back of the theater and watched. Then I told her I was in town, because I wanted to first make sure she knew what she was doing."

"I was very critical of my own person. I believed that I owned the public the best I could give. So, I expected the same from my kids. If you are going to do it, then really do it. Giovanna is that kind of girl. She is a second degree black belt in Seido karate."

Giovanna credits karate with bringing structure into her life.

"This is a crazy business where there isn't a work-to-reward ratio," she complained. "It makes no sense. As an actress I was floundering without that structure. I didn't understand. I had no coping mechanism from the business end of it. So I joined karate. I have a limited budget but I wanted to do something that was spiritual, social and athletic. That something equaled karate. What I loved about it was it makes sense. You devote six months of your life and you train. If you accomplish these things, you get a belt. It was goal oriented. The work paid off."

"I looked at a lot of women who were at the age I am now, and I saw sometimes how bitter they were. I made a decision at age 21 that I would not do that. That I would pursue happiness and a sense of contentment with the same passion that I was pursuing a career. Karate helped me do that."

Then two events happened; 9/11 and the death of a sister.

"I was very lucky with my three daughters, although one passed away in 2001. She was 42," Sardelli said of his eldest, Venetia. "She went to sleep, had an aneurism and didn't wake up," softly recalled Sardelli about Venetia, who had no medical history or exhibited any signs of a pending health catastrophe.

"Eventually I incorporated that into some writing," related Giovanna about coping strategies. "It was interesting for me because I live in New York. September 11th happened and just when you feel that you can't possibly have any more tragedy - when you have no more pain or grief left - this incredibly personal event happened that was more tragic than you can imagine."

"It took me a long time to work again," she said as her voice cracked. "I was teaching at NYU and I would just teach, go home and eat cookies. Or, go to the hospital. I had a friend who was very injured in September 11th. I would just work and go to the hospital."

"For a long time art kept me sane, but I was going through the motions rather than doing it. I've never been a writer. I work with playwrights but I've never considered myself a writer. I teach theater games at NYU and Basking In The Neon was about growing up in Las Vegas," she stated about the autobiographical play. "It was born of improvisation with certain scripted moments. I added a piece about scattering my sister's ashes on Mt. Charleston," she said of a beautiful mountain area near Las Vegas. "I performed Basking In The Neon for a graduate group at NYU. That was the first time I had acted in several years."

"No, I didn't see that, said Sardelli. "She wrote that with her sister, Pietra, and they are now working on another play. Pietra is in charge of special events at The Springs Preserve," Sardelli said referring to a 180-acre non-gaming cultural and historical attraction designed to commemorate Las Vegas.

"I trust the judgment of my kids. They come to me sometimes, of course, for advice. But, I don't butt in. "

"My younger sister is one of the funniest people I know," said Giovanna of Pietra. "If I am considering directing a comedy, I send them to my sister and ask - 'Is this as funny as I think it is? She is spot on. She is so good. We value humor in my family as a way to cope with pain. We used that when my sister died."

In addition to happy memories, Sardelli's eldest left behind a daughter.

"Indrani is in college and is an accomplished equestrian. I just bought my granddaughter two horses. She is doing wonderfully. We have a lot to be thankful for," Sardelli declared.

"It is wonderful to watch her pursue her dreams and live a life that is so different from anything that anybody else in the family had done," added her aunt.

For Sardelli, it has been wonderful to watch Giovanna's career progress.



Zoe Kazan. Her play Absalom, was workshopped at Lincoln Center Theater LAB and had readings at The Vineyard Playhouse, The Ensemble Studio Theatre and Yale University. Directed by Giovanna Sardelli, the production will be staged March 10 - April 11, 2009 Humana Festival in Louisville, KY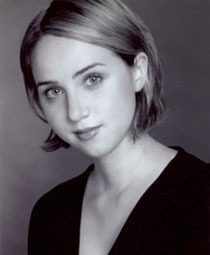 "The economy is horrible, but I just got a fabulous job," gleefully chortled Giovanna whose directing credits include; Rajiv Joseph's plays, Animals Out of Paper and All This Intimacy (Second Stage), Bengal Tiger at the Baghdad Zoo (The Lark), Huck & Holden (Cherry Lane) and The Leopard and the Fox for Alter Ego Theatre Company.

She has also worked on numerous productions of playwright/performer Adriana Sevan's one-woman show, Taking Flight, directing her for the Sundance Theatre Lab, CTG's Kirk Douglas Theatre, San Diego Rep and The Goodman Theatre.

"I'm going to be directing Absalom, a new play by Zoe Kazan." That young playwright received her BA in Theater from Yale, recently made her Broadway acting debut in Come Back, Little Sheba, is the granddaughter of Oscar-winning director Elia Kazan and the daughter of screenwriter Nicholas Kazan (Reversal of Fortune) and screenwriter-director Robin Swicord (The Jane Austen Book Club).

"This will be at Actor's Theater in Louisville. It's the Humana Festival. I couldn't be happier about that."

"I'll be in Louisville from Valentine's Day until the middle of March," exclaimed Giovanna. "It's wonderful! A fabulous job! Since I just got the job I am doing my best to remain optimistic about the economy. I call it my personal economy - which means, pay my bills on time, still put money in savings and still believe that there are opportunities out there and, as long as I keep doing good work, that I will work."

One of the places she would like to ply her trade is in Las Vegas.

Occasionally her alma mater brings in accomplished theatre luminaries to teach a master class and then participate in a production. Sandy Duncan delivered a master class and then starred in The Glass Menagerie. ( See Broadway To Vegas column of February 18, 2007 )

"Something like that would be perfect," declared Giovanni.


ART AND ABOUT


BARBIE DOLL CELEBRATING 50 YEARS OF AN AMERICAN ICON In celebration of the Barbie doll's 50th birthday a retrospective story of this most enduring toy icon of American culture will be told through the spectacular display of over 400 dolls from the private collection of Jo Anne Winspur. It will feature vintage Barbie dolls modeling everything from casual sportswear to Parisian haute couture dating from 1959 into today.

First introduced to the world at the 1959 American Toy Fair in New York City, Barbie was intended to be a teenage fashion doll. Despite some initial controversy about the Barbie doll's figure, she quickly became a favorite for girls and the Barbie dolls many fashions chronicled the styles of the day. These dolls, representing more than just toys, give girls a chance to dream about a future with endless possibilities and opportunities.

Since its debut in 1959, an anatomically improbable molded plastic statuette named Barbie has become an icon. Ruth Handler undeniably invented an American icon that functions as both a steady outlet for girls' dreams and an ever changing reflection of American society. This can be seen in the history of Barbie's clothes, and even her various "face lifts" to suit the times; in her professional, political and charitable endeavors; and more recently in the multi-culturalizing of her product line.

Defined as : A small-scale anatomically improbable molded plastic figure of a human being used especially as a child's plaything. Collectable doll. The Trademark: Reg. No. 0689055 issued December 1, 1959 to Ruth Handler as the First to invent/First to patent/Entrepreneur. The first Barbie doll sported a ponytail hairstyle, black and white zebra-striped bathing suit, open-toed shoes, sunglasses and earrings. A line of fashions and accessories was also available. Buyers at the industry's annual Toy Fair in New York were not impressed, but little girls certainly were and the Barbie doll took retailers by storm. Mattel was so swamped with orders that it took several years for supply to catch up with demand.

In 1960 the success of the Barbie doll led Mattel to become a publicly-owned company. In 1967 Ruth Handler became President of Mattel, Inc.

The Handlers had a son - named Ken. Other dolls were named for Handler's grandchildren, including Stacie, Todd and Cheryl.

More than one billion Barbie dolls (and family members) have been sold since 1959, and placed head-to-toe, the dolls would circle the earth more than seven times.

The best-selling Barbie doll ever created was Totally Hair Barbie, introduced in 1992. With hair from the top of her head to her toes, Totally Hair Barbie sold more than 10 million units, generating worldwide sales of US $100 million.

Barbie dolls sell at the rate of two dolls every second.

Handler was born Ruth Mosko November. 4, 1916 in Denver, Colorado, She died April 27, 2002 in Los Angeles, California.

The exhibition takes place November 28, 2008 to April 28, 2009 at the Edward E. and Jane B. Ford Gallery at the Museum of Arts & Sciences in Daytona Beach, FL.

THANKS FOR THE MEMORIES: MUSIC, SPORTS AND ENTERTAINMENT What do Grandmaster Flash, Phyllis Diller, and Oscar the Grouch have in common? Their pop culture legacies are all featured in the National Museum of American History's new exhibition.

Curator Dwight Blocker Bowers has assembled artifacts which are the mechanics of a Vaudeville "slapstick" and its influence on subsequent generations of physical comedians like the Three Stooges and Cheech and Chong.

There are items from the larger-than-life personalities of Carol Channing, recipient of a Lifetime Achievement Tony Award. Also on display are the outlandish boots, wig, and wooden cigarette prop of comedian Phyllis Diller, one of a handful of female comedians who broke through the velvet curtain barrier to headline Las Vegas showrooms.

There is the history of hip-hop, plus a glimpse of the distinguished career of director, the late George Sidney who called Las Vegas home.

Discover where Dorothy's famous ruby slippers can be found.

Other iconic and well-loved artifacts include; Muhammad Ali's and Joe Louis's boxing gloves, a Harlem Globetrotters jersey, a boom box owned by hip-hop pioneer Fab 5 Freddy, Celia Cruz's costume and shoes, Minnie Pearl's hat, Seinfeld's puffy shirt, Warner Brothers cartoon animation cells, and Jim Henson's Kermit the Frog - items that mirror the ways music, sports, and entertainment have played major roles in American life, shaping our national memory and often defining what is American to the nation and to the world.

The National Museum of American History in Washington, DC re-opened to the public last Friday night with a gala celebration.





Broadway To Vegas is supported through advertising and donations. Priority consideration is given to interview suggestions, news, press releases, etc from paid supporters. However, no paid supporters control, alter, edit, or in any way manipulate the content of this site. Your donation is appreciated. We accept PAYPAL. Thank you for your interest.


SPREADING THE WORD


BARBARA COOK A Celebration in Conversation and Song. The legendary Barbara Cook launches Bay Area Cabaret's first collaboration with City Arts & Lectures in this special event in which she will perform selections from Sondheim, Rodgers, and Berlin and also participate in an in-depth interview with beloved San Francisco Chronicle arts and culture critic Steven Winn.

Tuesday, December 2 at the Herbst Theatre, San Francisco.

TALK-BACK DISCUSSION SERIES offered in conjunction with the play Song of Extinction at [Inside] the Ford in Hollywood, offers a different topic of discussion every Sunday at 5 pm, following the 3 pm matinee and prior to the 7 pm evening performance. Song of Extinction is a World Premiere play (winner, 2008 Ashland New Plays Festival) about the science of life and loss, the relationships between fathers and sons, Cambodian fields, Bolivian rainforests - and redemption.

Sunday, November 23: Conversation with playwright E.M. Lewis;. Sunday, November 30: The War Plays Project: Genocide; Sunday, December 7: Moving Arts - Moving Green presents a mini-Green Expo & Symposium; Sunday, December 14: Discussion and Q&A with playwright E.M. Lewis and members of the local Cambodian-American community.


SWEET CHARITY


THE 24 HOUR PLAYS CELEBRITY GALA is the principal annual fundraising event in support of Old Vic New Voices. This department is dedicated to working with young people, developing emerging talent and building new audiences. The Old Vic receives no government subsidy so this event is vital to enable this ongoing work.

Since 2004 each year a gaggle of well known actors, playwrights and directors get together for this one-off event in which six plays are created, written, rehearsed and performed within 24 hours. This year's 24 Hour Plays Celebrity Gala is hosted by TV and radio presenter Johnny Vaughan and actor/writer James Corden.

Actors confirmed to take part include Jenny Agutter, Hugh Bonneville, Hamish Clark, Julia Davis, Martin Freeman, Henry Goodman, Ilan Goodman, Josh Hartnett, David Harewood, Jessica Hynes, Jenny Jules, Dervla Kirwan, Martina Laird, Sally Phillips, Tim Pigott-Smith, Michelle Ryan and Lia Williams.

On the creative side, directors include; Tamara Harvey, Clare Lizzimore, Anna Mackmin, Jonathan Munby, Josie Rourke team up with writers Amelia Bullmore, Moira Buffini, Maurice Gran and Laurence Marks.

For the first time this extraordinary event will take place in The Old Vic's new reconfigured 'theatre-in-the-round' CQS Space.

This year, over 2,000 practitioners from across the UK applied to enter the New Voices program, with just 100 making it through to the final auditions. An industry panel including Sebastian Born, Laura Wade, Sue Emmas, Anne McNulty and David Liddiment then made the final selection of just 7 writers, 7 directors, 7 producers and 30 actors. Following the selection process, a series of preparatory workshops for the group were staged to ready them for the challenge of the 1000-seater auditorium. Established practitioners such as Tim Roseman, Aschlin Ditta and our artistic director, Kevin Spacey, put the group through their paces. This adrenaline fuelled evening and toast the cast and creative teams after the show takes place Sunday, November 30. London.


OTHER PEOPLE'S MONEY


JAMES BOND CAR UP FOR AUCTION With the global release of the new movie Quantum of Solace putting Ian Fleming's legendary British secret agent James Bond firmly back in the public eye, Bonhams is auctioning one of the most famous Bond car ever - in the shape of the white Lotus Esprit from The Spy Who Loved Me, which starred Roger Moore and Barbara Bach.

The 1976 Lotus Esprit is one of two Lotus cars driven in the film by Roger Moore's James Bond character. It turns into an amphibious car for the movie, driven both on land and underwater - transforms into a submarine during a duel with a helicopter.

The Lotus is expected to fetch $153,000 - $184.000 when it is gaveled down by the international auctioneers on December 1 at its annual motoring Sale at Olympia, in West London.

Also for sale, is the registration number 'AU1', used in another James Bond film Goldfinger. The first registration issued in Nottingham in 1903, this number was fitted to the Rolls-Royce Phantom III used by arch villain Goldfinger in the legendary film of the same name, since AU is the chemical symbol for gold in the Periodic Table. It is expected to fetch in excess of $120,760.



RIDERS TO THE SEA English National Opera (ENO) marks the 50th anniversary of the death of one of England's best-loved composers, Ralph Vaughan Williams, with a major new production of his Riders to the Sea. Conducted by British music specialist Richard Hickox. Making her directorial debut is the Olivier Award-winning actress Fiona Shaw, who also starred as Aunt Petunia in the Harry Potter films.

Closely based on J.M. Synge's 1907 play of the same name, Vaughan Williams' Riders to the Sea is set in the Aran Islands and is his most moving and compelling opera. Elemental and hauntingly lyrical, the music communicates all the raw directness of a primitive myth. The opera's visual concept will be jointly devised by Irish multi-media artist Dorothy Cross and set designer Tom Pye.

Starring Patricia Bardon and Leigh Melrose.

The evening begins with Sibelius' Luonnotar (Nature Spirit) sung by Susan Gritton.

In association with the Vaughan Williams Charitable Trust Supported by the English Opera Group and Culture Ireland Pre-performance talk by Tony Palmer on November 28 at the London Coliseum. Performances Nov 27-30.

A CIVIL WAR CHRISTMAS by Paula Vogel. An American musical celebration directed by Tina Landau.

It's 1864, and Washington, D.C., settles down to the coldest Christmas Eve in years - in the White House, where President and Mrs. Lincoln plot their gift-giving; on the banks of the Potomac, where a young rebel collides with a Union blacksmith; and in the alleys downtown, where an escaped slave must separate from her daughter just before finding freedom.

Filled with Christmas music and traditional American songs, this new musical by Pulitzer Prize-winner Paula Vogel intertwines many lives and shows us that the gladness of one's heart is the best gift of all.

November 26-December 21 2008 at Long Wharf Theatre in New Haven, CT.

THE SANTALAND DIARIES by David Sedaris. Directed by David Alford and starring Matt Chiorini as Crumpet the Elf.

This hilarious one-man show has become a traditional holiday hit.

Out of work, our slacker decides to become a Macy's elf during the seasonal crunch. At first the job is simply humiliating, but once the thousands of visitors start pouring through Santa's workshop, he becomes battle weary and bitter. Taking consolation in the fact that some of the other elves were television extras on One Life to Live, he grins and bears it, occasionally taking out his frustrations on the children and parents alike.

Nov. 28–Dec. 20, 2008 at the Johnson Theater, Tennessee Rep in Nashville, TN.

HILLARY:A MODERN GREEK TRAGEDY WITH A (SOMEWHAT) HAPPY ENDING

Darren Pettie (as Bill Clinton) and Mia Barron (as Hillary Clinton) in a scene when Clinton won the presidency for the first time.
by Wendy Weiner. A world premiere presented by New Georges. Promoted as: "Athena, the Greek goddess of wisdom, and Aphrodite, the goddess of love, have been at war since time immemorial. When a young girl named Hillary Rodham devotes herself to Athena alone - spurning romance, makeup, and attractive hairstyles - Aphrodite takes revenge by having her fall in love with a man of mythical charm and appetites: Bill Clinton."

For a multiplicity of reasons, including a belief that the Bill/Hillary scenario is overdone, Broadway To Vegas had no intention of even mentioning this production. If we want Bill/Hillary drama, we'll watch the news - which is what is drawing people's interest towards this play even before it opens. The author can thank fate - The Gods - the current Greek tragedy with a (somewhat) happy ending (we hope) state of things.

Directed by Julie Kramer, the production will officially open at the Off-Broadway venue The Living Theater Nov. 24 Performances will continue through Dec. 20.

The cast will be headed by Mia Barron, and Darren Pettie as, respectively, Hillary and Bill Clinton. They will be joined onstage by Heidi Armbruster (Athena), Victoire Charles (Aphrodite), Jorge Cordova (Male Chorus), Charlie Hudson, III (Male Chorus), Jenny Mercein (Female Chorus) and Josie Whittlesey (Female Chorus).

The production will feature set design by Lauren Helpern, costume design by Amelia Dombrowski, lighting design by Graham Kindred and sound design by Jill BC Du Boff and Joshua Higgason. The production stage manager is Ryan Raduechel.

ROAD SHOW Music and Lyrics by Stephen Sondheim. Book by John Weidman. Directed and Set Designed by John Doyle.

Starring Tony winner Michael Cerveris and Alexander Gemignani as the eccentric Wilson and Addison Mizner. With Matthew Carlson, Alma Cuervo, Aisha de Haas, Claybourne Elder, Colleen Fitzpatrick, David Garry, Mylinda Hull, Mel Johnson, Jr., Orville Mendoza, Anne L. Nathan, Tom Nelis, William Parry, Matthew Stocke, Katrina Yaukey, William Youmans and Kristine Zbornik.

Spanning 40 years from the Alaskan Gold Rush to the Florida real estate boom in the '30s, Road Show is the story of two brothers whose quest for the American dream turns into a test of morality and judgment that changes their lives in unexpected ways. Director John Doyle, acclaimed for re-imagining Sondheim's works, joins Weidman and Sondheim in exploring some of the great American issues: real estate, capitalism and crooks.

Costume design by Ann Hould-Ward, lighting design by Jane Cox, sound design by Dan Moses Schreier, orchestrations by Jonathan Tunick and musical direction by Mary-Mitchell Campbell.

First seen in a 2006 workshop presentation at the Public, under its previous title Bounce which was mounted at the Goodman and the Kennedy Center.

Performances through December 28 at The Public in New York City.

THE NIGHT BEFORE CHRISTMAS written by Anthony Neilson. Directed by Robert Pescovitz.

In the Los Angeles premiere of this "adults only" Christmas comedy, two cockney thugs discover what could be a real-life elf during the night shift at a London warehouse on Christmas Eve. A hooker with a (somewhat) heart of gold also shows up expecting to collect the coveted toy of the season, which was promised to her in exchange for sexual favors. Together, the three try to sort out if the elf is real and may just stumble upon the true meaning of Christmas.

The cast will feature: Doug Newell, Troy Metcalf, Nina Silver and K.M. Davies.

Scenic and Lighting Design is by Christie Wright. Sound Design by Cricket Myers. Costume Design by Christy Hauptman. The Stage Manager is Liz Eldridge.

Preview begin Friday, November 28 running through Saturday, December 20 at the home of Furious Theatre Company, the Pasadena Playhouse Carrie Hamilton Theatre in Pasadena, CA.

DAME EDNA: LIVE AND INTIMATE IN HER FIRST LAST TOUR has returned to San Francisco.

This is a more up-close and intimate show than the ones she's been doing in those big houses. "No dancing girls. It's Edna and Valmai, her dysfunctional daughter. Valmai is on court order to do community service, which is helping to grow the gladioli. We're doing the traditional priapic gladiolus finale - rather expensive flowers. It's many bucks' worth to be chucked to the audience. It's the only major expense of the show. There will, however, be the introduction to an American audience, for the very first time, of Sir Les Patterson. He's a character that's been in my repertoire for a long time. He's a very overweight - or, as you say in the States, "heavyset" - gross Australian politician in a stained powder-blue suit, deeply stained tie, always carrying a drink, who's now the Australian ambassador to the States. This will be an experiment to see how people take it, because he's such a contrast to Edna. He's very good for political comment."

Through January 4, 2009 at the Post Street Theatre, San Francisco.




WHO'S WHERE


THE VIENNA BOYS CHOIR makes its annual Thanksgiving-weekend appearance at Chicago's Symphony Center with a concert of holiday favorites, secular music and popular folk songs on Saturday, November 29. Founded in 1498 by Habsburg Emperor Maximilian I, the choir is known for its mastery of a wide range of repertoire, from music of the Renaissance to contemporary works. Today, under the guidance of the chorus master of the Bayreuth Festival and the Vienna State Opera, the ensemble consists of about 100 choristers between the ages of 10 and 14, divided into four touring choirs.

MANNHEIM STEAMROLLER a musical fusion of acoustic, analog, digital and electronic sounds comes to The Orpheum in Memphis on November 25 with a new performance, The Christmas Music of Mannheim Steamroller by Chip Davis.

BILLY JOEL on stage Wednesday, November 25, at Adelaide Entertainment Centre in Hindmarsh, Australia. On Saturday he continues his Australia romp with a show at the Rod Laver Arena in Melbourne.

TONY BENNETT the ageless crooner on stage at the Hilton in Las Vegas November 28-29.

SARAH BRIGHTMAN AND MARIO FRANGOULIS have another busy week. Monday, November 24, finds them at the TV Banknorth Garden in Boston. On Wednesday the show is at Bell Centre in Montreal, QC. Friday's gig is at Scotiabank Place in Ottawa, ON. On Saturday they are on stage at Copps Coliseum in Hamilton, ON and next Sunday, November 30, they are in the spotlight at the Air Canada Centre in Toronto, ON.

MADONNA on stage Monday, November 24, at the Philips Arena in Atlanta, GA. On Wednesday she performs at the Dolphin Stadium in Miami Gardens, FL. Saturday finds her at the Foro Sol in Mexico City.

CANADIAN BRASS HOLIDAY CONCERT present their sizzling holiday program for all ages full of seasonal favorites with a new comedic twist. Monday, December 1, 2008 at the Kennedy Center Concert Hall, Washington, DC.

ALAN BARNES - THE LIQUORICE (sic) ALL SORTS a trio formed to celebrate Benny Goodman's small groups, but with influences and ideas from all over the jazz spectrum.

Featuring: Alan Barnes on reeds, Jim Hart vibraphone, Paul Clarvis on drums.

On tour in Ireland, they perform November 26 at Bangor The Castle in Bangorl November 27 at The Market House, Monaghan Town; November 28 in Belfast; November 29 at the Island Arts Centre in Lusburn and November 30 at the Regional Cultural Centre in Donegal.

TINA TURNER after an 8-year hiatus is back on stage with a world wide tour. The eight-time Grammy Award winner and Rock & Roll Hall of Famer performs November 23-24 at the Verizon Center in Washington, DC. On November 26-27 she can be enjoyed at the Prudential Center in Newark, NJ. November 29 finds her at Wachovia Spectrum in Philadelphia.

THE JONAS BROTHERS perform two shows on Saturday, November 28, at the MGM Grand in Las Vegas.


WE NEED YOUR HELP....


BROADWAY TO VEGAS, which has been in existence over 10 years, is not affiliated with any blog. A copyright clause is at the bottom of every Broadway To Vegas column. Recently, it has been brought to our attention that there is a Las Vegas based blog with an extraordinarily similar title. If you have provided that (or any) blog with: information, invitations, purchased anything through any link on that blog or transferred money, goods or services to anyone connected with that blog THINKING YOU WERE DOING BUSINESS WITH BROADWAY TO VEGAS - we want to hear from you. The more detail the better. Thank you.

Next Column: November 30, 2008
Copyright: November 23, 2008. All Rights Reserved. Reviews, Interviews, Commentary, Photographs or Graphics from any Broadway To Vegas (TM) columns may not be published, broadcast, rewritten, utilized as leads, or used in any manner without permission, compensation and/or credit.
Link to Main Page
---
Laura Deni



U.S. Postal Address: Post Office Box 60538, Las Vegas, NV 89160
CLICK HERE FOR COMMENT SECTION