! >
Broadway To Vegas
  SHOW REVIEWS     CELEBRITY INTERVIEWS     GOSSIP     NEWS 
| | |
| --- | --- |
| | |
Copyright: November 5, 2000
By: Laura Deni
CLICK HERE FOR COMMENT SECTION

BE SURE TO
All of three major networks and political hotshots agree that the presidential race is too close to call. Their high-priced polls can't be used because the percentage points are too close. So, we've scoured about and found a poll being conducted by a Huntsville, Alabama restaurant that - has some meat to it.

The Fogcutter began polling customers last week to see who they're backing for president. They vote by ordering either the George W. Bush Burger or the Albert Gore Jr. Burger, and the tally is updated every day on the restaurant's sign along University Drive.

REVEL IN THE JANE EYRE CD THEN HEAD TO THE BROADWAY MUSICAL
Charlotte Bronte's classic, passionate novel Jane Eyre, has always been considered as a favorite among English Literature readers. Now the classic page turner comes to Broadway as an acclaimed new musical that reunites the co-director and the designers of Les Miserables.

In a brilliant marketing move Sony Classics will release the show's original Broadway cast recording prior to its December 3 opening at the Brooks Atkinson Theater. The recording will be in stores on November 21 - one of the rare instances in which a cast recording is released while the Broadway show itself is still in previews.

This recording is captivating and awesome, deserving of a Grammy nomination.

In many instances an original cast recording of either a Broadway production or a movie soundtrack is more understood and enjoyable if the listener has first seen the production from whence it came.

In the case of Jane Eyre listening to this recording only makes one anxious to see the production

From the first sentence - A flood of memories washes over me - one is captivated - transfixed by this powerful, sensitive and glorious creation - wanting to hear more.

The story revolves around the main character - plain Jane Eyre. Author Bronte skillfully used the pen to bring her sojourns, misfortune and even her stroke of good luck to life.

With the book written by its director John Caird and music composed by Paul Gordon, the musical invites us to explore the world of Jane Eyre via the viewpoints of not herself as in the book but through a third person viewpoint as narrated and sang by the different characters in the musical. The variety in singing voices and intonations of the different actors transport the listener into the story - the way radio dramas used to literally have entire families sitting in the living room around a radio staring at a lifeless machine while the skilled radio actors were able to hold the attention of generations.

Such is the talent and power of this original Broadway cast recording that emotionally moves the captivated and spellbound listener.

Marla Schaffel portrays the indomitable heroine Jane Eyre, the same role she played in the La Jolla Playhouse production. Also recreating his performance will be James Barbour as the tough and strong Edward Rochester and Mary Stout will once again provides the comedy relief in her role as Mrs. Fairfax.

Mike Berniker produced the original cast recording with brilliant orchestrations by Larry Hochman and masterful musical direction and voice arrangements by Steve Tyler. These three gentlemen deserve to bask in their accomplishment.

Spectacular music with intelligent, thoughtful and poignant lyrics are the creation of Paul Gordon, with additional lyrics by John Caird, who adapted the book for the stage.

thoughtful."Let Me Be Brave" tells of little Jane Eyre as she was made as a prisoner in the red Many times an adaptation dilutes original concept or heads off into its own subplot.It's entirely possible to read a book then see an adaptation and barely recognize the written word.

In the case of the music the authors have captured the essence of the words while giving a deeper aural dimension to the storyline.

Charlotte Bronte would be overjoyed and flattered.

Her book is also benefiting from the recording and the Broadway musical. On November 14, Modern Library will release the official Broadway tie-in edition of the novel, with an introduction by Diane Johnson, the National book Award-nominated author of Le Divorce and Le Marriage. This edition of the classic novel will feature a cover design utilizing art created by artist Marc Yankus for the new Broadway musical. The book will contain a reading group study guide, as well as a commentary by Virginia Woolf and Anthony Trollope.

The voices are an amazing collection of perfection. They feel the lyrics and deliver the notes the way the authors and arranger intended.

Also appearing in Jane Eyre are Nell Balaban, Andrea Bowen, Stephen R. Buntrock, Elizabeth DeGrazia, Bruce Dow, Gina Ferrall, Marguerite MacIntrye, Lisa Musser, Bill Nolte, Jayne Paterson, Don Richard, and Lee Zarrett. Members of the ensemble include Sandy Binion, Bradley Dean, Rita Glynn, Gina Lamparella and Erica Schroeder.

Do yourself a favor and buy the original Broadway cast album of Jane Eyre. Then go see the production. It's also okay to read the book - a lot of people have.

INTUNED PSYCHICALLY

Steve Allen was a great talent and a wonderful man who will be deeply missed. See Broadway To Vegas column of December 5, 1999 ) While many well deserved comments have been written about him, we ask that you also remember his family. I had the pleasure of interviewing both Steve and his widow, Jane Meadows, numerous times over the last 30 years. Just a few years ago Jane told me:


Steven Valentine Patrick William Allen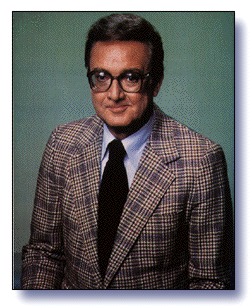 "Steve and I are in tune psychically. One night Steve woke me up to tell me about a nightmare he just had, but before he could get a word out I told him I had just dreamed that I saw him slipping out of our apartment window and I was clutching to him to keep him from falling. Then Steve told me that the nightmare he just had was one where he was leaping out the window of our ninth floor apartment. Suddenly, in that dream, Steve began to slip out and plunged to his death. I caught him. Later we went to a psychiatrist friend and discussed this dream and he told us that such shared dream occur between attuned persons.

"Steve and I have tuned into each other's personalities, so we are together not only while awake but also while we are asleep. We will also be together in death, because I know that I would not go on without Steve, and I've seen it in my dreams. I know that will happen, because I've seen myself crawl into Steve's coffin and die in his arms. Shortly after Steve dies I will also die. And, that will make me happy, because I couldn't be happy without him."

When you're remembering Steve Allen, please also remember his family. Jayne Meadows is a very strong woman, but tossing an extra prayer her way wouldn't hurt.

VETERANS DAY CELEBRATED


Branson, Mo. hosts America's largest Veterans Day celebration, Branson's Veterans Homecoming, November 6-12, 2000. This seven-day celebration includes non stop special events paying tribute to America's heroes, Veterans, active duty personnel and their families. The high light of the celebration will be the 66th Annual Veterans Day Parade held in historic downtown Branson, on the 11th hour, of the 11th day, of the 11th month.

During Veterans Homecoming, just about every show and attraction in Branson will have special rates, shows, or activities honoring our Veterans.

A recent addition is the Veterans Memorial Museum composed of five great halls covering the five wars fought during the 20th Century. Circulation and viewing starts in the World War I Hall, progressing through World War II, Korea, Vietnam, and Desert Storm. Each hall features dramatic and thought provoking exhibits, sculpture, murals, historical artifacts, objects d' art, and authentic memorabilia honor all branches of the service, major battlefronts, campaigns, and industrial defense.

The walls of each hall have the names of the men and women who gave their lives to defend our freedoms from each war. Fred Hoppe, renown bronze sculptor, created life-size bronze statues - modeled after veterans from each of the 50 states.

Many of the exhibits have been contributed and compiled from veterans and their families and include these veterans' personal stories.

Special points of interest: Over 12,000 square feet of art & exhibits. Exhibits progress through five wars fought in the 20th Century; WWI, WWII, Korea, Vietnam, & Desert Storm.

Over 50 life-size bronze sculptures, 100's of exhibits, & murals honor all branches of the military services, campaigns, major battlefields, industrial defense & the enduring support of the American people. The exhibits also cover the war on the home front including the woman's role in factory production.

Veterans from each of the 50 states were used as models for the life size bronzes. A full size P-51 Mustang fighter serves to landmark this unique national tribute to our Veterans located on West Highway 76.


STRIKE UP THE BAND


James M. Johnson Named Orchestra's New Executive Director John Jacobs, the Chairman of The New York Pops Board of Directors, announced this morning the selection of James M. Johnson as the orchestra's new Executive Director.

Orchestra Founder and Music Director Skitch Henderson said that "James brings experience that will be particularly helpful in expanding the orchestra's touring schedule, recording plans, and successful education programs. I look forward to working with him."

James Johnson comes to The New York Pops from The Orchestra of St. Luke's in New York City, where he served as Director of Operations. There he was responsible for the production of 85 engagements annually, including orchestra and chamber music concerts, recordings, television appearances, summer festival and opera and dance performances. Prior to joining The Orchestra of St. Luke's in 1994, Mr. Johnson served as the General Manager of The Martha Graham Dance Company, where he conceived Music for Martha Graham for KOCH International Records. He has served as a Programming Assistant for The New York International Festival of The Arts, and has worked with Pantages Centre For The Performing Arts in Tacoma (WA). He is a graduate of Pacific Lutheran University, and earned his MBA/MA in Arts Administration from Southern Methodist University. He lives on Manhattan's Upper West Side with his wife Jennifer Katz and their baby daughter Hannah. Mr. Johnson succeeds Sue Unkenholz, who is leaving the orchestra to work with her husband, artist/animator Ward Sutton.

The New York Pops is the largest independent symphonic orchestra in the United States that specializes in the time-honored favorites of popular American music. Skitch Henderson founded The New York Pops in 1983 in order to share his passion for music with a broad audience through the more accessible symphonic fare of pops. The New York Pops is nonprofit organization dedicated to broadening the public's awareness and enjoyment of our rich musical heritage through concerts and music education programs.


JABBER A LOT


Gwen Verdon and Broadway's The Full Monty are the focus of this week's Theater Talk, which will air Friday, on WGBH/BOSTON and Tuesday, November 14 on CCIT in Hartford.

The show pays tribute to legendary performer Gwen Verdon who died recently this month at age 75. Guests Clive Barnes, Drama Critic of the New York Post, and lyricist Chicago lyricist Fred Ebb join Theater Talk co-hosts Michael Riedel, Broadway columnist of the New York Post and Susan Haskins to discuss Verdon's style as a performer, her wit and her complicated relationship with her husband/mentor Bob Fosse. Also, on that night, critic/editors Robert Simonson of Playbill On-Line and Jason Zinoman of Time Out assess Broadway's newest musical The Full Monty.


SWEET CHARITY


PAUL SIMON who has just returned from a European tour, is preparing a major musical tribute to that current Yankee legend, Joe Torre. Paul will be the headliner at next Wednesday's Children's Health Fund gala at the Marriott Marquis which honors Torre.

CREATIVE COALITION founded by Christopher Reeve, Alec Baldwin and Ron Silver, presents the Coalition's Spotlight Award to legendary newsman Walter Cronkite on November 13 at the Manhattan Center. Others being honored for their contributions to social and political advocacy are singer Michael Bolton, musical director Paul Shaffer, and Richard Robinson, president and CEO of Scholastic Inc. Harry Shearer emcees the event. The following night the indefatigable Reeve is again on the dais with his Christopher Reeve Foundation Dinner.

CHRISTOPHER REEVE FOUNDATION DINNER November 14, at the Waldorf. Chairs are Francine LeFrak and Rick Freidberg Liam Neeson, a victim of a recent motorbike accident, is guest of honor.

JERRY HERMAN LEGACY SERIES The famed composer is hosting a fundraiser at his Los Angeles home today to benefit the newly created ASCAP Foundation Jerry Herman Legacy Series. Herman helped create the series and plans to be personally involved with the educational initiative to present America's musical theatre heritage to young audiences.

The timing of Herman's benefit reception coincides with the November 8 concert production of Herman's Mack and Mabel. Nov. 8 at UCLA's Freud Playhouse.

Herman has long been active in educational endeavors. A theatre is named after him in Florida and a scholarship named for him at Dixie College in St. George, Utah. Los Angeles Mayor Richard Riordan proclaimed today, Nov. 5, as "Jerry Herman Day" in Los Angeles. The entertainment for the reception at Herman's home will feature Jason Graae, Karen Morrow and Herman, himself.

The ASCAP Foundation reports that its Jerry Herman Legacy Series "will kick off at schools in San Francisco and San Jose, California in March 2001. The series will feature performances, seminars and master classes with Jerry Herman and notable musical theater performers."



Broadway To Vegas is supported through advertising and donations. Priority consideration is given to interview suggestions, news, press releases, etc from paid supporters. However, no paid supporters control, alter, edit, or in any way manipulate the content of this site. Your donation is appreciated. We accept PAYPAL. Thank you for your interest.



RED HOT AND BLUE: A SALUTE TO AMERICAN MUSICALS is being staged at the Goodspeed Opera House. The production follows the Broadway and Hollywood musical from its immigrant roots in nineteenth-century vaudeville, through its heyday in mid-century, to its redefined cultural role today.



COLE PORTER

Red, Hot & Blue which takes its name from Cole Porter's 1936 Broadway musical, illustrates the words and music for the American dream, is a collective biography. In tandem with this musical is an incredible exhibit documenting the history of the Broadway musical

It was the performers, composers, lyricists, impresarios, choreographers, and designers who infused musical theater and film with their personalities and shaped our vision of the modern American experience. The culture that emerged at the end of the nineteenth century urban-oriented and ethnically diverse, staccato-paced and pleasure-seeking demanded a new voice for the twentieth. Distinctively American musicals emerged.

George M. Cohan's flag-waving anthems at the turn of the century into Ziegfeld's rollicking revues, while the advent of Hollywood gave Depression America both the backstage grit of Busby Berkeley and the gossamer glamour of Fred and Ginger.



New Amsterdam Theatre, New York, New York. Courtesy Wisconsin Center for Film and Theatre Research, Madison. Built in 1903, the New Amsterdam Theatre was called "The Grandest in the World." It was host to Ziegfeld Follies, the series of shows from impresario Florenz Ziegfeld, Jr. that undisputedly defined the look and sound of the American musical revue from 1913 to 1927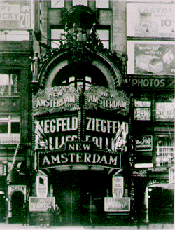 Musicals conveyed our national optimism in the forties and fifties, with Garland and Kelly at M.G.M. Merman and Martin on Broadway, and Rodgers and Hammerstein on stage, screen, and television. Since the 1960s, the genre has echoed the dissonance in American culture.

Musicals like West Side Story and Hair examined social issues, while others like A Chorus Line explored individual psychological landscapes. Still, revivals such as Hal Prince's Showboat have shown that, even in millennial America, musicals reflect a common legacy the echoes of all of our origins, the mix and match of what we have formed together.

Red, Hot & Blue: A Salute to American Musicals will be on display at the Goodspeed Opera House through December 17.

Developed and organized by the National Portrait Gallery, the National Museum of American History, and the Smithsonian Institution Traveling Exhibition Service (SITES), the exhibition has been made possible, in part, through the generous support of Turner Classic Movies, and locally in part by Comcast Cable and the Connecticut Humanities Council.

Members of Goodspeed's Board of Trustees celebrated the opening of the Smithsonian Institution's travelling exhibit.

This exciting exhibit is open to the public one hour prior to each performance of Goodspeed's production of Cole Porter's 1936 hit Red, Hot and Blue! through December 17.

THE GATHERING a drama by Arje about three generations of a Jewish family, will open at the Cort Theatre in NYC with Hal Linden as the star. Linden last appeared in Las Vegas starring in Chicago.

The Gathering is scheduled to start previews April 10 and open April 24, 2001. Shaw's drama takes place during the Reagan years and concerns family members clashing over their duties as Americans.

Rebecca Taylor, who has previously directed both Off Broadway and Florida stagings of this play, will repeat her duties on Broadway. Martin Markinson and Lawrence Toppall are producing The Gathering, in association with Diaspora Productions.

The Gathering will first tour, playing four cities before coming to the Cort. The production will kick off at Wilmington, DE's DuPont Theatre January 19-28. From there they play four weeks at the Wadsworth Theatre in Los Angeles February 3- 28 then go a gig at Fort Lauderdale, FL's Parker Playhouse March 7-18, ending with a stint at the Royal Poinciana in Palm Beach March 20-April 1.

Designing the show are sets by Andy Stein, Susan M. Posner in charge of costumes and Scott Clyve handling lighting.

Linden, last Off Broadway in Visiting Mr. Green, won a 1971 Tony Award for playing patriarch Mayer Rothschild in The Rothschilds. He became a household name thanks to starring in the TV sitcom Barney Miller. Joining Linden on Broadway will be Colmen Zeiglen, Adam Rose, Deidre Lovejoy and Sam Guncler.

PROOF by David Auburn at the Walter Kerr Theater, NYC is getting rave reviews and loud whispered that Mary-Louise Parker, will be nominated for a Tony Award. She plays Catherine, the daughter of a dead math genius. Robert, played by soap opera and Broadway veteran Larry Bryggman, has made an extraordinary contribution to 20th-century mathematics, before declining into mild dementia before an early death. It was Catherine, his youngest daughter who cared for him, sacrificing much of her own education to do so.After the old man's death, a young math whiz named Hal - play by Ben Shankman - comes to look through Robert's notebooks - carefully kept under lock and key - for anything of research value. Also on the doorstep is Catherine's older sister Claire played by Johanna Day - who has come for the funeral. The bossy soul has already made arrangements to sell the house and insists that Catherine to go live with her and her fiance' in New York.

The play was first produced last season off-Broadway by the Manhattan Theater Club with the same cast. Directed by Daniel Sullivan, with lighting by Pat Collins.

JINGLE BALL 2000 will once again be held at Madison Square Garden. Z-100's annual holiday concert extravaganza --- "Jingle Ball 2000" taking place on Thursday, December 14 will include performances by some of music's biggest superstars --- Ricky Martin, Third Eye Blind, Britney Spears, Baha Men, Barenaked Ladies, 98 Degrees, Mya and Nine Days, with other special guests still to be announced. Tickets went on sale Friday.

FEELING SORRY FOR ROMAN POLANSKI A woman drops dead after receiving a singing telegram from a man in a gorilla costume, a marriage which may be more (or less) than it seems, the tantalizing hint of an unconfirmed conspiracy and one very angry relative of the deceased. These are the elements which make up the world of Feeling Sorry for Roman Polanski, Sue Cargill's comedy, tonight, November 5th at the New York Comedy Club.

Directed by Michael Whitney and produced by Tight and Shiny Productions, Polanski takes a look at a middle-aged, lower class couple and shines a light onto what make them tick. There's Myrna, the caring, eternal optimist, who works in a greeting card store and who would rather talk about other people's real or imagined trials and tribulations instead of her own; and her husband Bink, who's stuck in a dead-end telemarketing job. Bink's main enjoyment in life comes from his "fun job," delivering singing telegrams dressed in outlandish costumes. One day a sweet little old lady suffers a fatal heart attack after seeing Bink in his gorilla suit. After suffering through grief, remorse and anxiety, and losing his telegram job in the process, Bink begins to suspect he was actually set up to "knock off" the woman by someone who would benefit from her abrupt demise. Wanting to prove this - to Myrna as well as himself - he sets out in search of the truth. After a painful encounter with the person he suspects is responsible for the tragedy, Bink unwittingly finds the answers that he was really seeking.

Originally staged in Chicago in 1995 at Zebra Crossing, the cast of Feeling Sorry For Roman Polanski features Robb Patterson, Karla Chandler and Michael Whitney, with Patterson reprising his role from the 1995 production.

Feeling Sorry for Roman Polanski is the inaugural offering from Tight and Shiny Productions, whose purpose is to bring exceptional scripts to the New York stage and provide the opportunity for developing theatre artists to showcase their talents. Scheduled through November 27th.

THE SHANEEQUA CHRONICLES written and performed by Stephanie Berry, directed by Talvin Wilks, begins performances November 9 at the Ensemble Studio Theatre, NYC. The show is a Black woman's journey through life in late 20th Century America - of a girl coming to terms with her personal power and an understanding of the creative means of survival which quietly permeated the Harlem neighborhood in which she was raised. Through Shaneequa, we come to understand how political and social dynamics affected the coming of age of a particular American woman of African descent.

Berry is the founder and Executive Director of Blackberry Productions, a professional community-based theater company in Harlem - affiliated with the Ensemble Studio Theatre since 1984. She will be seen in a supporting role in Gus Van Sant's new feature film Finding Forrester starring Sean Connery. Under the direction of Reggie Montgomery, she choreographed George Wolfe's Spunk at the Dallas Theater Center and Hartford Stage Company. She has also created a featured role in Remembering Aunt Jemima for two consecutive seasons at the Black Arts Festival in Atlanta, GA. Berry also had a recurring role on the daytime drama Loving and has frequently been seen on New York Undercover, Law & Order, and Another World.
WHO'S WHERE


REBA Mc ENTIRE steps into the role of Annie Oakley in Broadway's Annie Get Your Gun. She will take over the role now played Cheryl Ladd January 26, 2001 and stay with the show until May 27. In the 1995 television film, Buffalo Girls, McEntire actually played Annie Oakley.

ELAINE ST GEORGE is performing her third show,Do Re Mi, Democracy at Judy's Chelsea, NYC mixing songs written specifically for stage and screen together with campaign songs to come up with a timely show for this Election Year. Do Re Mi, Democracy features the lyrics of Irving Berlin, Yip Harburg, and Stephen Sondheim and marks the cabaret debut of Senator Orrin Hatch!

Elaine has invited other cabaret performers to join her on the duet part of George and Ira Gershwin's If I Became the President from Strike Up The Band. Including: Deian McBryde, Margaret Dorn, Sidney Myer, Leslie Anderson, James Beaman, and Mark Nadler.

SARAH BRIGHTMAN performs in Salt Lake City, UT on November 7. Then she's in Denver, CO. on November 8, followed by an engagement in Chicago on November 11. Rounding out this week, the talented lady takes center stage Nov. 14 in Grand Rapids, MI at the Van Andel Arena.

BETTY BUCKLEY performs at the University of Connecticut in Storrs, CT on November 10-11.

KAREN MASON can be found at The Plush Room in San Francisco's York Hotel through November 12.

KAREN ZIEMBA will sing the National Anthem at the Chase Championship Tennis Tournament at Madison Square Garden on November 16.

OAK RIDGE BOYS entertain November 11 in Nashville, IN at the Little Nashville Opry.

JOAN BAEZ this coming Wednesday at the Salt Lake City, UT University Of Utah. On Friday she's in San Francisco, CA at The Fillmore and the next night it's Santa Rosa, CA Luther Burbank Center.

LARRY GATLIN is at Harvey's Casino in Council Bluffs, Iowa on Monday.

LEE ANN WOMACK takes center stage at the Stardust Hotel, Las Vegas, NV. November 9, 10,11.

JACK JONES performs at the Suncoast Hotel, Las Vegas November 10-12.

THE UKRAINIAN NATIONAL DANCE COMPANY VERIOVKA Created to combine traditional and contemporary folk song and dance, this highly acrobatic company of 75 singers, dancers and musicians reveals the soul of the Ukrainians the rough traditional dancers such as coccack and hopek.

WHITNEY HOUSTON AND BOBBY BROWN perform at the Aladdin Hotel, Las Vegas on November 10.


THIS AND THAT

LIVING STATUES Do you wonder what to put on that coffee table?

In Las Vegas you can rent living statues.

Gorgeous gals with their skin painted silver or gold sit cross-legged on a table MOTIONLESS as guests arrive.

After 45 minutes they disappear, but it is an attention getter.








Mention BROADWAY TO VEGAS for Special Consideration
Call (800) 942-9027









Next Column: November 12, 2000
Copyright: November 5, 2000. All Rights Reserved. Reviews, Interviews, Commentary, Photographs or Graphics from any Broadway To Vegas (TM) columns may not be published, broadcast, rewritten, utilized as leads, or used in any manner without permission, compensation and/or credit.
Link to Main Page
---
Laura Deni


CLICK HERE FOR COMMENT SECTION