Broadway To Vegas
  
 SHOW REVIEWS CELEBRITY INTERVIEWS GOSSIP NEWS

| | |
| --- | --- |
| | |
RAGTIME JIMMIE CELEBRATES THE MUSIC OF MONACO - - NICOL KIDMAN PORTRAYS ARTIST DIANE ARBUS - - HAROLD PINTER SPEAKS OUT - - STEVE MARTIN RECEIVES MARK TWAIN PRIZE - - JAMES EARL JONES HONORED - -CREAM PERFORMS AT MADISON SQUARE GARDEN - - ONE MAN STAR WARS TRILOGY - - GROUCHO: A LIFE IN REVUE - - DONATE . . . Scroll Down


Copyright: October 16, 2005
By: Laura Deni

CLICK HERE FOR COMMENT SECTION
RAGTIME JIMMIE: THE MUSIC OF JAMES V. MONACO
Earl Wentz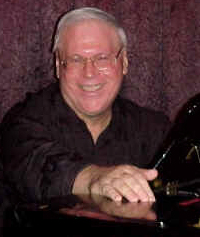 You Made Me Love You - a standard sung of love both joyous and unrequited. Written by James Monaco, a member of the composers Hall of Fame, died 60 years ago today - on October 16, 1945. His memorial service was one of the biggest ever staged in Hollywood.

Opening October 22 in New York City at Don't Tell Mama is Ragtime Jimmie: The Music of James V Monaco - part of the American Composer Series.

That series pays tribute to the greatest composers of popular music on the American scene through works created for the stage, screen, radio, and television. The series creator and musical direction is Earl Wentz, who spoke with Broadway To Vegas about The American Composer Series and James Monaco.

"This is my baby," stressed Wentz about The American Composer Series which has spotlighted Milton Ager, Harold Arlen, Nacio Herb Brown, Hoagy Carmichael, Ray Henderson, Victor Herbert, Jimmy McHugh, Richard Rodgers, Jule Styne, and Harry Warren.

"Through my whole career I've always been drawn to these composers," said Wentz who began his professional career as a paid piano player when was a 12-years-old wunderkid. He'd been paid to tickle the ivories ever since. "I've done concerts of their music and used them in revues. I felt the cabaret venue would be a really good place to hone it down."

"The way we line things up is very unique, I think," he continued. "We did the first, big announced tribute to Harold Arlen last fall. With a known name composer you have to do songs that people want to hear - unless you say we are going to do the unsung Harold Arlen."

While many have staged tributes to composers most bridge songs with conversation. Wentz has a different approach.

"If I wanted to go to a lecture I'd go to a college lycenium program," he stated. "When I go to a cabaret - I'm going to hear a singer or hear the music - then shut up and sing the songs. That's how I feel. We want to promote the material and learn the man through his work."

"Every show is a little different," continued Wentz. "Some shows mention more than others. In the Harold Arlen show we didn't say a word from the beginning to end. We didn't even say hello. It was almost like a theater pastiche piece. One number led into another with lighting changes and it just flowed."

Ragtime Jimmie offers a musical retrospective on Monaco's work covering the entire spectrum of his professional life (1911-1945). Ragtime Jimmie features Anna Ewing Bull, William Watkins and Laura Leigh Davidson.

"The show has 29 sings in one hour," continued Wentz who grew up in Charlotte, N.C. "The first thing I do is play through the songs and then narrow it down to the ones I could not live without," he explained about the production process. "From there I get a story order. The timing is automatic. I will condense some numbers so they are compete and yet they move on and leave more time to other numbers."

"We start Ragtime Jimmie with a war section that he did very early in his career - from WWI - I'm Going To Follow the Boys. Then we follow it up with a WWII song, You're My Little Pin Up Girl. Theme wise we brought those two together and put them in a medley. The next one is We Mustn't Say Good-bye which is a soldier saying good-bye to his loved one. We end the section with A Dream of a Soldier Boy, which is back to WWI - about the soldier boy dreaming of finally there being peace in the world."

"Even though these were written in another era, with a different style of music, everything that is being said, and the way the music underlines it, is so apropos today. Every single word. Every single note," emphasized Wentz who admits that you can't second guess an audience.

"You never know about the audience," he admitted. "We've been pleased because people have been very moved."

Right now Don't Tell Mama is the only venue for The American Composer Series.

"We count that our New York home. It's a fun place. People are friendly. Sidney Myer, who runs the place, always says 'welcome home.'"

"We are expanding," Wentz announced. "Starting next Spring we'll be opening a show at Odette's in the Philadelphia area. That show we also hope to take to London. This show would be a great one for London, because Monaco worked in London."

Born in Italy in 1885, James V. Monaco's family emigrated to the United States when he was six years old, settling in Chicago. He earned his nickname - Ragtime Jimmie - as a teenager when he worked as a self-taught ragtime piano player at various Chicago nightspots. He published his first song in 1911.

Two years later he had his best-remembered hit, You Made Me Love You, with lyrics by Joe McCarthy. A smash originally, it earned a second go-round in popularity when it was used in the Judy Garland film Broadway Melody of 1937.

His work reached a new height in 1927 when his song Dirty Hands, Dirty Face became the first tune sung on film by Al Jolson in The Jazz Singer. Other stars he wrote for included Lynn Bari, Linda Darnell, Benny Goodman, Jack Oakie, Mary Martin, June Haver, Betty Grable and Martha Raye. His work can be heard in the films Dr. Rhythm (1938 - one of six Bing Crosby pictures Monaco worked on), The Road to Singapore (1940), Stage Door Canteen (1943), Pin Up Girl (1944) and The Dolly Sisters (1945).

From 1932 to 1936 he had his own dance band. When he died in 1945 at the age of 60, many in the Hollywood elite called him one of the most beloved men in the industry. Nominated for four Academy Awards, he was elected to the Songwriters' Hall of Fame that same year.

"Hopefully we are going to take Jimmie to different cities, said Wentz who speculated why Monaco isn't a household name.

"I think he did his work quietly behind the scenes. He was not a visual person like a Gershwin who was out there socially."

"Ragtime Jimmie presents the heart of his music. For instance, You Made Me Love You - hear the heart in that song - whether you do it as an up-tempo cutesy song or you do it passionately like Judy Garland did - there is a heart," related Wentz who as an arranger said "Nelson Riddle is a great idol of mine."

"Heart runs through all of Monaco's music. It is delightful. Starting with the ragtime era, he came up through 1945 and he matched each era as he went along, yet never sacrificed that center to his music. It always had the heart."

Beginning performances October 22, Ragtime Jimmy will be staged through November 5 at Don't Tell Mama in New York City.

(For the complete James Monaco discography click here )
ART AND ABOUT


DIANE ARBUS REVELATIONS

A young man in curlers at home on West 20th Street, N.Y.C. 1966 Copyright © 1971 The Estate of Diane Arbus, LLC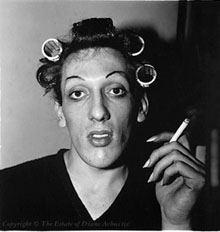 a major exhibit at the Victoria and Albert Museum in London opened October 13 and is on display through January 15.

Arbus is the legendary New York photographer whose work captured 1950s and 1960s America and transformed the art of photography. The exhibition is the largest retrospective of her work ever assembled and is the first international Arbus exhibition for over 30 years.

Her life is also the subject of a movie, Fur, which is currently in post production. Nicol Kidman stars as Diane Arbus in the flick which also stars Robert Downey, Jr and Jane Alexander.

The art exhibition consists of nearly 200 of the artist's most significant photographs. Prints are drawn from major public and private collections throughout the world and include many images that have never been exhibited publicly. Among the works on display are such iconic images as Identical twins, Roselle, N.J. 1967 and A young man in curlers at home on West 20th Street, N.Y.C. 1966.



young Brooklyn family going for a Sunday outing, N.Y.C. 1966 Copyright © 1966 The Estate of Diane Arbus, LLC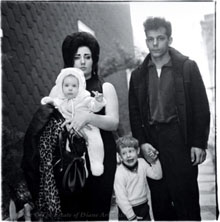 Benefiting from new research, the exhibition also reveals the artist's methodology and intellectual influences through an innovative presentation of contact sheets, cameras, letters, notebooks, and other writings, as well as books and ephemera from Arbus's personal library.

Mark Jones, the director of the V&A, said: "Diane Arbus changed the face of photography with her powerful and moving photographs which captured 1950s and 1960s America. She has had a profound influence on photographers ever since and on the way we look at our fellow human beings. This is a long overdue retrospective which shows her work is as compelling as ever."



Albino Sword Swallower at a Carnival, Maryland by Diane Arbus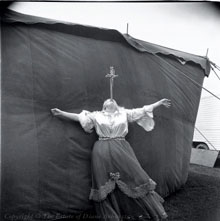 Diane Arbus (1923-1971) was born in New York City and found most of her subjects there. She was a photographer primarily of people she discovered in the metropolis and its environs.

Her "contemporary anthropology" - portraits of couples, children, carnival performers, nudists, middle-class families, transvestites, people on the street, zealots, eccentrics, and celebrities - stands as an allegory of postwar America and an exploration of the relationship between appearance and identity, illusion and belief, theatre and reality.

For Arbus, photography was a medium that tangled with the facts. Many of her subjects face the camera implicitly aware of their collaboration in the portrait-making process. In her photographs, the self-conscious encounter between photographer and subject becomes a central drama of the picture.

This exhibition was organized by the San Francisco Museum of Modern Art.

GARSON KANIN: MEMOIRS

Garson Kanin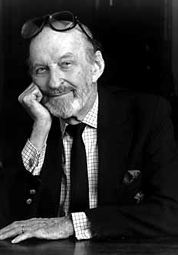 now through November 6 in the Fichandler Lobby of Arena Stage in Washington, D.C.

This special exhibition features personal items, photos and correspondence graciously supplied by the Garson Kanin Estate. Yesterday, Today and Tomorrow: the Enduring Legacy of Garson Kanin is a panel discussion taking place October 16.

The panel will examine Kanin's significance to American theater and culture, moderated by Arena Stage Literary Manager Michelle T. Hall.

Special guest panelists include Jackson R. Bryer, Professor Emeritus at the University of Maryland; Cindy Gueli, doctoral fellow and adjunct professor of history at American University; Howard Kissel, chief drama critic for the New York Daily News; and Tappan Wilder, who holds a master's of philosophy in American studies from Yale and is also Thornton Wilder's (Our Town) nephew and the manager of his literary and dramatic properties.



Broadway To Vegas is supported through advertising and donations. Priority consideration is given to interview suggestions, news, press releases, etc from paid supporters. However, no paid supporters control, alter, edit, or in any way manipulate the content of this site. Your donation is appreciated. We accept PAYPAL. Thank you for your interest.



BRITISH PLAYWRIGHT HAROLD PINTER 75, won the 2005 Nobel Prize for Literature, it was announced Oct. 13. His plays include Old Times, Betrayal and The Birthday Party. According to the Swedish Academy, the Nobel was given to Pinter, "who in his plays uncovers the precipice under everyday prattle and forces entry into oppression's closed rooms." The British playwright, poet, and political campaigner was lauded for his use of spare and often menacing language to explore powerlessness, domination and the tyranny of the state. The chilling, understated style of his work even inspired an adjective all his own: Pinteresque.

Harold Pinter in Conversation will take place on October 20 when Pinter returns to the Royal Court in London to mark the publication of a new edition of Various Voices - a collection of Pinter essays and anecdotes.

He'll be signing copies of Various Voices in the Royal Court Bookshop following the event.

Harold Pinter's plays are lauded the world over but, until now, little has been gathered together of his other writings. Various Voices presents a wealth of material and a multiplicity of form in which to enjoy the crystal clarity of language and style which marks out Pinter as a true original. Through this tomb the reader can trace Pinter's development from a nascent writer exploring the boundaries of his craft to the assured maturity of his later work.

Various Voices comprises Pinter's own selection of his prose, prose fiction, poetry and political writings.

STEVE MARTIN will receive the Kennedy Center Mark Twain Prize in Washington on Oct. 23 He will be saluted by a lineup that includes Dave Barry, Larry David, Tom Hanks, Diane Keaton, Lorne Michaels, Randy Newman, Carl Reiner, Martin Short, Paul Simon and Lily Tomlin. The ceremony will be broadcast on PBS on Nov. 9.


SWEET CHARITY


BENEFIT CONCERT FOR ASIANS FOR MIRACLE MARROW MATCHES - LEA SALONGA

Lea Salonga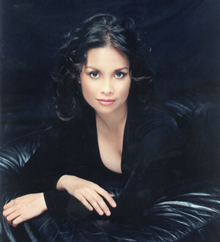 Winner of Tony, Drama Desk and Outer Critics Circle awards, Lea Salonga gained international acclaim for her performance as Kim in the London and Broadway performances of Miss Saigon.

In 1993 she became the first Asian actress to play the widely popular role of Eponine in Les Misérables. She returned to Broadway in 2002 to star in the hit production of Rodgers & Hammerstein's Flower Drum Song.

Salonga's concert will be an intimate performance with a mix of show tunes, Jazz standards, and popular favorites. This performance is presented by the Asians for Miracle Marrow Matches as a benefit concert.

Cerritos Center for the Performing Arts on October 23 in Cerritos, CA.

JAMES EARL JONES HONORED BY THE YMCA OF GREATER NEW YORK

James Earl Jones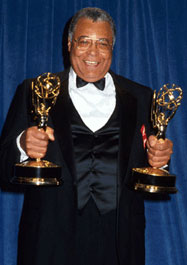 at the annual Arts & Letters Auction and Reception, themed Celebrating the Artists of Today Today. Preparing the Artists of Tomorrow. Also being honored for excellence in children's literature is Jon Scieszka, author of The True Story of the Three Little Pigs. Michael Cavanaugh, Grammy and Tony nominated star of the Broadway musical, Movin' Out, will be honored for excellence in music.

Academy Award winner, and YMCA Board Member Marcia Gay Harden will serve as Mistress of Ceremonies and Honorary Chair. Renee Fleming, world- renowned soprano; Paula Zahn, anchor of CNN, Paula Zahn Live, and Charles Osgood, anchor of CBS News Sunday Morning, will also serve as Honorary Chairs. The Event Chair is Shaygan Kheradpir, Chief Information Officer, Information Technology,Verizon Communications; Co-Chair is Janice Reals Ellig, President of Gould, McCoy, Chadick & Ellig.

The program will include a reception, silent and live auctions, a performance by Michael Cavanaugh, and a book signing by famed cartoonist of The New Yorker, Bob Mankoff. Joining Marcia as a guest reader is Verizon spokesperson James Earl Jones who will read from his favorite children's story book, The True Story of the Three Little Pigs by A.Wolf, which is of course, told from the wolf's perspective!

Proceeds support the Virtual Y after school programs serving more than 6,000 youngsters in more than 80 public schools throughout New York City.The Arts & Letters Auction and Reception is expected to raise $500,000 Grammy and Tony nominated star of the Broadway musical will be honored for excellence in music.

The fundraiser will benefit the YMCA's Virtual Y - a pioneering after-school program operating in over 80 public schools across New York City. The event, which is expected to raise $500,000 will be held Monday, October 24, at Rainbow Room, New York City.

CAREER TRANSITION FOR DANCERS celebrates their 20th anniversary with a gala that stars Tony, Oscar and Emmy winner Liza Minnelli. She will serve as the host of That's Entertainment!, on Oct. 24 at City Center in New York City.

The event pays homage to a century of dance in the United States as well as honor the Joffrey Ballet and its co-founder and artistic director, Gerald Arpino; the Harkness Foundation for Dance; and Lewis S. Ranieri, chairman of American Ballet Theater. Career Transition for Dancers helps professional dancers prepare for new careers when dance is no longer an option.

ONE MAN STAR WARS TRILOGY starring Charles Ross. Special Actors' Fund Performance on Monday, October 17 at Lambs Theatre in NYC.

THE 25TH ANNUAL PUTNAM COUNTY SPELLING BEE special Actors' Fund Performance takes place on Sunday, October 23 at Circle in the Square Theatre, NYC.

The production stars Derrick Baskin, Deborah S. Craig, Jesse Tyler Ferguson, Dan Fogler, Lisa Howard, Celia Keenan-Bolger, Jose Llan, Jay Reiss, and Sarah Saltzberg.

SONGS FOR A NEW WORLD Tony Award-winning composer Jason Robert Brown and a Boston all-star cast perform in this one night only benefit for NSMT's Encore Fund. October 24 at The John Hancock Hall, in Boston, MA.


SPREADING THE WORD


HENRY JAMES' THE TURN OF THE SCREW WHAT IS SAID AND WHAT IS LEFT UNSAID part of the At Ease With Opera series presented by The Lyric Opera of Kansas City.

This free literary discussion of the Henry James novella is presented by Tom Brandt and various literary luminaries. Held at the Kauffman Center in Kansas City on October 24.



FREEZING PARADISE: AN EVENING WITH KEVIN KLING an evening of observations touching upon universal human experiences as seen through his sometimes absurd, often ironic, and always unique Midwestern perspective. Freezing Paradise takes place in two parts. To open the show, Kevin invites the audience to visit his home, which he evokes through his autobiographical stories. These stories show how home is both specific, unique to each one of us, and universal, something each of us recognizes. In the second part of Freezing Paradise, Kevin leaves home and descends into the underworld, taking the audience with him on the journey of the archetypal hero. Kevin is called to this journey by the near-fatal motorcycle accident he survived in 2001. As he emerged from the accident, he found himself in a world of disability. In his adjustment, he came across the Latin word "dis." Where conventionally we think of the prefix "dis-" as meaning "bad" or "negation," "dis" instead has associations with the underworld, with shadow and reflection. Kevin came to see the underworld not as a bad place, but as a different place.

The second half of Freezing Paradise takes us through Kevin's underworld, where his journey is interwoven with many of the classical heroes – including Gilgamesh, Odysseus and Dante –who came before him, asking the question, "Can you return from the underworld?" Developed for the Guthrie's 2005 tour, Kevin brings Freezing Paradise home to the Guthrie Lab. October 19 - November 6 at the Guthrie Lab in Minneapolis, Minnesota.

700 SUNDAYS the Tony award winning one man show by Billy Crystal begins performances at The Opera House in Boston on Oct. 18 for a two-week run through Oct. 29.

I CAN GET IT FOR YOUR WHOLESALE with book by Jerome Weidman, music & lyrics by Harold Rome, takes a hard-boiled look at the cut-throat world of New York's garment district circa 1937. Harry Bogen is determined to rise to the top by whatever means are required. He starts small-time, then moves into the garment business with a few partners, and then shoves them out of his way. When he ends up bankrupt, only his mother is there to console him. Wholesale originally directed on Broadway by Arthur Laurents, and was Barbra Streisand's first Broadway appearance - for which she received a 1962 Tony nomination; it boasts a wonderfully evocative score by the great Harold Rome and a hard-hitting book by Weidman based on his best-selling novel.

This production kicks off the Musical in Mufti series - musical theatre gems in staged concert performances - presented by The York Theatre Company with James Morgan as Producing Artistic Director.

Wholesale will be directed by Richard Sabellico. Performances begin on Friday October 21. Audience discussions follow each matinee. York's home at Saint Peter's Theatre in Citigroup Center, NYC.

SHAOLIN MONKS return to London's West End with a brand new show. Featuring even more incredible feats of strength and skill, this show will leave you amazed.

Twenty Shaolin Monks and five young trainees have traveled all the way from the Shaolin Temple in China, to demonstrate their martial arts expertise.

In a crescendo of kung-fu sequences, the Shaolin Monks are lifted aloft on sharpened spears, splinter wooden blocks with their bare hands, break bricks on their heads and fly through the air in a series of incredible backflips and spins. October 19 - November 13 at the Peacock Theatre, London.

SEPTEMBER SHOES by José Cruz González. Directed by Amy Gonzalez.

The haunting, passionate story of Albert and Gail Cervantes' return to their southwestern childhood home.In the town of Dolores, meaning "Sorrow" in Spanish, they encounter a collection of colorful, mystical characters both real and dreamlike. Their heart- wrenching tales help the couple come to terms with their past and realize that they and Dolores are forever bound together.

October 20 - December 17 at The Ricketson Theatre Denver Center for the Performing Arts>

ON SECOND AVENUE English & Yiddish with English Supertitles. Broadway star Mike Burstyn heads the cast of this hit musical revue by Zalmen Mlotek and Moishe Rosenfeld. Back by popular demand, a musical celebration of Yiddish theatre from its birth in the wine cellars of Jassy, Romania through its heyday on New York's Second Avenue. When it premiered in 1986 The New York Times called it "a musical mitzvah". Filled with humor, drama and wonderful music, it pays tribute to the glittering stars and the many thousands of actors, directors, writers and composers who left a legacy which influenced American and world culture.

With the songs and music of several of the great Yiddish theatre composers - Goldfaden, Secunda, Olshanetzky, Rumshinsky, and Elstein.

Created by Moishe Rosenfeld and Zalmen Mlotek, with Bryna Wasserman directing.

Opens October 22 at the In Folksbiene Yiddish Theater in NYC.

GROUCHO: A LIFE IN REVUE Written by Groucho Marx's son, Arthur Marx, with Robert Fisher. This award-winning, musical entertainment captures the Marx Brothers' outrageous verbal and physical humor, their funniest songs, dialogue and ad-libs.

The comedy and pathos of an American original emerges in a show which has been called "uncanny."

Groucho is portrayed by the extremely talented Marshall Stern, who also directs. The production features Andrew Behling, Paul Jaquith, Greg Morelli and Nancy Howland Walker.

Groucho debuted off-Broadway at the Lucille Lortel Theatre in 1986 and ran 254 performances. In London, the show was nominated for three Laurence Olivier Awards. Relive the memories of Groucho, Harpo and Chico, Animal Crackers, You Bet Your Life, horns honking, eyebrows raising, piano key shooting, harp strumming and chorus girls dancing.

From his early days growing up in New York with his, now legendary, brothers to the formation of the Marx Brothers vaudeville act, to the many side-splitting films that made them superstars, he was always Julius Marx. Quick with an insult, a devoted family man and with his trademark greasepaint moustache and cigar, this show is a must for any fan of the Marx Brothers.

October 20-November 20 at the Chicago Jewish Theatre.

MAMMA MIA! welcomes Michele Pawk and her husband, John Dossett, to that cast on October 19 at the Cadillac Winter Garden Theater in NYC, The Tony award winning Ms. Pawk will play Donna Sheridan - the mamma and Dossett will play Sam Carmichael - one of the possible fathers. Michele and John met in 1993 while performing in Hello Again at Lincoln Center. Their roles in Mamma Mia!l mark the first time since then that they worked together.

A MARRIAGE MINUTE a world premiere by David Wiltse.

A comic romp on the joys and temptations of sex among those who are too smart by half and old enough to know better. A Marriage Minuet, by the author of The Good German, explores the ethics of love and literature as two writers and their wives negotiate a choreography beyond matrimony and end up in the same hilarious dance of life. The comedy hit of our 2005 New Voices play-reading series.Oct. 21- Nov 27 at Florida Stage. Manalapan, FL.

TRAFALGAR CELEBRATIONS October 1805 saw Britain achieve victory in its greatest sea battle, while suffering the death of its National hero, Admiral Lord Horatio Nelson.

The Georgian Theatre Royal is staging a major drama-documentary with songs, sea shanties and entertainment to commemorate the bi-centenary of this event.

Among those taking part will be The Dales Folk, Fourum, John Deighton and the Back Room Boys together with children from local schools.

All proceeds will be devoted to ROSA, the Station Group and The Georgian Theatre Royal.

TRUMBO Written by Christopher Trumbo. Directed by Peter Askin.

The Falcon Theatre in Burbank, CA presents the West Coast Premiere of Christopher Trumbo's riveting drama: an homage to the playwright's legendary screenwriter father, Dalton Trumbo who penned Spartacus, Roman Holiday, Exodus.

In 1947, Dalton Trumbo stood up to the House Un-American Activities Committee and was thrown into prison as one of the infamous "Hollywood Ten." From his luminous and amusing letters to family, friends and enemies, emerges the story of a family's survival and one stubborn artist's quest to break the blacklist.

Previews Oct. 19 - 27, Opening Night Oct. 28 with performances through Nov. 13, Falcon Theatre in Burbank, CA.

GLORY DAYS Playwright and lyricist, Michelle Herx, teamed up with composer & orchestral director, Roger Taylor, to bring the story of 1897 Windsor to the stage.

A full-length, Broadway-style musical, the play is produced by Windsor's Quick As A Wink Theatre Society in Nova Scotia and involves over fifty actors, stage and technical personnel, a 17-piece pit orchestra and countless volunteers spanning from Halifax to Kentville.

Glory Days recreates, in spirit and memory, the town of Windsor one hundred years ago when Windsor was at the height of its glory - the Maritime centre of high society, culture, commerce, education, sports and industry. Known as the Athens of Nova Scotia, Windsor was the place to be.

The play spans the entire year of 1897 and is a fictional love story about a young music teacher and a ship's carver. Many of the other characters in the musical are drawn from history, though fictionalized by the playwright. The love story is written over the historic events that made Windsor "the little town of big firsts" and includes hockey, bicycling, shipbuilding, the Windsor Fair, pumpkin growing and even an 1100-pound pig!

Glory Days tells the story of the historic Great Fire that burned Windsor to the ground in October 1897. The fact that the only black independent businessman was accused and brought to trial, makes for an interesting plot.

Old historic photographs of the town are used in conjunction with each scene, which reveal a vital element of Windsor's exciting history.

Imperial Theater in Windsor, Nova Scotia Oct 21, 22, 23, 28, 29.


| | | |
| --- | --- | --- |
| | | |
WHO'S WHERE


CREAM performs at Madison Square Garden Oct. 23, 25, and 26. Although the band played three songs in 1993 in Los Angeles during its induction to the Rock and Roll Hall of Fame, this marks the first time since breaking up in 1968, that the British rock trio is performing in the United States. The show stars guitarist Eric Clapton, the bassist Jack Bruce and the drummer Ginger Baker.

MARVIN HAMLISCH - ONE MAN SHOW this is the man who has three Oscars, four Grammys, four Emmys, one Tony, and three Golden Globe awards. His groundbreaking Broadway hit, A Chorus Line, received the Pulitzer Prize. He is the composer of more than 40 motion picture scores, including The Way We Were and his adaptation of Scott Joplin's music for The Sting. Mr. Hamlisch was also the Musical Director and arranger for Barbara Streisand's 1994 concert tour of the U.S. and England as well as of the TV special Barbara Streisand: The Concert, for which he received two of his Emmys. He will be joined by singer Mark McVey for what is promised to be an unforgettable evening. Saturday, October 22, at the Frost School of Music at the University of Miami.

PAUL McCARTNEY opens a two night gig Tuesday, October 18, at the United Center in Chicago. On Saturday he can be enjoyed at the Schottenstein Center in Columbus, Ohio. Next Sunday he is at the Bradley Center in Milwaukee.

A DAY IN HIS LIFE THE JOHN LENNON ANTHOLOGY CONCERT Tim Piper is spot-on portrayal of John Lennon and his full band lead you through a day in the life of the Beatle legend. Catch dozens of hits like Twist & Shout, Strawberry Fields Forever, Come Together, Imagine, Help, and countless others. Wednesday, October 19 The Barns at Wolf Trap in Vienna, Virginia.

CHRIS BOTTI On his new album, When I Fall In Love, Botti breathes new soul and magic into classic pop penned by Irving Berlin, Rodgers & Hart, Ira and George Gershwin, and others, along with new pop standards of his own. Friday, Oct 21 – Saturday, Oct 22 at John Ascuaga's Nugget in Sparks, NV.

ROYAL STOCKHOLM PHILHARMONIC ORCHESTRA Alan Gilbert, Music Director and Conductor. Anne Sofie von Otter, Mezzo-Soprano performing songs by Wilhelm Stenhammar, Jean Sibelius, Wilhelm Peterson-Berger, Hugo Alfvén, and Benny Andersson.Saturday, October 22, in Carnegie Hall, NYC. Pre-concert talk takes place in the Isaac Stern Auditorium with Jeffrey Kallberg, Professor of Music, University of Pennsylvania.

KIKI & HERB THE RESURRECTION TOUR with their own twisted renditions of songs from everyone from Eminem to Joy Divison and Britney Spears to Kate Bush, in a musical retrospective of their extraordinarily glamorous career on the margins of the mainstream.

Conceived and executed by Justin Bond and Kenny Mellman. Produced in association with David J. Foster and Jared Geller. October 20-23 at Woolly Mammoth, Washington, D.C.

BLACK EYED PEAS WITH GWEN STEFANI entertain Tuesday, October 18, at the HP Pavilion at San Jose in San Jose, CA. On Thursday the show moves to the Cox Arena in San Diego. On Friday they are on stage at the Hollywood Bowl in Los Angeles and next Sunday perform at the ARCO Arena in Sacramento.

ELTON JOHN performs tonight, October 16, at the American West Arena in Phoenix, AZ. On Tuesday he's on stage at the HP Pavilion at San Jose in San Jose, CA. Thursday finds him at the Cox Arena in San Diego. On Friday he's in the spotlight at the Hollywood Bowl and next Sunday he can be enjoyed at the Arco Arena in Sacramento.

BIG BAD VOODOO DADDY perform Friday, October 21, at the Rosza Performance Arts Center in Houghton, MI.

LIVE! AT THE NORTON: WOMEN IN SONG Margaret Schmitt (soprano), Debbie White (mezzo-soprano), Charlene Conner (harpist) and Vindhya Khare (pianist) present a concert program that reflects a woman's life and experiences through classical songs, instrumental solos, music from grand opera and Broadway.Sunday, October 23 at the Norton Museum of Art in West Palm Beach, FL.

JOHNNY MATHIS on stage Saturday, October 22 at the Lincoln Theatre in Yountville, CA.

THE ROLLING STONES in the spotlight Monday, October 17 at American Airlines Arena in Miami. On Wednesday they'll have the place rockin' at St. Pete Times Forum in Tampa, FL. On Friday the place to be is New Charlotte Arena in Charlotte, NC.

FOREIGNER in the spotlight Wednesday, October 19, for a private event at the Hyatt Regency in Kauai, Hawaii. On Friday they are at the Canyon Club Theatre in Agoura Hills, CA. On Saturday the show is at the Flamingo Hotel in Laughlin, NV.

BONNIE RAITT performs Tuesday, October 18, at the Palace Theatre in Albany, NY. On Wednesday she's on stage at Burlington Memorial Auditorium in Burlington, VT. Wednesday finds her at Merrill Auditorium in Portland, ME. Saturday the performance takes place at Warner Theatre in Torrington, CY. Next Sunday she's be delighting fans at The Orpheum in Boston.

WAYNE SHORTER performs Friday, October 21, at the Museum of Modern Art in Rio De Janeiro, Brazil. On Saturday the location is the Ibirapuera Stadium in Sao Paulo, Brazil.
















Next Column: October 23, 2005
Copyright: October 16, 2005. All Rights Reserved. Reviews, Interviews, Commentary, Photographs or Graphics from any Broadway To Vegas (TM) columns may not be published, broadcast, rewritten, utilized as leads, or used in any manner without permission, compensation /credit.
Link to Main Page
---
Laura Deni


CLICK HERE FOR COMMENT SECTION