! >
Broadway To Vegas
  
 SHOW REVIEWS CELEBRITY INTERVIEWS GOSSIP NEWS

| | |
| --- | --- |
| | |
U2 SHOW IN LAS VEGAS HARD TO TOP - - MUSICIAL UNION ON THE OUTS WITH WAYNE NEWTON - - NOT YOUR USUAL HALLOWEEN HAUNTS - - WICKED PRODUCTIONS TIE INTO HALLOWEEN; FROM CACKLE CONTESTS TO HELPING ZOOS - - RITA HAYWORTH 2009 NEW YORK GALA - - FIVE DECADES OF PRINTMAKING BY DAVID C. DRISKELL - - KIM CATTRALL RETURNS TO THE WEST END STAGE - - IN SEARCH OF AMELIA EARHART - - DONATE . . . Scroll Down


NOT
YOUR USUAL HALLOWEEN HAUNTS

CREATE YOUR OWN EARLY HOMINID

Diane Baker in the Hitchcock thriller Marni. Since August 2004, Baker has been the Director of Acting at the School of Motion Pictures and Television at Academy of Art University in San Francisco.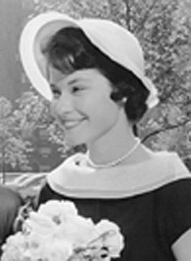 What does a Neanderthal wear? On Friday, October 30 - Halloween Eve - members of the public can find out at San Francisco's Academy of Art University's Morgan Auditorium. The question is more than academic for eight Academy student actors who got to find out what it's like to be an early hominid ancestor – from the inside out -- as part of Becoming Human NOVA's new three-part special examines discoveries that were unearthed throughout Africa, Asia, and Europe and explores what the latest scientific research reveals about our ancient relatives - transforming our understanding of our human past.

The first 300 members of the public in costume will be admitted free to the reception and receive special Neanderthal Trick or Treat gift bags. Special prizes will be given for the Best Neanderthal and other costumes.

Onstage, Academy makeup instructor Chris "Makeup Gourmet" Scott will help members of the audience learn how to look like a Neanderthal. Honorary doctorates will be bestowed on John Alexander, Matt Rose, and Chad Waters - the team of Hollywood makeup artists who created the scientifically correct pre-humans for the NOVA Special.



Actor getting make-up applied for a scene in the NOVA special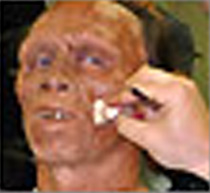 "This isn't 20 Million Years BC," quipped Diane Baker, Director of the Academy's School of Motion Pictures & Television, whose students are featured in the NOVA special. "In all my years in front of the camera, I was never asked to do anything so challenging as what these students had to do: portraying the very essence of what makes us human." Baker, no stranger to the silver screen, is known for decades of iconic film work including starring roles in such classics as The Diary of Anne Frank; Marni; Strait Jacket and Silence of the Lambs.

Academy of Art students featured in the third segment of Becoming Human are: Stu Chase, Christopher Jernberg, Brynn Kerin, Ben Nykaza, James Audi Rudzinski, Derek St. Mary, Kaitlin Rose Williams and Smret Yohanes.

With nearly 16,000 students, Academy of Art University is the nation's largest private art and design university.

THE DC DRAG QUEEN RACE is one of the Washington, DC area's more unique Halloween events. Each year on the Tuesday before Halloween, thousands of spectators flock to Dupont Circle to watch costumed drag queens show off their elaborate outfits and race down 17th Street. The informal block party lasts a few hours and attracts a diverse crowd. Tuesday, October 27, 2009.

In Las Vegas THE 14th ANNUAL FETISH AND FANTASY BALL takes place at The Hard Rock Hotel. This year the event is being taken up a notch with fire performers, walkers, freaks roaming around 25,000 square feet. Attendees are requested to "dress to thrill." The mystery and mayhem begins at 10 pm on Saturday, October 31.

It has been said that LONDON'S HIGHGATE CEMETERY has the finest collection of Victorian funerary architecture in the country. Founded in 1839, high on a hilltop above the soot and smoke of London, this massive Romantic-Gothic woodland park became the most fashionable and mystical place to be buried in Victorian society. Karl Marx, Charles Dickens, and many of Queen Victoria's Royal household are among the 850 notables buried here.

Highland was immortalized as the "most magical place in London" and was reputedly the setting for Bram Stoker's Dracula. The cemetery is notorious for its myriad myths and legends - from mysterious exploding coffins to rumors of a predatory vampire, which led locals to storm the cemetery with torches and garlic in the 1960s. Highgate has recently been restored for visitors and makes an historic and authentically eerie place to spend Halloween.

OLD DUTCH BURYING GROUND OF SLEEPY HOLLOW in Tarrytown, NY: The Romantic-style design and iconic skull and angel grave-markers are only enhanced by the overrun vines and dense wooded areas that comprise the property. The bordering, 860-acre Rockefeller State Preserve also harkens back to the days of Ichabod Crane and makes for a wonderfully eerie afternoon hike through the Valley's fog.

DAY OF THE DEAD SUGAR SKULL MAKING Sugar Skulls are a traditional folk art from Southern Mexico used to celebrate Day of the Dead. Based on ancient Aztec mingled with Christian beliefs, this celebration of the memory of deceased ancestors is celebrated beginning at dusk on October 31 through November 1 (All Saints Day) and November 2 (All Souls' Day). While the dates overlap, it is not connected with Halloween, although it shares some historical origins. This holiday is quickly gaining popularity in America and for those living in the southwest part of American is being touted as "the new American Holiday".

During this celebration spirits of the dead are welcomed back to their homes with beautifully decorated altars made by their loved ones. Sugar skulls, marigolds, candles, incense and special foods adorn home altars. Families also take the flowers and sugar skulls to the cemetery to decorate the tombs on November 2.

Sugar skulls are colorfully decorated with icing, pieces of bright foil, sequins, feathers, colored sugars and candies and usually bear the name of the deceased loved one being honored.

Sugar skull decorating classes, workshops and parties are becoming commonplace throughout the western United States. For seven consecutive years the Sacramento based Zanzibar Trading Company has offered these classes. Both child and adult sugar skull classes take place on October 31.

While you might not immediately recognize the name Zanzibar Trading Company, the business is a leader in providing the movie Industry and filming crews with ethnographic artifacts and props from Africa, Papua New Guinea, Indonesia, Asia and India.

Some of the recent films that feature Zanzibar products include: the textiles in the elephant/Indian room in Moulin Rouge; the masks, and the dagger Harry almost kills Peter with in Spiderman II, beads and jewelry for Pirates of the Caribbean; shields and weapons for Laura Croft Tomb Raider; ethnographic containers for The Mummy & The Scorpion King; plus the company has sold items to Disneyland for their jungle boat ride and other exhibits.

DRACULA'S BALL IN PHILADELPHIA is first and foremost a party. The promotions emphasize that; "The common thread that runs through all of our guests is the desire to have a good time in an unusual and exciting atmosphere. Some have a passionate affinity for vampires that has been part of their lives forever. Some have occasionally tuned in to an episode of True Blood or scanned the racy parts of an Anne Rice book. Whether you feel deeply drawn to vampires on a personal level, or you just think they're sexy or cool, we welcome you."

Held exclusively in Philadelphia, it is the largest event of its kind in the country. Promoters caution: "Obviously, our party has a strong vampire theme. We do our best to create an atmosphere that suggests dark romance, a hint of danger, sensuality, and all things nocturnal. We do not promote nor do we allow the drinking of blood or any other unsafe practices at our events."

"Our patrons come from all over the country and sometimes overseas. Typically, almost half of our patrons are from at least 100 miles away from Philadelphia. Our guests are a diverse group, representing a wide range of ethnicities, religions, orientations, ages, and lifestyles. Vampire legends are universal and cross all boundaries; so it is with the Ball as well. From Christopher Lee and Bela Lugosi to Twilight and True Blood, whether your interest in vampires is casual or serious, newly-found or long-running, there's a place for you at Dracula's Ball ." Saturday, October 31, 2009 at the Shampoo Nightclub in Philadelphia.

SALEM

Kris Burke co-stars in the Salem Theatre Company's production of Chilling Tales at the Sal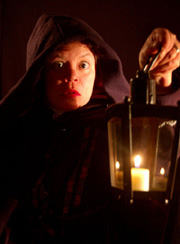 Bob Karish from the 2009 production of Salem Theatre Company's Chilling Tales
haunted Halloween happenings wouldn't be complete without a mention of what's happening in Salem. The Salem Theatre Company presents Chilling Tales celebrating Edgar Alen Poe.

"The skies they were ashen and sober; The leaves they were crisped and sere - The leaves they were withering and sere; It was night in the lonesome October, Of my most immemorial year."

The STC brings back the creepiest of the classics, with new adaptations of master works of the macabre by Edgar Allan Poe and Salem's own Nathaniel Hawthorne, on stage for the seventh annual presentation of Chilling Tales.. In celebration of the 200th anniversary of Poe's birth, the STC is staging two of his most gruesome, terrifying tales, as well as an additional offering from Hawthorne. The tales will be directed by STC Artistic Director John Fogle and feature a cast of professional actors from across the region. Performances begin every thirty minutes from 5PM to 9PM on Fridays, Saturdays, and Sundays from through October 31 at the Custom House.



Broadway To Vegas is supported through advertising and donations. Priority consideration is given to interview suggestions, news, press releases, etc from paid supporters. However, no paid supporters control, alter, edit, or in any way manipulate the content of this site. Your donation is appreciated. We accept PAYPAL. Thank you for your interest.


ART AND ABOUT


IN SEARCH OF AMELIA EARHART The Museum of Flight in Seattle has brought together resources from around the country for its new exhibit about the remarkable life and times of famous American pilot, Amelia Earhart. In Search of Amelia Earhart features many of her original personal artifacts, as well as photos, newspapers, and newsreel footage.

Featured Artifacts include; Flight suit, slacks, jacket and helmet she wore on 1932 solo transatlantic flight - Nurse's uniform - Only remaining piece of her Lockheed Electra 10E - Other personal artifacts and correspondence reproductions.

The exhibit also draws attention to the lesser known Amelia as role model, author, designer, celebrity and icon.

For instance; She used her fame to play an important role in the women's rights movement, lecturing around the country - She published many newspaper and magazine articles, and several books - For a time, Amelia designed clothing, which was sold exclusively at 30 departments stores throughout the U.S. - She endorsed several products, including Lucky Strike cigarettes, malted milk, and luggage - She was a career advisor for women students at Purdue University.

The exhibit is on display at the Seattle Museum of Flight.

On Friday, October 30 the Museum of Flight turns into the Museum of Fright.

Meet the ghosts of aviation's past and hear the stories of flights long dead and gone.

The whole family will be scared silly with safe and fun activities including Halloween treats, games and more!

EVOLUTION: FIVE DECADES OF PRINTMAKING BY DAVID C. DRISKELL an artist, art historian, collector, educator, and one of the most respected names in the world of African American art and culture. Driskell has had a long connection with Maine as he has summered for many years in Falmouth and is active at the Skowhegan School of Painting and Sculpture.

The exhibition on view October 29, 2009 through January 17, 2010, at the Portland Museum of Art will highlight for the first time 80 prints and works on paper by Driskell from 1952 through 2007.

The exhibition will provide insight into Driskell's artistic process and development, as well as the influence of African art on American modernism.

His prints are inspired by family activities, cultural rituals, homelike interiors, the Maine landscape, and his collection of African art. His boldly delineated black-and-white portraits complement brightly colored woodcuts in an array of portraits, landscapes, still lives, and abstracts. The exhibition will include work executed in a range of techniques, including woodcuts, linocuts, lithographs, collographs, etchings, a rare hand-colored lithograph, and several hand-colored woodcuts and linocuts.

Evolution will feature woodcuts such as the Bakota Girl series (1972–1974) and Benin Woman (1975), which reveal the influence of the artist's travels to Africa and his desire to enrich his own connection to African culture. In Bakota Girl 1, Driskell draws inspiration from a Kota reliquary, while also referencing Byzantine Christian iconography through his use of gilt and jewel tones.

Examples of Driskell's self-portraits will also play an important role in the exhibition. Spanning more than 30 years, these works reflect the artist's wide range of stylistic approaches, from the traditional pose and naturalistic representation of Self Portrait (1970), to Pensive (2004), in which Driskell transforms his own features in to those of an African mask.

A distinguished University of Maryland Professor Emeritus of Art, Driskell has been a practicing artist since the 1950s. In 1976, he curated the groundbreaking exhibition Two Centuries of Black American Art: 1750–1950, held at the Los Angeles County Museum of Art, which laid the foundation for the field of African American Art History. Since 1977, he has served as cultural advisor to Camille O. and William H. Cosby and as the curator of the Cosby Collection of Fine Arts. In 2000, in a White House Ceremony, Driskell received the National Humanities Medal from President Bill Clinton.

Evolution: Five Decades of Printmaking by David C. Driskell is curated by the Driskell Center's Curator-in-Residence, Dr. Adrienne L. Childs. The Portland Museum of Art is the last venue in a national tour. On view October 29, 2009 through January 17, 2010.





WICKED
PRODUCTIONS TIE INTO HALLOWEEN; FROM CACKLE CONTESTS TO HELPING ZOOS

If there is a holiday meant to be embraced by the casts of Wicked it would be Halloween. Taking advantage of the tie-in between the Tony-Award winning musical and the popular holiday are the casts of Wicked performing in Australia and London. Both productions have treat bags full of week-long events.

For those unfamiliar with the event, Wicked Day happens in the last week of October and is a day when cast members give something back to the community.

If you're in London start practicing your cackle.

On Saturday, October 31, at Westfield London there will be a Wicked Cackle Halloween World Record attempt led by members of the cast with as many shoppers as possible. Other Wicked and Halloween themed events at Westfield including face-painting, competitions, performances by members of the Wicked cast and prizes for the best Halloween costumes.

In addition, Wicked Day 2009 in London will be celebrated at The Lawrence Hall at the Royal Horticultural Halls, on Sunday, November 1. Members of the Wicked cast will be on hand for a day that will feature a host of Wicked and Halloween-themed free events including competitions, performances, face-painting, fancy dress, workshops and a range of activities suitable for people of all ages.

Proceeds from both London events will be donated to a project between Wicked and Magic 105.4's charity Cash For Kids to build a community garden in a deprived area of London.

Wicked in Australia is partnering with Taronga Zoo for Wicked Day. Given the strong themes about how humans interact and treat animals in Wicked, the Australian cast thought the Zoo would be an ideal recipient of some volunteer support.

The Wicked cast will be working at Taronga Zoo to assist with their Backyard to Bush project. This project involves bush care and management to ensure that this precinct remains a pristine Australian bush habitat for the range of native Australian animals that roam within.

In addition to rolling up their sleeves and getting their hands dirty the team at Wicked will also take collections in the theatre for the Taronga Zoo from through November 1.


SWEET CHARITY


ALZHEIMER'S ASSOCIATION NEW YORK RITA HAYWORTH GALA

Rita Hayworth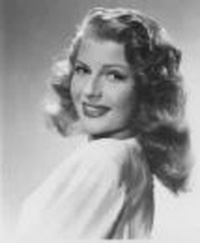 takes place Tuesday, October 27, 2009 at The Waldorf-Astoria in New York City. Chaired by Princess Yasmin Aga Khan, this annual event brings together prominent business, celebrity and social leaders to champion the fight against Alzheimer's disease.

This black-tie event includes dining, dancing and show-stopping entertainment. This year's Gala is themed to reflect the song So Close and Yet So Far, sung by Fred Astaire to Rita Hayworth in the film You'll Never Get Rich. This was the pair's first coupling in a movie, launching both actors into the limelight.

The evening will also honor individuals who combat Alzheimer's disease through their fundraising, care and volunteer efforts:

Muffie Potter Aston will receive the Rita Hayworth Award in recognition of her extraordinary commitment to the mission of the Alzheimer's Association and ongoing support of the Rita Hayworth Gala. Muffie has been personally touched by Alzheimer's disease with the loss of her grandmother, a World War II heroine.

John, Margo, Andrea and John Jr. Catsimatidis will receive the Family Philanthropy Award, celebrating the intergenerational relationships between families as it relates to Alzheimer's. Lonnie Wollin, Esq. will receive the Lifetime Achievement Award for his longtime efforts to pioneer a movement against Alzheimer's disease. In 1977, Lonnie formed and served as president of the Alzheimer's Disease Society, which later evolved into the Alzheimer's Association.

Since its inception, the New York Rita Hayworth Gala has raised more than $30 million for the care, support and research efforts of the Alzheimer's Association.






SPREADING THE WORD


FRIDAY NIGHT SING-ALONG: HALLOWEEN A spooktacular evening of your favorite Halloween songs! Join hundreds of fellow song lovers and belt out spooky and kooky tunes. No experience necessary. Lyrics sheets provided, live band accompaniment. Festive attire welcomed. Free admission, donations are welcome. October 30, 2009, Music Center Plaza, Los Angeles.

LUCI ARNAZ WITH REX REED Growing up in the public eye with parents Lucille Ball and Desi Arnaz, Lucie Arnaz has cemented her own legacy as an actress, singer, Broadway star, dancer, and Emmy-winning director and executive producer. In this interview with critic and friend Rex Reed, she reminisces on the legacies of her parents, talks about her own remarkable career and her new show celebrating the music of her father. Tuesday, October 27 at the Kaufmann Concert Hall, NYC.

INCITE ARTS FESTIVAL seated dinner with Jim Petosa, Artistic Director, Olney Theatre Center and other InCite Arts Festival guest speakers to celebrate the InCite Arts Festival residency. Dinner will be followed by a performance on Tom Stoppard's masterpiece, Every Good Boy Deserves Favor, which is rarely performed in the DC area.
Every Good Boy Deserves Favor by Tom Stoppard, Music by André Previn, Jim Petosa, director, William Lumpkin, conductor. In a Soviet asylum in 1977, two men share a cell. While "Ivanov" is a genuine mental patient who believes he's conducting an orchestra, "Alexander" is a political prisoner who must admit his "mental illness" to regain his freedom. Tom Stoppard, André Previn and a complete orchestra onstage.

Honorary co-chairs are Constance A. Morella and the Olney Theatre Center. Saturday, October 31.

A LIFE IN THE THEATER: AN ONSTAGE CONSERVATION WITH STEPHEN SONDHEIM AND FRANK RICH takes place Monday, October 26, 2009 at the S. Mark Taper Foundation Auditorium at Benaroya Hall, Seattle, WA.

Stephen Sondheim, the nation's most beloved contemporary composer-lyricist, recounts stories and anecdotes from his decades in musical theater. He is joined by New York Times columnist - and that paper's chief theater critic from 1980 to 1994 - Frank Rich for this once-in-a-lifetime onstage conversation. Rich asks questions and Sondheim answers them, offering up fascinating glimpses into the inner workings of Broadway.

At 79, Sondheim has spent more than 50 years in professional musical theater. He's won 7 Tonys, multiple Grammy Awards, and in 1985 his Sunday in the Park with George won the Pulitzer Prize for Drama - sharing that award with James Lapine, who wrote the book for the musical. He's also worked in film and wrote the score to Warren Beatty's 1981 movie Reds. And having collaborated as a young man with such titans of the American musical theater as songwriter Jule Stein and composer-director Leonard Bernstein, Sondheim is a living link to the mid-20th-century artists who made the musical theater one of America's great art forms.

The evening is presented in cooperation with The 5th Avenue Theatre, Seattle Men's Chorus & Seattle Women's Chorus and The Stranger.





OTHER PEOPLE'S MONEY


U2

U2 on stage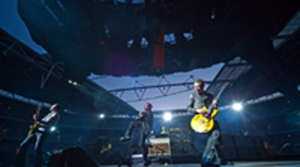 this past Friday at the Sam Boyd Stadium was a thrill. If you could only attend one show this year - this should have been the one. If not the best concert ever staged in Las Vegas, then it ties for first place. U2 is also good for business. Just the time consuming set-up for the mega Irish rock band's sold out Las Vegas show, cost over $1 million - giving a much needed boost to the Vegas economy. The massive sets will be given away after U2 completes their world tour. See Broadway To Vegas column of August 27, 2009 U2 and Black Eyed Peas are at the Rose Bowl in Pasadena, CA today and then perform at BC Place in Vancouver, BC on Wednesday, October 28. On Friday they take part in the Rock & Roll Hall of Fame 25th Anniversary Concert at Madison Square Garden.

WAYNE NEWTON is a not a favorite of The Musicians Union of Las Vegas Local 369. Each union member has received a letter from Union President Frank Leone stating that if any union member played in Newton's orchestra, during his current Once Before I Go show at the Tropicana Hotel, he or she would be fined $50,000. What strikes the union as off-key is Newton using a 20-piece orchestra which are all non-union.

This isn't Newton's first run in with the union. In November, 2005 the musician union called for a strike against Newton asking members not to play The Wayne Newton Holiday Show at the Flamingo Las Vegas hotel-casino.

The unharmonious relationship between Newton and the Musician's Union started in 1989 when the union struck protesting the use of recorded music in Las Vegas showrooms. After two weeks Newton dealt the final musical blow by crossing the picket line. The union lost. The house orchestras disappeared and hotels incorporated taped music. Until the 1989 musicians strike, Las Vegas was one of the few areas of the country where a musician could enjoy steady employment. Since then live musicians have become an endangered species and headliners, not the hotels, must pay for their own musicians. Bitterness towards Newton from the Musicians Union remains fortissimo.


GET WELL TO . . . .


ANDREW LLOYD WEBBER who has been diagnosed with prostate cancer. The official statement said "the condition is in its very early stages. Andrew is now undergoing treatment and expects to be fully back at work before the end of the year."

Lloyd Webber, 61, is currently working on Love Never Dies which is a sequel to his Phantom of the Opera. The production is scheduled to open in London's West End in March, 2010 and transfer to Broadway the following November.



A LEGEND OF SLEEPY HOLLOW

Aaron Burr (David Bunce) and Washington Irving (David Girard) investigate mysterious goings-on in Sleepy Hollow, NY. The play takes place in 1814--twenty-five years after the events of Irving's original story but five years before he published it.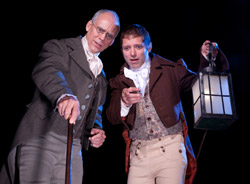 by Mary Jane Hansen.

This world premiere history mystery mixes Washington Irving's fictional characters with historical figures including Irving himself.

A headless skeleton has turned up in Sleepy Hollow and all fear it may be that of the hapless schoolmaster of yore, Ichabod Crane, who has been missing these twenty-five years - reopening an old mystery and a few unsettled grievances. Crane's former rival for the affections of Katrina Van Tassel was town rapscallion "Brom Bones" and he now stands accused of Crane's murder. Does the headless horseman still ride the eerie woods? Did he ever?

Trespassing into forbidden territory could reawaken something quite menacing, and perhaps inhuman. Attorney and former Vice President Aaron Burr enlists the help of a burgeoning young man-of-letters, none other than Washington Irving, to bring order to the village and solve the rather curious phenomena.

Through October 30 at the New York State Theatre Institute in Troy, NY.

BRIGHTON BEACH MEMOIRS by Neil Simon. Directed by David Cromer Brighton Beach Memoirs centers on young Jewish teen Eugene Morris Jerome and his extended family living in a crowded home in the Brighton Beach section of Brooklyn in 1937: his overworked father, Jack; overbearing mother, Kate; his older brother Stanley; Kate's widowed sister Blanche and her daughters, Nora and Laurie. As Eugene spends his time daydreaming about a baseball career, he must also cope with his family's troubles, his awkward discovery of the opposite sex and his developing identity as a writer.

The production stars Laurie Metcalf as Kate Jerome, Dennis Boutsikaris as Jack Jerome, Santino Fontana as Stanley Jerome, Jessica Hecht as Blanche Morton, Gracie Bea Lawrence as Laurie Morton, Noah Robbins as Eugene Jerome and Alexandra Socha as Nora Morton.

Scenic design is by John Lee Beatty, costume design is by Jane Greenwood and lighting design is by Brian MacDevitt.

Performances at the Nederlander Theatre, NYC.

IRVING BERLIN'S WHITE CHRISTMAS begins a national tour in Omaha on November 1 with performances through November 7 at the Orpheum Theater.

THE PURSUIT OF HAPPINESS the New Jersey premiere of a play by Richard Dresser entitled which is part of his trio of plays exploring happiness in America.

This play tells the story of Annie and Neil, who have placed their hopes and dreams on the shoulders of Jodi, their high-achieving 18-year-old daughter. When Jodi rebels at following their ambitious script for her life, everyone in the family is forced to reconsider what really constitutes happiness and to begin a more authentic chapter in their lives together.

Opens on October 30 and will play until November 15 at Dreamcatcher Repertory in South Orange, NJ.

PRIVATE LIVES that Noel Coward classic will return to the West End stage with Sex and the City star Kim Cattrall opposite Matthew MacFayden. Award-winning director Richard Eyre will direct the revival, which will have a two-week run at Bath's Theatre Royal in February, before opening March 3, 2010 at London's Vaudeville Theatre.

THREE SISTERS by Anton Chekhov. A new version by Sarah Ruhl.

Directed by Tony-Award winner John Doyle helming his first non-musical production for American audiences.

Love lies deep and untapped for schoolmistress Olga, married Masha and idealistic Irina. Stuck in a backwater town, the sisters long to get to Moscow where they imagine their lives will be transformed and fulfilled. It is a remarkable story of desire, denial and the never-ending pursuit of happiness.

Starring Hannah Cabell as Irina, Alma Cuervo as Olga and Laila Robins as Masha. The strong cast includes Tony Award winner Frank Wood portraying Tuzenbach, with Alexander Gemignani as Andrei, Lynn Cohen as Anfisa, Keith Reddin as Kulygin, Corey Stoll as Vershinin, Sarah Agnew as Natasha, Terry Greiss as Chebutykin, Felix Solis as Solyony, Ronald Cohen as Ferapont, Tim Abrahamsen as Second Lieutenant, Joe Watts, Jr. as Second Lieutenant and Kelly Pekar as the Maid.

The design team includes; Tony-winning costume designer Ann Hould-Ward; lighting designer Jane Cox; Tony-winning scenic designer Scott Pask; Sound design/composer is Dan Moses Schreier; the dramaturg is EliseThoron.

Three Sisters is in previews and officially opens October 29 running through November 21 in the Robert S. Marx Theatre of the Cincinnati Playhouse.





WHO'S WHERE


NEW YORK AT 400; THE BROADWAY VIEW written and directed by Michael Montel, New York at 400: The Broadway View is the 12th production of the Museum of the City of New York's Perform series.

Broadway stars Nancy Anderson, Joy Lynn Matthews, Howard McGillin, and Jim Stanek present an affectionate, sometimes satirical, celebration of the city's 400th birthday with dazzling songs by some of Broadway's best composers and songwriters, including Victor Herbert, Kurt Weill, the Gershwins, Charles Strouse, and Rodgers and Hart. Written with Greg Pliska as musical director. October 31 and November 1.

ELTON JOHN and the band are mid-way through the final Red Piano tour of Europe. If you are going to any of these concerts a live recording will be taking place which can be purchased immediately after the show. As on previous tours, Concert Live will be recording the shows and producing the CDs. October 27 at London's Wembley Arena. On October 28 at the Liverpool Echo Arena and on October 30 at the 02 in Dublin.

ROGER DALTREY in the spotlight Wednesday, October 28 at the Performing Arts Center in Durham, NC. On Friday the show is at the Ryman in Nashville. Halloween finds Roger at the Horsehoe Southern Indiana in Elizabeth, IN.

THE DEREK TRUCKS BAND an inspired collective of six like-minded yet diverse musical maestros. Their approach seamlessly blends rock, blues, jazz and world music into a sound that is both familiar and yet entirely unique. A special Halloween concert featuring a costume contest with prizes. October 31, 2009 at Palace Theatre in Stamford, CT.

THE ENSEMBLE SAGITTARIUS FROM FRANCE Founded by Michel Laplenie in 1986, the ensemble is famed worldwide for its Baroque style. Led by Laplenie, it comprises a group of accomplished musicians, including soprano Sophie Landy and tenor Pierre Sciama, as well as violinist Julia Griffin and bass Nicholas Rouault. November 1 at the Forbidden City Concert Hall in Zhongshan Park, Northwest of Tian'anmen Square, Beijing, China.

DAVID FOSTER AND FRIENDS bring their tour to the Fox theatre in Atlanta on Wednesday, October 28. On Friday they perform at the St, Pete Times Forum in Tampa, FL. Next Sunday finds them at the Seminole Hard rock Live in Hollywood, FL.

ROBIN WILLIAMS will be telling funny stories Monday, October 26 at Old Dominion University in Norfolk, VA. Thursday laughs will be coming from the Wharton Center for Performing Arts in East Lansing, MI. Friday he's at Hill Auditorium in Ann Arbor, MU and on Saturday he's center stage at the Motor City Casino in Detroit.

WEDNESDAY NIGHT AT THE IGUANA hosted by Dana Lorge and Richard Skipper. This week's guests include: Jenna Esposito, Laurie Krauz, Walter O'Neil (from Wicked), Angela Schultz and Muricio Villa-Lobos October 28 at the Iguana VIP Lounge in NYC.

BRYAN ADAMS on stage Monday, October 26 at the Sandler Center in Virginia Beach, VA. On Tuesday the show is at the Paramount Theater in Charlottesville, VA. Wednesday finds him at the Jefferson Center in Roanoke, VA and on Thursday he can be enjoyed at the Paramount Arts Center in Ashland, KY.

LYLE LOVETT performs Monday, October 26, at the Lutcher Theatre in Orange, TX. On Tuesday the show is at the Saenger Theatre in Mobile, AL. Wednesday finds him at the Civic Center in Tallahassee, FL. On Friday the tour stops at the Norton Center in Danville, KY. Halloween night he'll be a treat for those at the Performing Arts Theatre in Roanoke, VA.

MILEY CYRUS stars at the United Center in Chicago on Tuesday, October 27. Thursday finds her at the Target Center in Minneapolis. On Saturday she's in the spotlight at The Kentucky Expo Center in Louisville.

KISS in the spotlight Monday, October 26 at Philips Arena in Atlanta, GA. On Wednesday the show is at the Sommet Center in Nashville. Thursday the tour stops at the Verizon Arena in North Little Rock, AR. A perfect way to spend Halloween in at the New Orleans City Park when Kiss appears as part of the Voodoo Experience.

DEE DEE BRIDGEWATER the 58-year-old Tony and Grammy Award-winner delves into the broad-ranging repertoire she explored during Stephen Stahl's Lady Day, her Laurence Olivier-nominated theatrical portrayal of enigmatic jazz icon Billie Holiday. Bridgewater conveys Holiday's unique vocals and influential style with performances of Holiday's jazz standards, including God Bless the Child; Don't Explain; Lady Sings the Blues and the blazing anthemStrange Fruit. November 1 at the Flynn Center in Burlington, VT.





Next Column: November 1, 2009
Copyright: October 25, 2009. All Rights Reserved. Reviews, Interviews, Commentary, Photographs or Graphics from any Broadway To Vegas (TM) columns may not be published, broadcast, rewritten, utilized as leads, or used in any manner without permission, compensation and/or credit.
Link to Main Page
---
Laura Deni



U.S. Postal Address: Post Office Box 60831, Las Vegas, NV 89160
CLICK HERE FOR COMMENT SECTION