! >
Broadway To Vegas
  SHOW REVIEWS     CELEBRITY INTERVIEWS     GOSSIP     NEWS 
| | |
| --- | --- |
| | |
Copyright: October 31, 1999
By: Laura Deni
CLICK HERE FOR COMMENT SECTION

NEWTON ROLLING IN DOUGH
Entertainer Wayne Newton has bounced out of a $20 million Chapter 11 bankruptcy to become the highest paid performer in the history of Las Vegas.


WAYNE NEWTON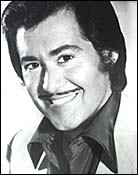 "All of my deals together don't add up to his one," declared Newton as his new Stardust Hotel contract was signed. The deal calls for the man known as Mr. Las Vegas to headline exclusively at the Stardust for 40 weeks a year, up to 10 years in a contract that exceeds $25 million per year with Newton reportedly having the right to sublease the showroom when he is on vacation.

The Stardust is refurbishing and renaming their showroom The Wayne Newton Theater.

"Wayne Newton is one of the greatest and public draws in entertainment history," sad William Boyd, Chairman and CEO of Boyd Gaming. "To have the King of Las Vegas as our head liner is an incredible way to bring the Stardust into the 21st Century."

The Virginia born half-Indian son of a car mechanic started out as an opening act for Jack Benny in a time when lounge acts were blocked from the "big room." When the Benny contract ended Newton was offered another opening spot at the Flamingo. The young, brass entertainer replied that he'd consider headlining there. Taken back the owner agreed with one caveat - Newton was booked for the off-season.

"In those days you could shoot a cannon off in November and not hit a single soul on the Strip," Newton recalled. "The odds-makers had predicted I was going to flop. The only thing that none of them counted on was the local people. The night we opened, the locals came out in droves and totally saved my career, for which I will always be grateful."

Newton became a Vegas icon. The main drag from the airport is Wayne Newton Blvd.



WAYNE NEWTON AND BROTHER JERRY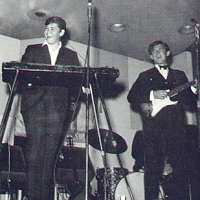 He's performed live for more than 15 million people in a high energy show that's brought theatrical flirting to an art form. He kisses women, squeezes hands, looks deeply into eyes. When women toss their underwear on stage he picks up the item, sniffs it, says it reminds him of Victoria - as in the store Victoria's Secret. From another performer the sniff routine would come across as vulgar. From Newton - the patter is charming.

It hasn't always been a love feast. Both his personal problems and legal fights generated headlines. For three decades Newton has been estranged from his brother, Jerry, who spent several years teamed with Wayne as The Newton Brothers. They reigned supreme at the Fremont Hotel in the Casino Center area of Las Vegas. Jerry served as Wayne's best man when Newton married his first wife, Elaine Okamura, at the Flamingo Hotel in June 1968.

Jerry ended up doing time for bank fraud and Wayne ended up top lining a marquee with just his first name.

"I find no fault with him," Newton has said of Jerry. "We're just oil and vinegar, we don't mix. Besides, I wouldn't give you two cents to be Wayne Newton's brother, either. That's a rough cross to bear.

When Frank Sinatra introduced Newton saying; "Here's a guy who looks like a truck driver and sounds like a choir girl," Newton took umbrage. Eventually they became friends, with Sinatra giving Newton a Rottweiler named Thor and a heavy silver bracelet.

Not all fights ended with kiss and makeup. In 1973 Newton barged into Johnny Carson's office and threatened to knock him "on his ass" if he didn't cease the gay jokes about Newton. The jokes stopped.

Before Newton begins his exclusive Stardust contract he performs Nov. 26-27 at John Ascuaga's Nugget in Sparks, Nevada.


SINATRA LAWSUITS FOLD SHOW


The highly successful but legally plagued The Rat Pack Is Back show at the Desert Inn Hotel, Las Vegas, will close December 5 because of mounting legal woes.



THE RAT PACK: ESTATES WANT PART OF THE ACTION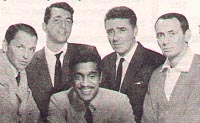 Co-created by David Cassidy the show centered around Frank Sinatra celebrating his 50th birthday with a night of on stage revelry that featured the famous Rat Pack. Cassidy would frequently jump on stage, impersonating Bobby Darin.

The production has been enjoying turn away business, while hotel officials have been attempting to turn away lawsuits. Estates for both the Sinatra and Sammy Davis, Jr. families have filed lawsuits against the hotel for staging the production. The lawsuits didn't attempt to shutter the show, rather to stake a revenue claim.

The Desert Inn issued a statement indicating that while the resort "believes its actions in hosting (the show) are completely lawful . . . and we will act to defend ourselves against any claims by the Sinatra, Davis Jr. or Martin families."

While the Desert Inn has attempted to work out a settlement with the estates "the families' demands are too unrealistic at this time for any resolution to occur."


MADAME TUSSAUDS HOUSE OF WAX


You can put your hand up Marilyn Monroe's dress, leer down Joan Collins' decolletage and kiss Elvis Presley.



JOAN COLLINS is leeringly admired by Colorado visitor Bob Baker who good-naturedly agreed to pose for this picture. Photo By; Laura Deni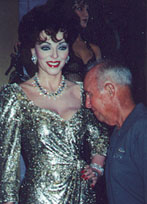 It's all available at the hand's on Madame Tussauds Wax Museum in the Las Vegas Venetian Hotel. Over 100 wax dummies are part of the intriguing $20 million faux celebrity encounter - the only Madame Tusseuds outside of London, although another one is in the works for New York City. Whether or not that becomes too must of a good thing is to be waxed over.

Tussaud was born in 1751 and broke into show business by making death masks of French Revolution victims including King Louis XVI and Marie Antoinette.



CREATING THE PERSONA Photo By: Laura Deni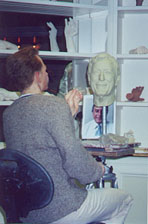 She opened her museum in London in 1835. That survived both a 1925 fire and the 1940 bombing of Britain. Every reigning British monarch has agreed to a sitting since George III. The original London-based museum is London's No.1 tourist attraction, beating out even the Tower of London and the British Museum.

One of Tussaud's originals - a complete head replica of American statesman Benjamin Franklin is showcased in the Las Vegas Museum.



LANCE BURTON does an act with himself. The Monte Carlo Hotel illusionist is on the left, his wax double on the right.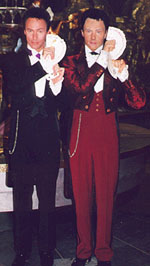 Considered an honor to be waxed, stars originally spent hours having facial masks made, which would then be fitted on their fiberglass bodies.

Nobody wants to be immortalized looking old and wrinkled. Consequently, the famous are depicted in their glory or at least post face lift Zenith.

That's not always easy.



THE FACE IS SUPPOSE TO BE CHER. Bob Baker gives the Cher form a hug. The dress is a standout. The face doesn't resemble Cher in any of her many incarnations. Photo By; Laura Deni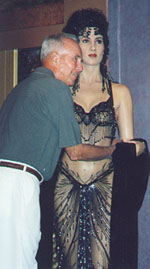 A sitting can include 150 measurements. Instead of making life masks, sculptors now work from a live pose and photographs, creating a clay model that is cast in plaster for the beeswax mold

While 90 percent bear a startling resemblance, a few look like they were designed by a committee. Others leave much to the imagination and, depending upon whether you visit the museum during the day or evening, the lighting variations can help or hurt the appearance.



DEBBIE REYNOLDS is a beautiful woman. Her face as depicted at Madame Tussauds doesn't look like her or do her justice. Photo By: Laura Deni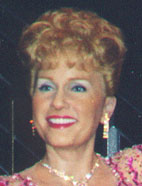 Most are so life like it's eerie. Tony Bennett look so authentic you expect him to burst forth in song. Ditto Louis Satchmo Armstrong.

Tussauds tries to be as exact as possible. Evander Holyfield's ear has the bite. Teeth are implanted one by one.

Celebrities frequently check themselves out.

Ivana Trump requested a change in nail polish and lipstick color. Wolfgang Puck wanted his alter ego to have a hair cut and a goatee. The haircut was a snip, but it took two days to get the goatee in place, since all human hairs are attached one by one.



LOUIS "SATCHMO" ARMSTRONG so life like you expect jazz from that horn. Photo By; Laura Deni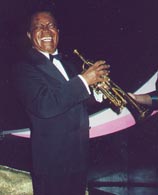 Each figure costs between $20,000 - $40,000 to construct. The faces and hands have a rubber coating for a more lifelike feel, while the other body parts feel like store mannequins.

The wax figures are London made with assembly in Las Vegas. Three hours before the museum opens technicians, wig masters and make up artists touch up, clean and repair the silent celebrities.



PAUL NEWMAN AND JOANNE WOODWARD look fabulously lifelike. They are featured in the Wedding Room, which showcases the famous who made it legal in Vegas. They were wed at the El Rancho in 1958 in a union that has only gotten stronger with time. Photo By; Laura Deni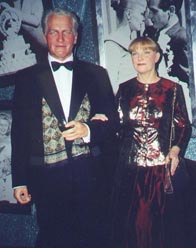 Spare arms and legs are kept in stock for immediate implantation.

Frank Sinatra, who has an alcove all to himself, frequently loses fingers by over eager fans wanting to shake the dummy's digits. Facial scratches are the most common problem.

The 30,000 square foot exhibit is divided into theme rooms, from athletic stars to rock icons.

Along the way a realistic Rev. Robert Schuller stands ready to give his blessing.



ELIZABETH TAYLOR gowned in her favorite purple is also in the marriage corner. It was in Vegas that she wed Eddie Fisher. Photo By; Laura Deni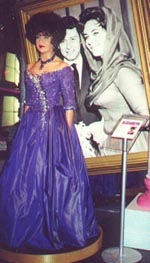 While Madame Tusseau has been around for over a century the place has always been cutting edge. The Las Vegas Museum is already implementing expansion plans, hiring more host and hostesses, and developing tours.

The London place has kept up with the high tech generation by offering a second ticket Rock Circus, offering a robotic rock revue.

The admission price to the Las Vegas attraction includes viewing an interesting eight minute movie history of Las Vegas ending with a performing Elvis statue.



THE REV. ROBERT SCHULLER Photo By: Laura Deni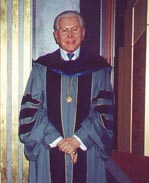 Once molded into a Tusseud treasure does not necessarily mean celebrity eternity.

If the high and mighty fall from favor the results resemble the era in which Madame Tusseau began to ply her trade.

The body is melted and the celebrity head is put on a stick and kept in a box.

Should one spend limited vacation time visiting Madame Tussauds at the Venetian in Las Vegas?

Absolutely!

If you forget your camera, disposable ones are sold at the ticket counter.




Broadway To Vegas is supported through advertising and donations. Priority consideration is given to interview suggestions, news, press releases, etc from paid supporters. However, no paid supporters control, alter, edit, or in any way manipulate the content of this site. Your donation is appreciated. We accept PAYPAL. Thank you for your interest.


COOL CRUISE HONORS CLARK TERRY

Acclaimed jazz trumpeter Clark Terry is being honored with A Cool Cruise as the Queen Elizabeth 2 hosts the 17th Annual Floating Jazz Festival in a transatlantic crossing from Miami to Southampton, November. 2-12.

This first-ever transatlantic Floating Jazz Festival will feature Terry, one of the most respected artists in jazz, performing with his quintet. Vocalist Carol Sloane and her trio, will reprise many of the selections included in her Grammy-nominated collaboration with Terry. Legendary pianist Oscar Peterson, accompanied by his all-star, European based trio of guitar, bass an drums will entertain. Grammy award winning vocalist/pianist Shirley Horn will appear backed by her trio.

Also starring are; Houston Person, tenor saxophonist with his quintet and blues vocalist Etta Jones; Pianist Junior Mance and his trio; Jazz pianist Monty Alexander; Alto Saxophonist Lou Donaldson with his quartet, featuring Lonnie Smith; Legendary tenor saxophonist Jimmy Heath will appear with his quartet, and also lead the Floating Jazz Festival Big Band.

The festivities also include workshops, special events, passenger jam sessions, autograph signings, in cabin jazz videos and a Meet The Stars program.


CABARET CAROUSING
KAREN MASON Photo By:Glenn Campbell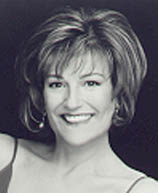 The New York cabaret scene is heading into the new millennium with gusto. First Michael Feinstein opened his room in The Regency Hotel. While the food needs help, the entertainment is of blue ribbon quality.

Now Sam's and Arci's Place unveil new rooms.

Sam's, New York's oldest theatre bar and restaurant begins previews on Nov. 3 for Dream Street Cabaret. The production stars Ken Ludie and Dale Badway. Surrounding a new baby grand piano Dream Street Cabaret will feature the best of Broadway and Tin Pan Alley. The newly enlarged main dining room now features an elevated stage, new sound and light system as well as the backdrop of the spectacular beveled glass picture window. There is no cover charge for this new cabaret venture. Sam's has expanded it's menu and boasts a bakery now on premise.

Karen Mason christens the new cabaret in Arci's Place on Nov. 3, performing through Nov. 27.
In 1994 the talented singer had what the New York Times termed "one of the more thankless temp jobs in American theatre." Mason was outfitted with a beeper and a cell phone as the standby for Glenn Close during the run of Sunset Boulevard. She went on 18 times for Close including two performances she took over after intermission. When Close was on vacation Mason appeared in another 16 shows.

The veteran performer starred in As The World Goes Round, an award winning revue build around the songs of John Kander and Fred Ebb.

A popular voice on the cabaret scene, Mason was honored during the recent Cabaret Convention with the 1999 True Cabaret Classic Award.


SWEET CHARITY

MELODIES AND MEMORIES

ROBERT MERRILL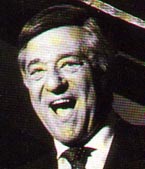 The 10th Anniversary Lauri Strauss Leukemia Foundation Gala Benefit Concert and Reception Melodies and Memories takes place Monday, Nov. 15th at Carnegie Hall, NYC.

The evening stars conductor Skitch Henderson and The New York Pops, CBS's Charles Osgood as Master of Ceremonies, Vicki Lewis of News Radio, Karen Mason, Peter Nero, Ben Vereen, Peter Yarrow, and special guests Robert Merrill and Margaret Whiting. Guest artists will include; pianist Mark Nadler, actress Carol Woods, Harlem Girls Choir, violinist Judith Ingolfsson, singer Karen Saunders, Tsidii LeLoka, and singer/songwriter Steven Lutvak. Achievement honors will be presented to; Lloyd J. Braun, Douglas Atkin, and Matthew C. Blank. Concert chairs are: Frank J. Blondi, Jr., Ron Bernard, Lloyd J. Braun, Tom Freston, Kathy and Alan D. Schwartz, and The Junior Committee of the Hassenfeld Children's Center.

GERALD LEVIN of Time Watner is honored November 3 by the National Academy of Television Arts and Sciences. He receives the Trustees Awards. Guests include; Christiane Amanpour, Willow Bay, Jeff Greenfield, Queen Latifah, Rosie O'Donnell and Judd Rose. Robert Wuhl, the star of HBO's Artists serves as emcee. NY Hilton Hotel.

The NATIONAL BREAST CANCER COALITION AND THE AMERICAN FILM INSTITUTE stages Daughters, Sisters, Mothers. The evening will have Jane Alexander, Debbie Allen, Christie Brinkley, Geraldine Ferraro, Jessica Lange, Libby Pataki, Anna Quindlen, Cokie Roberts, Stephanie Seymour, Meryl Streep, Julie Taymer, and Raquel Welch introduce their mothers and sisters to read from the works of Elizabeth Cady Stanton and Susan B. Anthony. The evening honors Ken Burns' General Motors film Not For Ourselves Alone: The Story of Susan B. Anthony and Elizabeth Cady Stanton. The event is November 3, Hammerstein Ballroom, NYC.Katharine Graham, Cathy Black and Georgette Mosbacher co-chair.

THE AMAZING SINGING VOICE: A CELEBRATION IN SONG is a special concert to benefit the Long Island Jewish Medical Center's Schein Voice and Laryngeal Center. In addition to delighting the crowd in song singers Tom Andersen, Alix Korey, Karen Mason, Georga Osborne and Richard Skipper will discuss their singing techniques. Thursday, November 4, 24 Fifth Avenue Ballroom, NYC. Tickets $75.


APPLAUSE, APPLAUSE




LA OVATION AWARDS the 10th Anniversary Theatre La Ovation Awards - which is the Los Angeles top theatre award competition - takes place November 8. Host Jason Alexander will be joined by presenters Angela Bassett, Annette Bening, Charles S. Dutton, Jerome Lawrence, Sharon Lawrence, Jack Lemmon, David Hyde Pierce, and Scott Wolf.

THEATREWORKS/USA was awarded a $47,500 grant from the National Endowment for the Arts. The money will support the national tours of two new musicals: Lyle, Lyle Crocodile and Gold Rush! The Lyle tour will reach an estimated audience of 110,000 in 10 Eastern states. The Gold Rush! tour is expected to entertain audiences of 86,000 in 10 states in the West.

JEFFREY STANLEY'S script for his moving Off-Broadway play Tesla's Letters will be released by Samuel French this fall. Samuel French highlights the play as among the year's "best dramas."The two-act, 4-character drama set in 1997 in the Balkans, is about an American who sets out to find Nikola Tesla's doomsday device only to discover that a machine is not required. Electrical pioneer Tesla, a Croatian-born Serb, was Thomas Edison's biggest rival. The play received its world premiere at The Ensemble Studio Theatre last April and opened to rave reviews. Directed by Curk Dempster and funded by a grant from the Alfred P. Sloan Foundation, the cast included Keira Naughton as Daisy Archer and Victor Slezak as Dragan. Jeffrey Stanley is represented by Writers & Artists Agency.



SATURDAY NIGHT FEVER opening in New York to a record setting number of bad reviews. That even spawned a discussion last Thursday on Theater Talk - heard midnight on WNET-NY - about this stage version with Mike Kuckwara of The Associated Press, Robert Simonson, Editor of Playbill on-Line, joining Theater Talk hosts Michael Riedel of The New York Post and Susan Haskins. They assessed whether or not this new $10,000,000 musical can survive. Probably not.

HEDWIG AND THE ANGRY ITCH opens tonight, October 31 at the Henry Fonda Theatre in Hollywood. The rock musical stars Michael Cerveris.

GREG LOUGANIS who won four gold medals in two Olympics and later confessed that he was HIV positive, is starring in the musical comedy, Nunsense A-Man, which opened Friday at the Hollywood Playhouse, FL. The all male spoof runs through December 5. Louganis plays a nun, Sister Robert Ann, a streetwise nun who always wanted to be a star.

FROM MY HOMETOWN officially opens November 3 at the Triad Theatre, NYC. Along with several original songs, the show features over 35 R&B classics. From My Hometown tells the rags-to-riches story of three singers who journey from the music capitals Detroit, Memphis, and Philadelphia to New York City in search of their dreams. Lee Summers from the original Broadway case of Dreamgirls and Ty Stephens from the original Broadway cast of Sophisticated Ladies star. Written by Summers, Stephens and Herbert Rawlings, Jr. Leslie Dockery co-choreographer with Kevin Ramsey who also directs.

AIN'T MISBEHAVIN' the popular Broadway musical will be performed at the Brooklyn Center for the Performing Arts at Brooklyn College November 6, as part of BCBC's Con Edison's Sensational Saturdays series. When Ain't Misbehavin' opened on Broadway, it made Broadway history by winning every Tony award, including Best Musical. This extraordinary musical includes 30 show stopping numbers - Your Feets Too Big, That Ain't Right, Honeysuckle Rose, Squeeze Me - that take the audience on a journey through the Fats Waller song book and Harlem during its heyday. The cast includes Vivian Jett, a veteran of Ain't Misbehavin, who replaced Amelia McQueen of the original Broadway production.

REPERTORIO ESPANOL presents the World Premiere of The Dance ("El Baile") written and directed by Abelardo Estorino featuring Adria Santana. November 11 thru December 19 in revolving repertory at the Gramercy Arts Theatre, NYC.


WHO'S WHERE

RICKY MARTIN

RICKY MARTIN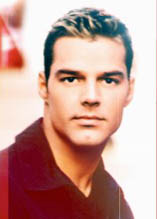 sells out in hours if not seconds.

If you couldn't get in to see his New York performance there is always Las Vegas.

The guy who turned la vida loca in an international pop anthem brings his red hot hip-swingin' sex appeal to Mandalay Bay Events Center, Las Vegas Nov 11-12.

The following night he does it again at the Staples Center in Los Angeles. Martin gave the new venue their first sell out.

He'll be driving the crowd wild Nov. 13.

ANDREA BOCELLI picked Detroit, home of Motown, as the place to make his American opera stage debut last Friday, co-starring in Werther with Denyce Graves. Six performances in the 2,730 seat Michigan Opera Theatre.

LANCE BURTON returns to his hometown of Louisville's Kentucky Center for the Performing Arts for five performances of his full production show, plus taping a segment of the Kentucky native's fourth annual magic TV special Lance Burton: Master Magician: On The Road. The Center for the Arts in Louisville has a seating capacity of 2,300 for the three shows. Nov 6-7. Tickets $30-$45. Burton returns to the Monte Carlo Hotel in Las Vegas on Nov. 10.

JOEL SCHUMACHER director of Batman Forever, and the upcoming Flawless starring Robert DeNiro, directs Entertainment Weekly senior editor Jess Cagle in his one-man show, Them. The show includes Cagle's impressions of Katharine Hepburn and Lauren Bacall. Here Theater Space, NYC Nov 3-18.

BRYAN FERRY in concert Friday, November 5, Beacon Theatre, NYC. Ferry appears November 19 at the House of Blues, Las Vegas.


THIS AND THAT

JOSHUA JACKSON AND BRITNEY DANIEL who co-star on Dawson's Creek kissing up a storm in the chic and private House of Blues Foundation Room located in the Mandalay Bay Hotel in Las Vegas. They were going at it so hot and heavy that some wondered why they just didn't get a room.

SWOOSIE KURTZ who was the only one of the sisters in Sisters to appear in every episode and now stars in Love and Money did a quickie 48 hour visit to New York.

CALVIN KLEIN threw a spectacular birthday party for his mother last week. The celebrity designer chartered jets to fly relatives and extremely close friends from Los Angeles and Texas to New York. The week long birthday bash featured a birthday party-a-night centered around a gourmet dinner. A few pounds heavier the birthday party crowd staggered back onto the planes and returned home.

PRICILLA PRESLEY in Las Vegas to attend Lee Iacocca's 75th birthday dinner at the Bellagio Hotel.

EDDIE MONEY has a handicapped parking sticker. It seems during his drug crazed days in the early 80s he passed out in a drugged stupor with a leg bent behind him. When he awoke 20 hours later, he had permanently damaged his sciatic nerve. He spent years forced to work with a cane on stage. He no longer needs that support, but he is still paralyzed from the ankle down and has no movement in his toes.



Mention BROADWAY TO VEGAS for Special Consideration
Call (800) 942-9027









Next Column: November 7, 1999
Copyright: October 31, 1999 All Rights Reserved. Reviews, Interviews, Commentary, Photographs or Graphics from any Broadway To Vegas (TM) columns may not be published, broadcast, rewritten, utilized as leads, or used in any manner without permission, compensation
and/or credit. Link to Main Page
---
Laura Deni


CLICK HERE FOR COMMENT SECTION