! >
Broadway To Vegas
  
  REVIEWS INTERVIEWS COMMENTARY NEWS

| | |
| --- | --- |
| | |
COWARDY CUSTARD CD REVIEW - - WE WILL ROCK YOU AMERICAN TOUR BEGINS - - CABARET AT PRINCE MUSIC THEATRE REOPENS - - GOVERNMENT SHUTDOWN HARMS THOSE WHO CAN LEAST AFFORD IT - - FROM HERE TO ETERNITY - - FASHION FORWARD - - SIR ELTON JOHN HONORED - - MAGRITTE: THE MYSTERY OF THE ORDINARY - - DONATE . . . Scroll Down




Copyright: October 6, 2013
By: Laura Deni
CLICK HERE FOR COMMENT SECTION


GOVERNMENT SHUTDOWN HAS HARMED THOSE WHO CAN AFFORD IT THE LEAST
The Laramie Project at Ford's Theatre in Washington, DC had to be changed to a different location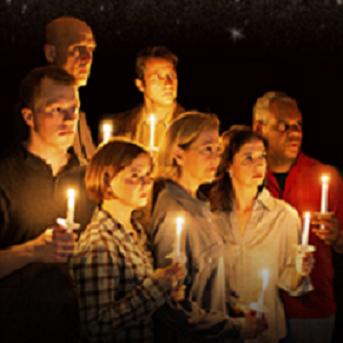 Congress has voted to retroactively pay government workers when the partial shutdown ends, including those who are furloughed. That means that those told not to come to work, are now on the stand-by version of a paid vacation, although those working at the Pentagon have been instructed to return to their desks.

Off work, even with pay, can be frustrating. Should you start the home improvement project, or not? Should you go visit Aunt Nellie, or not? At least their employment situation no longer falls into a potential financial disaster scenario.

Those truly hurt - some seriously - are the mom and pop souvenir and food stores operating near federal parks and camp grounds. Nobody is reimbursing them. If they are dealing in fresh or prepared food, much of the product will have to be thrown away - a severe blow.

In many parts of the country October is the most beautiful time of the year for outdoor hikes and camping. These small businesses depends upon October business to survive. A few could even be forced out of business, due to no fault of their own.

Many federal recreational facilities serve as stages for live productions. Some of the larger, more established production companies can survive.

The Ford's Theatre in Washington, DC stated: "Ford's Theatre is operated through a public-private partnership between Ford's Theatre Society and the National Park Service. Ford's Theatre Society (FTS) is a private non-profit 501(c)(3) organization, and we do not use any federal funding or federal employees for our programming. Because of the government shutdown, Ford's Theatre Society is not able to access the Ford's Theatre National Historic Site for its performances of The Laramie Project. All performances at the historic site have been canceled through October 8, including The Laramie Project and The Laramie Project: Ten Years Later.

Later, Ford's Theatre announced that: "Thanks to the generosity of the First Congregational United Church of Christ, Ford's Theatre Society will present free performances of The Laramie Project. The church is located just one block from Ford's Theatre. Tickets will be distributed on a first-come, first-served basis."

The company added: "The free panel discussion With Charity for All: Lives Changed by Hate will still take place on Monday, October 7, 2013. It has been relocated to the Center for Education and Leadership. The discussion will feature: Dave O'Malley, who was the lead investigator into the 1998 murder of Matthew Shepard; Billy Rowles, who was Jasper County Sheriff during the 1998 murder of James Byrd, Jr.; and The Washington Post's Jonathan Capehart as moderator."

An e-mail from The President Kennedy Library stated: "Due to the shutdown of the federal government, the forum Rose Kennedy's Family Album, scheduled for Tuesday, October 8, is postponed. We will send out another alert once a new date is scheduled. We sincerely regret this inconvenience."

For others theatrical organization, such as Adventure Theatre MTC's production of Goodnight Moon, which was to play at the National Park Grounds in Glen Echo Park, the results weren't as positive. Five performances were canceled. Michael J. Bobbitt, Producing Artistic Director of Adventure Theatre MTC and choreographer of Goodnight Moon, stated: "This shutdown has the prospect or doing great harm to the organization financially, and we hope the issue is resolved soon."

The standard pay scale for members of Congress is currently $174,000, (about $477 per day) with those in leadership positions getting upward of $190,000. While the Constitution says the lawmakers must be paid, Congress can vote to change its own pay for future sessions, establishing that members must give back their pay or donate their pay if the government shuts down to any degree.

They caused the problem - let them fix it at their own expense.

Many in the Congress are doing just that. At least 180 elected officials have stated they will not accept a paycheck or donate the full amount they earned during the shutdown to charity.

According to various published accounts, members who intend to keep their pay, because other federal workers will be retroactively reimbursed include: Rep. David Cicilline (D-R.I.), Sen. Tom Coburn (R-Okla.), Rep. Joe Heck (R-Nv), Sen. Dean Heller (R-Nv), Rep. Ron Kind (D-Wis ), Sen. Angus King (I-Maine), Rep. James Langevin (D-R.I.), Sen. Jack Reed (D-R.I.), Rep. Eric Swalwell (D-Calif.), Rep. Dina Titus (D-Nv), Sen. Patrick Toomey (R-Pa.), Sen. Sheldon Whitehouse (D-R.I.).



Broadway To Vegas is supported through advertising and donations. Priority consideration is given to interview suggestions, news, press releases, etc from paid supporters. However, no paid supporters control, alter, edit, or in any way manipulate the content of this site. Your donation is appreciated. We accept PAYPAL. Thank you for your interest.





ART AND ABOUT


THE SERPENTINE SACKLER GALLERY

Adrián Villar Rojas Installation view, Today We Reboot The Planet Serpentine Sackler Gallery, London © 2013 Jörg Bauman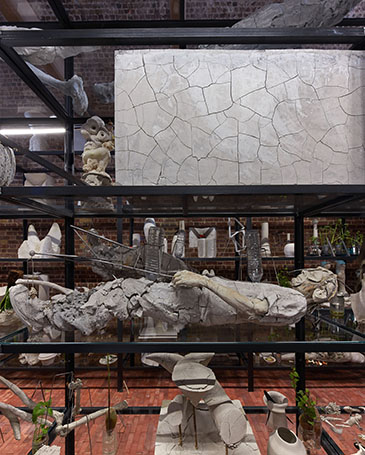 designed by Pritzker Architecture Prize laureate Zaha Hadid, has opened to the public. With almost 3,000 square feet of new gallery, restaurant and social space, the Serpentine's second space in Kensington Gardens promises to be a new cultural destination in the heart of London. The Serpentine will now present exhibitions and events across both Galleries and into the Park.

The inaugural exhibition presents a site-specific installation by Adrián Villar Rojas. One of the most exciting artists to have emerged in recent years, the Argentinian artist has become renowned for his large-scale sculptural works, predominantly made in clay and brick.

Working with a team collaborating builders, sculptors and engineers, Villar Rojas tests the limits of clay to create an apparently fossilized world of ruins and ancient monuments that play with the concept of time, history, modernity and the future. Overarching connections between his projects create a larger narrative, with themes and forms reappearing and reconfiguring themselves over time. As with My Dead Family, which saw him create a 91-foot 10-inch long sculpture of a whale stranded in a forest for the Bienniale at the End of The World, each installation can seem as if is the last chapter of an unknown mythical saga.

For his first exhibition in the UK, Villar Rojas re-casts this potent mix of myth and imagination. Drawing on the artist's self-declared fascination with topics as diverse as science fiction, comic books, popular music and quantum mechanics, his often fantastical sculptures appear as relics from an invented antiquity or an imagined future.

A key element to his installation at the Serpentine Sackler Gallery is the implicit presence of another parallel site of production, a traditional brickworks in Rosario, Argentina which - alongside its daily production of bricks - functions as a laboratory of artistic experimentation for Rojas.

The site produces handmade bricks, using the ancient method of mixing the raw materials in the ground using animal power before hand firing them in glowing pyramidal towers.

The immediacy and rawness of this production process, which drew Rojas to the brickworks as well as aspects of the work there, will appear as 'ghosts' in the exhibition.

Rojas is most well known for his recent projects in Kassel, Germany for the Argentine Pavilion at the 54th Venice Art Biennale and the monumental installation in the Jardin Tuileries next to the Musée de Louvre in Paris (2011), Expo 1, MoMA PS1 New York. His work is included in major collections internationally.

The Rojas exhibition is one of two opening shows.



Marisa Merz Untitled, 2012 Mixed media on paper on wood 55.2 x 45.7 x 1.6 cm Photo: David Regen © Marisa Merz Courtesy Gladstone Gallery, New York and Brussels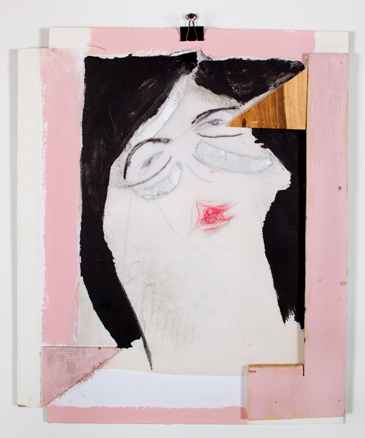 The other, Marisa Merz, is mounted at the Serpentine Gallery.

This is the first solo exhibition in a UK public institution of the work of artist Marisa Merz (born 1926, Turin, Italy), which includes a selection of sculptures, paintings and installations from across her remarkable fifty year career.

Merz's work has consistently played with scale and materials, ranging from the domestic to the industrial.

Her series of Living Sculptures, suspended clusters of forms made up of swirling shards of aluminum, are at once industrial and ethereal highlighting the materials that Merz has continually explored.

Throughout the late 1960s, Merz was actively involved with the Arte Povera movement.

The only woman affiliated with the Turin-based group, Merz often worked with textiles, linking forms of typically feminine creativity with Arte Povera's call to embrace 'poor' or 'low' materials, which could be used in art.

She continues to demonstrate a sense of openness with regard to materials and processes, as evinced by her application of craft techniques, such as weaving and knitting, embracing non-traditional materials, including nylon, copper and iron.

The Marisa Merz exhibition at the Serpentine Gallery is organized in collaboration with the Fondazione Merz, Turin.

Both exhibits are on display through November 10, 2013.

MAGRITTE: THE MYSTERY OF THE ORDINARY, 1926–1938

René Magritte.The Menaced Assassin. Brussels, 1927. Oil on canvas, 59 1/4" x 6' 4 7/8" (150.4 x 195.2 cm). The Museum of Modern Art. Kay Sage Tanguy Fund. © 2013 Charly Herscovici, Brussels/Artists Rights Society (ARS), New York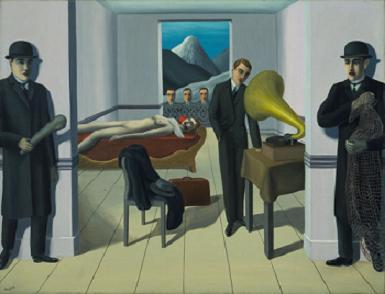 This exhibition is the first to focus exclusively on the breakthrough Surrealist years of René Magritte, creator of some of the 20th century's most extraordinary images.

The exhibition brings together some 80 paintings, collages, and objects, along with a selection of photographs, periodicals, and early commercial work, offering fresh insight into Magritte's identity as a modern painter and Surrealist artist.

Beginning in 1926, when Magritte first aimed to create paintings that would, in his words, "challenge the real world," and concluding in 1938 - a historically and biographically significant moment just prior to the outbreak of World War II - the exhibition traces central strategies and themes from the most inventive and experimental period in the artist's prolific career.

Displacement, transformation, metamorphosis, the "misnaming" of objects, and the representation of visions seen in half-waking states are among Magritte's innovative image-making tactics during these essential years.

A richly illustrated catalogue accompanies the exhibition.

This exhibition is organized by The Museum of Modern Art, The Menil Collection in Houston, and The Art Institute of Chicago. The exhibition at MoMA is organized by Anne Umland, The Blanchette Hooker Rockefeller Curator of Painting and Sculpture, with Danielle Johnson, Curatorial Assistant, Department of Painting and Sculpture.

On display through January 12, 2014 at MoMA in New York City.


SWEET CHARITY


SIR ELTON JOHN will receive the Harvard School of Public Health AIDS Initiative Leadership Award at the Foundation's annual An Enduring Vision benefit on October 15, 2013.

This award is presented to individuals who have displayed outstanding vision, leadership, and courage in the worldwide struggle against AIDS. Previous recipients have included Diana, Princess of Wales, tennis legend Arthur Ashe, AIDS activists Elizabeth Glaser Mary Fisher, and Richard Gere, AIDS Memorial Quilt Founder Cleve Jones, philanthropists Bill Blass, Judith Peabody, Marguerite Littman, Maurice Templesman, and Deeda Blair, former United Nations Ambassador Richard Holbrooke, President Festus Mogae of Botswana, and President Olusegun Obasanjo of Nigeria.

"When I think of the extraordinary people who have received this honor before me, including my dear, dear friend Princess Diana, I admit to being quite humbled at the thought of being numbered among such august company," said Sir Elton John.

"But I am also tremendously inspired by their courage, vision, generosity, dedication, and grace under fire. And I pledge to continue my work for as long as it takes to achieve an AIDS-free generation and ultimately a world without AIDS."

JOHN DENVER REMEMBERED when the award-winning Chris Collins and Boulder Canyon present the music that shaped a generation.

2013 marks the 16th anniversary of John Denver's tragic death, leaving fans in mourning for one of the most-loved entertainers of the 1970s. John's popularity spanned many generations, and his popularity even bridged the oceans, producing mass appeal in places as far away as Russia and China. Even after his untimely death, the demand for his music remains strong.

Favorite John Denver songs like Rocky Mountain High, Country Roads, Annie's Song and many more are performed by Chris Collins and the Boulder Canyon Band. Their show is not an impersonation act. But the similarities between Chris' and John's voices have been called "unmistakable,' offering the audience an audibly emotional connection to the music and singer they loved.

Proceeds from the concert will go to support the John Denver Sanctuary. The music of John Denver arrives at Theatre Aspen's Hurst Theatre on Friday, October 11, 2013.

A NIGHT FOR JON BROOKES takes place Friday, October 18, at Royal Albert Hall in London.

The Charlatans will return to the Royal Albert Hall for a very special night in memory and celebration of Jon Brookes, the band's drummer who died last month after being diagnosed with a brain tumour in 2010. Proceeds from the night will go to The Brain Tumour Charity.

The line-up will include Liam Gallagher, James Dean Bradfield, The Chemical Brothers, members of The Vaccines and New Order, and Dumb.

The group wrote: "Following the loss of our much missed friend and drummer, Jon Brookes, we, together with some friends, are putting on a show at the Royal Albert Hall on Friday 18th October 2013. The show will benefit The Brain Tumour Charity, which Jon was involved with during his illness. It's our way of raising money for research into and awareness of a cancer that will unfortunately affect many lives as it has ours. We look forward to seeing you and making it a night to remember." The Charlatans

A pre show VIP Reception will also take place.

DANCERS RESPONDING TO AIDS Leaps into Fall with Inaugural Hudson Valley Dance Festival on October 12, 2013 at Historic Catskill Point on the banks of the Hudson River. The event is produced by and benefits Dancers Responding to AIDS, a program of Broadway Cares/Equity Fights AIDS. The festival's first program will include performances by Evidence, A Dance Company, Stephen Petronio Company, Monica Bill Barnes & Company and choreography by Marcelo Gomes.







THE MUSIC GOES ROUND AND ROUND


COWARDY CUSTARD might well have been called Crème Brulee, since the selections are anything other than bland - rather a magnificent listening experience of a revue which blends tastes and textures. Actually, the term "cowardy custard" has nothing to do with food. It's taunt used by schoolchildren in the UK equivalent to "scaredy cat" in the USA.

This 2-disc CD, released by Masterworks Broadway, is a reissue of the original 1972 two album RCA Victor cast recording.

Cowardy Custard, a musical revue, was one of the last Noel Coward shows staged during his life. It was devised by Gerard Frow, Alan Strachan and Wendy Toye. The biographical revue premiered in London in 1972 at the Marmaid Theatre, as part of the City of London Festival, running for 405 performances. A revised version toured in the UK in 2011.

Again, this is not and elaborately orchestrated Broadway or West End production, captured on an album/CD. This is an intimate revue.

Telling the story of Coward's life through song and biographical snippets, the revue was billed as "An entertainment featuring the words and music of Noël Coward". The Coward numbers featured are songs and scenes from Coward's works of the 1920s to the 1960s. The revue also contains previously unpublished material, excerpts of plays and dialogues, material from Coward's autobiographies and some of his poems. Sketches featured include scenes from Shadow Play.

This is the same era when Coward appeared in Las Vegas at the Desert Inn, even recording a live album. ( See Broadway To Vegas column of March 30, 2003 ) However, no mention that Las Vegas gig is included on the CD.

Numbers on this offering include those from: Bitter-Sweet, Tonight at 8:30, The Year of Grace, Sail Away, Operette, Waiting in the Wings, London Calling, Not Yet the Dodo and other Verses, Cochran's 1931 Revue, Present Indicative, Charlot's Revue, Calvacade, Set to Music, The Girl Who Came to Supper, After the Ball, Future Indefinite, The Globe Revue, On with the Dance, Come Into the Garden Maud, Words and Music, Ace of Clubs, Sigh No More, and South Sea Bubble.

The cast features: Olivia Breeze, Geoffrey Burridge, Jonathan Cecil, Tudor Davies, Elaine Delmar, Laurel Ford, Peter Gale, John Moffatt, Patricia Routledge, Anna Sharkey, Una Stubbs, and Derek Waring.

Routledge would go on to win a Best Actress in a Musical Tony Award for her performance in Darling of the Day, and achieve international success when PBS began airing the British Comedy Keeping Up Appearances. In that sitcom she starred as the bossy, pretentious Hyacinth Bucket (pronounced "bouquet"). In 1996 she was voted Great Britain's all-time favorite television actress.

If those of you who think Patricia Routledge is only a comedic actress who can't really sing - give a listen to her rendition of I'll Follow My Secret Heart from the production of Bitter Sweet.

Her delivery of I Went to a Marvelous Party, a four minute section, is spoken with an occasional sung note, which Routledge delivers more as a punctuation mark. Routledge does an exuberant, delightfully pretentious rendering.

Out of Noël Coward's approximately 300 songs, I Went to a Marvelous Party is listed as one of his most popular, ranking among the top 30 in royalty potential.

A melody does exist, although the test is meant to be recites, most often with a piano accompaniment.

Coward composed this song after he and Beatrice Lillie attended a beach party given by Elsa Maxwell in the south of France. The lyrics in the first stanza are based on a real life experience of Coward and Lillie. The song was first sung by Lillie in the 1939 revue Set to Music. The song also can be heard in the 1982 David Niven film Better Late Than Never, in which Niven appeared as an ageing cabaret artiste performing to an indifferent French Riviera audience.

This 2 set CD contains as much spoken word - if not more - than actually singing. The enunciation and articulation of the spoken segments set the gold standard. British actors who want an international audience ought to study this CD!

The musical instruments heard are predominately the piano and drums. A horn is evident on Twentieth Century Blues from Cavalcade (1933) performed by Elaine Delman. A flute can be heard on the 1950s Alice Is At It Again performed by Tudor Davies and Una Stubbs.

Sign No More showcases the beautiful soprano of Anna Sharkey. The closing number from Disc 1, Mrs. Worthington performed by John Moffatt is more talked than sung..

Disc 2 begins with the hilarious Critics Sequence, excerpts from the 1950s production of The Company. The dialogue is just as appropriate today.

The ability to clearly understand the lyrics on these selections make for a funny, clever listening experience. The Travel Sequence includes lyrics that speak the truth: The Passenger's Always Right and Why Do The Wrong People Travel. The travel section is followed by the Mad Dogs and Englishmen - Words and Music - a fast paced three minute offering by Elaine Delmar.

A shared credit with Cole Porter is Let's Fall in Love, which is billed as "Coward's affectionate re-wording of Porter's song, with some additional topical lines." Such as; "teen-agers squeezed into jeans do it . . ."

Words and Music by Noël Coward. Directed by Wendy Toye and the Cast. Orchestrations by Keith Amos. Musical Director John Burrows.


CANADA'S NATIONAL ARTS CENTRE ORCHESTRA ON UNPRECEDCENTED TOUR OF CHINA
Led by the National Arts Centre's renowned Music Director Pinchas Zukerman, the NAC Orchestra of Ottawa has embarked on an international tour to China with the goal of linking Canada and China through performance, education and technology.

This is the Orchestra's first tour of China in its 43-year history.

Musicians will take part in 80 educational activities, two interactive distance learning events and a live webcast . As its legacy, the Tour will help establish high-definition videoconference connections at China's leading music conservatories, linking their students to the world for teaching and mentoring.

This unprecedented tour features Principal Cellist Amanda Forsyth, and works from Canadian composers John Estacio and Alexina Louie.

When internationally acclaimed violinist and violist Pinchas Zukerman came to the National Arts Centre 14 years ago he wanted to accomplish two things: to build an international reputation for the Orchestra and to choose musicians that were not only great performers but also great teachers.

The NAC Orchestra is now known as Canada's greatest teaching Orchestra and as an international leader in distance learning through broadband videoconference technology. China is experiencing extraordinary growth in music: it's estimated that 100 million children in China are currently studying the piano or the violin.

"We are hoping to share what we do best. I know how to play the fiddle, and I was fortunate to have some wonderful teachers. I look forward to sharing what I've learned in sessions with talented young students from China. I come to China with an open heart," said Pinchas.

Zukerman the Music Director of the NAC Orchestra. "I am so proud of how great this orchestra sounds and I can't wait to bring their music to the Chinese audiences."

Zukerman was mentored by American violinist Isaac Stern in the 1960s. In many ways during this tour, Zukerman and members of the NAC Orchestra will be following in Stern's footsteps. Virtuoso violinist Isaac Stern spent more than a month in China in 1978. His visit resulted in a documentary entitled From Mao to Mozart about an extraordinary teacher and his Chinese students. The documentary won an academy award in 1980.

The tour will expose international audiences to the creative work of two of Canada's most distinguished composers, both recipients of the prestigious National Arts Centre Award for Canadian Composers, John Estacio and Alexina Louie.



Alexina Louie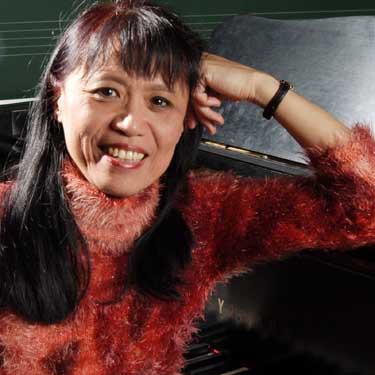 For Chinese-Canadian composer, Alexina Louie, the tour will be a return to her ancestral roots. Louie is a 3rd generation Canadian and has traced her family history through 27 generations. She has only visited China once in 1973, on a family visit. Her music will be performed in Hong Kong.

"To have my music performed in China is remarkable, because my family is originally from China," said Alexina Louie. "Bringing The Tiger Down From The Mountain II is inspired by the name of a Tai Chi move— to me it evokes an image of power and lyricism from China." Pop-up concerts are being planned at iconic sites like the Forbidden City. A variety of concerts for school children from diverse backgrounds will introduce them to western instruments and music. For many, this will be the first time they have met anyone from Canada, and they will respond by playing Chinese music on traditional Chinese instruments.

Five international distance learning events will be a highlight of the tour, linking young musicians in China to Canada. NAC Musicians will participate, as well as Pinchas Zukerman and Canada's Goodwill Ambassador to China Mark Rowswell, known as Dashan in China. Rowswell has been called the most famous foreign media personality in China.

Selected students from China who have been mentored by Pinchas Zukerman in Canada will join the tour as members of the NAC Orchestra. Two music students from Beijing, Zhangli Junyi and Wang Yuehan traveled to Canada this past June to be mentored by Zukerman and members of the NAC Orchestra at the annual Summer Music Institute, a musical bootcamp for leading young musicians from Canada and around the world.

In February 2012, during Canadian Prime Minister Harper's visit to China, Canada and China committed to a series of initiatives that would strengthen their bilateral relationship, including holding cultural events in each other's countries in 2013–2014. The tour supports this objective.

"On behalf of the Government of Canada, I would like to congratulate the National Arts Centre in Ottawa and the National Centre for the Performing Arts in Beijing on this partnership and on making this tour possible," said the Honorable James Moore, Minister of Canadian Heritage and Official Languages.

"Two great national institutions are working side by side and demonstrating the strong relationship between our countries. I know music lovers in both countries and children who will take part in education activities will be delighted by this tour." The tour will coincide with the annual general meeting of the Canada China Business Council in Beijing with a major concert on October 17, 2013 at the National Centre for the Performing Arts hosted by Canadian Ambassador Guy Saint-Jacques.

Amanda Forsyth, the principal cellist of the NAC Orchestra will perform "Bringing The Tiger Down From The Mountain II" by Chinese-Canadian composer, Alexina Louie at a joint concert with the combined forces of the NAC Orchestra and the Hong Kong Sinfonietta in Hong Kong.

As a direct result of the NAC's world-leading expertise in the use of broadband internet technology, three permanent broadband video conference connections will be established at - leading conservatories across China and at the National Centre for Performing Arts in Beijing. This legacy project will enable young musicians in China to learn from the best international teachers at their home institutions.

This tour is built around a long-term relationship between Canada's National Arts Centre and China's National Centre for the Performing Arts (NCPA), which recently signed a three-year Memorandum of Understanding for cultural exchange and collaboration. Under this agreement, the NAC will host the NCPA Orchestra in the fall of 2014 for a concert in Southam Hall. Furthermore, discussions are underway for both creative and educational collaborations in future years.

A key tour highlight will certainly be the opening concert in Hong Kong, which will bring two great orchestras together – the NAC Orchestra and the Hong Kong Sinfonietta – for the first time. More than 130 musicians will be on stage creating a powerful symbol of two cultures working together.

The performance tour begins in Hong Kong at the Hong Kong Cultural Centre, today, October 6. On Tuesday the group will be in Guangzhou at the Xinghai Concert Hall. Thursday's performance is in Fuling at the Fuling Grand Theatre. On Friday they can be enjoyed in Chongqing at the Chongqing Grand Theatre. Next week the tour has stops in Tianjin - Tianjin Grand Theatre, October 13; Beijing - Tsinghua University, October 16; Beijing - National Centre for the Perfomring Arts, October 17.


HALSTON RETROSPECTIVE TO HIGHLIGHT HIGHT TEA AT FASHION FORWARD


Fashion Forward (FFWD) is a movement incorporating biannual presentations from the Middle East regions' most established and emerging fashion designers for consumers, buyers and the media. The convention takes place October 15-18 in Dubai, UEA.

Public programs including talks, panels and workshops by the region's leading fashionistas is described as "a key part of FFWD's role in developing a dynamic, sustainable and definitive fashion platform for the Middle East."

Making his first ever visit to the region is the Chairman and CEO of iconic American label Halson, Ben Malka. Malka will bring with him a number of vintage Halson gowns, which will be displayed at an exclusive by-invitation-only High Tea on October 17.

. Simon Collins, Dean of Fashion at Parsons The New School For Design, New York will be drawing on his experience to talk about "Design Thinking: Creating Beautiful Solutions". Former model and Not Just A Label (NJAL) founder Stefan Siegel will share his experiences on launching the site in a discussion on Creative Entrepreneurship. NJAL today maintains a database of over 6,000 emerging fashion designers from 88 countries.

Other talks and panels include: Penetrating The Global Market. How To Stay Relevant, The Rise Of The Fashion Blogger: Print vs. Digital, How to Make It As A Fashion Journalist, The influence of Editors on the Fashion Landscape, Crafting High Fashion: What It Takes to Manufacture Locally, Made In Italy And Global Style Setter, The Role of Photography in Building A Brand, and How To Build An Audience.


SPREADING THE WORD


PRINCE CHARLES has recorded a Dylan Thomas poem for a special broadcast to mark Britain's National Poetry Day.

The prince chose Fern Hill, the Welsh poet's reminiscences of childhood visits to an aunt's farm in Carmarthenshire.

Calling it one of his "favorite poems, he described it as "poignant and moving".

Prince Charles is the Royal patron of the Dylan Thomas 100 Festival, which will mark the centenary of the poet's birth in 2014.

Last year, the prince visited the poet's home in Swansea, and this year traveled to Thomas's boathouse at Laugharne in Carmarthenshire where many of his major works were written.

Thomas's granddaughter, Hannah Ellis Thomas, who is also a patron of the centenary celebrations, said: "It's fantastic that he is closely involving himself in our centenary celebrations with a reading that my grandfather would have loved, of a poem that meant so much to him and our family."

BARBARA COOK last week reopened Morgan's Cabaret at the Prince Music Theatre in Philadelphia, PA.

Patti LuPone is set to appear there next month.

NEIL SIMON'S THE SUNSHINE BOYS had a star studded opening at the Ahmanson Theatre in Los Angeles.

Danny DeVito, Judd Hirsch and the entire cast were joined backstage by the playwright himself, Neil Simon, and his wife.

And it was a Taxi reunion as former castmates Christopher Lloyd and Marilu Henner joined for some laughs.

The production runs through November 3, 2013.

THE 10th ANNIVERSARY OF FREE SAN FRANCISCO TROLLEY DANCES will be celebrated with rolling performance tours along Market Street trolley routes on Saturday and Sunday, October 19 and 20, 2013.

2013 marks ten years of dance in transit in this urban trolley tour all for the price of a MUNI ticket.

"This particular kind of site-specific project, one that incorporates dance, music, and theatrical elements in untraditional ways, has brought special meaning to the artists and communities that have participated in it over the last 10 years," says Kim Epifano, Artistic Director of Epiphany Productions and organizer of the annual event, which has become a highlight of the Fall arts season. "It really is 'Art for Citizens' because it is free, of high quality, and it makes people fall in love with the city again, or for the first time, if they've never been here before."

The fun event offers an unparalleled opportunity to see dancers up close performing site-specific work in surprising and spectacular venues. San Francisco Trolley Dances 2013 will include performances by a wide variety of dancers and dance groups. Performers announced to date include: Inkboat, Lizz Romann and Dancers, Epiphany Productions Sonic Dance Theater, and Jean Isaacs San Diego Dance Theater.

BOSTON UNIVERSITY'S 2013 ENGAGING MINDS CONFERENCE takes place October 10-13.

Keynote speakers is Laura Anderson, legendary experimental performance artist, composer, and musician. The noteworthy roster of participants also includes former Massachusetts governor Michael Dukakis, Octavio Zaya, Luis Callejas, Azra Aksamija, and Yi Huang during the four-day day TransCultural Exchange conference on International Opportunities in the Arts.

This event brings together curators, galleries, funders, critics, artist-in-residency directors, and artists from around the world for a unique cross-disciplinary platform to network, showcase, support, and promote artists' work.

"As the academic host for TransCultural Exchange's Engaging Minds conference, Boston University recognizes the unique opportunity that comes with this collaboration," says Benjamín Juárez, Dean, Boston University College of Fine Arts. "The alliance between Boston University and TransCultural Exchange aims to bridge the gap between academic and real-world experience by enhancing the possibility . . . to participate in the global arts community."

In addition, winner of the 2010 German sound prize Florian Dombois will create a temporary public artwork for the occasion, which includes shooting a red laser through the Boston skyline that will serve as the centerpiece for the Engaging Minds conference.

WILL GEER'S THEATRICUM BOTANICUM has announced the Antelope Valley Theatre Project, an immersive theater program that will expand the company's reach to the Lancaster/Palmdale, California area with support from The James Irvine Foundation Exploring Engagement Fund.

"Theatricum has been working to build a relationship with communities in the Antelope Valley for some years," explains project director Elizabeth Tobias. "We are always searching for a way to translate the education programming we do with kids in schools into programming for adults that will similarly inspire and engage them with the arts."

The Antelope Valley Theatre Project is a three-pronged program that includes bringing professional performances to the region; engaging local residents through acting classes and workshops; and presenting a culminating Community Theater Festival.

Theatricum Botanicum's professional repertory company will offer free admission to public performances of its award-winning production of A Midsummer Night's Dream at the Lancaster Performing Arts Center on Sunday, October 13.


OTHER PEOPLE'S MONEY


KINKY BOOTS the Tony Award winning musical with music by Grammy winner Cyndi Lauper, a book by four-time Tony winner Harvey Fierstein and directed by two-time Tony winner Jerry Mitchell, has recouped its $13.5 million capitalization in 30 weeks..

Kinky Boots is running at the Al Hirschfeld Theatre in New York City.



WE WILL ROCK YOU Music/Lyrics by Queen. Book by Ben Elton who also directs.

The Tour Director/Choreographer is Tracey Flye.

Choreography by Arlene Phillips. Musical Supervisors are Brian May & Roger Taylor, Mike Dixon, Jason Howland. Casting Director: Duncan Stewart/Benton Whitley of Duncan Stewart and Company.

A hard rocking musical, We Will Rock You premiered in London and is currently on its 11th year on West End. Seen by millions of audiences all over the world, this vibrant musical contains 24 of Queen's biggest songs including Another One Bites the Dust, Crazy Little Thing Called Love, We Are the Champions, Bohemian Rhapsody and We Will Rock You, entwined within an original futuristic story by Elton.

While a run away hit in England, this is the second attempt to get this musical into an America groove. An American touring production slated for 2004 wast scrapped. Instead, the musical made its American debut by opening at the Paris Hotel in Las Vegas.

Before the show opened in Las Vegas the production was over-hyped. Bobby Yee, then president of Paris Las Vegas, which is a Caesars Entertainment resort, announced that "Rock You will stay at Paris for 10 years, with options to extend to 20 years." Then he added, "When you talk about Celine or Elton, you associate it with Caesars and now when you talk about We Will Rock You, you know it's Paris."

Tony Vincent, who had originated the role of Galileo in the London production, reprised the role, which he alternated with Jason Wooten, Aspen Miller and Kacie Sheik shared the role of Scaramouche, Patti Russo was Killer Queen, and Ty Taylor was Brit. Officially opening September 8, 2004, the show, who boasted a cast of 40, folded November 27, 2005.

The current production is distancing itself from the Vegas version, calling the Sin City offering a thin, stripped down one act version - while the about to tour production is touted as "fully blown."

Auditions for this fully booked tour were held last April with rehearsals beginning the first part of September.

The cast features Brian Justin Crum as Galileo, Ruby Lewis as Scaramouche, Jacqueline Arnold as Killer Queen, P. J. Griffith as Kashoggi, Ryan Knowles as Pop, Erica Peck as Oz and Jared Zirilli as Britney.

Rounding out the ensemble are Danny Balkwill, Samantha Berman, Bentley Black, Jessica Crouch, Saccha Dennis, Sam DiGiuseppe, Suzanna Dupree, Daniel Greenberg,Stephen Hernandez, Nathan Keen, William Joseph Lewis, Brooke Morrison, Jennifer Mote, Katie Murphy, Jennifer Noble, Fred Odgaard, Patrick Ortiz, Jason Sermonia, Stephanie Sy and Kasey Walker.

The road tour is produced in conjunction with Queen's Brian May and Roger Taylor, along with Tribeca Theatrical Productions, co-founded by Robert DeNiro and Jane Rosenthal - the same group that produced the Vegas version. Everyone loves the music of Queen, including DeNiro who has been attending rehearsals for the new show which begins its North American tour at Baltimore's Hippodrome Theatre with an eight-performance engagement from October 15 to 20, 2013.

WAIT UNTIL DARK a thriller by Frederick Knott, adapted for the stage by Jeffrey Hatcher. Directed by Matt Shakman.

Starring Tony Award nominee Alilson Pill as Susan Hendrix. The cast also includes Brighid Fleming as Gloria, Rod McLachlan as Carlino, Matt McTighe as Sam, Adam Stein as Roat and Mather Zickel as Mike.

Reset from the 1960s to the 1940s, the production is described as: "A ground-breaking thriller, Wait Until Dark follows a blind Greenwich Village woman who finds herself in the middle of a con. And a murder. Who is in on it? Desperate and depraved thieves believe Susan is in possession of their big score and set in motion a manipulative psychological war on her vulnerable state. That is, until Susan plunges herself and the audience into the dark in which she exists using it to her advantage."

Performances start October 3, with the official opening set for October 16 in the Gil Cates Theater of The Geffen Playhouse in Los Angeles.

HELLO DOLLY! the 50th Anniversary tour of the endearing Jerry Herman musical which features a book by Michael Stewart.

Directed by Jeffrey B. Moss with choreography by Bob Richard.

Starring Emmy Award-winning actress Sally Struthers as matchmaker Dolly Levi. The cast also boasts John O'Creagh as Horace Vandergelder, Matt Wolfe as Cornelius Hackl, Lauren Blackman as Irene Molloy, Garett Hawe as Barnaby Tucker, Halle Morse as Minnie Fay, Brad Frenette as Ambrose Kemper and Hilary Fingerman as Ermengarde.

The creative team includes Charlie Morrison (lighting design) and Skip Brevis (musical supervision).

The tour kicked off October 5 with a one nighter at the Edward Nash Theatre in Sommerville, NJ. On October 8, a three-nighter opens at the Crouse-Hinds Theatre in Syracuse. 73 stops are on the tour including performance stops in New York, plus dates in Detroit, MI; Milwaukee, WI; Pensacola, FL; Birmingham, AL; Sioux City, IA, Spokane, WA; Fresno, CA; Santa Barbara, CA; Boise, ID; Shreveport, LA; Galveston, TX. The tour stretches in 2014.

ANTHEM a stage adaption of Ayn Rand's novel by composer Jeff Britting, curator of the Ayn Rand Archives.

Directed by Ann Ciccolella, artistic director of the Austin Shakespeare Theatre Company.

Anthem is the story of a young man, EQUALITY 7-2521, who is born into a future world that has banished all individuality. Not satisfied with a world lighted by candles, EQUALITY fosters his love of discovery in an abandoned subway, a relic of the past. In solitude, EQUALITY rediscovers electricity and a new source of light. Above ground he meets and falls in love with LIBERTY 5-3000, committing a further "sin of preference."

The cast includes: Matthew Leiff Christian as Equality, Lelund Durond Thompson as International, Tina Johnson as Old Woman, and Sofia Lauwers as Liberty. Sarah Walker Thornton & Alex Teicheira make up the ensemble.

Sett design by Kevin Judge, Costume Design by Theresa Squire, Lighting Design by Jason Amato and Sound Design by Anthony Mattana.

Since its full American publication in 1961, Anthem has sold more than 5 million copies. Originally produced by Austin Shakespeare in 2011, Anthem's Off-Broadway staging coincides with the celebration of the 75th Anniversary of the novel's publication.

Performances at The Jerome Robbins Theater at the Baryshnikov Arts Center in New York City. Opening night is scheduled for Monday, October 7th for a limited ten-week run through December 1, 2013.

LAGRIMAS DE AGUA DUICE "Tears of Sweet Water" by Jaime Chabaud. Directed by Pearl Szuchmacher. Performed by Ana Zavala.

Sofia is a little girl crying tears of sweet water. This may go unnoticed in some places, but her small town in Mexico is afflicted by drought, so this event unleashes the greed of adults. Sofia is forced to cry endlessly in order to provide water for her people.

A co-production of the 24th Street Theatre and Mexico's Compañía Hecho a Mano in Spanish with English supertitles.

Three performances October 12-13 at the 24th Street Theatre in Los Angeles.

FROM HERE TO ETERNITY the world-premiere production of Tim Rice's and Stuart Brayson's new stage musical of James Jones's 1951 debut novel.

Directed by Tamara Harvey.

The cast features Darius Campbell as Warden, Robert Lonsdale as Prewitt, Ryan Sampson as Maggie, Siubhan Harrison as Lorene and Rebecca Thornill as Karen.

The cast also includes Keisha Amponsa Banson, Marc Antolin, Julie Armstrong, James Ballanger, John Brannoch, Abigail Climer, Brian Doherty, Jessica Ellen, Dale Evans, Shimi Goodman, Kirby Hughes, Lauren Ingram, Dean John-Wilson, Joshua Lacey, Carolyn Maitland, Nuno Queimado, Lucinda Shaw, Warren Sollars, David Stoller, Rebecca Sutherland, Laura Tyrer, Adam Vaughan, Lauren Varnham, Stephen Webb and Matthew Wesley.

Set in Pearl Harbor, 1941, where the girls sing "don'cha like Hawaii," the men of G Company sing the blues, and where even on an army base, love and desire are never very far away. When the troubled Private Prewitt falls for the kind hearted escort club girl Lorene, and when his platoon sergeant, Warden, embarks on a dangerous affair with his commanding officer's wife, Karen, the lives of both men are set on a course they cannot control. As war approaches, the worlds of the four lovers and the soldiers of G Company are dramatically ripped apart.

Set designs by Soutra Gilmour and choreographed by Javier De Frutos, Lighting design is by Bruno Poet, sound by Mick Potter and orchestrations and musical supervision by David White. Casting is by Pippa Ailion.

In previews with the official opening set for October 23, at the West End's Shaftesbury Theatre, London.


WHO'S WHERE
BETTY BUCKLEY entertains with songs about The Other Woman, a funny, light-hearted evening of memorable songs from classic and contemporary Broadway show. Saturday, October 12 at The Bay Street Theater in Sag Harbor, NY.

SELENA GOMEZ center stage Thursday, October 10, at the Patriot Center in Fairfax, VA. On Friday the show is at the Petersen Events Center in Pittsburgh, PA. Saturday the tour stops at the TD Garden in Boston.

JIM BRICKMENM performs October 12 at the MIM Museum Theater in Phoenix, AZ.

BONNIE RAITT brings her distinctive voice to the Marin Center in San Rafael, CA on Wednesday, October 9. On Thursday she performs at the Laxson Auditorium in Chico, CA. Saturday's show is at the Arlene Schnitzer Concert Hall in Portland, OR. Next Sunday, October 13, she's on stage at the Benaroyal Hall in Seattle.

ANDRE LICARET virtuoso pianist returns to The Embassy Series with a special appearance by bass-baritone Jeremy Hirsch, singing a few Lieder and arias, October 11th at the Romanian Ambassador's Residence in Washington, DC.

RIOULT DANCE NY a leading American modern dance company with a classic sensibility, along with the Manhattan School of Music (MSM) will present a one-night-only performance of its Bach Dances on October 9, 2013 at the Manhattan School of music's John C. Borden Auditorium, NYC. The critically-acclaimed program has toured throughout the United States and France with recorded music, however, the October 9, 2013 performance will mark the New York City premiere of Pascal Rioult's Bach Dances performed to live music in its entirety.

CELTIC THUNDER performs Tuesday, October 8, at the Hershey Theatre in Hershey, PA. On Wednesday their show is at the Event Center in Bethlehem, PA. On Friday they entertain at The Palladium in Carmel, IN. On Saturday the show is at the Honeywell Center in Wabash, IN.




FINAL OVATION


JUNE REIMER SPRINGER an actress, singer and dancer who - as June Reimer - appeared in several shows in the 1940s and '50s, including the original production of Kiss Me, Kate, died September 27, 2013 in Chico, CA. She was 85.

Her other Broadway credits include My Romance (1948) and Three Wishes for Jamie (1952), a Ralph Blane musical comedy staged by Abe Burrows and Three Wishes for Jamie. She also starred as the Princess in a national tour of Sigmund Romberg's The Student Prince. In the 1950s, under the stage name Monica Lane, she joined crooner Cass Franklin as half of a popular singing duo that played New York nightclubs such as The Latin Quarter. The two also appeared on early television variety shows including The Colgate Comedy Hour. Her publicity pin-up for the Catskills resort Mount Airy Lodge became the source material for Roy Lichtenstein's famous 1961 Pop Art painting, Girl With Ball.

In 1953, June married John Springer, whose career as a Hollywood film and theater public relations agent became legend. In a newspaper headline he was once referred to as ''Guardian Agent to the Stars.'' His clients included Mia Farrow, Richard Burton, Elizabeth Taylor, Marilyn Monroe, Judy Garland, Gary Cooper, Bette Davis, Joan Crawford, Myrna Loy, Mary Pickford, Sylvia Sidney, Ginger Rogers, Lana Turner, Grace Kelly, Rosalind Russell Marlene Dietrich, Henry Fonda, Gary Cooper, Montgomery Clift and Robert Mitchum.

With John, she enjoyed the glamour of the New York and international entertainment, arts and journalism worlds, but she was far more devoted to her family.

John Springer died in 2001. June ReimerSpringer is is survived by their children, respected New York publicist Gary who followed in his father's footsteps, Alicia, and Cynthia; grandchildren Nicholas and Olivia Springer, Zachary Gilman, and Anthony and Zora Thomas; and her sister Marilyn and family. A Memorial will be held later in October in New York City at the Players Club.













Next Column: October 13, 2013
Copyright: October 6, 2013. All Rights Reserved. Reviews, Interviews, Commentary, Photographs or Graphics from any Broadway To Vegas (TM) columns may not be published, broadcast, rewritten, utilized as leads, or used in any manner without permission, compensation and/or credit.
Link to Main Page
---
Laura Deni



For the snail mail address, please E-mail your request.
CLICK HERE FOR COMMENT SECTION