! >
Broadway To Vegas
  
 SHOW REVIEWS CELEBRITY INTERVIEWS GOSSIP NEWS

| | |
| --- | --- |
| | |
FAILED MICHAEL JACKSON TRIBUTE - - NYC 400 LIST SHUNS MOLLY GOLDBERG - - LISTEN SCULPTURE EXHIBITION BY BARD BREVIK - - THE PHILADELPHIA ORCHESTRA TO PLAY IN SHANGHAI - - BROADWAY BLESSING - - 2009 KENNEDY CENTER HONORS - - TOMMY TUNE IN STEPS IN TIME - - AUSTRALIAN INDIGENOUS ART ON DISPLAY AT KATZEN ARTS CENTER - - DONATE . . . Scroll Down


MICHAEL JACKSON'S TRIBUTE: WISHING ON A STAR
Michael Jackson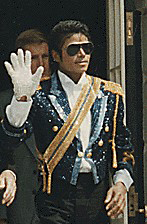 Nothing says cash cow quite like an embalmed body with a frenetic fan club.

There has always been big money in dying. The only thing that changes is the name of the players, the amount changing hands and which way the playing field tilts.

In life Michael Jackson was bleached, drugged, sculpted, mocked and vilified. In death he's been discussed and memorialized with more air time than any deceased head of state. His music has been justly lauded, but his memory is akin to being juggled by a circus performer while riding a unicycle on a high wire.

In days of yore people would be hired to mourn - a steady, part time job. Temps put on their funeral best and trailed the casket to the gravesite - cried - said nice things - then put their paid mourner money in their pocket and went home. Professional mourners most in demand were the ones who could cry the loudest and say the nicest things about a person they had never met.

Professional mourning or paid mourning is mentioned in the Bible. The occupation is widely invoked in literature, from the Ugaritic epics of early centuries BC to modern poetry. Held in high esteem in some cultures and times, the practice was vilified in others.

In France, it was the custom for the mourning family to distribute largesse to the congregation immediately following the funeral service. As a consequence, distant relatives and other, unrelated, parasites would attend the ceremony, simulating great anguish and grief in the hope of, at least, being given food and drink.

Today the piggy bank has been flipped. Mourners now pay big bucks to attend memories services.

Latest is the Michael Jackson derailed tribute train.



Jermaine Jackson in front of Vienna's Palace of Schönbrunn. Copyright © World Tribute Productions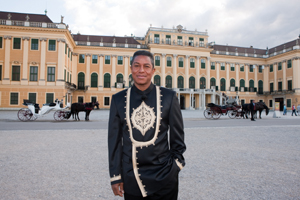 The Jermaine Jackson-organized King of Pop tribute originally set for Vienna on September 26 had a galaxy of stars orbiting when Jermaine announced the roster last Tuesday and Wednesday. Only problem - it was more wishing on stars, rather than signed contracts.

As fast as names such as Chris Brown, Mary J. Blige, Akon, Natalie Cole and Sister Sledge were announced the stars spoke up that they either had no intention of participating or attempted to politely decline.

For Chris Brown to participate he would have needed permission of a judge to leave the country. Brown was sentenced to community service after he admitted to assaulting his ex-girlfriend, Rihanna, last month.

"Chris Brown is working out some situations but he definitely expressed to us that he wants to be here," Jackson said at a press conference in London. "It's just up to what he's going through with his court case right now - but he's definitely going to work that out and be here."

"Chris is not confirmed to perform or participate in any capacity for this show," a publicist for Brown's label snapped back. Nor could any legal record be found that indicated that a request had been filed with the court to rule on Brown's participation.



Mary J. Blige had never committed to the tribute concert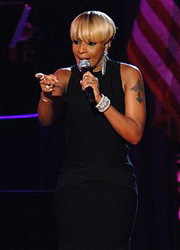 Prior to Jermaine's Tuesday press conference Mary J. Blige issued several statements saying she would not appear. Never-the-less she was listed as a confirmed performer.

Blige has had a long standing commitment to appear at a Gucci-sponsored concert in Milan, Italy, the same day as the Jackson tribute.

On Thursday the official Web site for the event still listed Brown and Blige on a roster that included Akon, 1970s disco icons Sister Sledge, Germany-based boy band US5 and Natalie Cole.

Natalie Cole?

Her spokesperson said the singer had a performance conflict.

Jermaine said that he was confident that Stevie Wonder would sing as would R. Kelly and Maroon 5 would likely perform at the show, alongside a number of unnamed acts from India and the Middle East. He threw out the figure of "about 25 entertainers total."

On the official Web site Jermaine thanked both Larry King and CNN.

The Web site emphasized that the musicians on stage would be those selected personally by Michael Jackson who had wanted to bring them along on his come-back tour: They included; Tommy Organ (Guitar), Alex Al (Bass), Jonathan Moffett (Drums), Bashiri Johnson (Percussion), Morris Pleasure (Keyboards), Dorian Holley (Background Vocal Director), Ken Stacey (Background Vocal), Judith Hill (Background Vocal). As the House Band they will accompany all artists performing Michael's greatest hits that evening. Musical Director will be Ray Chew, the Musical Director of the BET Awards, Miss Universe and the Apollo Theater in New York.

"Together with numerous international artists Michael's original band will perform the King of Pop's greatest hits live in front of the Palace of Schönbrunn," touted the Web site.

Merchandise being hawked included shirts and caps.

Jermaine also hinted that the Jackson family may reunite on stage at the concert. Organizers said they were expecting 65,000 fans to attend the event to honor Michael Jackson, who died in June at age aged 50. The coroner ruled the death a homicide.

Fans paid up to $745 for VIP seats and $91 standing-room tickets were snapped up.

On Friday Jermaine had to admit that his star filled galaxy was really a black hole. It isn't that the stars fell out - they never were contracted in the first place. Perhaps Michael wasn't the only Jackson who lived in Neverland. Jermaine dearly loved Michael and is still grieving at the loss. Any business sense is being clouded by emotion.

"Numerous stars were just not able to change their schedules to make a live appearance at the Vienna event possible," said Jackson who then blamed the press for stirring up a negative atmosphere.

"Many artists and performers who I have spoken to personally told me that it would be a great honor to be part of this memorial concert for my late brother," Jermaine Jackson said in a written statement. "However, due to the short time frame it was not possible for many of them to change their schedule so that they could be on stage in Vienna on 26 September, therefore we decided, after careful consideration, to change the date of the tribute concert to June 2010 - just a few weeks before the first anniversary of his untimely death."

"Now we have eight months to put this monumental show together and not just eight weeks."

"The purpose for this show is to give something back to the fans ... we have to do this right," Jermaine stated. We don't know about the give something back agenda, but the first thing Jermaine 'put together'? Ticket prices. He said tickets to the London concert would go on sale Dec. 1 and begin at $73.

Those with tickets for the Vienna event can request a money refund.

Stars performing at charity events always have their expenses paid - air fare, hotel rooms, food and beverages. Some donate their time and some are paid. Some performers will say pay expenses and they'll donate their performance, but expect their backup musicians and crew - make-up/hair/wardrobe - to be both provided to them and compensated.

Nor should performers be expected to foot the bill. It is the name/performance power of that individual that makes it possible for the event to sell tickets. Just as the food isn't free at a charity banquet, neither is the performer.

Memorials are big business.

Expenses for the September 26 Michael Jackson tribute would have been enormous - as will be the purported London tribute. In Vienna there are rental fees for the venue - that would be the grounds of Vienna's Palace of Schönbrunn.

Then there is the construction of that stage.



Stage constructed in front of Vienna's Palace of Schönbrunn. Copyright © World Tribute Productions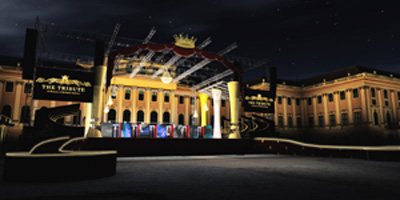 According to the official Web site:
"The idea of the stage design is to integrate the imperial backdrop as part of the stage setting. The multimedia stage will be approximately 165 feet wide, it consists of massive mobile LED walls that can be independently controlled and moved. Therefore each LED wall can show its own video or image. The LED walls can be moved together to form a solid continual backdrop. A runway will allow presenters and artists to walk through the audience. The tip of the runway will be formed as a crown. There will be various stage levels for performing artists, the house band and the presenters."

"Situated to the left and right of the stage will be grandstands with seating for approximately 5,000 distinguished guests."

The city of Vienna is an elegant, historical city well worth visiting. Vienna officials viewing the Jackson tribute as favorable publicity for their city and thus a boost to tourism, agreed to spend up to $870,000 to finance the cost of traffic control, providing security and producing a promotional video.

However, last Thursday Deputy mayor Renate Brauner told the Austria Press Agency that it wasn't too late for her city to pull out of the agreement. However, Brauner did emphasize that she hopes that there is event support. "As a fan of Michael Jackson, it would make me happy if some big names came," she said.

Less than 12 hours later she made a stern, flat statement - the city had withdrawn any monetary offers. "Not a cent will be given to the promoter," public broadcaster ORF quoted her as saying.

No word on whether the British will cough up a pound or two.



Broadway To Vegas is supported through advertising and donations. Priority consideration is given to interview suggestions, news, press releases, etc from paid supporters. However, no paid supporters control, alter, edit, or in any way manipulate the content of this site. Your donation is appreciated. We accept PAYPAL. Thank you for your interest.


NEW YORK'S ELITE 400 IGNORES THE ICON THAT WAS MOLLY GOLDBERG
Samuel Ward McAllister (1827–1895) was the self-appointed arbiter of New York society from the 1860s to the early 1890s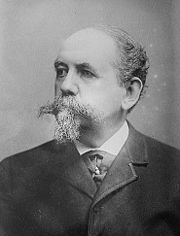 Gertrude Berg was the first woman to win an Emmy for Lead Actress in a Comedy Series - The Goldbergs - a series which she created, wrote and starred. She then picked up a Tony Award for Best Actress for her performance in A Majority of One. She went from being raised in Harlem to living in a Park Avenue penthouse complete with a butler and maid.

Millions of women of all ethnicities used her as role model.

Widely esteemed, she came in second only to Eleanor Roosevelt in a poll of America's most admired women.

This week is the 46th anniversary of her death - at age 66.

New York City has ignored her.

The Museum of the City of New York is celebrating the city's 400th birthday and the publication of the book New York 400: A Visual History of America's Greatest City with images from the Museum of the City of New York by recognizing 400 men and women from the city's world of politics, the arts, business, sports, science, and entertainment who have helped define New York City for the past four centuries.

Living members of the NYC 400, including Louis Auchincloss, Grandmaster Flash, Pete Hamill, Ed Koch, and Robert A.M. Stern, were honored at a Museum reception last week. Sean "Diddy" Combs, also selected for the NYC 400 list, twittered about the award: "As a New Yorker this is something I'm proud of!"

Also on the list is Ward Samuel McAllister, who created the original list of "the 400" in the late 19th century, referring to the social elite of New York City society - the 400 people who really mattered, and supposedly the number of people who could fit in the ballroom of Mrs. Caroline Astor.

This current anointing of the 400 tilts heavily towards the arts and entertainment. Of the 400 listed, 195 have something to do with A&E.



Gertrude Berg as Molly Goldberg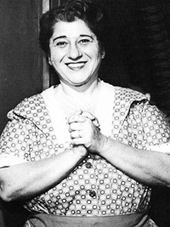 Why isn't the name Gertrude Berg on the list?

Born Tilly Edelstein in Harlem in 1899, Gertrude Berg was a housewife, mother, and amateur writer when she created the Goldberg family for radio. Cited as radio's first Jewish comedy, The Rise of The Goldbergs began November 20, in 1929 as a weekly 15-minute program on NBC. Berg was paid $75 a week. In 1931, the show became a daily serial known simply as The Goldbergs. When her contract was up, in the heart of the Great Depression, Berg let the sponsor propose a salary offer and was told, "Mrs. Berg, we can't pay a cent over $2,000 a week."

The Goldbergs, the radio and television comedy program that she wrote and produced from 1929 to 1956, was second only to Amos and Andy as the longest-running program of radio's golden years.

Mrs. Goldberg was usually found in the kitchen wearing an apron, or leaning out the window of her apartment in the Bronx, shouting "Yoo-Hoo" to the neighbors and catching up on the latest gossip.



"Molly Goldberg" in her famous window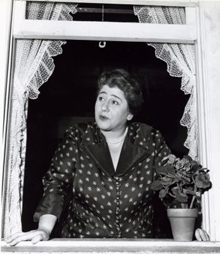 She was a sturdy woman with a loving heart and a no-nonsense attitude when it came to the welfare of her family. And with a lilting Yiddish accent she would dispense words of homespun wisdom to her children and her neighbors, even though she sometimes mutilated the English language in the process. It was an accent that was created for the character. In real life Berg spoke flawless English.

Berg's stories also centered around real, believable events, with Molly as the wise but fretful mother. Devoted to authenticity on and off the air, Berg regularly visited New York's Lower East Side in the name of research. When a scene took place at breakfast, Berg insisted on breaking real eggs into a real frying pan while the cast rattled silverware and china.

Gertrude Berg was a broadcasting pioneer. If it hadn't been for The Goldbergs there might never have been the Seinfeld sitcom.

In 1949 when The Goldbergs transferred to television it was billed as a "show about nothing," just the ordinary daily frustrations of life as seen through the eyes of patient, wise, resourceful Molly.

Decades later a "show about nothing," just the ordinary daily frustrations of life - would be brought to television by Jerry Seinfeld, who did make the 400 list.

Berg wrote practically all the show's radio episodes (more than 5000) plus a Broadway adaptation, Me and Molly (1948). It took considerable convincing, but Berg finally prevailed upon CBS let her bring The Goldbergs to television in 1949. Berg won the first ever Emmy Award for Lead Actress in a Comedy Series her debut year on the network - her twentieth consecutive year of playing the role - and the show stayed in production for five years.

She was the highest paid guest star at the time, and appeared with Steve Allen, Milton Berle, and Perry Como. Berg also had a clothing line for housewives. She published a cookbook and wrote an advice column called Mama Talks.



A Majority of One was mounted at the Ethel Barrymore Theatre. The 1959-60 Broadway production ran for 3 previews and 556 performances. The production starred Gertrude Berg, Cedric Hardwicke, Michael Tolan, Irene Moore, Mae Questel and Barnard Hughes. Written by Leonard Spigelgass, directed by Dore Schary, the production was nominated for four Tony awards, winning two.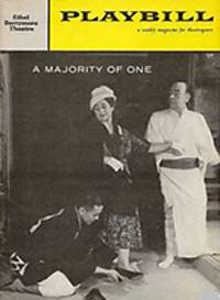 The Pre-Broadway tryout - January 26th to February 2nd, 1963 - at the Shubert Theatre in New Haven, Connecticut. The production opened March 2, 1963 at the Music Box Theatre on Broadway and ran for 145 performances. Based on a story by Gertrude Berg and James Yaffe, the play starred Gertrude Berg and featured Howard Da Silva, Jill Kraft, Tresa Hughes, Michael Baseleon, Ron Leibman, Mimi Randolph, Minera Pious, Sylvia Mann, Martha Greenhouse, Carl Don, Cynthia Robinson and William Daniels.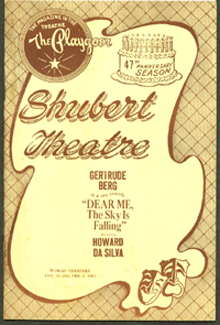 In 1959, Berg won the Tony Award for Best Actress for her performance as Mrs. Jacoby in A Majority of One. In 1961 she won the Sarah Siddons Award for her work in Chicago theatre.

Berg also published a best-selling memoir, Molly and Me, in 1961. That same year, she made one last foray into television with the Four Star Television situation comedy Mrs. G Goes to College (retitled The Gertrude Berg Show at midseason). She was reunited with her Broadway co-star Sir Cedric Hardwicke, along with Mark Wickes and Marion Ross. Berg played a 62-year-old widow who decides to attend college.

Berg was also a songwriter. Her composition That Wonderful Someone was a track on country music singer Patsy Cline's 1957 debut album.

While she spoke with a Yiddish accent on television, in real life, Berg was a sophisticated and well-spoken woman, always elegantly dressed with a string of pearls. She lived in a Park Avenue penthouse with a maid and butler and enjoyed a collection of furs and jewels. Edward R. Murrow featured her on his television show Person-to-Person.

A biography of Berg, Something on My Own: Gertrude Berg and American Broadcasting, 1929-1956, by Glenn D. Smith, Jr. (Syracuse University Press) was published in 2007. Aviva Kempner's 2009 documentary, Yoo-Hoo, Mrs. Goldberg, points out that;



A pioneer of promotion, Gertrude Berg wrote a cookbook, an advise column and had a clothing line for housewives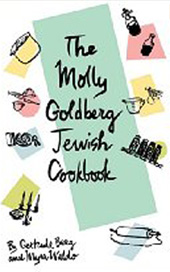 "Molly Goldberg encouraged Americans to persevere during the Depression, and she supported the war effort during World War II. She embodied a pragmatic liberalism, taking care of her family while recognizing a responsibility to care for others, and claiming her place as an American without sacrificing her Jewish identity. Playing the warm but strong mother made Berg not just popular, but also widely esteemed, coming second only to Eleanor Roosevelt in a poll of America's most admired women. Mrs. Goldberg loved America, and America loved her back."

Recently Peabody Award winning filmmaker Aviva Kempner received the Freedom of Expression Award from the San Francisco Jewish Film Festival, the largest and oldest Jewish festival in America. This award recognizes her films' contributions to creating positive images of Jewish people. Yoo-Hoo, Mrs. Goldberg, has just been released in Canada and at selected theaters across this country including The Avalon in Washington, DC. Last Friday, September 11, proceeds from the 5:45 show went to the DC Fire and EMS Foundation.

Berg died of heart failure at Doctors Hospital in NYC while undergoing routine tests - 46-years ago this week - on September 14, 1966. She was 66 years old. At the time of her death she was preparing for another Broadway show. She is buried in Clovesville Cemetery. Her husband, Lewis Berg, died in 1985 at 87.

Tony and Emmy-Award winner Gertrude Berg - born, raised, lived and died in New York. She blazed a trail in radio and television while affirming the values of a home. It's a shame that has been ignored in this 400th anniversary tribute to New Yorkers who made an impact.

For the list of the 400 click here


ART AND ABOUT


LISTEN

Listen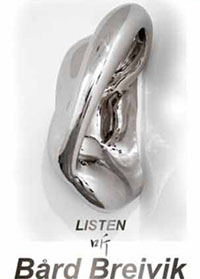 Sculpture Exhibition by Bard Brevik "Ears have always interested me. They are the form that visualizes one of our primary senses. Their form is totally individual, maybe as individual as a fingerprint. Our sense of beauty around ears is also strongly individual. In acupuncture the ear represents a total replica of our body. To me it is an extremely interesting form to play with as sculpture and symbol," states the artist.

As a sculptor Brevik has always been fascinated by the string theory - a developing branch of theoretical physics that combines quantum mechanics and general relativity into a quantum theory of gravity.

"The concept of string theory to describe the universe resonated with me. Steven Hawkins could not incorporate gravity into his ultimate equation because it reacted too slowly (for every action, there's an equal and opposite reaction). The string theory arose from the concept that you have to think of gravity in at least 9 or even up to 11 dimensions," Brevik explained in the exhibition statement released on August 20.

"It operates with open strings and closed strings which are comprised of gravitons. The idea of a circle with a fighting gravity inside it inspired me as a sculptural concept. I have explored this concept digitally on computers as well as in my usual media of clay and crystal."



Three Organic Strings. Polished stainless steel in 12 parts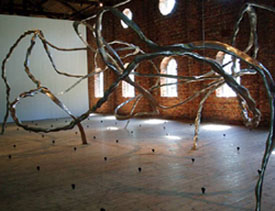 Breivik sees sculptures as material, and although the classical sculptural problems interest him, he places emphasis on the sculptures' actual forms and pictorial quality.

He's continually exploring the relationship between mass and material, shape, structure and scale, the various stages from first to final form, and the potential inherent in different materials.

His goal is to create perfect congruence between the shape and the form, and issues he has addressed in one series are often continued in another.

Breivik's structures can be seen as commentary on man-made structures - hollow shells around a volume - but can also be interpreted as vessels for the artist's own experiences and memories. They evoke exploration of basic shapes, materials, necessities, and craftsmanship in different cultures.

The artist aims to test the absolute limit of a given material, such as wood, stone, and more recently, plastic and bronze, in forms that have been rendered digitally. Breivik's large sculptures lend themselves well to large spaces, as seen in his many public commissions.

Bard Breivik (b. 1948) graduated from Bergen School of Arts and Crafts in 1970, and St. Martin's School of Art in London in 1971, where he studied under Anthony Caro. At age 34, Breivik became a professor of sculpture at the Royal Academy of Fine Arts in Stockholm, where he stayed for three years until 1985. Since the 1970's, he has exhibited widely in galleries and museums across Europe and in New York. His works are found in the collections of, among others, Moderna Museet, Stockholm, The Art Museum of the Atheneum, Helsinki, Kunsthalle zu Kiel, Centro Cultural de Arte Contemporaneo, Mexico City, and The National Museum of Art, Architecture and Design in Oslo, presented a major survey exhibition of Breivik's work in 2005. Bard Breivik lives and works in Norway, Sweden and China.

Listen opened at the Imagine Gallery in Beijing on Sunday September 6, 2009, with the presence of the artist and officials from the Norwegian Embassy in Beijing. The exhibition runs to November 8th, 2009.

CULTURE WARRIORS

Treasure Island, 2005 by Daniel Boyd, Kudjla/Gangalu peoples. Oil on canvas. 192.5 cm x 220 cm. Purchased 2006 (courtesy National Gallery of Australia)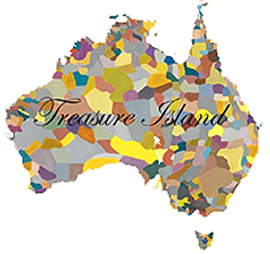 the largest exhibit of indigenous art ever to leave Australia made its American debut last Thursday at American University's Katzen Arts Center, in Washington, DC.

Officially opening the exhibit was Australian minister for the environment, heritage and the arts Peter Garrett who received almost as much attention as the exhibit, thanks to his previous profession - lead singer of political punk rockers Midnight Oil. The popular band had an American hit the Aborigine rights anthem Beds Are Burning.

The exhibition features work by 30 artists - one from each state and territory in Australia - and includes painting on canvas and bark, sculpture, textiles, weaving, new media, video, photo-media and installation works. The works are abstract and figurative, drawing on the past as they comment on the present.

Australian Indigenous culture has existed for the past 60,000 years, making it the oldest continuing culture in the world. A culture with strong spiritual connections to the land, sea, and the stars, it includes numerous distinct clans. Although each clan has its own language and artistic tradition, all share some common beliefs, one of which is "The Dreaming."

Also called "The Dreamtime," it refers to a collection of stories about the beginning of time when the Ancestral Beings created land and life. In most Dreaming stories, the Ancestral Beings came to earth in the form of humans and created people, animals, rocks, plants, and the connections among them all. When the beings were finished, they changed into trees, the stars, rocks, and other forms - forever linking themselves to the land, and forever linking the land to the past, present, and future.

Australian Indigenous Art Triennial: Culture Warriors was organized by the National Gallery of Australia, where it was first shown in October 2007. It was inspired in part by the 40th anniversary of the 1967 referendum that determined Australia's Indigenous people should be officially counted as citizens of Australia and included in the census. More than 90 percent of Australia's non-Indigenous population voted in favor of the referendum.

"The title 'Culture Warriors' reflects the determination of the numerous Indigenous groups of people to preserve their identities while being included in their homeland's culture and history," said Jack Rasmussen, director and curator of the American University Museum.

The Australian Indigenous Art Triennial: Culture Warriors closes Sunday, December 6.





THE PHILADELPHIA ORCHESTRA TO PLAY IN SHANGHAI
Charles Dutoit, conductor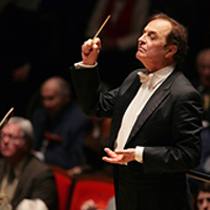 The Philadelphia Orchestra has agreed to perform at the Shanghai World Expo next year, the first U.S. cultural group to sign up for the May 1-October 31, 2010 event. The contract signed on September 8, calls for the orchestra, led by conductor Charles Dutoit, to perform on May 7 at the Expo Performance Center, which is under construction along the banks of the city's Huangpu River, and will seat 18,000 when completed.

Founded in 1900, The Philadelphia Orchestra became the first U.S. orchestra to perform in modern mainland China, at President Richard Nixon's request, in 1973 as the U.S. and China worked to re-establish bilateral ties. It has since performed in China four times, including a gala concert in Beijing in 2008.

"This occasion marks another step in the U.S.'s commitment to the Expo," Shanghai U.S. Consul General Beatrice Camp said in a statement. Organizers say they expect 70 million people to attend the Expo, Some 241 countries, regions and organizations plan to stage exhibits.


SWEET CHARITY


BROADWAY BLESSING

Lynn Redgrave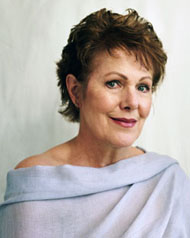 The Cathedral of St. John the Devine will host the 13th annual Broadway Blessing, an interfaith service that has helped the theater community kick-off the fall season since 1997. The service will incorporate a taste of Broadway through singing, readings, and dancing culled from well-known shows. Broadway actors and performance groups taking part are Lynn Redgrave, J. Mark McVey, Carol Hall, Project Dance, and the Broadway Blessing Choir under the direction of Bruce Neswick, Director Cathedral Music, will perform a number of Broadway hits followed by a sing-a-long.

The Very Rev. Dr. James A. Kowalski, Dean, and The Rev. Thomas Miller, Canon for Liturgy & Arts, from the Cathedral will be joined by Rabbi Jill Hausman of Congregation Ezrath Israel / The Actors' Temple and The Rev. Mitties DeChamplain of St. Clement's Episcopal Church as participants in the 75-minute program.

Monday, September 14, free and open to the public. St. John the Devine church in New York City.

Past participants have included Marian Seldes, Marcia Gay Harden, Frances Sternhagen, Boyd Gaines, Edward Herrmann, Anna Manahan, KT Sullivan, Mary-Mitchell Campbell, J. Mark McVey, Tituss Burgess, Kathleen Chalfant, Billy Porter, Elizabeth Swados, Ken Prymus, Three Mo' Tenors and Broadway Inspirational Voices.

WILL FERRELL will again host the Cancer for College Golf Classic on September 18 at Rancho Bernardo in California.

A field of golfers will spend the day with the film funnyman at the event that will also include a cocktail reception, banquet and live auction.

For 16 years Cancer for College has been providing college scholarships to cancer survivors and amputees. $150,000 in scholarships will be awarded at this year's event.

THE BACON BROTHERS presented in as a special event held to commemorate the 125th anniversary of Robert Wood Johnson University Hospital as part of a year-long tribute to moving medicine forward. This concert is an opportunity for the community to enjoy an evening of music and entertainment while supporting programs and services at the hospital.

Actor Kevin Bacon and his brother Michael have been performing their trademark gritty rock music professionally together since 1995 while touring across the country. This September they come to New Brunswick with their touch of Philadelphia soul. This exciting event is perfect for all ages and everyone is welcome and encouraged to attend.

September 23 at the State Theatre in New Brunswick, NJ.

STEPS IN TIME nine-time Tony Award winner Tommy Tune's biographical show will be presented Sept. 21 at the John Jay College as a benefit for Friends in Deed.

Tune has teamed with his longtime collaborators The Manhattan Rhythm Kings for a personal look back at his incredible career, featuring timeless standards, elegant choreography, and Tommy's own unique charm and warm-hearted humor.

A nine-time Tony Award winner, director-choreographer-actor Tune has helped create such Broadway shows as Nine, My One & Only, A Day in Hollywood/A Night in the Ukraine, The Will Rogers Follies and Grand Hotel. He spent two years starring in the Las Vegas production of the spectacular EFX at the MGM Grand Hotel. Tune was seen in the 2006 national tour of Dr. Dolittle, and helmed the new Broadway-aimed musical The Turn of the Century at the Goodman Theatre in fall 2008.

Friends In Deed is a crisis center for where those with life-threatening illnesses or their care-givers, family or friends can find the emotional and spiritual support to cope with these challenging life circumstances. Friends In Deed provides a safe space where they can reconnect to a sense of possibility. Located in the heart of SoHo, all services are free of charge.






SPREADING THE WORD


PREVIEW OF NATIONAL PLAYERS' LORD OF THE FLIES National Players, America's longest running touring company, previews its 61st annual tour at Olney Theatre Center in Olney, MD with a unique take on Lord of the Flies, Wednesday, September 16, and Thursday, September 17.

William Golding's classic tale about a group of English schoolboys who are plane-wrecked on a deserted island is just as chilling and relevant today as when it was first published in 1954. Golding's gripping novel explores the boundary between human reason and animal instinct, all on the brutal playing field of adolescent competition. However, this production of Lord of the Flies includes four women in some of the more substantial roles. Director David Gram has chosen to embrace the casting opportunity provided by the selection of actors for Tour 61, and has switched the genders of four characters: Ralph, Simon, Roger, and Sam are now Rachel, Sally, Rose, and… Sam.

"I'm fascinated by how the gender dynamics will impact on the storytelling," Gram says. "I wanted to acknowledge a world where strong women are put in leadership positions." Gram continues, ''Exactly 50 years before the television show Lost premiered, Golding's novel was published. Lord of the Flies dealt with groupthink versus the individual. Rational thought versus emotional reactions. Morality versus immorality. Ironically, not much has changed.''

During the tour, National Players will travel more than 23,000 miles, play in 30 states, and perform in approximately 100 different venues. With actors from New Jersey to Texas, Tour 61 presents a diverse group of young talent.

A MOVEABLE FEAST Sean Hemingway, Ernest Hemingway's grandson; Adam Gopnik, New Yorker writer and author of Paris to the Moon; and, Diane Johnson, author of Le Mariage and Le Divorce, discuss the restored edition of Hemingway's Parisian classic, A Moveable Feast, with Scott Simon, host of NPR's Saturday Weekend. Sunday, September 20, at the John F. Kennedy Library and Museum in Boston.

MEET THE COSI FAN TUTTE TEAM Opera Australia is hosting a panel discussion of Così fan tutte. Performer and broadcaster Jonathan Biggins will facilitate this discussion among director Jim Sharman, conductor Simon Hewett and cast members Rachelle Durkin, Sian Pendry and José Carbó. In what promises to be a highlight of the evening, cast members will sing the famous trio.

The event takes place Monday, September 21 in the Joan Sutherland Studio at the Opera Centre in Sydney, Australia.

TENNESSEE WILLIAMS' READINGS to complement the run of A Streetcar Named Desire, the Donmar Warehouse in London will stage rehearsed readings of two of Tennessee Williams' lesser-known plays on September 14th and 15th - his final play A House Not Meant to Stand (1982) and an early work Fugitive Kind (1937).

The September 14 reading, A House Not Meant to Stand, will be directed by Jamie Lloyd, Associate Director of the Donmar. The company will be Obi Abili, Alun Armstrong, Felicity Jones, Denis Lawson, Tom Riley, Alison Steadman, Tim Steed and Una Stubbs.

The rehearsed reading of Fugitive Kind on September 15 will be directed by Róisín McBrinn, former Resident Assistant Directorat the Donmar. The company will be Christian Contreras, Nigel Cooke, Garry Cooper, Claire Foy, Nigel Harman, Nicky Henson, Rory Keenan, Lauren O'Neil, Con O'Neill, Robert Rees, Stark Sands, Paul Shelley, Sara Stewart and Benny Young.

OPERA NIGHT AT NATIONALS PARK last Wednesday was a knockout. Cast members from The Barber of Seville performed the National Anthem, then threw out the first pitch during the Washington Nationals' game against the Philadelphia Phillies. Last night the Washington National Opera presented a live, free simulcast on the stadium's HD scoreboard from Kennedy Center of Gioachino Rossini's iconic The Barber of Seville, "the most popular opera of all time" says WNO General Director Placido Domingo. The opera features Simone Alberghini, Lawrence Brownlee and Silvia Tro Santafé. The evening also included an exclusive screening of Warner Brother's famous Bugs Bunny cartoon The Rabbit of Seville.

SUSAN BOYLE will perform on the finale of America's Got Talent September 16.

THE NAKED STAGE PRESENTS a staged reading of The Lake in August by Joe Pintauro. The lead artist is Joshua Perl, featuring Morgan Duke, Diana Marbury, Robert Anthony, and Joshua Perl. September 15 at Guild Hall in East Hampton, NY.

PHANTOM FANS WEEK, is an inaugural five-day festival in Las Vegas that begins Wednesday at The Venetian. Phantom of the Opera fans will receive behind-the-scenes access to Phantom: The Las Vegas Spectacular and the cast, learning about costumes and make-up. Events include a keynote address by honorary guest and legendary director Hal Prince and a Masquerade Ball with the cast at The Venetian's St. Mark's Square.





OTHER PEOPLE'S MONEY


TAVERN ON THE GREEN the glorious Victorian Gothic structure built in 1870, which offered the gorgeous Crystal Room indoor dining plus outdoor dining with topiaries, flowers, and greenery overlooking Central Park filed for bankruptcy on September 10

Last year Tavern on the Green was the second-highest-grossing restaurant in the United States, behind Tao in Las Vegas.

Tavern Chief Executive Jennifer Oz LeRoy whose family has owned the establishment since 1974 blames the filing on the financial crisis and New York City's decision to award the lease for 20 years to Dean J. Poll, who runs the Central Park Boathouse restaurant.

The LeRoy family owns the Tavern on the Green name. Valued at $19 million and in place since its founding by Parks Commissioner Robert Moses in 1934, the name will be sold to the highest bidder in bankruptcy court The federal bankruptcy filing lists 200 creditors

The restaurant will operate during the reorganization. Warner LeRoy, who died in 2001 at age 65 after creating New York restaurants such as Maxwell's Plum, was the son of Mervyn LeRoy, who produced the 1939 Warner Bros. film, The Wizard of Oz. His granddaughter Jennifer will host the entertainment company's gala celebration of the film's 70th anniversary on Sept. 24 at the Tavern.

JERRY LEWIS MDA LABOR DAY TELETHON based in Las Vegas, raises $60.5 million for research, education and support services for the Muscular Dystrophy Association.



THE JOHN F. KENNEDY CENTER FOR THE PERFORMING ARTS has announced the recipients of the Kennedy Center Honors of 2009.

Recipients of the 32nd Annual Kennedy Center Honors include writer, composer, actor, director and producer Mel Brooks; pianist and composer Dave Brubeck; opera singer Grace Bumbry; actor, director, and producer Robert De Niro; and singer and songwriter Bruce Springsteen.

On Sunday, December 6, in a star-studded celebration on the Kennedy Center Opera House stage, produced by George Stevens Jr. and Michael Stevens, the 2009 Honorees will be saluted by great performers from New York, Hollywood, and the arts capitals of the world. Seated with the President of the United States and Mrs. Obama, the Honorees will accept the thanks of their peers and fans through performances and heartfelt tributes.

The President and Mrs. Obama will receive the Honorees and members of the Artists Committee who nominate them, along with the Kennedy Center Board of Trustees at the White House prior to the gala performance. The 2009 Kennedy Center Honors Gala concludes with a supper dance in the Grand Foyer.

The Kennedy Center Honors medallions will be presented on Saturday, December 5, the night before the gala, at a State Department dinner hosted by Secretary of State, Hillary Clinton.

The Honors Gala will be recorded for broadcast on the CBS Network for the 32nd consecutive year as a two-hour primetime special on Tuesday, December 29 .

The Honors recipients recognized for their lifetime contributions to American culture through the performing arts—whether in dance, music, theater, opera, motion pictures, or television—are selected by the Center's Board of Trustees. The primary criterion in the selection process is excellence. The Honors are not designated by art form or category of artistic achievement; the selection process, over the years, has produced balance among the various arts and artistic disciplines.


GET WELL SOON TO ...


GARRISON KEILLOR who suffered a minor stroke last Sunday. The humorist was taken to Saint Marys Hospital at Mayo Clinic where he remained until his release on Friday.

Keillor, 67, underwent surgery to repair a heart valve at the Mayo Clinic in 2001. He is scheduled to open the new season of A Prairie Home Companion on Sept. 26 from the Fitzgerald Theater in St. Paul, Minn. Keillor celebrated Prairie Home's 35th anniversary with a Fourth of July performance before some 10,000 people in Avon, a central Minnesota town that helped inspire his fictional hometown of Lake Wobegon. He performed Sept. 4 at the Minnesota State Fair. Keillor is slated to appear as a guest lecturer on Wednesday, Sept. 23, at the University of Nevada in Las Vegas as part of The Barrick Lecture Series.


STORK REPORT


IT'S A BOY for Tony-winning Idina Menzel and Taye Diggs. Walker Nathaniel Diggs was born Wednesday, September 2, 2009. Walker is the first child for the couple who met on the Broadway production of Rent in 1996 and married in 2003. Diggs currently stars on ABC's Private Practice. Menzel starred in Wicked on Broadway and in the 2007 film Enchanted.


CURTAIN DOWN


AVENUE Q closes today, September 13, 2009 at the John Golden Theatre. Upon closing the Tony-Award winning musical will have played 22 previews and 2,534 performances. After an acclaimed Off-Broadway run at the Vineyard Theatre, Avenue Q began previews at the Golden Theatre July 10, 2003, and officially opened July 31.



INHERIT THE WIND by Jerome Lawrence and Robert E. Lee. Directed by Trevor Nunn.

Starring Kevin Spacey and David Troughton. With Paris Arrowsmith, Paul Birchard, Ken Bones, Adam Booth, David Burrows, Sonya Cassidy, Ian Conningham, Sam Cox, Branwell Donaghey, Mark Dexter, Mary Doherty, Janine Duvitski, Sarah Ingram, Nicholas Jones, Sidney Livingstone, Sam Phillips, Simon Lee Phillips, Vincent Pirillo, Christopher Ragland, Susan Tracy and Janet Whiteside

When science teacher Bertram Cates violates a state law he finds himself at the centre of a court case that not only shakes the United States but resonates across the world.

Considered one of the great American plays of the twentieth century Lawrence and Lee's gripping, relevant drama is inspired by the famous Scopes 'Monkey Trial'. In 1925 school teacher John Scopes stood accused of violating a Tennessee statute by teaching Darwin's theory of evolution to his students. Two legal Titans confront each other when this close knit community puts freedom of thought on trial.

A film version of the play released in 1960 starring Spencer Tracy and Gene Kelly received four Academy Award nominations. This production marks the 150th Anniversary of the publication of Darwin's The Origin of Species.

''He that troubleth his own house shall inherit the wind:
and the fool shall be servant to the wise of heart''
(Proverbs 11:29)

Set Designer-Rob Howell. Costume-Rob Howell & Irene Bohan. Lighting-Howard Harrison. Sound-Fergus O'Hare. Music Supervisor-Steve Edis. Casting-Maggie Lunn.

September 18-December 20, 2009 at The Old Vic in London.

PHAEDRA by Jean Racine. A version by Ted Hughes, directed by Nicholas Hytner.

The sole American engagement of the National Theatre of Great Britain's production of Phèdre features Academy Award winner Helen Mirren. Artistic Director Nicholas Hytner directs a superb cast, including Dominic Cooper and Margaret Tyzack.

Believing her husband to be dead, the passionate Queen Phèdre allows her forbidden love for her stepson to blossom. When the King returns from war very much alive, the entire family is catapulted into a desperate, impossible situation.

Sidney Harmon Hall in Washington, DC from September 16-26.

LET ME DOWN EASY conceived, written and performed by Anna Deavere Smith. Directed by Leonard Foglia.

Channeling a dramatic range of interview subjects, from artists and athletes to doctors and those they treat, Let Me Down Easy is a virtuosic and moving exploration of the power of the body and the resilience of the human spirit, featuring first person accounts from a wide variety of sources, including Lance Armstrong, and former Texas Governor Ann Richards.

With her trademark journalistic precision, Anna Deavere Smith, one of the most acclaimed and provocative theater artists of our time, explores the world of healthcare from both the patient and practitioner perspective in this timely and absorbing new play.

Begins September 15 at Second Stage Theatre in NYC with performances through November 7, 2009.

IN-I Directed and performed by Juliette Binoche and Akram Khan.

Oscar-winning actor Juliette Binoche and acclaimed British choreographer Akram Khan kick off the Next Wave Festival with the US premiere of In-I, an intensely visceral dance-theater work.

Revealing the intricacies of a love affair, in all its glory and all its pain, these charismatic artists arrive at something entirely new, as an actor dances and a dancer acts.

Set design by Anish Kapoor. Lighting design by Michael Hulls. Music by Philip Sheppard. Costume (Juliette Binoche) by Alber Elbaz. Costume (Akram Khan) by Kei Ito. Sound design by Nicolas Faure.

Co-produced by Hermès Foundation: National Theatre, London;Théâtre de la Ville, Paris; Grand Théâtre de Luxembourg; Romaeuropa Festival and Accademia Filarmonica Romana, Rome; La Monnaie, Brussels; Sydney Opera House, Sydney; Curve, Leicester.

September 15-26 at the BAM Harvey Theater, Brooklyn, NY.

LE GRAND MACABRE by Ligeti whose music was featured in the Stanley Kubrick films 2001: A Space Odyssey; The Shining and Eyes Wide Shut. La Fura dels Baus, the Catalan 'total theatre' company that famously created the Barcelona Olympics opening ceremony, makes its ENO debut with a production of this intensely dark comic masterpiece.

With outrageous wit, wildly virtuosic vocal writing and astonishing filmic effects, La Fura dels Baus's Le Grand Macabre is a spectacular surrealist farce set in a fantasy world that laughs in the face of modern life and points to the moral: eat, drink and make love, for who knows when the world might end.

Venus/Gepopo Susanna Andersson; Mescalina Susan Bickley; Prince Go-Go Andrew Watts; Piet the Pot Wolfgang Ablinger-Sperrhacke; Nekrotzar Pavlo Hunka; Astradamors Frode Olsen; White Minister Daniel Norman; Black Minister Simon Butteriss; Amanda Rebecca Bottone; Amando Frances Bourne.

Conductor Baldur Brönnimann; Directors Alex Ollé and Valentina Carrasco; Set Designer Alfons Flores; Video Designer Franc Aleu; Costume Designer Lluc Castells; Lighting Designer Peter van Praet; Translator Geoffrey Skelton; . The Production Manager is Nicholas Sperling. A co-production with La Monnaie Brussels, Gran Teatro del Liceu Barcelona and Teatro dell' Opera di Roma.

September 17-22-25. October 1-3-9. English National Opera, London.

PEEPSHOW at Planet Hollywood in Las Vegas will keep Holly Madison on display for another full year. Madison has become a popular crowd pleaser thus altering the original concept which was to replace the stars every three months. The co-starring role will change Sept. 21 with the arrival of Playboy cover girl Aubrey O'Day, replacing Shoshana Bean as the Pepe Diva.

SHINING CITY

Morlan Higgins and William Dennis Hurley in Shining City. Photo by Ed Kreiger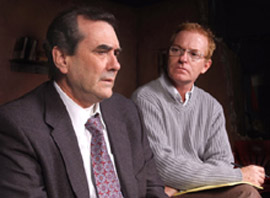 written by Conor McPherson. Directed by Stephen Sachs.

Starring Morlan Higgins and William Dennis Hurley. Also featuring Kerrie Blaisdell and Benjamin Keepers

A modern-day ghost story from Conor McPherson, one of Ireland's most important young playwrights. A middle-aged businessman living in has seen the ghost of his recently deceased wife. Terrified and sleepless, he reaches out to a therapist, a former priest who is wrestling with his own demons. McPherson uses richly drawn characters and powerful storytelling to weave a tale of love, loss and faith that is haunting, amusing, and deeply moving - a story about the fragile ache of the human heart.

The Los Angeles premiere of the Tony-nominated play has previews Sept. 12 through Sept. 18. Performances: Sept. 19 through Dec. 19 at The Fountain Theatre in Los Angeles.





WHO'S WHERE


BLACK EYED PEAS are in Japan this week. The show on Tuesday, September 15 is at the Arena in Hamamatsu. Friday's show is at the Nihon Gaishi Hall in Nagoya and on Saturday they perform at the Makuhari Messe in Chiba City.

U2 opens a two nighter Wednesday, September 16 at Rogers Centre in Toronto, Ontario.

BRITNEY SPEARS has a busy week with a show Tuesday, September 9, at the BOK Center in Tulsa, OK. On Wednesday she's on stage at the Toyota /center in Houston. Friday finds her at the American Airlines Center in Dallas and on Saturday she's in the spotlight at the Century Tel Center in Bossier City, LA.

MILEY CYRUS brings her act to the Rose Garden Arena in Portland, OR on Monday, September 14. On Wednesday she's on stage at the Tacoma Dome in Tacoma. On Thursday she appears as part of VH1 Divas at the Brooklyn Academy of Music. On Friday her tour stops at the Oracle Arena in Oakland, CA. Next Sunday she is at the Pavilion in San Jose, CA.

WEDNESDAY NIGHT AT THE IGUANA Dana Lorge and Richard Skipper sharing the stage with an exciting lineup of singers, at the Iguana Restaurant in NYC. Guests on September 16 include Broadway's Sarah Rice (original cast of Sweeney Todd) , Val Ryder, Lou Iacovino, Bill Zeffero (joined by Julie Reyburn on one song!) & Ann Dawson ... and a few other surprises as well. All accompanied by Barry Levitt on keyboard and Saadi Zain on bass.

BRUCE SPRINGSTEEN AND THE E STREET BAND will be delighting the crowds Wednesday, September 16 at the Bi-Lo Center in Greenville, SC.

DEE DEE BRIDGEWATER appears at the Monterey Jazz Festival on Saturday, September 19 in Monterey, CA.

CHRIS BOTTI appearing Friday, September 18 at the Fabulous Fox Theatre in St. Louis, MO. On Saturday he'll be blowing his horn at the Riverside Theatre in Milwaukee, WI.




FINAL OVATION


FRED MILLS

Fred Mills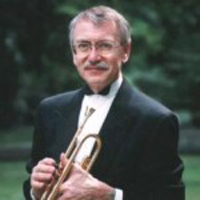 the famed Grammy-nominated, former trumpeter with the Canadian Brass quintet and University of Georgia music professor, was killed Monday night, September 7, 2009, in a car crash. He was 74.

The accident occurred as he was driving to his Athens home from the Atlanta airport after an overseas trip, said officials at the University of Georgia. Mills joined the university faculty in 1996.

UGA officials called Mills an "inspiration to all who knew him."

"One of the finest performers and teachers of his generation, he was at the same time a warm and generous colleague and a dear friend." said Dale Monson, director of the music school.

He had attended the Juilliard school of music in New York, where he got his first job offer even before he graduated.

As a trumpeter, the Canada native performed across the globe - from Sweden's Brass Nova to Orquesta Sinfonica de Aguascalientes in Mexico.

In 1961, he was a founding member of the American Symphony Orchestra in New York. He also was principal trumpet for the New York City Opera, and played with the National Art Centre Orchestra in Canada and the New York City Ballet Orchestra.

Mills also recorded more than 40 albums with the Canadian Brass and was nominated for a Grammy award in 1992.

The Canadian Brass Web site stated:
"Fred lofted the piccolo trumpet into an indispensable role in the brass quintet, brought a new level of musical quality to the brass quintet repertoire through his arrangements, many of which are now considered absolute standard repertoire and spent over fifty years helping establish the trumpet as a beautiful, lyrical voice amongst solo orchestral instruments."

"He inspired so many people as a founding member of the Canadian Brass from its formation. He had a unique ability to communicate through music and on a personal level."

"Through the excellence of his performances and the quality of his arrangements he helped lift the brass quintet repertoire from a curiosity to a legitimate and accepted art form rivaling the string quartet."

"His dedication and natural talent as a communicator to passing his love of music on to young people is part of his continuing legacy to the international world of music."

"He was a Canadian treasure who changed the world's musical perspective."

ARMY ARCHERD entertainment columnist for Daily Variety for more than a half-century, died Tuesday at UCLA Medical Center of mesothelioma, a cancer of the lungs. He was 87.

Archerd retired his Just for Variety column in September 2005. In November 2005, Archerd began blogging for Variety and was working on a memoir when he died. For more than 50 years, Archerd also served as the greeter-interviewer at the Academy Awards.

Archerd was born in The Bronx, New York and graduated from UCLA in 1941. He was hired by Variety to replace columnist Sheilah Graham in 1953.

His marriage to Joan Archerd, which produced two children, Amanda and Evan, ended in divorce in 1969 after 25 years. He married his second wife, Selma, in 1970. Preceded in death by his daughter, Archerd is survived by his wife, his son and two stepsons.

LARRY GELBART

Larry Gelbart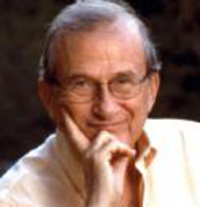 two-time Tony Award-winning librettist who was also a playwright and a screenwriter for TV and movies, died at home on September 11, 2009. The cause was cancer. He was 81.

Gelbart began as a writer at the age of sixteen for Danny Thomas' radio show during the 1940s and also wrote for Jack Parr and Bob Hope.. In the 1950s, he worked in television for Sid Caesar on Caesar's Hour, along with writers Neil Simon, Mel Brooks, Woody Allen and Carl Reiner. They would share three Emmy nominations for comedy writing for Caesar's Hour. A master of stage, screen and television, in 1972 Gelbart Gelbart developed the Robert Altman movie M*A*S*H into the hit TV series. M*A*S*H earned Gelbart an Emmy for Outstanding Comedy Series.

He co-wrote the screenplay to the Hollywood comedy Tootsie, and penned the Broadway plays Mastergate and Sly Fox which was based on Ben Jonson's Volpone. Viewed as a master of situation comedy and sardonic one-liners, Gelbart won Tonys for Best Book of a Musical for City of Angels, and A Funny Thing Happened on the Way to the Forum, which he co-wrote with Burt Shevelove.

He was also a multiple Academy Award nominee.

In 1997, Gelbart published his memoir, Laughing Matters: On Writing M*A*S*H, Tootsie, Oh, God! and a Few Other Funny Things.

Gelbart married Broadway actress and singer Patricia Marshall in 1956. In addition to his wife and their two children, Adam and Becky, Mr. Gelbart is survived by his stepchildren, Gary and Paul Markowitz; six grandchildren and two great-grandchildren.

Next Column: September 20, 2009
Copyright: September 13, 2009. All Rights Reserved. Reviews, Interviews, Commentary, Photographs or Graphics from any Broadway To Vegas (TM) columns may not be published, broadcast, rewritten, utilized as leads, or used in any manner without permission, compensation and/or credit.
Link to Main Page
---
Laura Deni



U.S. Postal Address: Post Office Box 60831, Las Vegas, NV 89160
CLICK HERE FOR COMMENT SECTION