! >
Broadway To Vegas
  SHOW REVIEWS     CELEBRITY INTERVIEWS     GOSSIP     NEWS 
| | |
| --- | --- |
| | |
TONY CURTIS MOBBED
Tony Curtis Photo By: Laura Deni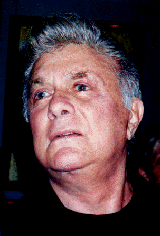 Charismatic Hollywood legend Tony Curtis proved that, at 72, he still has what it takes to be mobbed by adoring fans.


Curtis spent Labor Day week-end in Las Vegas, autographing his latest book and showing off his paintings at The Art of Entertainment Gallery at the MGM Grand Hotel. Judging from the mob scene, passers-by would have thought there was a teeny-bopper idol inside the place.




MOB SCENE -- Hundreds of people packed the Art of Entertainment gallery in the MGM-Grand Hotel, while hundreds more waited outside.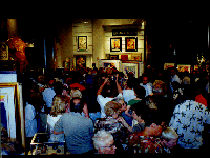 While Curtis prefers not to utilize security, it was necessary to have hotel security guards make a path so he could even get inside the store.


The handsome, seemingly ageless actor was Bronx born Bernard Schwartz. He's been one of Hollywood's most popular stars since he made his motion picture debut in the l948 film Criss Cross.




ART AND ACTING MERGE "Being a thinking actor and a thinking painter, there's a definite correlation. I must make my work so artful it comes out looking artless. That's the way you judge." Photo By: Laura Deni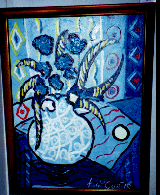 Curtis went on to star in more than 100 movies and television roles including, The Boston Strangler, Spartacus, and The Defiant Ones, which earned him an Academy Award nomination.

On television he starred as organized crime boss Sam Giancana in Mafia Princess. He is one of the few actors who is equally at home with comedy as drama. His performance in Some Like It Hot is a classic.


He counts Hugh Hefner as one of his closest friends and calls the Playboy Mansion his second home.

Tony's life hasn't been a road without curves.

He's conquered drug addiction and survived the devastating loss of his eldest son, Nicholas, who died at the age of twenty-three.

"I was a screw up," admits the former drug addict, who went into treatment for cocaine and alcohol abuse. "I don't ever remember being without drugs of some kind. I was taking sleeping pills, pep pills for years. I did it all. But that's over with I've beaten that down."

After his cocaine and prescription drug addiction almost ruined his career, Curtis went through three sessions at the Betty Ford Clinic in 1984 and completely turned his life around.



WAS IT AS GOOD FOR YOU - "After I finish a painting or two I put them aside. I sleep with them in my bedroom - I put them away at the end of the room and wake up two or three times and watch them in the moonlight." Then his intoxicating blue eyes took on a wicked glint and he added: "And then we smoke a couple of cigarettes and in the morning, I ask them, Was it as good for you as it was for me?'" Photo By: Laura Deni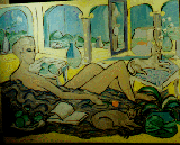 Through it all he's managed to maintain his sense of humor.


When somebody mentioned that his daughter Jamie Lee Curtis was beautiful, the impish actor preened and said, "Where do you think she got her looks?" Jamie's mother is the beautiful Janet Leigh, who was the first of Tony's four wives.


A VIP reception took place the evening before his art went on public display.


"Be yourself" Tony told a man who informed the actor/artist that Tony was his idol and he tried to be just like him. "There's nothing the matter with you," Tony declared. "Be yourself. Don't try to be like anybody else. You're a terrific person. Don't ever try to be like anybody else."

Discussing the reception Curtis, making reference to his role in drag in Some Like It Hot, announced that you'd recognize him because he was going to show up wearing a long sequined dress.


During that VIP reception a cameraman's bag accidentally hit something, causing a terrific crash. Hotel and art gallery employees knew something had broken.Their hearts raced as they looked around to see what expensive treasure had been destroyed.


Curtis had placed a glass of Scotch on a table, which the camera bag struck and sent crashing to the floor. Curtis feigned horror at the loss of his drink.


Officials were so relieved that the accident hadn't destroyed something expensive that they fell all over themselves racing to replenish Tony's Scotch.




SPONTANEOUS COMBUSTION "I want my paintings to look as if they have so much exuberance and energy that they just shot out spontaneously." Photo By: Laura Deni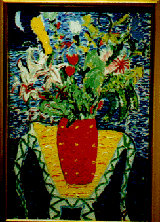 Tony has previously shown his art work in Las Vegas and regularly has showings all over the country. His multiple talents in film and art are interwoven yet independent of each other.


From the age of six, he was creating unusual designs in sketchbooks and on the sidewalks of Manhattan and the Bronx.


His early language barrier as the son of immigrant Hungarians helped stimulate his art.


"I was able to express myself better with pictures than I could verbally," he recalled. "I found myself painting and sketching a better way to communicate."


Once he became an actor, Curtis had less time to devote to painting and drawing.


"But I always came back to it," he said. "It's the only form of creativity that truly intrigues me."


The original works of art Tony had on display at the MGM-Grand were priced from $6,000 to $20,000. CLICK FOR PHOTO SPREAD


SHOW MUST GO ON
Janet Jackson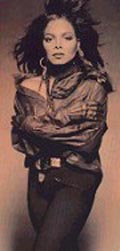 Janet Jackson impressed executives of the MGM-Grand Hotel, Las Vegas with her untemperamental professionalism and show-must-go-on-attitude when her equipment didn't arrive on time.

All of Janet's stage and sound equipment was being trucked, in a huge rig, to Las Vegas from Los Angeles, over a road that contains miles and miles of boring desert scenery. The driver fell asleep at the wheel, and went off the road. Fortunately, it was a one semi accident and nobody was killed or seriously injured.

Janet was at the hotel wondering why her equipment hadn't arrived when she received the call informing her of the accident. MGM-Grand officials worried. The sold out concert was only hours away from show time and executives weren't sure if the concert was going to be cancelled.

According to a hotel executive, Janet remained calm and professional. She simply dispersed another rig to travel down the road until they found the partially overturned semi, re-load the equipment and get back to the hotel as fast - and safe - as possible.

"The equipment arrived. Janet ordered it hung immediately," reported a hotel executive. "She didn't even go through a sound check. She just jumped upon the stage and started performing. The show only began 15 minutes late. She's a real professional. We were impressed." Janet Jackson performs Wednesday, September 19, at the Trump Taj Mahal in Atlantic City.

Sharing the bill with Janet will be Usher, the 19-year-old teen heartthrob, whose hits include You Make Me Wanna and My Way.
"GAY CHRIST" ON BROADWAY - SECURITY TIGHT


When Terrence McNally's controversial play Corpus Christi, a play about a gay-Jesus like character who has sex with his disciples, begins previews September 22 at The Manhattan Theatre Club, security will have a featured role.

The New York theater announced it has hired Kroll Associates, a private investigation and security company to supplement security provided by the New York Police Department. An NYPD spokesperson issued a statement which said; "It is a situation that we will be monitoring closely, and we will assess the needs as we go on. Obviously, we will have a greater presence on opening night."

The cast has also been warned of possible violence.

Since announcing three months ago that they would go ahead with the play, the Manhattan Theater Club has received thousands of postcards of both protest and support.

Initially the theatre cancelled the production after receiving threats of violence.

The Catholic League for Religious and Civic Rights, which led the initial protest, indicated they plan a protest at the theater on opening night.

In a note accompanying tickets to the subscribers the theater warned its patrons that "temporary inconvenience" might occur during the play's run. The theater also stated that those who wished not to attend would receive a full refund. The theater also requested that those tickets be returned to the subscription office, and not sold to a "stranger."


ROGER DALTREY TO PLAY SCROOGE
Roger Daltrey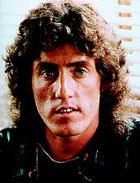 Rock legend Roger Daltrey, former lead singer of The Who, has been signed to star as Scrooge in A Christmas Carol in the annual Madison Square Garden production November 27-December 27.


Daltrey played Tommy in the l975 film by The Who.


This will mark the first time Daltrey has appeared on stage in a book musical, singing numbers not written by Peter Townsend.


A Christmas Carol has a score by Alan Menken and Lynn Ahrens.



THE OTHER WOMAN


Camilla Parker-Bowles, the woman Princess Diana called The Rottweiler and whose affair with Prince Charles resulted in Diana calling her marriage "a bit crowded" is being portrayed in Queen of Hearts by Gail Lee Marshner. The production opens Oct. 5 at the Grove Street Playhouse.

The casting was an open cattle call. Millions of actors join the herd each year. Few hear they have made the cut.

I spoke to Gail about how she landed the role and her opinion of the woman she portrays.

"There is a weekly newspaper for actors called Back Stage, that has casting notices," explained the personable Gail. "I had heard favorable things about the Grove Street Playhouse. The listing in Back Stage was for a new musical about Princess Diana. I didn't know what the characters were going to be," she admitted



Gail Lee Marshner portrays Camilla Parker-Bowles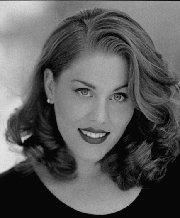 "A lot of time you'll go into an audition and sing one song. If they want to hear more, they'll tell you. I think I sang three different types of songs - so they could hear my voice in different ways; a belt, a legit ballad and up tempo. Then we did some readings from the actual script," she explained.

"That night they called me and wanted me to come for a call back.The final people they were considering for each part were brought back."

"When we came back we read more from the script. I think he wanted to see our interpretation of the characters," she said referring to author/director Stephen Stahl See Broadway To Vegas column of September 7, 1998.

"Then I sang the one song in the show that Camilla actually sings with Prince Charles and Diana. So, I actually sang with Kendra at the call back," she continued about Kendra Munger who stars as Princess Diana. "It was a different Charles, though. They wanted to hear how our voices blended," said Gail who is a mezzo soprano."

"At that point I did know that the role I was up for was Camilla. Actually, I had read for her on the first day. It's interesting because I wouldn't have necessarily cast myself in that part. But, as an actor you're not always the best judge of how a director sees you playing something."

"The part is very interesting," continued the Florida native, who has B.S. degree in Broadcast Journalism from the University of Florida.

"The music just grabbed me," she elaborated about the words and music of Claudia Perry. "I really started to get excited about it.

Portraying not only real people, but individuals who are front page news, without giving a farce of a performance, is tricky. "Stephen (Stahl) is very much a proponent that he doesn't want an imitation," she emphasized.

While Kendra Munger, as Princess Diana, had her hair bleached and dyed a Diana shade of blonde, Gail has taken a different approach. "I have kind of below my shoulder length, natural red hair. People joke that I look like Fergie. I think that's funny."

"But, for me to try to capture Camilla's hair would be hard. So I told them I'd never dyed my hair in my life. They didn't even ask me to. They said they'd get me a wig."

"I'm very fair skinned like she is and I kind of have a long face like she has. With the wig on and not as much make-up as I usually wear, I think it's believable. I'm playing Camilla at a time when she was about 30," said 28 year old Gail Lee, who was named for her Aunt Gail, who lives in Ohio and an Aunt Lee who resides in Maryland.



Camilla Parker-Bowles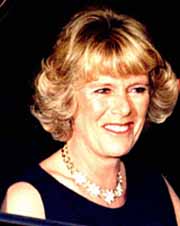 "I have also been doing a lot of reading up on Camilla.There's not really a lot of footage on her," she complained. "So, it's hard to get down any mannerisms. We are all trying to perfect the high standard British accent, because it's a little different than the middle class accent."

As to how she feels about Camilla, the actor was thoughtful.

"It's interesting because I think some people may want to see her as a kind of villianess. I don't think she was ever really against Diana, just for Charles. I think that she really loves Prince Charles. I think they have a really great relationship."

"They seem to have a lot in common; the same dry sense of humor. It seems that they had a really strong friendship before anything else. And, I think they have a lot of passion."

"She's just such an intriguing person, because she's kept with the British stiff upper lip kind of attitude. I think she really knows how to handle herself in that kind of atmosphere, as far as not talking about the relationship."

"She's kind of laid low for the past year, which I think was a very smart thing for her, because the press would have lashed out at her even more. I think after Diana's death, people were ready to not like her. But, I think a little bit of that is dying off. Now people are almost ready to accept the fact that she's part of his life."

"I heard that Princes William and Harry like her and want their father to be happy. I don't think they see her as a person who broke up the marriage."

"I think that Charles and Diana had love from the beginning. But, I think there were too many differences - one of which was age."

"I don't think Camilla really hated Diana. I don't think she saw her as a threat. But, I think she was hurt by the fact that she knew they couldn't really be together. I think she was truly saddened and hurt. It was kind of like she knew what was going to happen, but when it really did happen, it kind of broke her heart. Maybe deep down inside she was hoping that he'd never marry - even though she knew that he had to get married and produce an heir to the throne. I think Charles wanted to work it out with Diana, but I don't think he ever intended to completely break it off with Camilla," speculated Gail.

"Camilla understood that he had a duty and that was part of his job. That was the only way to make it bearable for her. It wasn't - this is a woman he's in love with and going to marry. It was - this is his job and he's got to produce and heir, but he loves me. I think she thought that they had the deep true love and Diana would be the vehicle for him to be where he needed to be - king," Gail theorized.

As to the famous telephone tape that titillated the world - the one where Prince Charles indicated that he'd like to be Camilla's tampon - Gail laughed. "I am the only person who didn't hear that part of the tape. And, do you know who told me --- my father!" she exclaimed, referring to Richard Marshner, who lives in Florida, semi--retired from the computer industry.

"He said, `You know, the tampon? Is there something in the musical about the tampons?'" related Gail. "I didn't know what he was talking about. It was so funny. How could I have forgotten that part? That was a bazaar thing to say, especially coming from royalty."

"I just don't see them letting anything keep them apart. I think they're at an age where they both know what they want - they know they want to be together."

"I think she's also been a pillar of support for him. It's a relationship that, with all of its obstacles, has stood the test of time. So, it will be interesting to see the speculation of whether or not they will ever marry."

"He met Camilla so long ago. He probably feels that she knows him so well. He feels a safe space with her where he can be himself, make jokes and have a good time," continued Gail.

"If you think about it, if you had to be really reserved all the time, and maybe not even yourself all the time, what a great relief to be able to be with someone you could just have fun with."

"I hope he finds happiness with Camilla."

As for Gail's personal life, for eight years she's been involved with a gentleman who works for UNICEF at the United Nations. While he may not rule a country, Gail thinks he's a prince of a fellow.


GEORGE GERSHWIN AT 100
George Gershwin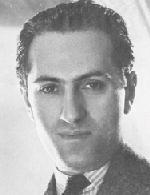 George Gershwin at 100, the gala opening night benefit concert of Carnegie Hall's 108th season, will present Michael Tilson Thomas conducting the San Francisco Symphony Orchestra with guest soloists Audra McDonald and Brian Stokes Mitchell on Wednesday, September 23.

A telecast of the concert will open the 26th season of Great Performances series on PBS on September 30.

The California raised McDonald is currently starring as Sarah on Broadway in Ragtime. The multi-talented lady can also be seen in the upcoming Tim Robbins film Cradle Will Rock. Since making her Broadway debut in The Secret Garden Ms. McDonald, a Julliard School graduate, appeared in Master Class earning her a 1994 Tony Award for Best Featured Actress in a Play. Her starring role in Carousel garnered Audra four honors in 1994; a Tony Award, a Drama Desk Award, and Outer Critics Circle Award and a Theater World Award.



Brian Stokes Mitchell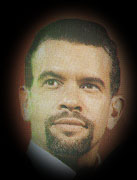 The handsome Brian Stokes Mitchell has made his mark on Broadway as "Colehouse Walker" in Ragtime. He recently completed work on Dreamwork's first animated feature, The Prince of Egypt. The recipient of the Drama League's 1998 Distinguished Performance Award, Mitchell's Broadway credits include starring roles in Jelly's Last Jam, replacing Gregory Hines and Oh Kay!, as well as in the Tony Award winning musical Kiss of the Spider Woman.

His television credits took off with a plum role on the series Roots: The Next Generation, with subsequent recurring roles on Trapper John, MD and The Fresh Prince of Bel Air.

Since Michael Tilson Thomas debuted with the San Francisco Symphony in 1974 at age 29, he has led the Orchestra in more than 100 concerts. Named its eleventh Musical Director in 1995, he and the SFS have an exclusive 15-disc recording contract with RCA Victor Red Seal. Their first recording together - Prokofiev's Romeo and Juliet - received the 1996 Grammy Award for Best Orchestral Performance.

The Carnegie Hall special all-Gershwin program, which celebrates Gershwin's centennial three days before the actual date of September 26, culminates The Carnegie Hall Gershwin Project, and will feature the overture to Of Thee I Sing; selections from Porgy and Bess; An American in Paris; and a performance of the Second Rhapsody with Maestro Thomas at the piano.

Remaining gala benefit tickets, priced at $2,500, $1,500 and $1,000, include prime seating, and a post dinner at The Walford-Astoria Grand Ballroom. Tickets including the concert and pre-concert cocktail reception, priced at $400, are also available by calling (212) 903-9650. Other tickets, priced from $30 to $120, are available by calling (212) 247-7800.


RENT PAYS HER DIVIDENDS


Script doctor Lynn Thompson, who didn't like the lock out she received on payment for helping the late Jonathan Larsen write the hit musical Rent, has received a court settlement, which ought to permit her to own any property she desires.


She will receive several hundred thousand dollars, a percentage of continuing worldwide royalties, and "title page credit" or writing credit, for her contributions to the production.


All future playbills for Rent will give Thompson that credit.


On Thursday Debbie Reynolds and her two children, actress/writer Carrie Fisher and filmmaker/businessman Todd Fisher, will receive the American Film Institute's Platinum Circle Award. The award, which honors families whose talents have enhanced the entertainment community, will be presented during a Sept 17th luncheon ceremony at the Regent Beverly Wilshire hotel in Beverly Hills.



Broadway To Vegas is supported through advertising and donations. Priority consideration is given to interview suggestions, news, press releases, etc from paid supporters. However, no paid supporters control, alter, edit, or in any way manipulate the content of this site. Your donation is appreciated. We accept PAYPAL. Thank you for your interest.


CURTAIN DOWN


GROSS INDECENCY: THE THREE TRIALS OF OSCAR WILDE closed September 13 at the off-Broadway Minetta Lane Theater. Gross Indecency played a total of 534 performances.


THIS AND THAT


WHAT EVER HAPPENED TO DEPT Chip Walton the award-winning director for Angels in America. He's finishing up his doctorate at the University of Colorado at Boulder and teaches at the University of Colorado at Denver. For the past six summers, he's gone to Miami University in Oxford, Ohio, teaching theater for the Governor's Institute for the Arts, an honors camp for gifted and talented Ohio high school students.

OSCAR WINNER SUSAN SARADON in Vegas shooting Anywhere But Here. Based on the novel by Mona Simpson, the drama stars Sarandon as an eccentric mother whose daughter doesn't appreciate her unsolicited advise on how to deal with high school trials and tribulations. Cast as Sarandon's daughter: Natalie Portman, who won raves for her title-role performance in the Broadway revival of The Diary of Anne Frank.

POP_ROCK SINGER LENNY KRAVITZ plans to start a record label, Roxie Records, in honor of his late mother, Roxie Roker, who starred as Helen Willis on the long-running, hit TV series, The Jeffersons. Kravitz also pays tribute to his mother in his latest video, Thinking Of You.

X-RATED BILL CLINTON aka President of the United States, tonight (Monday) attends the G-rated performance of The Lion King in New York. The charity event was scheduled before the Starr Report was released.

Next column: September 21, 1998
Copyright: September 14, 1998. All rights reserved. Reviews, Interviews, Commentary, Photographs or any graphics from any Broadway To Vegas (TM) columns may not be published, reprinted, broadcast, rewritten, utilized as leads, or used in any manner without permission, compensation and/or credit.
---
Link to Main Page
---
Laura Deni


CLICK HERE FOR COMMENT SECTION