! >
Broadway To Vegas
  
 SHOW REVIEWS CELEBRITY INTERVIEWS GOSSIP NEWS

| | |
| --- | --- |
| | |
9 TO 5 THE MUSICAL IS A DELIGHTFUL FROTHY ROMP - - VISITING GREGORY PECK - - COLD WAR MODERN: DESIGN 1945-70 - - BLANCHE AND BEYOND - - TALKBACK WITH WALTER BOBBIE - - MARSHA MASON ANXIOUS TO SELL HER FARM - - MRS. MILLER DOES HER THING - - TONY KUSHER RECEIVES $200,000 PRIZE - - DONATE . . . Scroll Down


9 TO 5; THE MUSICAL - A DELIGHTFUL FROTHY ROMP ABOUT A SERIOUS SUBJECT


For a time it seemed The European Organization for Nuclear Research (CERN), had an easier time recreating conditions just after the Big Bang, that it was to get 9 to 5: The Musical opened.

The eagerly awaited musical boasts music and lyrics by seven-time Grammy Award-winning singer, songwriter and musician Dolly Parton, book by the film's author Patricia Resnick, and choreography by Tony Award winner Andy Blankenbuehler. The production was first expected to bow at the Ahmanson in L.A. Sept. 3 but was delayed to Sept. 6 due to technical problems. A second delay pushed the preview date to Sept. 9.

Directed by Joe Mantello, the musical officially opened last night. Seen earlier in the week, this delightful romp was worth the wait.

The delays were "because the size and scope of the new musical necessitate further technical rehearsals," according to a statement released Sept. 4. (There were also those wide-spread rumors that Dolly Parton had suddenly dropped dead of heart failure.)



Allison Janney, Megan Hilty, Dolly Parton and Stephanie J. Block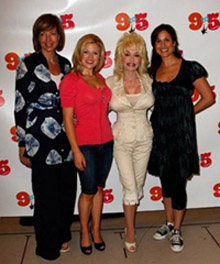 Michael Ritchie, CTG artistic director, said in a statement, "I hate disappointing these early preview audiences, but thankfully we have the ability to add performances later in the run to help re-locate our audiences. And once they see the show, they will understand why we are taking the extra time to meet this musical's large technical demands. 9 to 5: The Musical is one of the biggest shows ever produced at the Ahmanson, and big shows, with this quality of cast and creative team deserve the utmost support in their development. To do any less would be a disservice to all."

Ritchie wasn't kidding.

After seeing the show it's technically almost non-stop movement. Mantello makes it look easy. Rather than sitting open-mouthed amazed that all the gears and gizmos mesh together, the showgoer enjoys the performance - which is what it's all about. A center-stage, multi-hinged, trap door lift is a mandatory device that transports sets up and down - more times in one performance - than many high tech shows employ in an entire week. Numerous other moveable devices keep the fast paced changes on cue.

Multiple Emmy Award winner and Tony Award nominee Allison Janney stars as Violet Newstead (played in the film by Lily Tomlin), the super efficient office manager who joins her co-workers - the frazzled divorcee Judy Bernly, played by Stephanie J. Block, (the Jane Fonda role) and the sexy executive secretary Doralee Rhodes, played by Megan Hilty, (Dolly Parton in the flick) to get even with their boss, the "sexist, egotistical, lying, hypocritical, bigot" Franklin Hart, Jr., played by two-time Tony Award nominee Marc Kudisch - who spends several scenes attached to a harness flying over water, created by the eight-time Tony Award winning lighting design team of Jules Fisher and Peggy Eisenhauer.

It might be noted that - on August 24 - Kudisch fell while making a jump from a set piece. Paramedics were called and the performer was taken to Los Angeles County-USC Medical Center and kept overnight for observation. Fortunately, he sustained no serious injury and was able to return to rehearsals.



Promotion poster for 9 to 5 The musical features Stephanie J. Block, Allison Janney, Megan Hilty and Mark Kudisch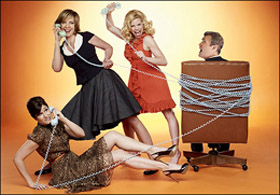 The female leads each have a show stopping number and deliver stellar performances such as One of the Boys performed by Janney. On the flip side, this probably means that come award time they will be competing against each other - which can mean they cancel out votes.

With nary a weak member in the cast, supporting roles are deftly executed by Andy Karl as Joe and Kathy Fitzgerald as Roz who is a hoot. Her delivery of Heart to Hart - an ode to her boss - is a standout.

The 30-member cast also features Ioana Alfonso, Timothy Anderson, Jennifer Balagna, Justin Bohon, Paul Castree, Daniel Cooney, Jeremy Davis, Gaelen Gilliland, Autumn Guzzardi, Ann Harada, Lisa Howard, Van Hughes, Kevin Kern, Brendan King, Michael X. Martin, Michael Mindlin, Karen Murphy, Mark Myars, Jessica Lea Patty, Charlie Pollock, Tory Ross, Wayne Schroder, Maia Nkenge Wilson and Brandi Wooten.

The production features scenic design by two-time Tony Award winner Scott Pask, costume design by five-time Tony Award winner William Ivey Long, sound design by John Shivers, with musical supervision by Stephen Oremus. Technical supervisor is Neil A. Mazzella.

Set in the 70s - an era not noted for interesting clothes. Obviously Long and Pask communicate. Their coordination of color and design is luscious.

Parton's original score for 9 to 5: The Musical includes over 20 new songs as well as the Grammy Award-winning, Academy Award-nominated No. 1 Billboard title song. Backwoods Barbie, which is a showstopper performed by Parton look-alike Megan Hilty. She also delivers some lines about George Bush that generate enough laughter to shake the walls. Other scene-stealing lines concern one about stockbrokers and another about altering the manhood of Marc Kudisch's character.

Divorcee Judy Bernly, played by Stephanie J. Block has her standing ovation getter in Get Out and Stay Out, an anthem of more than a few woman.

Dynamo Parton is a class unto herself. The first act features 14 numbers and the second act showcases ten.

Transferring a hit movie to the stage is considerably more difficult than the other way around. 9 to 5: The Musical has been masterfully executed. Most people know the plot line and the title song. Resnick excelled at transferring the story from the big screen to the stage. Most of the dialogue is identical; the new jokes are timely and funny. To make the transfer seamless, a few scenes from the film have been cut and there is a brief deviation in Mr. Hart's story. The pressure of getting this right had to be the equilivant of creating their own Big Bang.

Stephen Oremus conducts the orchestra and performs on keyboards. The associate conductor and keyboardist is Matthew Gallagher. Brian Scanlon and Rusty Higgins are on woodwinds. Trumpet players are Chris Eble and Marissa Benedict. Blowing the trombones are Robert Payne and Craig Ware. Brian Reardon and Jay Leacher on guitar. Playing the bass is Ken Wild. Sean McDaniel is the drummer while Marvin Gordy handles percussion. James Sitterly plays the violin and Miguel Martinez performs on the cello. The keyboard sub is William Malpede while Randy Cohen is the synthesizer programmer.

Performances at The Ahmanson in Los Angeles through Oct. 19, 2008. The production will begin Broadway previews March 24, 2009, and open April 23, 2009, at the Marquis Theatre.

NOTE Unfortunately, there are still some serious mechanical problems. On what should have been opening night, (Saturday) about 15 minutes into the show - the same time every technical glitch that caused a halt has taken place - the show came to a pause. Again Dolly Parton was there and jumped onto the stage to entertain until the problem was fixed. The mechanics of this show have to work. The staging of this elaborate production requires that they move. If they can't get this up and running on a consistent basis at the Ahmanson, then how can they possible transfer it to New York?


VISITING GREGORY PECK
Gregory Peck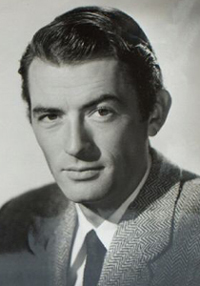 "You should visit Gregory Peck," the lady manning the visitor information desk at The Cathedral of Our Lady of the Angels, cheerfully suggested. "We have him here."

Since the Oscar winner passed away in 1993 my quizzical expression must be been noticeable.

"He's buried here. In our Mausoleum. Most people don't know that. Make sure you visit him. Go in those doors, straight back, down the stairs."

It was the morning after the Mark Taber Center Opening Gala. Big white trucks from Classic Party Rentals Event Solutions lined the courtyard of the Ahmanson Center. Noise of tent beams being dismantled played counterpoint to the bells being rung across the street. It was the bells that drew me into the magnificent cathedral courtyard.

Indeed, underneath the Cathedral of Our Lady of the Angels is a special burial place.

You enter through the Mausoleum doors where you are welcomed by two beautiful etchings depicting guardian angels holding torches.



Mausoleum Entrance: Guardian angels holding torches welcome visitors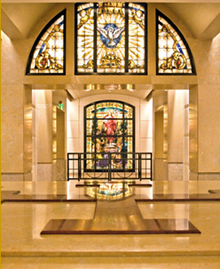 The Cathedral Mausoleum has more than 1,275 crypts and 4,794 cremation niches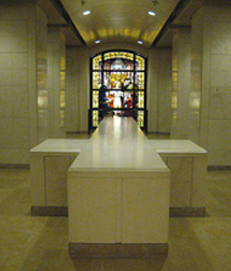 These angels were designed and carved by Judson Studios, one of the most renowned and oldest liturgical studios in North America.

The Mausoleum has been crafted of Spanish limestone. Lit by the soft glow of Alabaster sconces, it becomes both heavenly and welcoming.

Sixteen of the historic stained glass windows, and nine lunettes, from the old St. Vibiana's Cathedral, have been newly restored, and installed within the Mausoleum. All are enhanced with dramatic back lighting.

The baroque revival style stained glass windows in the Crypt Mausoleum are from St. Vibiana's Cathedral and were also restored by Judson Studios. The 16 large windows and 9 lunettes were crafted in the early 1920s by the Franz Mayer Company in Munich, Germany. They are unique, museum quality examples of the most beautiful glass of the 19th Century.

The Cathedral Mausoleum has more than 1,275 crypts and 4,794 cremation niches, and is one of the few places in the United States where lay people can have the opportunity to be buried within a Cathedral Church.

Indeed, this is the final resting place for Gregory Peck.

All of the stone facings have the same dignified cross. All names are the same size and type style. They carry the date of birth and death. Some have a short inscription such as 'beloved husband' or 'loving mother'. A few even have a sentence from a favorite Psalm.

Three of the stones have inscriptions relating to music or dance. Frederick Mitchelson 1929-2007 reads: "He Praised God In The Dance"

The slab for Leser Hon Yee Wong 1934-2006 is inscribed "Forever Dancing" while his wife Patricia Ching Wong 1934-2002 has the inscription, "Forever Singing"

Peck's stone simply bears his name and dates of birth and death.

Throughout the mausoleum many markers are "reserved" - already inscribed with the future resident's name and date of birth.

A section for archbishops has a marker inscribed for Cardinal Mahony upon which a stone carver has etched;

His Eminence Cardinal Roger M. Mahony
Archbishop of Los Angeles
1985-



Cardinal Roger Michael Mahony - holds a a master's degree in social work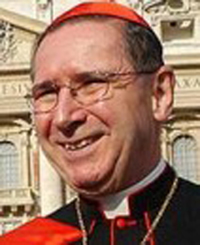 While Cardinal Mahony looks and acts younger than he is, 1985 would make him 23 years old - a stretch hard to believe even by Hollywood standards. It would also make him the youngest cardinal to ever profess wisdom about anything.

Thought this needed to be checked out with the man who ought to know - Cardinal Mahony.

His Eminence was standing in the middle of the courtyard greeting parishioners.

"I've just come from visiting your Mausoleum, which is beautiful, and I located your .... crypt."

"I'm not in it, yet. I've still got a few years left," he replied.

"That's good. But, I think the stone carver has made a mistake," I continued as a puzzled look came over the cardinal's face.

Unfolding my note paper, I translated my hen scratching as His Eminence peered at the wrinkled paper.

"The stones all have the person's name and the date of their birth and death."

"Yes," he confirmed.

"Your stone says you were born in 1985. Doesn't that make you a bit young to be a cardinal?"



Cathedral of Our Lady of Angels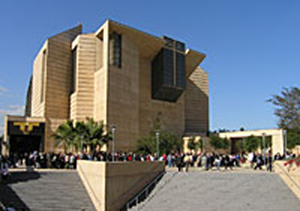 "I'll explain that," he smiled as his eyes changed from quizzical into a mirthful twinkle.

And so I learned that Catholic archbishops are buried with the first year denoting the year the man became an archbishop, not the year of physical birth.

Cardinal Roger Michael Mahony was appointed Archbishop of Los Angeles by Pope John Paul II on July 16, 1985. He was installed as the fourth Archbishop of Los Angeles on September 5, 1985. Pope John Paul II created him a cardinal on June 28, 1991. Born in North Hollywood on February 27, 1936, Cardinal Mahoney is the first native Angeleno and the third Archbishop of Los Angeles to be created a cardinal.

After the former Cathedral of Saint Vibiana was damaged in the 1994 Northridge earthquake, Mahony began plans to construct the Cathedral of Our Lady of the Angels, one of the largest Catholic churches in the United States. It was dedicated on September 2, 2002.

The sanctuary seats over 3,000 and Masses regularly draw standing room only crowds. It's a good neighbor for the Ahmanson Center and the Disney Concert Hall. Their audio tour even directs the listener to notice Our Lady, whose architecture harmonizes with the entertainment complex.



Murray The Camel is one of numerous "animals" which delight people of all ages who visit the children's park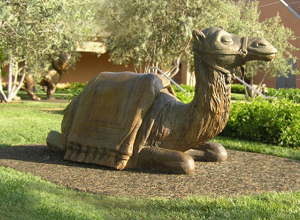 Curious George thinks things over in the popular children's park, adjacent to the courtyard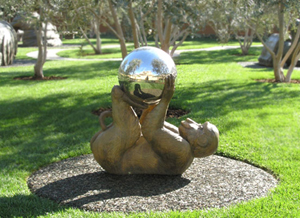 The unique facility contains a cafe with indoor and outdoor seating and a delightful children's park.

Art exhibits include the current photographic exhibit Orphans of the Rwanda Genocide: Portraits of Survival and Hope, focusing on the surviving orphans from the 1994 genocide in Rwanda that lasted 100 days and took at least 800,000 lives.

The free exhibit featuring photographs by Jerry Berndt, runs from July until October 10, 2008, with a special panel discussion on Sunday October 5th.

The presentation is a collaboration of the Californian African American Museum, the Center for Religion and Civic Culture at University of Southern California, the Office of Justice and Peace and its Commission of the Archdiocese of Los Angeles, and the Cathedral of Our Lady of the Angels.

There is also a bookstore which sells secular and inspirational items ranging from under a dollar to expensive.

Of particular note - a series of small, 99 cent, children's books having the main title of God, I Need to Talk to You About...

From quickly thumbing through two of the titles, it appears the description of Child-friendly text and entertaining illustrations help children ages 2-7 think about a behavior they encounter in daily life - is accurate. Books in the God, I Need to Talk to You about… series are; Bad Manners, Bad Words, Being a Bad Sport, Bullying, Cheating, Disrespect, Greed, Hurting Others, Lying, Paying Attention, Sharing, Stealing, Vandalism and Whining.

Another shelf holds Thistle Farms bath and body products. The wonderful aroma is located within room spray, hand lotion, body butter and candles.

Thistle Farms is a non-profit business operated by the women of Magdalene. By hand, the women create natural bath and body products that are a kind of the environment as they are to the body. All sales proceeds go back into supporting the residents of Magdalene - a two-year residential community founded in Nashville in 1997 for women who have survived lives of violence, prostitution and abuse.

A shelf cards reads: "Magdalene was founded not just to help a sub-culture of women, but to help change the culture itself. We stand in solidarity with women who are recovering from sexual abuse, violence, and life on the streets, and who have paid dearly for a culture that buys and sells women like commodities."

"Our dream is that people will come to see Thistle Farms as a humble but powerful business that is synonymous with Women's Freedom."

Why the Thistle? Considered a weed, thistles grow on the streets and alleys where the women of Magdalene walked. But, thistles have a deep tap root that can shoot through thick concrete and survive drought. And in spite of their prickly appearance, their royal and soft purple center makes the thistle a mysterious and gorgeous flower.

Next time you have tickets for the Ahmanson, Mark Taper Forum, Kirk Douglas Theater, Dorothy Chandler Pavilion or the Walt Disney Concert Hall, walk across the street and visit Gregory Peck.


ART AND ABOUT


COLD WAR MODERN: DESIGN 1945-70

Cold War fashion in all its aspects, ranging from innovations in materials to the cybernetic visions of the 1960s, from the bikini to the spacesuit, vinyl radiation suits to high-tech jewelry, Paco Rabanne to Barbarella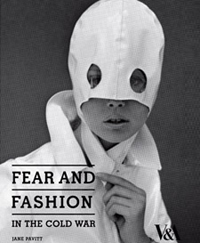 is the first to examine contemporary design, architecture, film and popular culture on both sides of the Iron Curtain during the Cold War era.

Art and design were not peripheral symptoms of politics during the Cold War: they played a central role in representing and sometimes challenging the dominant political and social ideas of the age.

This exhibition will bring together over 300 exhibits from a Sputnik and an Apollo Mission space suit to films by Stanley Kubrick, paintings by Robert Rauschenberg and Gerhard Richter, fashion by Paco Rabanne, designs by Charles and Ray Eames and Dieter Rams, architecture by Le Corbusier, Richard Buckminster Fuller and Archigram, and vehicles including a Messerschmidt micro-car.



The poster was a key medium in the Cold War, used to produce both fear and loyalty at home and abroad.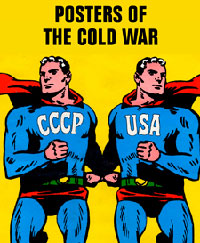 The decades after the Second World War saw an intense rivalry between the world's two superpowers: the Soviet Union and America. In the 'cold war' that ensued, the two powers engaged in aggressive contests to build their own spheres of influence. They accelerated the development of new technologies to produce weapons, launched ambitious space programs and waged propaganda campaigns across the world.

Vying to outdo one another, each deployed displays of modern living, signs of progress and images of future utopias. Art, architecture and design were drawn into this Cold War competition to demonstrate a superior vision of modernity.



Garden Egg Chair by Peter Ghyczy (born 1940) Germany, 1968. The chair was eventually mass produced in East Germany and is one of the few design products of the Cold War era, sold in both East and West. Celebrating its 40th Anniversary this year the chair is now produced by Felix Ghyczy, the designer's son. An original prototype of this classic 60s design will be a highlight of the Cold War Modern exhibition.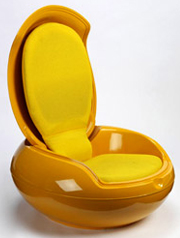 Modern life after 1945 seemed to promise both utopia and catastrophe. By 1949, both of the world's superpowers had acquired the capacity to annihilate one another with nuclear weapons. Twenty years later, man had walked on the moon.

A section on the space race and hi-tech triumphs will highlight the first space mission by Yuri Gagarin, designs of interiors for NASA space craft, experimental spacesuits and many examples of furniture, architecture, art and fashion inspired by the space race.

Forms of protest and rebellion, including the tumultuous events of 1968 in Paris and Prague, are considered through posters, film, photography and art.

Modernist artists and designers responded to this dual vision, searching for ways to build a new and hopeful future and deal with the anxieties of the present.

The final section will look at how Cold War technologies were used by architects and designers to create imagined utopias, a world of inflatable, mobile and expendable habitats. The exhibition will end with the first photographs of Earth taken from space, which inspired artists and designers in their utopian imaginings and acted as a catalyst to a new environmental awareness of the fragility of the planet.

Opens to the public on September 25, 2008, and is on display through January 11, 2009 at the Victoria & Albert Museum in London.

HELLO, CAROL! A CELEBRATION OF CAROL CHANNING

Carol Channing by Wallace Seawall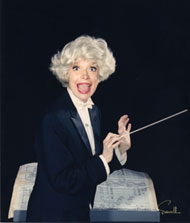 the first major retrospective exhibition ever mounted on the life and work of this Broadway and Hollywood legend, will be presented by The Museum of Performance and Design in San Francisco from Sept. 26 through March 14, 2009.

With unparalleled access to the 87-year-old Broadway legend's personal collection, the Museum of Performance & Design's exhibition includes the iconic red dress from the original 1964 production of Hello, Dolly!, one-of-a-kind outfits created by Hollywood legend Bob Mackie, rare photographs, video and audio clips from throughout Ms. Channing's career, posters, programs, scripts, original drawings by Al Hirschfeld and such distinctive memorabilia as her Tony and Golden Globe Awards.

A kickoff concert featuring Channing - who lives in Modesto with her husband, Harry Kullijian - is scheduled for Sept. 25 in the Herbst Theatre. Special guests will be actress Carole Cook, Hello, Dolly! composer Jerry Herman and actress Rita Moreno with the California Pops Orchestra providing the accompaniment. Tickets for the concert includes a post-concert. Proceeds from the concert benefit the Dr. Carol Channing and Harry Kullihian Foundation for the Arts, a non-profit organization dedicated to preserving arts education in California schools Admission to the exhibition is free;

The Museum of Performance & Design - formerly the San Francisco Performing Arts Library & Museum (SFPALM) - is the first international arts institution devoted to the celebration of the performing arts and theatrical design.



Broadway To Vegas is supported through advertising and donations. Priority consideration is given to interview suggestions, news, press releases etc from paid supporters. However, no paid supporters control, alter, edit, or in any way manipulate the content of this site. Your donation is appreciated. We accept PAYPAL. Thank you for your interest.


SPREADING THE WORD


TALKBACK WITH WALTER BOBBIE

Walter Bobbie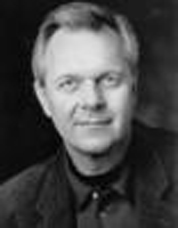 In celebration the quickly approaching 12-year anniversary and the 5,000th performance, Chicago is kicking off a monthly talkback series called, Talkback Tuesdays. In this exciting new series, company members of Broadway's razzle-dazzle smash will discuss their experiences and offer us a glimpse into the steamy world of Chicago..

It all begins on September 23rd with Walter Bobbie, the Tony Award-winning director of Chicago. After the show, a Chicago representative will move everyone closer to the stage and the talkback will begin. We'll also be raffling off a copy of the Chicago Anniversary CD/DVD signed by choreographer and original Roxie, Ann Reinking. Tuesday, September 23 at the Ambassador Theatre in NYC.

OPEN REHEARSAL: PARTENOPE The English National Opera (ENO) will be opening the stage and piano rehearsal for its upcoming production of Handel's opera Partenope. Filled with glorious arias and wonderful ensembles, this magnificent opera is one of Handel's masterpieces. It follows the story of the powerful and beautiful Partenope and her followers as they compete for her favor while following their own hidden agendas which are dramatically unveiled in the final scene.

The outstanding cast includes the celebrated Handelian singer Rosemary Joshua and one of Britain's most prolific tenors, John Mark Ainsley. Both will be singing in the rehearsal alongside the complete cast who will be in full costume and singing onstage surrounded by elegant sets inspired by 1920s Paris.

As this is a working rehearsal, the opera will not be performed in its entirety and performers will, at times, be liaising with the director and conductor. As such, this Open Rehearsal marks a rare opportunity to peak behind-the-scenes of one of Europe's finest opera companies.

So as not to disturb the performers, the ENO politely asks those attending to treat this Open Rehearsal as if it were a performance - arrive on time and remain seated throughout the rehearsal. There will be a short break at midday. Entry is free. Sept 27, London.



TONY KUSHER the award-winning playwright, is the first recipient of the Steinberg Distinguished Playwright Award, a $200,000 prize to honor a mid-career U.S. playwright. Believed to be the largest award for playwrights in the country this award - The Mimi - as the trophy is nicknamed, was designed by David Rockwell and will be awarded every two years. In the alternating years the trust will issue two $50,000 awards for playwrights who are just starting out; the first is to be presented in 2009.

The trust has established an advisory committee of prominent theater professionals to determine the criteria for the awards, nominate playwrights, and select the recipients. The members of the committee are André Bishop, artistic director of Lincoln Center Theater; David Emmes, producing artistic director of South Coast Repertory; Oskar Eustis, artistic director of the Public Theater; Polly K. Carl, producing artistic director of Playwrights Center; Martha Lavey, artistic director of the Steppenwolf Theatre Company; Eduardo Machado, playwright and artistic director of INTAR Theatre; and Marc Masterson, artistic director of the Actors Theatre of Louisville.

the Harold and Mimi Steinberg Charitable Trust was created in 1986 with part of the fortune Mr. Steinberg made from real estate. The trust has donated more than $40 million to support regional theaters, leadership courses, scholarships, playwriting commissions, producing and more, said son James Steinberg.

"Theater ought to be at the center of American culture," he said, adding that the award was a way to honor playwrights and raise the visibility of theater."

THE 54th ANNUAL VILLAGE VOICE OBIE AWARDS announced the judges for the 2008-2009 season. The Voice's chief theater critic, Michael Feingold, will again chair the Obie Awards committee. Joining him will be Voice critic Alexis Soloski and six guest judges: Eric Grode, New York Sun; Andy Probst, AmericanTheaterWeb.com; Eisa Davis, actress-playwright, Obie Award winner for her performance last year in Passing Strange; Ty Jones, actor-playwright, 2003 Obie Award winner for his performance in The Blacks (Classical Theatre of Harlem); Moises Kaufman, playwright-director, 2004 Obie Award winner for his direction of I Am My Own Wife; Chay Yew, playwright-director, 2007 Obie Award winner for his direction of Durango (Public Theater).

For more than half a century, The Village Voice Obie Awards have honored the best of Off-Broadway and Off-Off Broadway. Producer Eileen Phelan and publicist Gail Parenteau return to serve the Village Voice Obies for the 16th consecutive year. The presentation of the 2008-2009 Village Voice Obie Awards will be held on May 18, 2009.


SWEET CHARITY


GALA 2008: SPRING IN TUSCANY On Saturday, September 27, 2008, the Arizona Theatre Company will host its annual Gala at the Temple of Music and Art. This year, guests will be treated to a performance of Enchanted April, by Matthew Barber. The play, which was a Tony-nominated Broadway hit based on the best-selling novel by Elizabeth von Arnim, is a heartwarming comedy about the romantic rediscovery of life's enchantments.

Gala 2008 will kick off Tucson's autumn arts season in traditional style with Italian ambiance, an elegant sit-down dinner of Tuscany delights, and dancing under a Mediterranean moon to the sounds of Joe Bourne and Friends. Gala is ATC's major fundraising event of the year.

Scott Avenue from McCormick Street to 14th Street will be blocked from traffic for the evening, and the atmosphere will be reminiscent of Tuscany in the spring, with beautiful Italian columns and décor, hanging wisteria vines and twinkling lights strewn across the street.

After the play, ATC will present its highest honor—the Georgy Award—to John Hudak, Publisher and Partner of Madden Media. Mr. Hudak is being honored for his pivotal role as the head of the Tucson Artists Coalition, the committee that saved the 1926 Temple of Music and Art from the wrecking ball in the mid-1980s. On hand for the festivities will be David Ira Goldstein, Artistic Director; Kevin E. Moore, Managing Director; Jessica L. Andrews, Executive Director and Gala 2008 Co-chairs Beth A. Bank of Merrill Lynch and Amy Courson of Strickland and Strickland. ATC would like to extend a special thank you to Governor Janet Napolitano for agreeing once again to be the Honorary Chair of the Gala.


OTHER PEOPLE'S MONEY


MARSHA MASON

Porch area of the main house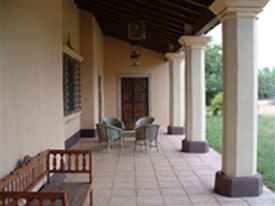 nominated four times for an Academy Award, has been trying to sell her New Mexico herb farm for more than a year. She originally listed the property in June 2007 for $11.5 million. That fall she cut the price to $11 million. Now she has dropped the price to $7,975,000. The actress bought the land raw for $1.5 million in 1992 and has said that she spent about $10 million on the property. Dubbed the Double M Ranch, the 250-acre property in Abiquiu, a village north of Santa Fe best known as the longtime home of artist Georgia O'Keeffe.

The property includes an Argentine estancia-style main house of 5,800 square feet, an "art barn" with two apartments and two studios, and a guest house. A total of 8 bedrooms and 13 bathrooms, 5 garages and a fireplace. With a total of 247 acres, about 140 acres are used for farming herbs, which Mason uses in a line of natural remedies. The Chama River runs through the property.

Don DeVito, of Santa Fe Properties, and Anne Goyer, of Dallas-based Briggs-Freeman, have the listing.

THE SAN FRANCISCO OPERA has received a gift of 40 million. Officials say the donation from board Chairman John Gunn and his wife Cynthia Gunn is the largest single gift received by the San Francisco Opera.

The company plans to use the money to fund several new operas, multimedia projects and outreach efforts. It will use $5 million to fund the general director's chair.



BLANCHE AND BEYOND

Richard Thomas stars in Blanche and Beyond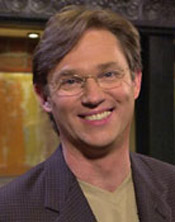 Starring Richard Thomas. Adapted by Steve Lawson from the letters of Tennessee Williams.

Adapted from the correspondences of Tennessee Williams between 1945 and 1957, Blanche and Beyond is the "sequel" to A Distant Country Called Youth, staged during the Kennedy Center's Tennessee Williams Explored festival in 2004. Emmy winner Richard Thomas reprises his role in this acclaimed one-man performance.

While the first play traced the evolution of a young man finding his artistic voice, this production spans the peak of Williams's career - from the Broadway triumphs of The Glass Menagerie and A Streetcar Named Desire through Summer and Smoke, Camino Real, and Cat on a Hot Tin Roof.

In letters both hilarious and poignant - to the likes of Elia Kazan, Jessica Tandy, Gore Vidal, his critics, lovers, and family - Blanche and Beyond explores a brilliant playwright facing the seismic shock of international fame. September 24 - 26 at the Terrace Theater, Kennedy Center for the Performing Arts in Washington, DC.

FROST NIXON by Peter Morton. Starring Stacy Keach.

Direct from Broadway - the RiverPark Center in Owensboro, KY will produce and launch the national tour of this Broadway and London smash hit. Directed by Michael Grandage, Frost/Nixon will hold its technical rehearsals at RiverPark, where the tour's first paid public performance will take place on September 26th.

Frost/Nixon tackles the question: How did David Frost, a famous British talk-show host with a playboy reputation, elicit the apology that the rest of the world was waiting to hear from former President Richard Nixon?

Award winning stage and screen actor Stacy Keach stars as Richard Nixon. He leads a cast of 10 in this fast-paced Tony Award nominated new play which shows the determination, conviction and cunning of two men as they square off in one of the most monumental television interviews of all time.

September 26, 2008 at the ParkCentre in Owensboro, Kentucky.

TALE OF TWO CITIES A MUSICAL with book, music and lyrics by Jill Santoriello, officially opened Thursday on Broadway at the Al Hirschfeld Theater and garnered some of the nastiest reviews in recent memory. What has always puzzled Broadway To Vegas is how a virtual unknown with no musical credits, managed to obtain the deep pocket financing required to mount such a grand scale costume musical.

Having not yet seen the production, we're not able to comment on the show. However, Broadway To Vegas was provided with a CD of the music and from the first spin became curious about the arrangers. What it sounds like is that Santoriello laboriously went through the Les Misérables score, note by note and bar by bar, meticulously removing and twisting just enough to avoid a courtroom. In carving up the tunes, the meat of the compositions was also stripped to the bone. Bring in arrangers to add body and the difference between listening to Les Misérables and A Tale of Two Cities is the same as viewing a Rembrandt at a museum and then looking at the same picture done by a highly talented amateur using a paint by numbers kit.

YELLOWJACKETS written by Itamar Moses. Directed by Tony Taccone.

This world premiere of an incisive play set in Berkeley and written by a Berkeley native. Nationally known playwright Itamar Moses returns to his hometown with a script set just around the corner in the halls of his alma mater, Berkeley High.

When the school newspaper publishes an insensitive story, students suddenly find themselves embroiled in a volatile controversy - and even their teachers seem unprepared to deal with the repercussions.

A compelling collision of race and class that forces us to examine familiar surroundings with fresh eyes.

The cast in alphabetical order; Shoresh Alaudini, Jahmela Biggs, Alex Curtis, Ben Freeman, Lance Gardner, Amaya Alonso Hallifax, Kevin Hsieh, Adrienne Papp, Craig Piaget, Brian Rivera and Ericka Salazar.

Scenic Design by Annie Smart. Meg Neville is charge of Costume Design. Original Music and Sound Design by Obadiah Eaves. Alexander V. Nichols is the lighting designer. Madeleine Oldham serves as Dramaturg. Flight direction by Steve Rankin.

Performances through October 12, 2008 on the Thrust Stage of Berkeley Rep in Berkeley, CA.

THE STALLION OF DEATH by Drew Fairley. The whinny takes it all in this tongue-in-cheek melodrama. It's 1890 and everyone stinks of boredom. Everyone wants an Aussie bush legend to happen… to them. So one bedraggled afternoon a desperado (Buck) and a liar (Gemima) concoct a thrilling horsey legend; The Stallion of Death! Their legend is a hit! But if the Stallion is made up, who is killing the townsfolk? The Stallion of Death is a boisterous comedy/ thriller that takes a cunning look at the lawless creation of modern Australia by way of it's murky past. Written and directed by Drew Fairley (co-writer/performer of Bangers and Mash and the No Chance in Hell Hotel with Kate Smith). So saddle up and enjoy the ride. Featuring Jo Turner, Kate Woresly, Gibson Nolte, and Di Smith Director Drew Fairley Designer Leonie Evans Lighting Designer Sean Pardy Sound Designer Ross Johnston Graphic Design Sensory Creative

Previews begin September 24 at the Darlinghurst Theatre in Potts Point, Australia.

MRS. MILLER DOES HER THING by Tony and Pulitzer Prize winner James Lapine who also directs.

Starring Tony-winning actress Debra Monk and Tony nominee Larry Bryggman.

"It's 1966, the midst of the Vietnam War and the beginnings of the counter-culture movement; an off-pitch, matronly 59 year-old singer (Monk) suddenly emerges at the top of the music charts winning fame as the worst pop singer of all time," is how the show is billed. "Loosely based on the life of Elva Miller, this is a surprisingly contemporary look at pop culture and the public's fleeting fancy with the novelty of the moment."

The production features Nick Blaemire, Molly Camp, Carly Hughes, Jacqui Polk, Eric Santagata and Brad Oscar.

Choreography by Lisa Shriver and musical direction by Michael Starobin. The creative team includes set designers Stephen M. Zablotny and Paul Munafo. Costume design by Jennifer Caprio. Jeff Croiter's lighting design and Dan Moses Schreier and Jim Novack's sound design.

This is a fully-produced workshop presentation. Performances continue through Oct. 4 at the Martha's Vineyard Playhouse in NYC.

BIG RIVER Music and Lyrics by Roger Miller. Book by William Hauptman. Adapted from the Novel by Mark Twain. Directed by Rob Ruggiero. Choreographed by John MacInnis.

Join Huck Finn and runaway slave Jim on a musical trip down the Mississippi River in Mark Twain's classic tale. Along the way you'll meet a rascally pair of river grifters, a grieving heiress, and of course, Tom Sawyer. A slice of pure Americana - adventurous, humorous, perilous and mythic. Winner of 7 Tony Awards, including Best Musical.

Starring Russell Joel Brown, Jeremy Jordan, Will Reynolds, Ed Dixon, John Bolton and David M. Lutken.

The production opened Sept. 26 and runs through Nov. 30 at Goodspeed Opera House, East Haddam, Conn.

TAPE written by Stephen Belber. Directed by Jeff Brelvi.

Jon, an aspiring filmmaker on the verge of hitting it big, hooks up for the weekend with his best friend from high school, Vince, a volunteer fireman who makes his money selling dope.

Jon's new film is being shown at a festival in Lansing, Michigan, and Vince has come from Oakland to see it. Over the course of the evening, Vince finally gets Jon to admit that ten years ago he date-raped Amy Randall, a girl whom they both dated in high school - only then to reveal that he's taped their entire conversation.

And not only that, he's invited Amy to have dinner with them that night. Beneath its suspenseful, high-stakes surface, Tape examines questions of motive, memory, truth and perception.

Starring Nicky Romaniello, Alex Maxwell and Cristina Marie.

Friday, October 17th through Sunday, October 19th at the 78th Street Theatre Lab, NYC.




WHO'S WHERE


LONDON SYMPHONY Part of the LSO Heirs & Rebels series, conducted by Sir Colin Davis. Sarah Connolly mezzo-soprano. Mozart wrote his buoyant Symphony No 38 (1786) in appreciation of his loyal public in Prague. Drenched in elegiac conviction, Elgar's Sea Pictures (1899) is a cycle of five songs written for the alto Clara Butt (who sang it dressed as a mermaid). Undeniably powerful and dissonant, is Vaughan Williams's Fourth Symphony, premiered in 1935. After hearing a rehearsal, William Walton told a friend, 'You are about to hear the greatest symphony since Beethoven.' September 23 at Barbican Hall, London.

MADONNA continues her world tour with a stop Tuesday, September 23, at the Danube Island Fest in Vienna, Austria. On Thursday the show is at the Budva Jaz Beach in Mrcevo Polje and on Saturday she can be enjoyed at the Olympic Stadium in Athens, Greece.

JANET JACKSON performs Thursday, September 25, at the Allstate Arena in Rosemont, IL.On Saturday the show is at The Palace in Auburn Hills, MI. Next Sunday finds her at the Air Canada Centre in Toronto, ON.

EAGLES in a two night stand beginning Wednesday, September 24, at the United Center in Chicago.

BIB BAD VOODOO DADDY opens a two night stand Friday, September 26, at Disney World in Lake Buena Vista, FL.

RAMSEY LEWIS TRIO playing at the King Arts Complex theatre in Columbus, OH on Saturday, September 27.

CHRIS THILE AND EDGAR MEYER The Mandolin virtuoso and bassist extraordinaire team up for one performance on Sunday, September 28, at the historic Balboa Theatre in Downtown San Diego.

COLDPLAY performs Monday, September 22, at the 02 Arena in Prague, Czechoslovakia. On Tuesday they are on stage at the Budapest Sportarena in Hungary. Wednesday the tour continues with a stop at the Wiener Stadthalle in Vienna, Austria. On Friday they are on stage at the Olympiahalle in Munich, Germany.

CHRIS BOTTI blowing his horn Friday, September 26, at The mountain Winery in Saratoga, CA.

KD LANG in the spotlight Saturday, September 27, at the Westhampton Beach Performing Arts Center in Westhampton Beach, NY.


WE NEED YOUR HELP....


BROADWAY TO VEGAS, which has been in existence for over 10 years, is not affiliated with any blog. A copyright clause is at the bottom of every Broadway To Vegas column. Recently, it has been brought to our attention that there is a Las Vegas based blog with an extraordinarily similar title. If you have provided that (or any) blog with: information, invitations, purchased anything through any link on that blog or transferred money, goods or services to anyone connected with that blog THINKING YOU WERE DOING BUSINESS WITH BROADWAY TO VEGAS - we want to hear from you. The more detail the better. Thank you. Next Column: September 28, 2008
Copyright: September 21, 2008. All Rights Reserved. Reviews, Interviews, Commentary, Photographs or Graphics from any Broadway To Vegas (TM) columns may not be published, broadcast, rewritten, utilized as leads, or used in any manner without permission, compensation and/or credit.
Link to Main Page
---
Laura Deni



U.S. Postal Address: Post Office Box 60538, Las Vegas, NV 89160
CLICK HERE FOR COMMENT SECTION