! >
Broadway To Vegas
  SHOW REVIEWS     CELEBRITY INTERVIEWS     GOSSIP     NEWS 
| | |
| --- | --- |
| | |
Copyright: September 9, 2001
By: Laura Deni
CLICK HERE FOR COMMENT SECTION

ANNE JACKSON IS A MADWOMAN
"We were in Las Vegas very recently," divulged Anne Jackson when she spoke with Broadway To Vegas last Thursday. She was referring to herself and husband Eli Wallach.


Eli Wallach and Anne Jackson

"We were flying out to the Coast because Eli was being given a Golden Boot award," she explained about an award started in the early 1980s, by veteran movie sidekick Pat Buttram to recognize achievements of cowboy film heroes, and those significantly involved in westerns. Proceeds from the Golden Boot Awards benefit the Motion Picture & Television Fund. Wallach was one of those honored with the 2001 Award.

"The plane had a stop over in Las Vegas," continued Jackson, "so we got out and went into the airport. Eli put a quarter in a slot machine and got back $20.00! I don't play the one armed bandits," continued the actress who begins previews October 2 in The Madwoman of Chaillot at the Neighborhood Playhouse in New York City. "I'm a sore loser," she laughed.

"When we were flying over Las Vegas, I couldn't believe what I was flying over," exclaimed Jackson on the Las Vegas growth. "When I was there with Misfits it was like a desert."

The Misfits was a 1961 picture which starred Eli Wallach, Clark Gable and Marilyn Monroe. Much of it was shot in the Nevada desert and Wallach was accompanied by his wife and three young children. Marilyn Monroe served as their babysitter, as she had done in New York.



Eli Wallach in background. Clark Gable and Marilyn Monroe on the set of The Misfits Marilyn was the Wallach's babysitter and Gable taught them how to wear boots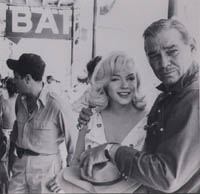 "Every man thought she was a princess locked up in a castle and only they could get her out," Wallach had recalled. "I brought my wife and three kids to the set in Nevada. She used to babysit for us. She was something, very gifted. I loved her. Her death was very sad."

"Yeah," she was the babysitter," said Anne. " No, no we didn't pay her. She was already established. When we were in New York she just wanted ... needed to be with babies. I remember when Roberta was born. My son, Peter, was so jealous of the baby. I was holding the baby and he went and sat on Marilyn's lap. He looked at me like - You can have your baby."

Recalling her trek into Nevada Anne continued, "We all got into costumes. We all went to the Western shop. We came in as New Yorkers and came out Westerners! None of us could walk in the boots. Clark Gable said to Peter, who was about 12 at the time, go home and tell your Mom to just step in a pan of water. Get those boots wet. Peter, of course, was all set to do that. I thought Clark was joking. But he was serious and indeed, that is what we did. We wet the boots and walked around in them and then they fit our feet and we were fine."

For the third time Jackson is getting her feet wet in The Mad Woman of Chaillot.

"The first time I did it I only did one scene in my acting class with Bea Arthur and a lovely actress named Vivien Nathan. That was at the Actors' Studio and I think I was about 23. I didn't have much experience for the part, but I loved it.



Anne Jackson will star in The Mad Woman of Chaillot. Photo By: David Rodgers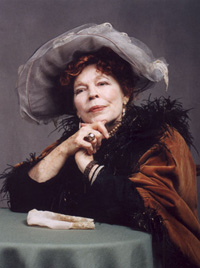 "The next time I did it I replaced Geraldine Paige, who is one of my favorite actresses. I went to see her do it. I was so jealous that I wasn't in it. I went to the producer and both jokingly and jealously said - Listen, if Geraldine ever leaves or anything, call me. The producer asked me if I was serious. I said I was and she asked for my phone number saying she'd call me the next day. Geraldine had to do a film and would be gone for about five weeks. She asked me to fill in. I was going on a three-week cruise. It worked out that we would go into rehearsals immediately after I got back from the cruise. I don't even remember where the cruise was going because I was studying my lines. I went on the cruise with Patricia Neal, a beautiful actress who would be a great Madwoman - and Charlotte Rae.

"Charlotte Rae would cue me and she'd say - I'd like to do this. I said - you'd be very good in this but I'm going to do it. And, Charlotte would be good in it, she'd be adorable in it.



Anne Jackson in The Madwoman of Chaillot, flanked by Catherine Wolf and Kim Hunter. Photo by David Rodgers
"I am enjoying this production. To be honest with you I'm working with some wonderful people. Alvin Epsein has done the play before. He's a great actor. He plays the Ragpicker, and Catherine Wolf, whose is the founder of this theater and a very good actress is doing Constance. Kim Hunter who is the Kim Hunter is playing Gabrielle. The director is Roy Steinberg.

"One of the things that makes Madwoman so wonderful and so much fun is that it is as if it were written yesterday. It is so obviously up to date on everything that is going on in our country - ecologically, politically, morally. It just is filled with wonderful illusions to these awful things."

On September 3rd Jackson celebrated her birthday. It's definitely a case of getting better not older.

I didn't celebrate it," she announced, then qualified her comment. "Well, yes I did - with my family. My son and my daughter, Roberta. My other daughter, Katherine, is in Italy but she called. My kids called me and my little grandchildren called me and that's how I celebrated it."

Jackson has celebrated 75 birthdays most of them as a star.

Anne fell in love with Wallach when they were starring together in This Property Is Condemned. "I thought he was too old for the part," she divulged. "He was in uniform and I had just gotten out of high school. I thought - Ooooh he's an older person. When I first met him, he didn't seem to act like an actor to me. Then after I married him I realized that I had married the consummate actor."

Having a real life romance with the leading man didn't affect the performance. "No, no it's so common. Actors fall in love with other actors all the time. We were about the right age. He was about 29 and I was whatever I was. I thought that he seemed mature and at the same time he was playing a 15-year-old boy and he was so convincing.

"He wouldn't talk to me about theater - ever. That's why I didn't think he behaved like an actor. He was like a doctor, always talking about medicine. He was in the medical corps in the Army. So, I was very impressed with him."

Their marriage has produced 22 theatrical productions and three children.

"My husband is gorgeous," she laughed. "I adore him. He's very dear."



Eli and Anne fell in love on stage. The marriage has lasted over 50 years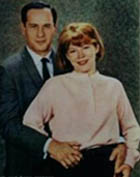 A marriage between two actors is a tough co-starring role.

"There were a lot of problems and the problems are very obvious," Anne acknowledged. "We'd get separated because Eli would do a movie and he'd have to be away for long periods of time. By this time we had three children. One of the reasons we didn't go to California was because we didn't want to raise the children there. We were New York people.

"So, most of his films were done either in Europe or on the East Coast. He did some very good ones here in the states."

"We both had similar training. We don't act exactly alike. Or, we learn from each other. We've done - oh, about 22 plays together.

Although an established, sought after star Anne had to make a choice between being a mother and being a working actress. It was important to her that her children not be boarded out - raised by others.

"I was not able to function in film. I did a lot of television but I really wasn't able to do film until I was older, until my kids were older, too. And, that was a frustration.

"Also, I wasn't able to do regional theatre. I wanted to go with Guthrie to his theater and do the classics. I was really offered some very wonderful parts and I couldn't do them.

"You choose to marry and you choose to have children. Those are choices. Once you choose that, I think you have a responsibility to that.

"I have been very fortunate, but it has been difficult. We've held our marriage together. We've had three wonderful children - all of them are artists, which can't be helped," she drolly quipped. "We have good kids. - Kids? - My son is fifty. Hello? - What kids?" she laughed.

"Both my daughters are very good at acting. My youngest daughter, Katherine, sort of runs away from acting because she knows that it is just too demanding on her time. She has other irons in the fire. She's artistic in many other ways. My son is a very good artist. Film animator. Not so much with the computer. He's a hands on artist. He's a Renaissance man - he can sculpt, paint, etch. He's very artistic."

Are the complaints voiced by her acting daughter, Roberta, the same as she had at her daughter's age?

"Of course," she immediately replied. "There are fewer parts because there are more actors. I think it is harder for young people today in the theater," she continued as her voice took on a thoughtful tone. "When I was a young actress, we had live television in New York. We could be doing a stage play and do a television show at the same time. It wasn't a lot of money but we were paid for it and it was very good experience. Live television was more like the stage, yet you had a camera to deal with. So, you learned how to act for the camera as well as acting for the stage. There is an energy that you don't use for the camera that you do use for the stage. In television you learn to think more, to have character thoughts, because there are more silences. Scenes that aren't dealing with words, but with looks and thoughts.



JACK WARDEN AND ANNE JACKSON in PRIVATE BATTLE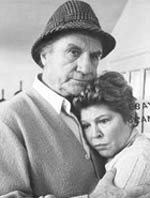 "So, there was more opportunity. There was also summer stock that I used to do. I was always working. True, I did about eight or nine flops before I got into a hit play. The first play I was ever in was a hit. Then I would just take what came along. I wasn't terribly selective. I just wanted to act, to work."

"The thing I always say is - and it sounds a bit pretentious and I don't mean it that way - acting is something that you do because that is what you can do and you are born to it. And, almost every good actor I know knows that there is no escape from it.

"It's a matter of need. Most of the actors that I know need to act, need to be acting. You know, like Cherry Jones who is a brilliant actress. She needs to be acting. Zoe Caldwell needs to be acting. It's not something that you can help. You just have to do it."



Rosemary Prinz (Lola, left) and George Coe (Max, right) listen intently to Roberta Wallach (Debby, their daughter, center) in The Model Apartment from the 1997 LaJolla Playhouse Production. Photo By:John Johnson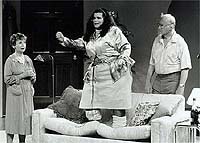 Anne's thoughts turned to Roberta's acting accomplishments and the difficulty in finding good parts.

"Roberta did Model Apartment about an overweight child of Holocaust parents and it was a killer of a play. How many parts are there for a girl who will put on a fat suit? Then when they'd see Roberta as Roberta, a slim little thing, it's not a commercially viable part to play. Oh God, yes, it was an important play. She also did The Diary of Anne Frank. We did that as a family and she was wonderful.

"She played that part with the fat suit and then she played the slim girl who was in the concentration camp."

As for Anne, following The Mad Woman of Chaillot the actress will re-team with her husband.

"Eli and I are going to do Tennessee Remembered. We do excerpts from his plays, and letters from Tennessee. It's an evening that we've put together ourselves because Tennessee was a very important influence in our lives. For the first seven to ten years of our life we did all Tennessee Williams projects. That's how we made out livelihood.



TENNESSEE WILLIAMS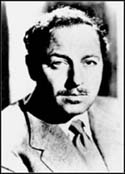 "A Summer in Smoke, Rose Tattoo, Baby Doll, " said Anne as she ticked off Tennessee Williams' masterpieces.

"We took the children with us, they were babies at the time and we did The Glass Menagerie in summer stock. I played Laura and Eli played my brother Tom. So we had quite a lot of connection with Tennessee.

"We'll do this probably in November. I think we' re going to be doing it in Florida. We've already done it in New York.

Jackson and Wallach seem ageless. They age the way people fantasize about maturing. Jackson claims to have no hidden secrets, magical potions or pictures in an attic ala Dorian Grey.

"I think we try to eat well. I don't smoke anymore. We're not drinkers. We'll have a glass of wine occasionally. We just try to stay healthy. You have to if you're going to work in the theater.

"I do cross word puzzles. Eli gets mad sometimes at the clues but I just laugh, because I just love it when the clues are clever.



Broadway To Vegas is supported through advertising and donations. Priority consideration is given to interview suggestions, news, press releases, etc from paid supporters. However, no paid supporters control, alter, edit, or in any way manipulate the content of this site. Your donation is appreciated. We accept PAYPAL. Thank you for your interest.


GETTING OLD AIN'T FOR SISSIES

Lauren Hutton, who almost lost her life riding a motorcycle in Nevada and Valerie Harper, who has added a new dimension to her life by starring in Tales of The Allergist's Wife while running for president of the Screen Actors' Guild, will be Keynote Speakers at VINTAGE 2001, the one-day conference on Ageism in the Arts & Media, presented by The New York Coalition of Professional Women in the Arts & Media Inc.



LAUREN HUTTON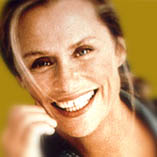 The Coalition will present VINTAGE 2001 on Saturday, October 13, at the John Jay College Theater, in New York City.

There never seems to be a "right" age, but a general consensus is that those in the entertainment industry- both men and women - are big time victims of age discrimination.

Trying to make some sense out of it all will be moderators Pia Lindstrom, Gretchen Cryer, Denise Richardson and Tisa Chang. Panelists will include Phyllis Newman, Jane Powell, Marian Seldes, Tina Howe, Frances Sternhagen, Tovah Feldshuh, Eileen Fulton, Graciela Daniele, Micki Grant, Lynn Ahrens, Richard Dubin, Dr. Anne Basting, Debi Davis, Judith Gerberg. Carol Harris-Manness, John Nielson, Jeri Sedlar, Margery Simkin, Daniel Wolf, Esq., Margaret Hoorneman, Dr. Ruth Lax, and Dr. Mark Silver.



VALERIE HARPER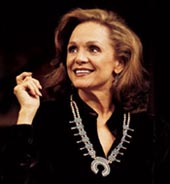 Is VINTAGE 2001 just another conference paying lip service to a serious topic? At the conclusion will people have gained just another wasted day? Not according to theatrical producer Shari Upbin, Producer of VINTAGE 2001 who spoke with Broadway To Vegas last Friday about the event.

"Role models for people in the theater. Marian Seldes, for instance, all have said they must be there because you constantly have to reinvent yourself. You're as good as your last job. You have to be on top of it and we need to find out how they stay on top of things to get jobs.



MARIAN SELDES Photo By: Laura Deni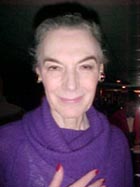 "What we need to do is look at yourself every decade or every five years as we mature and make sure that we are keeping up with the times. Sometimes you get dressed and let's say you're over 40, which is what this is about. Forty might sound young to some people, but it's not anymore. You put on an outfit and you go - wait a minute something is not right. You have to change. You have to keep looking at yourself and say what can I do to be better.

"That's why I selected Valerie Harper because she wrote the book Today I Am A Ma'am. It was the first time she was called Ma'am. It happened to me, too. Somebody I thought was my contemporary called me Ma'am.

"We are going to be stressing the importance of health, the mind and vitality - because that is all a part of aging.

"We are having a psychologist on the panel and a women who wrote a book on facelifts, because we need to take it all in.You can't get tired and depressed or looked tired and depressed.

"It's also great now, because women have more options," claimed the producer.

But in performing arts the options are narrowed. Should women who are actors also do what male actors have done for years - think - I really want to direct. Think - I really want to be a producer?

"The answers to those questions are YES!" exclaimed Shari.



SHARI UPBIN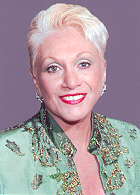 As a producer are you part of the problem? Do you let ageism get in the way of casting for your productions?

"That's an interesting question," replied Shari who produced One Mo' Time. "It all depends. When we want someone for a certain part they should look the part. I don't want to hire somebody very young to play an older person like we used to do. They used to do that all the time. I did it when I was an actress. I remember I had a role where I wore a wig. I wondered why they didn't get somebody older. It was Prisoner of Second Avenue. I was in my early 30s and I had a wig on. I was wrong for the part.

"I think now people really do look for the best person for the role. Ageism really doesn't filter into what I do. I've never suffered from ageism because, as a producer, when you raise the money you don't have a problem with them."

If you hire somebody who is very young, a producer with money on the line, may rightfully question that person's social life - are they in with a party- hardy crowd? Do they think then can stay up all night and be on the set at 5:00 a.m. or perform two shows that day on Broadway? What are your concerns with older people?

"Memorization of lines," was the fast reply.

Should more emphasize be placed on nutrition - ginkgo or eating a balanced diet?

"Yes, and that is what the conference is about.When you're 20, you can get away with eating anything. You're not going to wake up bloated the next morning."

Broadway To Vegas, which isn't noted for keeping their mouth shut then offered up this Broadway To Vegas mind sharpening technique, which was actually part of a thesis I wrote many moons ago, regarding mental mind games improving circulation and thus performance.

This is a mind game that is good for absolutely anyone.You can do it anywhere. It's free. Nobody else knows you are doing it and there is no way you can be embarrassed by it. You don't need a support system, an enabler or a counselor.

Start with the Letter A. To yourself, as fast as you can, think of 10 words that begin with the letter A. Then go to the letter B and think of ten words, as fast as you can, that begin with the letter B. Keep working your way down the alphabet.

"I'm going to use that," said Shari. "That is what the conference is all about. Positive solutions to problems. Positive solutions need to be emphasized," continued Shari referring to the seminar. "It's not male bashing or any kind of bashing. This is not fluff. It's another way, a positive way, of women helping each other. I've got the best women offering solutions that are on the panels."



JACK BENNY was never over 39 and got canceled from TV because he was too old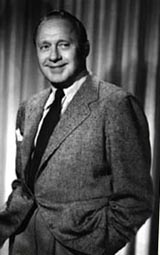 For Shari, whether she realized it or not, her father's income depended in part to a twist on ageism. Her father, Alex Kiesler, was a writer for the Jack Benny radio show.

"My dad is the funniest person I know," related Shari. "When I saw the play Laughter on the 23rd Floor he said that's what it was like working on the Jack Benny radio show. Everyone sitting around and trying to come up with what was funny - one liners."

Benny was a comedian whose running gag was that he was always 39 years old.

The Benny show transferred from radio to television. Jack's television show ended in 1965. Despite a weekly audience of 18 million viewers, Jack who never claimed to be more than 39 but was more like 71, wasn't attracting the "younger" viewers the network wanted. After 33 years of the Jack Benny Program, including 343 episodes for television, the show was canceled.

The comedian's reaction was to take his age related firing and simply turn his new found freedom into success.

In 1966 Benny was booked for the entire month of October at Caesars Palace in Las Vegas. He also performed at Expo 67 in Montreal Canada, Harrah's in Lake Tahoe, and the Palladium in London, England.

VINTAGE 2001 was conceived by Elsa Rael, Co-President of The New York Coalition of Professional Women in the Arts and Media, Inc., who has headed programs on Ageism for Joe Papp at The Public Theatre and at the 92nd Street Y in New York City. The NY Coalition of Professional Women in the Arts and Media Inc. is comprised of women in: Actors Equity Association; AFTRA-NY Local; Dramatist Guild, Inc.; The League of Professional Theatre Women; Screen Actors Guild; Society of Stage Directors & Choreographers; Stage directors & Choreographers Foundation; Writers Guild of America East; Women in Music, Inc., and New York Women in Film & TV.

"I put the seminar together because I was asked to do so the by the NY Coalition of Women in the Arts and Media," continued Shari, who spent seven years as president of the League of Professional Theater Women.

"There was a huge meetings of all of the presidents of all the unions and they came to the conclusion that the thing all the arts had in common was - ageism. That affects both men and women. The conference itself is for everyone in the arts, from dancers to writers."

The Advisory Board for VINTAGE 2001 includes Shirley MacLaine, Carol Channing, Joan Hamburg, Nora Ephron, Rex Reed, Marcia Lewis, Barbara Cook, Hector Elizondo, Barnard Hughes, Jerry Stiller, Anne Meara, Patrick Quinn, Samm Art Williams, Barbara Hauptman and others. Sue Lawless & Bill Martin will direct the conference.

Participating will be writers, directors, choreographers, casting directors, designers, career counselors, attorneys and doctors dealing with the American obsession with youth and offering positive solutions to an age-old problem. The varied panels will discuss the perception of mature seasoned professional women in the industry; career changes; the significance of image; financial stability, health and psychological concerns.

Admission for the entire day is $65 including lite breakfast, lunch and wine & cheese reception. ($75 cash at door). For reservations and information on VINTAGE 2001 call The Coalition Hotline at (212) 592-4511, E-mail to nycoalition@hotmail.com


SWEET CHARITY

WARREN BUFFET'S CHARITY CLASSIC September 11, an event that draws celebrities, professional athletes and CEOs to Omaha, Nebraska will be the last. It has raised nearly $9 million for four charities in its nine-year run while bringing to the event such notables as composer Marvin Hamlisch, investing guru Peter Lynch of Fidelity Management, then-Securities and Exchange Commission Chairman Arthur Levitt and actor Chuck Norris. Another $1 million is expected to be raised at the last of the one-day Classics, scheduled for Sept. 11. The money will be divided equally among: the Boys and Girls Clubs of Omaha, Omaha Children's Museum, Girls Inc. and the Omaha Theater Company for Young People. Susie Buffett, daughter of Berkshire Hathaway Inc. Chairman Warren Buffett,70, made the announcement. Roberta Wilhelm, executive director of the Omaha Theater Company for Young People, said her organization used part of the proceeds to renovate the Rose Blumkin Performing Arts Center and put some into an endowment to care for the facility. Renovation work, started in 1993, was finished in 1995.

LORETTA LYNN will be appearing at Bimbo's in San Francisco on September 13. The show is a benefit for A Home Away From Homelessness, the city's charity that provides a network for homeless and formerly homeless children.



THE FLYING DUTCHMAN returns to the New York City Opera after an absence of 25 years, opening September 11 with a black tie gala and dinner at the New York State Theater which salutes Mayor Rudy Giuliani.

UNEXPECTED MAN starring Emmy winners Christopher Lloyd and Holland Taylor in the Los Angeles premiere of the Yasmina Reza play.Maria Mileaf directs. Mark Thompson (sets, costumes), Hugh Vanstone (lighting) and Mic Pool (sound). David Yershon composed the score. The Geffen Playhouse, Westwood, CA. Sept 11-Oct. 21.

URINETOWN the significant Off-Off Broadway musical with the terrible name is transferring uptown to the Henry Miller Theatre. Book and lyrics by Greg Kotis with Mark Hollmann composing the music and lyrics. Cast: John Cullum, Jeff McCarthy, Nancy Opel, Spencer Kayden, Ken Jennings. Director: John Rando. Choreography: John Carrafa. Previews began August 27. The show officially opens September 13, at Henry Miller's Theatre, NYC.


WHO'S WHERE

AEROSMITH tonight in Charlotte, NC at the Verizon Wireless Amp. On Tuesday they perform in Virginia Beach, VA at the Verizon Wireless Virginia Beach Amphitheatre. On Thursday they travel down the road to Camden, NJ for a show in the Tweeter Center At The Waterfront. They close out the week Saturday in Bristow, VA at the Nissan Pavilion.

SADE take center stage tomorrow in Columbus, Ohio at the Polaris Amphitheater. On Thursday the performance is in Denver, Colorado at the Pepsi Center and the show stops Saturday in Las Vegas at the MGM Grand Garden,

DAVID CASSIDY performs in Reno, Nevada at Harrah's on Saturday.

B.B. KING is the only person his age who works this hard. And, if working at something you love makes you younger, he must be about 21. Check out B.B's schedule. Tonight he performs in Hershey, PA at the Hersheypark Amph. On Wednesday he does it again in Boston, MA at the FleetBoston Pavilion. On Friday he's in the spotlight in Holmdel, NJ at the P.N.C. Bank Arts Center and on Saturday the blues man can be found in Camden, NJ at the Tweeter Center At The Waterfront.

DON RICKLES AND LORNA LUFT appear at the Stardust Hotel, Las Vegas September 12-15. Lorna will then leave to attend the Emmy Awards where she will pick up a handful of the coveted statues.

BERNADETTE PETERS September 14 at Orchestra Hall in Detroit.

PATTY HEARST will appear in the touring production of Eve Ensler's The Vagina Monologues at the Shubert Theater in New Haven, Conn., September 18-23.

MOLLY RINGWALD joins the cast of Tick, Tick ... BOOM! on September 18. This is her first musical since she appeared in a Los Angles production of Annie, when she was 10 years old. The Jane Street Theater, New York City.

MELISSA ETHERIDGE is center stage on Tuesday in Fort Worth, TX at the Will Rogers Auditorium. On Friday she begins a two nighter in Long Beach, CA at the Terrace Theater.

JOURNEY entertains Tuesday in Detroit, Michigan at the Michigan State Fair. On Wednesday the show is in York, PA at the York Inter-State Fair.

PATTI LU PONE September 15 at the Rialto Theatre in Atlanta, Georgia with her "Matters of the Heart" show.

DESTINY'S CHILD has a busy week. Tonight the show is in Denver, CO at the Pepsi Center. On Wednesday the group performs in Vancouver, BC at the General Motors Place. The following night the spotlight is in Seattle, WA at the KeyArena at Seattle Center. The tour stops Friday in Portland, OR at Rose Garden Arena and on Saturday the show is in Marysville, CA at the Sacramento Valley Amphitheatre.

RITA RUDNER the delightfully funny lady has signed an indefinite engagement contract with New York New-York hotel in Las Vegas. She performs in the Cabaret Theatre Mondays through Saturdays.

LINDA EDER performs Sept. 14 at the Mann Center for the Performing Arts in Philadelphia, PA.

ROBERT GOULET The Man and His Music at the Eisenhower Hall Theater in West Point, New York on Sept. 15.

ELAYNE BOOSLER performs Sept. 15-16 at the Ramada Express in Laughlin, Nevada.

BEA ARTHUR tonight in Indianapolis Indiana at the Murat Center.

MICHAEL FEINSTEIN Saturday, September 16 in Lenox, MA at Tangelwood.


PIFFLE AND PROFUNDITIES


THE LONG AND THE SHORT OF IT

Kareem Abdul-Jabbar, holding Titan, flanked by Siegfried and Roy
Kareem Abdul-Jabbar, nicknamed the Titan of the basketball court, recently came to Las Vegas and experienced the Siegfried & Roy show at the Mirage Hotel for the first time.

Then he went backstage where the basketball great was almost brought to his knees by his cute namesake.

Kareem got up close and cuddled Titan, a 12-week old Siberian White Tiger.
















Next Column: September 9, 2001
Copyright: September 16, 2001. All Rights Reserved. Reviews, Interviews, Commentary, Photographs or Graphics from any Broadway To Vegas (TM) columns may not be published, broadcast, rewritten, utilized as leads, or used in any manner without permission, compensation and/or credit.
Link to Main Page
---
Laura Deni



U.S. Postal Address: Post Office Box 60538, Las Vegas, NV 89160
CLICK HERE FOR COMMENT SECTION