! >
Broadway To Vegas
  SHOW REVIEWS     CELEBRITY INTERVIEWS     GOSSIP     NEWS 
| | |
| --- | --- |
| | |
Copyright: April 29, 2001
By: Laura Deni
CLICK HERE FOR COMMENT SECTION

DELIGHTFUL AND DYNAMIC RUBY DEE


RUBY DEE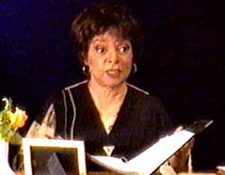 Ruby Dee was experiencing a week of overload.

When she wasn't on stage starring in Saint Lucy's Eyes, at the Women Project Theatre, which closes tonight, Ruby was at the hospital.

Her 102-year-old mother-in-law, Laura, fell while on the way to the rest room and broke her hip. The senior citizen underwent successful hip replacement surgery and Ruby or Ossie Davis were constantly by her side. Then they had to determine where she should go for rehabilitation.

"She's in pain and the doctors want her to walk on the hip replacement. I like to be there to encourage her," explained Dee who suffered her own broken leg a year ago.

The Cleveland born, Harlem raised actress married Davis in 1948, a union which is still going strong.

In his autobiography Davis wrote of their marriage; "We were living one of the great love stories, I think, of the 20th century and we didn't know it, nobody told us."

"Fifty two years being married, there's been a lot of overcoming!" she laughed. " There's been a lot of struggle there. But marriage is everyday. You think you love somebody, but love is an aspiration.

"Marriage is more than putting up with each other. It's a growing up together, coming into maturity and seniorhood together. It's been a journey, a profound learning experience about each other, about men, about women.



Ruby Dee holding a picture of her husband Ossie Davis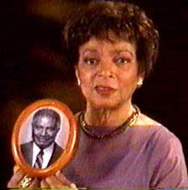 "Ossie is a very sensitive person," she continued. "I came from a background I considered to be a very chauvinistic. Women of the house did all the work, even in poor neighborhoods. I call my self lucky in terms of marrying a man who had a great sensitivity and intelligence and who realized that the equations were lopsided. It's Ossie that taught me about women's equality. He said - Ruby you've got a brain.'"

Ossie was a liberated man long before Women's Lib told him that was how he should behave.

At times he was almost too liberating. A few years ago, with a perfectly good wife at home, Ossie decided they should have an open marriage.

"Love, I think, is one of the most difficult equations that humanity is faced with," continued Ruby. "Love thy neighbor as thyself." Well, whoever wrote that don't know some of these neighbors God put down here, huh?

"I have this spiritual argument with myself. But I think we're put down here to explore, to understand, and to practice love. Whatever it is that is called love - that has kept us together, and we almost know what that is after 50 years - we almost know what love is.

"Ossie wanting an open marriage was part of our 52 years," recalled Ruby. "That period there - I don't know - I guess all couples go through some period of disenchantment or believing that the grass is greener. And it may not be crab grass on the other side. It may be beautiful. But you come to the conclusion that it's one of these elements in life where you decide if what you have is really is what you want.

"The complications of being involved with other human beings - and the world is full of marvelous human beings. You could find one maybe every week or every year or something. And, it would be such a topsy turvy affair - in terms of family, property and all kind of things.

"But, we both came to realize that we were very fortunate that, in all of the deep profound, fundamental ways, we really, really only wanted each other.

"It was like a rediscovery of something from the beginning. It's not something that you'd recommend to everybody. But often Ossie has said - and I've though too - the best way to have somebody is to let it go. If it doesn't come back you are free in another kind of sense - in that you find the strength to let go and wish somebody well.

"So, we thought an open marriage was appropriate for us but it turned out not to be. But then that's what we're all about," she said thoughtfully. "We are moving from one position to another in the process of trying to unravel this thing call life."

Ruby and Ossie have a son, Guy, and two daughters, Nora and Hasna, all of whom turned out well.

"We've worked with our son a lot," said Ruby her voice taking on a certain note of pride. "He's a blues guitarist, composer, actor and author. We've performed in a piece called Two Hah Hah's and a Home Boy. We did material that he had written, that my husband and I had written and works by Zora Neale Huraton, an anthropologist/folklorist that we really both liked.



HUNTER COLLEGE Rudy Dee graduated in 1945 with a bachelor's degree in French and Spanish. For a while she worked as a translator.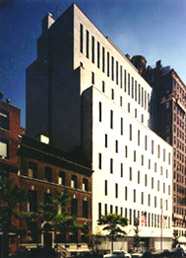 "Our oldest daughter is an independent educator. She has three children. She and her husband, who is a graphic artist, have just moved from Atlanta to New Jersey. She was working at Emory University. She helps those working on their graduate degrees, and Spanish and French foreign students who are just coming into this country and need to catch up academically. She works with students that are falling behind. But she wanted to stay home and have hours that she could control. Now, she's doing the same work in New Jersey. We're delighted that she has moved back so close

"Our other daughter got her Doctorate in Education the year before last. She's now the principal of a high school up here in Westchester. This is the daughter who said to me she didn't want to go to college because it was irrelevant. She just wanted to get a job. We had a little talk and a few tears and stuff and - she's the one who came back and went on to get her doctorate. It's so thrilling! I am proud of all my children."

A lot of people are born into poverty, experience injustice of one form or another and have a tough time. If life isn't fair - it is also hard. Both Ruby and Ossie Davis overcame what many might consider difficult if not insurmountable odds.

Many wallow in self pity, waste lives bemoaning their hardships, and earn the equivalent of an advance degree in resentment. Dee took a different approach. At a young age she assessed her situation and climbed above it. She's remained on that high plane.

"A long time ago when I first realized that I was Black in America and all that that implies, for all that is marvelous in this country - I think I made up my mind long ago after I saw that being racist wasn't something I wanted to devote my life to. I couldn't buy it, but I had to get over it. I finally did get over the self doubt. Racism short-circuits self confidence.

"We don't live in isolation. We really do come from each other, a collective spirit moves through us. We have a focus across countries, across races, across culture. I think we must find that language we have in common. Because we really need to communicate with each other. We become who we are, you know. It's preprogrammed with the package, I believe. So I've come to this universality because that's the way I was, always. God didn't make, for example, one kind of potato. Because he made lots of kinds of potatoes. God never did one of anything, you know? He's done hundreds of thousands - many, many kinds of species, people, flowers, trees. Every kind of thing. So therefore, having realized this, because that's who I am, I said, "Oh, this is another expression of divine spirit."

"This was all before women's lib."

"I can't carry around bitterness. I don't begrudge the past. It has been a troubling thing, racism and sexism. It erodes confidence in yourself, especially if you don't how not to buy into it. Ossie said this to me a long time ago. He said, As long as you look at the hole, the hole begins to look into you.' - And I think that's true.

"And I couldn't give my space as a human being over to the haters. I had to lift my head up and find the way out, like that rat in a maze. Which is the way out and around this? So I've spent a great deal of my life getting involved in things where I could do something, where I could use whatever gifts I had. And Ossie had studied philosophy, and he's saying over and over, "What is without remedy must be without regard." So after I had decided that I was a Black girl living in America, I had to come up from behind that. I could not let racism dictate the joy of life. I had something to do in spite of it. So I had to let it go. Resentment can make you bitter. I don't want to give the advertising space of myself to the enemies. That is not to say that I didn't struggle.

"I think my salvation was my cultural discoveries. That I belonged somewhere culturally. The whole history of my people in this country. The history of all the people in this country. The very best and the very worst and the hardest, the softest, the meanest and the kindest, and so on."

Acting has been in Dee's spirit since birth. She gives a lot of credit to her family for allowing that desire to flourish. "My mother, she was my stepmother, really - has been a teacher. She encouraged me in marvelous ways. She herself had wanted to be an actor.

"I had to go where the doors were open because I wasn't good at battering down places, " claimed the lady who has become a well-known social activist.

Why pick one of the hardest professions in the world - a profession fraught with rejection where Ninety percent of the people in it can't earn a living and there is no job security?

"I wish everyone would realize that 90 percent of all actors don't make a living at it," she responded.

"Long ago it occurred to me that I might not be able to make a living at it and I decided that if I couldn't make a living at it, I was going to do it anyway. There are so many groups in this city, in this country to which once can be associated, that you can explore that desire to act. I was excited by literature. I joined a group that kind of helped me to express that eagerness to explore being an actor," she said referring to the American Negro Theatre.

"For instance the playwright of Saint Lucy's Eyes comes from another discipline," added Dee about Bridgette A. Wimberley. "I think she was a biochemist, something like that. There are a lot of actors that do other thing. But to earn a living at it - is a whole other proposition!"

Has she ever accept a role she didn't like just to keep the bills paid?

"I don't regret any roles I've taken, because as an actor, I've long told myself that that is what you do as any actor - you accept the role. Unless it is something like somebody wanting me to do a strip tease or something that is absolutely abhorrent to you in a deep and personal sense. As an actor that's your job - to accept the part. You're not always going get those delicious, marvelous roles. I've done the work that has been offered, because that is what I do.

"If you give me the material then it is the job of the actor to interpret the material. So, there are those moments when you wonder - now how am I going to interpret this or that? I've always tried to bring something into the part. If I wasn't particularly enthusiastic about the work, I would try to find that unspoken area that I could make exciting and then share it with the director."

She's done her work well.

Dee has appeared in more than 20 films, including the baseball player's wife in The Jackie Robinson Story (1950), Edge of the City (1957), with Sidney Poitier, and Spike Lee's Do the Right Thing (1989).

In a career of many accomplishments, Ruby Dee was the first black woman to play major roles - Kate in The Taming of the Shrew and Cordelia in King Lear - in the prestigious American Shakespeare Festival at Stratford, CT.

Dee received an Emmy for Decoration Day (1991) and a Literary Guild Award (1989) in recognition for her plays, poems, and children's stories. She has been inducted into both the Black Filmmakers Hall of Fame (1975) and the Theater Hall of Fame (1988)

With Saint Lucy's Eyes it was the name Ruby Dee that brought people into the theater. "That's something that is a new feeling for me," she admitted, still not accustomed to her own drawing power.

Her sold out, one woman show My One Good Nerve, which received rave reviews, was directed by Charles Nelson Reilly, the actor/comedian who is an award winning director.

"Oh, he's absolutely the most exciting director!" she exclaimed. "He's witty, and he listens and he thinks. Ideas come to him long after you think he's through talking about something. So he ponders He's just wonderful. He's like a big brother to me. And, there is something graceful about his spirit."

It's a one woman show that may be headed to Las Vegas, a city that has long time ties for Dee.

"My niece and her husband just build a home there. They live in New Jersey but they have houses in Puerto Rico and now Las Vegas. She said - 'Oh Aunt Ruby you have to bring your one woman show here.'

"I did the film St Louis Blues in Las Vegas years ago with Nat King Cole. My sister before she died lived in Las Vegas. She moved there for the climate. My niece keeps saying that I need to come there to do my one woman show there."

Dee's act would work well at Art Ham Hall at the University of Nevada, Las Vegas - the same venue where Leslie Nielsen has done his one man show, where Michael Feinstein and Betty Buckley have performed and Rosemary Clooney takes center stage on May 13.

Dee could spend a day speaking to an assembly of the Performing Arts High School, to theatre students at UNLV, and the next night performing My One Good Nerve. It could be a feasible engagement.

In addition to acting Dee has gained recognition as an author and a poet.

"Only lately have I claimed myself as a writer, although I've been writing a lot all my life. I got programs together for the Baptist Youth Convention or the Y or something. I've always been doing things like that.

"It's only been since my children have all been grown or, since 85, that I've said I'm going to consciously write. I've written some children's stories and I've collected an anthology for young people, Glowchild, because I knew a counselor at a Junior High School. So, I've begun to write."

Does she enjoy it?

"Yes, enormously! Being married to a writer I never thought of myself as a writer. He's the writer in the family. And, he's the one who encouraged me to write. He said - Ruby, you're a humorous.' - I thought that was so strange because growing up I never thought of myself that way."

Ruby's philosophical outlook serves her well.

"Things happen when they happen. I'm feeling fairly fulfilled. I'd like to do another piece on Broadway or do some film or serious of films that I felt would satisfy me, as much as Saint Lucy's Eyes satisfies me, which is off-Broadway. So, I've come to the conclusion that it doesn't matter where it is. You have to Let Go and Let God and you'll find yourself where you are suppose to be for some reason. Now I say - Lovingly lay it in the hands of the Father."

So what do Rudy and Ossie do to relieve the stress and get all of that clutter out of their lives?

They run away for secret weekends.

"We're always talking about going away for a four-day weekend. We do this occasionally. We check into a hotel in down town New York and pretend we're tourists. And, nobody knows who we are. We have a nice little suite and we indulge ourselves. We go to the theater and eat out, go to all of the places we don't get a chance to go to.

"Sometimes we go to San Juan and stay my niece's house. Now, she's keeps wanting us to come to Vegas. So, I'm looking forward to that.


ANNA SOSENKO COLLECTION TO ENDOW FUND FOR PERFORMING ARTISTS


Anna Sosenko, the Broadway legend who helped launch and sustain some of the last century's best known stage and entertainment careers, will be honored May 10 at the Algonquin Hotel, NYC when her extensive collection of musical, literary, theatrical and art autographs, as well as manuscripts, graphics and paintings will be auctioned by R.M. Smythe, Inc. To endow a fund for performing artists.

Ms. Sosenko, who died last summer at 91, was probably best known for her song Darling, Je Vous Aime Beaucoup, which she wrote at age 25 for Hildegarde Sell - "the incomparable Hildegarde" - whose career as a world famous chanteuse Sosenko launched and managed for nearly three decades. She also nurtured the early careers of Alan Jay Lerner, Joseph Stein and other Broadway luminaries, and produced popular radio shows in the 1940s and 50s.

Well into her 70s and 80s, Sosenko was a guiding spirit of the Songwriters' Hall of Fame, now the National Academy of Popular Music, and produced a series of spectacular all-star theatrical tributes to Dorothy Fields, Richard Rodgers, Joshua Logan, George Abbott, Ethel Merman, Mary Martin, Carol Channing, Alan Jay Lerner, Frederick Loewe, Jule Styne and others.



Anna Sosenko (center) with friends Natalia Markarova and Liv Ullman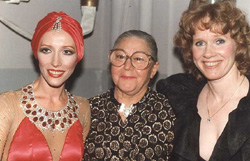 Thanks to her compassionate understanding of the struggles facing newcomers to theatrical and musical productions, her Will provides that the proceeds from the May 10 sale will be used to launch an unique foundation, the Anna Sosenko Assist Trust, specifically conceived to provide readily obtainable funds to help worthy talented performers - actors, playwrights, singers, musicians, composers, producers, directors, etc. - launch their careers in the performing arts.



Anna Sosenko and Kitty Carlisle Hart and Celeste Holm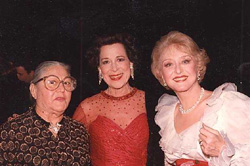 Sosenko was also a renowned dealer in autographs, manuscripts, memorabilia and graphics in New York City for many years.

The auction of her estate will include a wide selection of material from her files, including letters and documents of Schumann, Brahms, Berlioz, Rachmaninoff, Stravinsky, Wagner, Toscanini, Prokofiev, Grieg, Cole Porter, Caruso, George Gershwin, T.S. Eliot, Thornton Wilder, Margaret Mitchell, Duke Ellington, and Irving Berlin as well as a fascinating sampling of business and personal letters from her international circle of friends and business associates.



Broadway To Vegas is supported through advertising and donations. Priority consideration is given to interview suggestions, news, press releases, etc from paid supporters. However, no paid supporters control, alter, edit, or in any way manipulate the content of this site. Your donation is appreciated. We accept PAYPAL. Thank you for your interest.


APPLAUSE, APPLAUSE

THE FRIARS CLUB

KITTY CARLISLE HART Photo By: Laura Deni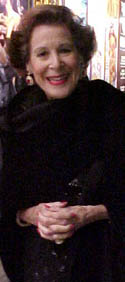 Celebrity luncheons better known as the Friars famous "Roasts" are the comedy mainstay of the Friars Club. For almost a century the Friars have been assaulting the egos of some of the top personalities in show business with their quick-wits and dirty mouths! Behind closed doors and away from the public eye the funniest comedians in show business take shots at insulting, berating and destroying the guest of honor's self-esteem.

So who did they skewer this time? That classy broad Kitty Carlisle Hart.

Irving Berlin wrote Alexander's Ragtime Band for the first Friars Frolic in 1911. George M. Cohan wrote Over There at the Clubhouse. Oscar Hammerstein, in 1908, was among the first to be honored with a Testimonial Dinner and in 1911 Abbot Cohan, along with Will Rogers, Irving Berlin and Victor Herbert and his orchestra, assembled a star studded cast for the first Friars Frolics.

In 1988 the Friars welcomed women to join the formerly all-male bastion. Liza Minnelli became the first official female Friar and through the years their membership ranks have grown.

As early as 1910, the Friars were noted for their "roasting" techniques, "When a man subjects himself to being honored at the hands of the Friars, he needs a steel corselet to repel the jabs of his kidders," quoted a New York Tribune review of the Testimonial Dinner in honor of theatrical manager, William Harris.

Freddie Roman and Alan King claim they did made an attempt to behave. No, they didn't


SWEET CHARITY

SALUTE TO MUSIC THE NEW YORK POPS 18th BIRTHDAY GALA Concert and Dinner Dance Celebration benefiting: The New York Pops, its education programs, and Summermusic free concert series takes place May 7 at Carnegie Hall and The Plaza Hotel Grand Ballroom



MARNI NIXON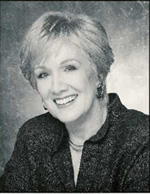 The evening will feature Skitch Henderson conducting The New York Pops. Reba McEntire, Linda Lavin, Vicki Lewis, Marni Nixon, Emily Skinner, Ben E. King, Craig Bierko, Marc Heller, Dorothy Bishop, and Daniel Rodriguez.

The concert hosts are: Syndicated Columnist Liz Smith and CBS 2's (NYC)Ernie Anastos and Dana Tyler

Honoree: Chancellor Harold O. Levy, Board of Education of the City of New York. Corporate Honoree: Equity Office Properties Trust, Tim Callahan, President and CEO

Gala Chairs: Patty & James A. Read, Marcie & Jeffrey S. Sohm

Honorary Chair: The Honorable Rudolph W. Giuliani, Mayor of the City of New York Corporate Chairs: Richard M. Coles American Building Maintenance Co., Paula & Thomas E. McInerney, and D.P. Consulting Corp.



LINDA LAVIN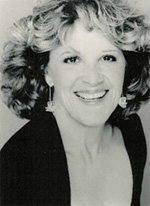 Gala Vice Chairs: Jean & Ralph Baruch, Elaina & Phillip M. Hampton, Ruth & Skitch Henderson, Susan & John M. Jacobs, and Karin & John D. Viener.

Gala Committee: Alice & Jerome Adesman, Mr. & Mrs. Sid R. Bass, Jerry Berns, Mr. & Mrs. Norton Belknap, Lorraine Budny, Barbara T. & Robert E. Bradford, Helen Gurley Brown & David Brown, Mr. & Mrs. William Cafritz, Arlene Dahl, Linda & Arthur Carter, Judy & Jack H. Casper, Robert B. Catell, Bob Cepek, Catia & Schuyler Chapin, Catherine French, Betsy & Walter Cronkite, David V. Foster, Linda & Bernard Dishy, Diana & Kevin Dumas, June Freemanzon, Joseph Gallo, Alex Getelman, Lynne & Carl Goepper, Robert C. Griffin, Dolores & Bob Hope, Margaret L. & John A. Griner III, Andrea Jung, Mr. & Mrs. Douglas A.P. Hamilton, Mr. & Mrs. Stephen M. Kellen, George S. Kaufman, Dr. & Mrs. Henry A. Kissinger, Carol & Michael Kopelman, Judith & Mark McEwen, George F. Landegger, Mr. & Mrs. Henry Luce III, Leni & Peter May, Betty & Jim McManus, Marie M. Miles, Nancy Rabstejnek Nichols, Leslie & John Osterweil, Ivy & Peter A. Pappas, Kirsten M. Peckerman, Martin E. Segal, Mr. & Mrs. Charles D. Peebler, Jr., Amy & Joseph Perella, Mrs. Carroll Petrie, Mary & Robert Pitocchelli, Laura & John Pomerantz, Faye & James E. Preston, Judy & Hal Prince, William D. Rondina, Helene Roberson & Jack Beneridge, Robert A. Schmidt, Stephen Sondheim, Richard L. Spaulding, Evelyn & Herb Strauss, Ms. Stephanie Stiefel & Mr. Robert S. Cohen Esq., Peggy & Alan Tishman, Jan & Edward Tishman, Mr. & Mrs. Brian Zipp, Melinda & Bill vanden Heuvel, Debi & Arthur Weinshank, Marylou Whitney & John Hendrickson, and Zena & Michael Wiener.

THE AIDS FOUNDATION OF CHICAGO (AFC) brings the extraordinary Gershwin pianist, Kevin Cole, Artistic Director of the Ravinia Festival's new Steans Institute's Theatre Wing, to its 11th annual black-tie benefit "Not Just Song & Dance," Saturday, May 5th, at the Sheraton Chicago Hotel & Towers.

Funds raised through "Not Just Song & Dance" support the AIDS Foundation of Chicago's grantmaking program, which, since 1988, has provided nearly $10 million to support AIDS care, prevention, education and advocacy projects throughout the Chicago area. Established in 1985 to coordinate local response to the epidemic, the AIDS Foundation of Chicago is the largest source of philanthropic support for AIDS programs in the Midwest.

A BENEFIT FOR THE AMERICAN DIABETES ASSOCIATION May 4th at Don't Tell Mama, NYC. The benefit features Jamie Deroy, Karen Saunders, Jeanne MacDonald, Parker Scott, Barbarino The Bev Naps and Kim Cea. Hosted by Bistro and MAC Award winner Richard Skipper as Carol Channing. This benefit will help support Diabetes research and awareness programs.

KIDS FOR KIDS CARNIVAL which benefits the Elizabeth Glaser Pediatric AIDS Foundation is today in New York city's Central Park's Wollman Rink. Among those manning game booths are Hillary Rodham Clinton, Kirsten Dunst, Richard Gere, Chloe Sevigny, Molly Sims, Jason Sehorn.



RODGERS & HAMMERSTEIN'S CINDERELLA starring stage legend Eartha Kitt as the Fairy Godmother and Jamie-Lynn Sigler star of HBO's The Sopranos as Cinderella prove that even the most impossible dreams can come true! The Theater at Madison Square Garden, NYC May 3 - 13

THIS LIFE: THE SONGS OF PORTIA NELSON which captured the 2001 Bistro Award as Outstanding Musical Revue, returns to the Firebird Cafe, NYC. May 3, 10, 17 and 24 . It will star the original cast, Terri Klausner and cabaret's Deborah Tranelli and Tom Andersen. The multi-talented Portia, who passed away in March at the age of 80, included playing Sister Berthe in the film The Sound of Music, and Minerva in The Golden Apple with Kaye Ballard. As a cabaret singer, she headlined at the Bon Soir and Blue Angel in the '50s. As a composer, Nancy LaMott, Michael Feinstein and Marilyn Horne are just three of many who have sung her songs.

RENT celebrates its fifth anniversary on Broadway. In celebration all tickets to today's performance are discounted to $20.

SAY GOODNIGHT GRACIE: THE LOVE, LAUGHTER AND LIFE OF GEORGE BURNS starring Frank Gorshin as Burns officially opened last Friday at the Coconut Grove Playhouse in Miami. John Tillinger directs. Performanaces through May 27.

SEUSSICAL has rumors flying that Tommy Tune will be the Cat in the Hat on the National tour.

45 SECONDS FROM BROADWAY the latest offering by Neil Simon had its first reading last Tuesday. The event featured Marian Seldes, Joan Copeland, and Kewis J. Stadlen. Jerry Saks will direct the play, set in the Edison Cade, revolves around the Broadway hangout and all the Broadway types who call the place their second home. Simon aims for a November opening.


WHO'S WHERE

LINDA EDER in concert at the North Shore Music Theatre in Beverly, MA tonight, April 29.

MICHAEL FEINSTEIN Papermill Playhouse in Milburn, N.J. on May 1.

KEVIN JAMES Paris Hotel, Las Vegas May 4-6.

VIKKI LEWIS has returned to the Broadway cast of Cabaret as Velma, a role she played in the Las Vegas version. Nana Visitor has been beamed up as Roxie Hart. Shubert Theatre, NYC.

DAPHNE RUBIN-VEGA kicks off the Wild Women, Divas and Broads month at Joe's Pub NYC. She'll be performing May 3, 10 and 17.


THIS AND THAT

ALL THOSE TROMBONES playing in front of the Neil Simon Theatre last Friday were celebrating the first year anniversary of The Music Man The show, starring Craig Bierko and Rebecca Luker, has played more than 400 performances. Actor Bierko will soon exit the production. Showing up in River City, Iowa as con-artist Harold Hill is Eric McCormack, who plays the character Will in the hit TV sitcom Will & Grace. He climbs on board May 8.




Mention BROADWAY TO VEGAS for Special Consideration
Call (800) 942-9027









Next Column: May 6, 2000
Copyright: April 29, 2001. All Rights Reserved. Reviews, Interviews, Commentary, Photographs or Graphics from any Broadway To Vegas (TM) columns may not be published, broadcast, rewritten, utilized as leads, or used in any manner without permission, compensation and/or credit.
Link to Main Page
---
Laura Deni


CLICK HERE FOR COMMENT SECTION