! >
Broadway To Vegas
  
 SHOW REVIEWS CELEBRITY INTERVIEWS GOSSIP NEWS

| | |
| --- | --- |
| | |
CRIMINAL CHARGES FILED IN SARAH JESSICA PARKER/MATTHEW BRODERICK BABY CASE - - TEXTBOOKS FOR TICKETS - - NEW NOEL COWARD PRIZE - - THE ART OF THE WINE LABEL - - THE 2009 MEDAL OF FREEDOM - - MUSICAL ABOUT SAMMY DAVIS, JR - - PRODUCTION AT 98th BAYREUTH FESTIVAL BOOED - - ANDY WARHOL'S PAINTING OF MICHAEL JACKSON EXPECTED TO FETCH TOP DOLLAR - - DONATE . . . Scroll Down


2 OHIO POLICE CHIEFS, MAYOR'S SON CHARGED IN SARAH JESSICA PARKER-MATTHEW BRODERICK BABY CASE
Sarah Jessica Parker, 44, and Matthew Broderick, 47, in a family photo featuring their newest additions: twin girls Marion and Tabitha, and their big brother James Wilke, 6. Photo; "complimentary handout image" by agency Getty.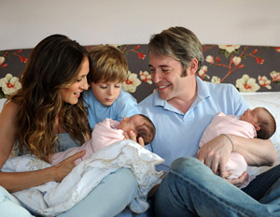 Sarah Jessica Parker and Matthew Broderick say they have faith in the legal system. Let's hope that's faith not misplaced. For the parents of a son and infant twin daughters, the past few months have been stressful. Those that have vowed to protect and serve them have instead hatched a plot of betrayal.

A scheme to sell inside information about the surrogate mother who carried the babies of Sarah Jessica Parker and Matthew Broderick to a tabloid, has rocked an Ohio community with gossip and scandal.

Martins Ferry Police Chief Barry Carpenter, Bridgeport Police Chief Chad Dojack and Bruce Callarik - the son of Bridgeport's mayor and Dojack's father-in-law - were arraigned Friday in Belmont County before Common Pleas Judge John Solovan. All three pleaded not guilty to felony charges.

Carpenter is charged with six felonies including two counts of burglary, one count of receiving stolen property, one count of theft in office, one count of unauthorized use of telecommunications property and one count of tampering with evidence. He faces a maximum of 21 ½ years in prison if convicted and up to a $45,000 fine. His trial is scheduled for October. The prosecutor told the court that Carpenter is accused of entering the home of the surrogate, who he identified as Michelle Ross.

Dojack is charged complicity to commit burglary, a felony punishable by 8 years in prison. He was also charged with one count of complicity to receive stolen property. He faces a maximum of 14 ½ years in prison and up to $30,000 fine. His trial is scheduled for Nov. 17.

Both chiefs remain free on their own recognizance.

Callarik is charged with a felony count of complicity to receiving stolen property. He faces 18 month in prison and his trial is set for Aug. 21 and he is also free on his own recognizance.

On Wednesday, Harrison County Prosecutor Shawn Hervey, who was acting as a special prosecutor for Belmont County, presented the case to a grand jury.

In attempt to avoid the media spotlight both Carpenter and Dojack, who knew they were about to be arrested, voluntarily turned themselves in for "anticipatory processing" Wednesday night, according to Belmont County Sheriff Fred Thompson.



Bridgeport Police Chief Chad Dojack
Unusual interest in the surrogate mother chosen by Parker and Broderick to carry their twin daughters began months ago.

Last May 20 Chief Carpenter coyly told WTOV- NEWS9 that the surrogate mother "has a home in town," but he said that "she is not living there at this time."

Carpenter told the station that the surrogate "was pregnant with the children while living in Martins Ferry," but he said that "she left town in recent months."

The news of the surrogates having a home in the Ohio Valley was confirmed after Parker publicly complained about the woman having to deal with stress and fear from the invasion of her privacy.

"I mean she's you know had her phone, her personal computer information hacked, she's had ... threats against her and true harassment," Parker said.

The Emmy Award winning and Tony Award-nominated Parker appeared in the Broadway production of Annie going on to become a household name as the star and producer of Sex and the City. Broderick, her two time Tony Award winning husband is prepping to star opposite the Academy Award-nominated Catalina Sandino Moreno in The New Group's upcoming Off-Broadway world premiere of Kenneth Lonergan's The Starry Messenger, which begins previews in October.

The couple decided to use a surrogate because they had been unable to conceive since Parker gave birth to a son, who is now 6.



Martins Ferry Police Chief Barry Carpenter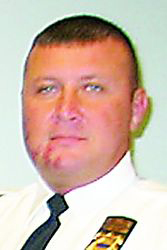 On June 23, 2009 a publicist for the high profile couple issued a release saying that a woman carrying twins for the couple has given birth to healthy girls born Monday afternoon at East Ohio Regional Hospital in Martins Ferry.

Both Parker and Broderick were at the hospital for the birth.

At the time of the twins' birth, Chief Carpenter was already under investigation in connection with trying to snag a lucrative deal with a tabloid.

Entertainers going public about the use of a surrogate have been praised by infertility experts as helping to "legitimize" surrogacy.

Tony Award winning Marissa Jaret Winokur opted for a surrogate. Dennis Quaid and wife Kimberly's twins Thomas and Zoe were carried by a surrogate mother. Law and Order SVU star Chris Meloni and his wife used the assistance of a surrogate for their two children. Celebrities, such as Kelsey Grammer and his wife Camille, former Good Morning America host Joan Lunden and actresses Angela Bassett and Deidre Hall used surrogates. So did the late Michael Jackson.

Shirley Zager, director of the Organization of Parents Through Surrogacy, a national support group, told New York Times writer Alex Kuczynski, who wrote about her experience using a surrogate, that there have probably been about 28,000 surrogate births since 1976.

That article stressed that the births come with a price tag. Kuczynski was quoted a figure of $30,000 to $60,000 for all the costs associated with the surrogate. On top of that, she had to pay an additional $10,000 for egg retrieval and fertilization and embryo transfer to the surrogate. In her case, the money for the surrogate went into an escrow account and was paid in monthly installments.

The surrogate for Michael's Jackson's son - known as Blanket - has never been revealed.

The surrogate is basically a rented human incubator. The baby has no genetic link to the surrogate. Prospective renters look for a model that isn't going to break down by not taking prenatal vitamins, living on junk food or maybe doing some street drugs. When parents find the perfect pre-birth baby container, the outcome is glorious. However, what can affect what should be a blissfully happy time for everyone is the surrogate being forced to cope with added stress or fear - especially if the perpetrators are those sworn to uphold the law.




Broadway To Vegas is supported through advertising and donations. Priority consideration is given to interview suggestions, news, press releases, etc from paid supporters. However, no paid supporters control, alter, edit, or in any way manipulate the content of this site. Your donation is appreciated. We accept PAYPAL. Thank you for your interest.


ART AND ABOUT
THE ART OF THE WINE LABEL - PAINTERS, PRINCES AND NUDES
The controversial wine label taken from the famed poster has been banned from sale in the state of Alabama because it features a person "posed in an immodest or sensuous manner."
The French painter G. Massias produced this bicycle advertising poster in 1895. Only 4 original posters remain - each valued at $10,000.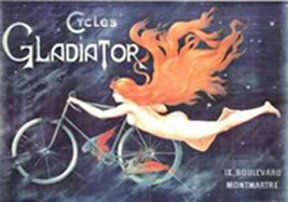 Wine labels have fascinated the public almost as much as the potent potable inside the bottle.

The labels are carefully soaked off and preserved by collectors for a variety of reasons - to remember a favorite wine, or the evening that went with the bottle. Then there are the art aficionados who know that labels have value.

Especially if they are controversial or created by a person of importance.

Perhaps suffering from too much heat or Bible thumping - the great state of Alabama's alcoholic beverage regulators have deemed a wine label as too full of body. After sniffing around and swirling some thoughts in their collective head, the august body announced that the advertising poster - created by the Parisian painter G. Massias in 1895 - to be pornographic. The famed work of art features a vintage 1895 bicycle advertising poster with a nude nymph flying alongside a winged bike.

The wine, which is part of a Gladiator Selection, is produced by Hahn Family Wines in Soledad, Calif.

The website of Hahn Family Wines proclaims:
Cycles Gladiator symbolizes a celebration of the freedom and happiness that pervaded Europe in the late 19th century - during an era known as the Belle Epoque. This era marked many notable inventions and improvements to daily life, not the least of which, the modern bicycle or Le Bicycle Velocipede.

Started in Paris in 1891 by Alexandre Darracq (an eccentric, who would later become famous for manufacturing automobiles), Gladiator was one of the dozens of bicycle companies that made their way into the market when the cycling craze boomed. The Golden age of cycling reached its pinnacle in 1895 – and that same year printer G. Massias unveiled one of the great Parisian art posters showcasing the stylish 'Gladiator' bicycle. Only four of these original posters are said to be in existence today - valued at auction at approximately $10,000 each.

The famed artwork that once showcased the stylish Cycles Gladiator now graces the bottles of our classic wines from California's Central Coast. The mythological image of the nymph riding her 'winged bicycle' captures the grace and uninhibited beauty of our hillside vineyards.

The winery also sells a variety of merchandise including baseball T-shirts and water bottles which are screen printed on the front with the wine label. Prints of the Cycles Gladiator Poster are available in two sizes.

Not to mention the wine - which has been flying off store shelves ever since Alabama implied that the visual effects of the label were more dangerous than the alcoholic content. Wines such as Cycles Gladiator Cabernet Sauvignon California, Merlot Central Coast and Pinot Grigio California and Syrah Central Coast, all vintage 2005, have been pulled from Alabama shelves and are sold out in most other states, but can be ordered directly from the winery. All carry the famed poster label.

Bob Martin, staff attorney with the Alabama Alcoholic Beverage Control Board said the label "was submitted twice last year, and it was rejected both times." Early in July, however, a citizen sent a bottle of the wine to the ABC board to show it was still being sold in stores, he said. The board's enforcement bureau reacted by sending a letter to stores and restaurants statewide, reminding them that its sale was prohibited, Martin said.

Hahn Family Wines has a different take on the controversy - which has garnered publicity that makes other wineries go sour with envy.

"As you may have heard, Cycles Gladiator has been banned in the state of Alabama after being deemed pornographic by the ABC," posted Bill Leigon, President of Hahn Family Wines. "The ABC did, in fact, approve the label when the wine came into the market in 2006, but suddenly changed its mind late last year. We were unaware of the new ruling until now when it was deemed pornographic. This is a new phenomenon for the company, which has sold more than 600,000 cases of Cycles Gladiator across the United States and around the world since 2006. No one else has complained about the label art. We will dutifully comply with all state laws and is doing so in this matter."

Wine label have been used as serious marketing tool for decades.


Prince Charles' watercolor of a French landscape that graces the label of the 2004 Chateau Mouton Rothschild. Underneath appears a note: "To celebrate the 100th anniversary of the Entente Cordiale, Charles 2004."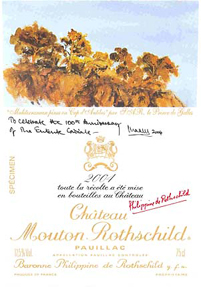 Baron Philippe de Rothschild of the Rothschild banking dynasty, is credited with having brought the wine label into the world of art. His daughter Baroness Philippine de Rothschild now heads the winery.

A small pantheon of artists have gained fame by creating wine art including - Salvador Dalí, Jean Miró, Pablo Picasso, Wassily Kandinsky, Paul Delvaux, Bernard Séjourné, Hans Erni, Keith Haring, Georg Baselitz, Francis Bacon, Setsuko, Balthus, Karel Appel, Antoni Tàpies, John Huston, Saul Steinberg, Andy Warhol and His Royal Highness, Charles, Prince of Wales. To have ones art work selected to grace the label of the latest release of Chateau Mouton Rothschild, probably France's most prestigious wine, is akin to having one's art shown in a major museum.

In 1945, to celebrate the end of World War II, Baron Philippe had the idea of crowning the label for that year's vintage with a design representing the "V" for Victory. It was the first of a collection of original artworks created each year by great contemporary artists for the labels.

The only restrictions given to the painters is that the work be horizontal. The only person who refused to comply was Andy Warhol.



1993 Balthus wine label banned in America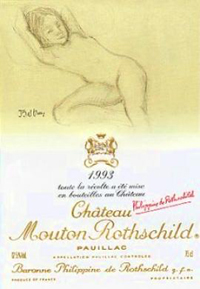 Like the flap over the Bicycle label, the Rothschild's have also had their run-in with American censors. Chateau Mouton Rothschild's 1993 label by Balthus was banned in the United States.

"They accused me of doing kiddie porn," the baroness once told the press during an exhibition in Miami Beach. "Can you imagine that? For me it was a little girl a bit naked. But some association for child pornography made a big fuss and they wanted to forbid the label from coming into America and they did. Finally, we had to send the wine with something else on the label and we put nothing. You don't replace Balthus. Either it's Balthus or it's nothing. So, we left the label completely blank and it turned into a great amusement for American collectors to get the true labels by smuggling them. It was very extraordinary I have to say."

Taking blue ribbon honors for creating a label which sells the most bottles is Prince Charles. The wine world was astonished when the heir to the British throne was revealed for the 2004 vintage.

Prices shot through the roof as dealers and aficionados scramble to get hold of a case or two. Bottles carrying his work have surpassed the price fetched by the 1964 vintage graced with Henry Moore's design. Indeed, the Prince quickly caught up with Picasso and even overtook Wassily Kandinsky.

Prince Charles is considered an accomplished landscape watercolorist. The art on his wine label is a depiction of golden pines against the azure sky of Cap d'Antibes.

Artists are paid in wine – 10 cases, or 120 bottles. Five cases are from the vintage that they illustrate and five cases are from other vintages that are drinkable immediately.

ANDY WARHOL PAINTING OF MICHAEL JACKSON

Andy Warhol's painting of Michael Jackson expected to fetch top dollar
goes up for auction at Vered Gallery, East Hampton on August 18. From August 5-9 it will be on display at the British Music Experience (BME) inside the O2 Arena in London, where Jackson had been due to perform.

The British Music Experience will be the only European venue to host the 1984 portrait ahead of the auction.

The famous portrait by Andy Warhol captured the 25-year-old Jackson just weeks after Jackson's Thriller broke every sales record known. The portrait was published as a Time Magazine cover March 19th 1984. It is one of only 5 known Warhol paintings of the King of Pop. Known as The (Green) Michael Jackson because of the background color, the painting is Synthetic polymer paint and silkscreen inks on canvas. Size:30 x 26 inches 76.2 x 66 cm. This work is stamped twice by the Estate of Andy Warhol and the Andy Warhol Foundation for the Visual Arts, Inc., and numbered twice P050.464 on the overlap.

The British Music Experience in London. is a permanent, high-tech, interactive music exhibition situated within the world's most popular music venue, The O2 in London.

Although predominantly an interactive exhibition, the BME exhibits over 500 key pieces of British music memorabilia. These include David Bowie's Ashes to Ashes clown suit and Ziggy Stardust costume, Noel Gallagher's Epiphone Union Jack guitar, Keith Richards Gibson Les Paul Custom, T-Rex's Gibson Flying V, Roger Daltrey's Woodstock outfit, and a vintage Amy Winehouse dress - to name a few.





THE 2009 MEDAL OF FREEDOM the highest civilian award in the United States will be presented to 16 people by President Obama on August 12 at the White House.

The winners include; two-time Tony Award winning actress Chita Rivera, Academy Award winner Sidney Poitier, tennis great Billie Jean King, Sen. Edward M. Kennedy honored for his work strengthening public schools, civil rights laws and the health care system; retired Archbishop Desmond Tutu of South Africa; Race for the Cure founder Nancy Goodman Brinker, physicist Stephen Hawking, civil rights activist Rev. Joseph Lowery; Pedro Jose Greer, Jr, founder of Camillus Health Concern, which provides medical care to more than 10,000 homeless patients annually in Miami; Joe Medicine Crow-High Bird the last living Plains Indian war chief who fought in World War II, wearing war paint beneath his uniform; Sandra Day O'Connor, the first female U.S. Supreme Court justice; Mary Robinson, Ireland's first female president; Janet Davison Rowley, MD, the first scientist to identify chromosomal translocation as the cause of leukemia and other cancers; and Muhammad Yunus, a leader in global anti-poverty efforts.

Former Rep. Jack Kemp, who died in May, and gay rights activist Harvey Milk, who was assassinated in 1978, will receive posthumous awards.

"These outstanding men and women represent an incredible diversity of backgrounds," President Obama said in a statement. "Their tremendous accomplishments span fields from science to sports, from fine arts to foreign affairs. Yet they share one overarching trait: Each has been an agent of change. Each saw an imperfect world and set about improving it, often overcoming great obstacles along the way. Their relentless devotion to breaking down barriers and lifting up their fellow citizens sets a standard to which we all should strive. It is my great honor to award them the Medal of Freedom."

President Harry S. Truman established the Medal of Freedom in 1945 to recognize civilians for their efforts during World War II. President John F. Kennedy reinstated the medal in 1963 to honor distinguished service.


SWEET CHARITY


LAS VEGAS MAYOR OSCAR GOODMAN who loves his job and martinis, celebrated his 70th birthday, July 31, by throwing a party at the Fremont Street Experience and inviting the entire city.

Instead of bringing the traditional birthday presents, for a donation of $20 party goers received two of the mayor's favorite drinks - Bombay Sapphire martinis - a souvenir T-shirt and button, while enjoying live entertainment and toasting the self proclaimed Happiest Mayor in America.

The birthday boy donated all monies collected to three Las Vegas charities; Three Square, Cleveland Clinic/Lou Ruvo Center for Brain Health and Opportunity Village.

TEXTBOOKS FOR TICKETS Trade in any textbook for a complimentary ticket to Assume the Position with Mr. Wuhl, in which Emmy Award winner Robert Wuhl takes you on a hilarious trip through the myths, lies, and sordid truths that were too funny for the textbooks. Assume the Position with Mr. Wuhl is presented by Ars Nova and stars Robert Wuhl, directed by David Schweizer and Christopher Ashley, and written by Wuhl with Rebecca Reynolds.

Textbooks may be traded in for tickets at the box office 30 minutes prior to a performance. All collected textbooks will be donated to Bridge to Asia, a not-for-profit organization that supports the modernization of higher education in developing countries in Asia, principally China.

August 5-7 at Arts Nova in New York City.

MARIA TORRES EMERGING ARTIST PROJECT with a special Benefit Event on August 10 with stage and screen star Vanessa Williams as Honorary Chair. The event is directed by Amas Artist-in-Residence Maria Torres and will showcase company professionals from the upcoming Magic of Salsa Kingdom, an original dance theatre piece by Torres premiering in September at the Salsa Kingdom Festival in Southport, England.

Also performing Torres's choreography will be some of her young students. The evening features music by Willie Torres NYC Salsa Project, cocktails, appetizers, and dinner and will include a silent auction. The event takes place at the Taj Lounge in NYC.


SPREADING THE WORD


NOEL COWARD PRIZE James Moran, Producing Artistic Director of The York Theatre Company has announced that in honor of the talents of Sir Noël Coward, who often served as the writer/composer/lyricist for his musicals, the York Theatre Company - with the endorsement of the Noël Coward Foundation - will be administering the Noël Coward Prize to a promising librettist/composer/lyricist whose work best exemplifies the "triple threat" standards set by Coward. The winning artist will receive an honorarium and a special one-night-only staged concert of the musical submitted to the contest produced by The York Theatre Company.

After receiving submissions, an esteemed panel of industry professionals will select the winning entry. The panel includes Nancy Ford, John Kander, Richard Maltby, Mel Marvin, Brian Murray, Susan H. Schulman, Joseph Stein and Tony Walton. The winner will be announced November 17, 2009, and will receive the award at a concert celebrating Noël Coward on his birthday, December 17, 2009.

Submission Guidelines:
Only musicals will be considered
Applicant must have written the book, music and lyrics in their entirety for the musical
Musicals must be at least one act (at least 45 minutes in length)
Any rights for the material (if an adaptation) must be received prior to submission; proof of rights must be submitted with the initial application
Submissions will be accepted through Friday, August 28, 2009 at 6 PM

There is no application fee for the Noël Coward Prize; all administrative costs have been covered by the generous support of the Noël Coward Foundation.

BY INVITATION ONLY READING of Hal Ackerman's Testosterone will feature two-time Tony Award winner James Naughton, John Bedford Lloyd, Kathleen McNenny and Jill Usden. Directed by Anne Keefe, Testosterone is described as; A divorced single parent in his 50's is diagnosed with prostate cancer at the most inconvenient time for him, just when he has begun a passionate romance with a woman who just might be the right one for him. To avoid surgery he elects a less invasive treatment, whose one 'minor' side effect is that it renders him a chemical eunuch for a year.

"The comedy and drama derive from the circumstance of a man having to execute all his iconic male roles - father, son, lover, friend, ex-husband, teacher, writer, human - only now from the point of view of a man facing his mortality and, worse, with no sex drive. At the core of the play is the serious question: What does it mean to be a man when the thing that defines manhood is gone?"

The August 6 by invitation only reading takes place at the SoHo Playhouse.


OTHER PEOPLE'S MONEY


FAMED PHOTOGRAPHER ANNIE LEIBOVITZ has been sued by Art Capitol Group who requests that Leibovitz be compelled to cooperate in the sale of her properties. The lawsuit was filed in New York State Supreme Court last Wednesday. Art Capitol Group is the art finance company which lent the famed photographer $24 million against the value of her entire collection and her properties. The lawsuit said that Leibovitz approached Art Capital in June 2008 about her "dire financial condition."

According to the court papers Leibovitz first obtained a $22 million loan from American Photography, which is held by Art Capital Group. Later that amount was increased to $24 million.

The breach of contract lawsuit accuses Leibovitz of "boldly deceptive conduct" and requests that the court compel her to grant real estate agents access to homes in Manhattan and in Rhinebeck, New York, so they can be sold and the money used to repay the loan.

"In connection with the negotiation of this $22 million credit facility, Leibovitz discussed and acknowledged that Leibovitz's fine art, intellectual property and real estate assets, all collateral for the loan, would likely need to be sold ... as part of the process of Leibovitz's financial restructuring," the lawsuit said. Since then, according to the lawsuit Leibovitz has refused to meet with parties interested in buying her collection of photographs and has refused access to her properties, in breach of her contract with Art Capital

In a statement, a spokesman for Leibovitz called the allegations "false and untrue."

MICHAEL JACKSON'S DOCTOR Dr. Conrad Murray, who is under investigation by the Drug Enforcement Administration, Los Angeles Police and the Las Vegas Metropolitan Police Department, had his Las Vegas home raided this week much to the consternation of the Red Rock Country Club's Home Owners Association. It seems some of the well heeled residents were accepting money from the press, to permit them entrance into the gated community and renting their homes to camera crews. The HOA called a meeting. From now on anyone caught getting their palm's greased by the press will be fined.



SAMMY

Sammy Davis, Jr. performing in Las Vegas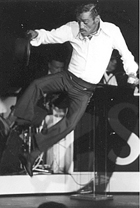 a new musical based on the life of Sammy Davis, Jr. with book, music and lyrics by double Oscar and Grammy winner Leslie Bricusse, and additional songs by Bricusse and Anthony Newley will open at the Old Globe theatre in San Diego on September 29. The production stars Emmy and Tony Award nominee Obba Babatundé as Davis.

David was a member of the famed Rat Pack which included Frank Sinatra, Dean Martin, Peter Lawford and Joey Bishop.

There are production about the Rat Pack as a group and for years rumors have circulated that separate Broadway productions would be mounted on the lives of Frank Sinatra and Dean Martin. However, this Davis vehicle is the first to actually make it to a stage.

. Directed by Keith Glover with choreography by Keith Young, the musical has music supervision by Ian Fraser. Star Babatundé was mentored by Davis.

"Casting is always critical, but for Sammy, you either get the right man or you do not attempt it, and we are incredibly fortunate to have found the perfect actor to play the role," said Old Globe executive producer Lou Spisto. "Obba has an abundance of the necessary performance skills, as well as a firsthand knowledge and understanding of both the professional and personal Sammy. He will add an immeasurable level of honesty to the portrayal of the great Sammy Davis, Jr."

The world premiere musical moves from Sammy Davis, Jr.'s days as a child working in vaudeville through his time with Frank Sinatra and Dean Martin as a member of the Rat Pack. Featuring the classic tunes that helped to make Davis an icon - The Candy Man; Mr. Bojangles and What Kind of Fool Am I - Sammy traces the highs and lows of the ultimate triple-threat singer, actor and dancer. Davis became one of the greatest performers of his generation, paving new ground while struggling with issues of identity, race and a turbulent personal life.

The Edgerton Foundation's New American Play Award was been granted to The Old Globe in support of the world premiere of Sammy. The $75,000 award allows for an extension of the rehearsal period. Launched in 2006, the Edgerton Foundation's New American Play Awards have provided 46 productions with the financial resources to increase rehearsal time with the full production team onsite.

JAY WHITE the talented Neil Diamond impersonator who headlines the Riviera Hotel in Las Vegas, is frequently seen with a mask over his face. He hasn't turned into an odd-ball Michael Jackson impersonator - rather White spends his free time as a hockey goalie. The Canadian born performer's first passion was to become professional an ice hockey goalie. By the age of 21 he had briefly appeared in a couple of semi-pro games of the IHL, where he returned in his late 30s as the practice goalie for the IHL Las Vegas Thunder from 1994-1998 and now with the Las Vegas Wranglers.

MY MOTHER'S ITALIAN, MY FATHER'S JEWISH & I'M IN THERAPY Written and performed by Steve Solomon.

One part lasagna, one part kreplach and two parts Prozac! Steve Solomon brings his award-winning Broadway show to the Mainstage of the Long Wharf Theatre in New Haven, CT for performances August 5 - 9 and August 19 - 30.

OLIVER! the stage musical by Lionel Bart, based on Charles Dickens' novel, Oliver Twist. Directed by Jerry Goehring.

Starring Broadway's Kevin Gray as Fagin and Aaron Serotsky as Bill Sykes plus Patrick Agonito as Oliver and Peter Charney as the Artful Dodger and featuring young actors from the Summer Musical Theatre Workshops.

Choreographed by Correy West, Musical direction by Leo P. Carusone.

On stage August 7-9 of the Edgerton Center for the Performing Arts on the Campus of Sacred Heart University in Fairfield, Connecticut.

OKLAHOMA Rodgers & Hammerstein's first collaboration remains, in many ways, their most innovative, having set the standards and established the rules of musical theatre still being followed today.

Directed by Robert Westburg. Music direction by Paul Linnes. Choreography by Sandy Brown.

Costumes by Janessa Jayne Styck. Set design and construction by Chris Chisom and bob Bryan.

Week-ends through August 30 at the Snoqualmie Falls Forest Theater in Fall City, WA.

The theater is a short walk through the 85-acre forested park, on a bark chipped trail, so patrons are advised to wear comfortable shoes. Seating for 250 is on stone benches but padded seat cushions are provided. Dinner prepared by "celebrity chefs" from the Seattle area is optional.

98th BAYREUTH FESTIVAL opened with a gala performance of Tristan and Isolde, attended by Germany's political and social elite.German Chancelor Angela Merkel was among the many guests welcomed by Eva Wagner-Pasquier, 64, and her half-sister, Katharina Wagner, 31, who this year have taken over the joint running of the legendary month-long festival dedicated to the works of their great-grandfather, Richard Wagner.

See Broadway To Vegas column of August 31, 2008

This year's opening performance was Tristan and Isolde, staged by Christoph Marthaler, with Robert Dean Smith as Tristan and Irene Theorin as Isolde. On Aug. 9, a Tristan performance will be broadcast live on the Internet and also screened live in a central Bayreuth square - moves championed by Katharina Wagner.

Tickets for the three cycles of the Ring were not sold individually but only as a complete cycle. Serving as Chorus Master is Eberhard Friedrich. Musical supervision by Berlin's Christoph Ulrich Meier.

Conducting the programs are Daniele Gatti, Peter Schneider, Sebastian Weigle and Christian Thielemann.

The musical assistants are:
Solo Répétiteur and Musical Assistants are Norbert Biermann, Berlin; Miles Clery-Fox, Toulouse; Florian Frannek, Leipzig; Thomas-Michael Gribow, Chemnitz and Jobst Schneiderat, Dresden. Solo Répétiteur and Musical Assistants are; Thomas Lausmann, Berlin and Christoph Stöcker, Schwerin.

Hartmut Keil, Frankfurt am Main, Musical Preparation Die Meistersinger von Nürnberg. Felix Krieger, Berlin, Musical Preparation Parsifal.
Carsten Meyer, Berlin, Musical Assistant Beleuchtungsansage. Jendrik Springer, Wien, Musical Preparation Der Ring des Nibelungen. Johannes Wulff-Woesten, Dresden, Musical Preparation Tristan und Isolde.

Alongside Tristan and Isolde, festival-goers are offered Katharina Wagner's own staging of Die Meistersinger von Nuernberg, now in its third year. Although the July 26th production was met with a roar of boos, Austrian tenor Norbert Ernst got raves as David as did German tenor Klaus Florian Vogt. US bass-baritone Alan Titus assumed the role of Hans Sachs and Viennese baritone Adrian Eroed is Beckmesser. German soprano Michaela Kaune was Eva, and compatriot Carola Guber was Magdalena. In the pit was German conductor Sebastian Weigle.

The festival, which runs through August 28, also features Tankred Dorst's Der Ring des Nibelungen; and Stefan Herheim's Parsifal.

GHOSTS by Henrik Ibsen. New adaptation by Anders Cato and James Leverett. Directed by Anders Cato.

Starring Randy Harrison as Oswald Alving, David Adkins as Manders, Mia Dillon as Mrs. Alving, Jonathan Epstein as Engstrand, Tara Franklin as Regina Engstrand.

A woman struggles to keep several terrible family secrets, the implication of which are only worsened by a puritanical Pastor, a lascivious son, and her own guilt-ridden, well hidden past. Full of dark symbols, Ghosts exemplifies Henrik Ibsen's uncanny ability to overturn Victorian social values by using them as the damning elements in his work.

August 11-29 in the Unicorn at the Berkshire Theatre Festival in Stockbridge, MA, which was founded in 1928, making it one of the oldest professional regional theatres in the United States and the longest-running cultural organization in the Berkshires. Now under the helm of Artistic Director and CEO Kate Maguire, BTF presents theatre that matters - world premieres, contemporary works, and classics that speak to who we are in our world today. The 408 seat Main Stage was originally designed and built by Stanford White as the Stockbridge Casino in 1888. The mission of BTF's second stage, the intimate 122 seat Unicorn Theatre is to provide a home for emerging artists and new theatrical ideas. During the summer months BTF opens its doors to over 75 administrative, acting, and technical interns and apprentices.

HELPFUL HINTS returns after a hit engagement last year.

Adapted by Susan Tischler from Mae Savell Croy's Putnam's Household Handbook published in 1916.

Susan Tischler also stars. Karen Case Cook directs.

Join Mrs. Croy as she explains everything from cleaning the stove and your clothes with kerosene, to leaving babies outside when they cry.

She also discusses architecture, invitations, and the sick room.

It's an evening that is both witty and wise.

Performances Thursday-Sunday August 6-23 at The Chalfonte Hotel, in Cape May, New Jersey.




WHO'S WHERE


BLACK EYED PEAS appear at the OC Fair in the Pacific Amphitheatre in Costa Mesa, CA. This Hip-hop group has set a new record for the longest successive stay at the top of the US Billboard Hot 100 singles chart by a duo or group. The 17-week run of Boom Boom Pow beats the two 16-week spells Boyz II Men spent at the top, first in 1994 and then in 1995/96. Usher holds the overall record, having enjoyed 19 weeks at the top in 2004.

TORI AMOS brings her tour to the Chicago Theatre in Chicago on Monday, August 3. On Tuesday she's on stage at the Riverside Theatre in Milwaukee. Wednesday finds her at the State Theatre in Minneapolis and on Friday she performs at the Murat Theatre in Indianapolis. She closes out the week Saturday with a show at the Detroit Opera House in Detroit.

MOTLEY CRUE on stage Monday, August 3, at the Usana Amphitheatre in Salt Lake City. On Tuesday the tour stops at Fiddler 's Green Amphitheatre in Englewood, CO. Wednesday they perform at the Journal Pavilion in Albuquerque, NM. Friday finds them at The Cynthia Woods Mitchell Pavilion in The Woodlands, TX. On Saturday they end their busy week with a show at Superpages.com Center in Dallas.

WEDNESDAY NIGHT AT THE IGUANA hosted by Richard Skipper and Dana Lorge. This coming Wednesday the show celebrates Skipper's thirtieth Year in New York. Guests include: Sandi Durell, Bobbie Horowitz, Carolyn Ohlbaum, Brent Winborn, and Yaffa - and a few other surprises as well. Barry Levitt on keyboard and Saadi Zain on bass. Each week showcases 5 entertainers. Other entertainers that show up will be inserted throughout the show as time permits - this is done by lottery! August 6 at Iguana VIP Lounge in New York City.

ROD STEWART singing rock and ballads on Tuesday, August 4, at the HP Pavilion in San Jose. Wednesday he is in the spotlight at the ARCO Arena in Sacramento. On Friday he performs at the White River Amphitheatre in Auburn, WA and on Saturday he can be enjoyed at General Motors Place in Vancouver, BC.

U2 continue their European tour with a stop Monday at the Veltins Arena in Gelsenkirchen, Germany. On Thursday they perform at the Stadionie Slaskim in Chorzow, Poland.

WILLIE NELSON is in Texas this week. On Tuesday he takes to the Dell Diamond stage in Round Rock, TX. Wednesday he'll be delighting his fans at Whataburger Field in Corpus Christi. Friday finds him at Quiktrip Park in Grand Prairie and on Saturday the show is at Jones AT&T Stadium in Lubbock.

PRESERVATION HALL JAZZ BAND takes part in the Shenandoah Valley Music Festival on Saturday, August 8, at the Shine Mont in Orkney Springs, VA.

CHRIS BOTTI doing a magnificent job of blowing his own horn does just that on Friday, August 7, at Tanglewood in Lenox, MA. On Saturday he'll repeat at Cape Cod Melody Tent in Hyannis, MA.

INDIA.ARIE entertains Monday, August 3, at the Riverplex Amphitheatre in W. Homestead, PA. On Wednesday she's in the spotlight at the Zoo Amphitheatre in Toledo, Ohio. Friday finds her at the Bank of American Pavilion in Boston and on Saturday she's on stage at the MGM Grand Theater in Mashamtucket, CT.

LYLE LOVETT has a busy week in California. He opens a two night stand on Tuesday, August 4, at The Mountain Winery in Saratoga. On Thursday he performs at the Golden State theatre in Monterey. Friday finds him at the Greek Theatre in Los Angeles and on Saturday the tour stops at the Performing Arts Center in San Luis Obispo.

PETER FRAMPTON participating in Rockin' The Rivers at the Festival Grounds in Three Forks, MT. Next Sunday he appears at the Montana Fair in Billings, MT.

DIANA KRALL performs Wednesday, August 5, at the Dodge Theatre in Phoenix. On Friday she's on stage at the Agua Caliente Casino in Rancho Mirage, CA and on Saturday she comes to Las Vegas for a show at The Palms.

JOURNEY brings their hits to the Century Tel Center in Bossier City, LA on Tuesday, August 4. On Wednesday the show is at the BOK Center in Tulsa and on Friday the tour stops at Winstar World Casino in Thackerville, OK.

JONAS BROTHERS will have the crowds screaming Monday, August 8, at the HP Pavilion in San Jose, CA. On Tuesday they are on stage at the ARCO Arena in Sacramento, Wednesday finds them at the Save Mart Center in Fresno, CA and on Friday they kick off a three night engagement at the Staples Center in Los Angeles.




FINAL OVATION


MERCE CUNNINGHAM the New York-based dancer died peacefully in his home of natural causes on Sunday, July 26, 2009, according to a statement from the Cunningham Dance Foundation. He was 90.

The choreographer was widely recognized for revolutionizing modern dance. He formed the Merce Cunningham Dance Company in 1953 and choreographed nearly 200 works for it. In June of this year Cunningham set up a legacy plan for the continuation of his work in the coming years.

Next Column: August 9, 2009
Copyright: August 2, 2009. All Rights Reserved. Reviews, Interviews, Commentary, Photographs or Graphics from any Broadway To Vegas (TM) columns may not be published, broadcast, rewritten, utilized as leads, or used in any manner without permission, compensation and/or credit.
Link to Main Page
---
Laura Deni


CLICK HERE FOR COMMENT SECTION