! >
Broadway To Vegas
  
 SHOW REVIEWS CELEBRITY INTERVIEWS GOSSIP NEWS

| | |
| --- | --- |
| | |
ELVIS PRESLEY WEEK, STAR TREK AND WOODSTOCK - - TOO CLOSE TO THE SUN - - MEDALS OF DISHONOR - - PATRONS URINATE NEAR THE STAGE SO LONDON THEATRES HIRE BOUNCERS - - GEORGE CLOONEY CAN LIVE IN PEACE BUT BROADWAY IMPRESARIOS GET TO LIVE IN JAIL - - JANE FONDA, LIAM NEESON, RALPH FIENNES, ASHTON KUTCHER AND DEMI MOORE - - B.D. WONG IN HERRINGBONE - - ANOTHER AWARD FOR MARVIN HAMLISCH - - DONATE . . . Scroll Down


ELVIS PRESLEY, STAR TREK AND WOODSTOCK


Fans of Elvis Presley, Star Trek and Woodstock are having a busy week.

This is the last Elvis Presley Week before the new Elvis themed Cirque show opens in Las Vegas - so Vegas is a major player in Elvis Presley Week, which began yesterday at Graceland and lasts through August 18.

Events include scavenger hunts, Gospel Breakfasts, film fests, the 27th Annual Elvis Presley Run, Walk, Rock & Roll benefiting United Cerebral Palsy of the Mid-South and the famous Candle Vigil.

Conversations On Elvis are slated for Saturday at the Cannon Center for the Performing Arts. Two sessions take place with the first centered on Presley and his recording studio days, while the second session focuses on Presley and Las Vegas. Both sessions will be hosted by Tom Brown of Turner Classic Movies. Participants in the first session include; The Memphis Boys and Chips Moman, joined by Ernst Jorgensen.

Taking part in the second session are; Joe Moscheo of Elvis' Imperials, James Burton of the TCB Band, singer Millie Kirkham and journalist Gloria Greer. In addition, Ken Sharp, author of Elvis: Vegas '69, will also appear as a special guest at the event.

While there is a Cirque website about the new Elvis show, those attending are promised that they will not only hear all about Elvis in Vegas in 1969, but will be the first to learn details of the new Elvis in Vegas 2009 show - in a spectacular performance presented by Cirque du Soleil. In collaboration with Elvis Presley Enterprises, CKX, Inc. and MGM Mirage, the show is billed as "destined to be the star attraction at the Las Vegas Strip's newest mega-resort, ARIA Resort & Casino at CityCenter, due to open in December 2009."

Cirque du Soleil Executive Producer Stéphane Mongeau, Director of Creation Armand Thomas and Production Manager Mike Anderson will give an exclusive first look at the new creation.

On Friday it's the Celebration Concert at the Cannon Center for the Performing Arts. 40 years after Elvis Presley triumphantly returned to the stage at the International Hotel in Las Vegas, many of the original cast will reunite for a concert celebration.

Performers currently scheduled to participate include; Joe Guercio, Elvis' orchestra conductor for many of his Vegas performances; The TCB Band members James Burton, Ronnie Tutt, Jerry Scheff and Glen D Hardin; Elvis' back up singers The Imperials, including Joe Moscheo, Terry Blackwood, Sherman Andrus and Gus Gaches, The Sweet Inspirations, including Myrna Smith, Estelle Brown, Portia Griffin, and Millie Kirkham. Additional vocals will be provided by Terry Mike Jeffrey and Andy Childs.

Elvis tribute artist contests are always a high point. Winners will take part August 11 in the Peabody Hotel's famous Duck March. ETAs from all over the world will help the Duckmaster escort The Peabody Ducks along the red carpet from the lobby fountain to their rooftop suite.

The Duck March is a big deal.

The Peabody Ducks are almost as famous as Elvis.

Back in 1933 Frank Schutt, General Manager of The Peabody, and a friend, Chip Barwick, returned from a weekend hunting trip to Arkansas. The men had a little too much Jack Daniel's Tennessee sippin' whiskey, and thought it would be funny to place some of their live duck decoys - it was legal then for hunters to use live decoys - in the beautiful Peabody fountain.

Three small English call ducks were selected as "guinea pigs," and the reaction was nothing short of enthusiastic. Soon, five North American Mallard ducks would replace the original ducks.

In 1940, Bellman Edward Pembroke, a former circus animal trainer, offered to help with delivering the ducks to the fountain each day and taught them the now-famous Peabody Duck March. Mr. Pembroke became the Peabody Duckmaster, serving in that capacity for 50 years until his retirement in 1991. Today, The Peabody Ducks are led by Duckmaster Jason Sensat.

The original ducks have long since gone, but after 75 years, the marble fountain in the hotel lobby is still graced with ducks. The Peabody Ducks march at 11 a.m. and 5 p.m. daily.

The Peabody Ducks have been a must-see Memphis attraction for Lisa Marie Presley, Michael Jordan, Nicholas Cage, Priscilla Presley, Don King, President Jimmy Carter, Faith Hill and Tim McGraw, Justin Timberlake, and Jeff Bridges.

In addition, Patrick Swayze, Oprah Winfrey and Gayle King, Florence Henderson, Emeril Lagasse, Joan Collins, Molly Ringwald, Chris Matthews, Paula Deen, Larry King, and Kevin Bacon have been Honorary Duckmasters.

For those who might become worried as to what happens should a duck accidentally waddle near a kitchen - fear not. Duck is not served anywhere at The Peabody, and has not been seen on the hotel's menus since its 1981 reopening, quite possibly making Chez Philippe the only French restaurant in the world that does not serve duck.

When off-duty from the Lobby, the ducks live in their Royal Duck Palace on the hotel's rooftop. The Peabody Marching Ducks have appeared on The Tonight Show with Johnny Carson; Sesame Street, when Bert and Ernie celebrated Rubber Ducky Day, The Oprah Winfrey Show, and in People magazine and the Sports Illustrated Swimsuit Issue. In addition, they were once a question on Jeopardy.

Star Trek Convention in Las Vegas

Christopher Lloyd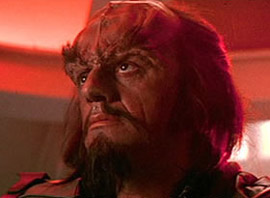 opened last Thursday at the Hilton Hotel and continues through today. It's the world's largest Star Trek convention and all of the usual suspects are in attendance - Klingons, plus special guests. Christopher Lloyd is making his first Star Trek convention appearance. In addition to appearing as Cmdr. Kruge in Star Trek III, Lloyd was Dr. Emmett Brown in Back to the Future, Uncle Fester in the Addams Family films and Judge Doom in Who Framed Roger Rabbit.

Leonard Nimoy is on board as is Zachery Quinto who picks up the mantle of Mr. Spock where Nimoy left off and Jacob Kogan who portrayed Young Spock - for the first time on the same stage the three actors who have appear as Spock in the film. William Shatner is always a favorite. Joining Shatner are Jonathan Franks, Bret Spiner, executive producer Brannon Braga, Colm Meaney, Laurence Luckinbill, Dominic Keating, Robert Beltran, Co-Executive Producer Manny Coto, George Takei, Connor Trinneer, Vaughn Armstrong, Anthony Montgomery, Tony Todd, Ethan Phillips, Hallie Todd, Jacqueline Kim, John Billingsley, Michael Dorn, Robert Picardo, Cirroc Lofton, Sarbina Scharf, Tim Russ, William Morgan Sheppard, Rene Auberjonois, Roxann Dawson, Armin Shimerman, Max Grodenchik, Stephen Collins, Suzie Plakson, Marc Alamo, Linda Park, Jeffrey Combs, Gary Graham, Spice Williams-Crosby, J.G. Hertzler, Susan Howard, Robert O'Reilly, Elizabeth Dennehy, Casey Biggs, John Schuck, Lee Meriwether, Carolyn McCormick, Chase Masterson and Alex Henteloff.

The famous Creation Entertainment Costume Parade Competition is always a highlight of the convention.

40th Anniversary Celebration of Woodstock also begins this week. The original Woodstock festival was held from August 15-18, 1969, on a 600 acre farm located in the rural community of Bethel, New York.

More than half a million fans and 32 musical performers peacefully gathered for the historic free concert event - the iconic Woodstock made its mark on rock history.

The 40th Anniversary celebration called The Heroes of Woodstock, takes place from August 15-18.

Featured are eleven original performers who have joined together to tour the world in celebration of and in tribute to The Original Three Days of Peace and Music that occurred at Yasgur's Farm in Bethel, NY.

Participating in the Friday concert are; Jefferson Starship, the Levon Helm Band, Canned Heat, Ten Years After, the Grateful Dead's Tom Constanten, Big Brother and the Holding Company, and Country Joe McDonald. They will appear at the Bethel Woods Center for the Arts, which was built on the original site.

On August 17 Susan Reynolds, editor of Woodstock Revisited, which is a compliation of first-person accounts from Woodstock, will be joined by contributors to the book.

They will read excerpts from the book, answer questions from the audience, and sign copies of the book.

Taking part are; Catherine Hiller, Anita Winder, Sandy McKnight, Lou Mello, Bob Brown, Sandy List, Colleen Plimpton, Vinny Stefanelli, Scott Munroe, Rozanne Reynolds, Michele Hax.


TOO CLOSE TO THE SUN - SO TERRIBLY AWFUL THERE MAY BE A CULT FUTURE


Attack of the Killer Tomatoes and Carrie. Two dreadful creations which were so bad they turned into cult hits. Now there is a new kid on the block. Those that saw the recently departed production Too Close to the Sun are part of a select fraternity to witness something so bad - it's entertaining.

Too Close To The Sun is suppose to be a dramatic musical based on the final days of Ernest Hemingway. With a book by Roberto Trippini based on a play by Ron Read, and music and lyrics by Trippini and John Robsinson - the dubious production opened in London's West End on July 24 to some of the worst reviews in history.

Sets and costumes were designed by Christopher Woods. Directed by Pat Garrett, the production stared James Graeme as Hemingway, Helen Dallimore as Mary and Tammy Joelle as the secretary. Her performance was reviewed as "sings in a manner best appreciated by canine members of the audience, and generally seems to be auditioning to understudy the lead in Legally Blonde.

Leaving the disaster scene early was Jay Benedict, who was playing Hemingway's friend Rex. He jumped ship before last week's press performance.

The play covers the final three days of the Nobel prize-winning author's life, as he lusts after his nubile secretary before shooting himself in the head with a shotgun



James Graeme as Ernest Hemingway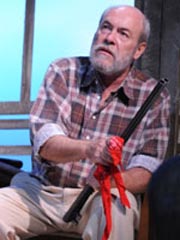 In Too Close to the Sun Hemingway "pours out his heart in song, he tells snappy jokes, does a cheerleader routine and races around his revolving Idaho ranch house. Small wonder the audience is amused when his wife, Mary, observes: "That electro-shock treatment was a disaster,'" panned The Independent.

If you weren't one of the few to personally experience this disaster - the blog comments are delightfully entertaining. Posts on The Independent and toguezentradi include:

"When it comes down to it, whoever thought it was a good idea to make a musical about Ernest Hemingway committing suicide should themselves be shot. Go and see this horrific gem of a show. You'll want to say you did in years to come, trust me. But make sure you load up on booze before you even start, or you won't make it as far as the interval."

"This was an unintentional comedy, with the audience sniggering through both acts. The majority left at the interval, and those who did remain had to self-medicate to make it through the remaining 12(!) songs, including yours truly."

"It's rare that such a disaster opens in the West End, and Too Close To The Sun is certainly an amusing disaster to watch as it descends further and further from shocking to abysmal to 'oh no they didn't' and beyond."

"It's tacky, ugly, and the must-see disaster of the year"

"I went to see this Thursday night and needed three gin's to fortify my return the interval. The composer got into a fight with someone at the interval who had told him that it was the worst thing he'd ever seen. 'I suppose you could do better?'
'Yeah, I could,' was the most entertaining exchange of the whole night."

"On one night when one of the cast members shouted the line 'Enough,' one member of the audience was heard to shout back 'quite!'"

"You'll love it for all the wrong reasons."

Originally booking for eight weeks, through September 5, the show closed six weeks early, ringing down the curtain last night, August 8.



Broadway To Vegas is supported through advertising and donations. Priority consideration is given to interview suggestions, news, press releases, etc from paid supporters. However, no paid supporters control, alter, edit, or in any way manipulate the content of this site. Your donation is appreciated. We accept PAYPAL.