! >
Broadway To Vegas
  
 SHOW REVIEWS CELEBRITY INTERVIEWS GOSSIP NEWS

| | |
| --- | --- |
| | |
ARIA OPENS IN LAS VEGAS - - ACADEMY AWARD NOMINEE KEIRA KNIGHTLEY MAKES STAGE DEBUT - - YO YO MA NAMED CREATIVE CONSULTANT TO THE CHICAGO SYMPHONY ORCHESTRA - - ALEC BALDWIN DONATES $1 MILLION TO NYU - - JASON ALEXANDER TO BRING ONE-MAN SHOW TO LAS VEGAS - - PAMELA ANDERSON ON STAGE IN LONDON - - COLDPLAY AND ELTON JOHN AUCTION FOR CHARITY - - GABRIEL OROZCO EXHIBITION - - DONATE . . . Scroll Down


ARIA OPENS IN LAS VEGAS - HEAVY ON CUSTOMER SERVICE WITH AN EYE TOWARDS THE AFFLUENT ASIAN
CityCenter. Photo by Laura Deni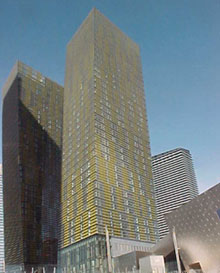 Aria, the one in Las Vegas, not the 5-star one in Prague, nor the family owned one in Samos, officially opened last Wednesday. This is the ultra-modern, high-tech flagship hotel and casino of CityCenter's $8.5 billion, 67-acre, multi-tower project on the Las Vegas Strip.

177,000 job applications were received to fill the 12,000 openings. The joint boasts a $40 million art collection, fifteen giant works of art and about 10 smaller creations which are located throughout CityCenter's 67 acres, as are 182,000 plants. If you're hungry the facility has on hand 7,000 pounds of fresh tuna and 500 live lobsters. Serious poker players will rejoice - available for your buy-in are $117 million in poker chips.

This is also the place where Viva Elvis, still a-work-in-progress, is slated to open - eventually.



Aria likes an Elvis wrap. Photo by Laura Deni
Construction problems have delayed the planned gala opening on January 8, which would have been Elvis' 75th birthday. The curtain is now set to officially be raised on February 19.

The Aria unveiling generated more media focus than usual for Vegas openings, thanks to this being the largest private-sector development ever built in the United States, and the partnership between MGM-Mirage and Dubai World.

The complex utilizes aroma therapy, infusing the air with just the right "notes." While architecturally the use of glass and marble has created bold, dramatic, edgy structures, inside the feeling is comfortable. There is no urge to get out of the place or hurry along the stay.

Impressive and stylish, it's an optical illusion that makes one think the top of the buildings are in an arc, about to topple over. The complex is built on a firm foundation.

What is built like a house out of chopsticks is the total dependency upon wealthy Asian customers - the same crowd that was ridiculed 40 years ago.



Customers enter Aria. Third from the left is a woman being pushed in a wheel chair. Many customers in wheel chairs (not together) were at the hotel and none reported a bad experience. Photo by Laura Deni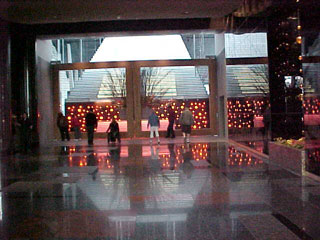 At that time Asian families lived three generations in one small apartment, bought just the basic necessities, and paid cash for whatever they purchased. Everyone in the family worked and the family lived off the earnings of one meager paycheck, while saving and investing the other pay checks.

That was at the same time Americans were on the Keeping Up With the Jones spending spree, having discovered easy access to credit cards.

Americans whispered about Orientals who excelled in math but did "sneaky' things with money - that would be saving and investing.

Today, the Las Vegas economy is held in those Oriental hands.

CityCenter has bet the farm, and the future of Las Vegas, that this feng shui, behemoth venture will attract Asian grandchildren on a spending spree, making up for what their parents never experienced.

CityCenter is not embarrassed to admit they cater to the high end tourist.

However, from the courteous way everyone is treated, the entire complex prides itself on being customer friendly. Several patrons were in wheel chairs and expressed no problems.

By no means is this your run of the mill mom and pop run motel.



Unique bar in the Crystals Shopping Plaza. The bar section is on the bottom floor and the lounge area is on the second level. Photo by Laura Deni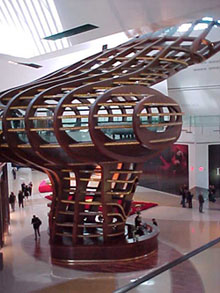 When completed customers can walk into the lounge area of the bar from the second floor. Workers are still scrambling to complete some areas. Photo by Laura Deni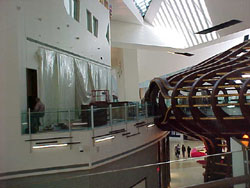 The place is designed for the mega - be it energy, youth, label conscious, first on your block to have the latest high tech toy, and those who viewed the economic downturn as a buying opportunity.

People who assert they were trying to create New York City in the middle of Sin City's Strip are talking rubbish.

New York City has a certain attitude, the In-A-New York-Minute lifestyle where people know where they are going and how to get there. In The Big Apple museums and hot dog carts are patty melted into an intellectual sandwich that can neither be copied not cloned.

Las Vegas has its own personality, which those behind CityCenter have the courage and creative vision to view as a marketing potential.

If you thrive on high-end tech toys, space age engineering, and desperately need to drop the name Aria during your participation at the next 30-second speed dating party, this is your Las Vegas home. Geared for customers whose companies are paying the bill, rather than the family trade, CityCenter intends to change the way Las Vegas operates.



Aria's registration area. The floors polished to the point that reflections look like art. Photo by Laura Deni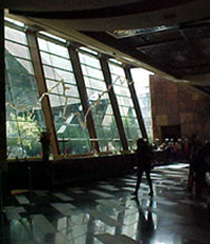 Las Vegas has always had high end suites, and for the last couple of decades more than one elegant restaurant. Top-of-the-line stores have found a toe-hold in Vegas, although many of those platinum logos were selling the goods in a space about the size of a living room.

The size of the high end, status label store going from Vegas tiny boutique to flagship store, is a major development. Cartier has leased enough space to surpass their Beverly Hills location. The personnel came from the small Cartier boutique in Caesars Palace with a few sales associates transferring over from Wynn.

At the moment, this Cartier carries some accessory items - such as scarves, belts, purses, small leather goods, but the plan is to expand. What is still lacking are technicians. I discovered that to get a new battery for my old Cartier watch, the Vegas store sends the watch out of town.

Store personnel indicated they hope "within a few years" to have a technician on the premise.

The fact that my watch is one of their most inexpensive time pieces did not elicit pity or scorn. Nor did they mention that most of their customers buy pricier items. The entire staff was charming and helpful.

Within the first hour of opening, store officials reported that sales were made. The first Cartier sale was from a woman who came to Las Vegas celebrating her birthday. She was thoroughly enjoying her natal day festivities and purchased a $4,000 item.

Tiffany & Co is a multi-floor store - but don't think New York, just yet. Very limited on china and crystal, so no floor with elegantly arranged tables, ala New York.

Like Cartier, they don't have a repair person on the premise. To get a clasp fixed on my Tiffany bracelet, they sent it bye-bye. Years ago I'd had a bad experience getting the clasp fixed on another Tiffany bracelet. Any off-putting situation lingers. I was assured that this time I'd be happy with the results.



The shop till you drop crowd can relax in the courtyard between Aria and Crystals Shopping Plaza, which has benches and red umbrella tables and chairs. Photo by Laura Deni
New salesclerk Jackie, who is thrilled to be working for Tiffany, looks at the company as a long term career, rather than just a job. She's proud that so many of her-co-workers have been at the blue box store for years. As a novice, she was sent to New York City for 10 days of training.

For customers who have to wait for any processing, both Cartier and Tiffany personnel were quick to offer bottled water, orange juice, cookies, champagne and - one Tiffany employee asked if he could interest me in a rack of lamb, vouching that it was delicious as he had just had some.

Aria hotel registration areas have assorted sofas, chairs and benches. Outdoor points of interest such as a tree-lined courtyard between Aria and Crystals Shopping Plaza have umbrella tables with chairs, and numerous benches.



Reclining Connected Forms by Henry Moore using Roman Travertine Marble. Photo by Laura Deni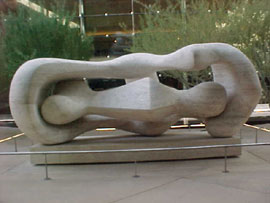 Curated by Michelle Quinn, art created by such names as Tony Cragg, Nancy Rubins' Claes Oldenburg, Robert Rauschenberg, Anthony Caro, Maya Lin and Henry Moore are throughout the property.

Tourists were not only looking at the sculptures but taking the time to read the descriptive plaques.

When Viva Elvis finally opens, Aria will be the Mecca that all who worship everything Elvis will have to visit at least once. While no Elvis watches encrusted in diamonds were seen, it is presumed that for the right amount of money, one could be made.

At the same time Aria opened, the Sahara Hotel announced it was "temporarily" closing two of its three hotel towers - due to low occupancy.



Broadway To Vegas is supported through advertising and donations. Priority consideration is given to interview suggestions, news, press releases, etc from paid supporters. However, no paid supporters control, alter, edit, or in any way manipulate the content of this site. Your donation is appreciated. We accept PAYPAL. Thank you for your interest.


ART AND ABOUT


GABRIEL OROZCO With a body of work that is unique in its formal power and intellectual rigor, Gabriel Orozco (Mexican, b. 1962) emerged at the beginning of the 1990s as one of the most intriguing and original artists of his generation - and one of the last to come of age in the twentieth century. Orozco resists confinement to a single medium, roaming freely and fluently among drawing, photography, sculpture, installation, and painting. From one project to the next, he deliberately blurs the boundaries between the art object and the everyday environment, instead situating his contributions in a place that merges "art" and "reality," whether in exquisite drawings made on airplane boarding passes or in sculptures made from recovered trash.

Many of Orozco's works - which are often created specifically for the occasion of an exhibition—have become indisputable classics of 1990s art, such as the Citroën automobile surgically reduced to two-thirds its normal width (La DS, 1993) and a human skull covered with a graphite grid (Black Kites, 1997). This exhibition presents many of these works for the first time in New York, alongside rich selections of work from Orozco's vast body of smaller objects, paintings, and works on paper.

The exhibition in New York will be followed by presentations at Kunstmuseum Basel, April 18-August 10, 2010; Musée national d'art moderne, Centre Georges Pompidou, Paris, September 15, 2010-January 3, 2011; and Tate Modern, London, January 19-April 25, 2011.

The exhibition is organized by Ann Temkin, Marie-Josée and Henry Kravis Chief Curator of Painting and Sculpture, with Paulina Pobocha, Curatorial Assistant, Painting and Sculpture, The Museum of Modern Art. Through March 1, 2010 at MoMA, NYC.





SPREADING THE WORD


THE FABULOUS PALM SPRINGS FOLLIES was all a flutter when Julian McMahon, best known for his portrayals of Cole Turner in the WB hit series Charmed and the womanizing plastic surgeon Christian Troy on the Emmy and Golden Globe award-winning FX series Nip/Tuck, recently attended a performance with his lady, model Kelly Paniagua.

The long-legged Follies' cast members were surprised to learn that McMahon's late father, Sir William McMahon, was prime minister of Australia.

Las Vegas resident Susan Anton is currently starring in The Fabulous Palm Springs Follies which has special holidays shows through New Year's Eve.

PAMELA ANDERSON the Baywatch babe and Playboy centerfold has brought her pout and other attributes to London, appearing as Genie of the Lamp in the panto production of Aladdin, at New Wimbledon Theatre. Critics have bestowed kudos upon her for being a good sport, likeable and, at age 41, being able to carry off wearing a titillating red costume and rhinestone platform heels. Her ability to speak was criticized, but nobody should be expected to do everything.





OTHER PEOPLE'S MONEY


ALEC BALDWIN

Alec Baldwin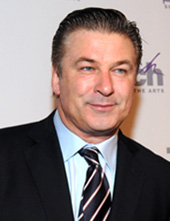 has donated $1 million to New York University to establish a drama scholarship at the Tisch School of the Arts Baldwin is an alumnus of the school.

"The support I received from Tisch made it possible for me to become an actor and to have a career in this business," said Baldwin. "It's important to give back to the institutions that give us such opportunities, and I encourage anyone to look into supporting their alma mater."

Scholarship recipients will be named the Alec Baldwin Drama Scholars. " I believe that in addition to excellent training, achievement of one's goals in the performing arts requires an unwavering work ethic, development of leadership skills, willingness to collaborate, the ability to tolerate risk, and the capacity to work with constructive criticism," added Baldwin.

Beginning in September 2010, the endowed fund will provide tuition assistance to students who best exhibit these characteristics, and are also in good academic standing, and demonstrate financial need. Special consideration will be given to students from economically disadvantaged families or who are the first in their families to attend a college or university.

Tisch is considered one of the nation's leading centers of undergraduate and graduate study in the performing, cinematic, and recording arts.


BABY, IT'S COLD OUTSIDE; SNOW FORCES PERFORMANCE CANCELLATIONS - OR NOT


If you live where there is a blizzard, a good guess might be that staged shows have been cancelled - bowing to throwing snowballs, building snowmen and riding sleds.

Unless you're the National Theatre of Washington, DC.

"The Show Must go On!" is their attitude.

"We virtually never cancel a performance for any cause and have not cancelled due to inclement weather in the past 20 years. If in doubt, call the theatre at 202-628-6161. Actors and other theatre staff know that they must be on duty regardless of weather conditions. Refunds are not made on the basis of the patron's inability to get to the theatre. In the almost unheard of event that the show is not performed (due to some major truly catastrophic event such as a power black-out in the downtown area), patrons would, of course, be given tickets to another performance."

In some instances, what flies into Vegas, stays in Vegas. Several flights meant to have left Las Vegas Saturday for points East didn't take off. In The Windy City, hundreds of people spent the night at Chicago's Midway Airport, where all 82 flights Friday evening were canceled as the thick fog rolled in. There were also more than 400 flight cancellations at O'Hare International Airport, the nation's second busiest.


SWEET CHARITY


COLDPLAY is staging an End of Decade Clearout Sale in which the group is auctioning off items from their ten year career. Up for bid are guitars, keyboards, amps, posters, platinum discs and a globe. Proceeds go to the charity Kids Company. In a statement on their official website the band said: "All items will either be signed by the four of us, or accompanied by a certificate of authenticity, again signed by all of us." The auction ends New Year's Eve.

OUT OF THE CLOSET is how Elton John tagged his high class rummage sale which took place at Covent Garden's Flower Cellar in London. Out the Closet 2009 is the fourth such event organized by the Elton John AIDS Foundation.

The vast flamboyant wardrobe of clothes and accessories contained designer labels Prada, Dior, D&G and Jean-Paul Gaultier and the extravagant creations of the late Gianni Versace. Prices in the sale ranged from $18-$3570. Elton John's stage costumes were sold through sealed bids.



WINNERS The 2 lucky readers who have won Handel's Messiah Rocks CD and DVD courtesy of Sony Classical and Integrity Music. See Broadway To Vegas column of December 13, 2009 are: Ian Randolph - Boston, MA and Tammy Kim - Honolulu, Hawaii.

YO YO MA has been named as the first Judson and Joyce Green creative consultant to the Chicago Symphony Orchestra, for a three-year term, which begins in January. In that position Ma, 54, will work with music director designate Riccardo Muti, CSO staff and orchestra musicians to develop broader ties between the orchestra and the greater Chicago community, particularly incarcerated and at-risk youth. Muti's five-year contract begins in September.

Ma will join in developing and implementing several new initiatives, projects and music series under auspices of the CSO's education and outreach wing - the Institute for Learning, Access and Training.

Shortly after the Chicago position was announced, Ma was named Musician of the Year by Musical America at a Lincoln Center event in New York City.

WICKED the Tony Award winning musical by Stephen Schwartz and Winnie Holzman became the 20th longest-running show in Broadway history on December 15 when it played its 2,535th performance at the Gershwin Theatre.

NEW ROCK HALL OF FAME INDUCTEES FOR 2010 INCLUDE; ABBA, Genesis, Jimmy Cliff, The Hollies and The Stooges. Also being inducted this year as individual recipients of the Ahmet Ertegun Award will be David Geffen and songwriters Barry Mann, Cynthia Weil, Elle Greenwich, Jeff Barry, Jesse Stone, Mort Shuman and Otis Blackwell. The ceremony will take place on March 15, 2010 at the Waldorf Astoria in New York City.

DOUGLAS J. COHEN has received York Theater Company's 2009 Noël Coward Prize. Cohen penned the musical The Gig, and was singled out as a "triple threat" theatre writer - one who authors book, lyrics and music for a new musical.

The York Theater Company, which is endorsed by the Noël Coward Foundation, administers the award that is presented as part of a celebration honoring the birthday of Noël Coward. A concert of Coward's music also took place during the December 16 event.

The adjudicating panel for the Noël Coward Prize included Nancy Ford, John Kander, Richard Maltby, Mel Marvin, Brian Murray, Susan H. Schulman and Tony Walton.

GREASE the West End production celebrated its 1,000 performance on December 16. Grease opened at the Piccadilly Theatre in July 2007, and is now the longest-running show in the venue's history.


WEDDING ANNIVERSARY


STEVE & EYDIE celebrate their 52nd wedding anniversary on December 29. The singing duo, who call Las Vegas home, were married on December 29, 1957, in the Las Vegas home of their boss at that time, Beldon Katleman - then the owner of the El Rancho hotel-casino.



JASON ALEXANDER

Jason Alexander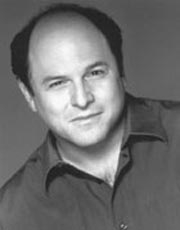 the Tony-Award winning multi-talented and delightfully hilarious stage and screen star, who is also a celebrity poker player and serves as the artistic director of the Reprise Theatre Company in Los Angeles, will bring his one-man show The Donny Clay Experience to the Las Vegas Planet Hollywood. Dates are set for Feb. 11-14, Feb. 25-28, March 4-7 and March 11-14, 2010.

Alexander has created a comic motivational speaker named Donny Clay, who performs at corporate retreats. In a legitimate Speakers Bureau pitch for corporations to actually book Alexander as Clay the release reads:

"This unique comedy show is presented as a motivational//inspirational seminar. However, it is actually a hysterical send-up of the Tony Robbins/Deepak Chopra/Dr. Phil milieu.

"The show consists of comedy bits, both live and filmed; musical numbers; magic and some actual techniques in various fields of business or interpersonal relations. Each show is adapted to the buyer. Specific references to the organization or business are made; in house personnel are employed in bits and the whole experience feels as if it was created specifically for you. Enormously funny and entertaining, there is no other presentation like this anywhere."

Fake endorsements include:

"He wasn't half bad" – American Society of Optimists

"He works cheaper than Tony Robbins" – Actuarial Supervisors, Putnam County

"I don't know what he was talking about but it was clear that he did" – Vern Klass, Superintendent, Bucks County Board of Education

ROPE Patrick Hamilton's 1929 play, which is directed by Roger Michell.

Starring Bertie Carvel as Rupert Cadell, Emma Dewhurst as Mrs. Debenham, Michael Elwyn as Sir Johnstone Kentley, Henry Lloyd Hughes as Kenneth Raglan, Blake Ritson as Wyndham Brandon, Alex Waldmann as Charles Granillo and Phoebe Waller-Bridge as Leila Arden.

Inspired by the real life murder of a young boy in 1920 by two University of Chicago students, Leopold and Loeb, the dark classic Rope presents a chilling anatomy of an apparently motiveless murder, and a brilliant snap-shot of a jazz age generation wallowing in privilege, booze, parties, a shallow obsession with fashion and films and a desperate inner emptiness.

Set in an apartment in London's Mayfair, Wyndham Brandon (Ritson) and Charles Granillo (Waldmann) have murdered fellow student Ronald Kentley and deposited his body in a chest in their living room. Believing they are above suspicion and common morality they invite the student's father, his aunt and several of their friends over for tea, served on the chest.

Set design by Mark Thompson; lighting by Rick Fisher and sound by John Leonard.

Performances through February 6, 2010 at The Almeida Theatre in London.

AURELIA'S ORATORIO written and directed by Victoria Thierree Chaplin.

Victoria Thierrée Chaplin, along with her husband Jean Baptiste Thierrée, created Cirque Bonjour, Cirque Imaginaire and Cirque Invisible, innovative troupes that inspired Cirque du Soleil.

Aurélia's Oratorio, where the impossible happens before your eyes. The production has charmed audiences around the world with its dazzling display of stage illusion. Behind her velvet curtain lies a surreal world of surprises, a topsy-turvy time of tricks and transformations. With dancing, puppetry, acrobatics and more, Aurélia's Oratorio is an inventive adventure set to a quirky score of chamber music and gypsy jazz. A 70-minute spectacle, a concoction of mystery and fantasy for the whole family.

Through January 24, 2010 in the Roda Theatre of Berkeley Rep in Berkeley, CA.

THE MISANTHROPE Martin Crimp's new version of the Moliere classic. Directed by Thea Sharrock.

Starring Academy Award nominee Keira Knightley, who is making making her professional stage debut in this production. She told BBC Radio 4's Today program why she had decided to appear on stage; "I thought if I don't do theatre right now, I think I'm going to start being too terrified to do it," she said. "So I just thought, okay, dive in and give it a go."

She is joined by Damian Lewis, Tara Fitzgerald, Dominic Rowan, Tim McMullan, Chuk Iwuji, Kelly Price and Nicholas Le Prevost.

Set in modern London, Alceste (Lewis) is a famous British playwright disillusioned and angry with the hypocrisy, shallowness and vanity of the contemporary world. Vowing to reject society, Alceste's plans are derailed when he falls madly in love with Jennifer (Knightley). An ambitious American film star and darling of the social scene, she may prove to be his biggest challenge yet.

Set design by Hildegard Bechtler, with costumes by Amy Roberts, lighting by Peter Mumford and sound by Ian Dickinson for Autograph.

Performances through March 13, 2010 at West End's Comedy Theatre in London.





WHO'S WHERE


BOY GEORGE-UP CLOSE AND PERSONAL having written the score for the musical Taboo, the star is set to return to the Leicester Square Theatre in London for an intimate up close and personal run of acoustic gigs December 20-30, before he embarks on a European tour in 2010.

PAUL McCARTNEY on Tuesday, December 22, brings his talent to the O2 in London.

WEDNESDAY NIGHT AT THE IGUANA with hosts Dana Lorge and Richard Skipper. This special Christmas show finds Barry Levitt on keyboard and Saadi Zain on bass. Guests include: Frank Basile, Esther Beckman(joined by Marcus Simione),As The world Turns' Eileen Fulton See Broadway To Vegas column of November 22, 2009, Sunny Leigh, George Stella, Jill Melanie Wirth and a few other surprises. December 23 at the Iguana VIP Lounge in NYC.

MILEY CYRUS opens a two nighter Tuesday, December 22 at the LG Arena in Birmingham, England. Next Sunday she performs at the Evening News Arena in Manchester, England.

BRIAN SETZER ORCHESTRA on stage Tuesday, December 22, at the Table Mountain Casino in Friant, CA. On Wednesday they are in Las Vegas at The Joint. On Saturday they open a two night stand at the Wells Fargo Center for the Arts in Santa Rosa, CA.

SMOOTH JAZZ CHRISTMAS with Dave Koz, Rick Braun, David Benoit, Brenda Russell and Peter White entertain Tuesday, December 22, at the Mesa Arts Center in Mesa, AZ, On Wednesday they are in the spotlight at the Gibson Amphitheater in Universal city, CA.

GEORGE WINSTON opens a two nighter Monday, December 21 at Crossings At Carnegie in Zumbrota, MN.

PRESERVATION HALL JAZZ BAND performs Tuesday, December 22 at The Granada in Santa Barbara, CA. On Wednesday the group will be at the Walt Disney Concert Hall in Los Angeles.

SWEET HONEY IN THE ROCK in the spotlight Tuesday, December 22 at Walt Disney Concert Hall in Los Angeles.

ANDRE RIEU being a two night engagement Tuesday, December 22 at the Ethias Arena in Hasselt, Belgium.

LADY GAGA brings her unique talent to the Nokia Theatre in Los Angeles beginning Monday, December 21 for a three night gig.











Next Column: December 27, 2009
Copyright: December 20, 2009. All Rights Reserved. Reviews, Interviews, Commentary, Photographs or Graphics from any Broadway To Vegas (TM) columns may not be published, broadcast, rewritten, utilized as leads, or used in any manner without permission, compensation and/or credit.
Link to Main Page
---
Laura Deni



U.S. Postal Address: Post Office Box 60831, Las Vegas, NV 89160
CLICK HERE FOR COMMENT SECTION