! >
Broadway To Vegas
  
 SHOW REVIEWS CELEBRITY INTERVIEWS GOSSIP NEWS



| | |
| --- | --- |
| | |
SONGS FOR SOLDIERS - - VIVA ELVIS OPENS IN LAS VEGAS - - LONDON'S GLOBE THEATRE NAMES FIRST FEMALE PLAYWRIGHT - - WILLIAM KENTRIDGE: FIVE THEMES - - WOMAN UPSET OVER GARTH BROOKS TICKETS - - CHARTER THEATRE SUSPENDS PRODUCTION - - BEATLES RECORDING STUDIO UP FOR SALE - - THE BLACK & WHITE OPERA SOIREE - - DONATE . . . Scroll Down


UPDATE: WAYNE NEWTON'S FINANCIAL TROUBLES ESCALATE
On Thursday, February 25, four large moving vans, as well as an equal number of unmarked law enforcement vehicles, arrived in front of Wayne Newton's home - called the Casa De Shenandoah - located at the corner of Pecos and Eastern. It was presumed that they were there to carrying out a seizure order.

At this point there have been no sightings of items actually being moved into the vans The singer has a long list of bill paying problems dating back decades.

On February 8, 2010 Bruton Smith, chairman and chief executive of Speedway Motorsports Inc., filed a lawsuit against Newton, his wife, Kathleen McCrone Newton, Newton company Desert Eagle LLC and a Newton Living Trust dated Dec. 19, 2001. charging that Newton was delinquent on a $3.35 million loan and sought to foreclose on Casa de Shenandoah.

In 2006 former Newton pilot Monty Ward filed a lawsuit over past-due wages and eventually obtained a judgment against Newton for $455,250 and has been garnishing the wages of Newton ever since.

Recently a Detroit area airport asserted that Newton owes them more than $60,000 after abandoning his airplane more than three years ago. In 2005, the IRS said Newton owed more than $1.8 million in taxes and penalties.


PRESIDENT BARACK OBAMA IS THE OPENING ACT AS VIVA ELVIS DEBUTS IN LAS VEGAS
President Barack Obama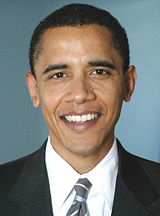 The biggest round of applause should go to Aria Hotel at CitiCenter in Las Vegas which, on Friday, managed to pull off President Barack Obama's televised noon speech to business leaders and, five hours later, stage the blue carpet formal opening of Viva Elvis.

Among those invited to smile and wave to the cameras were; Priscilla Presley and her son Navarone Garibaldi, comedian Sammy Shore who used to open for Presley, Malin Akerman, Andrew Dice Clay, Taye Diggs, Julia Louis-Dreyfus, Peter Facinelli and Jennie Garth, Neil Patrick Harris and David Burtka, Perez Hilton, Wynonna Judd, Tommy Lee, Justin Long, Holly Madison, Chris Noth, Regis and Joy Philbin, Jeff Probst, Rita Rudner, Ryan Seacrest, Gene Simmons and Shannon Tweed, Carrot Top and Scott Weiland,

Those shaking Obama's hand at the hotel were randomly selected employees of Aria, elected officials and business leaders. Prior to the Aria gig, Obama held a televised town hall event. The meet and greeters were the public - some of whom camped out for 14 hours to snag a ticket for his Green Valley High School town hall meeting.

It's a toss up as to whether Obama or the latest Cirque show received the best response - both touted Las Vegas.

Obama came to the Aria business speech direct from the town-hall meeting. He was on time, hit his marks and didn't flub his lines during his one-man show. Obama wore a suit and tie. The Cirque show features 77 cast members including nine musicians and four female singers sporting elaborate and colorful costumes. In fact, Viva Elvis has 120 costume changes. Obama could have used two ties.

Hint to Obama - take a cue from JFK who would always change his tie in the limo going from one speech to another. That way the audience thinks they're special. It also makes photo identification easier for the media and historians.

Politics and show business feature acrobatics, tap dancing and illusions.

There are only so many things you can do with a climbing rope, trapeze or pole and Cirque acrobats have left no twist unturned. Obama is still trying to get a leg up on the economy.

While having much to offer, whether Obama becomes a two-term president may well depend upon his dexterity. No such worry for the producers of Viva Elvis.

There are enough die-hard Elvis fanatics to keep Viva Elvis running years past the 2012 election.

However, Las Vegas is entering the final decade of its Cirque phase. Entertainment in Sin City has cycles. There's been the male-crooner-wearing-a-tux period along with the lavish production show; the any-star-of-a-hit-TV-series gets a Vegas contract phase; country singers had their point in time as did magicians/illusionists. Cirque came on the scene in 1993 with the opening of Mystère, and bedazzled the world with imagination, artistry, skill, costumes and music all intertwined into show stopping splendor. The fact that you didn't need to understand English also helped attract the international crowd.

The Cirque empire expanded in number and types of shows. The martial-arts Ka was the first to employ a story line.

The Beatles LOVE is the most intelligent and creative. It was the first Cirque show to spotlight a performer - in this case the musical group The Beatles. At the time of that opening it was announced that a show based on Elvis Presley was in the works.

And, so, last Friday the Viva Elvis production officially opened. It the seventh Cirque show to call Las Vegas home.

Comparisons are certain to be made between The Beatles LOVE and Viva Elvis. ( See Broadway To Vegas column of June 18, 2006 ) The former is champagne and the latter - beer. That doesn't mean both aren't enjoyable, popular and money-makers.

The Beatles LOVE brilliantly weaves four members of one group - each of whom had a distinctive personality and response to social issues. The Beatles LOVE does the impossible - it takes a group and effectively captures the essence of each person as well as the group's talent and impact on the world in an entertainment presentation. It's a Napoleon or a tiramisu with a blending of textures and flavors that excite the senses.

Then there is Viva Elvis, which is pudding with whipped cream. Nothing wrong with that. It's feel good comfort. The production doesn't divulge anything you didn't know before you entered. You don't leave the theater with a deeper understanding - or respect - for the man or his music. Nor does Viva Elvis touch on the many demons that lived within the icon - unless those clowns were suppose to represent the Presley dark side.



Ann-Margret and Elvis Presley had a romance while filming Viva Las Vegas.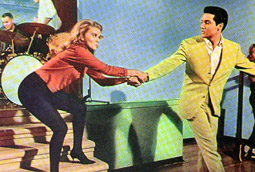 Viva Elvis is officially billed as a production which: "focuses on the essential humanity of the one superstar whose name will forever be linked with the history of Las Vegas and the entire world of entertainment: Elvis Presley."

The results are convoluted. Unfortunately, the production doesn't impart anything about Presley's "essential humanity."

Crafted by Cirque experts, it's a showcase for a different take on Presley's hit songs, wrapped in a colorful, scenic display with expertly crafted video.

Of course this mishmash of a show entertains. It's a lavish production show, more of a throwback to the era when Vegas was noted for its fluffy production shows, than a traditional Cirque production. It's as though a committee put the show together, only nobody bothered to call a meeting.

Having seen from one to three shows of each of Presley's engagements at the Las Vegas International/Hilton Hotel - Viva Elvis, which was seen in previews, doesn't begin to capture the man's talent or influence on music or culture. It is a gawdy but shallow tribute show geared for fans who are mesmerized by anything Presley. They'll be impressed by mega props - from a wedding cake to a jukebox and blue suede shoes. Heavy on dance, and Presley hit songs, fans of Elvis will clamor to make the pilgrimage to Viva Presley. That's what the producers are counting on - not to mention the Las Vegas economy. Presley fans love their souvenirs.



Vivs Elvis features elaborate sets and costumes. Photo credit:Viva Elvis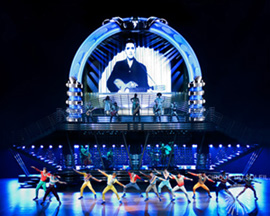 The production opens with a larger than life jukebox and closes with the anti-climatic Hound Dog rather than Viva Las Vegas, a closer number if there every was one.

In between about 30 Elvis Presley hits are almost heard. There's Presley's voice, but some of the songs are almost unrecognizable. Creative director Armand Thomas has taken the songs Presley made famous and re-arranged them - including changing the lyrics to All Shook Up. Presley's iconic sound is not necessarily recognizable.

Thomas has been quoted as saying; "The Viva Elvis show is a lot of created art." To which we can only say - art is in the eye of the beholder.

It helps to have a good view of the stage.

When 50 cast members take to the 80-foot wide proscenium stage, most of the audience won't be able to tell that each jumpsuit is decorated with embroidered images of important events in Presley's life - including one representing Las Vegas and another for Graceland. Nor will most patrons be able to discern that - in the Return to Sender number which spotlights female cast members in costumes created to look like postal letters - the alpha and numeric images on the dresses are actual names and addresses from real letters that Elvis sent and received while he served in the Army.



Elvis Presley in the movie Jailhouse Rock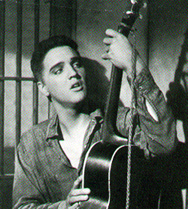 An outstanding segment is the Jailhouse Rock sequence. The movie scene is iconic. This re-imagined version is a winner by combining dance choreography, acrobatics and technical artistry showing off the skills of performers which include three Olympic athletes and 10 acrobats that were on their national gymnastic teams.

Viva Elvis will be popular with the Elvis crowd, even though it's more glossed over than highly polished.

Armand Thomas is the Creation Director. Written and directed by Vincent Paterson. Set design by Mark Fisher. Erich Van Tourneau musical director and arranger. Aerobatic performance design by Daniel Cola. Image content design by Ivan Dudynsky. Jonathan Deans sound designer; Marc Rickman lighting designer. Costume designs by Steffano Canulli. Aerobatic equipment and rigging designer is Guy St. Amour. The artistic directors are Guy LaLiberte and Gilles Ste-Croix. Make up design by Nathalie Gagne. Props design by Patricia Ruel. Choreographers are Napoleon and Tabitha Dumo, Mark Swanhart and Catherine Archambault.



Broadway To Vegas is supported through advertising and donations. Priority consideration is given to interview suggestions, news, press releases, etc from paid supporters. However, no paid supporters control, alter, edit, or in any way manipulate the content of this site. Your donation is appreciated. We accept PAYPAL. Thank you for your interest.


ART AND ABOUT


WILLIAM KENTRIDGE: FIVE THEMES

William Kentridge. Drawing from Stereoscope 1998–99. Charcoal, pastel, and colored pencil on paper, 47 1/4 x 63" (120 x 160 cm). The Museum of Modern Art, New York. Gift of The Junior Associates of The Museum of Modern Art, with special contributions from Anonymous, Scott J. Lorinsky, Yasufumi Nakamura, and The Wider Foundation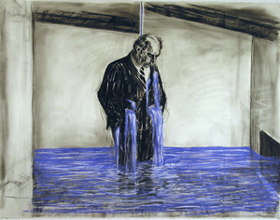 This large-scale exhibition surveys nearly three decades of work by South African William Kentridge. A remarkably versatile artist whose work combines the political with the poetic.

Dealing with subjects as sobering as apartheid, colonialism, and totalitarianism, his work is often imbued with dreamy, lyrical undertones or comedic bits of self-deprecation that render his powerful messages both alluring and ambivalent. Best known for animated films based on charcoal drawings, he also works in prints, books, collage, sculpture, and the performing arts.

This exhibition explores five primary themes in Kentridge's art from the 1980s to the present, and underscores the inter­relatedness of his mediums and disciplines, particularly through a selection of works from the Museum's collection. Included are works related to the artist's staging and design of Dmitri Shostakovich's The Nose, which premieres at New York's Metropolitan Opera in March 5, 2010.

On March 4 a sold out performance of William Kentridge: I am not me, the horse is not mine combines narration, video projection, and a vocal and instrumental soundtrack. Part lecture, part theatrical monologue, part installation, I am not me, the horse is not mine is based on the absurdist short story The Nose (1837), by the Russian writer Nikolai Gogol, which follows the travails of a pompous Russian bureaucrat who wakes one day to find his nose has escaped his face and assumed greater clout than he.

Presented in conjunction with the exhibition William Kentridge: Five Themes, the performance reflects the artist's interest in the rise and fall of Russian modernism and explores the idea of the artist's control - or lack thereof - over his own creations through the presentation of multiple selves.

I am not me, the horse is not mine was first performed at the Sydney Biennale in 2008. It is part of an extensive body of work Kentridge has developed in recent years in preparation for his production of Dimitri Shostakovich's The Nose, which premiers at New York's Metropolitan Opera on March 5, 2010.

The performance is organized by Laura Beiles, Associate Educator, and Pablo Helguera, Director, Adult and Academic Programs, Department of Education.

William Kentridge: Five Themes, exhibition opens at MoMA in New York City on February 24, 2010.





ACTOR BRINGS MUSIC TO THE MILITARY WITH SONGS FOR SOLDIERS
Tom Wiggin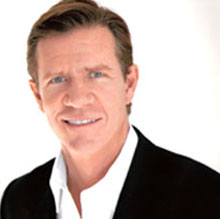 From a lullaby to a funeral dirge, musical encapsulates one's life. Inspiring to soothing, music has power.

Actor Tom Wiggin intends to use music to help military personnel.

In case you recognize the face but can't quite place the name - Wiggin created the role of manipulative Kirk Anderson on As The World Turns, spending ten years on the CBS soap, as well as writing some of the scripts.

He spoke with Broadway To Vegas about his career and current Songs for Soldiers project, which intends to supply every American soldier in Iraq and Afghanistan with a pre-loaded MP3 player.

"What got me into this was just serendipity," he said. "I'm always interested in entertainment based things, whether they're products or they're new projects. A friend of mine introduced me to this great, new device called a Flat Flash MP3 Player."

"One of the real positive qualities of this player is its durability," stressed Wiggin. "And small. It's twice as thick as a credit card and exactly the same dimensions. It has full quality MP3 sound. So, it sounds just as good as anything else."

Wiggin was hooked and the two became business partners.

"We were at a trade show and a woman came by who sells to PBXs on military bases. She stopped short when she saw our banner which said - weather proof, sand proof, heat and freeze resistant and shock proof. She asked if it was really sand proof, really weather proof?"

"We said - 'absolutely!' She told us that the troops in Iraq and Afghanistan might really like something like this."



Jonathan Pieslak Associate Professor, The City College of New York and the Graduate Center (Ph.D., University of Michigan) is a music theorist and composer. His areas of research interest include critical theory, rhythm and meter in metal music, and music and war.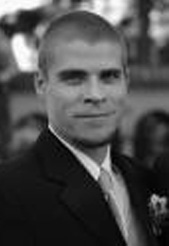 "We kind of filed that away in the back of our minds," Wiggin related. "Coincidently, a few weeks later, we stumbled across on-line a study done by Jonathan Pieslak," said Wiggin referring to Sound Targets: American Soldiers and Music in the Iraq, in which Pieslak, an associate professor of music at City College of New York, examined the musical habits of soldiers and in contemporary American military culture in general.

"He had done an extensive number of interviews with returning soldiers and service members who had told him how crucial music was to their coping with the stress of combat - in a number of different ways - whether it was psyching themselves up for battle, decompressing afterwards, staying connected to their families through music," Wiggin explained. "Music was very important to them, to help them keep their sanity in the high stress situation of combat."

"We put two and two together and said - this can be the way we really pay it forward. We took a part of our company and created a program called Songs For Soldiers, whose mission is to get an MP3 Player into the hands of every service member in Iraq and Afghanistan."

That's approximately 184,251.

To get the mission accomplished Songs For Soldiers partnered with the USO of Metropolitan New York.

"What I didn't know about the USO is that they are very well organized into regional offices," he explained. "We have partnered with the USO of Metropolitan New York. They are the first regional office that founded the USO."

"They handle the distribution. They are professionals at it. They've been doing this a long time and they know exactly how to distribute them so there is no duplication. Basically, they do it out of centers that they have in combat areas. There are USO distribution centers in different regions of Iraq and Afghanistan."

"We are confident in their ability and they have assured us that they will see everybody gets one. That is one of the reasons we partnered with them - for their distribution expertise."

As to whether anything could be downloaded that, if the MP3 Player was lost, might compromise security, Wiggin answered:

"Anything can be downloaded, but there are two different kinds of computers over there. There are morale computers and there are military computers. So, they can only use morale computers and there is no sensitive security information on those. They do have internet access but it is sporadic. That is why we want to pre-load these with songs because they will have something to listen to immediately," he said referring to selections from the label To The Fallen Records, which specializes in original music, written and performed by active duty and military veterans. "Then they can eventually download their own songs that they have on their morale computers," Wiggin added.



Kevin McKidd who plays Owen, the Iraq vet on Grey's Anatomy, a supporter of Songs for Soldiers, is pictured with Tom Wiggin.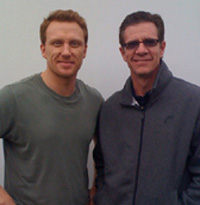 "This is very new," he stressed. "We really came up with the idea in November, then talked to the USO and now we have celebrities on board."

"We are going to do this until we have completed the mission, hoping this doesn't take long. If it does take a long time that means our service members are still fighting. We hope they all come home soon - safe and sound."

The players are not military issue, but rather a gift.

"These are theirs forever," emphasized Wiggin. "We hope that they will use them, enjoy them and have them for a long time"

Wiggin and his company receive no profits from this project. Individuals make $29 tax deductible donations directly to the USO Metropolitan New York which then purchases, at cost, the camouflage decorated players adorned with the USO logo.

If the way wars are fought have changed, so has the entertainment industry.

Born in New York City and raised in Virginia, Wiggin began acting in community theater in Alexandria, Virginia. After a brief stint at Columbia University, he decided to pursue acting professionally and studied Aaron Frankel and Harold Clurman in New York, as well as at the Royal Academy of Dramatic Art in London.

Wiggin made his daytime debut as Joe Foster on Texas. He later played Gil Fenton on Another World. He originated the role of Kirk Anderson on ATWT in May 1988, playing the role until August 1998 His primetime television credits include the role of Mike on the series Breaking Away, the CBS film Izzy and Moe, with Jackie Gleason and Art Carney, and a guest-starring role on the series Hotel, opposite Lynn Redgrave.

On stage he played Seth Gale in a revival of the Pulitzer Prize-winning play Abe Lincoln in Illinois, with Sam Waterston, at the Vivian Beaumont Theatre at New York's Lincoln Center. He also played the role of Danny in the national tour of the musical Grease (1978-79), followed by a 10-month run of the play on Broadway in 1979. Off Broadway, he has appeared in productions such as Livin' Dolls; Class Enemy; The Foreigner and Breakfast with Less and Bess.



Tania Raymonde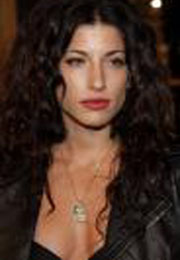 "Last year I wrapped a role in an independent film called Trophy Kids. That is in post production now. It was directed by a young, up and comer named Josh Sugarman," declared Wiggin about Sugarman who also co-wrote the script with Brandon Yankowitz.

"The title Trophy Kids refers to this sort of Me Generation of Entitled Children," elaborated the father with two daughters in college. "A new phrase that is in vogue about kids who grew up being rewarded for everything. Where I used to go out and play baseball all afternoon with a bunch of friends, now kids are all in groups where everyone gets a medal or a trophy. Once you get into real life the rules are a little different and not everybody does get a trophy."

Starring in Trophy Kids as Tiffany is Tania Raymonde, whose first major acting role was in the TV series Malcolm in the Middle, where she played the recurring character of Cynthia Sanders between 2000-2003. Fans of the television drama Lost recognize her from her recurring role of Alex Rousseau.

Wiggin bemoaned the cancellation of television soap operas, although he admits the writing was on the wall. ( See Broadway To Vegas column of December 13, 2009 )

"I think everybody who follows show business saw it coming. It's a shame. Soap operas allowed very talented actors to make a nice living and then do other things, like Broadway, off-Broadway, even off-off Broadway that really allowed them to touch people in other ways. It's almost the paradigm of Joe Papps' Chorus Line.

"You know, Chorus Line paid for Joe Papp to do a lot of experimental stuff that he wouldn't have been able to do if he hadn't had the huge Chorus Line success," Wiggin stated about the producer whose ground-breaking musical transferred to a highly lucrative Broadway run, the show's earnings became a continuous financial support for Papp's work. The show received 12 Tony Award nominations and won nine of them, in addition to the 1976 Pulitzer Prize for Drama. It ran for 6,137 performances, becoming the longest-running production in Broadway history up to that time.

"Chorus Line funded off-off Broadway for about 15 years," declared Wiggin. "I look at soap operas the same way. Soaps, lets face it, are still the most successful story telling paradigm. They didn't invent it. Charles Dickens invented it. The serial was invented in literature with magazines in England. The serial is still one of the most effective ways to tell a story over the long haul, where you get to bring in a bunch of different characters."

"There is a really big paradigm shift in the world of entertainment. We all see it. Some of it is for the better and some of it is not. I think soap opera can survive but in a slightly different form. I've always thought that to compensate for the shifting demographics of the female workforce - women who are not in the home any more, who are out there working along with their male partners - soaps should be on when they are on in the Caribbean - which is at 6 pm. When everybody is just getting home, kick their feet up and decompress by watching a soap. That is what happens in the Caribbean and soaps are still very popular there."



Suave corporate scion Lawrence Decker's (Tom Wiggin) presence creates friction between Lizzie (Marcy Rylan) and Bill (Daniel Cosgrove) on Guiding Light. Tom Wiggin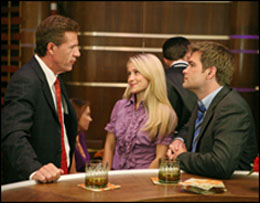 "I was fortunate enough to do several soaps when they said that daytime paid for nighttime. When nighttime shows were deficit financial and most of the money that the networks had came from the ad revenues that the soaps generated. It was a big deal. We were getting paid good money. Soaps were in their heyday."

"That kind of success led a lot of shows to get carried away and get away from the core character relationship, story telling marks that had made them successful in the first place," he reasoned.

"Suddenly, they are trying to compete with nighttime, so you've got to have car wrecks and fights and big location shoots. All these things that the medium didn't really support, because it was never going to look as good at it did on nighttime. And, it was going to extend the budgets terribly. Suddenly, you are getting away from your core mission, which is to tell intimate stories about interesting characters, families and relationships. That's what they are all about," he stressed.

"I'll tell you from experience, one of the things that really brought on the demise of soaps - beyond economic - was the fact that they never really did a good job of creating, training and nurturing new, young writers. Because all of the writers on the soaps have been recycled. I remember going to P&G and saying - You guys should really try to create writer workshops. I also briefly wrote for As The World Turns and for Another World. I basically learned it by having been an actor and studying some writing when I was in Los Angeles. Also, we re-wrote our scripts all the time and we got good at that," he laughed. "I wound up doing some writing. But, they never really created a program where young writers coming out of Yale or NYU could really plug into to that art form and it is an art form. And, it's very difficult."

"You stopped having new voices come in with new stories to tell. You had a generation of writers who were just fantastic. I was privileged to work there at that time. My characte r was created by Doug Marland who was one of the great writers of all time. He told his stories," said Wiggin about Marland who, it was often said, based the Snyder Family and their ATWT plotlines on his own family.

"They needed to get the new Doug Marland," declared Wiggin, "and I don't think they did a good job of that."




SPREADING THE WORD


NELL LEYSHON

Nell Leyshon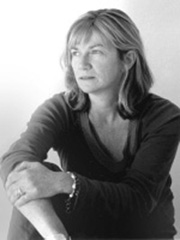 has been named the first woman to write a play for the Globe Theatre in London. It only took almost 400 years for the Globe to give a woman the power of the pen. That's how long it's been since Shakespeare died.

Bedlam which is slated to open September 5 will be directed by Jessica Swale.

What is madness? What is sanity? It is 18th-century London, noisy and chaotic. The city's ancient hospital for the insane is under the supervision of the prejudiced Dr Sidney Carew and his imbecile son, whose interests lie in containing rather than curing their patients. But with the arrival of the lovely country girl, May, and the appointment of a more enlightened and sympathetic governor, this inhuman regime starts to crumble, along with the sanity of the asylum keepers themselves.

Employing a cast that includes doctors (some mad), patients (some sane), a homicidal painter and a hypochondriac poet, and set against an anarchic backdrop of binge drinkers, gin sellers and ballad singers, Bedlam combines dance and song with scenes of lust, violence, absurd comedy and unexpected romance.

Nell Leyshon won the 2005 Evening Standard Most Promising Playwright Award for Comfort Me With Apples.

All-American Music: Behind the Scenes with "Porgy and Bess" This collaboration between the Washington National Opera (WNO) and the museum will discuss the upcoming WMO production of Porgy and Bess at the Kennedy Center including its complex artistic and historical legacy. The program will include a panel discussion, multimedia presentation and vocal performances by cast members. Participants include Dwight Bowers, curator of American Music; John Mauceri, conductor; and cast members.

Thursday, February 25, First Floor, Carmichael Auditorium, National Museum of American History in Washington, DC.

LYNN NOTTAGE the Brooklyn-born playwright who received the 2009 Pulitzer Prize for Ruined, will deliver the annual Starting from Paumanok lecture at Long Island University's Brooklyn Campus on February 24.

The event, which is free and open to the pubic, will be held at the University's Kumbl Theater for the Performing Arts.

Starting from Paumanok, a series of annual lectures on American literature, was inaugurated by the English Department at Long Island University's Brooklyn Campus in 1983. By naming the series after Walt Whitman's great poem (which invokes the Algonkian name for Long Island), the English Department acknowledges Long Island University's geographic and cultural connection with one of Brooklyn's (and Long Island's) foremost literary figures.

The series is hosted by Long Island University Brooklyn's English department and supported by the Africana Studies and Gender Studies departments and the Voices of the Rainbow series.

Following the lecture, author and playwright Jessica Hagedorn will interview Nottage. A question and answer session with Nottage will conclude the event.





SWEET CHARITY


THE DESERT AIDS PROJECT is hosting the 2010 Steve Chase Humanitarian Awards Gala which takes place February 27 at the Palm Springs Convention Center. Stefanie Powers and Richard Chamberlain co-host.

Entertainers include Linda Eder, Jennifer Holliday, and Roslyn Kind with the Pat Rizzo orchestra. Diahann Carroll, Linda Gray, Morgan Fairchild and Donna Mills are scheduled to attend as well. 2010 honorees include Bob Mackie (Arts and Activism Award), Ann-Margret (Arts and Activism Award), Caear Coalition (Medicine and Advocacy Award), Steve Kaufer and Scott Van Dyke (Partners for Life Award), and Mary Cone (100 Women. All net proceeds from the gala will benefit Desert AIDS Project, the organization supporting people living with HIV and AIDS.

THE BLACK & WHITE OPERA SOIREE A benefit evening for the National Arts Centre Orchestra and Opera Lyra Ottawa.

It's Black and White and Funny all Over!

Hosted by Sheila Copps and Maxime Bernier

Memorable melodies, political potshots and special surprise guests. The 13th annual Black & White Opera Soiree features the NAC Orchestra, the Opera Lyra Ottawa Chorus and magnificent singers performing opera's greatest hits.

Add to the concert a cocktail reception, sumptuous gourmet dinner devised by NAC Executive Chef Michael Blackie, and an elegant post-concert reception with the artists, and it's clear that the Black & White Opera Soiree - alive with Ottawa's A-list, from politicians to corporate executives to some of Canada's most popular artists and entertainers - is the undisputed highlight of the Ottawa social season.

February 27, 2010 at the National Arts Centre in Ottawa.


OTHER PEOPLE'S MONEY


WOMAN UPSET OVER GARTH BROOKS TICKETS

Garth Brooks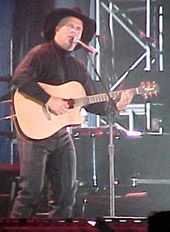 according to the central Michigan newspaper The Morning Sun in an article written by Susan Field and published on February 17, April Flaughter, 24, of Weidman, Michigan is not happy. Apparently she won a trip for two to Las Vegas to see Garth Books. She was to fly to Las Vegas on New Year's Day. "But an outside promoter that promised the trip for two to WCEN 94.5 FM, 'The Moose,' didn't deliver," according to the paper.

Shannon Dunlap, general manager at the radio station, told the newspaper that "the situation was unfortunate and that she is working with Flaugher to make good on a trip to Las Vegas to see Brooks, or, if that isn't possible, an equitable prize."

Dunlap told the paper that "the station has given away trips for years without problems, but there are no tickets available to Brooks' Las Vegas concerts until he announces new dates." Flaugher said the station offered her either $1,500 or a trip to Las Vegas when tickets are available. The paper reported that "Flaugher is probably going to opt to wait until another trip to Las Vegas can be scheduled, rather than taking the $1,500, which she said would not cover the cost of the trip." "Dunlap, however, said that was the value of the prize."

Flaugher's mother, Judy Flaugher, was quoting as saying that "her daughter drove to Detroit to catch her plane to Las Vegas, only to be told that there was no record of the flight." "Another trip was scheduled for Feb. 11 through 15, but days before that, Flaugher was told that the trip fell through again, her mother said."

Garth Brooks performs in the Encore Theatre of Wynn Hotel. His next performance dates are February 26. 27 and 28.

Brooks' website states that: "All ticket sales are final and are non-refundable and non-transferable. No one has the permission of Wynn Las Vegas to sell this ticket for a price in excess of $143.00."

Tickets for the first 20 Garth Brooks performances were sold out within five hours of going on sale last October.

Station 94.5 The Moose website lists two current contests; Movie tickets to their Moose Movie Monday which takes place the second Monday of each month and The Moose Cafe in which listeners are invited to "Join Joby Phillips for lunch each weekday with your requests & dedications and win some great prizes with Sing for Your Supper!"

HARD ROCK CAFE in Sacramento, California has become a victim of hard economic times and will close when its lease expires on March 27. The restaurant which opened in 1997 was noted for rock memorabilia including a 10,000-pound, Gibson Les Paul Classic guitar outside which served as the venue's sign. Among the 300 rock history items inside include Bob Dylan's harmonica and an Elvis Presley shirt.

It has been reported that all of the memorabilia, including the 36-foot-high guitar, will be moved to other Hard Rock locations. A Hard Rock Cafe opened last week in Seattle and another is scheduled to open later this year in Los Angeles.

CHARTER THEATER based in Arlington, VA and supported in part by Arlington County through the Arlington Commission for the ARTS and the Cultural Affairs Division, has indefinitely suspended production. Over the years Charter has earned a reputation as a theatre which successfully produces new and original plays.

Producing Artistic Director Keith Bridges sent a letter to patrons and supporters which stated, in part:

"Many arts organizations have been strained in this financially difficult time, Charter is no exception. For the coming year, and longer if need be, we have decided to concentrate on parts of our mission other than producing new plays. We are going to focus primarily on the reading series, playwrighting workshops. We have decided to limit our seasonal main stage productions to one per year." Charter's decision will mean cancellation for two new plays – Two for Ten by Malcolm Pelles and Good Counsel by Renee Calarco.

ABBEY ROAD the recording studio made famous by The Beatles is up for sale. Located in a tony section of London, the financially troubled EMI is listing the property at slightly over $47 million.

EMI acquired the property for in 1929, opening EMI Recording Studio in 1931. The first customer was Sir Edward Elgar recording Land of Hope and Glory. The studio quickly gained a stellar clientele - Fred Astaire, Paul Robeson and Glenn Miller, who recorded his last session there. The British Government also used to record propaganda there during the Second World War.

The first pop recording was laid down in the 1950s, with Cliff Richard's Move It. George Martin, known as The Fifth Beatle, had started using the studio prior to his Beatles days when he worked with artists Peter Sellers and Spike Milligan. During his tenure with The Beatles - in which he produced all but one of their albums - he brought the group to the studio which would be renamed Abbey Road Studio following the release of the Beatles album in 1969.

Much has been made over the face that The Beatles recorded almost all their albums in Studio Two, culminating in Abbey Road, with its cover showing the fab four on the crossing outside.

The Financial Times reported that it was not clear whether EMI would sell the brand name along with the property it acquired in 1929.

"The brand is worth more than the building ... anybody who wants the studios will want the brand," the FT quoted a media lawyer as saying.

UPDATE EMI has issued a release which states that they now hope to keep the famed studio and are approaching "interested and appropriate third parties" and " we have developed plans to revitalize the studios. These plans would involve a substantial injection of new capital."


ANOTHER CELEBRITY RUNS FOR OFFICE
Prince Frederic von Anhalt's official campaign photograph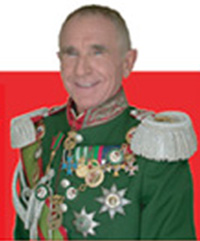 The ninth and presumably the last husband of 93-year-old Zsa Zsa Gabor, that would be the colorful and spotlight loving Prince Frederic von Anhalt, 67, is running for Governor of California. His election slogan is, "Return the Good Life to California." In his official statement (all capitalizations are his) Freddy's campaign promises (some of which make sense) include:

"I will stay at home and PROMOTE CALIFORNIA PRODUCTS. We have the best Avocados, Oranges, Wine, Weather Beaches and Marijuana."

"CREATE A SIN TAX. Legalize Marijuana and Tax it. IT Puts An End to Drug Related Crime, there are less people in jail and it creates a big savings for the state and legalizes the pot Farming industry that's already in place. Add an Additional 10 cent tax on every Drink Sold in a Restaurant or Tavern. Add a buck to every liquor bottle and pack of cigarettes sold."

"OPEN THE BORDERS WITH MEXICO And let our Workers in so we can Tax Them..." is what his official statement said. In an interview with the London Independent he added: "Let them come in, and send dollars home. And once enough dollars are in Mexico, they'll go back, because they have such wonderful warm beaches there. Without immigrants here, we would have no gardeners, no pool boy. It would be a total disaster."

"ADJUST THE DMV FEES They are outrageous. Last year they Raised my fees by $600. This is not the way to balance the budget. You just hurt the working class. Tax bad drivers according to their accident record and get tough on drunk drivers and speeders. $50 for every mile over the limit. And lowering the DMV fees is a promise I will keep!"

"TAX THE OIL COMPANY'S Billion-Dollar Profits Big Time and Promote Natural Gas. Use the profits to save the infrastructure and put people to work fixing California and building new industries."

"GET OFF OIL, GET ON THE SUN AND RIDE THE WIND. Mandatory Solar Panels on every New Building. Built it into the Cost and Create an alternative energy Industry and rid our dependency on Middle East Oil."

"OVERTURN PROP 8. Throw the Divorce Lawyers a Bone and quiet the Gays. I believe in marriage between men and women, but I am also a defendant of the constitution which says equal rights for all. Let them be as miserable as the rest of us."

"LIFT THE IMPORT BAN ON CUBAN CIGARS and products in general. It hasn't worked for the past 50 years. Plus I like smoking them and so does Arnold. Why should we have to get them smuggled in from Canada or Europe? It's ridiculous."

He then promises -

"If elected I will demand a recount."

While his official list of campaign promises doesn't mention prostitution, in that Independent interview Fred touted the virtues of patronizing prostitutes, suggested the world's oldest profession should be both legalized and taxed.

Tina Fey doesn't look anything like Prince Frederic. Somewhere on that Saturday Night Live staff there must be somebody who does.



TOP SECRET: THE BATTLE FOR THE PENTAGON PAPERS by Geoffrey Cowan and Leroy Aarons. Directed by John Rubinstein.

Based on interviews and documents acquired through the Freedom of Information Act.

It's 1971 and the nation is at war. The intractable conflict escalates in Vietnam while here at home the battle for public opinion rages. A federal court blocks The New York Times from publishing the top-secret history of US involvement in Vietnam. Washington Post publisher Katharine Graham has a single day to decide whether to print these Pentagon Papers. When the Nixon administration closes in and charges treason, the fight for a free press explodes. Top Secret: The Battle for the Pentagon Papers animates the frontline clash between the government's need for secrecy and the public's right to know.

The cast of 11 includes: Diane Adair (as Meg Greenfield), Larry Bryggman (John Mitchell/Chal Roberts/Lamont Vanderhall), John Getz (Ben Bagdikian/Robert Mardian), Jack Gilpin (Brian Kelly), James Gleason (Murry Marder/Judge Martin Peel), Roberta Maxwell (Katharine Graham), Matt McGrath (George Wilson/Eugene Patterson), Larry Pine (Richard Nixon/Dennis Doolin), Russell Soder (Soldier/Darryl Cox/Clerk & Bailiff/Ron Ziegler), Peter Strauss (Ben Bradlee) and Peter Van Norden (Fritz Beebe/Henry Kissinger).

The design team includes sets and lighting by David Lander. Costumes by Holly Poe Durbin. The production stage manager is Jennifer Grutza.

This New York Theatre Workshop production was first developed as a co-production with L.A. Theatre Works and Affinity Collaborative Theater. Previews begin February 24 with the official opening on March 9 with performances through March 29.

BACKWARDS IN HIGH HEELS: THE GINGER MUSICAL Conceived and Developed by Lynnette Barkley and Christopher McGovern, Book and Original Songs and Arrangements by Christopher McGovern, Directed by caryn desai [sic], Musical Direction by Darryl Archibald, Choreography by Melissa Giattino,

Combining original songs by Christopher McGovern with vintage movie musical numbers like Fascinatin' Rhythm; Let's Call the Whole Thing Off; Embraceable You and A Fine Romance, the musical is a toe-tapping account of the public and private life of the actress best known as Fred Astaire's dance partner. What many don't know is that Ginger Rogers walked away from her partnership with Astaire at the peak of its success, going on to become an acclaimed actress as well as one of the industry's first women to demand equal pay. The story follows Rogers from the time she arrived in Hollywood as a 14-year old aspiring starlet through 1940, when the 37-year-old actress won the Academy Award for Best Actress for the film Kitty Foyle.

Starring in the title role is Anna Aimee White. Heather Lee portrays her mother, Lela Rogers, a driving force in Ginger's life and career with whom the actress was deeply bonded in a complex, perhaps symbiotic, relationship. Playing a variety of roles are Matt Bauer as Fred Astaire and Ginger's third husband, Jack Briggs; Christopher Carothers, as Ginger's father and second husband Lew Ayres; Jeff Payton as Hermes Pan, Jimmy Stewart, and first husband Jack Culpepper; and Robin De Lano as Ethel Merman, Bette Davis, Katherine Hepburn and Marlene Dietrich.

The set designer is Stephen Gifford; lighting designer is Jared A. Sayeg; costume designer is Kim DeShazo; sound design is by Paul Fabre; hair and wig design is by Tony Gagliardi; property designers are Patty and Gordon Briles.

Backwards in High Heels broke box office records in its world premiere production at Florida Stage. Presented by the International City Theatre at the Long Beach Performing Arts Center in Long Beach, CA. Previews begin February 23 with the official opening set for February 26. Performances through March 21, 2010.

A BEHANDING IN SPOKANE by Martin McDonagh. Directed by John Crowley.

A Behanding In Spokane stars Christopher Walken, Sam Rockwell, Anthony Mackie and Zoe Kazan.

The title is just the starting point; take a man searching for his missing hand (Walken), two con artists out to make a few hundred bucks (Mackie and Kazan), and an overly curious hotel clerk (Rockwell), and the rest is up for grabs.

The design team is comprised of Scott Pask (Scenic and Costume Design), and Brian MacDevitt (Lighting Design).

A Behanding in Spokane is a world premiere which marks McDonagh's first American-set play. This is also McDonagh's first play to originate on Broadway.

Currently in previews wit the official opening set for Thursday, March 4, 2010 at the Gerald Schoenfeld Theatre in NYC.

BLIND by Craig Wright who wrote and produced the television show, Dirty Sexy Money.

Lucie Tiberghien directs. Original music by Christian Frederickson.

In this contemporary re-telling of Oedipus, which contains nudity, a married couple slowly re-discovers the secret they thought they had buried deep within the cavities of their unconscious. Blind explores the blindness of two individuals but also the blindness of a culture that now must confront its own folly.

The cast features Tony Award nominee Veanne Cox, Seth Numrich and Danielle Slavick. The design team includes sets by Takeshi Kata; costumes by Anne Kennedy; Matthew Richards in charge of lights, Ryan Rumery sound design; Eugenia Furneaux-Arends in charge of props. Melissa Mae Gregus is production stage manager with Rebecca Spinac as assistant stage manager. Through Sunday, March 21, 2010 at Rattlestick Playwrights Theater in NYC.





WHO'S WHERE


ERIC CLAPTON AND JEFF BECK perform Monday, February 22, at the Bell Centre in Montreal. On Thursday they entertain at the Mellon Arena in Pittsburgh. Saturday the show is at the Sommet Center in Nashville.

HARRY CONNICK, JR on stage at the Ryman in Nashville on Tuesday, February 23. On Thursday his tour stops at the Von Braun Center in Huntsville, AL On Friday he can be enjoyed at the Alabama Theatre in Birmingham. Saturday show is at the Canon Center in Memphis.

JOHN MAYER performs Wednesday, February 24, at TD Garden in Boston. On Thursday he opens a two nighter at Madison Square Garden in NYC.

MIRIAH CAREY begins a two nighter at Gibson Amphitheatre in Universal City, CA on Tuesday, February 23. On Friday she is at the Oracle Arena in Oakland. On Saturday she stars at the Colosseum at Caesars Palace in Las Vegas.

TYLER PERRY IN MEDEAS' BIG HAPPY FAMILY takes place at the Civic Center in Albany, NY on Tuesday, February 23. On Wednesday he opens a two night stand at the Municipal Auditorium in Nashville. On Saturday it's the beginning of another two nighter, this time at the Orpheum Theatre in Memphis.

WEDNESDAY AT THE IGUANA with hosts Dana Lore and Richard Skipper. Barry Levitt on keyboard & Saadi Zain on bass. Wednesday, February 24 guests include: Allegra & Frank Basile, Susan Campanaro, Rick Crom, Cindy Marchionda and Vin Martin. Iguana VIP Lounge, NYC.

PATTI LuPONE performs Saturday, February 27, at J. Thomas Hall in Akron, Ohio.

ALICIA KEYS is on stage next Sunday, February 28, at the Bell Centre in Montreal, Canada.

BON JOVI brings his tour to the Pavilion in San Jose, CA on Monday, February 22. On Wednesday the show is at Jobing.com Arena in Glendale, AZ. On Friday he's in the spotlight at the Honda Center in Anaheim,CA.




FINAL OVATION


KATHRYN GRAYSON

Kathryn Grayson and Howard Keel performing September, 1968 at the Fremont Hotel in Las Vegas.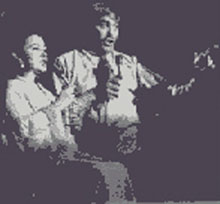 famed MGM movie musical star died February 17 in her sleep at her home in Los Angeles. She was 88.

She starred in such films as Anchors Aweigh (1945) with Frank Sinatra and Gene Kelly, Show Boat (1951) and Kiss Me Kate (1953) with Howard Keel.

When the era of film musicals declined, she appeared on stage in numerous productions including Show Boat; Rosalinda, Kiss Me Kate, Naughty Marietta and The Merry Widow, for which she was nominated for Chicago's Sarah Siddons Award. This led to her being cast as Queen Guenever in 1962 in Camelot, replacing Julie Andrews in the Broadway production, before continuing in the role for over sixteen months in the national tour of the United States, leaving the show for health reasons.

Later, she performed in several operas, including La boheme; Madame Butterfly, Orpheus in the Underworld and "La traviata.

Kathryn and Howard Keel teamed up to tour in a highly successful nightclub act, opening at the Fremont Hotel in September, 1968. Their act was billed as "a harmonious cavalcade through musical comedy, film and opera." Grayson would later returned to Las Vegas, performing at the Sahara and Riviera hotels.

She earned an Emmy nomination in 1956 for her performance in the General Electric Theater episode Shadow on the Heart with John Ericson. In the 1980s, she guest starred in several episodes of Murder, She Wrote with Angela Lansbury.

Married and divorced twice, her first marriage was a 1941 elopement with actor/singer John Shelton. That marriage ended in a 1946 divorce. She and radio singer Johnnie Johnston were married from 1947 to 1951 and had a daughter, Patricia Towers, who survives her. She was engaged to Howard Hughes at one time in the 1950s.



Next Column: February 28, 2010
Copyright: February 21, 2010. All Rights Reserved. Reviews, Interviews, Commentary, Photographs or Graphics from any Broadway To Vegas (TM) columns may not be published, broadcast, rewritten, utilized as leads, or used in any manner without permission, compensation and/or credit.
Link to Main Page
---
Laura Deni



U.S. Postal Address: Post Office Box 60831, Las Vegas, NV 89160
CLICK HERE FOR COMMENT SECTION