! >
Broadway To Vegas
  
 SHOW REVIEWS CELEBRITY INTERVIEWS GOSSIP NEWS

| | |
| --- | --- |
| | |
STARS SHINE AT OBAMA INAUGURAL - -VICTOR BORGE: A CENTENNIAL EXHIBITION - - BARACK OBAMA IN WAX - - A SALUTE TO CHARLES STROUSE - - LYNN REDGRAVE IN THE IMPORTANCE OF BEING ERNEST - - FOLK AMERICA: GREENWICH VILLAGE REVISITED - - BLITHE SPIRIT ACTORS NEED PSYCHIC - - OLIVIER! REVIVAL HAS AUDIENCES ASKING FOR SOME MORE - - DONATE . . . Scroll Down


Copyright: January 18, 2009
By: Laura Deni

CLICK HERE FOR COMMENT SECTION
STARS, CAKE, CAMPAIGN COUTURE AND MUSIC HEADLINE OBAMA INAUGURAL
Barack and Michelle Obama can dance the night away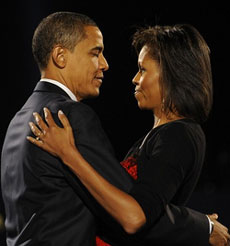 Obama has more wattage than a rock star. In a nanosecond tickets were snapped up to anything inaugural. The party till you drop crowd has enough events to even tire out pseudo presidential candidate Paris Hilton.

A celebrity blow-out; fancy cakes, ice cream with designer names and clothes made from campaign materials. Also entertainers. Lots of entertainers. Fifty-eight agencies are participating coordinated through 23 subcommittees.

Entertainment festivities launch into high gear this evening, Sunday, January 18, with We Are One: The Obama Inaugural Celebration at the Lincoln Memorial, a combination of live music and readings that will be free and open to the public.

The special will be executive produced by George Stevens, Jr. (The Kennedy Center Honors), and produced by Don Mischer (Olympic Ceremonies) who will also direct the special, and Michael Stevens (The American Film Institute Salutes) who is also writing the special, and will be a production of The Stevens Company in association with Don Mischer Productions.



Bono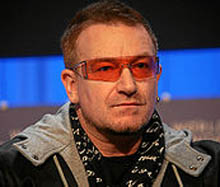 Beyonce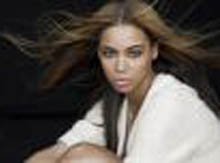 Musical performers scheduled for the event include Beyonce, Mary J. Blige, Bono, Garth Brooks, Sheryl Crow, Renee Fleming, Josh Groban, Herbie Hancock, Heather Headley, John Legend, Jennifer Nettles, John Mellencamp, Usher Raymond IV, Shakira, Bruce Springsteen, James Taylor, will.i.am, and Stevie Wonder. Among those reading historical passages will be Jamie Foxx, Martin Luther King III, Queen Latifah, Tiger Woods and Denzel Washington.

The Rt. Reverend V. Gene Robinson will give the invocation. Rob Mathes will be the music director and arranger for the backing band, which will support all of the artists.

"Our intention is to root the event in history, celebrating the moments when our nation has united to face great challenges and prevail," observed George Stevens, Jr. "We will combine historical readings by prominent actors with music from an array of the greatest stars of today."

"This is a great opportunity to capture an historic event in a very meaningful setting," noted Don Mischer. "We will have the statue of Abraham Lincoln looking down on our stage and a crowd of hundreds of thousands of people lining the mall—a tableau any director would relish."

HBO will televise the event on an open signal, working with all of its distributors to allow Americans across the country with access to cable, telcos or satellite television to join in the Opening Celebration for free.

On Inauguration Day, festivities will commence at 10 a.m. on the west front of the U.S. Capitol and will include:

• Musical Selections:
The United States Marine Band, followed by The San Francisco Boys Chorus and the San Francisco Girls Chorus
• Call to Order and Welcoming Remarks: Senator Dianne Feinstein
• Invocation: Dr. Rick Warren
• Musical Selection: Aretha Franklin
• Vice President-elect Joseph R. Biden, Jr. will be sworn into office by Associate Justice of the Supreme Court , the Honorable John Paul Stevens
• Musical Selection: John Williams, composer/arranger with Itzhak Perlman, (violin), Yo-Yo Ma (cello), Gabriela Montero (piano) and Anthony McGill (clarinet)
• President-elect Barack H. Obama will take the Oath of Office, using President Lincoln's Inaugural Bible, administered by the Chief Justice of the United States, the Honorable John G. Roberts, Jr.
• Inaugural Address
• Poem: Elizabeth Alexander
• Benediction: The Reverend Dr. Joseph E. Lowery
• The National Anthem: The United States Navy Band Sea Chanters
After President Obama gives his Inaugural Address, he will escort outgoing President George W. Bush to a departure ceremony before attending a luncheon in the Capitol's Statuary Hall.



The luncheon floral arrangements, designed by JLB Floral of Alexandria, Virginia. Photo: inaugural.senate.gov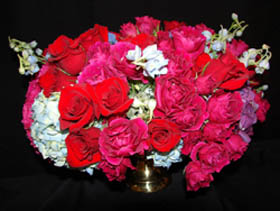 The luncheon floral arrangements, designed by JLB Floral of Alexandria, Virginia, will feature hydrangeas in shades of purple and blue, Hot Mojolica spray roses, bright Red Charlotte roses and light blue Delphinium in a footed brass compote. After the luncheon, the floral arrangements will be given to the Walter Reed Army Medical Center.

While the posey bill for this year's event hasn't been released, award winning Ian Prosser, the owner and operator of Tampa-based Botanica International Design Studio, offered some figures to Baynews 9. As floral design chair for the Society of American Florists, he has created floral designs for three of the last four presidential inaugurations.

With 14 official events, Prosser told the TV station that inaugurations require a half million flowers and about 160 arrangers, at a cost of about $5 million. But Prosser says all of the flowers and labor are donated. The only thing inauguration organizers must provide is accommodations - about 100 rooms for five nights.



View of the Yosemite Valley by Thomas Hill Photo: inaugural.senate.gov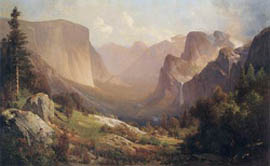 The backdrop for the luncheon will be a painting, chosen for occasion, and borrowed from the New-York Historical Society. The painting, View of the Yosemite Valley, by Thomas Hill, reflects the majestic landscape of the American West and the dawn of a new era. The subject of the painting, Yosemite Valley, represents an important but often overlooked event from Lincoln's presidency - his signing of the 1864 Yosemite Grant, which set aside Yosemite Valley and the Mariposa Grove of Giant Sequoias as a public reserve.

Born in Birmingham, England, American Hudson River School Painter Thomas Hill (1829-1908), at age 15, immigrated to American with his parents.

He briefly acted as the interim director for the SFAA School of Design and went to Alaska on a commission for environmentalist John Muir. Hill's move to California in 1861 brought him new material for his paintings. He chose monumental vistas, like Yosemite. During his lifetime, Hill's paintings were popular in California, costing as much as $10,000.

Hill's best works are considered to be these monumental subjects, including Great Canon of the Sierra; Yosemite; Vernal Falls and Yosemite Valley.

Hill's most famous and enduring work is of the driving of the Last Spike at Promontory Summit, U.T., on May 10, 1869, to join the rails of the CPRR and UPRR. The huge 8 x 12 foot painting, which features detailed portraits of 71 individuals associated with the First Transcontinental Railroad, hangs at the California State Railroad Museum in Sacramento,CA.



The first course will be served on replicas of the china from the Lincoln Presidency, which was selected by Mary Todd Lincoln at the beginning of her husband's term in office. The china features the American bald eagle standing above the U. S. Coat of Arms, surrounded by a wide border of "solferino," a purple-red hue popular among the fashionable hosts of the day. Photo: inaugural.senate.gov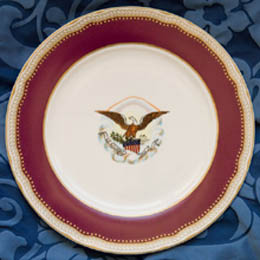 The details of the luncheon have been designed to reflect the theme of the 2009 Inaugural ceremonies, A New Birth of Freedom, which celebrates the bicentennial of the birth of President Abraham Lincoln. The menu created by Design Cuisine, a catering company based in Arlington, Virginia, draws on historic ties to the Presidency of Abraham Lincoln. Growing up in the frontier regions of Kentucky and Indiana, the sixteenth President favored simple foods including root vegetables and wild game. As his tastes matured, he became fond of stewed and scalloped oysters. For dessert or a snack, nothing pleased him more than a fresh apple or an apple cake. The wines to be served during the luncheon were produced by some of the finest winemakers in California, the home state of Senator Dianne Feinstein, the Chairman of the Joint Congressional Committee on Inaugural Ceremonies. Each wine was selected to complement the flavors of the luncheon ingredients.

The appetizer will feature a seafood stew - including scallops, shrimp, Maine lobster and black cod in a cream sauce, baked in a terrine covered with a puff pastry - in honor of Lincoln's love of seafood. The main course of a Brace of American Birds (Wisconsin pheasant and Indiana duck) with sour-cherry chutney will be served with molasses sweet potatoes - root vegetables and wild game that Honest Abe ate as a child in Indiana. Apple cinnamon sponge cake with Sweet cream glacé tops off the rustic lunch.

Design Cuisine officials disclosed that what amounts to an entire kitchen and all of the food will be trucked to the US capitol under police escort, at 3am on Tuesday. The meals will be prepared under the watch of the president's security team, to ensure nothing is tampered with.

The Smithsonian Chamber Players, who are artists in residence at the Smithsonian National Museum of American History, will provide music for the Inaugural Luncheon. The ensemble, directed by cellist Kenneth Slowik, is renowned for its performances of period music on the musical instruments in the Smithsonian's collection.

Members of the Joint Congressional Committee on Inaugural Ceremonies are Senator Dianne Feinstein, Chairman; Ranking Member of the Senate Rules Committee Bob Bennett; Senate Majority Leader Harry Reid; Speaker of the House Nancy Pelosi; House Majority Leader Steny Hoyer; and House Minority Leader John Boehner.

Each guest at the Inaugural Luncheon will receive a crystal vase etched with a depiction of the U.S. Capitol, designed by Paula Skene, an artist in Emeryville, California, and handcrafted by Evergreen Crystal of Montrose, Colorado.

The luncheon will begin at 1:05 p.m. and must be over in time for Obama to review the troops at 2:32 p.m.

The 56th Inaugural Parade will then make its way down Pennsylvania Avenue. Expected to last over two hours, the parade includes 15,000 people, 240 horses, dozens of marching bands, two drum and bugle corps, and one mariachi band from Espanola, New Mexico.[

Nothing says celebration like a tiered cake and this inauguration is no exception.

Eli's Cheesecake, Chicago's favorite dessert, and one of Illinois' most famous foods, was invited to create a giant Inaugural cheesecake to be served at the Commander in Chief's Ball, one of the ten official Balls, on Tuesday, January 20, 2009, at the National Building Museum in Washington, D.C. Newly sworn in President Barack Obama and his wife, Michelle, will host this event for Purple Heart recipients, families of fallen heroes, and spouses of deployed military. This ball is free to invited guests and will broadcast to American troops around the world on the Pentagon Channel, which is available via cable on 368 military bases and on commercial cable and satellite services throughout the United States.

Jon Bon Jovi will headline the talent lineup. George Lopez will emcee the event, which also feature performances and appearances by Jordin Sparks, Miss America 2009 Kirsten Haglund, and Right On. The event is also co-hosted by the Senior Enlisted Advisors of the Army, Marine Corps, Navy, Air Force and Coast Guard. The event will be produced by The iDream Company, led by entertainment executives Suzanne de Passe, Suzanne Coston, and Madison Jones, and written by Ruth Robinson. The iDream company has been recognized with Emmy Awards, Golden Globe and Peabody Awards.

According to Eli's President Marc Schulman, "We are honored to represent Chicago in creating this celebratory Eli's Cheesecake for such a historic occasion."

Large Inaugural cakes date back as far as 1934 when Franklin Delano Roosevelt was presented with a several hundred pound fruitcake. Eli's Inaugural dessert, tipping the scales at 500 pounds, will be a combination of Original Plain Cheesecake and Apple Cheesecake paying homage to Abraham Lincoln's love of apples and highlighting the strong Lincoln references throughout the campaign, transition and Inaugural festivities. The three-tiered cake will be patriotically decorated in red, white and blue fondant, with the official Inaugural seal in chocolate and the five seals representing the Army, Navy, Air Force, Marines and Coast Guard. The base of the cheesecake is covered with royal blue fondant and decorated with a wave of red and white stripes, and white and gold stars. After serving the guests, the remainder of the cake will be donated to the Capital Area Food Bank.

The mind-boggling grocery list for the Inaugural dessert includes: -100 pounds of cream cheese
-30 pounds of sugar
-25 pounds of sour cream
-50 pounds of powdered sugar
-126 eggs
-15 pounds of flour
-50 pounds of Michigan apples
-30 pounds of butter
-4 cups of Nielsen-Massey Madagascar Bourbon Vanilla
-5 pounds of brown sugar
-12 tablespoons of cinnamon from the Chicago Spice House

Nothing goes better with cake than ice cream. As a teen-ager in Honolulu Obama scooped ice cream at the local Baskin-Robbins shop. The corporation endorsed Obama for president. In honor of Obama the Baskin-Robbins taste testers created Whirl of Change: Peanut-nougat ice cream whirled with chunks of chocolate-covered peanut brittle and a caramel ribbon. Rival Ben & Jerry's have Yes Pecan, with amber waves of buttery ice cream with roasted non-partisan pecans. Folks who indulge in some Yes Pecan in Scoop Shops during the month of January, Ben & Jerry's is donating the proceeds to the Common Cause Education Fund.



Leonardo DiCaprio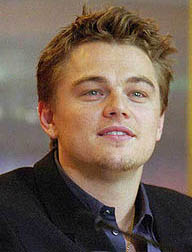 Beyonce will sing for Barack and Michelle Obama's first dance on inauguration night. Beyonce is part of the star-studded lineup at the official Neighborhood Ball that will be televised on ABC, along with her husband Jay-Z, will.i.am, Mariah Carey, Alicia Keys, Shakira, Sting, Faith Hill, Mary J. Blige, Stevie Wonder and Maroon 5.

The Presidential Inaugural Committee said Thursday that presenters at the ball will include Denzel Washington, Jessica Alba, Leonardo DiCaprio, Ray Romano, Jamie Foxx, Queen Latifah and Kate Walsh.

The Illinois Ball which takes place Monday, January 19, is one of the most interesting. It's not only Obama's home state, but the entire banquet facilities of the Renaissance Hotel - four ballrooms, three grand foyers, and all the private meeting rooms will be magically transformed to highlight the many magnificent cities, towns, riverfronts and historical sites of Illinois.

Event planners advise that "you can "meet your friends under the Marshall Fields' clock in the City of Chicago ballroom where you can dance to the big-band music of the Bob Hardwick Sound....Imagine the rolling muddy Mississippi while you sit in the Riverboat Lounge listening to honky-tonk piano player Daryl Ott." In addition to Hardwick and Ott, entertainment will be provided by; Doctors Orders, Second Nature, Southern Wind and the Strolling Strings.

The black tie preferred event permits guests to each bring a personal camera or a small videocamera. However all ticketed guests are encouraged to "arrive at the hotel by 4:30 p.m. allowing extra time to check coats and pass through security before the reception begins at 5:30 The Gala Reception, Dinner and Ball, which is sold out, will have gift bags containing samples of Illinois products.

Hardwick is an old hand at inaugural events having previously performed for six presidents - Jimmy Carter, Ronald Reagan, George H.W. Bush, Richard Nixon and Jerry Ford who was celebrating his 80th birthday, 50th wedding anniversary and 50th year in politics with a private party in Vale, Colorado. Hardwick also lifted his baton at four previous inaugurations - Carter, Bush and two Reagan. ( See Broadway To Vegas column of October 14, 2007 )

"We have a couple of Stevie Wonder songs ready (he's a fan), and other "campaign" reported favorite songs, including Easy to Love; Think, and What's Goin' On," Hardwick told Broadway To Vegas about the upcoming event. "We obviously had to submit all 12 band member names for security, and there is a sweep of the hotel - all very usual. At our event there is supposed to be 7000 people at the reception and ball with 15 bands playing at this Illinois Inaugural Ball. The main ballroom theme will be Chicago so when the ball begins, the whole band will enter from the rear of the ballroom and parade to the band stand playing Chicago."



Elvis Costello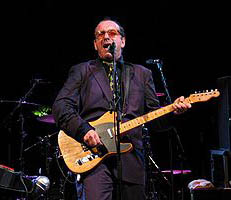 Singer Elvis Costello will head an all-star line-up at a concert in Washington's Harman Center of the Arts. Musical guests are scheduled to perform until midnight. Rock stars Sting and Sam Moore will also appear at the event, which will raise funds for arts and entertainment advocacy group The Creative Coalition. Anne Hathaway, Susan Sarandon, Marcia Cross and film director Spike Lee will also appear at the sold-out event. Other confirmed guests include British actor Alan Cumming and singer Seal. West Wing star Richard Schiff will also attend, alongside members of the US Congress and policy and business leaders.

The American Music Inaugural Ball and Events hosts the Urban Ball at the Marriott Wardman - actually there are two balls - the first Inaugural Ball in American history to actually be split into two balls under one roof on the same evening: different themes/entertainers/prices.

The Legends Ball will feature entertainment legends and music icons who have thrilled audiences over time, and The Urban Ball which features some of entertainment's most popular and successful contemporary Artists.

If you're attending the Legends Ball, then tuxedos, ball gowns and all of your finery is in order of the day. If you're attending the Urban Ball, then dress to impress; but no jeans, no hoodies, no sneakers or ball caps will be allowed. The Urban Ball costs: $350 and is hosted by Ludacris. Entertainment provided by Cedric the Entertainer, and Monica.

The Legends Ball at the Marriott Wardman featuring Dionne Warwick, Chaka Kahn, George Clinton, and Redskin Jason Taylor. The cost to attend - $450.

The Eracism Foundation hosts the Purple Ball, featuring Lou Gossett Jr., at the Fairmont Hotel. Cost: $110 to $150 per ticket. Il Divo will serenade guests. Hill Harper will host the event which will also feature a performance from Peter Cincotti and guests confirmed to attend include Patricia Arquette, Susan Sarandon, Tim Robbins, Ed Harris, John Cusack and Ashley Judd.

The Human Rights Campaign hosts the Equality Ball at the Renaissance Mayflower Hotel, featuring entertainers Melissa Etheridge, Rufus Wainwright, and Cyndi Lauper.

MTV and Service Nation host the Be the Change Inaugural Ball at the Ronald Reagan Center. The ball will be televised live on MTV.

The Soccer Moms for Obama Inaugural Ball takes place at the Chevy Chase Women's Club. Cost: $60. Soccer mom Sarah Palin is not expected to attend.



The Obamanos Coat is a 1950s man's winter coat that is covered with photos from the paper campaign door hangers used by canvassers on election day. Printed on these hangers is a photo of Barack Obama standing in the middle of a huge crowd of people. The photo is cut into small strips and sewed to the entire coat. Judd says it took her 200 hours to cut, paste and sew it.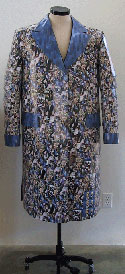 The Voter Swing Coat Made from voter registration posters (hanging on the wall in the photo) cut into half inch wide strips and woven together. This "paper fabric" was adhered to recycled canvas using an iron-on adhesive and the finished coat pieces are hand sewn together. Both the collar, outer sleeves and the bottom edge of the coat are covered with "lace"-- punched and cut from recycled voter registration cards.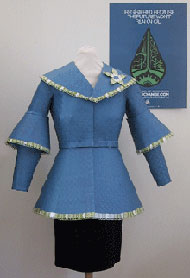 There were also several pre-inaugural balls including the Green Inaugural Ball which actually was staged on January 17 at the Andrew W. Mellon Auditorium. It was billed as DC's most environmentally-friendly pre-Inaugural celebration. Event Emissary which produced the event chose to keep décor to a minimum because the Mellon Auditorium is such a beautiful venue. Votive Candles were un-dyed, unscented soy wax candles. LED Color Blasts were used for all decorative lighting. The food, by Occasion Caterers, was organic, with vegetarian and vegan options, and bars served locally produced and organic beverages.

The headline performance by Wyclef Jean was almost trumped by designer Nancy Judd, owner of Recycle Runway in Santa Fe. With no design training she's made headlines for her unique transformation of junk into couture.

At this ball and at the New Mexico Congressional Delegation Reception her collection of garments fashioned out of discarded Obama campaign materials were featured. She called it "a celebration of the millions of people who volunteered to assure the election of Barack Obama as the next president of the United States."

Judd was a dedicated volunteer for six months for the Campaign in Santa Fe. The day after the election Judd went "dumpster diving" behind the Obama Campaign headquarter is northern New Mexico and filled her car with historic campaign materials that she transformed into a collection of elegant garments. One is made from yard signs; a ball gown made from campaign posters; a sun dress stitched from plastic yard signs; a suit woven from strips of voter-registration posters.

Asked whether she had used any Republican campaign signs or posters, Judd said she had not. The John McCain signs "just didn't inspire me," she told those attending the Friday January 9 Trash Fashion & Costume Contest at the Recycle Santa Fe Art Festival

Entertainment, parades and parties haven't always been the inauguration norm.

Americans threw a party to honor George Washington one week after his inauguration May 7, 1789. The tradition of a ball began in 1809 when James Madison was inaugurated in Washington. Dolley Madison, the first lady, hosted the party for which 400 tickets were sold at $4 each.

In 1857, James Buchanan had a single inaugural ball with all the trimmings — $3,000 worth of wine, 1,200 quarts of ice cream, 60 cuts of mutton, 75 hams and 125 tongues as well as 400 gallons of oysters plus plenty of beef and chicken salad.

Inaugural balls often were held in temporary quarters. Ulysses S. Grant's second inauguration in 1873 was in a specially constructed edifice that lacked heating. Freezing temperatures forced guests to eat cold food and dance in their coats and hats. Canaries kept in cages as part of the decorations froze. Woodrow Wilson considered balls frivolous and didn't have any. There were no more official balls until the inauguration of Harry Truman in 1949.

1957 - Pat Boone sang at Dwight Eisenhower's presidential inauguration ball.

1961 - Frank Sinatra produced John F. Kennedy's inauguration gala at the 10,000 Armory venue. Sinatra sang and escorted the new first lady at Kennedy's inaugural gala. Nancy Reagan, who liked to call him "Frances Albert," consulted him on entertaining at the White House and blew him a kiss on Reagan's inauguration night.

1977 - Charlie Daniels and the Marshall Tucker Band played for Jimmy Carter's inauguration.

1977 - Aretha Franklin sang God Bless America at a special inaugural concert for President-elect Jimmy Carter.

1993 - Fleetwood Mac reunited to perform at Bill Clinton's inauguration.



Broadway To Vegas is supported through advertising and donations. Priority consideration is given to interview suggestions, news, press releases, etc from paid supporters. However, no paid supporters control, alter, edit, or in any way manipulate the content of this site. Your donation is appreciated. We accept PAYPAL. Thank you for your interest.


ART AND ABOUT


VICTOR BORGE: A CENTENNIAL EXHIBITION

Victor Borge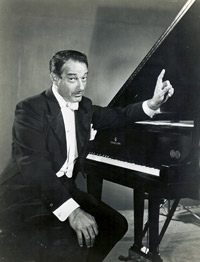 Affectionately known as The Great Dane, Victor Borge was a unique combination of musician, humorist, and humanitarian. To celebrate the 100th anniversary of his birth, The American-Scandinavian Foundation will present Victor Borge: A Centennial Celebration at Scandinavia House in New York City. The Nordic Center in America. Beginning January 23rd and continuing through May 2nd, 2009, this significant exhibition will explore his life and achievements through a collection of film clips, recordings, photographs and memorabilia from Borge's personal archives.

In the nearly 70 years that he lived in the United States, Victor Borge performed on the radio, in films, on television, in opera houses, sports arenas, and the White House. In 1956, he secured a permanent place in Broadway history with his Comedy In Music, which still holds the record for the longest-running one-man show.

Distinctively Danish, his comedy encouraged audience interaction and found humor in the mundane. Mr. Borge effectively used physical and visual elements during his live and televised performances, maintaining a consistent, dynamic energy and high level of spontaneity, marked by impeccable timing and highly developed musicality.

Recognized as an ambassador of goodwill in both his native Denmark and his adopted America, Borge was knighted by the five Nordic countries and honored by both the U.S. Congress and the United Nations. He received Kennedy Center Honors in 1999 and was awarded the Medal of Honor by the Statue of Liberty Centennial Committee.

Born Børge Rosenbaum in Denmark on January 3, 1909, Mr. Borge trained at the Royal Danish Academy of Music and began his career in Denmark in the 1930s. While touring in Sweden, the Third Reich invaded Denmark, rendering it impossible for Borge to return and resume his career there. He left for the United States a few months later aboard the USS American Legion (the last passenger ship to leave Europe for America at the onset of World War II) arriving stateside on August 28, 1940. ( See Broadway To Vegas Marni Nixon interview in which she discussing working with Victor Borge - column of November 2, 2008 )

Through his career and his humanitarian efforts, Victor Borge influenced the lives of countless Americans and Scandinavians alike. A strong proponent of Danish-American friendship, he opened the eyes of many Americans to Danish culture.

A number of concerts and special events will be presented in Victor Borge Hall in conjunction with Victor Borge: A Centennial Exhibition, including performances by the Scandinavian Chamber Orchestra and the Lyric Chamber Orchestra.

Support for the exhibition has been provided by the Scan|Design by Inger and Jens Bruun Foundation; the Sanna and Victor Borge Memorial Fund; the Elsie H. Hillman Foundation; Flemming and Judy Heilmann; Bicky and George Kellner; Stig Host; Ambassador John L. Loeb, Jr.; Scott Gonge; Lennard Rambusch, Esq.; Joan M. Warburg, and Ambassador Richard B. and Mrs. Marlene Stone. January 24 – May 2, 2009, NYC.

BARACK OBAMA joins the Hall of Presidents at San Francisco's Wax Museum at Fisherman's Wharf. Right around the time that Barack Obama is getting comfy in his new White House digs, he'll also be taking up residence a coast away at San Francisco's famed Wax Museum at Fisherman's Wharf. And, not to be outdone in this election year, joining him will be the "Secretary of Cool" and winner in his own right, Justin Timberlake, who beat out competitors Dale Earnhardt and Tupac Shakur in an online poll.

"The people have spoken and we've got both the winners," said Wax Museum owner Rodney Fong, noting that his grandfather, Thomas Fong, got the idea for the Museum having seen the wax figures at the Seattle World's Fair. "Perhaps we'll get Justin to sing and at the inauguration. And, of course, we all expect Barack Obama to wax eloquent." Also joining the Wax Museum's collection in 2009 are a new "age-accurate" Queen Elizabeth and the teen TV sensation Miley "Hannah Montana" Cyrus. Earlier this year, a team of Bay Area Celebrity Judges, led by "Mr. San Francisco Nightlife," Harry Denton of "Starlight Room" fame, voted to include Mother Theresa, Prince William and Mariah Carey who will round out the new "cabinet" for the Wax Museum in 2009.

The new figure of President Obama will take about six months to complete at a cost of between $15,000 -- $40,000, dependent upon clothes, jewelry and other accessories.

"For instance, with Mariah Carey, we saved a lot on material," joked Fong. "No one expects Mariah to be wearing very much."

The process of creating a wax figure begins with a clay head that is sculpted and utilized to construct a plaster mold. The mold is then filled with a mixture of molten bees wax. As the wax begins to harden, excess wax is poured from the center of the mold, creating a hollow wax sculpture. After removing the plaster mold, medical glass eyes are set in place, along with porcelain teeth. Human hair, including eyebrows and facial hair, are inserted one strand at a time. This process can take up to two months to complete. Layers of translucent paint are applied, creating skin tones. Hands, arms and sometimes entire torsos are also manufactured in wax.

ROBERT MAPPLETHORPE: PORTRAITS

The cover of Patti Smith's first album, Horses, featured a photo taken by Robert Mapplethorpe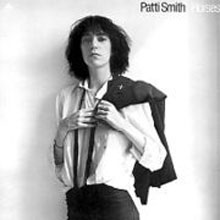 The kinds of subjects of the images of the American photographer Robert Mapplethorpe (1946-1989) ranged from portraits to still lifes, from classical sculptures to contemporary nudes, some of which were overtly sexual and made him at least temporarily notorious.

His most lasting legacy, however, and by far the largest portion of his considerable photographic output, is his portraiture which reflects and embodies the New York cultural milieu of the late 1970s and the 1980s.

Within his roster of clients can be found a pantheon of many of the most significant artists, art dealers, writers, musicians, designers, dealers, actors and actresses of the period as well as a host of ancillary figures.

This exhibition of approximately one hundred portraits, principally drawn from the holdings of the Mapplethorpe Foundation, will present an overview of this most important aspect of his career and by implication the environment in which it flourished. Among the sitters included in the exhibition are William Burroughs, Truman Capote, Marianne Faithfull, David Hockney, Grace Jones, Roy Lichtenstein, Brice Marden, Lisette Model, Alice Neel, Iggy Pop, Ed Ruscha, and Andy Warhol. The exhibition will be guest-curated by Gordon Baldwin, a twenty-one year veteran with the Getty Museum, and accompanied by a catalogue.

January 23-April 19 at the McCallum Wing Palm Springs Art Museum, Palm Springs, CA.




ATTN: WHOOPI GOLDBERG - BLITHE SPIRIT NEEDS PSYCHIC - NO NUDITY, NO PAY - CREDIT AS CONSULTANT


A well crafted publicity stunt is to be admired. It's been a long time since one with campy flare took place. Enter Jeffrey Richards, lead producer of Blithe Spirit and pr man extraordinaire.

He's got some of the most talented people starring in the Noël Coward classic. He has a fabulous director. Not enough. Now he wants psychic help.

If you can coach Angela Lansbury on how to see into the future - job opening. The producers of Blithe Spirit are looking for a real-life psychic or medium to work closely with the cast of the show to guarantee that each performance is every bit as genuine as possible. The producers are seeking real-life mediums or actors who are also mediums to prepare a two-minute audition to conjure the spirit of Noel Coward or to display any psychic abilities. This psychic or medium chosen will receive full credit as the show's official consultant in the show's Playbill for their work.

The audition page indicates that no nudity is involved nor is there any pay.

Auditions are being held on Wednesday, January 21, 2009. Mediums will conjure on Thursday, January 22, 2009 at Sardi's, across the street from The Shubert Theatre, where the Noel Coward comedy will begin performances on Thursday, February 26, 2009. The official opening of the show is on Sunday, March 15, 2009. "To audition, email your name with an attached resume to blithespiritcasting@gmail.com. You will receive a confirmation with exact details of time and place. If you have any questions, feel free to send an e-mail to this address as well " - states the official release.

The delightful Noël Coward comedy concerns socialite and novelist Charles Condomine, who is haunted by the ghost of his first wife, Elvira, following a seance held by the eccentric medium and clairvoyant, Madame Arcati. Elvira makes continuous attempts to disrupt Charles' marriage to his second wife, Ruth. This revival will star four-time Tony winner Angela Lansbury as psychic Madame Arcati, two-time Tony winner Christine Ebersole is the ghostly Elvira, film star Rupert Everett making his Broadway debut as Charles Condomine, theatre veteran Simon Jones as Mr. Bradman, two-time Tony Award nominee Jayne Atkinson as Ruth Condomine and Tony nominee Deborah Rush as Mrs. Bradman. The play will be directed by two-time Tony Award winner Michael Blakemore.

As though none of the above have ever consulted any type of a fortune teller - easily found on every other New York City corner - or have the acting ability to figure it out. Broadway To Vegas thinks Whoopi Goldberg should be brought in as the consultant. She did a great job in Ghost.


SPREAD THE WORD


PUT ON A HAPPY FACE: A SALUTE TO CHARLES STROUSE Join the tribute to the composer of a cavalcade of great Broadway hits, including Bye Bye Birdie, Golden Boy, Applause, Annie, and Rags as The Paley Center in Los Angeles celebrates his illustrious career and the Los Angeles debut of his latest musical triumph, Minsky's.

Strouse and guests will join in a rare evening of story and song. The program will be illuminated by archival footage of rare Strouse material from the Paley Center's collection and live musical performances.

A private reception will precede the event. Monday, January 26, 2009 at The Paley Center in Los Angeles.


SWEET CHARITY


LOVE LETTERS by A.R. Gurney's two person play starring Mary Crosby and Desi Arnaz Jr.

A benefit for the non-profit Boulder City Ballet Company run by Desi's wife, Amy Arnaz - known affectionately as Miss Amy. Love Letters will be performed Saturday, January 24, 2009 at the Historic Boulder Theatre in Boulder City, NV.

Tickets are on also on sale for An Evening With Lucille Ball with Arnaz Family friend, Lucy impersonator, Suzanne LaRusch. This is also a benefit for the Boulder City Ballet Company. This event is produced by Lucie Arnaz and Suzanne LaRusch.

Lucille Ball's children, Desi Arnaz Jr. and his sister, Lucie Arnaz, will both be in attendance at both shows, April 10-11.


OTHER PEOPLE'S MONEY


FREE ADMISSION TO FRENCH MUSEUMS provided you are under 25 or a school teacher. Last Tuesday French President Nicolas Sarkozy announced a plan which will permit all French youths under 25 and schoolteachers to enter museums free starting April 4. In a speech promoting French culture in the coming year, Sarkozy made several major announcements including a partial freeze on state financing for the performing arts would be lifted. He also stated that he planned to create a new national history museum.

NORTH DAKOTA COUNCIL ON THE ARTS is a state in a winter deep freeze. Jan Webb, Executive Director of the North Dakota Council on the Arts, informed Broadway To Vegas of some heartwarming news: "North Dakota is not currently having any agency budget cuts."



44TH ANNUAL HEWES DESIGN AWARDS PRESENTED Five theatre artists were honored by the Henry Hewes Design Awards Committee during the presentation of its 44th Annual Awards at a Sardi's luncheon on December 12. Ninety-five theatre artists were nominated for outstanding artistry in sixty-two productions during the 2007-2008 New York theatre season.

The HHDA Committee named top honorees in four categories: Scenic Design, Costume Design, Lighting Design and Notable Effects. As of the 2008 awards, the Committee has bestowed 255 honors on 158 artists representing 178 productions.

The 2008 recipients were: Scenic Design: Mark Wendland for Next to Normal (Second Stage Theatre), Richard III (Classic Stage Company) and Unconditional (LAByrinth Theater Company); Costume Design: Katrina Lindsay for Les Liaisons Dangereuses (Roundabout Theatre Company); Lighting Design: Donald Holder for Cyrano de Bergerac, Les Liaisons Dangereuses (Roundabout Theatre Company) and South Pacific (Lincoln Center Theater); and Notable Effects (Projection Design): Jim Findlay and Jeff Sugg for The Slug Bearers of Kayrol Island (Vineyard Theatre). The Awards were presented by Scott Pask, Clint Ramos, Natasha Katz and Kevin Cunningham, all of whom were 2007 honorees.

GEORGE STEEL has been named the new General Manager and Artistic Director of New York City Opera. His tenure will begin on February 1st. Steel is best known for his outstanding eleven-year tenure as Executive Director of the Miller Theatre at Columbia University, from 1997 to 2008.

BETTE MIDLER was named 2009 Woman of the Year by the Nevada Ballet Theatre.

The Black & White Ball is Nevada Ballet Theatre's largest annual fundraiser. Each year, a legendary female entertainer is honored as Woman of the Year. These stars of stage and screen are recognized for positively impacting the performing arts and often have a special connection to Las Vegas.

The Tony-award winner received the award during the event held January 17, 2009 at Caesars Palace in Las Vegas. The Divine Miss M holds court at Caesars Palace where she plays approximately 100 shows per year.


CURTAIN DOWN


FOLIES BERGERE a landmark Las Vegas institution for 49 years at the Tropicana Hotel will close March 28 to make room for an undisclosed new production.

The French import opened at the Tropicana in 1959 when Lou Walters - father of Barbara Walters - was the casino's entertainment director. Folies Bergere opened on Dec. 24, 1959. ( See Broadway To Vegas column of December 12, 1999 )

Tropicana President Ron Thacker offered no reason. His formal statement says, "Folies Bergere' enjoyed an amazing and unprecedented run on the Las Vegas Strip. We are extremely proud to have been part of such an iconic Las Vegas production and offer a sincere thank you to the cast, crew and support staff for their many years of excellence."

The Tropicana's parent company is trying to emerge from bankruptcy.

80 cast members and crew will be out of work, but have been promised an opportunity to audition and apply for spots at a new show that the property is developing.



OLIVER!

Jody Prenger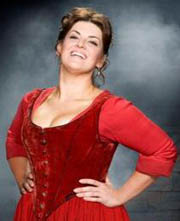 revival of 1994's London Palladium production, originally directed by Sam Mendes is a mega hit on London's West End - having patrons asking - 'Can I have some more?' Setting West End ticket selling records, with ducats being snapped up through July. Bad news - Rowan Atkinson as the pickpocket has only contracted to play Fagin for six months.

Matthew Bourne again choreographs and also co-directs with today's hot kid on the block, the Olivier-award winner Rupert Goold.

The two are wrangling a cast of 80, including three separate groups of 50 child actors.

BBC's I'd Do Anything talent show, winner Jodie Prenger was rewarded with the part of Nancy. Unlike some winners of other talent shows, Prenger actually has talent. Prenger shares the role with Australian Tamsin Carroll, who starred in Cameron Mackintosh's 2002 Australian production of Oliver!, winning every major Australian award for Best Actress in a Musical. Carroll plays the role of Nancy Wednesday and Thursday evenings.

On opening night, January 14, Harry Stott played Oliver while Ross McCormack was the Artful Dodger.

Oliver! is one of the most beloved British musicals, vividly bringing to life Dickens' timeless characters with its ever-popular story of the boy who asked for more.

Oliver! features music, lyrics and book by the late Lionel Bart and is based on Charles Dickens' Oliver Twist. Bart's score for Oliver! features such irresistible tunes as Food, Glorious Food; I'd Do Anything; Consider Yourself and As Long As He Needs Me.



Rowan Atkinson as Fagin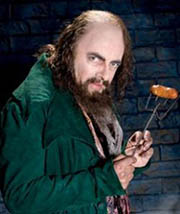 Cast:
Rowan Atkinson as Fagin (until 18th July Burn Gorman as Bill Sikes. (Michael Caine auditioned for the role of Bill Sikes in 1960 and cried for days when he was rejected.) Oliver will be played by Gwion Jones, Harry Stott or Laurence Jeffcoate. Julian Glover as Mr Brownlow. Rosemary Leech as Mrs Bedwin. Julius D'Silva as Mr Bumble. Julian Bleach as Mr Sowerberry. Louise Gold as Mrs Sowerberry. Wendy Ferguson as Widow Corney.

The cast also features Chris Bennett, Jay Bryce, Philip Catchpole, Matthew Clark, Mary Cormack, Hadrian Delacey, Alison Dormer, Tom Edden, Cara Elston, Susan Fay, Jenny Fitzpatrick, Lyndsey Gardiner, Ian Jervis, Robert Kershaw, Tim Laurenti, Rebecca Louis, Claire Rickard, David Roberts, Oliver Roll, Myra Sands, Charlotte Spencer, Spencer Stafford, Hollie Taylor and Lynne Wilmot.

The role of Oliver is shared by the winners of BBC TV's I'd Do Anything: Lawrence Jeffcoate, Gwion Wyn Jones and Harry Stott. The Artful Dodgers are Eric Dibb Fuller, Robert Madge and Ross McCormack. Due to licensing issues which actors will portray Oliver and The Artful Dodger are not announced until shortly before the performance starts.

Creative team: Lighting design by Paule Constable. Designed by Anthony Ward. Sound by Paul Groothuis.

As the show came to a close on opening night a huge picture of the late Oscar winning Oliver! creator Lionel Bart was lowered to the stage from the ceiling. Bart had sold all of his rights to Oliver! and died in a cheap apartment above a café in Acton, West London, in 1999 after years of writer's block.

Andrew Lloyd Webber was among the opening night crowd and joined in the standing ovation which lasted for several minutes. Performances at Drury Lane's Theatre Royal, London.

IN THE NEXT ROOM (or the vibrator play) written by Sarah Ruhl and staged by Les Waters.

Last time these two extraordinary talents teamed up at Berkeley Rep, they gave birth to Eurydice, the beguiling show which went on to New Haven and New York—hitting the year's Top 10 list in Time magazine and the New York Times. Now the prominent pair reunites to consummate another play of love and longing, commissioned by Berkeley Rep.

In The Next Room (or the vibrator play) illuminates the lives of six lonely people seeking relief from a local doctor - but, despite his expertise with a strange new technology, all they really need is intimacy. It's a tender tale that takes place in the twilight of the Victorian age, an elegant comedy lit by unexpected sparks from the approaching era of electricity, equality, science and sexuality.

The premiere of this play truly is a milestone for Berkeley Rep, which debuted its first new script in 1968 and went on to earn a national reputation for nurturing writers and developing new work. Known for its core values of innovation and excellence, as well as its educated and adventurous audience, Berkeley Rep provides a safe haven for emerging and established artists to take creative risks. In the Next Room (or the vibrator play) is the company's 50th world premiere; in fact, since 1990, Berkeley Rep has presented 40 world premieres, 25 West Coast premieres and two American premieres.

This production is the recipient of an Edgerton Foundation New American Plays Award. World Premiere in the Roda Theatre of Berkeley Rep January 30 - March 15, 2009, Berkeley, CA.

UNCLE VANYA by Chekhov. Directed by Austin Pendleton.

Acclaimed film and stage actors - and real life husband and wife - Maggie Gyllenhaal and Peter Sarsgaard join Tony Award winner Denis O'Hare in the cast of Classic Stage Company's Uncle Vanya. The cast includes Mamie Gummer, Louis Zorich, George Morfogen, Delphi Harrington and Cyrilla Baer.

O'Hare stars as Vanya, the quintessential superfluous man, who wakes up one morning to discover he has wasted his life in the service of others, in Chekhov's tragicomic masterpiece of dashed dreams, thwarted love, and eternal longing.

Scenic design by Santo Loquasto; Costume design by Suzy Benzinger and lighting design by Jason Lyons.

Previews began January 17 with performances through March 1, 2009 at Classic Stage Company, NYC.

BE MY BABY by Amanda Whittington is published by Nick Hern Books. Directed by Anna Newell. Designed by Niall Rea.

Be My Baby was first staged to unanimous acclaim by London's Soho Theatre in 1998 and has had several productions since then. Set in a Mother and Baby Home in 1964 in the north of England, Be My Baby follows the fortunes of Mary Adams, aged 19, unmarried and 7 months pregnant. Set against a backdrop of the social attitudes of the 1960s, this beautifully touching piece, punctuated by the music of the day, movingly transports us back to the dawn of the sexual revolution. As the girls sing along to the romantic fantasies of 60's hits by artists such as the Ronettes, Dusty Springfield and the Shangri-Las, their aching optimism is set starkly against their personal tragedy.

The cast includes: Roisin Gallagher, Susan Crothers, Julie Maxwell, Cat Barter, Sharon Coade and Libby Smith.

The Lyric Theatre is offering schools the opportunity to not only be part of the show's Irish premiere but also to experience a unique show and workshop package that juxtaposes a historical piece, about a time where these particular young women had no voice, with a workshop where the young women who have been watching the show quite literally find their voice as they join the cast in joyful acapella harmony singing.

The production can also provide a catalyst and focus for further discussion in the classroom both in terms of the social and historical context it operates within and their relevance to today's very different issues and context and also in terms of practical Drama. Because of the nature of the show and the workshop, it is suitable for all secondary school age-groups.

Touring to schools around Northern Ireland in the period from January 19-30 2009.

TRAVELS OF ANGELICA by Joseph McDonough. Winner of the Mickey Kaplan American Play Prize.

1657: A writer wanted for treason barely escapes from England with his daughter to start a new life with a new identity in Virginia. Can he outwit his blackmailing neighbor and escape capture before completing his most important work? 2008: Two graduate students come to Virginia in search of clues about this forgotten author, hoping to make an important literary discovery. As the play twists and turns between the past and present, this time-traveling tale explores history, hope, heart and the possibility of a remarkable future.

In the Robert S. Marx Theatre on the Cincinnati Playhouse January 20, 2009 - February 20, 2009.

DOUBT, A PARABLE Written by John Patrick Stanley. Winner of 2005 Tony Award for Best Play and the 2005 Pulitzer Prize for Drama.

In this brilliant and powerful drama, Sister Aloysius, a Bronx school principal, takes matters into her own hands when she suspects young Father Flynn of improper relations with a student. Doubt is a breath-taking look at faith, guilt and the pitfalls of moral certainty. It's a tour de force for actors, a riveting experience for audiences, and sure to stimulate lively debate.

A brief, post-show discussion, with local legal, religious, and educational leaders, follow each performance. Starring Arlene McAtee as Sister Aloysius. Melissa Powell is Sister James. Timothy Flynn portrays Father Flynn and Valencia Mccown is Mrs. Muller.

Jan. 23-Feb. 8, 2009 Des Moines Playhouse, Des Moines, Iowa.

A SKULL IN CONNEMARA Written by Tony Award winner Martin McDonagh. Directed by Stuart Rogers, artistic director and founder of Theatre Tribe.

Featuring Ovation award-winner Morlan Higgins, Jenny O'Hara, John K. Linton and Harrison Snider.

For one week each autumn, Mick Dowd is hired to disinter the bones in certain sections of his local cemetery to make way for the new arrivals. As the time approaches for him to dig up those of his own late wife, strange rumors regarding his involvement in her sudden death seven years ago gradually begin to resurface in this thrilling play by one of Ireland's most acclaimed playwrights.

The Set Design is by Jeff McLaughlin. The Lighting Design is by Luke Moyer.

Opens Friday, January 23 and will run for six weeks through Saturday, February 28 at Theatre Tribe, in North Hollywood, CA.

FEVER THE MUSIC OF MISS PEGGY LEE stars Lezlie Anders, the legendary singer/musician Buddy Greco and The Benny Goodman Tribute Band in a stage musical featuring the songs made famous by Miss Peggy Lee during a career spanning more than 60 years. Anders and Greco developed this show while living in Las Vegas. The sultry Anders is a perfect fit for the iconic Peggy Lee. The production played four performances this past week-end at the Prince Music Theatre in Philadelphia and they'll bring the show to The Annenberg Theater, February 14 and 15, 2009. Palm Springs, CA.

THE IMPORTANCE OF BEING ERNEST written by Oscar Wilde. Starring Lynn Redgrave as Lady Bracknell. David Schweizer directs.

Joining Redgrave are Jeffrey Carlson (Algernon Moncrieff), Wayne Wilcox (John Worthing, J.P.), Annika Boras (Hon. Gwendolen Fairfax), Zoë Winters (Cecily Cardew), Keith Reddin (Rev. Canon Chasuble, D.D.), Cynthia Mace (Miss Prism) and Chris Wells (Lane/Merriman) with Justin Bellero and Matthew Capodicasa.

Oscar Wilde's masterpiece of modern comedy! Jack Worthing's brother, Ernest, provides Jack with the excuse to escape from his dull home in the country to frolic in town. The home of Algernon Moncrieff's friend Bunbury provides a convenient locale for taking adventures in the country.

The problem? Ernest and Bunbury are imaginary, created by Jack and Algernon in order to add a dash of excitement to their lives. Their deceptions eventually cross paths, resulting in a series of hilarious crises that threaten to spoil their romantic pursuits.

Scenic design by Alexander Dodge, costume design by David Murin, lighting design by Matt Frey, sound design by Randy Hansen and hair and wig design by Mark Adam Rampmeyer. The production stage manager is Charles M. Turner, III.

Officially opens tonight, January 18, and runs through February 15 at the Paper Mill Playhouse in Millburn, New Jersey.




WHO'S WHERE


FOLK AMERICA: GREENWICH VILLAGE REVISITED The BBC's Folk America series is a comprehensive survey of American folk music which goes all the way back to the dawn of recorded sound. In it, the extraordinary people, the timeless songs and the multifarious stories intertwine to make up a great and continuingly relevant tradition. One of the giants of the scene, Grammy award-winner Judy Collins, will be joined by Eric Andersen, Carolyn Hester, Roger McGuinn and other extraordinary singer-songwriters of the era. January 22, 2009 at the Barbican Hall, London.

EAGLES perform Monday, January 19 at the Bi-Lo Center in Greenville, SC. Tuesday finds them at the Thompson-Boling Arena in Knoxville, TN. On Friday thy can be enjoyed at the New Orleans Arena and on Saturday the show is at the BJCC Arena in Birmingham, AL.

WILLIE NELSON has another busy week. He spends Monday and Tuesday performing at The Fillmore in San Francisco. On Thursday he's on stage at the Canyon Club in Agoura Hills, CA. On Friday he's in the spotlight at the Morongo Casino Resort in Cabazon, CA. On Saturday he appears at the Star of the Desert Arena in Primm, NV.

JOHN LEGEND spends this week performing in Texas. On Thursday, January 22 he's at the Nokia Theatre in Grand Prairie. Friday finds him at the Bass Concert Hall in Austin and on Saturday he's on stage at the Verizon Wireless Theater in Houston.

JOSHUA BELL entertains this week in Florida. On January 20 he at Ruth Eckerd Hall in Clearwater. On January 21 the place Philharmonic Center for the Arts in Naples and on January 24 the show at Knight Concert Hall in Miami.

TOBY KEITH performs Thursday, January 22, at Times Union Center in Albany, NY. On Friday he's on stage at the Mohegan Sun Arena in Uncasville, CT.




FINAL OVATION


TOM O'HORGAN director of the original Broadway productions of Hair and Jesus Christ Superstar, died Sunday, January 11 at home in Venice, Fla. He was 84.

Hair, was his Broadway directorial debut for which he was rewarded with a Tony nomination and being named Theatrical Director of the Year by Newsweek in 1968..

O'Horgan also directed Lenny, a play by Julian Berry about cutting edge comedian Lenny Bruce, who was portrayed by Cliff Gorman. He also directed the musical revue Inner City, as well as Dude; The Leaf People,, and I Won't Dance.

O'Horgan composed the score for and directed the screen adaptation of Futz! with Frederic Forrest, Sally Kirkland, and Jennifer O'Neill, composed the score for Alex in Wonderland, and directed the film version of Eugene Ionesco's Rhinoceros with Zero Mostel, Gene Wilder and Karen Black.

RICARDO MONTALBAN the Tony-nominated actor died Wednesday in Los Angeles. He was 88. His death was announced by Los Angeles City Council President Eric Garcetti, who represents the Hollywood district where the actor lived and where a theater is named for him. In 2000 The Los Angeles City Council approved a plan to convert the 1,021-seat Doolittle Theatre in Hollywood into a Latin-oriented performance center, which was renamed the Ricardo Montalban Theater. In 1971 the movie and TV star founded the Montalban-Nosotros Foundation to promote Latinos in show business. The Ricardo Montalbán Theatre opened in 2004. ( See Broadway To Vegas column of May 16, 2004 ) Ricardo Gonzalo Pedro Montalbán y Merino was born in Mexico City on Nov. 25, 1920, and moved to Los Angeles as a teenager to live with his older brother Carlos, who was pursuing a career in show business. The brothers traveled to New York in 1940, and Ricardo landed a bit part in Her Cardboard Lover, a play starring Tallulah Bandhead. He also appeared in the Broadway musical Jamaica, starring opposite Lena Horne. For his performance he was nominated for a Tony in 1958.

His other Broadway credits include Seventh Heaven (1955). In 1973 he was in the brief Broadway production of George Bernard Shaw's Don Juan in Hell. He also toured with the Shaw play in the title role. The production also featured Agnes Moorehead, Edward Mulhare and Paul Henreid. Montalban, who achieved major star status on television and in the movies, also toured as the King of Siam in The King and I in the 1960s.

Next Column: January 25, 2009
Copyright: January 18, 2009. All Rights Reserved. Reviews, Interviews, Commentary, Photographs or Graphics from any Broadway To Vegas (TM) columns may not be published, broadcast, rewritten, utilized as leads, or used in any manner without permission, compensation and/or credit.
Link to Main Page
---
Laura Deni



( COMMENTS )