! >
Broadway To Vegas
  
 SHOW REVIEWS CELEBRITY INTERVIEWS GOSSIP NEWS

| | |
| --- | --- |
| | |
DIRECTOR SHOOTING ACTOR ON STAGE TRIGGERS SAFETY CONCERNS - - MICHAEL JACKSON TRIBUTE OPENS IN LONDON - - COLIN FIRTH PORTRAIT AS MR. DARCY FETCHED TOP DOLLAR - - A NIGHT ON THE TOWN WITH MAD MEN - - 38TH ANNUAL THEATER HALL OF FAME CEREMONY - - TONY AND EMMY AWARD-WINNER LESLIE UGGAMS AS LENA HORNE IN STORMY WEATHER - - JAMES EARL JONES RECEIVES SAG LIFETIME ACHIEVEMENT AWARD - - PHANTOM OF THE OPERA REACHES ANOTHER BROADWAY MILESTONE - - DONATE . . . Scroll Down


COME'DIE TONIGHT TURNS BLOODY; FLORIDA THEATRICAL SHOOTING ACCIDENT INVOLVES THE PROMINENT AND FAMOUS
Bill Bordy founded Drama-Logue. A theater in Boston is named after him.
When news broke that an actor in an amateur production had been accidentally shot during rehearsals there was a brief news flurry. Fortunately, the bullet just grazed the ear of the 81-year-old man who was treated at a local Florida hospital and released. On with the show.

What was missed is just because the acting company, Sarasota Senior Theater, promotes itself as - an amateur senior citizens theater group - doesn't prevent A-list names from being on stage.

What was skirted over is that the shooter is famous, the gunmall pistol owner is a doyenne of society and the victim is no slouch, either.

The three stars of the headline making incident include: The Shooter - Bill Bordy, 78, the founder/publisher of Drama-Logue, which was a weekly trade newspaper covering the Los Angeles theater scene. In May, 1998 Drama-Logue sold its substantial assets to Backstage West.

In early 1972 a struggling thespian from Pittsburgh, named Bill Bordy published the first Hollywood Drama-Logue Casting Sheet, a single 8 1/2x11 sheet of paper with hand-typed casting notices. Bordy's modest effort eventually became the trade newspaper Drama-Logue, a weekly fixture at newsstands and a key supporter of actors and of the development of small theatre in Los Angeles.

In May, 2003 Emerson College in Boston re-christened a room known as The Vault to the Bill Bordy Theater and Auditorium. The naming was in recognition of a major recent gift to the College from Bordy, a Hollywood director and producer and a member of the Class of 1958. In addition to his most recent gift, Bordy has established a scholarship fund at Emerson and provided financial support for the renovation of the Majestic Theatre. Bordy received an Alumni Achievement Award from the College in 1985.



Natalie Gundrum president Sarasota Senior Theater presenting Joan Marcher a Certificate of Special Recognition as the playwright of Marry Go Round. Photo taken May 11, 2006. Photo from Sarasota Senior Theater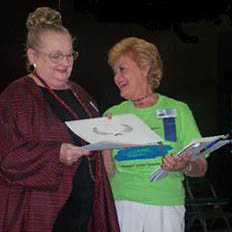 The gunmall - owner of the weapon Natalie Gundrum. Her charitable activities span decades. She's accustomed to being on the receiving end of functions which honor her, rather than having her statement included in a police report. Gundrum has been actively involved with The John and Mable Ringling Museum of Art, Kaleidoscope, Suncoast Pioneers and the Community AIDS Network. A former president of the Sarasota Senior Theatre, she has served as manager of the Asolo Repertory Theatre gift shop, which she started more than a decade ago. She started a similar shop for the Manatee Players, where she sat on the board and worked on the play-selection committee. At Manatee Players, the gift shop has generated enough money to provide scholarships for students to attend summer theater camps and workshops. At the Asolo, the money helps connect the theater with students through the Access to the Arts program.

The lady doesn't usually pack heat. She told police she keeps the .32-caliber Smith and Wesson revolver inside two socks in her nightstand. She brought the gun to the Manatee Theater in Bradenton to be used in the production and forgot to remove the bullets.

The victim: 81-year-old Fred "Kelly" Kellerman, who was playing the role of Lenny, who gets shot in the back of the head by George (played by Bordy), in the Sarasota Senior Theater's production Of Mice and Men.

Scene: Bordy,was both Kellerman's co-star and the show's director, picks up Gundrum's pistol and shoots Kellerman at point blank range in the back of the head during a final rehearsal of the show.

The entire rehearsal, including the shooting, was caught on tape by a camera set up to record the show.

After the trigger was pulled everyone thought the gun's loud bang was a special effect.



Fred Kellerman in the Sarasota Senior Theater production The Invention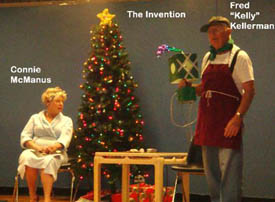 Enter the Bradenton police who were called to the Manatee theater about 5 p.m. Monday to investigate the shooting, which appears to be accidental, said Deputy Chief J.J. Lewis. The shooting is being further reviewed by detectives to determine if any crime was committed, he added.

Kellerman was found conscious and talking, but was bleeding profusely on the Bradenton stage. Shooter Brody was distraught. "He was really, really upset about it, so I quieted him down a bit," Kellerman was quoted as saying. "By that time, I assumed if I was going to die, I'd be dead already."

Kellerman was rushed to Manatee Memorial Hospital, where an amazed doctor discovered that the bullet grazed his skull resulting in a cut above the left ear.

Doctors termed that Annie Oakley shot as "a million-in-one chance of something like this happening." The loud bang sound so close to Kellerman's ear did cause a temporary hearing loss. Kellerman was heard complaining that the tetanus shot the nurses administered was painful.

Released from the hospital Kellerman went back to his home in Sarasota. Meanwhile, the police did their routine while others mopped up the blood.

"I'm the actor, I'm the director and we're running and late, and without thinking I didn't check the gun," was part of Bordy's statement. "I was like, 'Oh my God, dear Lord, no.'" Just two hours after the shooting, the group went on to perform Come'die Tonight, billed as "an evening of skits, wits, half-wits and poets." Another actor performed Kellerman's part. Comedie Tonight! was conceived and directed Bordy. When asked why comedy is spelled comedie, Bordy explained, "In French, comedie not only means funny ha ha, it is, also, the name for a play or drama. That's precisely what we do in this show. We are not only presenting comedy skits, but we are doing scenes from two dramatic plays, Ladies in Retirement and Of Mice and Men."

Bordy is reported to be so upset over the accident that he now has trouble sleeping. Following the incident, the theater group began creating new rules to help prevent future prop accidents. Inquiries by Broadway To Vegas as to what new safety procedures would be implemented were not answered.

The Sarasota Senior Theater is modeled after the 400-plus senior theater troupes that belong to the International Senior Theaters Organization. Bordy serves on the Board as vice-president.

Prior to the shooting making headlines, The Sarasota Senior Theater, recently gained a spotlight at the International Senior Theater Conference after winning a musical competition written by its founder and president, Irene Silver. It was also awarded the Golden Gavel Award for community service by the Sarasota Herald Tribune.

No charges have been filed, but the shooting is still under investigation.

Movie Gun Services LLC Specialists in Heavy Weapons and Pyro for the entertainment industry since 1985, offers the following guidelines for the use of weapons on stage. Broadway To Vegas strongly recommends that these guidelines be read - memorizing the ones which state;

Don't ever point a Blank Gun directly at another person, even on stage. Aim and fire upstage of the target. The audience will never know the difference.
Do not fire a Blank Gun within 2 feet of another person… escaping gasses can injure them and the sound can cause hearing loss.

Community Theater

Throughout the history of Community Theater, the topic of guns on stage has reared its head over and over again. Murder mysteries, thrillers, comedies, dramas, even musicals require this device as an integral part of the plot. Theaters have used all manner of devices to simulate gunfire on stage, from toy pistols and sound effects, starter pistols, blank firing guns and real guns using blanks. Here is the do's and don'ts of guns on stage, with an emphasis on safety and security.

Types of Guns for Use on the Stage

Non-Firing Replica - This is the safest gun for use on stage. It looks and feels like a real gun, but cannot chamber a round and will not fire, lacking a firing pin. Relatively inexpensive, these guns are manufactured from original blueprints from less robust metals. They can be used when a gun needs to be displayed on stage but not fired. Safe as they are, non-firing replicas should still be treated as real guns and locked up when not in use.

Blank-Firing Replica (Blank Gun) - This is a gun built specifically to chamber a blank round. A blank round is a shell that does not contain a projectile (bullet). Generally, these are built from blueprints matching real guns and then modified to chamber a blank round, usually 8mm, and ported so that the gasses from firing do not come out of the end of the barrel, but are shunted out the top or side. Treat them as if they were a real gun. These come in three basic types: the revolver and semi-automatic handgun styles, and the long gun.

Revolver - This handgun has a cylinder that holds the blank rounds and rotates to bring them under the firing pin. Best for use on stage because of its simplicity and the fact that it does not eject spent shells.

Semi-automatic - This handgun holds its blank rounds in a magazine in the grip and, when fired, uses a slide powered by expanding gases to chamber the next round. Unfortunately, this has the effect of ejecting the spent shell from the gun onto the stage or even into the audience. Care should be taken when using this type of gun on stage as the shells ejected will be hot.

Long Gun - Generally speaking, this is a blank-firing replica of a western rifle, although other types of long guns are available. These are not often called for in plays. The same basic rules apply to these guns as apply to semi-automatic handguns, though long guns are typically hand operated, so there is some control over the ejection of a spent shell.

Real Guns - NO, NO, NO! These are not safe for use on stage unless they have been modified by a licensed gunsmith to chamber only blank rounds and have had their barrels plugged to prevent any gasses from escaping from the barrel. Even so, I do not recommend using this type of gun on stage. Buy or rent a properly functioning blank gun designed for stage use. They are worth the investment and, properly cared for, will last for many years. Federal laws and several dozen states strictly regulate who, where and why replica guns may be possessed. Your theatrical supply house can provide you with the facts.

Ammunition Blank-firing replicas fire rounds containing only a primer and powder. A blank round looks very much like a spent shell from a real gun that may or may not be crimped at the end. Sometimes it has a piece of paper or cardstock inside that holds the powder in place. This ammunition comes in several different sizes: .22 caliber acorn, .22 caliber long, .32 caliber, .380 caliber, 8mm and 9mm. There are others, but these are most common. Most blank-firing replicas made specifically for use on stage use 8mm and 9mm, although the .32 and .380 are also popular revolver loads.

Safety Nothing is more important than safety when using and storing stage guns. Some will remember the tragic death of Brandon Lee during the filming of the movie The Crow.

According to newspaper and magazine accounts, the scene in question was staged early in the morning of March 31, 1993, in Wilmington, North Carolina. The scene was the death of Lee's character, Eric Draven, at the hands of street thugs, and was a pivotal plot element to the movie. Lee was to walk in through a door carrying a bag of groceries. Actor Michael Massee, who played Funboy, fired a revolver loaded with blanks at Lee. To complete the illusion, a small explosive charge was to go off in the grocery bag. Unfortunately, a fragment of a dummy bullet, used earlier in close-up shots, was lodged in the barrel, and the blank charge propelled the fragment into Lee's side, fatally wounding him."

Because of the nature of Community Theater, you have no need for the use of dummy bullets… kind of tough to do a close-up on stage. However, that doesn't change the safety rules that apply to the use of prop guns on stage.

Treat every gun as if it is real and loaded.

Don't ever point a Blank Gun directly at another person, even on stage. Aim and fire upstage of the target. The audience will never know the difference.

Do not fire a Blank Gun within 2 feet of another person… escaping gasses can injure them and the sound can cause hearing loss.
Do not fire a Blank Gun while it is in contact with a person, even through clothing.

Make sure that only one person (the "Gun Wrangler") has control of the Blank Guns until they go out on stage and that they are immediately returned to the same person following their appearance on stage. The Gun Wrangler must be a person with training in gun safety and be familiar with Blank Guns, their maintenance and cleaning.

The Gun Wrangler should make sure each Blank Gun is inspected, cleaned and in good working order each time it goes to the prop table.

The Gun Wrangler should be the person responsible for loading and unloading the Blank Guns, although all actors must be familiar with the workings of the Blank Guns. This is at odds with standard gun safety practices, but, because of the pressures of performing, I've found this to be a safer way of doing things. However, actors should always check (under the supervision of the "Wrangler") the Blank Gun before going out on stage and should be responsible for chambering the first round. In revolvers, the chamber under the hammer should always be empty. In semi-automatics, the slide is pulled back to charge the chamber.

All Blank Gun are to be locked up when not actually needed.

Blank Firing Guns should never be loaded until just before use.

Each actor that uses a Blank Gun must be taught basic gun safety.

Each actor must be familiar with the rules of the theater regarding the use and storage of stage guns.

5. Storage
Blank Guns and blank ammunition of all types should be locked up securely when not in use. The gun wrangler should be the only one with access to this storage. This does not mean the glovebox or trunk of a car, or an unlocked Grip box sitting on the sidewalk.

6. Training
The Prop House that you'll be renting from should be able to provide you with an instructor who can teach you and your actors with the skills necessary for safe and proper handling. It would be best if you arraign for all your crew to spend a day with the instructor and become familiar with every aspect of Blank Gun operations and procedures.

7. Sources for Replicas and Ammunition
You can go through your local theatrical supply house. Be sure to check your local and state laws regarding the use, storage and shipment of replica guns.



Broadway To Vegas is supported through advertising and donations. Priority consideration is given to interview suggestions, news, press releases, etc from paid supporters. However, no paid supporters control, alter, edit, or in any way manipulate the content of this site. Your donation is appreciated. We accept PAYPAL. Thank you for your interest.


ART AND ABOUT


COLIN FIRTH PORTRAIT AS MR. DARCY

The painting featured in the fourth episode of the BBC series in which Elizabeth Bennett visits Darcy's Pemberly estate and sees it hanging in Pemberly's Great Hall.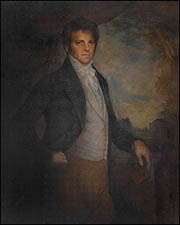 an oil painting along with a signed letter from the star, has been gaveled down on January 21 for $16,509 at Bonhams in London, double its estimated price. The oil painting was a prop from the 1995 BBC adaptation of Jane Austen's classic novel Pride and Prejudice, had received a number of advance bids.

The painting was accompanied by a signed letter from Firth, in which the 48-year-old star claimed Mr Darcy "has weathered better than most of us". Proceeds from the sale will be shared by Oxfam and the Southampton and Winchester Visitors Group. "This painting sold for double its estimated value for the simple reason that the series so captured the heart of the viewing public, particularly the fairer sex," said Julian Roup, a spokesman for Bonhams auction house.

Approximately 11 million people watched Andrew Davies' 1995 adaptation of Pride and Prejudice, when the six-episodes were first broadcast - with Firth's 'wet shirt scene' instantly assured his heartthrob status.

The accompanying letter from the star describes the journey the painting undertook to ensure it resembled the actor.

"Whatever you think of him today, you can consider yourselves fortunate to have been spared his earliest incarnation," wrote Firth. "He started life as a much less engaging approximation of an even less engaging photograph," the letter says.

"If one were to conduct X-rays they would reveal the tortuous and unseemly process of slimming down and redefinition.

"Mr Darcy mark 1 came across as a shabby, insubstantial, derelict looking actor. The likeness was supernatural. I disliked him intensely… as did everyone else.

"A very talented production designer managed to take him on a transformative journey into something bearable… and eventually into someone who could actually pass the audition."

The painting featured in the fourth episode of the BBC series in which Elizabeth Bennett visits Darcy's Pemberly estate and sees it hanging in Pemberly's Great Hall.

Colin Firth went on to star in The English Patient; Love Actually and the Bridget Jones films. He can currently be seen in the big screen adaptation of Mamma Mia!





PHANTOM OF THE OPERA directed by Harold Prince, will reach an unprecedented milestone when it celebrates its twenty-first anniversary on Broadway on Monday, January 26, 2009. On that date, playing its 8,732nd performance at The Majestic Theatre, it will become the first Broadway production ever to have run 21 years.

The musical is the winner of seven 1988 Tony Awards including Best Musical. Since its Broadway debut on January 26, 1988, The Phantom of the Opera has grossed $715 million, making it the highest-grossing show in Broadway history. It has now played over 8,700 performances – the only show in Broadway history to do so – and all with no end in sight.

The Phantom of the Opera has always been a record-breaker, with the New York production setting benchmarks that have dominated the industry: for capitalization (a then-spectacular $8 million), total advance (a then-enormous $18 million), total gross and attendance ($715 million and 13 million and counting), total performances (becoming the first and still only show to ever reach 7,500; 8,000; 8,500 and now over 8,700 perfs), and even the number of years before a single ticket was ever sold at the TKTS ticket booth in Times Square (over 14 years, which is still the record, by a long shot). And since becoming the longest-running show in Broadway history in 2006, each performance has set a new longevity record.

The musical has also broken all touring records. It continues to be the longest continuously-touring show in U.S. history, with the first of its three National Tours having gone out over 20 years ago in May 1989. The current tour is the longest-running touring production in U.S. history, having recently celebrated its 16th Anniversary on December 13, 2008, and having played over 6,500 performances.

The Phantom of the Opera had its world premiere on October 9, 1986 at Her Majesty's Theatre in London, winning every major British theatre award including the Olivier and Evening Standard Awards. The New York production opened on January 26, 1988 with a then record advance of $18 million. The musical went on to sweep the 1988 Tony Awards, winning seven, including Best Musical. The Phantom of the Opera also won seven Drama Desk Awards and three Outer Critics Circle Awards. The original London cast recording was the first in British musical history to enter the charts at number one. It has since gone both gold and platinum in Britain and the U.S. selling over 40 million copies worldwide.

Base on the classic novel Le Fantôme de L'Opéra by Gaston Leroux, the stage musical tells the story of a masked figure who lurks beneath the catacombs of the Paris Opera House, exercising a reign of terror over all who inhabit it. He falls madly in love with an innocent young soprano, Christine, and devotes himself to creating a new star by nurturing her extraordinary talents and by employing all of the devious methods at his command.

The Broadway show stars Howard McGillin in the title role with Marni Raab as Christine and Tim Martin Gleason as Raoul. Having donned the mask over 2,300 times, Mr. McGillin holds the record for having performed the title role more than any other actor in the Broadway production. The musical also co-stars George Lee Andrews (Monsieur André; Mr. Andrews is the only cast member to have been with the Broadway production for the entire run), David Cryer (Monsieur Firmin), Patricia Phillips (Carlotta), Rebecca Judd (Madame Giry), Evan Harrington (Piangi) and Polly Baird (Meg Giry). At certain performances, Elizabeth Loyacano plays Christine.

Music by Andrew Lloyd Webber and is directed by Harold Prince. Lyrics are by Charles Hart (with additional lyrics by Richard Stilgoe) and the book is by Richard Stilgoe and Andrew Lloyd Webber. The Phantom of the Opera has production design by the late Maria Björnson, lighting by Andrew Bridge and sound by Martin Levan. Musical staging and choreography is by Gillian Lynne. Orchestrations are by David Cullen and Andrew Lloyd Webber.

38TH ANNUAL THEATER HALL OF FAME CEREMONY will be hosted by five-time Tony nominee Dana Ivey. The event will be held Jan. 26 in the Gershwin Theatre's North Rotunda.

The class of 2008 Theater Hall of Fame inductees include actors Nathan Lane and Richard Easton, playwright Alan Ayckbourn, producer Emanuel Azenberg, choreographer Patricia Birch, composer Marvin Hamlisch, orchestrator Jonathan Tunick and, posthumously, the late actor Roscoe Lee Browne.

Presenters will include Stephen Sondheim, Jack O'Brien, Frank Rich, Terrence McNally and Ann Reinking.
A post-induction supper will be held at the New York Friars Club. Honorary chair is Dame Celia Lipton Friars; Terry Hodge Taylor produces.

Eligible nominees must have a minimum of five major credits and 25 years in the Broadway theatre. The inductees are voted on by the American Theater Critics Association and the members of the Theater Hall of Fame.

Host Dana Ivey was inducted into the Theatre Hall of Fame last year. She was last on Broadway in the Nathan Lane revival of Butley, for which she received a Tony nomination. Last year's inductees also included actors John Cullum, Harvey Fierstein, Lois Smith; director Jack O'Brien; playwright Peter Shaffer; and librettist Joseph Stein. The late theatre critic Mel Gussow was inducted posthumously.

JAMES EARL JONES

James Earl Jones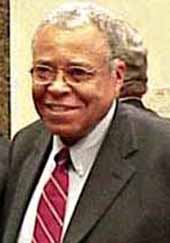 the triple threat film, television and stage actor, honored with 2008 SAG Lifetime Achieve Award during televised ceremonies on Sunday, January 25, 2009.

Well known for his deep basso voice, Jones began his acting career at the Ramsdell Theatre in Manistee, Michigan. In 1953 he was a stage carpenter. During the 1955 – 1957 seasons he was an actor and stage manager. He performed his first portrayal of Shakespeare's Othello in this theater in 1955.

His 1968 Broadway appearances included starring as the tragic boxing champ Jack Johnson in The Great White Hope. He was honored with the Tony award and then starred in the 1970 film version.

In 1987 he again won a Tony for Fences and his performance of Othello is considered one of the greatest in history. Other Shakespearean roles include King Lear, Oberon in A Midsummer Night's Dream, Abhorson in Measure for Measure, and Claudius in Hamlet. On April 7, 2005, James Earl Jones and Leslie Uggams headed the cast in an African-American Broadway revival version of On Golden Pond, directed by Leonard Foglia and produced by Jeffrey Finn. Jones received a Tony nomination as Best Leading Actor in a Play.

In February 2008, he began starring on Broadway as Big Daddy in a limited-run, all-African-American production of Tennessee William's Pulitzer Prize-winning drama Cat on a Hot Tin Roof, directed by Debbie Allen and mounted at the Broadhurst Theatre. He appeared alongside stage veterans Phylicia Rashad (Big Mama) and Anika Noni Rose (Maggie), as well as film actor Terrence Howard making his Broadway debut as Brick.

He received Kennedy Center Honors in 2002.


SPREADING THE WORD


PACIFIC LYRIC ASSOCIATION is offering a free Workshop for Educators in conjunction with its upcoming production of Luisa Fernanda, the Zarzuela. The Workshop for Educators takes place on Saturday, January 31 at Art/Works Theatre in Hollywood. Performances of Luisa Fernanda will take place February 19-21 at the Ricardo Montalban Theatre.

"As a high school and college theater educator for over 35 years, I'm struck by the art form of zarzuela as a powerful learning experience for students of theater, music, history and Spanish," explains workshop coordinator Barbara Masters. "With its stirring music and intriguing characters, I believe that Luisa Fernanda will excite the diverse young people of Southern California who have little or no knowledge of this honored and widely recognized Spanish lyric opera form. It's a wonderful opportunity to enhance the arts and cultural education of our students."

A zarzuela (pronounced zar zway' la) is a Spanish musical that blends the brilliance of Broadway with the passion of opera. The art form had its inception near Madrid in the 1640s. Influenced over the centuries by Italian and French musical styles, but retaining a distinct personality, zarzuelas flourished as a popular entertainment in the 1920s and '30s.

Workshop participants will learn about the origins, history and components of the zarzuela form; explore the social and historical background of Luisa Fernanda - including the Spanish political climate in both 1868, when the zarzuela is set, and 1932, when it was written; hear music and songs sung by members of the cast; and receive a copy of El Cuaderno (The Notebook), an eight-page, in-depth, California State Standards-based study guide that can be used as a teaching tool.


OTHER PEOPLE'S MONEY


9 TO 5 LAWSUIT Colin Higgins Prods., the trust representing the late screenwriter, is suing lawyer Barry Hirsch, saying the attorney failed to represent the author in negotiations for turning the screenplay of 9 to 5 into a stage musical.

Barry L. Hirsch had represented Mr. Higgins until his death in 1988. The trust ended its dealings with Hirsch after discovering that he was also representing Patricia Resnick, the other screenwriter of the movie, and the author of the book for 9 to 5: The Musical. Resnick has story credit on the film, and she and Higgins share screenwriter credit. The lawsuit says that Mr. Hirsch failed to secure Higgins's stage rights for the musical project, and seeks damages for legal malpractice and breach of fiduciary duty. The lawsuit was filed on Jan. 14 against Hirsch and his law firm in L.A. County Superior Court, accusing Hirsch of legal malpractice and breach of fiduciary duty. The trust seeks a jury trial and damages to be determined.

Resnick wrote the libretto of the new musical, which has songs by Dolly Parton. The musical premiered in Los Angeles at the Ahmanson Theatre last September ( See Broadway To Vegas column of September 21, 2008 ) and will begin previews on Broadway at the Marquis Theater on April 7.


SWEET CHARITY


A NIGHT ON THE TOWN WITH MAD MEN is part of this year's NATPE Conference headquartered in Las Vegas. In the spirit of Sin City variety shows of the '60's, the revue will feature music, comedy and cocktails with cast and crew of the Emmy and two-time Golden Globe-winning series and will be held in the Hollywood Theater of the MGM Grand Hotel Tuesday night.

The event is a fundraiser for the NATPE Educational Foundation,

A Night on the Town with Mad Men will feature original cast members Bryan Batt, Michael Gladis, Rich Sommer, Tony-award winner Robert Morse, Mark Moses, Maggie Siff, Alison Brie, Patrick Fischler, Melinda McGraw, Colin Hanks, Crista Flanagan, Julie McNiven, Donielle Artese, Audrey Wasilewski and Joel Murray, who will emcee the evening. In addition to musical director David Carbonara, others onboard from the original series are director Michael Uppendahl, WGA award-winner Robin Veith, set designer Adam Rowe, Emmy-nominated set decorator Amy Wells, and Emmy Award-winning costume designer Janie Bryant.

Emmy-nominated choreographer Mary Ann Kellogg will be joining this premier ensemble, which will also include such other special guests as Inara George, Dar Williams and Rima Yazbeck. Brooks Brothers, which works closely with Janie Bryant on the series, will be providing wardrobe for the cast of the revue as well.

Music will be the centerpiece of the live revue, just as it plays an essential role in the critically-acclaimed TV show, with a hit soundtrack that features Chubby Checker, Brenda Lee and Perry Como, and many other iconic legends of the era. Carbonara's transcendent score will bring it all together as the audience enters the world of Mad Men.



STORMY WEATHER Conceived and written by Sharleen Cooper Cohen, music by Cole Porter, Harold Arlen and Johnny Mercer, Rodgers & Hart, Billy Strayhorn, and more. Story Weather is suggested by the biography Lena Horne, Entertainer published by Chelsea House.

Style. A glorious voice. Grace. Brains and beauty, talent and presence. All these were still not enough to make Lena Horne one of the world's greatest entertainers. Above all, she needed grit and courage and tenacity. She battled racism and blazed a trail for African American artists over a 40-year career with many firsts: first African American movie star, first black woman on a national magazine cover. Blacklisted and suspended by M-G-M, Lena Horne faced professional and personal tragedies that nearly ended her career.

Michael Bush, who served as the former Director of Artistic Production for the Manhattan Theatre Club in New York City, directs a cast of sixteen led by Tony and Emmy Award–winner Leslie Uggams as Lena Horne, Nikki Crawford as Young Lena, and Tony nominated Dee Hoty.

The cast includes; Phillip Attmore as Jivin' Jones/Louis Jones; Jordan Barbour as Teddy Jones; Yvette Cason as Edna Horne Rodriguez/Ruby/Church Lady; Tony winner Cleavant Derricks (Dreamgirls) as Teddy Jones, Sr.; Wilkie Ferguson as Aiken Bones/Medgar Evers/Avon Long/Building Super; Ashley Greene as Young Gail-Alternate; Bruce Katzman as L.B. Mayer/Perry Como/Barney Josephson/American Man/Photographer/Production Assistant; Cheri McKenzie as Young Gail-Alternate; Kevyn Morrow as Billy Strayhorn; Jeffrey Rockwell as Arthur Freed/Oweny Madden/Gary Cooper/Director/ British Man/Drunk/Announcer Voice-Overs; Tony nominee Robert Torti (Starlight Express) as Lennie Hayton; Toni Trucks as Gail Jones Lumet/Amanda Gerrard/French Woman/Wardrobe Lady; and Diane Vincent as Loreen Hall/Hostess/Wardrobe Lady/American Woman/Production Assistant/Waitress.

The creative team includes Linda Twine (music director/conductor), James Noone (scenic design), Martin Pakledinaz (costume design), Paul Gallo (lighting design), Lewis Mead (sound design), Paul Huntley (principal wig design), Carol F. Doran (wig and hair design), Gordon Goodwin (orchestrations), Lisa Dozier (assistant director), Jeremy Benton (associate choreographer), Lurie Horns Pfeffer (production stage manager) and Lea Chazin (assistant stage manager).

The world premiere of Stormy Weather was produced by Prince Music Theater in Philadelphia in 2007, following a 2003 New York City workshop presented by Amas Musical Theater. Stormy Weather is produced by special arrangement with Stewart F. Lane, Bonnie Comley and Armica Productions. Performances continue to March 1 at the Pasadena Playhouse in Pasadena, CA.

FLYOVERS by Jeffrey Sweet. Directed by Sandy Shinner, the Associate Artistic Director at Victory Gardens Theatre in Chicago, where this had its world premiere, earning playwright Sweet the coveted Joseph Jefferson Award.

The New York Premiere of Jeffrey's play about a film critic who finds himself caught up in a culture clash of economics, sex and long-submerged resentment when he returns to the small Ohio town where he grew up.

The cast includes Kevin Geer, Donna Bullock and a re-uniting for Richard Kind and Tony winner Michelle Pawk who starred in the Chicago and Washington, DC mountings of Bounce

Flyovers features set and lighting design by Robin Patterson. January 29-February 15 - 78th Street Theatre, NYC.

FROST/NIXON by Peter Morgan. When British talk-show host David Frost nabbed a televised interview with former US President Richard Nixon, both men thought they had the upper hand. But neither Tricky Dick nor his young opponent knew what they were in for. Frost/Nixon has been hailed by theatre critics across the country as one of the most brilliant new plays in years. Peter Morgan's fresh and funny script sheds new light on a monumental and historic event.

Tony nominee Stacey Keach plays Richard Nixon, and acclaimed British actor Alan Cox is David Frost.

Jan 27 - Feb 8, 2009 at the Colonial Theatre in Boston.

EVERY GOOD BOY DESERVES FAVOUR a play for actors and orchestra by Tom Stoppard and André Previn.

I assure you there is not much in it. Taken as a whole, the sane are out there and the sick are in here. For example, YOU are here because you have delusions, that sane people are put in mental hospitals.

A dissident is locked up in an asylum. If he accepts that he was ill, has been treated and is now cured, he will be released. He refuses.

Your opinions are your symptoms.
Your disease is dissent.

Sharing his cell is a real lunatic, Ivanov, who believes himself to be surrounded by an orchestra. As the dissident's son begs his father to free himself with a lie, Tom Stoppard's darkly funny play asks if denying the truth is a price worth paying for liberty.

Olivier Award-winning actor Toby Jones plays Ivanov. His film work includes Oliver Stone's W, Frost/Nixon, and an unforgettable performance as Truman Capote in Infamous.

The cast includes: The Teacher - Bronagh Gallagher; Sacha - Bryony Hannah; Ivanov - Toby Jones; Alexander - Joseph Millson; The Doctor - Dan Stevens; The Colonel - Alan Williams.

Directors: Felix Barrett and Tom Morris. Conductor: Simon Over. Designer: Bob Crowley. Lighting Designer: Bruno Poet. Choreographer: Maxine Doyle. Sound Designer: Christopher Shutt. A co-production with Southbank Sinfonia – Britain's young professional orchestra. 65 minutes with no intermission.

Opened January 16, 2009 at The National Theatre in London.

BE NEAR ME A stage version by Ian McDiarmid adapted from The Booker Prize nominated novel by Andrew O'Hagan. Directed by John Tiffany.

David Anderton, an Oxford-educated Catholic priest, is assigned to a parish in a dispirited Scottish town on the Ayrshire coast. Lonely and adrift he befriends two unstable teenagers from the local school and is drawn into their exotic world. As events spin out of control he is forced to face his greatest trial yet.

The cast includes: Jimmy Chisholm, Blythe Duff, Kathryn Howden, Ian McDiarmid, David McGranaghan, Richard Madden, Helen Mallon, Colette O'Neil, Benny Young and Jimmy Yuill.

Designer: Peter McKintosh. Lighting Designer: Guy Hoare. Musical Director: Davey Anderson. Sound Designer: Gareth Fry.

Performances through March 14, 2009 at the Donmar in London. After its run at the Donmar, Be Near Me will embark on an eight-week tour of the UK.

SURVIVING SEX written by acclaimed comedy writer David Landsberg. Starring an ensemble cast lead by Jeff Marlow, and directed by Susan Morgenstern.

Surviving Sex tells the misadventures of Stan Cooper (Jeff Marlow), your average accountant with a not-your-average sex life. His quest for sexual understanding is thwarted by the cast of romantically-challenged characters in his life.

Filled with eccentric encounters and lively liaisons, Stan's romp through the jungle of love shows us how different love and sex can really be.

Life without romance may be a lot safer than surrendering to one's sexual needs…but certainly not funnier!

The world premiere plays five weeks, January 28 - March 1, 2009 at the Falcon Theatre in Burbank, CA.

ORPHAN TRAIN music by Doug Katsaros. Book by L.E. McCullough. Lyrics by Michael Barry Greer.

Directed by Patricia Birch.

It is 1872. Orphaned and neglected children in New York City are boarding a train to find new lives out west. Thus begins the journey through this new musical and into the lives of six children as they climb aboard the "orphan train" in search of a family and a future.

The Rev. Charles Loring Brace founded the "orphan trains" in response to the tens of thousands of children left to fend for themselves on the streets of New York City. Sometimes the children's stories had happy endings and sometimes the consequences were tragic.

From that experiment was born the foster care system which battles similar conditions today.

Set Design by Richard Finkelstein. Lighting Design by Kirk Bookman. Production Stage Manager Jennifer Granrud.

January 30 - February 11, 2009 at New York State Theatre Institute in Troy, New York.

HEDDA GABLER by Henrik Ibsen. A new adaptation by Christopher Shinn. Directed by Ian Rickson.

A woman of dangerous independence restrained by a conventional marriage, the newly married Hedda (Mary-Louise Parker) mourns the freedom and excitement of her former life by indulging in a cruel game, amusing herself with the misfortune she inflicts on those around her. As Hedda struggles to balance her wild desires against her chosen life, she sets into motion a manic chain of events that bring her story to a chilling end.

Starring Tony Award winner Mary Louise Parker in the role of an unhappily married woman in 1880s Norway. The cast also includes Swedish-born actor Peter Stormare, making his Broadway debut, as venal Judge Brack; Tony Award winner Michael Cerveris as Hedda's dry professor-husband Jorgen Tesman; Paul Sparks as Ejlert Lovborg; Lois Markle, as maid Berte; Ana Reeder as Mrs. Thea Elvsted; and Tony nominee Helen Carey as Miss Juliane Tesman, Tesman's aunt.

The company also includes understudies Opal Alladin, Peter Bradbury, Lucy Martin and Ray Virta.

The design team includes Hildegard Bechtler (sets), Ann Roth (costumes), Natasha Katz (lights), John Gromada (sound), Peter Owen (wigs), Ivana Primorac (makeup and hair design). The literal translation of the play is by Anne-Charlotte Harvey. James FitzSimmons is production stage manager. Bryce McDonald is stage manager. Original music is by PJ Harvey.

Officially opens Jan. 25 with performances through March 29, 2009 at Roundabout's American Airlines Theatre in NYC.

THE TWO GENTLEMEN OF VERONA by William Shakespeare. Directed by Joe Dowling.

The comedy follows a pair of young gentlemen from Verona – Valentine (Sam Bardwell) and Proteus (Jonas Goslow) – as they journey to Milan. One is eager to experience the world in order to acquire proper manners and learn the sophistication of high society, while the other's father has forced him to separate from the beloved Julia (Sun Mee Chomet) and leave home. Once in the new city, however, both men fall for the duke's daughter Silvia (Valerie Mudek), leading to one's banishment. Heartbreak and hilarity ensue, as sensational plot twists, inescapable identity mix-ups and two clownish servants (Jim Lichtscheidl as Launce and Randy Reyes as Speed) bring happy conclusion to both young couples' love.

The cast features Sam Bardwell as Valentine, Jonas Goslow as Proteus, Valeri Mudek as Silvia, Jim Lichtscheidl as Launce and Randy Reyes as Speed with Sasha Andreev (Singer), Michael Booth (Panthino/Outlaw), Laura Esping (Lucetta), Nathaniel Fuller (Antonio/Outlaw), Hugh Kennedy (Outlaw), Kris L. Nelson (Sir Eglamour), Lee Mark Nelson (Duke of Milan), Isabell Monk O'Connor (Host of the Inn), John Skelley (Tuiro) and pooch Wyatt (Crab).

Keith Thomas has scored the production. The creative team also includes Riccardo Hernandez (set designer), Ann Hould-Ward (costume designer), Christopher Akerlind (lighting designer), Scott W. Edwards (sound designer), Michael Lupu (dramaturgy), Andrew Wade (voice and dialect coach), Joe Chvala (movement), Marcela Lorca (movement), Chris A. Code (stage manager), Brian Balcom (assistant director) and Michele Harms (assistant stage manager). The production officially opens on Jan. 30 and plays through March 29 at the Guthrie in Minneapolis.

MICHAEL JACKSON: THRILLER LIVE featuring the songs of Michael Jackson and The Jackson 5. Originally conceived and created by Adrian Granta

Directed by Gary Lloyd. Choreography by Gary Lloyd, LaVelle Smith, Jr and Kerys Nathan.

Eighteen singers and dancers pat tribute to the musical hits and career of Michael Jackson and the Jackson 5. Delivered chronically, more than 30 songs include; I Want You Back; I'll Be There; Show You The Way To Go; Can You Feel It; Rock With You; She's Out Of My Life;Thriller; Beat It; Ben; ABC; Man in the Mirror; Dirty Diana; Billie Jean; Earth Song.

Detailing the meteoric rise of the performer from small town Indiana through the Jackson 5 to international super-stardom, Thriller Live! boasts a cast of over 20 performers and a live band. The cast includes: Denise Pearson, Ricko Baird, Roger Wright, John Moabi, Ben Foster, Kamilah Beckles; Ivan Blackstock; Jordan Darrell; Jo Dyce; Christabelle Fields; Elliott James; Earl Perkins; Danni Rothman; Emily Rumbles; Ross Sands; Sean Williams; Yasmin Yazdi.

Three 14-year-old boys rotate playing the young Michael Jackson are Layton Williams who recently shared the lead role in the London version of Billy Elliot, Sterling Williams, Ashton Russell and Kieron Alleyne.

Neither Michael Jackson nor his family or record label, Sony, are involved in the production although brother Tito Jackson's attended the opening. On stage at the 900-seat Lyric Theatre in London.




WHO'S WHERE


EAGLES on stage this week in Florida. Monday, January 26, finds them at Bank Atlantic Center in Sunrise. On Wednesday the show is at Jacksonville Veterans Memorial Arena in Jacksonville. Thursday they take to the stage at St. Pete Times Forum in Tampa and on Saturday they are in the spotlight at Amway Arena in Orlando.

AC/DC perform Monday, January 26, at the BOK Center in Tulsa, OK. On Wednesday they are at the Alitel Arena in North Little Rock. Friday finds them at the Fed Ex forum in Memphis. On Saturday the show is at the Sommet Center in Nashville.

NEW KIDS ON THE BLOCK across the pond, on stage Tuesday, January 27 at Sheffield Arena in Sheffield, England. On Wednesday the show is at the Metro Radio Arena in Newcastle Upon Tyne. Thursday they can be enjoyed at the Cardiff International Arena in Cardiff and on Saturday they are in Germany with a performance at Jahrhunderthakke un Frankfurt.

DAVE KOZ in the spotlight Friday, January 30 at the Schermerhorn Symphony Center in Nashville.

ROD STEWART opens a two nighter Wednesday, January 28, at Seminole Hard Rock in Hollywood, FL.

JEFF DUNHAM in Canada this week with shows Thursday, January 29, at the Brandt Centre in Regina. On Friday he's on stage at the Cred Union Centre in Saskatoon and on Saturday the show is at the MTS Centre in Winnipeg.




WHITE HOUSE FASHION SENSE
Michelle Obama was a hit in this Isabel Toledo outfit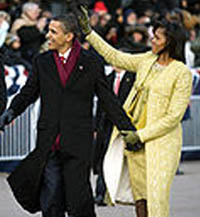 Everybody is weighing in on the inaugural outfits worn by the new First Lady - so we might as well add our stitch in time. American has been in the television age for quite some time. Thus, Broadway To Vegas has never understood why at really important events - such as an inaugural ball where the dress is going to be on camera - that theatrical costume designers are never invited to submit sketches. It's always fashion designers or even fashion students who get the invite to sketch up history. Over the decades, some of the results have been wonderful while others belonged in the remnant basket.

Attention has been paid to two outfits Mrs. Obama donned. The swearing in ensemble and the evening ball gown.

The fashion conscious Michelle selected a sheath dress and matching coat in lemongrass yellow made by Cuban-born American designer Isabel Toledo, 48, for the swearing-in and inaugural parade. Made in Swiss wool lace lined with French silk – the selection was perfect for the occasion. In bitter cold weather Michelle Obama could have even worn a couple of pairs of thermal underwear and not ruined the line of the dress. That type of outfit never goes out of style and is complimentary to a variety of figure styles. Easy for the wearer to both walk and sit.

If manufactured in a variety of fabrics and colors, the stylish ensemble will fly off the racks. Mrs. Obama chose a pair of green gloves from J. Crew reaffirming that the lady has a great sense of color.

The evening ball gown was a different matter. At first glance it looked awful. By the fifth of the ten balls, the gown started to look better. By the final ball the gown looked good. A getting-used-to period didn't have to happened. Photographed head on, the image isn't always flattering. Photographed with the camera pointed either slightly upward or from a height looking down, delivers an elegant result. The dress could have been constructed to both look good in person and photograph well from all angles. The fancy ball gown needed a little tweaking.

The ruffled full-skirted, long, ivory silk chiffon one-shoulder dress, embellished with organza flowers and crystals was created by Jason Wu, 26. The bodice featured a strap across the right shoulder, a ruched bodice, fluffy appliqués and sparkly beading. Ruched - fluff - sparkly can be overwhelming for real women to carry off. Audrey Hepburn would have had a tough time dancing all night in this getup.

President Obama kept stepping on it and Michelle kept tugging at it. When placed on a mannequin, skirt carefully unfolded, the outfit will be stunning. However, more people saw that gown on television than will ever in person view the creation, which will be on display at the Smithsonian.

The gown needed a dress rehearsal. Try walking it in, turning, doing a dance step.

Very few women can wear either midriff ruching or an extremely full skirt with a gathered waistline. All those gathers pooch out the stomach. Attach a gathered waistline to a ruched midriff and you have added inches to the woman's figure, which has the potential of all but obliterating the difference between bust and waist. The strap looked awkward, about 1/4 inch off and pulled in the back.

Designers should check out what has already been successfully accomplished. Lana Turner wore two over-the-top, white ball gowns with different neck line strap designs in the movie Latin Lovers. She could walk, dance and the bodice strap didn't pull.



Jill Biden was stunning in a red gown by Reem Acre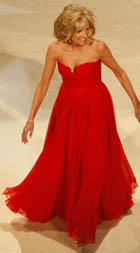 Why weren't costume stage designers offered the opportunity to submit sketches? These are the designers who actually know how to construct a dress that looks good in person, as well as on stage, on camera and fits the needs of the script - walk, dance, turn. The Tony award winners don't have to comply with any sketch request. If they did submit sketches, nobody is forced to pick their designs. At least put the experts on the audition list.

Both Wu and Toledo studied at the prestigious Parsons School of Design in New York - one of the premiere design institutes in the world. Experts seemed reticent to even remotely criticize anyone who has ever brought a sketch pad into those hallowed halls of cut and sew - perhaps for fear that criticizing anything of Toledo or Wu might be a slap at the school. Ridiculous.

The Wu creation wasn't polished. 99.9 percent there. What a difference that other .1 percent can make.

Mostly ignored but should have been applauded - Dr. Jill Biden who was stunning at the inaugural balls in her perfect Reem Acre red gown.



Spock in his beam-me-up bonnet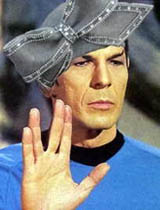 Dick Cheney being wheeled out of office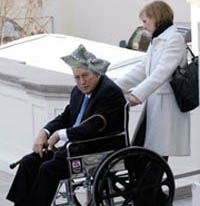 Not ignored and causing a rush to Photoshop is the hat worn by Aretha Franklin.

We have no idea who deserves the credit for creating these two pictures which were E-mailed to Broadway To Vegas - We love them!



Next Column: February 1, 2009
Copyright: January 25, 2009. All Rights Reserved. Reviews, Interviews, Commentary, Photographs or Graphics from any Broadway To Vegas (TM) columns may not be published, broadcast, rewritten, utilized as leads, or used in any manner without permission, compensation and/or credit.
Link to Main Page
---
Laura Deni



( COMMENTS )