! >
Broadway To Vegas
  
 SHOW REVIEWS CELEBRITY INTERVIEWS GOSSIP NEWS

| | |
| --- | --- |
| | |
REMASTERED GYPSY CD HONORS MUSICAL'S 50th ANNIVERSARY - - BRIDGEPORT'S DCT FASHIONS THE MAN IN BLACK INTO A PRODUCTION - - THE LION KING OPENS IN LAS VEGAS AT MANDALAY BAY RESORT - - DIRECTOR DOUG HUGHES BRINGS OLEANNA TO THE MARK TAPER - - MUSICAL BEN HUR LIVE TO BE STAGED IN LATIN AND ARAMAIC - - WILLIE DOHERTY: REQUISITE DISTANCE AT DALLAS MUSEUM OF ART - - ROCCO LANDESMAN NOMINATED TO HEAD NEA - - UNDER THE SPELL OF BEETHOVEN - - DONATE . . . Scroll Down


Copyright: May 17, 2009
By: Laura Deni
CLICK HERE FOR COMMENT SECTION

DOWNTOWN CABARET THEATRE MOLDS SCOTT KEETON'S THE MAN IN BLACK INTO A STAGE PRODUCTION


Scott Keeton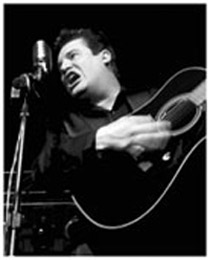 Scott Keeton has performed across the country for over 20 years with his roadhouse blues band as well as touring with Eric Idol and Bo Diddley. He currently stars in the Johnny Cash tribute show The Man In Black at the Downtown Cabaret Theatre in Bridgeport, CT. A distant relative of the one of the most influential musicians of the 20th century, the Oklahoma City born and raised Keeton spoke with Broadway To Vegas about developing this production, and what it's been like to work with some of the most influential names in show business.

"I went on the first tour he did," recalled the guitar player/singer about Eric Idol. "He had done a tour years and years ago with the full Python, but in 2000 he decided to go out on tour. It was called Eric Idol Exploits the Songs of Monty Python. I had done some production work and it turns out that their production company came out of Oklahoma City. They were doing the sound so they hired me. I started out as the guitar tech and did the monitors."

Almost immediately Idol put Keeton on stage as part of the band.



Eric Idol partially wrote Spamalot while on tour in Las Vegas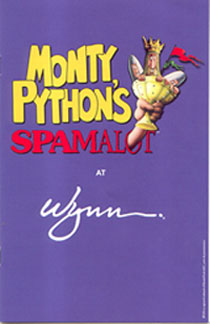 "Then I did a couple more tours with him where I was the only guitar player with him and John Du Prez. He is an absolutely wonderful man," said Keeton about Idol. "I think the last time I was in Las Vegas was with him in 2003 at the House of Blues. He was writing Spamalot. It was funny because he said the people with Camelot were trying to sue him."

Monty Python's Spamalot with a book and lyrics by Eric Idle, music by John Du Prez and Eric Idle, directed by Mike Nichols, the 2005 Tony Award winner for Best Musical, ended its reign at Broadway's Shubert Theatre Jan. 11, 2009. The production had a successful run in Las Vegas ( See Broadway To Vegas column of April 1, 2007 ) and is on a North American tour with performances at the Ahmanson Theatre in Los Angeles July 7-Sept. 6.

"Eric is such a nice genuine person," emphasized Keeton. "He is always incredibly gracious to everyone around him."

Then there was Bo Diddley.



Bo Diddley performing live at the Long Beach Blues Festival, September 1, 1997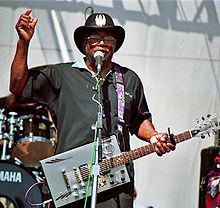 "He was on tour and picked up a band in each city. He sent a promoter to find a band who knew his stuff. In '96 or '97 my band was hired. It turned out that we were really good at it, so the job branched out to regional, rather than just local. He would call us anytime he was coming to the Midwest. If we weren't working, we took off and worked with Bo Diddley."

"He was amazing. If there was a Mt. Rushmore of rock 'n' roll he would he on it," stressed Keeton about the man known as The Originator, because of his key role in the transition from blues music to rock & roll, influencing a host of legendary acts including Buddy Holly, Jimi Hendrix and Eric Clapton.

Oklahoma has bred a lot of performers - Kristin Chenoweth, Will Rogers Reba McEntire Garth Brooks, Elvin Bishop, Hoyt Axton, Vince Gill, Woody Guthrie, Wanda Jackson, Toby Keith, Roger Miller, Patti Page, Kay Starr, Hank Thompson, Carrie Underwood, Jimmy Webb, Bryan White, Blake Edwards, Lon Chaney, Jr., James Garner, Van Heflin, Ron Howard, Rue McClanahan, Brad Pitt, Chuck Norris, Vera Miles, Tony Randall, Dan Rowan, Ted Shackelford, Alfre Woodard, Bill Moyers - to name drop only a few. Still, for Keeton his career path sometimes suprises him.

"Talk about surreal - it isn't exactly that being from Oklahoma makes it any more surreal than anywhere else - but one day I'm playing a club in Oklahoma City and the next day I'm working with Eric Idol at Carnegie Hall and Art Garfunkle walks on to sing a cameo. Then I'm working with Bo Diddley who calls me one of his sons, and the other ones are Eric Clapton and Keith Richards. Sometimes it seems a little weird. It's really nice. It makes you feel good. Not only that, but it validates so many things. What you've been trying to become good at - Yeah, you are good at. And, you're good enough to do it with the guy who basically helped to invent this thing."

As for The Man In Black, "I never had plans for this show. It took on its own life."

That on stage birth was made possible by the proliferation of the Cash clan.



Johnny Cash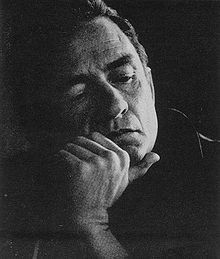 Johnny Cash had believed in his younger days that he was mainly Irish and partially Native American - having been erroneously informed that he was one-quarter Cherokee. Actually, Johnny Cash was of Scottish royal descent but he learned this only after a chance meeting with former Falkland laird, Major Michael Crichton-Stuart. The singer then traced the Cash family tree to 11th century Fife, Scotland.

It was also as an adult that Scott Keeton, 41, learned about his own roots which branched into Johnny Cash.

"You don't think about your relatives growing up - they are just people. Then later on, when they unfortunately start passing away, my aunt started doing our genealogy and that all starts coming out," explained Keeton.

Connecting tree branches are William Cash and Francis "Fanny" Cash.

"When they disbanded the clans in Scotland, William Cash came to America in 1653," said Keeton. Francis "Fanny" Cash is my great, great, great grandmother. She would be Johnny Cash's distant cousin. The line comes from William Cash. Johnny Cash's grandfather Moses Reuben Cash would be a cousin to Fanny Cash. My uncle Sidney Lee was Professor of Drama at a Community College in New York," he said referring to Sidney G. Lee, Professor Emeritus (Theatre & Dance) at Nassau Community College. "His mother was my great grandmother. Her mother was Margaret Hagen and her mother was Francis "Fanny" Cash.

Once a Johnny Cash link was in place opportunists descended, resulting in Keeton being on guard against people who have dollar signs in their eyes for all the wrong reasons.

"Promoters wanted me to do a complete imitation. 'Hi, I'm Johnny Cash' and then everything else. I refused. There was no way I was going to do that. This is something that is very important to me, his music. I didn't think that anyone who was really a fan of Mr. Cash would appreciate that," he said referring to a pure impersonation.

The Man In Black which utilizes 33 Johnny Cash songs, details the history of the music, and pays astute attention to the era in which Johnny lived and performed. The changes in America as a result of the time, and his influence on people as he grew as a performer through the decades.

The production includes vocalist Rhonda Ingle, drummer James Keys, Mike Myers on Bass and David Short playing the Pedal Steel/Violin.

"No one from the Johnny Cash estate has complained and they are aware of it," stated Keeton. "Bob Wootton his guitar player has come to see the show. He was real nice," said Keeton about Wootton who spent over 30 years playing guitar for Cash. "We've opened for Mel Tillis and Jerry Lee Lewis, who both new him."

"This is a tribute to the music - his music," he reiterated. "Basically, this is a really good band which does this music really well, and just happen to have some other affiliations to that man and his family."

"I did one or two shows and they were in 1500 seat casino show rooms. We sold out. I came out and it was a joke, but it's become a tag line. I said - Hello, I'm not Johnny Cash and everybody laughed. I said - Look there is only one Johnny Cash. We're here to celebrate and sing his music. To honor and remember him and have some fun. It was packed and people went nuts."

"I'd been so worried about people thinking I was pandering and no pun intended but, cashing in on Cash. I'm not pretending to be something else. Clearly there has to be some sort of similarity - you have to sound like him or nobody would want to hear it."

Keeton used his educational background to help him come to terms with his performance. He's a former University of Oklahoma student who graduated from Southern Nazarene University in Oklahoma City. "Then I got my Masters in Counseling Psychology from there - to do music therapy. I think that training helped give my the empathy to look at the crowd and get over my own insecurities, when I saw that the audiences were genuinely affected by the experience. I don't mean that we did it. I mean that we are just the conduit to give the audiences the opportunity to re-experience this music in a focused way."



June Carter Cash and Johnny Cash performing at the Las Vegas Hilton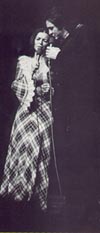 Cash, known as The Man In Black, wasn't always dark monochromatic. In an era when country singers were garbed in rhinestone suits and fancy cowboy boots, Cash couldn't afford costume designer Nudie Cohn who was known for designing rhinestone-covered suits and other elaborate outfits, worn by celebrities such as the $10,000 gold lame' suit Elvis Presley wore on his 50,000,000 Elvis Fans Can't Be Wrong album cover, Hank William' white cowboy suit featuring musical notations on the sleeves and 52 suites for Porter Wagoner, each costing between $11,000 to $18,000.

Cash and his band had initially worn black shirts because that was the only matching color they had among their various outfits. He wore other colors on stage early in his career, but he claimed that, political reasons aside, he simply liked black as his on-stage color.

"I wear black, but I don't start off wearing black, because he didn't always wear black either," said Keeton about his stage show. "Another reason he started wearing black, as I understand it, is because it was just easier to hide the wrinkles. The black shirts he wore you could fold up and they were easier to carry. Then later on, it became a symbol."

"Up here at the DCT, it's the first time I've ever had a dresser, which is great!"

The Downtown Cabaret Theatre has an impressive list of services. The staff include Wardrobe Supervisor Jimmy Johansmeyer and Steve Swatt who is the House Manager/Master Carpenter.

The DCT, as it is known, employees an average of 45 of which 10 are full-time staff members, who rely on the Theatre for their livelihood. Drawing upon both Connecticut and New York talent, the Downtown Cabaret has proven to be a marvelous opportunity for theatre professionals to showcase their talents and it has created a favorable environment for both the veteran and up-and-coming artist.

Offering a year-round season of productions, at the moment, this unique theatre recovers about 75% of its costs through box office revenues. This is an extraordinarily high percentage compared to other non-profit theaters.

Richard C. Hallinan has been the Theatre's Executive Producer since 1981. His productions have included popular Broadway musicals as well as the American premiere of Blood Brothers in 1988 and a production of Joseph and the Amazing Technicolor Dreamcoat in 1979 - before it appeared on Broadway.

Seeing potential in The Man in Black, the DCT has put its own stamp on the production. For the first time The Man in Black is multimedia.

"We did probably 60 shows and then a promoter had us come up here to the DCT. Their production team put together a multimedia show with three screens and just incredible lights, so it's become something really way more visually entertaining. This is our debut as a multimedia production. There is video and stills and they have smoke, moving lights and a really neat train opening. I saw it for the first time when we went into rehearsals. We've been in rehearsals all last week," he said of the show which opened last night and runs for two weeks.

The show may be taking on a life of its own, but Keeton gives credit to Todd Grove, Director of Operators of EPGroup, for creating momentum.

"He's a touring company manager, promoter, comedian. He worked on The Simpsons. I worked with him on the first Eric Idol tour and I've known him for a very long time. He worked on Rob Becker's Defending the Caveman, which is the longest running one man Broadway show of all time. I put the idea in his head that we should do some shows because he's more knowledgeable in this kind of thing."

"We did a 10-city run of sold out shows. But it was just rock 'n' roll lights and us singing the songs. Then they had the idea of doing it like this. I thought we were doing a damn good job. But, if I were in the audience this would add a lot to it," exclaimed Keeton who voiced amazement at what the DCT has accomplished in transforming his show into a production.

While most performers depend upon the selling of show merchandise Keeton has the opposite approach. "I don't sell any recordings of the show. I want people to go to the store and buy Johnny Cash records." For the time being that stance may be the proper, prudent one. In the future, as The Man in Black develops, audiences might want both a recording of the show as well as Johnny Cash CDs.



Broadway To Vegas is supported through advertising and donations. Priority consideration is given to interview suggestions, news, press releases, etc from paid supporters. However, no paid supporters control, alter, edit, or in any way manipulate the content of this site. Your donation is appreciated. We accept PAYPAL. Thank you for your interest.


THE MUSIC GOES ROUND AND ROUND


GYPSY is a musical which has not just been revived but successfully revived three times. One reason for that success is that nobody tried to tinker with the show - modernize it or place it in a different setting. Another reason Gypsy reins on is because it is a tremendous creation. The musical numbers do tell a story, but even if you're the only person on the planet who had never seen a production of this classic, you're still going to revel in the songs - be they poignant, invigorating, funny, hopeful or realistic.

In honor of the 50th anniversary of the original production, Masterworks Broadway has released a magnificent remastered CD complete with bonus tracks, never before seen photographs and an informative booklet.

Don't let the dreadful cover be a turn-off to picking up this CD. The graphics department needs to see an eye doctor. Poor color choices, difficult to read, and graphics which look like they were the last roll out on an ink empty printer. Nobody is ever going to pick up this CD because of the cover - and it's the cover that gets a lot of customers curious enough to touch the product. If you don't pick it up, you're not going to buy it. It's also a difficult cover to scan, which can harm on line sales. If a terrible cover is the worst that can be said for this CD, then that's saying a lot about the contents.

The original Gypsy which opened May 21, 1959 at the Broadway Theatre in New York and played 702 performances, was staged during the time period when most families didn't even own a home hi-fi. That's a need to know piece of information. All stage performers were trained to project their voices. In order for the musicians not to drown out either the spoken word or the lyrics, acoustic orchestras were used. Talented orchestrators and music directors knew how to manipulate the orchestra around the voices on stage so that words were not lost among the mess of instruments playing in the pit.

Debates over how long Ethel Merman could sing on key - or, if she could ever sing a note on key - are legendary. Her tin ear musical ability has resulted in colorful, if not ear wrenching parodies. What Ethel Merman had was - spunk.

She also had a pair of lungs that permitted her to project to the back row. Before the advent of individual microphones, that breathing organ requirement was crucial to being cast in live theater. Ethel Merman being able to belt it to the back row meant that tickets could be sold to that back row. A bombastic personality, her ability to knock a song to the top tier ensconced her during the 1930-1950's as Broadway's reigning diva. Many consider that her signature role was - Mama Rose - the gold standard for a stage mother.

If you already own the original cast recording of Gypsy this remastered version is obviously better quality. If you are the proud owner of any of the revival cast albums - this is the one that made the revivals possible. There is just something special about the original version which features Ethel Merman, Sandra Church as the reluctant Gypsy, Faith Dane, David Winter, Paul Wallace, Maria Karnilova, Bernie Knee, Billy Harris, Bobby Brownell, Chotzi Foley, Don Emmons, Gene Castle, Ian Tucker, Jack Klugman as Rose's long suffering boyfriend Herbie, Jacqueline Mayro, Karen Moore, Lane Bradbury as Dainty June, Laura Leslie, Marvin Arnold, Michael Parks, Ricky Coll and Steve Curry.

The ambitious score, which would turn the show into the archetypal musical was by Jule Styne coupled with genius lyrics by Stephen Sondheim, a man who was to have penned both the music and lyrics. His hire was vetoed by the powerful Merman because she refused to work with an unknown composer. The compositions are legendary - Some People; Everything's Coming Up Roses and Rose's Turn, which is unaccredited but widely known to have been a sole creation by Sondheim. Let Me Entertain You has become the national anthem for strippers everywhere.

Nice She Ain't was intended to be sung by Jack Klugman, who has never been called a world class baritone. He tries with You'll Never Get Away From Me and Small World, although Merman totally overpowers him. However, he balked on Nice She Ain't citing his inability to sing. Thus the song became expendable.

Momma's Talkin' Soft, a cynical comment on Rose's character was meant to be sung by Louise and June in counterpoint to Small World in Act I but was cut during rehearsal because of the staging - a high platform which so frightened the young actresses that the authors felt that alone was reason enough to drop the ditty.

This remastered CD also features bonus tracks; Who Needs Him which was a publisher's demo recorded in 1959. Composer Jule Styne discusses the writing of Gypsy with Michael Feinstein - recorded January, 1990 and Gypsy Rose Lee Remembers Burlesque - recorded 1959.

Mixing engineers for this remastered CD were: Todd Whitlock and Robert Wolff. Remastering engineers for the bonus tracks were; Darcy Proper (1999) and Mark Wilder (2009) With an orchestra conducted by Milton Rosenstock, the tracks are:

1. Overture
2. Let Me Entertain You - Jacqueline Mayro
3. Some People - Ethel Merman


Ethel Merman recording the original cast album
4. Small World - Jack Klugman
5. Baby June And Her Newsboys
6. Mr. Goldstone, I Love You - Ethel Merman
7. Little Lamb - Sandra Church
8. You'll Never Get Away from Me - Jack Klugman
9. Dainty June and Her Farmboys
10. If Momma Was Married - Lane Bradbury
11. All I Need Is the Girl - Sandra Church
12. Everything's Coming Up Roses - Ethel Merman
13. Together (Wherever We Go) - Sandra Church
14. You Gotta Get a Gimmick - Faith Dane
15. Let Me Entertain You - Sandra Church
16. Rose's Turn - Ethel Merman
17. Some People - Ethel Merman
18. Mr. Goldstone/Little Lamb - Ethel Merman
19. Momma's Talkin' Soft - Laura Leslie
20. Nice She Ain't - Bernie Knee

Ironically the original production was nominated for 8 Tony Awards and won none. Subsequent revivals have made up for that.


ART AND ABOUT


WILLIE DOHERTY: REQUISITE DISTANCE

Border Road by Willie Doherty. 1994 Cibachrome on aluminum 48X72 inches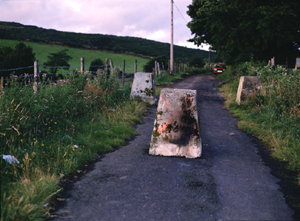 On May 24, the Dallas Museum of Art will premiere Willie Doherty: Requisite Distance, an exhibition of works by one of the most important artists to emerge from Northern Ireland in the past three decades, and a two-time nominee for the Tate's Turner Prize. The exhibition brings together for the first time Doherty's Ghost Story - a tensely beautiful fifteen-minute media work based on landscape and memory, recently acquired for the DMA's collections - and a selection of eleven powerful photographs of the Irish and Northern Irish landscape from the 1990s.

"Willie Doherty's art joins history, memory, and language into an enveloping experience for the viewer, one that is rich in beauty and apprehension in the same measure," says Charles Wylie, The Lupe Murchison Curator of Contemporary Art at the Dallas Museum of Art and the exhibition's curator. "This is only the second exhibition on Doherty's work to be organized by an American institution, and we are extremely honored to be able to bring this important work to our audiences."

Willie Doherty's interest in the Irish ghost story, as well as being born and raised in Northern Ireland during the time of the Troubles, informs the background for his video installation in this exhibition. Ghost Story powerfully evokes a mind at work trying to recall unsettling things, and the impact troubling memories have on the present day. Through a mesmerizing series of vivid imagery - including a lonely forest path with an ever-receding vanishing point, a darkened city underpass with a mysterious figure, and a pair of eyes perhaps looking to the past or the future - Doherty has created a masterful cinematic tale of quiet suspense whose evocative text (written by Doherty himself) is narrated by the renowned Irish actor Stephen Rea.

Ghost Story was critically acclaimed when it appeared at the 2007 Venice Biennale, where Doherty represented Northern Ireland, and the Dallas Museum of Art is the only American museum to have acquired it for its collection.

Ghost Story is paired with eleven large-scale color photographs from the 1990s that depict the famed Irish landscape as a site of barriers and roadblocks set amidst lyrical beauty. Created well before Ghost Story, Doherty's photographs from the 1990s act as precursors and complements to the video work and provide further evidence of the sense of quiet unease unique to his art.

Willie Doherty: Requisite Distance is organized by the Dallas Museum of Art is on exhibit May 24-August 30, 2009. It will travel to the Snite Museum of Art, University of Notre Dame, in fall 2010.




SWEET CHARITY


92nd STREET Y SPRING GALA 2009 featuring the music of Burt Bacharach, with performances by: Elvis Costello, Sarah Dash, Cheyenne Jackson, James Naughton, Jill O'Hara, John Pagano, Young People's Chorus of New York City, Dionne Warwick and a special appearance by Burt Bacharach.

Event Chairs: Helen & Bob Appel, Dana & Michael Goldstein, Lori & Marc Kasowitz, Tami & Fredric Mack. Event Vice-Chairs: Jill & Darius Bikoff, Stacey & Matthew Bronfman, Nancy & Paul Levy, Cheryl & Michael Minikes, Jenny & John Paulson.

Proceeds from the Spring Gala support the 92nd Street Y's myriad programs which strengthen and connect culture, community and the world. Monday, May 18, NYC.

TIGER JAM XII the famed golfer's annual benefit took place Saturday in Las Vegas at the Mandalay Bay Events Center. The concert hosted by Woods, featured No Doubt with very special guests Paramore and The Sounds.

Monies raised go to support the Tiger Woods Foundation and youth-driven charities in Las Vegas, as well as the VH1 Save the Music Foundation, and the Grammy in the Schools program.

BENEFITS FOR THE VICTIMS OF THE ABRUZZI EARTHQUAKE today, Sunday, May 17, in Las Vegas. Entertainer Nelson Sardelli may have formed a committee, but he single handedly inspired/brow beat/sweet-talked/begged/politely asked/cajoled and nagged his friends to participate in a benefit, which takes place at the Orleans Hotel. On board are Sin City performing icons Shecky Greene, Phyllis McGuire, Babe Pier, Cork Proctor, Rich Little, Pete Barbutti, Clint Holmes, Chrissi and Frankie Scinta and a zillion others with Sardelli as the MC. Another event benefiting the same cause is slated for Wednesday, when a fancy dinner takes place at the Italian Ambassador's Washington, DC residence to support the Abruzzi earthquake relief recovery fund. Many New Yorkers are expected to jet into DC for the event.


OTHER PEOPLE'S MONEY


ROCCO LANDESMAN the powerful and colorful Broadway producer has been nominated by President Obama to head the National Endowment for the Arts. The appointment must be approved by Congress.

A native of St. Louis, Landesman, 61, is a graduate of Colby College and the University of Wisconsin. He earned his doctorate at the Yale School of Drama and taught at Yale for four years. He became president of Jujamcyn Theaters in 1987 and company owner in 2005. Jujamcyn owns five Broadway theaters. Landesman made headlines when be became the first to charge $100 for a Broadway ticket, in 2001 for The Producers.

The theatrical world and arts communities have reacted with pleasure to the Landesman nomination. Recently the White House asked Congress to give the NEA $161.3 million in 2010, the highest request in recent years.



23rd ANNUAL MAC AWARDS will honor excellence in New York City cabaret, comedy and jazz on Monday, May 19, at B.B. King's Blues Club in NYC. Andrea Marcovicci and Nancy Witter will co-host the 23rd Annual Awards ceremony, directed by Lennie Watts. The 2009 MAC Awards will bestow the Board of Directors Award to Joey Reynolds and Myra Chanin of the Joey Reynolds Show, who consistently promote Cabaret, Comedy and Jazz artists on the long running WOR Radio program. Also receiving the honor will be Eva Swan and Vocal Ease for bringing Broadway and Cabaret talent to hospitals, nursing homes and senior center for over a decade. The TimeOut New York Special Achievement Award will go to Poor Baby Bree. Polly Bergen receives the Lifetime Achievement Award.

The evening's roster also includes the talents of John Bucchino, Brandon Cutrell, Jamie deRoy, Tony DeSare, Jenna Esposito, Tommy Femia, The Fabulous Pink Flamingos, Eric Michael Gillett, Tanya Holt, Lina Koutrakos, Angela LaGreca, Barry Levitt, Lorinda Lisitza, Sidney Myer, Georga Osborne, Christine Pedi, Ricky Ritzel, Spider Saloff, and Anne Steele. Leon Hall will host the red carpet. Monday, May 18, at B.B. King Blues Club in New York City.

The 54th ANNUAL VILLAGE VOICE OBIE AWARDS honoring off-and off-off Broadway theater hosted by the Village Voice. Structured with informal categories that change annually, The Village Voice Obie Awards recognize persons and productions of excellence. Unlike most theater awards, The Village Voice Obie Awards have no nominations. In the conviction that creativity is not competitive, judges may give several Obies in each category, and may even invent new categories to reward artistic merit.

The event takes place Monday, May 18, 2009 from New York City's Webster Hall and will be co-hosted by Martha Plimpton and Daniel Breaker. The awards will be presented by Anne Hathaway, Brian d'Arcy James, Gavin Creel, John Shea, Karen Olivo, Kate Mulgrew, Marc Kudisch and Sasha Allen.


BEN HUR STAGE MUSICAL BECOMES ODDLY RETRO - THINK LATIN AND ARAMAIC - WHICH IS GREEK TO US


The mounting of Ben Hur as a stage musical was attempted a decade ago in Florida. See Broadway To Vegas column of November 14, 1999. Then last November it was announced that a new mega production Ben Hur Live would play the massive 20,000 seat O2 arena in London from September 15-19, 2009. See Broadway To Vegas column of November 9, 2008.

Now comes the word that the production will be spoken in Latin and Aramaic.

The creator, Franz Abraham, insists he has not been kicked in the head by any of the horses. Others aren't so sure.

It's one thing to attend an opera where English surtitles are used. It's something else to have the 400 performers and a supporting cast which includes Jesus Christ, Tiberius Julius Caesar and Pontius Pilate letting Latin and Aramaic trip off their tongues.

Only one of the musical numbers - which was penned by former Police rock drummer Stewart Copeland - will be composed in English.

Instead of English surtitles, a narrator will explain the action in the native language of whichever of the seven countries the play is touring, among them France and Germany, as well as England.

In making the announcement Abraham told the press that he wanted to stick authentically to the novel by Lew Wallace. "When I decided about the language everybody said 'Are you crazy? Is it possible?'", Abraham admitted.

"I explained to them that there was short dialogue and that everything, for the understanding of children, is narrated. The narrator will appear whenever necessary."

"I originally wanted to do a passion play in Latin in Rome in 1999. Mel Gibson's film The Passion of The Christ uses Aramaic. This is proof that it's possible," he declared.

Another problem faced by Abraham, which he feels is solved by the inclusion of the ancient languages, is that the two lead actors have thick German accents which need to be disguised.

Ben Hur Live plans to tour through seven countries in three months and Abraham insists that he didn't want to be forced to change the lead actors depending upon the languages of each country on the tour stop.

"We chose this to be on the safe side, to not destroy the pronunciation of the language of whichever country we went to."

Last Tuesday Boris Johnson, the Mayor of London - a long-time supporter of the continuation of Latin studies, and has even presented television programs on Ancient Roman - gave his approval to the show.

"Ave! This is a fantastic idea. Cives londinii spectabunt et mirabuntur," he said. "We have much to learn from the Romans, not least since the horse is the ultimate low-carbon vehicle."

Ben Hur Live coincides with the 50 year anniversary of the Academy Award winning film starring Charlton Heston, promises "a breathtaking combination of light, sound, water, wind and pyrotechnic effects in a show performed in the round, like an ancient arena. Huge projections on a water wall create a unique experience that appeals to all the senses."

The show is based on the novel, Ben Hur - a Tale of Christ, by Lew Wallace and tells the story of the life and destiny of the Jewish prince Judah Ben Hur at the beginning of the 1st century. The cast includes 400 performers and 100 animals including horses, donkeys, ponies, falcons and eagles. The production will be accompanied by an emotional symphonic soundtrack created by Hollywood composer Klaus Badelt.

The highlight of the show will be the famous chariot scene where five quadrigas will compete in a neck and neck race around the arena floor. The 'stars' of the show will be the thoroughbred horses, who together with a team of trainers and charioteers, will have undergone 12 months of intensive training.

Ben Hur Live is directed by Philip Wm. McKinley, music by Stewart Copleland of The Police, the script by British author Shaun McKenna, and the production is designed by Mark Fisher, famous for the opening and final ceremonies of the Olympic Games in Beijing.

Virginia born Stewart Copeland has composed two operas, three ballets, choral works and scores for more than 60 television shows and films, including 1983's Rumble Fish, for which he was nominated for a Golden Globe Award.

The soundtrack to the 130-minute production will be sold at performances.

What is being billed as a pre-Broadway European tour includes stops at;

Sept. 15-19 London, England @ O2 Arena
Sept. 25-26 Hamburg, Germany @ Color Line Arena
Oct. 2-3 Brunswick, Germany @ Volkswagenhalle
Oct. 7-8 Dusseldorf, Germany @ ISS Dome
Oct. 11-12 Dortmund, Germany @ Westfalenhalle
Oct. 20-21 Stuttgart, Germany @ Hanns-Martin-Schleyer-Halle
Oct. 30-31 Munich, Germany @ Olympiahalle
Nov. 6-7 Milan, Italy @ Mediolanum Forum Di Assago
Nov. 13-14 Zurich, Switzerland @ Hallenstadion
Oct. 20-21 Lisbon, Portugal @ Pavilhao Atlantico
Dec. 5-6 Vienna, Austria @ Wiener Stadthalle
Dec. 11-12 Budapest, Hungary @ Budapest Arena
Dec. 19-20 Paris, France @ Palais Omnisports De Paris Bercy
Dec. 26-27 Barcelona, Spain @ Palau Sant Jordi
Dec. 30-31 Madrid, Spain @ Palacio De Deportes De La Comunidad De Madrid



OLEANNA

L to R) Ront Award winning director Doug Hughes, Julis Stiles and Bill Pullam rehearsing in New York City for David Mamet's Oleanna which begins previews May 28 at the Mark Taper Forum in Los Angeles.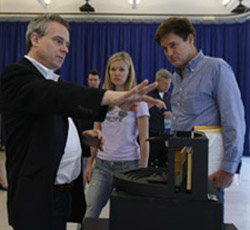 by David Mamet. Directed by Tony Award winner Doug Hughes.

Rehearsals are currently taking place in New York City for this production, which begins previews May 28 and continues through July 12 at the Center Theatre Group's 739-seat Mark Taper Forum in Los Angeles

Starring Bill Pullman and Julia Stiles.

A gripping account of a power struggle between a male university professor (Pullman) and one of his female students (Stiles).

Set design by Neil Patel; costume design by four-time Tony Award winner Catherine Zuber and lighting design by two-time Tony Award winner Donald Holder. The production stage manager is Charles Means.

Broadway To Vegas saw Oleanna in New York in 1992. That production starred William Macy and Rebecca Pidgeon. Exiting the theater with three friends, I remember it was raining and, while waiting for a stop light to change, we started discussing the show and then arguing about the meaning of various lines and the staging. The light changed and nobody moved. Four people getting wet kept up the agitated conversation about this show. One person said - what was Mamet trying to accomplish? I answered - it doesn't matter because he's accomplished everything any playwright or director could ever hope would happen when an audience exits the theater - people standing on a street corner, in the rain, discussing the show.

So, is Doug Hughes giving the Mark Taper production the same interpretation and staging? "I can't speak to Mr. Hughes' interpretation but I am sure it will be distinct from Mr. Mamet's direction," answered Jason Martin who is with the Mark Taper Forum. "I have had no special discussion and while both men are very talented directors, they would have their own vision."

As to why rehearsals are in New York rather than in Los Angeles, Martin responded; "We do that occasionally when it is more convenient for those involved. They will begin rehearsing in LA next week."

Previews May 28 and continues through July 12 - Mark Taper Forum in Los Angeles.

THE KNOWING OF MARY POPPINS Written by Marcel Dorney, Leah Mercer, Margi Brown Ash, Stace Callaghan, and Carol Schmidt.

Winner of 3 Matilda Awards, The Knowing of Mary Poppins is a unique and magical journey into the life and imagination of P.L Travers, the Queensland, Australian-born author of Mary Poppins. Directed by Leah Mercer. Featuring Margi Brown Ash, Stace Callaghan and Molly Knight.

Before Walt Disney tamed Mary Poppins, the original character was a study in contradictions. The real Mary Poppins character was comforting and threatening; conventional and peculiar; down to earth and literally out of this world.

Travers herself was as contradictory as her heroine. Throughout her life she was an actress, a writer of children's books and erotic poetry, a journalist and a spiritualist. Just when you think you have P.L Travers pinned down, she steps out of the light to leave you pondering life's secrets.

Through this award-winning theatrical experience re-discover one of your favorite childhood memories and the story behind its Australian creator. Music Composed and Performed live by Robert D, Clark. Original Designer Conan Fitzpatrick. Set and Costume Design Adaptation Alison Ross.

Previews: May 20-21. Officially opens on May 22 with performances through June 18. Darlinghurst Theatre Co in NSW, Australia.

THE BRIDGE PROJECT Directed by Academy Award-winner Sam Mendes.

Some of the finest talents of New York and London theatre converge at The Old Vic to launch the London leg of an extraordinary venture - The Bridge Project – an unprecedented three-year, transatlantic partnership uniting The Old Vic with Brooklyn Academy of Music, and Neal Street Productions.

The transatlantic company take the stage in Olivier Award-winner Tom Stoppard's new version of The Cherry Orchard, Chekhov's daring, droll meditation on bourgeois materialism and what remains in its wake.

The disintegrating royal friendships and inklings of adultery of Shakespeare's rich tragicomedy The Winter's Tale, make up the second part of the double-bill – a magical testament to the follies of hasty judgment and the force of love as a means of redemption.

Featuring; Simon Russell Beale, Michael Braun, Selina Cadell, Morven Christie, Sinead Cusack, Richard Easton, Rebecca Hall, Josh Hamilton, Ethan Hawke, Paul Jesson, Aaron Krohn, Dakin Matthews, Mark Nelson, Charlotte Parry, Jessica Pollert Smith, Gary Powell, Tobias Segal and Hannah Stokely.

Set Design by Anthony Ward. Costume Design by Catherine Zuber. Lighting by Paul Pyant. Sound by Paul Arditti. Music by Mark Bennett. Music Direction by Dan Lipton. Choreographer is Josh Prince.

Sam Mendes was founder and Artistic Director of the Donmar Warehouse for a decade and has directed theatre at the RSC, National Theatre, plus both in the West End and on Broadway. His film directorial credits include Road to Perdition and the recent Revolutionary Road.

Co-commissioned by and produced in association with Athens & Epidaurus Festival, The Edge, Ruhrfestspiele Recklinghausen, Singapore Repertory Theatre, Teatro Español.

May 23–August 15 at The Old Vic in London.

THE LION KING the Tony award winning production is the vehicle that permitted director/costume designer Julie Taymor to give notice that she is an inventive genius who operates in her own parallel universe. Neither before nor since has Broadway experienced the likes of the puppet/costumes and make-up which are the major factors in turning The Lion King into an international hit.

The score features Elton John and Tim Rice's music from the animated film along with three new songs by John and Rice, additional musical material by South African Lebo M, Mark Mancina, Jay Rifkin, Julie Taymor and Hans Zimmer.

A production officially opened last night in Las Vegas at Mandalay Bay Resort.

Taymor, the first woman in Broadway history to win the Tony Award for Best Director of a Musical, has held true to her beliefs in attention to detail with this visual delight and spares no expense.

Ushers inform patrons that the show runs two hours including one fifteen-minute intermission.

The storyline is a simple one - after all this is a child's story brought to life by Disney in their 1994 animated blockbuster movie starring Nathan Lane and Ernie Sabella.

Nobody buys a ticket to The Lion King to be enthralled by incredible acting or muse over a deep, intellectual storyline. It's the costumes/puppets and the make-up that sell the tickets.

Just as Cats was criticized for being inane, it ran for 18 years on Broadway playing a total of 7,485 performances in New York, offering steady work for a lot of actors - The Lion King is now Broadway's ninth longest-running show in history.



The focus is on the puppet/costumes and make-up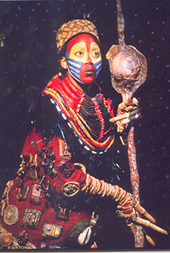 Because the focus is on the costumes, one doesn't necessarily need to understand English to have a pleasant experience. It's enough to know that Zimba is a baby lion who can't wait to be king - but the forest contains mean creatures.

The acting is simplistic. Many of the performers are actually making their major stage debuts with the Vegas mounting. That's not a criticism. There are few production available where a performer can get their foot in the door and a resume credit listing The Lion King looks impressive.

The choreography has to contend with humans trying to move in complicated costumes while manipulating puppet sticks.

The people who should be taking low bows after each performance would be everyone in the make-up, costume and scenery department. They are the stars of the show.

Traditionally in all Broadway productions the end to Act I is riveting, enticing the customer to return to their seat after the intermission. Las Vegas has a disadvantage of tempting showgoers with more distractions than other locations. Thus, you need to keep the audience hooked into the show.

In this case, the finale for Act 1, Hakuna Matata, was no more elaborate or entertaining that what might be witnessed in a Sunday School presentation. For a Vegas production there should have been a blockbuster delivery. As it was - people walked out.

Some adults bolted for the bar or a restaurant. One couple headed towards the tattoo parlor where a line of four waited to get the needle.

With summer approaching The Lion King has an important appeal to children. Cognizant of that, the Vegas production offers week-end matinees and is marketing to the family crowd. Even in a down economy if the child nags enough - that this is the show that they must see and even makes those false promises like cleaning their room and obeying, if only they get to see the show, parents will cough up the dough. If a child's report to a pal that the show was - "okay" - that's not enough to make the friend go home and insist that mother and father buy tickets.

Spending intermission following people and eavesdropping, I watched at least five families with children use intermission as the heading home point - the need to leave was the call of the child. They had come to see the big puppets and hear - and maybe sing along - with that one song Hakuna Matata. That song over - those kids wanted out of there. The parents who were a variety of ages and nationalities asked assorted questions such as; was the child ill, sleepy, bored, scared? The kids all seemed to have had a good time, but they weren't overwhelmed with enthusiasm. Some indicated they liked movie version better. From a child's eye - all things look big. In real life the majority of what a child sees requires that the child look up. A really big puppet is just something a little bigger than the already large items that, from a child's eyes, look huge. Those tots wanted that song which was presented almost as a throw-away. In over-the-top Vegas, that was a mistake.

Seen earlier in the week, the showroom was packed. Some in the audience responded almost too enthusiastically raising the antenna as to whether they were on the two-for-one tickets that were available to hotel employees, had received a comp ticket, or knew somebody in the cast. The crowd also had more of an ethnic mix than is usually present in a Vegas showroom.

Richard Hudion scenic design department successfully accomplished the challenge of evoking the vast African landscape within the limitations of real stage space.

Yale Drama School graduate and Tony Award winning lighting designer Don Holder, who has never met a light bulb that he didn't know how to turn into a work of art, lives up to his reputation.

Michael Ward in charge of hair and make-up design, succeeded with the challenge of working between the duality of masks and the actors' faces.

Michael Curry's mask and puppet design is exquisite. It took his team of hundreds of people toiling over 34,000 hours. Everyone of them deserve a standing ovation.

The Vegas production features experienced Broadway, off-Broadway, West-End stars Thom Sesma as Scar; Damian Baldet as Timon; Alton F. White as Mufuso; Patrick Reed as Zazu; Adam Kozlowski as Pubaa and Buyi Zama as Rufiki. Zama was awarded the 2004 Australian MO Award for Female Musical Performer of the Year.

Kissy Simmons who has appeared in the Broadway production as Nala reprises that role in this production. Clifton Olivier who was Simba in the LA, Broadway and the 1st National Tour originates the role in the Vegas production. Keith Bennett repeats his role as Banzai and Jacquelyn Renae Hodges is Shenzi.

Although many in this cast have been in other productions of The Lion King, the confidence level isn't where it needs to be. Perhaps the performers are still becoming accustomed to emoting in those costumes, getting acclimated to the Las Vegas stage or even slightly intimidated by working in an elaborate casino atmosphere - whatever the cause - the intensity of the music isn't equal to either the Broadway production or what is heard on the original Broadway cast CD.

Chow Down as an example of a lackluster rendition that is strong and powerful on Broadway as well as how it sounds on the CD.

Conducting the orchestra is Jay Alger. Associate conductor/keyboards - Valerie Gebert; Keyboards - Dave Richardson, Jay Atwood; Concertmaster - Rebecca Ramsey; Violin - Lisa Viscuglia, Jerry Pence, Violin/Viola - Rob Taylor; Cello - Lindsey Springer, Moonlight Tran; Flutes - Alexander Viazovtsev; Flute/Clarinets - Todd Barnhart; French Horn - Sandra Donatelle, Jeff Johnson, Michael Manley; Trombone - David Philippus; Bass Trombone/Tuba - Mike Dobranski; Guitar/Kalimbas - Ray Mouton; Bass/Electric Bass - Keith Nelson; Drums - Mark Pardy; Percussion - Jose "Pepe"Jimenez, Raphael Torn, Pierre Dube, Joni de Clercq.



Young Simba's Duane Ervin, left, and Elijah Johnson, center, along with Young Nala's Ruby Crawford, far right, and Jade Nelson, middle.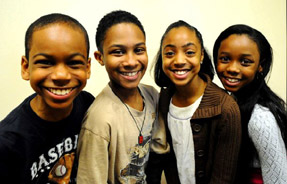 The role of Young Simba is played by two actors D. Asante Ervin and Elijah Johnson who is 10- years-old and from Detroit. Last Valentine's Day a fundraiser was held in Motor City to help finance the trip to Las Vegas. Elijah and his father, Carleton Johnson, have relocated to Las Vegas for the six months Elijah is contracted for the Vegas production. Elijah's mother Marta Rhea-Johnson remains in Detroit where she is a second-grade teacher at Friends School. Johnson won the role in a New York audition in which he was one of 600 kids who auditioned for the Simba and Nala roles. In early February, Elijah was one of 24 called back to audition again over a two-day period. The number of kids was then reduced to 14. Eventually Elijah got the contract.

The role of Young Nala is also divided between two actresses; Ruby E. Crawford, 11, from Greensboro, NC, made her Broadway debut at age 9 playing four parts including the Minister's Daughter in The Color Purple. She's come to Las Vegas with her mother. In moving to Las Vegas Ruby left behind her sixth grade classmates in the Spanish immersion program she attended at Aycock Middle School. Also sharing the role of Young Nila is Jade Milan, 18, who also appeared in The Color Purple.

As the new kid on the block The Lion King will cause customers to ponder where to place their purchase. Chances are the most effected will be the Cirque shows, which also have unusual costumes and choreography, rather than Jersey Boys or Phantom; The Las Vegas Spectacular which also depend upon strong plot lines and fall into the category of more traditional Broadway musicals. Phantom also got more spectacular for the Las Vegas gig. That is something The Lion King should have considered - especially in that Act 1 closing.

The Lion King is a show teenagers would appreciate. However, Las Vegas in general and Strip properties in particular have never embraced four 17-year-olds attending an event on their own. When the economy rebounds marketing this production to foreign tourists will be a success.

As a sidebar - Before attending the production I made a purchase at one of the Starbucks inside Mandalay Bay. All employees of Starbucks are trained to be friendly to customers. However, there needs to be limits. The male who rang up my purchase reached across the counter, grabbed the unusual clasp on my purse and commented about liking the clasp. No employee should ever touch anything held or worn by a customer.

The Lion King in Las Vegas at the Mandalay Bay Theatre joins seven worldwide mountings in New York, London, Hamburg, Tokyo, Paris and Fukuoka. There is also a North American National Tour which has an engagement at the Civic Center in San Diego October 13-November 8.




WHO'S WHERE


CHRIS BOTTI performs Thursday, May 21, at the MSU Riley Center in Meriidian, MS.

ELTON JOHN AND BILLY JOEL on stage Tuesday, May 19, at the Conseco Fieldhouse in Indianapolis. On Thursday they can be enjoyed at the Palace of Auburn Hills in Auburn Hills, MI. On Saturday they'll be performing their hits at the Quicken Loans Arena in Cleveland.

UNDER THE SPELL OF BEETHOVEN World Premier of an NAC commissioned piece by 2009 Governor General Performing Arts Award recipient, R.Murray Schafer. An artful combination of classic and new music: Beethoven's spellbinding concerto starring Ottawa's own Angela Hewitt, paired with this brand-new work. Patrick Summers, conductor. Angela Hewitt, piano. Musically Speaking: Pre-Concert Chat in which CBC Radio Music Producer Jill LaForty leads a discussion in English with piano soloist Angela Hewitt. May 20-21 at the National Arts Centre in Ottawa.

ERIC CLAPTON on Tuesday, May 19, opens a 9 day gig at Royal Albert Hall in London.

BEYONACE performs Monday, March 18, at the Pavilhao Atlantico in Lisbon, Portugal. On Tuesday she is on stage at the Palacio de Deportes in Madrid, Spain. She continues her Spain performances on Wednesday with a show at the Palau Sant Jordi in Barcelona. On Friday she can be enjoyed at the Metro Radio Arena in Newcastle upon Tyne in the UK. Another UK stop is on Saturday at the NIA in Birmingham.

NICKELBACK is in the UK this week. On Friday the show is at the Evening News Arena in Manchester. Saturday's performance is at the S.E.C.C. in Glasgow.

KENNY CHESNEY takes to the stage Thursday, May 21, at the Bi-Lo Center in Greenville, SC. On Friday the show is at the Merriweather Post Pavilion in Columbia, MD and on Saturday the performance is at the Crew Stadium in Columbus, OH.

BRUCE SPRINGSTEEN in the spotlight Monday, May 18 at Verizon Center in Washington, DC. On Tuesday the show is at the Mellon Arena in Pittsburgh. On Thursday they open a spit two night gig at the Izod Center in East Rutherford, NJ with shows on Thursday and Saturday.

JIMMY BUFFETT gets the party going Tuesday, May 19 at the Sleep Train Pavilion in Concord, CA. On Thursday the festivities are at the Verizon Wireless Amphitheater in Irvine, CA.




WE HAVE WINNERS


WE HAVE WINNERS See Broadway To Vegas column of May 3, 2009 for contest rules Ruth Silverstein of Florida has won the the New Faces of '52 CD and James Pickett of California has won the New Faces of '56 CD. Thank you all for entering.

Next Column: May 24, 2009
Copyright: May 17, 2009. All Rights Reserved. Reviews, Interviews, Commentary, Photographs or Graphics from any Broadway To Vegas (TM) columns may not be published, broadcast, rewritten, utilized as leads, or used in any manner without permission, compensation and/or credit.
Link to Main Page
---
Laura Deni


CLICK HERE FOR COMMENT SECTION