! >
Broadway To Vegas
  
 SHOW REVIEWS CELEBRITY INTERVIEWS GOSSIP NEWS

| | |
| --- | --- |
| | |
THE ADDAMS FAMILY OPENS IN CHICAGO - - DARIUS RUCKER AND CHARLIE PRIDE - - THE SOUND OF MUSIC 50th ANNIVERSARY CD - - WINNERS OF EXTREME HOME MAKEOVERS CAN'T AFFORD TO KEEP HOMES - - KANSAS PROUD OF BROADWAY ASSOCIATION - - WILDHORN MUSICAL BONNIE AND CLYDE OPENS AT LaJOLLA - - LEFT HANDED MICHAEL JACKSON GLOVE UP FOR AUCTION - - DEBBIE REYNOLDS RETURNS TO THE LONDON STAGE AFTER 34 YEARS - - DONATE . . . Scroll Down


BO EASON'S PLAY "RUNT OF THE LITTER" TO ISSUE REFUNDS AFTER PARENTS COMPLAIN
Bo Eason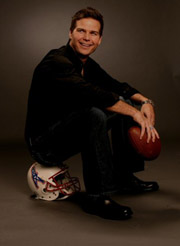 Bo Eason's powerful solo, semiautobiographical play Runt of the Litter, performed by Eason and directed by Larry Moss, which is soon to be a major motion picture, will issued refunds after parents of students attending a performance on November 11 at the State Theater in Eau Claire, Wisconsin complained about the use of vulgarity.

Eason played safety for the National Football League's Houston Oilers for five years in the 1980s.

The critically acclaimed play, which debuted in 2002 in New York, is on a 30-city national tour.

The play looks at what happens to two brothers in a family of over-achievers: when their parents assure their oldest son he is destined for football stardom, while their youngest son appears too small to compete, a line in the family sand is drawn that colors the rest of their lives. Runt of the Litter is, in fact, a semi-autobiographical account of Bo Eason's life and career as a safety for the Houston Oilers in the 1980s. His determination and killer instincts on the playing field remain the stuff of legend.

His brother, Tony Eason was the quarterback who led the New England Patriots to the Super Bowl in 1986.

The play is billed as "Though resolutely American in its themes (the competitiveness and violence of sports, sibling rivalry, underdog makes good), it also contains elements of ritual theater and blood sacrifice that give the material a mythic resonance and power. This is a superb and substantive one-man show by Eason, who gives a sexy, tough, charismatic performance of size and scope. The show cuts across all demographics and has an across-the-board appeal for everyone, from sports enthusiasts to hardcore theater lovers."

"One of the most powerful plays about sports in the last decade.... closer to Death of a Salesman than it is to Rocky...a tale of modern gladiators, obsession, testosterone, and revenge." - The New York Times.

After about 40 students grades seven through 12 from Wildlands School near Fall Creek, Wisconsin attended Runt of the Litter, parents and teachers were reported to have been "disappointed," because the one-man football drama featured "pervasive profanity."

Some of the children reportedly covered their eyes and ears during the performance. Published reports indicate that "a Wildlands teacher e-mailed an apology to parents, stating the school had not been warned the play included 'vulgarity and inappropriate behavior.'"

Ben Richgruber, executive director of the Eau Claire Regional Arts Center, which operates the State, emphasized that he didn't know the performance would have adult language.

"This one was a little more intense than we had anticipated," he said, adding that the theater has worked with the school to resolve the situation." Richgruber added that touring shows booked at the venue usually offer amended school performances and that he has received no other complaints about Runt of the Litter.

Refunds are going to be issued.

The tour next stops at the Performing Arts Center in Queen Creek, Arizona for a performance on December 2 before a four night engagement in Tucson.


DARIUS RUCKER DOESN'T FORGET CHARLIE PRIDE AND NEITHER SHOULD YOU
Darius Rucker was known for his role as the lead singer and rhythm guitarist of the rock band Hootie & the Blowfish before launching a solo career as a country singer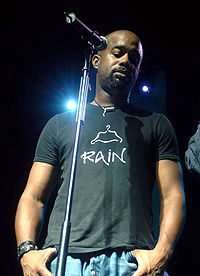 Last Wednesday Darius Rucker became the first black singer to win the New Artist of the Year at the Country Music Association Awards, joining Charley Pride as the only African-American to win a major individual award. Charley Pride took entertainer of the year in 1971 and male vocalist in 1971-72.

"Making this record, I never thought about being an African-American guy making a country record," said Rucker, whose Learning to Live sold 1 million copies this year. "I just thought I was a guy making a country record until my first song went top 20 and people started talking about it. I'm proud of that, I'm proud of being that guy who has taken up where Charley Pride left off."

Charley Pride and Kenny Rogers made it possible for country acts to play Las Vegas.

Back in the days when the National Finals Rodeo was based in Oklahoma, not Las Vegas, country music wasn't accepted in Las Vegas. It was for farmer's, rubes, hicks - people who were perceived as not knowing how to dress, talk, or gamble.

Rogers, the Caucasian crossover artist, went from country to pop charts and took along his fans.



Charley Pride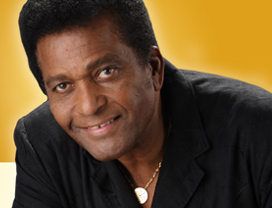 At the onset Charley Pride had two things working against him - that fact that he is an African American and he sings country. Country purists took a dim view because you could understand what he was singing and the lyrics didn't always include the words - beer - truck - dog.

Then people listened to his singing. With the speed of a 16th note, opinions changed. Charley Pride was good.

The unlikely candidate for country music stardom unofficially began his music career in the late 1950s as a ballplayer (his fast ball was in the 90s) with the Negro American League's Memphis Red Sox singing and playing guitar on the team bus between ballparks. Self-taught on a guitar bought at the age 14 from Sears Roebuck, Pride would join various bands' onstage as he and the team roved the country.

Producer Jack Clement gave him his first musical leg up by giving him several songs to learn and then listened. When Clement heard Pride's renditions, he immediately asked the fledgling singer if he could cut two songs in two hours. Pride agreed, and The Snakes Crawl at Night and Atlantic Coastal Line were recorded.

Three months later, Pride's two song demo landed in the hands of already legendary RCA Records head, Chet Atkins, who was so moved he immediately signed him to the label. Pride's first single hit the airwaves in January 1966. An ascending star was created.

Between 1969, when he first hit #1 on the singles chart with All I Have to Offer You (Is Me) and 1984, when he commanded the top spot again with Every Heart Should Have One, Pride scored more than 36 number one country singles. On RCA Records, Charley Pride is second in sales only to Elvis Presley.

Pride followed Presley into the Las Vegas Hilton Hotel in what was a history making event.

During Presley's performance two upcoming country acts were promoted through a large crème colored poster with Elvis' name in gold at the top. The promo proclaimed

ELVIS SAYS SEE THESE TWO GREAT STARS IN PERSON - Johnny Cash and Charlie Pride Las Vegas Hilton 1972

The poster contained a misprint - 1972. Pride first played the venue in 1971. Management knew about the error but decided not to re-do the poster, opting to destroy them after the Presley engagement. Considered a rare collector's item, only one is known to exist, which is under the control of the Presley estate.



Ad for the Charley Pride album Country Feelin on RCA and his opening at the Las Vegas Hilton on May 21, 1974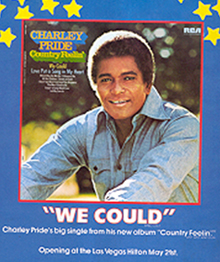 Pride came to the Hilton stage immediately after he had won the Country Music Association's male vocalist and entertainer of the year for Kiss an Angel Good Morning. It was the first time he ever played Vegas.

I interviewed him in his dressing room and you couldn't ask for a nicer experience. Pride was elated and after opening night. So were the hotel bosses.

That was back in the days when people dressed nicely to attend a Las Vegas show and really got gussied up for opening night. The beverage was champagne or a martini, not drinking beer from a bottle.

Hotel bosses admitted the upcoming gig gave them feelings of trepidation. The worried executives took a breath when the crowds clamoring to see Pride at the Hilton were well dressed, had nice table manners and money to spend in the casino.



Charley Pride performing on stage at the Las Vegas Hilton Hotel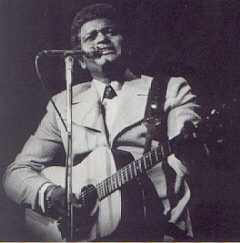 Pride enjoyed several decades performing in Las Vegas, later moving with T.G. Shepherd to the Desert Inn (now the Wynn). A couple of years ago he returned to Vegas for a stand at Texas Station.

Currently on tour in Europe, Pride performs today, November 15, at the Opera House in Cork, Ireland. On Tuesday he is at the University Concert Hall in Limerick. Wednesday finds him at the Hazel Hotel in Monasterevin. On Friday the show is at The Helix in Dublin. Next Sunday his show is at the Sportshall in Torshavn, The Faroe Islands before returning to America and performances in his home state of Mississippi.

His band includes Billy Martin on Lead Guitar; Danny Hutchins keyboard; Derek Spigener playing the drums; fiddler Reggie Rueffer; Bass Guitarist Ron Jones and Ronnie Miller playing the Steel Guitar.

Pride is an unusual artist to have as a boss. He actually pays his musicians. Harkening back to the days when singers not only respected but looked out for their musicians, those playing for Pride get paid on a non-exclusive contract. Meaning, even when Pride isn't working his musicians get a check - the first and 15th of every month. They also aren't chained to him. If Pride isn't working they are free to do concert or studio work, whatever their own thing is, as long as they are there when Pride needs them. Note to other musicians - Pride is probably the only performer on this planet that still adheres to this policy.

And just in case music should leave his blood, Pride continues to work out annually with baseball's Texas Rangers at their spring training.



Broadway To Vegas is supported through advertising and donations. Priority consideration is given to interview suggestions, news, press releases, etc from paid supporters. However, no paid supporters control, alter, edit, or in any way manipulate the content of this site. Your donation is appreciated. We accept PAYPAL. Thank you for your interest.


THE MUSIC GOES ROUND AND ROUND


Enter our contest to win The Sound of Music 50th anniversary edition CD courtesy of Sony Masterworks Broadway. E-mail Broadway To Vegas the title of one song from The Sound of Music. All entries with a correct answer will be placed into a drawing. One winner will be drawn. All entries must be received by 11:59 EST Saturday, November 21, 2009.

All entries must contain the name and complete mailing address. All information is kept confidential.

Winners will be notified by E-mail and listed only by their name (or, if specifically requested - initials) and state in the Broadway To Vegas column of November 29, 2009.

THE SOUND OF MUSIC the last musical collaboration of composer Richard Rodgers and lyricist Oscar Hammerstein II, who died of cancer nine months after the Broadway premiere, is celebrating the 50th anniversary of the Broadway opening at the Lunt-Fontanne Theater. In honor of that, on November 3 Sony Masterworks Broadway released a special edition of the musical's beloved original cast recording, three unusual bonus tracks, extensive liner notes about the show's history by Bert Fink of the Rodgers & Hammerstein Organization, and rarely seen photos of the recording sessions.

Ironically, it was on November 3, 1990 that the show's Maria - Mary Martin - passed away from colorectal cancer.

On Monday November 16, in celebration of the opening night of The Sound Of Music on Broadway, the place to be is Lincoln Center's Barnes and Noble where Theodore Bikel (Captain von Trapp), Lauri Peters (Liesl) and Brian Davies (Rolf) will talk about the original production, its creators and its inimitable star, the late Mary Martin. There will be also signings of the commemorative album and the release of a gorgeous, new children's pop-up book adaptation of the story.



Maria (Mary Martin) and Captain von Trapp (Theodore Bikel) lead their brood during the Act II Festival sequence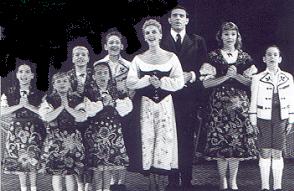 Sharing stories about Maria von Trapp, whose true-life story serves as the musical's basis, will be her grandson, Sam von Trapp.

Laurence Maslon, author of The Sound of Music Companion, will moderate the panel, which will also include Bert Fink, who in addition to penning the liner notes, authored the new children's book adaptation The Sound of Music: A Classic Collectible Pop-Up book. The event will be introduced by Ted Chapin, president of The Rodgers & Hammerstein Organization. Mary Rodgers, daughter of composer Richard Rodgers and Anna Crouse, widow of co-author Russel Crouse, will also be in attendance to enjoy watching Theodore Bikel sing Edelweiss and Kate Baldwin, who was Maria in a Muny in St. Louis production, perform the musical's title tune.

Bikel is actually using his day off to participate in this event. The Tony and Oscar nominated actor is current performing his show, Sholom Aleichem: Laughter Through Tears, through December 13 at Baruch College's Performing Arts Center at City College of New York. Kate Baldwin is currently starring in the not to be missed Finian's Rainbow. See Broadway To Vegas column of November1, 2009.

With the passing of time people still remember the name Mary Martin, but as other singers capture the spotlight it's easy to forget that during the 50s and 60s Martin's voice dominated Broadway. She could stop a show. She was the golden voice originating the roles of Nellie Forbush in South Pacific and Maria in The Sound of Music. In 1955 and 1956, she received, first, a Tony Award for Peter Pan, and then an Emmy for appearing in the same role on television. She also received Tony Awards for South Pacific, and, in 1959, for The Sound of Music.



Mary Martin's son Larry Hagman was 28-years-old when his mother created the role of the young novice Maria, and had already appeared in the 1951 London production of South Pacific with his mother, and had made his own Broadway debut in 1958 in Comes a Day.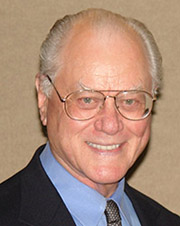 Casting agents take note: when Martin took to the stage as Maria, the teen-ager struggling with whether to become a nun - she was 46 years old.

Many songs from the Broadway musical have become standards, including the title song The Sound of Music; Edelweiss; My Favorite Things; Climb Ev'ry Mountain and Do-Re-Mi.

Listening to this memorable CD will bring into focus what made Mary Martin such a dynamic talent and demonstrates the brilliance of Rodgers and Hammerstein II - from the delightful Do, Re, Me - which every child knows - to the powerful Climb Ev'ry Mountain. Operatic soprano Patricia Neway regularly stopped the show with her soaring and powerful rendition.

Vocals by: Theodore Bikel, Marion Marlowe, Brian Davies, John Beverly Randolph, Jr., Patricia Neway, William Snowden, Joseph Stewart, Kurt Kasznar, Nan McFarland, Lauri Peters, Marilyn Rogers, Karen Shepard, Elizabeth Howell, Sue Yaeger, Mary Martin, Kathy Dunn, Luce Ennis, Stefan Gierasch, Michael Gorrin, Evanna Lien, Mary Susan Locke.

After the success of the Broadway musical, Americans showed a desire to visit Austria. American travel agents took advantage of the travel time to Europe by teaching tour participants the song Edelweiss, believing it was a traditional Austrian song. When the tour group arrived they would be met by Austrian tour guides who stood dumbfounded when suddenly Americans tourists burst fourth in song, thinking they were presenting a traditional Austrian greeting. In fact, the song Edelweiss was written for the Broadway musical and did not become known in Austria until after the film's success. The first full-scale Austrian theatrical production wasn't even staged until February 26, 2005.

The Sound of Music opened on Broadway at the Lunt-Fontanne Theatre on November 16, 1959 and then moved to the Mark Hellinger Theatre November 6, 1962-June 15, 1963, running for 1,443 performances.

The original cast included Mary Martin as Maria, Theodore Bikel as Captain Georg von Trapp, Patricia Neway as Mother Abbess, Kurt Kasznar as Max Detweiler, Marion Marlowe as Elsa Schraeder, Brian Davies as Rolf, and Lauri Peters as Liesl.



As the von Trapp children and the Nuns of Nonnberg look on Maria (Mary Martin) marries her Captain von Trapp (Theodore Bikel)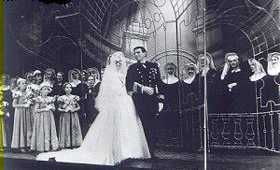 The production went on to win six Tony Awards, including sharing the Tony for Best Musical with Fiorello! Among the Tony Awards were wins for Best Actress in a Musical (Mary Martin), Best Featured Actress in a Musical (Patricia Neway), and Best Musical Direction (Frederick Dvonch). Additional nominations included Best Featured Actor in a Musical for both Theodore Bikel and Kurt Kaszner. The entire children's cast was nominated for Best Featured Actress category as a single nominee, even though two children were boys.

Columbia Masterworks recorded the original Broadway cast album a week after the show's 1959 opening on November 22, 1959, in Columbia Records' famous 30th Street Studios. The album was the label's first deluxe package in a gatefold jacket, priced $1 higher than previous cast albums. Nevertheless, it immediately reached the #1 position on Billboard's best-selling albums chart and would eventually sell over 3 million copies.

This re-release is a sterling reminder why The Sound of Music is a treasured classic.

The delightful and unusual bonus tracks are; From Switzerland: The Pratt Family, a spoof of The Sound of Music created for and performed by Julie Andrews and Carol Burnett in 1962 on their TV special, Julie and Carol Live at Carnegie Hall.

A live recording of Edelweiss, sung in German, from the historic first production (2005) of The Sound of Music in Vienna.

A soaring cover version of Climb Ev'ry Mountain, sung in Swedish (as Sök dig till bergen) by Tommy Körberg.

Orchestrations by Robert Russell Bennett. Musical direction by Frederick Dvonch. Choir arrangements by Trude Rittmann. Sound engineering by Bud Graham and Fred Plaut. The reissue producers are Diduier C. Deutsch and Darcy Proper. New liner notes by Bert Fink. Graphic design by Jeffrey Schulz. Art Direction by Roxanne Slimak.

As a compliment to the CD Simon & Schuster has released The Sound of Music: A Classic Collectible Pop-Up. The beloved musical about the Von Trapp family is brought to vivid life as a pop-up book, with beautiful illustrations by Dan Andreasen and paper engineering by Bruce Foster. The book couples visually stunning pop-ups with words from the songs. This elegant pop-up could easily be used as a coffee table addition - a "favorite thing" to give or receive this holiday season.





SWEET CHARITY


ROCK LIKE A MAN featuring the cast of the first national tour of the Tony-winning musical Jersey Boys will perform a benefit concert for Broadway Cares/Equity Fights AIDS November 16 at the National Theatre in Washington, DC.

Steve Gouviea, John Gardiner, Josh Franklin and Kara Tremel will perform original material as well as rock 'n' roll tunes originally recorded by Tom Petty and the Heartbreakers, Led Zepplin, Pink, Joan Jett, The Beatles and The Eagles.

Leo Huppert and The Vig (Nick Dickerson, Mark Papazian, Buck Hujabre and Caren Cole) will accompany the performers, who are scheduled to include Graham Fenton, Josh Franklin, Steve Gouviea, Courter Simmons, John Gardiner, Sarah Darling, Nathan Scherich, Ryan Strand, Chris DeAngelis, Buck Hujabre, Brandon Matthieus, Renee Marino, and Kevin Worley.

USO BENEFIT last Wednesday's Veterans Day performance of Down Range, currently running in Manhattan benefited The USO of Metropolitan New York with 100% of the ticket and silent auction sales being donated to the organization. The USO, founded in Times Square in 1941 in response to a request by Franklin D. Roosevelt, is an organization dedicated to providing entertainment, recreational and support activities to uniformed military personnel and their families.

The final performance was last night at Theatre 3 in Times Square. Down Range tells the story of two twenty-plus-year veterans who return home after their convoy is hit by an IED in Iraq. Torn between family and the call of duty, their wars continue at home, opening old wounds of betrayal, fear, infidelity, and loneliness for them and their wives. In this touching, poetic and dramatic commentary on current events, the veterans and their fractured families are forced into a surprising and bitter realism. And, only one thing is certain - the high cost paid by all. Trish Minskoff directed a cast of five which included Bob Celli (Circle, Going Home, As The World Turns), Thaddeus Daniels (Circle, Law & Order), Rachel Parker (As The World Turns), Steve Sherman (Regional: Hamlet, Hot n' Cole), and Tracy Weller.

USO President and CEO Brian C. Whiting said, "The USO has a long tradition of bringing entertainment and recreational resources to our service members across the globe. We appreciate the support of Down Range and of the community of artists across the New York area."

CHICKENSHED'S 20th ANNUAL GALA In 1974 a composer, and singer met a teacher and together they started a theatre company, in a chicken shed. 35 years later Chickenshed, the UK's pioneering inclusive theatre company, celebrate in style with a Gala performance. Wine, dinner and 'once in a life-time' auction prizes begin the proceedings, before 500 performers who will take to the stage, plus special guests comedian Victoria Wood, opera singer Jonathan Ansell and violinist Dmitry Sitkovetsky take to the stage. Guest of Honor Joanna Lumley will lead the celebrations. Alongside the thrilling cabaret performance will be a champagne dinner and live auctions held by Sotheby's Lord Harry Dalmeny.

Tuesday, November 17 at The Royal Albert Hall, London.






SPREADING THE WORD


THE COCKTAIL HOUR

A. R. Gurney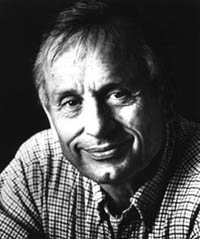 Guild Hall and The Naked Stage present a staged reading of The Cocktail Hour by A. R. Gurney. Featuring Kristen Lowman, Larry Nicks, Kate Mueth and Josh Gladstone.

The Cocktail Hour by A. R. Gurney is a plotless play about a play with no plot. In two acts of gently twisting dialogue and beautifully escalating tension, the playwright shows off his understanding of the power of theater and his sense of the sharp-edged love-hate- love dynamics of family relationships, all while spinning a play that is rich in poetry and resonant with meaning—whether or not anything actually ever happens.

Though it is not an easy play to direct, nor a simple one to act, The Cocktail Hour is arguably Gurney's most celebrated play, and yet, because it is partially autobiographical, the playwright never allowed it to be performed in his hometown. After the death of his mother, however, Gurney relented, and the Kavinoky Theatre successfully obtained the rights.

The detail that blocked the play from production involves a possible marital infidelity on the part of Ann, the mother character. Marital infidelity is a common theme in Gurney's plays and also serves as a plot device in Ancestral Voices. The playwright has long since admitted that this real life event in these plays is a reference to his grandmother - not his mother.

Free and all are welcome to attend, Tuesday, November 17 at Guild Hall in East Hampton, NY.

BOYNTON BEACH CLUB is next in the its acclaimed Developmental Reading Series presented by the York Theatre Company in NYC. As always, these readings are open to the general public and admission is free. Boynton Beach Club has a book by Susan Seidelman; Music by Ned Paul Ginsburg; Lyrics by Michael Colby.

Gabriel Barre directs the cast which features Tyrone Aiken, Adinah Alexander, Bethe Austin, Joan Barber, Stephen Berger, Susan Bigelow, Tovah Feldshuh, Jerold Goldstein, Jeff Keller, Heather MacRae, Tim Shew and Cheryl Stern .

Visit sunny Florida and join the surprisingly sexy and often hilarious members of the Boynton Beach community, who demonstrate that life after 50 isn't what it used to be. Boynton Beach Club November 19-20 at The York Theatre Company, NYC.

ART SPEAK the program that brings stars from Broadway and Potomac Region theater to a Northern Virginia school to perform and chat with students, family and members of the public for an evening will host Sherie Rene Scott in a free program this Monday, November 16 at the Hayfield Secondary School in Alexandria, VA.

Scott starred at Signature Theatre in the world premiere of Kander and Ebb's Over and Over before her Broadway leading roles in Aida; Dirty Rotten Scoundrels and The Little Mermaid.

UP IN THE AIR SCREENING AND Q&A WITH VERA FARMIGA AND ANNA KENDRICK whom Broadway To Vegas fell in love with when Kendrick all but stole the show - High Society back in 1998. See Broadway To Vegas column of April 25, 1998 That star turn at age 12, earned her a Tony nomination - making her the third-youngest nominee ever after 10-year-old Frankie Michaels and 11-year-old Daisy Eagan.

Now the precious youngster is the 24-year-old, grown-up beauty who is the purse-lipped, perfect-postured Natalie, the comic and dramatic foil to George Clooney charms in the movie Up in the Air.

Best known for her role in The Twilight Saga, which earned Kendrick a People's Choice Award nomination as Breakout Movie Actress, her credits also include Rocket Science; Elsewhere; Camp and The Mayor. In 2010, she has a role in Scott Pilgrim vs. the World.

On Wednesday, November 18, a special advance Los Angeles screening of the film Up in the Air will be followed by a conversation with Farmiga and Kendrick.

Up in the Air stars George Clooney as Ryan Bingham, a corporate downsizing expert whose cherished life on the road is threatened just as he is on the cusp of reaching the million frequent-flyer miles and has met the frequent-traveler woman of his dreams.

The ensemble cast includes Vera Farmiga, Anna Kendrick, Jason Bateman, Danny McBride, Melanie Lynskey, Amy Morton, J.K. Simmons, Zach Galifianakis and Sam Elliott.

The screening will take place at The Paramount Theatre in Los Angeles.

SWAROVSKI STAR UNVEILING takes place Wednesday, November 18 at Rockefeller Center.

Swarovski, the world's leading producer and designer of precision-cut crystal for fashion, jewelry, and interiors is has partnered with Tishman Speyer to present the Swarovski Star atop the 2009 Rockefeller Center Christmas Tree. The Swarovski Star is comprised of over 25,000 crystals sparkling with one million facets. The Star measures 9 ½ feet in diameter, is 1 ½ feet deep, and is nearly 600 pounds. It is the largest and most precious star ever to grace the Rockefeller Center Christmas Tree. This year there will be new elements to the Swarovski Star including the addition of 700 LED lights which will give the star an additional sparkle. This event is open to the public.





OTHER PEOPLE'S MONEY


EXTREME MAKEOVER HOME EDITION winners in Las Vegas are selling their homes. One family was transferred to a different city and another woman wants to move from the dream home to a condominium because of an inability to pay for the upkeep - meaning higher property taxes and utilities. Winners report that the popular ABC show doesn't require winners to live in the homes. Realtors report that the homes are overpriced for the neighborhoods in which they are located and will be a tough sell.

Last year a Extreme Makeover Home for an Atlanta family went into foreclosure. Apparently the family used the two-story home as collateral for a $450,000 loan to start a construction business.

Celebrities who have appeared on the program include Former U.S. Secretary of State Colin Powell, LeAnn Rimes, Jennifer Hudson and David Beckham.

MICHAEL JACKSON'S glittery glove which he wore when he unveiled his moonwalk on TV in 1983 is hitting the auction block on November 21. This glove isn't your ordinary Michael Jackson glove. This left-handed glove is a modified, store-bought glove covered with a mesh of rhinestones. In 1983 Jackson gave the glove to Walter "Clyde" Orange, a founding member of the Commodores. That group toured with Jackson in the 1970s. Orange said he hopes the glove will find a permanent home at the Rock and Roll Hall of Fame or a similar institution.

Proceeds from the sale will benefit MusiCares, an organization that helps musicians struggling with substance abuse.

Darren Julien of Julien's Auctions called the glove "the Holy Grail of Michael Jackson memorabilia."

It will be gaveled down along with other one-of-a-kind items, such as an early Madonna demo tape and unreleased Jim Hendrix lyrics.

The Music Icons auction takes place at the Hard Rock Cafe in New York City's Times Square.


KANSAS GIVES ITS REGARDS TO BROADWAY
Peter Ellenstein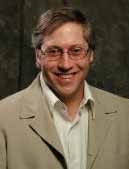 "I'm as corny as Kansas in August, High as a flag on the Fourth of July!" penned Oscar Hammerstein II. That's nothing compared to the pumped up pride the sunflower state is experiencing with the Kansas connection to Broadway.

"Kansas again muscled its way into Broadway's spotlight as William Inge Center for the Arts Artistic Director Peter Ellenstein directed at the Broadway 24 Hour Plays with its luminous cast. Ellenstein directed four famed actors in a 10-minute play which is a part of one the entertainment industry's biggest New York charity events, held Monday November 9. His cast comprised: Gaby Hoffman, Demi Moore, Jeremy Sisto, and Julia Stiles," stated a release from the William Inge Center for the Arts.

The script Pen Play was written by Pulitzer Prize nominee Theresa Rebeck, who herself has twice visited Independence. In 2003 she was the William Inge Theatre Festival's Otis Guernsey New Voices in the American Theatre Award and then returned 2005 as a guest presenter.

The Broadway-Kansas connection continued through the evening. Tina Howe, the 2005 William Inge Theatre Festival Honoree, was one of the six playwrights.



Francois Battiste, Wendell Pierce and Alano Miller in Nathan Louis Jackson's Broke-Ology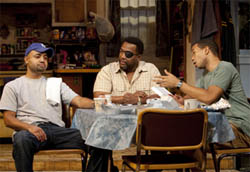 Nathan Louis Jackson is also a previous visitor to Independence, Kansas; he wrote for the Inge Center's College 24 Hour Plays in 2006, while a student at Kansas State University.

A graduate of the Juilliard School and of Kansas State University, Jackson's critically-acclaimed play Broke-Ology, which has to do with love and hardship - poverty, racism and illness - in Kansas, is his New York debut as playwright. Broke-Ology runs through November 22nd at the Mitzi E. Newhouse Theatre at Lincoln Center.

The recent participation of Ellenstein marks the third time he has directed at the Broadway 24 Hour Plays - which has ticket prices as high as $295 and raises hundreds of thousands of dollars for Urban Arts Partnership, a charity which sponsors arts-in-education programming at public schools.


FRIDAY THE 13th CLUB TEMPTS FATE


THE NATIONAL THEATRE in Washington, DC reports that last Friday, which was Friday the 13th, a new National Friday the 13th Club was founded on front of the National Theatre.

Leader of the club is Magician-Chef, Wayne Alan, who emphatically states that he founded the organization, "just for the fun of it, and because he and many other people believe that Friday the 13th is not an unlucky day but a lucky one."

The original Friday the 13th Club was started in 1936, in Philadelphia, by Phillip Klein, a newspaper publisher and college president. His club consisted of himself and twelve others, who gathered each Friday the 13th to tempt the fates.

Klein specified in the bylaws that the club would terminate on Friday, October 13, 2000 - by which time, all the founding members would be deceased) Alan decided to revive the idea by starting a new club based in the Washington, DC, area.

Last Friday. Alan and others tempted fate by opening umbrellas indoors, breaking mirrors, walking under ladders, spilling salt, and allowing black cats to cross their paths.

At last report everyone was alive, health and had suffered no calamity.

The National Theatre points out that The Club has no official connection with the theatre. However, theatre officials concede that Jersey Boys is enjoying a "lucky" engagement at the theatre, including curse free performances this wee-end. Jersey Boys continues its phenomenal run for lucky Washington theatregoers through December 12.



18th ANNUAL OSCAR HAMMERSTEIN AWARD FOR LIFETIME ACHIEVEMENT IN MUSICAL THEATRE

will be presented by Alice Hammerstein Mathias to Jerry Bock and Sheldon Harnick on November 23 at The Racquet & Tennis Club in New York City.

Presented by The York Theatre Company, Tony Award winner Tom Bosely, who originated the title role of Bock and Harnick's Fiorello! on Broadway, will participate in the evening that coincides with the original 1962 opening night of that Pulitzer Prize-winning musical.

Also appearing are the original She Loves Me star Barbara Cook, Jason Graae, Marc Kudisch, Judy Kuhn, Christine Pedi, Howard McGillin, Josh Grisetti, Emily Skinner, Laura Marie Duncan, Stephen Mo Hanan and the Honeybees of the Savannah College of Art & Design.

Bock and Harnick are best known for writing the score to the hit 1964 musical Fiddler on the Roof, which earned 10 Tony Awards and an Oscar for the 1971 film.

Honorary committee members for the evening are; Patti Bock, Ted Chapin, Barbara Cook, Nancy Ford Charles, Arlene Daniels, Margery Harnick, Anita Jaffe, Lynn Lane, Richard Maltby, Jr., Joe Masteroff, Alice Hammerstein Mathias, Harold Price, Carl Reiner, Ted Snowdon, Elisa Stein, Joseph Stein, Richard Ticktin and Tony Walton.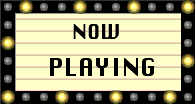 THE ADDAMS FAMILY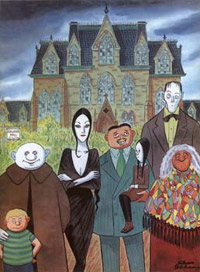 an original song-filled re-imagining of the Addams characters, created by late illustrator Charles Addams.
Starring Tony Award winners Bebe Neuwirth and Nathan Lane who play the creepy heads-of-household, Morticia and Gomez, respectively. Kevin Chamberlin plays Uncle Fester. Krysta Rodriguez is Wednesday.Zachary James (Lurch) Jackie Hoffman (Grandma), Adam Riegler is Pugsley, Tony nominated Terrence Mann and Carolee Carmello play Mal and Alice Beineke and Wesley Taylor portrays their son Lucas Beineke.

In the musical daughter Wednesday is 18 and in love. The famously macabre Addams Family is put to the test when they invite the boyfriend's family over to their humble home for dinner, hurling Gomez, Morticia, Wednesday, Pugsley, Fester, Grandmama and Lurch headlong into a night that will change the family forever

Direction and design duties are handled by Phelim McDermott and Julian Crouch. Choreography is by Sergio Trujillo. Basil Twist is in charge of Puppetry. Natasha Katz is the Lighting Designer. Acme Sound Partners handled the Sound Design. Tom Watson is in charge of Hair and Wig Design. Angelina Avallone is the Make-up Designer. Gregory Meeh is the Special Effects man. Rick Sordelet is the Fight Director.

Musical direction by Mary-Mitchell Campbell. Orchestrations by Larry Hochman. See Broadway To Vegas column of May 24, 2009. Dance Arrangements by August Eriksmoen. The Production Supervisor is Beverley Randolph. Heidi Miami Marshall is the Associate Director.

Appropriately enough, The Addams Family began a pre-Broadway tryout at the Oriental Theatre in Chicago on Friday, November 13th. The official opening is December 9 with a run through January 10. 2010. The production opens on Broadway in April.

CIRCUMCISE ME a new comedy on the cutting edge. Written and performed by Yisrael Campbell.

Directed by Sam Gold.

Video/set design by Aaron Rhyne.

He's just your average Irish, Italian Catholic kid from Philly, Comic Actor, Sober Alcoholic, Recovering Drug Addict, Husband, Father, Reform, Conservative, Unorthodox, Orthodox Jew. His name is Yisrael Campbell and this is his story - a spiritual journey stretching across four decades, two continents, and three circumcisions.

Audiences are promised a rare collision of comedy and theater that will have women howling with laughter and men squirming in their seats. Billed as Poignant, provocative, and powerfully witty, Circumcise Me is the true - and truly unforgettable - story of a man who was born to be funny. The Jewish part came later.

Performances through January 3 at Bleecker Street Theatre/Upstairs, NYC.

RAGTIME the Tony Award winning musical stages a revival. Based on E.L. Doctorow's epic novel, the recent John F. Kennedy Center for the Performing Arts production features direction and choreography by Marcia Milgrom Dodge, a company of 40 and a 28-piece orchestra led by musical director James Moore.

At the dawn of the century, everything is changing…and anything is possible. Based on E.L. Doctorow's celebrated epic novel and set in the volatile melting pot of turn-of-the-century New York, Ragtime weaves together three distinctly American tales -- that of a stifled upper-class wife, a determined Jewish immigrant and a daring young Harlem musician -- united by their courage, compassion and belief in the promise of the future. Their personal journeys come alive as historic figures offer guidance and diversion - among them escape artist Harry Houdini, auto tycoon Henry Ford, educator Booker T. Washington and infamous entertainer Evelyn Nesbit. Together, their stories celebrate the struggle between tradition and independence all in pursuit of the American dream.

Ragtime stars Ron Bohmer (Father), Quentin Earl Darrington (Coalhouse Walker Jr.), Christiane Noll (Mother), Robert Petkoff (Tateh), Bobby Steggert (Mother's Younger Brother), Stephanie Umoh (Sarah) with Christopher Cox (The Little Boy), Sarah Rosenthal (The Little Girl), Mark Aldrich (Willie Conklin), Aaron Galligan-Stierle (Henry Ford), Jonathan Hammond (Harry Houdini), Dan Manning (Grandfather), Michael X. Martin (J.P. Morgan), Mike McGowan (Stanford White), Donna Migliaccio (Emma Goldman), Josh Walden (Harry K. Thaw), Savannah Wise (Evelyn Nesbit) and Eric Jordan Young (Booker T. Washington) leading a cast of 40.

The production team includes scenic design by Derek McLane, costume design by Santo Loquasto, lighting design by Donald Holder, sound design by Acme Sound Partners, hair and wig design by Edward J. Wilson and orchestrations by William David Brohn.

Officially opened Sunday, November 15, at the Neil Simon Theatre in New York City.

EXTINCTION

Michael Weston and James Roday in Extinction. Photo by Wayne Wasserman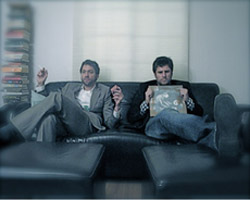 by Gabe McKinley. Directed by Wayne Kasserman.

A world premiere starring James Roday (USA Network's Psych), Michael Weston (Fox's House) and Amanda Detmer (ABC's Private Practice) and Stefanie E, Frame star in the world premiere of a darkly funny drama exploring the evolution of friendships - and the lengths to which we go to save them from falling into extinction.

College buddies Max and Finn have always spent their vacations in the fast lane, religiously drinking, drugging and chasing women... but this time something is different. In a hotel room in Atlantic City, the two friends face-off with their indulgent past and take a sober look at their all-too-present future.

November 20 - December 13 at Elephant Space in Hollywood, CA.

ON THE TOWN Music by Leonard Bernstein. Book and Lyrics by Betty Comden and Adolph Green. Based on an idea by Jerome Robbins. Choreographer Patti Colombo Directed by Bill Berry who was recently was named producing director at The 5th Avenue Theatre in Seattle.

Starring Jennifer Cody as Hildy Esterhazy, Tyler Hanes plays Gabey, Jeffrey Schecter is cast as Ozzie, Brian Shepard is Chip, Kelly Sullivan portrays Claire DeLoone, Yvette Tucker is Ivy, Bill Nolte will be in the role of Judge Pitkin. Rounding out the cast are Steven Ted Beckler, Paige Faure, Tyler Foy, Cameron Henderson, Tari Kelly, Logan Keslar, Dana Maddox, Lindsay Moore, Casey Muha, Caitlin Mundth, Philip Northington, James A. Pierce III, Catherine Ricafort, Rod Roberts, Ryan Sandberg, Michael Scirrotto, Molly Tynes, Kyle Vaughn, Jacob Widman and Paige Williams.

Leonard Bernstein's and Jerome Robbins' dance spectacular, sails to the Paper Mill Playhouse stage with brand new choreography by Patti Colombo and iconic songs like New York, New York and I Can Cook Too. It's the story of three sailors on a 24-hour leave. They search for romance - and boy do they find it!

Through December 6 at the Paper Mill Playhouse in Millburn, NJ.

DR. SEUSS; HOW THE GRINCH STOLE CHRISTMAS! THE MUSICAL

How The Grinch Stole Christmas! The Musical. Photo credit T. Charles Erickson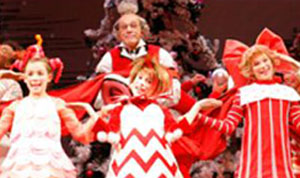 based on the original book written by Dr. Seuss and is conceived and supervised by three-time Tony Award winner, Jack O' Brien. It is directed by Matt August and choreographed by Bob Richard with original choreography by John DeLuca. Book and lyrics are by Timothy Mason with music by Mel Marvin and additional music and lyrics by Albert Hague

This Los Angeles premiere stars 5 time Emmy winner John Larroquette as Old Max and Stefán Karl as The Grinch. James Royce Edwards plays Young Max - the Grinch's persecuted pooch.

The 24-member cast includes; Kayley Stallings and Issadora Tulalian (sharing the role of Cindy Lou Who), Melinda Gilb as Mama Who, Danny Gurwin as Papa Who, Rosemary Loar as Grandma Who, and Stuart Zagnit as Grandpa Who. Adult ensemble members include Eric Anthony, Heather Barr, Alex Chester, Janet Dickinson, Antoinette DiPietropolo, Jennie Ford, Dennis Kenney, Shanon Mari Mills, Candice Nicole, Josephine Rose Roberts, Joe Souza, and Pearl Sun. Child ensemble members include Michael William Arnold, Isabella Briscoe, Maddie Levy, Molly Livingston, Quinton Lopez, Terren Mueller, Lindsay Ryan, Molly Ryan, Gracie Stover and Terrance Thomas.

Dr. Seuss' How The Grinch Stole Christmas! The Musical features the songs You're a Mean One, Mr. Grinch and Welcome Christmas from the original animated TV special. Max the Dog narrates as the mean and scheming Grinch, whose heart is "two sizes too small," decides to steal Christmas away from holiday-loving Whos of Whoville.

The production features scenic design by John Lee Beatty, costume design by Robert Morgan, lighting design by Pat Collins, and orchestrations by Michael Starobin. Sound design is by Acme Sound Partners.

Dr. Seuss' How the Grinch Stole Christmas! The Musical has performances through January 3, 2010 at Hollywood's Pantages Theatre, Hollywood, CA.

GOD OF CARNAGE the Tony Award winning drama at the Bernard Jacobs Theatre in NYC welcomes its new cast on November 17 - Ken Stott as Michael, Oscar nominee Christine Lahti as his wife Veronica. Annie Potts will make her Broadway debut as Annette alongside Jimmy Smits as her husband Alan.

Taking their final bow last Saturday, November 14, were Marcia Gay Harden, James Gandolfini, Jeff Daniels and Hope Davis.

DEBBIE REYNOLDS ALIVE AND FABULOUS the former Las Vegas resident is returning to the London stage after an absence of 34 years. The Tony-nominated Reynolds will bring her one-woman show, Debbie Reynolds Alive and Fabulous, to the U.K, launching a 15-date regional tour.

In this variety show with musical director Joey Singer, the multi-talented Reynolds will celebrate over 50 years in show business, showing movie clips as she reminisces about her career, her many husbands and her life of song and dance. She'll do her impressions of Barbra Streisand, Mae West, Katherine Hepburn - even Jimmy Stewart.

She'll open her tour at Theatre Royal, Norwich on April 7, 2010, a week after celebrating her 78th birthday on April 1st. Following her opening at Norwich, she will also tour to Liverpool, Manchester, Cardiff, Brighton, Bristol, Birmingham, Basingstoke, Leicester, Windsor, Southend, Northampton, Cambridge, Malvern and Leeds, ahead of her West End season - opening at the West End's Apollo Theatre April 29 for a run through May 9.

BONNIE & CLYDE with music by Frank Wildhorn, lyrics by Tony Award winner Don Black, book by Ivan Menchell and direction and musical staging by Jeff Calhoun.

Tony Award nominee Stark Sands and Broadway's Laura Osnes play the notorious American crime couple. Two-time Emmy Award winner Mare Winningham is Emma, and Melissa van der Schyff plays Blanche.

Bonnie & Clyde is based on the lives of Depression-era outlaws Bonnie Parker and Clyde Barrow, whose notorious exploits captured the country's imagination. Stuck in a dead-end job in Texas in the 1930s, young Bonnie Parker falls in love with Clyde Barrow, a charismatic criminal on the run from the law. Their love affair soon spirals out of control, as Bonnie & Clyde commit a series of bank robberies while staying one step ahead of the authorities. But as their notoriety - and body count - rises, the ill-fated lovers find themselves racing to the top of the Public Enemies list - with a bullet.

This seductive and cinematic new musical examines how a troubled Texas teen and a love-sick waitress became America's most infamous couple, with a score that combines rockabilly, blues and gospel music.

The world premiere officially opens November 22 with performances through December 20 in the Mandell Weiss Theatre of the La Jolla Playhouse in LaJolla, CA.





WHO'S WHERE


ANDREA MARCOVICCI performs Skylark: Marcovicci Sings Mercer with Musical Director Shelly Markham and Jered Egan on bass. November 17- December 26 at The Oak Room of the Algonquin Hotel in Manhattan.

CARLY JIBSON shares her experiences from growing up in a small Michigan town to making her Broadway debut at 19 and discovering along the way that dreams are just as easy to create as nightmares. Aaron Berk will join Jibson on stage along with special guest Caissie Levy. The 6 piece rock band features background vocalists Starr Busby and Amy Halldin. Musical direction and arrangements by Darren Ledbetter. Directed by Noah Himmelstein. Monday, November 16, at Joe's Pub in NYC.

TRANS-SIBERIAN ORCHESTRA with two traveling groups brings their holiday tour to the MTS Centre in Winnipeg on Monday, November 16. On Wednesday the shows are at the Pengrowth Saddledome in Calgary, AB and at the Dunkin' Donuts Center in Providence, RI. On Thursday a show takes place at the DCU Center in Worcester, MA. Friday the tours stop at the Pacific Coliseum in Vancouver ,BC and at the Wachovia Arena in Wilkes-Barre, PA. On Saturday they'll be making wonderful music at the Wachovia Center in Philadelphia, PA and at the Key Arena in Seattle, WA.

BRUCE SPRINGSTEEN AND THE E STREET BAND make a stop Wednesday, November 18 at the Sommet Center in Nashville, TN. On Friday they'll be playing their hits at the 1st Mariner Arena in Baltimore, MD.

MILEY CYRUS entertains Monday, November 16 at the Conseco Fieldhouse in Indianapolis, IN. On Wednesday she opens a two nighter at the Nassau Veterans Memorial Coliseum in Uniondale, NY.

BRITNEY SPEARS continues her Down Under tour by opening a four night engagement on Monday, November 16 at the Acer Arena in Sydney, Australia.

KISS stops by the Rose Garden Arena in Portland, OR for a show on Tuesday, November 17. On Thursday they are on stage at the ARCO Arena in Sacramento, CA. Saturday the show is at the Save Mart Center in Fresno, CA.

JOHN PIZZARELLI opens a two night stand at the Rady Jewish Community Center in Winnipeg, Canada on Saturday, November 21.

WEDNESDAY NIGHT AT THE IGUANA with hosts Dana Lorge and Richard Skipper. Barry Levitt on keyboard and Saadi Zane on bass. Guests on Wednesday, November 18 include: Frans Bloem, Natalie Douglas, Ray Jessel, Rob Langeder, Cindy Marchionda, Ben Rauch. Iguana VIP Lounge in New York City.

JERRY SEINFELD telling funny stories in a two night romp beginning Friday, November 20, at the MGM Grand at Foxwoods in Mashantucket, CT.

ROGER DALTREY performs Tuesday, November 17 at the Count Basie Theatre in Red Bank, NJ. On Wednesday he's on stage at Chrysler Hall in Norfolk, VA and on Friday he's in the spotlight at the Nokia Theatre Times Square in NYC.

LYLE LOVETT brings his tour to the Belk theater in Charlotte, NC on Tuesday, November 17. On Wednesday he'll entertain at The Tabernacle in Atlanta. Friday finds him at the MS Riley Center in Meridian, MS. On Saturday the show is at the Winstar World Casino in Thackerville, OK.

CHRIS BOTTI blowing his own horn at the Wellmont Theatre in Montclair, NJ on Friday, November 20. On Saturday he'll be making beautiful music at the Hershey Theatre in Hershey, PA.



Next Column: November 22, 2009
Copyright: November 15, 2009. All Rights Reserved. Reviews, Interviews, Commentary, Photographs or Graphics from any Broadway To Vegas (TM) columns may not be published, broadcast, rewritten, utilized as leads, or used in any manner without permission, compensation and/or credit.
Link to Main Page
---
Laura Deni



U.S. Postal Address: Post Office Box 60831, Las Vegas, NV 89160
CLICK HERE FOR COMMENT SECTION