! >
Broadway To Vegas
  
 SHOW REVIEWS CELEBRITY INTERVIEWS GOSSIP NEWS

| | |
| --- | --- |
| | |
ORCHESTRATING AND ARRANGING THE BROADWAY MUSICAL - - INTERNATIONAL SAND SCULPTURE FESTIVAL - - ORIGINAL! CAST LES MIZ HIGHLIGHTS CD FEATURES PATTI LuPONE - - GREAT PLAINS THEATRE CONFERENCE - - STARS FOR A CAUSE CHARITY AUCTION - - ANNIE DUKE TO HOST 'SUCKING OUT ON THE RIVERS' CHARITY POKER TOURNAMENT - - JUDD HIRSCH STARS IN BELOW THE BELT - - KIDNEY TRANSPLANT CURTAILS NATALIE COLE'S SUMMER TOUR - - DONATE . . . Scroll Down


ARRANGING AND ORCHESTRATING THE BROADWAY MUSICAL
Larry Hochman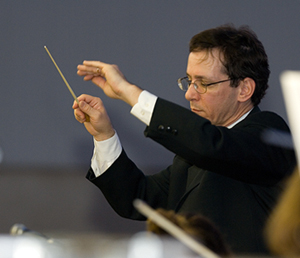 The musicals Spamalot, Jane Eyre, A Class Act, Fiddler on the Roof, Little House on the Prairie, Giant and the eagerly anticipated The Addams Family have something in common - arranger/orchestrator Larry Hochman.

Few people know the job description of an orchestrator/arranger and most people wonder why they should even care. Every piece of music heard in any form - be it on a CD, radio, television, Broadway, off-Broadway on Muzak in an elevator - has been arranged. This almost obscure, angst ridden yet exciting profession can be highly lucrative and emotionally satisfying. Musicians tempted to enter this line of work be forwarned - you need to know music.

The public recognizes composers - some of whom have their name above the title. A composer creates a sketch of the score, with melody, rhythm, and harmony. Left that way, few would listen to something that - if performed - might sound like an eight-year-old showing off two years of piano lessons.

In most cases, the person who has the least amount of input into a Broadway musical is the composer.

It's the out-of-the-spotlight orchestrator/arranger who can make or break a musical.

Tony Award nominated and Emmy Award winning orchestrator/arranger Larry Hochman spoke with Broadway To Vegas about this unusual career path.

New Jersey born and bred Hochman admits that nobody growing up ever says they want to be an arranger. Even knowing that the profession exists becomes acquired knowledge.

"After people become musicians then they realize that there is another facet of music that you can go into," he said about earning a living as an orchestrator/arranger. Hochman studied at the Eastman School of Music and The Manhattan School of Music where he was a composition major. He has fond memories of his teachers.

"My composition teacher at Eastman was Joseph Schwantner who won the Pulitzer Prize," he said referring to Schwantner's orchestral work Aftertones of Infinity, which received the 1979 Pulitzer Prize for Music.

"In my undergraduate years I was a composition major, but I was also interested in theater dating back from my last two years of high school. I really was aware that it is a tough profession and difficult to break into the music industry. I felt I would be happy if I could break into something about theater or composition. Or, be a music teacher. If that didn't work out - open up a fruit stand. I was prepared to go in any direction."

"My compositions were avant-garde, of the classical world. I was immersed in that. At the same time I did new arrangements for a college production of West Side Story, which was totally extra curricular. I tried to keep both avenues active - the theater and classical music. Between the last two years of college I got a job in summer stock as music director. Then the theater bug didn't stop. During my senior year, which was at the Manhattan School of Music in New York, I had the chance to sub for the pianist in Pippin. That same year I got as a job musically directing my first off-Broadway show in NY. From then on, I knew it was going to be theater."

"What's unfortunate is not only is this a little known profession, but the choice of vocabulary is a gray area. Arranging is very broad word. Anything that alters or enhances the music is arranging," he stated.

"Let's say a composer has written a 32-bar song in a very raw sense. And, the pianist/arranger has manipulated the music, even to a very small degree. Let's say he's decided it's going to be in another key, go up a half step and it's going to get slower at this point and we're going to have accents on two and four. Often that is still on the level of just the piano sketch. In a sense he's arranged the music."

"But arranging can also include a full orchestration. It can be a very small contribution or it can be a very large contribution."

It is the orchestrator who decides what instrument will play which notes and expands that score to include parts for every instrument which will be in the orchestra.

"The orchestration, in the purest sense, is a much more specific activity than arranging. It is the final end of all the arranging contributions," he explained.

Do orchestrators/arrangers specialize in different types of music?

"Most arrangers try to know many styles," he answered. "I think in theater there are more styles that one is called upon to do than in any other type of music."

"Spamalot may be the best example. There was a marching band number, which was The Lady of the Lake. There was a disco number which was for Lancelot. There was a number that was in the style of Fiddler on the Roof. There was English documentary. There was Wagnerian Opera. There were so many styles," said Hochman whose ability to handle that variety was one of the reasons Spamalot earned him a Tony nomination.

"There are some arrangers that are probably known as more lyrical than others," he conceded. "And some that are more pop. Some are limited while some are specialists. Some arrangers have only done pop music. You wouldn't call on them for classical music."

"There are some arrangers that really don't have the big band and swing styles, but they can be very skilled at Broadway. As far as what people call me for - there are some that think of me as real lyrical as in Jane Eyre, which is also very classical. I've been known for my romantic style, but also for eclectic style."



Dick Hyman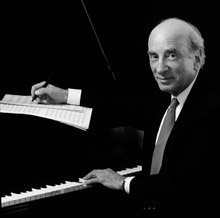 "I did five songs of Duke Ellington for Audra McDonald. That was done with the San Francisco Symphony in 2001. I've done some jazz orchestrating - not a lot. When Audra called me, I wanted the job, as I had worked with Audra already on her first two albums. But when she said Duke Ellington, I kind of gingerly said - If you really want Ellington, the guy that does that authentically is Dick Hyman. There are a couple of other arrangers who do more swing - Harold Wheeler. But she said she wanted to get out of the box and was using strings, which Ellington didn't use. She wanted to expand that with a new perspective." Hochman jumped on board.

"Dick Hyman is such a jazz specialist," continued Hochman. "If you told him to arrange a song to 1931 Ellington as opposed to 1932 Ellington, he'd know what to do. I didn't come from that era. I know my jazz chores. I've done more general jazz. I relate to the Bill Evans kind of harmonies," said Hochman referring to the man whose use of impressionist harmony, inventive interpretation of traditional jazz repertoire, and trademark rhythmically independent, "singing" melodic lines influenced a generation of pianists.

"If you said to me arrange it like early Schubert as opposed to late Schubert I would do it. Late Debussy as compared to early Ravel - that just happens to be a period that I know much more in depth. And yet, most of the arrangers that have done Broadway shows have at least some understanding of many styles."

If Audra wanted to get out of the box, the world of television - especially television news - wants it in the can.

"It used to be called stock music," he explained. "There is stock photography, stock footage. The reason news stations always need stock music is because when something happens in the world today, they've got to get it on the air. There isn't time to select a composer and commission him to write a certain kind of music. That could take weeks. So, there exists several competitors who have large libraries. Mine was for the Carlin Recording Music Library which is based in the UK."



Music industry icon Freddy Bienstock founded Carlin Music Corporation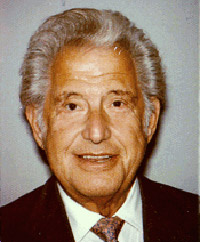 "Over the years I've written about 6 or 7 CDs worth of material - probably 500 compositions. The entire library of Carlin is probably 400 CDs or so. You can go on line and actually say find me something that is like John Williams that is 30 seconds - or find me something like Aaron Copland. Or, find me a piece of rap music with clean lyrics - any criteria. There is music for environment stories or if you need bagpipes, you can get that, too. Or, you can get specific and say find me something by Larry Hochman - you can do that, too. You can do that with Carlin and with probably 10 other competitors. Carlin is one of the biggest."

"My first involvement with that was around 1987. Carlin said we need sports and news music. We'd like it to be on the American side. That's why were calling you instead of one of our English people. So, I did a very successful album," he said of music that was on CNN World News Tonight. "From my 20 news songs there were six that, for about two years, CNN used constantly. CNN selected them from a library."

That meant money in the bank.

"I do find that I'm paid fairly with Carlin. With some companies you don't know if you are being paid fairly. I have total trust in Carlin. I write the music. They finance the production and we own it 50-50."

"In the library music field, the composer always does the arranging himself. So the composer is also the orchestrator/arranger. The only time that an arranger can get a royalty is on a public domain piece. Basically, he'd get the royalty that would have gone to the composer. So, instead of writing an original piece, if I did a new arrangement of the Nutcracker then it would say by Tchaikovsky, arranged by Larry Hochman. Then I would get the compositional royalty because there is no estate."

Broadway is a different situation. Orchestrators/arrangers are paid by the producer.

Hochman has been nominated for Broadway's Best Orchestrations Tony Award: in 2001 for A Class Act, in 2004 for the revival of Fiddler on the Roof, and in 2005 for Monty Python's Spamalot.

Hochman has an office is in home, which can have it's own set of logistical maneuverings.

"There was only one time period when that was tricky. When I marred my wife, Diane, she had two children from her first marriage. My fantastic step-kids Brian and Sarah. They were already 7-years-old. We had a baby, Laurie, after a year. The older children were in school and Laurie would watch her TV program while the house was being renovated. There were chain saws in the background, banging on the roof and there I was in the middle of the room - without a piano - because it was in storage - just with my desk. Sometimes the roof was leaking onto the score paper - I kid you not. And, that was - Jane Eyre." ( See Broadway To Vegas column of November 5, 2000 )

"As far as my career, I don't believe I was known at all in the Broadway field until Jane Eyre. Then it all became different."

Suddenly Hochman was a sought after Broadway orchestrator/arranger.



The elephant in the room is the budget. Between 1.5 - 3 percent of a Broadway musical budget goes for music. Years ago Broadway musicals were scored for 30 instruments. As costs have gone up the number of musicians in the orchestra has diminished. A problem for revivals is taking the original score, orchestrating it for a significantly small number of instruments while hoping it sounds as rich as the original. In that regard Hochman and his contemporaries have little wiggle room.

"There are two situations," explained Hochman. "Sometimes a producer will come to me and say - you have a 17 piece orchestra - and that's it. There is no discussion. Sometimes they will say - we think we can afford 15. Can you do it with 15? And, I might be able to persuade them to go up to 16 - if I show them the need. There have been a couple of cases where, after a meeting, they are willing to have some flexibility. Sometimes the producer will say to me - how many pieces to do think we need? Sometimes, that is, before they have chosen the theater. Just as often I'll be told the limit of how many musicians."

"Another requirement is that theater orchestras are constantly trying to work with smaller ensembles trying to sound bigger. A synthesizer can help and yet I don't want to depend upon synthesizers. The more I do this, he more I want to rely on acoustic instruments as much as possible."

Are you told which instruments to use?

"Very seldom by the producer," he replied. "The composer - if he is really knowledgeable - will give me a sense of what he thinks he wants in the orchestra. Sometimes the composer doesn't say anything. Maybe a couple of suggestions. The extreme case was recently."



Two-time Tony Award winners Nathan Lane stars as Gomez and Bebe Neuwirth is Morticia in The Addams Family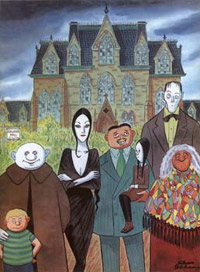 "I'm going to be working on The Addams Family," he said about the musical version which will star two-time Tony Award winners Nathan Lane as Gomez and Bebe Neuwirth as Morticia.

"I will tell you the composer/lyricist Andrew Lippa is wonderful," stressed Hochman. "He's written some sensational material. Now, Andrew actually said to me, depending upon the theater, we may have 12 or we may have 17 musicians. We worked on a scenario for both. He had quite a lot of input and for the most part, I agreed with him. There were a couple of spots where I said - You know, certainly I could use a second trumpet but I would rather give that up in order to have a third reed - or something like that. So, he started off with a suggested orchestra list and I changed it very slightly. If I had thought that I needed to change it drastically, I certainly would have said so. That can be a give and take. But, that was the exception to the rule. Normally, I would be the one to lay out the components of the orchestra."

Acknowledging that Andrew Lippa is one of the few exceptions to the rule - and realizing that the composer's name is on the score, when it comes down to putting it together, isn't the composer the least involved?

"Yes," exclaimed Larry with a laugh. "In a word - yes! They'll weigh in if they don't like the sound of something, but often they just stay out of the way."



Melissa Gilbert in Little House on the Prairie. photo by Michal Daniel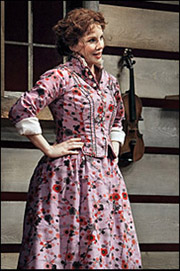 "I worked on Little House in the Prairie," he said of the new musical with music by Academy Award winner Rachel Portman and lyrics by Donna DiNovelli. Based on the Little House on the Prairie books by Laura Ingalls Wilder, the musical stars Melissa Gilbert as Carolina "Ma" Ingalls. The show had its world premiere at the Guthrie in Minneapolis July 26-October 19, 2008.

"At first there was another orchestrator," he said of the person who left for another commitment. "So, they asked me if I was going to use his instrument layout that was already approved by the composer. I looked at it and it totally made sense and would have served him very well. But, I had other preferences. There was one violin doubling on viola, and one cello. I decided that I definitely wanted two violins. Then I decided one violin and one viola - separate chairs. And, I didn't want to require us having to get a person who plays both - especially out of town," he reasoned.

"So, I said let it be a pure viola and a pure violin. And, I sacrificed a guitar chair. I preferred to have a second reed. I changed it quite a bit. In fact, I pretty much started from scratch. There are a couple of chairs that are the same. Then, even with the same composer approving both, depending upon who it was, it was a totally different take on it."

"We are opening it at Paper Mill this year which will start a tour," he said of the production which is set to open September 10 with performances through October 10. The tour begins October 12.

"Already the better part of a year has been booked as a tour," he cheerfully reported. "The day that tickets went on sale at the Guthrie there were lines around the block with mothers and their daughters - wearing bonnets. It was already a cult hit, " he laughed. Indeed, Little House on the Prairie broke box office records at the Guthrie.

"I definitely am excited about Little House and The Addams Family. Rehearsals start September 14 for The Adams Family, right after Prairie opens."

Another project on the boards for Hochman is a riskier venture - taking the larger than life movie Giant and turning it into a stage musical.

"Giant, is the Michael John LaChiusa show," Hochman stated about the Tony-nominated composer who is best known for complex, musically challenging shows such as Hello Again (1994), Marie Christine (1999), The Wild Party (2000), and See What I Wanna See (2005).

"The principle orchestrator was Bruce Coughlin. We've known each other for years, but we really got to be friends on this project. And, I was very happy that he had me work with him. It's playing at the Signature Theatre in Arlington, VA."

"I'm about to go down for a performance because I was only there for a couple of orchestra rehearsals. I was told they had a very good opening."

"Here is a case which is not the norm," divulged Hochman. "There was one number which was 12 minutes. It's somewhat operatic with three songs in the section. The Desert is the title for the entire group of songs, near the end of the show. I had a sketch which I felt was very well sketched out. I worked through it and in the last three minutes it breaks into another song. I realized that I had a different idea of how to do it."

"The left hand of the piano had a rhythmic figure which looked like it could work well on marimba so I sketched it as such. When I got to it I thought that would be too heavy and realized that what was in Michael John's mind was more of a strumming feel, maybe the piano was simply an abbreviation for a sort of strumming. So, it became a whole other idea, where the texture was now something that was very much off the page from what was there."

"I stopped. I went to sleep. I woke up because I knew it was going to be another day of work. It wasn't - if I can just stay up until one in the morning and finish the thing. That was really an unusual instance, where I really did re-write a sketch. Up to bar 250 I was happy, then I had a whole different idea."

"In a show, until a number gets staged, rehearsed with actors, it usually isn't ready to be released for a final orchestration," he explained. "The key could change, so could the dramatic intros, the feel of the number and of course, dances happen. Often you get only four or five, possible six weeks for orchestrations for the entire show to be done - so, you have to divide up the work."



Spamalot Director Mike Nichols and Larry Hochman. Co-producer Bob Boyett is in the middle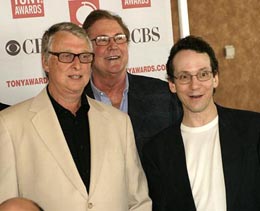 "When I was the orchestrator for Spamalot. I needed as much time as possible every day to work on orchestrations, because it is just so much work. I could not be in rehearsals with the cast for eight hours a day. Glenn Kelly, as well as being the rehearsal pianist, would be the one to work with the choreographer as they created and changed the staging. He'd be there working on dance music. Also, outside of rehearsal he'd work at night to finish - let's say - a whole dance routine. Now, this is still in piano form."

"Then, let's say they decide to have the three background singers add harmonies to the Burn Her number, which was cut by the way, during previews in Chicago. I think Mike Nichols felt that the pace would be better without it. We all loved it and were sorry to see it go, and so was Mike," said Hochman about Nichols who is the director, not the composer. When it comes down to mounting a Broadway show, it will be the director whose pecking order trumps all others.

"There were vocal arrangements, some by Todd Ellison who was also the musical director and some, I think, by Glen Kelly. The two of them would do vocal arranging which also includes some structuring of the songs as well. Sometimes the vocal arranger will also change or write a piano accompaniment and sometimes they'll just add vocal harmonies. It can be either way."

"In the rehearsal process, there is a lot of work to be done before I can even be assigned a song. Because I have to spend my time doing hundreds and hundreds of pages of orchestrations, there isn't a way that you can do both. So, using both an orchestrator and an arranger permits the orchestrator to exclusively do orchestrations, while the other aspects are taken care of by others, such as dance music.

Glen Kelly might set the key for the song and then go into 32 bars of dance steps. The choreographer would approve the sketch. Now the composer, if he wants to weigh in, can also approve or not. Ultimately, his name is on the score."

"So Glenn Kelly, as an example on Lancelot's song, would give me 10 pages of a very good piano sketch and complete vocals with lyrics and any harmonies. If it is 150 bars that is not going to change when I write my score. I would write a full score that is exactly parallel to what he has done, in the same key."

"I like to think that I keep all the good ideas that he gives me. Anything that I feel like I can improve, I improve. Anything that I want to add that I feel suits the music, I do as well. And, they expect me to add things."

"In that sense, I am doing a little bit of arranging myself - sometimes substantially. On top of that comes the pure orchestrations. To break it down; When I get my assignments, I would first work through it on an arranging level. In other words, I would try to imagine the best accompaniment - whether it has to be richer or have more counterpoint. Or, I want to change the bass line. I imagine the percussion.

Larry Hochman took home the Emmy for his work as lead composer on The Wonder Pets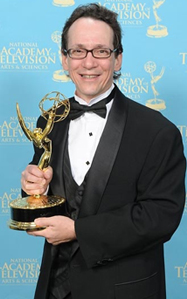 Then, once I have my complete sketch, which can be very different from what I've been given, I do what is called a pure orchestration of that sketch," said Hochman who is one of the few arrangers/orchestrators who write in pen. If there is an oops, he'll grab a bottle of White-Out.

Basically it's a one person, totally alone type of job.

"There are composers I have met who say they love composing and I have met composers who are just as scared of the blank page as many writers. I have had both experiences. Sometimes I just can't wait to work on a piece. Sometimes I really like the piece, but until I feel I've solved the musical puzzle, there can be a lot of angst. When I have my solutions, then it's a pleasure writing it out, even though it is a lot of hard, technical work. I actually love the technical side of it. But, I am very well aware that it's the non-technical side that makes one arranger different from another - why they choose me instead of someone else."

Last Wednesday Hochman was in Los Angeles receiving an award from BMI.

"Last year I won an Emmy for The Wonder Pets, for which I'm the lead composer. That's been running on Nickelodeon. It's a big hit with all the kids. Every year BMI, which I'm a member, honors all its members that have received an Emmy that previous year. And, I just found out that I'm nominated for an Emmy this year for season two of The Wonder Pets."



Broadway To Vegas is supported through advertising and donations. Priority consideration is given to interview suggestions, news, press releases, etc from paid supporters. However, no paid supporters control, alter, edit, or in any way manipulate the content of this site. Your donation is appreciated. We accept PAYPAL. Thank you for your interest.


ART AND ABOUT


INTERNATIONAL SAND SCULPTURE FESTIVAL, FIESA 2009

A sculptor works on a sand sculpture of The Thinker during preparations for the FIESA 2009 International Sand Sculpture Festival in Pera, Portugal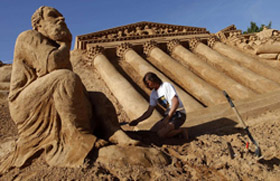 is a mega exhibition of sculpture in sand held since 2003 in Pera, Algarve. The festival is unique in the Iberian Peninsula and is considered the largest festival of sand sculpture in the world by the size of its sculptures and the area they occupy. In each new edition the exhibition is devoted to a different theme. Last year's theme was Hollywood. This year the theme is Discoveries.

This year an international team of 60 sculptors, specialized in sand sculpture, will turn 35,000 tons of sand into sculptures spread over 161,600 square feet for the festival, which opened to the public on May 22.

Using the Discoveries theme, the visitor will take a fascinating journey through time and the history of the evolution of mankind. The findings from Prehistoric times through Middle Ages and Modern, to the great achievements of current time through science and technology.

FIESA also incorporates a playful dimension with a space for sand sculpture activities, where each day, adults, teens and children may experience and show their creative abilities in this form of artistic expression. At night, the lighting takes visitors to a mystical atmosphere, enhanced by performances of live music, theatre, dance and performing arts.

The sculptors are;

Santa Cruz based interactive environmental artist/sand sculptor Kirk Rademaker's long client list includes Lucas Films, Apple, Dustin Hoffman and 6 Flags Magic Mountain. He spent 2 1/2 weeks creating this movie themed piece for the 2008 FIESA

Aarón Jiménez (Spain), Afonso Faria (Portugal), Alagoz Alper (Turkey), Alexander Kotyshov (Russia), Andrey Molokov (Russia), Andrius Petkus (Lithuania), Antonia Senn (Germany), Arianne Rosmalen (Netherlands), Camarro (Portugal), Carlos Mauricio (Brazil), Charlotte Koster (Netherlands), Christo Squier (UK), Craig Mutch (Canada), Daniel Glover (USA), David Billings (Canada), Eva McGrew (USA),

Sand Castle by Eva Sue McGrew, 23, of Tacoma, Washington who is one of the youngest sand sculptors in the USA. Sue graduated from the USC in Los Angeles (2008) with a BFA in Stage Management for Theatre and a minor in Sculpture.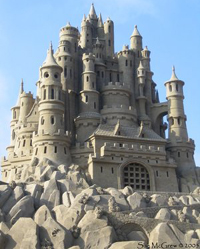 Gisela Prata Real (Brazil), Hanneke Supply (Netherlands), Harald Eichhorn (Czech Republic), Isabelle Decallonne (Belgium), Jan Zelinka (Czech Republic), Jair Damasceno (Brazil), Jakup Zimacek (Czech Republic), Javier Eguía (Spain), Jorge Mateus (Portugal), Joris Kivits (Netherlands), José Alexandre (Portugal), José Carvalho (Portugal), Kathrin Schaedlich (Germany), Kirk Rademaker (USA), Konstantin Kuzyarin (Russia), Lars Borst (Netherlands), Lurdes Santos (Portugal), Mário Sendas (Portugal), Marjon Katerberg (Netherlands), Martin de Zoete (Netherlands), Palek Martin (Czech Republic), Martin Rijerse (Netherlands), Michela Ciaps (Italy), Michal Streit (Czech Republic), Michel Kok (Netherlands), Miguel Cabral (Portugal), Milton Nisti (Brazil), Natalia Chistyakova (Russia), Nihal Mumcu (Turkey), Olga Usacheva (Russia), Radovan Zivny (Czech Republic), Rodrigo Ferreira (Portugal), Rudof Pylaev (Russia), Sandis Kondrats (Latvia), Aseev Sergey (Russia), Sodjine Atisso (Togo), Yury Krylov (Russia), Udo Ulrich (Germany), Uldis Zarins (Latvia), Ulrich Baentsch (Germany), Vendula Streitova (Czech Republic) and Zara Gaze (UK)

FIESA will be open to the public until October 22.




THE MUSIC GOES ROUND AND ROUND


ORIGINAL! CAST LES MIZ HIGHLIGHTS available nationwide May 26, 2009 released by First Night Records. Obviously the hook on rushing out this version is in response to the international press frenzy surrounding Britain's got Talent contestant Susan Boyle's performance of I Dreamed a Dream which has created enormous attention towards this iconic song. What makes this CD stand out from all the other Les Miz releases is that this CD boasts a performance by the Tony Award winning Patti LuPone - which marks the only highlights CD featuring LuPone's performance of I Dreamed a Dream.

The London cast album achieved multi-platinum status and this 19-track CD captures the best of the best. In addition to the LuPone offering, this CD contains Red and Black and Lovely Ladies - songs not included on the Highlights From Les Miserables Orignial Broadway Cast recording.

The cast features:

Colm Wilkinson as Jean Valjean, Frances Ruffelle as Eponine, Rebecca Caine as Cosette, Patti LuPone as Fantine, Roger Allam as the persistent Inspector Javert, Michael Ball as Marius, Zoe Hart as Young Cosette, Susan Jane Tanner as, Ian as Madame Thernardier, David Burt as Enjoiras, Ian Tucker as Gavroche and Alum Armstrong as the villainous but funny rogue Thenardier.

Also in the cast are; Christopher Beck, Keith Burns, Ian Calvin, Clive Carter, Ken Caswell, Liza Hayden, Gary Huddlestone, Beverly Klein, Paul Leonard, Jackie Marks, Colin Marsh, Jill Martin, Sally Mates, Aline Mowaf, Craig Pinder, Peter Polycarpou, Caroline Quentin, Sian Reeves and Dave Willetts.

The track listing follows: At the End of the Day
I Dreamed a Dream
Lovely Ladies
Who Am I
Come to Me
Confrontation
Master of the House
Stars
Red and Black
Do You Hear the People Sing
Love Montage
One Day More
On My Own
A Little Fall of Rain
Drink With Me
Bring Him Home
Javert's Suicide/Soliloquy
Empty Chairs at Empty Tables
Finale

Les Miserables features music by Claude-Michel Schönberg, lyrics by Herbert Kretzmer and Alain Boublil and book by Schönberg and Boublil.


SPREADING THE WORD


GREAT PLAINS THEATRE CONFERENCE

Theresa Rebeck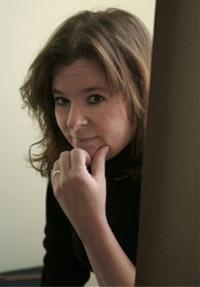 takes place in Omaha May 26-29 and will honor Theresa Rebeck and Constance Congdon.

The mission of the GPTC is to recognize the work of renowned American playwrights while fostering the work of new and emerging playwrights. Metropolitan Community College hosts the annual conference that brings playwrights, directors and actors together to create a workshop experience for playwrights to develop their work.

The Masters Performance Series is an evening of dynamic theatre highlighting the works of featured artists attending the 2009 Great Plains Theatre Conference. Evening performances will take place May 26-29.

The Omaha Community Playhouse will host performances on May 26 and 27, featuring playwrights Constance Congdon and Mac Wellman. The evenings will include staged readings of new works from each of the playwrights. Both Congdon and Wellman will provide talkback sessions following the performances.

Creighton University will host the May 28 and 29 performances at the Lied Center for the Performing Arts. The work of Theresa Rebeck, the Conference's honored playwright, will be performed these evenings. May 28 will highlight several of Rebeck's short plays, and May 29 will be a full production of Rebeck's Loose Knit.



Constance Congdon. Photo by Terry St Cyr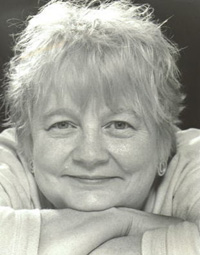 Because of her continued commitment to theatre, Congdon will be awarded the Great Plains Award for Distinguished Service to the American Theatre.

Constance Congdon an alum of New Dramatists, has taught playwriting at the Yale School of Drama, and for the last two decades as served as the playwright-in-residence at Amherst College.

Each year the Great Plains Theatre Conference honors an established playwright. This year, Theresa Rebeck will receive the Great Plains Playwright Award.

Panelists included; Martha Boesing who has written over 40 produced plays, led workshops, and directed plays for theaters throughout the country. She was the Founder and Artistic Director At the Foot of the Mountain theater in Minneapolis (the longest running professional women's theater in the country) from 1974-84. She has won several national awards including an NEA, a Bush fellowship, and the Kennedy Center's Fund for New American playwrights. In the sixties, she was a company member of Minneapolis' Firehouse Theater (an iconoclastic, experimental theater), and her work remains true to the ideological concerns of that time.

Mac Wellman has received a Lila Wallace-Readers' Digest Writers Award, and most recently the 2003 OBIE for Lifetime Achievement. He is the Donald I. Fine Professor of Play Writing at Brooklyn College.

TONY CURTIS who lives in Las Vegas, has been in England promoting his art. In addition to spreading the word about his paintings his vocabulary took on some of the purple and blue hues of his art work. ( See Broadway To Vegas column of September 14, 1998 )

The 84-year-old actor/painter delivered a a profanity-laced interview with BBC Radio Ulster journalist William Crawley. Apparently Curtis didn't realize the interview was live and became salty with his vocabulary. The Telegraph said Crawley offered an apology to listeners regarding the language used by Curtis, who also offered an apology after realizing Friday's broadcast was live.

"This program will go down in history as one of those unpredictable moments in broadcasting," Crawley said.


SWEET CHARITY


ANNIE DUKE TO HOST 'SUCKING OUT ON THE RIVERS' CHARITY POKER TOURNAMENT

No love lost between Joan Rivers and Annie Duke on the season finale of The Apprentice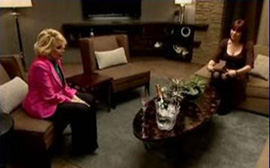 Wednesday, May 27, at the Hard Rock in Las Vegas to benefit Refugees International. Over 20 Joan Rivers impersonators will also be playing in the event. For anyone who has been on another planet during the last 14 weeks, Annie Duke and Joan Rivers were arch rivals on The Celebrity Apprentice. Both ladies engaged in name calling.

"I think it is going be such a complete hoot because Frank Marino, Joan Rivers impersonator extraordinaire, is making a special appearance! Expect some Red Carpet shenanigans for sure," promises Duke on her website. "The tournament is a $200 buy-in with rebuys. There will be about 20 Joan Rivers impersonators there, all with bounties on their heads! Red Carpet is at 5pm and the tournament starts at 6pm. I hope everyone can come out, have a blast and support an amazing cause!"

GLOBAL GREEN USA and V-DAY will be presenting a theatrical benefit event, a reading of a brand new play by Eve Ensler titled O.P.C. (Obsessive Political Correctness). This one-of-a-kind evening will be headlined by acclaimed actress Stockard Channing and will perform on Friday, May 29 at the Santa Monica Bay Women's Club, in Santa Monica, CA.

In addition to Stockard Channing, the cast of the reading also features: Brenda Currin, Greg Itzin, Ravi Kapoor, Analeis Lorig, Liz Mikels Lee Pace and Andrea Riseborough.

Eve Ensler's new play, O.P.C. (Obsessive Political Correctness) is a wildly funny and irreverent exploration of consumption and politics that asks, "How are we to survive as a species if we insist on destroying the world we love?

Twenty-five-year old Romi Weil is worried about her carbon footprint, polar bears, holes in the ozone, wildflowers, songbirds and certain land masses to name just a few of her concerns. As a dumpster-diving-Freegan and a Harvard drop-out, she's doing just fine squatting in an abandoned tenement and not causing any harm to the environment. But when her mother decides to run for a U.S. Senate seat, Romi's little green world is sent spinning off its access and she is hurled headlong into the frenzy of family, fashion and media attention. Not only is her life put under the harshest scrutiny, but her own eyes are opened and she is forced to ask herself (and everyone around her) is it possible to be too awake or care too much?

Founded in 1993 by activist and philanthropist Diane Meyer Simon, Global Green is the American Arm of Green Cross International (GCI), which was created by President Mikhail S. Gorbachev to foster a global value shift toward a sustainable and secure future by reconnecting humanity with the environment. Global Green USA is the only national environmental non-profit headquartered in Southern California with offices in New Orleans, Washington DC, and New York, and is one of 31 national GCI affiliates throughout the world.

V-DAY is a global movement to end violence against women and girls that raises funds and awareness through benefit productions of Founder Eve Ensler's award winning play The Vagina Monologues and other artistic works. The V-Day movement has raised over $70 million and educated millions about the issue of violence against women and the efforts to end it, crafted international educational, media and PSA campaigns, launched the Karama program in the Middle East, reopened shelters, and funded over 10,000 community-based anti-violence programs and safe houses in Democratic Republic Of Congo, Haiti, Kenya, South Dakota, Egypt and Iraq. V-Day was named one of Worth magazine's "100 Best Charities" in 2001 and Marie Claire's "Top Ten Charities" in 2006.

The reading will be followed by at Post-Play discussion with Eve Ensler and the cast. The evening will be capped by a VIP reception.

LET US ENTERTAIN YOU - THE IRISH REPERTORY THEATRE'S 21st ANNUAL BENEFIT GALA Honoring Philip J. Smith Chairman and Co-CEO, The Shubert Organization.

Featuring James Naughton, Two-Time Tony Award Winner and Member of The Irish Repertory Theatre Company and Melissa Errico, Tony Award Nominee and Member of The Irish Repertory Theatre Company.

Tuesday, June 2, 2009 at The Pierre, NYC.

STARS FOR A CAUSE CHARITY AUCTION will gavel down a collection of custom-made, hand-crafted jewelry and fashion accessories presented by a who's-who list of Hollywood celebrities and worn on the red carpet by the likes of Goldie Hawn, Jessica Alba, Penelope Cruz, Scarlett Johansson and Eva Longoria. Celebrity Designed Jewelry incorporating precious and semi-precious stones, pearls, 14K gold-filled and sterling silver chains will be auctioned for charity. The baubles to be gaveled down have been wore on celebrities on the following red carpet events;

60th Prime Time Emmy Awards (Sep 21, 2008)
American Music Awards (Nov 23, 2008)
66th Annual Golden Globe Awards (Jan 11, 2009)
15th Annual Screen Actors Guild Awards (Jan 25, 2009)
51st Annual Grammy Awards (Feb 8, 2008)
81st Annual Academy Awards (Feb 22, 2009)
44th Annual Academy of Country Music Awards (May 17, 2009-Las Vegas)

The exciting event began when potential bidders had the opportunityto be transported by Cunard Line's flagship Queen Mary 2 aboard a six-day Transatlantic Crossing between New York and Southampton, England, the collection previewed in an exhibit at Bonhams in London on May 5th during an event organized by The Prince's Trust, one of the benefiting charities. Then, the dazzling jewelry and fashion accessories arrived back in New York for an exhibit at Bonhams on Madison Avenue on May 18th before the tour and final preview culminates at the live auction with more than 100 lots at Bonhams & Butterfields in Los Angeles on May 28th.

According to Carolyn Mani, Director of Sunset Estate Auctions at Bonham & Butterfields, "We anticipate an international audience will express interest in the jewelry, footwear, handbags and Hollywood memorabilia. Bidding could be quite competitive for these one-of-kind items. Bonhams & Butterfields is honored to join this effort."

Star studded one-of-a-kind auction highlights from the May 28, 2009 sale at Bonhams & Butterfields will include: a collection of purses embellished with a celebrity "kiss" and autograph by Jonathan Rhys Meyers, Phillip Seymour Hoffman, Eva Longoria, Teri Hatcher and Reese Witherspoon; one 12-liter Balthazar and one 6-liter Methuselah bottle of Moët & Chandon Champagne signed in gold by Golden Globe Award winners, nominees and presenters, including the cast of Slumdog Millionaire (2008), Colin Farrell, Susan Sarandon and Ricky Gervis and a selection of limited-edition posters celebrating the 66th Annual Golden Globe Awards, individually autographed by Hollywood's biggest and brightest stars, including Brad Pitt and Angelia Jolie, Tom Hanks, Dustin Hoffman, Sigourney Weaver and Kate Winslet.

Stars participating and their charities are:

Aaron Eckhart/The Art of Elysium
Alicia Keys/Keep a Child Alive
Amanda Seyfried/Pancreatic Org
America Ferrera/Peace Games
Amy Adams/EJAF
Andrew Stanton (Wall-E Dir.)/ Red Cross
Angelina Jolie/MJPASIA
Anna Paquin/Amnesty USA
Anne Hathaway/ Feeding America
Ben Harper/ Healthy Child
Bette Midler/NYRP
Brad Pit &Angelina Jolie/MJPASIA
Charlize Theron/ Charlize Africa Outreach
Chris "Ludacris" Bridges/MPTV Fund
Colin Farrell/Princes Trust
Colin Farrell and Brendon Gleason/Princes Trust
David Duchovny/UNICEF
Debbie Matenopoulos/ Stars for a Cause
Dule Hill
Dustin Hoffman/ Welcome Back Veterans
Eddie Montgomery/Camp Horsin Around
Emma Thompson/Action Aid
Glenn Close/ Fountain House
Goldie Hawn/ The Hawn Foundation
Hayden Panettiere/Save The Whales
Hilary Duff/ Kids With a Cause
Hilary Swank/ Blue Planet Run
Jane Krakowski/ HRC
Jennifer Lopez/Amnesty USA
Jesse McCartney
Jonas Brothers/St Jude
Jonathon Rhys Meters/Hope Foundation -
Kate Winslet/Cardboard Citizens Org
Kim Cattrall/Lifeball
Kirsten Dunst/The Art of Elysium
Laura Dern/Healthy Child
Maggie Gyllenhaal/ Witness
Maria Menounos/Take Action Hollywood
Mariah Carey/Wish Org
Marisa Tomei/ VDAY Org
Mary Hart and Mark Steines/ Childrens Hospitalla
Meryl Streep/Equality Now
Michelle Pfeiffer/ Cancer Org
Mickey Rourke/HSUS Org
Miley Cyrus/ The Libby Rose Foundaton
Neil Patrick Harris/ Food On Foot
Paul Giamatti/ Amnesty USA
Penelope Cruz/UNICEF
Portia de Rossi/The Art of Elysium
Rex Lee
Ricky Gervais/ Cancer Org
Robert Carlock (30 Rock Prod.)/ Lymphoma ORG UK
Rumer Willis
Sally Hawkins/Ray of Sunshine Org UK
Sandra Bullock/Warren Easton Charter Foundation
Sean (Diddy) Combs/Inner-City Arts
Sigorney Weaver/ The Flea
Slumdog Millionaire (Cast & Danny Boyle)/ Doctors Withiout Borders
Stacey 'Fergie' Ferguson/ Global Green
Steve Carell/Autism Speaks
Steven Spielberg/Righteous Persons
Susan Sarandon & Son/ Heifer Org
Susan Sarandon and Evan/ Heifer Org
Rachel Wood
Taylor Lautner
Tina Fey/Austism Speaks
Todd English
Tom Hanks and Dustin Hoffman/Welcome Back Veterans
Trace Adkins
Troy Gentry/Midtn Wishes Org
Tyra Banks/Dream Foundation
Tyson Beckford/St Hude
Victoria Beckham/Princes Trust Org.UK
Viola Davis/Upward Bound House
William Shatner/ Horseshow Org.
Zac Efron/Wish Org.

All proceeds from the Stars For A Cause auction go to charity. Half goes to the Prince's Trust and the other half to the charity of the celebrity's choice. The event takes place at Bonhams & Butterfields on Thursday, May 28, 2009 in Los Angeles.



TARELL ALVIN McCRANEY who has won the first New York Times Outstanding Playwright Award for The Brothers Size. This new award honors an American playwright with a recent professional theater debut in New York City.

"The committee was impressed by the sheer poetry of the language and the play's vibrant blend of richly specific contemporary characters with archetypes drawn from West African myth," said Sylviane Gold, chair of the award selection committee and a frequent contributor to The New York Times.

"It is a great pleasure to present Tarell Alvin McCraney with the first New York Times Outstanding Playwright Award," said Arthur Sulzberger Jr., publisher, The New York Times and chairman, The New York Times Company. "One of the greatest joys of living in New York City is the vibrancy of its theatrical community. In Mr. McCraney we recognize a singular talent whose wit and insight will, I'm sure, be heard on our stages for many years to come and I am proud that The New York Times Company has chosen to acknowledge him at the beginning of his career."

In addition to Ms. Gold, the members of the selection committee were Tony Award-winning playwrights Edward Albee, Richard Greenberg and James Lapine, Lynn Nottage the recipient of the 2009 Pulitzer Prize for Drama and, from The New York Times, cultural news editor Sam Sifton, theater editor Katnrine E. Bouton and Arts & Leisure theater editor Andrea Stevens. The prize will be given on May 27 at a ceremony held at The New York Times Building in Manhattan.

OUTER CRITICS CIRCLE the organization of writers and commentators for all media covering New York theatre, held their 59th Annual Award ceremony on Thursday, May 21st at Sardi's Restaurant in NYC.

A Special Award was given to Marjorie Gunner in recognition of her serving 30 years on the Executive Committee and 25 years as President and her 43 years of reviewing New York theatre. Up until she retired on May 11th 2009, her weekly theatre column was printed in three regional papers. In addition to being a veteran theater scribe, Ms. Gunner was one of the first seven women voted into the Friars club and a noted BMI lyricist.

Tyne Daly, Donna Murphy and the cast of The Norman Conquests were the presenters at the awards ceremony.

Productions and individuals receiving awards included; God of Carnage; Billy Elliot the Musical; Ruined; The Toxic Avenger; Matthew Warchus, Stephen Daldry, The Norman Conquests, Peter Darling, Tim Hadley, Rick Fisher, Geoffrey Rush, Marcia Gay Harden, Brian d'Arcy James, Sutton Foster, Josefina Scaglione, David Pearce, Angela Lansbury, Gregory Kbara, Haydm Gwynne, Lorenzo Pisoni, Amelia Bullmore, Jessica Hynes, Stephen Mangan, Ben Miles, Paul Ritter, Amanda Root, Gina Gionfriddo, David Alvarez, Trent Kowalik and Kiril Kulish.

THE 54th ANNUAL VILLAGE VOICE OBIE AWARDS were presented on Monday, May 18, 2009 at a ceremony held at the newly landmarked Webster Hall in Manhattan. Co-hosted by former OBIE winners Martha Plimpton and Daniel Breaker, the awards were presented by Anne Hathaway, Brian d'Arcy James, Gavin Creel, John Shea, Karen Olivo, Kate Mulgrew, Marc Kudisch and Nilaja Sun.

OBIE winners 2008-09 include a Lifetime Achievement Award presented to Earle Hyman. OBIE Grants ($10,000 divided equally among three theaters); The Classical Theatre of Harlem, The Chocolate Factory and Lark Play Development Center.

Best New American Play which includes a cash prize of $1000 went to Ruined by Lynn Nottage (Manhattan Theater Club). Performance awards went to; Francois Battiste, The Good Negro (Public Theater); Quincy Tyler Bernstine, Ruined (Manhattan Theater Club); Kevin T. Carroll, sustained excellence of performance Saidah Arrika Ekulona, Ruined (Manhattan Theater Club); Jonathan Groff, Prayer for my Enemy (Playwrights Horizons) and The Singing Forest (Public Theater); Birgit Huppuch, Telephone (Foundry Theatre); Russell Gebert Jones, Ruined (Manhattan Theater Club); Aaron Monaghan, The Cripple of Inishmaan (Atlantic Theater Co.); Sahr Ngaujah, Fela! (37 Arts); Lorenzo Pisoni, Humor Abuse (Manhattan Theater Club); James Sugg, Chekhov Lizardbrain (Pig Iron Theatre Company); John Douglas Thompson, Othello (Theatre for a New Audience).

Stephen Sondheim was lauded for his music and lyrics to Road Show which played at the Public Theater. Directing awards went to David Cromer, Our Town (Barrow Street Theatre); Katie Mitchell, The Waves (National Theatre of Great Britain / Lincoln Center Great Performances New Visions Series); Ken Rus Schmoll, Telephone (Foundry Theatre). Design awards were presented to Toni-Leslie James, sustained excellence of costume design (w/special reference to Wig Out, Vineyard Theatre); David Korins, sustained excellence of set design (w/special reference to Why Torture Is Wrong.... Public Theater). Special Citations were presented to; Sarah Benson (director) and Louisa Thompson (set designer), Blasted (Soho Rep) and to David Esbjornson (director) and Christian Camargo (actor), Hamlet (Theatre for a New Audience). The Ross Wetzsteon Award (includes a cash prize of $2000.) was awarded to HERE Arts Center.


OTHER PEOPLE'S MONEY


SHREK HAS ITS OWN PASTA Just like Spamalot has its own can of Spam, now Shrek has its own pasta. Heinz has introduced Shrek pasta shapes in tomato sauce. The kid friendly product contains multigrain pasta and Omega-3.

Generally the name Heinz is associated with both politics and food products - ketchup, 57 Sauce, beans and a plate full of others. The Pennsylvania family business, founded in Sharpsburg (a suburb of Pittsburgh), Pennsylvania, in 1869 by entrepreneur Henry John Heinz, is really a $10 billion global company - the most global based of all US food companies. 50 years ago the company opened a branch in Lancashire, England. Last Thursday Queen Elizabeth joined in the festivities celebrating the 50th anniversary of that across the pond baked beans factory.

Queen Elizabeth and the Duke of Edinburgh received a royal welcome from workers and local schoolchildren at the factory site. The only all-female brass band in the country, Merseyside's Trinity Girls, welcomed the Royal Party with a rendition of The Irish Blessing. After a tour of the plant the royal couple was presented with a basket of some of the firm's 57 varieties - including organic baked beans, cream of tomato soup, spaghetti and ketchup - to help mark the occasion. It was suggested to the Queen that she try the baked beans on toast - considered a protein rich alternative to higher priced foods in a budget conscious economy.

Her Majesty was also given a plaque made out of Heinz baked bean cans. We're not sure what she is going to do with that.

Wags have been dubbing them their Royal Heinzness and the Queen of Beans since the Queen is already known as - the Baked Bean in cockney rhyming slang.

The Heinz plant is the largest food processing factory in Europe, turning out more than one billion cans of food each year. Heinz sells 650 million bottles of its iconic Ketchup every year No word on projected sales forecasts for Shrek pasta.

Shrek The Musical is currently playing at the Broadway Theatre in NYC. Shrek The Musical will launch its national tour in June 2010 at the Ford Center for the Performing Arts' Oriental Theatre in Chicago.


GET WELL TO ...
NATALIE COLE who suddenly canceled her Las Vegas engagement which was to have taken place yesterday, (Saturday) in Las Vegas. She has also canceled the rest of her summer tour. The good news is that the suddenly tour drop out was because a tissue match was found, and last Wednesday the Grammy-winning singer underwent kidney transplant surgery at Cedars-Sinai Medical Center in Los Angeles.

In what is being termed surreal by friends and family - Natalie's beloved sister Carole "Cookie" Cole died while Natalie was undergoing her liver transplant. Cookie, who hadn't been to a doctor in over 30 years, was diagnosed with end stage terminal lung cancer only two weeks ago, reported the New York Post, which broke the story. Not expected to live through the night, Natalie had been keeping a vigil at her sister's bedside, when she was informed a donor kidney had been found and given two hours to get to the hospital. Natalie came out of recovery only to be informed that her sister had passed away.



THE CROWD YOU'RE IN WITH by Rebecca Gilman. Directed by Wendy C. Goldberg.

Three couples. Six points of view on parenting. Too many life decisions.

In the backyard of a Chicago two-flat on the 4th of July, three intelligent and liberal couples engage in what begins as friendly conversation, but soon evolves into a heated debate about the pros and cons of starting a family. Jasper (Coburn Goss) and Melinda (Janelle Snow) are considering having a baby, Dan (Kiff Vanden Heuvel) and Windsong (Stephanie Childers) are enthusiastically expectant and Tom (Rob Riley) and Karen (Linda Gehringer) have opted not to have children. As the innocuous barbeque turns into an ideological confrontation, each couple must ask themselves how much the crowd they're in with determines the course of their lives.

Starring Stephanie Childers, Coburn Goss, Linda Gehringer, Rob Riley, Janelle Snow and Kiff Vanden Heuvel.

The creative team includes set designer Kevin Depinet, costume designer Rachel Healy, lighting designer Josh Epstein and sound designers Ray Nardelli and Joshua Horvath.

In previews at the Owen Theater at the Goodman in Chicago. Opening night is June 1 with performances through June 21, 2009.

BELOW THE BELT by Richard Dresser. Directed by Pam MacKinnon.

Starring Judd Hirsch, John Procaccino and R. Hamilton Wright.

A farcical skewering of globalized corporate culture. Somewhere, in an anonymous factory cranking out units of some unnamed product, three men try to maintain some semblance of humanity and self despite a crushingly conformist and hypermasculine bureaucracy. Cross the sitcom The Office with Samuel Beckett, and the results might look like something like this - darkly funny, and disconcertingly familiar.

Presented by ACT in Seattle, WA with performances through June 21, 2009.

THE GRAND TOUR music and lyrics by Jerry Herman. Book by Michael Stewart and Mark Bramble. Music director Jim Bassi. Directed by Michael Montel.

Journey on The Grand Tour - a bittersweet tale where two strangers with nothing in common travel through WWII Europe and unexpectedly become the best of friends. Jerry Herman's sweeping music and lyrics complement Michael Stewart and Mark Bramble's acclaimed, period-perfect script in this musical which originated on Broadway in 1979.

See Broadway To Vegas column of August 17, 2008 for a review of the original cast CD.

Part of the York's Musicals in Mufi Series. 'Mufti' (pronounced MUFF' tee) means "in street clothes; without the usual trappings" and each show in the Series is presented script-in-hand, with minimal staging. To date, the York has presented over 70 Mufti concert revivals of musical theatre gems from Broadway, Off-Broadway and London, celebrating such writers as Richard Rodgers, George Abbott, Larry Grossman and Joseph Stein. The 2009 Spring Series begins with The Grand Tour May 29-31 at the Theatre at Saint Peter's, NYC.

QUILTERS Written by Molly Newman and Barbara Damashek. Based on the book, The Quilters: Women and Domestic Art by Patricia Cooper and Norma Bradley Allen. Music and Lyrics by Barbara Damashek. Directed by Penny Metropulos.

This Tony-nominated Denver Center original musical returns home in a shining new production in celebration of the company's 30th season! An international hit for more than 25 years, this rousing heritage musical was inspired by real life diaries and letters of American pioneer women, written as they braved the dangers and hardships of life on the frontier.

Performances through July 12, 2009 Denver Center for the Performing Arts' Stage Theatre in Denver, CO.

THE PIRATES OF PENZANCE by New York Gilbert & Sullivan Players.

Pre-Performance Discussion Series takes place at the park an hour before Friday and Saturday's show. They'll be a discussion with Albert Bergeret, Founder & Artistic Director for the NY Gilbert & Sullivan Players.

Friday, May 29 and Saturday, May 30 at the Filene Center in Vienna, VA.

NOAH-THE MUSICAL Be transported back in time. Experience Noah and his family building an enormous ark and then fill it two by two. Lacking materials, Noah takes his three sons to Nod, a city in decline. The family tries in vain to convince their friends and neighbors to join them, and are ridiculed and attacked throughout the decades it takes them to build and fill the ark.

Watch Noah and his family try to care not only for themselves while at sea, but for their vast menagerie as well. Experience their stress at being cooped up together for more than a year.

Featuring a 300-foot wrap around stage, hundreds of live and animated animals, and a 40-foot high ark.

Performances in Branson, MO through October 17, 2009.

YOU, NERO by Amy Freed, an artist-in-residence at Stanford University. Sharon Ott directs.

In this new comedy not only does Nero fiddle while Rome burns, he fills the Colosseum with an incendiary mix of sex and decadence! The egotistical emperor commands a washed-up scribe to create an extravagant show which flatters his regime. But to stage the script he must survive the real spectacle at the palace, where his mother, his mistress, and an entourage of eunuchs play an elaborate game of deceit and seduction. Danny Scheie portrays the preposterous king.

In You, Nero, Freed lets loose the tigers on a crumbling empire obsessed with shallow celebrities, violent sports, and sensational entertainment until Rome unravels like it's reality TV - everyone wants to get in the emperor's new clothes.

This world premiere co-produced with South Coast Repertory. Performances through June 28, 2009 at Berkeley Repertory Theatre in Berkeley, CA.




WHO'S WHERE


BIG BAD VOODOO DADDY on stage Friday, May 29, at the Gainey Vineyards in Santa Ynez, CA. On Saturday the show is at the Performing Arts Center in San Ramon, CA.

CHRIS BOTTI hitting all the right notes Saturday, May 30, at the Cerritos Center for the Performing Arts in Cerritos, CA. Next Sunday he can be enjoyed at the Thornton Winery in Temecula, CA.

ELTON JOHN AND BILLY JOEL have a split engagement at Air Canada Centre in Toronto. The shows are on Tuesday, May 26, and Saturday, May 30.

DAVE MATTHEWS BAND making music Wednesday, May 27, at the Performing Arts Center in Darien Center, NY. On Friday they open a two night stand at Fenway Park in Boston.

JARS OF CLAY perform Saturday, May 30, at Six Flags Wild Waves in Federal Way, WA.

KENNY CHESNEY makes a tour stop Thursday, May 28, at the Verizon Wireless Amphitheater in Alpharetta, GA. On Saturday the show is at Papa John's Cardinal Stadium in Louisville, KY.

BRUCE SPRINGSTEEN appearing at the Pinkpop Festival in Landgraaf, Netherlands on Saturday, May 30.

PATTI LuPONE Coulda, Woulda, Shoulda show, conceived and directed by Scott Wittman. Musical Director is Chris Fenwick. In her new concert, Tony and Olivier Award winner Patti LuPone performs songs from musicals which she could have played, should have played, did play and will play, including Hair; Bye, Bye Birdie; Funny Girl; West Side Story and Peter Pan and, of course, from her Tony Award winning performances in Evita and Gypsy. Sunday, May 24, at Williamsburg Lodge, Williamsburg, VA.

KEYSHIA COLE performs Thursday, May 28, at DAR Constitution Hall in Washington, DC. On Saturday the show is at Ntelos Wireless Pavilion in Portsmouth, VA and next Sunday she is on stage at the Township Auditorium in Columbia, SC.

COLDPLAY heats up the stage Tuesday May 26, at the Susquehanna Bank Center in Camden, NJ. On Wednesday they are at the Saratoga Performing Arts Center in Saratoga Springs, NY and on Saturday they will be delighting their fans at the Post-Gazette Pavilion in Burgettstown, PA.




PIFFLE AND PROFUNDITIES


BETTE MIDLER, RITA RUDNER, SHERYL CROW AND SINGER-SONGWRITER-PIANIST RACHEL YAMAGATA are getting involved in Nevada politics. This Tuesday, May 26th, President Obama will join those celebrities in honoring Nevada's Senator Harry Reid at a tribute event at the Colosseum at Caesars Palace in Las Vegas.

Next Column: June 7, 2009
Copyright: May 24, 2009. All Rights Reserved. Reviews, Interviews, Commentary, Photographs or Graphics from any Broadway To Vegas (TM) columns may not be published, broadcast, rewritten, utilized as leads, or used in any manner without permission, compensation and/or credit.
Link to Main Page
---
Laura Deni


CLICK HERE FOR COMMENT SECTION