! >
Broadway To Vegas
  
 SHOW REVIEWS CELEBRITY INTERVIEWS GOSSIP NEWS

| | |
| --- | --- |
| | |
EILEEN FULTON, AS THE WORLD TURNS' ORIGINAL BAD GIRL, HAS CHARM AND A CABARET ACT - - BLACK DIAMONDS - - MARCY & ZINA THE ALBUM - - ARTIST TO INDUCE EPILEPTIC SEIZURE ON STAGE - - 2009 MACY'S THANKSGIVING DAY PARADE - - BROADWAY'S CAT ON A HOT TIN ROOF TRANSFERS TO THE WEST END - - ALLISON JANNEY CELEBRATES HER BIRTHDAY IN LAS VEGAS - - U2 GETS FINED - - DONATE . . . Scroll Down


EILEEN FULTON, AS THE WORLD TURNS' ORIGINAL BAD GIRL, HAS CHARM AND A CABARET ACT
Eileen Fulton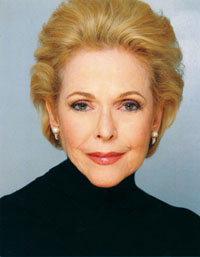 Eileen Fulton started out on the stage, became famous as Lisa on the soap As The World Turns and, as one wag wrote; "made bitch a household word long before you could say it on television."

She's penned several books and on December 5 brings her popular cabaret act to Don't Tell Mama in New York City.

Fulton spoke with Broadway To Vegas about her fascinating career.

The diva of daytime lives the good life.

Her living room with the fantastic views is home to a carousel horse which "has a story," said Eileen, who is known for her singing of Jacques Brel's Carousel. That song was featured in the play Jacques Brel Is Alive And Well And Living In Paris, which debuted in New York in 1968, and ran for more than four years.



Eileen Fulton's picturesque living and dining room features magnificent views and a carousel horse. Her dog Rosemary Clooney is the beautiful blonde on the floor. Photo by Lorenzo Ciniglio.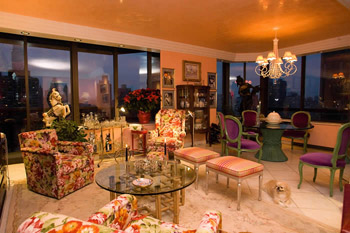 "I was walking up the street one day with a friend of mine and somebody was tossing out this plain, white carousel horse. I thought, I have to have that! We stopped and asked these two guys; 'Where did you get that? How much is it?' They looked at us and said - 'Fifty bucks'. I said, 'No' and we walked on. They came after us saying; 'How about twenty? How about five?' So, we fished over five dollars and my friend brought it back to his apartment. For a couple of years he soaked it in his shower. Then for Christmas one year he painted it, and put on a lot of cute things, crazy little eyes, put stuff around it and stuck it on a poll. And, there it is."

Crafting and decorating carousel horses was a popular art project about 25 years ago. It's both time consuming and expensive.

"It isn't something that can be made over night," agreed Eileen who has given her carousel horse a place of honor in her living room.

"A lot of people have given me carousels - music boxes - because of my singing that song."

Also dominating Eileen's apartment are her two dogs Rosemary Clooney and Ella Fitzgerald. "They are sisters," related Eileen who knew Clooney.



Book Two of the Take One For Murder series; Death of a Golden Girl. When the elderly actress, May Minton, scheduled to appear on The Turning Seasons, is found murdered, soap actress turned sleuth Nina McFall risks her life in her own investigation.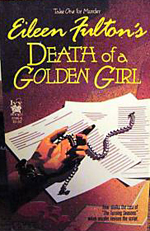 Book Three of the Take One for Murder series: Dying For Stardom. When the winner of a nationwide contest to pick an actress for a new role on The Turning Seasons television show is murdered, Nina McFall decides to investigate.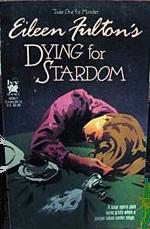 "She was a delight. She was the most gracious entertainer that I have ever known. I met her years ago and had known of her for years. We swapped books. When her book Girl Singer came out, I gave her my book, As My World Still Turns, and we signed them to each other. I loved her."

Eileen has written two memoirs, How My World Turns and As My World Still Turns. She also penned a mystery novel, called Soap Opera, loosely based on her experiences on As the World Turns as well as a series of murder mystery novels, Take One for Murder, about a soap opera star Nina and her detective boyfriend Dino.

As might be expected, one of Eileen's favorite rooms is her book filled den where she watches television, reads and relaxes.

"I have everything," Eileen said of her book collection. "I have a lot of biographies, a lot of historical novels and a lot of books which are famous today. I love to read all kinds of things. My brother gave me a Reynolds Price book that I'm reading right now. Price is a well known poet and writer. He's from Duke University and teaches there."

"Anyway, he was a Rhodes Scholar and this is a memoir. It is just marvelous. I feel like I know him."



Eileen's library/den is filled with books. Photo by Lorenzo Ciniglio.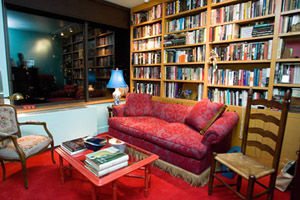 "I've enjoyed Jon Katz' books about his raising sheep up in New York state. One was The Dogs of Beldam Farms. The other I'm reading now is Soul of a Dog. I love anything like that. I'm very eclectic in my reading."

"I think it is very important for people to read," emphasized Eileen. "Everybody in books looks the way the reader wants them to - sounds the way you want them to," she said referring to books enabling the reader to use their own imagination. As for books bringing a type of comfort, she added, "Well, you can't cuddle up to your computer very well."

"I do think what is a lost art is penmanship," she laughed and then confessed, "I have the worst handwriting! The reason I have bad handwriting is probably my personality," she joked. Then she explained. "When I lived on Staten Island during World War II the slogan of the school was Write Large. It was World War II and as if we couldn't have had a better slogan - something more patriotic!"

"Everybody wrote big, oval letters and wrote large. Then in the 5th grade, I went back to North Carolina," recalled Eileen who was born in Asheville, North Carolina, the daughter of a Methodist minister. "There it was truly penmanship, but I took up two lines of lined paper to write. And, the teacher made fun of me. So, I thought, to hell with it. I'll do a back hand. Then I thought people can't read this, so I'll print. Now, it's a conglomeration plus I have arthritis. Nobody can read anything I write!"

A graduate of Lee Edwards High School, now Asheville High and Greensboro College, Eileen has fond memories of North Carolina whose state theater is the Flat Rock Playhouse, located in Asheville.

In 1960 Eileen Fulton joined the cast of As The World Turns creating the role of Lisa Miller Hughes Eldridge Shea Colman McColl Mitchell Grimaldi Chedwyn. However, it was on stage in the first Broadway production of Who's Afraid of Virginia Woolf where Eileen honed her acting skills after graduating from the prestigious Neighborhood Playhouse. The rigors of Broadway, she says, were perfect training for the rigors of performing – live – in a daytime soap opera.

At one point, Fulton worked mornings at As The World Turns, afternoons in matinee presentations of Who's Afraid of Virginia Woolf?on Broadway, and evenings in the Off Broadway musical The Fantasticks.

Currently she is putting the finishing touches on a nightclub act for several New York City engagements, the first of which takes places December 5 at Don't Tell Mama.

The piano in Eileen's home is where her piano player-arranger Bob Goldstone works with Eileen to create the act.

"I'm a raconteur. I tell stories. In my act there are reasons for singing every song. And, sometimes I talk in the middle of a song. The audience comes away knowing something about Eileen."

"For example, I have put together part of a Kander and Ebb song, I Don't Care Much from Cabaret, with Dinner For One and Stephen Sondheim's The Sun Comes Up. I tell a story at the beginning. I set the stage. It's about husband Number #2 in my real life," she said referring to record producer Dan Fortunato to whom she was married from 1971 - 1980. Her first husband she prefers to forget and her third marriage to Rick McMorrow began and ended in 1989.

She calls her cabaret musicians my boys.



Eileen always adds a tough of glamour to her cabaret act and would never dream of wear just a suit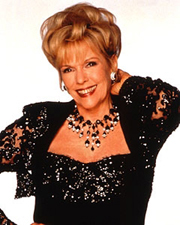 "Bob Goldstone is the arranger and piano player. He is amazing. Tom Hubbard, who is the bass player, has played for every major player in the world. My drummer is Steve Bartosik. I love my boys. We start rehearsing this month."

Eileen is noted for always looking smart and stylish.

"I would never dream of doing my cabaret act in just a suit. Part of this whole thing is the glamour of it. People expect it from me. It has to be a special occasion for everybody. I usually wear black because it is not about the dress or the jewelry - it is about the song and sharing experiences with the audiences. The things I do are actual theater pieces - an entire creation. I've had more people say - it's like seeing a play," she said of her cabaret act which runs about an hour.

"I have two engagements coming up at Don't Tell Mama. My first show is December 5th. Richard Skipper as Richard Skipper is going to be my guest," she said of the actor/singer/female impersonator noted for portraying Carol Channing. "Then on the 12th of December my guest is Tommy Femia," she said of the performer who is noted for channeling Judy Garland. "On December 23rd I'm going to be Richard Skipper's guest at the Iguana VIP Lounge in The Christmas Show with all these wonderful people; Sue Matsuki, Barry Levitt, Saadi Zane, Esther Beckman, Edd Clark, Sunny Leigh, George Stella, Jill Melanie Wirth. I'll probably sing a Christmas medley. Then I have a special performance at The Metropolitan Room in February."

Apparently one Christmas show Eileen won't be on is the Christmas presentation on As The World Turns, which has Eileen in a state of Bah, Humbug!

If there is an ageist bias on television it is with the soap opera genre. For the soap opera actor there is a standard rule of thumb - As your real age increases your participation in story lines decreases.



Don Hastings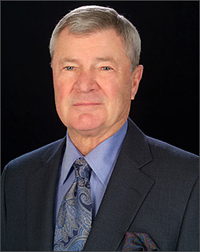 Helen Wagner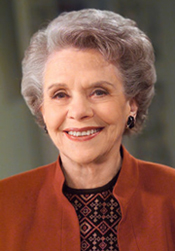 "I know Helen Wagner came out to the studio a couple of weeks ago, probably to do a Christmas show that I'm certainly not on," Eileen said with a rueful laugh.

Wagner, who celebrated her 91st birthday last September 3rd, has played the role of Nancy Hughes since ATWT premiered on CBS on April 2, 1956. She is the program's sole original cast member and holds the Guinness World Record for the Longest Time in Same TV Role. Wagner picked up the Daytime Emmy Lifetime Achievement Award in 2005. Her scenes got fewer as she got older.

Another one who has been the victim of dialogue amputation is Dr. Bob Hughes having been played by Don Hastings since October, 1960.

That also has Eileen steamed.

"Don is such a dear man," she said of the actor who played her first husband on the soap. "He is a wonderful man. He is funny as hell."

"Tell me," she asked with a note of irritation in her voice, "why is it that they started this fabulous storyline with him and then dropped it?"

Eileen was referring to a potentially powerful story line in which Dr. Bob Hughes undergoes emergency brain surgery. While soaps are noted for dragging out storylines that appear to remain in perpetuity, this plotline played out in a heart beat with Dr. Bob making an instant full and remarkable recovery with not so much as a hair on his head out of place or a stitch to be seen.

"They had this wonderful storyline where they could have brought in the family, which the public isn't bored with," declared Eileen. "That's the thing that bothered me. They could have tied it in with family. They could have brought in Tom and Margo and the grandchildren and their problems. Done that way, people could have identified with that - that could happen to me."

Eileen refers to the creation of characters that aren't fully thought out, in recycled plotlines which aren't relatable to the audience.



Eileen Fulton's hallway is adorned with photos of her career. On the table is the Emmy she received for Lifetime Achievement. Photo by Lorenzo Ciniglio.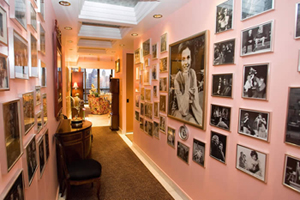 A current storyline involving the character of Barbara Ryan with a beauty rejuvenation product would seem like a natural involvement for Barbara to rope in Lisa, but so far the character Eileen plays has not been included.

What made the soaps work in the first place - creating fans that were devoted - were the plots - though exaggerated - which were ingratiating and believable. Intelligent viewers, who knew the difference between acting and real life, never-the-less viewed the Hughes family as real. Decades ago, when ATWT was on the top of the ratings, a Christmas show even featured the Hughes family decorating the mantle of the living room fireplace with Christmas cards sent in by viewers.

"I blame the focus groups," charged Eileen. "I'm very upset with that, because I think they ruin it. They ask all these kids who say you should copy that nighttime show - you know that movie about bla, bla, bla, let's do a plotline like that - and jump all around, so that people don't care about the characters. And family doesn't mean anything any more. They should learn that family and emotions don't change - not at all," declared Eileen.

"That is what killing the soap," she charged. "These focus groups are interfering with the writer who has all of these ideas for the story, but creativity is over run by the network and by the focus groups. Finally you have too many cooks in the kitchen. That's the problem. They don't let the writers be creative," she said about developing characters that the audience will adopt as their extended family.

That doesn't mean the older generational characters need to be the center of a plotline. It means that as new talented actors are brought into the fold, the older characters need to be a part of the story. If you don't retain your long time viewers, expanding the viewer base, rather than using tunnel vision, the storyboard people are telling the new viewers, we want you to watch the show, but only until we can replace you with your younger version.

Perhaps sensing a reality and connection-to-the-plotline unrest among the viewers, on July 8, 2009 ATWT announced a new writing team - effective immediately - headed by Emmy Award-winning writer David Kreizman, 35, who was head writer of Guiding Light, which ended it's run as a television soap in September. Kreizman joined ATWT's head writer Jean Passanante in attempting to reinstate fan interest and loyalty.



Colleen Zenk-Pinter has been playing Barbara Ryan since 1978. Colleen made her Broadway debut in Bring Back Birdie with Chita Rivera and Donald O'Connor plays Barbara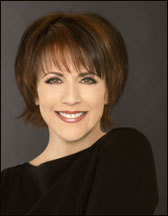 Billy Magnussen has been playing Casey Hughes since January 29, 2008. After graduating from the North Carolina School of the Arts with a BFA, Billy made his Broadway stage debut in 2007's Ritz alongside Rosie Perez.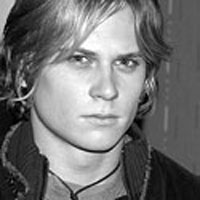 Prior to signing her latest As The World Turns contract, Eileen reported that she was doing "quite a lot of scenes with people I enjoy working with. I had a lot with Colleen (Zenk Pinter) who plays Barbara and quite a bit with my grandson," she said referring to Casey Hughes played by Billy Magnussen. "I had a lot of interesting scenes. As soon as I signed my contract, the scenes stopped," she laughed. "I am aware that they were enticing me," said the actress with a signed contract and limited exposure.

More actors have come from Broadway to As The World Turns or played on Broadway while a part of ATWT than any other soap.

"When I first started on As The World Turns in 1960 I had been doing Broadway and off Broadway. We were very serious about doing a good show and being believable and bringing the best of our abilities to the soap audience. Believability is the most important thing."

"The thing that galls me is that whenever they want to kill somebody, they go to the hospital, pick up a poisoned needle and stick somebody with it. I think a good hospital wouldn't have needles filled with poison lying around. That's not believable."

Eileen was the first soap opera star to become so popular that she needed both a publicist and, at times, a body guard.

"Well, Rosemary Prinz was also quite popular," she said of the actress who played Penny. "She was the Good Queen and I was the bad one." See Broadway To Vegas column of April 27, 2003. "I just love her. I think she is terrific. I hope I get to see her soon."

In the back of Eileen's mind are thoughts of returning to the stage and the Q&A lecture circuit.

"I would love to go back to Broadway or off-Broadway," she said acknowledging that more productions are being mounted with parts for women over 40, even as opposed to just a decade ago.

"My heart is filled with Tennessee Williams," she said.

"What I would dearly like to do are lectures - the Q&A sessions. I love the Q&A. I love an audience. I have been at the Museum of Radio and Television with a group of people from ATWT when we celebrated the 50th Anniversary." See Broadway To Vegas column of March 19, 2006 "I would definitely like to do more of that. But, my thing right now is getting my cabaret act ready."

In addition to occasionally appearing on As The World Turns, Eileen Fulton performs December 5th and 12th at Don't Tell Mama. On December 23rd she is part of the Wednesday Night at the Iguana Show at the Iguana VIP Lounge. In February Eileen will make an appearance at The Metropolitan Room in New York City.



Broadway To Vegas is supported through advertising and donations. Priority consideration is given to interview suggestions, news, press releases, etc from paid supporters. However, no paid supporters control, alter, edit, or in any way manipulate the content of this site. Your donation is appreciated. We accept PAYPAL. Thank you for your interest.


ART AND ABOUT


BLACK DIAMONDS

Ancient Sunlight - Black Diamonds by Dawn Csutoros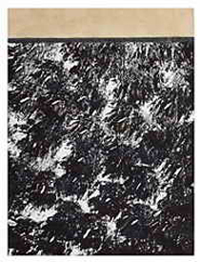 Painting Exhibition by Australian Dawn Csutoros and American Erin Ko who is the Imagine Gallery Artist-In-Residence who explores themes of industrialization, consumerism and a rapidly changing world.

Work In Progress is an ongoing project being developed in Beijing through 2010.

In addition the exhibition Red Gate Residency's Open Studios and Coffee House artists include;

Ruth Kaaserer (Austria, Artist), Nancy Lovendahl (United States, Sculptor), Sandra Parker (Australia, Choreographer), Sau Wai Tai (Hong Kong, Installation Artist), Sunanda Khajuria (India, Visual Artist), Dhaneshwar Shah (India, Visual Artist) Robert Nery (Australia/Philippines, Filmmaker/Video Artist), Gabrielle Finnane (Australia, Filmmaker/Researcher), Jan Fieldsend (Australia, Artist), Teresa Kenyon (Australia, Artist) and Ladawna Whiteside (United States, Visual Artist).

In 2007, Dawn Csutoros traveled to China to undertake an art residency in Beijing during which she began experimenting with coal - materially and conceptually - as the focus for her work. The never fading presence of fumes and ash in Beijing's air made the public debate on the effects of CO2 emissions very palpable and visceral for her. Back in Melbourne, Australia, Dawn started researching the nature and history of coal, building on the experiments made during her residency.

Known as a "black diamond", the possession of this hundreds of millions of years old material brought riches to its traders as well as the societies that used it for their daily needs. Coal has given humanity light, energy, and the means to industrialize and develop. To this day, it continues to enmesh the histories of Australia and China.

Ancient Sunlight is a suite of forty four paintings, which explore the dichotomy of coal's life-giving and life-threatening force. While the number is associated in the Chinese language with dying and death, each individual canvas is an intuitive excavation of the energy of coal as a substance that continues to be relevant to the lives of many.

Along with her fine arts practice, Csutoros has also created, managed and developed large scale public art projects exploring issues such as the environment, indigenous art, terminal illness and ageing, linking communities on national and international levels.

Opening on Sunday November 22, 2009 with the presence of the artists and The Australian Embassy. The exhibition is on display to January 16, 2010. Imagine Gallery in Beijing, China.





THE MUSIC GOES ROUND AND ROUND


MARCY & ZINA THE ALBUM are composer Zina Goldrich and lyricist Marcy Heisler. They have recently been awarded the Fred Ebb Award for aspiring musical theatre songwriters.

Much of their writing background is for children.

For instance, currently Zina is scoring episodes of Wonderpets for Nickelodeon and Third and Bird for the BBC, which promotes the show as; "The vibrant treetop community of 3rd & Bird is alive with singing, whistling and dancing."

Marcy has contributed songs for many Disney projects, including Johnny and The Sprites (Disney Television), Pooh's Learning Adventures (Disney Toon Studios), and The D Show (Disney Interactive). As an adaptor, she wrote new versions of 101 Dalmatians; Cinderella; Sleeping Beauty and The Jungle Book for Disney Theatricals.

Neither of these bright, creative, potential shinning stars is currently a household name. There are instances where a supernova composer/lyricist has created a cabaret show or a CD centered around their work. To hear a famous composer who has given the world standards perform their own work becomes an invitation into their own personal world. The listener feels special that the gifted individual would allow them to hear their thoughts, or listen to them noodle around with their own compositions on the piano.

Zina and Marcy need better advisors.

The CD opens with the rambunctious, delightfully infectious anthem to self-worth Make Your Own Party. A perfect pick me up - probably a better cure for depression than any drug on the market. The CD starts off strong - and then. . .

Coupled with the next two tracks it's like a triple shot of espresso. So up-tempo and rousing that tracks two and three could be one, long song. Track four is somewhat slower, a love song, but the arrangements and execution are pounding.

It would be nice to hear some of these numbers presented with more complex arrangements and tempos that weren't always so - written to keep kids alert.

The song Compromise, about how compromise is necessary to any relationship could be an important work - except the cutesy-poo musical delivery hampers the listener from hearing the meaning.

Alto's Lament - left as is, arrangements and all - comes across as the number which can most easily be visualized as a show stopping segment of a Broadway production.

There's Nothing I Wouldn't Do is a wicked, double-entendre reminder that lyricist Heisler is gaining entry into a rarefied club whose membership includes the late Dorothy Fields.

Taylor, The Latte Boy is clever. If you'd like to hear how it should be sung, pick up the CD Kristin Chenoweth As I Am on Sony Classic/Integrity. Backing Chenoweth on this song, which is the bonus track, are pianist Mary Mitchell Campbell and the cello performed by Matt Slocum - both of whom know how to play their instruments so that they deliver without overpowering. To really hit the point home, first listen to Taylor, The Latte Boy on this CD and then immediately listen to Kristin's version.

Oh, How I Loved You, the ninth track on this CD, is the first to have any semblance of a slower tempo - to a point. This could be a sensitive, moving, meaningful song, except it is also forced at the listener, rather than delivered with emotion that conveys the meaning of the words. Then the crescendo builds and the sound suffocates.

Lyricist Marcy Heisler has a long and important career ahead of her. She has intelligence and a wit that deserves attention from the Broadway community.

The music by Zina Goldrich is delightful, thought she should stop pounding on the piano and leave arrangements to others. There are sounds besides loud and tempos beside fast. Emotions besides forced, over-the-top, scream and yell. Getting the attention and then keep pounding away so the kids don't nap off - that Zina understands. In showcasing her own compositions, Zena is her own worst enemy. It's difficult to enjoy her considerable ability when she beats the notes to death in the presentation.

Welcome The Rain is another that was attempted to be delivered in a slightly slower tempo but then that piano decided to try to sound like rain - but - didn't. Then those 88 keys delivered a pounding beat to demonstrate the wind - again, too much writing for children.

The beautiful, meaningful lyrics of Welcome The Rain are destroyed by the musical backing. It would be interesting to listen to an experienced ballad singer who knows breath control, how to hit the notes and properly deliver lyrics present some of these songs. The lyrics have much say, but they are smothered in noise and many times are unintelligible because of the failure to articulate. Singers should remember that many in the audience won't be familiar with the words. Sing so you can be understood.

Musical composer Zina's background of writing for children may be the biggest hurdle she has to overcome. She thinks loud, vibrant. She's got perky down pat. Now she needs to learn how to musically project feelings such as tenderness, poignancy and pathos.

If you gave music students an assignment to write arrangements with a tempo that describes a group of 10 year-old-girls - this CD, as an instrumental, would be the perfect presentation.

This CD begs the question of - why? What are Marcy and Zena's goals? Are they trying to become an ordinary cabaret act or a first-rate composing team? If they are trying to promote themselves as a cabaret act - a difficult market with few venues - then this CD will have a niche market among their friends. If they are trying to promote their skills as a songwriting team, then this effort won't make a significant impact on potential producers. The biggest millstones around Marcy Heisler's incredible ability to compose lyrics are the arrangements and piano playing of others.


ARTIST TO INDUCE EPILEPTIC SEIZURE ON STAGE
Performance artist and choreographer Rita Marcalo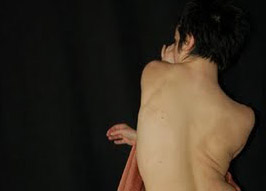 In a production funded by a grant from the British Arts Council, artist/choreographer Rita Marcalo, 37, who has suffered from epilepsy for the last 20 years, intends to stop taking her medication and deliberately induce a seizure on stage in a production called Involuntary Dances.

Amid growing criticism Marcalo said her show explores the relationship between epilepsy and dance.

The production will be staged at the Bradford Playhouse next month. Audience members will be invited to film her convulsions, which she intends to induce through several methods including drinking alcohol and staring at strobe lights. She announced that she will also use techniques common in animal testing.

Marcalo is an award-winning choreographer and performer. After training at the professional school of Lisbon Dance Company she toured for 13 years in Portugal, Spain, Belgium, the USA and the UK with various companies - Aveiro Dance Company, Lisbon Dance Company, Emilyn Claid, Carol Brown Dances, and IOU Theatre.

Settling in the UK, she founded Instant Dissidence in 2002. The company is based in Leeds, England.

Involuntary Dances is a project looking at conceptual and physical interfaces between dance, movement and epilepsy, and it investigates the scientific and artistic currency of creating an artifact that places itself simultaneously in the fields of artistic and scientific research.

Marcalo's research has been hosted by Yorkshire Dance in association with the drug company GlaxoSmithKline, Essex Dance and York St John University.

Her upcoming production has been criticized by the charity Epilepsy Action which demanded that the performance issue a warning because of concerns that others could be hurt if they were inspired to try a copy cat performance.

Last Thursday Marcalo defended the project, for which she received a $22,884 grant from the Arts Council England and a $11,533 commission, saying she wanted to educate people about epilepsy because those with epilepsy normally suffer in private.

She denied what she was doing was dangerous and issued a release which said: "I am interested in creating work that makes people consider certain things they don't normally think about. It raises questions. I knew it could be controversial but I am doing this because it is personal to me."

Involuntary Dances is a 24-hour event which includes other artists and a DJ, who will be alerted to her seizure by the sound of an alarm which will trigger the music to stop and two cameras to roll. She said she was shocked to see "voyeuristic" footage of people having fits downloaded on to the internet, recorded without the sufferers' consent. "I am inviting the audience to be voyeuristic of me," she said.

Organizers said a first aid team would be on hand.

Epilepsy is a common chronic neurological disorder characterized by recurrent unprovoked seizures, About 50 million people worldwide have epilepsy. More likely to occur in young children, or people over the age of 65 years, it can occur at any time. Epilepsy is usually controlled, but not cured, with medication. However, over 30% of people with epilepsy do not have seizure control even with the best available medications.



ARLENE PHILLIPS 66, former Strictly Come Dancing who was dismissal from the popular BBC television show was met by charged of ageism. has been appointed a director of Sadler's Wells theatre, which specializes in dance. Her duties on Sadler's Wells board of directors will include overseeing the theatre's governance and acting as an ambassador for it. Her appointment takes effect November 25.

MICHAEL SHEEN the Frost/Nixon star is taking over as the creative director of National Theatre Wales. His first project will be a contemporary version of the Passion Plays which are scheduled to be mounted in 2010.

In a statement Sheen, a native of Wales, said; "It is an honor to be a part of National Theatre Wales. I am both excited and terrified about this project, which I suppose is the perfect state of mind to approach it in. I am very grateful for the opportunity to work in and with my hometown and to see what we can achieve together."

SIR IAN McKELLEN and KEVIN SPACEY were honored last Sunday, November 15, for their contribution to the arts. The glamorous event took place at the annual Variety Club Awards in London.

McKellen received a trophy for his overall contribution to show business Spacey, who serves as artistic director for London's Old Vic theatre, was presented with the British theatre award.

Recently reunited band Spandau Ballet was honored for its contribution to music, while Simon Cowell received the award for best TV talent judge for his work on The X Factor.
SWEET CHARITY


GWYNETH PALTROW, ELIZABETH HURLEY and DAME SHIRLEY BASSEY cleaned out their closets to help The Really Really Great Garage Sale at London's Selfridges store last Sunday, November 15, in aid of Mothers4Children charity. A pair of Bassey's shoes sold for $167.

Funnyman David Walliams, British singer Louise Redknapp and TV presenter Denise van Outen who appeared as Roxie Hart in the musical Chicago on both the West End and on Broadway were among the stars manning the sales counters, each bringing in more than $8,341 in profit for the charity.






SPREADING THE WORD


MACY'S THANKSGIVING DAY PARADE celebrates its 83rd Anniversary this year. The parade will feature 1,500 dancers, cheerleaders, singers and performers; 15 giant character balloons; 800 clowns; 35 novelty or ornament balloons, balloonheads and balloonicles; 24 floats; 10 marching bands; and a slew of celebrity performers.

John Stamos and the cast of Bye, Bye Birdie singing Put On a Happy Face. The cast of Billy Elliot will be performing Shine Performers in the parade include: Bello, Andrea Bocelli, Keke Palmer, Grandma and the cast of the Big Apple Circus, the cast of Hair, Boys Like Girls, DJ Lance Rock and the cast of the popular children's show, Yo Gabba Gabba, who will perform a new dance. There will be Kermit the Frog and Tiffany Thornton, the cast and Muppets of Sesame Street; opera singer Andrea Bocelli, reggae singer Ziggy Marley with Judah Narkey, and county music star Billy Currington. Other musical performers include Gloria Gaynor, American Idol's Katherine McPhee, rock band Boys like Girls and Jimmy Fallon and his late night band, The Roots. Also stepping off will be Sarah Hughes, Jane Krakowski, Miss America 2009 - Katie Stam, the Radio City Rockettes, Katharine McPhee, Mitchel Musso, The Pizzarelli Quartet, cast of Shrek, and Jay Sean.

There will also be a new Santa's Sleigh, which is the first new one in 40 years.

60 theater arts students from Stagedoor Manor, ranging in ages from 10-18 representing 22 states and 3 countries, will premiere a new finale. The cast will bring a new twist to the end of the Parade with the first ever singing/dancing finale. They will also join Santa on his sleigh, to sing Santa Claus is Coming to Town and Macy's original song I Believe as the float arrives at the 34th Street flagship store.

The Macy's Thanksgiving Day Parade is broadcast on NBC starting at 9 a.m. Thanksgiving Day until noon in each time zone. The parade will be hosted by NBC Today Show hosts Matt Lauer, Meredith Viera and Matt Lauer.

THE GUTHRIE THEATER in Minneapolis is in negotiations to bring a 12-hour play cycle based on the last 170 years of Afghanistan's culture and bloody history to its 2010-11 season.

The cycle of 12 one-hour plays, called The Great Game, is a title taken from novelist Rudyard Kipling, who used the phrase to refer to Afghanistan's place as a battleground for major powers, was commissioned by London's Tricycle Theatre, a company known for using court testimony and verbatim transcripts in their plays. That company premiered The Great Game last spring to critical acclaim.

Nicolas Kent, Tricycle's artistic director, arrived in Minneapolis last week to discuss the possibility of an American tour which would kick off at the Guthrie.

THE WAMPANOAG NATION SINGERS AND DANCERS in celebration of the harvest season and American Indian culture. This narrated presentation featuring traditional clothing, music from handcrafted instruments, and social songs and dances. Part of The John F. Kennedy Presidential Library and Museum's The Celebrate! Series which highlights America's rich cultural diversity through the arts. All performances are free and begin in the Stephen Smith Center at the John F. Kennedy Presidential Library and Museum in Boston. Friday, November 27, 2009

SPALDING GRAY: STORIES LEFT TO TELL Words by Spalding Gray. Concept by Kathleen Russo. Directed by Lucy Sexton.

Featuring Kathleen Chalfant, Michael Cunningham, Hazelle Goodman, Ain Gordon and Mercedes Ruehl.

Spalding Gray, one of the most revered and irreverent storytellers of our time, became an indelible image: sitting alone at a desk on a bare stage, delivering hilarious and moving monologues. But what made Gray's performances so memorable and timeless was the universal way his words-the observations, neuroses, fears and joys they expressed-resonate so deeply with audiences. His work lives on in the funny, poignant, and ultimately life-affirming Spalding Gray: Stories Left to Tell. Saturday, November 28 at the Bay Street Theatre in Sag Harbor, NY.





OTHER PEOPLE'S MONEY


U2 has been fined $55,260 for exceeding noise regulations during three concerts in Dublin's Croke Park in Ireland last July. Residents complained and an investigation has now concluded that the . rockers played louder than regulations allow a total of 12 times during the trio of shows. The Dublin City Council fined the concert promoters MCD.

ROD STEWART is being sued for $3.3 million in legal fees by the law firm of Glaser, Weil, Fink, Jacobs, Howard & Shapiro. They filed the lawsuit last Tuesday in Los Angeles. The lawsuit claims they are owned the money for work they did on Stewart's behalf, including one involving the singer's cancellation of a December 2000 show in Las Vegas. A federal jury decided Stewart owed the Rio hotel-casino $2 million for canceling the show. See Broadway To Vegas column of September 11, 2005 The firm also represented the Rock and Rock Hall of Famer in a trademark infringement case and a lawsuit filed by a concert promoter.


HAPPY BIRTHDAY TO . . .


ALLISON JANNEY the three time Emmy Award winner for her role as C.J. Cregg on The West Wing, who also starred on Broadway in 9 to 5. She celebrated her 50th birthday last week-end in Las Vegas. Helping the birthday girl have an early birthday party was her 9 to 5 co-star Megan Hilty. Janney actually joined the Sexy 50 Generation on November 19.



CAT ON A HOT TIN ROOF

James Earl Jones, Phylicia Rashad, Adrian Lester and Sanaa Lathan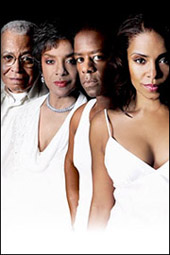 by Tennessee Williams. Directed by Debbie Allen.

The 2008 award winning revival transfers to London's West end with Tony Award winners James Earl Jones and Phylicia Rashad reprising their roles as Bid Daddy and Big Mama.

Also in the cast are Olivier Award winner Adrian Lester as Brick and Tony-nominated Sanaa Lathan as Maggie. The company also features Richard Blackwood (Brightie), Derek Griffiths (Reverend Tookie), Nina Sosanya (Mae), Guy Burgess (Lacey), Claudia Cadette (Nanny), Peter De Jersey (Gooper), Susan Lawson-Reynolds (Sookey) and Joseph Mydell (Doctor Baugh). They are joined by Yvonne Gidden who will understudy Big Mama.

A powerful Southern family gathers at a birthday celebration for patriarch Big Daddy who is unaware he is dying. In a scramble to secure their part of his estate, family members hide the truth about his diagnosis from him and Big Mama. Tensions mount between alcoholic former football hero Brick and his beautiful but sexually frustrated wife Maggie 'the Cat'. As their troubled relationship comes to a stormy and steamy climax, a shockwave of secrets is finally revealed.

Scenic design by Morgan Large; Costume design by Fay Fullerton; Lighting design by David Holmes; Sound design by Richard Brooker; Original music by Andrew 'Tex' Allen

This West End production began performances November 21 at the Novello Theatre, prior to an official opening December 1, for a limited run to April 10.

HAVE YOU SEEN US? world premiere by Athol Fugard. Directed by Gordon Edelstein.

Starring Sam Waterston, Liza Colon-Zayas, Sol Frieder and Elaine Kussack.

Christmas Eve. A diner in a Southern California strip mall. Henry Parsons (Sam Waterston), a professor and South African transplant comes in for his usual - a turkey sandwich and insulting banter with Adela (Colon-Zayas) , the Mexican-American waitress. The two creep towards a fragile understanding until Solly and Rachel, an eastern European Jewish couple, sit down to eat. The couple's entrance forces Henry to a reckoning with the demons in his heart and, for a moment, unites four lost souls.

Mainstage of the Long Wharf Theatre November 24 - December 20, 2009 New Haven, CT.

JUBILEE by Cole Porter and Moss Hart. Directed by 42nd Street Moon's Founding Artistic Director Greg MacKellan. Dave Dobrusky is the Musical Director and Tom Segal serves as Choreographer.

What happens when genius takes a holiday? When the geniuses are Cole Porter and Moss Hart and the holiday is a four month luxury cruise, the answer is Jubilee - the tune-filled 1935 musical spoof of royalty, revolution and ribald rivalries.

The plot is deliciously simple: The Royal Family of a "fictional European country" (aka England) uses the threat posed by an impending revolution as an excuse to abandon the throne and pursue their private dreams. Off they go on an adventure with parody versions of a host of recognizable 1930s celebrities including Noel Coward, Elsa Maxwell, Johnny "Tarzan" Weissmuller, and Ginger Rogers. The faux famous show the disguised monarch and his family the time of their royal lives.

The show features such ditties as Begin the Beguine; Just One of Those Things; Why Shouldn't I?; A Picture of Me Without You and The Kling-Kling Bird on the Divi-Divi Tree.

Featured are Michael Patrick Gaffney and Megan Cavanagh. Also featured in the cast are CJ Blankenship, Peter Budinger, Derek Travis Collard, Alison Ewing, Juliet Heller, Dyan McBride, Benjamin Pither, Zack Thomas Wilde, Sarah Kathleen Farrell, Justin Torres, Celeste Russi and Andrew Willis-Woodward.

Jubilee plays November 25 – December 13 at 42nd Street Moon's popular downtown venue, the Eureka Theatre in San Francisco.

CHRISTMAS IN FOLLIESLAND A Jewish snowman? Tiny, manic Santas who sing like chipmunks? A 90-proof grandma looking for Santa to "shake, not stir"? It may not be your notion of traditional holiday fare, but in Folliesland, anything's possible! From now through the last chorus of Auld Lang Syne on New Year's Eve, The Fabulous Palm Springs Follies celebrates the winter holidays like you've never seen it before!

The moment Follies audiences step into the lobby of the historic Plaza Theatre, they enter a child's Christmas-morning dream come true, complete with a lavish tree and exquisite ornaments inspired by Follies showgirls. The fun continues onstage where comic elements of the season meet the more traditional including a soaring rendition of O Holy Night; an audience sing-along; and a shimmering onstage snowfall.

And, for the first time ever, a Follies guest star has brought her own Christmas show to the Plaza Theatre thus doubling the Follies' holiday offering. From Boogie Woogie Santa Claus to such classics as Count Your Blessings and Have Yourself A Merry Little Christmas, Las Vegas resident Susan Anton delivers this season's Follies' promise - as well as show title - to Let The Good Times Roll!

The evening performance on December 2 is the annual visit by spouses of deployed Marines from nearby Twenty-nine Palms as part of the base's Operation Enduring Families program. For the past six years, Marine spouses have enjoyed a complimentary performance of the Fabulous Follies and a special introduction by Follies Man Riff Markowitz to an always-cheering audience. As in previous seasons of giving, the Follies is again a drop-off location for the U.S. Marine Corps' Toys for Tots Program. Through December 13, anyone in the vicinity during a performance may donate a new, unwrapped toy at the bin placed outside the theatre doors. Follies fans have made the Plaza Theatre always among the top donor sites for this most worthwhile annual toy drive benefiting needy children.

LOVE, LOSS, AND WHAT I WORE a new play by Nora Ephron and Delia Ephron, based on the bestselling book by Ilene Beckerman.

Directed by Karen Carpenter.

An intimate collection of stories, Love, Loss, and What I Wore stars a rotating cast of actors who perform in four week cycles. Like the book it's based on, Love, Loss, and What I Wore uses clothing and accessories and the memories they trigger to tell funny and often poignant stories that all women can relate to.

Upcoming members of the rotating cast include Lucy DeVito, Katie Finneran, Capathia Jenkins, Michele Lee, Natasha Lyonne, Debra Monk, Tracee Ellis Ross and Casey Wilson.

The complete design team includes Jo Winiarski (Scenic Design), Jessica Jahn (Costume Design), Jeff Croiter (Lighting Design), Walter Trarbach (Sound Design) and Maria Verel (Make-Up Design).

At the Westside Theatre in New York City.

A CHRISTMAS STORY; THE MUSICAL based on the Jean Shepherd stories and the 1983 MGM film. The libretto is by Joseph Robinette. Scott Davenport Richards penned the score The production is helmed by Kansas City Rep artistic director Eric Rosen, who experienced a death in his family just as rehearsals were to begin.

Aimed to become the next must mount Christmas production, annually staged across the country, this world premiere has already broken box office records at KC Rep. There are also plans for a 2010 Broadway debut.

James Judy portrays the story's originator and its narrator Jean Shepherd, with Zachary Carter Sayle as Ralphie. Broadway veterans John Bolton and Anne L. Nathan portray "The Old Man" and "Mother", respectively, and Jake Siegfried is cast as Randy. Completing the company are Becky Barta (Miss Shields), Aaron Conley (Flick), Troy Doherty (Scut Farcus), Zachary Rand (Grover Dill), Dakota Hoar (Schwartz) and Katherine McNamara (Girl), with chorus members Patrick DuLaney, Karen Errington, Seth Golay, Jennie Greenberry, Katie Kalahurka, Orville Mendoza, Alan Mingo, Jr., Kip Niven and Vanessa Severo.

Kelly Devine serves as choreographer, with musical direction by Ian Eisendrath, orchestrations by Larry Blank, scenic design by Walt Spangler, costume design by Elizabeth Hope Clancy, lighting design by Jason Lyons and sound design by Domonic Sack and Carl Cassella.

Ralphie Parker wants only one thing for Christmas: An Official Red Ryder Carbine-Action 200-shot Range Model Air Rifle. Set in the 1940's in the fictional town of Hulman, Indiana, A Christmas Story tells of Ralphie's desperate quest to ensure this most perfect of gifts ends up under his tree this Christmas.

The biggest obstacle standing in his way is his mother's fear that "You'll shoot your eye out!" But Ralphie is a man with a mission, and he hatches a series of schemes designed to win his coveted holiday prize.

Along the way, he has to deal with his annoying little brother, a friend with his tongue frozen to a lamppost, a yellow-eyed bully, a cantankerous department store Santa, the neighbors' dogs, his old man's obsession with a "major award" he's won in a contest, his mom's militant defense of her Christmas turkey, a smoke-belching furnace, and an untimely, four-lettered slip of his tongue.

Songs in the production include Getting Ready for Christmas; Take That!; I Won (A Major Award); You'll Shoot Your Eye Out!; Ho, Ho, Ho!; I'm Awake; On Christmas, We Go Eat Chinese and There Must Be Something We've Forgotten.

The world premiere began previews November 20 with the official opening taking place November 28 at the Spencer Theatre, located within the James C. Olson Performing Arts Center in Kansas City, MO. There is even a Santa slide in the lobby. At this point the production is slated to run only through December 27.





WHO'S WHERE


MILEY CYRUS will continue with her tour this week, despite a terrible accident Friday in which one of her four tour buses overturned killing the driver, Bill Douglas. Cyrus was not on board the bus, which did have nine member of Cyrus' production crew. They escaped the crashed bus through the front windshield. Marty Zilio, 48, of Canada, was injured in the crash and treated at a local hospital. Cyrus family said on her Web site that they were "deeply saddened by the loss of Bill 'Uncle Bill' Douglas" and that he would be missed. "Members of our tour are like members of our family," the statement said.

The bus was one of four traveling together after the singer's two-show stint Wednesday and Thursday in Long Island, N.Y. The group was heading to Greensboro, N.C., where she is scheduled to perform tonight, Sunday, November 22. The tour then stops Tuesday, November 24, at the Time Warner Cable Arena in Charlotte, NC. On Wednesday the show is at the Sommet Center in Nashville. On Saturday the performance is at the Colonial Life Arena in Columbia, SC.

NSO POPS: THE MUSIC OF THE MUSIC MAN Marvin Hamlisch, conductor. Songs from Meredith Willson's Tony Award–winning blockbuster musical are performed in concert by the NSO Pops, including Seventy-six Trombones; Goodnight My Someone; Till There Was You, and more. November 27 - 28, 2009 in the Concert Hall at Kennedy Center. Washington, DC.

CELEBRATING OSCAR PETERSON The National Arts Centre Orchestra is joined by an all-star lineup to honor jazz royalty Oscar Peterson. Katie Malloch hosts the evening, and conductor Tommy Banks leads the National Arts Centre Orchestra and a constellation of jazz all-stars: pianist Oliver Jones, vocalists Ranee Lee and Nikki Yanofsky, and Dave Young (bass), Terry Clarke (drums), Richard Ring (guitar), Jonathan Challoner (trumpet), and John Sadowy (piano). November 26-28, 2009 at the National Arts Centre in Ottawa, Ontario, Canada.

BRITNEY SPEARS continues her Down Under tour this week opens tonight, November 22, at The Brisbane Entertainment Cetre in Boondall, Australia. She returns to that stage for shows on Tuesday and Wednesday. On Friday, November 27, she performs at the Rod Lever Arena in Melbourne.

THANKSGIVING EVE AT THE IGUANA with hosts Dana Lorge and Richard Skipper. Barry Levitt on keyboard and Morrie Louden on bass. Wednesday night's guests include: Christopher Gerrard, William Blake, Jim Speak, David Vernon and Diana Templeton. The Iguana Nightclub in NYC.

TRANS-SIBERIAN ORCHESTRA with their two touring groups have performances Wednesday November 25 at the Coliseum Complex in Greensboro, NC and the Energy Solutions Arena in Salt Lake City. On Friday the shows are at the Events Center in Reno, NV and the Bi-Lo Center in Greenville, SC. Friday finds the groups at the Time Warner Cable Arena in Charlotte, NC and the ARCO Arena in Sacramento, CA.

ROBIN WILLIAMS making people laugh in a two night stand Friday and Saturday at the Borgata Hotel in Atlanta City.

CHRIS BOTTI making beautiful sounds Tuesday, November 24 at the Hibert Circle Theatre in Indianapolis, IN.

LYLE LOVETT performs Monday, November 23 at the Bass Concert Hall in Austen, TX before opening a two night gig on Tuesday at Bass Performance Hall in Fort Worth.

ROGER DALTRY on stage Tuesday, November 24 at the Performing Arts Center in North Charleston, SC. On Wednesday he is at the House of Blues in Lake Buena Vista, FL. On Friday he's in the spotlight at the Barbara B. Mann Performing Arts Hall in Fort Myers, FL.

MANNHEIM STEAMROLLER with two performing touring groups brings the sounds of the season to the Civic Center Auditorium in Roanoke, VA on Monday, November 23. On Tuesday the shows are at the Chapman Music Hall in Tulsa, OK and the Warner Theatre in Washington, DC. On Friday performances take place at the Majestic Theatre in San Antonio, TX and the Fox Theatre in Detroit, MI. On Saturday the tours stop at the Bass Concert Hall in Austin, TX and the James W. Miller Auditorium in Kalamazoo, MI.

JOHN PIZZARELLI is in Quebec, Canada with shows Saturday November 28 at the Centre Des Arts in Shawinigan, QC. Next Sunday, November 29, he performs at the Salle Albert-Dumouchel in Salaberry-de-Valleyfield in QC.






FINAL OVATION


EARL WENTZ

Earl Wentz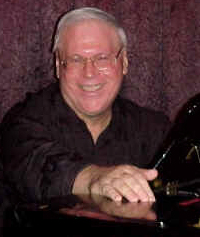 a pianist, composer, and musical director, most noted for his creation in 2000 of the American Composer Series, an ongoing performance series in the cabaret format, paying tribute to the greatest composers of popular American music on the American scene, particularly those composers associated with Tin Pan Alley and the American Songbook, has died. From 2000 to 2009, his respected series presented 15 original musical revues, many returning for multiple performances over several seasons. See Broadway To Vegas column of October 16, 2005

Wentz lived in New York City and Charlotte, NC. He passed away at his home in Charlotte on Sunday, November 15, following an extended illness. He was 71.

Since 1993, Earl Wentz had been the organist and choirmaster at John Street Methodist Church in New York, the oldest Methodist congregation in America.

Among his CDs currently in print are The Piano Stylings of Earl Wentz: Traditional Christmas Favorites; Vampin' Lady: The Music of Milton Ager, with vocalist Joyce Moody; and Visions of What Used to Be, a collection of popular songs from the World War I era, featuring vocals by Helen Breen. Several other works and CDs, including the first of four Cole Porter CDs are scheduled to be released soon by Sixpence, Inc.

He was preceded in death by his mother and father, Raymelle Wallace Wentz and D.A. Wentz, Sr.; by his sister, Anna Mae Wentz Blackwelder; and by his brother and sister-in-law William A. Wentz and LuCile D. Wentz.

He is survived by his partner of 27 years, William B. Watkins of New York; by one aunt, Mrs. Corinne Kerns of Charlotte; by his brother and sister-in-law, D.A. and Christine Wentz of Charlotte; nine nephews and nieces and their families; nine great nephews and nieces and their families; and numerous great-great nephews and nieces. A memorial service for the public was held on Saturday, November 21, at Amity Presbyterian Church in Charlotte. The Rev. Jonathan Meythaler will preside with the Rev. Jason Radmacher of John Street Church in New York assisting. The one-hour recording of Wentz's 1989 Requiem, featuring full orchestra, 30-voice choir, and four prominent New York soloists was played at the funeral service. A memorial service at John Street Church in New York will be scheduled.

JEANNE-CLAUDE who along with her husband Cristo in 2005 created the 2005 Central Park installation The Gates, and other large scale "wrapping" projects, died November 18, 2009 in New York from complications of a brain aneurysm. She was 74.

More than 5 million people saw The Gates, which draped 23 miles of Central Park's pathways with 7,503 saffron-colored nylon panels. The project was credited with injecting about $254 million into the local New York City economy.

New York City Mayor Michael R. Bloomberg, in a statement released Thursday, praised The Gates as "one of the most exciting public art projects ever put on anywhere in the world - and it would never have happened without Jeanne-Claude."

Some of the couple's many other projects included wrapping the Reichstag in Berlin, the Pont Neuf Bridge in Paris, and an ancient wall in Rome, erecting umbrellas in the 1991 project titled The Umbrellas, spreading pink fabric around 11 islands in Biscayne Bay near Miami for a work called Surrounded Islands in 1983.

In addition to her husband, she is survived by their son, Cyril Christo of Santa Fe, N.M.

Next Column: December 6, 2009
Copyright: November 22, 2009. All Rights Reserved. Reviews, Interviews, Commentary, Photographs or Graphics from any Broadway To Vegas (TM) columns may not be published, broadcast, rewritten, utilized as leads, or used in any manner without permission, compensation and/or credit.
Link to Main Page
---
Laura Deni



U.S. Postal Address: Post Office Box 60831, Las Vegas, NV 89160
CLICK HERE FOR COMMENT SECTION