! >
Broadway To Vegas
  
 SHOW REVIEWS CELEBRITY INTERVIEWS GOSSIP NEWS

| | |
| --- | --- |
| | |
MARILYN MONROE, ELLA FITZGERALD AND LORD BUCKLEY INSPIRE PLAYS - - WHO SHOT ROCK & ROLL - - DISNEY'S SNOW WHITE IN APPLES - - THE 2009 FRED EBB AWARD - - PAUL SHAFFER WITH GLENN CLOSE - - LILY TOMLIN MAKES LAS VEGAS DEBUT - - SPIDER MAN LURES NEW BROADWAY PRODUCERS AND STAR - - VIVA ELVIS PUTS ON FINISHING TOUCHES TO OPEN IN LAS VEGAS - - DONATE . . . Scroll Down


MARILYN MONROE, ELLA FITZGERALD AND LORD BUCKLEY INSPIRE PLAYS


Two plays involving three people who actually worked with each other - Marilyn Monroe, Ella Fitzgerald and comedian Lord Buckley - are brought to life in productions based upon real life experiences - rather than suppositions.

Based on a true story of a real friendship,Marilyn and Ella is penned by Chicago born playwright and critic resident in Britain Bonnie Greer. Marilyn & Ella, a musical play about pop culture icons Marilyn Monroe and Ella Fitzgerald, stars Hope Augustus as Ella and Suzie Kennedy as Marilyn accompanied by a musical quartet lead by musical director Warren Wills. The play is directed by Colin McFarlane who has appeared as an actor in numerous theater, TV and film roles including Commissioner Loeb in Batman Begins and The Dark Knight.

Marilyn Monroe quit Hollywood for New York at the height of her fame in 1955 in search of something more real. During this time she immersed herself in the underground jazz bars of New York and for the very first time got to hear Ella Fitzgerald perform live.



Ella Fitzgerald and Marilyn Monroe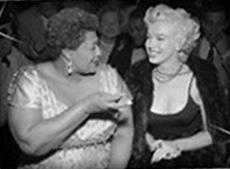 Monroe was reportedly blown away and promptly called the owner of her favorite L.A. club, Mocambo, and told him that she would sit in the front row of his club every night for a week if he lifted the color ban and allowed Fitzgerald to sing in his nightclub. He agreed, the ban was lifted, and the rest is history.

Fitzgerald was later quoted as saying, "I owe Marilyn a debt. . . she was ahead of her time and she didn't even know it".

Greer's play explores how Fitzgerald, one of the greatest music artists of the 20th century came to worship Monroe, the most beautiful woman in the world, not for her external looks but for the individual inside that few in the wider world ever caught a glimpse of. The production is interspersed with hits of the era, including I Got Rhythm; My Funny Valentine; Every Time We Say Goodbye; Mack the Knife and Diamonds Are a Girl's Best Friend.

The production originally premiered at London's Theatre Royal in 2008, and now Their story is told at the Apollo Theatre London on Sundays only: November 15th 22nd and 29th 2009. It will be the 75th anniversary to the day of Ella's debut at the Apollo Theatre in New York's Harlem.



Lord Buckley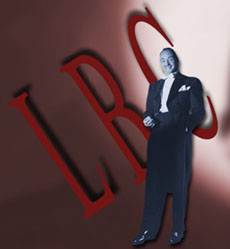 Lord Buckley is brought to vivid life in a production performed by Richmond Shepard In the 25 minute curtain raiser titled Lord Buckley. Shepard worked with Buckley at The Club Renaissance in Los Angeles in 1950's and knew him during his final two years. Shepard portrays the Legendary Hip Comedian, Jazz Storyteller, Semanticist, & Sometime Philosopher. Lord Buckley includes material Buckley made famous in his night club acts and on his many appearances on the Ed Sullivan Show.

Buckley who died at 54 in 1960 and Monroe who died at 36 in 1962 actually appeared together in the movie We're Not Married starring Giber Rogers and Fred Allen.

Buckley adopted his hipsemantic from his peers Cab Calloway, Louis Armstrong, Redd Foxx, Pearl Bailey, Count Basie and Frank Sinatra, plus hipsters, beatniks and British aristocracy in general.

Occasionally performing to music and singing - he recorded 15 long playing albums in a studio setting - he frequently punctuated his monologues with non-linguistic vocal sounds. He retold several classic documents such as the Gettysburg Address and an (appropriately psychedelic) version of Edgar Allan Poe's The Raven. In Mark Antony's Funeral Oration, he recast Shakespeare's "Friends, Romans, countrymen, lend me your ears" as "Hipsters, flipsters and finger-poppin' daddies: knock me your lobes."

He also founded the first jazz religion, The Church of the Living Swing.

Bill Cosby was a fan of Lord Buckley and admits to being influenced by him as did everyone from Jonathan Winters to Robin Williams. Lenny Bruce was an avowed fan, borrowing much of his attitude and rhythms from Buckley's lead. Bob Dylan was also enamored of his work, and at the outset of his career frequently covered Buckley's rendition of the poet Joseph Newman's Black Cross. Jimmy Buffett performed the Buckley original God's Own Drunk, and George Harrison's hit Crackerbox Palace drew inspiration from the comedian's life and its title from the name given his tiny Hollywood home



Richmond Shepard as Lord Buckley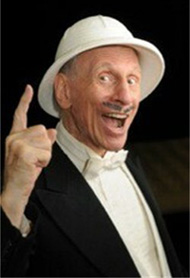 Buckley's use of marijuana were a significant part of his life and career. On October 19, 1960, he was scheduled to play club dates and do another ed Sullivan show in New York, but his New York City Cabaret Card was seized, purportedly because of a 1941 arrest for marijuana possession. Cabaret cards were necessary to appear in nightclubs and were often withheld for political reasons, and as a way to solicit payoffs. Without the card he was unable to perform. He attempted to get the card reinstated and more than three dozen major figures in the entertainment and arts world showed up for a hearing on the matter.

Richard 'Lord' Buckley died November 12, 1960 at New York City's Columbus Hospital. He was 54. A hearing held two days after his death turned into a raucous confrontation between Police Commissioner Stephen Kennedy and Buckley's friends and supporters, including Quincy Jones, George Plimpton and Norman Mailer. The scandal of Buckley's death, attributed at least in part to his loss of the card, led to the removal of Commissioner Kennedy in 1960 and the abolition of the cabaret card system by 1967, some 7 years later.

Lord Buckley's funeral was on November 16, 1960 at the Frank E. Campbell Chapel in Manhattan and his ashes were scattered in Red Rock Canyon about 15 miles outside of Las Vegas by his mother. Buckley had lived in Las Vegas and worked the casino circuit before returning to Hollywood in 1959.

Sheperd's production plays Wednesdays through Saturdays through November 28 at The Richmond Shepard Theatre in NYC.



Broadway To Vegas is supported through advertising and donations. Priority consideration is given to interview suggestions, news, press releases, etc from paid supporters. However, no paid supporters control, alter, edit, or in any way manipulate the content of this site. Your donation is appreciated. We accept PAYPAL. Thank you for your interest.


ART AND ABOUT


WHO SHOT ROCK & ROLL

Michael Putland (British, born 1947). Mick Jagger, Philadelphia, 1982 (printed 1990s). Gelatin silver print. Michael Putland was the official photographer on some of the Rolling Stones' U.S. and European tours. He had access granted no other photographer and was able to stay in the "pit" for entire concerts while the other photographers were asked to leave after the first three songs. Putland laments the lack of discrimination in the press today when it comes to celebrity portraiture. "There is no premium for quality," he says. "I love photography, not the nonsense."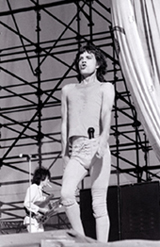 is the first major museum exhibition on rock and roll to put photographers in the foreground, acknowledging their creative and collaborative role in the history of rock music.

Their iconic and infamous.

From its earliest days, rock and roll was captured in photographs that personalized, and frequently eroticized, the musicians, creating a visual identity for the genre. The photographers were handmaidens to the rock-and-roll revolution, and their images communicate the social and cultural transformations that rock has fostered since the 1950's.

Featuring 175 works by 105 photographers, the exhibition is in six sections: rare and revealing images taken behind the scenes; tender snapshots of young musicians at the beginnings of their careers; exhilarating photographs of live performances that display the energy, passion, style, and sex appeal of the band on stage; powerful images of the crowds and fans that are often evocative of historic paintings; portraits revealing the soul and creativity, rather than the surface and celebrity, of the musicians; and conceptual images and album covers highlighting the collaborative efforts between the image makers and the musicians.



Max Vadukul (British, born Kenya 1961). Amy Winehouse, Miami, May 18, 2007 (printed 2009). Gelatin silver print. Courtesy of Max Vadukul. Cecil Beaton, celebrated portrait and fashion photographer from the 1920s through the 1970s, remembered the revolutionary feeling in photography when female models were allowed to spread their feet apart - even a little. Prior etiquette demanded that the two feet touch. Times change. Here, Max Vadukul takes the viewer right into bed with Amy Winehouse on her wedding day. That she is clothed takes nothing away from the seduction. Rolling Stone ran the picture across two pages in its June 14, 2007, issue under the heading The Diva and Her Demons. The photograph dramatizes the challenge of all stars of the twenty-first century: what do you reveal and what do you protect as you approach stardom?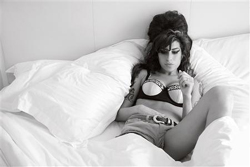 A rich and remarkable show, among the works on view are William "Red" Robertson's 1955 photo of a pelvis-thrusting Elvis Presley which appeared on his first album; The Clash's London Calling album cover by Pennie Smith showing Paul Simon smashing his Fender bass guitar; a compilation photo of Michael Jackson, a composite snap of Mick Jagger and a jaguar, several photos of John Lennon including the contact sheet of Bob Gruen's 1974 shoot of John Lennon in a sleeveless New York City T-shirt; Richard Avedon's 1967 formal portraits of the Beatles and in Allan Tannenbaum's shot of John and Yoko in bed, NYC, 1980 just two weeks before he died; Don Hunstein's photograph of Bob Dylan walking with his girlfriend Suze Rotolo down a snowy Greenwich Village street; David LaChapelle's image of Lil Kim as a bikini-clad cop; Buddy Holly on the bus in a 1958 Lew Allen photo, Dennis Hopper's James Brown in 1964; a pensive Elvis at the Peabody Hotel in Memphis by Lloyd Shearer in 1956, and Anton Corbijn's shoot of U2 for their Joshua Tree album.

The exhibition also features photographs by Diane Arbus, Annie Leibovitz, Woodstock photographer Barry Feinstein, Jim Marshall, Ryan McGinley, Mark Seliger and Linda McCartney who met her future husband, Paul McCartney, when she took his picture. They marriage lasted until her death.

Who Shot Rock & Roll: A Photographic History, 1955 to the Present is organized by the Brooklyn Museum with guest curator Gail Buckland. Through January 31, 2010.

DISNEY'S SNOW WHITE AND THE SEVEN DWARFS CREATED IN APPLES The art exhibit - six scenes from the films created using 14 different varieties of apples - was commissioned by Disney to mark the released of the film on Blue-ray.

Prudence Emma Staite, an artist from the UK who graduated from the Winchester School of Art, has been using food substances as art for over 10 years, Her team of food artisans create anything in any food stuff from chocolate to gravy. The size can range from tiny to huge edible rooms, life sculpting performances, and even life size replicas of people for a promotional launch.

The Snow White apple recreation was appropriate enough, since it was a poisoned apple that sent Snow White into that deep sleep. This was the first time Staite has used apples as an artistic medium.

Over the years, she has created a life-size replica of Winston Churchill out of bread, life-size replicas of celebrities - including Jonathan Ross, Chris Evans, and images of the Top Gear presenters out of baked beans and toast. She's cooked up a pizza replica of the Coliseum, Spanish Steps and Pope Benedict XVI and recreated a famous piece of graffiti by underground artist Banksy and a Marilyn Monroe print by Andy Warhol. To celebrate the return of Nestle's blue Smarties, Scales used the candy to recreate the painting Bathers at Asnieres by Georges Seurat.





SPIDER MAN TURN OFF THE DARK LURES NEW PRODUCERS AND STAR INTO ITS WEB
Reeve Carney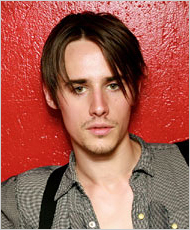 The troubled Spider-Man; Turn Off The Dark won't be nominated for any Tony Awards next year - much less taking home the trophy. Almost a victim of the exterminator, last Friday, November 6, production officials production announced that, an effort to get its web onto Broadway, the production has been placed in the hands of new producers. Also in the snare is a relatively unknown actor portraying the title character.

The musical expected to top $50M, making it the most expensive musical in Broadway history, began delaying work last August when the money dried up. Now Spider Man is being geared towards previews in June at the Hilton Theatre with the official opening in July. As of last Friday, telecharge.com was no longer selling advance tickets to Spider-Man.

Michael Cohl, who promoted the Rolling Stones' Steel Wheels tour in 1989-90 and is a former chairman of Live Nation, the company that owns the Hilton Theater, has now taken over as the lead producer. Counting on the sets of set designer and director Julie Taymor to sell tickets rather than the box office draw of name stars, a relatively unknown actor named Reeve Carney has been cast in the lead role of Peter Parker and his alter ego, Spider-Man.

Carney joins previously announced cast members Evan Rachel Wood as Mary Jane Watson, Peter Parker's girlfriend and Alan Cumming as Norman Osborn (aka Green Goblin).

A press release issued on Friday says:

Michael Cohl has joined the production as lead producer on the show. Jeremiah J. Harris is now second producer on the show. The full producing team for Spider Man Turn Off The Dark is Michael Cohl, Jeremiah J. Harris, Hello Entertainment/David Garfinkle, Marvel Entertainment/David Maisel, and Sony Pictures Entertainment.


SWEET CHARITY


THE MUSEUM OF MODERN ART FILM BENEFIT TRIBUTE TO TIM BURTON Co-Chairs are; Helena Bonham Carter, Johnny Depp, Robert A. Iger and Willow Bay, David and Julia Koch.

All proceeds to benefit the Department of Film, The Museum of Modern Art.

Cocktails precede the presentation with dinner to follow. The after-party will feature music by DJ Justin Miller (DFA Records).

Founded in 1935 as the Film Library, the department now oversees an internationally renowned collection of more than twenty-two thousand films and four million film stills incorporating all periods and genres. Among its holdings are original negatives of the Biograph and Edison companies and the world's largest collection of D. W. Griffith's films.

A Golden Globe- winning and Academy Award - nominated film director, producer, writer, and artist, Tim Burton has become a household name. From his offbeat debut feature Pee-wee's Big Adventure, to the darkly comic Edward Scissorhands, to such blockbuster films as Batman and Charlie and the Chocolate Factory, the filmmaker has made a lasting impact on pop culture with his uniquely skewed artistic vision. Burton will be honored with a monographic exhibition of his art and films at The Museum of Modern Art from November 22, 2009, to April 26, 2010, and his most recent project, a 3-D reimagination of Lewis Carroll's Alice in Wonderland, will be released in March 2010.

The benefit tribute is Tuesday, November 17 at MoMA in NYC.

2009 NYC WILLIAMSTOWN THEATER FESTIVAL BENEFIT GALA This fun and festive evening will feature performances from WTF family members Kate Burton, Harriet Harris, Victor Garber, and members of our 2009 Non-Equity company as they honor a favorite son of the Festival, Tom Fontana who has written and produced such ground breaking television series as St. Elsewhere, Life On The Streets, Oz and The Philanthropist. He has received, among others, three Emmy and four Peabody Awards. Monday, November 16 in The Prince George Ballroom, NYC.

CHILDREN IN NEED have some A List friends. Taking part in the benefit charity show November 12 at the Royal Albert Hall in London will be; Sir Paul McCartney,Take That, Lily Allen, Muse, Dame Shirley Bassey, Leona Lewis, Dizzee Rascal and Snow Patrol. Radio 1's Chris Moyles will host. Presenter Fearne Cotton, actor James Corden and Sir Terry Wogan will also be on hand at the show to help introduce the stars. The show will be broadcast on BBC One in the weekend before the main Children in Need appeal on November 20.






SPREADING THE WORD


LETTERS HOME a reading of letters from U.S. soldiers deployed in Iraq and Afghanistan will be hosted by two-time Tony Award winner Brian Dennehy at the Westport Country Playhouse on November 11.

Presented on Veteran's Day, Westport will host the gallery exhibit Daily Exchanges: U.S. Soldiers in Iraq - The Ordinary in Images, featuring video and photographs of daily troop life. Westport Arts Center's Terri C. Smith will curate the exhibit with the aid of veteran Paul Kaiser.

The reading of will be followed by a discussion with reporter Lisa Chedekel and the gallery curators. First premiered by Chicago's Griffin Theatre Company, "Letters Home paints a powerful portrait of service members' experience in the ongoing war, and, without politicizing, gives voice to the people who are still fighting and dying far away from home," according to Westport Country Playhouse which is located in Westport, CT.

HIDDEN VOICES Directed by Carli Gaughf. part of the John Jay College's Fall 2009 Season The Art of Justice Series, which integrates the performing arts and issues on justice. The theme for Fall 2009 is Flesh & Blood: Justice and the Family.

Hidden Voices is comprised of true stories of abandonment, drug abuse, loss, imprisonment, healing and freedom voiced by the people who lived them. Four mothers, three men and a nine-year-old girl relate the struggles of a life scarred by incarceration.

Saturday, November 14, 2009 at the Gerald W. Lynch Theater at John Jay College, NYC.

TONY CURTIS who calls Las Vegas home, travels to NYC to talk about his many starring roles. The Hollywood icon is the author of American Prince: A Memoir and Nobody's Perfect: My Memories of Marilyn Monroe and The Making of Some Like it Hot. Tuesday, November 12 at the Kaufmann Concert Hall in NYC.

PAUL SHAFFER WITH GLENN CLOSE World-renowned band leader Paul Shaffer, David Letterman's musical director and sidekick for 27 years, will talk with actress Glenn Close about his new critically acclaimed memoir, We'll Be Here for the Rest of Our Lives: A Swingin' Show-Biz Saga. Their conversation will cover highlights of his career, including Saturday Night Live and his annual gig as musical producer for the Rock and Roll Hall of Fame induction ceremony. The Grammy Award winner will also treat us to some musical surprises. Glenn Close is currently starring in the TV drama Damages, for which she won the Emmy and Golden Globe Awards for Best Actress.

November 10 at the Kaufmann Concert Hall, NYC.

BON JOVI'S new release The Circle has caught the attention of the White House. President Obama's chief adviser David Axelrod has hung the lyrics in his White House office - as an inspiration to the work they're doing every day. Bon Jovi took time out from performing to campaign for Obama and sang at the President's inauguration in January.

IN DISCUSSION WITH ALFRED MOLINA

Alfred Molina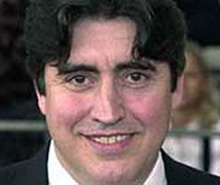 On Monday, November 16, respected theatre critic and journalist, Mark Shenton will interview Alfred Molina live on stage at the Donmar Warehouse in London.

Alfred will be in the last weeks of rehearsals for the Donmar's forthcoming production of Red, which is a new play by John Logan. Under the watchful gaze of his young assistant and the threatening presence of a new generation of artists, Mark Rothko (Alfred Molina) takes on his greatest challenge yet: to create a definitive work for an extraordinary setting.

A moving and compelling account of one of the greatest artists of the 20th century whose struggle to accept his growing riches and praise became his ultimate undoing.

In addition to Molina the production stars Eddie Redmayne.





OTHER PEOPLE'S MONEY


HAMLET current Broadway engagement of The Donmar Warehouse production, starring Jude Law and directed by Michael Grandage, has fully recouped its $2.5 million capitalization costs as of the week ending November 1. The production of the classic tragedy is playing a limited run at the Broadhurst Theatre through December 6.

PEEPSHOW the Las Vegas topless revue created and directed by the Tony Award winning director and choreographer Jerry Mitchell is looking to local Las Vegas talent in a move to maintain a grip on production costs. Reportedly, the producers won't replace Aubrey O'Day with another celebrity when the pop star's limited run ends in December. The role of Peep Diva was first played by Spice Girl Mel B. Producers feel that there is enough Vegas talent to handle the part. Holly Madison will continue to be the show's marquee draw. The revue plays at Planet Hollywood.


STAR GAZING


THE OPENING OF FINIAN'S RAINBOW brought out the stars. Among the luminaries enjoying the much needed delightful revival were Tommy Tune, Ben Vereen, Deborah Monk, Rue McClanahan, David Hasselhoff Kenneth Cole and Rudy Dee, the proud mother of one of the cast members - the great Blues musician Guy Davis, whose father is the late Ossie Davis.

The glowing Dee commented at the Cast Party afterwards that she remembers the original version. She was friends with Yip Harburg who penned those witty, pithy and pertinent lyrics.

Guy performed at Lake Las Vegas this past July and is looking forward to his Sin City return. In the meantime, his Finian's contract allows him to 'run away' at times and so it is that Guy will be doing a tour of western Canada late next month, and be able to go on the Legendary Blues Cruise in January. Guy is otherwise contracted with Finian's thru June 6th.



THE RECIPIENTS OF THE 2009 FRED EBB AWARD are Marcy Heisler and Zina Goldrich. They will be presented with the prize, which includes $50,000, at an invitation-only ceremony at the American Airlines Theatre in New York City on November 30. Signature Theatre artistic director Eric Schaeffer will present the award,

The Fred Ebb Award recognizes excellence in musical theatre songwriting, by a songwriter or songwriting team that has not yet achieved significant commercial success. The award is meant to encourage and support aspiring songwriters to create new works for the musical theatre. The Fred Ebb Foundation is funded by royalties from Mr. Ebb's vast catalogue of work.

Previous Fred Ebb Award winners include John Bucchino (2005), Steve Lutvak and Robert L. Freedman (2006), Peter Mills (2007) and Adam Gwon (2008). The selection panel includes Fred Ebb Foundation trustee Mitchell S. Bernard; Tony-winning composer Sheldon Harnick; music director David Loud; Tony-winning actress Debra Monk; playwright/producer Tim Pinckney; and theatre producer Arthur Whitelaw.

CHICAGO that internationally acclaimed revival of John Kander, Fred Ebb and Bob Fosse's Tony Award-winning, smash-hit musical will celebrate its 13th anniversary on The Great White Way on Saturday, November 14.

Currently at home at the Ambassador Theatre, the Broadway production stars British stage sensation Bonnie Langford as Roxie Hart, Deidre Goodwin as Velma Kelly, Brent Barrett as Billy Flynn and Raymond Bokhour as Amos Hart.


GET WELL SOON TO . . .
SHAMI CHAIKIN 78, who was critically injured when her mobility scooter collided with a New York City Parks Department garbage truck last Thursday. The actress, 78, has appeared in several off-Broadway production, including many which were directed by her late brother, Joseph Chaikin, who was a founder of the Open Theater in 1963. Shami starred in her brother's production, Viet Rock, an anti-war play. After the Open Theater disbanded in 1973, Shami again teamed with her brother, playing Clytemnestra in his 1974 production of Electra. He also directed her in a 1998 production of The Last Yankee, an Arthur Miller play. In addition to her stage work, Shami appeared in the ABC soap opera One Life to Live. Shami was rushed to St. Vincent's Hospital, where she underwent surgery Thursday afternoon. Hospital officials said she was in critical condition.

RUE McCLANAHAN 75, Emmy award winning television actress who underwent heart bypass surgery last Wednesday in New York City.

She began acting on Off-Broadway in New York City in 1957, making her Broadway debut in 1969 when she portrayed Sally Weber in the original production of John Sebastian and Murray Schisgal's musical Jimmy Shine with Dustin Hoffman in the title role.

McClanahan issued a statement that she regretted missing a tribute to her set for this month at the Castro Theatre in San Francisco.

"Unfortunately, my doctor has laid down the law, and I'm currently in the hospital having some maintenance on the old ticker," she said. "Trust me, I'd much rather be in San Francisco having fun and being adored by all of you."


CURTAIN DOWN


BETTE MIDLER who alternates with Cher in headlining The Colosseum in Caesars Palace in Las Vegas will end that gig on January 31, 2010. She began her two year contract on February 20, 2008.

"What a fabulous two years this has been, and I thank AEG and Caesars Palace for the best partnership a showgirl could imagine. Who knows? These legs have had such a great run in the desert - it may be time to haul them to places with more humidity and fewer slot machines. But first I need to finish recording my album of the sexiest new love songs that only a showgirl could sing," said Midler in a prepared release.



MOONLIGHT AND MAGNOLIAS Written by Ron Hutchinson. Directed by Andrew Barnicle.

Famed film producer David O. Selznick decides to stop the filming of Gone with the Wind three weeks into production because he wants a rewrite of the unwieldy script. He hires Ben Hecht to do the job in only five days. Only one problem: Hecht has never read the novel! So, Selznick summons Hecht and Gone With the Wind director Victor Fleming to his office and locks the door. Subsisting on a diet of bananas and peanuts, the three men spend five days crafting a screenplay for what will become one of the most successful films of all time.

Based on a true story, this wildly funny and engaging tale illuminates the behind the scenes business of movie-making during the golden age of Hollywood.

The cast features: Emily Eiden, Brendan Ford, Leonard Kelly-Young and Jeff Marlow.

The design team includes; Set design is by Bruce Goodrich. The lighting design is by Paulie Jenkins. The costume design is by Julie Keen. The sound design is by Julie Ferrin. Prop design by Kevin Williams.

Moonlight and Magnolias is a co-production Laguna Playhouse. Performance are through November 22 at the La Mirada Playhouse in LaMirada, CA.

BROKE-OLOGY a new play by Nathan Louis Jackson, directed by Thomas Kail. This production marks the New York debut of playwright Nathan Louis Jackson, a 2009 graduate of the Juilliard School's Playwrighting program.

Originally produced last summer at the Williamstown Theater Festival, Broke-ology is the story of the King family who have weathered the hardships of life and survived with their love for each other intact. But when two brothers (Francois Battiste and Alano Miller) are called home to take care of their ailing father (Wendell Pierce), one of them must choose to follow the life he dreams of, or honor the unspoken promise of loyalty to his family. The cast of four also features Crystal A. Dickinson.

The production has sets by Donyale Werle, costumes by Emily Rebholz, lighting by Jason Lyons and sound design by Jill BC DuBoff.

The production runs through Sunday, November 22 at the Mitzi E. Newhouse Theater in NYC.

BABY IT'S YOU! written by Colin Escott and Floyd Mutrux who also directs.

Wrapped in the sensational songs of the '60s, Baby It's You! is the new musical about the groundbreaking girl group, The Shirelles, and Florence Greenberg, the New Jersey housewife who discovered them. With the help of African-American songwriter-producer Luther Dixon, who became her lover, Florence took on a male dominated industry and revolutionized pop music. Her company, Scepter Records, created the most important songs in the golden era of rock 'n' roll, from artists including The Isley Brothers, The Kingsmen, Chuck Jackson and Dionne Warwick.

The cast of 11 includes Erica Ash as Micki/Shirelle; Berlando Drake as Shirley/Shirelle; Geno Henderson as Jocko Henderson/Ron Isley/Chuck Jackson/Gene Chandler; Meeghan Holaway as Florence Greenberg; Adam Irizarry as Stanley/Mr. Bass Man/Burt Bacharach, Co-Musical Director; Paulette Ivory as Beverly/Shirelle/Dionne Warwick; Crystal Starr Knighton as Doris/Shirelle/Millie; Allan Louis as Luther Dixon; Matt McKenzie as Marvin Schlacter; Barry Pearl as Bernie Greenberg/Milt Gabler; and Suzanne Petrela as Mary Jane/Lesley Gore.

The creative team includes; Richard Perry (music director/arranger), Birgitte Mutrux (choreography), Anna Louizos (scenic design), Lizz Wolf (costume design), Howell Binkley (lighting design), Martin Carrillo (sound design), Carol Doran (wig and hair design), Jason H. Thompson (projection design), Adam Irizarry (co-music director/additional arrangements), Ronn Goswick (production stage manager) and Lea Chazin (assistant stage manager).

Officially opens on November 13 with performances through December 13 at the Pasadena Playhouse in Pasadena, CA.

VIVA ELVIS the newest Cirque show to call Vegas home which pays tribute to the life and music of Elvis Presley, has the official opening planned for January 8, 2010, which would have been Elvis' 74th birthday.

The production will be located in Las Vegas' new City Center, in which the Elvis Theater was constructed specifically for this production. Ticket holders won't be able to miss the location - oversized Elvis belt buckles cover the exterior while the interior decor is a play to the years Presley spent performing at The International Hotel (now the Hilton).

The show is promoted as; "a harmonious fusion of dance, acrobatics and live music, is a tribute to the life and music of Elvis Presley. Nostalgia, modernity and raw emotion provide the backdrop for his immortal voice and the exhilaration and beauty of his music.

The show highlights an American icon who transformed popular music and whose image embodies the freedom, excitement and turbulence of his era. Significant moments in his life – intimate, playful and grandiose – blend with the timeless songs that remain as relevant today as when they first hit the top of the charts.

LILY TOMLIN makes her Las Vegas debut in a performance entitled Not Playing With a Full Deck. The two-time Tony-Award winner performs November 10-18 at the MGM-Grand. She'll return to New York to headline An Intimate Evening with Lily Tomlin, a benefit for Dixon Place, November 23.

OLIVER!

Hugh Panero as Fagin. Panero does his own make-up which takes him about 45 minutes each night. First, he applies his nose with Prozaid, a type of spirit gum. Then I use makeup for shading. Next he put on his wig which makes me look bald in front, followed by the unkempt eyebrows. Then I glue on my beard and mustache. Finally, he applies makeup to his teeth to make them appear black and nicotine stain colored.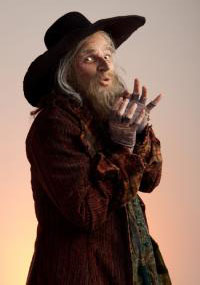 based on Charles Dickens' classic Oliver Twist. Music, Lyrics and Book by Lionel Bart. Directed by two-time Barrymore Award winning Mark Clements.

Gregory Smith and Sam Preston star in the title role; Brandon O'Rourke and RJ Fattori are featured as the Artful Dodger. Hugh Panaro is Fagin

This masterpiece vividly brings to life Charles Dickens' timeless characters with its ever-popular story of the boy who asked for more. From the orphanage to the mean streets of London, the ever-optimistic Oliver strives to survive through thick and thin. This proves no easy task as the boy encounters both saints and sinners on his journey. Dramatic, engagingly powerful and ultimately uplifting, Oliver! is an unforgettable story of a remarkable boy looking for a place to call home. The sensational score is full of Lionel Bart's irresistible songs including; Food, Glorious Food; Consider Yourself; You've Got to Pick-a-Pocket or Two; I'd Do Anything; Oom Pah Pah; As Long As He Needs Me and many more.

The bustling streets of Victorian London will be brought to life by a team of designers. Scenic Designer Todd Edward Ivins is joined by Lighting Designer Jeff Nellis, Sound Designer Nick Kourtides and Costume Designer Colleen Grady.

With regards to the cast, "immense" doesn't even begin to cover it! Breaking it down, Oliver! boasts a company of over 70 performers. This includes 31 adults, two teams of 20 children (40 kids in all, double cast) and one dog!

Hugh is joined by Robert Abdoo, Maggie Anderson, Josie Andrews as Bet, Bill Bateman, Kelley Faulkner, Scott Greer, Joe Jackson, Anthony Lawton as Bill Sykes, Sonny Leo, Mary Martello, Rob McClure, John Peakes, Michael Philip O'Brien, Erin Reilly, Rebecca Robbins, Peter Schmitz, Beth Wheeler and Denise Whelan. Joining them are newcomers Chelsey Clark, Kolina Janneck, Freddie Kimmel, and Troy Woodcroft. Janine DiVita. rounds out the cast as Nancy.

In addition to the adults, a veritable army of child actors are on hand. The children's ensemble includes three dozen children, all local to the Philadelphia region. They include: Jonathan Block, Timothy K. Johnson, Jahad Martin, Will McQuoid, Matthew O'Connor, Tommy Van Dean, Gavin Becker, Nicole R. Bosurgi, Gaby and Greg Bradbury, Willa Capper, Arin Edelstein,Jacob Horner, Justin Cade Accardi, Danielle Leigh Rosenthal, Uvay Trivedi, Casey T. Curcio, Timmy Webb, Allison Sparrow, Julyza Commodore, Alexander Carr, Reese Diaz, Matt Ludovico, Neil Goldenthal, Amadea Smith, Favian Harris, Colin O'Malley, Conrad Sager, Jillian Suprenant, Mary Rose Pomykacz, Seth Silverman, Daniel Flick, Evan Robert Smith, Tyler McClellan, Anthony Scarpone-Lambert, and Richard Fusco.

Last but not least, the cast is rounded out by Buddy, a hearing impaired American Bulldog owned by James Buchanin of Broomall, PA. Buddy is a rescue dog, adopted by James after Buddy's original owners found out he was deaf. James has trained Buddy to respond exceptionally well to hand commands. Buddy will appear in Oliver! as Bullseye, an intimidating companion to the intimidating Bill Sykes (Anthony Lawton). Oliver! runs at the Walnut November 10 through January 10. Philadelphia, PA.

MARY POPPINS Based on P.L. Travers' cherished stories and the classic 1964 Walt Disney film, Mary Poppins features the Academy Award-winning music and lyrics of Richard M. Sherman and Robert B. Sherman. The stage production has been created, in collaboration with Cameron Mackintosh, by Academy Award-winning screenwriter Julian Fellowes, who has written the book, and the Olivier Award-winning team of George Stiles and Anthony Drewe, who have composed new songs and additional music and lyrics. Olivier Award-winning Richard Eyre directs with co-direction and choreography by Tony and Olivier Award winner Matthew Bourne.

Starring Ashley Brown and Gavin Lee.

November 13, 2009 - February 7, 2010 at the Ahmanson Theatre in Los Angeles.

THE MAN IN BLACK a celebration of the music of Johnny Cash starring Scott Keeton. See Broadway To Vegas column of May 19, 2009

The Man In Black, a live stage and media celebration of the music of the great Johnny Cash starring Scott Keeton who is a distant cousin to the Man in Black. The Man In Black highlights the evolution of Johnny Cash's music and pays astute attention to the era in which he lived and performed. Joining Keeton on stage for some joyful duets is Ashley DePascale as June Carter Cash. The Man In Black continues Fridays, Saturdays and Sundays through November 22, 2009 at the Award-winning Downtown Cabaret Theatre in Bridgeport, CT.

EQUIVOCATION Written by Bill Cain. Directed by David Esbjornson.

Featuring: Patrick J. Adams, Troian Bellisario, Harry Groener, Brian Henderson, Joe Spano and Connor Trinneer.

Join Shakespeare and his winsome troupe in this fantastic new tale that satiates Bard-loving purists and advocates of groundbreaking theater alike. The runaway hit of the Oregon Shakespeare Festival Equivocation pits the poetry of the world's greatest playwright against the word of his King.

Written in modern English with playful allusions to some of the Bard's greatest works.

During the reign of King James one of the most infamous plots against the establishment failed on November 5th, now known as Guy Fawkes Day. In an attempt to publicize the failure of the traitors and more importantly, to entrap them, King James' emissary, Cecil, is charged with hiring the greatest playwright of the day to tell the story and in doing so, solidify the guilt of those involved. Hesitant to participate in what is clearly propaganda for the crown, Shakespeare agrees to take on the challenge. His troupe of players, currently rehearsing King Lear, is desperate for a play that doesn't include nudity and lengthy passages of gibberish, so they happily agree. Once they are all engaged, it becomes clear that the story they have been commissioned to tell is far from the truth. The crown is in a full fledged witch hunt involving Jesuit priests and as the executions begin, Shakespeare and his players are trapped between what they have been asked to do and the truth.

Equivocation is a cautionary tale about the power of the few outweighing the good sense of the many. In a time when transparency has become a privilege as opposed to a right, Bill Cain's political drama explores the role of the individual on the world stage, and how art and politics intersect to tell an amalgamated version of what has transpired.

Equivocation is a 2008 recipient of the Edgerton Foundation New American Play Award.

November 10 – December 20, 2009 at the Geffen Playhouse in Los Angeles.

THE BEST OF MOMIX a surreal journey through their unique universe of movement featuring the most striking images from over 25 years of work.

Known internationally for presenting work of exceptional inventiveness and physical beauty, MOMIX is a company of dancer-illusionists under the direction of Moses Pendleton, one of the founding members of the groundbreaking Pilobolus Dance Theatre.

Performance on November 19 as part of the Performing Arts Series at the Appalachian State Universiy in Boone, North Carolina.

TREE written by Julie Hebert. Directed by Jessica Kubzansky.

Starring Chuma Gault, Sloan Robinson, Tessa Thompson and Jacqueline Wright.

Three generations divided by race, culture and time connect when a white Southern woman discovers old love letters leading her to an African American half-brother. African American chef Leo Price (Chuma Gault) is living in Chicago caring for an aging mother with dementia (Sloan Robinson) and his college-age daughter, J.J. (Tessa Thompson) when white Gender Studies professor Didi Marcantel (Jacqueline Wright) barges into his life with a provocative cache of love letters she has discovered. From the addled memories of Jessalyn Price come contradictory stories of her dangerous interracial romance with Didi's father.

Hebert was partially inspired by the 200-plus letters that her father wrote to her mother during the Korean War when he was only 19, and the idea that "your parent had a life before you that is unknown and very mysterious to a kid. Who was this boy who became my father?"

Scenic and Lighting Design for Tree are by Brian Sidney Bembridge; Original Music and Sound Design are by Bruno Louchouarn; Costume Design is by Leah Piehl; Production Stage Manager is Rebecca Cohn.

Presented by Ensemble Studio Theatre-LA with performances through December 13 at [Inside] the Ford in East Hollywood, CA.

DOLLYWOOD'S SMOKEY CHRISTMAS is celebrating their 20th anniversary with a winter wonderland set amid four million twinkling lights, award-winning Christmas shows, fantastic holiday foods, and all the splendor of Christmastime at Dollywood.

See the Smokies' most spectacular light display and a lineup of live Christmas shows including Babes in Toyland, Dollywood's most elaborate stage show ever featuring a cast of 20 performers and a fully-orchestrated musical score. Christmas in the Smokies features a 12-member cast and seven-piece band performing hometown holiday favorites that celebrate the joy of the season.

Don't miss Santa's Workshop, where larger-than-life-sized toys and an 18-foot-tall Christmas tree fill guests of all ages with wide-eyed wonder as they discover a giant wagon, sailboat, dollhouse and more amid the hustle and bustle as Santa and his helpers ready for their big night! Santa's also the star of the Parade of Lights, along with a cast of brightly lit floats and colorful characters.

Let the beautiful sound of acoustic music take you back to a simpler time. with Appalachian Christmas at the Back Porch Theatre. Through January 2, 2010 at Dolly Parton's Dollywood in Pigeon Forge, TN.

FANNY BRICE: THE REAL FUNNY GIRL by David Bell.

Portraying Brice is Marya Grandy, a graduate of Yale University, who has recorded with Paul Simon and the Manhattan Transfer.

Fanny Brice was much more complicated, and much more controversial, than the woman Barbra Streisand portrayed. And it's that side of Brice's life that David Bell explores in Fanny Brice: The Real Funny Girl, which has its world premiere November 10 at the Maltz Jupiter Theatre.

The woman who kept Broadway audiences laughing for three decades is the subject of this intriguing world premiere play. From her start in burlesque as a teenager, to being the toast of the great Ziegfeld Follies, Fanny Brice was captivating, charismatic and the queen of comedy. This exploration of her life, featuring unforgettable standards such as My Man and Second Hand Rose, celebrates the laughs, loves and life of Fanny Brice.

Born Fania Borach, for more than 40 years, the comic actress and singer known as Fanny Brice triumphed wherever she appeared - from vaudeville to variety, burlesque to Broadway, the Ziegfeld Follies to film, and, finally, television. But life wasn't always fun for Brice.

And it was that aspect of Brice's life that Bell wanted to explore.

Brice was born in 1891 to immigrant parents in New York City. Her parents were relatively well-to-do saloon owners, not the hard-scrabble people depicted in Funny Girl.

Brice also was married three times, and her second husband, Nicky Arnstein, was a thief who drained Brice financially as he fought charges that eventually sent him to federal prison, not the charming rogue depicted in Funny Girl.

Fanny Brice: The Real Funny Girl is set in 1936 - after the enormous success of The Great Ziegfeld, produced at Universal Studios. Brice's fast-talking producer/agent/husband, Billy Rose, has negotiated with Universal to produce a film of the entertainer's life as a "follow-up." Rose has hired a ghostwriter and an empty Broadway theater to inspire his wife's writing - while he is producing the Aquacade in Cleveland.

In many ways, they were an unlikely couple - the Broadway star who created such hits as My Man; Secondhand Rose and Rose of Washington Square, and the energetic song writer - and anything-for-a-buck producer - but the team worked - for a while.

Around that time, Brice created what was perhaps her best known character, Baby Snooks. Never mind that she was in her mid-40s, Brice took on the persona of the impish toddler, even dressing in toddler garb to perform before her radio studio audience.

November 10-24 at The Maltz Jupiter Theatre in Jupiter, FL.





WHO'S WHERE


BARBARA COOK'S SPOTLIGHT: AN EVENING WITH CHRISTINE EBERSOLE the two-time Tony Award winner and Broadway star performs in this theater cabaret performance series curated by Broadway legend Barbara Cook. November 14 at the Terrace Theater of the Kennedy Center. Washington, DC.

KISS on tour in Canada this week with a show Monday, November 9 at the MTS Centre in Winnipeg. On Tuesday they are on stage at the Credit Union Centre in Saskatoon. Thursday finds them at Pengrowth Saddledome in Calgary and on Saturday they are in the spotlight at General Motors Place in Vancouver.

LEONARD COHEN on stage November 9 at The Midland by AMC in Kansas City. On November 12 he's in Las Vegas at The Colosseum at Caesars Palace. Friday finds him at the HP Pavilion in San Jose, CA.

WEDNESDAY NIGHT AT THE IGUANA Hosted by Dana Lorge and Richard Skipper with Barry Levitt on keyboard and Saadi Zane on bass. Guests include: Terese Genneco, Fred Martin, Marlene Sampson, Jane Schecter, Parker Scott and Elli: The King of Broadway. Wednesday, November 11 at the Iguana VIP Lounge in NYC.

BRITNEY SPEARS opens a three night stand Wednesday, November 11 at the Rod Laver Arena in Melbourne, Australia.

MILEY CYRUS performs Monday, November 9 at the TD Garden in Boston. On Thursday she's in the spotlight at the XL Center in Hartford, CT.

BRUCE SPRINGSTEEN AND THE E STREET BAND continue their tour with a stop Tuesday, November 10 at the Quicken Loan Arena in Cleveland, OH. On Friday they'll be delighting their fans at the Palace of Auburn Hills in Auburn Hills, MI.

TRANS-SIBERIAN ORCHESTRA which has two traveling groups with performances Monday, November 9 at the Kohl Center Arena in Madison, WI. On Wednesday a show takes place at the Scotiabank Place in Ottawa, ON. On Thursday there are two performances, one at the Air Canada Centre in Toronto and the other at the Allen County War Memorial Coliseum in Fort Wayne, IN. On Friday the shows are at the Blue Cross Arena in Rochester, NY and at the wireless Center in Moline, IL. Saturday finds the orchestras at the XL Center in Hartford, CT and at the Target Center in Minneapolis.



Next Column: November 15, 2009
Copyright: November 8, 2009. All Rights Reserved. Reviews, Interviews, Commentary, Photographs or Graphics from any Broadway To Vegas (TM) columns may not be published, broadcast, rewritten, utilized as leads, or used in any manner without permission, compensation and/or credit.
Link to Main Page
---
Laura Deni



U.S. Postal Address: Post Office Box 60831, Las Vegas, NV 89160
CLICK HERE FOR COMMENT SECTION