! >
Broadway To Vegas
  
  REVIEWS INTERVIEWS COMMENTARY NEWS

| | |
| --- | --- |
| | |
TONYA & NANCY HIGHLIGHTS FROM THE ROCK OPERA CD REVIEW - -DAY OF THE DEAD CELEBRATIONS MEANS FUN AND MONEY FOR THE LIVING - - 2018 BILLIE BURKE ZIEGFELD AWARD - - CUT LOOSE! iTHEATRICS CELEBRATES - - SMOKEY JOE'S CAFE OFF-BROADWAY REVIVAL REVIEW - - WORKS & PROCESS GALA - - CONTESTING MODERNITY: INFORMALISM IN VENEZUELA, 1955–1975 - - THE ELTON JOHN AIDS FOUNDATION FALL GALA - - DONATE . . . Scroll Down





Copyright: October 28, 2018
By: Laura Deni
CLICK HERE FOR COMMENT SECTION


DAY OF THE DEAD CELEBRATIONS MEANS FUN AND MONEY FOR THE LIVING
Families spend days constructing a Day of the Dead Altar to remember their loved ones. Photo: Mexican Folk Art Guide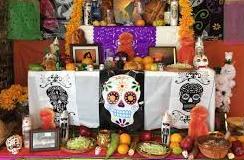 If you could talk to the dead once a year, what conversation would take place? Boy, wouldn't you love to be a skeleton on that wall!

Those encouraging the communicative crossover are retailers who know how to cash in on a multi-billion dollar business - those Halloween and Day of the Dead celebrations.

Some of the merchandise can be used for both celebrations making it difficult for specific Day of the Dead sales to be tracked. However, thanks to the release of the Pixar animated movie Coco in which Day of the Dead is the underlying concept the National Federation of Retailers is attempting to track specific Day of the Dead merchandise sales.

Day of the Dead and the following Day of the Innocents, takes place annually on the first and second days of November when deceased children and infants are remembered - is rooted in indigenous Mexican beliefs that date back to long before the Spanish conquest of Mexico.

The belief holds that the dead persons spirit returns each year to spend time with the living. Cempasúchil (marigold) flowers, burning copal incense, fresh pan de muertos bread, candles, sugar skulls, photographs and mementos of the departed adorn special altars.
While it might sound morbid, this is in fact a happy celebration for participants. The lives of the dead are celebrated, and the belief is that the living will eat, dance and drink with dead relatives. The tradition is laden with symbolism - including the meanings of the colors used in the decorations.

Black - represents death and is mostly as a background color.
Pink - is symbolic of joy. Often Day of the Dead skeletons, or calaveras, have pink added to them or wear pink dresses and suits.

White - is used to signify purity and renewal, as if the souls of the dead have been wiped clean.
Purple - Signifies pain, suffering, grief, and mourning.
Red - The blood of life
Yellow and Orange - Cempazuchitl are marigolds that symbolize death. Petals are used to make a trail so that the spirits can see the path to their altars.

Years ago Jewish religious leaders carped that Hanukah was in danger of becoming too commercial. Buyers ignored the religious warning and Hanukah merchandise exploded and continues to prosper. Latest on the warning list of turning a religious event into retail big bucks emanate from Mexican religious leaders who are concerned that Day of the Dead is becoming just too much like Halloween.

Day of the Dead has gone mainstream. No longer are sugar skulls sold only in small Mexican shops located in pitiful neighborhoods. Colorful sugar skulls, skeletons and other traditional Day of the Dead symbols are widely available at Target, Wal-Mart and other big retailers - including Goodwill. Party supply manufacturers have plastered the theme on masks, paper plates and candle holders. There are Day of the Dead earrings and necklaces at Party City which operates 900 U.S. outlets. Red Bubble lists 9,501 Day of the Dead related items for sale. Prices begin at $2.05 and then skyrocket.

There are costumes and headbands at Spirit Halloween stores and temporary facial tattoos and bed covers available at Etsy which also sells Frida Kahlo skull pins and flower crowns as well as T-shirts, mugs, posters, coasters and just about anything else you can imagine - including a Day of the Dead Mickey Mouse T-shirt. Has anybody told Disneyland that Mickey is dead? I don't think they got the memo.

Started in Mexico, Day of the Dead celebrations are now worldwide. Major celebrations take place in Australia, Fiji, Indonesia, England and America.



Photo: Party Pieces

Party Pieces owned by Kate, Duchess of Cambridge's family has a large variety of Day of the Dead decorations. "Come celebrate the Mexican festival Dia de los Muertos, with your very own Day of the Dead theme party. This colorful range includes tableware, sugar skull costumes and decorations."

Their inventory also includes dead skull foil confetti and a Day of the Dead Scarecrow and lanterns as well as Day of the Dead Balloons..

Remembering the dead has not only become big business but can help bring families closer together.

As Oriental Trading points out in their advertisements for their Day of the Dead merchandise: "Day of the Dead is a joyful time that helps families remember their deceased and celebrate their memories."

A spot check of upcoming Dead of the Dead events include:

OFRENDAS 2018 in celebration of the day of the dead, the Detroit Institute of Arts, in partnership with Detroit's Mexican Consulate, invite everyone to explore a community exhibition of ofrenda altars.

In Mexico, and other Latin American countries, the Day of the Dead is the time of the year to celebrate the lives of close relatives, friends or community members who have passed away.

Objects important to lost loved ones, such as favorites foods, drinks, mementos and pictures, are collected and incorporated into elaborate displays that include pan de muerto (bread of the dead), sugar skulls, candles, flowers, papel picado (paper cutouts) and other decorations.

Ofrendas: Celebrating el Día de Muertos will be on view through November 11, 2018 at the Detroit Institute of Arts in Detroit, Michigan.

PEABODY MUSEUM OF ARCHAEOLOGY & ETHNOLOGY

Sugar Skull Couple. Photo: Peabody Museum of Archaeology. & Ethnology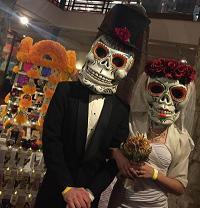 stages their Día de los Muertos / Day of the Dead Evening Celebration and Museum Open House on November 1, 2018 in Cambridge, MA.

Remember and celebrate your departed loved ones at this year's Día de los Muertos altar, savor traditional Mexican hot chocolate and pan de muerto, and enjoy live music. Free and open to the public. Reservations required; available online. Co-sponsored by the Peabody Museum of Archaeology & Ethnology, the Consulate General of Mexico in Boston, the Mexico, Central America, and Caribbean Program at the David Rockefeller Center for Latin American Studies, Harvard University.

LONDON'S V&A MUSEUM stays open late on Friday, November 2, 2018 for a free Día de Muertos Festival to remember the dead. Listen to live mariachi music, watch traditional Mexican dancers, see giant skeleton puppets, join in activities and visit an ofrenda dedicated to Frida Kahlo.

"We want you to dress up! Whether you go as the Mexican artist Frida Kahlo or opt for a colourful skeleton, we want as many of you in costume as possible," states the promo. "Our staff will look out for your amazing costumes throughout the day, and between 8 – 8:30pm, we will hold a procession and competition where you could win one of the following:

1st prize is a small black and white rebozo created exclusively for the V&A Shop. This authentic rebozo is made on a Spanish treadle-loom in a home-based workshop in Tenancingo, Edo de Mexico, and each end is finished with hand-knotted threads known as 'puntas'.

2nd prize is a copy of our exhibition book, Frida Kahlo: Making Her Self Up, which offers a fresh perspective on the life story of this extraordinary artist, whose charisma and powerful sense of style continues to captivate.

3rd prize is a collection of small gifts including an exhibition fridge magnet, notebook and pencil. "

LONDON'S NATURAL HISTORY MUSEUM has teamed up with Luna Cinema with screenings of classic horror movies shown in the museum after dark.

DAY OF THE DEAD FESTIVAL AT THE AMERICAN MUSEUM OF NATURAL HISTORY IN NEW YORK CITY ... takes place Saturday, November 3, 2018. Mexican dance and music from Oaxaca and beyond. Presented by Mano a Mano: Mexican Culture Without Borders. You can also design your own Día de Muertos mask, mini-altars, and other takeaways in this colorful activity zone for all ages. Or, learn the legendary artform of Papel Picado, cutting imagery into colorful paper banners to take with you. Join our friends from the New York Public Library in their reading nook, designed to bring some of the vibrant stories around Día de Muertos, Mexican Culture, and Animal Conservation to the younger visitors.

Enrique Olvera of Cosme and Atla, presents the tradition of Pan de Muerto. Learn about the methods of manufacturing, the messages behind the intricate designs, and taste the authentic recipe of this traditional dessert. Become enlightened about the Museum's collection of Zapotec artifacts and traditional funerary urns, used to honor ancestors of the pre-columbine cultures that inhabited the State of Oaxaca and beyond. How do scientists use fossil skulls to piece together the human family tree? Examine fossil skull casts to learn about our extinct hominin relatives.

Everybody likes to eat and Day of the Day has foodie traditions. Expert artisanal chef Celia Florían presents ingredients endemic to Oaxaca, and an insight into the state's rich flavorful history.

The art of black clay pottery as practiced will be explained by Barro Negro master Omar Fabian. Colorful, whimsical creatures sculpted in a fragile, yet precise method demonstration will be led by artist Jacobo Ángeles. Intricate Oaxacan weaving, passed on from generation to generation, will be demonstrated by la maestra Elsa Abigail Mendoza. Over 30 artisans from Mexico and the U.S. present their wares at this all-day Mexican Marketplace.

NIGHT OF THE ANGELS Day of The Dead Festival / Festival del Dia de los Muertos November 1 at the Living Arts & Science Center and the Old Episcopal Burying Ground in Lexington, Kentucky promises " A Colorful, Lively Celebration of Life."

"The Day of the Dead Festival is a true community event bringing together individuals, groups, students and teachers from the Latino and non-Latino communities. Join the celebration and experience the rich visual, musical, dance and culinary traditions of this holiday that is celebrated in Mexico and parts of Central and South America. The Festival will include live music and dance performances by various Lexington dance companies, traditional food, hands-on crafts, art exhibits and a gallery talk by the artists, a candlelight parade, and an exhibition of altars in the Old Episcopal Burying Ground Those attending are encourages to "contribute to the Bluegrass Care Navigators community altar by bringing a (non-returnable) memory from someone close to you."

FRONTIERLAND AT DISNEYLAND IN ANAHEIM, CA hosts a tribute to Día de los Muertos. Zocalo Park features a musical trio of iconic skeleton figurines called calacas, brightly colored flowers and other decorative items commemorating the occasion. There are also Calaveras-style face painting and restaurants have Pumpkin Flan and traditional Mexican treats and authentic décor.

CHICAGO has numerous Day of the Dead events including the Annual Day Of The Dead Masquerade Ball in Chicago.

A vision of Flower Catinas and Sugar Skull Masks was the last thing seen by the tragically and unexpectedly deceased party goer at the Annual Day Of The Dead Masquerade Ball.

With a mystery under each Skeleton Faced facade, unmasking the killer may be quite a challenge. It's up to you to determine which partygoer is guilty, bring this crime to justice, and save the party! Attend the Annual Day Of The Dead Masquerade Ball and help get this soiree back on track by trading clues with party goers, gathering information, and solving the crime before the masked menace gets away!

Evening wear and masks are what to wear for this glamorous evening of mystery, intrigue, and murder.

$65 includes a 3-Course Meal and the Murder Mystery Show. Cash Bar Available. Wednesday, November 7, 2018 at the Carnivale in Chicago.






E-Book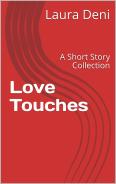 Soft back Book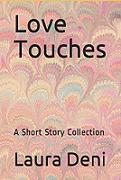 Broadway To Vegas is supported through advertising and donations. Priority consideration is given to interview suggestions, news, press releases, etc from paid supporters. However, no paid supporters control, alter, edit, or in any way manipulate the content of this site. Your donation is appreciated. We accept PAYPAL. Thank you for your interest.



E-Book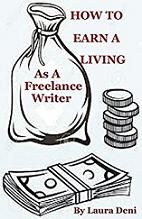 Soft back Book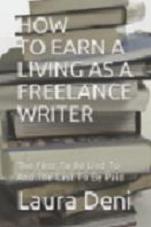 This is not your typical, totally boring textbook.

In the pages of How To Earn A Living As A Freelance Writer (the first to be lied to and the last to be paid) you'll find sex, celebrities, violence, threats, unethical editors, scummy managers and lawyers, treacherous press agents, sex discrimination; as well as a how-to for earning money by writing down words.





ART AND ABOUT


CONTESTING MODERNITY: INFORMALISM IN VENEZUELA, 1955–1975

Elsa Gramcko oil on canvas Untitled 1958 Elsa Gramcko, Sin título (Untitled), 1958, oil on canvas, Colección Mercantil Arte y Cultura, Caracas.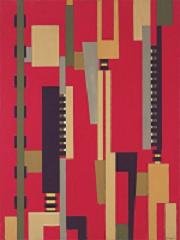 charts the trajectory of the Venezuelan Informalist movement from the mid-1950s through its last manifestations in the 1970s. More than 100 works of art across a variety of media - collage, painting, assemblage, photography - showcase the richness and complexity of the underrepresented movement.

Informalism embraced many of the abstract gestural tendencies that developed in Venezuela at the same time as North America's Abstract Expressionism and Europe's Tachisme and Art Informel. This exhibition brings together works of art from the collection of Mercantil Arte y Cultura in Caracas as well as from other public and private collections in Venezuela and the United States.

Organized into five sections, Contesting Modernity presents works by internationally renowned figures such as Carlos Cruz-Diez, Gego, Alejandro Otero, and Jesús Rafael Soto. Many practitioners of the movement are represented, including Alberto Brandt, Elsa Gramcko, Fernando Irazábal, Francisco Hung, Mercedes Pardo, and Maruja Rolando to name a few.

Contesting Modernity: Informalism in Venezuela, 1955–1975 in on display October 28, 2018–January 21, 2019 in the Audrey Jones Beck Building at the Museum of Fine Art Houston, Texas.



E-Book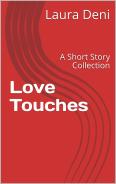 Soft back Book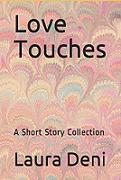 SWEET CHARITY


THE ELTON JOHN AIDS FOUNDATION (EJAF) will host its annual New York Fall Gala at Cipriani 42nd Street in New York City. on Monday, November 5, 2018.

At this year's gala, EJAF Founder Sir Elton John and Chairman David Furnish will honor Ford Foundation President Darren Walker, philanthropist Patricia Hearst, and long-time advocate Joe McMillan, CEO and Chairman of DDG, with EJAF's Enduring Vision Award.

Nine-time Grammy Award Winning singer, songwriter Sheryl Crow will be the special musical guest, and Bryan Stevenson, Founder and Executive Director of the Equal Justice Initiative (EJI) and the new National Memorial for Peace and Justice in Montgomery, Alabama, will be the featured speaker. CBS This Morning co-anchor and journalist Gayle King will host the event.

EJAF is also delighted to announce American Airlines, BVLGARI, Robert K. Kraft, and the Leonard and Judy Lauder Fund as the Presenting Sponsors for this year's gala.

Event Chairs for the Gala are: Marina Abramovi, Hilton Als, Gregg Alton, Aaron Appel, Laura Arrillaga-Andreessen, Jean-Christophe Babin, Alec and Hilaria Baldwin, Joseph W. Blount, Charles Blow, Sandra Brant, Jon Bon Jovi, Rosanne Cash and John Leventhal, Andy Cohen, Sheryl Crow, Alan Cumming, Peter D'Arcy, John Demsey, Jennifer Kelly Dominiquini, Ava DuVernay, Jordan and Marie-Ange Girard, Agnes Gund, Neil Patrick Harris and David Burtka, Gillian Hearst, Lydia Hearst and Chris Hardwick, Charlie and Cynthia Hendon, Glenn H. Hutchins.

Also: Cheyenne Jackson, Abbi Jacobson, Caitlyn Jenner, Billy Joel, Quincy Jones, Billie Jean King and Ilana Kloss, Heidi Klum, Justine and Jeff Koons, Robert K. Kraft, Padma Lakshmi, Jo Carole and Ronald S. Lauder, Leonard A. Lauder, Cyndi Lauper, Douglas Lawing, Spike and Tonya Lee, Judith Light, Susan Lucci, Baz Luhrmann and Catherine Martin, Michael and Elizabeth Maher, Gino Martocci, Jay and Anne Hearst McInerney, Suzanne and Patrick McGee, Terrence Meck, Bette Midler, Julianne Moore and Bart Freundlich, Thomas E. Moore III and Mark Reynolds.

The Event Chairs also include: Matthew Morrison, Mike Myers and Kelly Tisdale, James L. and Margo Nederlander, Sarah Jessica Parker, Benj Pasek, Ryan Pedlow and Cameron Kessel, Katy Perry, Holly Peterson, Andrew Rannells, Kimberly and Steven Rockefeller, Sir Evelyn and Lady De Rothschild, Mercedes Ruehl, Lily Safra, Pablo and Nathalie Salame, Cindy Sherman, Anna Deavere Smith, Gloria Steinem, Michael Stipe, Sharon Stone, Trudie Styler and Sting, Steven Tyler, Michael Urie, and John Waters.

WORKS & PROCESS GALA takes place Wednesday, October 31 at the Solomon R. Guggenheim Museum in New York City.

In 2017 Works & Process launched a new initiative, commissioning site-specific performances for the rotunda of the Guggenheim. The inaugural projects featured Dorrance Dance and Daniil Simkin. This year's Works & Process Gala will showcase a one-night-only revival of a Rotunda Project performance that the New York Times hails as a "revelatory dance experience."

The performance will be viewed from the ramps and requires audience members to stand for the duration of the program.

Funds raised by the gala and grants from the Stavros Niarchos Foundation and the National Endowment for the Arts support educational demonstrations and a rotunda performance for over five hundred public school students.

Gala Production Chairs are Stuart H. Coleman and Meryl Rosofsky • Paul and Caroline Cronson • Bart Friedman • Agnes Gund Dala Performance Chairs: Lucy and Philip Dobrin • Adam Flatto • Michèle and Steven Pesner • Cynthia Hazen Polsky and Leon Polsky • Stephen Kroll Reidy • Denise and Andrew Saul.

Gala Committee: Maria Cristina Anzola and John G. Heimann • Richard Armstrong • Alberta Arthurs • Gillian Attfield • Tony Bechara • Bernadine Caruso • Lisa and Dick Cashin • Jennifer Chaitman • Duke Dang and Charles Rosen • Alessandro and Fe Fendi • Martha Vietor Glass • Judith M. Hoffman • Peter and Dede Lawson-Johnston • Mary Libby • Leslie and Angus Littlejohn • Jonna and Carroll Mackin • Claire and Chris Mann • Barnabas and Bannon McHenry • Virginia and Timothy Millhiser • Isaac Mizrahi • Anh-Tuyet Nguyen • Susan and Jared Stamell • Emmelyn Stevens • Mark Stevens and Annalyn Swan • Pippa Stevens • Ruth Turner • Anthony and Margo Viscusi • Monica Voldstad • Jack and Susy Wadsworth • Angela Westwater and David Meitus.

2018 TRU LOVE BENEFIT will honor legendary A Chorus Line co-star and co-founder of the National Asian Artists Project Baayork Lee, who will receive the TRU Spirit of Theater Award for a lifetime of creating opportunities for Asian artists. Ms. Lee is choreographing the upcoming 50th Anniversary celebration of A Chorus Line at City Center, and cast members will be coming to TRU to help celebrate her. TRU is also honoring off-off-Broadway maverick, creator of the former OOBR Awards and the Midtown International Theatre Festival.

John Chatterton who will receive the TRU Entrepreneur Award for providing 17 years of developmental opportunities for a range of independent theater artists.

Members of the recent U.S. National Tour, Japan International Tour, upcoming China International Tour and upcoming 50th Anniversary New York City Center productions of A Chorus Line who will be performing include Mel Cabey, Samantha Cho Grossman, Aaron Patrick Craven, Giovanni Da Silva, Steven Del Col, Veronica Fiaoni, Lauren Garriott, David Grindrod, Ryan Koerber, Laura Pierpont, Zoe Schneider-Smith, Madison Tinder, Jake Vielbig and Baayork's assistant Andrew Winans, plus Sam Simahk Tony Award nominated Brenda Braxton and Tony Award winners Donna McKechnie and Priscilla Lopez; NAAP co-founders Nina Zoie Lam and Steven Eng.

Also part of the performance will be selections from MITF musicals Thrill Me! by Stephen Dolginoff, Sistas by Dorothy Marcic, Take Me America by Bill Nable, and more!

Performance and award show will be directed by Jonathan Cerullo. He will be assisted by Andrew Winans, with music director Lulu Picart and stage manager Jim Semmelman.

"This is an important time to celebrate community, and to bring diverse people together with the common purpose of creating and appreciating art and theater," says TRU executive director Bob Ost. "Both of our honorees have enriched our community, and have done extraordinary work generating opportunities for so many."

Join TRU for cocktails at noon followed by a luncheon and then performances celebrating the honorees.

The benefit committee includes Lisa Dozier King, Christen Omantra Callahan, Pat Flicker Addiss, Katrin Hilbe, Jim Kierstead, Priscilla Lopez, Henry Sweet Henry, Donna McKechnie, Jay Michaels, Emileena Pedigo and Gerald vanHeerden.

It all takes place on Sunday, November 4, 2018 at Caroline's on Broadway in New York City.



E-Book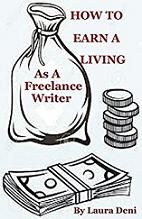 Soft back Book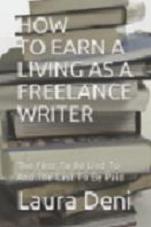 This is not your typical, totally boring textbook.

In the pages of How To Earn A Living As A Freelance Writer (the first to be lied to and the last to be paid) you'll find sex, celebrities, violence, threats, unethical editors, scummy managers and lawyers, treacherous press agents, sex discrimination; as well as a how-to for earning money by writing down words.






THE MUSIC GOES ROUND AND ROUND


TONYA & NANCY HIGHLIGHTS FROM THE ROCK OPERA recorded live at Feinstein's 54 Below in New York City, has music by Michael Teoli with book and lyrics by Elizabeth Searle with additional lyrics and music arrangements by Michael Teoli.

Starring Lauren Worsham as Nancy: Ashley Spender as Tonya: Nancy Opel double cast as the mothers of both Nancy and Tonya. Tony Lewpage as Jeff: Michael Teoli as Shawn with Heidi Friese - soprano ensemble: Tatiana Lofton - Alto ensemble: Ryan Mac - tenor ensemble: Jason Pintar - Bass ensemble.

All of the performers are outstanding with just the right accents and attitudes. However, additional attention must be paid to Broadway veteran, Tony nominated Nancy Opel who deftly segues between the "mothers of all mothers" the mother of Tonya and the syrup voiced "mother of the Ice Princess - Nancy"

This isn't the first time Opel has been cast in multiple roles. She played three characters: the Mayor, Toxie's Mother, and a nun, in the rock musical The Toxic Avenger.

I remember when the 1994 knee banging occurred. Trailer trash Tonya showing her street smarts mentality and Nancy screaming 'Why? Why? Why?"

For those who were skating to their own tune and don't fully remember the event: high school dropout Tonya Harding - the first woman to land a triple Axel in competition - conspired with her first ex-husband Jeff Gillooly, and co-conspirator Shawn Eckardt who orchestrated a January 6, 1994 attack at the U.S. Figure Skating Championships in Detroit. It was a police baton knee whack on her chief rival, Kerrigan, The confessed aim of the attack was to break Kerrigan's leg, but X-ray showed merely a bad bruise. Nonetheless, Kerrigan was unable to compete in the national championships that year.

After the 1994 Winter Olympics, Harding ultimately pleaded guilty to hindering the prosecution on March 16, 1994. She received three years probation, was ordered to perform 500 hours of community service, and was given a $160,000 fine. On June 30, 1994 she was also banned for life on from the U.S. Figure Skating Association.

Press agents weren't a help in knowing how to handle talented but socially inept teenage girls.

During the Walt Disney World parade in which she participated following the 1994 Winter Olympics, Kerrigan was caught on microphone saying to Mickey Mouse, "This is dumb. I hate it. This is the corniest thing I have ever done."

Even though the comment went out live, press reps pounced on their Rolodex lists criticizing the press for reporting on what they saw and heard, asserting that the press should have known Olympians were too busy practicing to learn how to behave in a parade. The press agents places great emphasis upon her youth.

Later Kerington's press reps had her say her remark was taken out of context and that she was not commenting on being in the parade but rather on her agent's insistence that she wear her silver medal in the parade.

"We will bring the whole damn scandal back to you" promises this recording.

If you are a person who is sick to death of hearing about the Tonya and Nancy knee event and subsequent scandals - you're still going to enjoy this fun, rock opera. A tough subject in history about two youngsters with superb ice skating talent and the golden dream of their handlers.

I was prepared to suffer through listening to this recording and was totally surprised that every part of this recording is deliciously entertaining. It's a well done hoot. It's not easy to resuscitate a well known historical as well as a scandalous event to the stage and a subsequent recording and make it fresh, clever, entertaining, funny and topical. Competition never goes out of style.

This campy and cute CD has speaking explanations followed by a track.

The hard beat Three and a Half Minutes denotes the length of the Olympic routine. It's the late 80s when Tonya had big hair and big dreams - and her mother complains that her daughter can't even breathe right. The country tinged You Wish in which Tonya laments about her pushy, drinking mother.

The lyrics are insightful, and sad. The success of these athletes brought their parents what they wanted although nobody ever considers what would make the performers happy. They are an expendable commodity. As long as they win, they are adored.

In real life, Harding would finish second behind Kristi Yamaguchi, and in front of Nancy Kerrigan who was inducted into the United States Figure Skating Hall of Fame in 2004. Kerrigan created the Nancy Kerrigan Foundation, which aims to raise awareness and support for the vision-impaired. Her mother, Brenda, is legally blind.

Both of these emotionally sheltered young ladies have over-the top emotional outbursts. There is the high strung - my life is over intensity as heard in the operatic I Want To Die

Low class, trailer trash adorned with Olympic Gold. As the CD explains, the charming young ladies on Olympic teams are girls who slam each other heads to the floor in the bathroom and one even carries a handgun.

Image and winning is explained in Picture Perfect Girl a rock beat with rousing Broadway song structure.

Gold is what it's all about in Bronze Still Looks Dirty.

Tonya's New Bodyguard is hip swiveling rock. Tonya's mother is picture perfect, trailer trash. Nancy' wailing her famous Why? Why? Why? after being kneed is brought to life in a number which merges opera and rock. The script covers a lot of territory and does so with the artistic skill of an Olympic champion.

The script also brings events up to date with sassy nods to Nancy on Dancing ith The Stars, Tonya becoming a boxer as well as which star played them in the movie.

The drum can be dynamic, yet never drowns out the voices and the electric guitar takes its own form of musical ownership.

The expert musical compositions and in between commentary results in the listener having a better understanding and compassion for both skaters.

fabulous technical work on bringing this from the stage to a CD. As far as live recordings captured at Feinsteins/54 Below this one is technically the best. There are no dead spots or even a minute instance of one entity overpowering the other.

One criticism and it's a big one. Whoever thought it was a good idea to ignore - not even giving even a small mention to those involved in the technical aspects of this recording should go stand in a corner.

The sound placement is perfect. There was the potential of sounding cheap with distracting and uneven sections - as is prelevant in so many club recordings. This CD is stunningly awesome. That didn't happen by accident. There had to have been a lot of technical know how and that deserved to be acknowledged.

Co-music directors: Michael J. Moritz, Jr. and Michael Teoli.

Band:

Henry Aronson Keyboards/Band leader - Aurelien Budynek guitar - Ben Levin guitar - George Farmer bass - Mike Sorrentino drums.

Mixed at Kontinuous Jams Studios, Youngstown, Ohio. Mastered by Greg Reirson, Rare form Mastering.

Buy and enjoy.





HAVING FUN AT THE BARROOM WITH SMOKEY JOE'S CAFE
Jelani Remy, Shavey Brown, John Edwards, Dwayne Cooper and Max Sangerman in Smokey Joe's Cafe. Photo by Gary Ng.
Smokey Joe's Cafe: The Songs of Leiber and Stoller. is a fun, happy musical which is about to end its first major New York revival of the 1995 Tony-nominated musical revue at the Stage 42 in New York City.

If you have an opportunity, make a point of this week seeing the show. It's a stress reliever and a delightful way to escape from all of the current headlines.

The musical is really just a bunch of top of the charts, iconic songs originally sung in an old fashioned drug store setting, now set updated by Tony award winning set designer Beowulf Boritt into a spiraling staircase permitting entry into the red brick-and- dark wood barroom set, with neon beer signs. What's for sale is liquor rather than malted milks and shakes.

The back of the bar area contains a massive array of liquor bottles and even a miniature slot machine, plus a collection of vintage radios.

In an expert way almost 40 songs are sung, presented in a throw back, nostalgic - yet frenetic - manner that makes seeing this show better medicine than any therapist session.

Directed and choreographed by Emmy Award winner and Tony nominated Joshua Bergasse, there isn't conversation or a story line It's one hit song after another - either sung or danced. As compared to the original production, it's not quite as old fashioned friendly as the original, simple, soda shop production. Decades ago teenagers hung out at the malt shop, or the corner drug store where there was a soda fountain and a jukebox. You played music, talked to your friends and ate. Parents knew where to find you.

Many of those who remember those days are now pushing up daisies or babbling about their memories in an assisted care facility. Hence, the more relateable staging update.

Jeff Croiter's lighting design shows off the performers and Boritt's set.

The infectious songs and the talented five men and four women singers/dancers and musicians are outstanding - be they singing, strutting, or doing the shimmy in outfits by Alejo Vietti with hair and wig design by Charles G. LaPointe.



On Broadway uses some flashy jackets to help pay homage to its original performers, The Drifters. Photo by Joan Marcus, Julia Russell and Gary Ng.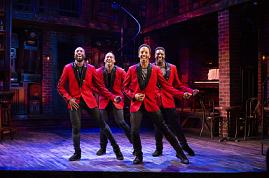 Jerry Leiber and Mike Stoller have a playlist made famous by such names as Elvis Presley, the Drifters, the Coasters and Ben E. King that goes on forever, making it possible to alter some of the songs from the original production as well as the playing order. It doesn't matter. You're there to hear the music and those musicians know the notes and styles from rock, pop, soul, R&B, gospel, doo-wop to country.

With orchestrations by Sonny Paladino and Steve Margoshes, original vocal arrangements by Chapman Roberts, the music coordinator is John Miller with the music conducted by Matt Oestreicher. Frequently you can see the dynamite band playing on a moveable platform in the alcove.

Starring Dwayne Cooper, Emma Degerstedt, John Edwards, Dionne D. Figgins, Nicole Vanessa Ortiz, Kyle Taylor Parker, Jelani Remy, Max Sangerman and Alysha Umphress.

Sound Designer Peter Fitzgerald keeps the levels and balance appropriate for the musical number.

Songs include Along Came Jones, with the comedic Kyle Taylor Parker as the damsel in distress. Dwayne Cooper's version of Keep On Rollin' has him backed by an old-time washboard and spoons.

Dionne D. Figgins learned her stuff from the Dance Theater of Harlem. She demonstrates some elaborate moves in Spanish Harlem.



Emma Degerstedt all but shakes the beads off performing. Productions Photos by Joan Marcus, Julia Russell and Gary Ng.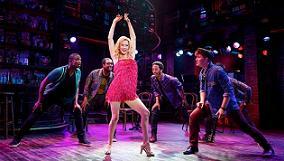 Teach Me How to Shimmy and Bossa Nova Baby performed by Emma Degerstedt who all but shakes the beads off of that hot pink fringed dress. Other songs include You're the Boss and Loving You. Alysha Umphress performs a heart strings tugging melancholy version of Pearl's a Singer and Hound Dog, is sung in a sexy, slow version by Nicole Vaness Ortiz.

There is On Broadway, Stand by Me, Jailhouse Rock which has a standout performance by Jelani Remy who even executes some backflips. Kyle Taylor Parks gets to show off his comedic ability with Love Potion No. 9.

Yakety Yak is in the mix and Charlie Brown, in which performers take it into the aisles. Dwayne Cooper is the guy with the deep booming voice who performing in Charlie Brown asks: "Why is everyone always picking on me?"

There is also Ortiz sings two versions of Fools Fall In Love. When she reprises it you sense that it now comes from the experience of heartache. Young Blood, Kansas City, Poison Ivy, There Goes My Baby, Ruby Baby in which rockabilly singer Max Sangerman demonstrates his guitar playing prowess as he is joined on stage by band members Yuka Tadano on bass and drummer Eric Brown for Ruby, Baby. Also on the program: You're the Boss and Treat Her Nice.

John Edwards does Ben E. King justice with his soulful rendition of I Who Have Nothing. When the four women perform I Am Woman it's standing ovation time.


SPREADING THE WORD


KELLY HALL-TOMPKINS is one happy fiddle player. She's "excited and proud" that her CD The Fiddler Expanding Tradition is officially on the nominations ballot for the 61st Grammys under the categories of Best Classical Compendium and Best Instrumental Arrangement. See Broadway To Vegas review of February 4, 2018

Grammy voting ends on October 31st at 6pm PST. Nominations for the 61st Annual Grammy Awards will be announced in all 84 categories on Wednesday, December 5, 2018, and will honor the best in recordings released between October 1, 2017 and September 30, 2018. The 61st annual Grammy Awards will air live on CBS from the Staples Center in Los Angeles on Sunday, February 10, 2019

STEVEN PINKER ON T.S. ELIOT Steven Pinker is one of the world's leading authorities on language and the mind. Currently Johnstone Professor of Psychology at Harvard, he is a cognitive scientist and author who has been named by Time as one of the 100 Most Influential People in the World.

He will give a lecture called Pessimism in a World of Progress, followed by an interview with novelist and journalist Will Self.

Carlo Gébler will introduce the evening and Eleanor Methven will perform one of Eliot's best-known poems.

Presented by The T. S. Eliot Estate on Sunday, November, 4, 2018 on the Abbey Stage at the Abbey Theatre in Dublin, Ireland.

CUT LOOSE! iTHEATRICS CELEBRATES the release of R&H Theatricals' Getting to Know… Footloose

iTheatrics, the New York City-based leading educational theater company, has partnered with R&H Theatricals to "high-kick-off" the release of Getting To Know... Footloose, an educational version of the musical now available for licensing. Based on the explosive movie, Footloose is the iconic story of young people coming together to leave the past behind and fight for their right to dance.

The companies are releasing iTheatrics' video featurette with show creator Dean Pitchford and original cast member Orfeh, who currently stars in Pretty Woman on Broadway.

During September and October, iTheatrics hosted an exciting dance challenge on social media entitled "Footloose Fridays," and the four winning educational musical theatre groups were Stage Door Productions in Memphis, TN, Edge Dance & Performing Arts Center in Plano, TX, The Rose Theater in Omaha, NE, and Community of Theatre of Greensboro in Greensboro, NC. These organizations will have the opportunity to license the show for free. iTheatrics has also adapted Footloose into a Getting To Know student version.

MEGYN KELLY being let go by NBC didn't surprise me. What did was that she was permitted to remain on the air after declaring that Santa Claus and Jesus were white.

As for the latter - refer to the lyrics of the song Some Children See Him by Alfred Burt and Whila Hutson.

It was written not as a song but rather lyrics for a Christmas card message.

According to History of Hymns by Victoria Schwarz and Wilson Pruitt Wihla Hutson (1901-2002), was known during her lifetime as a lyricist, composer, organist, and choral director.

She studied at the Detroit Conservatory of Music and graduated from the College of the City of Detroit (now Wayne State University).She began to work in the Diocesan Office of the Episcopal Church. In 1929, Wihla became the organist for All Saints Episcopal Church in Pontiac, Michigan, where her career in composing Christmas carols and publishing was initiated through a fortuitous meeting of talents.

Burt Bates (1878-1948), the pastor at All Saints, was the originator of a unique Christmas tradition – the writing of an original carol accompanied by original art and sent out as a Christmas card to family and friends. From 1922–1941, Bates, a self-taught musician, composed all the lyrics and music for the annual carols. In 1942, Bates asked his son, Alfred (1920-1954), who had studied music at the University of Michigan and was an accomplished trumpet player, pianist, vocalist, and composer, to provide the music to go with his lyrics. From 1942-1948, Bates and Alfred created the family carols together."

Wihla wrote the lyrics from the viewpoint of how a child would view Jesus. " She realized that if she were a child in Africa she would see the world much differently…an African child would see Jesus as a black man. Then she realized a Chinese child would see the Son of God with almond eyes, while an Indian child would see Jesus with dark hair and brown skin. As she never had before, Wihla grasped the concept of God's being a universal spirit." (Collins, 2006, 77-8).

A few years after Some Children See Him was written, the well-known touring singing group Blue Reys were introduced to Alfred's carols and asked if they could perform them at the King Family Christmas Party. This party, given by the president of Columbia Records, James Conkling, was an annual event that was attended by some of the biggest names in music at the time. The carols were well-received, and in 1955, two years after Alfred's death, Columbia Records released a holiday record that included Some Children See Him as well as other Burt carols.

Since then, Some Children See Him has been recorded by numerous artists including: James Taylor, Andy Williams, Al Jarreau, George Winston, Sandi Patti, and the Mormon Tabernacle Choir. In 1995, the country of Palau issued a series of stamps commemorating the song and its message of tolerance (Brenda Huntsinger-Williams, "Wihla Hutson").

Then when you dare to comment on Santa Claus, Father Christmas, Pappa Noel, Saint Nicholas, St. Nick, Kris Kringle, Pelznickel, Dun Che Lao Ren, Joulupukki, Weihnachtsmann, Kanakaloka, Mikulas, Babbo Natale, Julenissen, Swiety Mikolaj, Ded Moroz, Jultomten - or by any other name - you're in big trouble. Naughty list for sure. All you're going to get in your stocking is lumpy coal.

SUNDAY, OCTOBER 28 is National Chocolate Day and National Mother-in-Law Day. October 29th is National Cat Day, National Oatmeal Day, and National Hermit Day. October 30th National Publicist Day and National Candy Corn Day. October 31st is Halloween. Also National Doorbell Day (those trick or treaters can ring that non stop) National Caramel Apple Day, National Knock-Knock Jokes Day and National Magic Day. November 1st is National Calzone Day, National Authors' Day, National Cook For Your Pets Day, National Vinegar Day, National Deep Fried Clams Day, National Men Make Dinner Day (Must Cook. No BBQ Allowed!). Friday November 2nd is National Ohio Day, National Deviled Egg Day. November 3rd is National Housewife's Day, National Sandwich Day and National Bison Day.



E-Book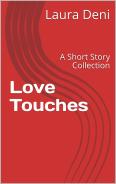 Soft back Book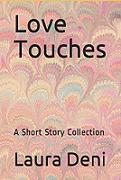 2018 BILLIE BURKE ZIEGFELD AWARD goes to Lucille Lortel Award-Nominee Julianne Wick Davis. The award comes with a $10,000 Grant for an Emerging Female Musical Theatre Composer.

The Award Ceremony will be held November 5, 2018 at The New Amsterdam Theatre in New York City.

New York Musical Festival Producing Artistic Director Rachel Sussman will be the key note speaker.

The Ziegfeld Club, Inc., one of New York City's first performing arts charities to benefit women, created the Billie Burke Ziegfeld Award (BBZA). to honor a female composer of musical theatre. In addition to the $10,000 cash grant, the recipient receives one year of artistic and professional mentorship from a prominent composer and a producer of musical theatre.

A talented musical theater composer whose work has been presented by esteemed NYC theatrical institutions like the Public Theater, Julianne Wick Davis joins the ranks of previous Billie Burke Ziegfeld Award recipients Masi Asare (2015), Anna Jacobs (2016), and Shaina Taub (2017).

The 2018 recipient of the Billie Burke Ziegfeld Award was selected by panelists that included Eric Cornell, Mindi Dickstein, Michael John LaChiusa, Clara Luthas, John Margulis, Kristen Sanderson, Mary Sedarat, Shea Sullivan, Rachel Sussman, Nadav Wiesel, Kirsten Childs and Laurie Sanderson. In addition to naming Ms. Wick Davis recipient of the BBZA, the panel would like to extend Honorable Mention to Zoe Sarnak, Helen Park and Carmel Dean.

The November 5th reception will also honor NYC based Trumpeter & Music Educator Rebecca Steinberg the 2018 recipient of The Liz Swados Inspiration Grant, a $5,000 cash grant for a distinguished female music educator in NYC given by The Ziegfeld Club and underwritten for 4 years by Academy Award-nominee actor Diane Lane.

JOB WELL DONE Kim Pensinger Witman Vice President of Opera and Classical Programming at Wolftrap, will retire in February 2019 after 22 years leading Wolf Trap's opera and classical music programs. Witman has cast and produced over 57 different operas and heard over 15,000 auditions during her career at Wolf Trap.

Witman will be succeeded in the role by Lee Anne Myslewski, who has served Wolf Trap since 2006 as Director, Artistic Administration. In 2013, Myslewski created the Artistic Advisor position for Chamber Music at The Barns, and collaborates with an artist or ensemble of significant influence in the field to help identify performers and repertoire for the acoustically superb Barns at Wolf Trap. In addition to her work programming Chamber Music at The Barns season, she also serves as the executive producer and co-host of Center Stage from Wolf Trap, a nationally-syndicated radio program aired on public radio stations across the country.



THE RESISTIBLE RISE OF ARTURO UI by Bertolt Brecht.

Directed by John Doyle.

Bertolt Brecht's allegorical depiction of the rise of fascism. The Resistible Rise of Arturo Ui is as comical yet disturbing play from one of the greatest political satirists of all time. It follows a Depression-era Chicago mobster, Arturo Ui, who, with the help of his henchmen, manipulates and murders his way to totalitarian rule of the cauliflower trade. Society, of course, fails to act upon his "resistible rise."

Four-time Tony Award nominee and Law and Order: SVU alum Raúl Esparza will star as the Al Capone-like, Hitler-paralleling Arturo Ui in this production.

Brecht wrote Arturo Ui in 1941, while in exile from Nazi Germany, in Finland. During that time, he was awaiting his U.S. visa, and thereby imagined a vision of totalitarianism fit for America, and the American stage. (Though the play, ultimately, was never performed until 1958 in Germany, after Brecht's death.) In Arturo Ui, Brecht recast and reframed the fascism whose roots he had experienced firsthand, before leaving Germany for fear of persecution for his politically scalding works in 1933. Within a make-believe, vaudevillian portrayal of American mafia culture, the narrative of Arturo Ui is written to meticulously parallel events and individuals that brought the Third Reich to power, and led them to overtake their neighbors.

Performances begin October 30 at Classic Stage Company in New York City.

WICKED based on the novel by Gregory Maguire, music and lyrics by Stephen Schwartz, and a book by Winnie Holzman.

Directed by Tony Award winner Joe Mantello.

Musical staging by Tony Award winner Wayne Cilento.

Starring Jackie Burns as Elphaba and Kara Lindsay as Glinda. Burns and Lindsay will be joined by Michael Wartella, who will return to Oz as Boq, a role he played in the Broadway company and national tour. They join a cast which currently includes Jason Graaeas The Wizard, Jody Gelbas Madame Morrible, Mili Diaz as Nessarose, Jon Robert Hall as Fiyero and Chad Jennings as Doctor Dillamond, with Deanna Aguinaga-Whyte, Allison Bailey, Kerry Blanchard, Beka Burnham, Lauren Cannon, Autumn Crockett Cooper, Matt Densky, Ryan Patrick Farrell, Nick Gaswirth, Sara Gonzales, Sam Gravitte, Kelly Lafarga, Philip Dean Lightstone, Chase Madigan, Tiffany Rae Mallari, Micaela Martinez, Andy Richardson, Wayne Schroder, Jeff Sears, Tregoney Shepherd, Brandon Stonestreet, Ben Susak, Cecelia Ticktin, Olivia Valli and Justin Wirick.

The Broadway sensation Wicked looks at what happened in the Land of Oz…but from a different angle. Long before Dorothy arrives, there is another young woman, born with emerald-green skin, who is smart, fiery, misunderstood, and possessing an extraordinary talent. When she meets a bubbly blonde who is exceptionally popular, their initial rivalry turns into the unlikeliest of friendships…until the world decides to call one "good," and the other one "wicked."

The thrilling score includes the hits Defying Gravity, Popular and For Good.

October 31-November 25 at the San Diego Civic Theatre in San Diego, CA.

THE THANKSGIVING PLAY by PEN USA Literary Award for Drama-winning playwright Larissa FastHorse.

Directed by Tony Award nominee Moritz von Stuelpnagel.

"This side-splitting comedy follows well-intentioned white teaching artists as they scramble to create an ambitious "woke" Thanksgiving pageant that also celebrates Native American Heritage Month…and quells their white guilt…and satisfies their lofty artistic impulses…as part of an "All School Turkey Trot." Caden, an elementary school history teacher, offers rich historical context that spirals into unproductive tangents; yogi-actor Jaxton's performance of political correctness comically complicates the process; Logan, a high school drama teacher, wants to "elevate" the play by engaging a single Native American actor; and Alicia just wants to be onstage. The comedy follows their process of devising this cutting-edge Thanksgiving performance - allegedly for children - and flailing as privilege-checking and self-importance collide and get in their way."

The Thanksgiving Play's cast includes Jennifer Bareilles (Valer, Maybe Tomorrow) as Logan; Jeffrey Bean (Broadway: Bells Are Ringing, Amadeus) as Caden; Greg Keller (Broadway: Our Mother's Brief Affair; The Humans, Office Hour) as Jaxton; and Margo Seibert (Broadway: In Transit, Rocky) as Alicia.The cast features The cast features: Jennifer Bareilles (Logan). Jeffrey Bean (Caden). Greg Keller (Jaxton). . Margo Seibert (Alicia).

The creative team includes Wilson Chin (scenic design), Tilly Grimes (costume and puppet design), Isabella Byrd (lighting design), Mikaal Sulaiman (sound design), and Katie Ailinger (Production Stage Manager), Jenny Kennedy (Assistant Stage Manager).

The Thanksgiving Play is on stage through November 25 in the Peter Jay Sharp Theater at Playwrights Horizons in New York City.



E-Book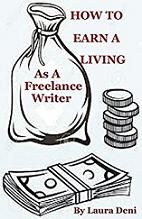 Soft back Book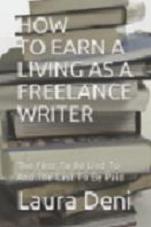 This is not your typical, totally boring textbook.

In the pages of How To Earn A Living As A Freelance Writer (the first to be lied to and the last to be paid) you'll find sex, celebrities, violence, threats, unethical editors, scummy managers and lawyers, treacherous press agents, sex discrimination; as well as a how-to for earning money by writing down words.





WHO'S WHERE




KATHARINE McPHEE Fall in Love Tour will kick off a fall concert tour November 3 at the Kohler Memorial Theatre in Kohler, Wisconsin.

LAURA OSNES & SANTINO FONTANA will reunite at the Kennedy Center for an evening of musical "pairings," breathing life into beloved Broadway standards matched with their contemporary musical counterparts. Friday, November 2, 2018 at the Kennedy Center in Washington, DC.

BRIAN WILSON CELEBRATES PET SOUNDS: THE FINAL PERFORMANCES with orchestra and special guests Al Jardine and Blondie Chaplin. The Grammy–winning music legend and Kennedy Center Honoree with his band marks a milestone for the iconic Beach Boys album with a live performance of Pet Sounds. Original bandmate Al Jardine, guitarist Blondie Chaplin, and a 10-piece orchestra will accompany him. Kennedy Center in Washington, DC. Monday, November 5, 2018 at the Kennedy Center in Washington, DC.

ED SHEERAN entertains Halloween at the Mercedes-Benz Superdome in New Orleans, LA. On Saturday the stop is at the Minute Maid Park in Houston, TX.

PINK MARTINI performs Monday, October 29 at the Blue Note in Tokyo, Japan. Wednesday's gig begins a two nighter at the Kahilu Theatre Foundation in Waimea, HI. On Saturday, November 3, they begins a two night stands of two shows each night at the Blue Note in Honolulu, HI.


FINAL OVATION


DIANA SOWLE the last surviving adult principle cast member of the 1971 film Willy Wonka & The Chocolate Factory died Friday, October19, 2018. She was 88.
Sowle rose to fame for her portrayal of Charlie Bucket's caring but cabbage soup-obsessed mother Mrs Bucket in the film Willy Wonka & The Chocolate Factory.

She was cast in the part during a time when she lived in Germany with her husband who worked for the CIA. during her time in Germany she produced plays. In talking to a journalist she explained: "I have been producing plays and we toured in what were known as the America houses. They are like cultural centres.

'They (Wonka casting directors) were just finding out who was around in Germany. One day, I got a call-in to audition for it and that was it."

She frequently performed in the long-running play Shear Madness at the Kennedy Center, portraying socialite Eleanor Shubert. Her last-known appearance was in May-June 2013.

In mid-2012, she appeared in a production of Love Letters with F-Troop star Larry Storch in Farmville, Virginia, to benefit The Tom Mix Rangers.

For 23 years Sowle ran a free tutoring program for underprivileged children in Washington DC, where she lived.

Sowle was a native of California and lived in the Washington, D.C., area, where her husband continued to work for the CIA. He died in 2013. She is survived by her children and grandchildren.


















Next Column: November 4, 2018
Copyright: October 28, 2018 All Rights Reserved. Reviews, Interviews, Commentary, Photographs or Graphics from any Broadway To Vegas (TM) columns may not be published, broadcast, rewritten, utilized as leads, or used in any manner without permission, compensation and/or credit.
Link to Main Page
---
Laura Deni



For the snail mail address, please E-mail your request.
CLICK HERE FOR COMMENT SECTION