! >
Broadway To Vegas
  
 SHOW REVIEWS CELEBRITY INTERVIEWS GOSSIP NEWS

| | |
| --- | --- |
| | |
TONY DANZA TO STAR IN REALITY SHOW TEACH - - JoBETH WILLIAMS STARS IN THE NIGHT IS A CHILD - - MICHAEL JACKSON LAS VEGAS BIRTHDAY TRIBUTE - - MATTHEW BRODERICK AND JESSE L. MARTIN READ STAN THE MAN - - CIRCLE RULES FOOTBALL TURNS SPORT INTO THEATER - - OASIS MEMBERS DON'T SPEAK BUT SHOW GOES ON - - THE HUMAN FACE OF DEATH ROW - - 2009 INTERNATIONAL MYSTERY FESTIVAL - - DONATE . . . Scroll Down


A REALITY SHOW WHICH MIGHT BE WORTH WATCHING - TONY DANZA STARRING IN TEACH
Tony Danza takes over the teacher's chair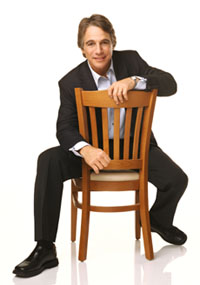 Tony Danza has been cast in the most daunting role of his career - playing an English teacher - for real - at Philadelphia's Northeast High.

On August 19 the Philadelphia School Reform Commission voted 3-1 to approve the filming of Teach, an A&E reality show.

The idea for Danza starring in this show came while Danza was appearing as Max Bialystock in The Producers, at the Paris Resort in Las Vegas. Danza's producer friend Donny Jackson suggested the TV show.

Danza shot the pilot in a class in Yonkers, N.Y. A&E was impressed. The city's school board wasn't and vetoed future episodes. Hence, the Teach transfer to Philadelphia, a district which has about 167,000 students, of which only about half are considered proficient at reading and math.

Danza who attended Malverne High School, graduating in 1969 and was said to have scored either "exceptionally high" or "a near perfect SAT score", received his bachelor's degree in history from the University of Dubuque in Iowa in 1972. He'll co-teach a class with a certified teacher, the district said. Since cameras will be in the classroom, no student will be assigned to his class unless he or she volunteers and has the approval of a parent or guardian.

The actor who is both personable and levelheaded, will also help out with extracurricular activities, such as the prom and drama - at Northeast, one of the district's largest schools - the same school where the 1968 documentary High School was filmed.

The district's curriculum for the 10th-grade English class, includes reading and discussing Of Mice and Men; Julius Caesar; To Kill a Mockingbird and Animal Farm.

Superintendent Arlene Ackerman welcomed Danza in a statement, and said that "this important project will help illuminate the joy, rewards and challenges of one of the most gratifying professions available, a first-year teacher in the city of Philadelphia."

Mayor Michael Nutter heartily endorsed the show, saying it will bring the city and the district positive attention.

"There are too many negative images of our city's young people and schools on television," Nutter wrote. "I believe that Teach represents a unique opportunity to highlight many of our city's dedicated teachers and administrators, and the talented students they serve."

"As a product of urban public schools, Mr. Danza is dedicated to enriching the lives of the young people who will enter his classroom," Nutter wrote in a letter to the commission.

Executive producer Jackson told the board that; "Our goal with Teach is to highlight and celebrate the rarely seen challenges and unsung achievements of one of the greatest resources our nation has to offer: the public school teacher." The producer then stressed: "Teach will be "responsible television."

"Long before his fame as an actor, he aspired to be a teacher," Jackson said of Danza.

Jackson said the show would bring benefits to the school, including student internships, and the district, including help in recruiting teachers.

Teachers are known for having notoriously low pay and are often overworked and overstressed. It is hoped the exposure Danza gives to the teacher profession attracts more students to the profession.

The district will receive a $3,500 per-episode fee from A&E which will also reimburse facilities and personnel expenses and payment of the district's outside legal fees.

District officials will have the right to object to footage after it views a "rough cut" of each episode.

Danza has been attending new-teacher orientation, required of all new teachers in Philadelphia.

While Danza admits to suffering classroom stage fright, he may be more intimated by the students than they are of him. Ages for 10th graders are usually 15 to 16. Danza, who celebrated his 58th birthday last April 21, became a superstar with his role on Taxi which aired 1978-1983 and went on to star on the hit series Who's the Boss? which aired 1984-1992 - both before his students were even born.

His pupils were pre-schoolers when Danza made his 1998 theatrical debut in Wrong Turn at Lungfish which earned him an Outer Critics Circle Award nomination. See Broadway To Vegas column of July 6, 1998. He was outstanding in the 1998 Broadway revival of Arthur Miller's A View From the Bridge. and played the bartender in the Broadway revival of Eugene O'Neill's The Iceman Cometh opposite Kevin Spacey.

In a statement, Danza said he was "humbled, honored and so grateful that the City of Philadelphia has decided to let us try this. I have always wanted to teach, so this is a gift for me. I will work hard to make sure I don't let anyone down, especially the kids."



Broadway To Vegas is supported through advertising and donations. Priority consideration is given to interview suggestions, news, press releases, etc from paid supporters. However, no paid supporters control, alter, edit, or in any way manipulate the content of this site. Your donation is appreciated. We accept PAYPAL. Thank you for your interest.


ART AND ABOUT


THE HUMAN FACE OF DEATH ROW

Don Cabana is a former warden at Mississippi's main prison, Parchman, which was made famous by the movie Cool Hand Luke. Cabana helped with four executions and carried out two personally. He was so sickened by the process that he quit the jail business opting to teach college in Hattiesburg, Miss. and author the book Death at Midnight, The Confession of an Executioner. Painting by Claire Phillips.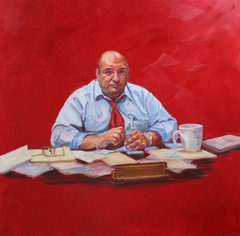 by Claire Phillips, a contemporary portrait artist from West Sussex, England. Facilitated and promoted by the British human rights charity, Reprieve, Claire traveled to Miami, Atlanta and Mississippi to meet and paint a series of individuals whose experiences of the reality of death row vary enormously.

This exhibition brings the viewer face-to-face with different individual human perspectives on the death penalty and reflects on the human face of death row. Through portraiture, Claire communicates her personal experience of meeting people who have faced an extraordinary situation - the finality of execution.



Marietta Jaeger-Lane's daughter, 7, was abducted and killed during a family camping trip in Montana. Marietta told the press she wanted to speak with the person who had taken her child. On the anniversary date, she received a call from a young man who taunted her by asking, "So what do you want to talk to me about?"

Her response was to ask how he was feeling, since his actions must have placed a heavy burden on his soul. Her words disarmed him, and he broke down in tears. He subsequently spoke with Marietta for over an hour, revealing details about himself and the crime that ultimately allowed the FBI to solve the case. In 1997 Marietta co-founded Journey of Hope - From Violence to Healing. Painting by Claire Phillips.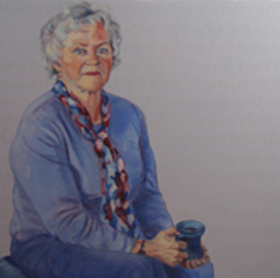 Her subjects include former inmates exonerated after long periods of incarceration; current inmates sentenced to death and some of their family members; an executioner responsible for four executions; the foreperson of a jury that convicted and sentenced to death a man who was later proved innocent; the family of an executed man and a legislator.

The portraits present the humanity of the people involved – their very ordinariness. The comfortable nature of the paintings is juxtaposed against a more challenging sound track of interviews and commentary from an execution.

Phillips says she became involved in the project after painting the portrait of Clive Stafford Smith, Reprieve's director. He suggested she raise awareness of those wrongly convicted and on Death Row, using her artistic skills.

"I was a portrait painter, had done a degree as a mature student and was always interested in human nature and experience. This was such an unusual, intriguing project," says the artist. "Death Row is one of the few places in the world where people are trying to kill you, most of the time we are trying to extend human life."

This project is supported by the Arts Council England, Peter Bottomley MP, Clive Stafford Smith OBE and London Mayor, Boris Johnson. Currently the exhibition is on display to October 9, 2009 at The Capitol Arts Centre in Horsham, England and then goes on tour.




TURNING SPORT INTO THEATER
Greg Manley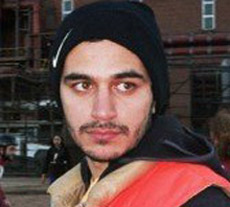 Have you ever thought of Monday Night Football as watching theater? Would you like an improv group or a poet to do the commentary? How about developing a sports production for the equivalent of lunch money?

Greg Manley is your go to guy.

Needing to complete his senior independent theater project at NYU's Experimental Theater Wing, one of the drama department studios at Tisch School of the Arts, Manley thought outside the proscenium stage and invented something called Circle Rules Football, which is part of this year's NYFringe Festival. The theatrical sport has inspired a league of its own and spawned franchises in eight cities in American plus Puerto Rico and Prague.

Manley spoke with Broadway To Vegas about his melding of sport and theater.

"I first proposed it to my adviser Rosemary Quinn. I said I wanted to make some kind of mixture of theater and sports. She thought that sounded interesting. She was always very supportive," Manley recalled about conquering the first hurdle of adviser approval.

"At first I thought about doing a play," he said of his required independent project. "But, I had to raise a certain amount of money to get it produced and it was only a week run. I figured that every time I was going to mount this play, I would have to raise the money again, get an audience and spend more money on publicity. Instead, I wanted to do something that was portable. As I began thinking more about that, I started heading down the lines of a game show. Then I said that's not what I wanted to do."

"As I thought more and more about it, I thought if you have ever watched Monday Night Football, it is the most heavily produced and dramatized thing on TV that night. It is so theatrical. The way the commentators work, or the film highlights. The way things are summarized," he stressed, including coaches on mics and referees who play to the camera.



Unknown football fans demonstrate team spirit with painted faces. Numerous businesses specialize in face painting products for sports fans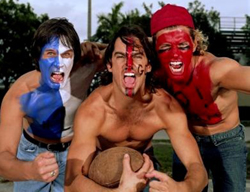 "People are so invested in sports - not just the players. That was one of the biggest turn-ons for me because I've never seen a theatre audience, besides maybe Rent at its height, that had a following that was somewhat like sports fans. But, sports fans go all across the board - every sport - every section of the playoffs, you have people dressed up in painted colors, really kind of giving their lives over to whatever sport they love, which is no more real that watching a play."

"Another reason that I created this sport is money. All you need to play is a ball and some cones. You can play for three years every Sunday and let it grow on its own, rather than trying to publicize it."

While word of mouth is credited with establishing Blue Man Group, from one mouth to another's ears is a slow process. Getting the buzz on the street for theatrical sports is fast and frenetic. Happy, sweaty players eating pizza after the game, talking up the experience.

Manley stresses that Circle Rules Football is intended to highlight the common thread between improvisational theater and athletics - playing the game is an improvisational performance in its own right. "Everything inherent in theater is inherent in sports," Manley said. "Drama is conflict, and there's no better conflict than the Super Bowl."

"The game play is more like a combination of soccer, basketball, volleyball, and wrestling," he explained. "I would say that what makes the game dramatic, or poetic, or artistic, is simply in the way each match is framed. If the NBA chooses to use hip-hop music to frame their sport, and the NFL uses country music, those are each aesthetic and even narrative decisions. You interpret the lives and choices of the players both on and off the field the same as you would any actor in the spotlight."

The sport is non exclusionary.

"Especially at an introductory level," emphasized Manley. "Any age or body type can play. It's kind of a fascinating game with a big ball bouncing around. People come to see it and then they want to play."

He described some recent on-lookers turned participants.



The Inaugural Circle Rules Football game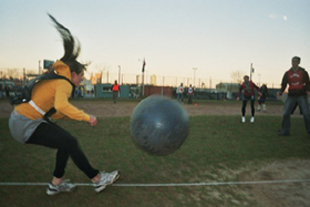 "When we played last Sunday there were some Jamaicans having a barbecue. There was a guy who was built like a tank, and some out of shape middle-age man who was walking through the park. We were all playing on even ground because they were just learning the rules. So, it didn't matter the shape anybody was in."

"There is no age limit. Fathers can play with sons. This is the first year our league. There could be a wheel chair or a youth league. It is being taught at a couple of camps this year. Our Expat people, who lived in New York and have gone out this summer to be art camp counselors, are teaching this game and it's caught on pretty well, especially at a camp in New Hampshire and a YMCA Youth Camp. It can be tailored to anybody."

In addition to an everyone welcome approach, the game doesn't require renting a theater, worrying about load-in costs or players who want a bigger dressing room.

The game has been described as: "pound the ball through a single, soccer-style goal that sat, like an object of Druidic devotion, at the center of a ring of orange pylons."

The game is played on a circular field with one goal in the center, each team scores through only one direction of the goal.

Around the goal, there is a circle, roughly the same size as the center circle on a soccer field. That is called 'the key'. Only the goalie from each team can stand inside the key, the other players are restricted to the rest of the field.

Goalies have full contact with each other.

The game ball is a large exercise ball, the type commonly used for Pilates and workouts. Players may touch the ball with any part of their body, but may not hold it.

When a goal is scored, the scoring team kicks off from inside the key and may not leave the key until the other team has touched the ball.

Physical contact between field players is like basketball - go for the ball, not the person.



Both men and women enjoying a Circle Rules Football game in Wakulla County, Florida.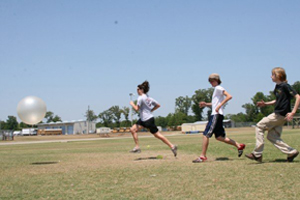 Manley has also given notice that his creative thinking approach is coupled with a business head on his shoulders. "I have a copyright on the rule book. I have a trade mark on the name Circle Rules Football and on the logo. I have a company, the Circle Rules Federation."

He also knows how to fill out an application form.

"When I was applying to the NYFringe Festival and several other festivals this summer, I tailored each application. For the Fringe application, I highlighted the more theatrical elements of it. The half time shows, the mascots, the play by play commentary, the frame work of the show."

"In the Fringe Festival for three of the games we'll have a sketch comedy group that is going to be doing play-by-play commentary. In one of the games we'll have a poet and performance artist who is doing the commentary."

"Whereas with the Games Festival earlier this year, I was highlighting the kind of new gaming concepts of it - how it was kind of a disorienting game which changes the playing field for many people. For The Art Exhibition, I was talking more about the general esthetic of it."



Scott Riehs blocks Ben Forster. Like basketball, it's go for the ball not the person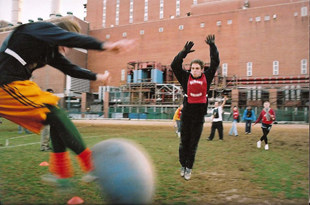 "There is a clearer message in the movement in sports than there is in just about any play I've ever seen," he emphasized. "Even dance can become cloudy with regards to message. With sports, each movement has a purpose that immediately causes reactions in all the other performers. If the lines of Hamlet or the deformed body of Richard III are the demanding containers that the great actors playing each role have to work within, so too are the rules of the free throw in Basketball, and the double overtime penalty shots of Soccer."

"In High School the jocks and the art students were so segregated - almost enemies," he complained. "Art students think they are smarter than the jocks and the jocks think they could pulverize any art student. The whole mission of Circle Rules Football is to bring sports fans and artist admirers together so that they realize that they are not so different from one another."

The world premiere of Circle Rules Football on blacktop as part of The NYC Fringe Festival took place Friday August 21. During the Fringe there will be four different games with eight different teams. The remaining three games take place on August 23-28-29.

The Flying Mordecais with head coach and team manager Matthew Benjamin Shroyer. Players include; Eric Bain, Kassidy Loy, Blaine Davis, John Fossum, Trever Velin, Michael Gorwitz, Kylee Sunderlin, Nick Barry, Chris Radtke, Joel Troge, Sean Patterson, Hadley Lord, Jessy Hodges, Katie Genereux, Sarah-Scott Rhodes, Jessie Morrisson, Clare Cragan and Joe Richie. Real Shock and Awe is managed by Zaq Landsbuerg. Members include: Adam Raymond, Scott Riehs, Ben Forster, Philipe Deion Preston, Pierce Rowe, Ashley Fisher, Jeff Sisson, Bennett Williamson, Sam Fuller, Chad Carbone, Luci Olowinski and Arion Doerr.



2009 INTERNATIONAL MYSTERY FESTIVAL

Sue Grafton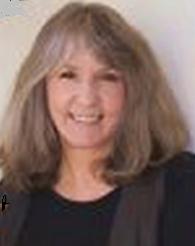 wrapped their annual event last Sunday in Owensboro, Kentucky with the presentation of The Angie Awards. Tony Award winner Rupert Holmes won the Best Song Award and Gary Sandy, who has performed in over 70 theatrical productions, took home the prize for Best Actor.

The 2009 Festival premiered four Agatha Christie classic mysteries; Three Blind Mice;Yellow Iris; Butter in a Lordly Dish and Personal Call.

"I am delighted that Zev's team is putting on my grandmother's wonderful BBC plays which number among some of her best works," said Mathew Prichard, Agatha Christie's grandson, referring to former Broadway producer Zev Bufman who produces the Mystery Festival. "I am sure that the USA live audience will enjoy them enormously."

The 2009 festival performance winners include:

First Lady of Mystery – Sue Grafton
Best Play - Agatha Christie's Personal Call
Ira Levin Award – Lee Goldberg
Kinsey Millhone Award – David Breckman
Best Featured Actor - Phil Proctor for Mr Paravicini in Three Blind Mice
Best Featured Actress - Melinda Peterson as Mrs. Boyle in Three Blind Mice
Best Director – David Ossman
Best Actress - Amy Walker for Pam Brent in Personal Call
Best Actor - Gary Sandy as James Brent in Personal Call
Best Song - You're the Thorn in my Side by Rupert Holmes
Hercule Poirot Award - Judith Walcutt
Commissioned as Kentucky Colonels -
Sue Grafton, Debra Babich, Jennifer Elder, Kelley Elder, Richard Fish, David Ossman, Melinda Peterson, Phil Proctor, Gary Sandy, Belinda Thomson and Judith Walcutt.

BILL COSBY

Bill Cosby telling funny stories at the Las Vegas Hilton in 1975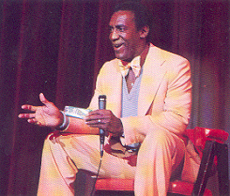 will receive the Kennedy Center's Mark Twain Prize for American Humor on Oct. 26. While that was announced last April 1, it wasn't until last Thursday that details of the gala - which they promise will be filled with fun and laughter - were made public.

The evening will include Dick Gregory, Sinbad, Carl Reiner and George Lopez. Cosby's broad taste in music will be represented by jazz artists Wynton Marsalis and Jimmy Heath, as well as country legend Willie Nelson, folk and protest musician Len Chandler and symphonic orchestra conductor James DePreist.

Phylicia Rashad and Malcolm-Jamal Warner will represent The Cosby Show, while the acting world will be represented by Rita Moreno and Danny Glover.

Although Cosby spent decades as a Las Vegas headliner, no specific mention Cosby's contribution to the Las Vegas entertainment scene was mentioned.

The Cosby tribute is the 12th installment of the Twain Prize, established by the center to underscore the contributions of comedy writer and performers. Previous recipients include Billy Crystal, Neil Simon, Steve Martin, Lily Tomlin, Whoopi Goldberg, Jonathan Winters, Richard Pryor, Bob Newhart, Lorne Michaels and George Carlin. Reiner, who is credited with introducing Cosby to late-night television audiences after he saw him at the Gaslight Club in 1962, was the winner in 1999. The format for the evening includes dozens of clips from the honoree's career, some current jokes and stories from those who count the honoree as an influence, and musical selections.

In 1998 Cosby received the Kennedy Center Honors and in 2002 the Presidential Medal of Freedom.

As recipient of the Mark Twain Prize, Bill Cosby will receive a copy of an 1884 bronze portrait bust of Mark Twain sculpted by Karl Gerhardt (1853-1940). The bust and its images are courtesy of the Mark Twain House and Museum, Hartford, Connecticut.

The sold out event in the Concert Hall will be taped by WETA Washington, D.C. as Bill Cosby: The Mark Twain Prize, and will air on PBS stations nationwide November 4, 2009.


SWEET CHARITY


MICHAEL JACKSON BIRTHDAY TRIBUTE a star studded Las Vegas tribute to Jackson's music will benefit music programs in the Clark County (Las Vegas) School District. The event will take place on August 29 in Las Vegas at the Palms Hotel, on what would have been his 51st birthday.

The tribute, titled Las Vegas Celebrates the Music of Michael Jackson, will feature performers from the top shows in Las Vegas, including The Lion King; Jersey Boys; Peepshow and Phantom, The Spectacular.

CAROL CHANNING the 88-year-old, three-time Tony-winning Broadway legend will perform a special engagement at the Sacramento Music Circus on August 31. Titled Carol Channing and Friends, the evening is presented as a benefit for the Dr. Carol Channing and Harry Kullijian Foundation for the Arts and for the non-profit California Music Circus.

The evening will be emceed by Channing's Broadway Dolly standby Jo Anne Worley, and feature appearances by Carole Cook and Joyce Aimée.

ARTISTS 88 FUND RAISING CAMPAIGN took place August 17, at the Asis World Expo in Hong Kong, when Hong Kong singers and actors staged a benefit to raise funds for Typhoon Morakot victims in Taiwan. Slow-moving Typhoon Morakot, Taiwan's worst in 50 years which triggered widespread landslides with record rainfall from Aug. 7-9, has killed an estimated 500 people.

More than 100 artists from Hong Kong, Taiwan and the Chinese mainland gathered together in a more-than-four-hour fundraiser.

Entertainment featured performing arts and sport stars, such as actress Zhou Xun, sport star Lin Dan, singer Chyi Chin, Teresa Capio, Jacky Cheung, Alan Tam, Andy Lau, Sammi Cheng, Chilam Cheung, Yumiko Cheng, Joey Yung, Justin Lo, Michael Tse, Taiwanese artist Sally Wu and Hong Kong actor Eric Tsang who organized the event.

The night before the benefit more than 150 artists from Mainland China, Hong Kong and Taiwan recorded the campaign's theme song Rippling Thousand Mile Heart.

2nd ANNUAL SAVOR PROVIDENCE a benefit for Trinity Rep takes place Saturday, August 29. Sample a taste of 29 of the hottest restaurants in Providence, Rhode Island. Discover each restaurant's personality and flavor, with signature dishes, house specialties or classic cocktails offered at each establishment. Proceeds from the event benefit the educational programs of Trinity Repertory Company.

Since its founding in 1963, Trinity Repertory Company has been one of the most respected regional theaters in the country. Featuring the last permanent resident acting company in America, Trinity Rep presents a balance of world premiere, contemporary, and classic works for an estimated annual audience of approximately 135,000. In its 45-year history, the theater has produced 57 world premieres, mounted national and international tours, and, through its graduate-level theater arts conservatory, trained hundreds of new actors and directors. This season marks the 43rd year of Project Discovery, Trinity Rep's pioneering educational outreach program.
SPREADING THE WORD


MATTHEW BRODERICK AND JESSE L. MARTIN reading Stan The Man by Gene Pack. Presented by Naked Angels, one of New York's preeminent off-Broadway theater companies, which has been developing and producing plays for over twenty-three years. Taking its name from the John Tytell book, referring to 'the beats" as "a generation wanting to break out of convention and scream," the company continues to present innovative and thought provoking new works with the same passion. Saturday, August 29 at Guild Hall, East Hampton, NY.

TAMARA TUNIE appeared on Broadway in Julius Caesar, Dreamgirls and Oh, Kay! as well as producing Spring Awakening and Radio Golf. She gained wide recognition as medical examiner Melinda Warner on Law & Order: Special Victims Unit. Now the actress is returning to As The World Turns in mid-October. Rumors fly that it is for one episode which may be extended. Tunie was a regular on the CBS soap as attorney Jessica Griffin for which she won two Emmy nominations.

ACTOR JERRY O'CONNELL, of Stand By Me and Scream 2 fame, has enrolled at Los Angeles' Southwestern Law School as a night student. O'Connell is married to actress Rebecca Romijn who co-stars in the new ABC television series Eastwick, inspired by the movie The Witches of Eastwick. O'Connell and Romijn are parents of twin girls born last December. For the time being O'Connell will be Mr. Mom during the day and a part-time law student at night.


OTHER PEOPLE'S MONEY


ANDY WARHOL'S PAINTING OF MICHAEL JACKSON was gaveled down by the Vered Gallery, in Long Island, New York for what was only disclosed at "over $1m" to an anonymous buyer. See Broadway To Vegas column of August2, 2009.


GET WELL TO ...


TONY CURTIS whose wife Jill has been blogging that her husband was admitted a week ago to a New York hospital for breathing problems. Six days after the initial post Jill wrote: "Tony is out of ICU and feeling more like himself. We will remain in New York another few days as we wait for him to get a little bit stronger before we travel all the way back home to Las Vegas. He should make a full recovery."

At exactly the same time Jill was blogging, the 92nd Street Y was issuing a press release announcing that Curtis would appear Tuesday, October 13, at the Kaufmann Concert Hall in NYS to talk about his many starring roles including the making of Some Like It Hot and his new memoir American Prince: A Memoir and Nobody's Perfect: My Memories of Marilyn Monroe.

GAVIN CREEL the Tony-nominated actor in Hair, who injured his ankle during last Wednesday's matinee performance. Creel who portrays Claude in the Tony-Award winning musical, injured his ankle while performing the song I Got Life. He managed to finish the first act, but informed the audience during intermission that understudy Paris Remillard would finish the show.

ANA MARIA MARTINEZ the Grammy-award winning Puerto Rican operatic soprano, who fell into the orchestra pit during a performance of Rusalka at the 75th anniversary of the Glyndebourne Opera Festival in East Sussex, England. Martinez was playing the tile role when the accident occurred. The show was stopped and the audience was asked to leave the theatre.while Martinez was transported to a hospital. The performance then resumed with an understudy.

In a statement, Glyndebourne said: "The performance of Rusalka was stopped just before the end of Act 1 following an accident on the stage involving Ana Maria Martinez.

"Miss Martinez fell into the orchestra pit. Despite Ana María wanting to continue with the performance, she was immediately taken to hospital as a precautionary measure.

"Fortunately, no-one else was hurt in this incident."

The Glyndebourne Opera Festival runs from May through August of each year with attendance topping 85,000 people.



VANYA a world premiere by Sam Holcroft. Inspired by Anton Chekhov's Uncle Vanya. Director by Natalie Abrahami.

Uncle Vanya is an ode to unrequited love, dogged perseverance, and the strength of the human spirit.

According to the theatre; In Vanya, Sam Holcroft and director Natalie Abrahami strip away the bustles, samovars and supporting cast, to chart the inner lives of four of Chekhov's most beloved characters.
Two men love the same woman.
Two women love the same man.
Vanya explores the chaos and heartache that ensues when we fall in love.

Starring Fiona Button, Robert Goodale, Susie Trayling and Simon Wilson

Scenic Design by Tom Scutt. Lighting by Mark Howland. Sound by Carolyn Downing.

August 26 - September 26, 2009 at The Gate in London.

THE NIGHT IS A CHILD a new play by Charles Randolph-Wright. Pasadena Playhouse Artistic Director Sheldon Epps directs a cast of six led by JoBeth Williams See Broadway To Vegas column of May 13, 2007 , who will portray Harriet Eason.

Others in the cast include Monette Magrath as Jane; Armando McClain as Henrique; Maceo Oliver as Joel; Tyler Pierce as Brian Easton and Sybyl Walker as Bia Ferrera.

The Night Is a Child draws on magical realism, Samba, and the cultural pulse of Brazil to tell the tale of one mother and her family, as they seek understanding, redemption and acceptance after a tragedy leaves them torn apart. Ultimately, it's a story of healing, hope and letting go.

The Night Is a Child opened at the Milwaukee Repertory Theatre in March 2008. The production was developed at Pasadena Playhouse's Hot House New Play Development Program in March 2006.

Preview performances begin August 28 with the official press opening set for Friday, September 4 at Pasadena Playhouse in Pasadena, CA.

REAL ESTATE a comedy by Canadian playwright Allana Harkin. An American premiere directed by Brendan Powers.

Joel Hopper is a disheveled mystery writer who is suffering from writer's block — and ever since his wife left him, Joel has been in a funk that he simply can't shake. His response is to escape to the family home his father built to lick his wounds and try to work. As it turns out, the house has to be sold and fast, and when Emma, an incredibly perky and determined young realtor shows up, she decides that Joel is as much of a 'fixer-upper' as his house.

Starring Scott Treadway as Joel; Leslie Marie Collins as Emma; the husband and wife team of Neela and Bill Muñoz who play Estelle and Ted, Joel's chic ex-wife and her beauty product entrepreneur boyfriend.

The production team includes stage manager Johanna M. Erlenbach, scenic designer Dennis C. Maulden, lighting designer Michael Mauren, costume designer Bridget Bartlett, sound designer Joel Thompson, properties master Paul A. Feraldi and technical director Bruce R. Bailey.

Performances through September 6 at Flat Rock Playhouse, which is the State Theatre of North Carolina located in Flat Rock, NC.

BRIGHT IDEAS Eric Coble's gleeful, Macbeth-ian black comedy about the nurturing instinct gone haywire.

Directed by caryn desai [sic]

Genevra and Joshua Bradley are convinced that placement in the correct preschool will ensure their soon-to-be four-year old son's future success in life. Although the Bradleys registered their son for Bright Ideas Early Childhood Development Academy on the day he was born, he's still stuck on the waiting list, so the fretting couple takes matters into their own hands, with dire and downright Shakespearean results. Macbeth meets MacParenting in this new comedy of homicidal proportions. You may never look at pre-school - or pesto - the same way again.

Starring Heather Corwin, Amie Farrell, Louis Lotorto, Maureen McDonough and Brian Stanton.

Previews begin Tuesday, August 25 with performances through September 20 at the International City Theatre in Long Beach, CA.

THE TRIAL OF THE CATONSVILLE NINE

The Actors' Gang The Trial of the Catonsville Nine. Photo by Kim Zsebe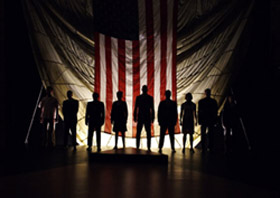 Written by Daniel Berrigan, S.J. Directed by Jon Kellam. Starring Colin Golden, Scott Harris, George Ketsios, Ethan Kogan, Corey G. Lovett, Adele Robbins, Chris Schultz, Patti Tippo, Andrew E. Wheeler and Paige Lindsey White.

The Trial of the Catonsville Nine brings to life the dramatic historical trial in 1968 of two Catholic priests and seven fellow Catholic activists who committed an act of civil disobedience in protest of the War in Vietnam. This moral act of civil dissent galvanized the national protest movement. The play presents a moral imperative to commit civil disobedience when national hubris and global corporate interests act against the welfare of the nation and the well-being of the international community.

This acclaimed production returns to the Ivy Substation in Culver City for four performances August 27-30 before embarking on a tour of the East Coast and Australia. The Sunday matinee performance will be followed by a Gala reception hosted by Academy Award-winning actor Tim Robbins and United Talent Agency.

Production commissioned by DeBartolo Performing Arts Center, University of Notre Dame.




WHO'S WHERE


OASIS has an interesting week - as well as an interesting communication problem. Apparently Liam and Noel Gallagher aren't speaking. The pair have been feuding for years and now have resorted to trading insults on the internet.They travel separately on tour and only see each other onstage. That next on stage appearance is at the Rock En Seine Festival Friday, August 28 in Paris. The next night they are scheduled to perform at Rock Am See at the Bodenseestadion in Konstanz, Germany. Next Sunday the show is at the Fiera De Milano in Milan, Italy.

DAWN UPSHAW soprano and the Tonhalle Orchestra Zurich under the direction if David Zinman. The American soprano – who memorably made a chart-topping recording of Górecki's Symphony of Sorrowful Songs. with conductor, David Zinman, in the early 1990s – sings Osvaldo Golijov's acclaimed new work: an intense exploration of loss and consolation, in which the Argentine-born composer draws upon a ravishing range of colors to enhance the poetic imagery of four Schubert songs. The opener represents the more public face of Schubert, with the overture published as part of his incidental music to Helmina von Chézy's play Rosamunde. Upshaw returns after the interval to provide the angel's-eye view of Heaven at the end of Mahler's Fourth Symphony. Saturday, August 29, as part of Prom 59 at the Royal Albert Hall in London.

K T SULLIVAN is the debut act for New York City's latest cabaret room - Kathleen Downey's Granite Room - located in the City Hall Restaurant. Sullivan will perform "unplugged" - without microphone - accompanied by the respected pianist and jazz great Jon Weber, who'll also offer special musical interpretations during dinner. They'll concentrate on the Great American Songbook since the 19th century with Thursday performances August 27, September 3 and 10.

AMERICAN MUSICAL THEATRE SALUTES with Melissa Errico and Malcolm Gets: Blue Rainbows - The Melodic Wizardry of Harold Arlen. Featuring the scores from Wizard of Oz; Stormy Weather and Got a Right to Sing the Blues. Sunday, August 30 at The Guild Hall in East Hampton, NY.

MANDY PATINKIN IN CONCERT Before he was an Emmy-winning TV star, Mandy Patinkin was already a Tony-winning Broadway legend. The acclaimed actor/singer/ storyteller in his most electrifying role - concert performer. From Irving Berlin to Stephen Sondheim, from Cole Porter to Harry Chapin. Friday, August 28 at Guild Hall in East Hampton, NY.

HAMPTON COURT BEER AND JAZZ FESTIVAL comes to the grounds of Henry VIII's stunning Tudor Palace for five days and nights of laid back summer brews and blues. The Festival promises a great line-up of established names including Courtney Pine, James Taylor Quartet, Manteca, Jandira Siva, Jazebel Sextet, Johnny Boston Quartet, Samara Lido 66, Gentleman Jim & the Jazzaholics, Kubla Kahn, Snake Davis, James Evans, along with rising stars from the worlds of traditional jazz, funk, Latin and blues. There will also be Henry VIII look-alikes and a huge range of ales and beers. August 27-31 at Hampton Court Palace next to the River Thames to the south west of London.

AIR SUPPLY has a full week. On Monday, August 24 they perform at Meyerson Symphony Center in Dallas, TX. On Tuesday they are at the Dutchess Country Fair in Rhinebeck, NY. Wednesday the tour stops at J&R Music World in NYC. Thursday finds them at the Theatre at Westbury in Westbury, NY. Friday finds them at the Twin River Events Center in Lincoln, RI. They end their busy week Saturday at the Great Auditorium in Ocean Gove, NJ.

CHRIS ISAAK in the spotlight Tuesday, August 25 at Humphrey's Concerts by the Bay in San Diego. On Wednesday the show is at the Greek Theatre in LA. Wednesday he's at Wente Vineyards in Livermore,CA and on Saturday he's on stage at the Wells Fargo Center for the Arts in Santa Rosa, CA.

ELVIS COSTELLO performs Monday, August 24 at the Malkin Bowl in Vancouver, BC. On Thursday he's on stage at the Fraze Pavilion for the Performing Arts in Kettering, Ohio. Friday the show is at Massey Hall in Toronto. Saturday he'll be delighting the fans at the Chautauqua Amphitheater in Chautauqua, NY.

BRITNEY SPEARS goes from delivering the Top 10 List on The David Letterman Show last week to opening a three night gig Monday, August 24 at Madison Square Garden in NYC. On Saturday she performs at the TD Garden in Boston.

PINK beings a two night stand at the Acer Arena in Sydney, Australia.

KELLY CLARKSON appearing Thursday, August 27 at the New York State Fair in Syracuse, NY.

COLDPLAY is in Germany this week with a show Monday, August 25 at the AWD Arena in Hannover. On Thursday they are at the Esprit Arena in Dusseldorf. The close out the week on Saturday with a performance at Reitstadion Riem in Munich.

DIANA KRALL at the Wells Fargo Center for the Arts in Santa Rose, CA on Tuesday, August 25. She'll be appearing at the Britt Festival on Wednesday which is at Jacksonville, OR. On Friday the show is at the Arlene Schnitzer Concert Hall in Portland, OR. Saturday she opens a two night stand at the Chateau Ste. Michelle Winery in Woodinville, WA.

SARA EVANS appears at the New York State Fair in Syracuse on Thursday, August 27. On Friday she's on stage at Amphitheater in Chautauqua, NY. Saturday's show is at the Memorial Auditorium in Lowell, MA.

DAVE KOZ appears with Brian Culbertson at Humphrey's Concerts by the Bay in San Diego on Friday, August 28.

BIG BAD VOODOO DADDY gets the swing beat going Saturday, August 29 at Great Park in Irvine, CA.



Next Column: August 30, 2009
Copyright: August 23, 2009. All Rights Reserved. Reviews, Interviews, Commentary, Photographs or Graphics from any Broadway To Vegas (TM) columns may not be published, broadcast, rewritten, utilized as leads, or used in any manner without permission, compensation and/or credit.
Link to Main Page
---
Laura Deni


CLICK HERE FOR COMMENT SECTION