! >
Broadway To Vegas
  
 SHOW REVIEWS CELEBRITY INTERVIEWS GOSSIP NEWS

| | |
| --- | --- |
| | |
TONY AWARDS TELECAST SHUNS THE CREATIVE SIDE OF BROADWAY - -REVIVAL OF WEST SIDE STORY RELEASES BROADWAY CAST CD - - JUDY GARLAND REMEMBERED - - SISTER ACT OPENS IN LONDON - - THEODORE BIKEL FETED AT CARNEGIE HALL - - JAZZ FESTIVALS IN VERMONT AND WASHINGTON DC - - 2009 TONY RANDALL GRANT GIVEN TO TEN THEATRE COMPANIES - - BEACH BLANKET BABYLON CELEBRATES 35th ANNIVERSARY - - DONATE . . . Scroll Down


Copyright: June 7, 2009
By: Laura Deni
CLICK HERE FOR COMMENT SECTION

BREAKING NEWS - DEATH OF MAGICIAN DANNY GANS CAUSED BY PAINKILLERS

At 1 P.M. Tuesday, June 9, 2009 the Clark County Coroner's Office called an unusual press conference - and in the carefully worded presentation by Coroner Mike Murphy divulged that famed magician Danny Gans had died from a toxicity level of a painkiller which he took for chronic pain.

Mr. Murphy stressed that the phrase drug overdose - "is not a term that this office generally uses."

"It was toxicity caused by chronic pain syndrome. The factors contributing to the death were hypertensive cardiovascular disease and polycythemia," stated Murphy who repeated that he is not a toxicologist.

"Polycythemia caused his red blood cells to go above normal levels. This is the opposite of anemia," he explained.

"To put all this in perspective, Mr. Gans' health conditions placed him at greater risk for heart irregularities."

"To clarify hydromorphone, is a synthetic, opioid drug used to treat moderate to chronic pain. A more common name for this drug is Dilaudid. While Dilaudid is not the only trade name, it is one of the most common."

According to a medical encyclopedia: Hydromorphone is a "drug with higher lipid solubility and ability to cross the blood-brain barrier and therefore more rapid and complete central nervous system penetration, with the result that hydromorphone is somewhat faster-acting and about eight times stronger than morphine and about three times stronger than heroin on a milligram basis."

The death was ruled accidental.

"I want to be very clear about this," emphasized Murphy. "The amount of drugs that is in someone's system is not public information. Whether there were or were not other drugs present in someone's system, if they did not contribute to the death of the individual, they would not be public record. I don't want you to read anything into that, more than that, because that does not mean that there was or was not. It means that I cannot address it."

The coroner would not divulge the doctor who had prescribed the medication, nor how long Gans had been taking the drug.

See Broadway To Vegas column of May 3, 2009

TONY TELECAST SHUNS THE CREATIVE SIDE OF BROADWAY


Susan Kellerman as Gertie and Jane Fonda as Katherine in 33 Variations. The production received 5 Tony nominations including Derek McLane for Best Scenic Design of a Play and David Lander for Best Lighting Design of a Play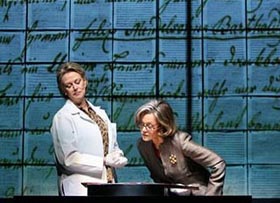 The only thing hotter that those bright lights of The Great White Way are the temper flares flaming from the Broadway community. The firestorm was sparked after the announcement that many of the coveted Tony Awards won't be presented on tonight's CBS telecast. However, you can tune in and watch special performances from three touring shows: Jersey Boys; Legally Blonde The Musical and Mamma Mia!

The telecast really shouldn't be called the Tony Awards. A Musical Variety Hour with some celebrity presenters is more like it.

The Tony Awards is always a coveted showcase for Broadway musicals. This year has inclusion of touring productions while - for the second year in a row - axing televised Tony presentations for - lighting, sets, costumes, choreography, Best Book of a Musical and Revival of a Play.

The Broadway community is irked.

Even participants from touring shows were stunned. Rick Faugno, part of Jersey Boys in Vegas, when interviewed on Vegas television, appeared thrilled but flabbergasted that Jersey Boys would be included in the Tony presentation, because traditionally only nominated musicals are showcased.



Mary Stuart picked up 7 Tony nominations including Best Revival of a Play, Anthony Ward for Best Costume Design of a Play, Hugh Vanstone for Best Lighting Design of a Play. Photo by Neil Libbert.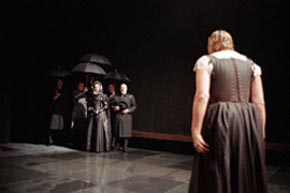 A production without lighting, sets, costumes or choreography is called a reading. Eliminate the book from a musical and it's called a showcase.

Stephen Schwartz, president of the Dramatists Guild of America - the national association of playwrights, composers and lyricists - issued two statements this past week objecting to the presentation of the Best Book of a Musical Tony Award prior to the telecast.

Schwartz said, "The Guild objects in the strongest possible terms to the exclusion of this award from the live broadcast. We have received assurances in the past that the Tony producers recognize that this is an important award and that they would reinstate it in the show that everybody sees.



Billy Elliot The Musical received 15 Tony nominations including Lee Hall for Best Book of a Musical and Peter Darling for Best Choreography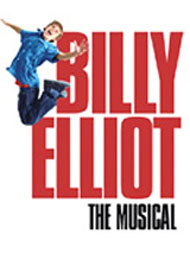 "As writers we understand that the television show needs to be entertaining in order to attract and hold its audience. And the Guild recognizes that many of its members' brother and sister artists, from designers to choreographers to orchestrators, will be similarly disadvantaged on Sunday night.

"Nevertheless, the theatre is always spoken of as 'The Writer's Medium,' as was even said in last year's broadcast. So it seems especially ironic that the awards show that purports to represent the theatre gives less recognition to writers than the motion picture industry's Academy Awards.

"We strongly urge that the Best Book Award be put back where it belongs. Live, on the air."



Next To Normal has 11 Tony nominations including Brian Yorky for Best Book of a Musical.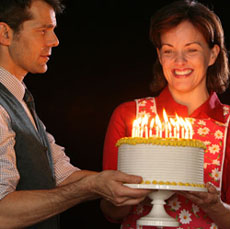 The Tony Awards do not present awards for regional productions. Informing American that there are marvelous touring shows with top talent is commendable. To do it at the expense of on air presenting the Tony Awards - which is what the program is suppose to do - is insulting to the nominated and a put down to the passed over categories.

The afore-mentioned touring productions of Legally Blonde; Jersey Boys and Mamma Mia! will be represented by Becky Gulsvig, who originated the role of Leilani in Legally Blonde, understudying the roles of Elle Woods, Serena, and Margot. She is currently starring as Elle Woods in the US Tour and will perform a song from that musical based on the film of the same name.



Rupert Everett, Angela Lansbury and Jayne Atkinson in Blithe Spirit. The production received 2 Tony nominations including Martin Pakledinaz for Best Costume Design for a Play.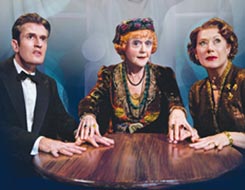 The Jersey Boys performance will feature several actors currently appearing in various productions - Joseph Leo Bwarie previously played Frankie Valli in the Las Vegas production before transferring to the National Company. Courter Simmons began his association with Jersey Boys in 2006 with the National Company where he plays the real life actor Joe Pesci. Rick Faugno started his Jersey Boys career in the First National tour as Joe Pesci and Frankie Understudy, to then becoming the two show a week alternate with that company and then, becoming the main Young Frankie in Las Vegas. Dominic Scaglione, Jr. joined the Chicago production as Frankie Valli in April of this year.

Michelle Dawson, Kittra Wynn Commer and Robin Tyler, who star in Mamma Mia! at the Pioneer Center in Reno, NV, will perform a song from that international hit.



Nathan Lane and Bill Irwin in Waiting for Godot. Photo by Joan Marcus. The production received 3 Tony nominations including Best Revival of a Play and Jane Greenwood for Best Costume Design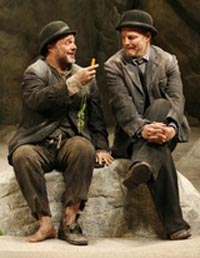 If the Broadway League and the American Theatre Wing, which present the Tony Awards, wanted to boost interest in touring productions, they should have purchased a run up network hour to the Tony Awards and spotlighted the fact that Broadway sings across America.

Cutting costumes, lighting, scenic design and choreography on air presentations to ballyhoo touring productions, makes about as much sense as the Oscars eliminating some on air Oscar presentations in favor of trumpeting films that were never released, just went straight to video.



Geoffrey Rush in Exit The King. In addition to Rush receiving an acting nomination for his performance in Exit The King, Dale Ferguson received two Tony nominations - for Best Costume Design for a Play and Best Scenic Design for a Play. Photo by Joan Marcus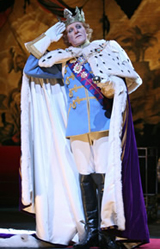 Granted, most television viewers might not appreciate highly technical awards - which are more Oscar and Emmy genre than Broadway - but to treat the costume design awards as though they were thrift shop seems - stupid. Fashion is popular. A well thought out presentation - 20 seconds per nomination - with the casts wearing nominated costumes could have been an interesting audience grabber. Of course, the commentary would have demanded a knowledge of both costumes and the productions.

Broadway - wondrous, impossible to physically or emotionally duplicate. Heralded in books, plays and songs. The Broadway. For the organizations who represent The Great White Way to throw dust on the glitter is shameful.

Touting touring Broadway production even distracts from the coveted Regional Tony Award. No regional theater is ever going to take that award home because they were the 18th theater to sign on for a national tour of a Broadway show mounted three years ago.

Washington, D.C, has some great theater, but it's not Broadway. If Broadway was considered important, exciting, glamorous and romantic enough for President Obama to spend his limited and valuable time taking his wife to a Broadway show - the Tony nominated Joe Turner's Come and Gone - what's the Broadway League and the American Theatre Wing's problem?

For those who thought they'd be able to catch a glimpse of Joe Turner's Come and Gone - to see a minute of what the First Couple saw - fugetaboutit. Drama revivals have been given the hook.

We're also not too sure that somebody in Mississippi cares that you can attend Mama Mia in Reno, Nevada. Emphasizing touring shows can also be counter-productive to what is suppose to be Broadway's night.



Joe Turner's Come and Gone, in addition to a Best Actor in a Play nomination, the production received Tony nominations as Best Revival of a Play; Brian MacDevitt for Best Lighting Design of a Play and Michael Yeargan for Best Scenic Design of a Play. Photo by Joan Marcus.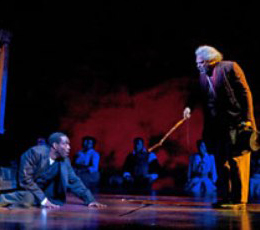 Why make a trip to New York to see Broadway - just wait a couple of years - a touring version might come to your town. Spending three days in New York? Don't pay Broadway prices. Wait until your local high school presents their version and the ticket will be cheaper.

Television programming is dependant upon ratings and the Tony Awards are not noted for sky high numbers. Plays are more difficult to stage as a two-minute segment. Unless the person reading the part is a mega star, the television viewer doesn't usually appreciate a snippet of a highly dramatic effort that really has to be seen in it's entirely to be understood. Musicals numbers have always been an easier transfer to sound bite status. But, to act like drama doesn't exist - to eliminate the on camera presentation for Best Revival of a Drama is a slap at playwrights - the very people who gave Broadway the word theatre.

Musicals which are on Broadway will get their just do.

Dolly Parton with the cast of 9 to 5: The Musical; Elton John with the cast of Billy Elliot, The Musical; Liza Minnelli; Stockard Channing; and the band Poison with the cast of Rock of Ages.

All of this year's Tony-nominated Best Musicals and Best Musical Revivals will perform, including Billy Elliot, The Musical; Guys and Dolls; Hair; Next to Normal; Pal Joey; Rock of Ages; Shrek the Musical; and West Side Story.

The cast of Next to Normal, led by Tony nominee Alice Ripley, will perform You Don't Know, while the Billy Elliot performance will feature all three Tony-nominated Billys: Trent Kowalik, Kiril Kulish and David Alvarez. The Shrek cast will also perform What's Up, Duloc?



The Norman Conquests, received 6 Tony award nominations including Best Revival of a Play and Rob Howell for Best Scenic Design for a Play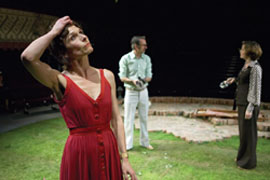 Neil Patrick Harris will host the annual Tony ceremony live from Radio City Music Hall in Manhattan. Presenters are scheduled to include Lucie Arnaz, Kate Burton, Kristin Chenoweth, Jeff Daniels, Hope Davis, Edie Falco, Will Ferrell, Carrie Fisher, Jane Fonda, Hallie Foote, James Gandolfini, Lauren Graham, Colin Hanks, Marcia Gay Harden, Nicole Kidman, Anne Hathaway, Jessica Lange, Frank Langella, Angela Lansbury, Samantha Mathis, Audra McDonald, Lin-Manuel Miranda, David Hyde Pierce, Piper Perabo, Oliver Platt, Susan Sarandon, Kevin Spacey, John Stamos and Chandra Wilson.

Tony Award winners Laura Benanti and Brian Stokes Mitchell will host the presentation of several 2009 Tony Awards, the Creative Arts Awards, prior to the actual Tony Awards telecast. The Creative Arts Awards will be webcast, as they were last year.

For a list of the winners - presented on or off camera - click here



Broadway To Vegas is supported through advertising and donations. Priority consideration is given to interview suggestions, news, press releases, etc from paid supporters. However, no paid supporters control, alter, edit, or in any way manipulate the content of this site. Your donation is appreciated. We accept PAYPAL. Thank you for your interest.


ART AND ABOUT


TERRA COTTA WARRIORS: GUARDIAN OF CHINA'S FIRST EMPEROR

Terra Cotta Warriors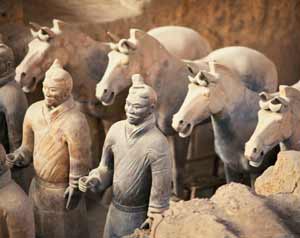 buried more than 2,200 years ago as the army guarding China's first emperor's afterlife, have come to Houston, Texas, for a six-month-long exhibition. at the Houston Museum of Natural Science.

On display are a selection of artifacts including 14 warriors as well as a cavalry horse, chariot and drivers.

The exhibition features 100 sets of objects, including 20 "Level I" artifacts, the highest possible ranking in terms of rarity and importance. It is also be the largest display of "Level I" artifacts in a foreign country for a single exhibition.

The exhibition is a major event of cultural exchange between China and the US and will help the people of Houston to "gain a better understanding of Chinese history and culture and promote friendship and cooperation between our two great countries," said Qiao Hong, Consul General of the People's Republic of China in Houston.

The warriors provide a fascinating glimpse into the life of China's first emperor and give visitors "an exceptional opportunity to experience the beauty and depth" of China's civilization, said Joel Bartsch, president of the Houston Museum of Natural Science.

Some 200,000 to 400,000 visitors are expected to visit the Houston exhibition, according to him.

Coming from northwest China's Xi'an City, the terra cotta warriors and horses are the mortuary objects of Emperor Qinshihuang, China's first emperor in the Qin Dynasty (221 B.C.- 207 B.C.). It is widely viewed as the Eighth Wonder of the ancient world.

WARREN MacKENZIE: LEGACY OF AN AMERICAN POTTER

Through his traditional, wheel thrown stoneware vessels, Warren MacKenzie's vision of art and life are one. The presence of the potter's hand is felt and touched through the utilitarian pots that are produced for use in everyday life.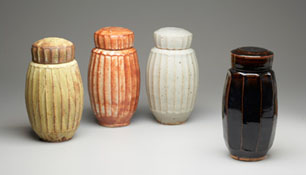 this exhibition at San Francisco's Museum of Craft and Folk Arts will comprise approximately 300 works spanning the past fifty years from over twenty institutions and individual collectors. MacKenzie's pots are found in major museums and collections around the world. Since 1952, he has taught at the University of Minnesota, where he is now a professor emeritus. MacKenzie currently lives and works in Stillwater, Minnesota. There will be an opening reception and book signing by the artist on Thursday, June 11,

Recognized as a true master of 20th century ceramic art, this comprehensive retrospective presents seminal works produced by Warren MacKenzie over a fifty-year period (1948-2005). Representing various styles, forms, and approaches to the art of clay, this exhibition reflects the changing role of the ceramic artist in society from the early modern philosophy of producing works for industry to the emergence of the individual studio potter in the 1950's.

Through his traditional, wheel thrown stoneware vessels, Warren MacKenzie embodies not only the fusion of influences of Bernard Leach, Shoji Hamada and Soetsu Yanagi, but also his own unique vision where art and life are one and where the presence of the potter's hand is felt and touched through the utilitarian pots that are produced for use in everyday life.

This exhibition was organized by the Rochester Art Center, Rochester, Minnesota and is on display through September 13, 2009 at The Museum of Craft and Folk Art in San Francisco, California.




THE MUSIC GOES ROUND AND ROUND


WEST SIDE STORY Book by Arthur Laurents. Music by Leonard Bernstein. Lyrics by Stephen Sondheim. Since both Laurents and Sondheim were present during the recording of this splendid CD it should come as no surprise that the results are supreme. See Broadway To Vegas column of April 12, 2009

The Broadway revival, which resulted in this CD, received 4 Tony nominations including; Best Revival of the Musical; Josefina Scaglione for Best Performance by a Leading Actress in a Musical; Karen Olivo for Best Performance by a Featured Actress in a Musical and Howard Binkley for Best Lighting Design of a Musical.

The music has been both loved and respected since the first note was heard during its official opening on Thursday, March 19, following a pre-Broadway engagement at the National Theatre in Washington, DC where the musical made its original world premiere in 1957.

This revival saw Laurents incorporate Spanish into the mix. Listening to this CD - the blend of English and Spanish in the renditions of Tonight, I Feel Pretty and I Have a Love...A Boy Like That - are tenderly swirled cultural confections delivering poignant understanding that emotions are universal.

Patrick Vaccariello, music director and conductor - Martin Agee, concertmaster - Paul Woodiel and Rob Shaw, violins - Peter Prosser, Vivnan Isralei, Diane Barere and Jennifer Lang on Cello - Lawrence Feldman, Lino Gomez, Adam Kolker, Dan Willis and Gilbert Dejeab on Reeds - John Chudoba,Trevor Neuann, and Matt Peterson on trumpets - Tim Albright, trombone - Jeff Nelson, bass trombone - Chris Komer, French Horn - Eric Polana, drums - Bill Sloat, bass - Maggie Torre, Piano - Jim Laev, Celesta - I.J. McGeeham, guitar - Pablo Rieppi and Dan McMillan, percussion - Michael Keller Musical coordinator.

The cast; Curtis Holbrook, Yanira Marin, Karen Olivo, Tro Shaw, Kyle Coffman, Ryan Steele, Mileyka Mateo, George Akram, Eric Hatch, Peter Church, Joey Hard, Danielle Polanco, Joshua Buscher, Michael Rosen, Kat Nejat, Pamela Otterson, Marina Lazzaretto, Isaac Calpito, Manuel Santos, Nicholas Berasch, Tanairi Sade Vazquez, Josefina Scaglione, Amy Ryerson, Manuel Herrera, Cody Green, Jennifer Sanchez, Mike Cannon, Yurel Echezarreta, Matt Cavenaugh, Lindsay Dunn, Kaitlin Mesh and Sam Rogers.

The recording and sound engineers have provided the equilivant of having the best seat in the house. Stunning example of what experts can accomplish.

Produced for records by David Caddick and David Lai. Recorded and mixed by Todd Whitelock. Protools engineer Isaish Protools and Assistant Mixing Engineer Missy Webb. Recording at Clinton Recording Studio , NYC April 5-6, 2009 Mixed at Legacy Recording Studio April 7-8, 2009. Mastered by Marc Wilder, April 20, 2009.

The brilliant CD is available on Sony Masterworks.


OTHER PEOPLE'S MONEY


2009 TONY RANDALL GRANT GIVEN TO TEN THEATRE COMPANIES This year The Tony Randall Theatrical Fund has expanded its giving guidelines beyond financial support for the production of a single classic play with The 2009 Tony Randall Theatrical Fund General Operating Support Grants, awarded to ten passionate, resourceful theatrical organizations that have continued to fulfill their artistic missions despite financial constraints.

"With the economy in recession and many non-profit theater companies struggling to cope with unexpected losses in funding, we felt that the Tony Randall Grant could do the greatest good by awarding General Operating Support Grants to a number of outstanding theater companies facing budget shortfalls. While this is a new direction in our foundation's giving guidelines, we do plan to return to our traditional format ($100,000 for the production of a classic play) in the future," announced Heather Randall who is Tony Randall's widow and serves as the Chairman and Executive Director of the Tony Randall Theatrical Fund.

Recognized for consistently producing innovative, artist-driven work that is redefining the theatrical experience of the next generation of theater-goers., this year's largest grants were awarded to The Civilians, Elevator Repair Service, and LAByrinth Theater Company.

Repertorio Espanol was the sole recipient of our mid-sized grant - signaled out for providing New Yorkers with access to an extensive repertoire of high-caliber Spanish-language theater for 41 years.

Grants were also awarded to The Atlantic Theatre Company, Classic Stage Company, The Flea Theater, The New Group, Signature Theatre Company, and Vineyard Theatre - honored for demonstrating sustained artistic excellence and organizational strength.


SWEET CHARITY


THEODORE BIKEL FETED AT CARNEGIE HALL

Theodore Bikel performing in fiddler on the Roof at Caesars Palace in Las Vegas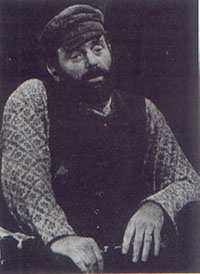 A star studded roster will take to the stage at Carnegie Hall on June 15 to sing the praises of Theodore Bikel: The First 85 Years. Bikel's rich career has been devoted to both art and activism.

Taking part at the concert in the Stern Auditorium/Perelman Stage will be Alan Alda, Arlo Guthrie, Rosemary Harris, David Amram, Beyond the Pale, Artie Butler, Patricia Conolly, Judy Kaye, David Krakauer, Tom Paxton, Serendipity 4 (Shura Lipovsky, Merima Kljuco, Tamara Brooks and Bikel), Noel Paul Stookey and Peter Yarrow, Susan Werner and Michael Wex.

Proceeds will benefit Juvenile Law Center, which works to protect children's rights and interests in the child welfare and juvenile justice systems.

In a statement Bikel said, "Throughout my life I have been equally passionate about music and social justice, and have allied myself with others whose use guitars, banjos, fiddles and words to conquer fear and injustice. I can think of no better way to celebrate that life than a night of music with some of my nearest and dearest friends, and no more deserving cause than protecting the rights of our nation's most vulnerable children."

Bikel received his first Tony nomination for originating the role of Captain von Trapp in Broadway's The Sound of Music. His other Broadway credits include The Lark; The Inspector General and The Rope Dancers, for which he received another Tony nomination.

In late 1967 he starred in Las Vegas where, twice nightly for six months, he took to the stage at Caesars Palace to portray Tevye in Fiddler on the Roof.

On the big screen he earned an Oscar nomination for the 1958 film The Defiant Ones. His other film credits include The African Queen; The Enemy Below and The Russians are Coming, the Russians are Coming. His one-man show is titled Sholom Aleichem: Laughter Through Tears.


JAZZ IT UP


5th ANNIVERSARY DUKE ELLINGTON JAZZ FESTIVAL with over 100 performances in nearly 50 venues across the city, the Duke Ellington Jazz Festival is the largest music festival in Washington, DC and this year is taking place through June 15 with the theme Celebrating New Orleans.

Executive Producer Charles Fishman said, "We're excited to pay tribute to the unique, rich and diverse musical heritage of New Orleans. We'll offer three free special performances on The National Mall this year, which will kick off Friday, June 12, 2009, with an evening performance by Grammy Award-winner Terence Blanchard and be followed by two all-day extravaganzas. And we'll honor New Orleans' own musical treasure, pianist/composer/educator Ellis Marsalis, at our annual Jazz Masters concert presented at and in conjunction with the John F. Kennedy Center for the Performing Arts."

The DEJF will present over 100 programs in almost 50 venues, bringing jazz to every part of the city and to every level of fan.

Artists Include: Paquito D'Rivera; DEJF Artistic Advisor Terence Blanchard & Orchestra; Harry Connick, Jr., Davell Crawford; Duke Ellington Orchestra, Little Freddie King, Branford Marsalis, Delfeayo Marsalis, Ellis Marsalis, Jason Marsalis, Nicholas Payton, Rebirth Brass Band, Irma Thomas and Buckwheat Zydeco.

Highlights of the festival include two free Jazz on The National Mall concerts June 13-14; the return of the popular Jazz in the 'Hoods and Brunchin' in the 'Hoods, which features performances at over 35 restaurants, clubs, hotels and art galleries across the city; and the free educational activities including student concerts and the two free all-day extravaganzas at the Phillips Collection.

The festival closes at the Kennedy Center on June 15 with its showcase event, Celebrating a Jazz Master: Ellis Marsalis, a vanguard of jazz and jazz education in New Orleans.

Each year, the Duke Ellington Jazz Festival honors jazz greats for their lifetime contributions to jazz and humanity. This award is bestowed, at a concert during the annual festival, to an individual who serves as a model representative for jazz and has dedicated his/her life to jazz as an art form, an education tool, and a unifying force.

This year's award recipient will honor pianist, composer and educator Ellis Marsalis. The concert will feature Branford, Wynton, Delfeayo, and Jason Marsalis, Harry Connick Jr., and Dr. Billy Taylor. The concert will be held on Monday, June 15 at the John F. Kennedy Center for the Performing Arts.

Past DEJF Lifetime Achievement Award Recipients are: George T. Wein (3008); Buck Hill (2008); Hank Jones (2007); Clark Terry (2007); Dr. Billy Taylor (2006) and Dave Brubeck (2005).

In partnership with the Duke Ellington Jazz Festival, the Embassy of France (La Maison Française/House of France DC) will pay special tribute to New Orleans at the Festival kick-off concert on June 10, Vivre la Nouvelle Orléans, with Paquito D'Rivera, the festival's artistic adviser, presenting the Crecent City's jazz icon Dr. Michael White and the Original Liberty Jazz Band.

Pierre Vimont, Ambassador of France to the United States, commented on the event. "We at the Embassy of France are delighted to support the Duke Ellington Jazz Festival, particularly since this year will celebrate New Orleans, which has a French flair and a shared history. France played an important role in the incubation of jazz, and our citizens continue to support this great music. We look forward to welcoming everyone to this wonderful event here in our home in Washington, DC, and taking part in the Festival."

This year the DEJF has tapped an extraordinary group of leaders to head this fifth annual festival, many of whom are expected at the Embassy of France event. They include: Thomas Hale Boggs, Jr., Walter Isaacson, Marc Morial, Sheila C. Johnson, Bonnie McElveen-Hunter, James Carville and Mary Matalin.

BURLINGTON DISCOVER JAZZ FESTIVAL taking place through June 14.

The festival includes; Performances in intimate venues; Waterfront concerts; Street parties; Cruises on Lake Champlain; Meet-the-artist sessions; Master Classes and Workshops.

Artists appearing are Anat Cohen, Belizbeha, The Big Takeover, Blitz the Ambassador, Branford Marsalis, Brother Joscephus & the Love Revival Revolution Orchestra, Corey Harris, Culture, Dave Keller Band, Diana Krall, Onion River Band, The Eames Brothers, Esperanza Spalding, Grace Kelly, Jennifer Hartswick, Lettuce, Luis Perdomo Trio, Pato Banton, Pink Martini, Porter Batiste Stoltz, Rubblebucket Orchestra, Trio Braam DeJoode Vatcher, Will Bernard Group with Tim Luntzel, Stanton Moore and Robert Walter, Yusef Lateel & Adam Rudolph Duet.

Produced by the Flynn Center for the Performing Arts in association with Burlington City Arts in Burlington, VT.


BEACH BLANKET BABYLON CELEBRATES 35th ANNIVERSARY
Beach Blanket Bingo's Oprah's Book Club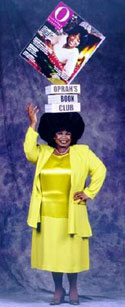 Steve Silver's Beach Blanket Babylon, the longest running musical revue in theatre history - a zany musical spoof of pop culture with extravagant costumes and outrageously huge hats - is celebrating its 35th year of sold-out performances.

Beach Blanket Babylon is an internationally acclaimed San Francisco institution. With more than 12,000 performances in San Francisco, the show has performed for standing room only during its London and Las Vegas engagements.

Beach Blanket Babylon continually evolves in its hilarious parodies of current events and popular icons as today's headlines unfold.

Producer Jo Schuman Silver, the window of the show's creator Steve Silver, will celebrate the anniversary by holding an extra special Steve Silver Foundation & Beach Blanket Babylon Scholarship for the Arts Finals on Monday, June 8, at Club Fugazi.

That will be followed by 35 special performances, beginning Wednesday, June 10. These performances will feature quintessential Beach Blanket Babylon musical numbers created just for the 35th Anniversary as well as a special video tribute to the show's creator, Steve Silver



Prince Charles, Val Diamond, Camilla, the Duchess of Cornwall and former Secretary of State, George Shultz at a performance of Steve Silver's Beach Blanket Babylon.
Queen Elizabeth, Mary Martin, Tony Bennett with Steve Silver during a command performance of Beach Blanket Babylon for The Queen at Davies Symphony Hall in San Francisco.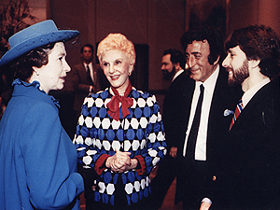 This delightful one-of-a-kind show has the royal seal of approval. Queen Elizabeth II was treated to a command performance.

She then recommended the show to her son Prince Charles when the heir to the throne and his wife visited San Francisco.

The Steve Silver Foundation & Beach Blanket Babylon Scholarship for the Arts, created in 2002 as part of its commitment to the arts. Talented high school seniors from throughout the San Francisco Bay Area are asked to send in a three-minute recording of them performing in one of three categories: singing, acting or dancing. The top three finalists in each category perform their three-minute piece live. One winner from each category will be presented with a $10,000 check towards their higher education from The Steve Silver Foundation & Beach Blanket Babylon.

In addition to the finalist performances, the 35th Anniversary show will also include special performances by the cast of Beach Blanket Babylon as well as a reunion performance of previous Scholarship for the Arts winners.

"It was so important to Steve to encourage young artists to follow their dreams and express their creativity," said Schuman Silver. "I can't think of a better way to honor his legacy, as well as the anniversary of his extraordinary show, than by awarding $30,000 to talented San Francisco Bay Area high school seniors."


SPREADING THE WORD


UNDERCOVER AT THE MOVIES - A TALK BY PROFESSOR STELLA BRUZZI

A slip wearing Elizabeth Taylor in Butterfield 8 - Photo: SNAP/Rex Features/Fashion and Textile Museum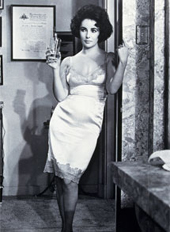 Remember Ann Bancroft in her black bra in The Graduate? Vivien Leigh having her corset laced as tight as possible in Gone With The Wind?

Such memorable 'underwear moments' and many others are analysed in this entertaining and revealing talk by Professor Stella Bruzzi.

Stella is Head of the Department of Film & Television Studies at the University of Warwick and has written extensively on fashion, costume, gender and identity in film and television. Stella's main areas of research interest are fashion and costume; gender and identity in film, particularly masculinity; documentary film and television. Her publications include Undressing Cinema: Clothing and Identity in the Movies (1997), Fashion Cultures: Texts, Theories and Analysis (co-edited, 2000), New Documentary (2000 and 2006) and Bringing Up Daddy: Fatherhood and Masculinity in Post-war Hollywood (2005) and the BFI Classic on Seven Up. (2007).

Saturday June 13 at the Fashion and Textile Museum in London.

KING LEAR PUBLIC REHEARSAL Have you ever wondered what happens behind-the-scenes before the performance? Join Director Robert Falls in rehearsal with the cast, designers and crew for a sneak peek of the Shakespeare Theatre Company's upcoming production of King Lear starring Stacy Keach. This free event lasts approximately 80 minutes and is available on a first come, first served basis. Sunday, June 7, Sidney Harman Hall in Washington, DC. The production opens June 16 with performances through July 19, 2009 at Sidney Harman Hall.

PRISCILLA PRESLEY presided over the opening last week of Elvis Presley's Stable at Graceland for public tours for the first time ever in the storied history of Elvis Presley's home, Graceland. Artifacts on display as part of The Elvis Presley Stable Tour include saddles used by Elvis and his entourage, personal western wear including chaps, hats and boots all worn by Elvis. Other items include checks and documents related to the purchase of some of Elvis' horses, and home movie footage of Elvis on horse back at Graceland.

Built on the Southeast corner of Graceland by its original owners in 1939, the Graceland Stable currently houses four horses. After Elvis bought the 13-acre estate in 1957, he often rode his horses around the property and even up to the front gate to sign autographs for fans.

Elvis started to focus more on riding and horses in December 1966, when he purchased a horse named Domino for Priscilla, along with a variety of riding clothes and equipment for the Presley family's equestrian activities. Shortly after Christmas, Elvis bought what would become his favorite horse, a Golden Palomino named Rising Sun. The Elvis Presley Stable eventually became known as the House of the Rising Sun in honor of Elvis' favorite horse. Elvis went to great lengths to personally organize everything in the stable. His handwriting can be seen today on the wall where he wanted the tack and harnesses of each horse.

When Graceland opened for public tours in 1982 there were still five of Elvis' original horses being cared for on the property. Graceland has had a number of horses over the years. Some were distant relatives of the original horses while others have been rescue horses. The Elvis Presley Stable Tour will be open through Labor Day.


JUDY GARLAND REMEMBERED
Jim Bailey as Judy Garland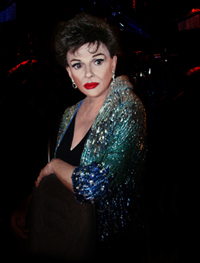 This week is the 40th Anniversary of death of the legendary Judy Garland; she would have been 87 years old. Born June 10, 1922, she was found dead in the bathroom of her rented Chelsea, London house on June 22, 1969. Her death was ruled an accidental drug overdose. She was 47 and left children Liza Minnelli, Lorna Luff and Joey Luff.

The incomparable Jim Bailey is bringing his acclaimed portrayal back to the West End, singing all her great hits: Over the Rainbow; Get Happy; The Trolley Song and The Man That Got Away and some rare gems. An evening full of song, hysterical anecdotes and MGM stories once told by the lady herself.

The former Las Vegas regular, Bailey has performed for the Queen, Prince Charles the late Princess Diana, and four American Presidents. Among his 80 television appearances are roles on Here's Lucy; Ally Mcbeal; Night Court and Vegas. He has done two seasons at the Palladium and played Carnegie Hall nine times. He made his debut in the Las Vegas entertainment scene in 1970 and is a four times winner of Las Vegas Entertainer of the Year.

One of Bailey's most memorable Las Vegas performances took place at the Las Vegas Flamingo Hotel when Liza Minnelli, who was starring at the Riviera Hotel, did a complete show with impressionist Bailey, as Liza's mom, Judy Garland. Liza and Jim conducted secret rehearsals for the famed Mother and Daughter Concert. Somehow word leaked out and a turn away crowd showed up that night.

Jim as Judy - complete with wardrobe, makeup, wigs, etc. - introduced Minnelli with a few lines from the song Lisa. She joined Jim on stage for a rousing medley of oldies that included Hooray For Love; After You've Gone; By Myself Alone; Wonderful and bowing with a rip-roaring version of Swanee. Jim and Liza bowed with San Francisco.

At one point, Liza referred to Jim as "Mom," and the press reported that the "audience accepted it without a snicker or a gasp."

Bailey began his career studying opera at the Philadelphia Conservatory of Music, as well as becoming a make-up artist - something that serves him well since it takes hours preparing for each show. He'll perform his tribute show June 9-14 at the Leicester Square Theatre in London.



SISTER ACT THE MUSICAL new musical comedy based upon the hit 1992 movie features a score by eight-time Oscar winner Alan Menken, with lyrics from his long- time collaborator Glenn Slater. The book is by the award-winning team Cheri and Bill Steinkellner. Peter Schneider, former President of Animation and Chairman of the Studio for the Walt Disney Company for 17 years, who also spearheaded producing the stage version of The Lion King and brought Disney's Aida to Broadway - directs.

Getting its start at the Pasadena Playhouse and Atlanta's Alliance Theatre, the production has opened at the London Palladium to rave reviews - becoming the West End musical to see.

When disco diva Deloris Van Cartier witnesses a murder, she is put in protective custody in the one place cops are sure she won't be found - a convent! Disguised as a nun, she finds herself at odds with both the rigid lifestyle and an uptight Mother Superior. Using her unique disco moves and singing talent to inspire the choir, Deloris breathes new life into the church and community, but in doing so blows her cover. Soon the gang are giving chase, only to find themselves up against Deloris and the power of her new found Sister Hood.

After a year-long global search, 24-year old South Carolina born Patina Miller was cast to make her West End debut playing the lead role of Deloris Van Cartier - the role made famous by Whoopi Goldberg in the movie version. Goldberg is a co-producer of the stage version.

Starring alongside Patina is Olivier Award winner Sheila Hancock as Mother Superior, EastEnders actor Ian Lavender as Monsignor Howard, Chris Jarman as Shank, Ako Mitchell as Eddie, Katie Rowley Jones as Sister Mary Robert, Claire Greenway as Sister Mary Patrick, Julia Sutton as Sister Mary Lazarus, Thomas Goodridge as TJ, Nicolas Colicos as Bones and Ivan De Freitas as Dinero.

The ensemble comprises Vanessa Barmby, Amy Booth-Steel, Julian Cannonier, Ben Clare, Helen Colby, Kate Coyston, Jennie Dale, Jaymz Denning, Nia Fisher, Alison Harding, Paul Kemble, Debbie Kurup, George Long, Hugh Maynard, Jo Napthine, Aysa O'Flaherty, Landi Oshinowo, Verity Quade, Helen Walsh and Emma Woods.

Musical supervision by Michael Kosarin, choreography by Anthony Van Laast, set design by Klara Zieglerova, costume design by Lez Brotherston, sound design by Mick Potter, lighting design by Natasha Katz and musical direction by Nicholas Skilbeck.

Goldberg, who hates to fly, jetted over for the opening and joined the cast on stage for a standing ovation. Performances are at the London Palladium through February 13, 2010

HIGH SPIRITS the second of three Spring 2009 Musicals in Mufti staged concert presentations presented by The York Theatre Company.

High Spirits will feature Academy Award-nominee Carol Kane as Madame Arcati, Tony Award-nominee Veanne Cox as Ruth and Tony Award-nominee Howard McGillin as Charles. The cast will also include Janine LaManna as Elvira, Beth Glover as Mrs. Bradman, Daren Kelly as Dr. Bradman and Kirsten Wyatt as Edith. The concert will be directed by Marc Bruni with music direction by Steve Freeman.

In the supernatural musical comedy High Spirits, a happily remarried widower gets a surprise visit when a kooky medium mistakenly summons back his first wife from the "Other Side." Based on Noël Coward's Blithe Spirit - currently enjoying a hit revival on Broadway - this telepathic tuner was written by Hugh Martin and Timothy Gray and competed for the 1964 Tony Award for Best Musical alongside Funny Girl and Hello, Dolly!. Theatre enthusiasts will remember the original production was directed by Coward and featured Beatrice Lillie, Tammy Grimes, and a young Christopher Walken in the Ensemble.

All performances will be presented by The York Theatre Company at the Theatre at Saint Peter's June 12-14.

Audience talkbacks will follow both matinees. 'Mufti' (pronounced MUFF' tee) means "in street clothes; without the usual trappings" and each show in the Series is presented script-in-hand, with minimal staging. To date, the York has presented over 70 Mufti concert revivals of musical theatre gems from Broadway, Off-Broadway and London, celebrating such writers as Richard Rodgers, George Abbott, Larry Grossman and Joseph Stein.

GROUNDSWELL by Ian Bruce. Directed by New Group artistic director Scott Elliott.

Starring two-time Tony Award nominee Larry Bryggman, David Lansbury and Souleymane Sy Savane.

Groundswell is set on the barren, diamond-diving coast of South Africa where Johan and Thami, an ex-cop and a gardener from starkly contrasting backgrounds, maintain a beachfront guest lodge during the off-season while looking for a way out.

When Smith, a retired businessman, shows up one foggy night, the two men think they've found an ideal investor for their scheme to buy into a government-run mining concession. Soon, these rootless men find themselves in a power struggle fueled by greed, desperation and entitlement.

The design team includes Derek McLane (set), Eric Becker (costume), Jason Lyons (lighting) and Shane Rettig (sound).

The play was first produced by Cape Town, South Africa's New Africa Theatre in 2005. This American premiere has performances through June 27 at The Acorn @ Theatre Row in NYC.

CLEOPATRA - A LIFE UNPARALLELED Book Music and Lyrics by Cheryl E. Kemeny. Directed by Barbara Labbadia.

She was one of the most powerful and beautiful women of the ancient world, ruling with a grace and power heretofore unseen. She was Cleopatra, queen of Egypt. In an age where countries and empires were ruled by men, and assassins lurked around every corner, Cleopatra rose to power as a young woman, forging alliances (both political and personal) with Julius Cesar and Marc Antony, only to realize too late that true love would be her ultimate downfall.

A hit at last year's Midtown International Theatre Festival, where it won four MITF Awards, Cleopatra - A Life Unparalled is told with a score ranging from ballad to blues to rock.

Featuring; Melissa Labbadia, Josh Woodie, Mike Longo, Dan Gershaw, Jessica Labbadia, William Bailey, Lia Sumerano, Jennifer Van Buskirk, Mike Mejia, Michael Labbadia, Brennyn Langhorn, Xavier Rosario, Paul Araujo, Joseph Lucherini, Audra Hebard, Elizabeth Markow, Lexi Moeller and Johnny Markow.

Musical Direction: Cheryl K. Kemeny. Choreography: Kari Ann Sweeney. Lighting Design: Jessica Burgess. Costume Design: Alexandrea Kemeny. Stage Management by Debra Poruban.

June 13th - June 27th at The Robert Moss Theater, NYC.

AT HOME AT THE ZOO by Edward Albee. Directed by Rebecca Bayla Taichman.

American master Edward Albee's new spellbinder is a meticulously calibrated and brutal look at the lives of three New Yorkers. The story opens with Peter, a tweedy book editor, and his wife, Ann, whose everyday conversation takes an unexpected turn into dangerously personal territory. It's the kind of talk that can drive a husband out for a walk - to Central Park, where Jerry, a desperate outcast, awaits.

An unforgettable pairing of Albee's original The Zoo Story with a freshly penned prequel, Edward Albee's At Home at the Zoo (formerly titled Peter and Jerry) bares its teeth to threaten the delicately balanced world its characters inhabit.

Featuring company members Anthony Fusco as Peter and René Augesen as his wife, Ann. Rounding out the cast is Tony Award - nominated actor Manoel Felciano in the role of Jerry.

The creative team for the show includes scenic designer Robert Brill, lighting designer Stephen Strawbridge, and costume designer David F. Draper.

June 5–July 5, 2009 at the American Conservatory Theater in San Francisco.

EAST OF BERLIN written by Hannah Moscovitch. Directed by Chris "CB" Brown and Sara Botsford.

Can the words Holocaust and comedy exist in the same sentence? Yes, according to young Toronto playwright Hannah Moscovitch, whose audacious new play will have its American premiere at the NoHo Arts Center, after a successful run in Toronto.

East of Berlin is about the next generation and asks what happens when you discover your Father was a Nazi war criminal? What happens when two sons of SS Officers fall in love with each other? What happens when your Mother survives Auschwitz and you fall in love with a German? East of Berlin examines these impossibly difficult questions with sensitivity, and surprisingly, with humor.

The cast features: James Barry, Russell Sams and Carolyn Stotes.

The design team features Set Design is by Lacey Anzelc; Lighting Design is by Sean Conlin; Sound Design is by Jonathan Zenz. Costume Design is by Curtis Jackson.

Officially opened June 5 running for seven weeks through Sunday, July 19 at the NoHo Arts Center, in North Hollywood, CA.

THE FULL MONTY will feature Elaine Stritch playing Jeanette Burmeister. Ben Brantley, in his review of The Full Monty on Broadway in 2000, described the character as a "salty old retired club pianist" who is the accompanist for a group of unemployed steel workers turned strippers in Buffalo.

Running June 10 to July 12 at the Paper Mill Playhouse in Millburn, N.J.

MADAM BUTTERFLY the English National Opera revives Anthony Minghella's Olivier Award-winning Madam Butterfly as a tribute to the life of the great film director. Having won great acclaim for a series of remarkable films, including his Oscar-laden The English Patient, Minghella, alongside his wife and Associate Director Carolyn Choa, turned his creative genius to Puccini's masterpiece.

Puccini's beautiful music underscores the emotional tale of a Japanese geisha girl and her devoted love for a heartless American naval lieutenant. Sumptuous sets, stunning costumes and evocative use of Far Eastern theatre traditions.

Starring as Cio-Cio San (Madam Butterfly) Judith Howarth; Pinkerton Bryan Hymel; Sharpless Brian Mulligan; Suzuki Christine Rice; Goro Michael Colvin; Yamadori Richard Burkhard; Kate Pinkerton Madeleine Shaw; Imperial Commissioner Paul Napier-Burrows.

Conductor Edward Gardner; Original Director Anthony Minghella; Revival Director Carolyn Choa; Designer Michael Levine; Lighting Designer Peter Mumford; Costume Designer Han Feng; Choreographer Carolyn Choa; Puppetry Blind Summit Theatre.

June 10 through July 10. 10 performances. Sign-language interpreted performance: July 1. London Coliseum in London, England.

CHICAGO welcomes three-time Emmy Award nominee and Grey's Anatomy star Chandra Wilson into the role of Matron "Mama" Morton, the reigning cellblock diva, for a four-week limited engagement, Monday, June 8 through Sunday, July 5, 2009 at the Ambassador Theatre in NYC.

THE FOREIGNER by Larry Shue is Cumberland County Playhouse's most requested show. The wild and brilliant comedy stars Jason Ross as Charlie Baker with John Fionte as Froggy LeSueur. The Foreigner also includes Weslie Webster as Catherine Simms, Troy Miszklevitz as Reverend David Lee, Daniel Black as Ellard Simms, Carol Irvin as Betty Meeks, and Tommy Hancock as Owen Musser.

Set in a resort-style fishing lodge in rural Georgia, the comedy revolves around two of its guests, Charlie Baker and Englishman Staff Sergeant Froggy LeSueur. Charlie is so pathologically shy that he is unable to speak. As way of explanation, Froggy claims his companion is the native of an exotic country who does not understand a word of English.

Before long, Charlie finds himself privy to assorted secrets and scandals freely discussed in front of him by the other visitors. These include spoiled but introspective heiress and Southern belle Catherine Simms and the Reverend David Lee, a seemingly humble preacher with a dark underside. Catherine's younger brother, Ellard, a chubby and somewhat "slow" boy is a simpleton who tries to teach Charlie how to speak English.

The Foreigner runs through October 4 at the Cumberland County Playhouse in Crossville, TV.

FACING EAST

Danial Kash, Christian Lebano, Terry Davis in Facing East. Photo by Shashin Desai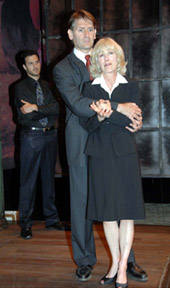 by Carol Lynn Pearson. ICT artistic director Shashin Desai directs Terry Davis, Daniel Kash and Christian Lebano in the powerful and poignant story of a Mormon couple dealing with the suicide of their gay son. In Carol Lynn Pearson's eloquent and multifaceted play about the challenging intersections of faith, family, diversity and love, Ruth and Alex McCormick are an upstanding Mormon couple reeling from the suicide of their excommunicated homosexual son. When they encounter their son's partner for the first time, the three must try to come to terms with their own inner demons and the love they lost.

In 1966, American poet, author, screenwriter and playwright Carol Lynn Wright married actor, musician and songwriter Gerald Neils Pearson, whom she had met in a college production of The Skin of Our Teeth. The two were devout Mormons who both descended from several generations of Latter Day Saints. They were married for 12 years and had four children together, settling in Provo, Utah. Gerald had told Carol Lynn while they were engaged that he had had sexual relationships with men, but assured her that he had left that phase of his life behind. However, he eventually confronted his homosexuality and, after a move to California prompted by his need to explore this side of himself, they separated and were divorced in 1978. He was diagnosed with AIDS in 1984, and later that year Carol Lynn brought him home and cared for him until his death. Since then, Pearson has become an unofficial spokesperson for acceptance of gay people by their Mormon families, as well as a stronger leadership role for women in the Mormon community. Many of her works address these issues, and she speaks on these and related subjects around the country. She notes, "I love the Mormon community [and] I have a unique opportunity to build bridges."

"My Mormon temple marriage to a gay man and subsequent events have filled my life with a realization of how badly society - and especially religious communities like mine - deal with homosexuality" said Pearson in an interview. "Condemnation and hopelessness too often drive gay people to suicide - an attempt by a gay man who was a dear friend still haunts me. Utah is first in the nation for suicides of men 15-24, and that is itself a cry for help. What is better equipped to answer that cry than drama? Nothing I know of has the immediate magic that invites one person into the heart of another like theater does."

Facing East received its premiere in November, 2006 from Plan-B Theatre Company in Salt Lake City, Utah, where it was named Best Drama of 2006 by the church-owned Deseret News. The production transferred off-Broadway for a successful run in May-June of 2007 and was remounted that August in San Francisco to further critical acclaim.

The Set Designer for Facing East is Stephen Gifford; Lighting Design is by Jared A. Sayeg; Sound Design and Original Music are by Bill Georges; Property Designers are Patty and Gordon Briles; Production Stage Manager is Maya Rodgers; and Casting is by Michael Donovan Casting.

Preview performances take place on June 9-June 11, officially opening June 12 with performances through July 5 at International City Theatre in the Long Beach Performing Arts Center. Long Beach, CA.




WHO'S WHERE


KEYSHIA COLE performs Tuesday, June 9, at the Ryman Auditorium in Nashville,. On Thursday the show is at the Fabulous Fox Theatre in St. Louis, MO. On Friday she is on stage at the Desota Civic Center in Southaven, MS. Saturday finds her at the Nokia Theatre in Grand Prairie, TX.

JOURNEY in the spotlight Monday, June 6, at the Sentrum Scene in Oslo, Norway. On Friday the show is at the O2 in Dublin, Ireland.

MICHAEL FEINSTEIN and critically-acclaimed Broadway star Cheyenne Jackson perform their new duet show The Power Of Two which features pop songs, classic standards and songs from Broadway shows like The Pajama Game, City Of Angels and Finian's Rainbow. The two stars, who sold out individual appearances at the club earlier this season, are collaborating onstage for the first time. Tuesday, June 9, Wednesday, June 10, and Friday, Jun 12. Feinstein's at Loew's Regency in NYC.

COLDPLAY brings their tour to the Arena in New Orleans, LA on Tuesday, June 9. On Wednesday they are on stage at the AT&T Center in San Antonio, TX. Friday finds them at the Wells Fargo Arena in Des Moines, IA. On Saturday they can be enjoyed at the Qwest Center in Omaha, NE.

DEBBIE REYNOLDS former Las Vegas resident is making her New York City cabaret debut at Cafe Carlyle. She can be enjoyed through June 27.

WESLA WHITFIELD wraps a two nighter this evening, Sunday, June 7, at the Rrazz Room at the Hotel Nikko in San Francisco.

JONAS BROTHERS takes to the stage at the Palacio de Deportes in Madrid, Spain on Saturday, June 13.

NO DOUBT has a busy week. On Monday, June 8, they are at the Cable Music Pavilion in Raleigh, NC. On Wednesday the show is at the Verizon Wireless Amphitheater in Virginia VA. The tour moves to the Susquehanna Bank Center in Camden, NJ on Thursday. Friday finds the group at the Post-Gazette Pavilion in Burgettstown, PA.

THE NEVILLE BROTHERS are part of the Playboy Jazz Festival Saturday at the Hollywood Bowl in Los Angeles.

ELVIS COSTELLO AND THE SUGARCANES featuring: Jerry Douglas, Jim Lauderdale, Stuart Duncan, Mike Compton, Dennis Crouch, and Jeff Taylor perform Thursday, June 11 at the Filene Center in Vienna, Virginia.

LINDER EDER performs two shows on June 13 at Feinstein at Loews Regency in NYC.




FINAL OVATION


GEORGE McPHERSON one of the last of the old school Broadway Producer/General Managers, died Wednesday, June 3 of lung cancer in Orangeburg, SC. He was 78.

MacPherson, who most recently served as President and Chief Executive Officer of Masque Sound, had a long, distinguished and varied career in the theater.

He started out in life as a veterinarian in West Virginia but his love for the performing arts and a brief stint caring for elephants and tigers for Ringling Brothers, Barnum & Bailey Circus, drew him to Broadway producing and managing the national tours of some of the top theatrical attractions of the 80s and 90s including The Secret Garden; Guys and Dolls; The Who's Tommy; Big River and Angels in America. He received three Helen Hayes Awards for his productions, the National Touring Council Award for Outstanding Service and The Medal of Merit from Her Majesty Queen Elizabeth II for his contribution to the Arts in Canada on the occasion of the 25th Anniversary of her Accession to the Throne. In 1992 he received The Broadway League's Distinguished Lifetime Service Award.

Mr. MacPherson also served as the personal manager to humorist Victor Borge and entertainer Harry Belafonte. But it was his work with American Theatre Productions with Tom Mallow that changed the Broadway Touring market as we know it today MacPherson was one of the pioneers in the evolution of the touring industry from 'national' tours followed by separate 'bus & truck' companies into the current unified model of first-class road productions performing in all markets. His commitment to producing and touring top - quality entertainment was critical to the growth of Broadway subscription series across the country and set the standard that is still seen on stages across America today.

Survivors include his beloved wife Judith Winter MacPherson; three children, Duncan of Hartford, CT, Malcolm of Toronto, Canada, and Morag of Bloomfield, NJ; granddaughters, Annie and Emma Chrzczon of Bloomfield, NJ; a sister, Dee Deibel of San Rafael, CA; nephew Christopher Deibel (Lori) and grand niece Jenna of San Rafael, CA: nieces Deborah (John Jeffcott) of Novato, CA and Mme. Diane Breysse (Serge) of La Reunion Island (France).

The marquees of the Broadway theatres were dimmed June 5 for one minute to pay tribute to him.

Next Column: June 14, 2009
Copyright: June 7, 2009. All Rights Reserved. Reviews, Interviews, Commentary, Photographs or Graphics from any Broadway To Vegas (TM) columns may not be published, broadcast, rewritten, utilized as leads, or used in any manner without permission, compensation and/or credit.
Link to Main Page
---
Laura Deni


CLICK HERE FOR COMMENT SECTION