! >
Broadway To Vegas
  
 SHOW REVIEWS CELEBRITY INTERVIEWS GOSSIP NEWS

| | |
| --- | --- |
| | |
CRAIG FERGUSON CAUSES A FOOD FIGHT - - WICKED TURNS SYDNEY AUSTRALIA GREEN - - SKIN AND BONES: TATTOOS IN THE LIFE OF THE AMERICAN SAILOR - - LIZA'S AT THE PALACE TO BE FILMED IN LAS VEGAS - - A STEADY RAIN AND HAMLET COME TO BROADWAY - - 23rd ANNUAL BROADWAY FLEA MARKET AND GRAND AUCTION - - INSIDE PARADE AT THE PALEY CENTER - - CLORIS LEACHMAN AT PORT TOWNSEND FILM FESTIVAL - - DONATE . . . Scroll Down


COMEDIAN CRAIG FERGUSON CAUSES A FOOD FIGHT: WHAT'S THE QUID PRO QUO?
Craig Ferguson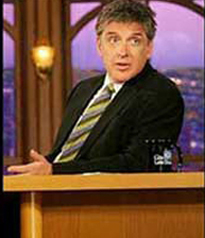 Food fight!

I scream. You scream. We all scream for ice cream.

Or, Luv-It Frozen Custard.

Hawking a product by sending somebody into a high crime area in a strange city can result - not in a scream for the cold stuff - but a cry for help.

Craig Ferguson, 47, is an immensely talented, zany comedian. The host of The Late Late Show With Craig Ferguson, the laugh getter is a sought after Las Vegas headliner.

During one of his Las Vegas gigs he discovered a local Luv-It Frozen Custard shop. Luv-It sits at a crossroad. To the east is an old, well established neighborhood with maintained ranch style homes. The occupants run the gamut - lawyer, minister, high priced call girl who specialized in oral sex.

Located between two convenience stores just off Las Vegas Boulevard, down the street from a topless dancing club, Luv-It is right around the corner from several motels which tout XXX Adult Films. Across the street down one block is the Stratosphere Hotel, which borders the high crime area called The Naked City section of Sin City.

Ferguson is the unofficial spokesman for the frozen dessert place. He blatantly promotes the place every chance he gets - including urging people who guest on his show to become patrons.

That in itself is tricky.

There is no doubt that the Luv-It product is great. Never has a negative word been said about their vanilla. The concern is why the heavy Ferguson involvement? Why the pressure on his guests to frequent the Las Vegas establishment? And, why the seemingly orchestrated and immediate backlash against an actress who didn't appreciate being in a rundown location at night?



Mindy Kaling co-wrote and co-starred in the hit off-Broadway play Matt & Ben, which won the New York International Fringe Festival's Best Play prize and went on to be a featured selection at the 2003 U.S. Comedy Arts Festival in Aspen.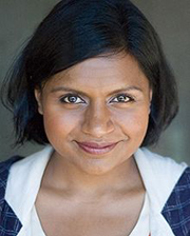 I've lived here since 1963 and I'd be queasy about going there after sundown.

Ferguson urged Mindy Kaling, who stars as Kelly Kapoor on the NBC sitcom The Office, to visit Luv-It. She complied. Born June 24, 1979 in Cambridge, MA, Mindy and her girlfriends came to Las Vegas to celebrate her 30th birthday.

Kaling made a return visit to The Late Late Show with Craig Ferguson and responded to Ferguson's suggestion that she visit Luv-It. She told Ferguson she was a little mad and had a bad experience.

"We went to this frozen custard place in I believe the most dangerous and sketchy neighborhood I've ever been to in my entire life," said Kaling, who told Craig that they were wearing "sparkly dresses and heels" when then ventured out for the frozen dessert.

She claimed that they saw drug addicts, a man wearing a T-shirt "with no pants or underwear;" two apparent "murderers" who she learned were police officers on a "undercover drug sting."

Was Kaling exaggerating about the bare bottomed man? Perhaps so, but only a little.

"Was the custard good?" Ferguson kept asking.

"Yes. The custard was good."

"Was it worth risking your life for?" queried Ferguson still projecting his comedic persona.

"I guess in a way," was her hesitant answer.

This past Friday Broadway To Vegas checked it out. The outside of Luv-It looks clean and that's important. The exterior may have been recently painted. Sitting outside for five minutes during the daytime, I witnessed four men (not together), who appeared to be homeless, walking past. All were fully clothed and all looked like they could use a good bath.

During the day, for locals familiar with the area, Luv-It is in an acceptable location. At night, unless you live in the adjoining neighborhood, this area can be scary.

It's absolutely no place to send females wearing "sparkly dresses and heels."

"This was like an area rife with drug dealers and drug addicts," Kaling told a laughing audience.

Luv-It Custard, owned by Greg Tiedemann, couldn't have bought this much publicity. In Las Vegas for 36 years, Love-It Frozen Custard maintains a Web site which lauds Ferguson.

The Web site features a large picture of Ferguson with the comment "FAMOUS COMEDIAN, CRAIG FERGUSON, is constantly plugging our business on his show, The Late Late Show. He just loves "Luv-It Frozen Custard" and refers his guests to our business on a regular basis. "Thank you Craig" for all the wonderful things you say about our business....."we LOVE you too babe!"

Locals retaliating against Kaling have been mean-spirited and insulting, branding Kaling as "unsophisticated, classist and sheltered." Apparently her critics have vocabulary definition problems - not understanding what the word unsophisticated means. If Kaling was "unsophisticated" or the synonym "not refined" she would have fit into the locale and not been uncomfortable.

If the neighborhood is such that you'd better be street-smart to venture there at night - tell the person.

There were Las Vegas newspaper articles. Local ABC television anchors even put in a lick or two suggesting that Mindy had spent too much time in Brentwood (we assume that was a reference to one of the wealthiest neighborhoods in all of Los Angeles) and needed to get out more.

Luv-It is located in the 89104 zip code, where personal crime is 3.8 times above the national average. Murder is 4.5 times the national average. Assault is almost triple the national average while robbery is almost 8 times the national average. Vehicle theft comes in at almost 10 times the national average.

Organized responses from Vegas residents even suggest boycotting The Office.

A campaign to boycott The Office is interesting since it's NBC which airs The Office, while The Late Late Show with Craig Ferguson is on CBS.

Every major city has seedy and dangerous locations. Many areas of any town are relatively safe to visit during the day, but you might have second thoughts about a night time stroll. If you prod somebody to visit an unfamiliar location without informing them of pertinent safety issues, then the onus is on you.

Ferguson, one of the bright lights of the comedy business, entered his latest marriage as the father of a young son from his second marriage. Would he want somebody to badger his wife or child to enter a strange area in a high crime location?

How would he have felt had Kaling or her girlfriends been assaulted? And, how would the legal departments of CBS and NBC have reacted? Kaling wouldn't have been in that location had not Ferguson told her to go there.

This custard caper could inspire Ben & Jerry's to created a new flavor - if only they could locate tasty stupid chunks.

To attack a woman who was mislead into going into a strange location and then goaded into saying the ice cream was worth risking her life - is unconscionable.

Talk show hosts wield amazing power. Performers promoting their latest project - and that includes talking about the new television season - need these outlets.

To survive in the entertainment industry you need the skills to balance on the edge of a jagged knife. There is an all encompassing entertainment black list that is far more vicious than what McCarthy did.

At least McCarthyism made public black-listed names and - despicably wrong as it was - the person knew why their name was on the list. Today, the black lists are subversive; names put on by the ego-driven or vindictive who spread lies and half truths. Or, people/firms investing in projects who simply list the names of people they don't want mentioned, used or hired in any way.

Professional lives are destroyed as much as they were in the McCarthy Era.

Broadway To Vegas has absolutely no knowledge that Ferguson has ever black listed or in any way attempted to thwart the career of another. However, anyone booked on a talk show knows the host is in a superior position. Unless you're one of a handful who are as powerful as the host or the company behind the host, chances are host suggestions will be followed.

Ferguson's involvement with the Luv-It establishment might be questioned. As an unofficial pitchman, it's unusual if there is no pay back. Television advertising is expensive. The Late Late Show with Ferguson is produced by David Letterman's production company and, in fact, Ferguson's new contract is tied into Letterman's.

According to Variety;
"Craig Ferguson is closing in on a deal with CBS and David Letterman's Worldwide Pants that will keep him at the helm of The Late Late Show through the 2011-12 season."

"Ferguson's two-year extension will synch him up with the time frame of the new contract that CBS and Letterman have been hammering out for months (Daily Variety June 10).

"CBS' decision to renew its vows with Ferguson is a no-brainer. Late Late Show produced by Worldwide Pants . . . ."

It seems doubtful that Letterman or CBS would permit the non stop free Luv-It plugs. Is there a quid-pro-quo?

It's also remarkable that comments, which aired after midnight, made by the actress about a little, local store in a high crime rate area, would elicit such immediate and virulent retaliation from "fans" of the store, who suddenly set up Web sites and specific Face Book pages to insult the actress. Sounds like an orchestrated event.

Even travel blogs post warnings about the area. A random check showed a site with several comments including;

bkretzer posted: "Before I get into the ice cream (frozen custard, technically), let me say you have to put in a little effort to get to this place. It's not far off of the strip, but far enough. It has been in the same place for all 35 years (1973) of its existence. It is two blocks north of the Stratosphere (St Louis St and then Oakey), and make a right. It is right behind the AM/PM there, on the left (north) side of Oakey. If you have a car, it is easy to get to. If you are relying on a shuttle or the monorail, you will have to hike a bit. Anything north of the Stratosphere is not the best part of LV, so go during the hot part of the day or in a group after dark."

pinchora posted: "The place may look like a dump, it could use some up keep."

The entire Craig Ferguson promoting Luv-It/let's attack the victim Mindy Kaling scenario is curious and a just a tad bit murky.



Broadway To Vegas is supported through advertising and donations. Priority consideration is given to interview suggestions, news, press releases, etc from paid supporters. However, no paid supporters control, alter, edit, or in any way manipulate the content of this site. Your donation is appreciated. We accept PAYPAL. Thank you for your interest.


ART AND ABOUT


SKIN AND BONES: TATTOOS IN THE LIFE OF THE AMERICAN SAILOR An original exhibit exploring the origins, functions and significance of tattoos in American sailors' lives, as well as how the art of tattooing has spread throughout society, impacting not only the body, but fashion, décor, and many forms of contemporary art.

This original exhibit, researched and created by Curator Craig Bruns and Seaport staff, features traditional and modern tattooing tools, flash (tattoo design samples) and other tattoo-related art, historic photographs and artifacts, a recreation of an old-time "tattoo parlor," and a mini-documentary of the recorded personal stories of tattooed sailors.

The reputation of tattoos has evolved through the psyche of American culture from the sinister symbols of convicts, gang members, and bikers, looked up on by most with fear and disdain, into a generally accepted societal convention. Today tattoos are sported by everyone from sports and movie celebrities to teens and suburban moms and have spread beyond the body to fashion, décor, and art.

While tattooing is an ancient custom practiced by most cultures – famed naturalist Charles Darwin stated there was no nation on earth in which the people did not tattoo themselves – it is not well known that this custom of indelible body marking was introduced to this country in the late 18th century by seafarers.

So, if you have a tattoo today, thank a sailor.

Skin & Bones traces the origins, functions, and significance of tattoos in American sailors' lives from the late 18th century onward and how merchant and naval seamen have kept this tradition unbroken and alive. It also connects current trends with historic tradition to enlighten tattooed and un-tattooed visitors alike about this often still misunderstood art form.

In early America, tattoos were synonymous with sailors, who learned the practice from their British seagoing brethren. While the tale of tattoos as souvenirs of wild shore leaves is a well-known chapter of nautical history, it is but one small facet of the story.

The true essence of the story, revealed in Skin & Bones, is that sailors have long held a deeply ingrained belief in the power of tattoos. They use their skin as a canvas for inked tattoos to permanently display their values and identifications, protect them against dangers at sea, pay homage to sailing traditions and the fraternity of seafarers, memorialize loved ones, and showcase mementos of significant experiences and exotic locales.

Skin & Bones features the "Who's Who" of the tattoo world - people like Samuel O'Reilly, who invented the electric tattoo machine in 1891; C.H. Fellowes, whose hand-drawn tattoo design books are among the earliest known American tattoo design books; Macy's founder Rowland Macy, whose star tattoo on his arm likely inspired his department store's famed logo; and colorful characters such as tattoo artists Sailor Jerry, Sailor Eddie, and Madame Chinchilla.

An exhibition highlight is the specially created interactive featuring a life-size "tattoo artist" who will "talk" to customers as he "inks" one of four tattoos on their forearms. The "tattooing" will be done through a video projection system

Opened Monday, September 14 and continues through February 7, 2010 at the Independence Seaport Museum in Philadelphia.

A DALI MUSEUM is expected to open in Shanghai - the world's fourth of its kind. The other three are located in Paris, London and Dali's hometown of Figueres.

The museum would showcase the world's most comprehensive collection of works by the late Spanish surrealist.

Salvador Dali (1904-1989) built his fame on the striking and bizarre images he created, as well as his flamboyant personal image and eccentric public behavior. Now visitors can see the visionary works of arguably the greatest surrealistic artist the world has ever known with a collection of more than 350 sculptures, furniture designs, paintings, drawings and prints.

Born in Figueres, Spain, his painting skills were attributed to the influence of Renaissance masters.

Negotiations are currently underway between the local Shanghai government departments and the France Stratford Foundation which is expected to invest 10 million euros in the museum. Officials indicate they hope the museum is open before the Shanghai Expo, which takes place May 1 to October 31, 2010. More than 70 million visitors are expected.

WASTED Commissioned by Arts Co, this installation looks at the urgent questions posed by today's annual landfill deposits of 99 million tons.

Constructed solely from reclaimed materials by Ian Douglas Jones, the work explores the ways in which new and inspirational products may be created from waste materials in a dramatic and beautiful way.

Alongside this piece E&K Arts showcase a range of products designed by artists from material otherwise destined for landfill; from condemned fire-hose and racing sails to waste coffee sacks and de-commissioned parachutes.

Opened yesterday and is on display through Free to the public. The exhibition began yesterday and is on display through September 27 at the Tunnel Entrance to the Victoria and Albert Museum in London.





LIZA'S AT THE PALACE TO BE FILMED IN LAS VEGAS


Liza Minnelli has been associated with Las Vegas since she was a child - performing with her mother Judy Garland on the stage of the Flamingo Hotel.

Her 1972 Emmy award winning special Liza With a Z was honed in Las Vegas before being recorded before a live audience at New York's Lyceum Theatre.

It's fitting that Liza's at the Palace, which played Broadway last December and picked up a Tony for special theatrical event, will be filmed in Las Vegas at the Hollywood Theater in the MGM Grand. Liza begins performing there on September 25 but it is only the September 30th and the special midnight October 1st show - geared towards the Las Vegas show business community, which will be lensed.

Matthew Diamond will helm the filming while Ron Lewis directs the stage show. Minnelli will be joined by her musical director and pianist Billy Stritch as well as her quartet of amazing singer/dancers: Cortes Alexander, Jim Caruso, Johnny Rodgers and Tiger Martina. Michael Berkowitz is musical conductor/drummer.

All of the material performed during Minnelli's Tony-winning New York engagement will be included in the broadcast. The program will include all of her signature numbers as well as her loving tribute to her godmother, the late Kay Thompson.

American Public Television (APT) will distribute the television special in late November 2009. The performance will be available to public television viewers through the month of December and will then be released to the general public in early 2010 by MPI Home Video.


WICKED TURNS SYDNEY AUSTRALIA GREEN


The Tony-Award winning musical Wicked had a green carpet premiere September 13 in Sydney, Australia. Sydney has, in fact, turned green over this show. On September 4, which was the day of the final dress rehearsal, the Sydney Town Hall took on a green glow.

Bert Newton, in costume as the Wizard, and Lord Mayor Clover Moore MP, jointly pushed the plunger to bathe the Sydney Town Hall in green light, the color of the Emerald City of Oz, for the next month. This is the first time the Sydney Town Hall has been "greenified". Simultaneously much of the local area around the Capitol Theatre, where Wicked is playing is also "greenified". This greening of the area will be in place for the run for the Sydney engagement, which is expected to be at least a year. The Capitol Theatre and Wicked have also encouraged local businesses to join them in going green by offering a monthly prize for the 'greenest' business. The first winner was the Passionflower Café Capitol Square which got into the green spirit by placing green lighting inside the store, adding green décor and posters in the shop and created "wicked" desserts.

John Frost, Co-Producer of Wicked, said, "We are delighted to be adding a touch of green to Australia's very own Emerald City. It is also wonderful to see just how enthusiastic the City of Sydney, the Capitol Theatre and local businesses have been in coming on the journey with us. Wicked is like no other show that I have worked on before, the fan base for and support for this show worldwide is quite a phenomenon, and looking at the support we have received already in Sydney I think we are off to a great start here. We thank Sydney for such a warm welcome."

For the past year the Tony-Award winning musical has played in Melbourne and the Sydney opening had $10 million in advanced ticket sales.

The Sydney show stars Amanda Harrison as the wicked Elphaba and Lucy Durack playing good Glinda. They are joined Bert Newton as the Wizard, Maggie Kirkpatrick as Madame Morrible and Rob Mills as Fiyero.

The final dress rehearsal was also staged as a charity performance for Lifehouse at RPA: The Chris O'Brien Cancer Centre at the Capitol Theatre. The performance raised in excess of $90,000 for the charity.

When Wicked opened on Broadway, it worked its magic on critics and audiences alike winning 20 major awards including three Tony Awards and a Grammy Award. Today, Wicked is one of the most successful shows in theatre history with productions in New York, San Francisco, two North American tours, London's West End, Tokyo, Stuttgart and Melbourne. It was recently awarded six Helpmann Awards at the Sydney Opera House, including Best Musical.





SWEET CHARITY


23rd ANNUAL BROADWAY FLEA MARKET AND GRAND AUCTION

Bernadette Peters is among the celebrities who will sit at the autograph table at 23rd annual Broadway Flea Market & Grand Auction, to be held in Shubert Alley on September 27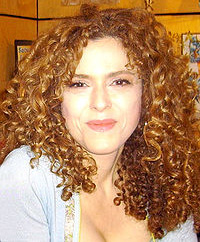 takes place in Shubert Alley on September 27.

The Broadway Flea Market, held each September in Shubert Alley, brings out the biggest and brightest stars from Broadway, Off-Broadway, Dance and daytime television to greet fans and sell memorabilia. Casts and company members of dozens of shows are joined by theatrical unions and guilds, producing organizations, local merchants, and many other groups to sell costume pieces, autographs, original scripts, rare photographs, and so much more.

The event also includes the Celebrity Table, where celebrities gather throughout the day to sign autographs and pose for photos in exchange for donations.

The highlight of the Flea Market is the Grand Auction, in which singular items and opportunities such as walk-on roles in Broadway shows such as Mamma Mia! and Wicked, VIP tickets to tapings of TV shows such as Saturday Night Live. Other items scheduled to be auctioned include the jeans worn by Daniel Radcliffe onstage in Equus, and the mask worn by Broadway's longest running "Phantom", actor Howard McGillin

FEINSTEIN'S MONTHLY CABARET SHOW 100% of the net proceeds from each monthly show will benefit two important organizations, The True Colors Fund and Broadway Impact.

The show on Monday, September 28 features: Allison Janney, Stephanie Block, Megan Hilty and Melinda Dolittle. The night will be hosted by Cyndi Lauper.

Feinstein's at Loews Regency in New York City.






SPREADING THE WORD


CLORIS LEACHMAN

Cloris Leachman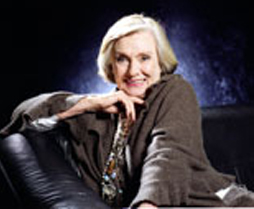 the Oscar, Emmy and Golden Globe award winning actress will be the special guest Sept. 24-27 at the Port Townsend Film Festival which is held in the small Victorian seaport in the Pacific Northwest, 50 miles northwest of Seattle, Washington.

In the festival's centerpiece event, Leachman, 83, will be interviewed onstage by Robert Osborne of Turner Classic Movies, after a screening of the Oscar-winning Peter Bogdanovich's The Last Picture Show. The festival will also showcase Leachman's comic side, with an outdoor screening of Mel Brooks' High Anxiety.

Now in its 10th year, the PTFF has previously hosted such guests as Tony Curtis, Eva Marie Saint, Patricia Neal, Elliott Gould and Debra Winger, among others. It also presents a variety of features, documentaries and short films from around the world. Among this year's events will be a tribute to longtime festival director Peter Simpson, who died earlier this year. This year's festival adds an unprecedented fourth day to its length, running Thursday, Sept. 24, through Sunday, Sept. 27.

CHILDREN'S READING SERIES: ROSEMARY HARRIS the Tony Award-winning actress takes part in the Children's reading Series, returning to the Poetry Center to read from some of the classics of children's literature.

Saturday, September 26, at the 92nd Street Y in NYC.

INSIDE PARADE On the eve of its premiere at LA's Mark Taper Forum, the creative team behind the Donmar Warehouse production of Parade, including writers Alfred Uhry and Jason Robert Brown, examine the media frenzy surrounding the real-life case that inspired the Tony-winning musical while offering a behind-the-scenes look at the LA production.

In addition, clips pertaining to the actual Leo Frank trial, where the Jewish owner of a pencil factory in Georgia was tried and convicted, then hanged by a lynch mob for the rape and murder of a thirteen-year-old factory worker that subsequent facts prove he did not commit, will be shown from the series The Jewish Americans and the 1988 miniseries dramatization The Murder of Mary Phagan.

Monday, September 21, 2009 at The Paley Center in Los Angeles.


GET WELL SOON TO . . .


KATHRYN JOOSTEN the two time Emmy-Award winning actress who is battling lung cancer.

Joosten, 69, who plays Mrs. McCluskey in the TV drama, Desperate Housewives began acting at the age of 42. She also played Mrs. Landingham, the secretary to Martin Sheen's President Bartlett in The West Wing.



A STEADY RAIN by Tony Award nominee John Crowley.

A two-character American play starring Daniel Craig and Hugh Jackman.

A Steady Rain tells the story of two Chicago cops who are lifelong friends and their differing accounts of a few harrowing days that changed their lives forever.

Set and costume design are by two-time Tony Award winner Scott Pask, with lighting design by two-time Tony Award nominee Hugh Vanstone and original music and sound design by Mark Bennett.

A Steady Rain opens at the Gerald Schoenfeld Theatre, NYC on Tuesday, September 29 for a limited 12 week run.

HAMLET the Donmar Warehouse's production of William Shakespeare's Hamlet , starring Jude Law who is making his return to Broadway since his Tony-nominated debut in 1995 in Indiscretions.

The production is directed by Michael Grandage.

In addition to Law, the cast includes; Ross Armstrong, Harry Attwell, Ron Cook, Ian Drysdale, Peter Eyre, Jenny Funnell, Michael Hadley, Colin Haigh, Sean Jackson, Geraldine James, Gwilym Lee, James Le Feuvre, Gugu Mbatha-Raw, John MacMillan, Kevin R. McNally, Henry Pettigrew, Matt Ryan, Alan Turkington and Faye Winter.

In Shakespeare's definitive tragedy, the King of Denmark is dead. Consumed with grief, Prince Hamlet (Jude Law) determines to avenge his father's death with devastating consequences for his family and the kingdom.

The production is designed by Christopher Oram, with lighting design by Neil Austin. Composer and sound designer is Adam Cork.

Previews began September 12, 2009 and officially opens on Tuesday, October 6, 2009. at the Broadhurst Theatre, NYC.

COUNTRY OF KINGS written and performed by Lemon Andersen. Directed by Elise Thoron.

Featured last year as part of The Public Theater's Under The Radar Festival, Lemon Andersen's County of Kings is billed as giving a tough, yet poignant biographical account of a good kid growing up in an unforgiving environment in this one man journey. Weaving hard- edged drama with urban poetry, the Brooklyn hip-hop artist spins his own coming-of-age memoir in this jarring and poignant solo performance. A true story of finding passion and purpose against all odds, Lemon paints a vivid portrait of his difficult and sometimes humorous experiences growing up during the most influential cultural movement of our time, the birth of hip-hop.

Production Stage Manager - Emily Glinick. Set Design - Doug Stein and Peter Ksander. Lighting Design - Jane Cox and Lily Fossner. Sound Design - Rob Kaplowitz and Matt Stein. Production Manager - BD White. General Manager - Dave Friedman. Producers - Spike Lee, Culture Project, Steve Colman, Jayson Jackson, Tom Wirtshafter

Performances begin September 29 at The Public Theatre in NYC.

THE SAVANNAH DISPUTATION by Evan Smith. Directed by Kim Rubinstein.

A good-natured and sometimes susceptible Margaret and no-nonsense and always spirited Mary are Catholics who receive an unexpected visitor, causing Margaret's faith to waver. Mary hatches a plan to bring Margaret back into the fold by enlisting the aid of their unsuspecting parish priest and throwing a truly devilish dinner party.

The cast of The Savannah Disputation features Kimberly Parker Green (Melissa), Mikel Sarah Lambert (Margaret), Nancy Robinette (Mary) and James Sutorius (Father Murphy).

The creative team also includes Deb O (Scenic Design), Judith Dolan (Costume Design), Alan Burrett (Lighting Design), Paul Peterson (Sound Design) and Anjee Nero (Stage Manager).

September 26 - November 1, 2009 The Old Globe Arena Stage at the Jame S. Copley Auditorium, San Diego Museum of Art, CA.

THE ROYAL FAMILY by George S. Kaufman and Edna Ferber.

Directed by Fough Hughes, the cast features Ana Gasteyer (Kitty Dean), John Glover (Herbert Dean), Rosemary Harris (Fanny Cavendish), Jan Maxwell (Julie Cavendish), Larry Pine (Gilbert Marshall), Tony Roberts (Oscar Wolfe), and Reg Rogers (Tony Cavendish). They are joined by Freddy Arsenault (Perry Stewart), Kelli Barrett (Gwen Cavendish), Caroline Stefanie Clay (Della), Rufus Collins (McDermott, Gunga), David Greenspan (Jo), Anthony Newfield (Chauffeur), Henny Russell (Miss Peake), Cat Walleck (Hallboy), and John Wernke (Hallboy).

Follow a famous family of stage stars as they go about the drama of the day: choosing scripts, dashing off to performances, stealing kisses from handsome beaus. But what's this business about the youngest diva wanting to quit the stage for domestic bliss? Never, darling!

The creative team includes John Lee Beatty (Scenic Design), Catherine Zuber (Costume Design), Kenneth Posner (Lighting Design), Darron L West (Sound Design), Maury Yeston (Original Music), Tom Watson (Hair & Wig Design), Rick Sordelet (Fight Director), and David Caparelliotis (Casting).

Previews began Tuesday, September 15, 2009 at the Samuel J. Friedman Theatre in NYC and officially opens on Thursday, October 8, 2009 in a limited engagement through Sunday, November 22.

BEN HUR LIVE based on the novel, Ben Hur - a Tale of Christ, by Lew Wallace, with a book by Shaun McKenna and music by Stewart Copeland, who is the drummer and founding member of The Police.

The show, conceived and produced by European music promoter Franz Abraham, is directed by Philip Wm. McKinley.

The world premiere of a this new arena spectacle, premiered at London's O2 Arena for a run of just five performances last week September 17-20 coincides with the 50 year anniversary of the film.

The production is on tour playing Hamburg, Brunswick, Stuttgart, Munich, Milan, Zurich, Lisbon, Gelsenkirchen, Vienna, Budapest, Paris, Barcelona, Madrid and Berlin.

Set design by Mark Fisher and Ray Winkler, lighting by Patrick Woodrooffe, costumes by Ann Hould-Ward, choreography by Liam Steel and fight direction by Rick Sordelet.

Featuring a cast of over 400 performers and 100 animals including horses, donkeys, ponies, falcons and eagles, the production will include a re-creation of the legendary chariot race competing around the arena floor. See Broadway To Vegas column of May 17, 2009

ESCANABA

Wayne David Parker in Escanaba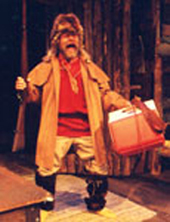 a world premiere by Jeff Daniels. Artistic Director Guy Sanville directs the cast which features Julian Gant, Wayne David Parker and Tom Whalen.

Escanaba is the third of Daniels' trilogy series which includes Escanaba in da Moonlight and Escanaba in Love.

"Everyone has a home somewhere."

The legend begins in this final installment of the classic Yooper trilogy. Alphonse Soady is putting the finishing touches on his newly-constructed deer camp when a wild-eyed James Negamanee bursts through his door fleeing a black bear.

This origin story reveals the role this strange trespasser plays in time-honored Soady Deer Camp traditions, including the saga of the Soady Ridge Buck.

Stage Manager: Stephanie Buck. Set Designer: Dennis G. Crawley.Properties Designer: Danna Segrest. Costume Designer: Sally L. Converse-Doucette. Lighting Designer: Dana White. Sound Designer: Quintessa Gallinat.

The Purple Rose Theatre Company, the Michigan Equity troupe founded by Tony Award-nominated actor Daniels will stage an Escanaba benefit on Sunday, October 4. Billed as "A spine-tingling, heart-pounding, smile-making benefit featuring hors d'oeuvres, live music, an exclusive performance of the World Premiere comedy Escanaba by Jeff Daniels and dinner at the Common Grill with the playwright and cast. Casual dress or Yooper formalwear recommended.

The production officially opens on September 25 running through December 19.





WHO'S WHERE


AN EVENING WITH GARRISON KEILLOR scheduled for September 23, at the University of Nevada, Las Vegas has been postponed. Keillor, host of the popular radio program, A Prairie Home Companion, has been advised by doctors to avoid air travel after suffering a mild stroke earlier in the month. See Broadway To Vegas column of September 13, 2009

LEONARD COHEN the 74-year-old legendary songwriter, says he will perform September 21 at the Palau Sant Jordi in Barcelona, Spain despite having collapsed on stage last Friday during a concert in Valencia. He fainted while singing Bird on a Wire and was taken to a hospital as a precaution. He has been discharged and is said to have had food poisoning. Cohen is slated to begin an American tour on October 17.

CHICAGO SYMPHONY ORCHESTRA AND BERNARD HAITINK One of America's most highly regarded orchestras, Chicago Symphony Orchestra performs some of the greatest works in the classical repertoire including Mozart's Jupiter Symphony and Haydn's Clock Symphony with the legendary conductor Bernard Haitink. September 23-24. Southbank Centre's Royal Festival Hall in London.

JERRY SEINFELD telling funny stories Friday, September 25, at the Eisenhower Auditorium in University Park, PA. On Saturday he'll be getting laughs at the Landmark Theater in Richmond, VA.

GEGGIE JAZZ SERIES presents in collaboration with the Embassy of France and Alliance française Transatlantic music collaboration with Jean-Marc Padovani-saxophone (France), Aldo Mazza-Drums and percussions (Montréal), and Marianne Trundel-piano (Montréal). Saturday,September 26. at the National Arts Centre in Ottawa, Canada.

WEDNESDAY NIGHT AT THE IGUANA hosted by Dana Lorge and Richard Skipper. Guests on September 23 include: Risa Benson, Stewart Brodian, David Gurland and Uptown Express, Frank Torren - with Rick Unterberg on piano, The Kim Schultz Improv Group - and a few other surprises as well! New York City.

BRYAN ADAMS entertains Saturday, September 26 at the Paramount Theatre in Denver. Next Sunday he at Kingsbury Hall in Salt Lake City.

KATHY GRIFFIN getting laughs Wednesday, September 23 at the Christopher Cohan Center in San Luis Obispo, CA. On Saturday she'll be telling funny stories at the Civic Center in San Diego.

DAVID BINNEY QUARTET David Binney, saxophone; Brian Blade, drums; Scott Colley, bass; Craig Taborn, piano perform as part of the Jazz Cabaret Series on Saturday, September 26, 2009 at the Flynn Center for the Performing Arts in Burlington, Vermont.

BLACK EYED PEAS star at Jo Hall in Osaka, Japan on Monday, September 21. On Tuesday their continue their tour of Japan with a performance at World Memorial Hall in Kobe. On Wednesday the show is at the Super Arena in Saitama-shi, Japan. They will appear at Arthur's Day 250 Anniversary Celebration on Friday, September 26 at the Malaysia Synway Lagoon in Kuala Lumpur. On Saturday they are a part of F1 Rocks at Fort Canning Park in Singapore.

BRIAN LYNCH AND SPHERES OF INFLUENCE trumpeter and composer Brian Lynch performs Wednesday, September 23, 2009 as part of the Jazz at the Library series. In the Library @ Lincoln Center, NYC.




FINAL OVATION


PATRICK SWAYZE died on Monday, September 14, 2009 after a two-year battle with pancreatic cancer. The actor was 57.

Born in Houston, his mother was a choreographer and his father an engineer. In 1972, he moved to Mew York City to complete his formal dance training at the Harkness Ballet and Joffrey ballet schools. Swayze starred as a replacement for Danny Zuko in the long-running Broadway production of Grease and included the 1975 production Goodtime Charley [before concentrating on film.

Swayze's breakthrough movie role came with his performance as dance instructor Johnny Castle in the 1987 film Dirty Dancing, alongside Jennifer Grey. His biggest hit came in 1990, when he starred in Ghost, with Demi Moore and Whoopi Goldberg. Swayze was seriously injured in 1996 while filming HBO's Letters From a Killer near Ione, California, when he fell from a horse and hit a tree. Both of his legs were broken and he suffered four detached tendons in his shoulder.

His returned to Broadway in 2003 appearing in Chicago. Swayze made his West End theatre debut in the musical Guys and Dolls as Nathan Detroit on July 27, 2006, alongside Neil Jerzak, and remained in the role until November 25, 2006.

Swayze's last role was the lead in an A&E TV series, The Beast, which premiered on January 15, 2009.

Swayze was married to Lisa Niemi from June 12, 1975 until his death.

HENRY GIBSON the veteran comic character actor best known for reciting offbeat poetry on Rowan & Martin's Laugh-In, and his recurring role as cantankerous Judge Clarence Brown on ABC's Boston Legal, died Monday, September 14, at his home in Malibu, CA after a brief battle with cancer.. He was 73.

Born James Bateman in Germantown, Pa he studied at the Royal Academy of Dramatic Arts While worked as a theater actor in New York City, he created his Henry Gibson comic persona, a pun on playwright Henrik Ibsen's name.

In 2001, Gibson returned to the stage in New York in the Encores! New York City Center production of Rodgers and Hart's A Connecticut Yankee.

Gibson was preceded in death by his wife Lois Joan Geiger whom he married in 1966. He is survived by his sons: Jonathan David Gibson, Charles Alexander Gibson and James Gibson and two grandchildren.

Next Column: September 27, 2009
Copyright: September 20, 2009. All Rights Reserved. Reviews, Interviews, Commentary, Photographs or Graphics from any Broadway To Vegas (TM) columns may not be published, broadcast, rewritten, utilized as leads, or used in any manner without permission, compensation and/or credit.
Link to Main Page
---
Laura Deni




U.S. Postal Address: Post Office Box 60831, Las Vegas, NV 89160
CLICK HERE FOR COMMENT SECTION